This year marks my 20th visit to Bali Indonesia, and I guess that gives me an edge on the best locations to stay in Bali.
The Island of the gods holds a special place in the hearts of Australians and is a tropical destination that Americans have been dreaming about since Eat Pray Love.
For us Aussies, it's practically our backyard, and since I live in Perth, it's the best place to travel to several times a year, with a mere 3.5-hour flight away. It is both a convenient, affordable, and accessible vacation spot.
Apart from being relatively inexpensive, Bali offers a distinct cultural experience that is a whimsical departure from Australia.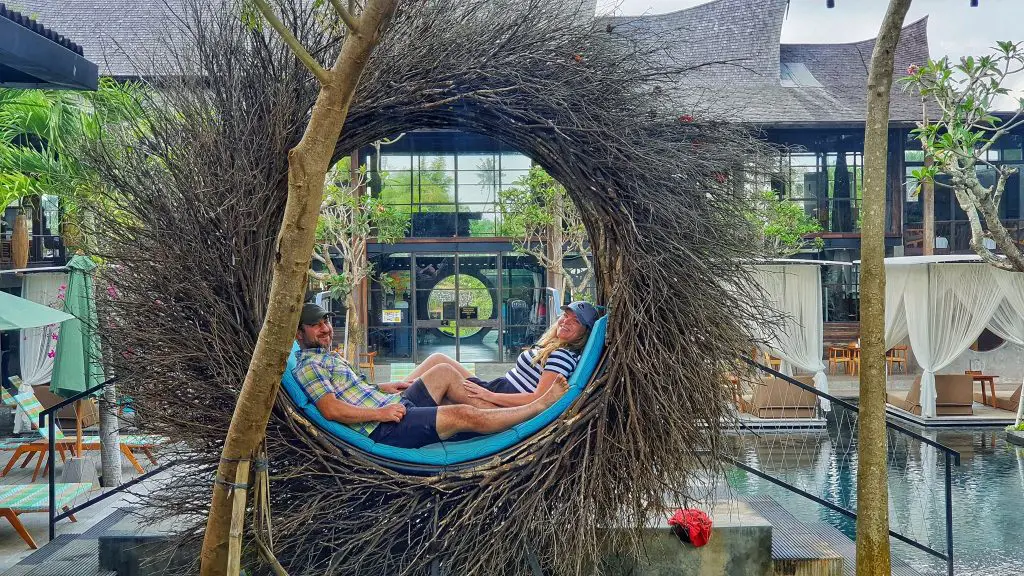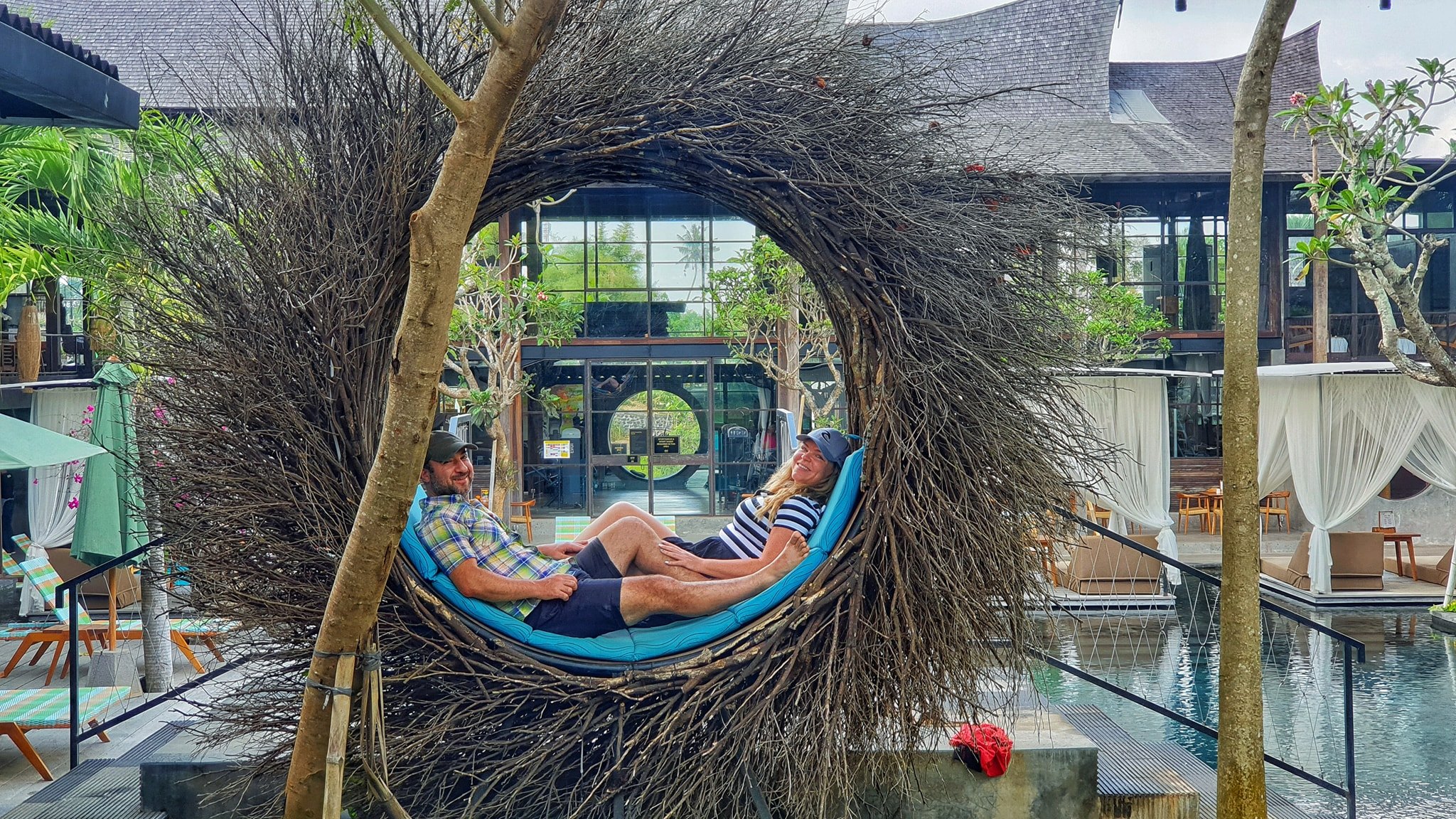 Which is the best area to stay in Bali?
There are plenty of accommodation options in Bali, but before talking about specific hotels I have stayed at, these are the best places to stay in Bali:
Ubud – fun monkeys and plenty of yoga for a jungle stay in Bali
Kuta and Legian – the best place to stay to be in the center of it all
Seminyak – a more expensive, but classy neighborhood in Bali to stay in
Canggu – up and coming, and a hit with ex-pats who stay in Bali
Jimbaran – plenty of seafood on the beach, and close to Kuta for your Bali stay
Uluwatu – high cliffs and impeccable ocean views if you are looking for a beach stay in Bali
Nusa Dua – plenty of luxury beach hotels for your stay in Bali
Sanur – for divers and families Sanur is one of the best locations to stay in Bali
Below, I'll give you my recommendations on where to sleep in Bali so that your stay is everything you hoped it would be.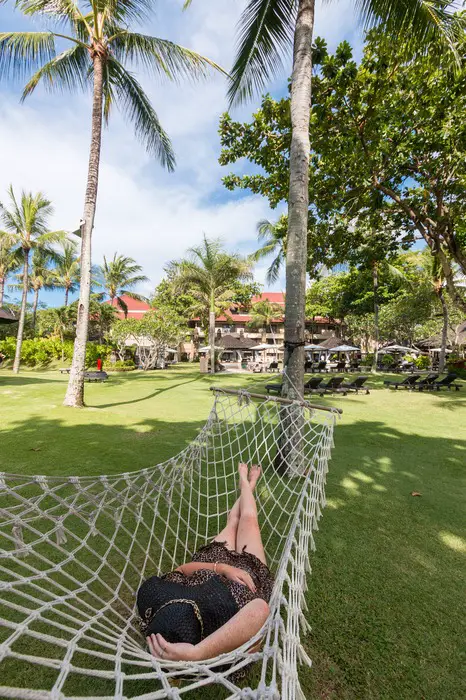 Where should I book my hotel in Bali?
Below you will find both cheap hotels and luxury accommodations in Bali. Depending on your situation and the type of trip you're going to do (as a couple, with friends, with family, or alone) you'll find your best option.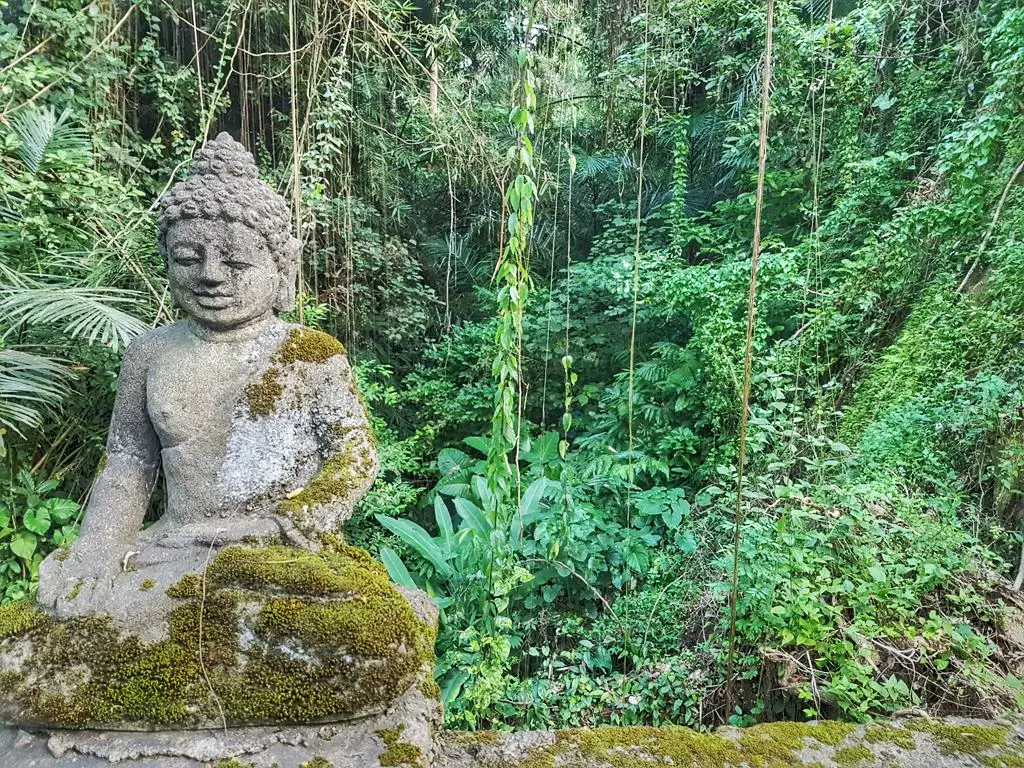 Which part of Bali is most beautiful?
That's like asking 'what's the best hotel to stay in Bali?' The answer could go for pages of blogs, or multiple blogs.
But check out 101 things to do with kids in Bali for some of the most beautiful spots in Bali like Tanah Lot, Monkey Forest, Nusa Dua beach, and more.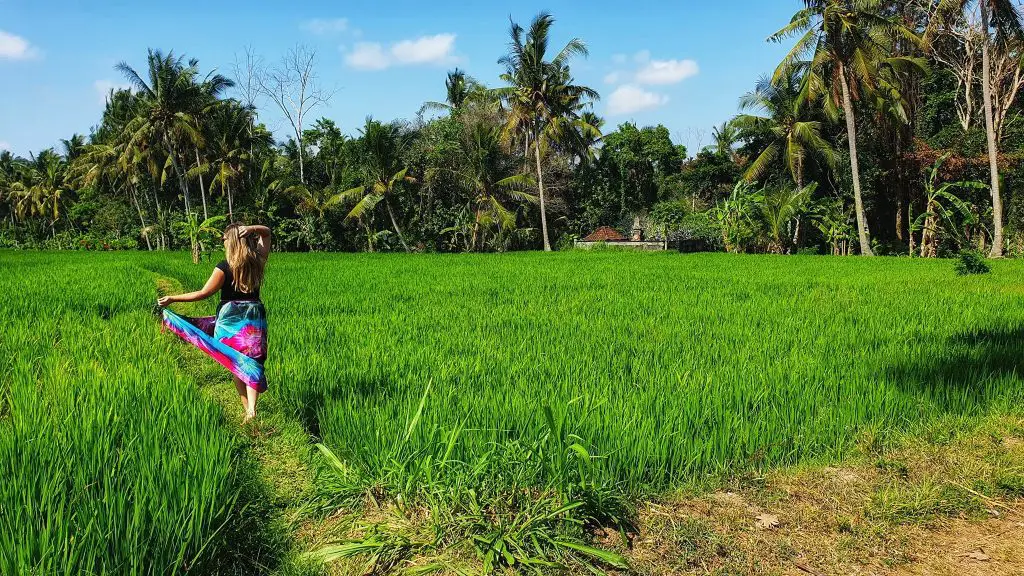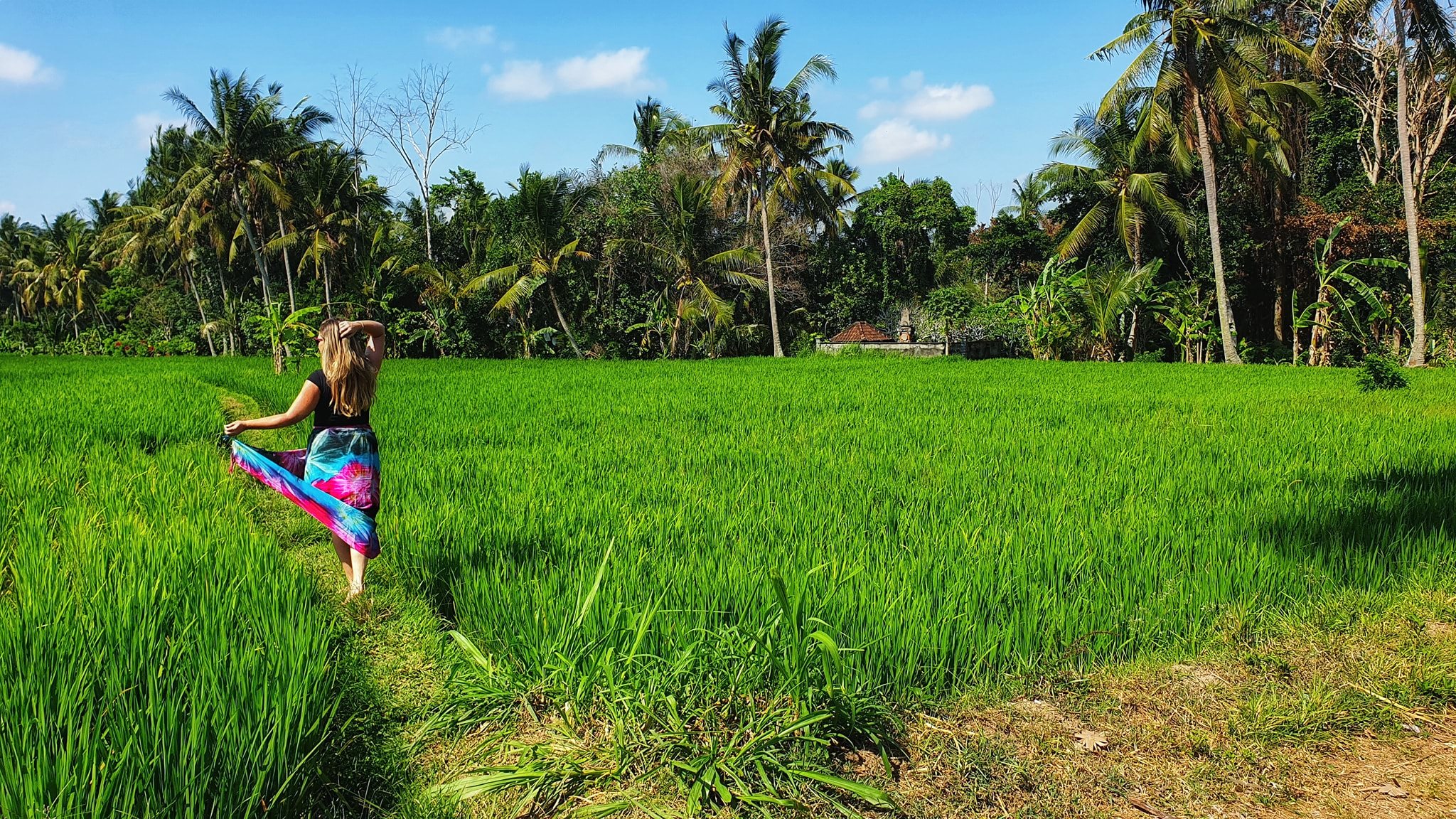 Where do Aussies stay in Bali?
Aussies head to Kuta by the truckload. They have also been known to spill over into Legian, and Seminyak.
However, Canggu is a new, up-and-coming favorite hot spot. I've visited once and look forward to staying there this year with Villa Finder. You'll also find a very cool kids club there with a waterpark, bowling, and trampolines!
Is it better to stay in Ubud or Seminyak?
Ubud is jungles and monkeys, while Seminyak is not far from Kuta with beaches, shopping, and nightlife. Ubud is the best place for a calm, cultural, nature vacation, whereas Seminyak is for those who like to be in the thick of all the shopping, nightlife, beach clubs, and activities.
In Ubud you'll find some of my favourite restaurants. And there is quite a lot of things to do with kids in Ubud.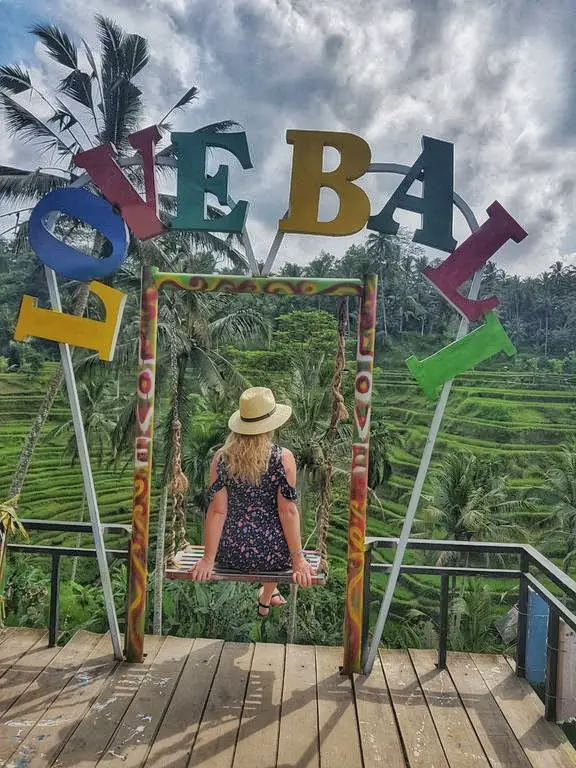 Should I stay in one location in Bali?
To make the most of this beautiful island I would certainly recommend a Bali itinerary across several of the best locations in Bali.
You can get a taste of multiple vacation types and try all the delicious Indonesian food in one visit with stops in Kuta, Ubud, and Nusa Dua.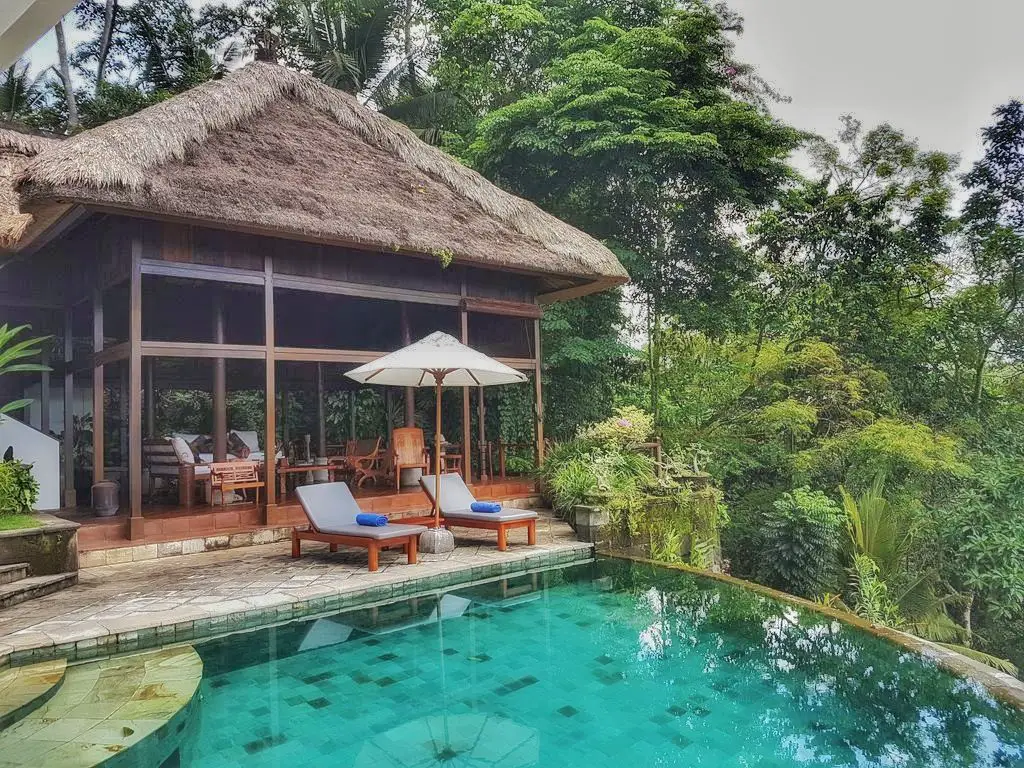 Where not to stay in Bali?
Kuta is one spot I would tend to miss on my trips to Bali. I like to go for a day or two to visit Waterbom Bali and do some shopping. But Kuta has become a tourist hot spot for mostly drunk Aussies.
Can you still find a quality night's sleep in Bali there? For sure. But would I spend my vacation in Kuta? No.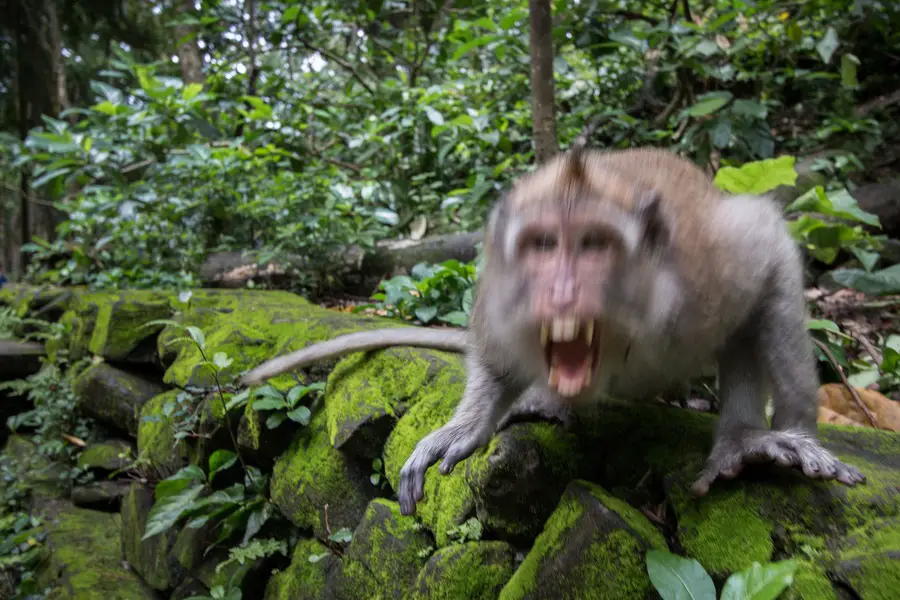 What is your favorite part of Bali?
My typical Bali itinerary would consist of:
Kuta – for a quick visit to Waterbom, beauty work, and some shopping.
Ubud – for private plunge pool villas, waterfalls, and jungles.
Nusa Dua – for some jet ski beach fun, and all-inclusive hotels.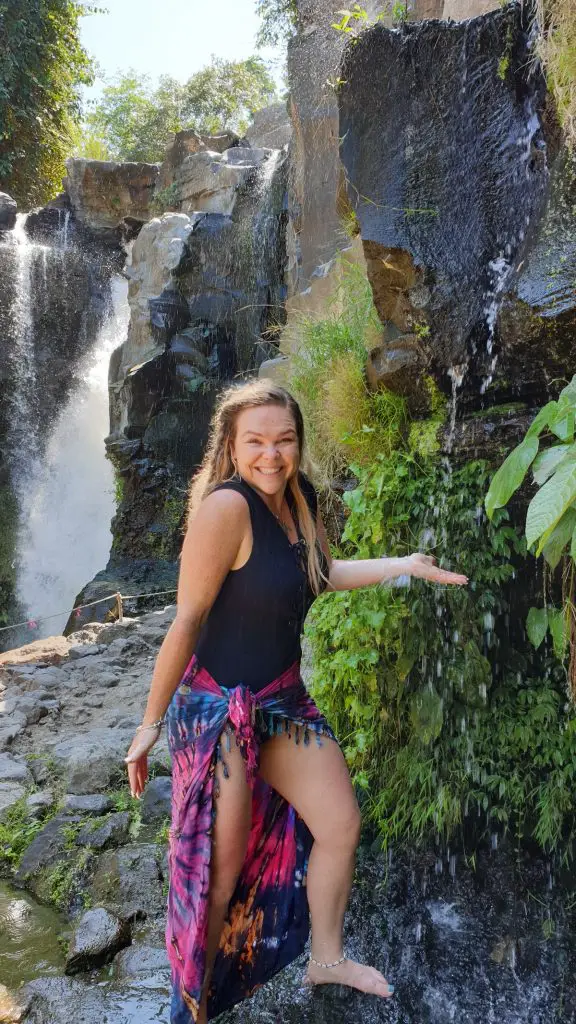 Best Locations To Stay In Bali
If you've decided to take the plunge and visit this tropical paradise, I am more than happy to offer my recommendations on where to stay in Bali. That's right, I have personally stayed at each of these hotels and you won't ever find me recommending any place that I haven't experienced myself.
Hopefully, this guide will help you decide on the best location to stay in Bali for you and your family from the numerous regions and hotels to choose from.
Please note: Star rating is based on Booking.com rating.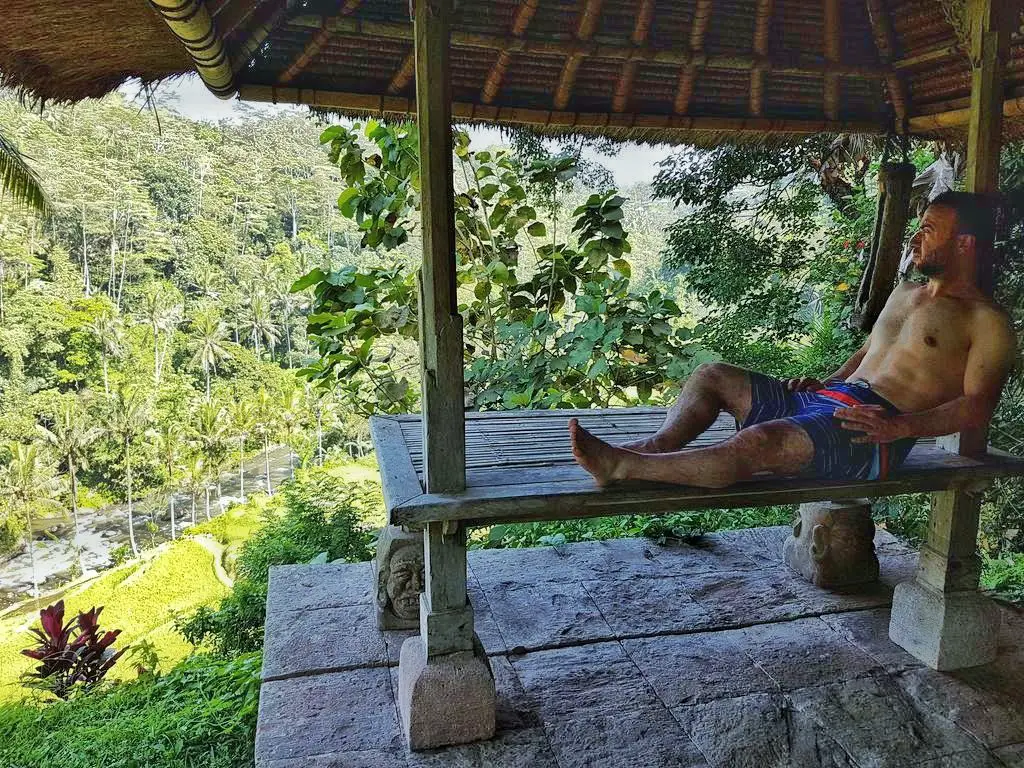 For plenty of pubs, restaurants, shopping malls, and cinemas you'll want to stay in tourist-centric Bali. You'll also find some of the best cheap accommodations in Bali perfect for groups since most of the island's clubs are located here.
It may seem like a crazy place to stay, but it is also a great location to stay in Bali for families because you can be close to the beach and water parks.
The distance between Denpasar Airport and Kuta is 2 km, so it's the closest place to stay by the airport on the west coast of the island.
Bali Garden Beach Resort 4*
Our new favorite place to stay is in central Kuta. Now that the kids are teens we can get two rooms, which is generally more affordable than a family room. It has several pools, including one overlooking the beach. The restaurants and spa are affordable, and the location is a mere 2-minute walk from Waterbom.
Sheraton Bali Kuta Resort 5*
One of the best family-friendly hotels to stay in central Kuta. Located on Kuta Beach next door to the famous Beachwalk Mall. They serve great food at several restaurants in-house, the kids club was undeniably excellent, and the infinity pool overlooks the most famous beach in Bali. It's also elevated enough to escape the noise and bustle.
Check latest prices | Read our review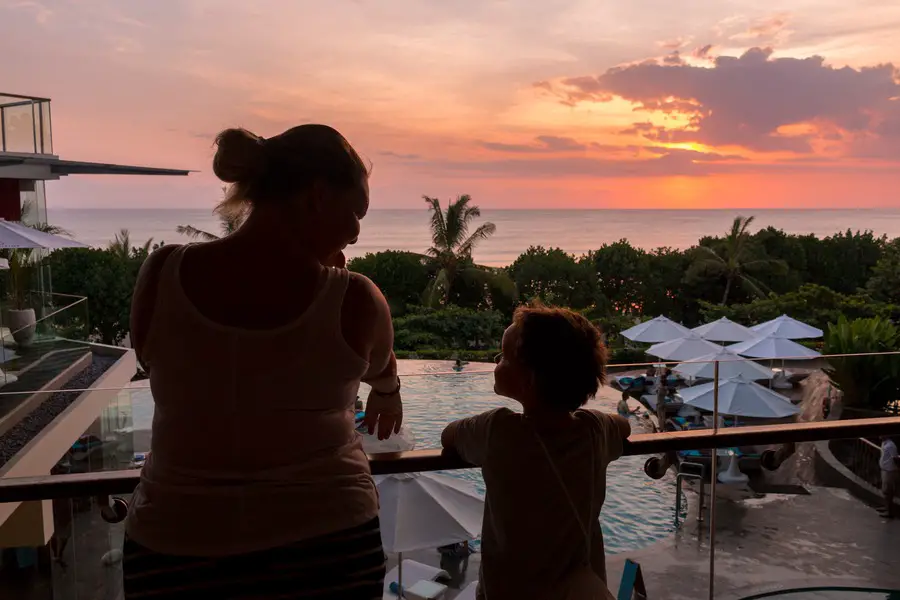 Hard Rock Hotel Bali 5*
This rockin' hotel is centrally located opposite the popular Kuta Beach. It features the largest free-form swimming pool in Bali, free electric guitar rentals in your suite, an awesome kid's club, delicious on-site restaurants, and private cabanas beside the waterslides!
Sun Island Hotel & Spa Kuta 4*
Possibly the best location in South Kuta – a 2-minute walk to Waterbom and Discovery Mall. Well-designed family rooms and a kid-friendly swimming pool. Budget-friendly and a central sleep in Bali!

Bali Dynasty Resort 5*
This resort used to be my favorite location to stay in Bali since the kids were really little, but prices have increased significantly since our first visit. It's still a great choice for those with young kids, because of its kid's pool area, kids club, and comfortable family rooms.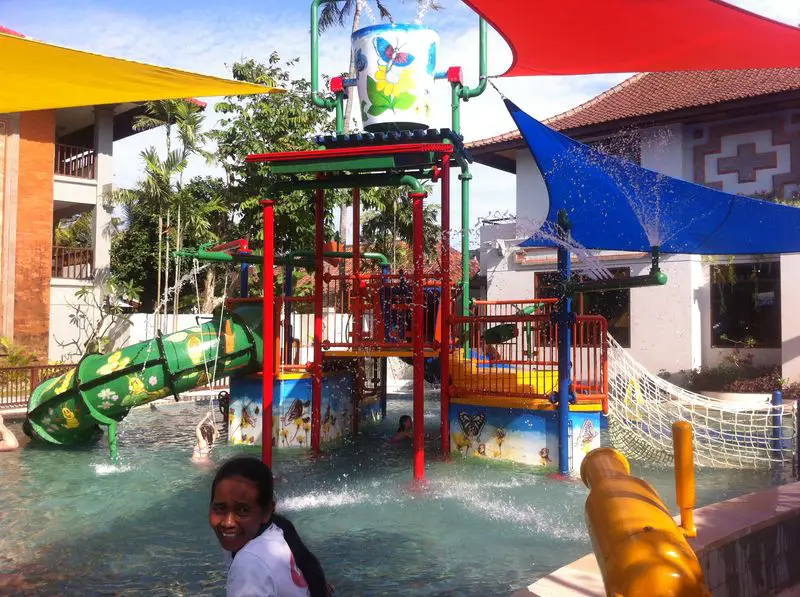 Febri's Hotel & Spa 3*
A great budget option for a family stay in Kuta. It's opposite the less affordable Bali Dynasty Resort, which shows you it's in one of the best locations to stay in Bali. It's Kuta's most popular road. Plus they have an epic, affordable spa.
Harris Hotel & Residences Sunset Road 4*
Another great budget hotel with a 2-bedroom suite option and a pool. Located on Sunset Road so a bit of a walk (or taxi ride) to where you want to be. But a great option is to stay close to the airport for an early morning or late night flight.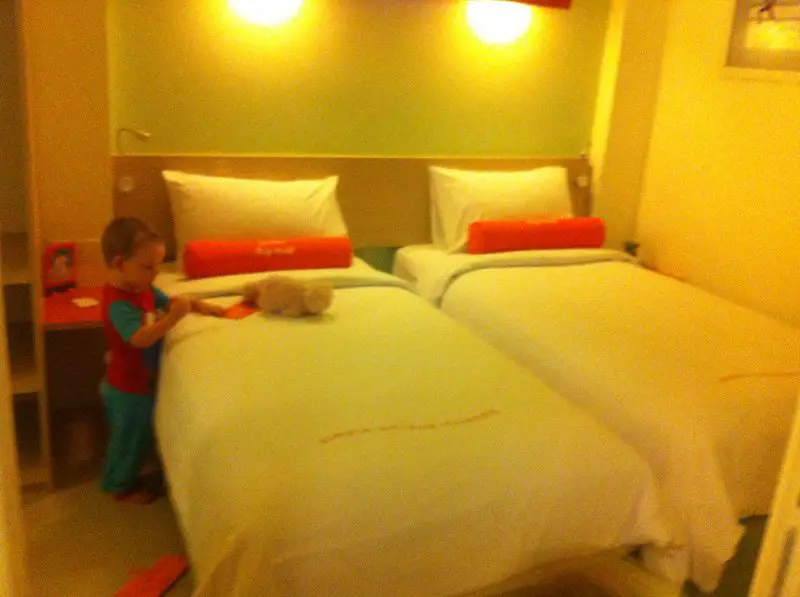 Waterbom insider tip:  Buy your ticket securely online and save 15% plus skip the regular ticket queue upon entry.
Close to the action of Kuta, but located further inland, with a higher emphasis on nightlife. This location to stay in Bali is well-known clubs and pubs in the area and loads of rooftop bars. Plus the famous Legian Beach.
Sun Island Hotel & Spa Legian 4*
This location to stay in Bali is on the main road, right in party heaven. It has an amazing rooftop infinity pool with a swim-up bar, and you can't miss a sunset from the 5th floor while the kids swim in the wading pool.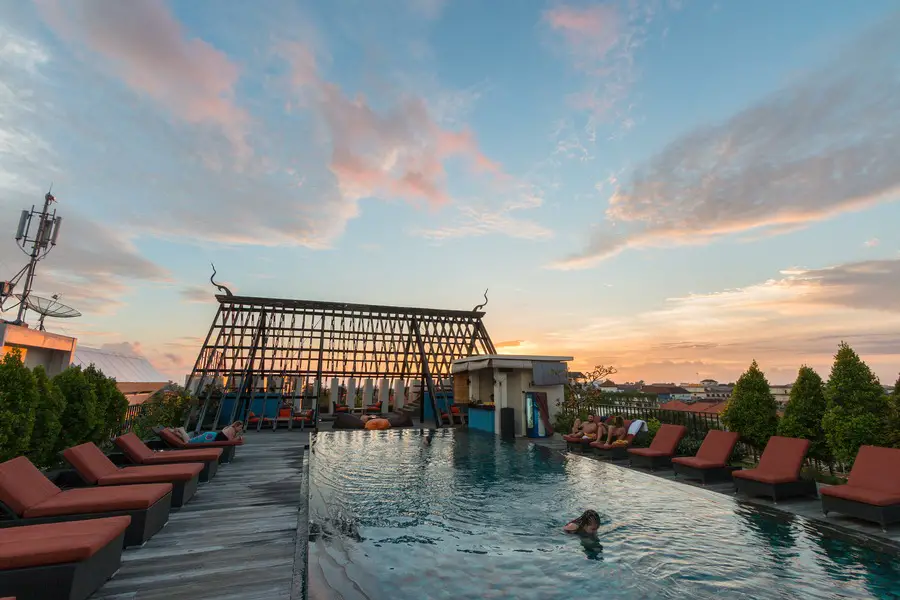 White Rose Kuta Resort, Villas & Spa 4*
A beautifully traditional taste of Bali. Hidden away in Legian, but still a short walk from shopping and restaurants. Relaxing pool and comfortable rooms.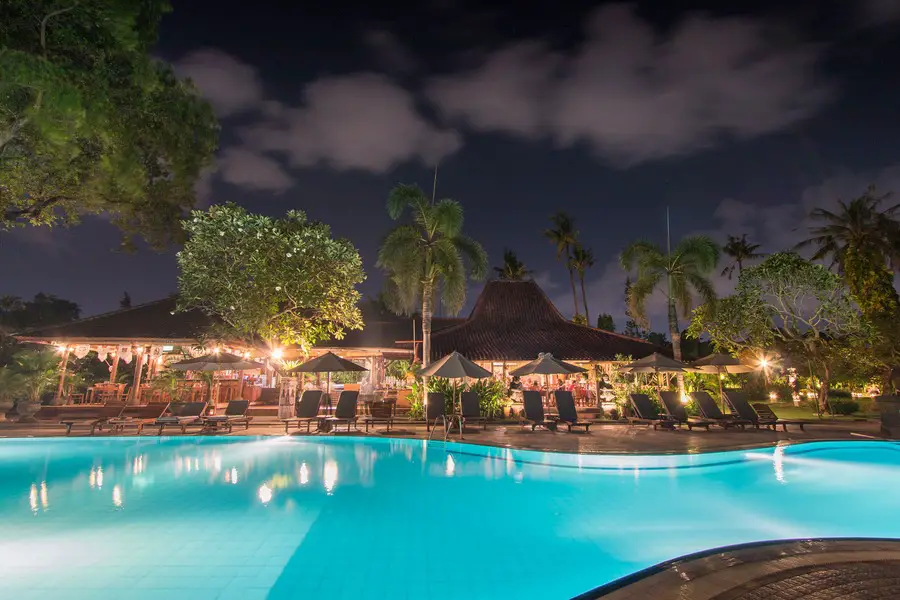 Anantara Vacation Club 4*
2-bedroom self-contained villas with a private pool. But what makes this property stand out is on-site activities like cooking classes, treasure hunts, and local tours.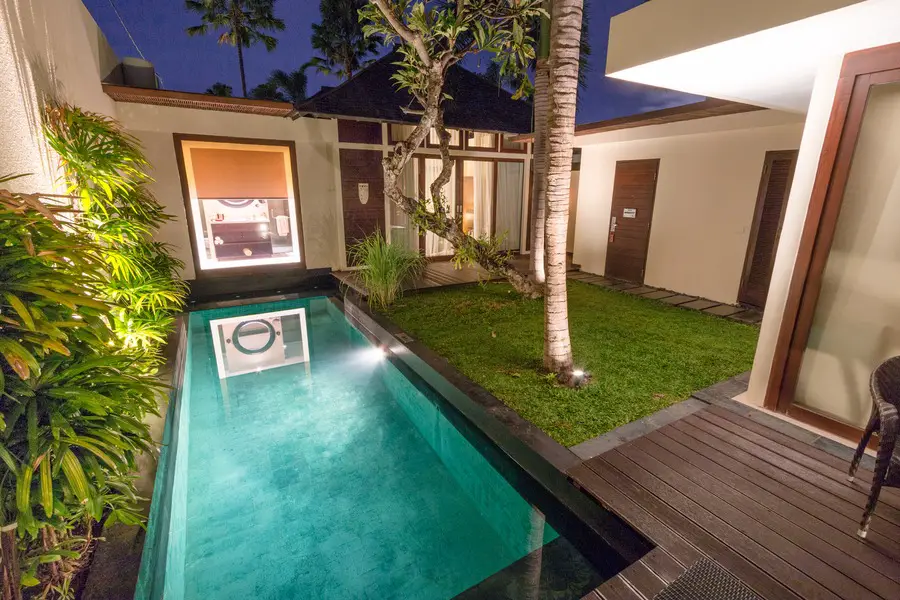 For a classier and more upmarket version of Kuta, most head north to Seminyak for their Bali stay. It's more relaxed than Kuta and you'll find plenty of private villas, plus a wide range of good restaurants and markets galore, and it's the home of the beach club. Find dozens of them on Seminyak Beach, we loved the W Bali.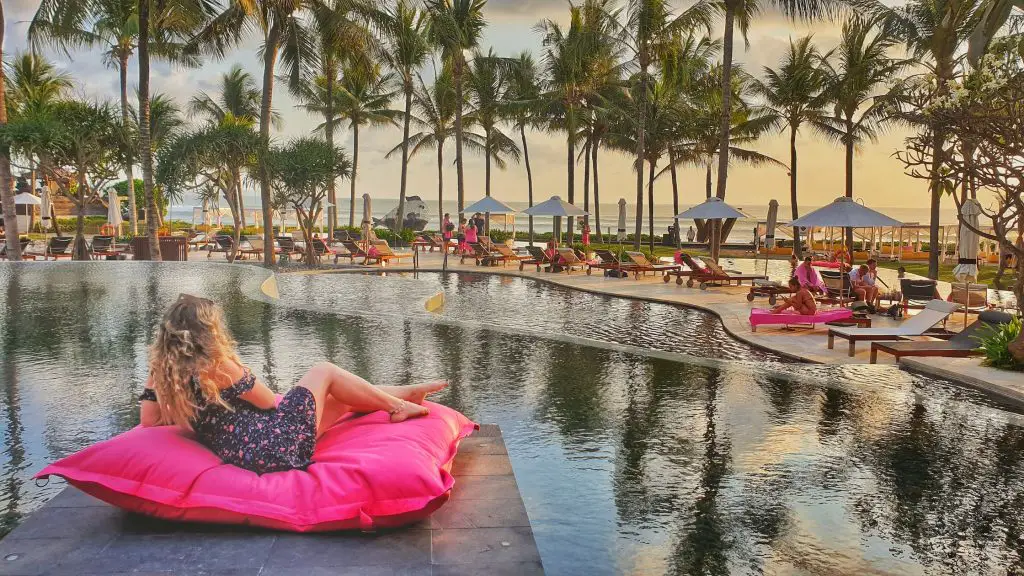 Sun Island Boutique Villas & Spa Seminyak 4*
This villa is a hidden, quiet paradise with markets and restaurants still at your fingertips. Located near the border of Legian and Seminyak.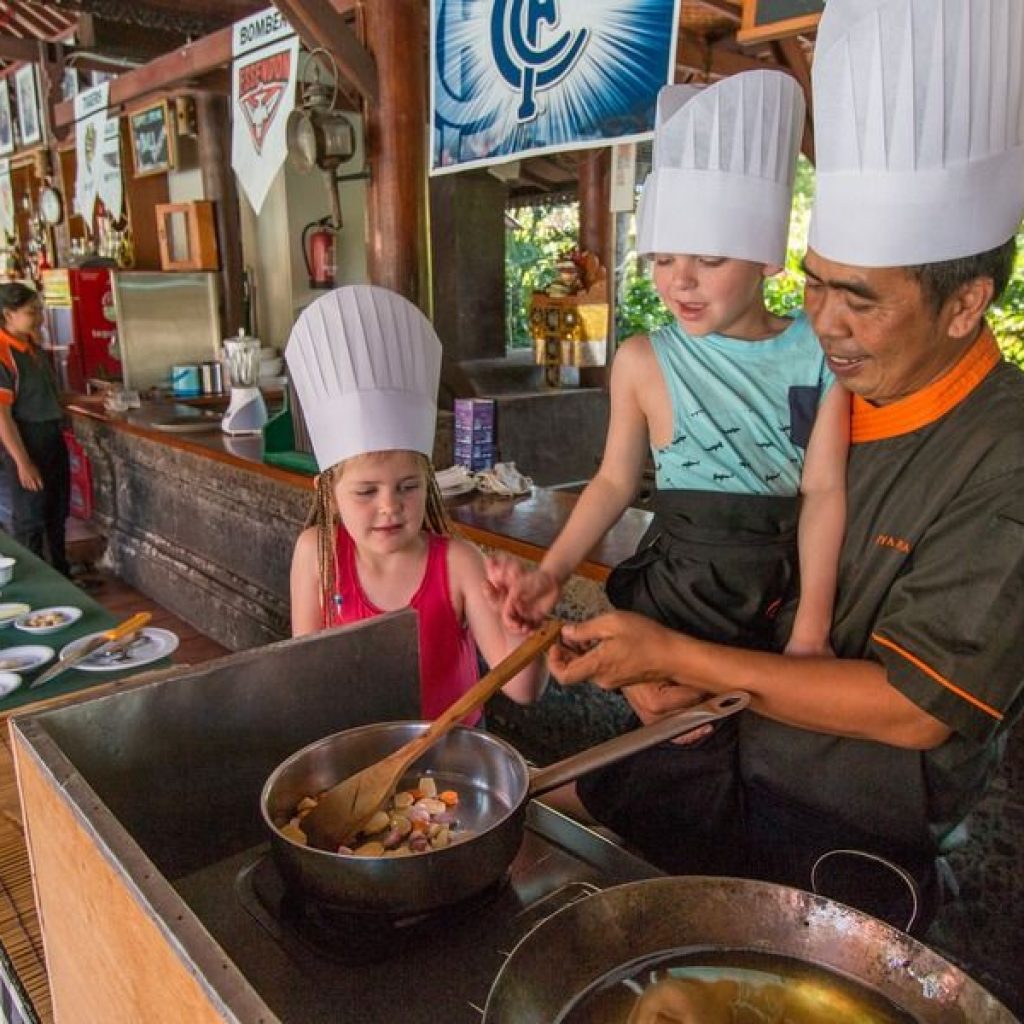 Villa Finder Villa
Loved this location, and the 3 buildings meant plenty of space for my family and my bestie's family. They also put on a delicious BBQ dinner and brought in someone to do Zumba in the pool with us.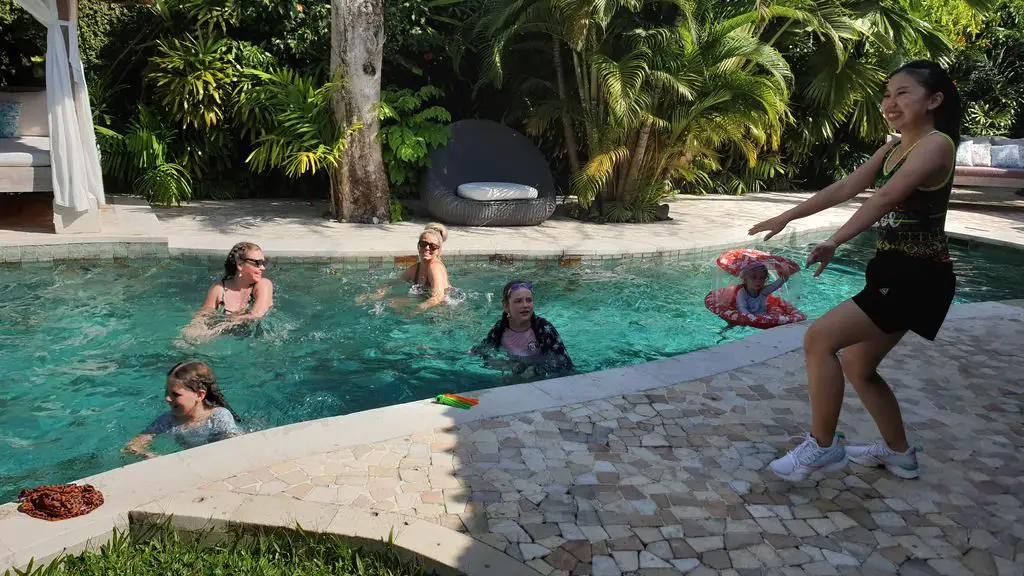 Flipkey Villa
We hired a 7-bedroom 7-bathroom home for a family reunion. Great location and came with breakfast daily.
Adventure Tip: Take a sunrise hike up a volcano in Bali! Check latest prices.
For divine beaches, brand shopping, and luxury head to the southeast coast for your stay in Bali. Also great for water sports in and on top of the water. Nusa Dua is about 15km from the airport, south.
Grand Mirage Resort 4.5*
This is the perfect family hotel situated in one of the best locations to stay in Bali, on Nusa Dua beach. Swim-up pool bar, kids club, water sports in the sparkling ocean, and delicious restaurants. The all-inclusive option is always a winner, as well as the family rooms.
Check latest prices | Read our review
Samabe Bali Suites & Villas 5*
This hotel is designed for anybody looking for an exclusive stay in Bali, honeymooners, and romantic getaways. That's not to say families don't feel at home too with their spacious suites and a fun kids club. Impeccable food and service. Pure indulgence is what this luxury hotel is all about.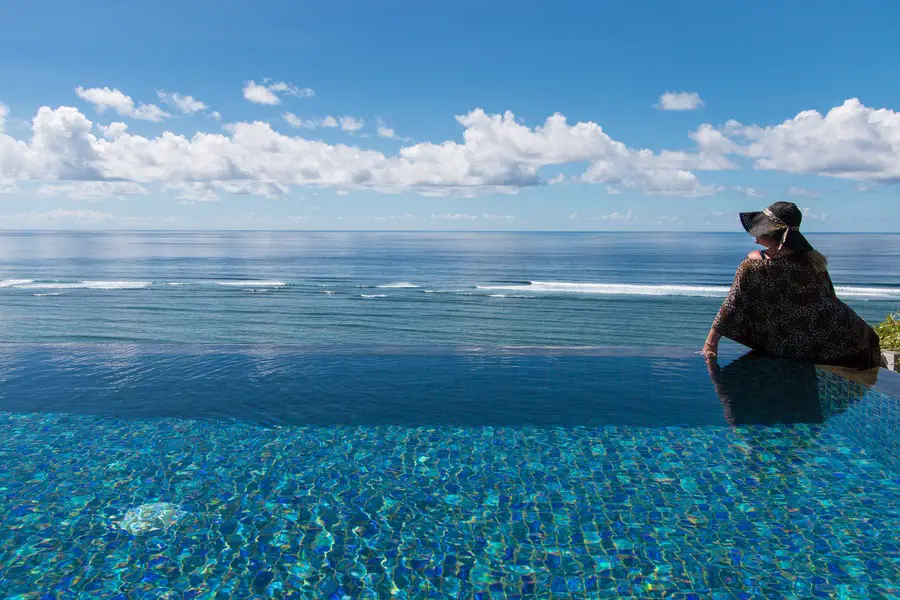 Holiday Inn Bali Benoa 5*
One of the best locations to stay in Bali. Gorgeous pool! Great included activities from morning yoga to fruit carving or cocktail-making classes. Delicious on-site restaurants, a family-friendly water park, and hire bikes. The whole family will love every minute.
Check latest prices in the area | Read our review
Novotel Bali Nusa Dua Hotel & Residences 5*
Massive family suites, fun kids clubs, and multiple swimming pools. Located near the Bali Collection shopping mall rather than on the beach.
Peninsula Beach Resort 4*
Great location in south Bali, close to markets and restaurants. Nice big pool for a leisurely break. We stayed here when our Jimbaran private villa required bathroom work, so while it was quick, it was welcome.
Check latest prices in the area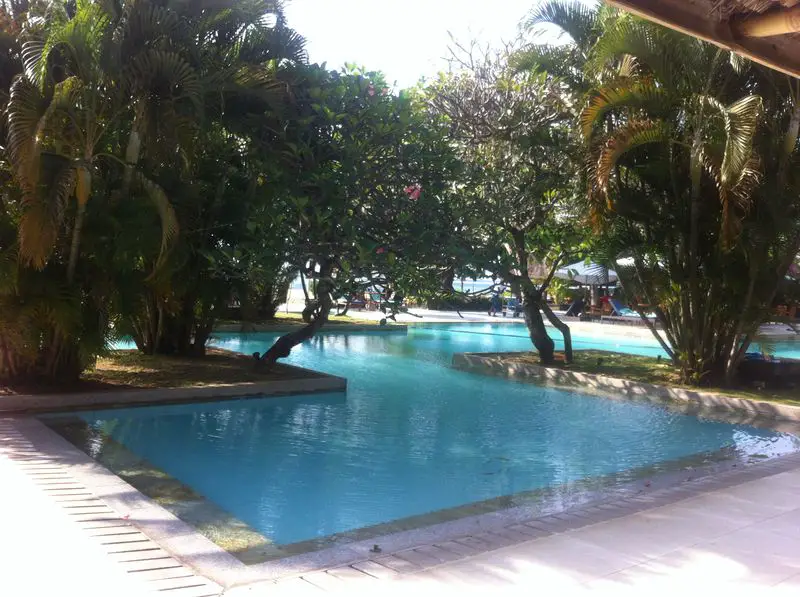 My favorite place to stay is in Bali, because of the cool, lush jungle and Tegalalang rice terrace. It also has some of the island's best food, you can read a complete list of Ubud restaurants here.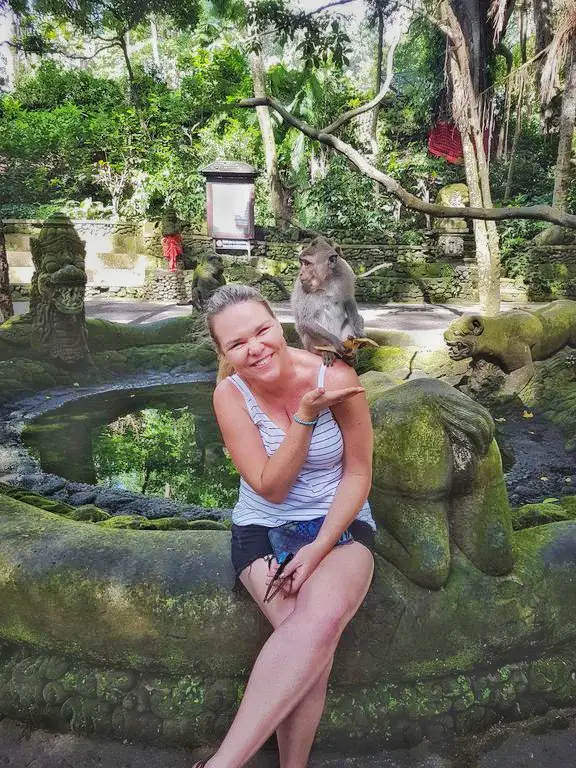 Ubud is located in north Bali (or central Bali depending on who you ask), about 1.5 hours north of Kuta.
It's also one of the best spots for your Mount Agung hike.
Hotel Tjampuhan Spa 4*
A bit of a walk out of town, but with views of Tjampuhan Ridge to die for you'll find this Bali location a great place to sleep. It's both relaxing and intimate. Also, a great spot to visit the spa and pools.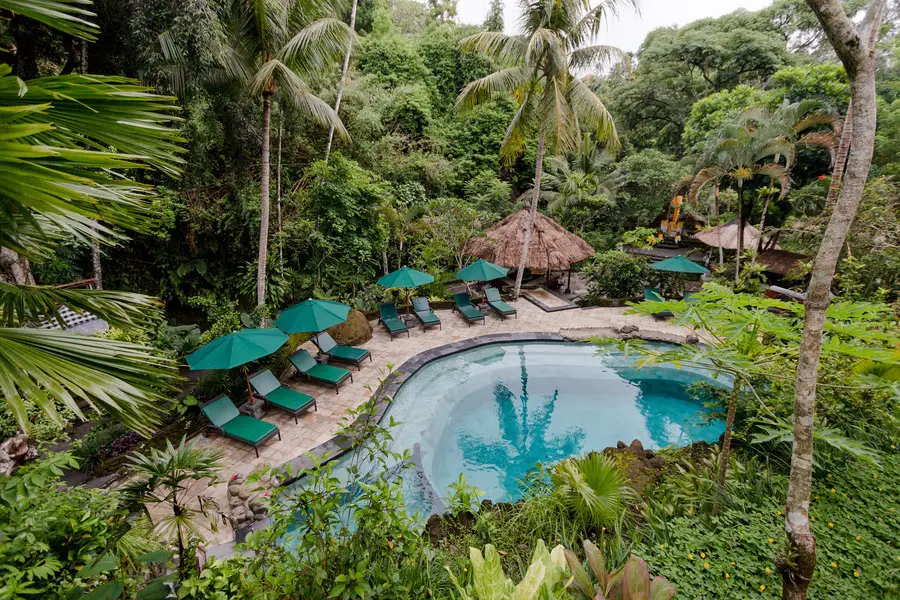 Artini 2 Cottage Ubud 3*
This is located in the best area of Ubud, a 10-minute walk from Ubud Art Market & the Ubud Monkey Forest. We chose it because with 3 teens we could no longer scoot around town and 3 rooms were very affordable. Outdoor pool, free Wi-Fi, and spacious rooms with private balconies and seating areas.
Bali Dream Resort & Spa 4*
In my favourite part of Ubud is this basic, but beautiful resort. The rooms are quite simple, the breakfast is lovely and the pool quaint. But the location is my favourite down the rice field paths of Penestanan. Don't expect a car to drop you off, but the hotel can use a buggy or bike to get your luggage there.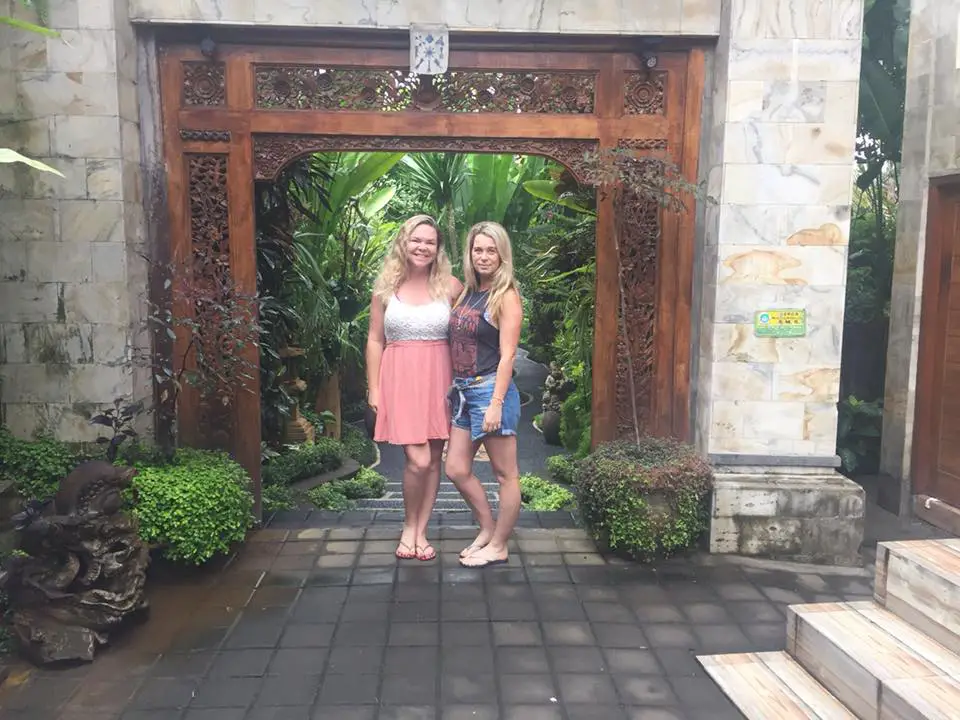 Villas
You can find a great list of private villas I have stayed in under our Bali destinations tab or here:
Mas Villa – outside of town, a perfect break from the hustle and bustle.
3 Reasons to Choose A Ubud Villa – this is a gorgeous villa with outstanding views.
Casa Raja – possibly my favourite place I ever stayed. We spent a month here.
Raja Damai – luxury to the max.
Raja Ananda – absolute luxury and space.
Cliffside Villa – this is someway out of town, so you'll need transport, but is situated on a cliff with delicious pool views.
Cliffside Villa – right next door to the above one.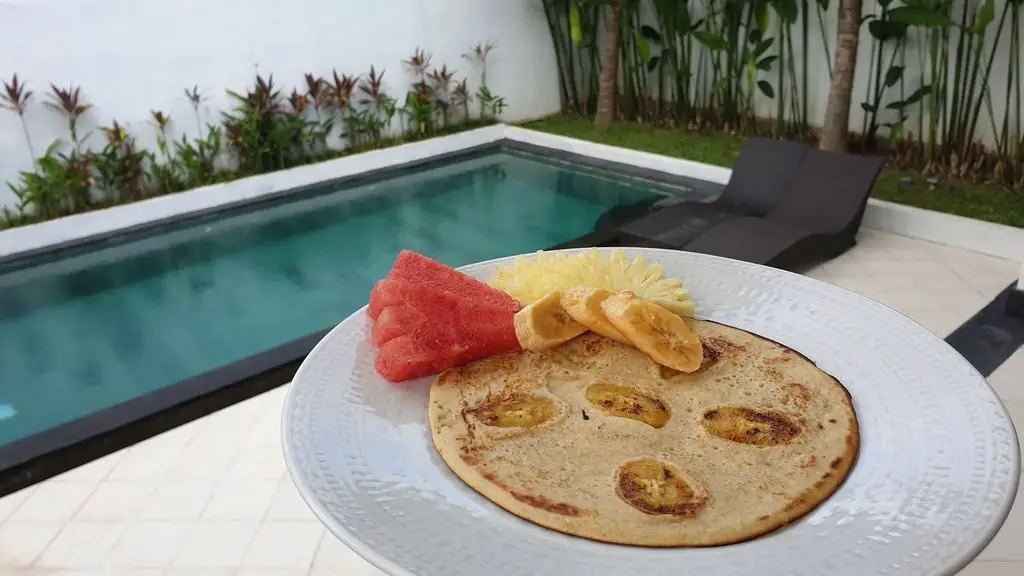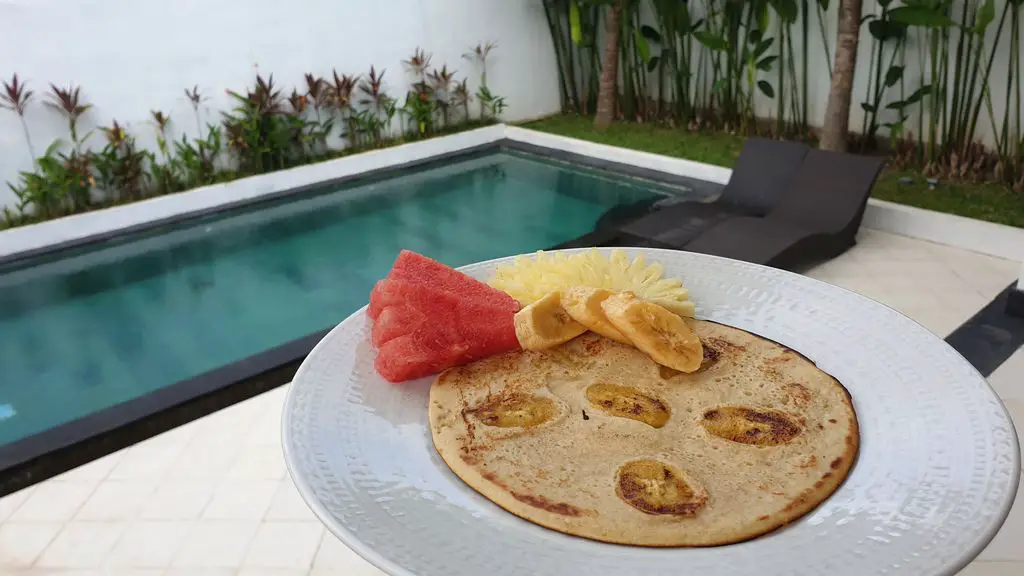 Ubud Tip: Take a tour to see the waterfalls and monkey forests of Ubud. See pricing here.
For beachfront dining or a low-key stay, you can be a relaxed recluse in your resort or stay with the locals. Situated on the southwest coast just a few minutes south of the airport. Everyone loves Jimbaran Beach and Jimbaran Bay, even if you don't like seafood.
InterContinental Bali Resort 5*
We've never had anything bad to say about any InterConintental Resort from Phuket to Koh Samui. This Bali Resort comes complete with a lavish club lounge, pool bar, well-equipped kids club, multiple restaurants, and of course, happy hour. A 2-minute walk to the famous Jimbaran seafood restaurants.
Check latest prices | Read our review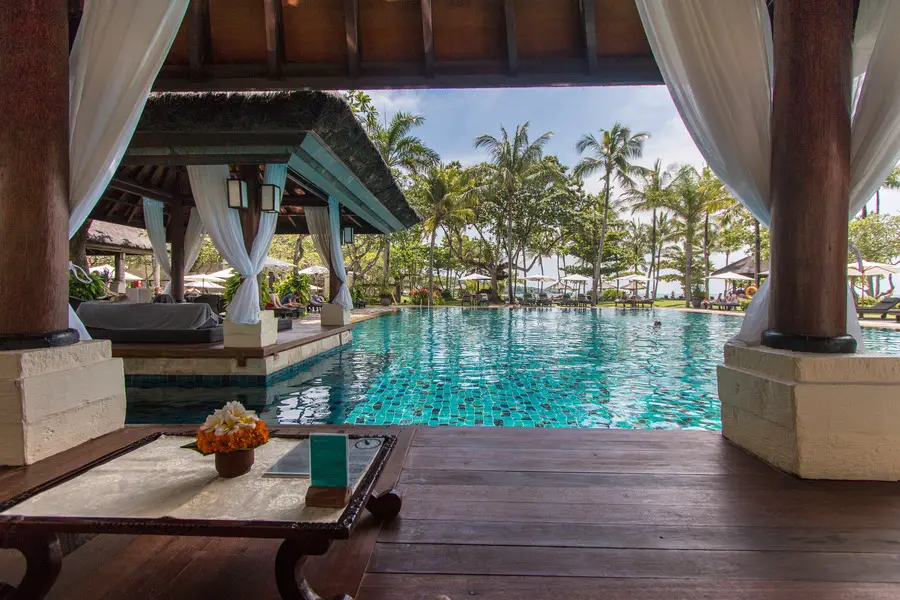 Le Méridien Bali Jimbaran 5*
This hotel is unbelievably scenic with a saltwater lagoon that winds around the hotel. Your stay in Bali is located next door to the Jimbaran seafood restaurants and a 1-minute walk to the beach. The roof-top restaurant offers the best Jimbaran sunset views. The on-site chapel is well-suited for destination weddings.
Sun Island Suites, Goa Gong 5*
For a private and exclusive stay in Bali, this large, spacious villa with a fully equipped kitchen and private pool means you don't even need to leave.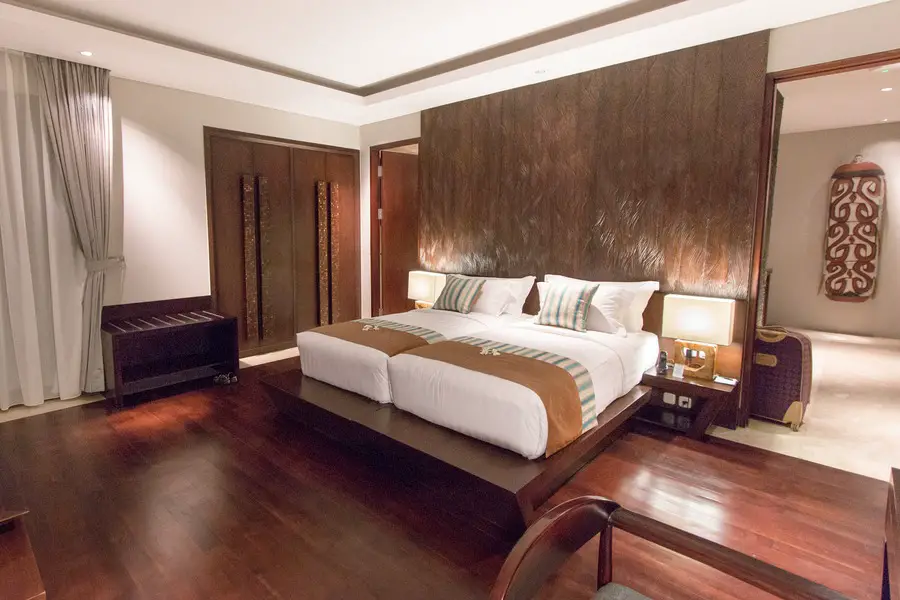 Canggu is a coastal village and popular tourist destination located in the south of Bali, Indonesia. Over the years, it has transformed from a quiet fishing village to a bustling hub for surfers, digital nomads, and wellness enthusiasts.
The area is known for its laid-back vibes, stunning beaches, and vibrant food scene that offers both local and international cuisine. Plus it's home to one of the best surfing points in Bali, the black-sanded Echo beach.


Sukhavati Ayurvedic Retreat and Spa
The must location in Bali for the ultimate detox, relax, and rejuevenation. I loved the whole program.
Villa Finder
Loved the mansion we stayed in here. Amazing pool, Western-styled bedrooms.
Read our review
Located on the east side of the island Sanur is built for a slower pace. Lots of beach activities and watersports. Check out the famous night markets in Sanur (also called "Pasar Malam Sindu") from 6 pm. Perfect family-friendly location.
Prime Plaza Hotel Sanur Suites 4*
A family-friendly hotel with a kids club, apartments, beach access, and plenty of pools. Located in the best area, right in Sanur Village.
We've taken a day trip to Uluwatu temple, but haven't stayed overnight yet.
Check out hotel prices here.
West Bali
West Bali National Park is on the northwestern tip of Bali. The conservation area includes the mountainous Prapat Agung Peninsula and the surrounding coastal waters. Forests, mangroves, and savanna protect rare animals. This is the least populated and least visited region of Bali. Although East Bali is also not visited frequently.
Puri Dajuma Beach Eco-Resort & Spa 4*
While this eco-resort is a 3 – 4 hour drive from the airport, this resort is set up with 18 cottages, 2 suites, and 5 villas and is one of the most unique places in Bali. It is like nothing I've ever stayed in before. I can only describe it as a very posh yurt. A round room with a beautiful straw triangle roof, an exquisite outdoor bathroom, and a massive, plush super king bed. Plus incredible views of the beach, 3 restaurants, and 4 bars. There are 2 infinity pools, and one of these has a slide linking the top pool to the bottom pool.
I managed to convince the team to give you a 45% discount so you can go explore West Bali! All you need is the promo code: EXPLOREWITHERIN when making your booking here.
Check latest prices | Read our review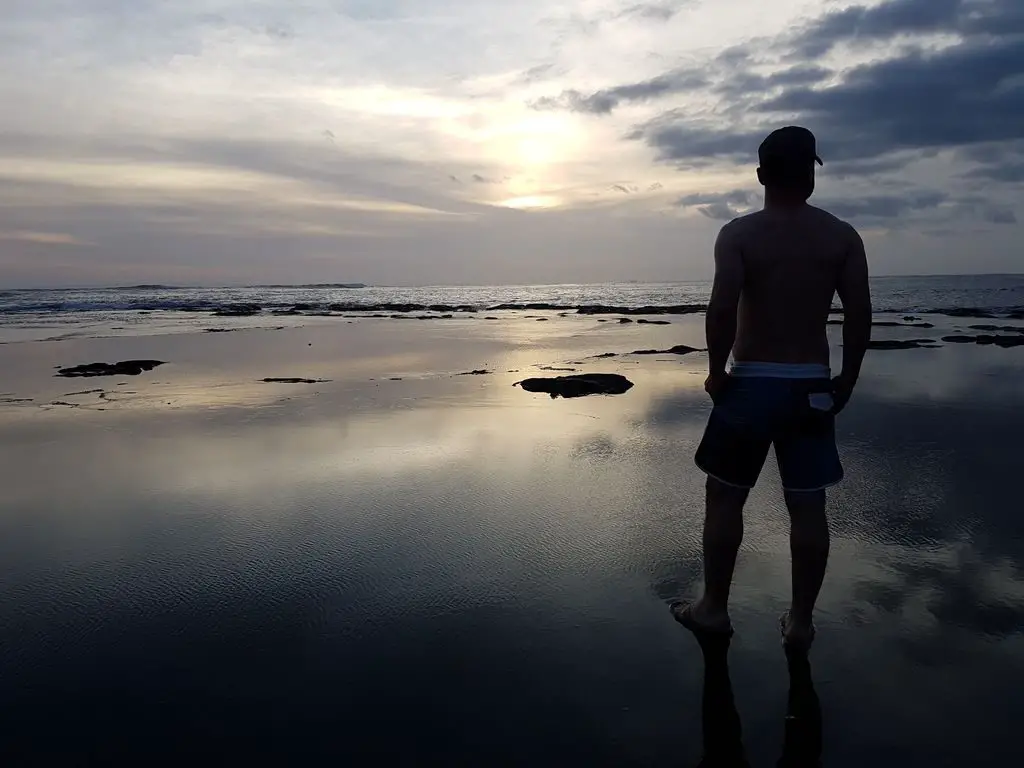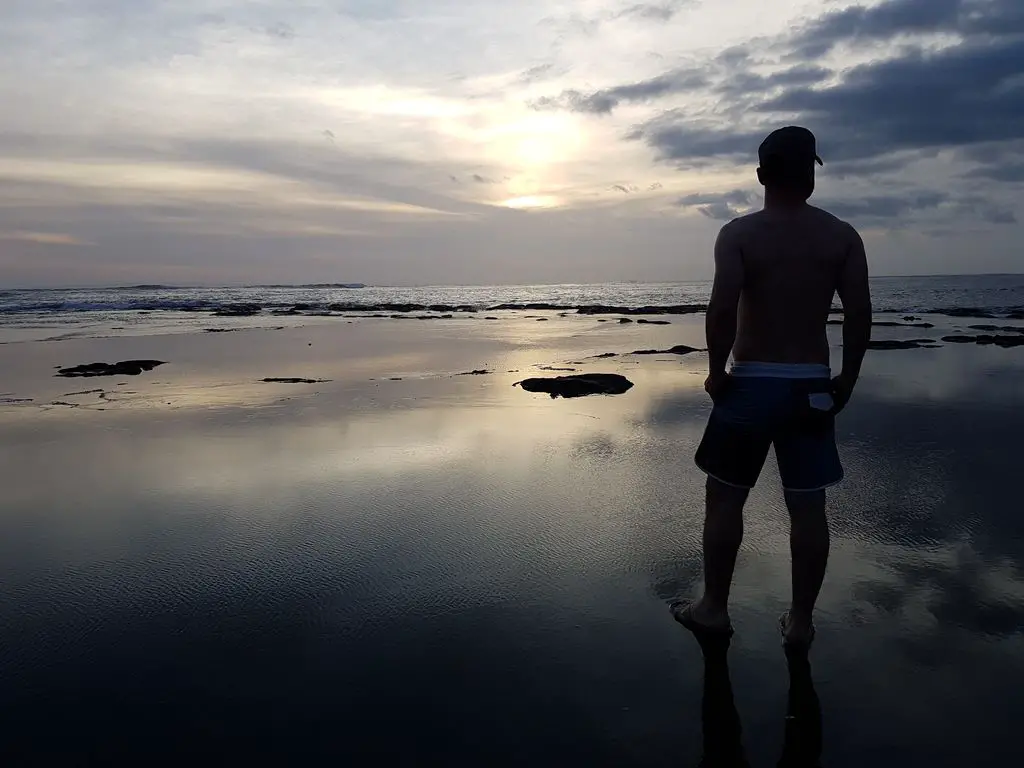 Lovina
Lovina is the main tourist town in North Bali, famous for its black sand beaches and dolphin spotting. I haven't yet made it to north Bali.
Animal Wildlife Tip: Consider a swim with dolphins while in Lovina. Check price details here.
Lombok
Lombok is an island, not far from Bali. It is similar in size to Bali, however, it is part of West Nusa Tenggara province.
Check out hotel prices here.
The Studio 3*
If you are looking for a local stay in Bali this is perfect. About 15 minutes drive out of Senggigi is this family compound. The home was located above a family home.
This family made breakfast and cleaned the villa daily. It had 3 rooms, all with beautiful mosquito nests. My kid's favorite part? They had a trampoline!
But the highlight of this stay for me was the infinity pool overlooking all of Lombok. We spent the majority of our days there. Literally in paradise.
Check latest prices | Read our review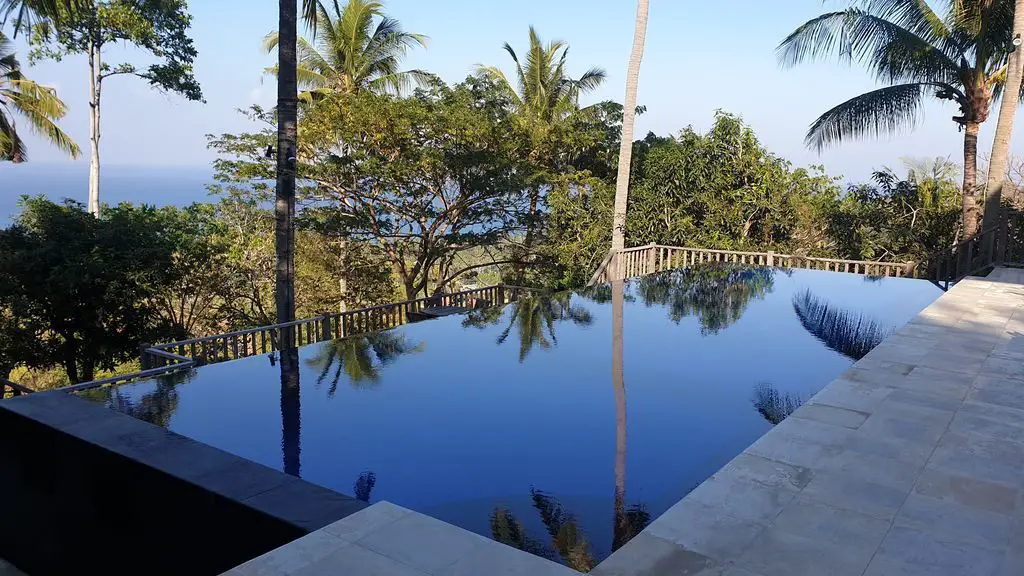 Rinjani Lodge 3*
A luxury resort for your stay in Bali with a huge amount of solitude and magnificence. Eating at Rinjani Lodge was a pleasure. Plus, the views over the mountains are breathtaking.
Check latest prices | Read our review
Transfer Tip: Book your fast boat transfer to Lombok here.
I'm yet to visit. Someone tell me below where they would stay!
Check out hotel prices here.
I'm yet to visit. There are three Gili Islands, Gili Trawangan, Gili Air, and Gili Meno. These three islands are a popular addition to many a traveler's Bali itinerary. Someone tell me below where they would stay in Gili T!
Check out hotel prices here.
Adventure tip: Take a snorklling tour around the beautiful Gilli Islands. Check pricing here.
I've only ever done a day trip to Nusa Penida but would love to spend more time on this beautiful island, not far from Bali.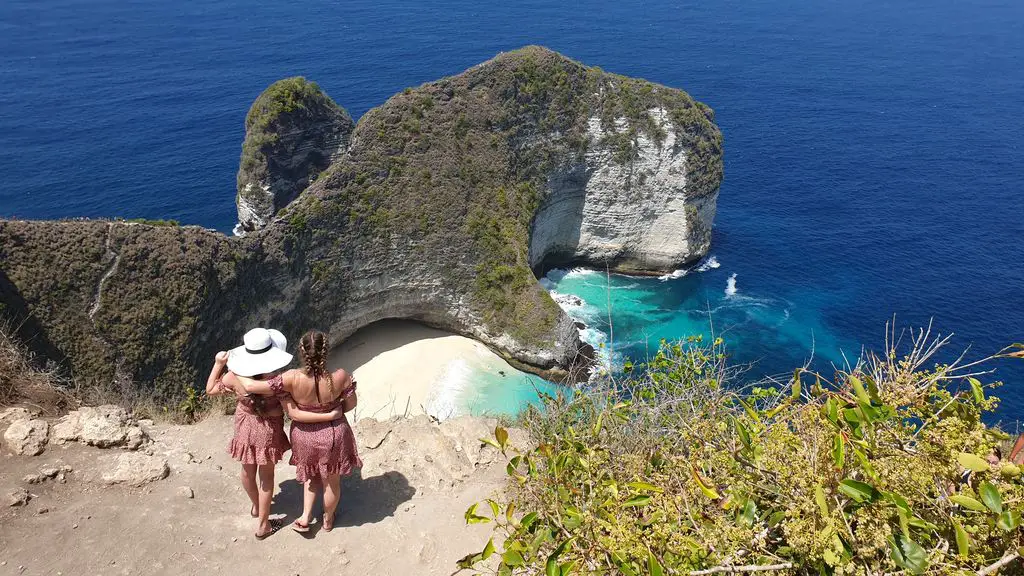 Check out hotel prices here.
Wildlife Tip: Want to swim with Manta Rays? Check the price here.
EWE Wrap Up
So what sort of holiday in Bali are you looking for? Seclusion, relaxation, shopping, or nightlife? Family-friendly, romantic getaway, generational, group trip?
Bali has it all. And I hope this guide helps you choose where to stay in Bali. But if you're like me and can't decide, split your time between 2 or 3 hotels and get the best of everything.
Whether it's your first visit to the islands of the gods or your 20th like me, the friendly culture and bargains galore will keep drawing you back.
Don't overthink your stay. Remember, there's always a next time.
Look how easy it is to pin this!
FOMO - do you have it?  Well there is no need to Fear On Missing Out here at Explore With Erin. Sign up to receive updates directly to your in box. I won't spam you, but I do promise a whole lot of awesomeness. What are you waiting for? Join Me!