There are many things to do in Bali. I have 101 things to do in Bali with kids or without them. And while most people want to head south to the beaches of Nusa Dua or stay central in the entertainment district of Kuta. I am in love with all the places to visit in Ubud.
Beautiful Ubud. You know how much I love it. In my previous article on 3 Reasons Why To Choose a Villa In Ubud, I described that after living there and visiting more than 15 times in my last 5 years of nomadic travel, it became like a second home. A second home that I would love to share with you. So let me attempt to get out all my wealth of knowledge on the jungle heaven part of the island of Bali.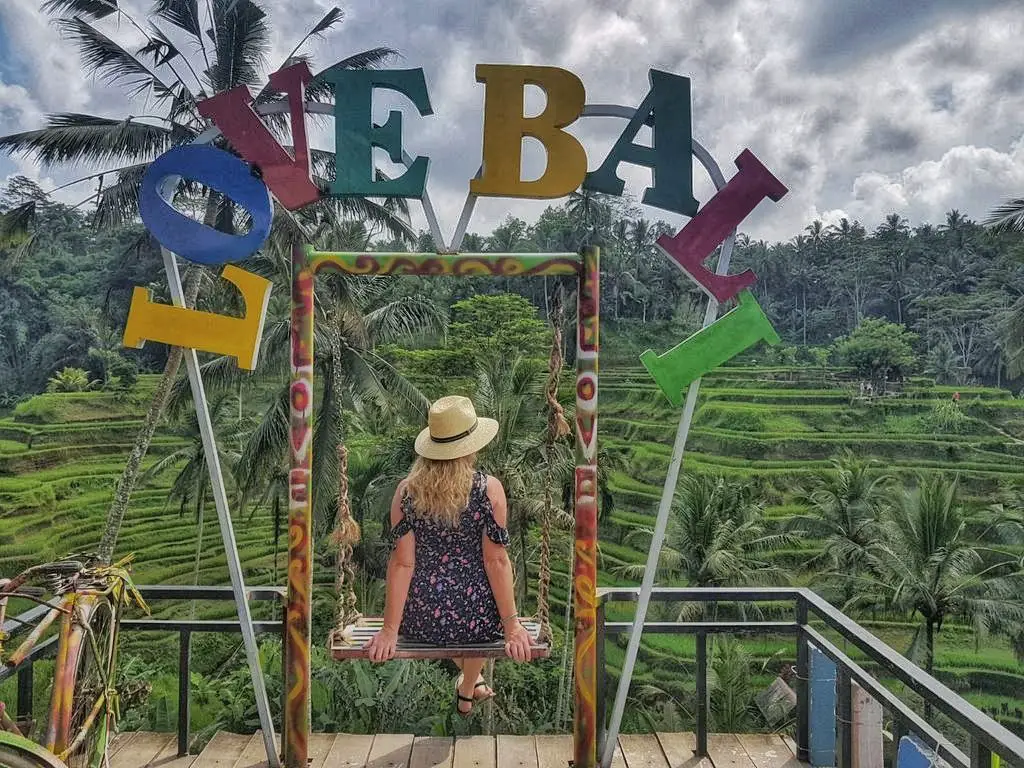 How do I get to Ubud?
Bali has 1 airport – "Ngurah Rai" located south of Kuta. It went through a recent renovation and is a very big and beautiful airport.
From the airport, you can take a fixed-price taxi to Ubud or you can arrange a driver ahead of time to collect you. A driver will cost about 300,000 rupiahs (approximately AUD$30). The journey will take around 1.5 hours depending on traffic. Drivers can be found anywhere from TripAdvisor reviews to Bali Facebook forums or simply ask the owner of your villa to organize his, most villas have them.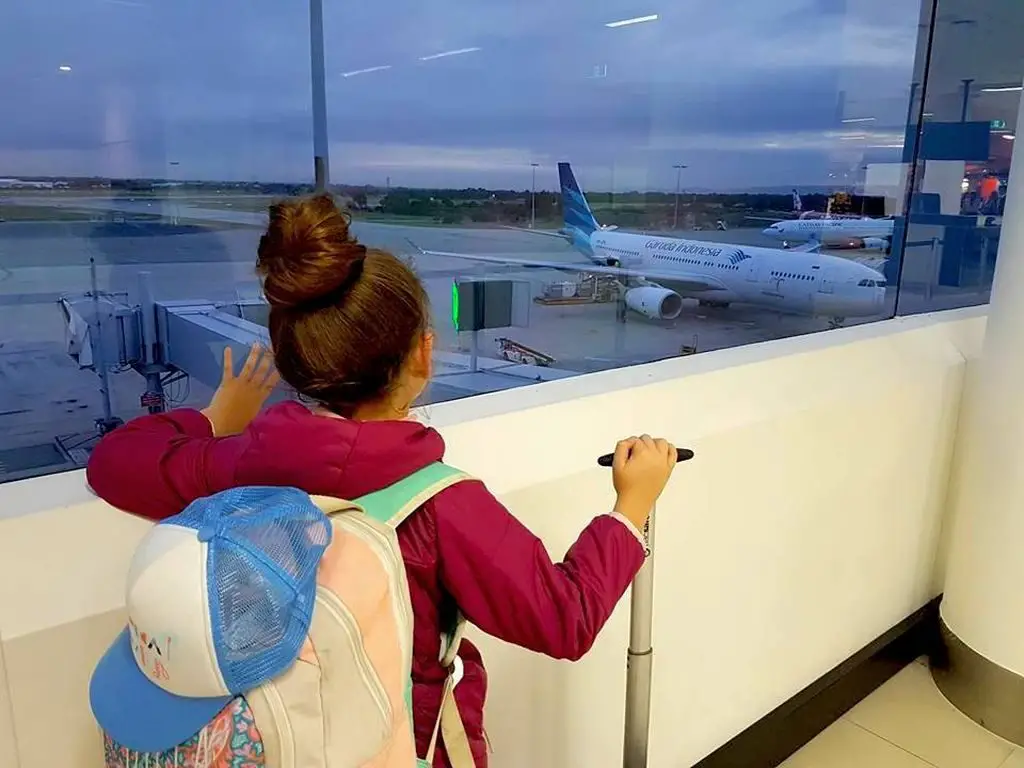 How do I get around Ubud?
The traffic in Bali is bad, but scooters can get around much faster and easier than joining the throng of cars making their way across the island. They are also much easier to park, especially in the small center of Ubud. Here are my tips for driving in Bali.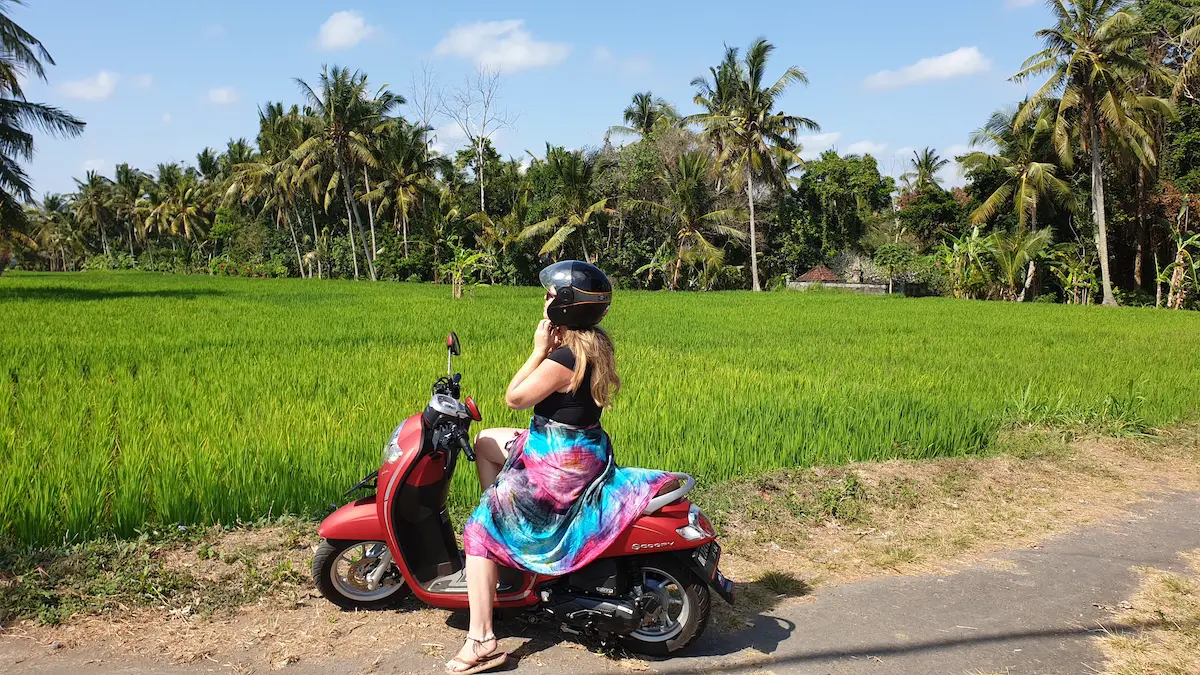 You can hire a scooter for around 600,000 rupiah per month (AUD$60) or around 50,000 rupiahs per day (AUD$5). Helmets are included with the scooters; it is a legal requirement that the driver wears one. Usually, there's no paperwork or deposits so don't get stressed when they just hand over the bike.
Filling up petrol (gasoline) is easy – look for small shops selling fuel in glass Vodka bottles. These usually cost around 15,000 (AUD$1.50) for a large bottle – enough to fill up a scooter tank. Simply pay the shopkeeper and they will do the filling up for you.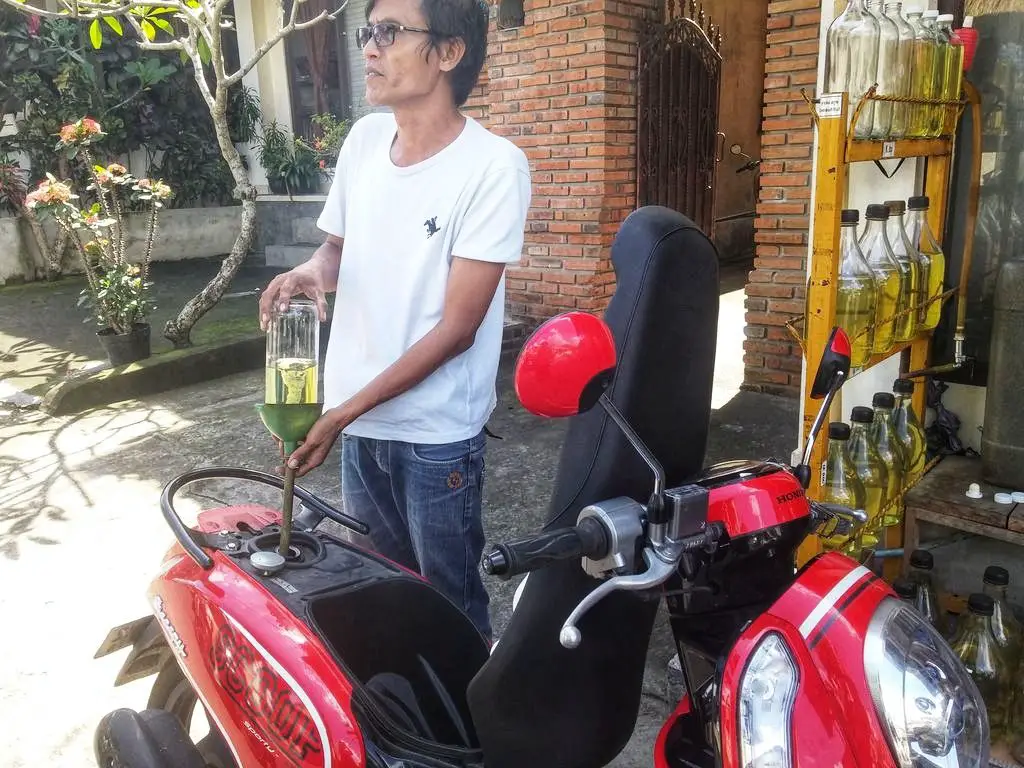 Most Australians don't carry an international license with them when driving, however, it will help if you're pulled over by the police. No international license? Most police will accept a small bribe – around 50,000 rupiahs (AUD$5). Just be sure not to flash all your cash in your wallet, as that bribe will triple. My best advice is to keep a 50k note separate in your pocket or bra so it's easy to reach as the "only money" you have. I do not recommend bribing the police, but if they ask you – you've been warned.
Ubud does not have any regular metered taxis and in fact, is run by a very strict mafia. You'll constantly see signs demanding the prohibition of Uber and the like. Nearly every Balinese is a taxi. You'll usually see them standing on the side of the street either calling out or holding a small sign. A journey into and out of town (from the outskirts) will usually cost about 50,000 rupiahs one way (AUD$5). They will always ask for more so make sure you use those awesome bartering skills before getting in.
Where should I stay in Ubud?
I prefer a villa stay while in Ubud. You can read why here.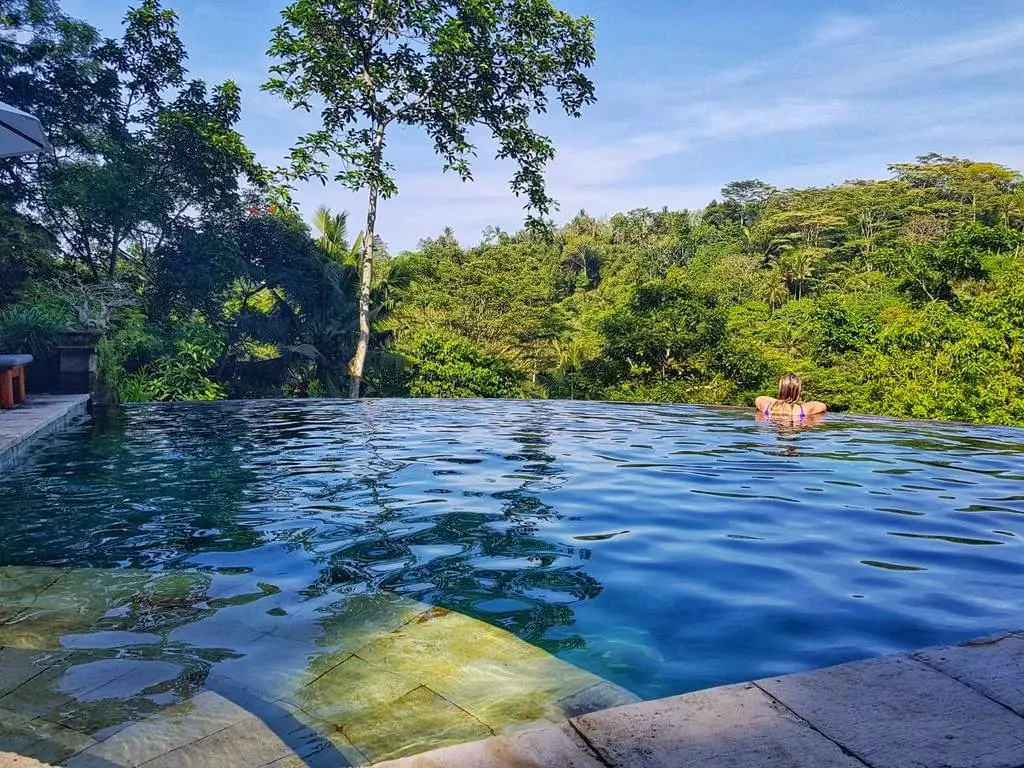 What language do they speak in Ubud?
The official language is Balinese and Bahasa Indonesian, but you should have no trouble speaking in English.
What money do they use in Ubud?
The official currency is the Indonesian Rupiah. At the time of this article, 1 Australian dollar roughly equates to 10,000 rupiahs. Some businesses charge in USD, but this is largely frowned upon and is slowly being fazed out.
I've never had any problems using an ATM, but your bank may charge quite a high fee and most ATMs only release between $200 – $300. Some banks offer no-charge ATMs so check that out. 
When changing money, it is better to use an airconditioned indoor dealer. Be careful when dealing with scrupulous street money exchangers. Always count your money before walking away and check the exchange rate on your calculator (not there's!).
Finally, I do use my credit card at supermarkets and restaurants without issue. As always let your bank know and check your receipts when you get home.
Is Ubud worth visiting?
Yes. Without a doubt. Below you will find my list of things to do in Ubud Bali, which makes it worth visiting. 
What is Ubud known for?
Yoga. Jungle. Monkeys. All unique Bali things are located in my favorite spot.
Does Ubud have a beach?
No. You're going to want to head to Sanur, Nusa Dua, Uluwatu, Kuta, or Jimbaran for that. But Ubud is so much more than a beach, you will love all the Ubud activities. And if you're into the water, there are plenty of Ubud sightseeing attractions for that. Or go visit my favorite beach spot – Nusa Penida.
How many days should I stay in Ubud?
As many as you can. I've lived here for months, but given 3 days in Ubud, you'll see all the Ubud attractions. 
What are the Covid restrictions in Ubud?
Like most places, Bali was hit pretty hard in the pandemic but is currently experiencing lower numbers. As always wash your hands, sanitize, and be safe. Bali originally opened on a quarantine arrangement, but you will need to check the latest rules before you go. Things change so quickly. I recommend Smart Traveller.
I got Dengue Fever in Bali, so do take precautions.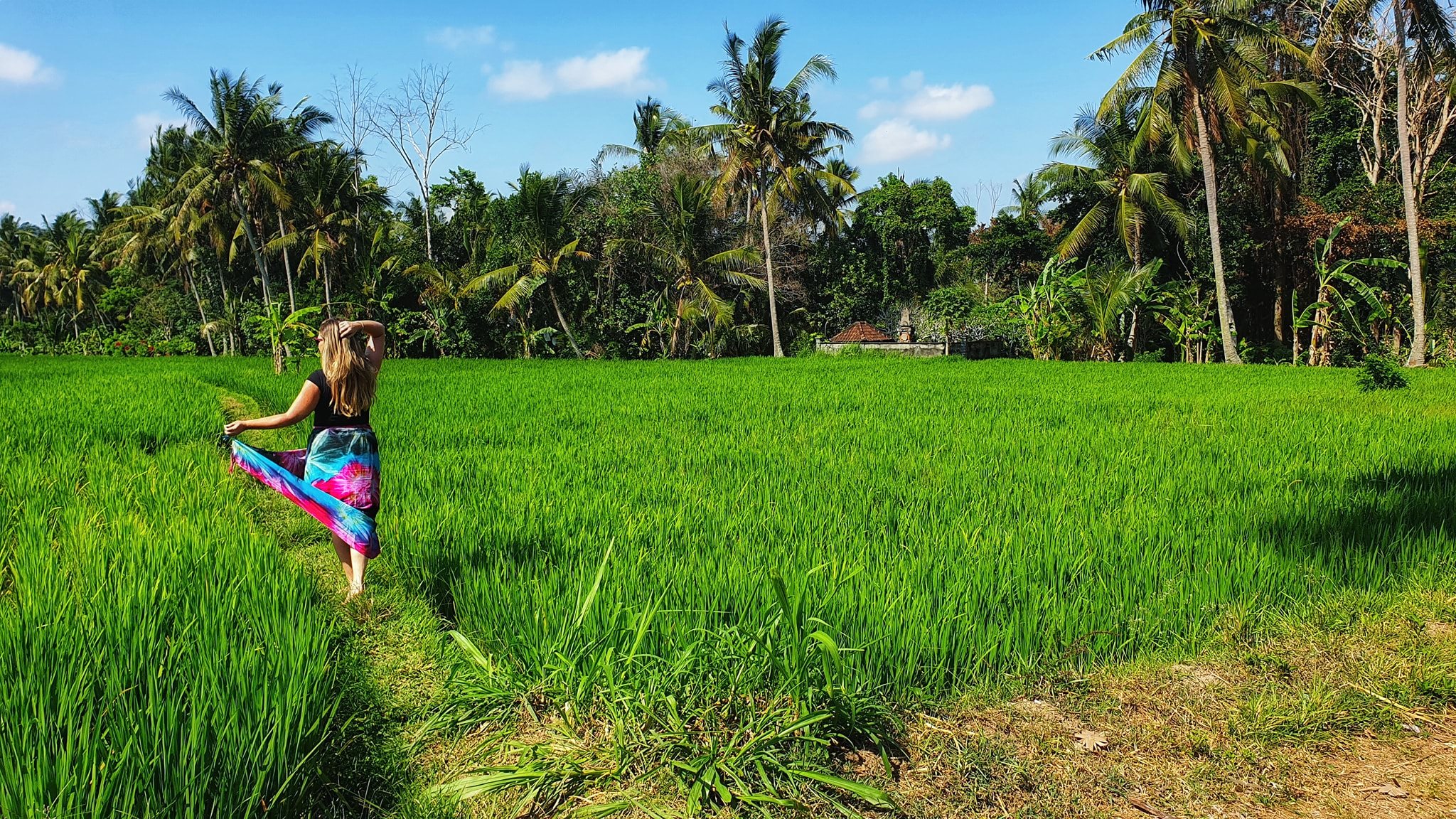 23 Things To Do In Ubud
You've come to Ubud for rest and you are bound to get that. But, if you are after more you will find more too. Here are my favorite things to do in Ubud.
1. Tegallalang Rice Terrace
Only a 20-minute ride from our Ubud Villa was is these stunning and simple rice terraces. I'd heard about this place a thousand times. I'd seen hundreds of pictures. And now I've finally seen it for myself. The Tegallalang rice terraces offer a scenic outlook that spreads down before you and away to the rice paddies on the slopes across the valley. Incredible photo location.
Consider a Bali Instagram Highlights tour to get shots like these.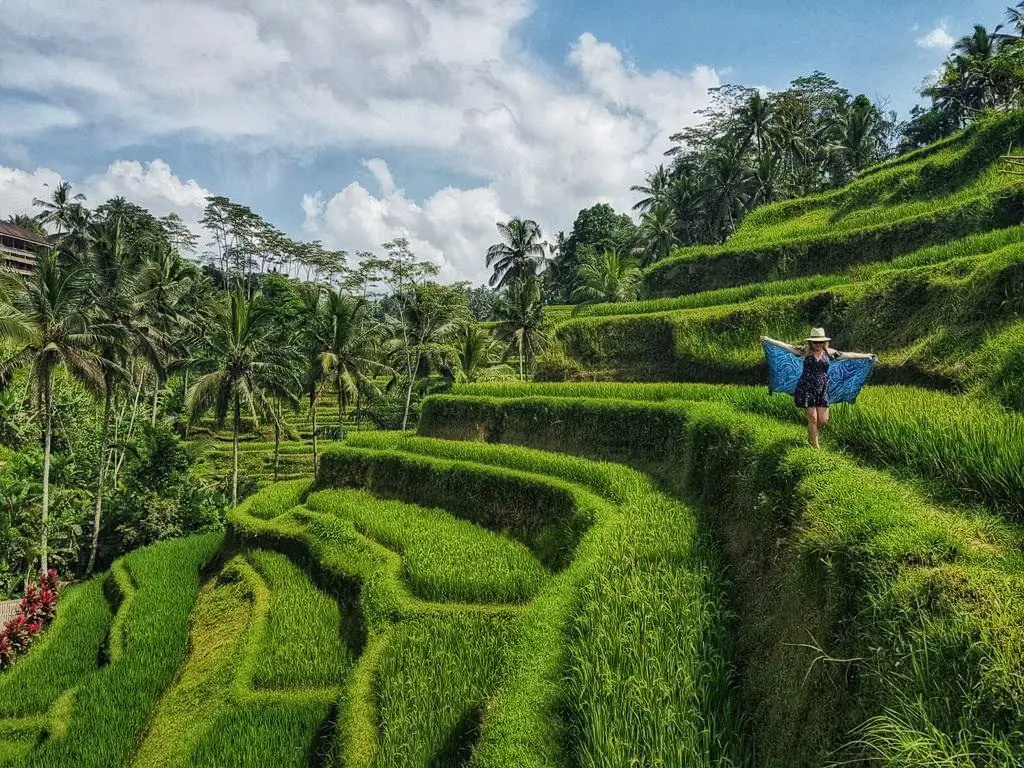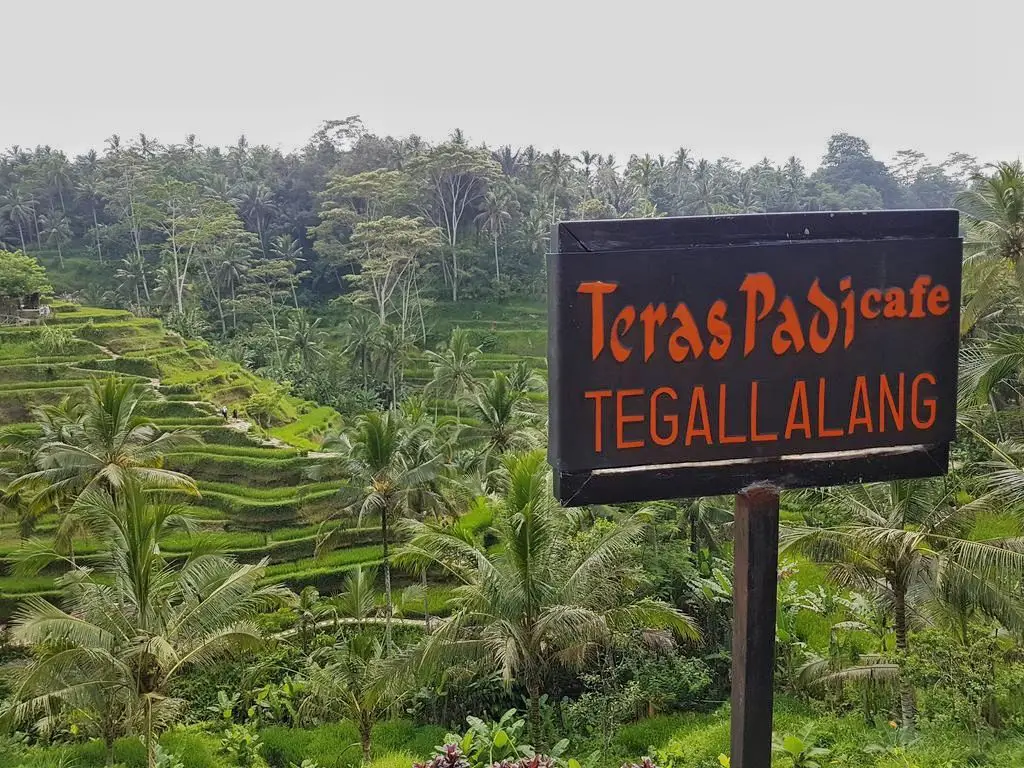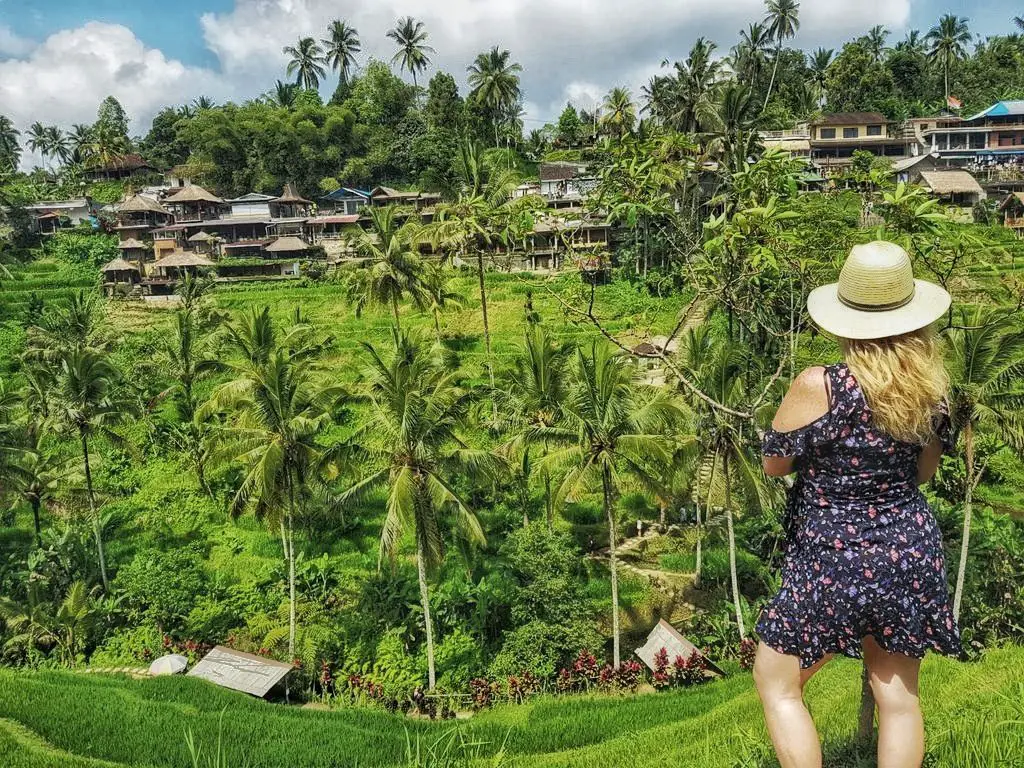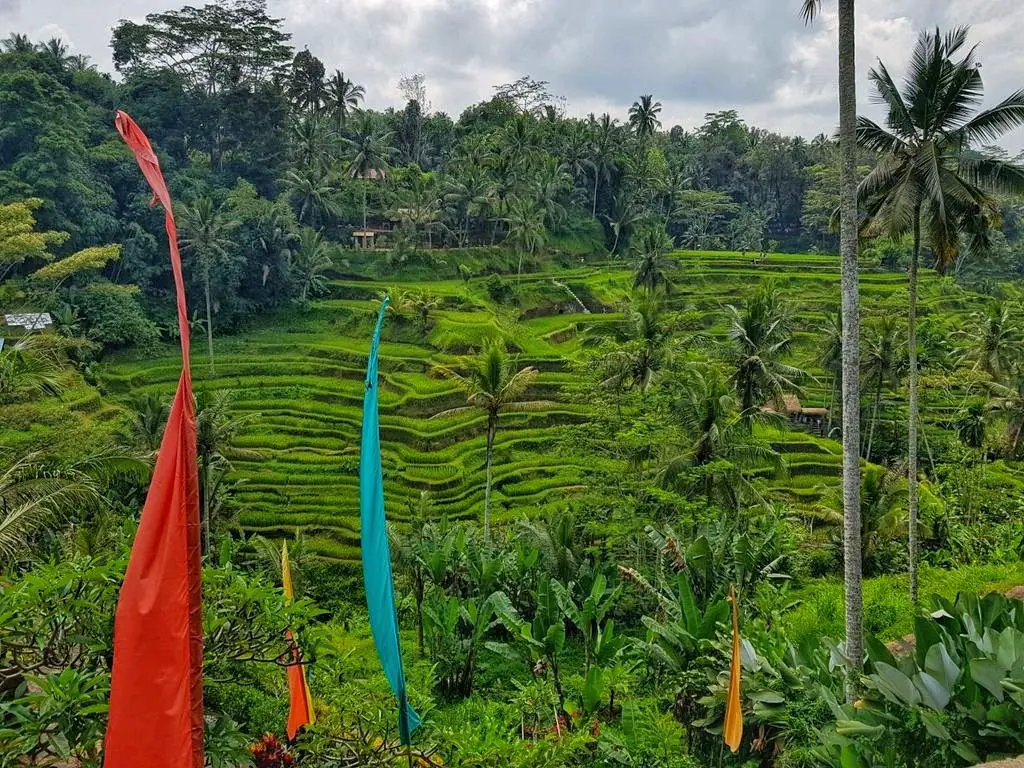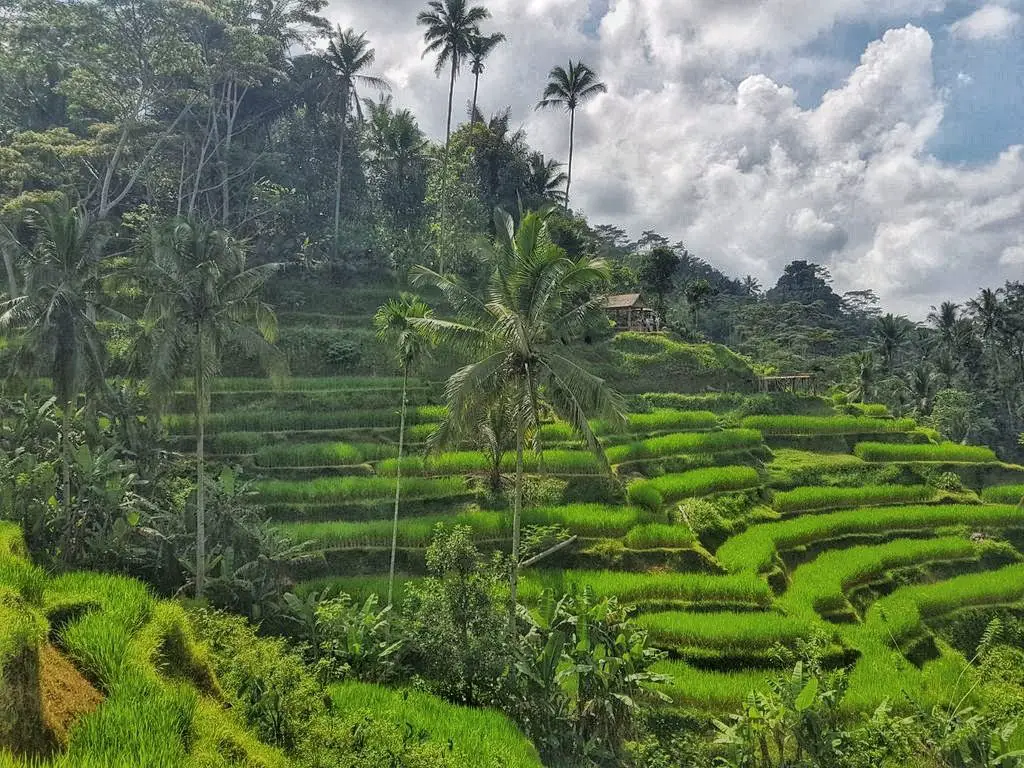 Looking for more photogenic locations and not afraid of heights? Bali Swing has five single swings (5m, 10m, 15m, 20m, and 78m!), a tandem swing, and two cute nests overlooking the valley with amazing views of the canyon and waterfall. It's pricey, but the price includes an open bar and a buffet! You can also find a similar swing at Zen Hideaway. Here the swing hangs between coconut trees, high atop a hill overlooking the Ayung River, a mini waterfall, rice fields, and Mount Agung. You'll also find one at Luwak Coffee Plantation.
If you want to do #23 and #2 consider the tour here.
3. Yoga
Ubud is the spiritual hub of Bali, so you will find plenty of yoga and spiritual healing classes. My favorite class was in the Yoga Barn. About 120,000 rupiah (AUD$12) per session. Alternatively, consider a yoga retreat or best of both worlds, do a retreat and become a yoga teacher!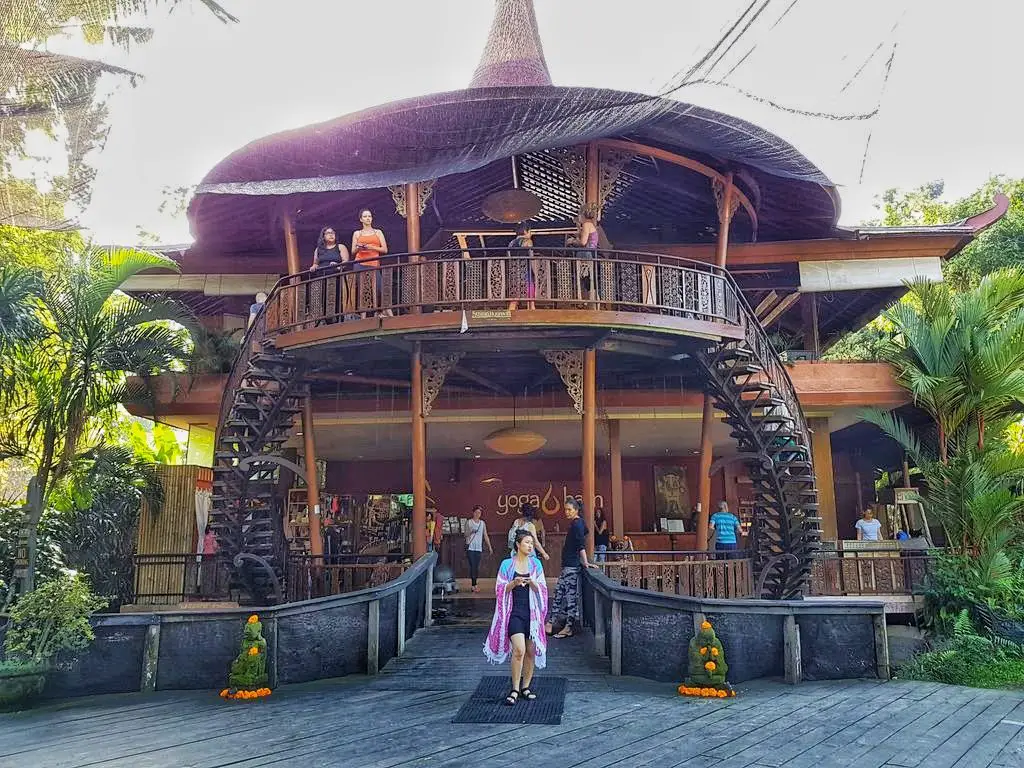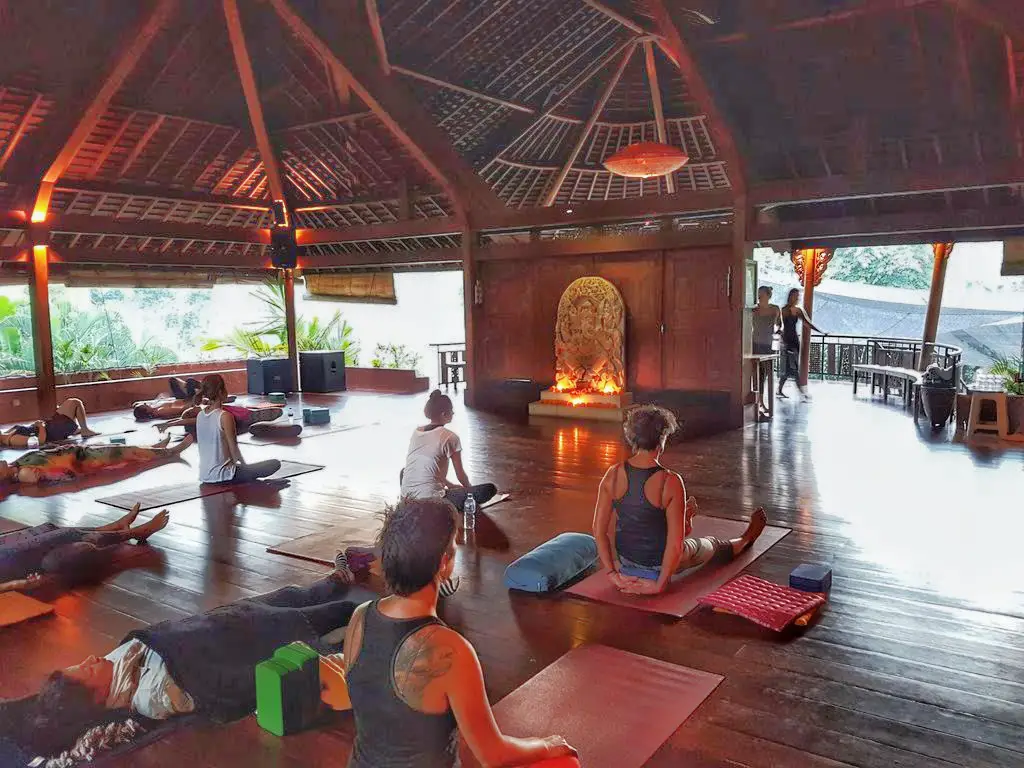 4. Massages
So cheap in Bali! On average you can get a 1-hour Balinese massage for 80,000 rupiahs (AUD 8), a pedicure for 70,000 rupiahs (AUD 7), and young girls can get their toes painted for around 30,000 (AUD 3). Of course, you can find places for more or less. My favorites are Sedona Spa (near Bintang supermarket) and Rembulan Spa (1st spa on Hanoman Rd). Or visit a complete wellness retreat, like this one.
5. Canyon Tubing
I have done this several times and cannot get enough of it. Canyon Tubing with the team at Bali Quad is one of my absolute favorite things to do in Ubud. You take a four-wheeler down into the canyon, hope in a tube, and spend the next two hours serenely floating down the river taking in the luscious tropical rainforest. Oh, did I say serenely? Well, except for all those white rapids in between.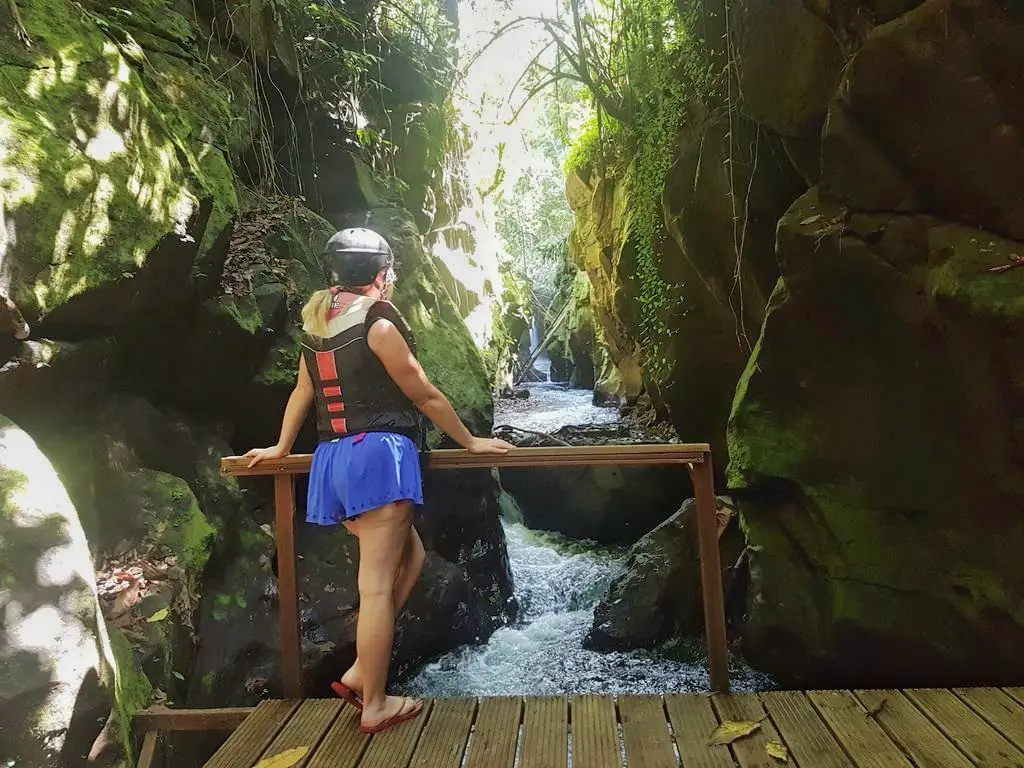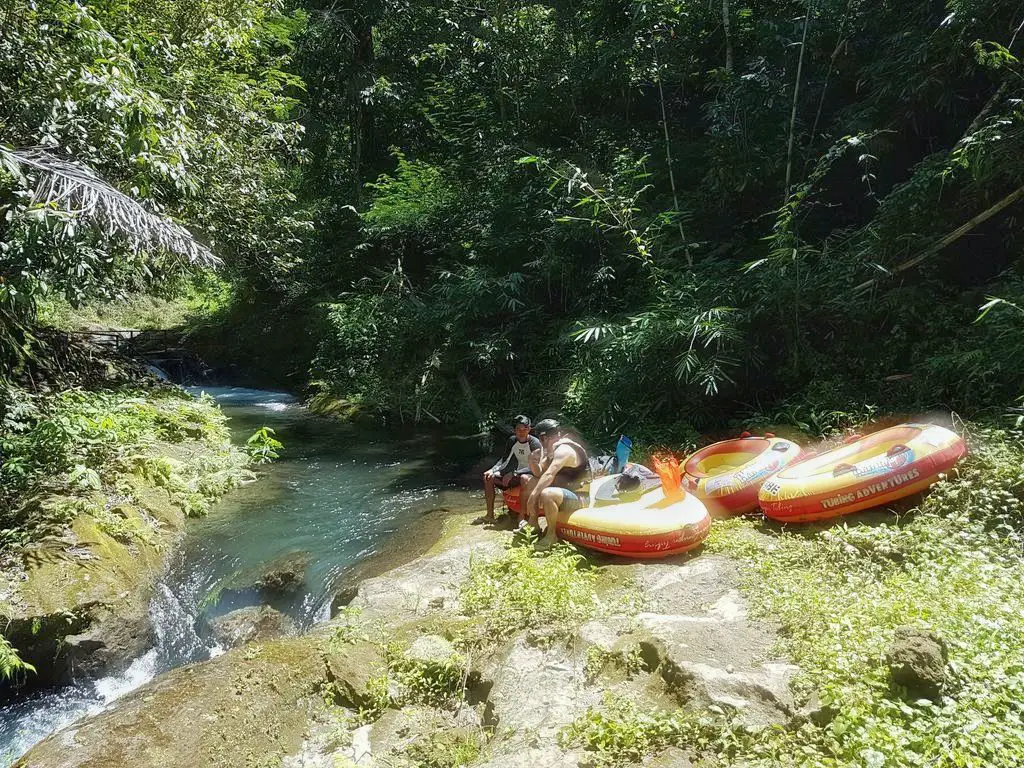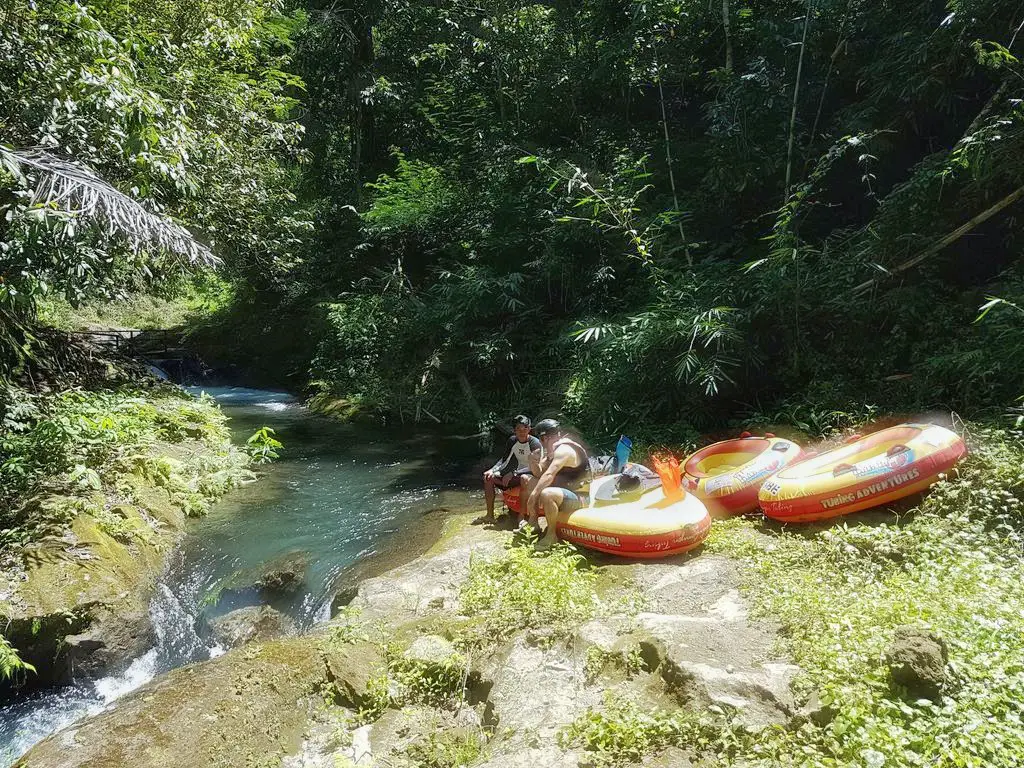 This small movie theatre in the middle of town is the world's first organic vegetarian cinema. Tickets are 50,000 rupiah (AUD$5) per adult and the kids a little cheaper, but the bonus is whatever you spent on tickets you receive a voucher for your food bill. The cinema is equipped with lounges, cold air-conditioning, and food that gets delivered right to your seat.
A must on your Bali to-do list, despite the hostile nature of the monkeys. The Forest is a beautiful walk and the recent upgrade makes parking and entry easy. You can buy bananas to feed them and get that classic picture, but beware… If they are sitting on you eating, they are likely also to pee.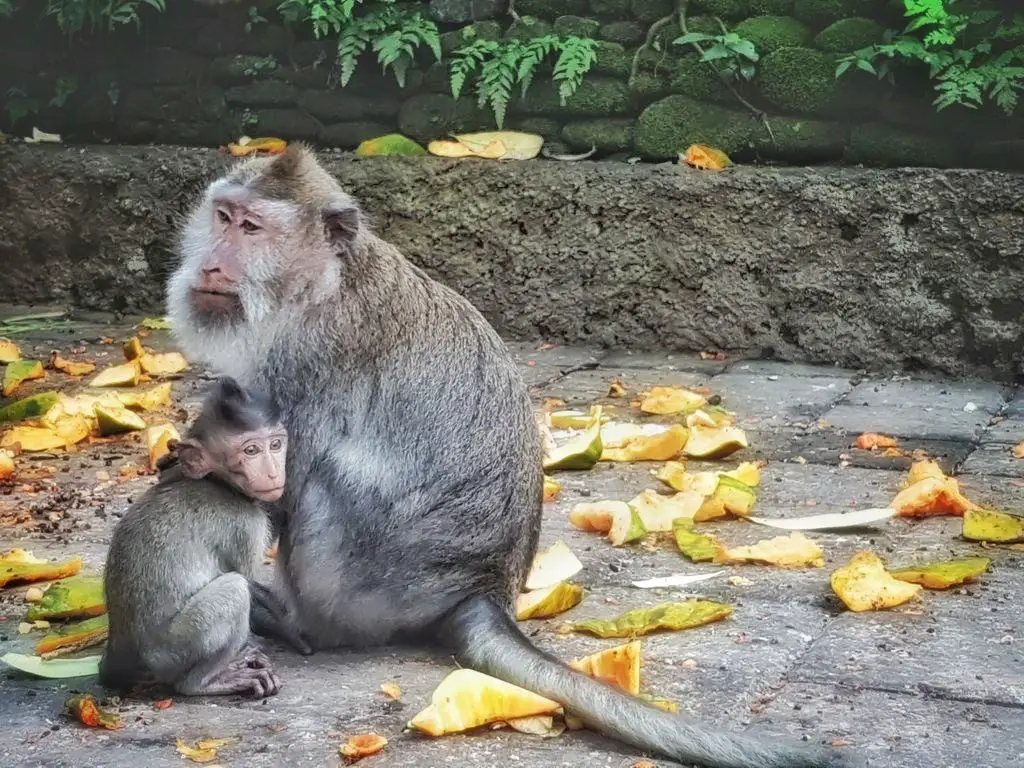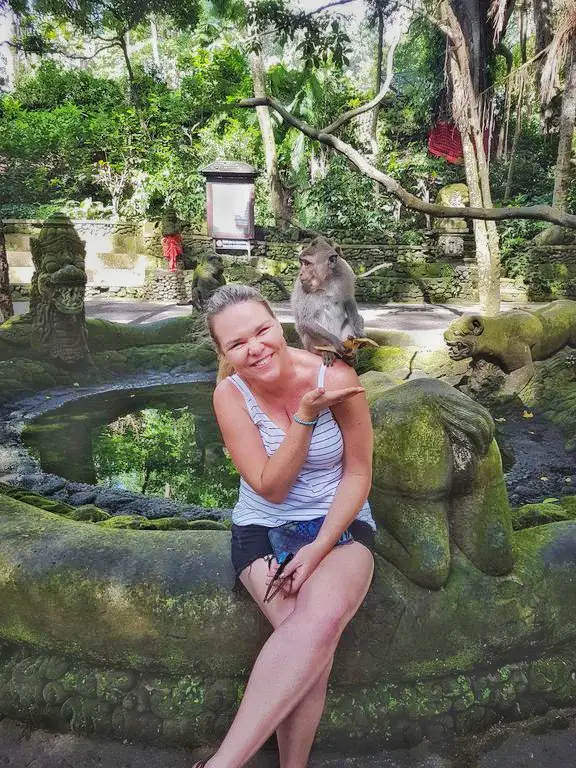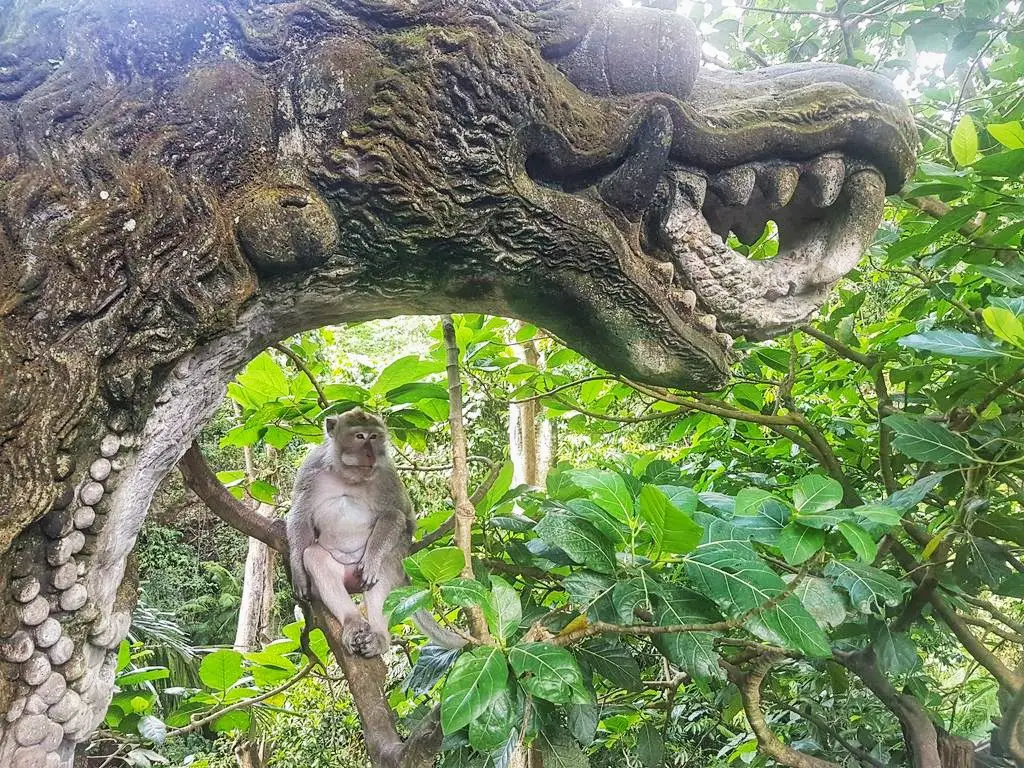 This one is for the kids. But it gives you time to go get that massage 😉 The lady who started the Reuse Centre use to work for Google and is passionate about recycled crafts. You can drop your children off for an hour, or stay with them and create anything you like using all the amazing recycled craft items. The staff is happy to help with ideas.
9. Tegenungan Waterfall
After all those rice paddy photos you're going to want to add a waterfall to your collection. There is so much to do here other than swimming. The bird's nests, a swing, an infinity pool at the top. It's a well-spent day trip and one of my favorite things to see in Bali.
Check out Monkey Forest and Waterfall tour prices here.
10. The Campuhan Ridge walk
Also known as the Tjampuhan hike crosses along a high ridge in Ubud so that you can see for miles and miles. Take in the temples and rice paddies, but make sure you bring lots of water. The Campuhan Ridge Walk spans approximately nine kilometers, passing over the Sungai Wos River. On clear mornings you might spot the breathtaking backdrop of Mount Agung.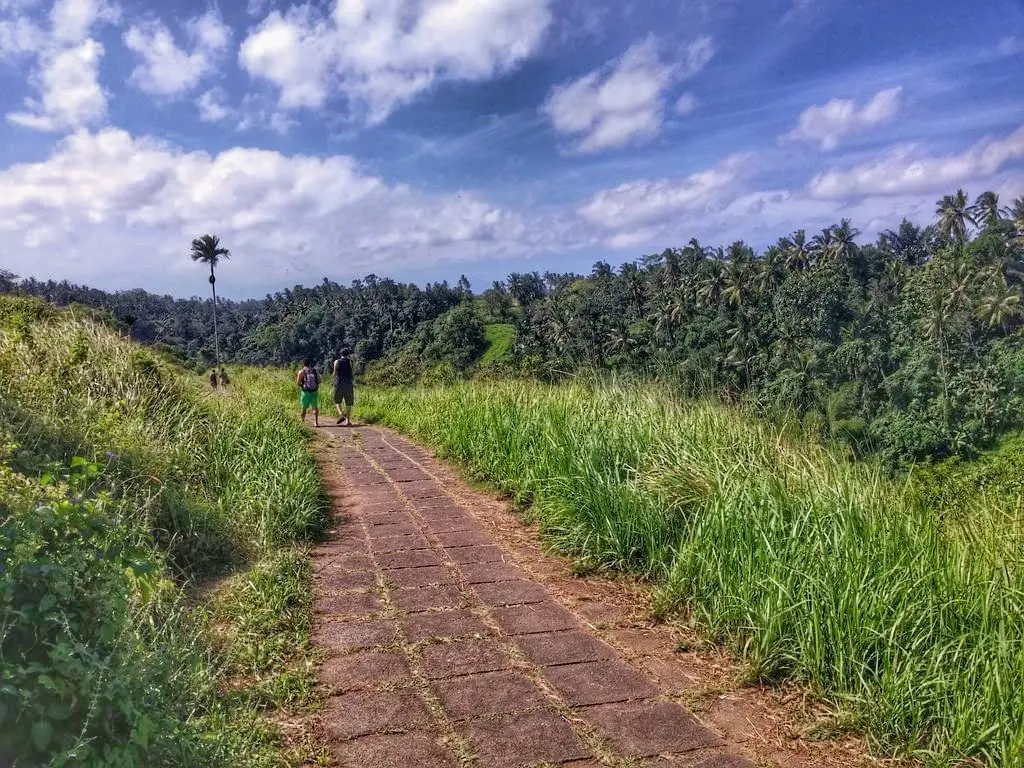 11. Temples
There are several temples you can tour in and around Ubud. Tirta Empul temple with its freshwater pools, lines with over a dozen water fountains under which pilgrims seek spiritual purification. Or Goa Gajah, the Elephant Cave which dates back to the 11 Century. Or right in the middle of Ubud, you can find Pura Taman Saraswati which boasts Balinese architecture and is surrounded by delightful lotus pools. You can head to Café Lotus for some of the best views of this temps and to catch the traditional Balinese dance performances.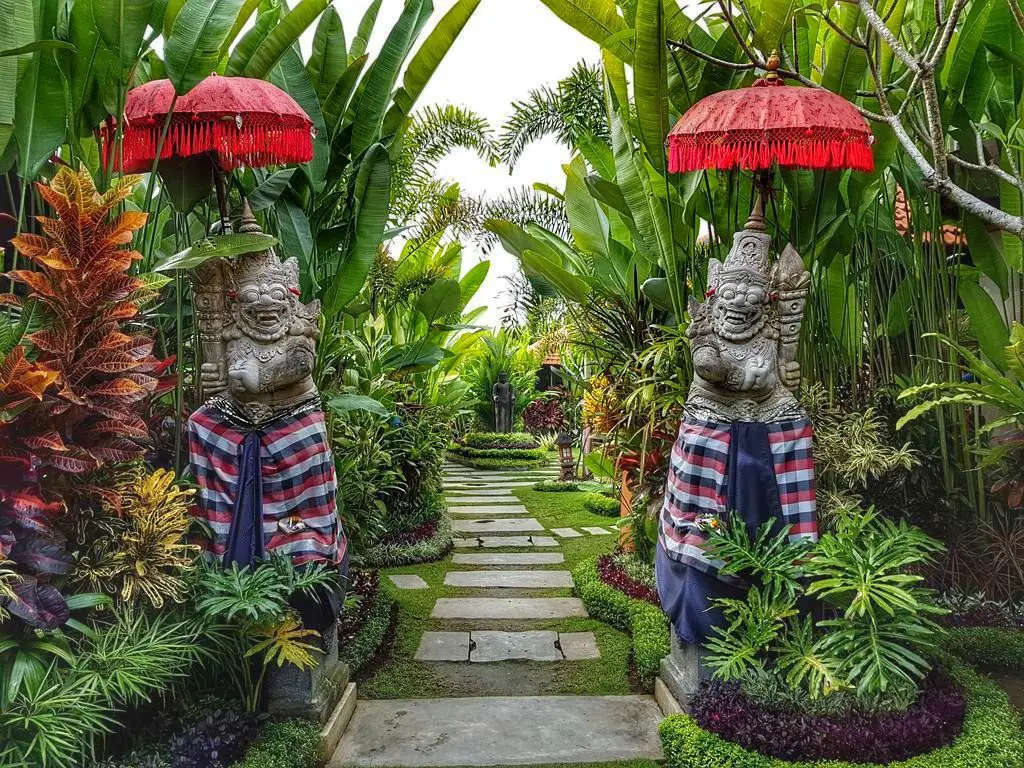 12. Legong Dance
As mentioned above the Café Lotus is a good place to catch the traditional Balinese dance or you may like to head to the Ubud Palace. Every day at 7:30 pm there is a traditional Balinese folk dance featuring young women wearing colourful clothing and elaborate headdress. The dance tells the story of the King of Lasem and his failed attempts at wooing a princess from a rival kingdom through mesmerizing finger movements, complex footwork, and expressive gestures. Note: they may choose other dances too so check you are watching Legong that night.
Want a private Legong dance in the evening? Click here.
13. Feast
Whether you are looking for the best Mexican in the world or a romantic night out Ubud will tickle your taste buds. Check out our Where To Eat in Ubud post for more information on my favourite restaurants.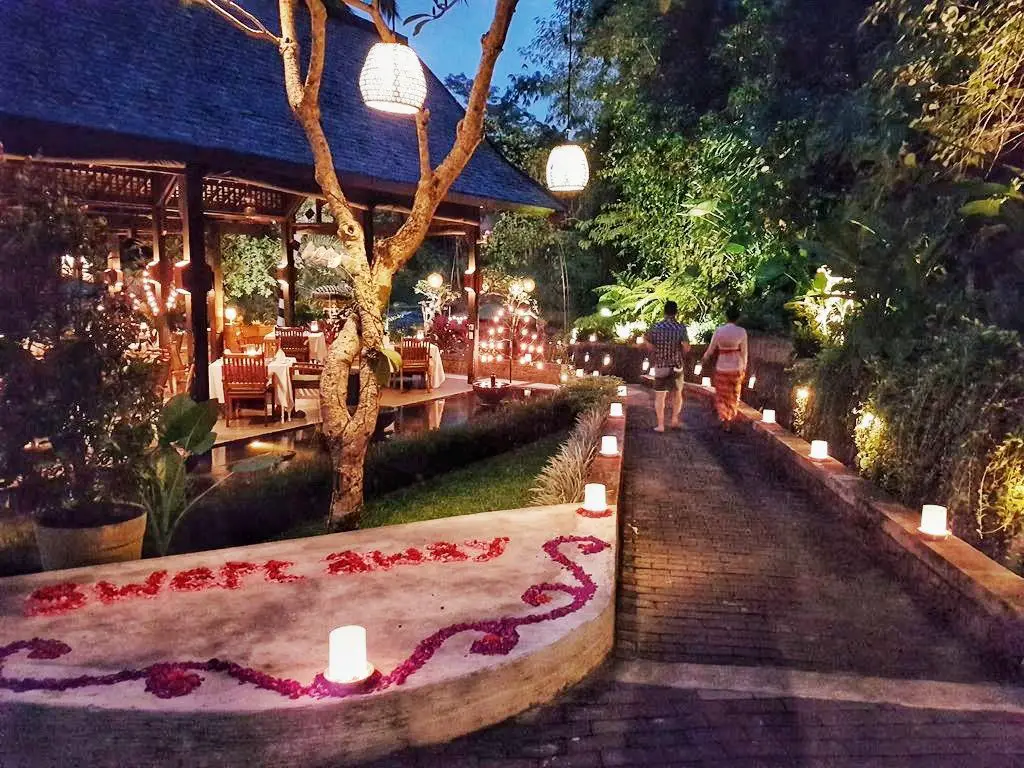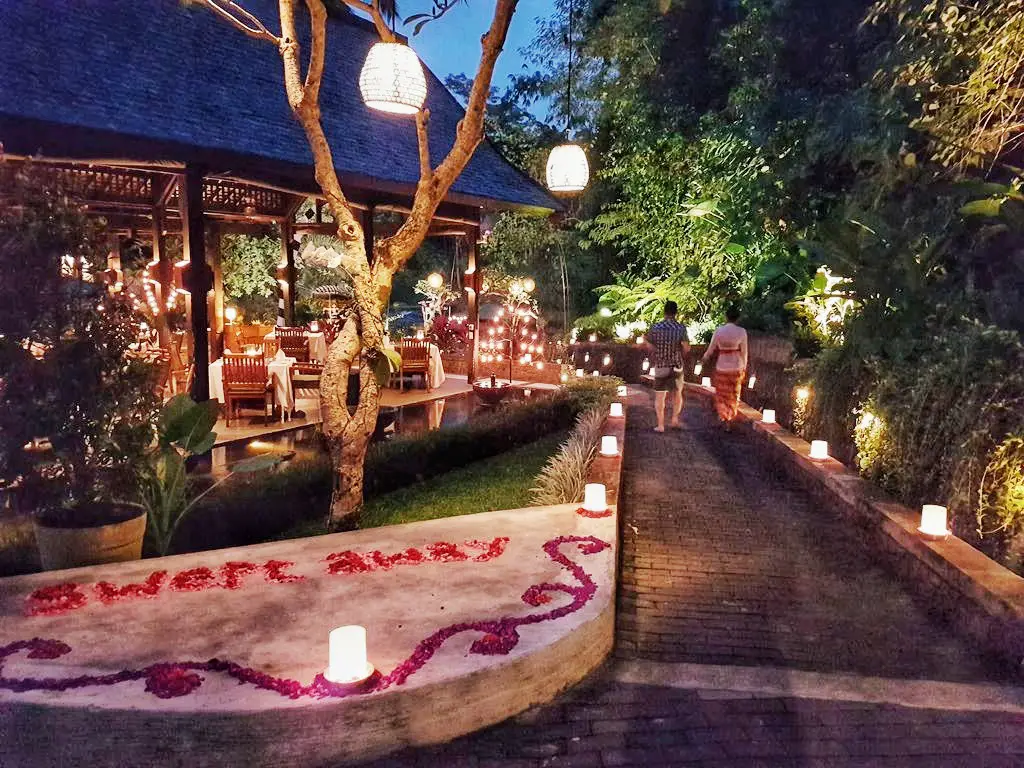 14. Stay
Don't just come to Ubud for a day trip. Those tourists witness nothing, but the busy streets of the city. I recommend finding a villa and spending time on the outskirts, as much as you do in the centre. You can read more here.
Ubud is getting busy, so you may also like to consider a stay in Mas, just outside Ubud. The Ubud of 20 years back.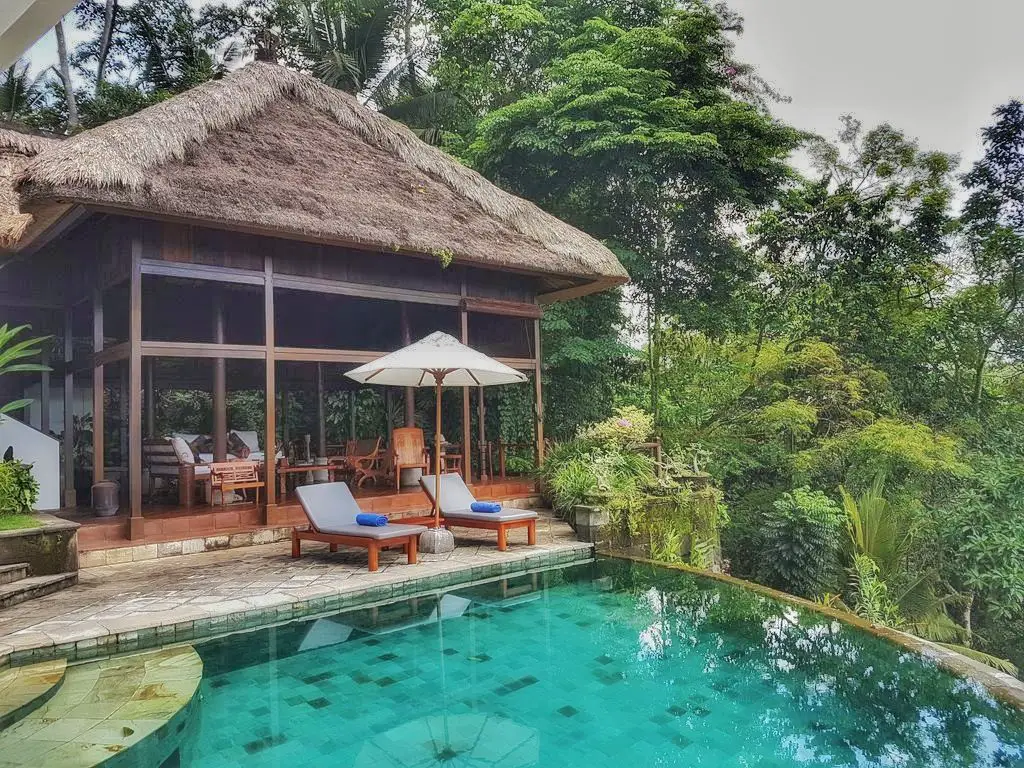 15. Pedal Downhill
3 hours of cycling may sound like a trial in the humid Bali sun, but this three hours flew by. And there was hardly any pedaling as the majority of the journey is downhill. You can start with breakfast overlooking the volcano before starting the 26km journey through rice fields, around a 500-year-old banyan tree and stopping to visit a family compound. It's a great way to see Bali and learn more about the culture.
16. Take a ride on the scooter
The streets of Ubud are perfect for scooter riding. You barely go over 40km with the winding roads. And the scenery is incredible. Just meander down the streets or head off down a small concrete path like those in Penestanan to stumble on unique restaurants and delightful rice paddies. Scooter will set you back about 50,000 rupiah ($5AUD) a day, including a helmet.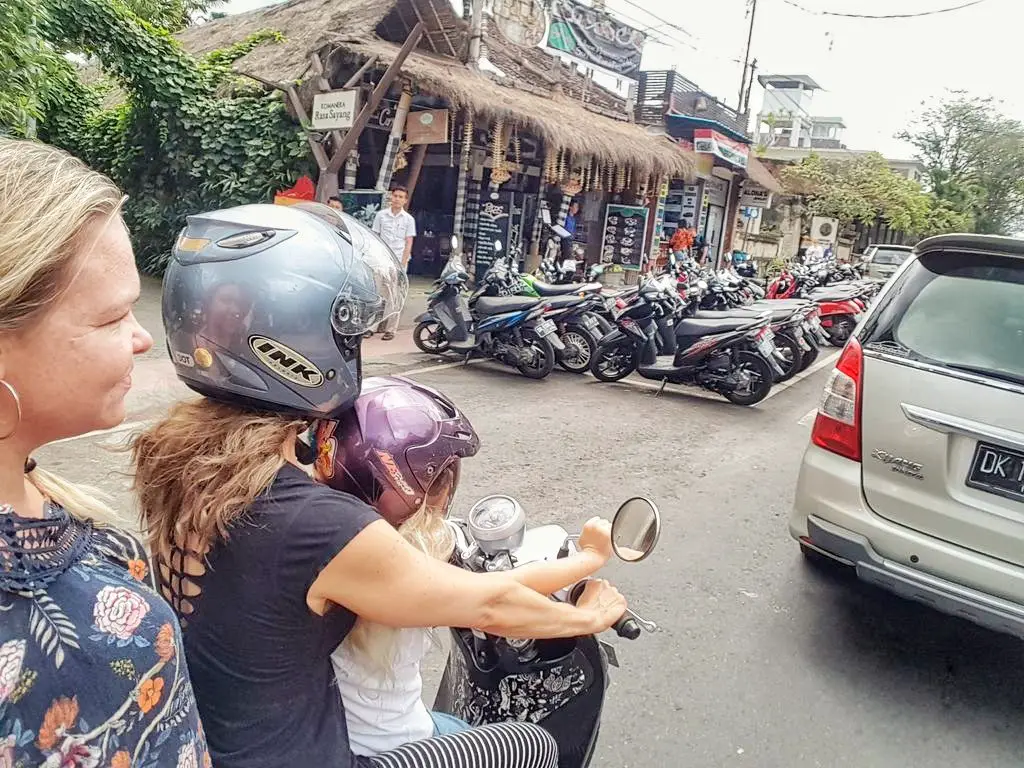 17. Shopping at Ubud market
Even if you are not after a wooden penis bottle opener the market is an experience in itself and one of the things to do in Ubud. You can people watch as tourists and locals barter and trade. Go early in the morning to see the locals buying food or later in the afternoon to collect your tourist souvenirs.
18. Develop your cooking skills
Another one of the best things to do in Ubud. Balinese food is delicious and learning how to make it is a treat that keeps on giving long after your vacation ends? My best friend and I got our cooking skills on with Puspa at the Paon Bali Cooking Class. Morning classes will include a market visit to identify and buy the ingredients. The best part is after all that cooking, you get to sit down at a traditional Balinese dining setting and eat.
Check prices of other authentic cooking classes here.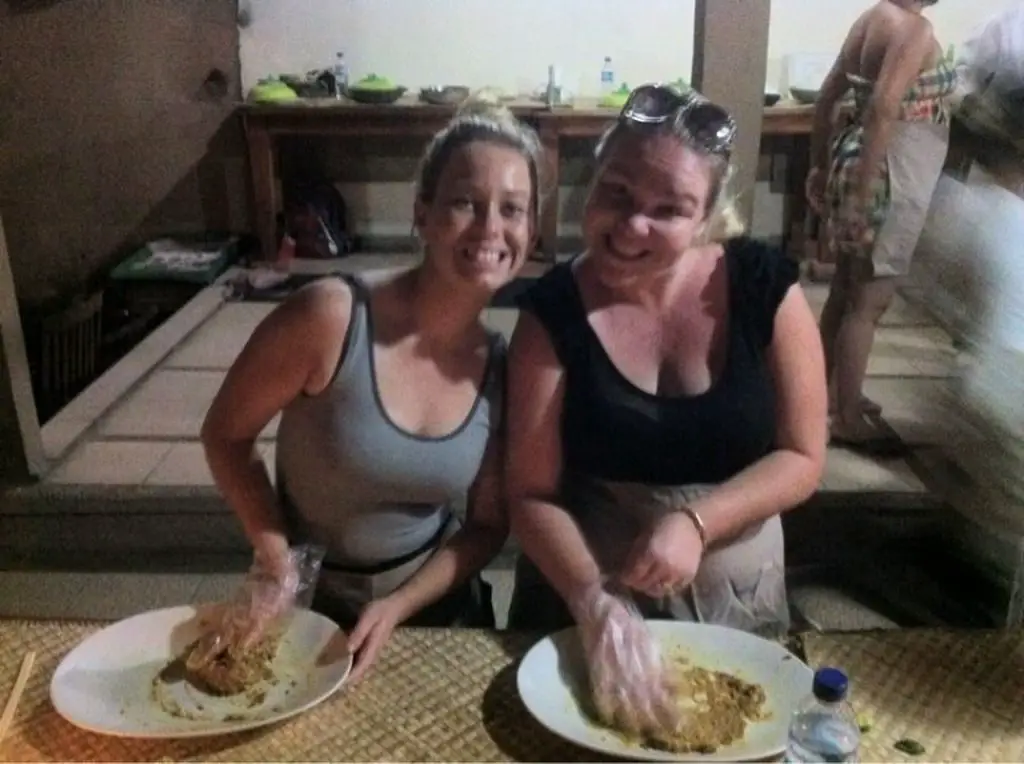 19. Catch a festival
It was by pure luck that we were riding our scooter through the back roads, just enjoying the scenery when we soon realised we needed to pull over. Before us throngs of people were marching down the street, dressed in their finest ritual outfits. Locals on the side of the road bowed in prayer and also admiring the progression. You probably won't be able to make this happen, but if you stumble on it, it's a beautiful and spiritual sight.
Another one for the kids and to give you a small break. Nothing beats trampolines and inflatable bouncy castles. Have your kids bring along a swimsuit because outside is a fun-sized swimming pool with mini waterslide.
21. Animal café loving
Love animals? Ubud is taking a leaf from the Japanese café scene and have started a whole host of animal cafes. The Maha Restaurant brings you up close and personal with fluffy white bunny rabbits while Cat Café opposite Taco Case has you dining with fat, lazy cats.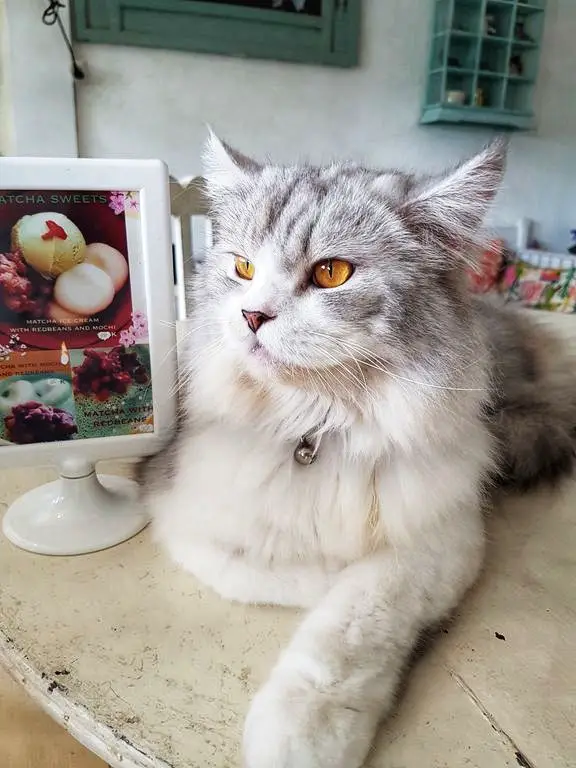 The last of our things to do in Ubud. After our visit to the eco-friendly resort in West Bali, this place sparked my interest. It's an amazing bamboo village set along the Ayung River. Great for photos and to witness a truly unique eco-friendly environment.
23. White Water Rafting
If water is what you're after then don't fear Ubud things to do includes plenty of water from infinity pools over jungles to white water rafting. Such an adventure and highly recommend booking with locals.
You can check prices for white water rafting here as well.
Explore With Erin Wrap Up
There is so much more Ubud Bali things to do than just these 23. These just happen to be my favourite so far, but I am sure the list will continue to evolve and grow. Until then let me know if I missed any of your favourites? What Ubud places to visit do you love?
LOOK HOW EASY IT IS TO PIN THIS!
Accommodation
Travelocity has over 671 properties in Ubud including hotels, apartments, and villas. You get free cancellation on most rooms and the best price guaranteed.
Tour
Want to take an organised tour of Ubud? Then I recommend these ones through Viator.
Rental Car
We love RentalCars.com because they have the best car rental prices – Guaranteed.
Flights
Skyscanner is a comparison website that searches millions of flights. The best part of Skyscanner is it is simply a flight aggregator so in the end, you book directly through the airline.
FOMO - do you have it?  Well there is no need to Fear On Missing Out here at Explore With Erin. Sign up to receive updates directly to your in box. I won't spam you, but I do promise a whole lot of awesomeness. What are you waiting for? Join Me!