I first went to Asia's #1 water park in 1999. It was my first international trip and my parents had brought us to Bali for my graduation. At 18 Waterbom Bali was one of the best places I had ever seen. It still is.
Even better than Atlantis Water Adventure in the Middle East. Or some of the bigger water parks I've visited in the US. Mind you I have yet to visit Chimelong water park, have you?
First opened on the island of Bali over 28 years ago, Waterbom water park now encompasses 3.8 hectares of landscaped tropical parks that include waterslides, a swimming pool with a swim-up bar, gazebos, plenty of lawn space, and multiple restaurants.
And it is beyond exciting for me to have been a teenager at Waterbom, and now introducing my teenagers to Asia's #1 water park.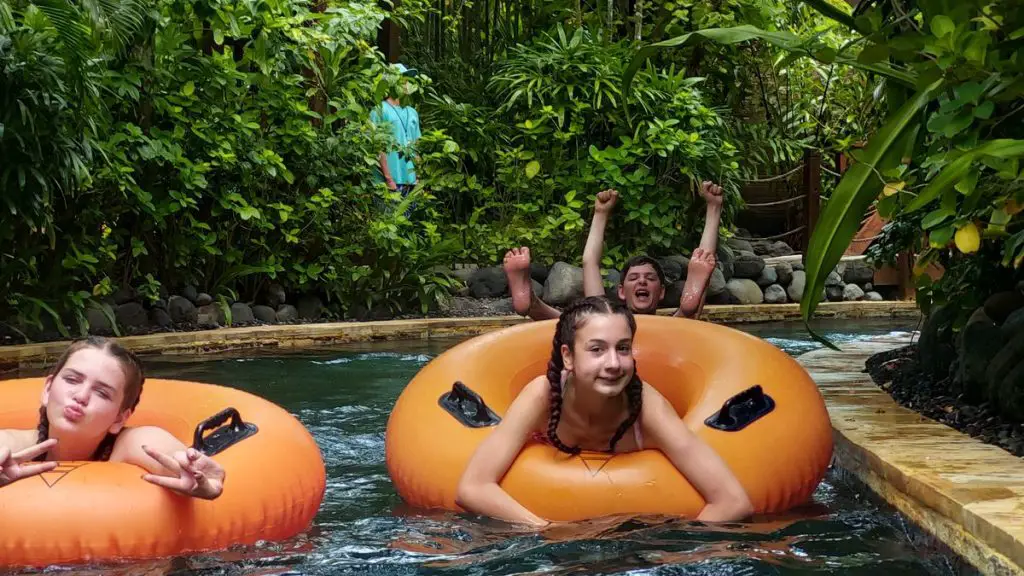 Where is Waterbom Park located?
Located in the heart of Kuta on Jl Kartika Plaza, directly across from Discovery Mall in Bali, Indonesia, Southeast Asia.
Easy walking distance from Kuta Square and the major hotels along the Kuta Beach strip.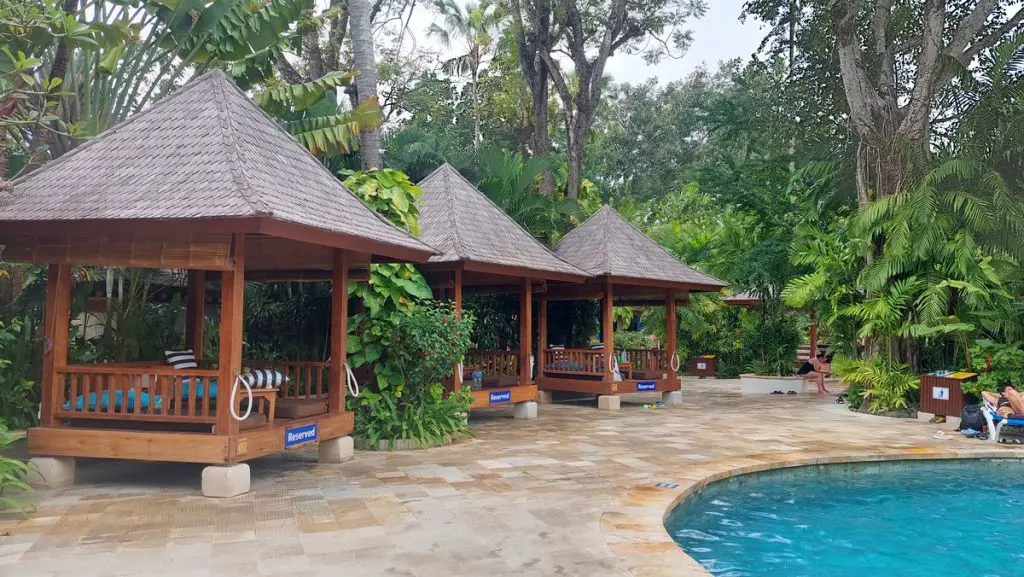 Where To Stay When Visiting Waterbom Bali?
We stayed at Bali Garden Beach Resort, which is a 2-minute walk from Waterbom Waterpark.
Check the price of Bali Garden Beach Resort here.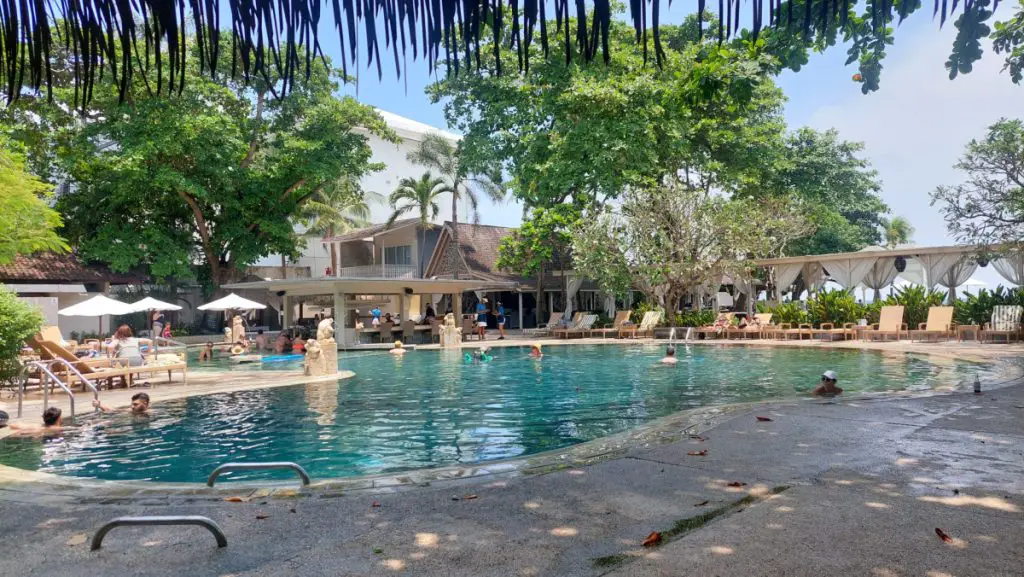 However you could stay anywhere on Kuta Beach for a quick walk, and South Bali Nusa Dua is not a long drive either.
Check the best locations to stay in Bali in our thorough 3,000-word guide.
Check all Kuta hotel prices here.

When is Waterbom Bali water park open?
Waterbom Bali is open every day, except Nyepi Day. Opening hours are 9 am to 6 pm.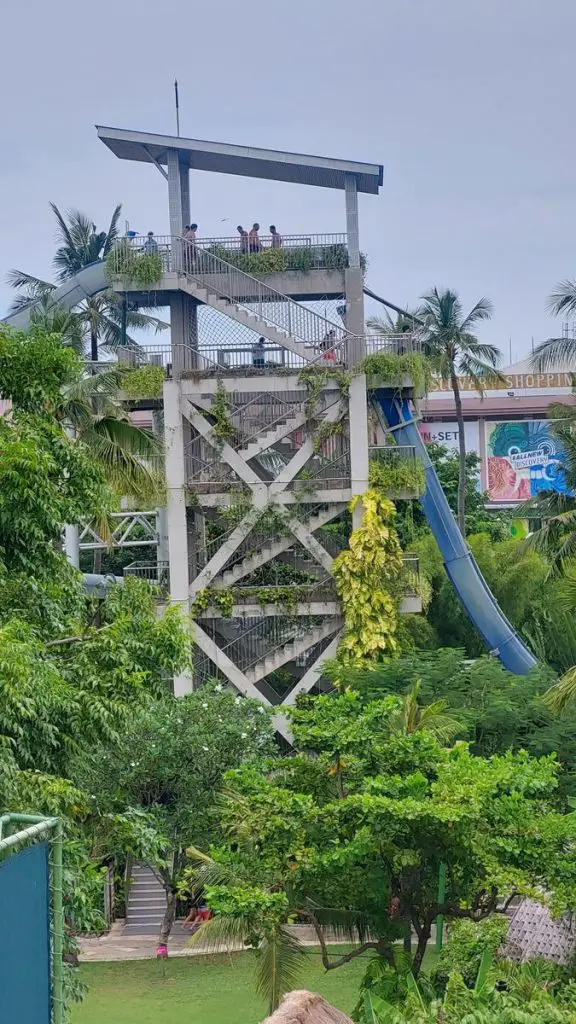 How much does it cost to go to Waterbom Bali?
Your Waterbom Bali ticket depends on what type of package you chose. Generally, a single-day pass for guests is IDR 385,000 (USD 26) for children who are 2 to 11 years old, IDR 535,000 (USD 36) for adults, and IDR 1,690,000 (USD 113) for a family (2 adults, 2 children).
You can get 15% off booking online.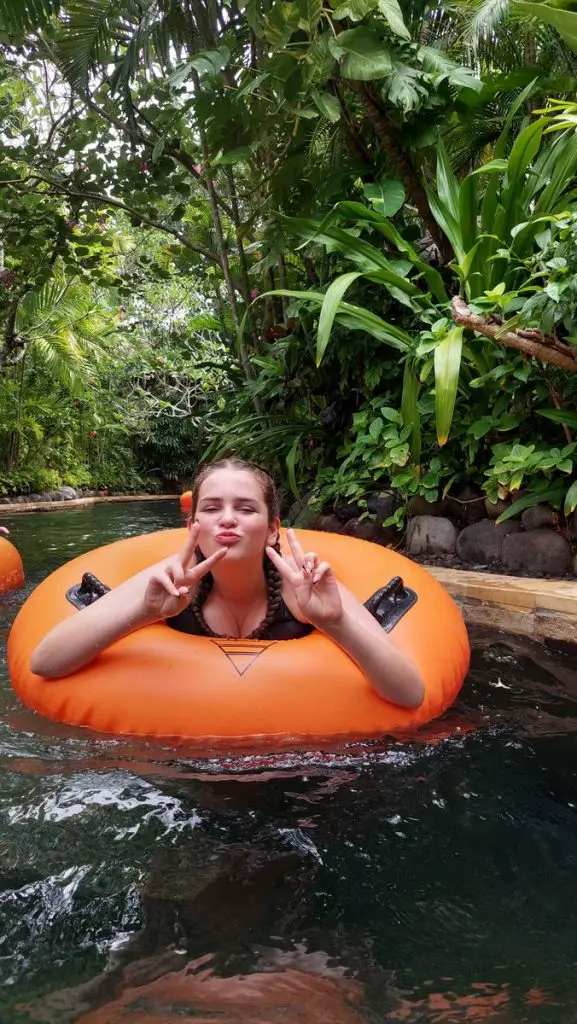 Who owns Waterbom Bali?
The Waterbom Bali water park founder (Waterbom CEO) is Santo Gulino.
How many rides are there in Waterbom Bali?
Waterbom has 22 slides including Asia's steepest water slide for the thrill seeker, 'The Climax', the family 'Funtastic' kiddy area, a wave flow rider pool, and everyone's favorite 'Lazy River'.
Do you need to take towels to Waterbom?
No. Waterbom has towels for hire. Or forget towels, because Bali weather is always warm enough to dry you instantly.
How long do people spend at Waterbom Bali?
Most people spend the day in this waterpark in Bali. But consider at least 4 to 5 hours.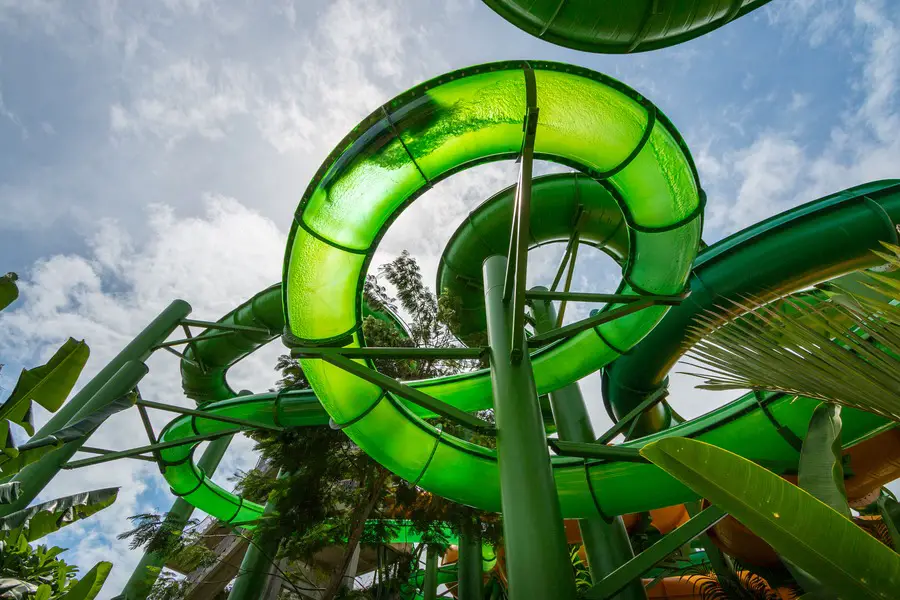 What do you wear to Waterbom?
For women swimmers and a sarong is your best bet. I prefer a rashie for sun protection. For men boardshorts and a T-shirt. Buy. my favourites by clicking on the BOLD text.
Avoid any swimsuits with zippers or studs. Also, consider the force of some waterslides and ensure your swimsuit can stay up.

What Is NOT allowed on the Waterbom Water Slides?
You are not allowed to have
– Jewellery of any kind
– T-shirts and bathing suits with metal decoration
– Cut-off jeans
– Glasses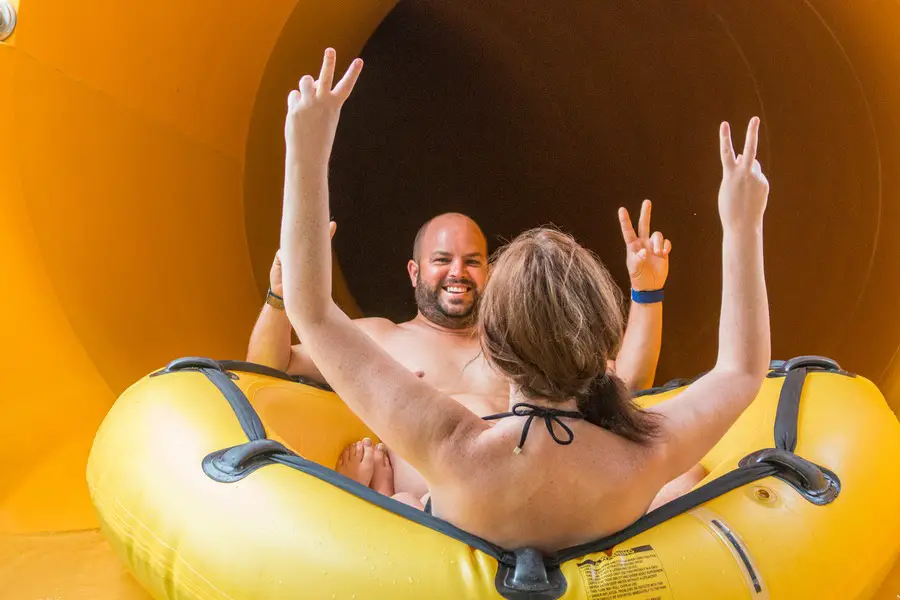 What else is there to do in Bali?
Visit our 101 things to do with kids in Bali here, including the Bali Zoo attraction.
Or our things to do with teens in Bali here, including the amazing Ubud Monkey Forest.
Choose some exciting day excursions here:
15 Things That Make Sense At Bali's Best Waterpark: Waterbom Bali
Now you've got all the information here are 15 Things That Make Sense At Bali's Best Water Park: Waterbom Bali.
1. Cashless payments make sense
My favorite feature at Waterbom Bali is their park Splash Band for cashless payment throughout the park. No going back and forth between lockers. Instead, load up your money on the band and easily access all facilities throughout the park.
Easy to wear and waterproof, your Splash Band is also linked to your password name for added security. You can add credit to it at any time and anything you don't use can be refunded at the end of the day.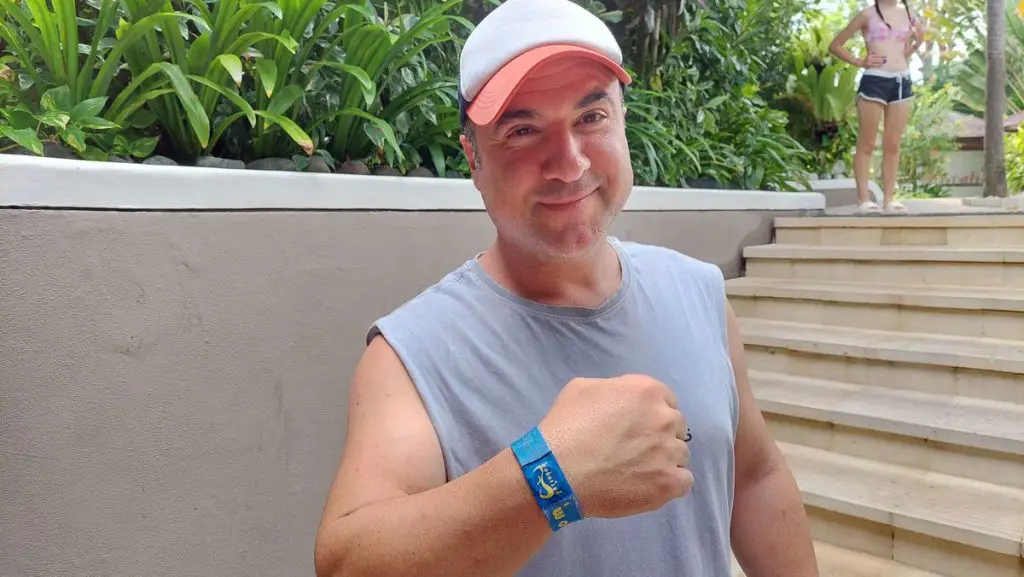 2. Lockers & Keyless locker entry makes sense
Waterbom Bali has both regular and family-size lockers available so you can keep your wallet and hotel keys safe. There are 3 locker locations around the park, so not everyone is crammed into one section. All lockers come with a waterproof splash band for keyless entry.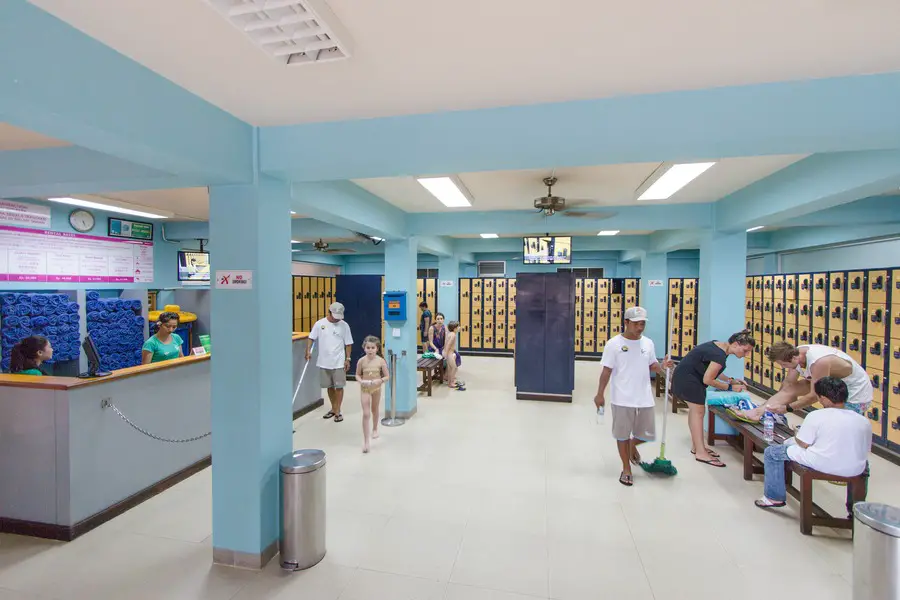 Lockers are currently priced to hire at Rp35,000 for a Regular locker and Rp45,000 for a Family locker. We managed to get all of our 5 personal family belongings in a family locker.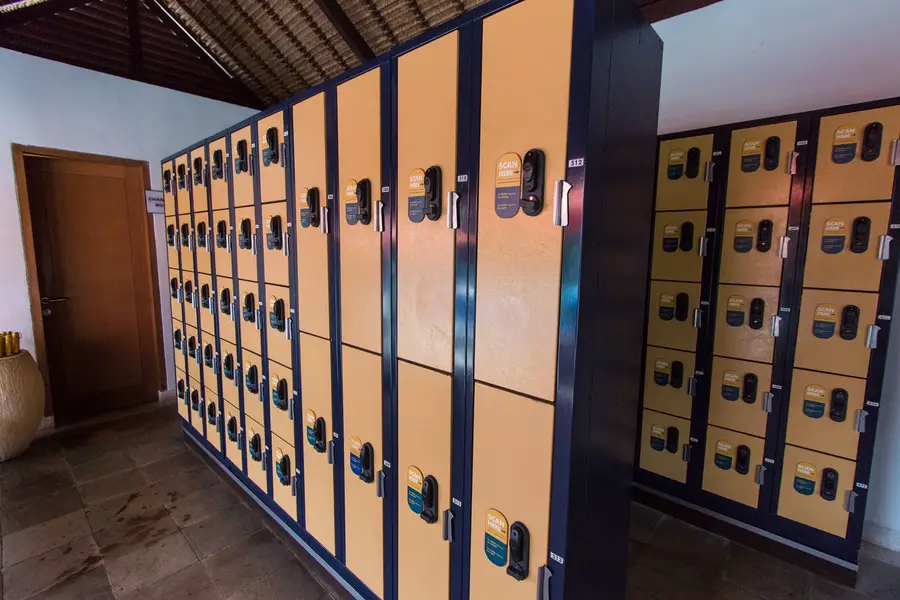 3. High-end dining makes sense
This is not your typical expensive hot dog and soggy nugget ocean park. The food offered at Waterbom Bali covers a whole range of cuisines. Why would anyone spend so much money at an amusement park to just go eat crappy fast food?
Give me a tropical drink at the pool swim-up bar while the kids are busy sliding any day.
Our favourites are always the Indonesian food! Satay, of course.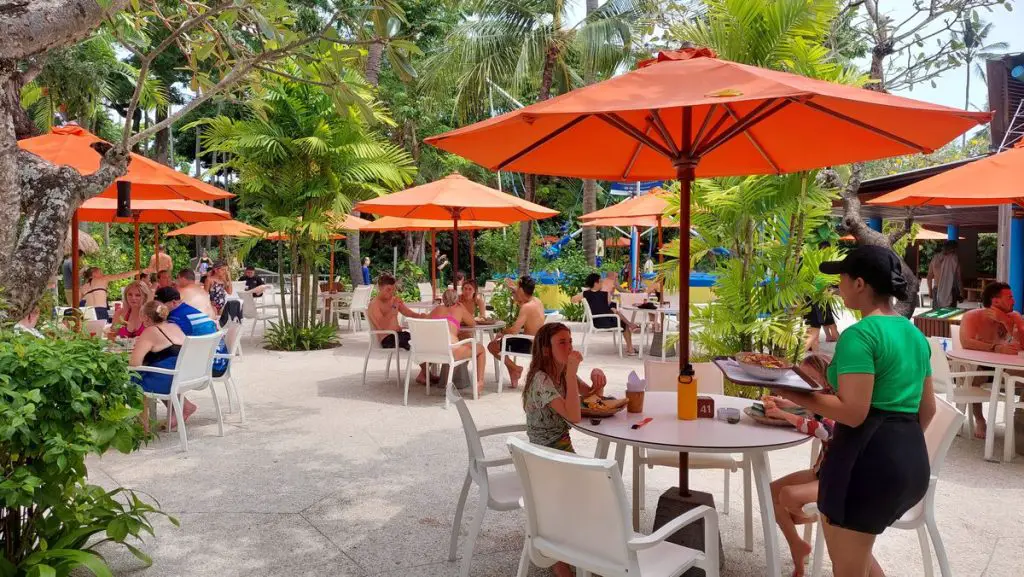 4. Towels for hire make sense
You don't need to carry a hotel towel with you or pack one in your suitcase, Waterbom offers towel hire. You can hire these towels from any of the 3 locker hire areas. And drop back at the end of the day. No lugging cold, wet towels on the walk home.
Towel hire is Rp20,000 each.
But Bali sun is deliciously warm so you may not need a towel, we didn't. But we did need suncream!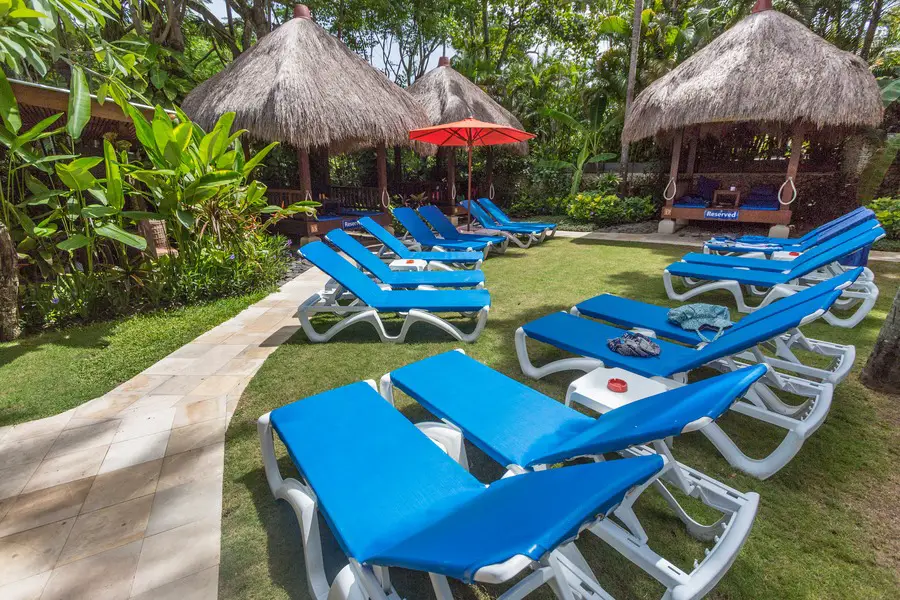 5. Lush tropical garden makes sense
Waterbom Bali was consciously developed to complement the existing environment, with over 50% of the area's local greenery being conserved, and all the water rides and features of the park are built around the existing flora and fauna, rather than over it.
Yes, that's more than half of the park dedicated to green space.
6. Allowed camera slides make sense
While many theme parks never let you take photos on their rides, Bali has 3 water slides where you can take all the footage you like.
The Boomerang
Green Viper
Fast n' Fierce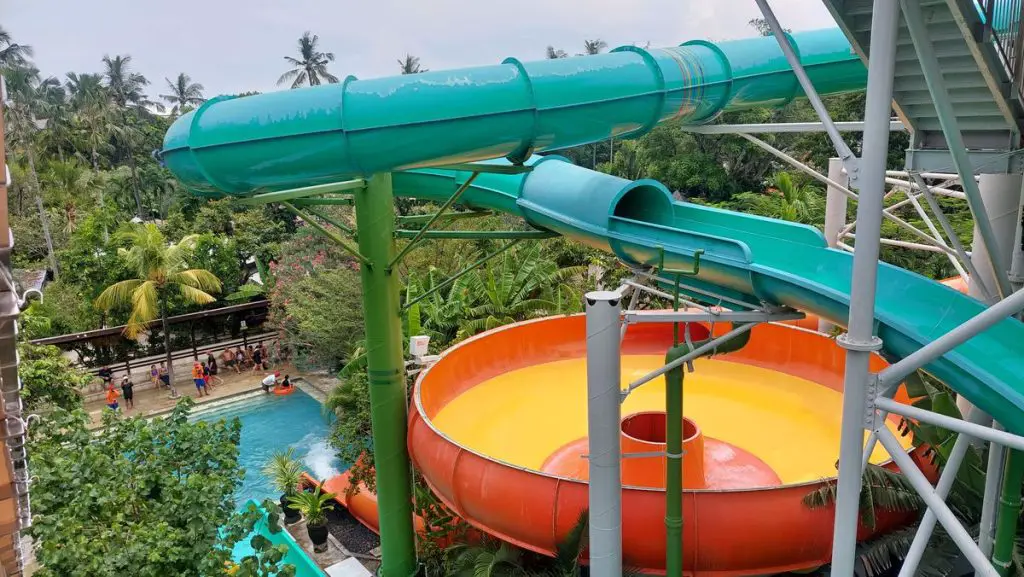 Make sure you bring a waterproof pouch for your phone!
If you don't want to take your phone, don't worry there is plenty of photographers around the park, taking photos and placing them on a band for you to view at the photo booth before exit.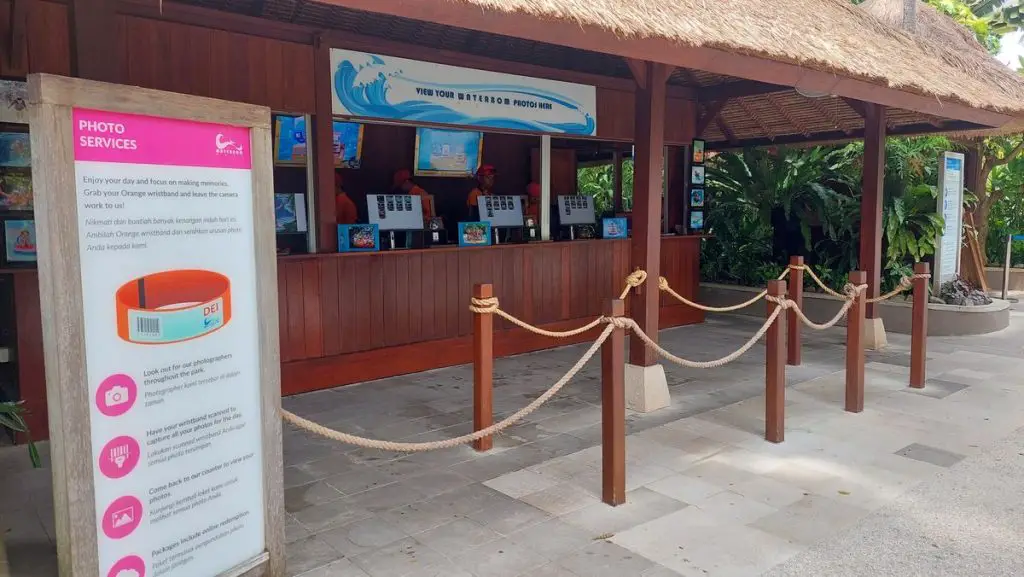 7. Onsite first aid makes sense
Not that you are going to need it, but if you do they have help available.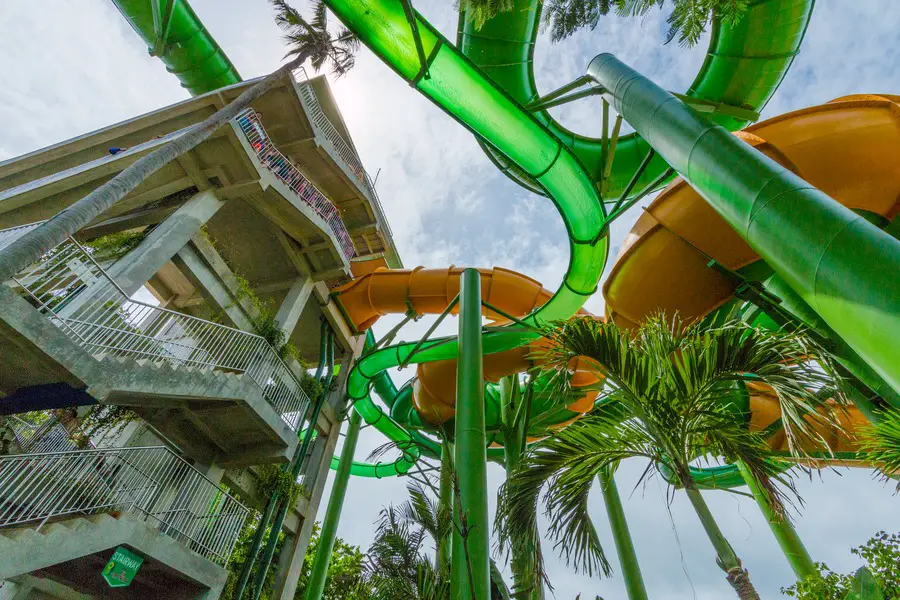 8. Energy consciousness makes sense
Waterbom is the first tourism facility in Bali to officially become carbon neutral. It offers sustainability and entertainment.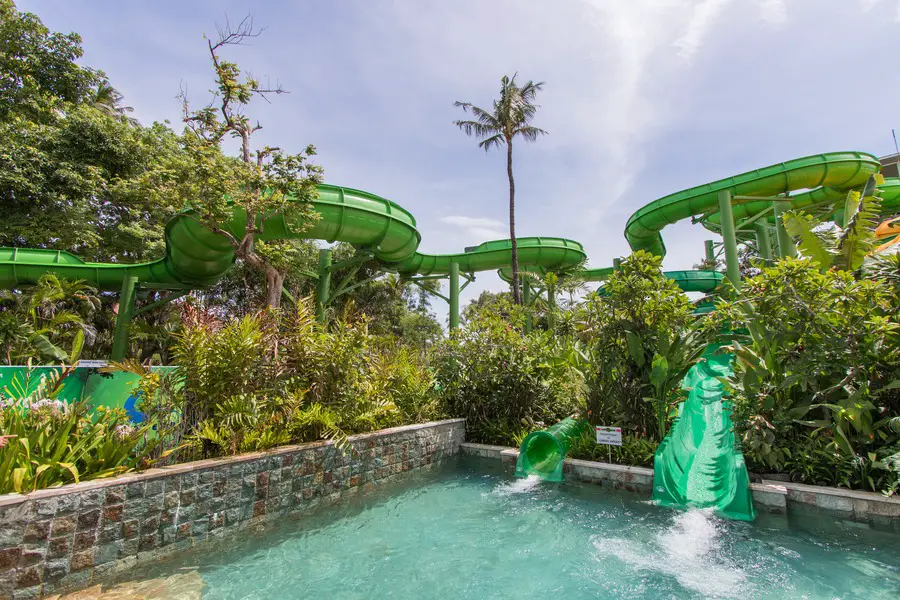 9. Age-appropriate Park segments make sense
When the kids were young they loved hanging out in the baby & little kids area, Funtastic.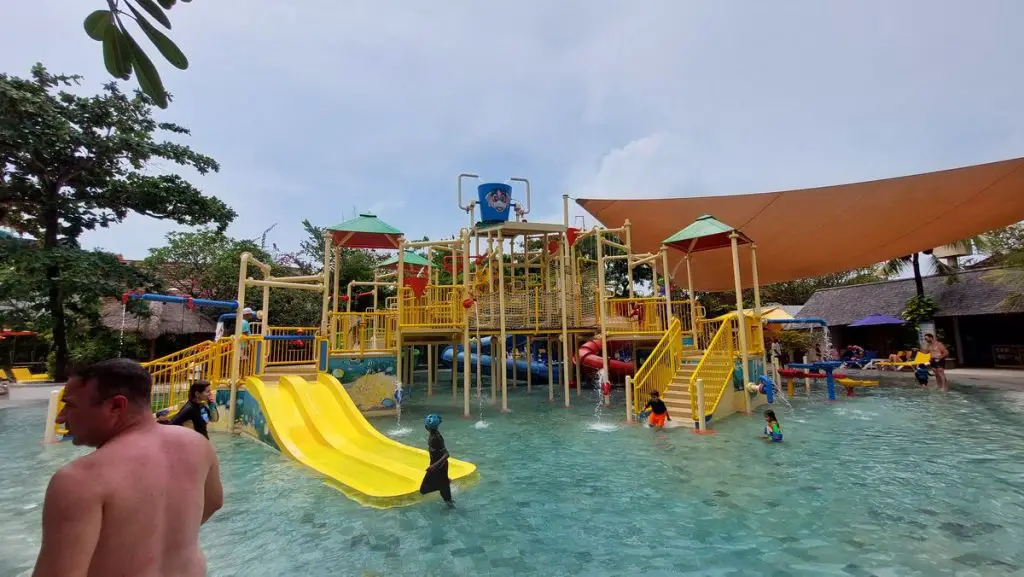 When I took my grandmother, she spent the entire day floating in the Lazy River.
I love family-friendly rides where we can all ride together, like the Python or the Superbowl.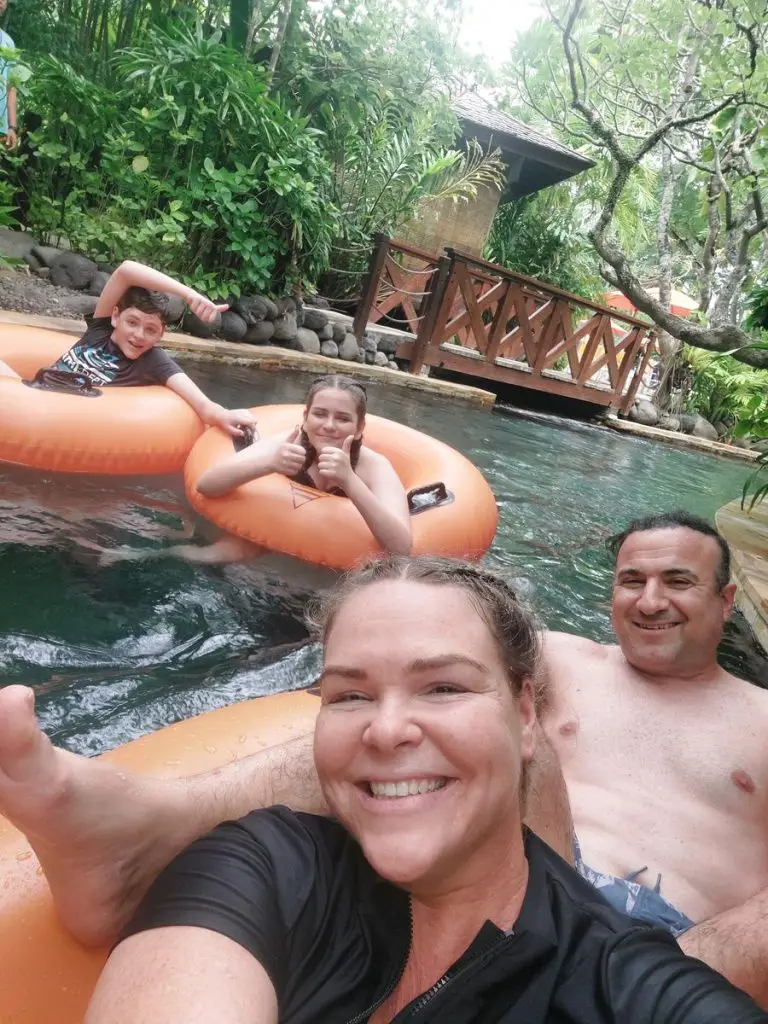 And now the kids are older they are all for the exciting water slides like the thrilling ride Climax, Green Vipers, and Smashdown 2.0.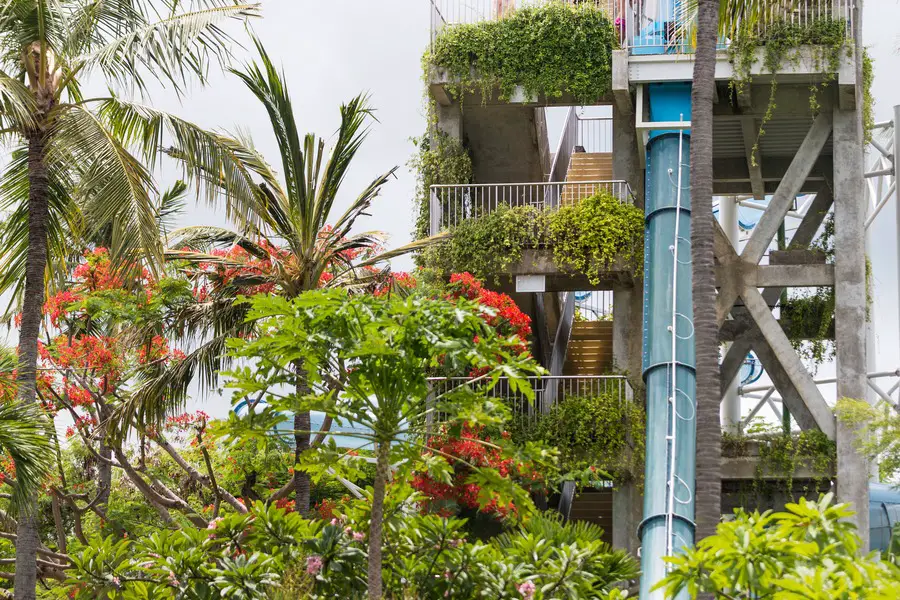 10. The location makes sense
It's not very often you'll find a theme park close to an airport, a tourist hot spot, and in the middle of hotels and shops. But Waterbom Bali Waterpark is perfectly located.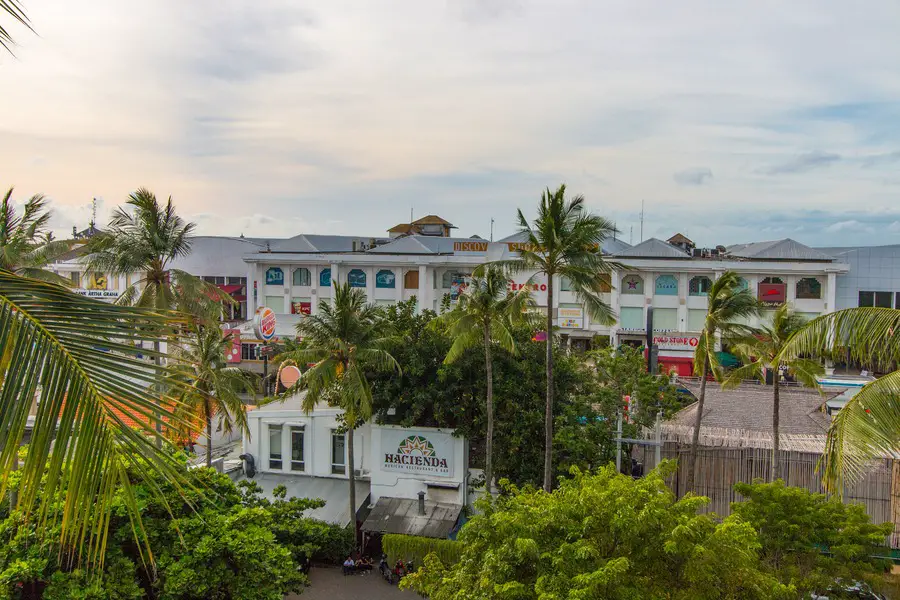 11. Hand washing stations make sense
When you head to the food court there is a bunch of basins for you to wash your hands before eating.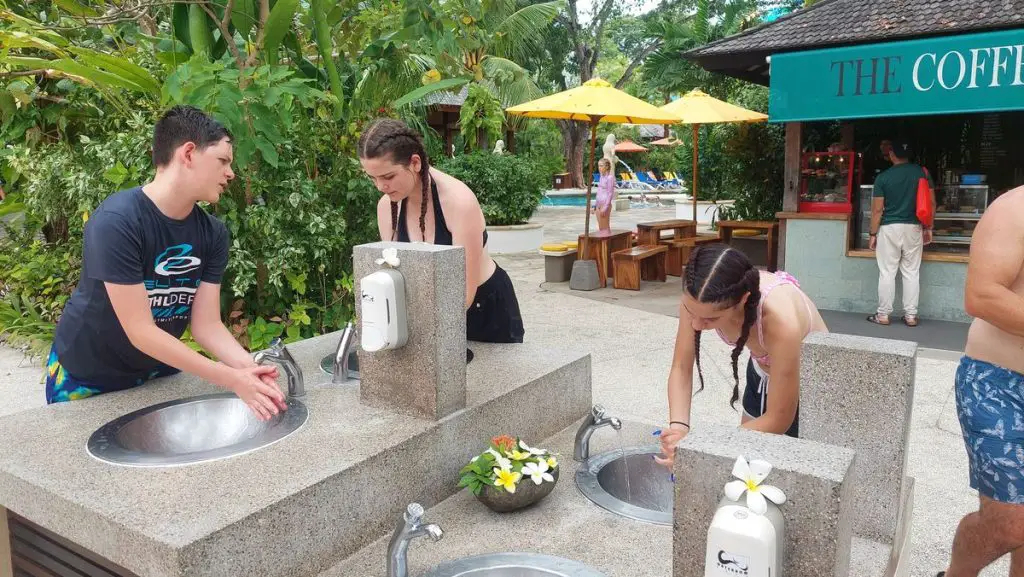 12. More than one checkout makes sense
Within the food court area, you can place an order t multiple vendors for any of the food. So even if you find yourself at a Japanese station, order your Indonesian satay.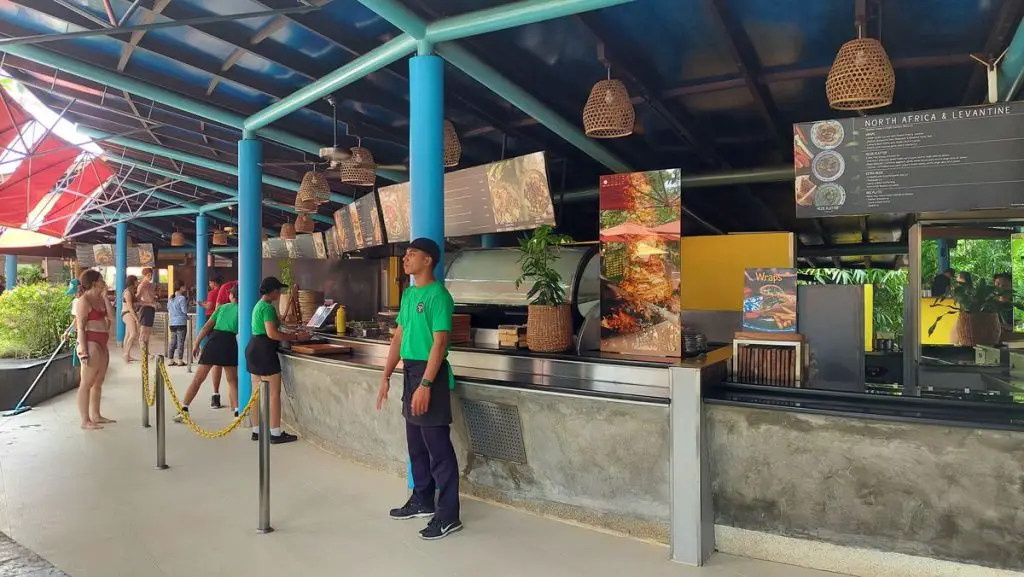 13. Bracelet check stations make sense
Wondering how much money you have left on your pay-as-you-go bracelet? There are multiple areas around the park to help you with that.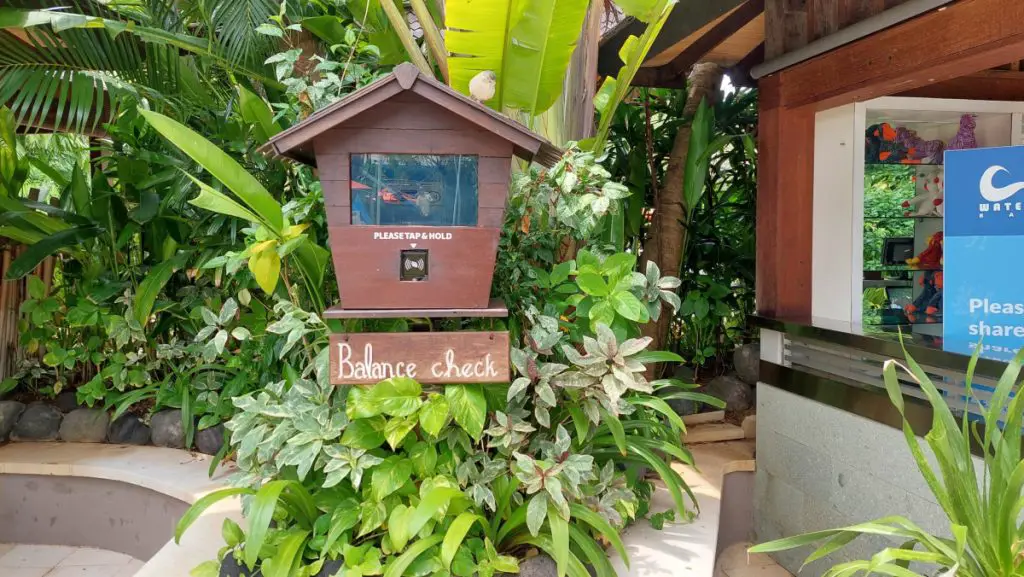 14. Bins with pedals make sense
The park has both recycling bins and general garbage, both can be accessed with a foot on a pedal, instead of using your hands.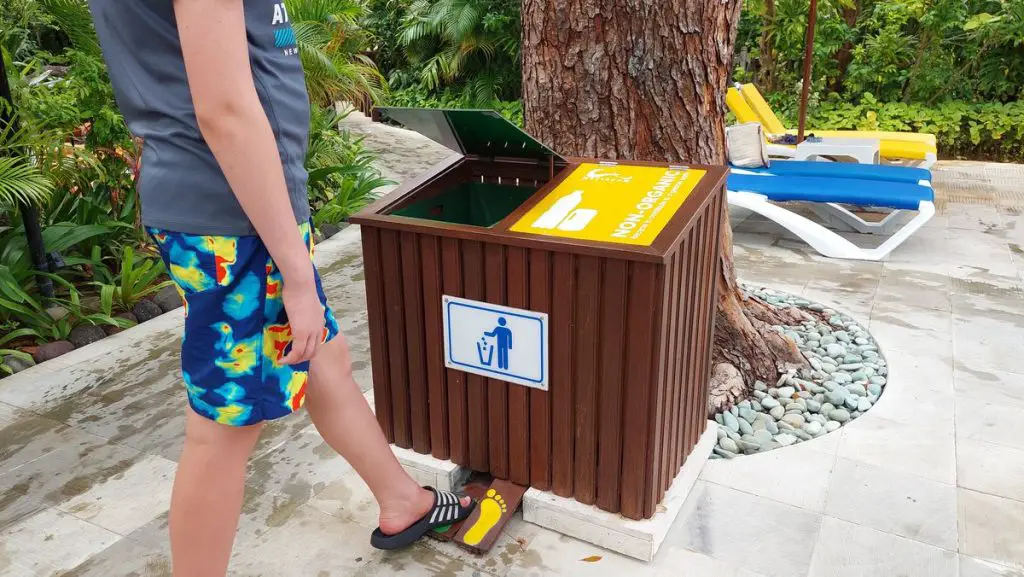 15. Calorie signs make sense
Want to know how much exercise you do in a day at a water park? We love the signs throughout the park reminding us that we're not just having fun, but working off all the delicious Balinese food.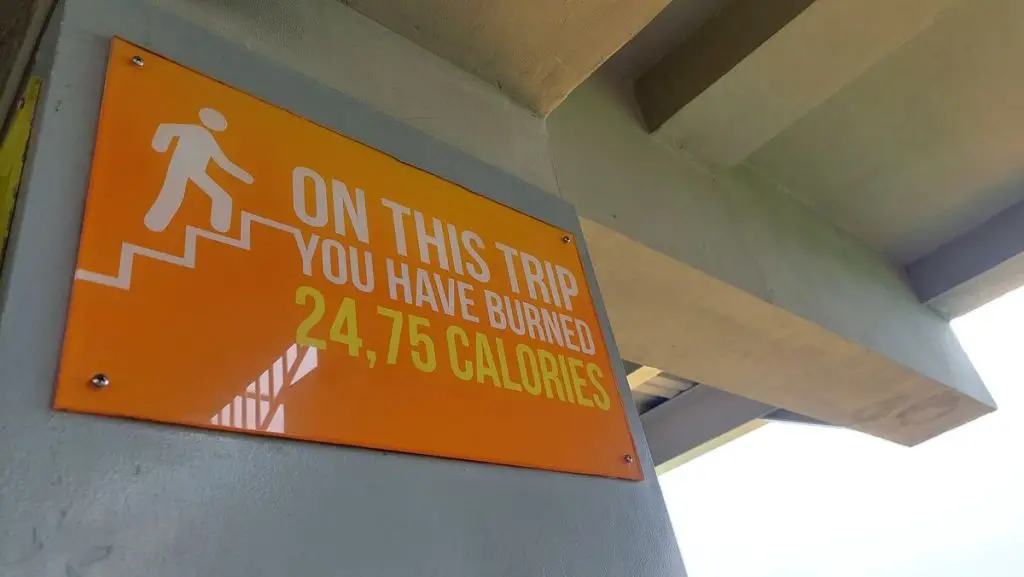 Waterbom Bali Waterpark is a must-visit attraction for anyone traveling to Bali. It offers an excellent combination of fun, relaxation, and adventure for visitors of all ages.
From the thrilling water slides to the serene relaxation areas, the waterpark has something for everyone. The park's dedication to eco-friendliness and sustainability is also applaudable, making it a perfect destination for those who value responsible tourism.
LOOK HOW EASY IT IS TO PIN THIS!
FOMO - do you have it?  Well there is no need to Fear On Missing Out here at Explore With Erin. Sign up to receive updates directly to your in box. I won't spam you, but I do promise a whole lot of awesomeness. What are you waiting for? Join Me!