This blog is a collaborative blog created by Explore With Erin website (the Website), which is owned and operated by Erin Bender (A.B.N. 26925281432
) (we, us, our or Explore With Erin). This blog does accept forms of paid advertising, sponsorship, or paid topic insertions. This blog may also accept free products, services, travel, event tickets and other forms of compensation from third parties.
This blog conforms to Australian Law in regard to commercial conduct. We believe in transparency of opinion, association and source. Any compensation received may impact the advertising content as well as the topics presented in this blog. That content will always be clearly identified.
Explore With Erin is compensated to provide an opinion or review on products, services, websites and other matters. However, irrespective of the receiving compensation or not, Explore With Erin will always give its truthful opinion, findings, beliefs and experiences on those matters. The views and opinions expressed on this blog are those of their respective authors. Any representation made about a product, service or other matter should be verified with the manufacturer, provider or party responsible for the matter in question.
This blog does contain content which may represent a conflict of interest. However such content will always be clearly identified.
What Does It All Mean?
Occasionally I partner with tourism boards and brands to share stories about destinations, products, or services. Sometimes I receive compensation as part of these partnerships. This can be in the form of cash, free gear, flights, accommodation, activities, etc.
Despite that, I always try my very best to give you an unbiased account of my experiences. No one tells me what to write about.
Every company or country I work with understands that what I publish on this blog will be my honest opinion.
If they have a problem with this policy, we don't work together.
You'll occasionally find affiliate links throughout the site too. So while the price of a product is the same for you either way, I receive a tiny commission if you buy after clicking my link.
These help me travel longer & keep this blog running.
I would never endorse a product or service I didn't actually believe in.
Reader trust is much more important to me than cash or free stuff.
That said, beginning December 1, 2009, the FTC requires bloggers to provide disclosures whenever there could be hidden interests or unspoken biases related to recommendations. Adding disclaimers all over this blog would be tedious and distracting.
So to cover my butt and preserve your reading experience, please assume that, for every recommendation, link, and product I use, the following all hold true: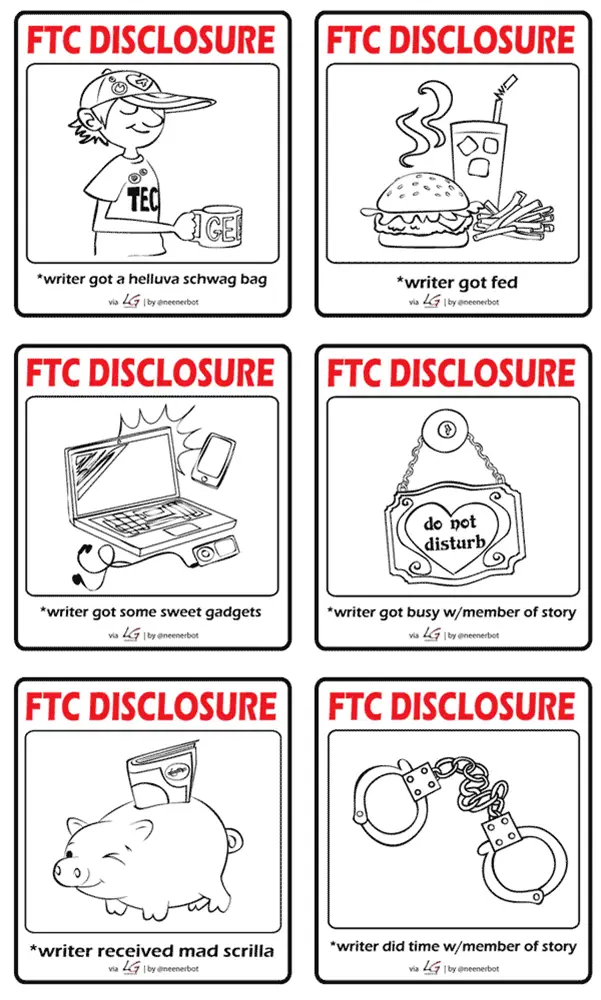 Illustrations courtesy of Louis Gray and Jeannine Schafer.