The wood door stood wide open inviting me into the lush sanctuary held within. It's open invitation tempting me to step through into another world. Sukhavati Ayurvedic Retreat Bali. With one single breath, I dropped my stress, my worries, my pain at the door and entered another world. The world where hours pass in seconds, but pleasure and comfort last days.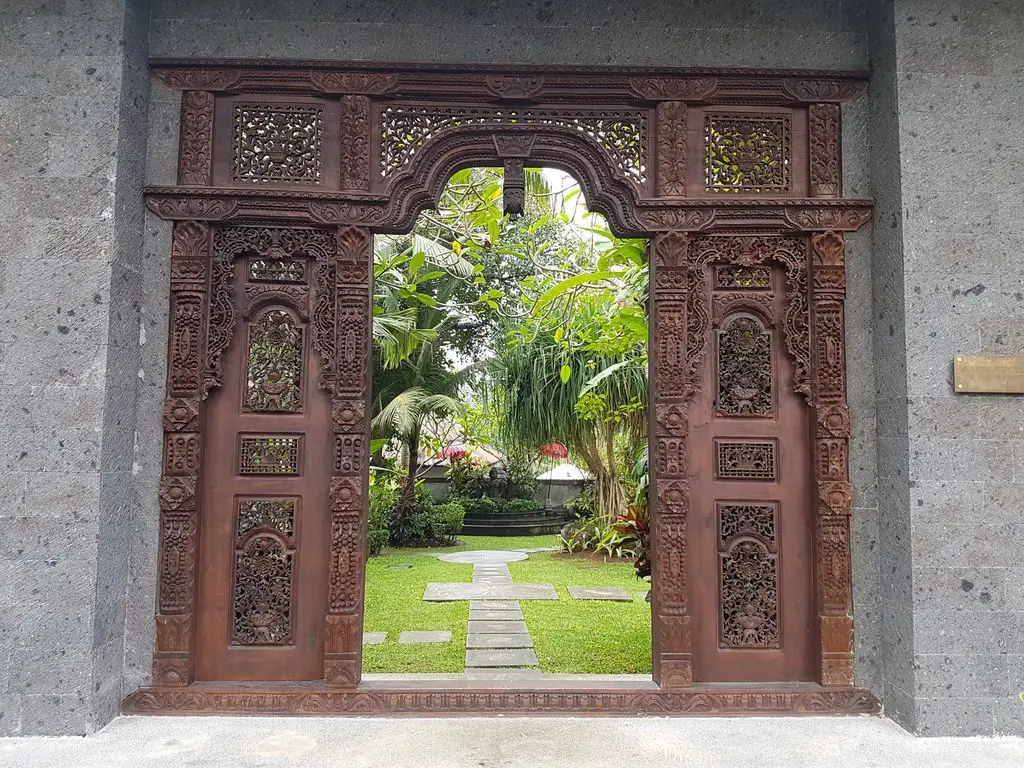 What Is Sukhavati Retreat & Spa?
If I had 7 days to give I would have stayed my entire Bali vacation. I regret having not been able to participate back in January when originally invited.
Sukhavati is an oasis in the sea of Bali houses. Its unassuming presence was hidden by a single driveway that ended in an open door to perfection.
The retreat runs one day programs, four, seven and even 21. As I was only able to have a small vacation this time around I only had one day to commit.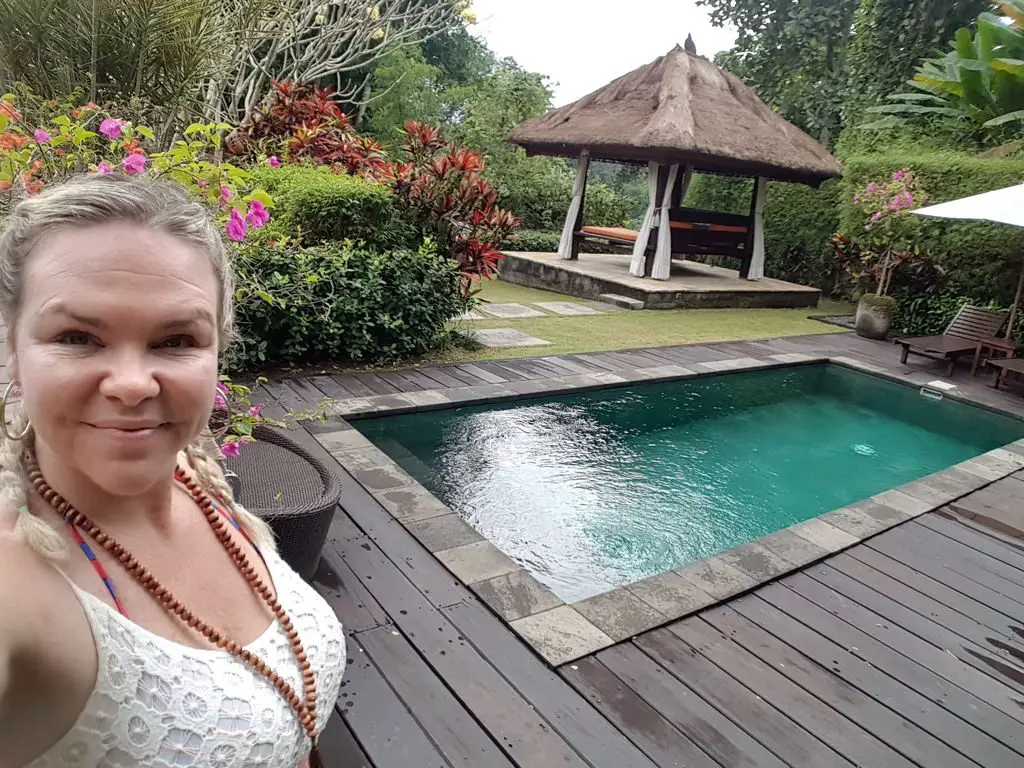 If you have not heard of Ayurvedic it is a consultation that explores your physical, mental, and emotional health to determine the best natural treatments for you. According to the Sukhavati brochure once you have seen an Ayurvedic Doctor he will "prepare a sequence of rejuvenating treatment therapies which include diet and exercise according to your individual body type that will help bring balance, energy, and peace to your entire being".
My Specialised One Day Program
My driver collected me from my Ubud hotel at 9 am. It took us approximately one hour to get to Sukhavati. Through beautiful rice paddies and simple villages.
Check-In
When I arrived I was welcomed warmly by the staff. They handed me a towel to refresh myself, as well as a tall glass of coconut water with lime and mint. I filled in a few forms before being given a tour of the premises.
The grounds need to be seen to be believed. From the famous staircase.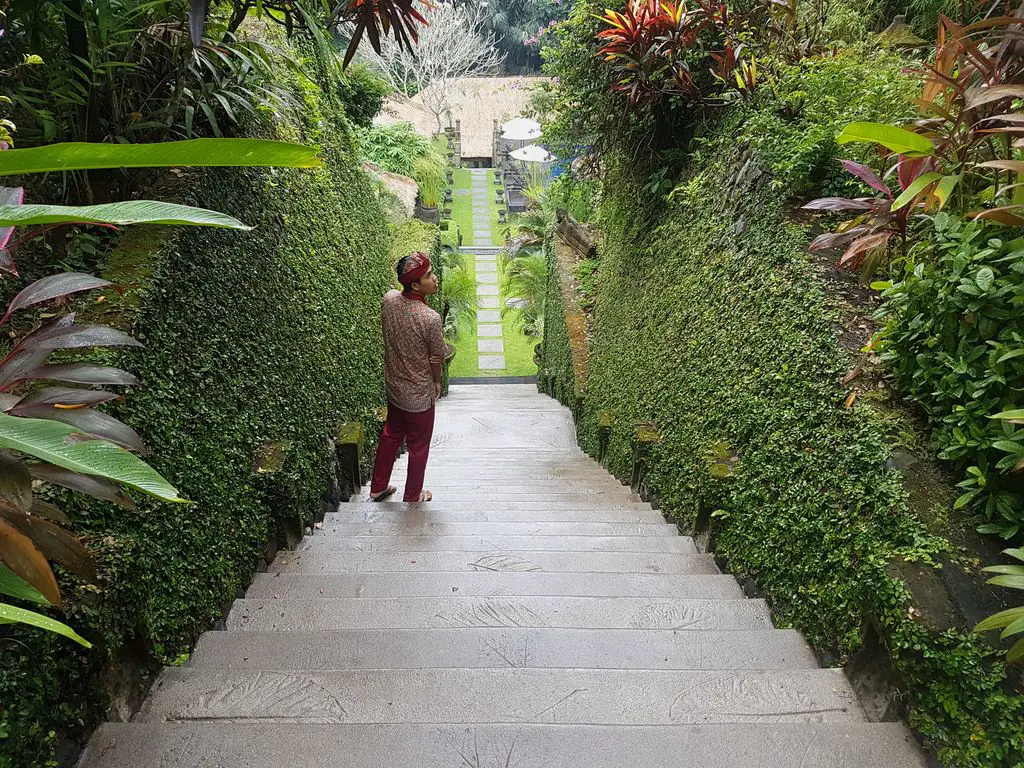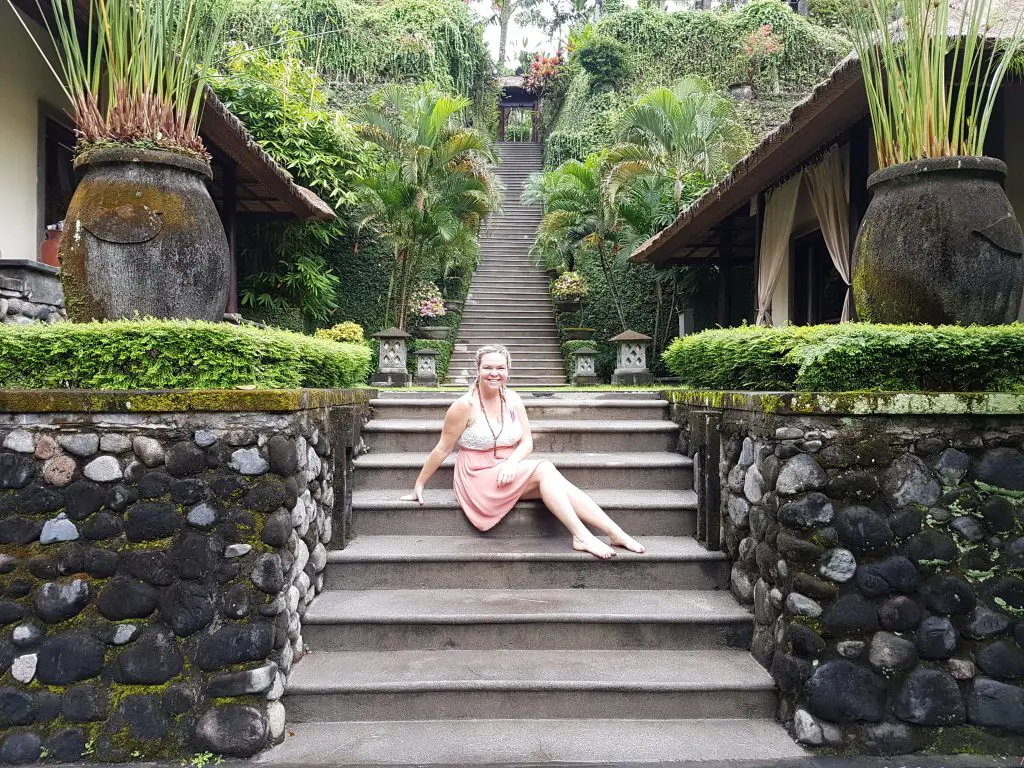 To the library.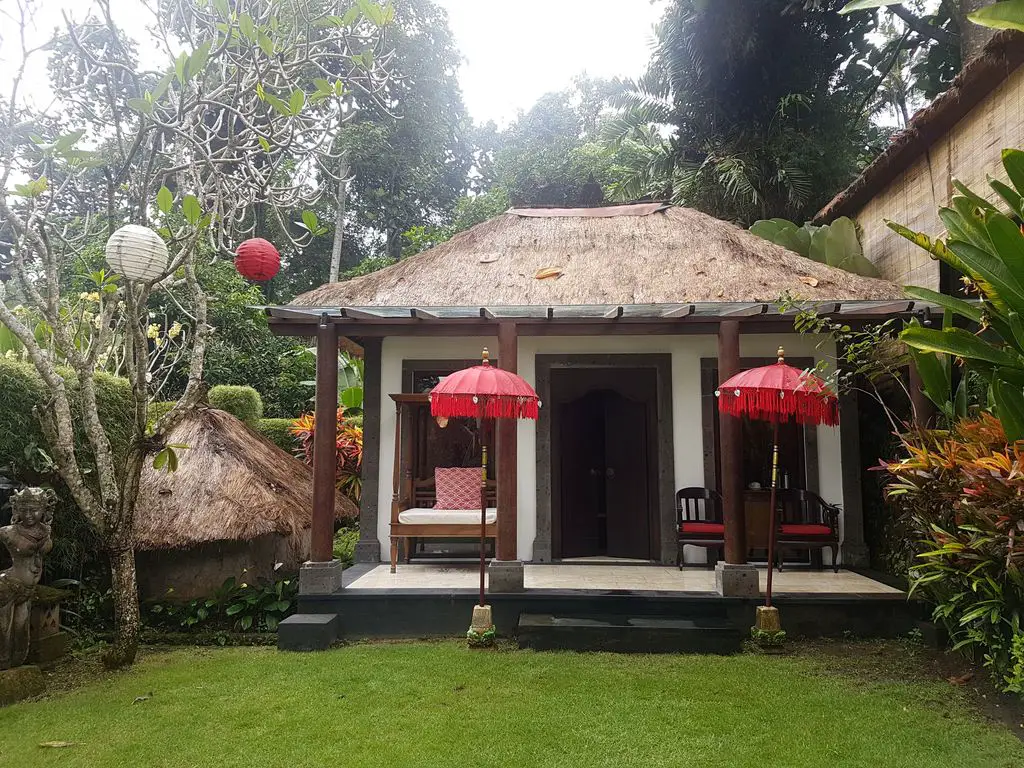 The incredible spa views.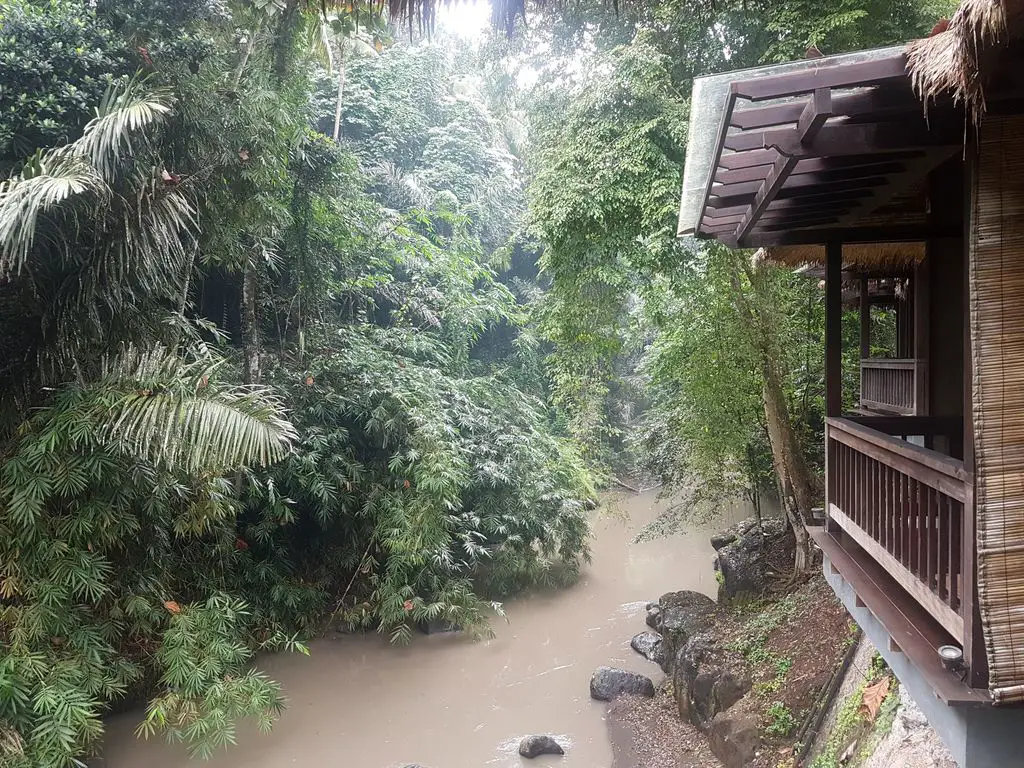 Or my own private villa.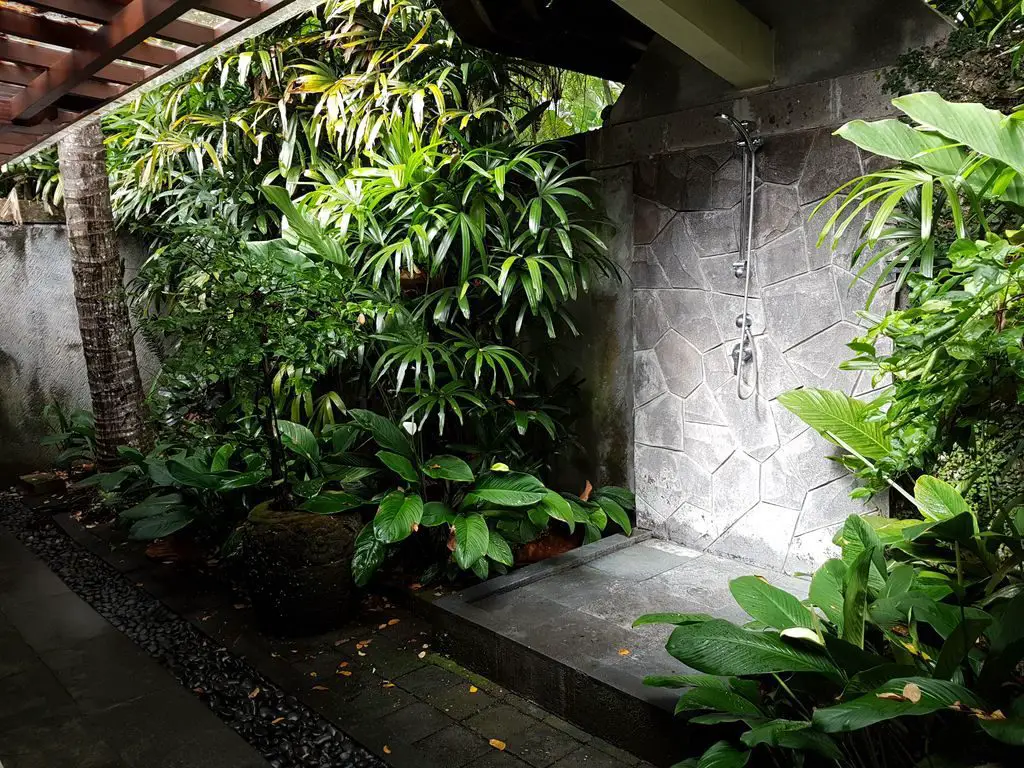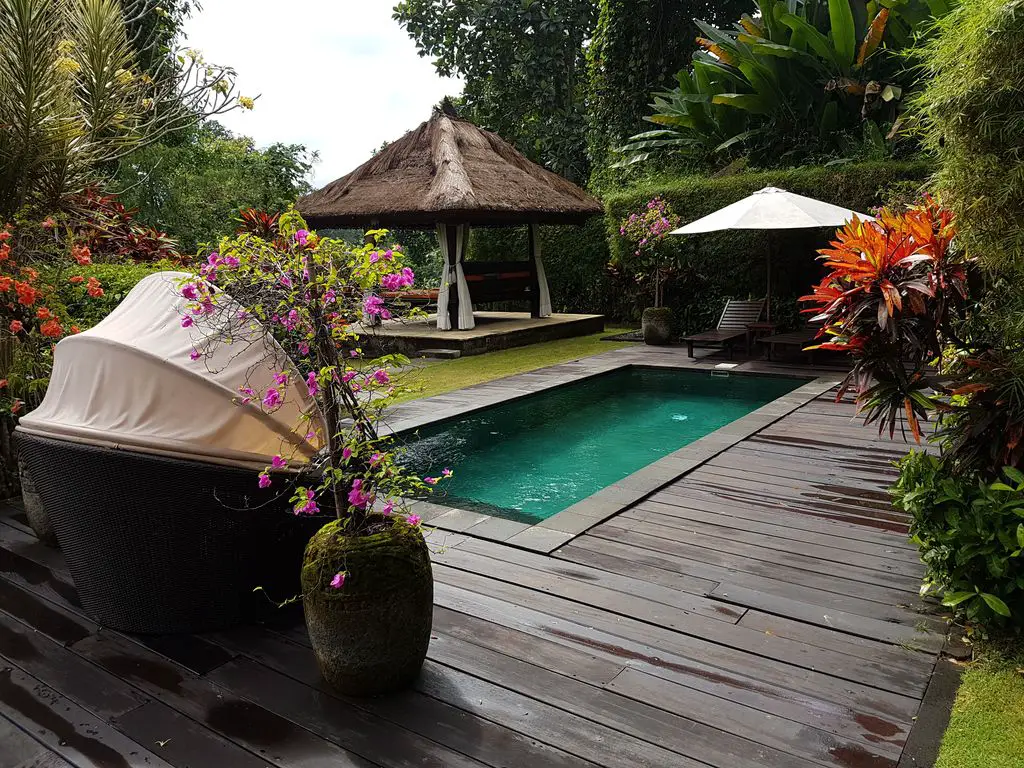 I had about 15 minutes before the start of my program so I lounged outdoors in my own little hut listening to the tweeting of birds, the faint rushing of water, and the swish of the wind in the trees.
Time for a Facial
It was all too soon when a lovely gentleman arrived ready to give me a facial. He instructed me to lie down on my bed and away he went, perfecting my skin so I looked 10 years younger once he was done. What did he use? What was the secret? And where can I find it?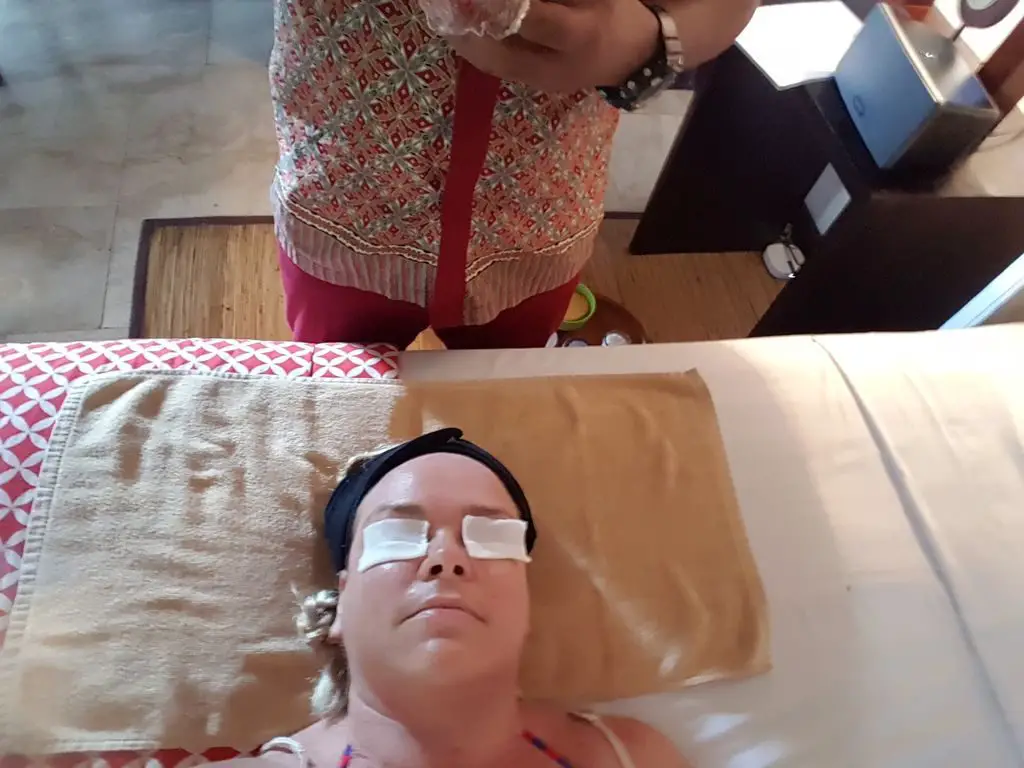 While my mask worked its magic I was treated to a head massage and a foot massage. And I found myself releasing tension in my shoulders and giving myself over to the rejuvenating process.
Oh no, the Ayurvedic Doctor
After my facial, I took a stroll to the Doctor's office. An Indian man with a red dot between his eyes greeted me warmly and asked me to take a seat. Now I'm really at an Ayurvedic Retreat in Bali.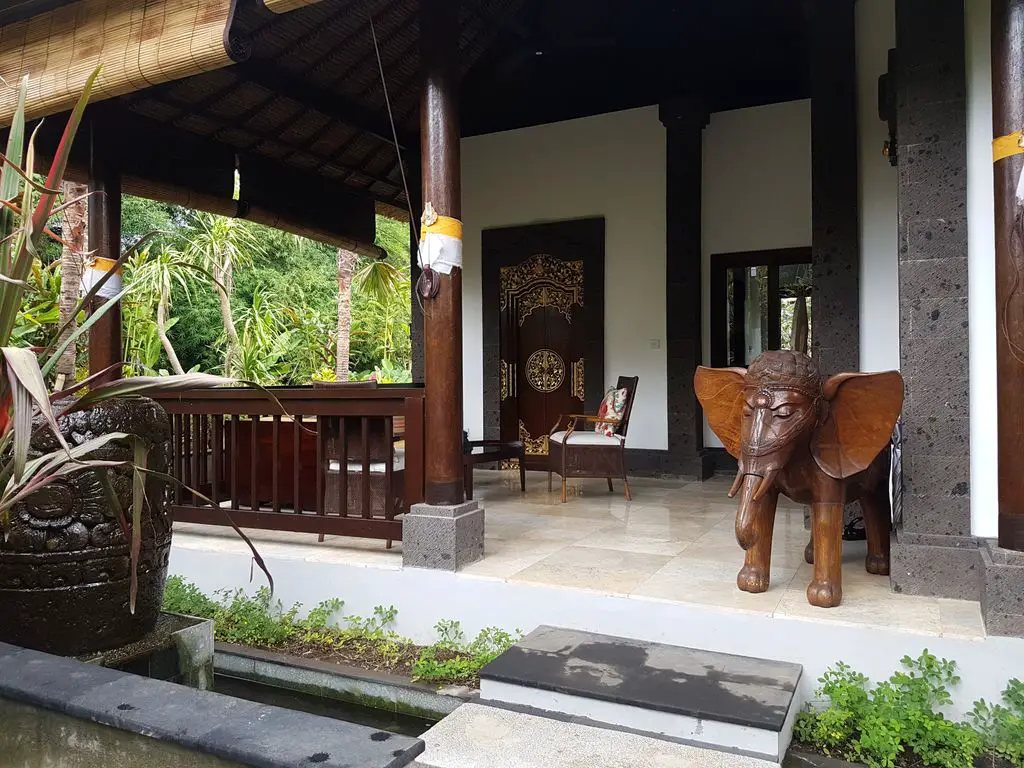 I was nervous. I had no idea what he would find inside my body and feared one look would mean he saw my soul. How was I to go through all my woes and illnesses in 45 minutes? But he led me with firm and prodding questions.
His first act was to take my pulse. He also asked me to place my hands on the table. They were shaking.
Then he proceeded to list a bunch of medical problems I had been struggling with. Without revealing too much about my inner being he described a heat inside me that needed to be cooled. He described this as my Pitta being stronger than my Kapha.
The most interesting part of the conversation came from my stress and overthinking. The lack of routine from 5 years of travel had caused harm to my physical body and my mental state, which of course then went on to affect my emotional well-being. I am going to write a little more about that in my next post on the failings of Nomadic life.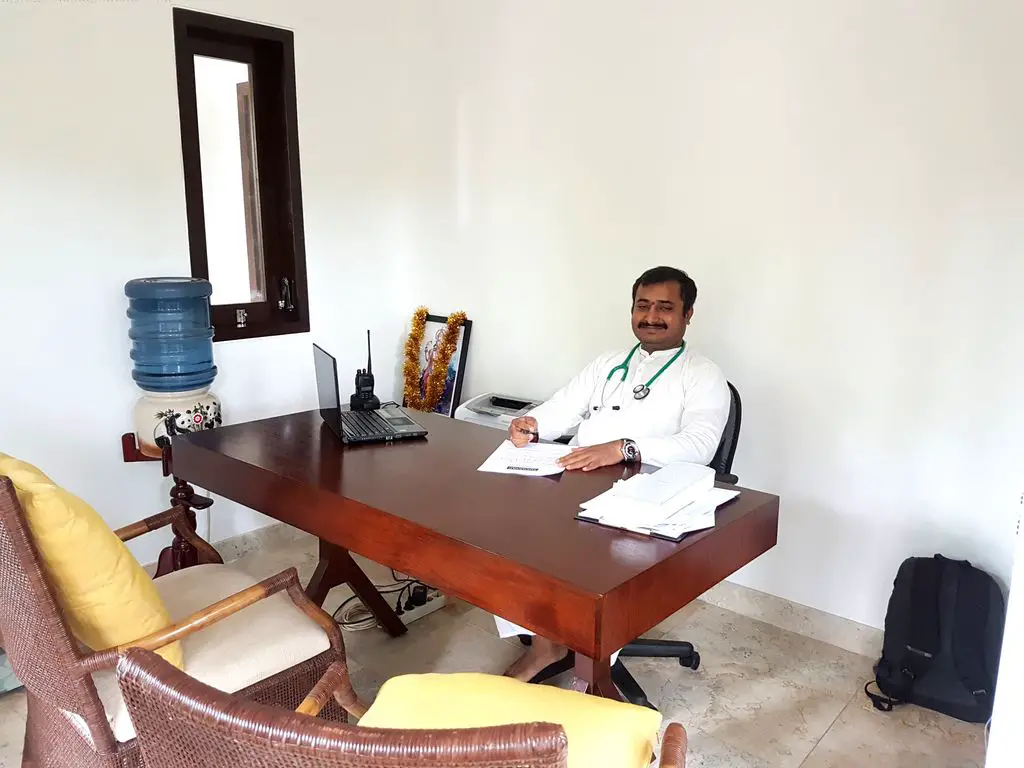 I left the Doctor poorer for my herbal purchases, but richer and full of hope for a healthier and better me.
What is Lunch?
After I saw the doctor I climbed the heavenly staircase down to the dining room. Four guests were already dining and I was given the seat of honor at the head of the table. I spent just over an hour sharing and talking with these strangers and by the end of the meal we had swapped emails to stay in touch.
The food served at Sukhavati is gourmet, fresh vegetarian food. All the ingredients are sourced from local growers and seasonally and organically grown on the property.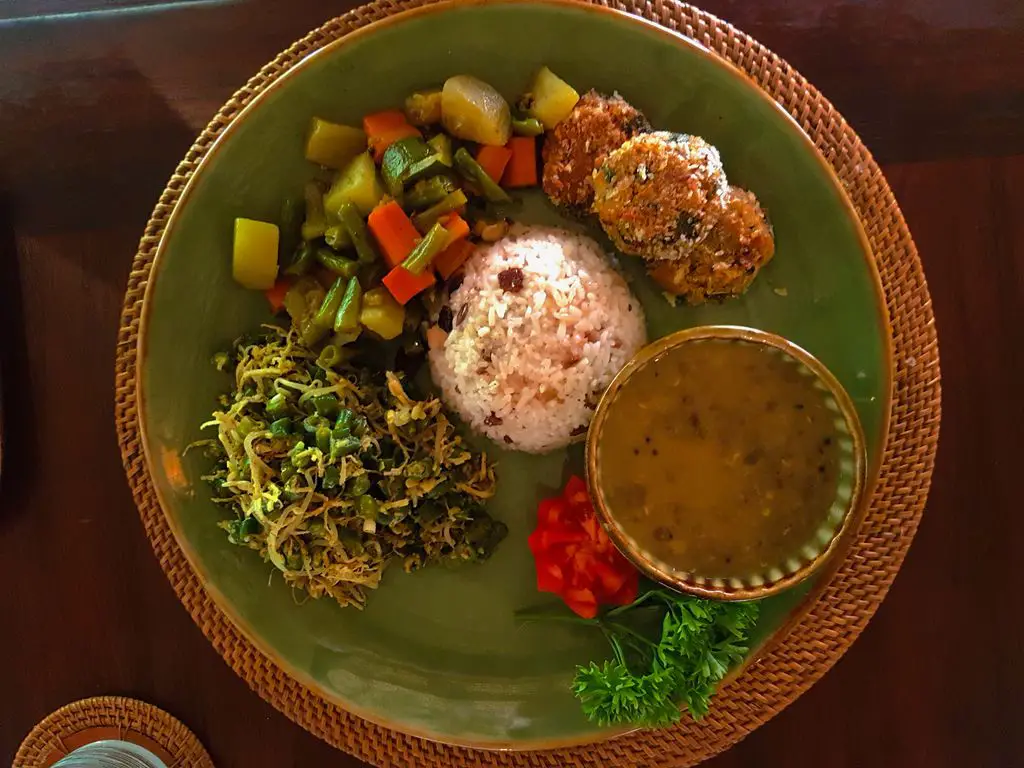 I wasn't told what I was eating, but it was delicious and filling. There were lentils and loads of vegetables. I didn't finish, but it wasn't because I didn't want to.
Interestingly food plays a prominent role in Ayurveda and is considered a medicine. So lunch was a delight and made my body happy.
Time for my favorite part: Spa
My Ayurvedic treatments were based on my body type and included Abhyanga and Shirodhara.
The spa room was my favorite part of the whole grounds. Open-air villas with one wall missing. That missing wall was a giant window to Bali. Sitting on a cliff above running water and lush foliage, I couldn't tear my eyes away. The staff understands and a couch is placed front and center so you can feast your eyes while undergoing the beginning treatment.
A private bathroom is provided with a pair of black knickers and a sarong. Once I was stripped of all my clothes (determined to also leave my prudishness in that bathroom too), I was seated on the couch for a head massage and a foot massage.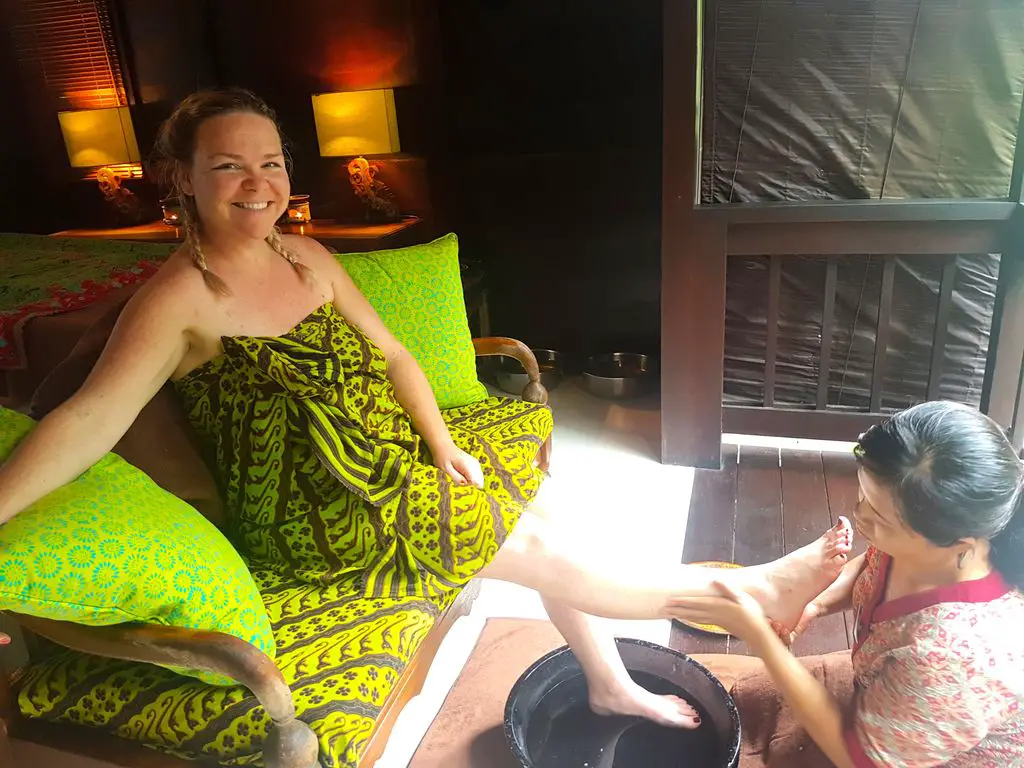 After this bliss, I laid face down on the massage table. My sarong and underwear were removed and there was no draping here. That first awkwardness that comes with being exposed to two people you have never met quickly dissipated once the warm oil was poured onto my body.
Abhyanga is a specialized Ayurvedic oil massage performed by two trained technicians. I'd never had a four-handed massage before and their rhythm was astonishing. I'd also never had my butt checks massaged or my breasts so that was new. And not as uncomfortable as it sounds. It felt whole.
Following my Abhyana was Shirodhara, a calming and balancing treatment consisting of a stream of warm oil poured constantly over the forehead while lying face up.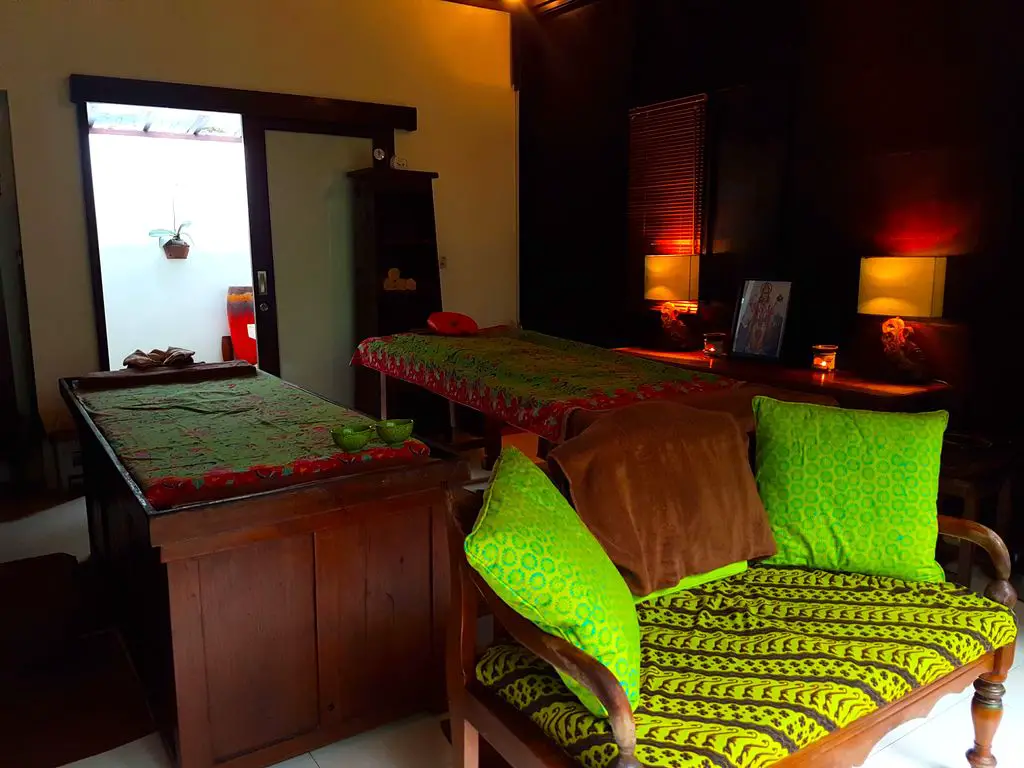 At the end of the treatment, I was one slippery, oily mess. But extremely relaxed. More relaxed than I'd ever been in my life. Less stressed than I had been in the past 6 months. And feeling happy and whole.
I was left alone in the bathroom, where a giant rain shower head beat down on me. It didn't help the oil much, but it was soothing.
The massage did everything I expected. It relaxed my body and my mind and improved my energy levels by opening channels of circulation and preparing the body to eliminate excess doshas (Vata, Pitta, Kapha) or toxins (ama) on the physical, emotional, and spiritual levels.
A drink by the pool – The perfect ending
As I walked the stairs back to the pool area, I was greeted with a mango juice. The staff quickly brought out a cushion for the pool chair and I sat down. Nearly an hour passed as I sat enjoying my massage afterglow. I didn't want to leave the absolute state of bliss I had entered. But the darkening sky prompted me that my time was drawing to a close.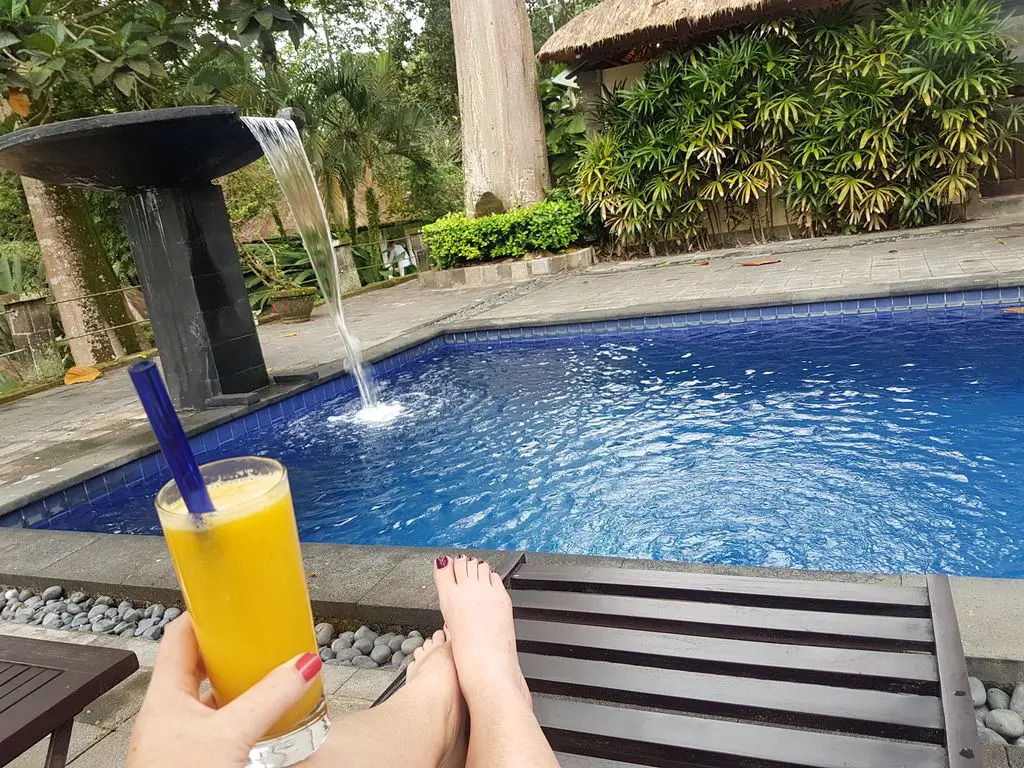 Check-out: When it's time to leave
I went back to my villa, packed up my things, and moved out. The staff was genuinely sad to see me go. I was given my herbal medicine as recommend by the Doctor, a departure letter with my new eating and sleeping routine to practice at home and my bags were carried to the driver.
Explore With Erin wrap up
When can I get back?
I'm still planning and dreaming.
This spa experience was something I have never experienced in my 19 years of travel or 5 years of nomadic life. I've been to some of the best spas and yoga retreats in the world. However, Sukhavati Ayurvedic Retreat Bali is more than just a spa. It was a great massage, it was delicious food, but it was a change in headspace that was priceless. It's somewhere you go to be you. The best you possible. And hopefully, you can take that home with you.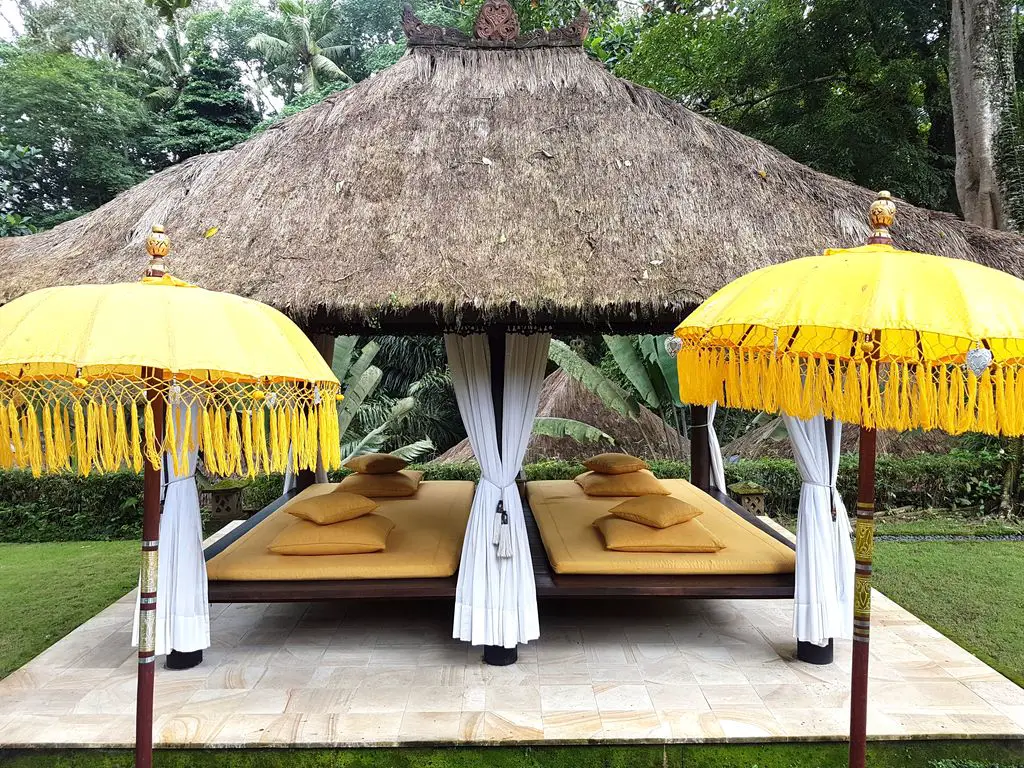 And if not, then you can always come back another year.
I'll be back. Right Sukhavati?
Looking for more things to do alongside the Ayurvedic Retreat Bali? Click here.
Look how easy it is to pin this!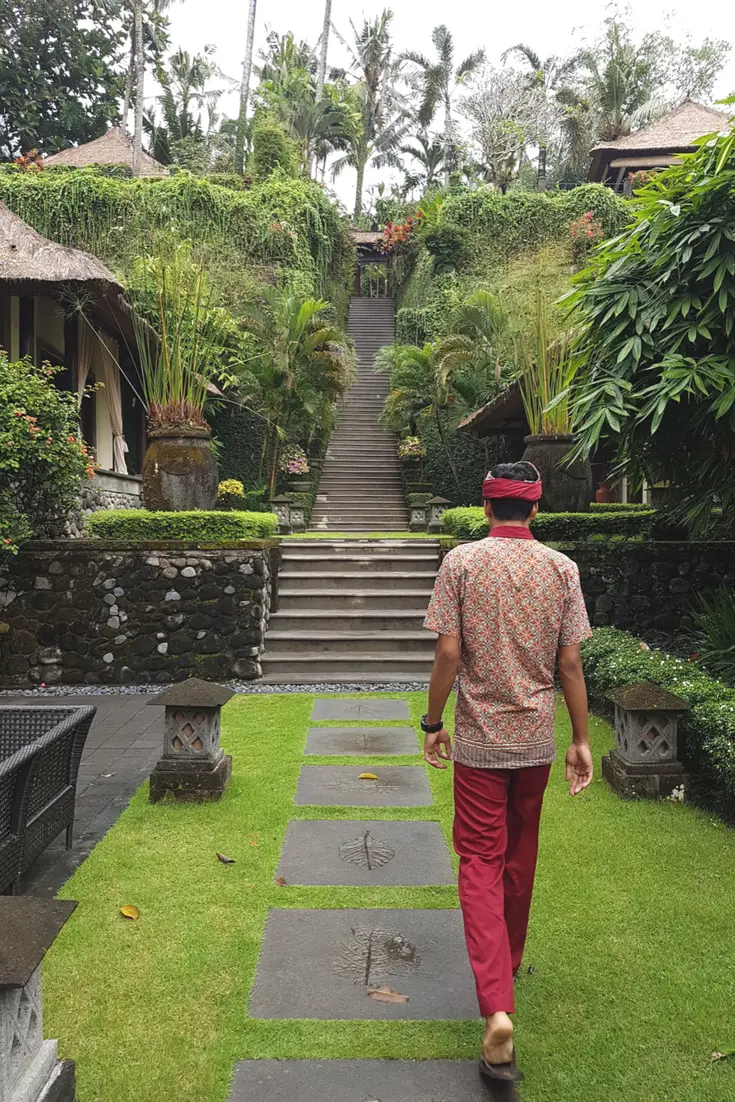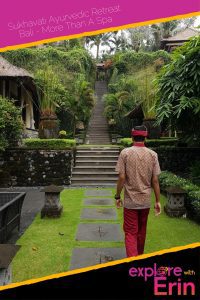 FOMO - do you have it?  Well there is no need to Fear On Missing Out here at Explore With Erin. Sign up to receive updates directly to your in box. I won't spam you, but I do promise a whole lot of awesomeness. What are you waiting for? Join Me!