Since 1998 I have stayed in more than 20 different hotels, resorts, and villas across all parts of the beautiful island of Bali. Think of me as your personal "Bali Guru" since I've visited more than 15 times, and even lived in a number of stunning and luxurious Ubud villas.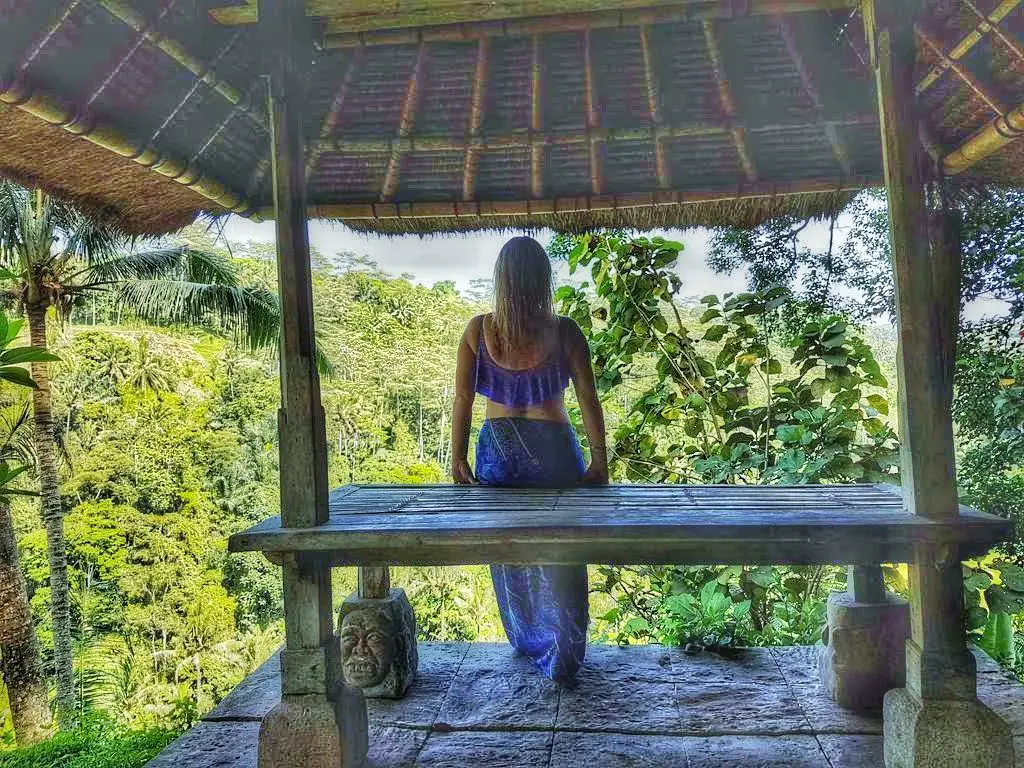 And while I enjoy most areas of the island of the gods, I could never resist the call of the jungle. Ubud. Bali's artistic, yoga-centric, entrepreneurial hub.
There is just something so special about Ubud, from its delicious raw food scene to its absolutely outstanding scenery to the 22 things to do. Not to mention the laid back relaxed atmosphere that comes from being the hipster part of the island.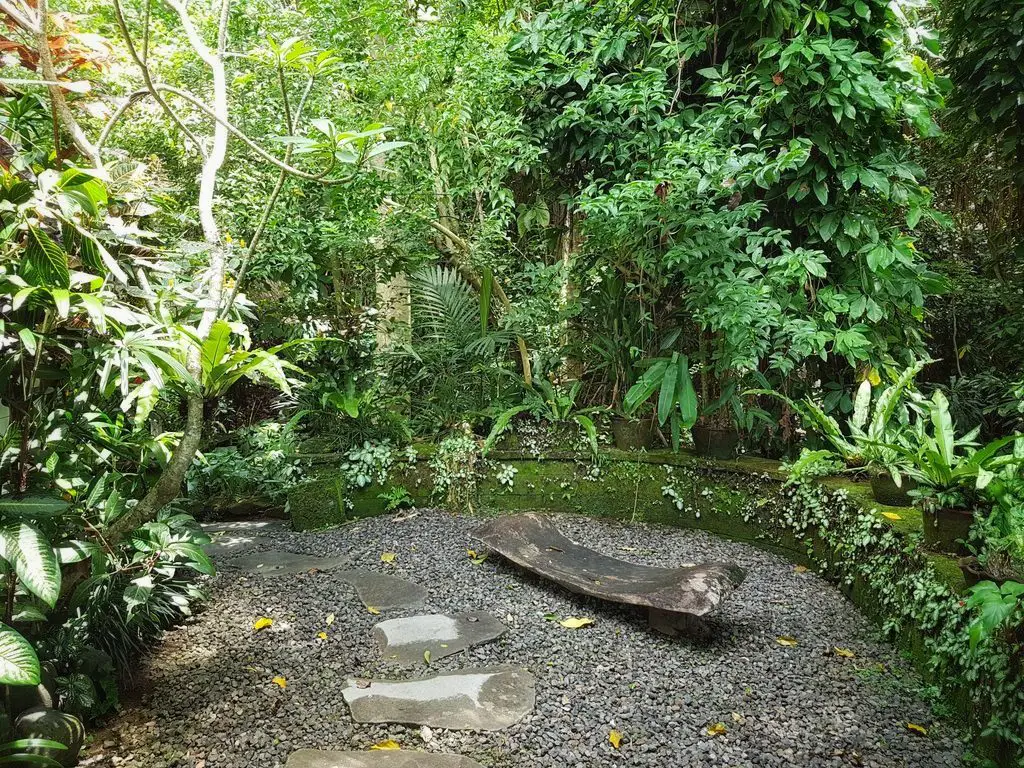 Now that you get the picture it's safe to say the resort life doesn't fit in as well in Ubud as it does in the other popular areas of Bali. So when we were invited to stay in an Ubud villa with Villa-Bali.com there was no resistance from me. Why? Well, these top 3 reasons come to mind.
Complete Isolation
Whether you are looking for a romantic getaway or a family vacation to reconnect and bond an Ubud villa allows you an incredible amount of privacy to do that.
My most recent stay at Villa Melati was a short scooter ride out of town and close to several restaurants, shops, and even my favourite gelato store, Gaya Gelato. And yet it felt miles away, isolated from the whole world.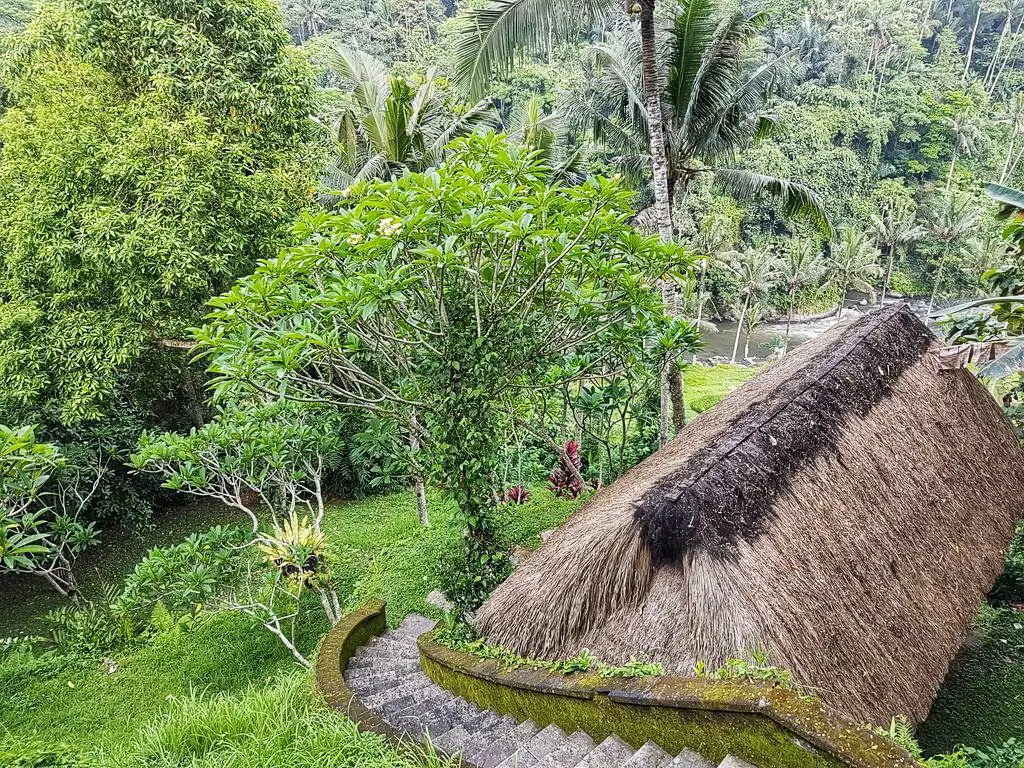 Finding this Ubud villa was slightly difficult, as you turn off the road down an unassuming driveway. Once you reach the car park it was a walk down a steep stone staircase lined with tropical flowers and green trees.
At the bottom, it seemed like you stepped out of the hot, heavy, busy streets of Ubud into the heart of the jungle. No other villas in sight. Complete isolation.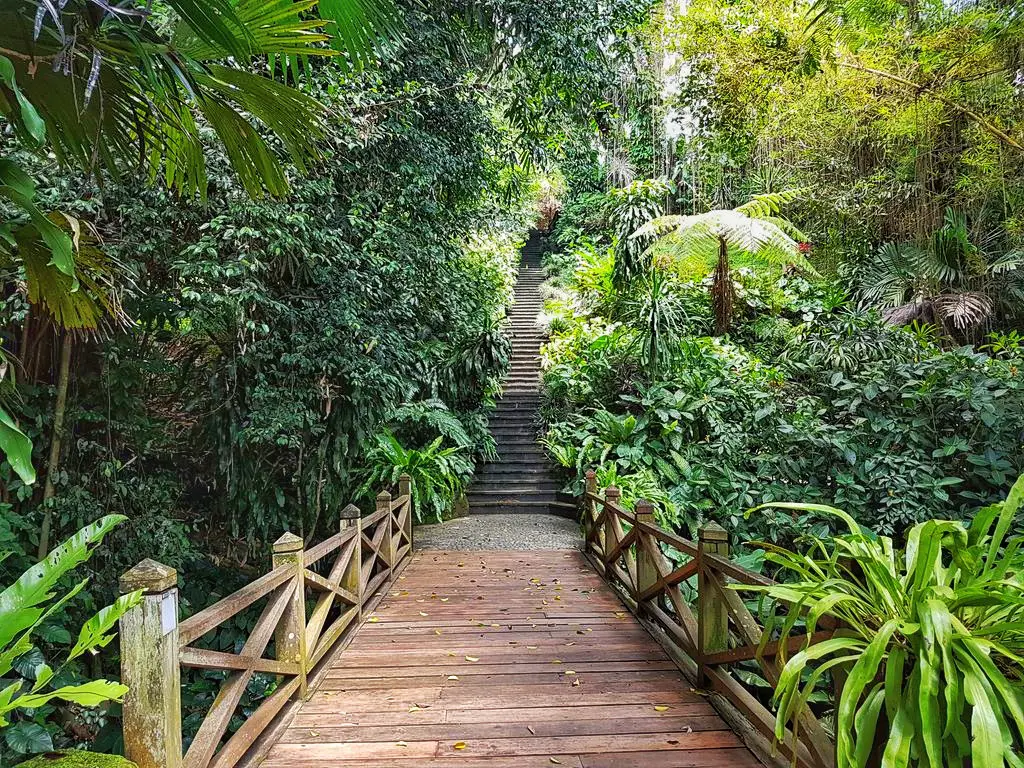 An Ubud villa stay with kids is super beneficial for allowing them to make as much noise as they like without disturbing the neighbours. But at the same time, you'll also find a stay in an Ubud villa the perfect romantic getaway, complete without any distractions. Anywhere.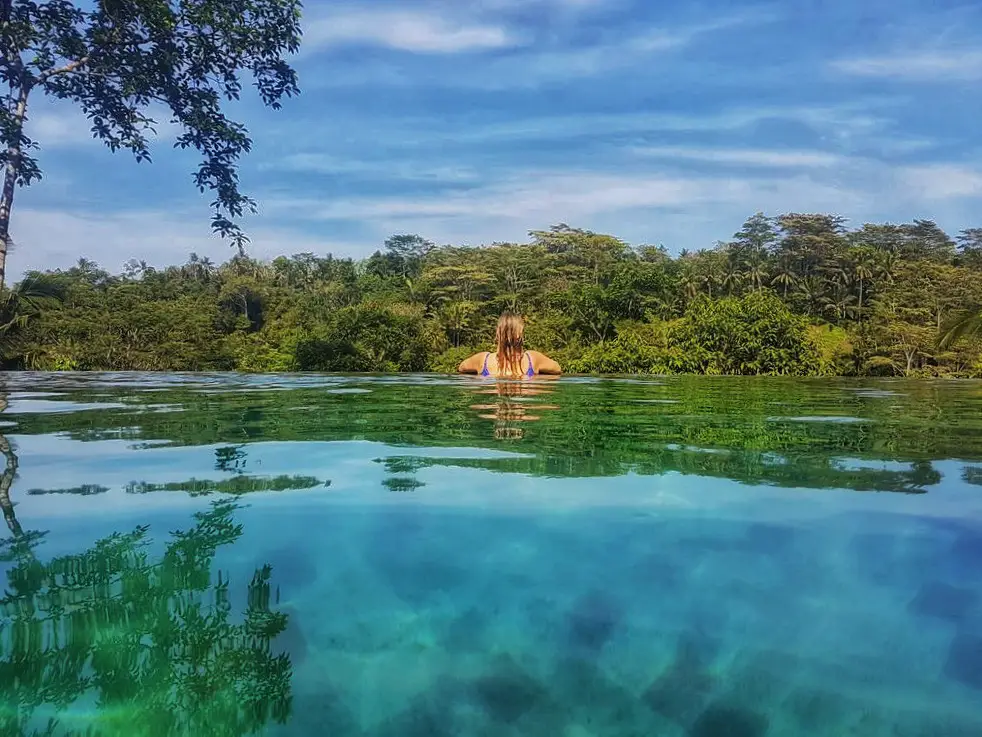 Room For Everyone
Talking about kids Ubud villas are the perfect escape for families, because of space. Hotel rooms can become trying during nap time or just being on top of each other. The one bathroom to share, the hassle of adults wanting to stay awake, while little ones need to sleep.
At Villa Melati, we had 3 rooms, a kitchen, and several living areas, bathrooms, dining areas to enjoy. That is a lot of luxurious space for 2 people! But I can imagine taking the whole family or a few groups of friends would still be just as faultless.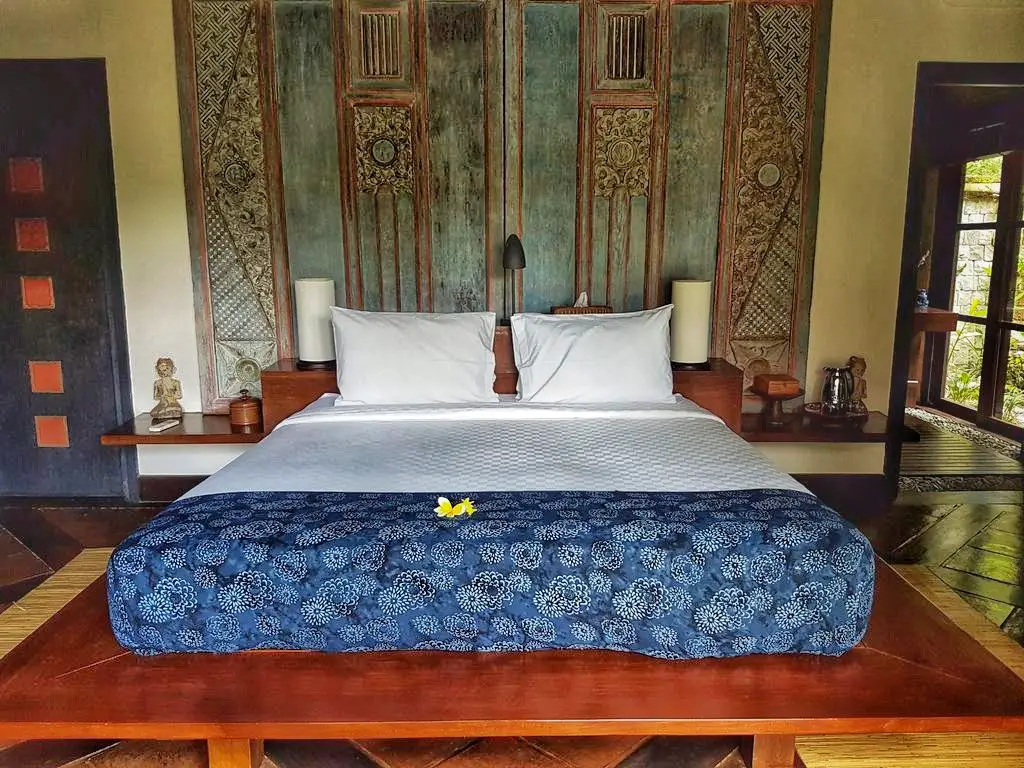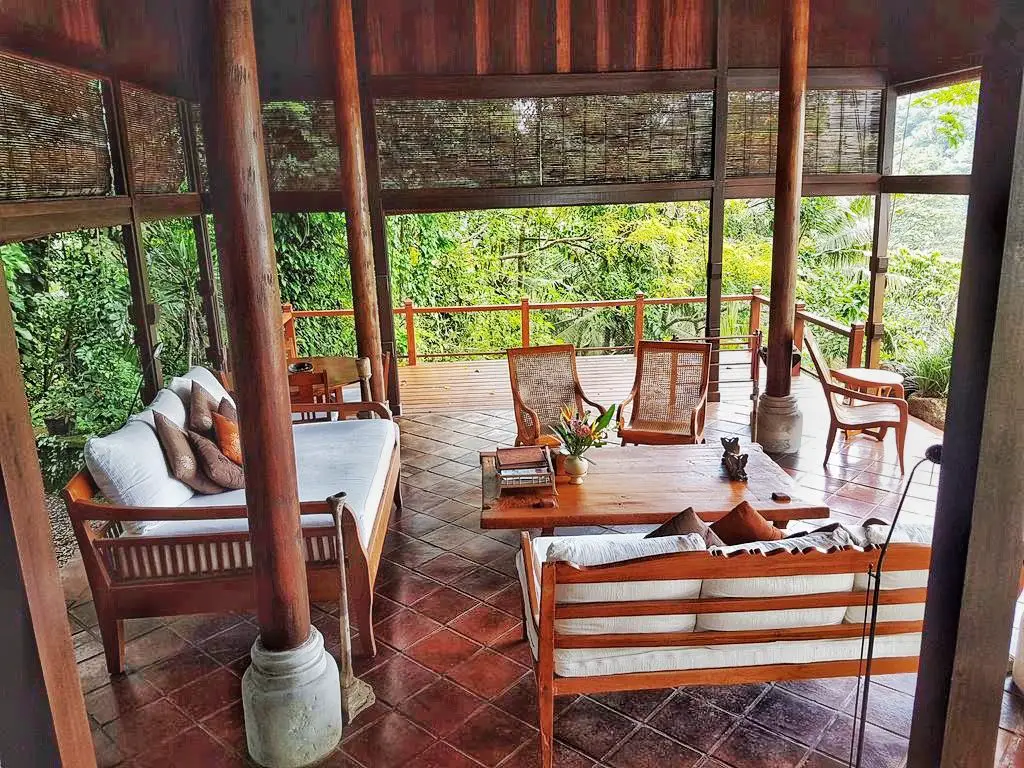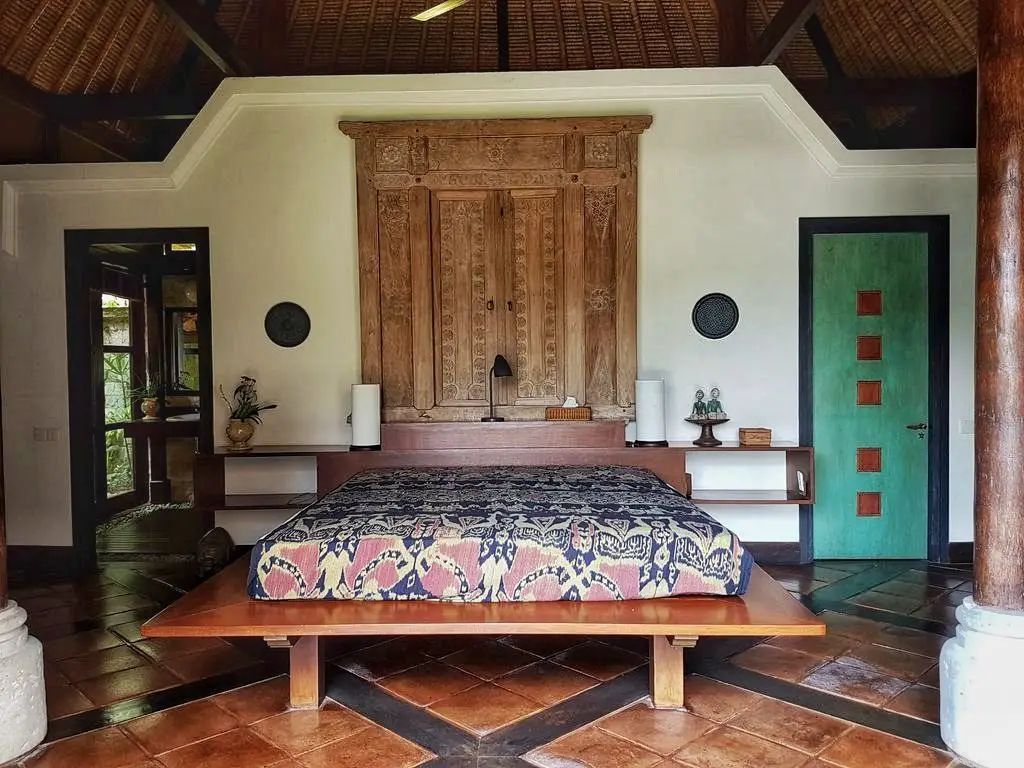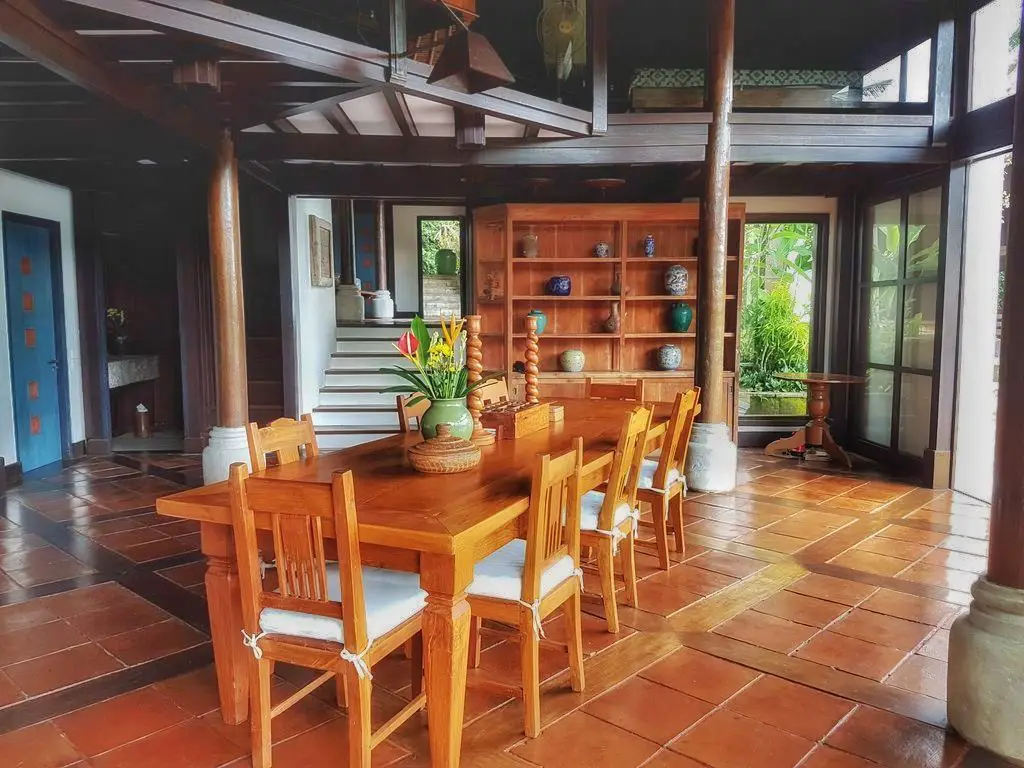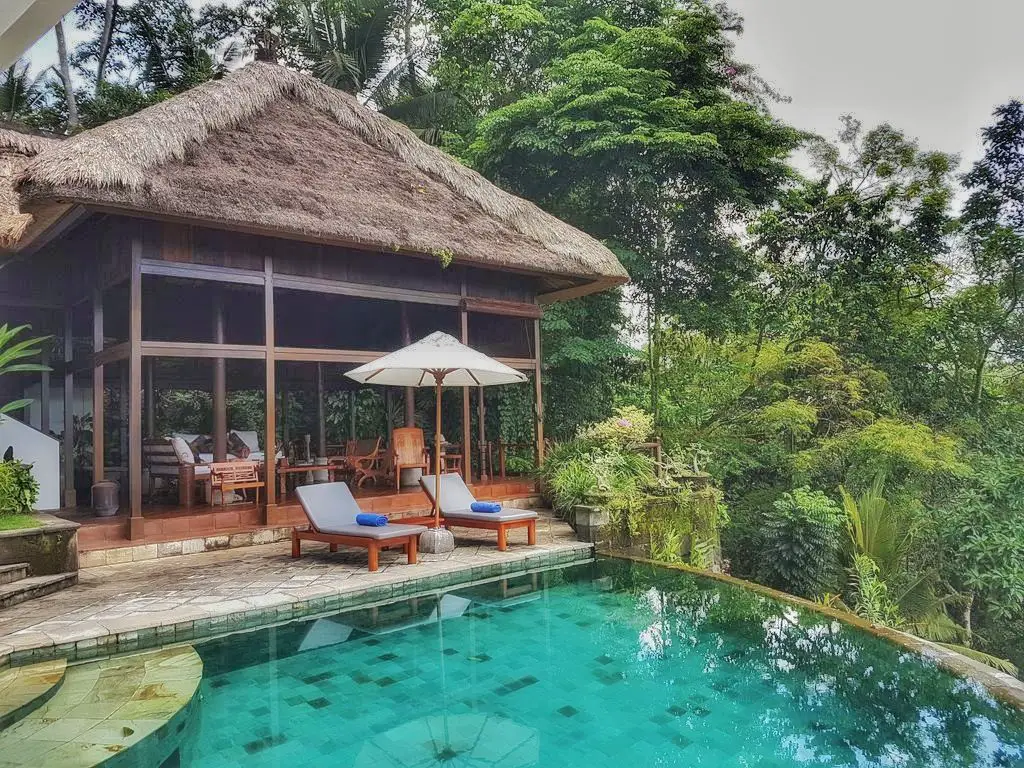 As you can see there was so much room to spread out. I enjoyed moments sitting on the couch watching the sunset or dining inside in the cool aircon or eating my breakfast outside on the balcony listening to the sounds of the jungle come alive.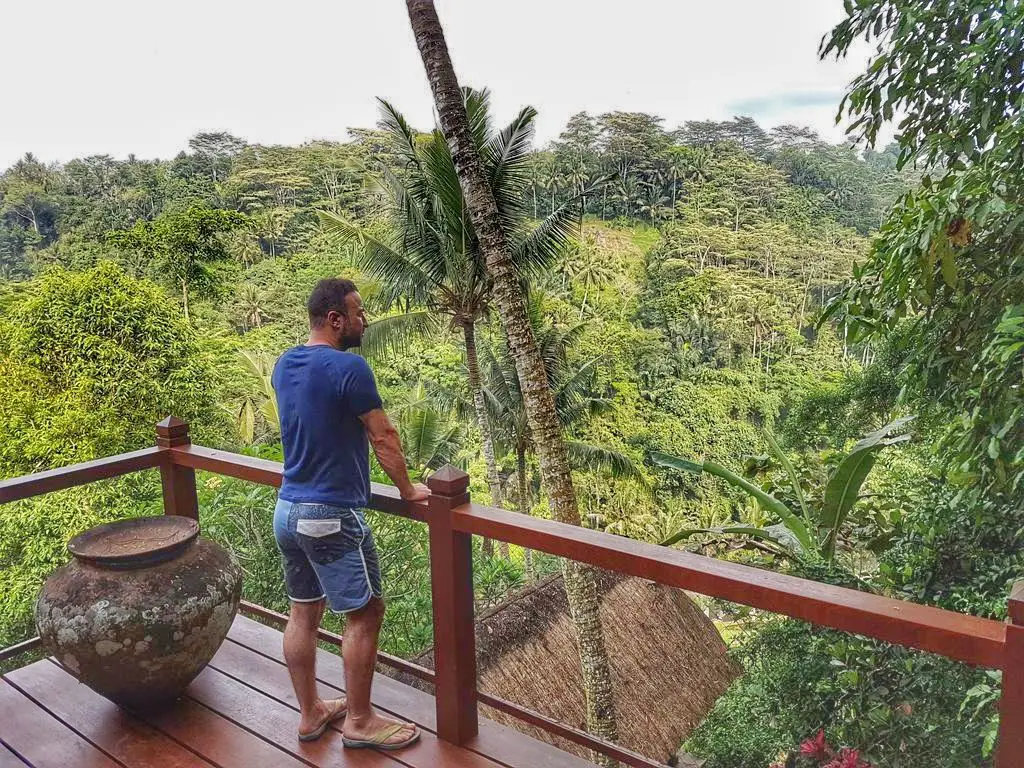 Personalised Service
Along with our kitchen, came several staff members. Most Ubud villas in Bali come with staff. Usually, you will find a security guard, cleaning staff and cooks who prepare the breakfast each morning.
We also had a driver willing to take us wherever we needed to go.
The staff are discreet and generally allow you to take the lead on how much or how little involvement you are looking for. All great villas come with a chef who can prepare out of this world banana pancakes. So don't hesitate to ask.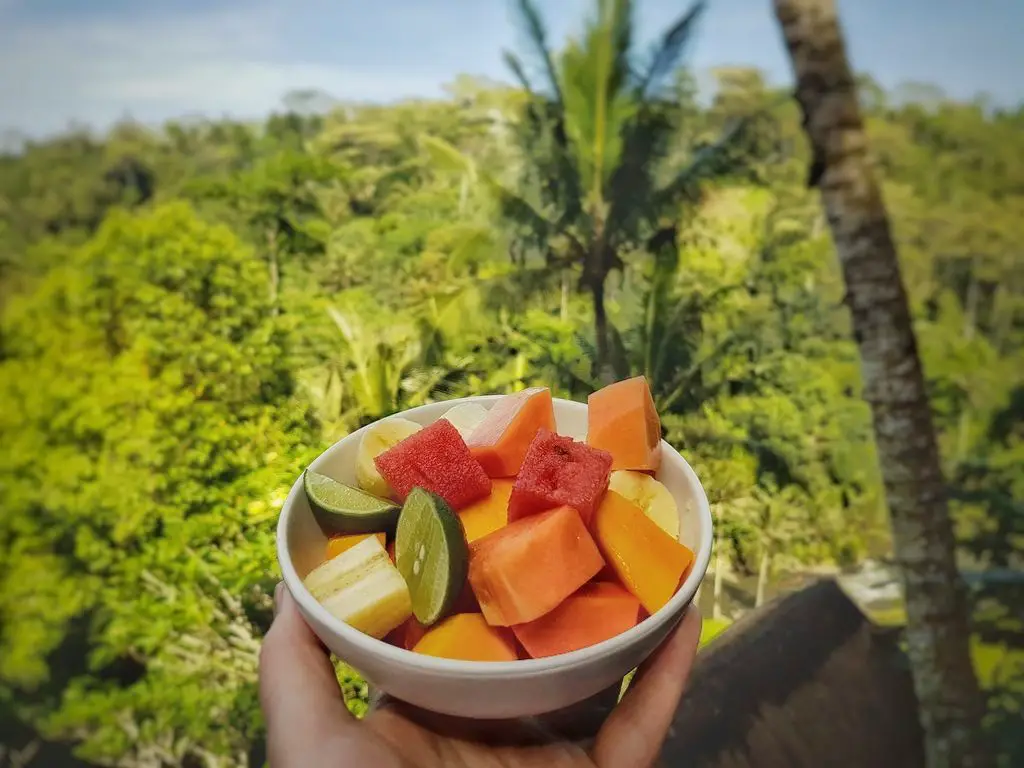 3 Things To Ask When Booking An Ubud Villa
Location
This is so important and can be based on a few factors. Do you want to walk everywhere? While most villas have access to a driver, I recommend hiring a cheap scooter ($6AUD per day) to zip in and out of the busy centre. Just be sure to check it's not going to take you an hour to get anywhere.
Water
The water in Bali is not drinkable so check if your villa comes with filtered water. Most villas should include a filtered water system or tank. In saying that I've been brushing my teeth with the water and never had an issue, but maybe I just have guts of steal from my years of nomadic travel.
Amenities
The importance of certain amenities is personal preference. Since Bali is quite hot all year round, I love having a pool. Many Ubud villas do not come with a TV so you may want to ask about that. I've stayed in villas without air conditioning and that was hell so now I always make sure aircon is available. And check the beds, because while I love a good camping hammock, when staying in a villa I absolutely adore the Bali super size kings.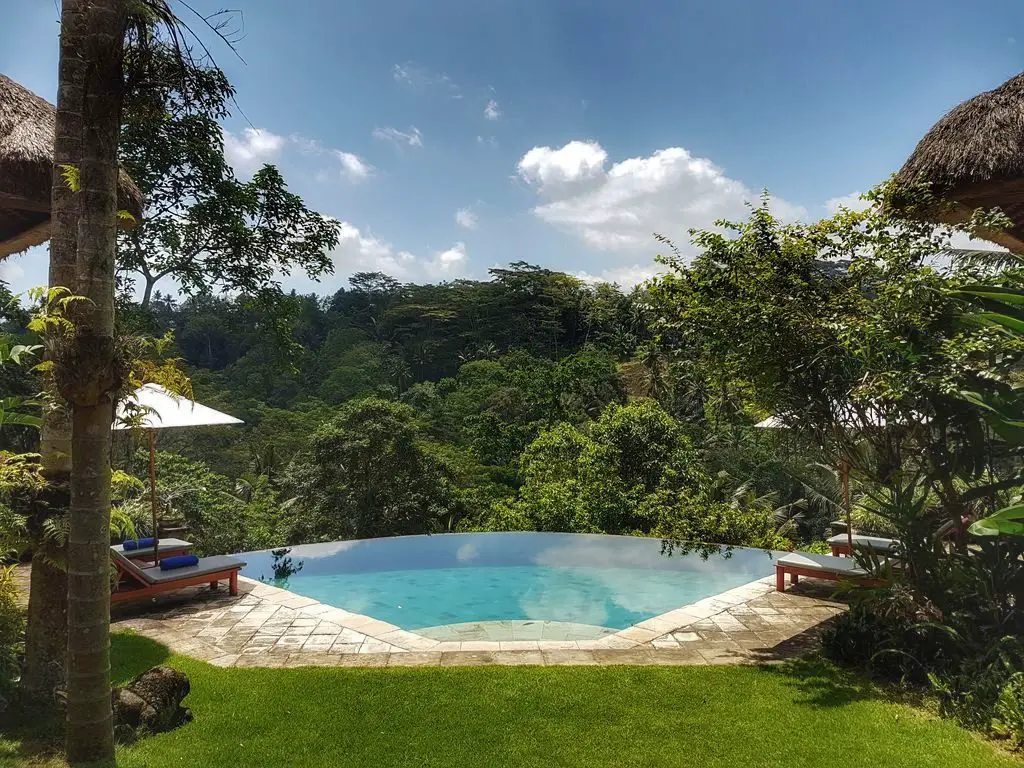 Explore With Erin Wrap Up
Depending on your travelling style, there are different ways to find the right Ubud villa for you. Definitely, check out aggregator sites like Villa-Bali.com to take the stress out of booking and for reassurance in case something goes wrong.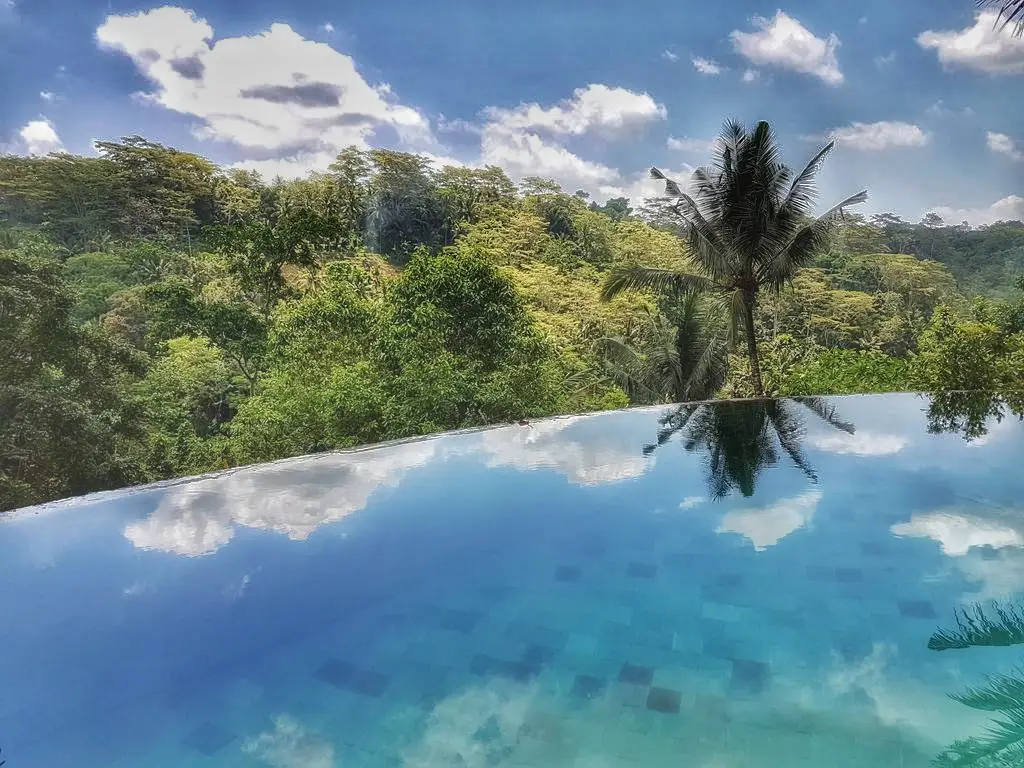 But above all please just make sure the staff knows how to cook banana pancakes. 🙂
Check out things to do in Ubud here and where to eat over here.
I'd love to hear your preference for an Ubud villa versus big resort?
LOOK HOW EASY IT IS TO PIN THIS!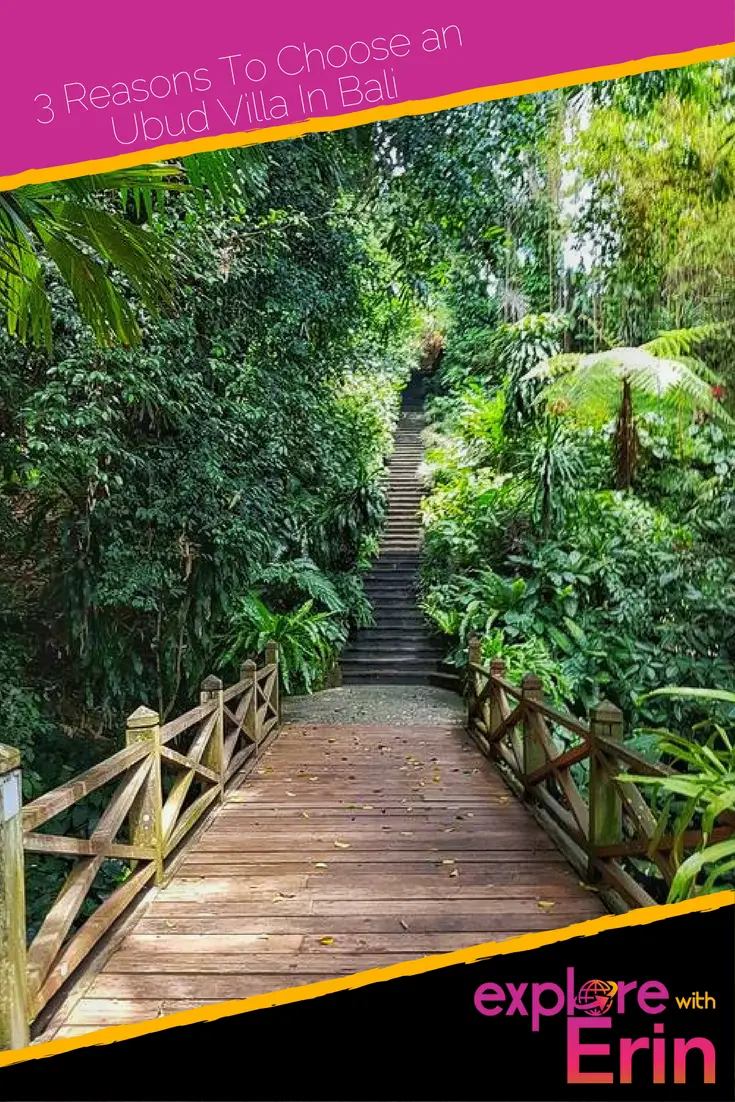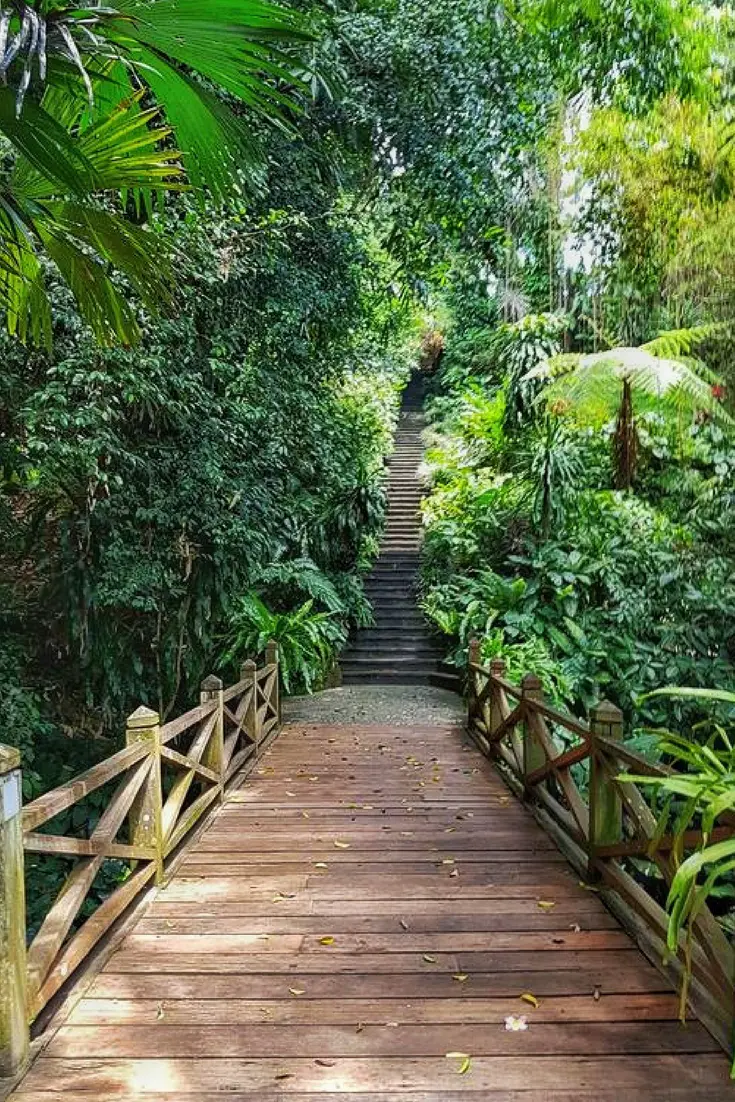 FOMO - do you have it?  Well there is no need to Fear On Missing Out here at Explore With Erin. Sign up to receive updates directly to your in box. I won't spam you, but I do promise a whole lot of awesomeness. What are you waiting for? Join Me!