One could have mistaken it for our honeymoon. It ticked all the boxes.
Romance, seclusion, food, privacy, luxury. Only one thing was missing. A proposal.
And now the moment has passed I don't know how he will ever be able to top it. I genuinely feel sorry for him, don't you?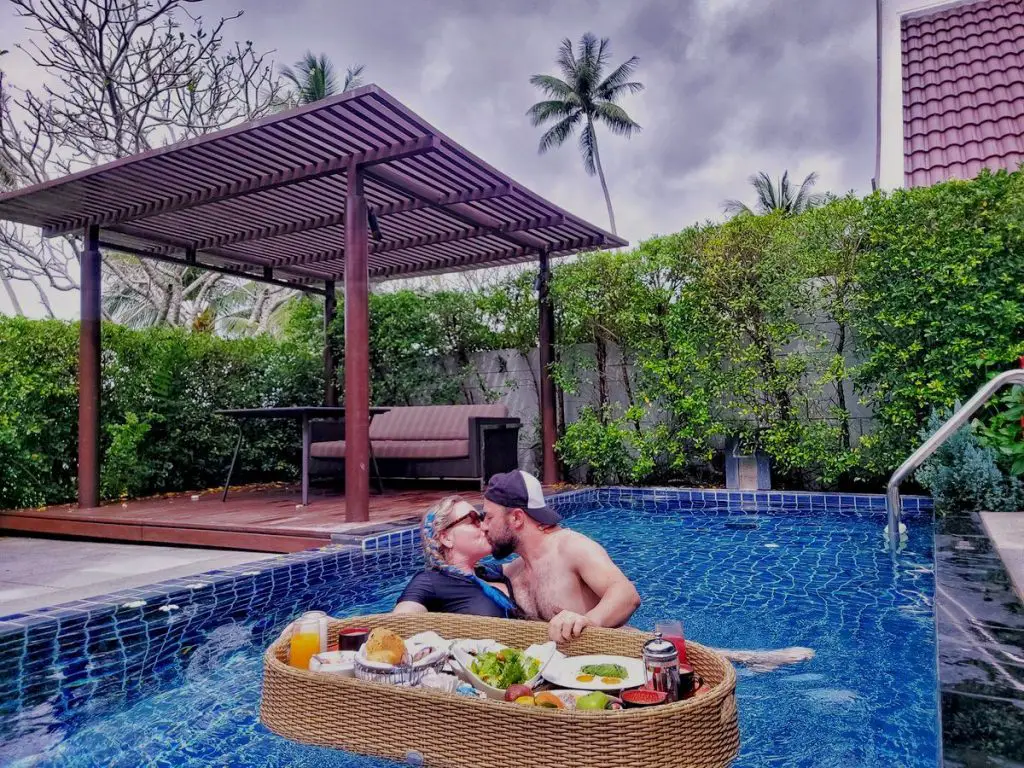 I've been to Thailand many times before. Bangkok, Chiang Mai, and Phuket, but never Koh Samui. I had heard so many amazing things about it and safe to say all of it is true.
This island stole my heart. From its open-air airport to its modern shops mixed in with local shacks to its incredible beaches. But one thing that stood out above all this was one of the best hotels we have ever stayed in – InterContinental Samui: The most romantic resort in Thailand I am sure.
Is Thailand good for a honeymoon?
Even I honeymooned in Thailand back in 2002. Its affordability means you can spend more on a luxury, romantic resort and not worry about being over budget. It's amazing value for honeymooners.
Where is the best place to go in Thailand for couples?
Koh Samui of course. Not only does this island have picturesque white sandy beaches and turquoise waters, but it also has adventure, shopping, delicious food, and out-of-this-world luxury romantic hotels. But if you want a few other options check out Phi Phi Island and Koh Lanta too.
Is Thailand a romantic holiday?
Thailand is everything you need for romance. Luxury, isolation, food, pristine white beaches. It's a favorite destination for many honeymooners and couples.
Which Thai island is best for couples?
I'm going with Koh Samui. And it's easy to see why below. But also check out Koh Lanta, Koh Chang, Koh Lak, and Koh Lipe for their romantic hotels.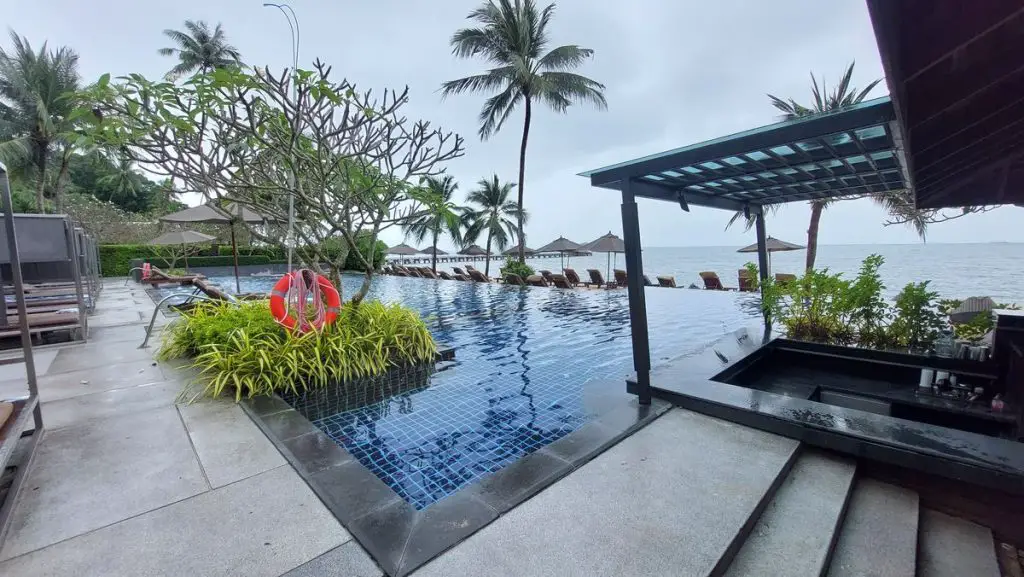 Is Phuket better than Koh Samui?
We loved Phuket, it's lively and has lots to do like Patong Beach, Kamala Beach, and Carnival Magic. We love to be busy on our vacation, but we also love a romantic getaway.
Ko Samui is perfect if you want somewhere calmer, with private beaches, and a self-focused few days.
Is Koh Samui worth visiting?
Easy yes. You can find pigs on beaches, waterfalls, snorkeling, and of course romantic honeymoon resorts.
Which is the best month to visit Koh Samui?
The best time to visit Southeast Asia is between December and April. The hottest month of the year is June with an average of 24C to 33 C. The coolest month of the year is January with temperatures between 23C and 29C. The rainy season is usually between October and December.
Which is cheaper Phuket or Koh Samui?
Both islands use Thai baht and are relatively similar. However, Samui is a lot less crowded and private and so accommodation costs generally run slightly higher. Bangkok is cheaper than both! Check out our review of InterContinental Phuket here.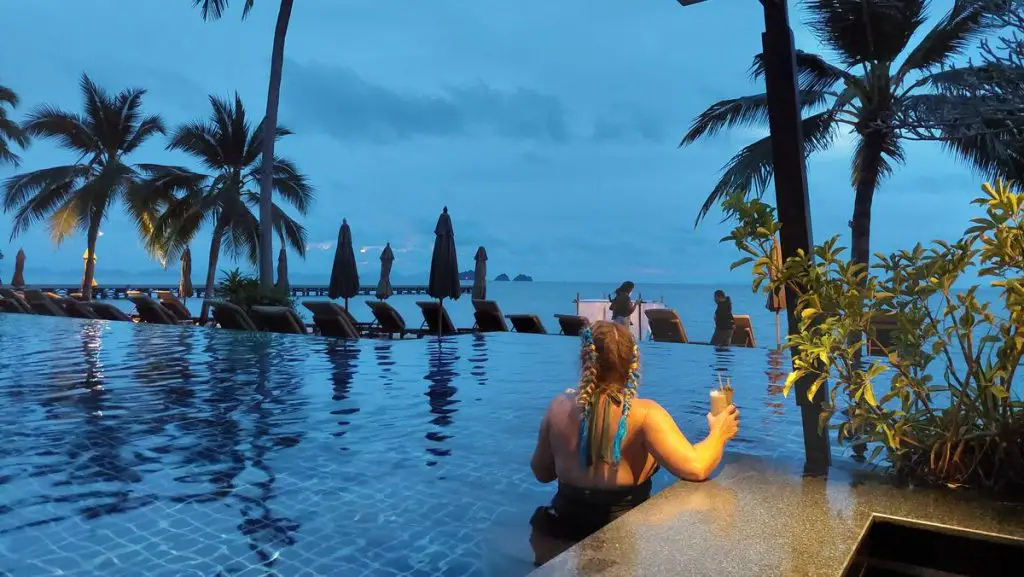 Do they speak English in Koh Samui?
Yes, as a major tourist destination the majority of the population speaks English.
How many days are enough for Koh Samui?
We did 3 days and it was not enough. I wish we had stayed for at least 5. We didn't want to leave our romantic hotel for 3 days so it would have been great to have had a few days to see the island and the neighboring islands.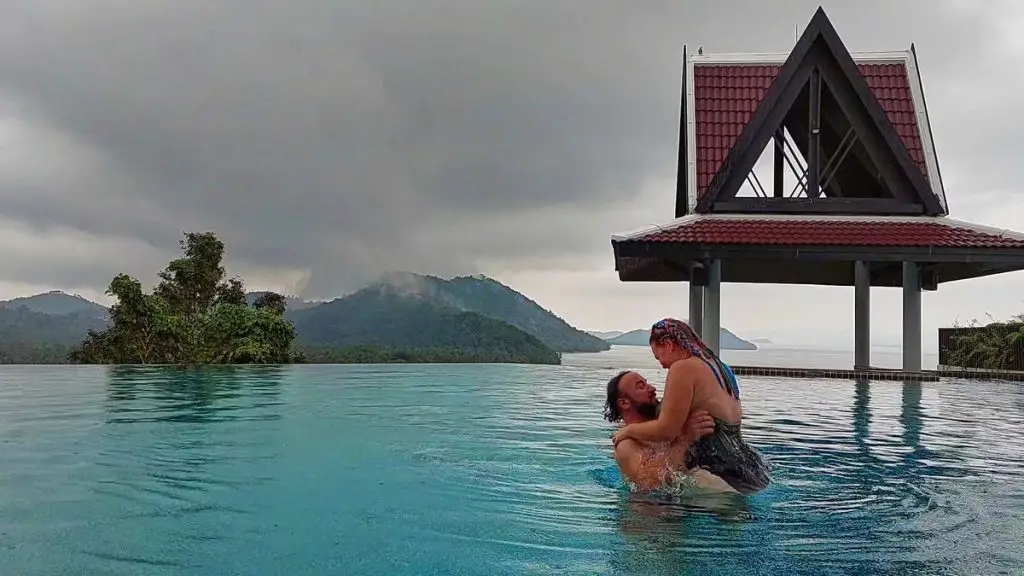 What is the best part of Koh Samui to stay in?
Tagling Ngam (Baan Taling Ngam Bay) on the peaceful west coast is perfect.
How to get to Koh Samui?
From Bangkok, you can take an overnight train to Surat Thani Town and a ferry to Koh Samui. We flew directly from Phuket. It was less than 1 hour with Bangkok Airways which provide a full service, including a lounge at the Samui airport and food on the flight. It wasn't fancy, but it was cheap.
Now you know a little bit more about Koh Samui let me recommend InterContinental Samui: The Most Romantic Resort In Thailand.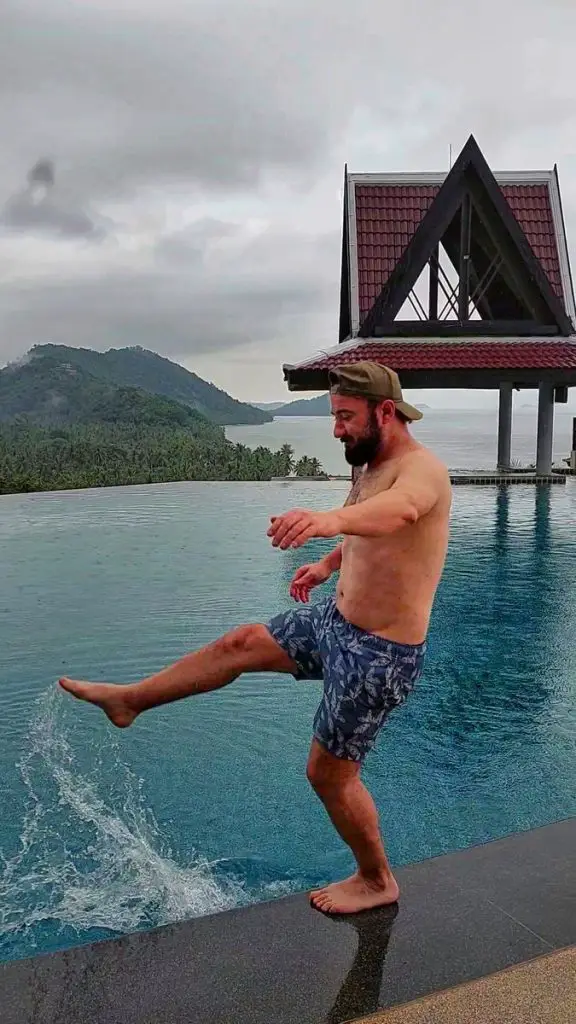 7 Reasons InterContinental Samui Is The Most Romantic Resort In Thailand
Romantic Seclusion
My number one reason would be the absolute seclusion of this Ngam beach resort. InterContinental Koh Samui resort is set within 22 acres of coconut plantations covering green leafy cliffs down to the white sandy shores of Western Koh Samui.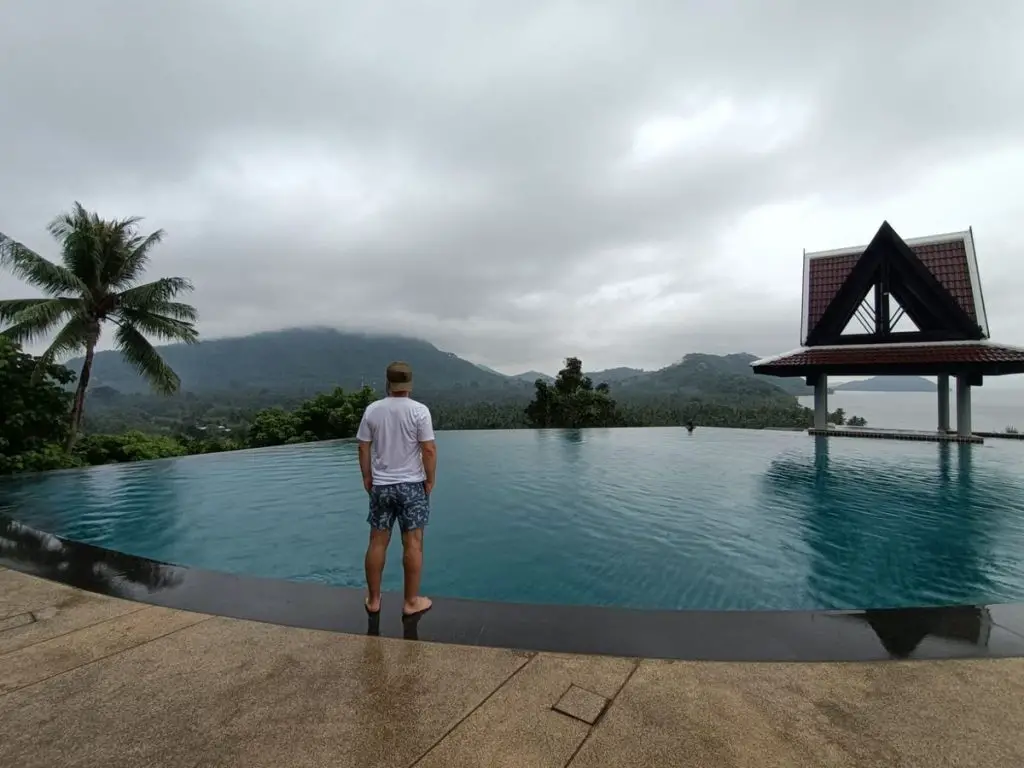 And while many people may find the location far out, if you are looking for a Thailand honeymoon or a romantic spot with your partner the seclusion adds mystery and exclusivity to this resort.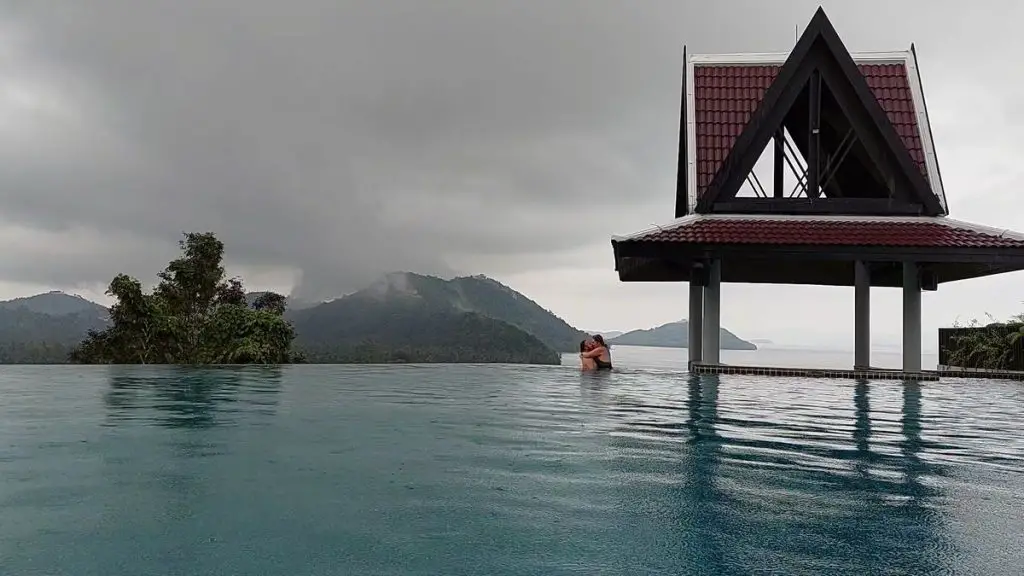 Luxury Rooms
We arrived in the evening, but we could see straight away that our pool villa had luxury written all over it.
From the grand entryway to the super king-size bed, chaise lounge, and full room-sized bathroom.
But then there were the little details like fuzzy furry slippers, cozy bathrobes, plenty of bottled water, and a Nespresso maker.
View our room tour here.
Our biggest surprise was the backyard. As much as we love a good pool bar, nothing says romance like your own private swimming pool surrounded by tropical gardens and backing onto a private beach and the Andaman Sea.
Gourmet Food
We could not stop eating. We never ate outside the InterContinental hotel. Every restaurant celebrated the most romantic vibes and food that should have been in any Michelin restaurant.
Each restaurant on the property has the ocean as a backdrop and a menu with the such variety you could never be bored.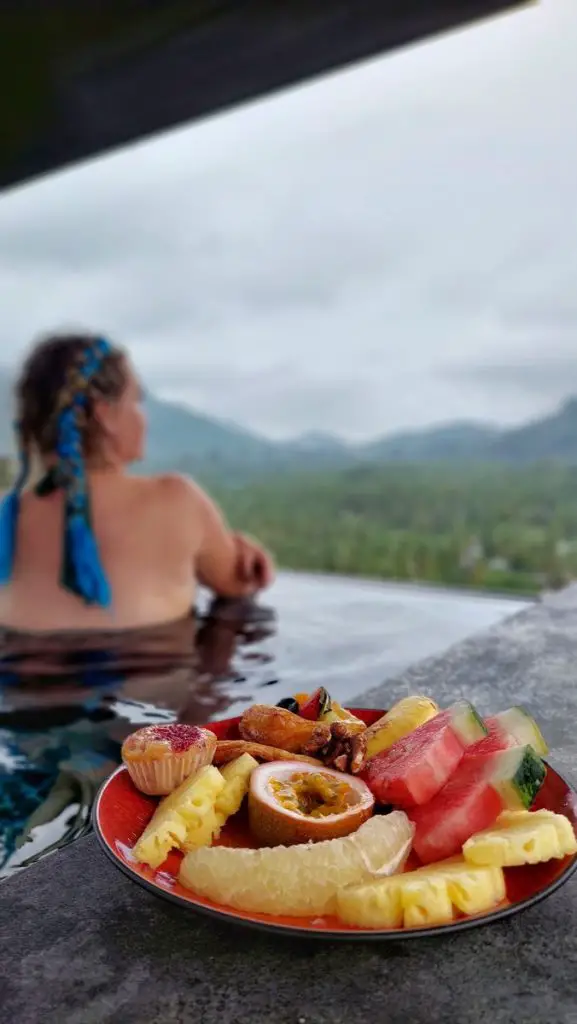 Amber
An elegant yet relaxing all-day experience with Asian and Thai cuisine. We enjoyed breakfast here most mornings, plus lunch, and dinner, and couldn't fault it.
The breakfast had an extensive buffet, but also a menu to order your main dish off.
Our lunch covered some unique Thai flavors that both burned the tongue in spiciness but tantalized the tastebuds.
And dinner was also an exceptional event with a wine cellar with more than 1000 labels!
Flames
This casual and open-plan beachfront restaurant was our favorite. The menu is Thai and European with a live charcoal grill, and a fire pit nearby during the evening.
The chocolate lava cake was out of this world the best I've ever eaten. As was the Wagyu Steak.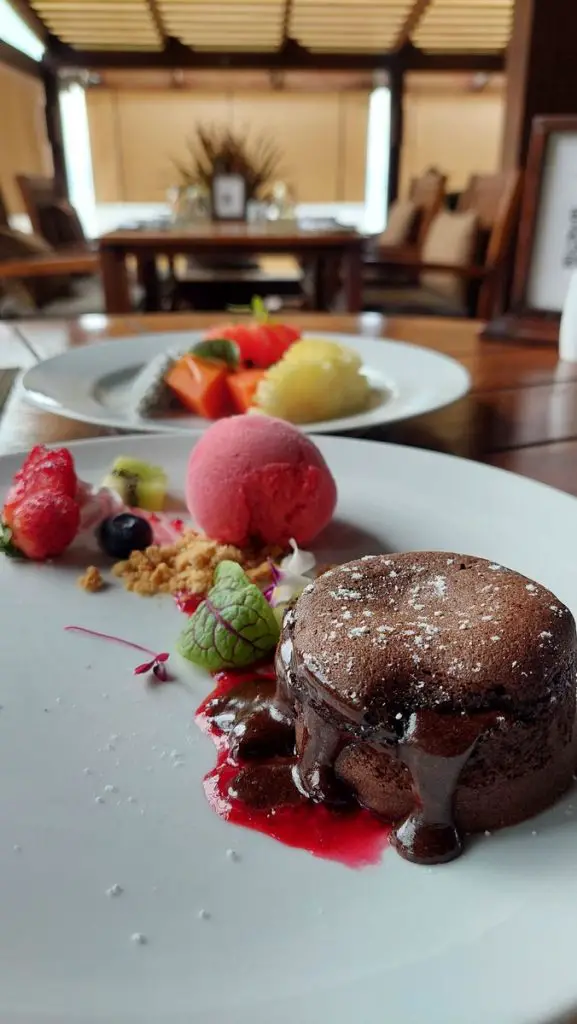 Air Bar
Located in front of the Amber you can not miss a night at the Air Bar. Even guests not staying at InterContinental Koh Samui travel from afar for a romantic evening at the Air Bar.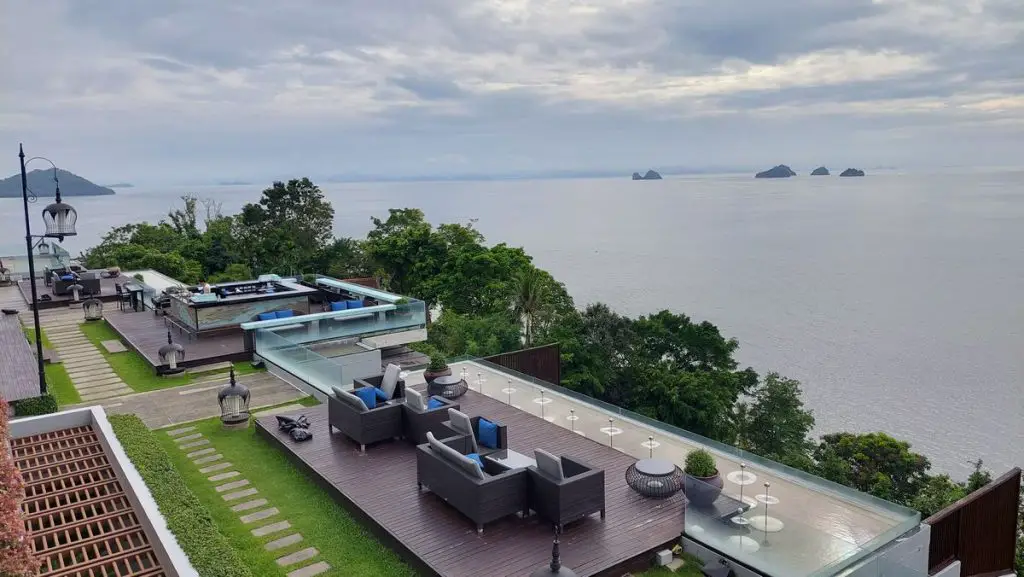 Lounges situated high above the Andaman Sea, overlooking the setting sun.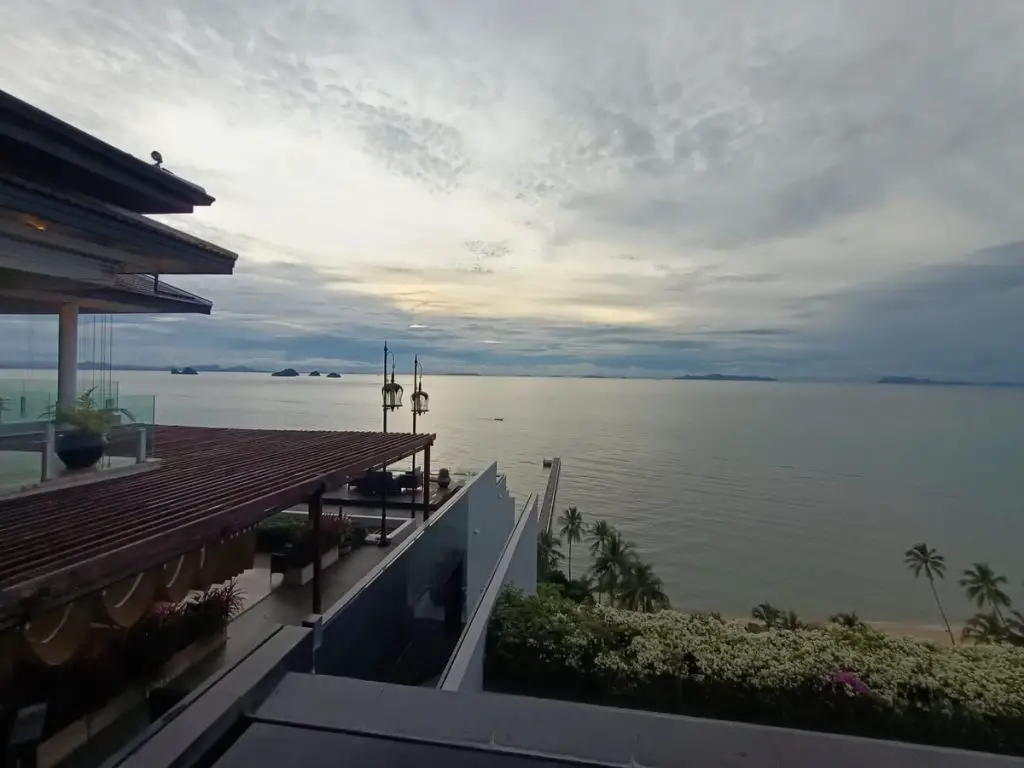 Live music playing with a very talented vocalist who had me wishing for a dance.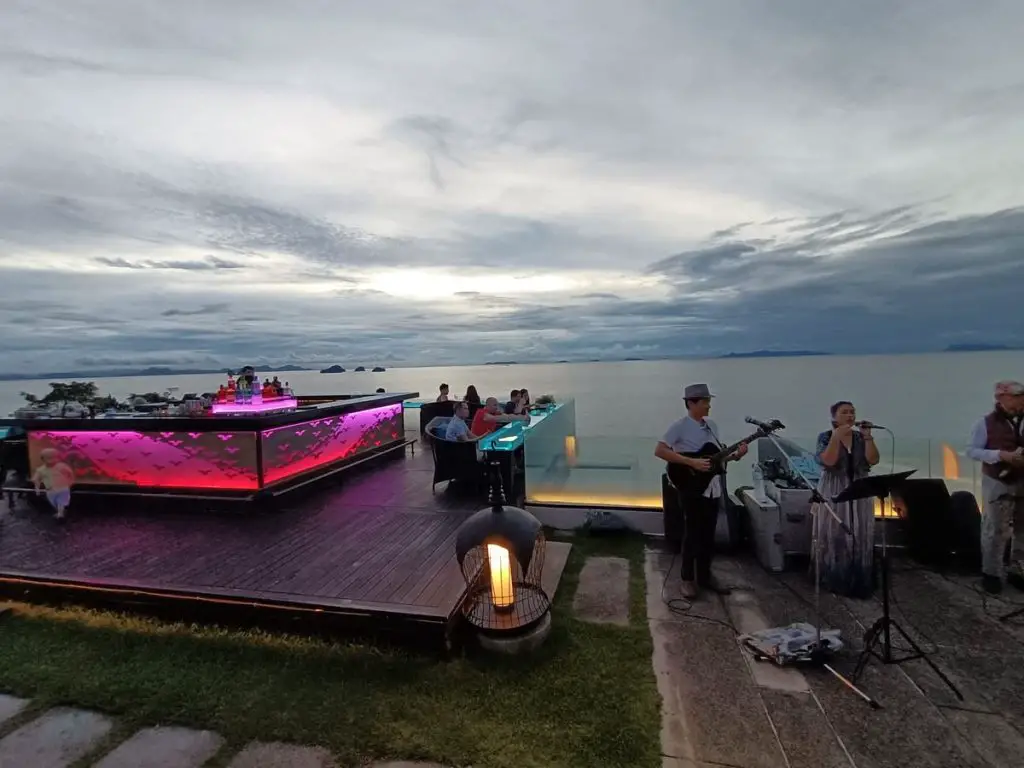 The bar lit up beautifully during the evening and the cocktails were both creative and delicious, while the bar snacks were filling and substantial. A great way to start a romantic evening.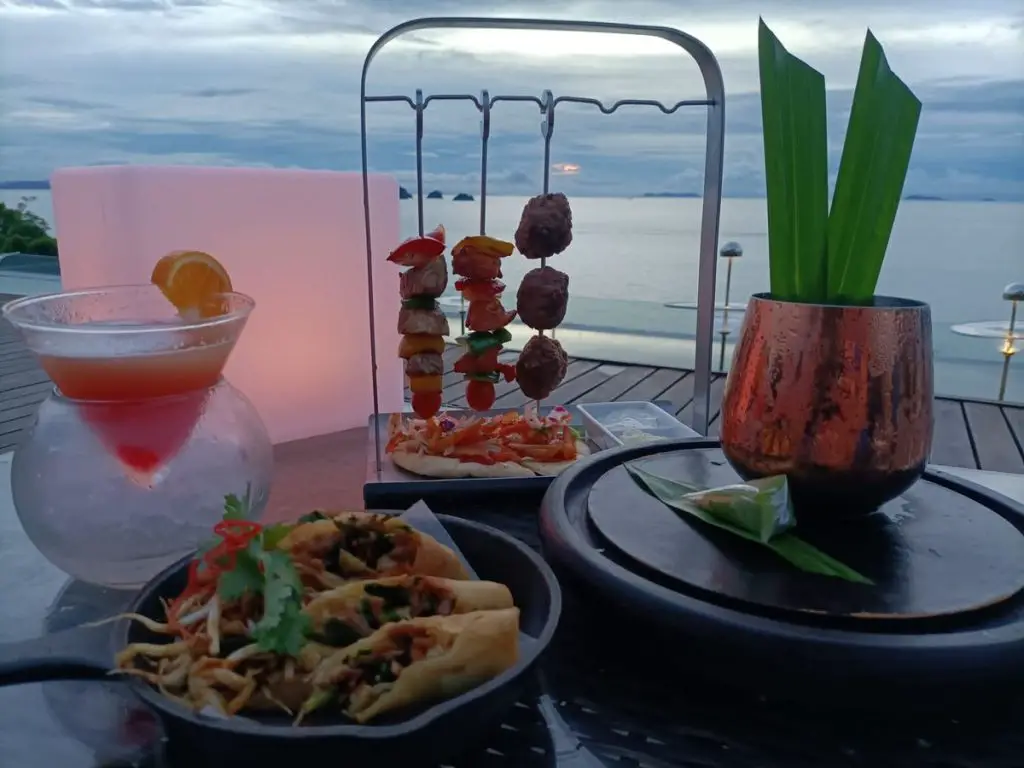 Room Service
We didn't have much time to eat in our room, but when we did we went all out with a floating breakfast in our private swimming pool.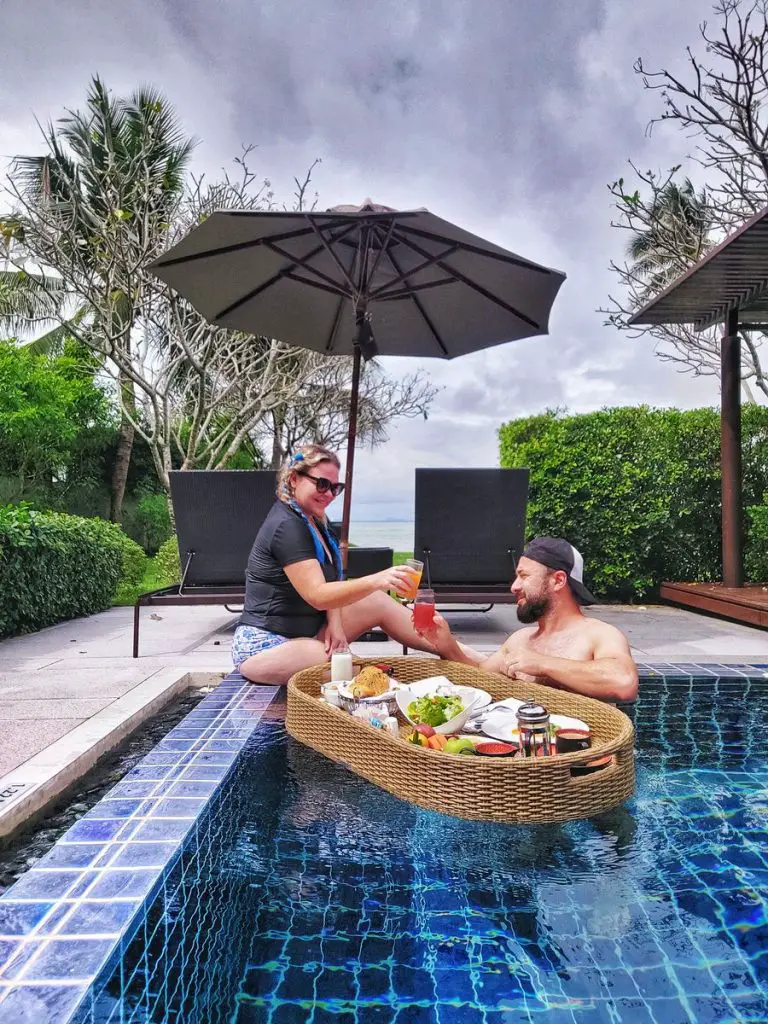 Next-level romance.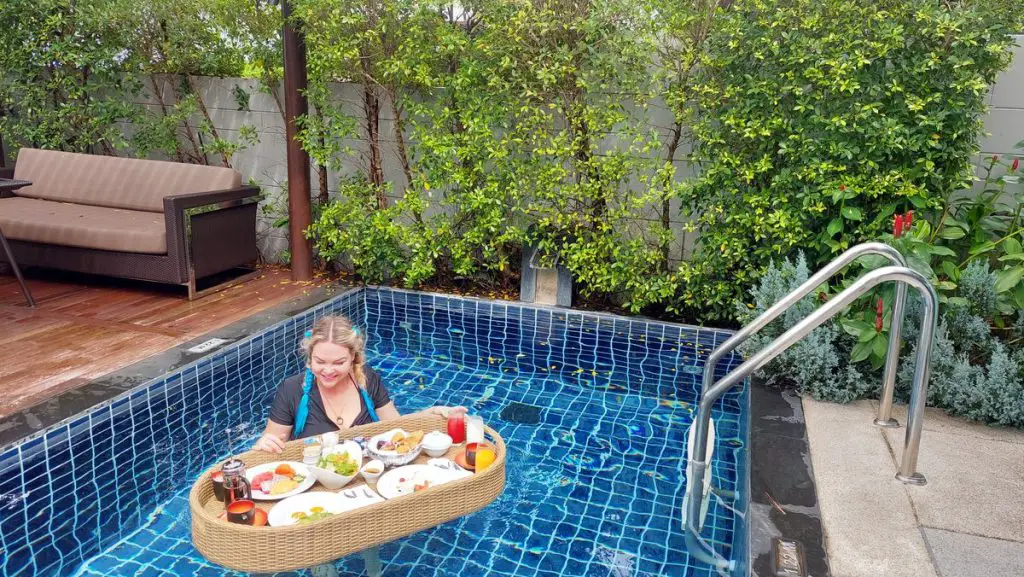 Impeccable Hospitality
We could not fault the staff while at the property. Every member seemed to know our name and we were always acknowledged by anyone we met.
The staff is ready with buggies to also carry you throughout the 22 acres of the resort. And there is even a free shuttle to carry you around the island on a Thailand tour for some shopping or sightseeing.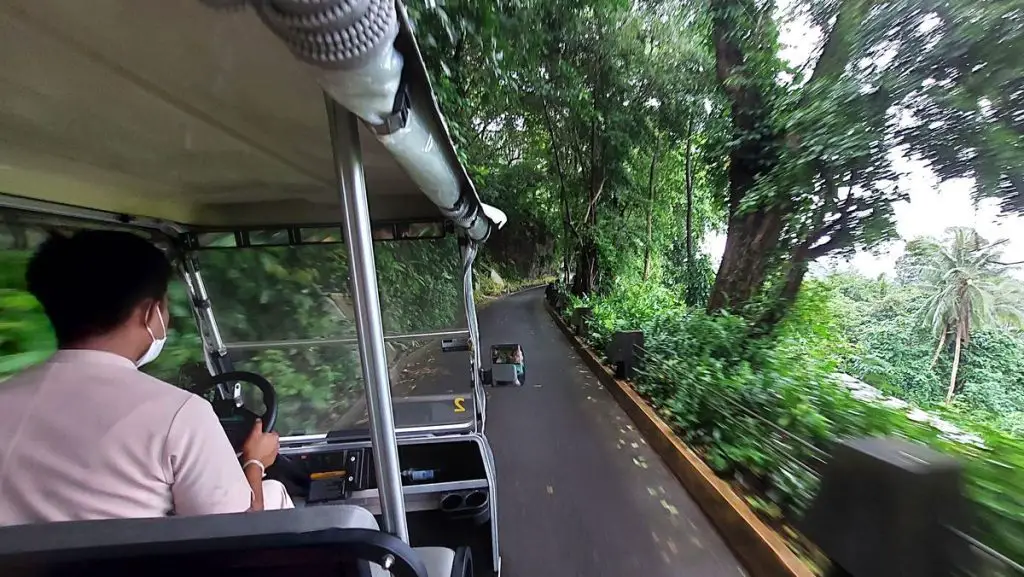 From our arrival at Samui International airport to the time we left we felt loved and welcomed. It just made everything seem so much more romantic and rosy-colored.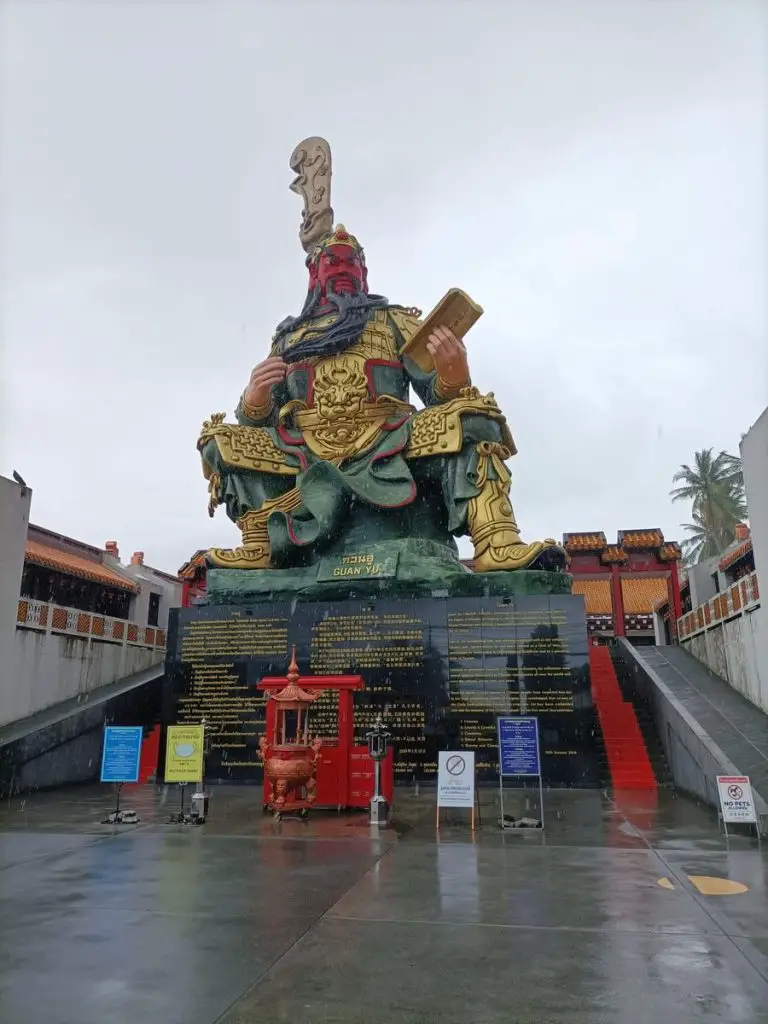 Magical Grounds
It's hard to describe the complete grounds that make up InterContinental Samui. You need to see it to believe it. The mountainside was full of cliffside villas and pools with spectacular views.
Check out this video I made of just the pools. We counted 7 in total.
And many of those pools were built into the cliffs, between leafy paths, and even a beautiful suspension bridge.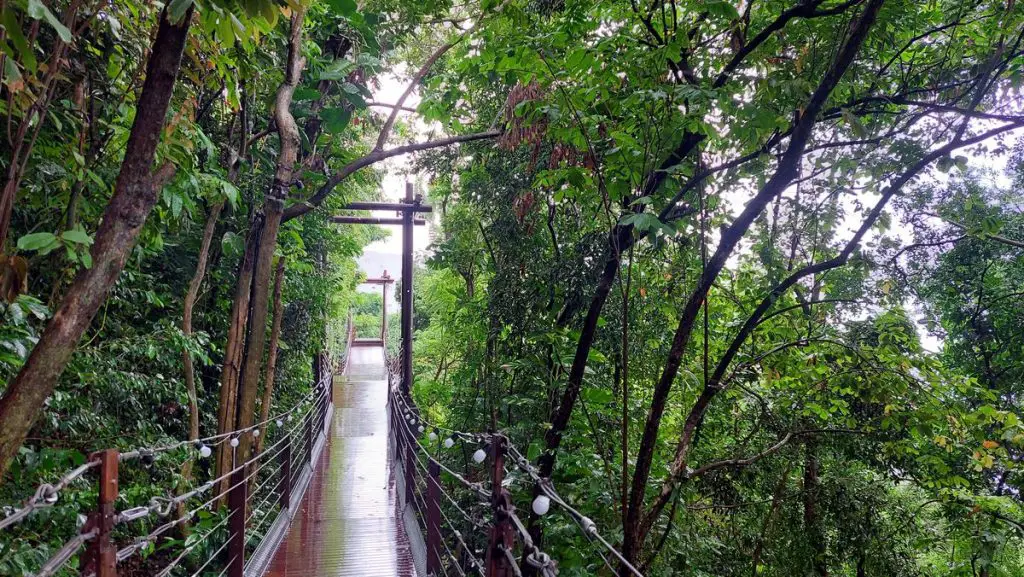 And of course, this then goes all the way to the Andaman Sea, which has the most relaxing pool bar, besides sandy beach lounges.
You'll also find a fitness center, Planet Trekkers kids club, and water sports activities. We had a not-so-romantic turn on the glass kayaks one windy day.
Exclusive Spa Treatments
On my list of romantic things to do a couples massage is high on that list. And the InterContinental Koh Samui resort Baan Thai Spa by Harnn makes a couple's massage ultra lush.
It sits at the top of the property, almost like it's floating above the coconut trees. It's secluded and surrounded by nature. The traditional wood interior almost hides the spa within the natural surroundings.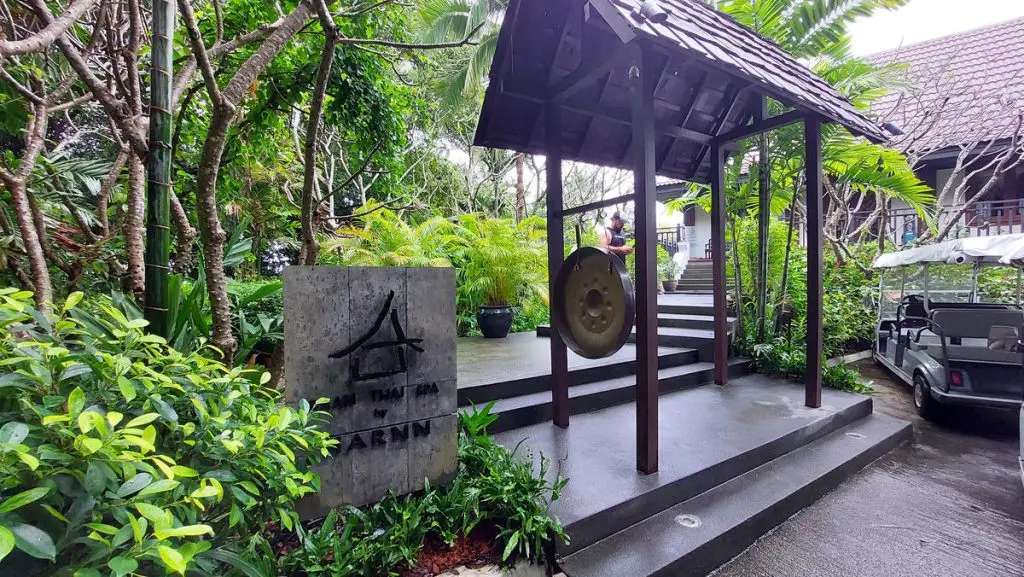 You are welcomed straight away with hot towels and given a choice of oils. After the massage, it's tea and a small treat.
The couple's suite is complete with a Balnco bath and steam room. The staff were skilled and it was one of the better massages we had in Thailand.
VIP Services
Romance seems seamless when you are a VIP. And Club InterContinental is a special add-on you have to have when staying at InterContinental Samui.
If you read my InterContinental Phuket post you know how much I adore Club InterContinental and why its benefits are worth every cent with its personalized services and extras for guests.
The most romantic part of Club InterContinental Samui was the afternoon tea. Gorgeous view, and a hanging birdcage of sandwiches and desserts.
Other benefits you can enjoy:
Breakfast at Amber or Club InterContinental
Access to the Club InterContinental Lounge from 7 am to 10 pm with non-alcoholic beverages and light refreshments.
Cocktails and canapes from 7 pm to 9 pm.
VIP in-room fruit and Twinings teas.
Butler service
Personalized check-in and check out
And more!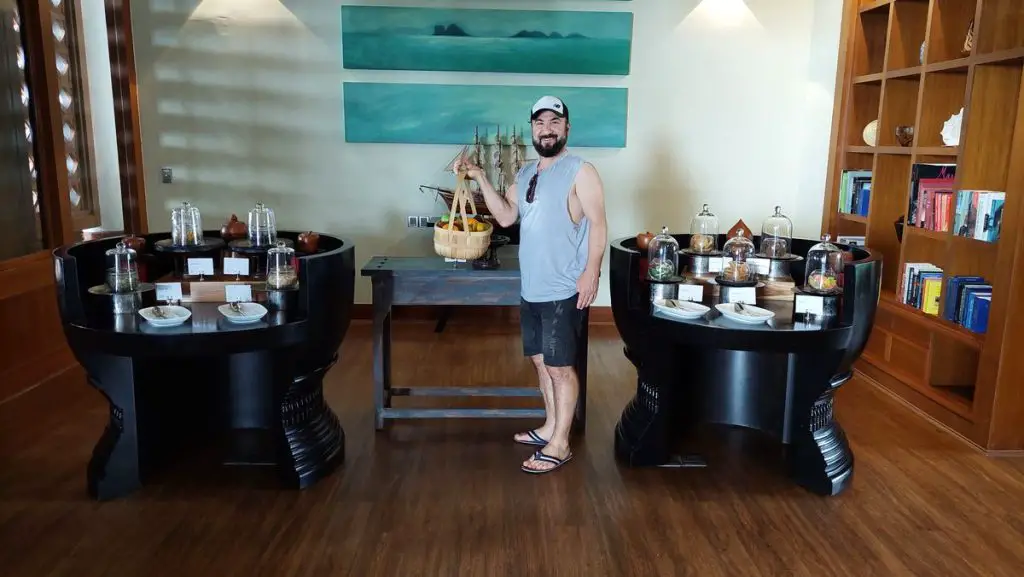 My partner and I left InterContinental Koh Samui resort feeling refreshed, relaxed, and overly the top lovey-dovey.
It's going to take one hell of a vacation to top this, and quite frankly I think my partner would just be better off rebooking this for the big proposal or honeymoon. I don't know how else he'll be able to beat it.
Take it from me, don't let this opportunity go to waste. Propose, honeymoon, wedding. This is your spot!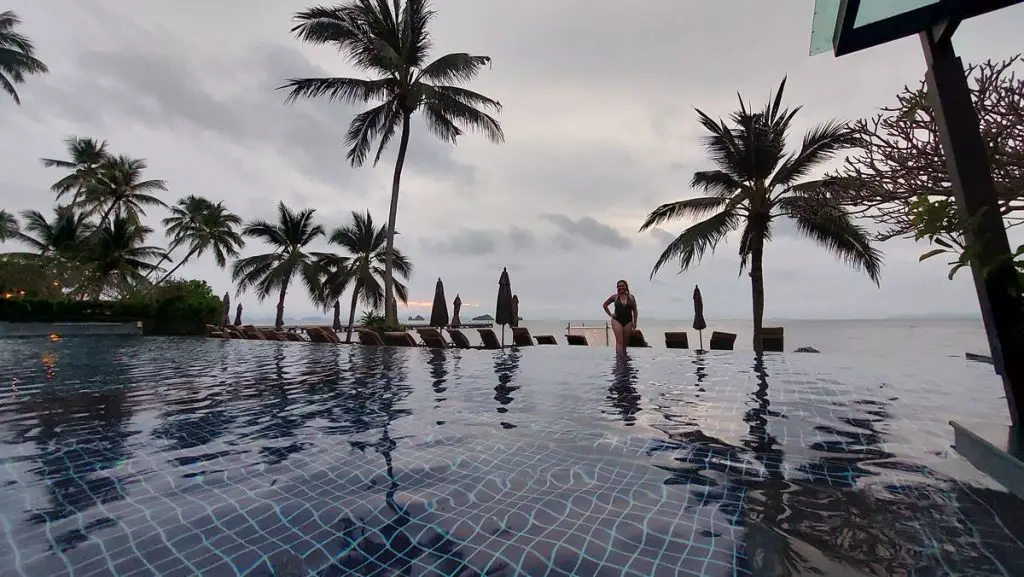 Thank you for inviting us InterContinental Samui. As always my opinions are my own and we loved you enough that we are definitely returning!
LOOK HOW EASY IT IS TO PIN THIS!
Accommodation
Booking.com has over 137 properties in Koh Samui including hotels, apartments, and hostels. You get free cancellation on most rooms and the best price guaranteed. Check the rates here.
Tour
Want to take an organized tour around Koh Samui?
Rental Car
We love RentalCars.com because they have the best car rental prices – Guaranteed. 
Insurance
Don't ever travel without travel insurance. We don't.
FOMO - do you have it?  Well there is no need to Fear On Missing Out here at Explore With Erin. Sign up to receive updates directly to your in box. I won't spam you, but I do promise a whole lot of awesomeness. What are you waiting for? Join Me!