When I asked my kids where they wanted to go after finally being released from the airport watch list, Baaaallllliiiiiiiiii was the long drawn out one-word answer. But as it was my 18th visit to Bali I yearned for a new destination. After some quick research, I decided to visit Lombok from Bali.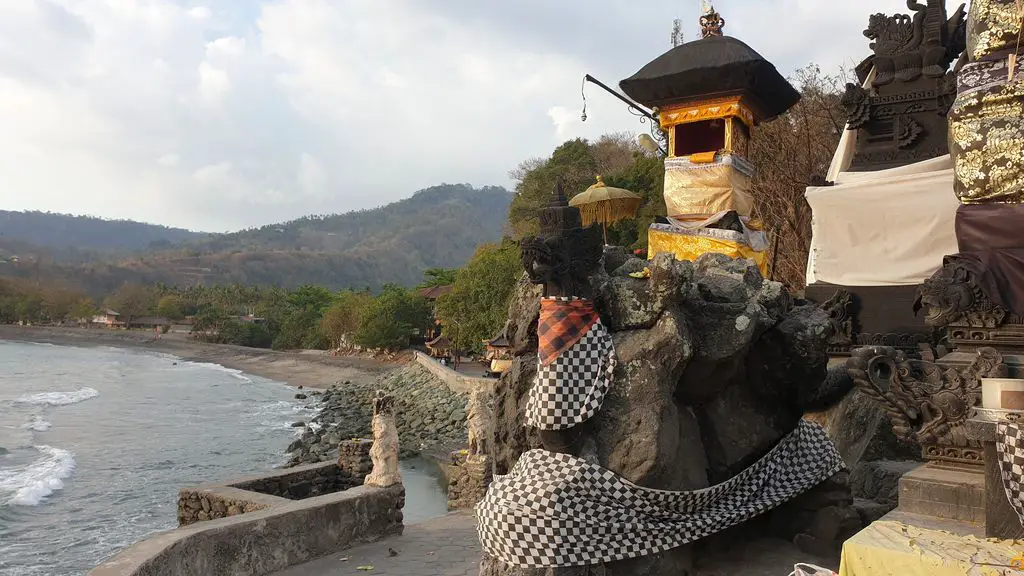 Lombok is an island, not far from Bali. It is about 70 kilometers (43 miles) across and a total area of about 4,514 square kilometers (1,743 square miles). The provincial capital and largest city on the island is Mataram. It is similar in size to Bali, however, it is part of West Nusa Tenggara province.
We had 3 weeks to explore Bali, so I decided on 5 nights in Lombok during that time. Visiting Lombok from Bali was easy in 5 nights, but given the limited time, you could do this trip in a quick 2 or 3-night weekend getaway. Here's my quick guide to Lombok (from Bali).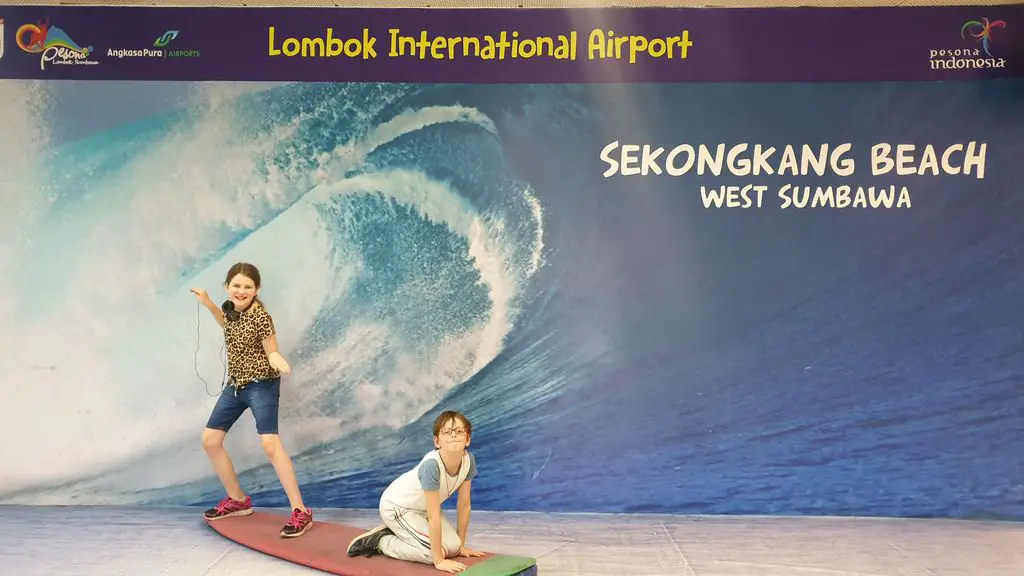 How to visit Lombok from Bali
There are 2 options to get to visit Lombok from Bali. Boat or plane.
Fly
We chose to fly. I already had tickets flying into Bali and multiple flights left the same day for less than $25 AUD. We were arriving at 1 pm, so I booked a $50 AUD return trip departing Bali at 4 pm. As the domestic terminal is next door to the international terminal we thought 3 hours would be plenty of time. I was correct, it is plenty of time unless your flight is delayed.
When we arrived at the airport in Melbourne at 7 am Jetstar had already delayed our flight by 2 hours. Meaning we were now due to arrive after 3 pm. One hour is not enough time.
I asked the ground staff, they said to ask the air staff. I asked the air staff who told me they'd contact ground staff. Thankfully the ground staff in Bali were exceptional. They grabbed my kids and me from the airplane and whisked us to the Indonesian visa line. Where it took a mere 15 minutes to get through instead of the usual hour.
Once through we grabbed our bags from the carousel and ran. After Melbourne, the Bali heat had us soaked to the skin in sweat as we bolted to the domestic airport.
We arrived at the check-in counter at 4:07 pm for a plane that was taking off at 4:15 pm. I saw no hope. The guy looked at us and said he could get us on the plane. I was gobsmacked. He said our bags may not make this plane, but we would.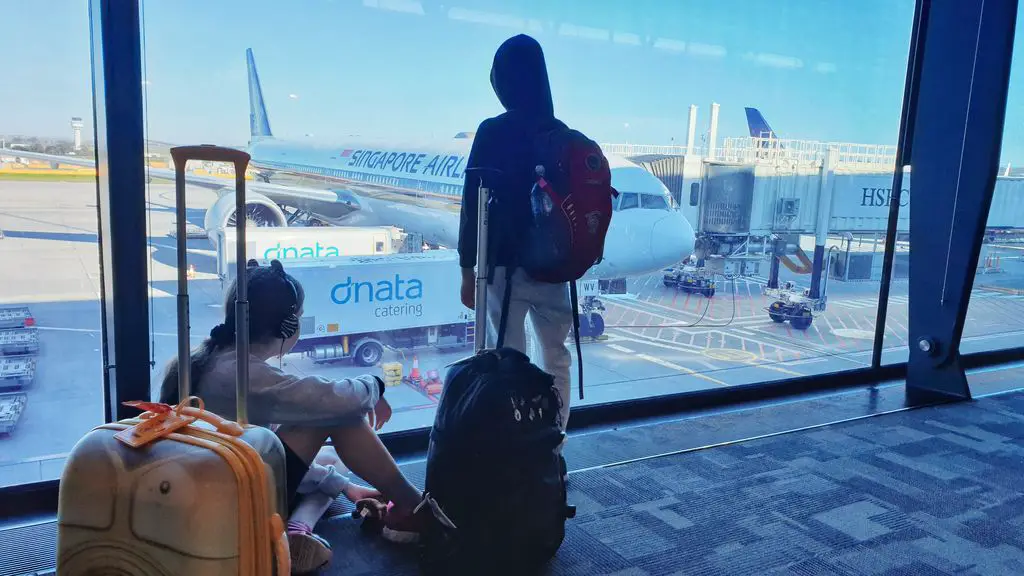 Our flight was delayed about 15 mins, but we boarded our flight and our bags made it to the other end too. I was in love with Bali all over again. I love how things just always work, no matter what.
Other than that mad dash to the airport it was a very easy process. The flight was barely 20 minutes. Lombok airport is small and easy to exit. I managed to get a sim card and cash out before meeting our driver to head to our lodging.
Fast Boat
Alternatively, you can take a boat from Padang Bai Harbour in Sanur. The public ferry leaves every hour but is almost always delayed. The boats are old, but only a mere AUD $3.50 per adult, $2.30 per child. It's going to take you 4 – 5 hours.
The best fast boat options are Gili Getaway or Blue Water Express. Tickets are around US $50 per person and $40 per child. It takes approximately 2 hours.
Neither option sounded fantastic considering the flight was 25 minutes and about the same price.
Getting Around Lombok
We had organized transport to our accommodation through our accommodation. I hate the stress of airports so having a driver met you is one of my splurges that make me feel in control of an oftentimes uncontrollable situation.
From the airport to the main town in Senggigi 350,000 IDR, approximately $35 AUD and about an hour trip.
Senggigi to Mount Rinjani 550,000 IDR ($55 AUD) and 2.5 hours.
Mount Rinjani to the airport 700,000 IDR ($70 AUD) and 3 hours.
During our time in Senggigi, we walked and also downloaded an app called Gojek. A 15 minute trip with Gojek was about $4 AUD.
There are plenty of places with scooter rental and car rental. As it was my first visit I decided against this, but I saw many visitors driving the roads on a scooter. Going back I would choose this as my main method of transport.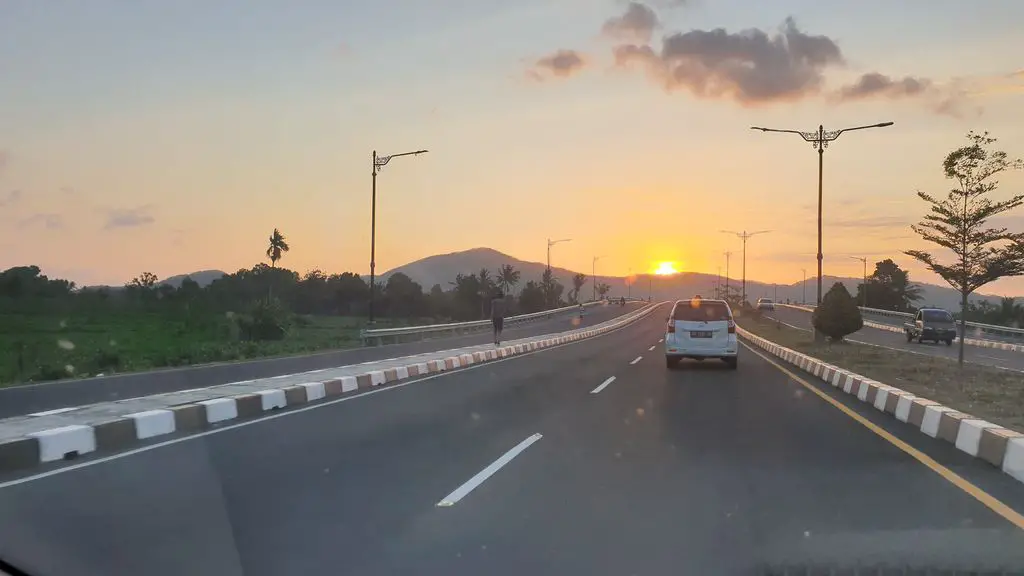 Where To Stay On Lombok
I got the best of both worlds with a stay near Senggigi Beach, the main tourist hub and then heading to the Mountain.
If you are looking for a local experience this is perfect. About 15 minutes' drive out of Senggigi is this family compound. They suffered masses amount of damage with the earthquake last year, so I was beyond excited to help spread the word that they are back in business.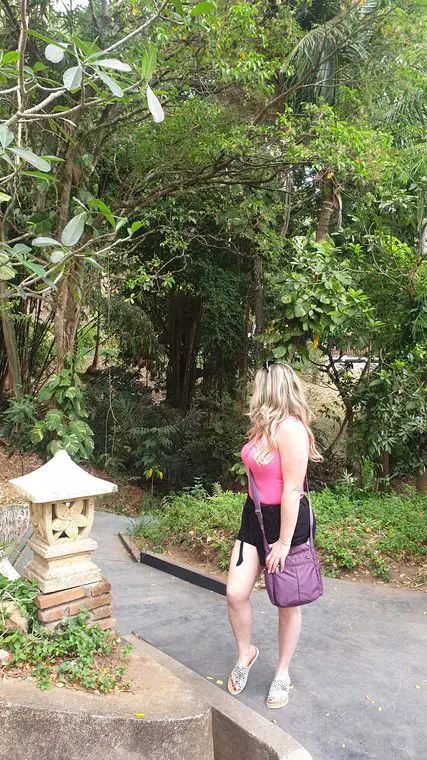 The home was located above a family home. This family made breakfast and cleaned the villa daily. It had 3 rooms, all with beautiful mosquito nests. However, only the master had air-conditioning. My kids did not seem to mind the warm evenings, but I was thankful for the aircon. The kitchen and lounge room had doors that opened to phenomenal views and filled the room with a soft breeze in the day. My kid's favorite part? They had a trampoline!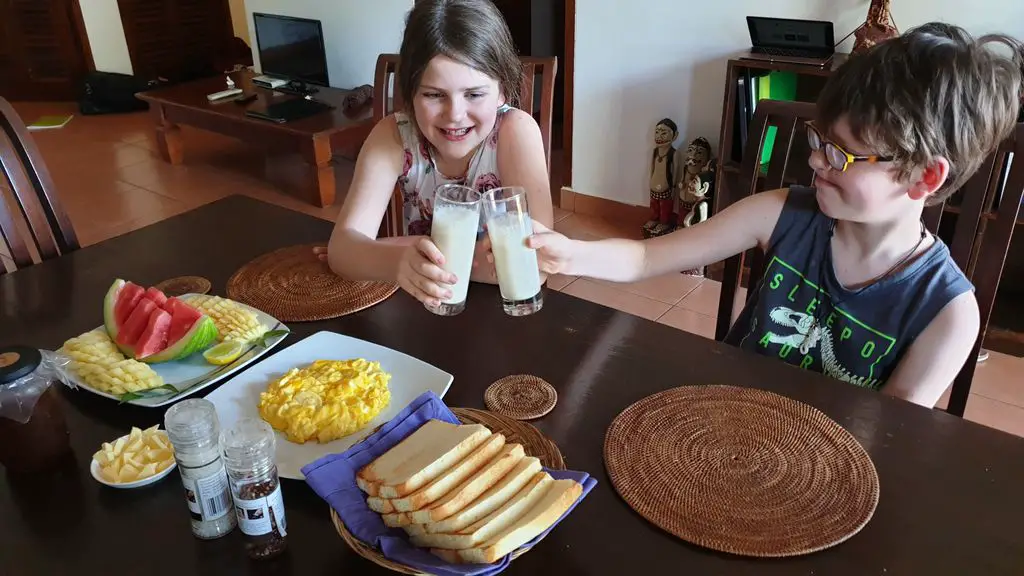 But the highlight of this stay for me was the infinity pool overlooking all of Lombok. We spent the majority of our days there. Literally in paradise.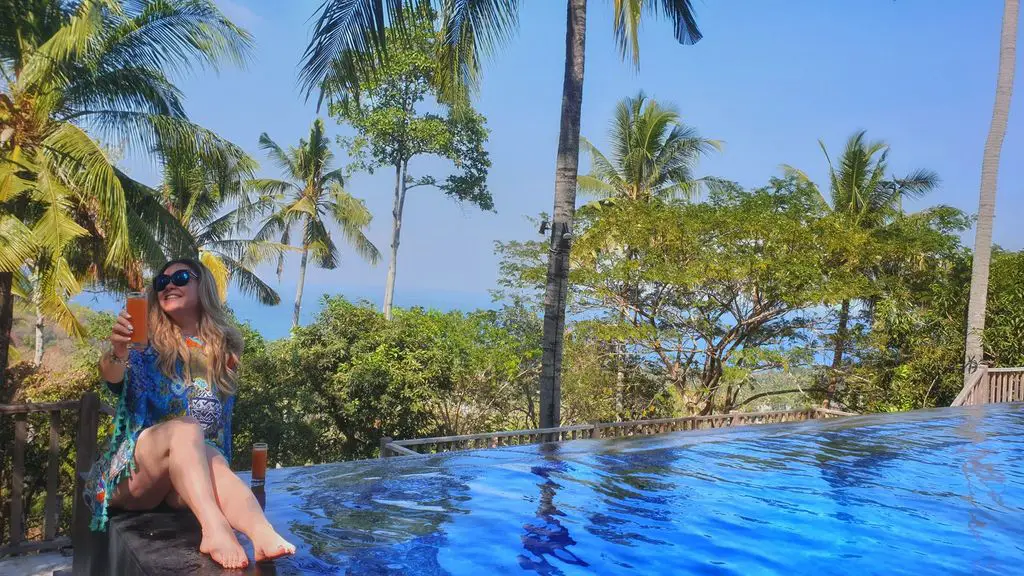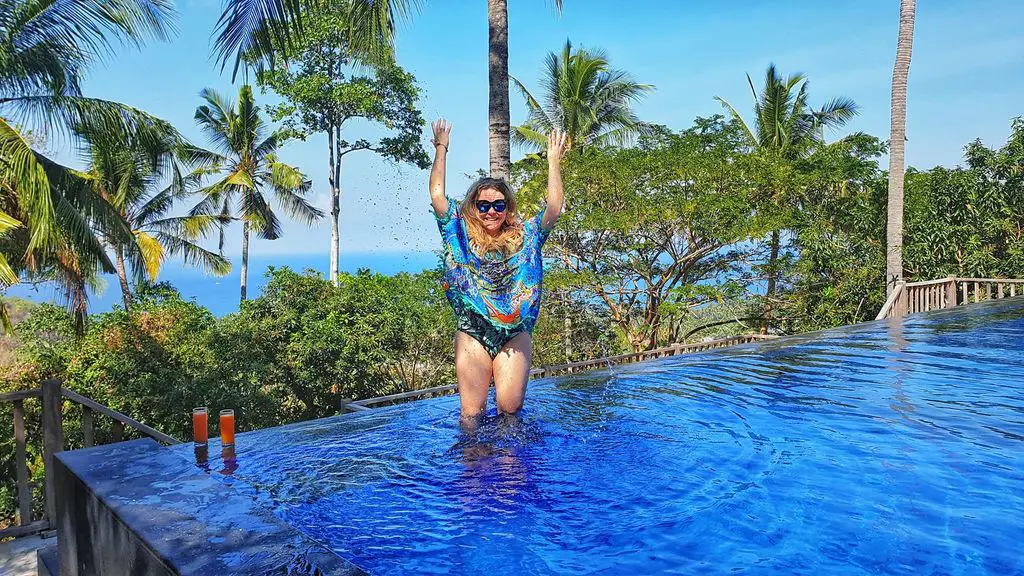 The only slight issue we had with this place was its location. It's isolated. About an hour's walk to town. Gojek took us to town for $4, but we had trouble getting a ride back and walked. Not so bad for an adult, but a little difficult for my kids. Next time I'd hire a scooter like I do when driving in Bali.
Check out pricing and availability for your stay at The Studio.
After our 2 nights at The Studio, we were ready to move to the Mountain. And the only place I would consider staying is Rinjani Lodge. It is luxury and solitude and magnificent.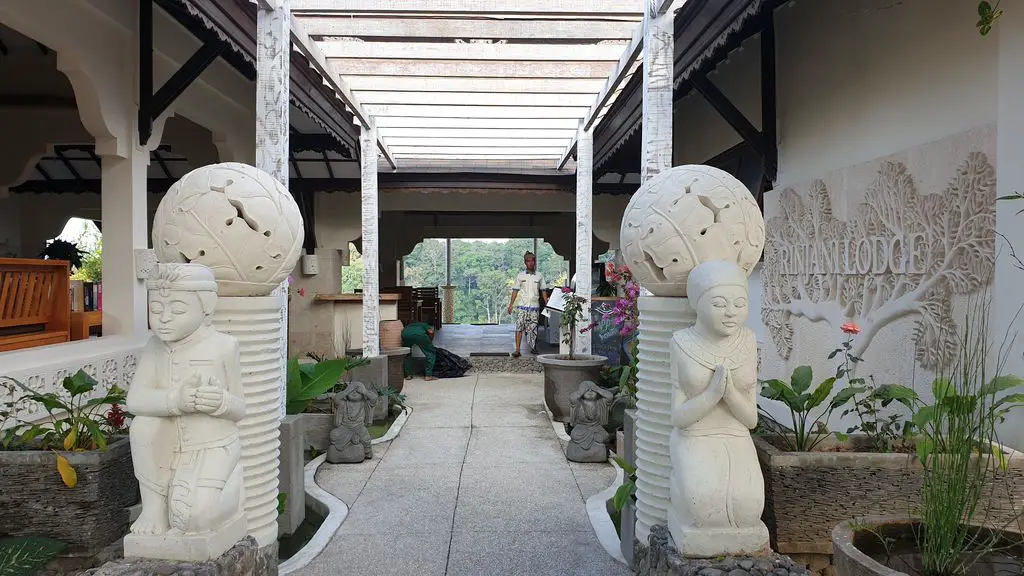 When we arrived I was so worried I would be bored. I am usually a person who is all gun-ho on vacation, never stopping. And while I was never bored Rinjani certainly helped us to slow down and enjoy the minutes of each day.
The area is still showing massive signs of destruction from last year's earthquake, however, Rinjani Lodge has recovered remarkably.
Our room was a simple one bedroom with a stunning outdoor bathroom. The air conditioner worked wonderfully and so did the movie channel for our quiet nights at home.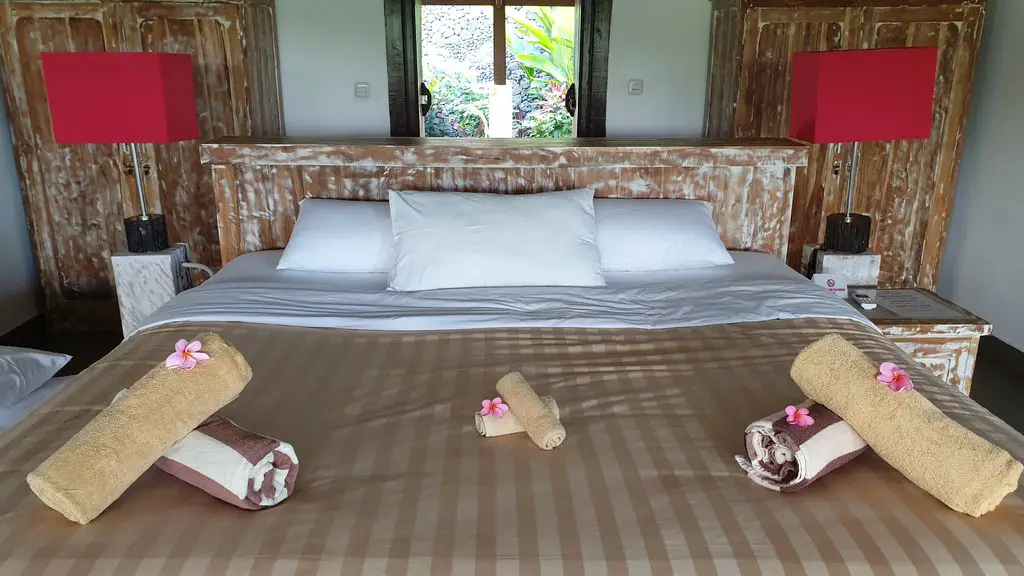 Eating at Rinjani Lodge was a pleasure. Probably the best place to eat during our stay in Rinjani. Plus, the views.
Sunrise, sunset by the infinity pools. I can't even describe. Let me show you.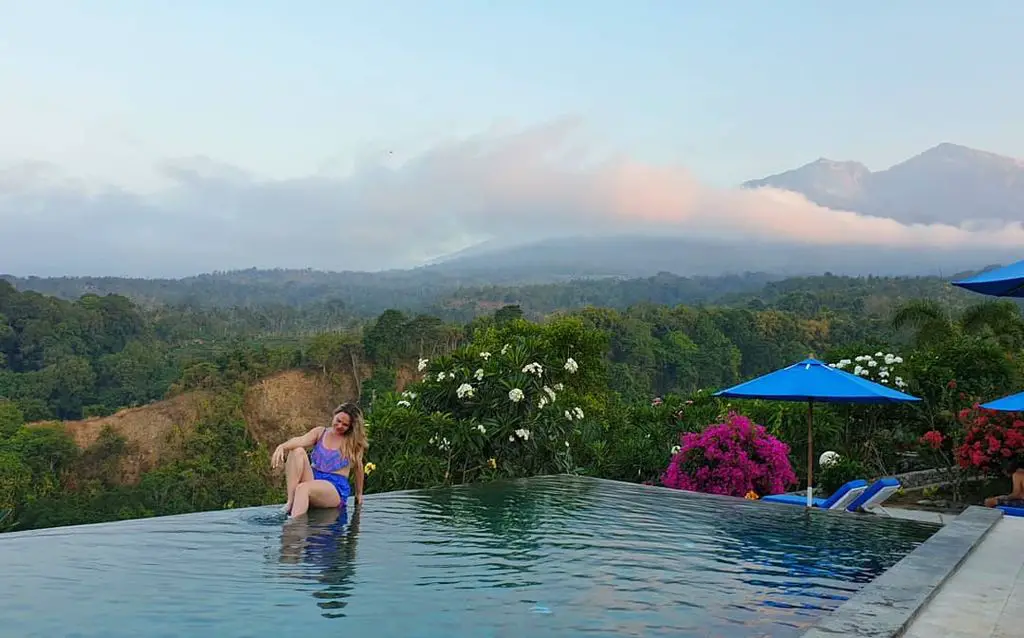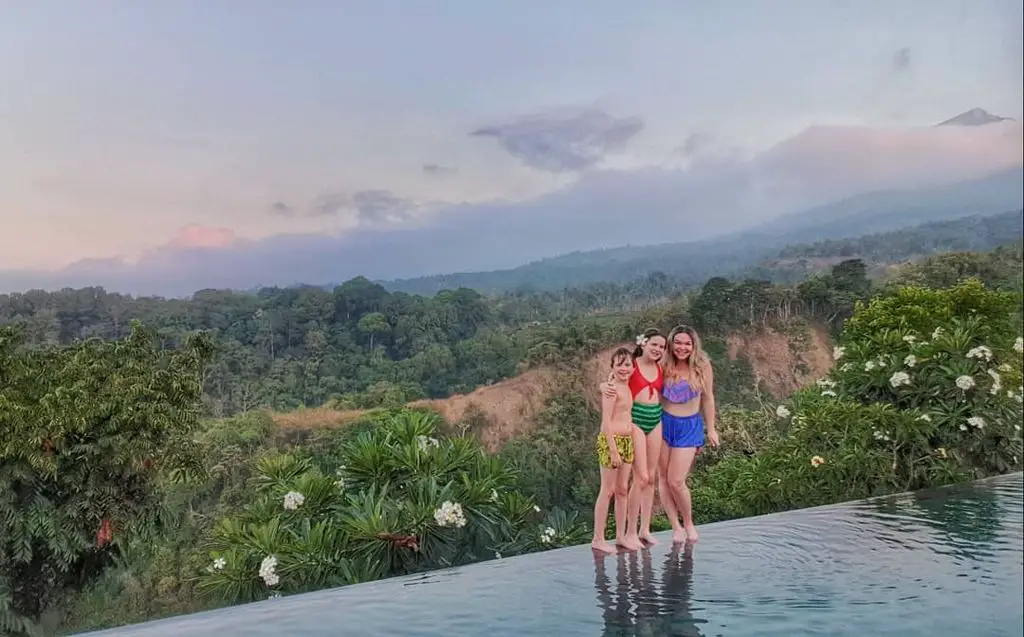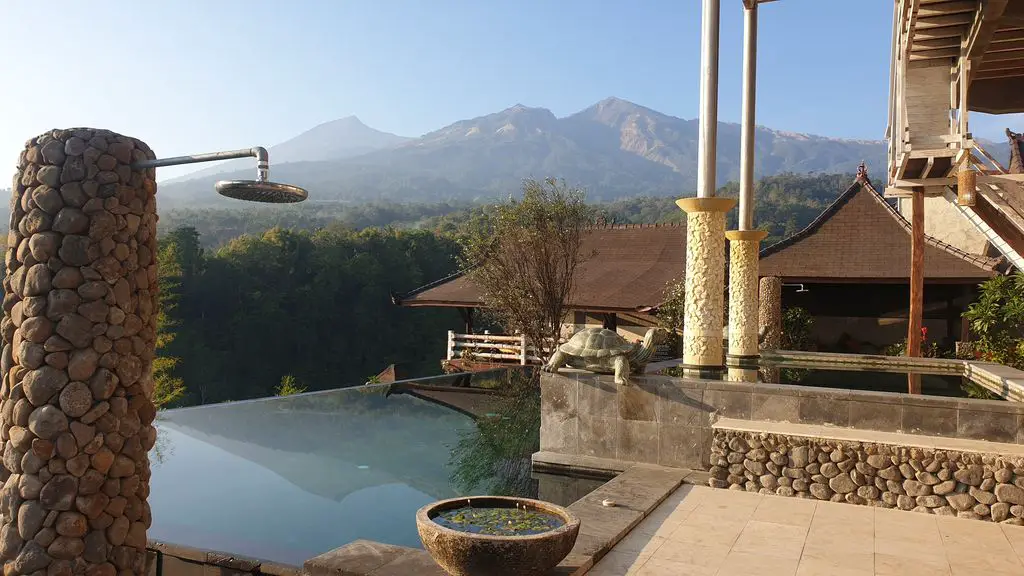 You will not regret a stay here. I want to go back! It was spectacular.
Check out pricing and availability for your stay at Rinjani Lodge.
Where To Eat on Lombok
When we arrived in Lombok from Bali it was evening and we were ready for dinner before settling into our accommodation. One of my top Bali foods to eat is Ayam sate (satay – chicken skewers with peanut sauce). I mentioned to our driver we would love to pick up some sate to take to the accommodation and he stopped at a nondescript stall for me.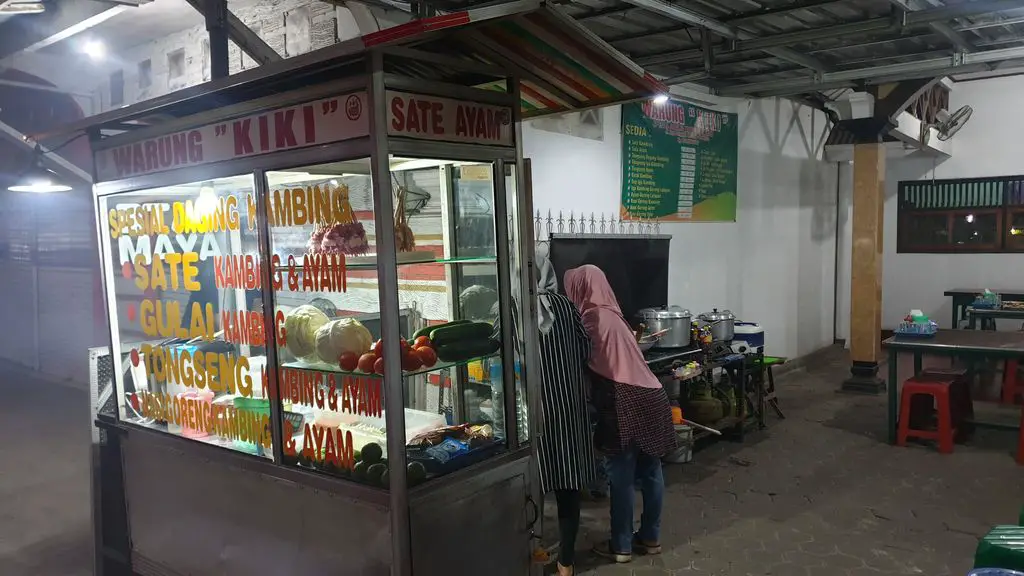 I was hesitant at first, but watching them cook the food so lovingly was a joy that I ordered even more. We got 10 lamb sate, 10 chicken, 3 rice, 3 drinks all for $8 AUD! Hell yes, it felt so good to be back in Indonesia.
We also ordered several times from GoJek. As our place at The Studio was outside of town we only ate once in town at the Happy Café. It was okay, nothing to write home about.
GoJek was a lifesaver with it's $1 cheap deliveries and food barely costing over $10 for all 3 of us.
When we were on the Mountain we visited a number of restaurants. Rinjani Lodge was by far the standout.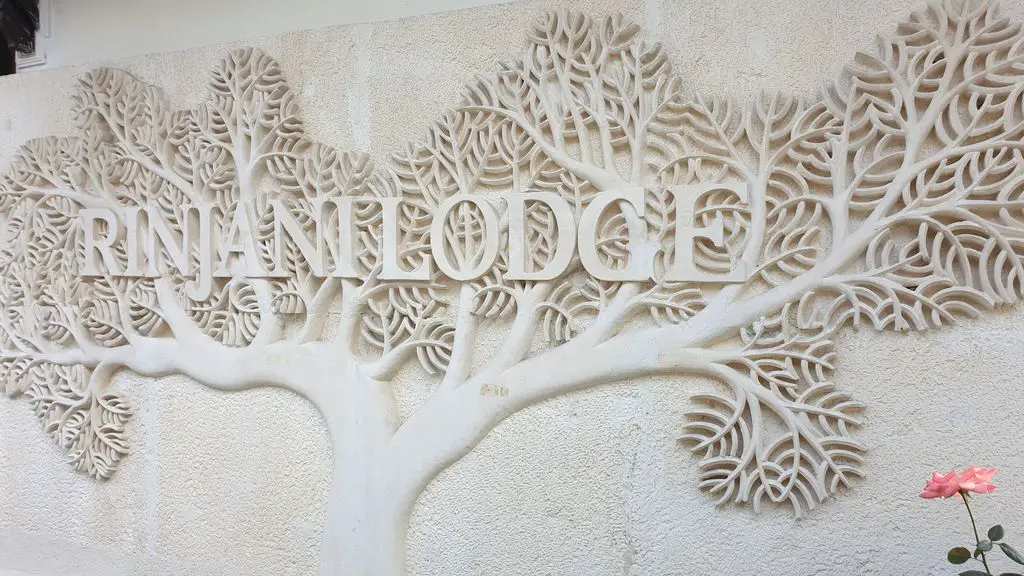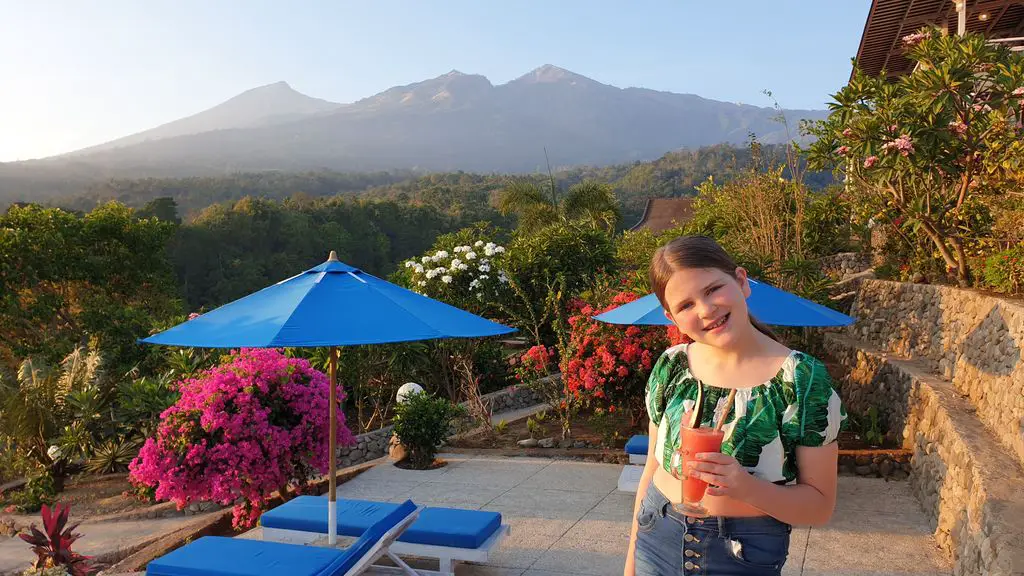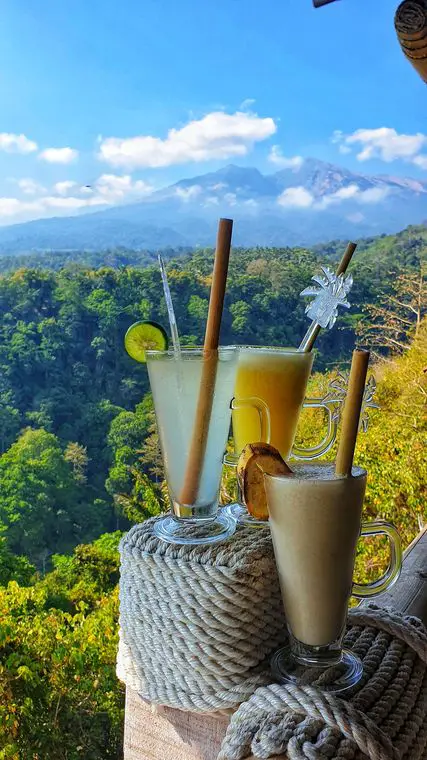 But we also enjoyed Cafe Rifka. Cheap prices and yummy food. The restaurant across the road, Waroeng Senaru, was not so bad either. The service was very slow, but the food was good and reasonably priced.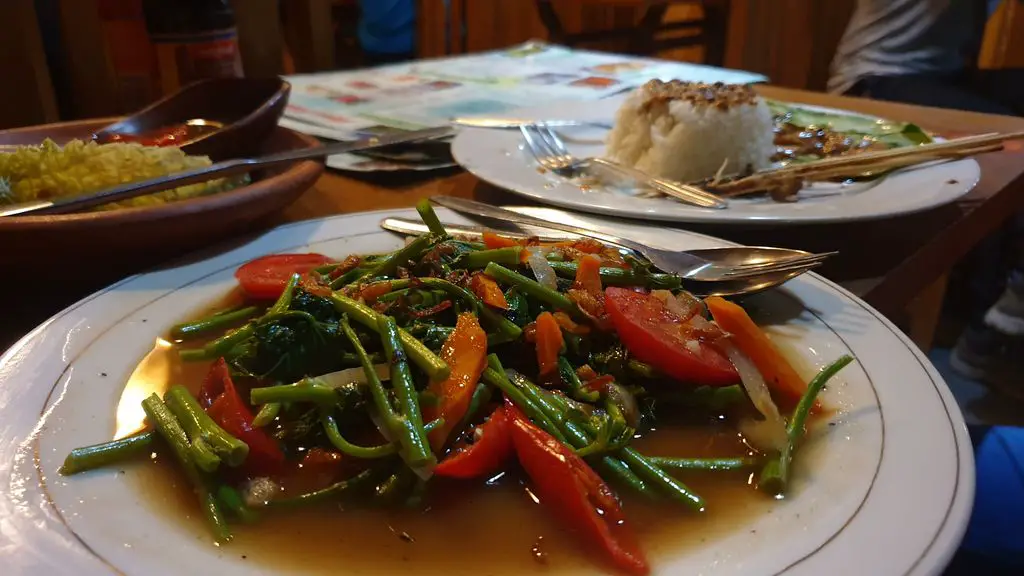 What To Do on Lombok
Senggigi Beach
During our stay at the Studio, we only had one day to explore. We chose that day to head to Senggigi Beach. The black sand beaches had a cute swing but did not strike me as a great place to sit or swim.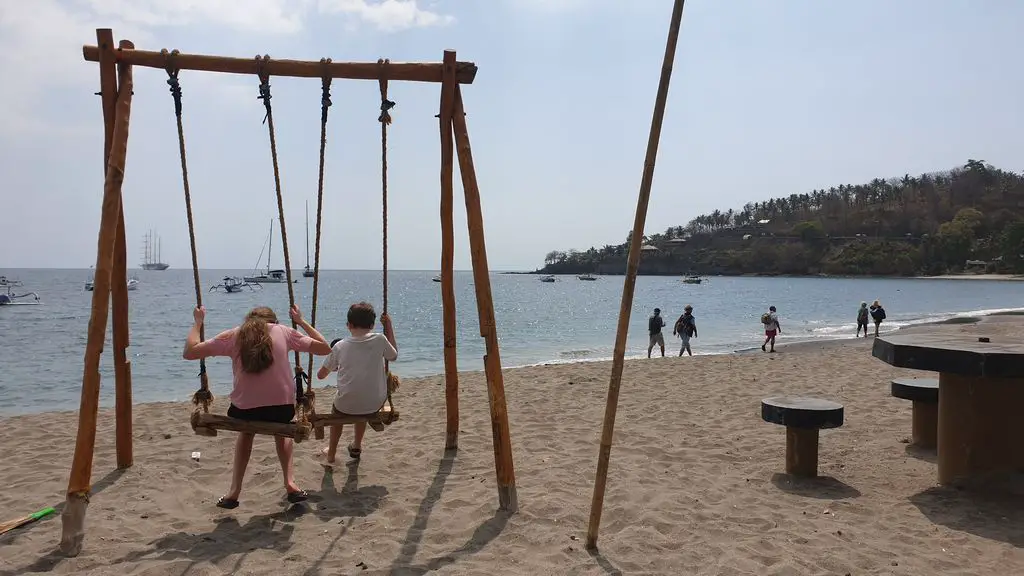 Instead, we followed the beach in search of the TEMPLE. It was much further away then we thought, but it was in the direction of our accommodation so we kept walking. We reached it just in time for sunset and it was stunning. Be mindful it is a local worship site, so please respect the carvings and anyone arriving to worship.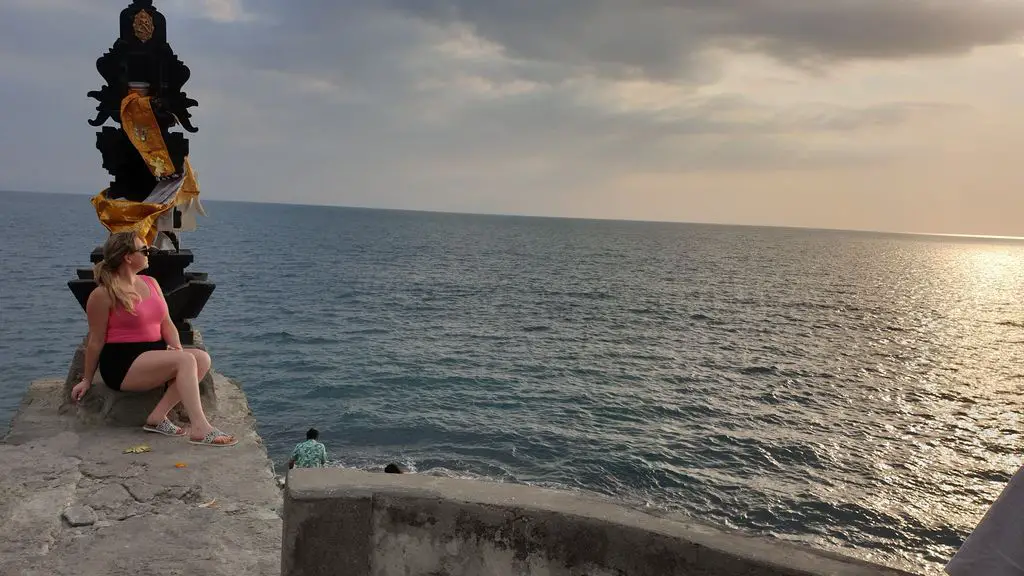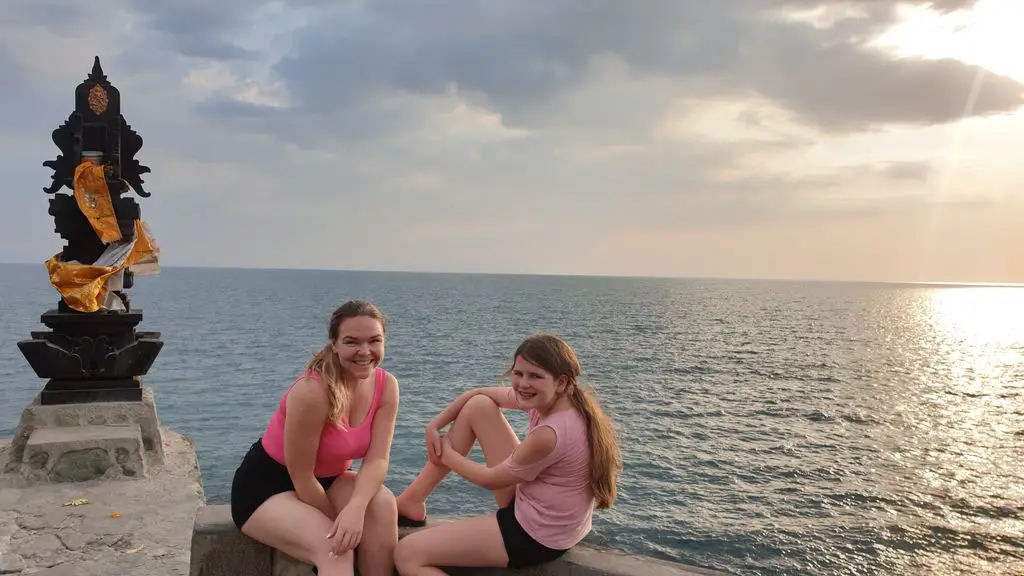 Mount Rinjani
This area is a beautiful and famous spot for hiking. Most people come to hike the volcano, but that was not on our list. We were happy just to look at it.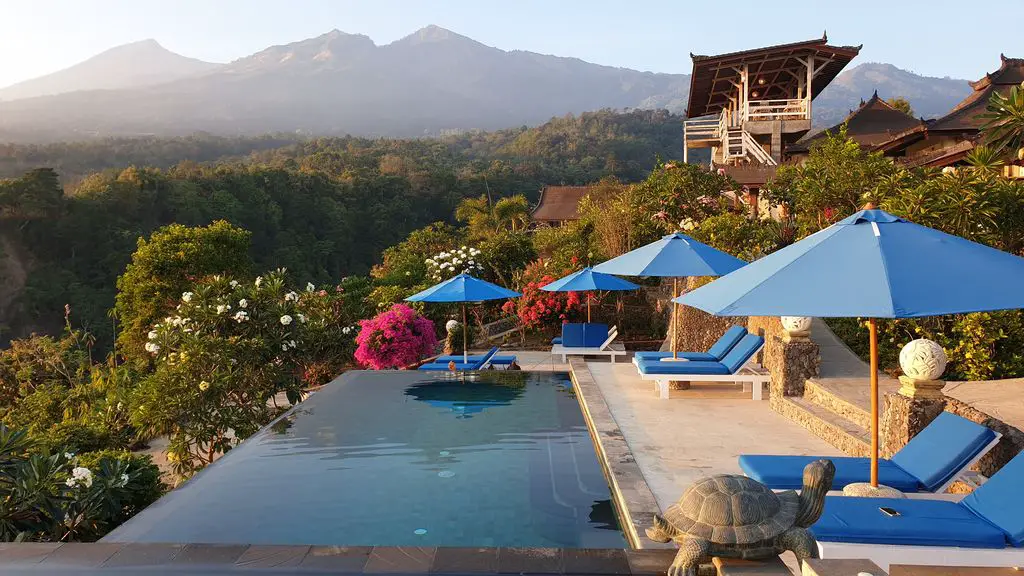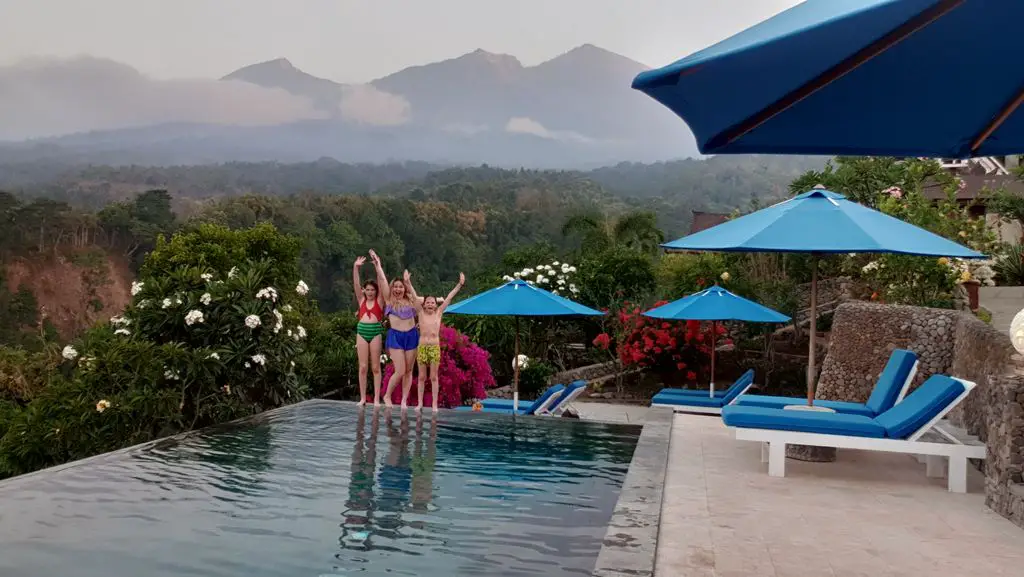 Rinjani Women Adventure can organize a hike to the volcano for you or you can take a tour through the village. We decided on a local tour. We had only gotten half an hour into our walk through the Bali jungles towards the local village when my daughter felt light-headed and collapsed to the ground. The tour guide was amazing in organizing a driver to come and meet us at the local village and drive us back to Rinjani Lodge.
I do not know if she was dehydrated or caught a small Bali belly, but it only took a few hours of rest in the airconditioning and liquids for her to feel better.
Once she felt better we decided to hike to the waterfall ourselves since we had missed our tour. The Rinjani waterfall is not far from the Lodge. It was about $3 AUD entry for all of us and a 15-minute walk down. There is another bigger and better waterfall that you can take a guide too, however that trek was enough for my children.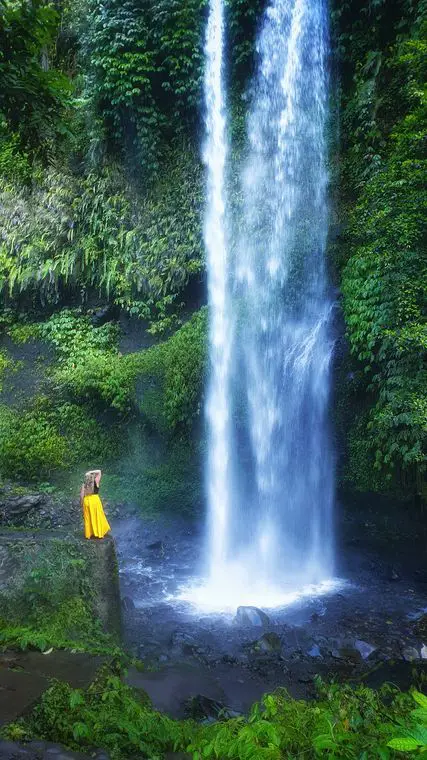 When visiting Lombok from Bali do consider heading to Mount Rinjani, it's a beautiful, quiet village which I have no doubt is just going to get busier as the years pass. Go now, before mass tourism. And pray I haven't ruined a beautiful secret that I will be heading back to.
LOOK HOW EASY IT IS TO PIN THIS!
FOMO - do you have it?  Well there is no need to Fear On Missing Out here at Explore With Erin. Sign up to receive updates directly to your in box. I won't spam you, but I do promise a whole lot of awesomeness. What are you waiting for? Join Me!