Are you traveling to Bali with kids?
You're in the right place.
3 years ago I wrote an article on 51 Things To Do in Bali With Kids. Since 2015 I have stayed longer, explored deeper, soaked up more sights, and racked up my 17th visit. For reference on most ages, I can let you know my now 8 & 9 year old have been visiting Bali since they were womb/5 months old.
I have recommended my favorite places to stay in Bali. I've told you my favorite things to eat in Bali. But I think it's time for an update on those 51 things to do. Turns out that as I started writing more and more places flashed through my memory or came from research and I ended up here. 101 things to do in Bali with kids.
In no particular order, here are our favorite things to do in Bali with kids.
1. Waterbom Park
One of my favorite water parks anywhere in the world, and is rated as the best in Asia by TripAdvisor. You can spend all day in this lush paradise and never run out of things to do.
We recommend booking discounted tickets online here.
10 Things at Waterbom Bali that just make sense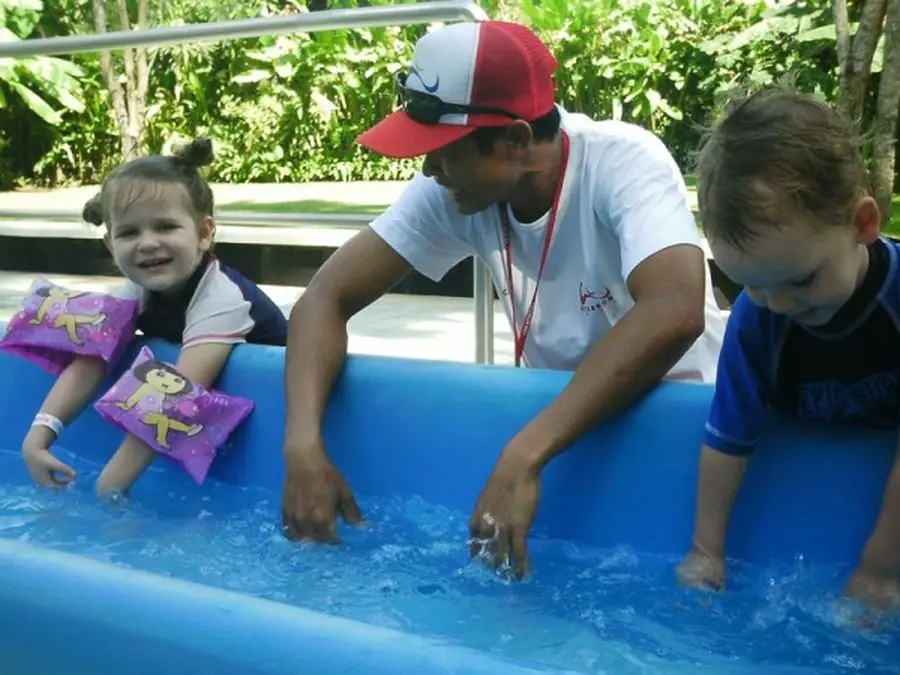 2. Splash Waterpark
This might not be Waterbom, but for kids under 8, this is the perfect-sized waterpark. You can lie on your comfy lounge chair and keep an eye on your kids across the whole waterpark.
We recommend booking discounted tickets online here.
3. New Kuta Green Park
Not as new or big as Waterbom and Splash, but very local. It was an experience, let's put it that way.
4. Not just another waterpark – Circus Waterpark
Bali's weather makes it the perfect place to spend the day at a waterpark so here is another to add to your list of things to do. 5 minutes from the airport it is made especially for younger children with 9 water slides, and a giant spill bucket.
We recommend booking discounted tickets online here.
5. Yes, they have a theme park
Krisna Funtasticland is located in Singaraja in North Bali. The amusement park has slow-paced miniature trains, energetic bumper cars, and other adrenaline-inducing rides like the Airborne Shoot or the Flying Cakra.
6. Peekaboo
Peekaboo is an indoor playground located in Sanur. Bring the kid's socks and sit back and relax while they play.
7. Lollypop Playland
An indoor playground located in Kuta. Great for the kids to blow out the steam.
8. Kidsworld
Not far from Ubud is an inflatable playland with a small water play area. It gets hot inside so make sure you bring water.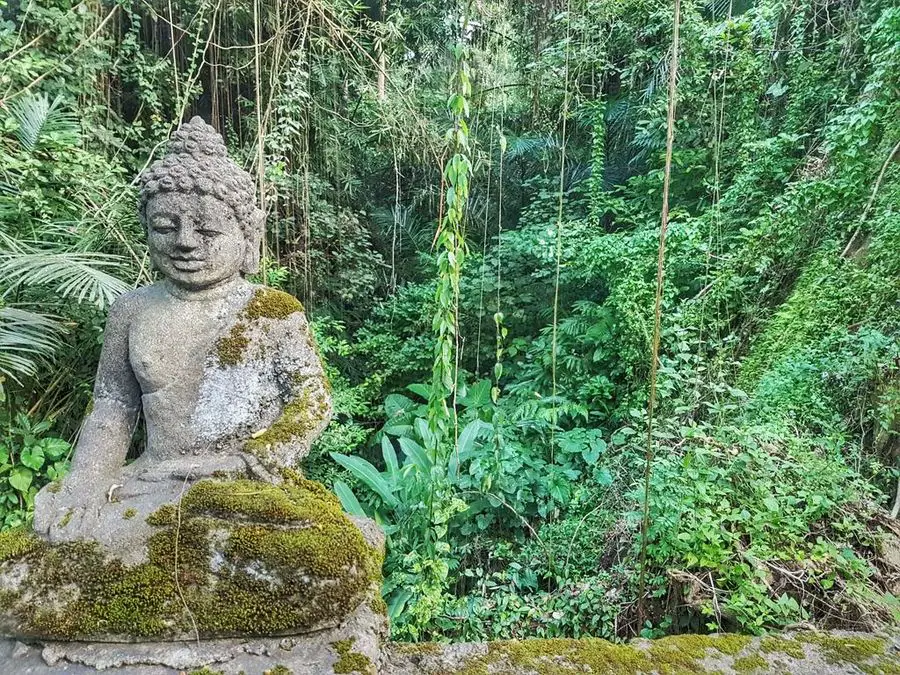 9. Feel like a Superhero at the SuperHero Factory
In Seminyak, your kids are going to go crazy for this parkour-inspired gym and playground. It has a 4-meter high 'Leap of Faith' from the upper deck down to the foam pit below and on Friday & Saturday evenings you can enjoy glow-in-the-dark fun at Globo.
10. Pretend you're a pirate
Looking for something different? Then it's time to be a pirate. Dress up in a pirate costume and get ready for a fun night of live music, belly dance shows, fire dance shows, and fun games.
We recommend booking discounted tickets online here.
11. Be pirates
Speaking of pirates, Pirates Bay Bali is a restaurant down south with a big pirate boat. Kids will love it.
12. Play paintball at Bali Paintball Arena
This one is perfect for families with teenagers that want some action. Because after all what teen doesn't want to shoot their parents with a paintball gun?
We recommend booking discounted tickets online here.
13. Learn some circus tricks
If you've ever wanted to run away and join the circus you can do it here. High Flyers Bali offers a unique opportunity to try your hand at trapeze!
14. Can you Escape
You only have 45 minutes to get out. Put your family heads to use to solve the puzzle at the Escape Room Bali. For kids choose the "Up Bon Voyage" option and use the clues to solve one puzzle after the other.
We recommend booking discounted tickets online here.
15. Bounce trampolining
Book the kids in for an hour at this indoor trampoline center, while you watch from above. They can attempt the wall climb, play dodge or jump into a foam pit.
16. Cubby House Kids Club
Beachwalk Mall in Kuta offers a public kids club, but so does Canggu Club, now Finns Recreation Club. This Cubby House Kids Club is a very well-equipped kids club where you can drop in your kids on a casual basis. They will be amused with toys, painting, computer games, dress-ups – the list is endless. Adults can head over to the other side of the Canggu Club for a swim, gym workout, free Wi-Fi, or lunch.
17. 10-pin bowling
Brand new on the Bali scene, at Strike you can bowl to your heart's content in this new indoor 10-pin bowling alley. Of course, there are bumpers for kids (or adults!). A cool way to spend a hot afternoon.
18. Get snappy @ the 3D Art Museum
We've done it in Malaysia and Australia, now don't miss it in Bali. Make sure the kids bring a camera to catch all the fun. These places are great for creativity and imagination.
We recommend booking discounted tickets online here.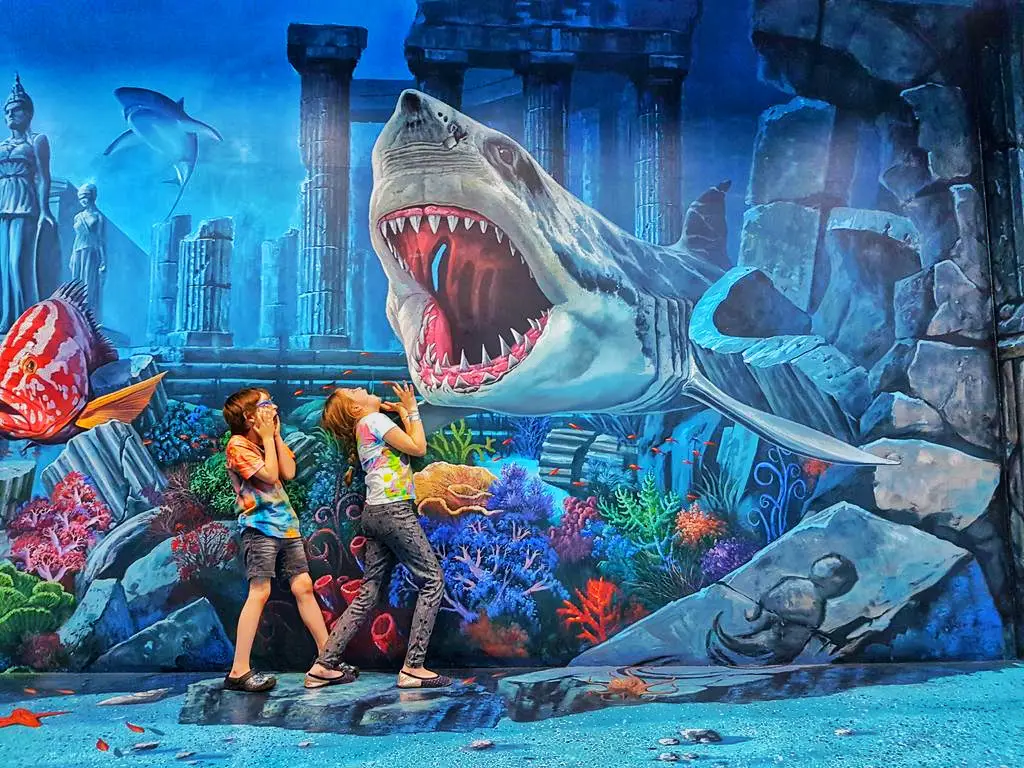 19. Find yourself upside down
I bet you didn't know about the Upside Down House Indonesia, a house where gravity seems to disappear because everything is upside down. Walk on the ceiling of kitchens, bedrooms, and even toilets. It's surprising how strange a house can be when everything is turned on its head.
20. Let's go Segway
This one is for the older kids, but Bali Green Connection offers a guided beachside Segway tour along Sanur beach. Top it off with a ride to a traditional coastal temple and lunch on the beach.
21. Party Like A Mermaid
Putri Siren allows your kids to live out their very own Little Mermaid dreams with swimmable mermaid tails handmade in Bali. They can organize a complete mermaid party right at our villa providing tails and bikini sets for your kid's birthday or playdate.
22. Get Spooked At Frankenstein's Laboratory
Are your kids into ghost stories and all that creeps? Then a visit to Frankenstein's Laboratory is an absolute must. This theme restaurant specializes in all things spooky. Every night, the lab hosts live cabaret shows where zombies, monsters, and mummies take the stage accompanied by live music. Between 4:30 and 8:15 pm, Frankenstein's holds a family-friendly session that is meant to be scary, but not terrifying.
23. Stay in a family-friendly hotel
Whether you are after fun on the beach or a jungle experience, there are so many family-friendly hotels in Bali. Our favorites: Grand Mirage Resort, Nusa Dua,  Sheraton, Kuta, or the Holiday Inn – they do fruit carving with kids!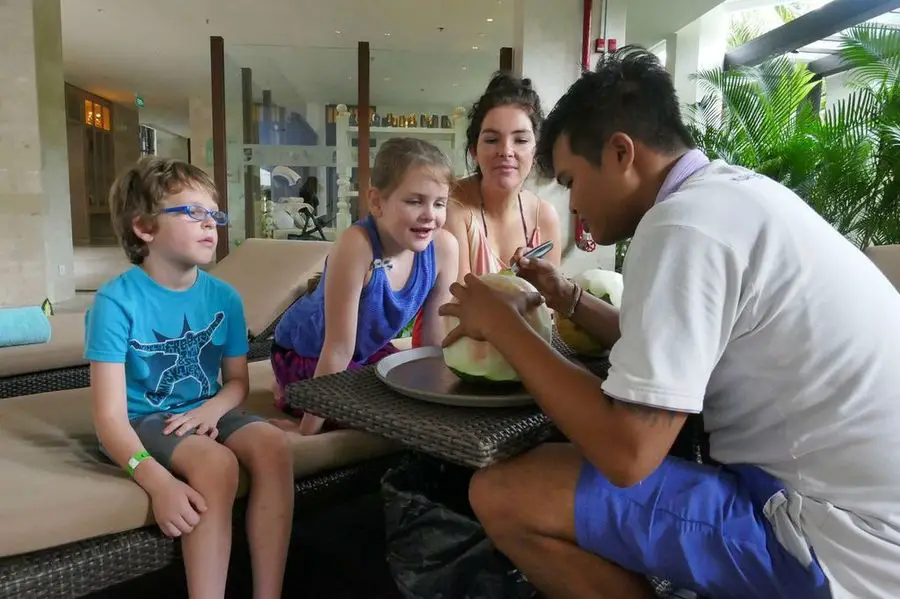 24. Cinema
Relatively new to Bali, cinemas are popping up everywhere. There might not be a lot of variety, but you can cool off in one of these modern cinemas. Check-in at Beachwalk Mall in Kuta or the kids will enjoy Paradiso in Ubud which shows children's movies daily at 5 pm.
25. Cycling tour in Ubud
Ubud is cooler than most of Bali so the best spot for exercise. Head out on a downhill cycle tour visiting coffee plantations, traditional Balinese homes, and amazing trees.
We recommend booking discounted tickets online here.
26. Yoga class
Ubud has loads of them. Our favorite is the Yoga Barn, but wherever you go, there'll be plenty of options to choose from. Or you can do your yoga at home.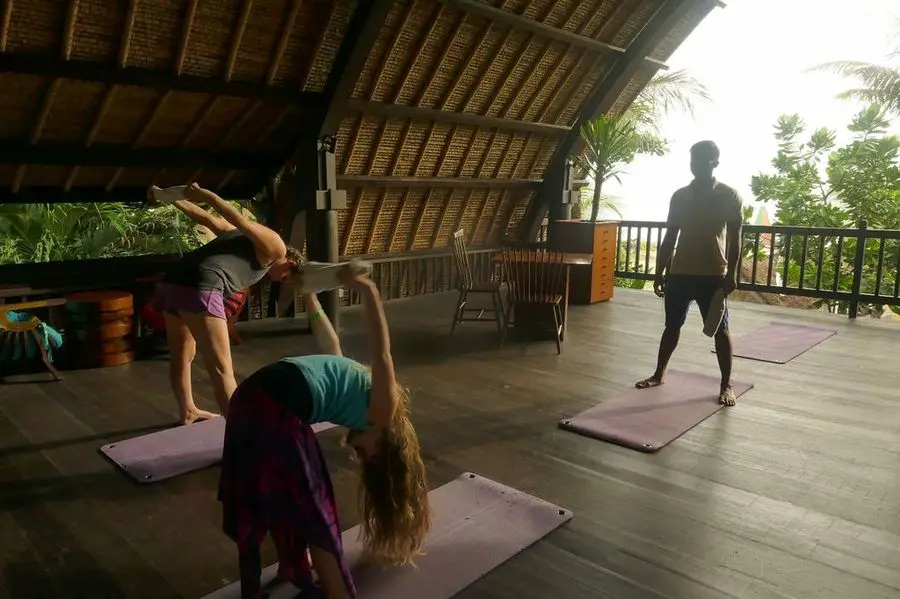 27. Rice paddy walk
Since we are speaking of exercise in Ubud, go for a walk. Rice paddies provide simply scrumptious scenery and make exploration fun. Try to spot the many kites in the sky too.

28. Bali Bird Park
If you enjoy birds then this is not to be missed. Plus they have a lovely restaurant with a play area for kids.
We recommend booking discounted tickets online here.
29. Bali Reptile Park
Part of your package at Bali Bird Park includes going next door to see the crocodiles and famous Komodo dragons. 
30. Bali Safari Park
This place keeps improving every year. Head out to see elephants, leopards, and many other wild animals.
We recommend booking discounted tickets online here.
31. Elephant Safari Park
Whether you are looking to ride an elephant or just be introduced to one, you can here.
We recommend booking discounted tickets online here.
32. Bali Zoo
Want to feed a tiger? You can do it here. A great day out with the kids.
We recommend booking discounted tickets online here.
33. Bali Butterfly Park
If your kids love butterflies, check out the Bali Butterfly Park.
34. Monkey Forest
There are several monkey forests throughout Bali, but the most famous is in Ubud. Don't wear jewelry and keep your backpack firmly closed, because these monkeys are the sneakiest thieves.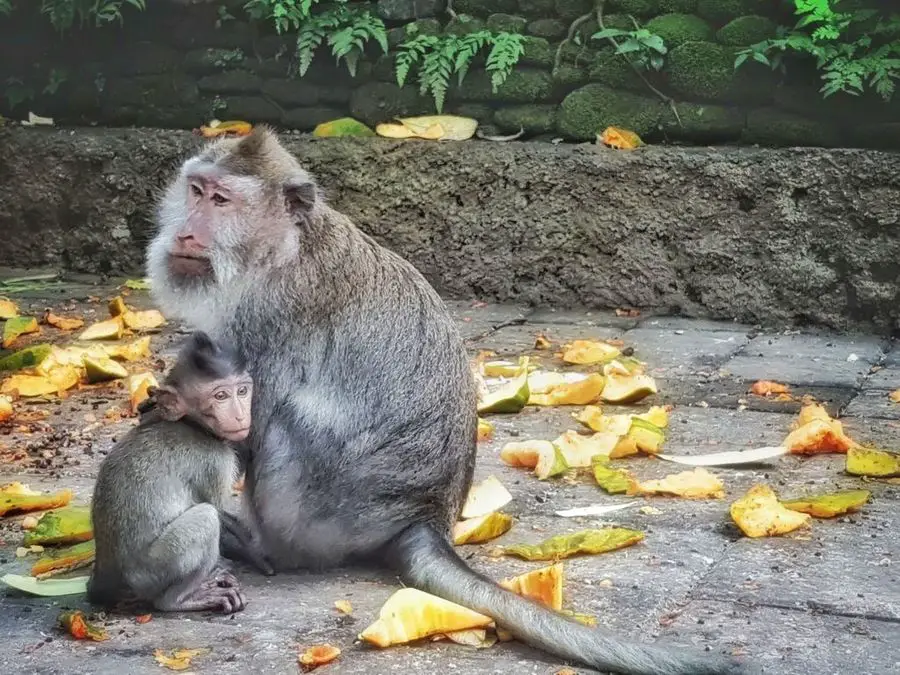 35. Cuddle Kitties in Ubud
Across from my favorite Mexican restaurant in Ubud is the Cat Café, where children can enjoy a bite to eat while playing with a whole bundle of fat, lazy cats. Why not take it one step further and include a stay at some cat-friendly hotels?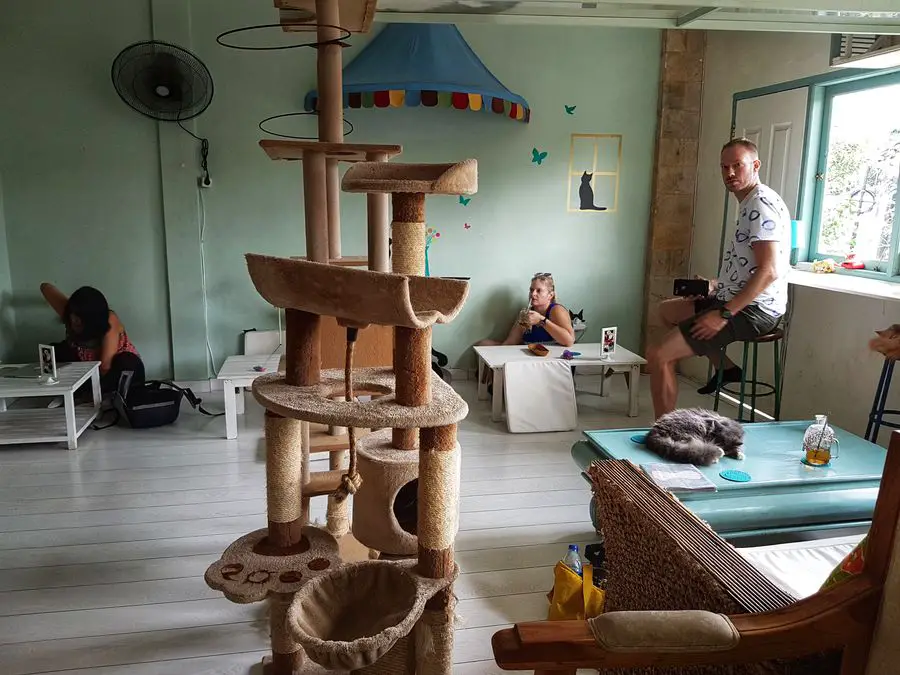 36. Play with bunnies
If the cats aren't enough then you can head to Maha Restaurant for an up-close and personal with fluffy white bunny rabbits. Enjoy a martini while the kids chase rabbits like Alice in Wonderland.
37. Swim with sharks
Get the kids on an eco-tour with Wayan who rescues young sharks from local fishermen, rehabilitates them in his shark conservation nursery, and releases them back into the wild. If sharks aren't your thing you can still enjoy seahorses and turtles.
38. Go on a dolphin tour
Who doesn't like seeing dolphins? Lovina is a great spot to find one of these.
We recommend booking discounted tickets online here.
39. Go fishing
Kids will get kicks out of catching a wiggly fish on a fishing tour. People from all areas of the globe come for the Giant Trevally and the legendary Dogtooth Tuna. Tours usually include visits to a salt maker and you can line fish or try your hand at spearfishing (perhaps not with the kids).
40. Motorised water sports
Whether it's jet-skiing or paragliding or flying on a banana boat you can find endless opportunities down on the shores of Nusa Dua.
41. Non-motorised water sports
A lot of hotels include ocean kayaking, among other water sports in their pricing in Nusa Dua. So head out on that gorgeous ocean, just make sure you cover up – it's hot.
42. Seawalker Bali
If you've always wanted to walk on the ocean you can do so for a reasonable price in Bali. This is suitable for older children.
We recommend booking discounted tickets online here.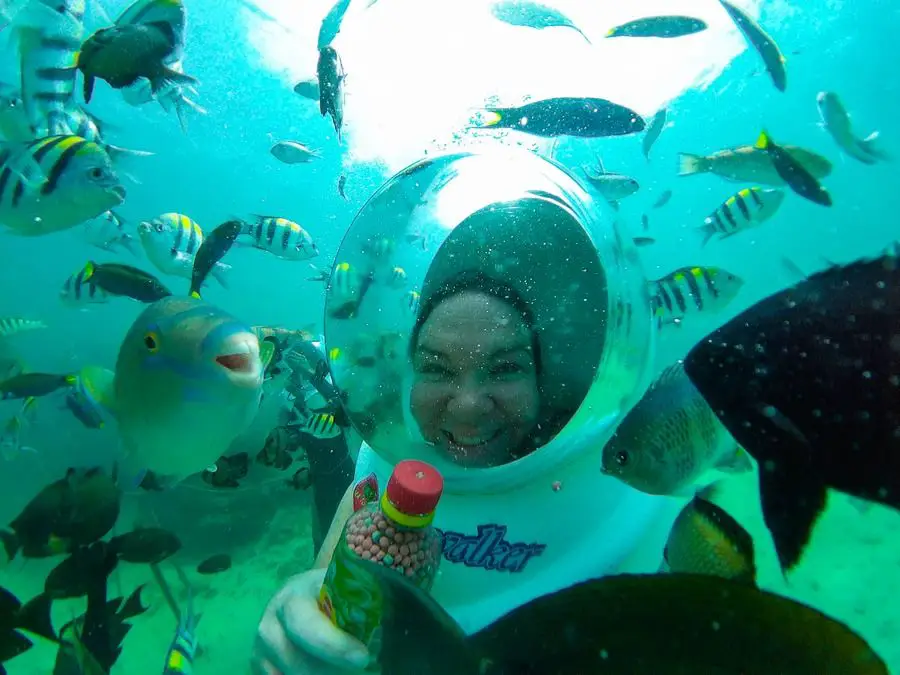 43. Reuse Centre
In Ubud, you'll find a small place that loves to show kids how to create crafts with recycled products. I support its values but also our kids loved it.
44. Sheraton Market Brunch
If you are looking for a family-friendly restaurant every Sunday the Sheraton Bali Kuta Resort holds its famous Sheraton Market Brunch. With dedicated kids tables and chairs and a supervised play area, adults can indulge knowing their wee ones are taken care of.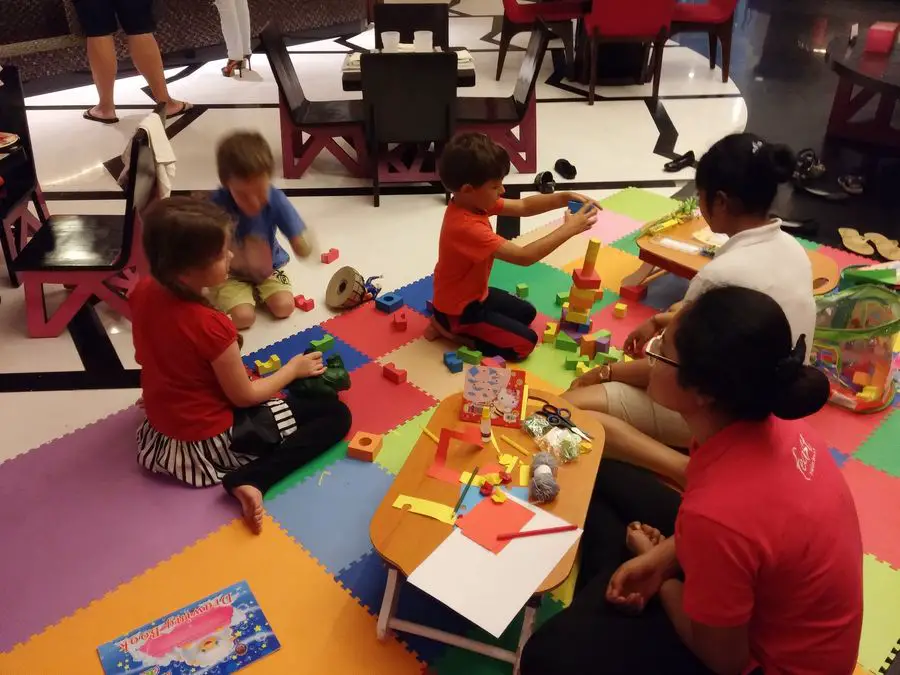 45. Eat real Mexican food
What? My kids say Taco Casa is the best part of Bali. The best Mexican food we've eaten outside Mexico. They also do delivery!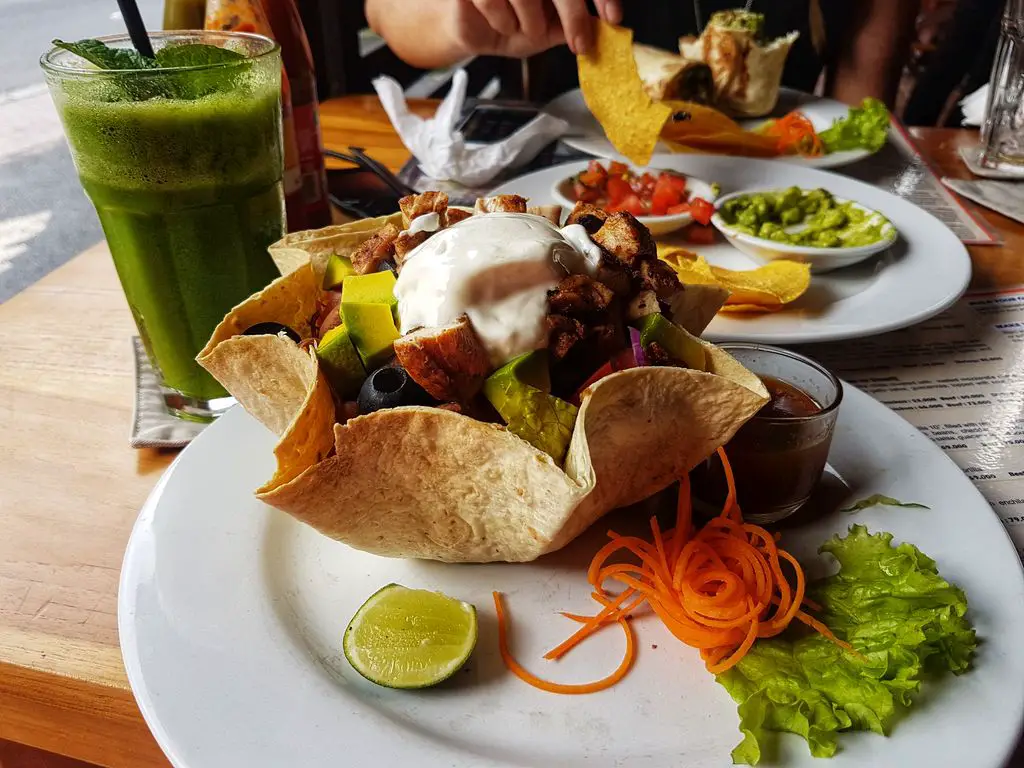 46. Cooking classes
We love learning to cook and the local cuisine in Bali is delicious. Whether it's part of a hotel package or in the middle of the jungle, you can't go wrong with Balinese food.
We recommend booking discounted tickets online here.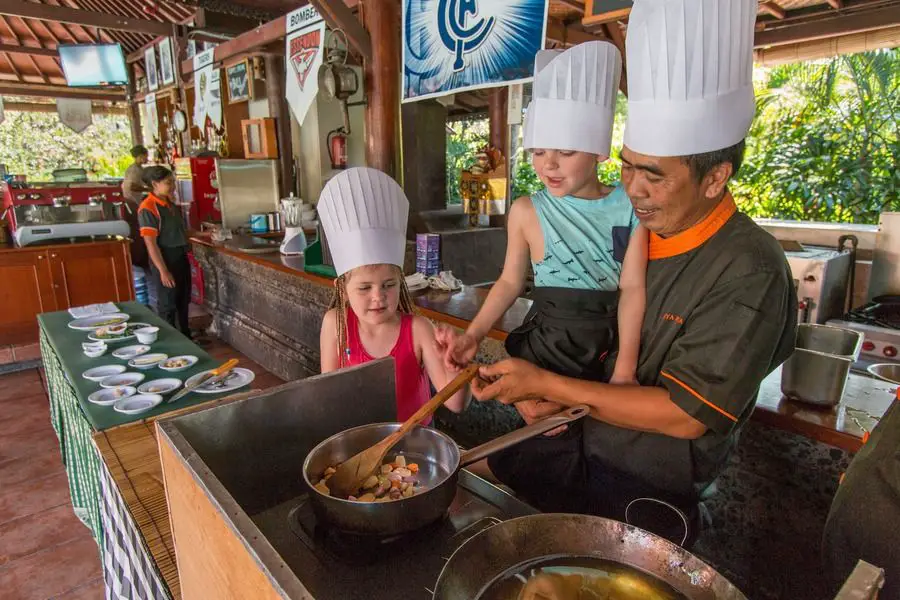 47. Quad biking
Not far from Ubud you can hop on a four-wheel bike for a tour through the jungle. Get dirty splashing through mud and wave at sweet Balinese children as you ride through traditional villages.
We recommend booking discounted tickets online here.
48. Canyon tubing
With the same tour operator as Bali Quad, you can hop into a one-person inflatable tube and drift your way down the river. It's a fun adventure with a flying fox ride thrown in.
We recommend booking discounted tickets online here.
49. Whitewater rafting
Looking for something a bit more adventurous? Then head down raging whitewater rapids! Just quite a steep climb at the end.
We recommend booking discounted tickets online here.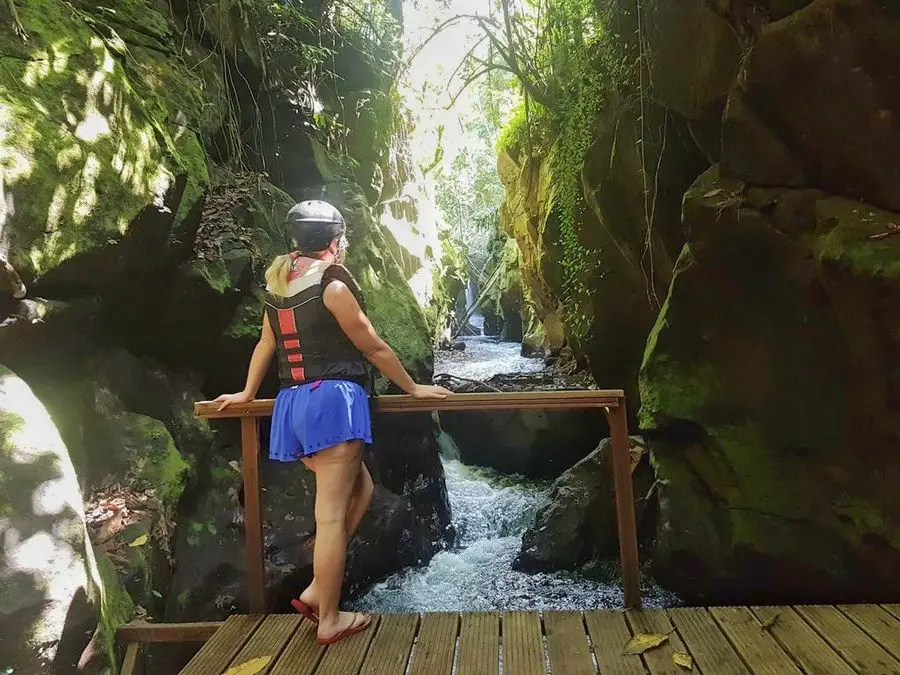 50. Bali Equestrian Centre
A horse-riding club with a swimming pool. This is Bali after all. Give the kids a chance to ride horses while you enjoy a swim or a delicious lunch.
51. Hang out with friends
Ubud is a Bali ex-pat gold mine so you are sure to find someone wanting to hang out and have a meal.
52. Markets and malls
Markets can be found in most parts of Bali so get your shopping engines on. If you are after something a bit more upmarket then head to several of the well-known malls located in Kuta or Nusa Dua.
53. Get your hair braided
The humidity in Bali can be a source of frizz. Spend AUD$15 – $20 and get all that hair out of the way. A lifesaver for girls with long hair who love to swim.
54. Get a pedicure
With pedicures costing between AUD$5 – $15, you will probably be getting one every second day while in Bali with kids. Just walk out your door and you should find a salon.
55. Get a massage
Whether it is your local spa or part of a hotel package, you don't want to leave Bali without one. The kids can also join in with places like the Sheraton offering Mummy and Princess dates, and Daddy and Prince packages.
Read my thoughts on massage…
56. Go to the beach
Head to Nusa Dua or Jimbaran for quality beach time. White sand, blue clear water.
57. Experience a volcano up close
It's a bit of a climb, but if you make it to the top or Mount Batur at sunrise you won't be disappointed. Or just drive to the top of a nearby lookout point for a breathtaking view… without losing your breath.
We recommend booking discounted tickets online here.
58. Tanah Lot
A temple seemingly floating in the sea. A gorgeous location for photos and a historical piece of Bali.
We recommend booking discounted tickets online here.
59. Elephant Cave
Goa Gajan is home to an ancient temple and cave. A few steps to walk up and down, but beautiful scenery, and the local kids there loved our kids.
We recommend booking discounted tickets online here.
60. Learn to surf
There are plenty of places to choose from in Nusa Dua or the famous Kuta Beach. Grab a board and hit the waves.
We recommend booking discounted tickets online here.
61. Green Camp
In Ubud, there is a well-known school called Green School and they also offer 3 or 5-day camps to get the whole family back to nature.
62. Relax in a hot spring
Close to Lovina is the Banjar Hot Springs. Or if you stay at Hotel Tjampuhan in Ubud, they also have a serene cave with hot springs on site.
We recommend booking discounted tickets online here.
63. Go snorkeling
A favorite snorkel spot would be the Blue Lagoon, but you'll find plenty more.
We recommend booking discounted tickets online here.
64. Zip, zip, zip!
Looking for a heart-pounding zipline adventure? Kids as young as 4 will enjoy a wild time flying through trees at Bali Treetop Adventure Park.
We recommend booking discounted tickets online here.
65. Glass bottom boat
Visit any tour booth or take a walk along the beach and you will find many options for glass-bottom boat tours. Bundle it with a trip to Turtle Island to hold baby turtles.
66. Devdan show – Balinese dance
The beautiful art of Balinese dance is something you must see. Plenty of resorts offer it or you can head to a temple. One of our favorites was the elaborate show they put on at the Bali Collection theatre in Nusa Dua.
We recommend booking discounted tickets online here.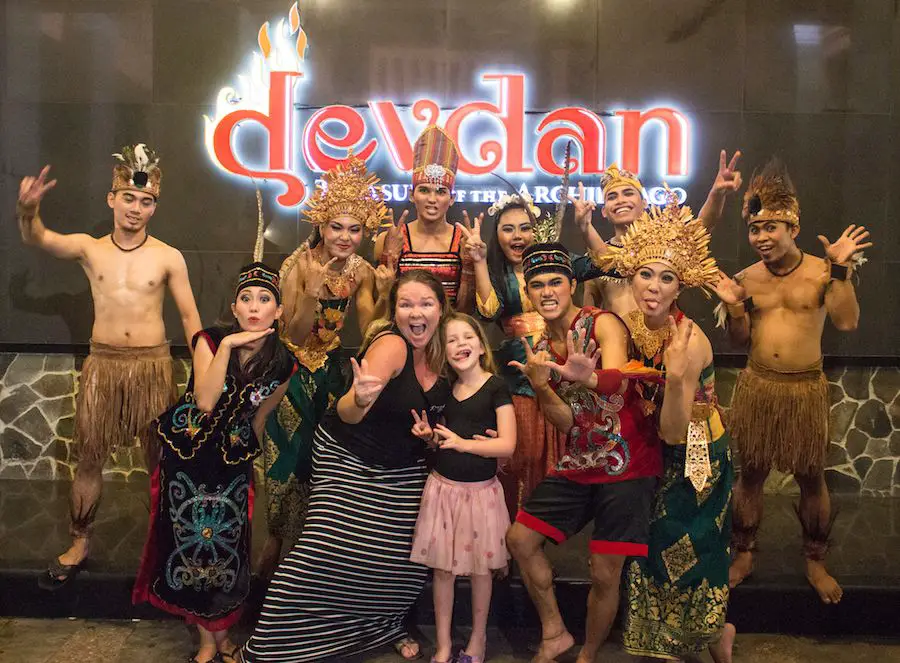 67. Pondok Pekak Library and Learning Centre
Opposite the soccer grounds in Ubud is the main library which, while offering a small book collection, is better known for its classes in Balinese art and culture.
68. Turtle Release Kuta
Want the kids to learn about the conservation of turtles. They can release baby turtles for free on Kuta beach. A beautiful experience, filled with the knowledge of this gorgeous world around us.
69. Learn to paint at Sjaki-Tari-Us
10 minutes drive from Ubud you can visit this beautiful school in reaching out and helping disabled children. You can sign up as a visitor to have fun with the kids by making bracelets, paintings, or making masks.
70. Explore multiple levels of Tegallalang Rice Terrace
Only a 20-minute ride from our Ubud Villa is these stunning and simple rice terraces. After they expel all their energy climbing up and down the terraces, enjoy a banana split in one of the cafes overlooking the spectacular scenery.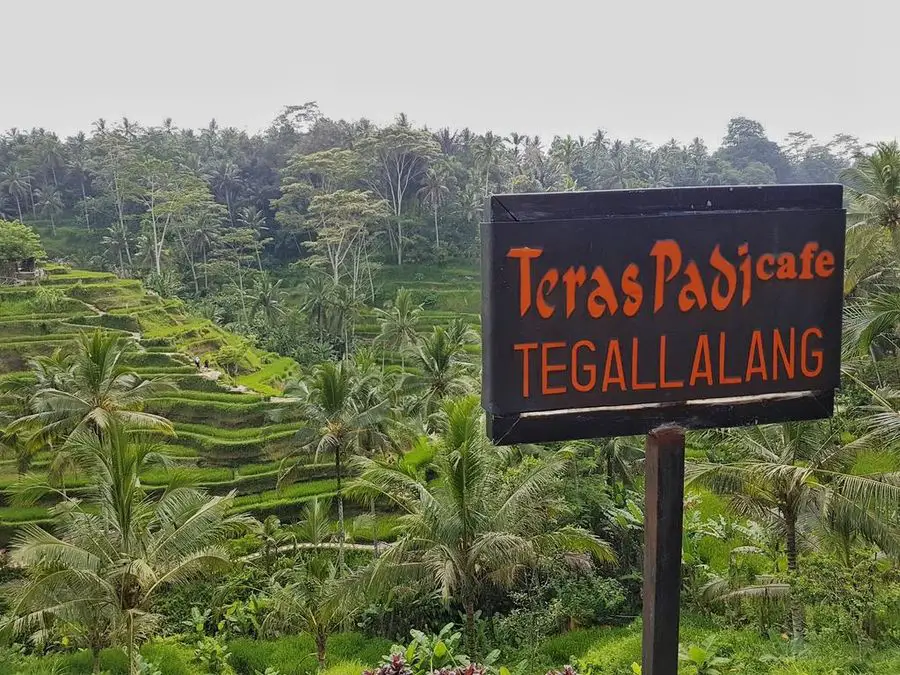 71. Be a kid on the Bali Swing
For those older kids looking for a pretty special Instagram picture head to the Bali Swing for five single swings (5m, 10m, 15m, 20m, and 78m!), a tandem swing, and two cute nests overlooking the valley with amazing views of the canyon and waterfall. You'll also find one at Luwak Coffee Plantation.
We recommend booking discounted tickets online here.
72. Indiana Jones fans?
For kids who love a little bit of adventure, head to Tirta Empul for an ancient water palace and park. Or try Tirta Gangga.
73. Climb a real treehouse
The Temega Tree House in Karangasem is a treehouse restaurant obtained by a suspension bridge. There's also a swing on site for the little ones.
74. Another amazing treehouse
The Tree House at Batudawa Karangasem looks like a tree pushed a house off of the ground and into the air, as tree branches wrap right around it.
75. Somebody says chocolate?
Big Tree Farms Bamboo Chocolate Factory lets your kids take a behind-the-scenes look at how chocolate bars are made. This one-hour tour transforms beans into bars in a bamboo cathedral.
76. Chocolate tastings
Charly's Chocolate Factory is 15 minutes from Candidasa and is a cluster of wacky bamboo houses sitting on the end of Jasri beach. The staff will bring you around on a sampling tour and I doubt you'll leave without buying some of that healthy raw dark chocolate made from cocoa beans grown on the island. There's also a swing here for some pure Instgramic shots over the ocean.
77. Eat and play
I've always loved a restaurant with a playground. It's perfect for parents and kids alike. The Warung Rekreasi Bedugul has stunning views of the mountain and the lake coupled with a playground for the kids, an orchid garden, a coffee plantation, and a bamboo forest.
78. Complete your soap collection
Also, Charly's Chocolate Factory is a soap studio so you can add some handmade Bali soap to your collection.
79. Let's get down and muddy
There are not many things kids enjoy more than getting down and dirty. Mepantigan is a traditional cultural game that translates to Mud Games and usually takes place in the rice fields. Join two lovely locals for an afternoon of wrestling, frog catching, tug of war, and mud horse racing. Plus, Mums can get a relaxing mud massage!
80. Eat a seafood feast at Jimbaran
There is something magical about eating on the beach here as the sunsets. It is just perfect for kids since they can run and play in the sand while you sip your cocktail on a beanbag in the sand.
81. Hang out at the Spice Beach Club
Kids in Bali will love this place. For adults it is a great restaurant and bar but what makes it is the location and facilities. There's a pool to use, free towel use, and some toys for kids. All of this is right on the beach.
82. Visit the Gili Islands
If you are looking for something different to do in Bali then between Bali and Lombok you'll find Gili Islands. Kids will enjoy activities on Gili like the turtle sanctuary, bird park, beaches, snorkeling, kayaking, open-air cinema, and more!
We recommend booking discounted tickets online here.
83. Visit Lombok
Also not really on Bali, but it's not far and you will love it just as much.
We recommend booking discounted tickets online here.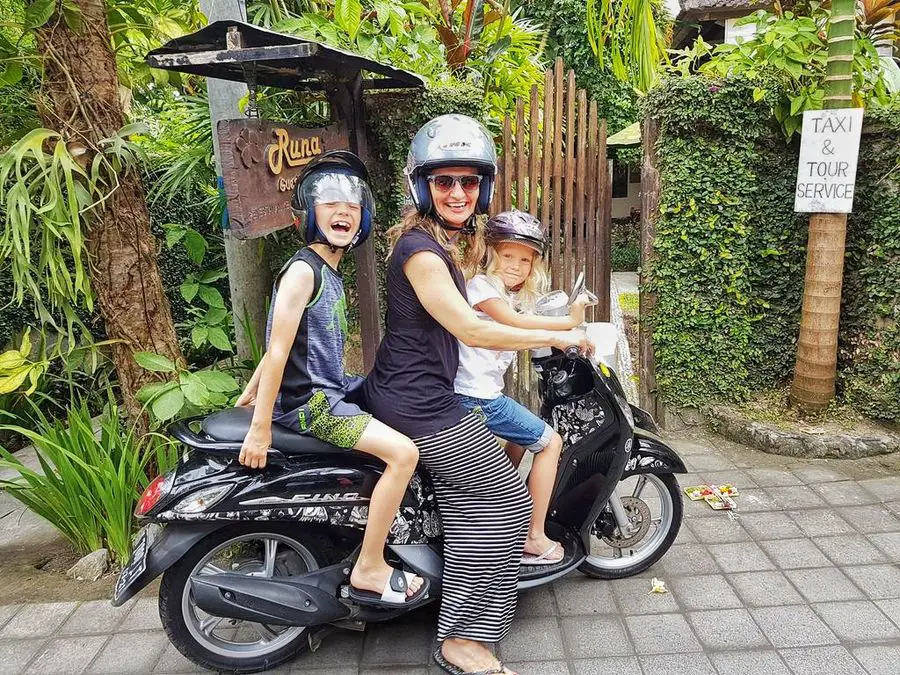 84. Take a Lembongan Island Day Trip
Your kids are going to love running free on this lush tropical island, splashing in lagoon pools, or taking part in a range of fun-filled water activities like snorkeling or banana boat rides. Most tours even come with the use of beach equipment so your kids build sandcastle after sandcastle, while you work on your tan. Find a full list of things to do on Lembongan Island.
We recommend booking discounted tickets online here.
85. Day trip to beautiful Nusa Penida
If you are still looking to get off the island head to Nusa Penida, with its dedicated bird sanctuary. It's like stepping back in time to old Bali. Fishing villages, thatched cottages, and a distinct undeveloped vibe. Most tourists make a beeline to Crystal Bay perfect for snorkeling and diving or the Peguyangan Waterfall.
We recommend booking discounted tickets online here.
86. Let them create pizza
The Best Brew at the Four Points by Sheraton allows your kids to create a masterpiece from dough to shoving it in the wood-fired oven. At the end of the day, little chefs will be awarded an adorable "Papa! I Made Pizza" certificate and a delicious scoop of gelato.
87. Play In A Colourful Garden
Big Garden Corner is part restaurant, part garden, and part playground. It's located on Jalan By Pass Ngurah Rai, surrounded by many other stone statue vendors. Climb atop a miniature Borobudur, swing in a hammock, and strike a pose beneath countless umbrellas suspended high among the treetops. Grab yourself a rainbow-hued beanbag chair and enjoy a nice cold drink as the kids roam around the garden.
88. If you've ever wanted to fly
Let the kids have the meal of a lifetime at the Keramas Aero Park in Gianyar. This unique themed restaurant will have you eating out in the garden, or inside a long-abandoned airplane.
89. Finns Recreation Club
There's so much more to Finns than just waterslides. Your kids are going to love tennis, trampoline, ten-pin bowling as well as a cubby house. As a bonus, adults can relax at the day spa, swimming pool, or bar.
We recommend booking discounted tickets online here.
90. Chase waterfalls
Kids love waterfalls as much as adults if it means getting in the water. Tegenungan is one of the most popular waterfalls in Bali, approx. 5 kilometers southeast of Ubud.
We recommend booking discounted tickets online here.
91. See A Blow Hole
If your kids have sturdy feet then head down the cliff face footpath in Nusa Dua to watch the full force of the water hitting the cliffs and creating a sky-high, power splash.
92. Get close to nature
Many parents might think Bali is pools, beaches, and water parks. But if you head to West Bali National Park you will find acres of wide-open spaces hiding boar, deer, monkeys, birds, mangrove swamps, and villages.
93. Go on an airplane hunt
For some weird reason, Bali has quite a few abandoned airplanes that are free to explore. Take the kids to see the Boeing 737 in the Southern part of Kuta or any of the others scattered around the island.
94. Watch the Kecak Fire Show
Uluwatu is a cultural dance that blows most others away because of the incredible scenic views you get while watching.
We recommend booking discounted tickets online here.
95. Teach the kids to dive
Did you realize if your kid is over 8 they can learn to dive? Bubble Maker teaches your kids to use scuba gear and breathe underwater. They even have the chance to swim around in shallow water. They also get to play a bunch of games!
96. Stay in a safari lodge
Inside Bali Safari and Marine Park is the African-themed Mara River Safari Lodge where you can feed animals right from your room or listen to the lion's road.
97. Make your own perfume
I know my daughter would be over the moon to get her creative juices flowing here. At L'Atelier Parfums et Créations you start by collecting your ingredients, processing them, and eventually walking out with your very own personal fragrance.
98. Enjoy a fairytale
Take the kids for a meal at the Gardin Bistro & Patisserie for an experience out of a storybook. In amongst all the excitement of Seminyak, you'll find this chapel-like restaurant with rustic furniture, stained glass decors, and beautiful gardens. Save room for dessert.
99. Try your hand at all things Balinese
The Balinese Cultural Creation in Denpasar has a program for everyone. Balinese Dance, Balinese Gamelan Music, Balinese Painting, Balinese Woodcarving, Batik Making, Offering Making, Silver Jewelry Making and so much more. Something for everyone in the family.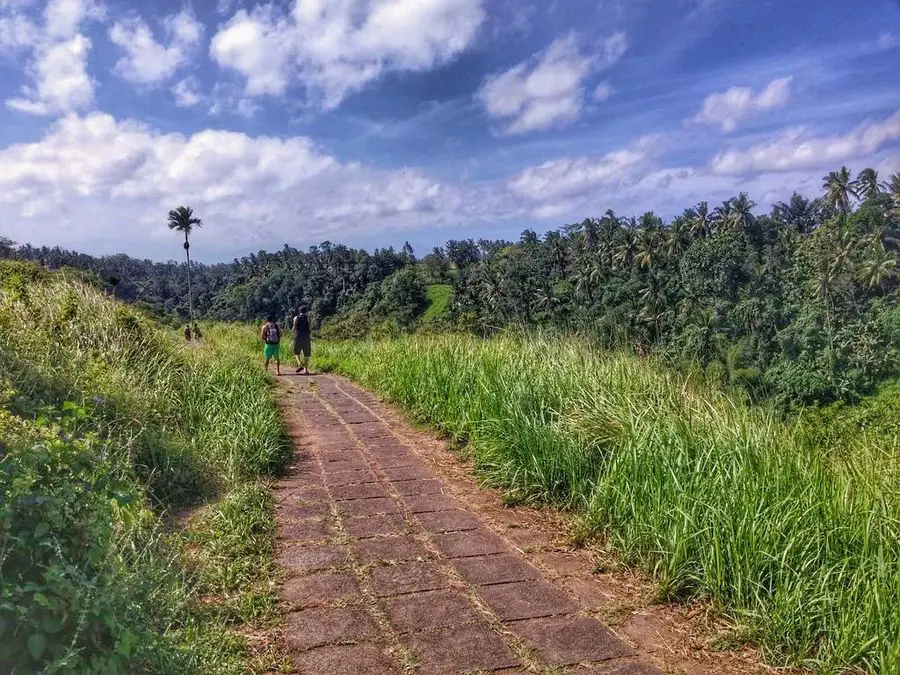 100. Eat High Tea at Biku
When the kids can eat high tea for $5 I am there. Biku restaurant in Jl Petitenget serves the typical high tea fare; sandwiches, cupcakes, and scones. Book! It gets busy.
101. Do Nothing
Watch a sunset, sit by the pool, lie in bed, and smell the sweet frangipani scent floating in the breeze. While in Bali, don't forget to take some downtime. Because with all this on offer we know it might not make it into the picture.
Holy Moly! That is a crazy amount of fun to be having with your kids in Bali. And now you know why we have been 17 times.
What number is your favorite? Did I miss something? Please add it in the comments below.
LOOK HOW EASY IT IS TO PIN THIS!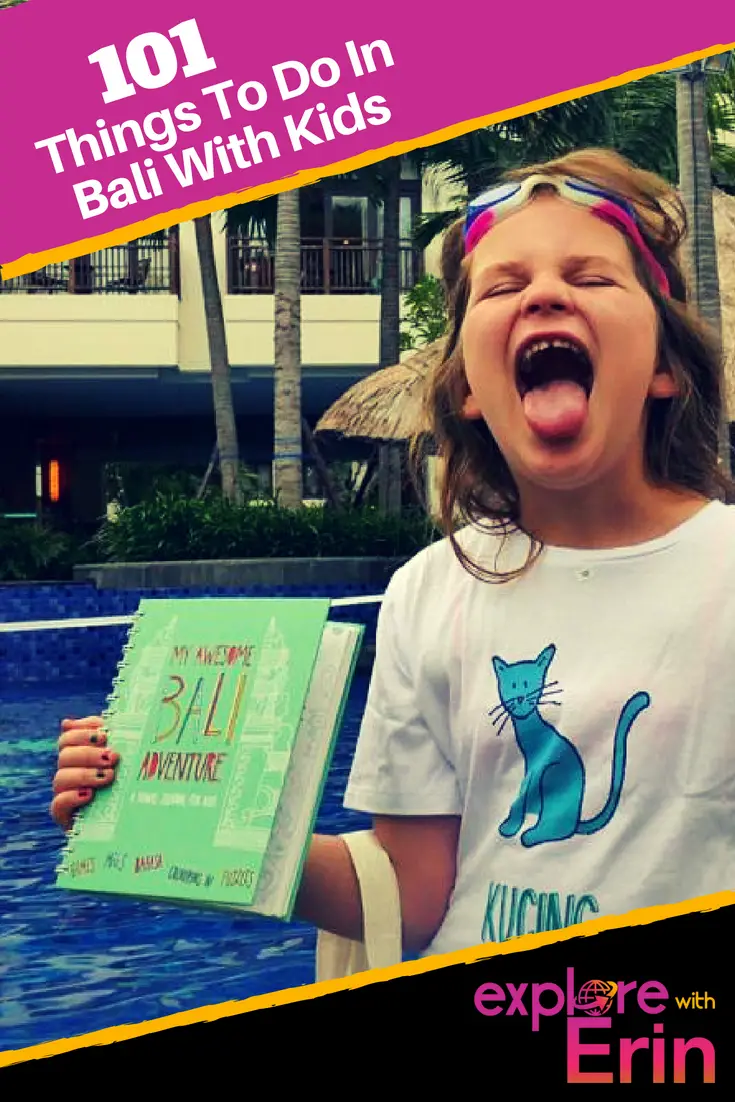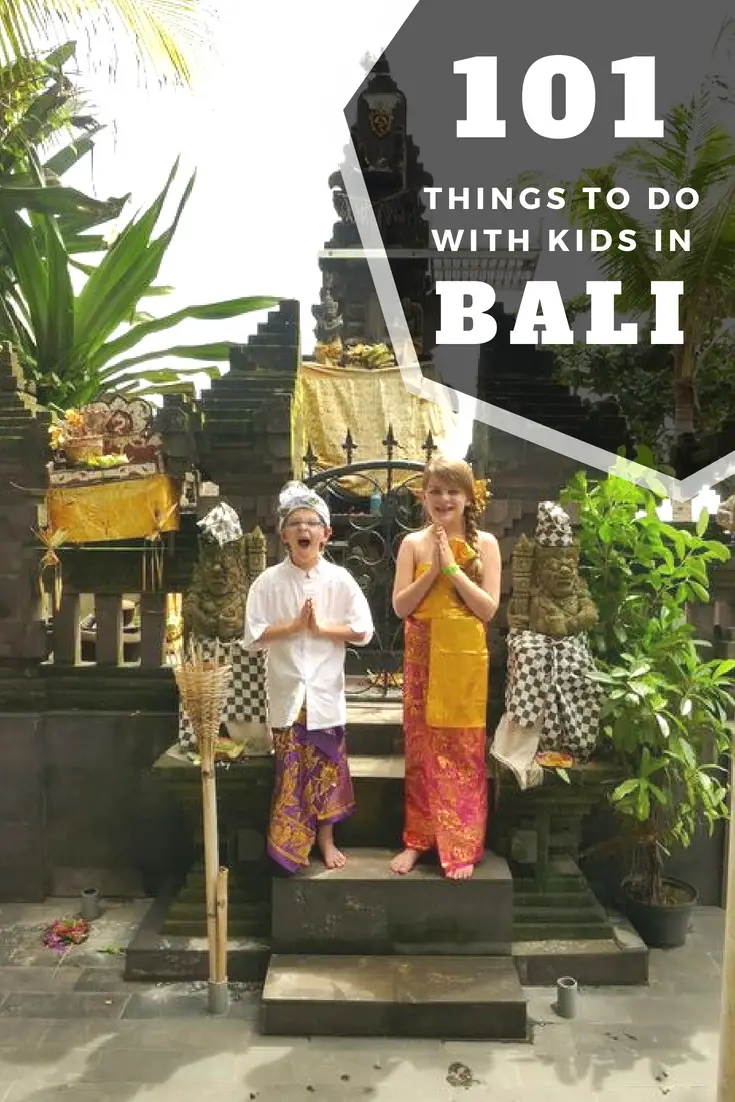 FOMO - do you have it?  Well there is no need to Fear On Missing Out here at Explore With Erin. Sign up to receive updates directly to your in box. I won't spam you, but I do promise a whole lot of awesomeness. What are you waiting for? Join Me!