This is one of those places you take your wife for a honeymoon, or your lover to propose.
What a wasted opportunity!
Call me old fashion, but I'm still waiting for him to do it and now I have no idea how he will top our stay at InterContinental Phuket or InterContinental Koh Samui.
But here are my 7 reasons lovers love InterContinental Phuket Resort and why you should consider it for your romantic someone.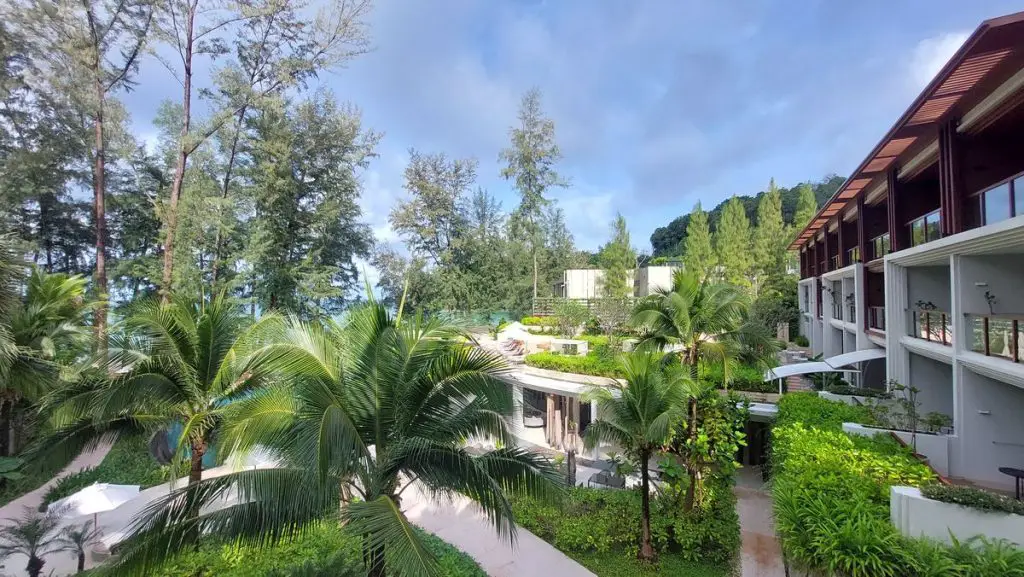 How far is InterContinental Phuket from the airport?
InterContinental Phuket Resort is located 45 minutes from Phuket International Airport and 20 minutes from Patong in Kamala Beach. It's also 26km from Phuket City and Old Phuket Town.
Is Kamala Beach nice?
Kamala Beach has been labeled as one of the best beaches in Phuket, Thailand. It is located between Surin Beach and Patong Beach.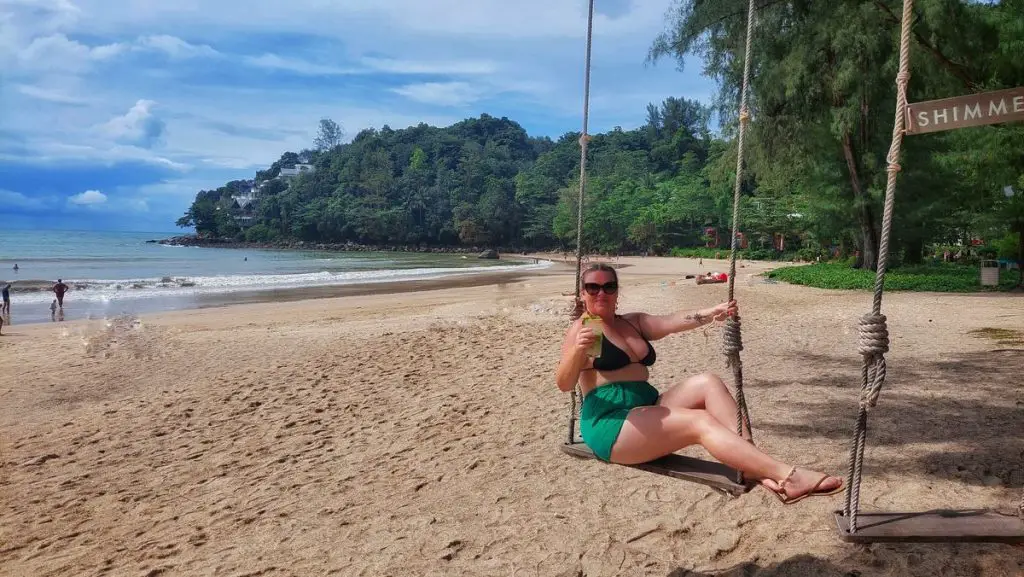 What is the best part of Phuket to stay in?
The best part of Phuket to stay depends on your needs. For honeymooners and lovers, you can't go past InterContinental Hotel in Kamala Beach.
How many rooms are in the InterContinental Hotel in Phuket?
There are 221 rooms, suites, and villas at this IHG hotel, InterContinental Phuket Resort.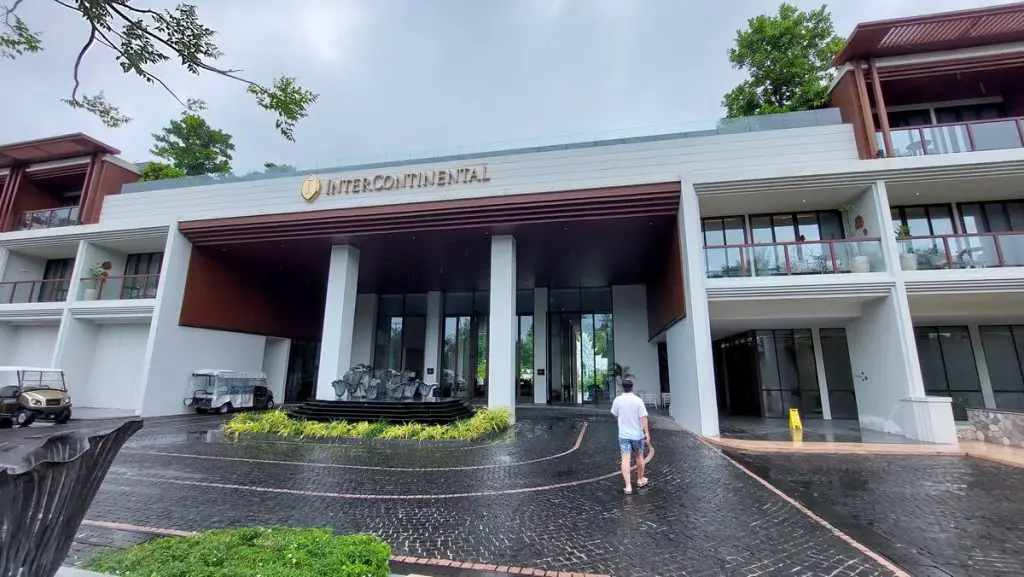 Is InterContinental Hotel for families?
There is a space for families at the InterContinental Phuket Resort. Kids can enjoy Planet Trekkers activities and all restaurants have a kid's menu.
Family travel has been my thing for 13 years. But with the kids getting older, and less interested in being away from their friends I find myself with more time to travel with my partner. And after our travel with the kids to Turkiye, we knew we wanted to do Thailand alone together.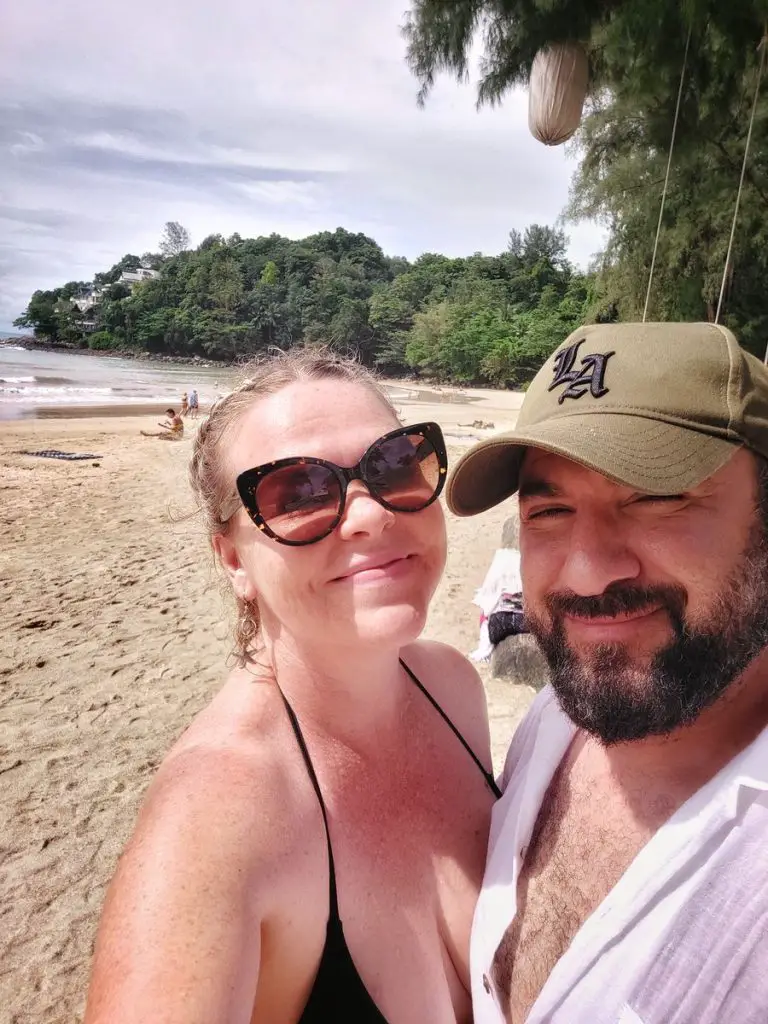 7 Reasons Lovers Love InterContinental Phuket Resort
There is a longer list than seven, and I wish I had more time to experience them all. But with only 2 nights to discover everything InterContinental here are my favorite 7 things that had my partner and me feeling more in love, and more connected than ever.
Big Bed Rooms With Romantic Views
Picture perfect rooms with the right amount of privacy, shared space, and romantic views.
We loved the big soft bed, with its romantic lighting.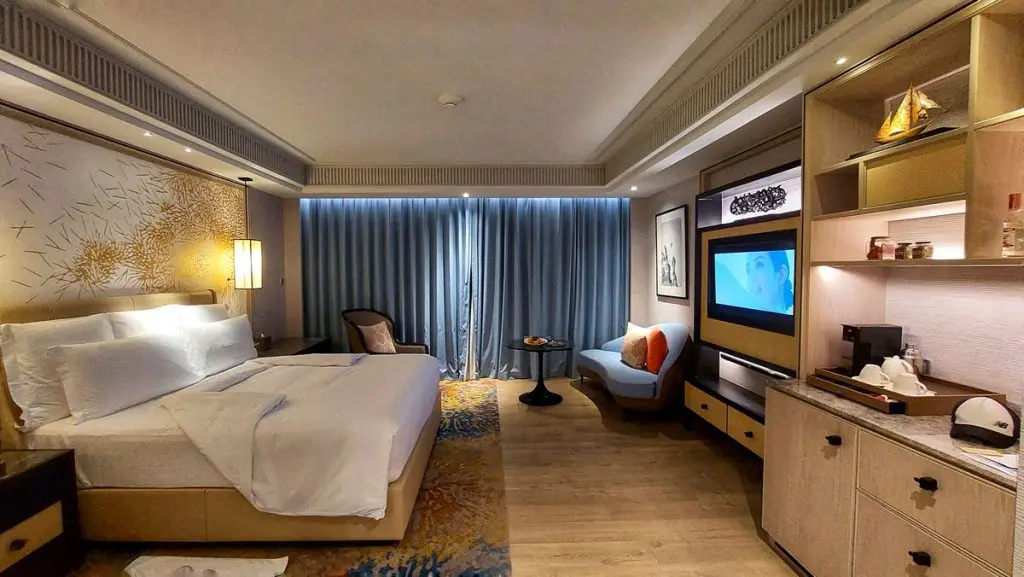 The bathroom was all open with a big tub to share so that you could drink a glass of wine while watching a movie, or close all the doors for privacy if you needed it.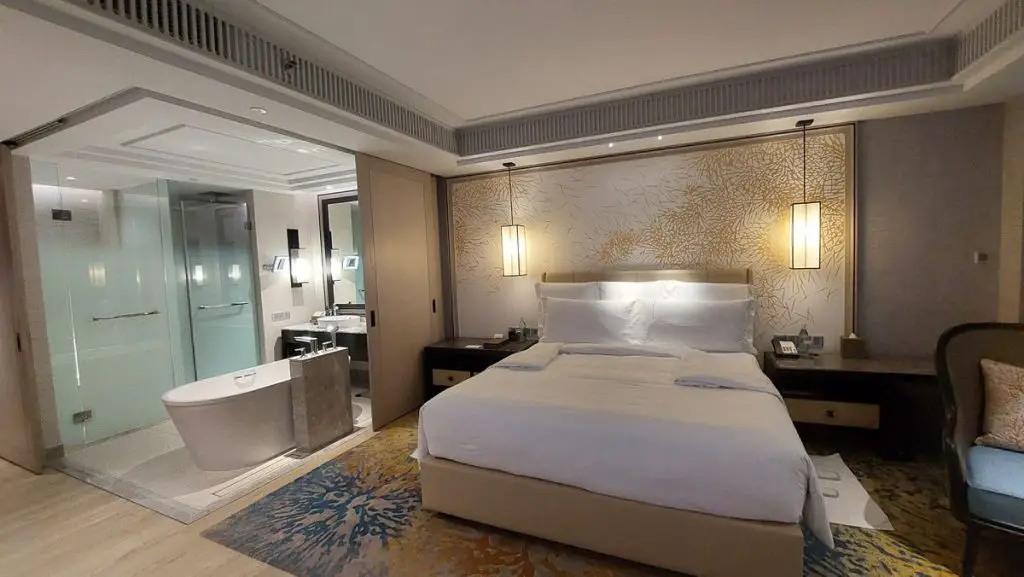 Also loved the USB points on both sides of the bed, the robes, and the mini bar!
The balcony had enough privacy to head out naked and admire the gorgeous ocean views peeking through the palm trees.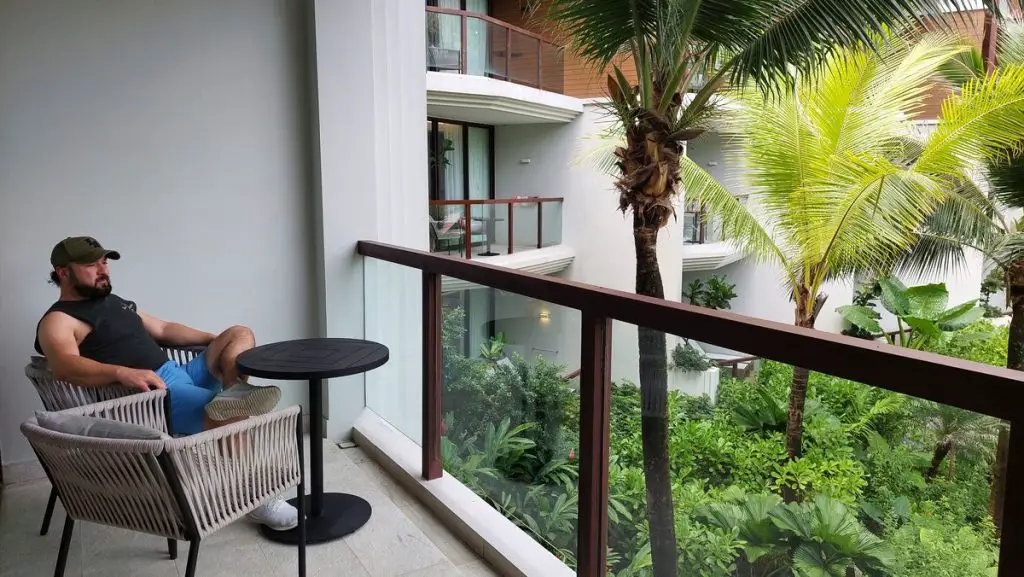 Your Choice Of Mountain Views or Beach Views
One of my favorite things about this modern luxury hotel is the choice of a vacation feel. The property is divided into two sides with rooms facing the jungle-like mountains or across the road along the divine Thailand beaches.
Always a beach girl we were on the right side of the road (heading to Patong) by the beach. The views were stunning with palm trees, an infinity pool, and sand.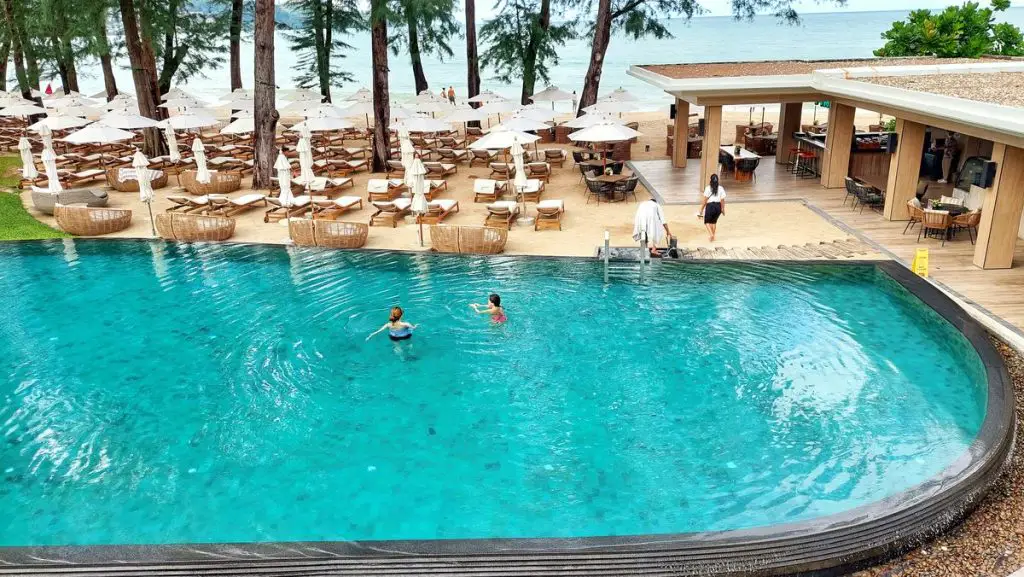 As a guest, you have access to both sides of the hotel, and there is an underground walkway under the road so that you can cross safely. There are also buggies readily available if you've had a big day and can't lift one more foot.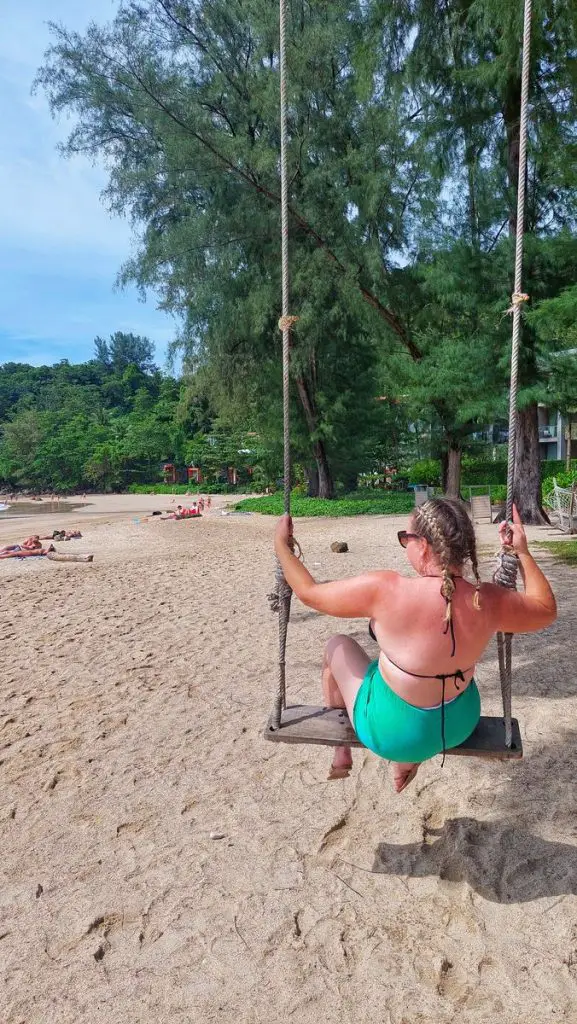 The Exclusive Club InterContinental
On the beach side is the famous Club InterContinental, which in my opinion is always worth the money with all its exclusive benefits.
And why do lovers love it? Because exclusivity means fewer people and more alone time.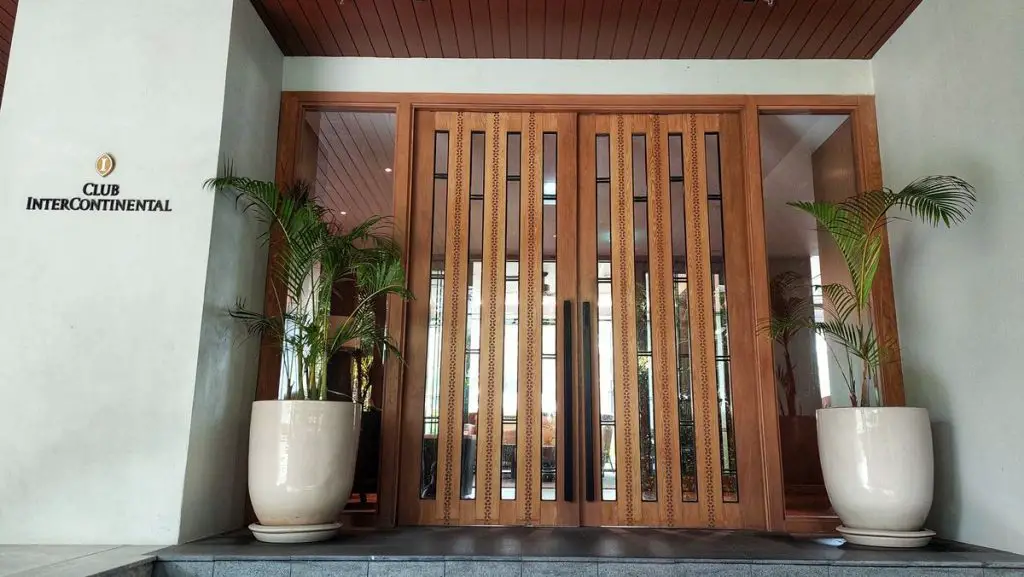 Club InterContinental has a private Lounge for breakfast and a private pool. One morning we endeavored to head to the main buffet on the mountainside, and while large and delicious, there was a wait to get in.
Immediately hand in hand we walked back to the beachside and entered the private lounge, ordering our ala carte breakfast and devouring the goodies from the small, exclusive buffet.
Other benefits include:
Butler Service – They take care of bags, umbrellas, buggies, and anything you need.
Club InterContinental Lounge –  The Lounge is open from 7 am to 11 pm. It always has free food and drinks at any time. It also conveniently has a shower and change room, which with our late flight was very handy after checking out of the room.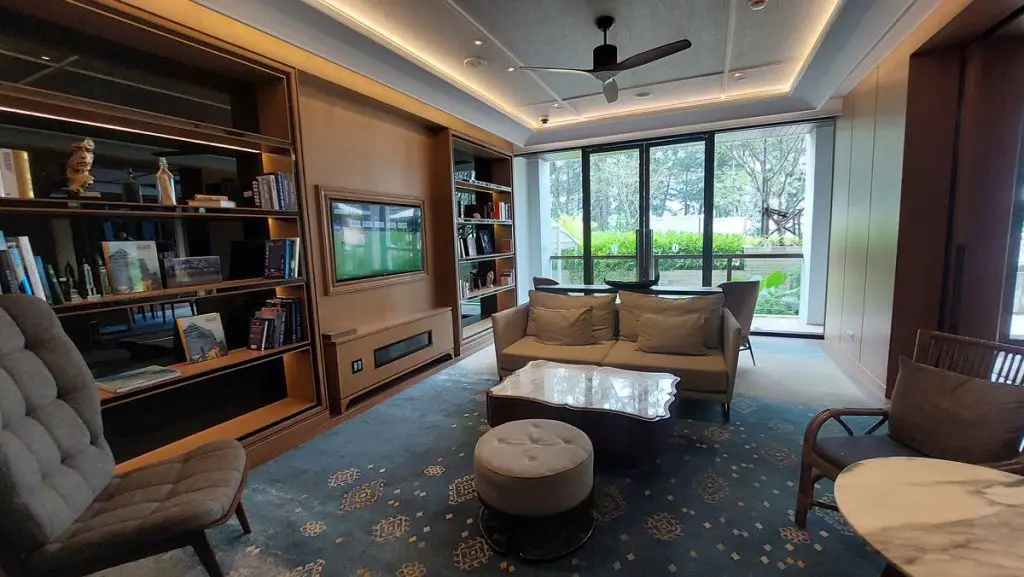 Breakfast venues – You can eat at the All Day Dining Restaurant or you can enjoy a Club InterContinenal Lounge breakfast.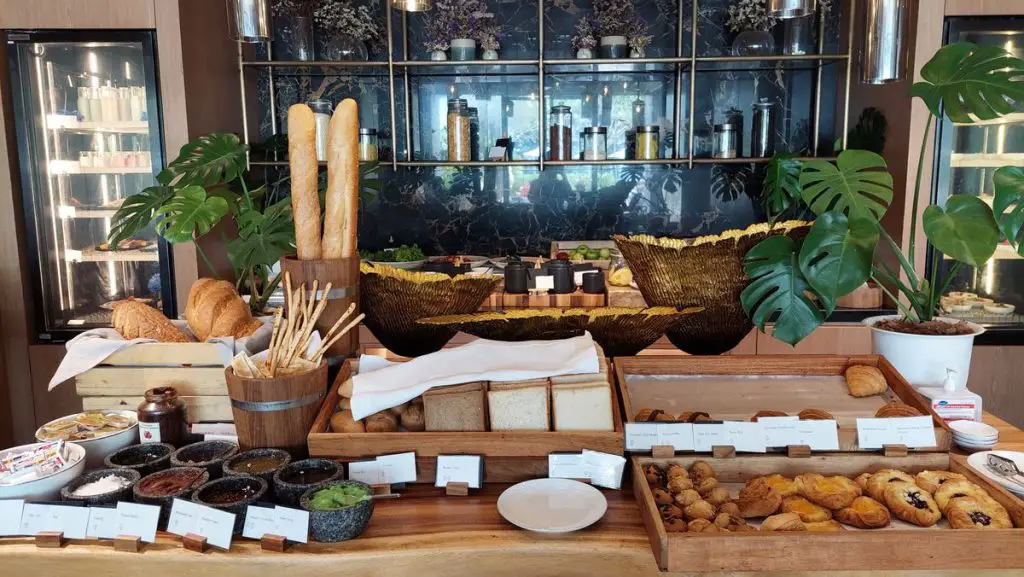 Afternoon tea – Although we were always full from the beautiful restaurants, we couldn't resist heading to the Lounge for sweet and savory treats from 2 pm to 4 pm.
Sunset Cocktails – Canapes and cocktails are included5 pm from 5 pm to 7 pm every night. No one under 12 is allowed in during this time, lovers.
And more!
Michelin Star Restaurants & Delicious Beach Cocktails
We had the opportunity to visit the 333 At The Beach before our stay at InterContinal Phuket as part of our final night of the conference with TBEX and it was divine. Sand between your toes, airconditioned bathrooms, fabulous food, you name it.
333 At The Beach is a laid-back lounge placed on the golden sands of the Andaman Sea. They are the best of local island produce and fresh vegetables and herbs sourced from their farm in Phuket.
On our first night we arrived at InterContinental Phuket we got off our plane and went straight into Jaras, a modern Thai Michelin restaurant overlooking Kamala Beach.
It's a modern Thai restaurant that is fancy for a night dressed up with your lover.  We especially loved the wine choice, and the goat massaman Pae – Southern slow-cooked organic goat shank from Bang Tao, made Massaman curry, coconut milk, cashew nut, and tamarind brew.
And while a fancy night out is always needed, the Pine Beach Bar was our favorite dining venue. With tables on the sand, and the ocean steps away I think it was possibly one of the most romantic spots we have ever dined at.
Whether you head there for a night of cocktails at the beach bar, which we did one night with our friends. Or for a long, lazy lunch you can't go wrong.
Choose from crisp salads, hand-made pizzas, or burgers for a lazy lunch. My Pad Thai was divine, as were the desserts we ordered poolside.
Choice of Multiple Pools
As well as pool villas we went pool hunting one day and found 5 pools to use. Three on the mountainside and two on the beach side.
The infinity pool on the mountainside boasted heavenly views, and the serenity pool looked cool and quiet.
The private pool for Club InterContinental guests is a great bonus for lovers looking for privacy, but nothing is as romantic as the beach pool overlooking the delectable Thai beaches.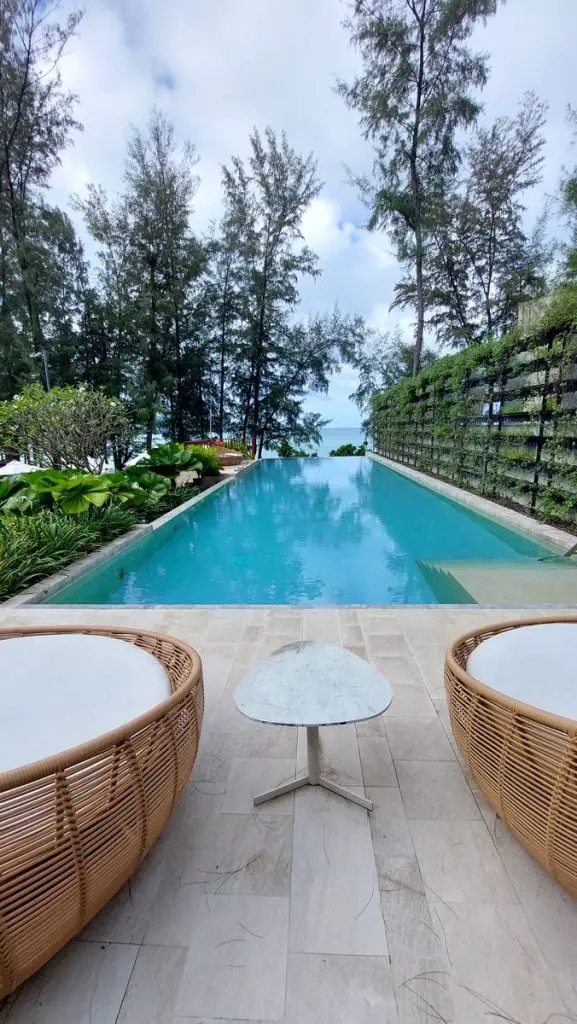 We spent a whole day on the sun loungers, ordering cocktails, and having lunch at Pines with the sand between our toes. It's like the perfect beachside hideaway.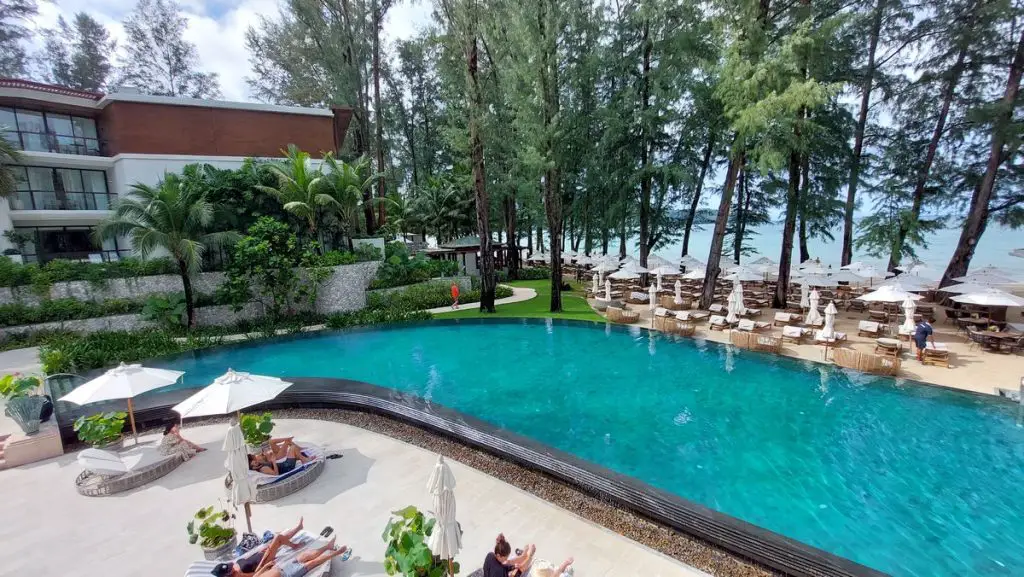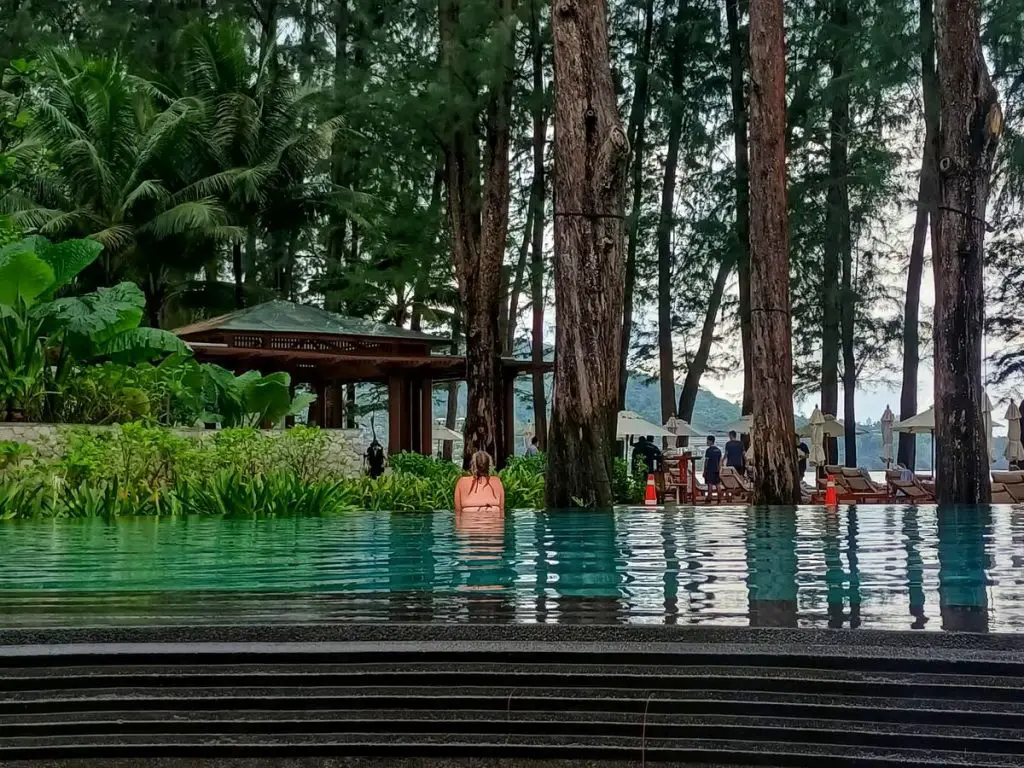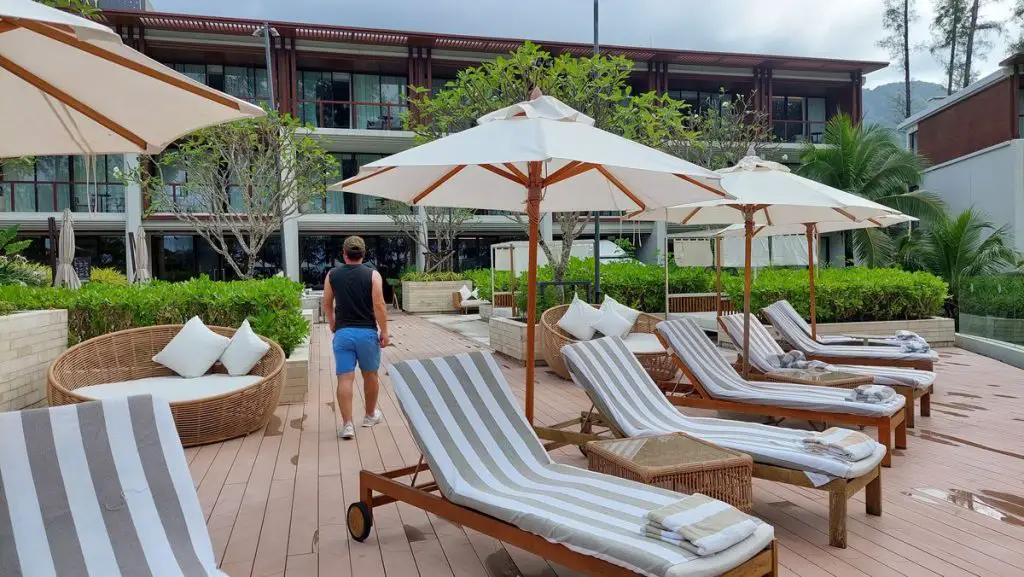 Deluxe Temple Spa
The Sawan building holds the Sati Spa. Lovers will want to book themselves in for a couples massage at the capable hands of the Thai hospitality staff.
While the air conditioning was not working during our particular couples massage, the staff did everything they could to make us comfortable and knead away our worries.
I love that we could each pick the oil scent we wanted for our massage. And the petals under my face when lying on my belly are always a great small touch.
If you've never experienced a Thai massage, I'd also recommend giving it a go for a great chiropractic stretch.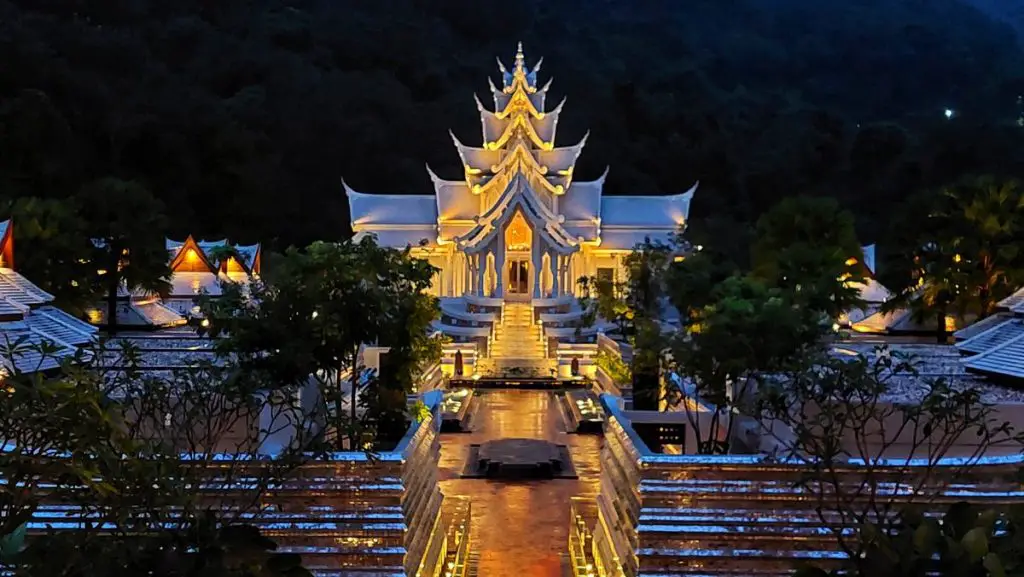 Prime Location in Kamala Beach
InterContinental Phuket Kamala is located on beautiful Kamala Beach. While there is not much around the resort directly, it is close to much of the beauty of Kamala Beach, one of the most beautiful beaches in Phuket.
Kamala is only 6km north of Patong, a 400 TBH taxi or tuktuk ride. The area Is relatively secluded and there is over 2km of beach, which November to April has clear, calm waters.
At the southern end of the beach, there are many beachfront restaurants and bars, plus a handful of hawker stalls.
Kamala is also home to one of Phuket's biggest tourist attractions, the extremely popular Phuket Fantasea.
Fantasea is the ultimate cultural theme park, showcasing the charm and beauty of Thailand, which also enriches ancient Thai traditions. And while we didn't make it there this time around, we did head a few minutes away from Fantasea's newest attraction – Carnival Magic. You can read about Thailand's newest attraction here.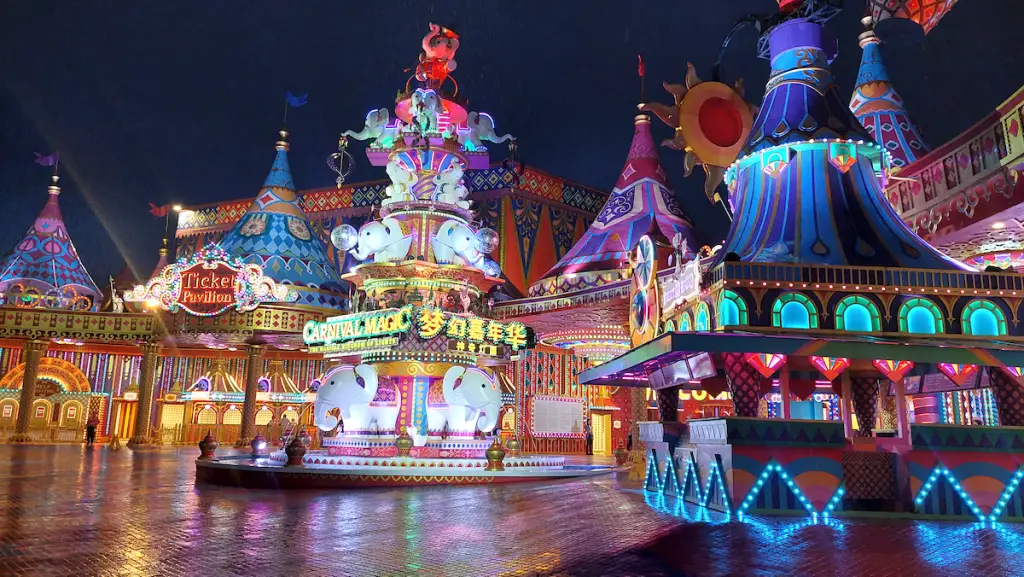 If my partner ever does get around to popping the question, I may just have to convince him to do it back at InterContinental Phuket Resort.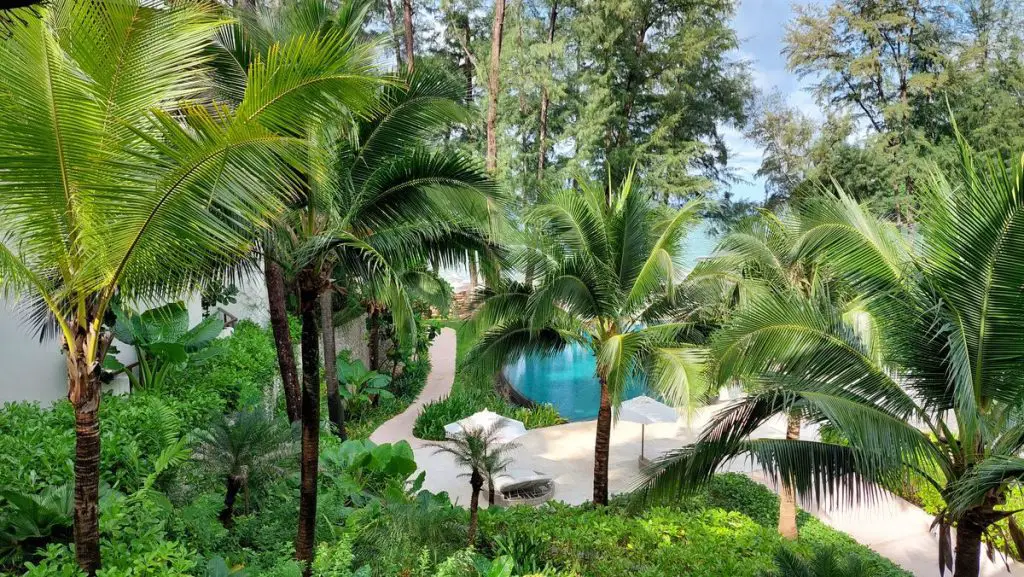 If you love the IHG hotels as much as I do then check out some of the other InterContinental hotels I have reviewed. I am a pro when it comes to InterContinental life.
5 Reasons Not To Visit InterContinental Bali Resort
InterContinental Samui: Most Romantic Luxury Resort In Thailand
LOOK HOW EASY IT IS TO PIN THIS!
Accommodation
Booking.com has over 419 properties on Kamala Beach including hotels, apartments, and hostels. You get free cancellation on most rooms and the best price guaranteed. Check the rates here. 
Tour
Want to take an organized tour around Phuket?
Rental Car
We love RentalCars.com because they have the best car rental prices – Guaranteed. 
Insurance
Don't ever travel without travel insurance. We don't.
FOMO - do you have it?  Well there is no need to Fear On Missing Out here at Explore With Erin. Sign up to receive updates directly to your in box. I won't spam you, but I do promise a whole lot of awesomeness. What are you waiting for? Join Me!