I've been to Bali 18 times and home is Ubud. It has all my favourite food, plenty of friends and lots of things to do.
But as the years have progressed Ubud has changed. Busloads of tourists visit for the day leaving the small jungle village busy and cramped. The traffic can be excruciating and restaurants now have to wait for queues.
So this time around Villa Finder suggested we stay outside of Ubud in Mas, the artistic centre of Bali. This village is about six km south of Ubud, Bali, Indonesia and is known for famous woodcarvers. Most of the galleries are family-owned, and wood carving skills have been passed on from generation to generation. The themes of these woodcrafts are influenced by Hinduism or Balinese mythology.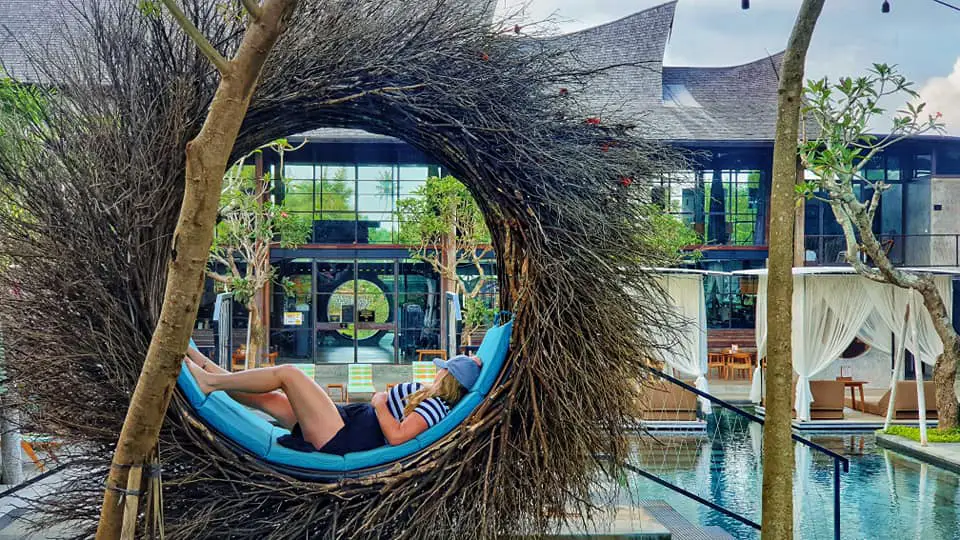 10 minutes to my local favourites like Yoga Barn and Taco Casa, Mas certainly didn't seem to be as isolated as we thought. In fact, the longer we stayed, the more we fell in love with living on the outskirts of Ubud.
1. Villa life
During our stay in Mas, Ubud Villa Finder found us the luxury Villa Mas Attman. A modern home in a local location. A number of villas in Bali are compound structured. That is each room is in a different building with its own bathroom.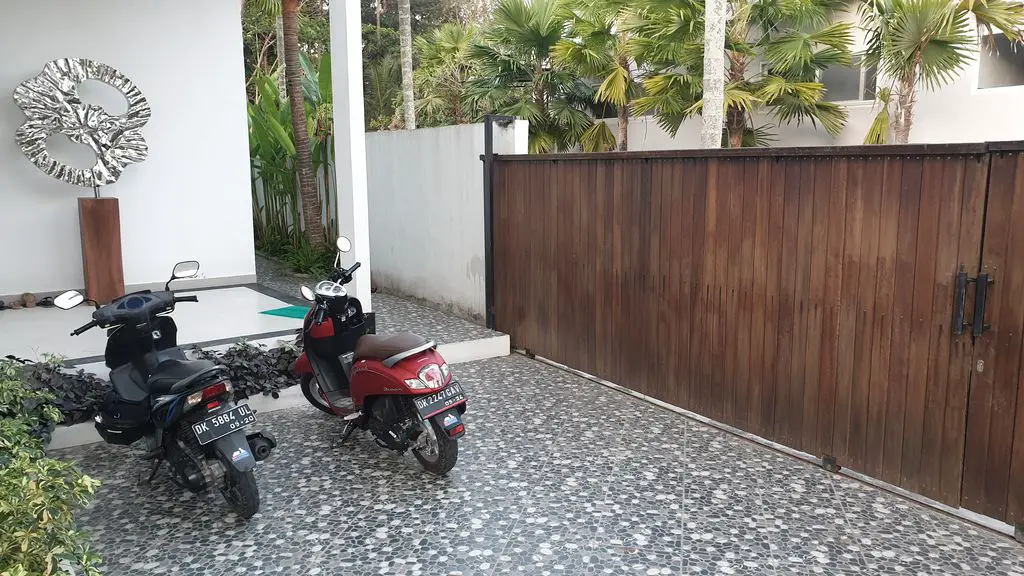 Villa Mas Attman as a house with bedrooms all under the one roof. This appealed to my children so much more, as up to that point they shared a room since they were typically in their own house. Here they felt comfortable to each have their own room, under the safety of one roof with locked entrances.
It also came equipped with a full kitchen. As per most islands space is rare, but living outside of the city centre meant the villa was spacious with plenty of room for a full kitchen, breakfast bench, dining table and living room with a big-screen TV. Another rarity in Bali. A TV with Indovision, so after an evening swim we could settle in for a family movie.
A must in Bali is cold air-conditioning, but also the ability to let in the calm summer nights. We loved having all the doors open in the evening, watching the pool water flicker under the Bali moon and the palm trees sway.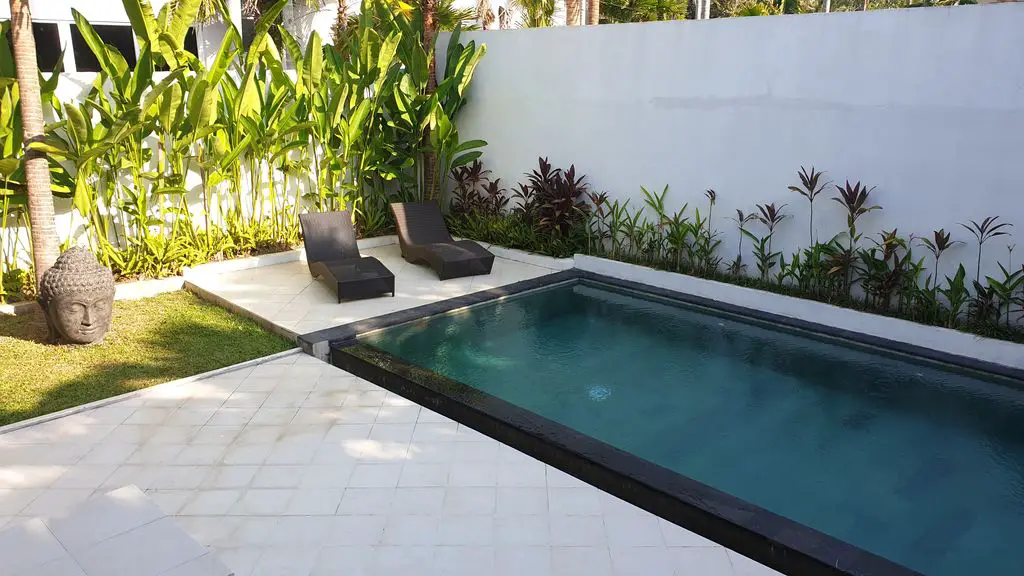 Surprisingly I never got bit at this villa. My least favourite part about Bali is the mosquitos. You may remember back some time ago when I got Dengue Fever in Bali. But at Villa Mas Attman we had the doors open every night and not one flying insect came in. There were ants, which is pretty common in Bali and the staff were very quick to get onto them whenever they were at the property.
Like most villas breakfast was included and we had a choice of mouth-watering nasi goreng, fun banana pancakes or eggs and toast. The fruit is always included. And a water filter is on-site for clean, accessible water. In saying that I brushed my teeth with the tap water and I'm still alive!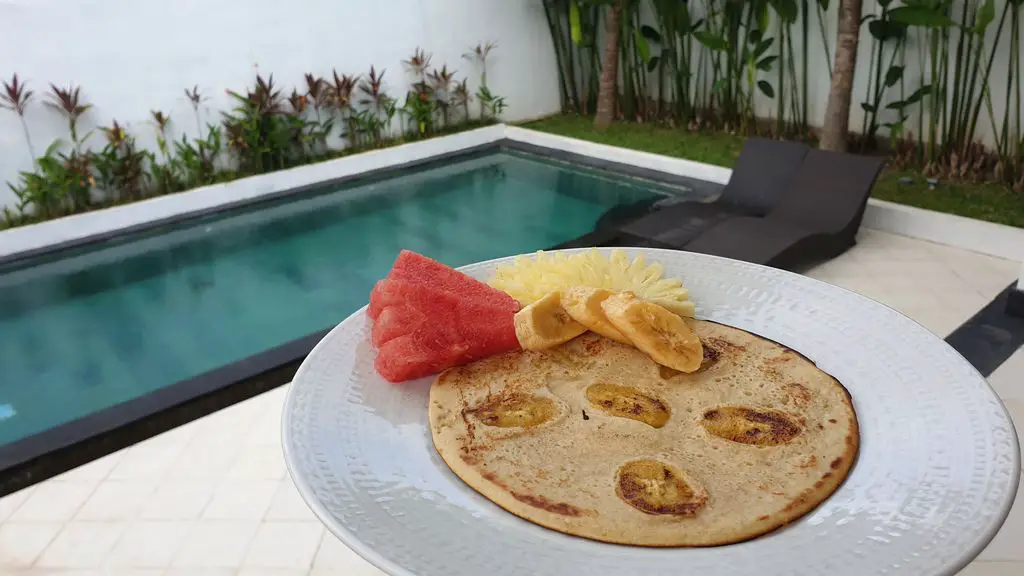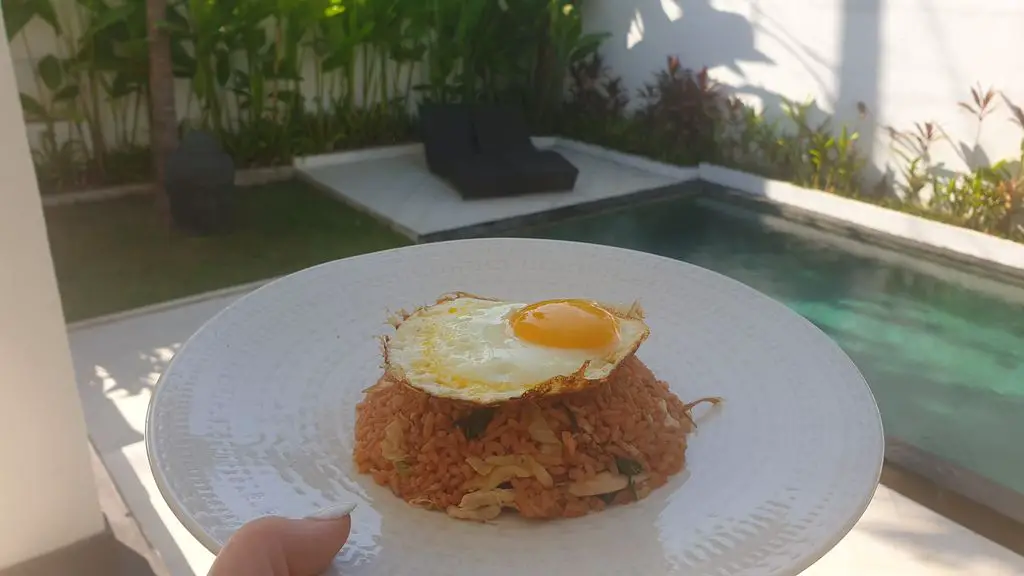 As always the villa staff were determined to make sure we enjoyed our stay by helping with blackouts at 8:30 at night or spraying the ants that were determined to live in the bathroom. Nowhere else, just there.
Are my words inadequate? Then check out my quick walkthrough.
2. Food is cheaper
Walking distance from our villa was a tiny restaurant with 3 tables, just opened. A local Balinese man serving local food and plenty of Arak. All meals were under $3.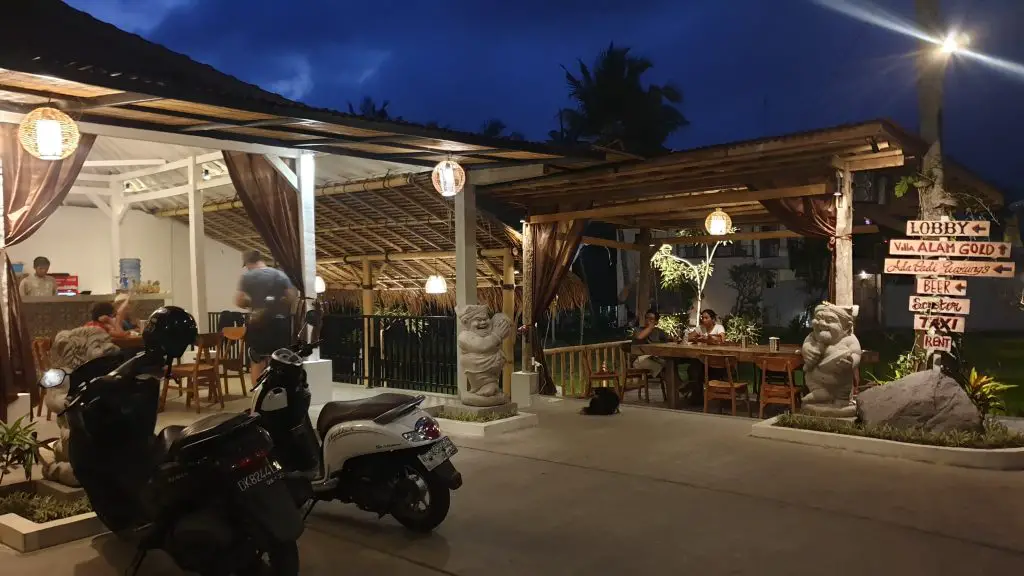 Living outside the centre we could access Gojek, the Indonesian version of Uber Eats, but better. They delivered food for 40 cents and one night we ordered from a local fried chicken place for $1 per chicken breast, $1.50 per burger. The driver left very happy that evening with the tip we provided. I hope her family was blessed that night.
3. No fighting with traffic
Living outside of Ubud meant that traffic was less. Our villa was on a super quiet cobblestoned street with next to zero cars. The kids could play on the street if they wanted. Often I thought our scooter was the only one coming and going.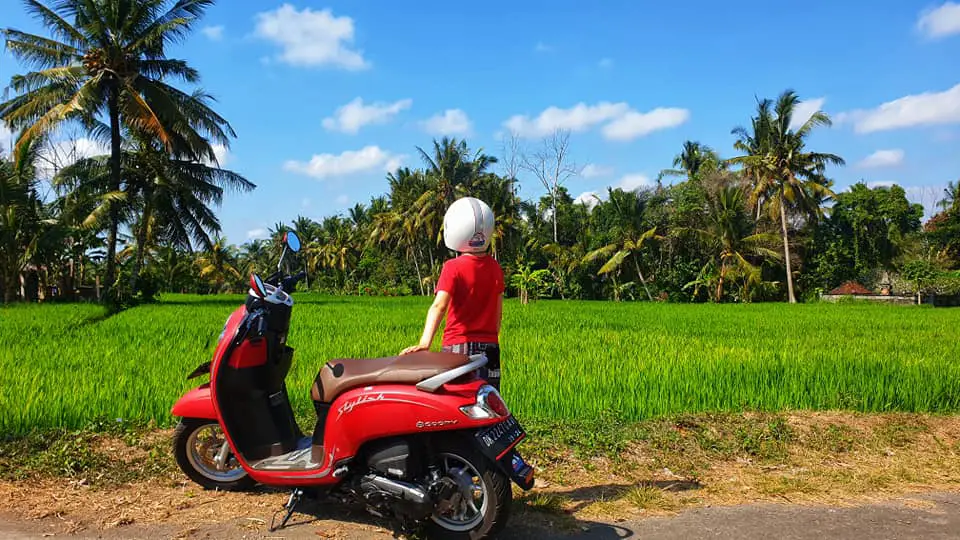 The surrounding areas were also easier to navigate to head out quickly for a coffee or to the mini-mart or to drop off laundry.
Villa Mas Attman also made rice paddy walks and discovering new areas easy because we weren't constantly looking over our shoulder to make sure we weren't going to be hit by a passing tourist bus or speeding scooter.
4. You are free to explore
There is so much to do in Ubud that often I found myself trap-walking the streets all day. Living in Mas really helped me research and discover the surrounding Ubud areas. How had I never been to the beautiful Tenungun waterfall only 15 minutes from our villa? Or you can explore Goa Gaju, the elephant cave, only a mere ten minutes away.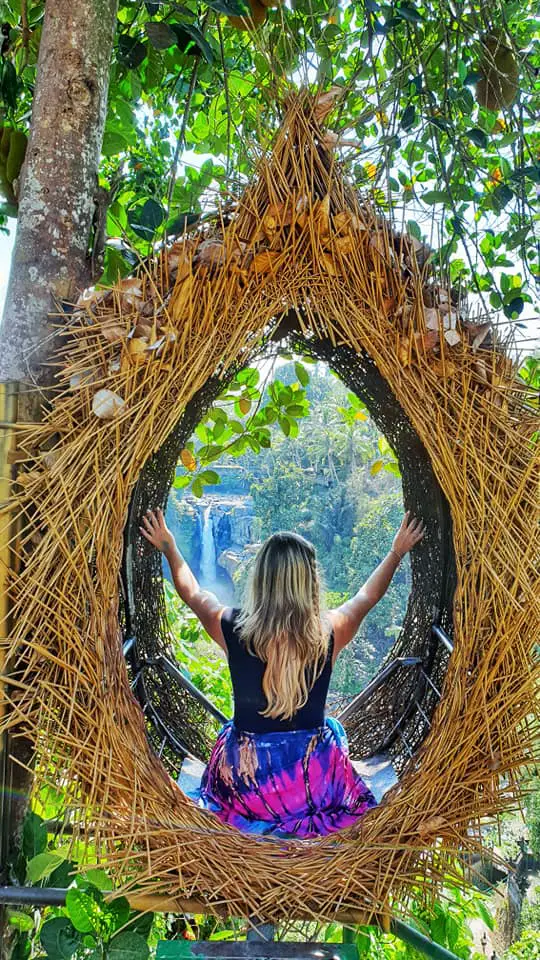 We found a short cut one day and stopped at Titi Batu for a coffee. This Ubud Club was fabulous with a playground, pool, birds nest and some of the better Italian food I've had in Bali.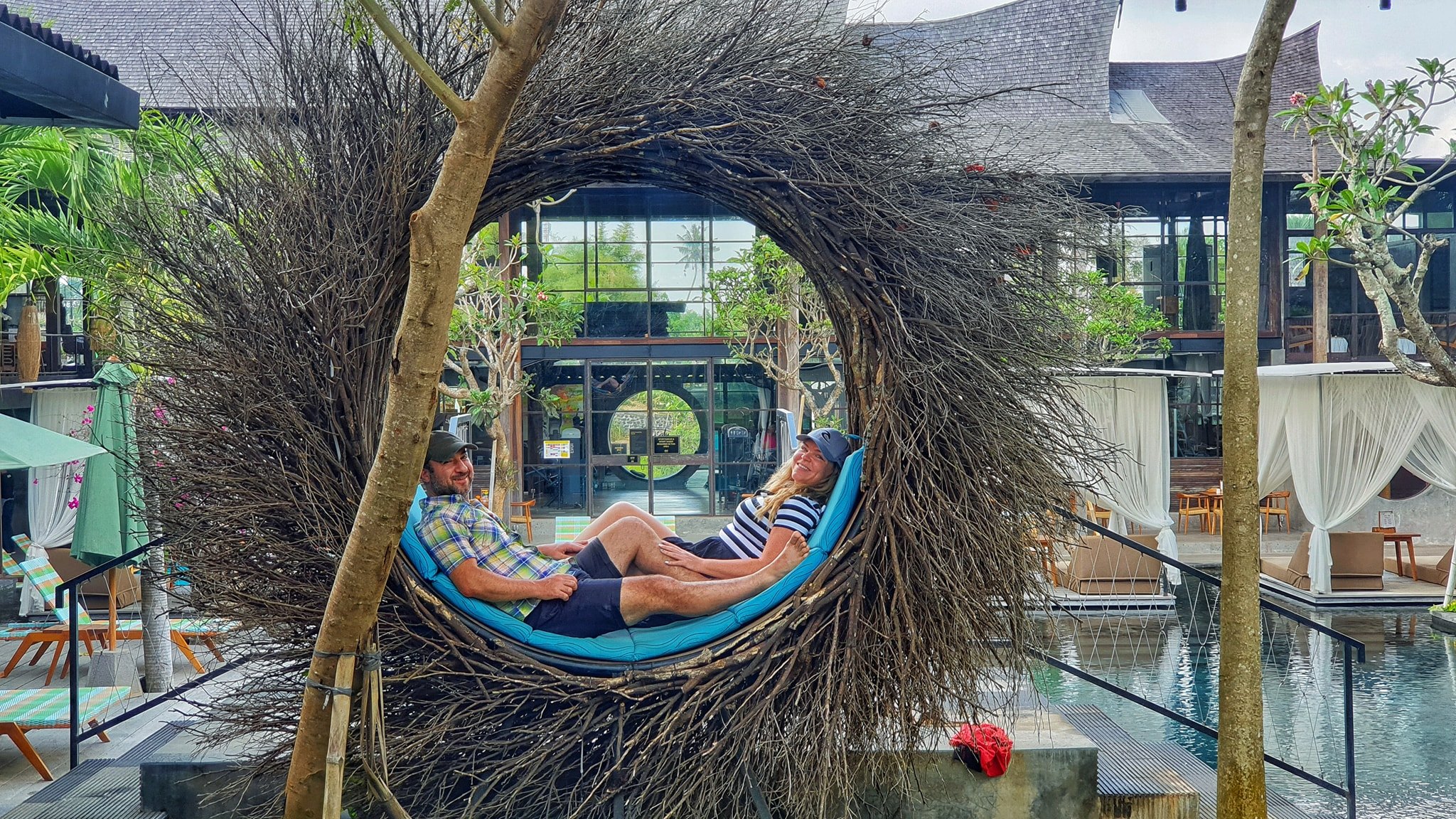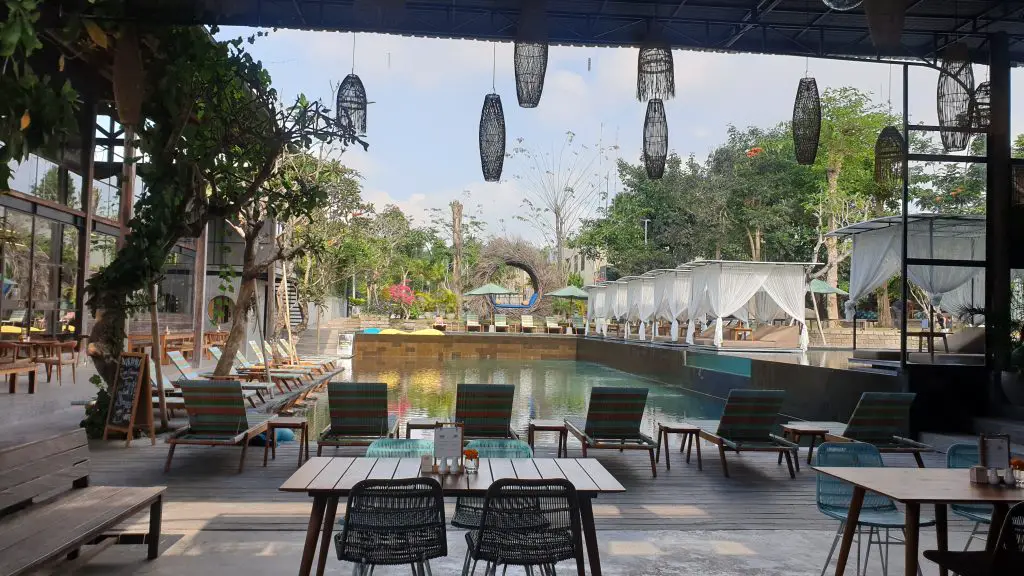 I love when a villa opens your eyes to the places around you. Because after all don't we all travel to experience the joy of discovery? New experiences opening our eyes to spectacular possibilities.
5. Receive a more local experience
As we drove around our new villa we felt more part of Bali than ever before. We watched local children walking to school, old men laughing beside rice paddies, women carrying coffee beans on their head, and chickens crossing the road.
There was something so wonderful after spending a week in Kuta, the tourist capital of Bali, retreating to our own luxury villa in a real slice of Bali. Where the most common sounds are geckos, frogs, and dogs versus sports on big-screen TVs or the sound of beeping taxis and roaring motorbikes.
LOOK HOW EASY IT IS TO PIN THIS!
Accommodation
Travelocity has over 9,140 properties in Bali including hotels, apartments, and hostels. You get free cancellation on most rooms and the best price guaranteed.
Tour
Want to take an organised tour around Bali? Then I recommend these ones.
Rental Car
We love RentalCars.com because they have the best car rental prices – Guaranteed.
Flights
Skyscanner is a comparison website that searches millions of flights. The best part of Skyscanner is it is simply a flight aggregator so in the end, you book directly through the airline.
FOMO - do you have it?  Well there is no need to Fear On Missing Out here at Explore With Erin. Sign up to receive updates directly to your in box. I won't spam you, but I do promise a whole lot of awesomeness. What are you waiting for? Join Me!