With a list of 101 things to do in Bali and 20 visits, it sometimes feels like the kids and I have done everything there is to do in Bali.
But Bali continually grows and surprises us.
Finns Recreation Club is Bali's premier entertainment and sporting venue. Previously known as Canggu Club Bali, this Club opened in October 2014 with 4 facilities that made kids everywhere cry with happiness.
Finns Recreation Club with kids is only a 10-minute drive to Seminyak and is a whole day of fun with Splash Canggu, Bounce Bali, Strike Bowling Bali, and Cubby House Kids Club Bali.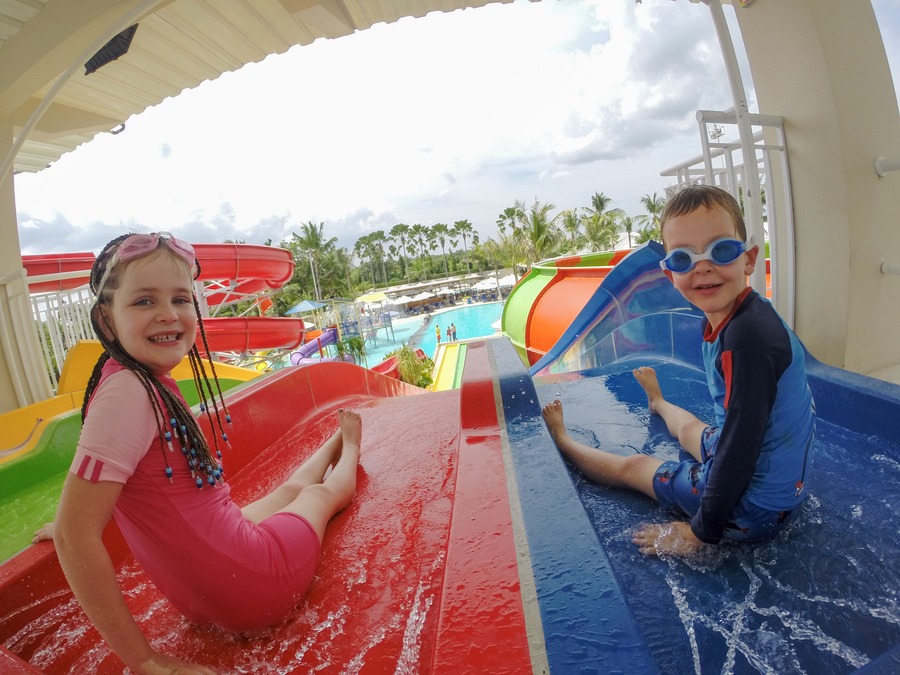 The club estate is spread over 4 hectares and divided into 2 sides East and West, which can be navigated by golf buggy (located at reception) or simply walking.
The complex includes a complete fitness center, lap pool, sports ground, tennis center, beauty spa, sports bar, and multiple restaurants and that's just for the adults!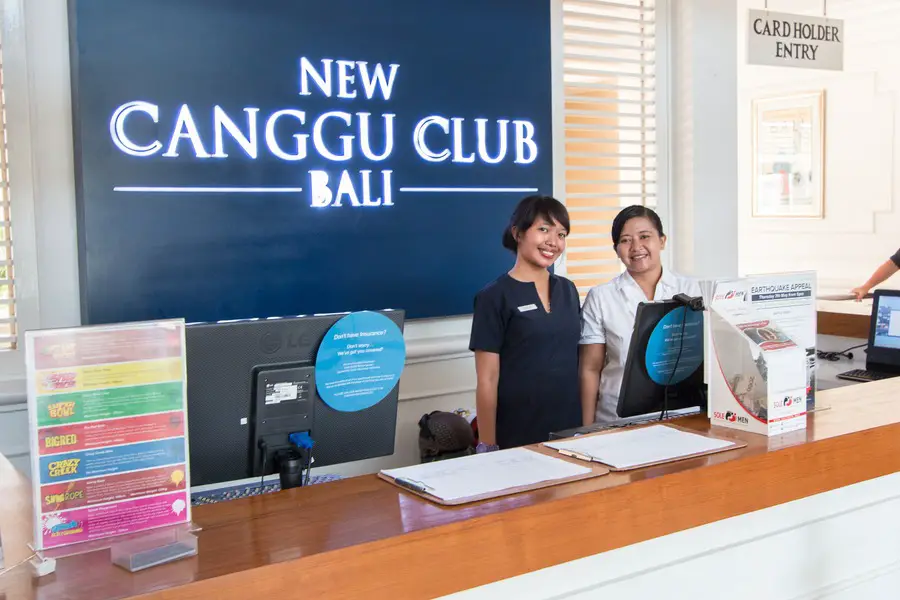 Is Canggu Bali family-friendly?
Canggu Bali with kids is a great idea. Most people assume Canggu is full of hip cafes, trendy bars, and beach clubs. But there is so much more to Canggu than this. Like Finns Recreation Club.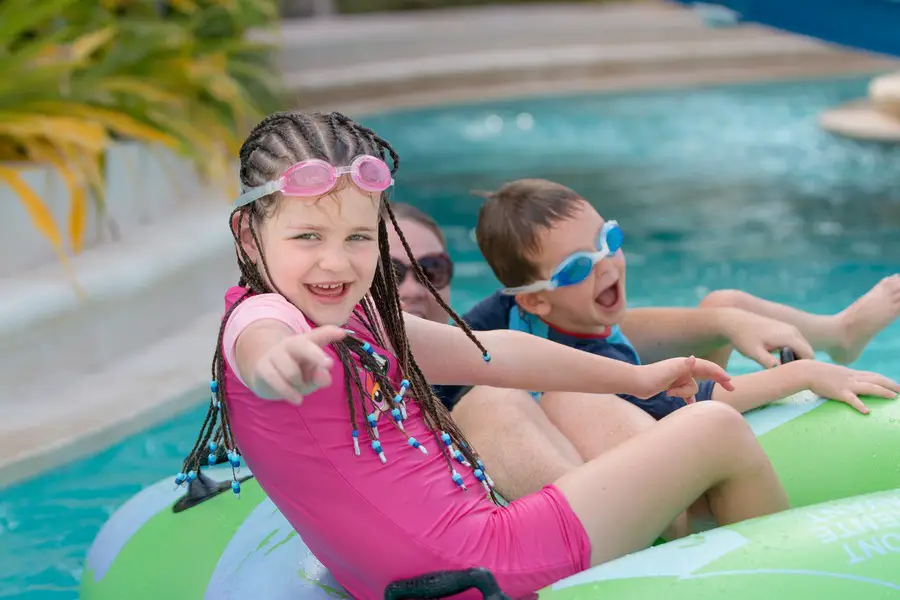 Where to Stay in Canguu with kids?
You can find a whole range of Canggu hotels here.
However, we prefer staying in a villa while in Canguu. Our Canggu villa was through Villa Finder, whom we use on most of our Bali visits.
For the best locations to stay in Bali, read our full accommodation guide here.
What is there to do in Canggu?
Here are the 3 most popular things to do in Canggu.
Is Finns Beach Club & Finns Recreation Club the Same?
No, these are two different venues. Finns beach Club is on the beach. Finns Recreation Club is located in rice fields about 1.4kms away.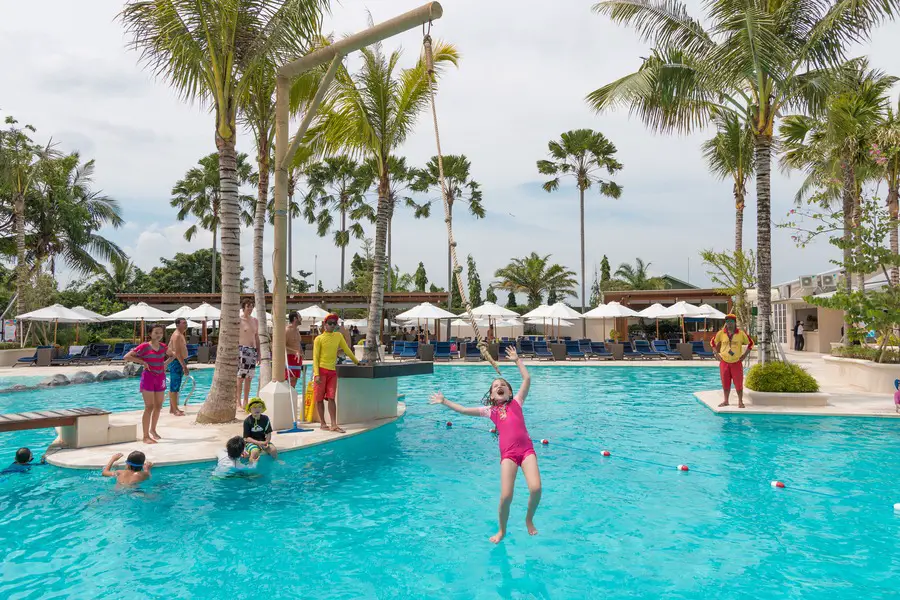 Is Canggu Club & Finns Recreation Club the Same?
Yes, our previous title was Canggu Club with kids. From now we shall refer to it as Finns Recreation Club with kids.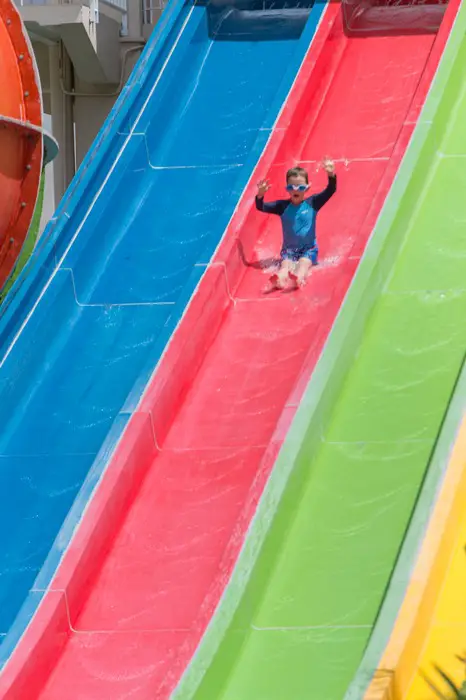 What does Finns Recreation Club with kids cost?
You can pay for each attraction, however, I highly recommend getting a Finns Bali Super Fun Pass for IDR 600,000 (USD 40) per adult and IDR 480,000 (USD$31) per child (3 – 12 years old). It's more affordable and includes:
One Day Entrance to Splash Water Park, 25m Lap Pool, and 1x Single Deluxe Bed per Adult (with no minimum spends, walk-in only, and subject to availability).
1x Single Deluxe Bed per Adult at Finns Beach Club (with no minimum spends, walk-in only, and subject to availability).
1 Hour Bounce Trampoline Centre per person.
1 Hour Strike Ten Pin Bowling per person.
1 Hour Access Multi-Function Hall and Soccer Field per person (subject to availability).
IDR 100,000 Spa Gift Voucher per Adult.
1 Hour Cubby House Kids Club per Child (3-12 years).
Complimentary Wi-Fi.
Free Luggage Store.
Free Shuttle Service from Finns Recreation Club to Finns Beach Club and Vice Versa.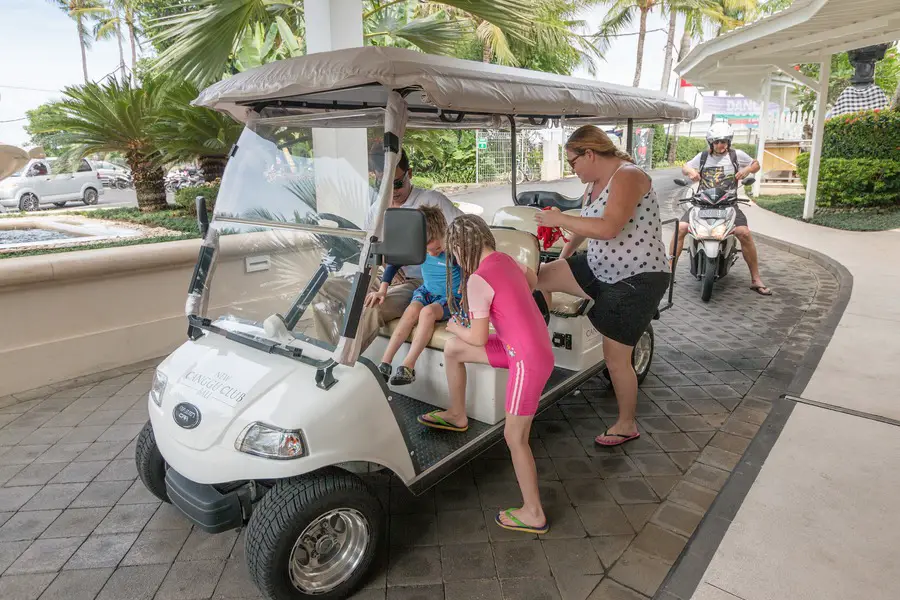 Finns Recreation Club with kids
Originally Canggu Club, Finns Recreation Club is a combination between a country club, beach club, sports club, and theme park. But at the same time none of those. Does that make sense?
If not let me show you why you should visit Finns Recreation Club with kids.
Splash Canggu Water Park
Cost: Kids (3 –12): IDR 270,000 (approx. USD$18). Adults: IDR 400,000 (approx. USD$26).
Includes:
Entrance to Splash Water Park and 25m Lap Pool
Free Wi-Fi
Splash Bar & Dining
Toilets, Change Rooms & Showers
Single Beds, Deluxe Beds, and Cabanas available*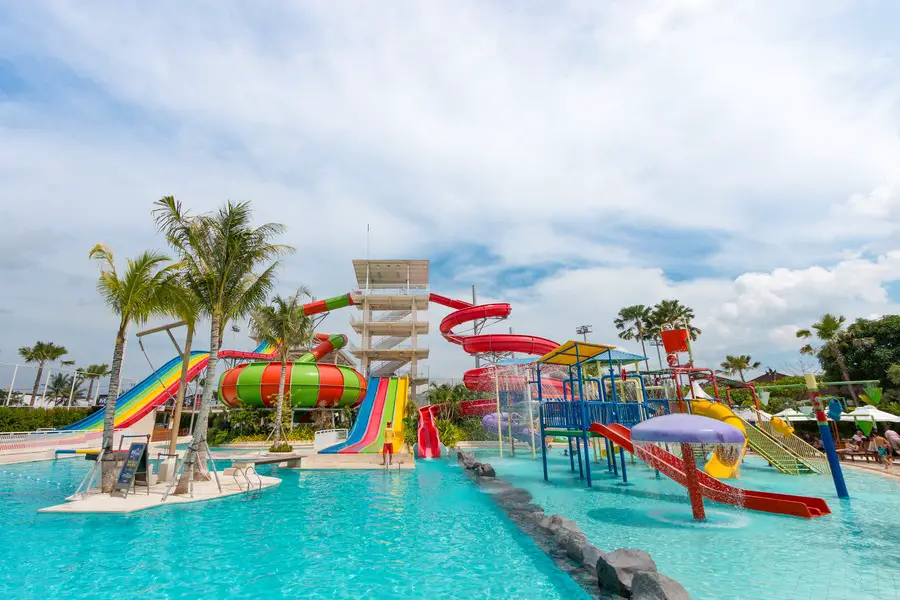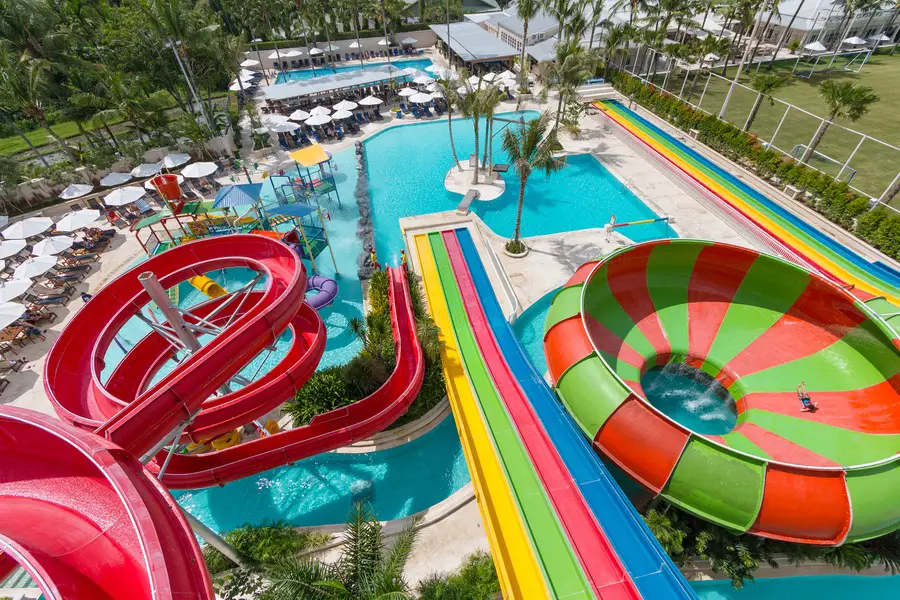 This is an exceptionally well-designed attraction for younger and older kids alike, perfect for cooling off during hot balmy days. I could sit on my cushy, soft sun lounge by the pool and see my kids wherever they were in the park.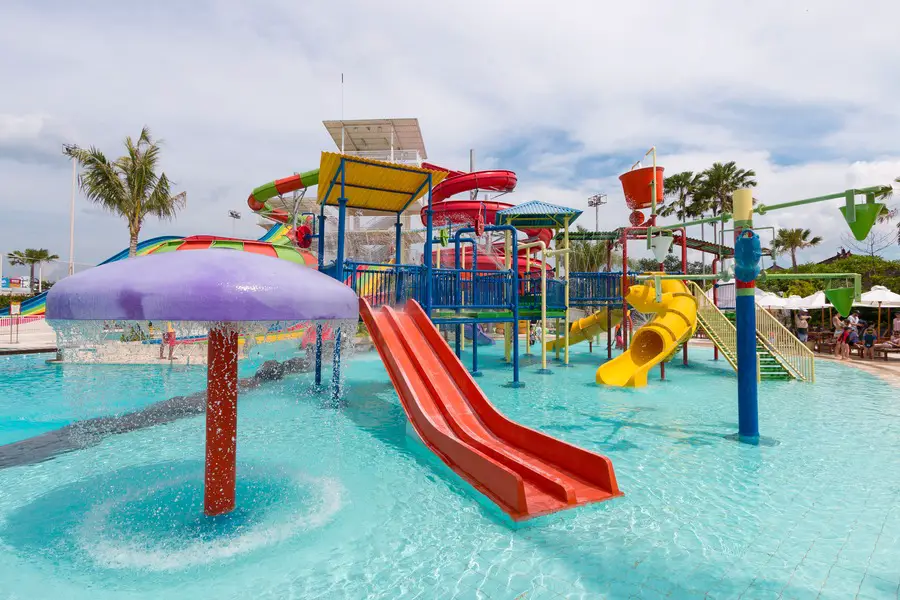 Whether they were sliding down the rainbow-colored Speed Racer slide or exploring the Splash Playground or swinging from a rope into a pool under the careful supervision of expert lifeguards.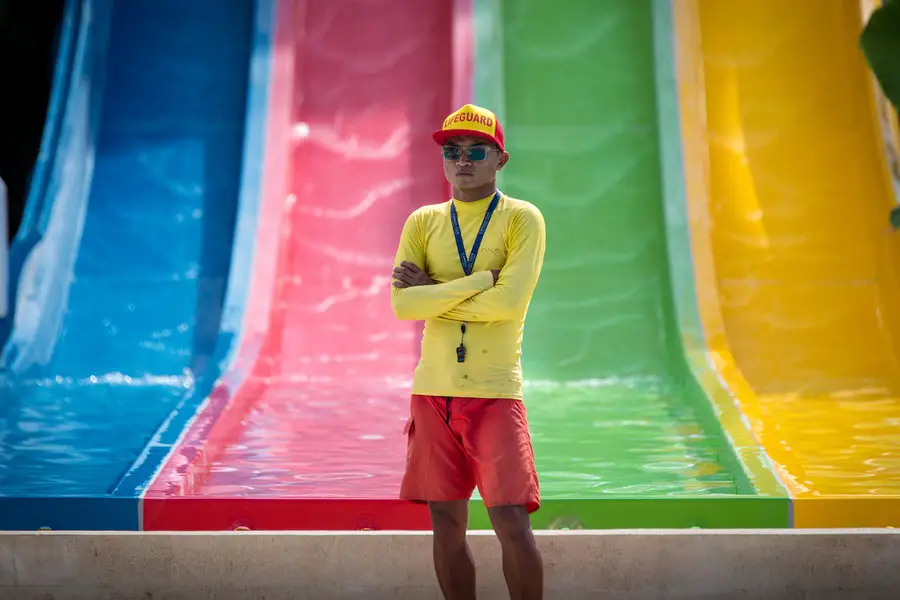 Splash might not have the lush tropical greenery you find at the impressive Waterbom Kuta waterpark. Nor is there as many thrill-seeker slides, but it does have a wide range of family-friendly activities besides the waterslides. This makes Finns Recreation Club with kids a fun day out.
Other rides include the Big Red, which is a tightly twisted slide that ends in the main pool.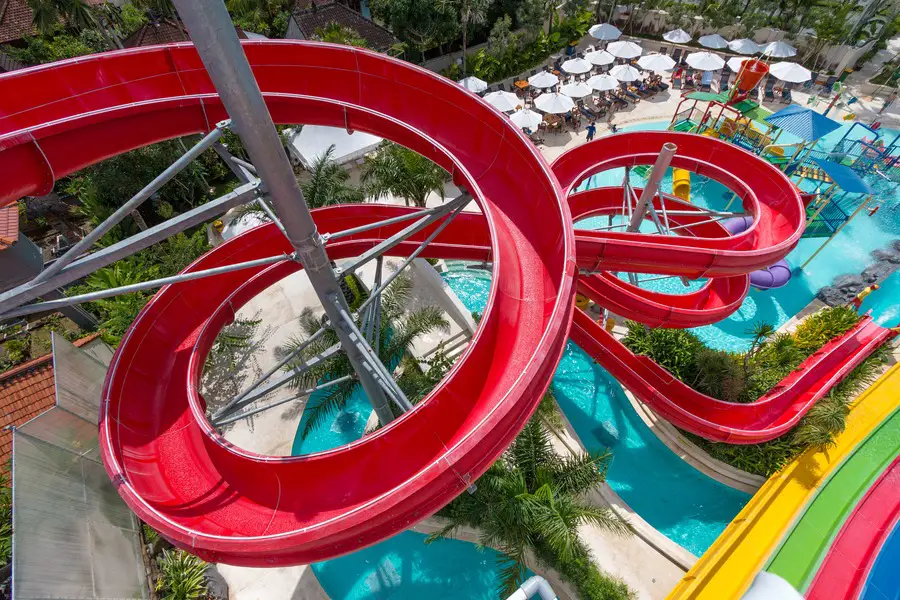 The Giant Racer is a fast 4-person race starting 5 stories above the ground, carrying riders 90 meters towards a big splashdown.
The Speed Racer is a smaller version for younger kids.
And the Super Bowl was much like the one we experienced in Cancun, Mexico, where you slide around and around until you drop nearly 2 meters into a pool below.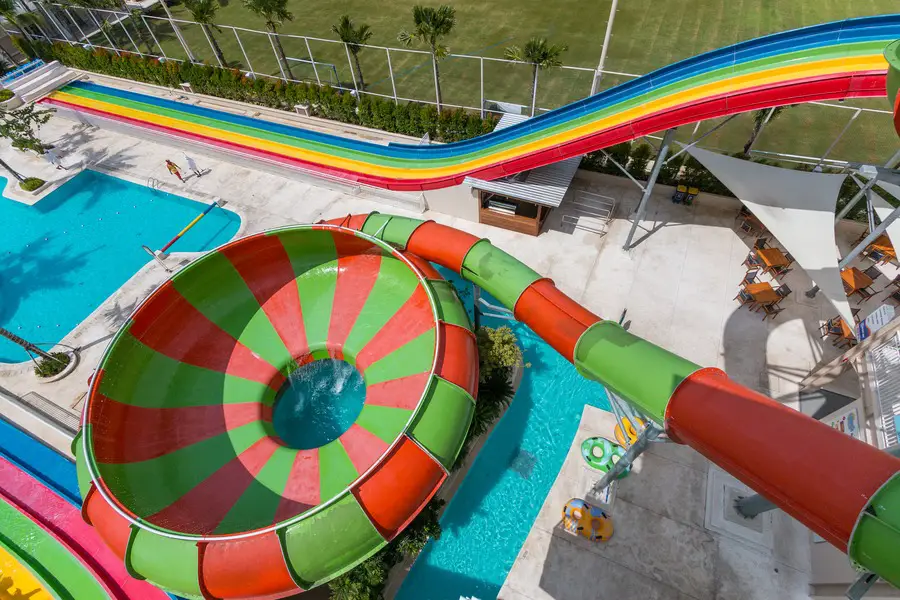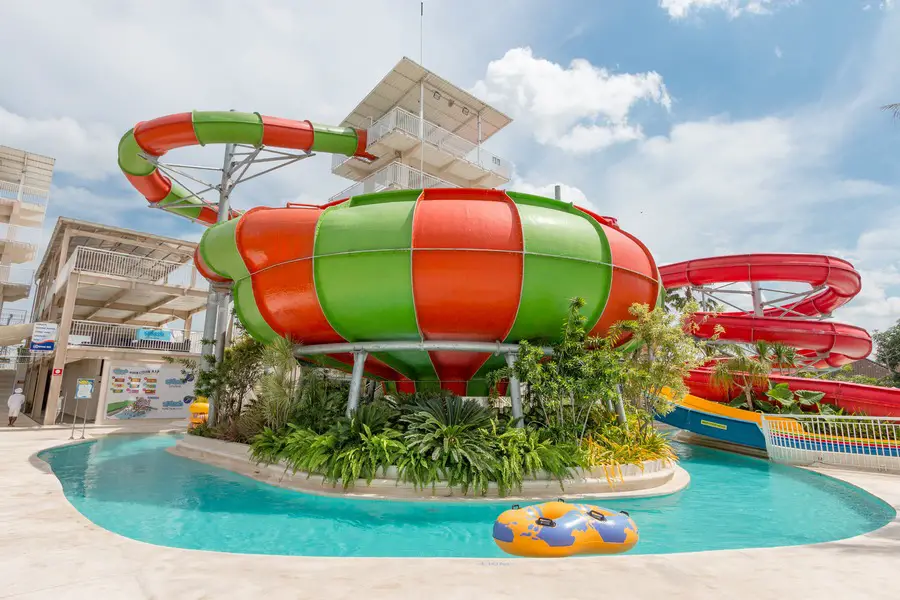 Always a favorite is the Crazy Creek. A slow-paced relaxing ride with inflatable tubes.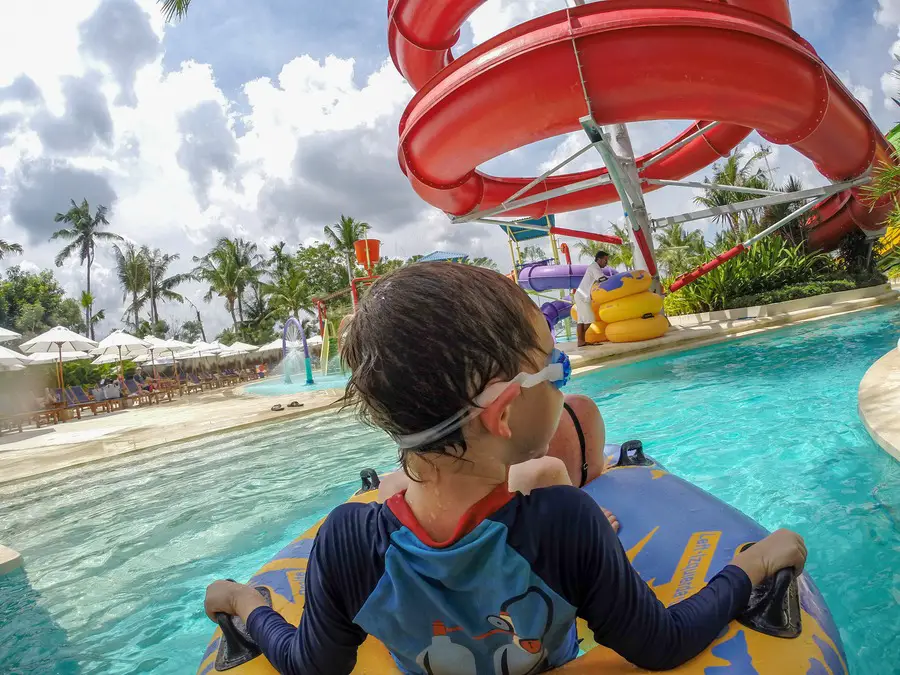 Surprisingly my kids' favorite slide wasn't a slide, but a simple swinging rope that once you let go drops you into the cool pool waters below. As soon as the friendly and attentive lifeguard opened this up my kids never left. I must admit even I had a go, Tarzan-Jane style.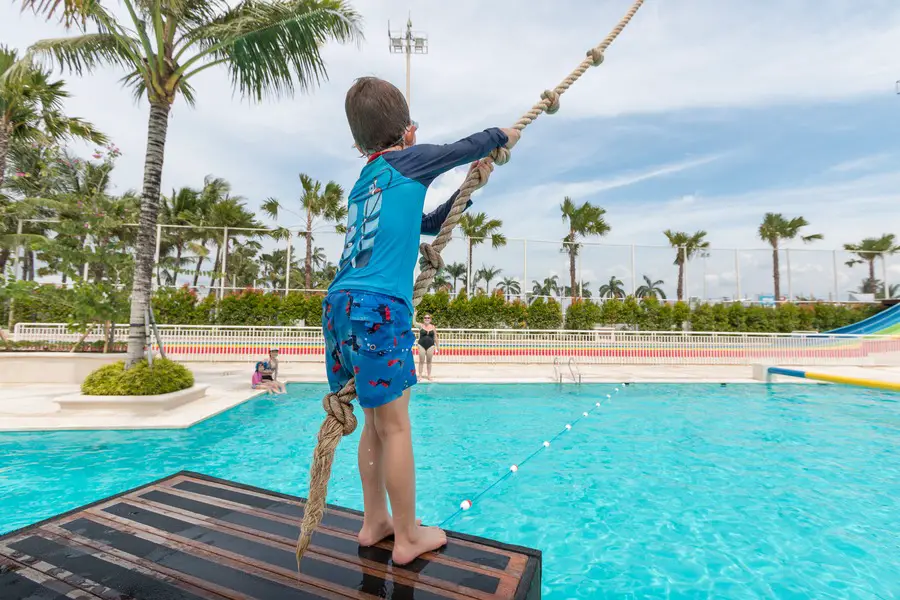 A few other reasons we enjoyed Splash Canggu:
The food is not your typical theme park cuisine of hot dogs and greasy hamburgers. We enjoyed a delicious assortment of Indonesian food and Mexican quesadillas at a very reasonable price.
Trained lifeguards are always on duty around the park, for extra piece of mind.
There are no hiding spots for kids – I could always see them, but they were also always given at least 1 lifeguard.
Several of the slides finish in shallow water which makes them very suitable for younger children.
Lockers are available for rent with a waterproof wristband as a key, allowing multiple re-entries throughout the day. In addition, money can be optionally loaded onto a band that you can use at cafes around the park. Similar to Waterbom Kuta Bali.
The Cubby House Kids Club Canggu
Cost: 2-hour casual pass – Rp 175,000 (USD$11)
In Bali, the letter "C" is commonly pronounced as "CH," which means that Canggu is pronounced as "Changoo." Similarly, if you attempt to say "Cubby" like a local, you may end up saying "Chubby House".
The Cubby House Kids Club is an entertaining space for children, providing parents with a much-needed break to relax or work in Finns Recreation Club.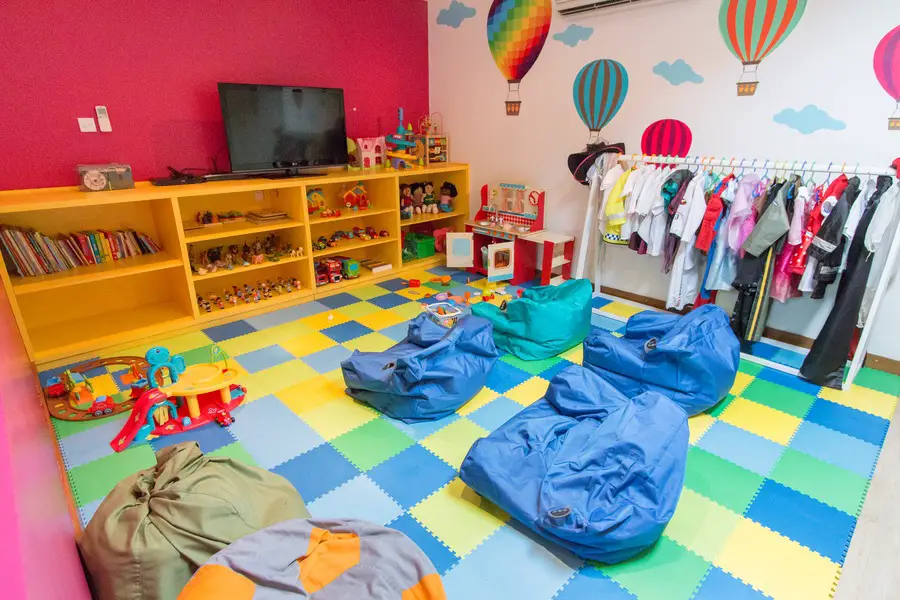 This lively and vibrant area is packed with various activities for children, including computer games, dress-up games, painting, movies, toys, and much more. Furthermore, they offer two covered outdoor play areas, adding to the children's enjoyment.
It's safe and secure, and the staff is friendly and reliable.
This is for kids aged 2 to 12 and the younger kids even have a dedicated space to read stories or crawl through tunnels, while the older ones enjoy movies, crafts, or Nintendo Wii games.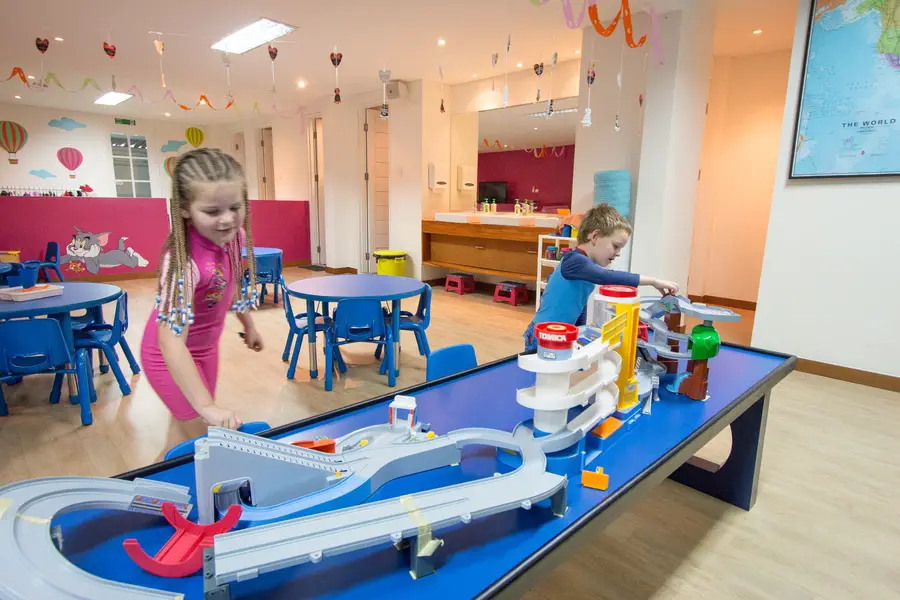 Healthy meals can be purchased for a reasonable price, so I enjoyed a quiet lunch while the kids played and played.
I ended up using a 4-hour pass, before heading to the West Club area for lunch and an afternoon at Splash Canggu waterpark.
Bounce Trampoline Center
Cost: 1-hour Jumping Pass – IDR 135,000 per person (USD$9). You will also be required to purchase Bounce jump socks.
My kids have loved indoor trampoline centers for a long time and Bali's first trampoline fun center was no different.
The trampolines are designed with a spring-loaded frame for extra bounce height. A 2-inch-thick safety pad around the frames ensures any off-center landing is soft.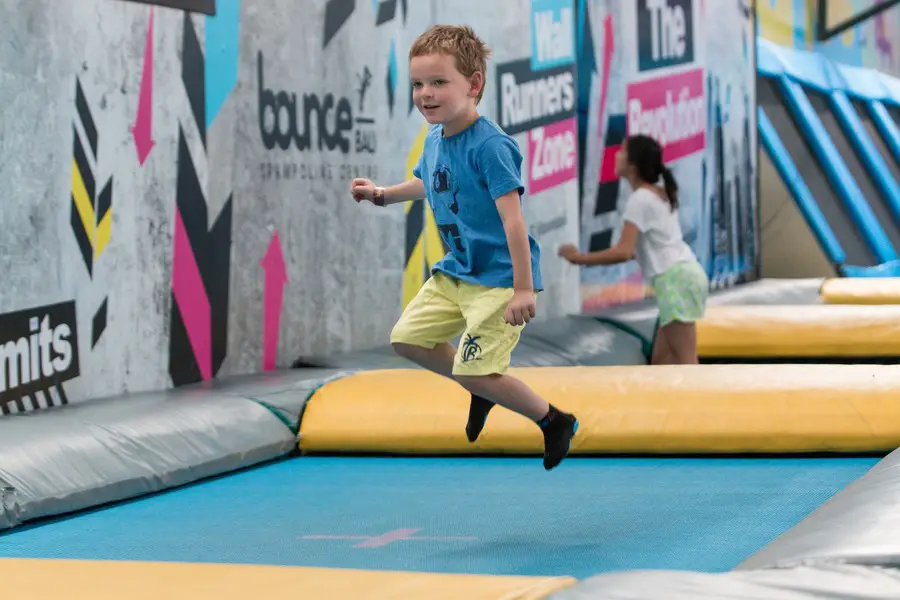 Favorite parts of the indoor trampoline center included the foam pit, a game of dodge, some basketball hoop fun, and a "running wall" to see who can defy gravity the best by running up a vertical wall.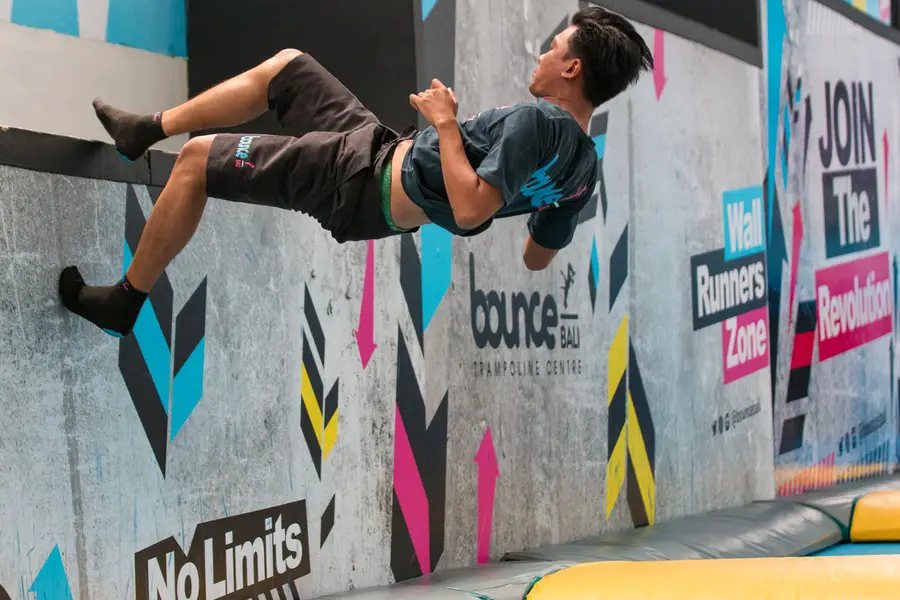 While the venue was air-conditioned, once I got bouncing it failed to keep me cool. So, ensure you bring a bottle (or two) of water.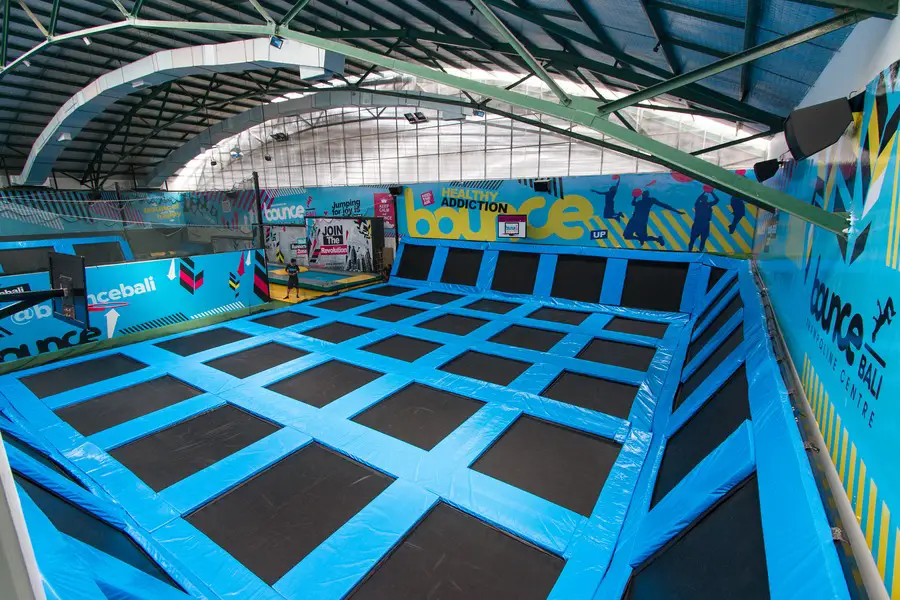 Strike Ten Pin Bowling Canggu
Cost: Lane Hire – IDR 95,000 per person (USD$6) minimum 2 persons per lane, maximum 6.
Who doesn't love bowling, especially when the Bali heat can be exhausting? I also love how bonding bowling can be and Strike is a well-known brand we all know and love.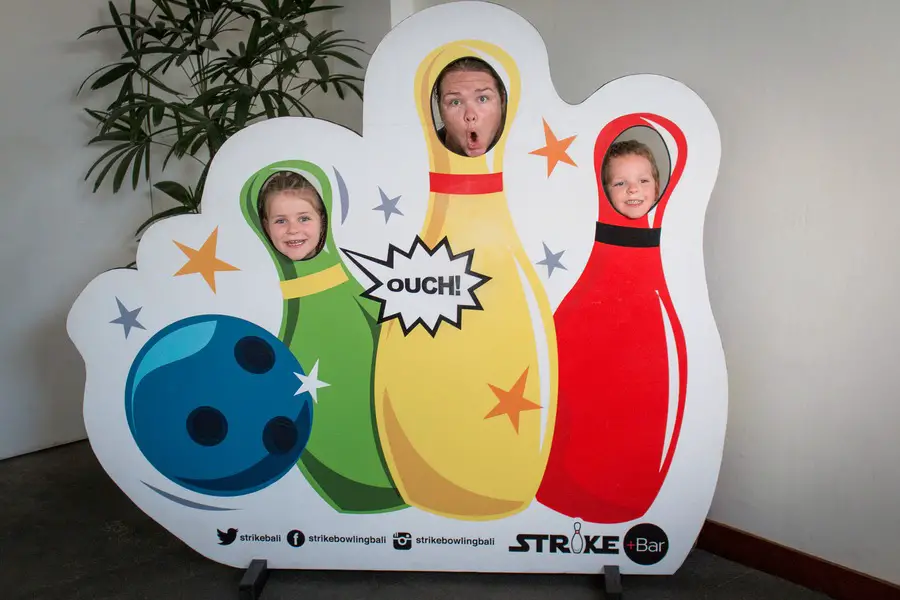 They have everything a family needs for a fun day (or night) out – shoes for all sizes, small lightweight balls for kids, bumpers for those of us who need a little extra help, and even ramps for the youngest players to smoothly roll the ball down the lane.
Strike Ten Pin Bowling Canggu houses 6 lanes with automatic pinsetters and a computerized scoring system. You can order food or drink at the bar and there was plenty of staff on hand to help select balls, and provide a helping hand whenever needed.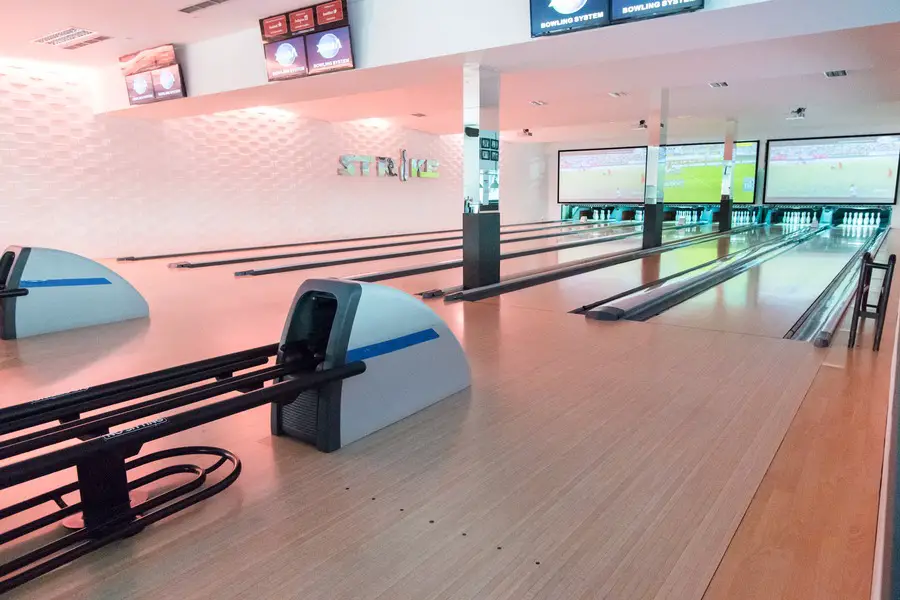 What If I want to go to more than once to Finns Recreation Club?
Canggu Club (Finns Recreation Club) provides club memberships for those residing in Bali who are interested, which includes access to Splash every day for your children. You can find further details on their website regarding membership. However, casual visitors are also warmly welcomed.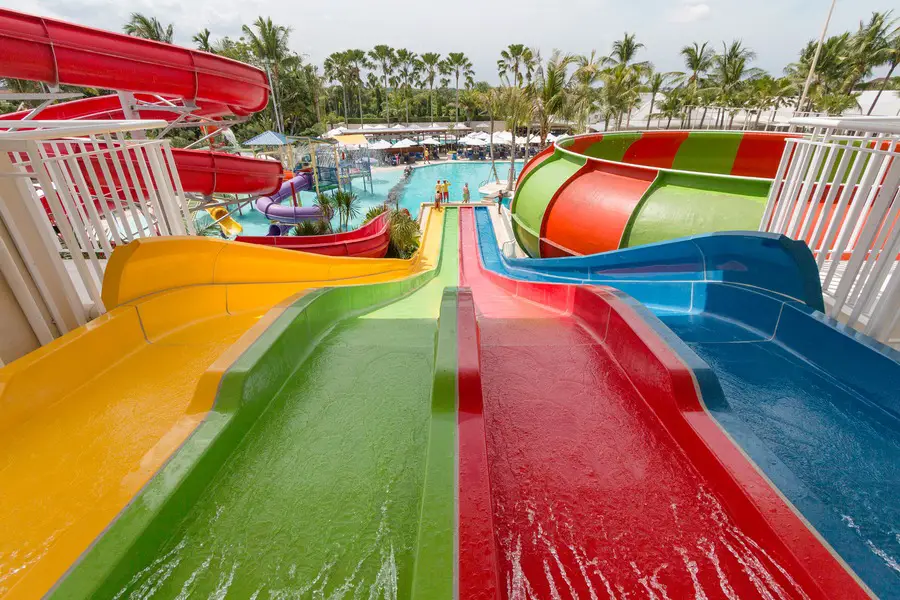 Should you visit Finns Recreation Club With Kids?
Our initial visit to Finns Recreation Club with kids was delightful, and it certainly won't be our last. With a wide range of enjoyable activities accessible in one convenient location, I suggest taking more than a single day to unwind, have fun, and enjoy everything the club has to offer – whether you want to sit back and relax or jump and play!
LOOK HOW EASY IT IS TO PIN THIS!
FOMO - do you have it?  Well there is no need to Fear On Missing Out here at Explore With Erin. Sign up to receive updates directly to your in box. I won't spam you, but I do promise a whole lot of awesomeness. What are you waiting for? Join Me!