I have now been a professional travel blogger for more than 10 years! Did you know my first blog was Erin Eats That where I only wrote about food? Then I started etbender.com, which turned into the popular Travel With Bender during my nomadic travels with my kids. And now, here we are, more than 10 years later with Explore With Erin, combining my love of food, travel and now a brand new lifestyle. So how do you start a blog?
There are many ways to start a blog, but not all of them are easy or fast. You guys keep asking me "how do I start a blog? I want to start a travel blog, a lifestyle blog, a parenting blog." Whatever sort of blog it is you want to start, this very simple guide will have you create your own blog, using WordPress, in just a few minutes so you can start earning money as a travel blogger.
While there are several platforms with more advanced tools you could use, WordPress will be more than enough for taking your first steps and setting up an initial blog. WordPress is used by nearly 20% of all webmasters, so it's definitely worth checking out, especially because of how easy it is to use and navigate. As a former Concrete 5 User, you can believe me. WordPress is simple.
Step #1
Domain & Hosting (Choose your best name & get it free with Bluehost Hosting!)
Before starting out with WordPress, you'll need a place to house your new website.
WordPress is easy to use CMS that requires space on a server and a legitimate domain name to operate. I recommend using Bluehost because of their advantageous hosting plan and the benefits they offer exclusively to WordPress users. Plus, you will have access to cPanel hosting. If you are not quite sure what that is, you can find out more here.
This provider is rated #1 among the top WordPress hosting providers, and offers reliable 24/7 support, in case you need any additional assistance with your website.
To get started, visit the official Bluehost website, or click the image below.
(By clicking the link, you will help Erin earn a commission at no extra cost to you.)
Once you get started you can gain access to your new blog within minutes. First, as shown in the image below, you'll choose your free, 100% unique domain name. Generally, a .com domain is considered the best choice.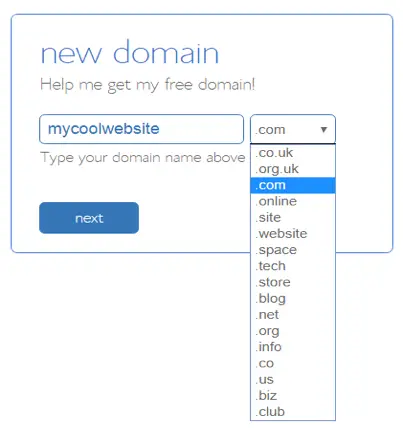 Next, complete the form shown in the picture below by adding your accurate Account and Billing information. This data will be kept private and used in case you have to prove that the blog is yours.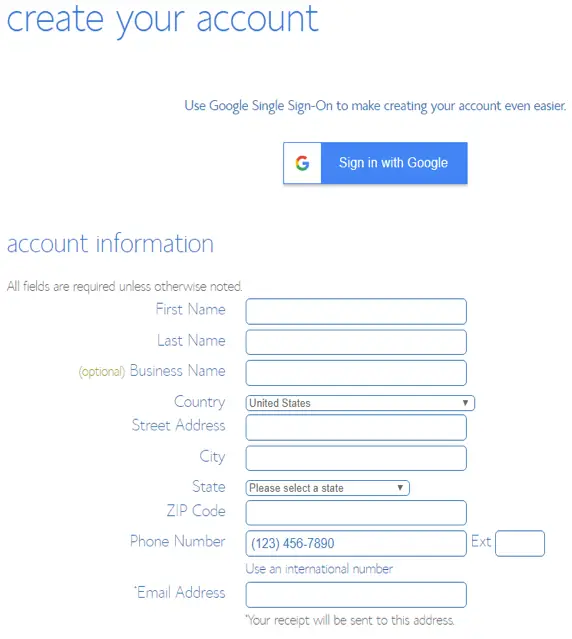 Here, you'll also have the opportunity to choose your preferred package and any additional services and extras you will need. These are optional, but the affordable "Domain Privacy Protection" service can come in handy to protect your identity in case anyone looks up your domain name.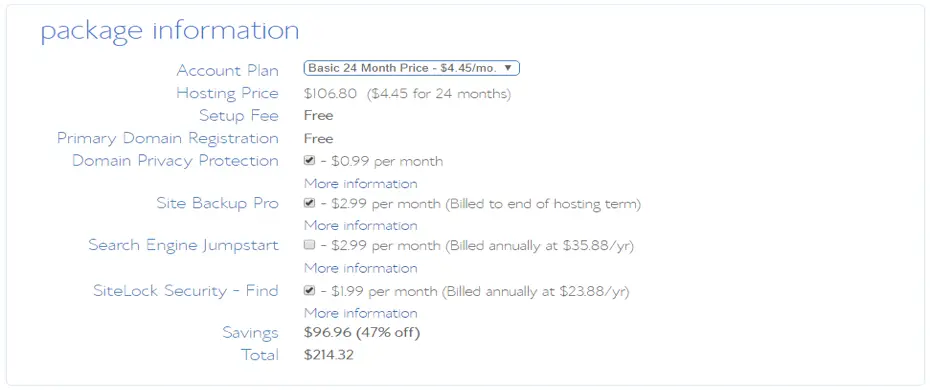 You can proceed to set up your website as soon as your credit card details are submitted and the setup process is completed.
Step #2
How to Install WordPress from cPanel
So you have your hosting account and domain name, along with a lot of awesome tools. Some may consider the choice between Medium vs WordPress, but I don't think there is much competition. So let's install WordPress.
To get started, log in to your cPanel using the login details provided by Bluehost, then find the "Install WordPress" icon on the "website" section as shown below.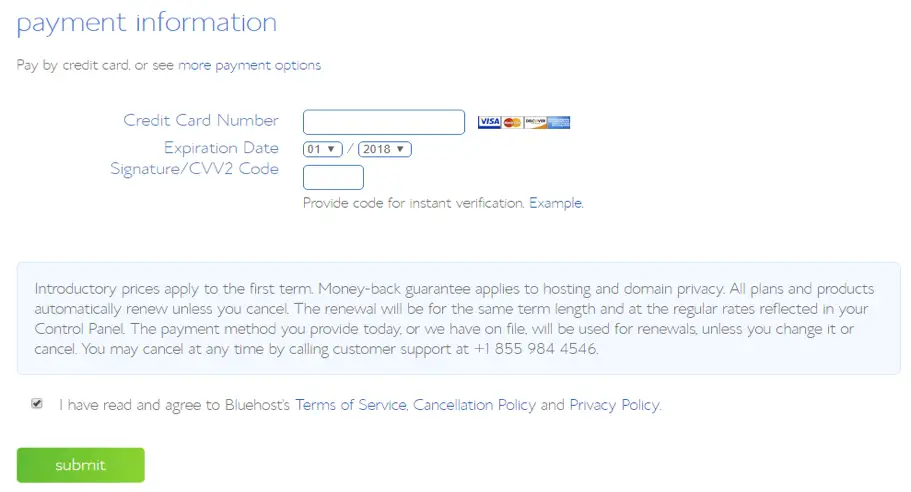 A new window should open, where you'll find information about the offer. Just add your domain name to the location of your WordPress installation.
You will have the option to select between three different WordPress packages for your new website, and a few optional plugins are also available, as shown in the second screenshot below.
Click "Purchase Service" or "Buy Now" on the preferred package link to continue, then go through the quick process to install WordPress.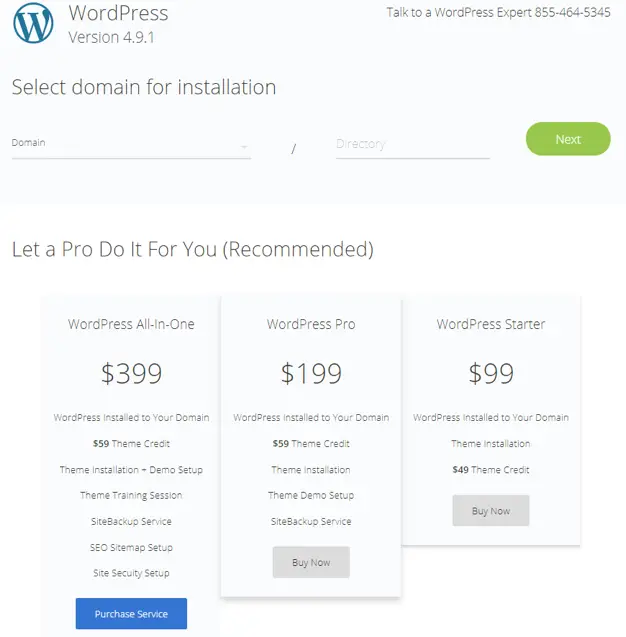 Step #3
Access WordPress
WordPress is ready! To get to your new installation just access your blog address by typing the name of your website into your browser. You can then proceed to log in and customize your blog.
Step #4
How to Sign in
The first time you sign into your blog, you will need the admin credentials from the initial WordPress installation. Access your blog address and click the "Login" link in the bottom left corner, or type /wp-admin (for example, "www.mycoolwebsite.com/wp-admin") in the address bar to access the login screen.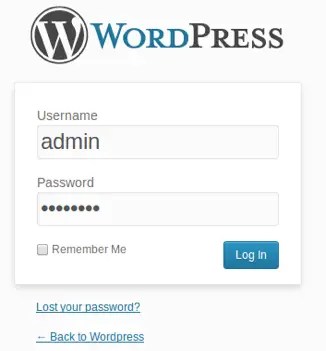 Now add the Username and Password you chose or were assigned while you installed WordPress.
Once you're signed in, you can access the WordPress Dashboard – the administration area where all your content is managed.
In the Dashboard, you start by selecting a new theme in the Appearance section as shown in the following step.
Step #5
Give Your Blog a Makeover!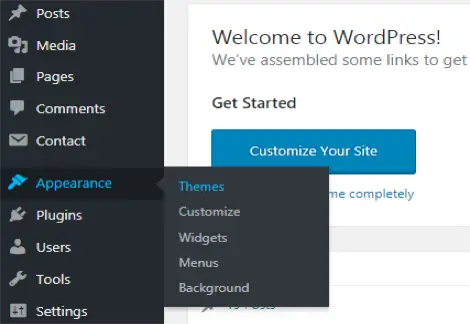 Here you can access one of the numerous readymade design themes to add to your blog, then customize it later on making your website unique. After clicking "Themes" in the Appearance section on the left sidebar, click the "Add Themes" button to browse through all the featured themes.
You can also use one of the other buttons (Popular, Latest etc.) in "Add Themes" to find more themes, or the search bar to look for a specific design.
Step #6
Write Your First Post
At this point, you're practically done. Once you installed your theme, it's time for your new post. Look for the "Post" section on the sidebar, and click the "Add New" button.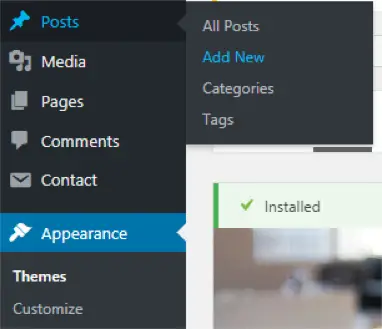 The "Add New Post" editing page is shown below. Enter the title of your post, then get creative to prepare everything you want to write. Don't worry if you don't get it right the first time. You can go back and edit it later on.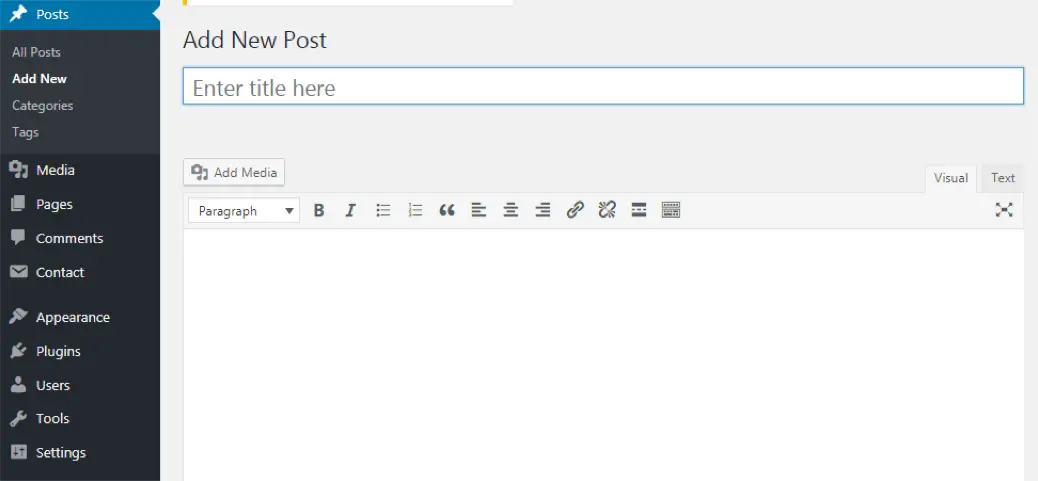 When you're done, you have the option to publish your post and make it available to your readers. Find the "Publish" button to the right of the writing area, and click it. Alternatively, you can click the "Preview" button first to see what it'll look like.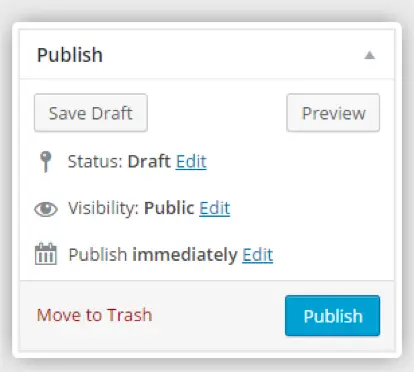 Voila! You just created your blog and published your first blog post in only a few minutes. Now you can take all the required steps to make your blog truly successful.
What Else Will You Need?
Once you have your blog set up, you can write new posts, expand it, make it look great and promote it. To grow your blog check out how to drive traffic to a new blog..
For more on how to use WordPress as effectively as possible, use the WP101 free video tutorials and resources, as well as their forum.
If you're interested in monetizing your blog, join Superstar Blogging.
Or if it's travel blogging you are interested in then check out Travel Blog Success – they have a money back guarantee!
Legendary Sharon Gourley from Digital Nomad Wannabee created an online lifestyle that supports her entire family. You can sign up for her digital course here.
Make sure you start an email list with that blog.
Finally, you can also opt to learn more about photography here or travel writing here.
Congratulations, you've just opened the door to the exciting world of blogging! And I love having you on the same journey as me. We are family.
LOOK HOW EASY IT IS TO PIN THIS!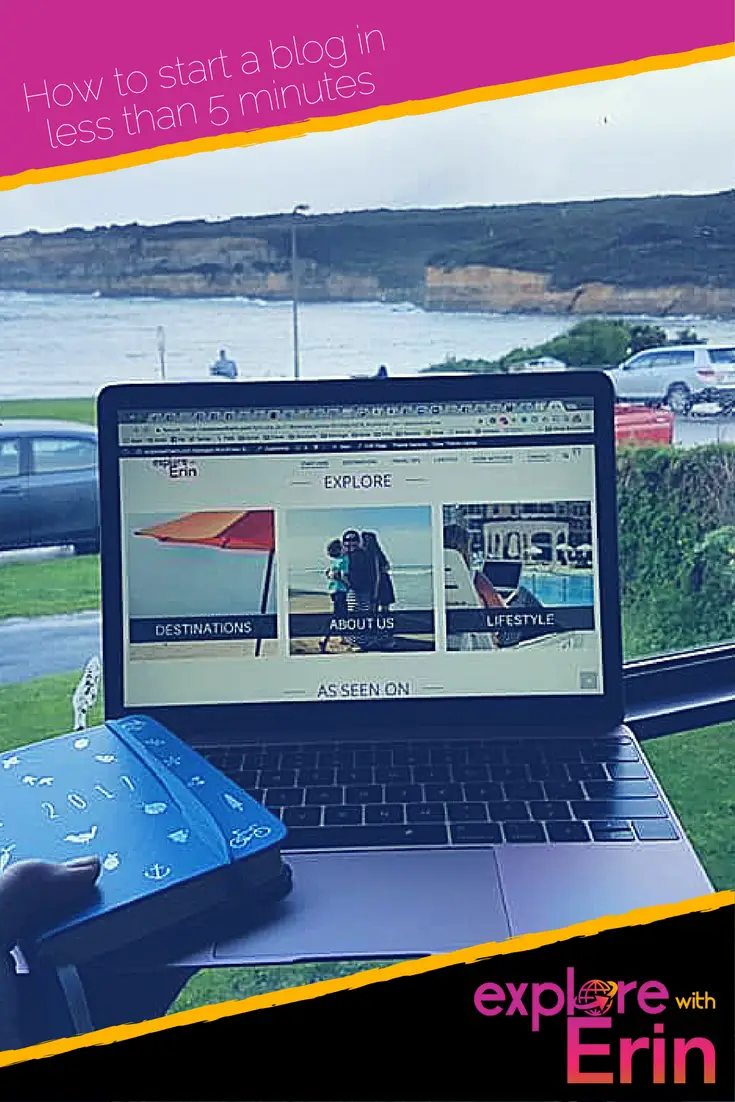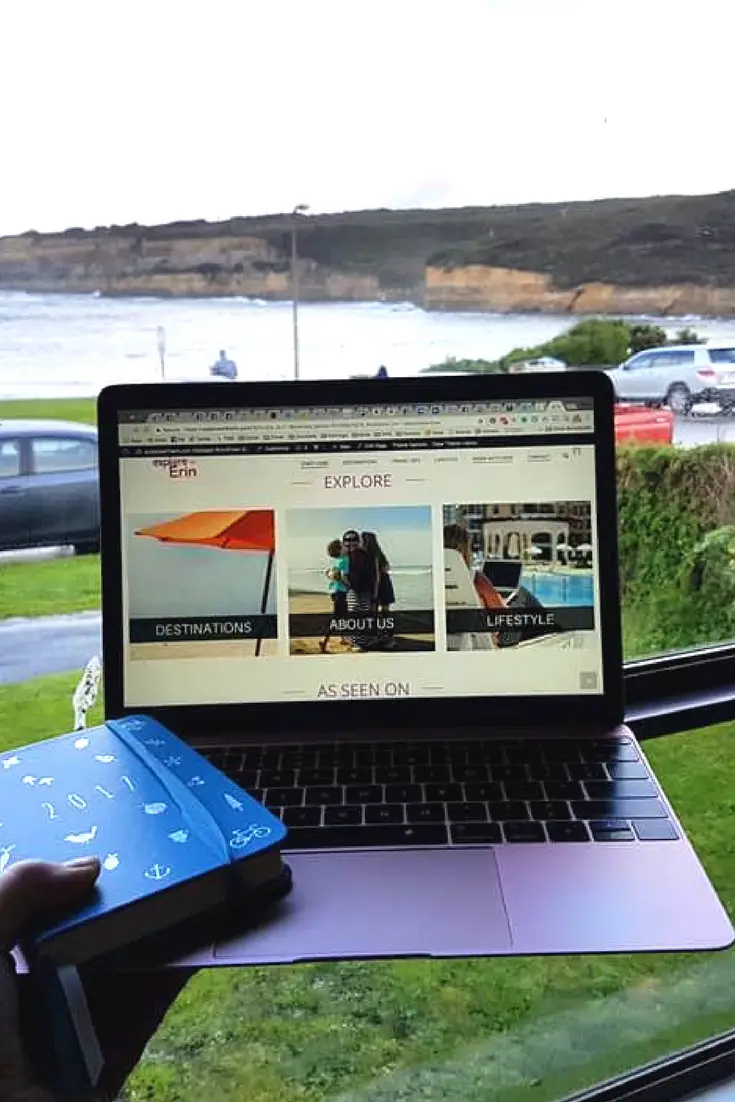 FOMO - do you have it?  Well there is no need to Fear On Missing Out here at Explore With Erin. Sign up to receive updates directly to your in box. I won't spam you, but I do promise a whole lot of awesomeness. What are you waiting for? Join Me!