No matter how much time you spend in Turkiye there is always more to see. So I asked some of the world's most well-traveled people to help me out.
I know you want to see more of Turkey. So do I. So now here is a comprehensive list of the 21 best places to visit in Turkey, what to do there and where to stay while visiting.
Many of these places we visited during our Ultimate South Coast Turkey road trip, but I do not doubt as to the years' progress this list will become mammoth with all the places I visit.
Next time – Northern Turkey and the Black Sea!
But for now, let's just start with the 21 best places to visit in Turkey.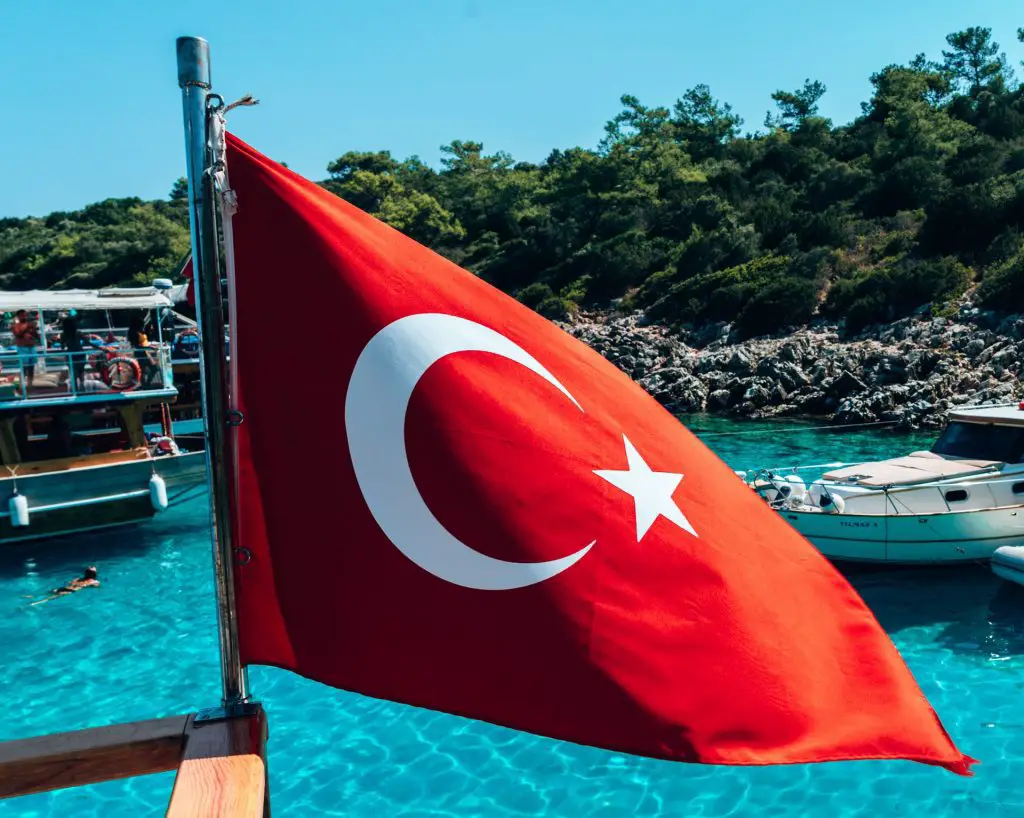 1. Istanbul
Erin Holmes | Explore With Erin
Everybody takes a Turkish Airline and lands at Istanbul Airport so it's safe to say this is where everyone starts when arriving in Turkiye.
Istanbul formerly known as Constantinople, is the largest city in Turkey, serving as the country's economic, cultural and historic hub.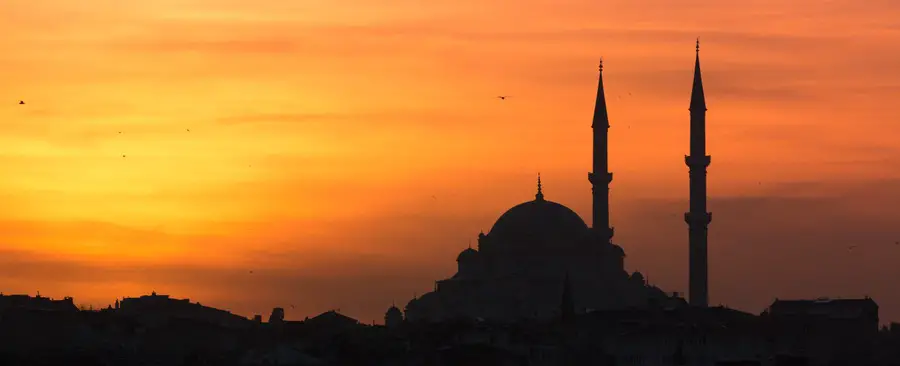 Best things to do in Istanbul
Here are 10 things to do in Istanbul in 24 hours if you only have a layover or need to move on to other parts of the country quickly. You'll be able to cover the Hagia Sophia, Blue Mosque, Topkapi Palace, Galata Tower, Grand Bazaar, and more.
If you have more time get your walking shoes on and take an Istanbul walking tour of the most colorful part – Fener & Balat.
Also, consider an Istanbul food tour.
Do a fun Istanbul small group tour – check the price here.
to eat in Istanbul
Without a doubt, the famous brunch at Ciargan Palace cannot be missed.
Best accommodation in Istanbul
Eresin Crown Hotel | Check your dates here

Sokullu Pasa Hotel | Check your dates here
Eresin is the perfect luxury hotel for families. Excellent rooftop views and great location. Sokullu is a lovely boutique hotel perfect for solos or couples. It's very close to Sultanahmet and all the major sites.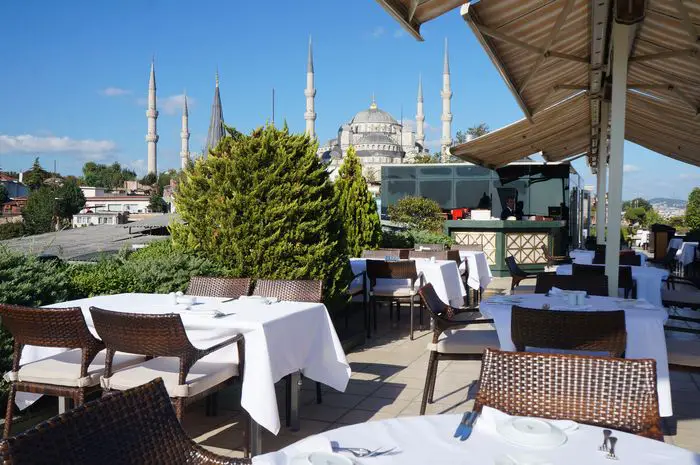 2. Bursa
Erin Holmes | Explore With Erin
Bursa is a large old city just below Istanbul, at the foot of 2,500m-high Mount Uludağ near the Sea of Marmara. The city is known for its mosques and historical sites from the early Ottoman Empire. It's nicknamed "Yeşil Bursa" (Green Bursa), owing to its many parks and trees, as well as its dramatic mountain backdrop.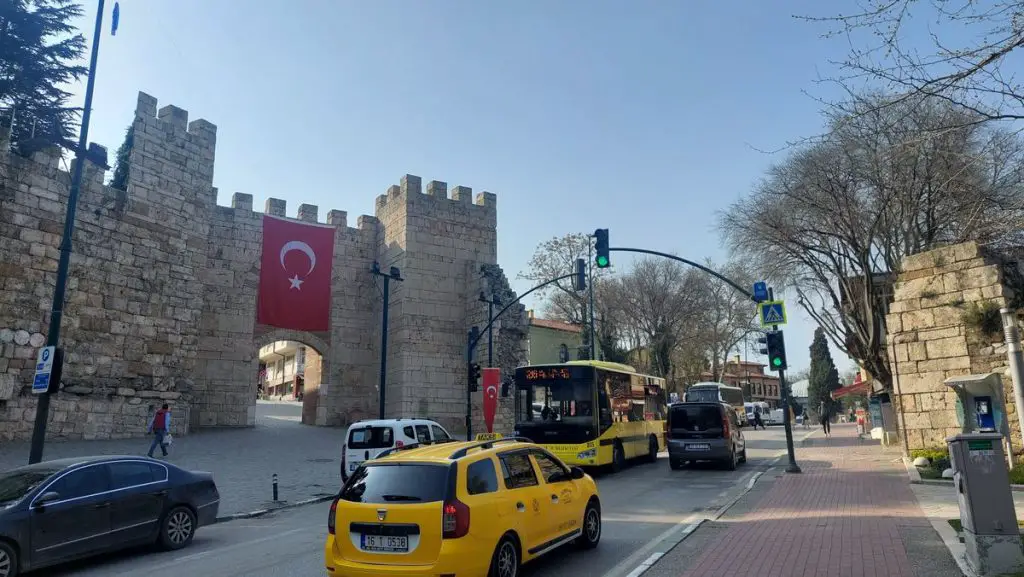 Best things to do in Bursa
Turkish Hamam, shopping at the beautiful Grand Bazaar and Silk stores, the 14th-century Ulu Cami (Great Mosque) featuring Seljuk-style arches and 20 domes (almost as grand as Hagia Sophia).
Also, consider a day trip to ancient Cumalikizik or basing yourself here to see Istanbul.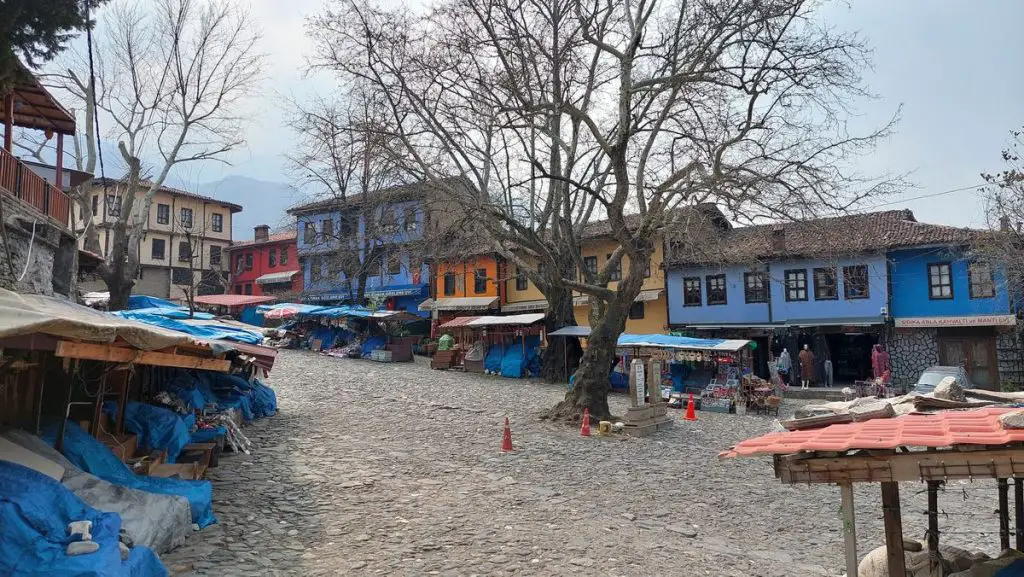 to eat in Bursa
Bursa İskender Kebabı – who have been making İskender since 1867. You can find out what Iskender is in my Turkish foods post.
Also Bursa Kebapcisi – the views from the terrace over all of Bursa are stunning.
Best accommodation in Bursa
Bursa City Center | Check your dates here
We stayed with family down by the Sea for our Turkey vacation, but you'd be best staying in the city center. You can find pricing for your vacation dates here.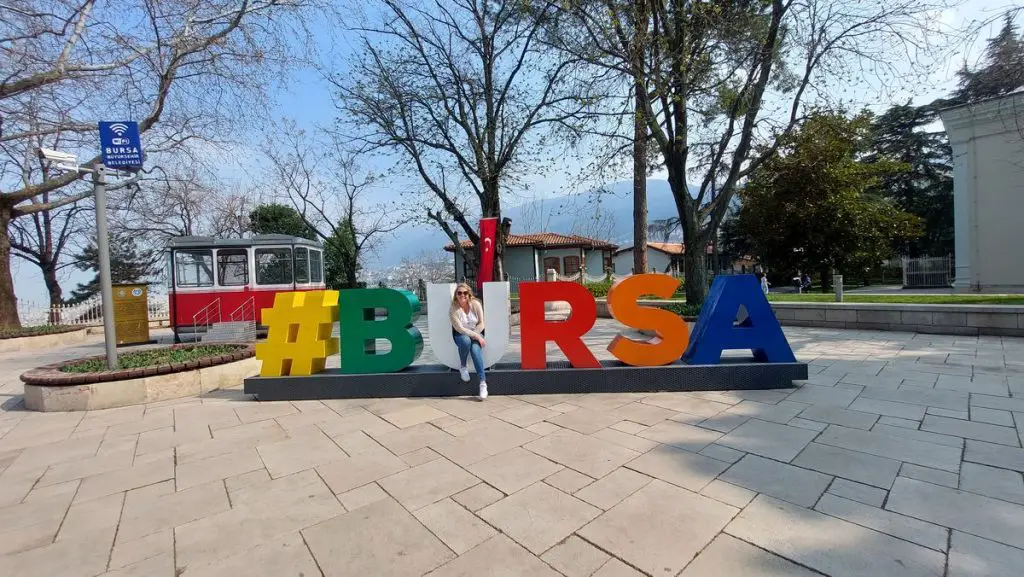 3. Dalyan
Erin Holmes | Explore With Erin
A must when visiting Turkey. Dalyan is a town on the Dalyan River, just inland from Turkey's southwest coast. It's small enough to walk around, but homes some of the most wonderful history you're likely to see.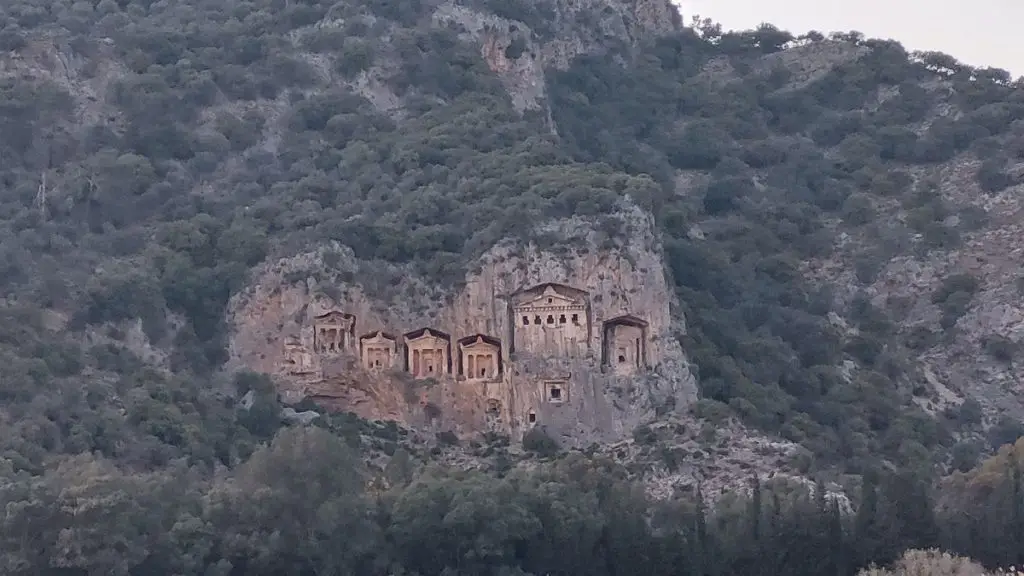 Best things to do in Dalyan
Across the river from town is the ancient ruined city of Kaunos, with Lycian rock tombs and the remains of a theater. You can take a tour by boat past the tombs to İztuzu Beach and its loggerhead turtle nesting grounds.
To the northwest on the shore of Lake Köyceğiz is the village of Sultaniye, known for its thermal mud baths. Lather up in healing muds, bake until it's dry, then wash it off in the lake or cold water showers.
You can take a full-day full-day boat tour to Dalyan from Marmaris – check the price here.
to eat in Dalyan
We enjoyed Manti right opposite the tombs at Melek Anne Restaurant. It was also located very close to our hotel. Turkish breakfast at Dalyan Yagmur Otel was spectacular!
Best accommodation in Dalyan
Dalyan Yagmur Otel | Check your dates here
A basic room, but an incredible location. Breakfast served on the decking over the ancient ruins was spectacular. The owner is very nice. We could walk into the town center. Loved it so much that we paid for Ahmet's parent holiday thereafter Turkish Ramadan.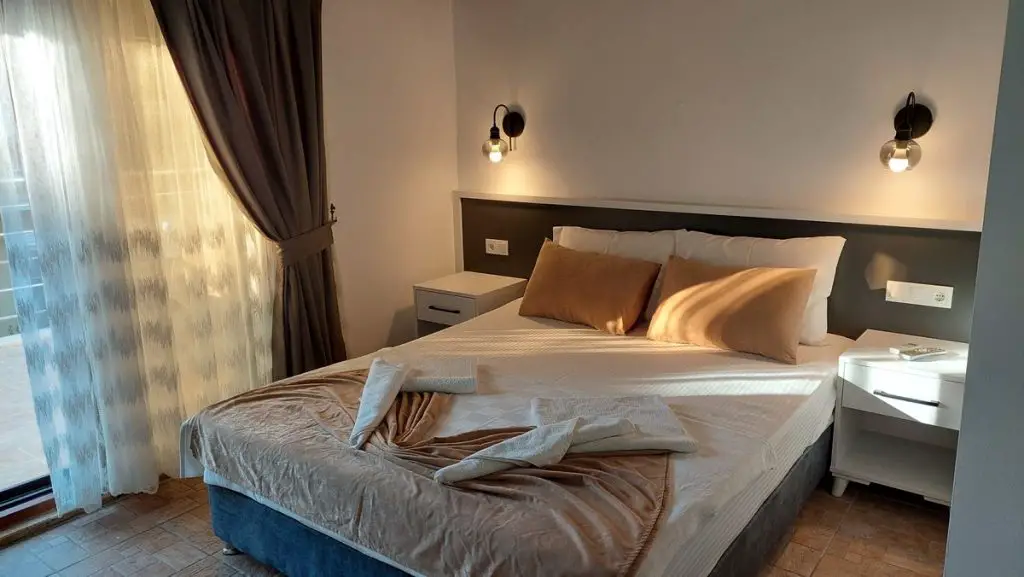 4. Bodrum
Erin Holmes | Explore With Erin
Bodrum is a popular seaside city in the Turkish Riviera, stretching from Turkey's southwest coast into the Aegean Sea. The city is a gateway for nearby beach towns and resorts and holds history much like the rest of Turkiye.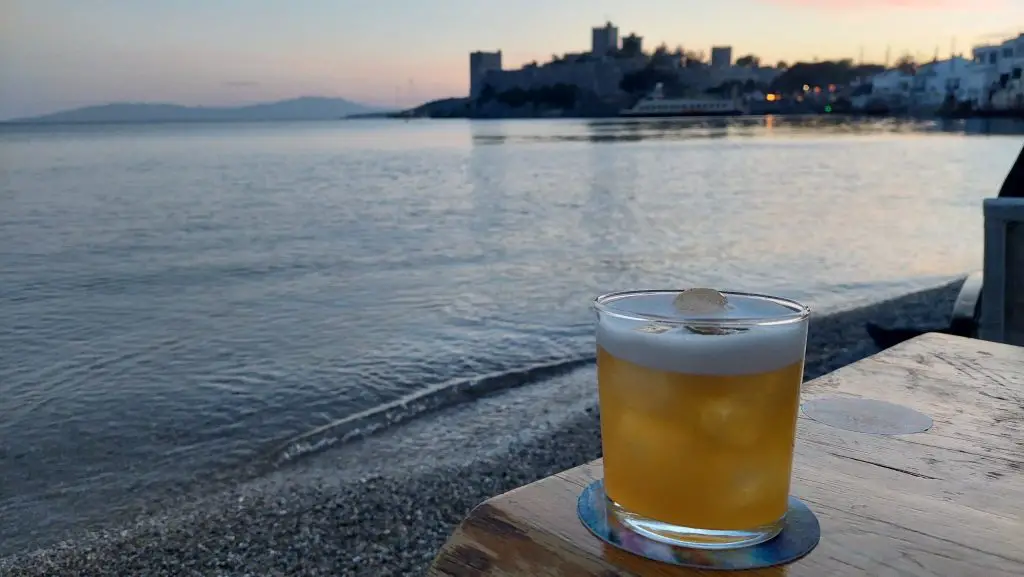 Best things to do in Bodrum
The city features twin bays with views of Bodrum Castle. This 4th century BC medieval fortress was built partly with stones from the Mausoleum at Halicarnassus, one of the Seven Wonders of the Ancient World, and a World Heritage Site. You will be surprised by the number of the basilica cistern display.
to eat in Bodrum
Cocktails on the beach at sunset were a beautiful idea, but the restaurants are overpriced and crowded. We headed back inland to eat locally. Yeni Bodrum Ocakbasi was cheap and delicious.
Best accommodation in Bodrum
Ena Boutique Hotel | Check your dates here
Beautiful hotel centrally located, with fabulous Turkish breakfast buffet rooftop views.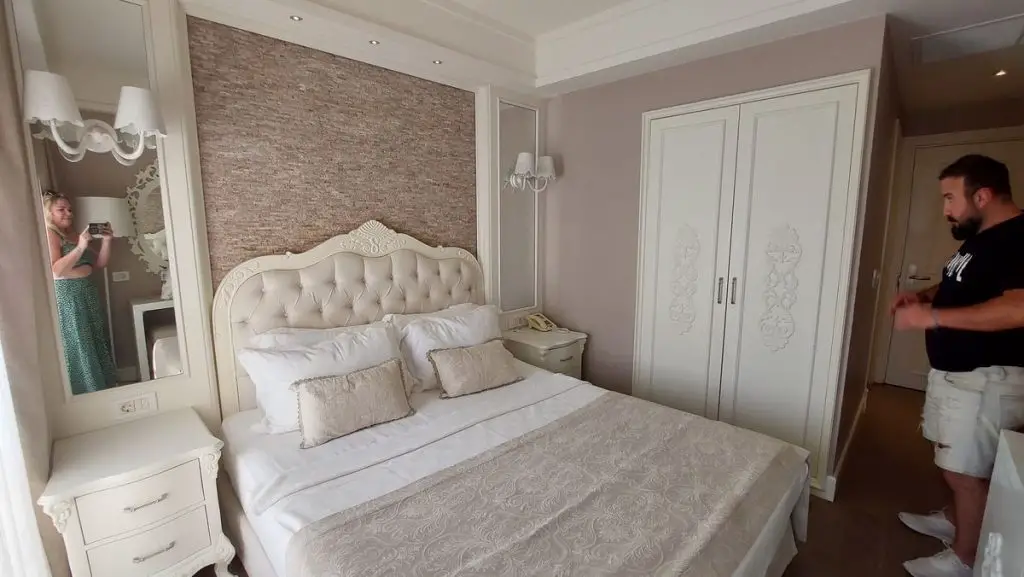 5. Alanya
Erin Holmes | Explore With Erin
Alanya is a resort town on Turkey's central Mediterranean coast (also known as the Turkish Riviera). Its wide beaches lined with hotels include Cleopatra Beach, where the Egyptian queen reputedly swam. We went for the express purpose of lounging around in an All-Inclusive doing nothing.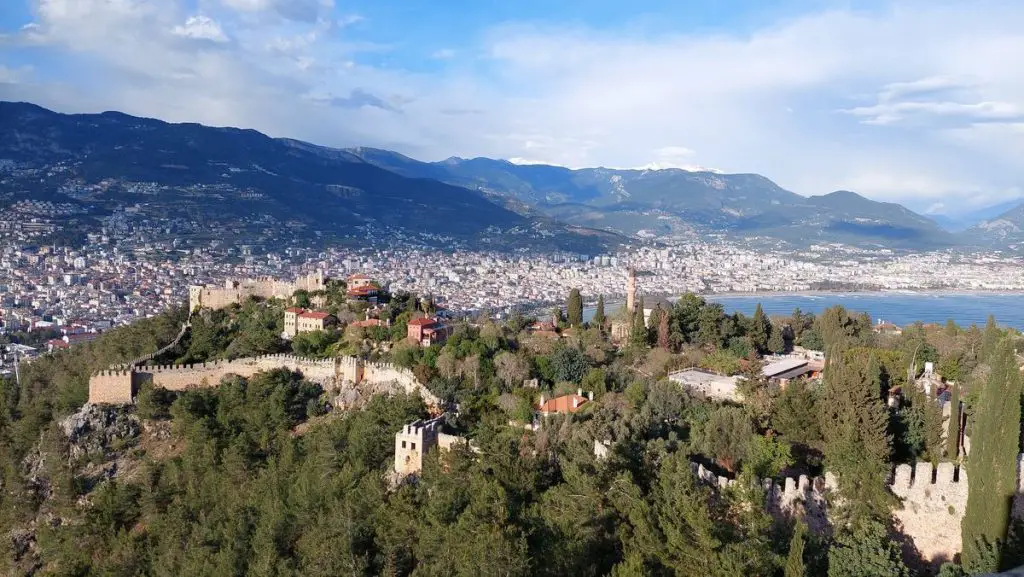 Best things to do in Alanya
We did venture out of the all-inclusive one sunset to check out the Alanya Castle, a giant Seljuk-era fort turned open-air museum, on a rocky bluff above the beachfront.
You'll also find nearby the octagonal Red Tower, a symbol of the city dating to 1226.
Did you know you can take a pirate cruise while in Alanya? Check the price here. And don't forget your sea sickness wristband.
Best accommodation in Alanya
Haydarpasha Palace | Check your dates here
An all-inclusive hotel with plenty of things to do with the kids at a reasonable price.
6. Cappadocia
Erin Holmes | Explore With Erin
Cappadocia is in central Turkey and is most known for its distinctive "fairy chimneys," tall, cone-shaped rock formations clustered in Monks Valley, Göreme, and elsewhere.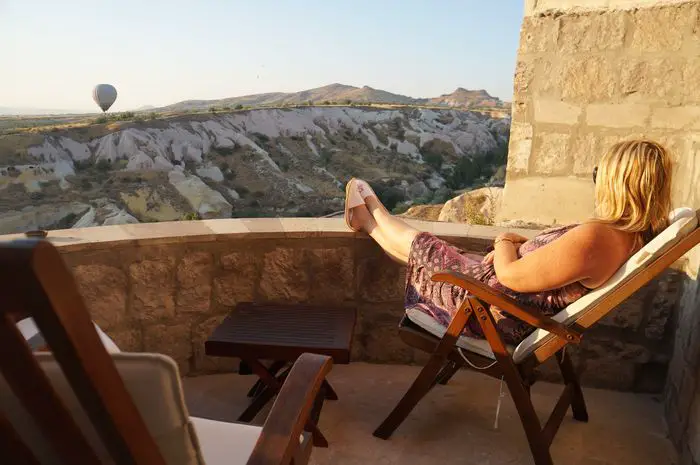 Best things to do in Cappadocia
Hot air ballooning in Cappadocia with kids was and always will be one of my most exciting highlights in travel.
Other notables sites include Bronze Age homes carved into valley walls by troglodytes (cave dwellers). The 100m-deep Ihlara Canyon houses numerous rock-face churches. And Cave hotels!
Number one thing to do in Turkey. Check the price of your sunrise hot air balloon tour here.
Best accommodation in Cappadocia
Kayakapi | Check your dates here

Taskonaklar | Check your dates here
I loved Kayakapif and their rooms and their service and their food. Taskolanker was similar but had amazing balcony views to watch the hot air ballooning at sunrise.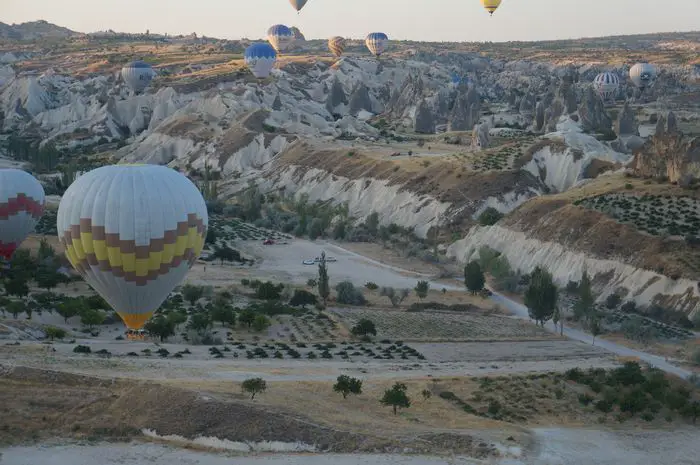 7. Marmaris
Erin Holmes | Explore With Erin
Marmaris is a Mediterranean resort town along the Turkish Riviera (also known as the Turquoise Coast) with a busy, pebbly beach and long seafront promenade. It sits in a valley between pine-forested mountains and clear waters.
Best things to do in Marmaris
Marmaris is known for its lively nightlife on Bar Street, which is home to open-air clubs and music venues.
Party animal? Head on a pirate ship for a boat tour, lunch, and foam party!
Best accommodation in Marmaris
Motto Premium Hotel & Spa | Check your dates here
This hotel had a good location. Breakfast at the time was not buffeted, because of Covid.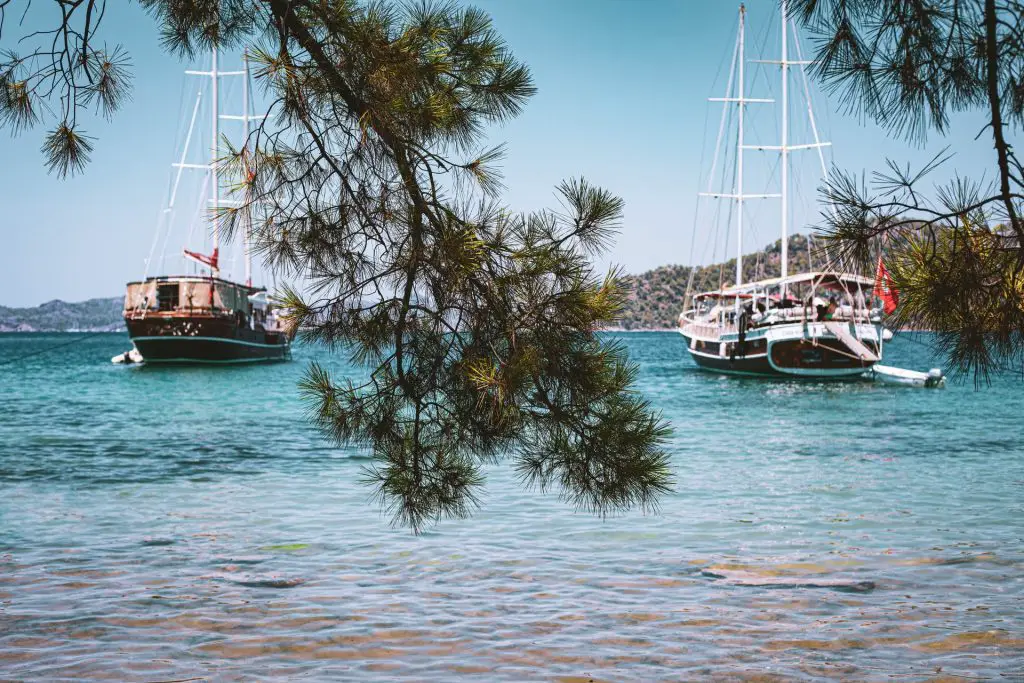 8. Fethiye
Located in the Aegean Region and a part of the "Turkish Riviera", Fethiye is a historic harbor town surrounded by lush mountains with the perfect holiday atmosphere.
Its mix of sandy blue water beaches, delicious food, and interesting culture make it one of the best towns to visit in this part of Turkey.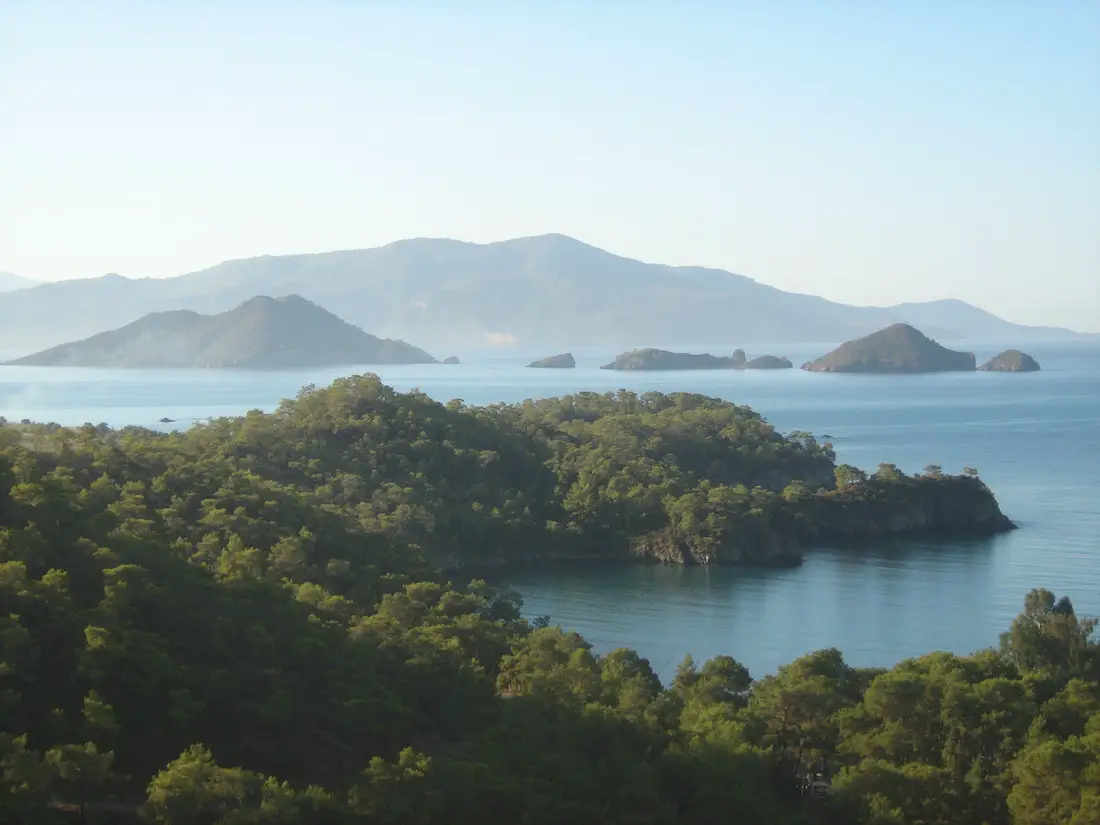 Best things to do in Fethiye
Besides enjoying the beautiful beaches like Ölüdeniz, and wandering around the bustling bazaar, one of the best things we did was to hike to the beautiful Butterfly Valley where we could go cliff jumping into the clear waters.
I also really enjoyed visiting the honeycomb tombs of Pinara and hiking through Saklikent Gorge. 
Taking a boat ride to the ancient Dalyan tombs of the Kings is also one of the most activities around, I loved my time there!
NOTE FROM ERIN – Go Paragliding in Oludeniz over the Blue Lagoon – best thing ever!
Best accommodation in Fethiye
Arwen Hotel | Check your dates here
I stayed at the Arwen Hotel which is a little bit outside the center of the city but ше rewards with serenity, lots of space, and plenty of amenities like a large outdoor pool with sun loungers, a beautiful garden, and a bar on site.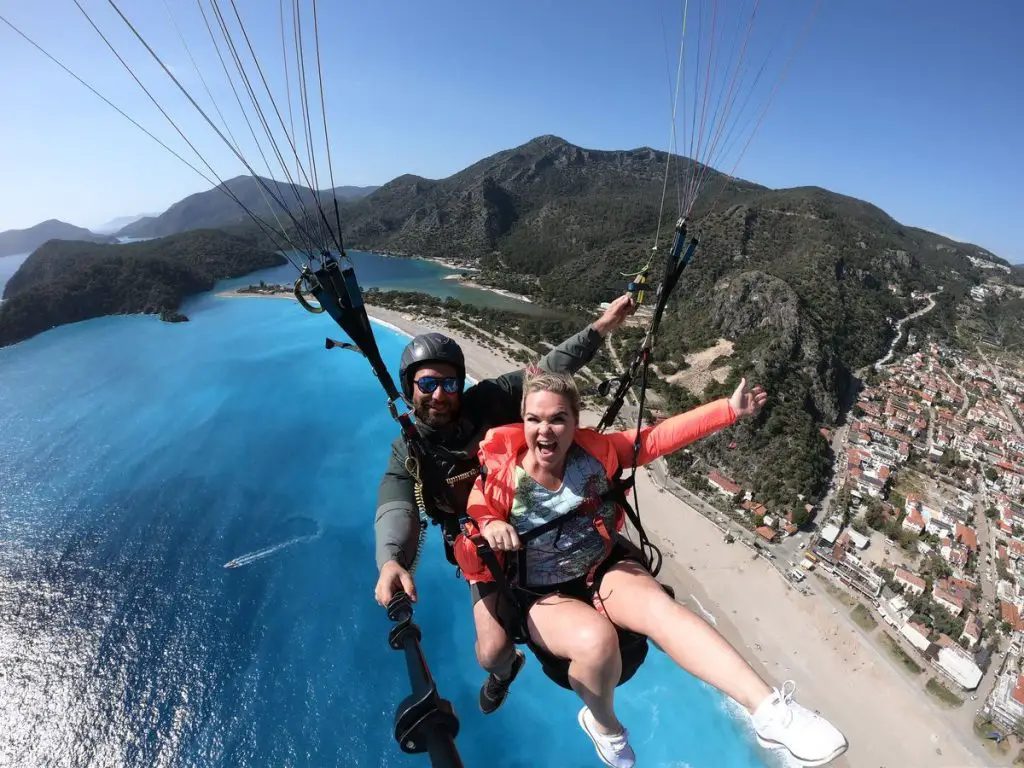 9. Ephesus
Andrew CZ | Just Travel USA
Ephesus is an ancient city on the Mediterranean coast. Excavations are still ongoing, but most of the top locations, such as the amphitheater, ancient roads, and others, are already available to see.
I was struck by the preservation of the ancient places in Ephesus. Moreover, the Turkish government allows you to walk everywhere with almost no restrictions, so you will feel the spirit of antiquity in this open-air museum.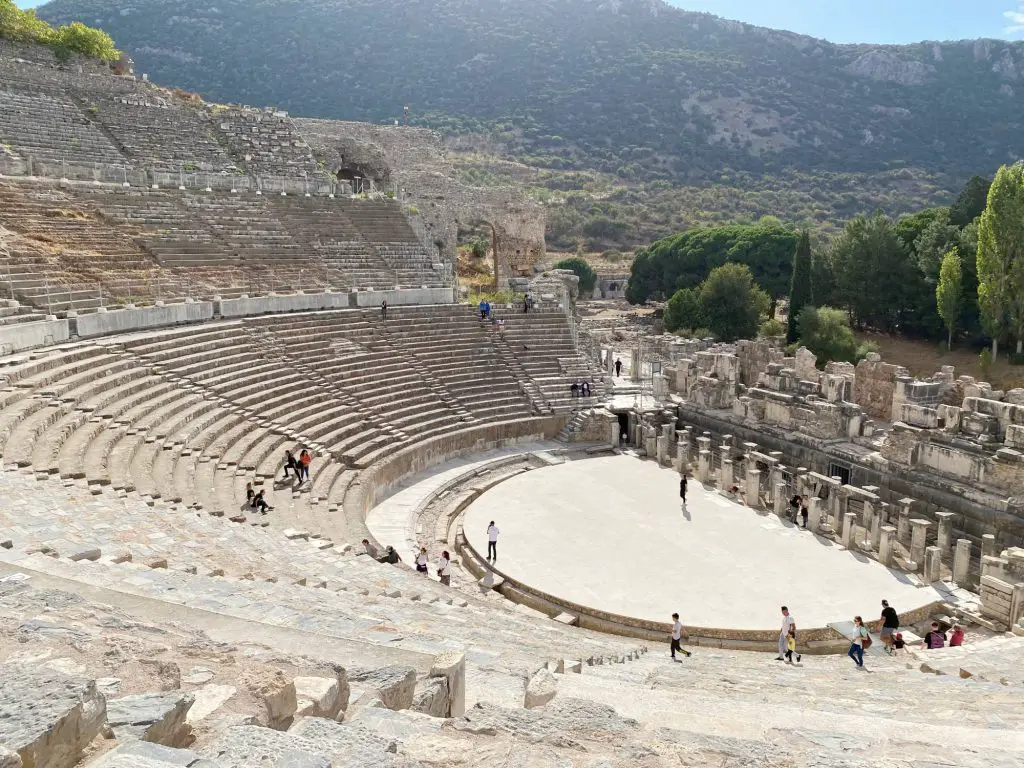 Best things to do in Ephesus
On the weekends, Ephesus is crowded. As a result, you may spend 45 to 60 minutes waiting in line to buy a ticket. The entrance cost around 15 dollars.
At the entrance, there is a free map with useful information that is available. Do not forget to take it. At the box office, there are also audio guides available in several languages (around $10).
Private guided tours are also available and you can find guides right next to the entrance gates. You will be able to explore Ephesus in the same detailed and understandable way as if you were traveling around the USA with English-speaking guides, who charge about $60 for a two-hour tour.
Exploring the entirety of the ancient city on foot will take a minimum of two hours. For me, it took four hours, as I wasn't in a hurry and spent around an hour at the top of the amphitheater enjoying the breathtaking views.
It's ideal to visit Ephesus on a cooler day, as all the ruins are in the open air and you will burn there on a hot day.
There is a small souvenir shop as well as a cafe. I bought a couple of souvenirs there, but the cafe was nothing special. For dinner, I went to the coast in Kuşadası, where there are many fish restaurants.
If you feel better about traveling in a group, then click here to see the price of an Ephesus highlights tour.
Best accommodation in Ephesus
Kusadasi | Check your dates here
The nearest place to stay in Selçuk; however, there is no point to stay there, as there are two better options to stay near Ephesus.
Izmir – This is the closest big city to Ephesus and is home to hundreds of hotels. This was my starting point for exploring the Aegean region when I stayed in the Konak district.
Kuşadası – Alternatively, you can consider staying on the coast near Ephesus. For example, in a place called Kuşadası, which is 20 minutes from the ruins.
From the Izmir city center, it took just one hour to reach Ephesus by car. For those who travel by public transport, there are daily trains from Izmir Basmane to Selçuk.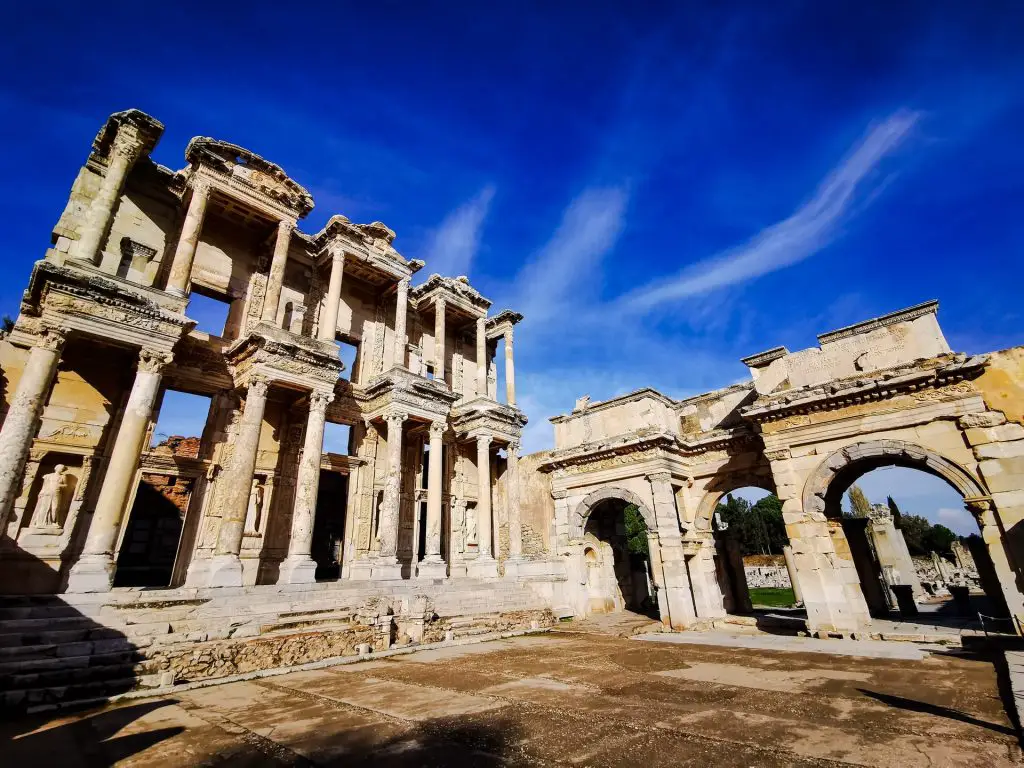 10. Kas
Kaş is one of Turkey's most stunning seaside towns, a beautiful place in Southern Turkey. We loved it because it is a perfect size – enough shops, restaurants, and things to do to be buzzy, but without being too touristy like some of the larger resorts.
It's also completely walkable, with good transport links so you don't need a car.

Best things to do in Kas
Must dos in Kaş include visiting the ancient amphitheater, soaking up the atmosphere in the gorgeous cobblestoned town center, eating at the amazing variety of cafes and restaurants, taking a day trip on a boat to the ancient sunken city at Kekova or across to the Greek Island of Meis/Kastellorizo, spending a day at one of the epic beach clubs in the area, and shopping for gorgeous fresh produce at the weekly Friday market?  
Did you see Erin's Kekova trip? You must do it. Click here to book now. 
Best things to do in Kas
Try burnt ice cream at Nur Patisserie. And the manti at Kasik Manti Ev Yemekleri was divine. Also the pide at Tzatziki Meyhane!
Best accommodation in Kas
Dusler Evim | Check your dates here

Medusa Hotel | Check your dates here
We stayed in a gorgeous Airbnb that had incredible views out over the Mediterranean sea and a great pool. Dusler Evim is a gorgeous spot out on the peninsula, with a delicious Turkish breakfast. Medusa is in town with great sea views and within walking distance. 
11. Pamukkale
Sarah Carter | A Social Nomad
The stunning natural travertine terraces of Pamukkale are truly a glorious place to visit in Turkey.  Not only are they Turkey's number one tourist attraction, for very good reason, but they've been bringing visitors to Turkey for centuries.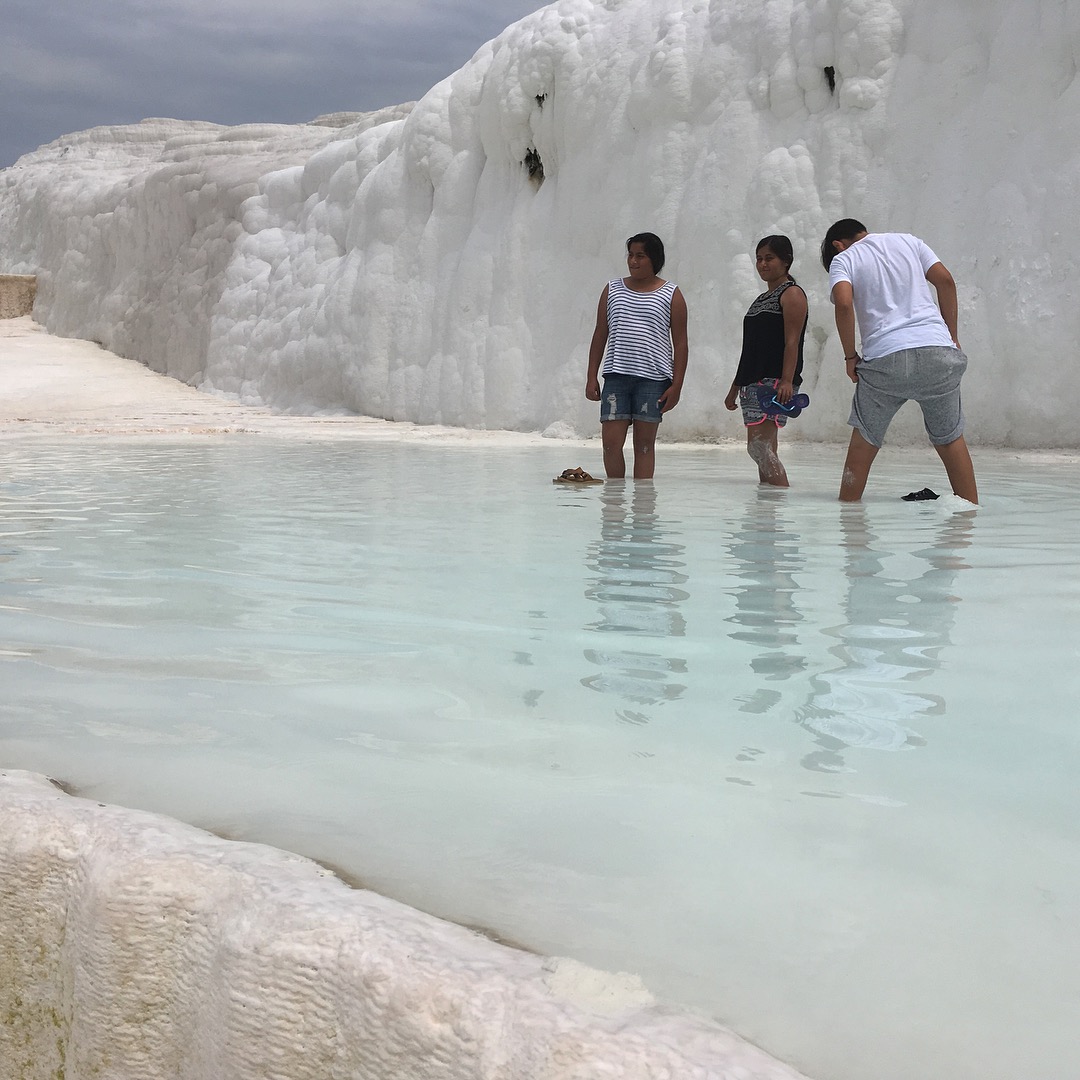 Best things to do in Pamukkale
The terraces here are created by water from calcium-rich springs which run down the hillside and form pools.  The water is warm, the terraces are bright white.  It's a stunning thing to see, but best early in the morning or late afternoon.  
What is even better about Pamukkale are the archeological sites at the top of the terraces, the ancient site of Hierapolis, with a stunning ancient Roman theatre and heaps and heaps of history.  
After you've explored the Roman ruins you can make your way slowly down through the terraces, taking a dip along the way.  If you want to relax even more there's an antique pool at the top for an additional entry fee.  
You can visit Pamukkale on an Istanbul day trip. Click here to book. 
to eat in Pamukkale
The Turkish meatballs (Kofte) at Mehmets Heaven are a good solid choice, especially when washed down with a cold beer at sunset while viewing the light changing on the terraces.
Best accommodation in Pamukkale
Hotel Sahin | Check your dates here
The terraces and Hierapolis are located just on the edge of the town of Pamukkale where there are some great places to stay, including the Hotel Sahin, which has amazing views of the terraces and an outdoor pool.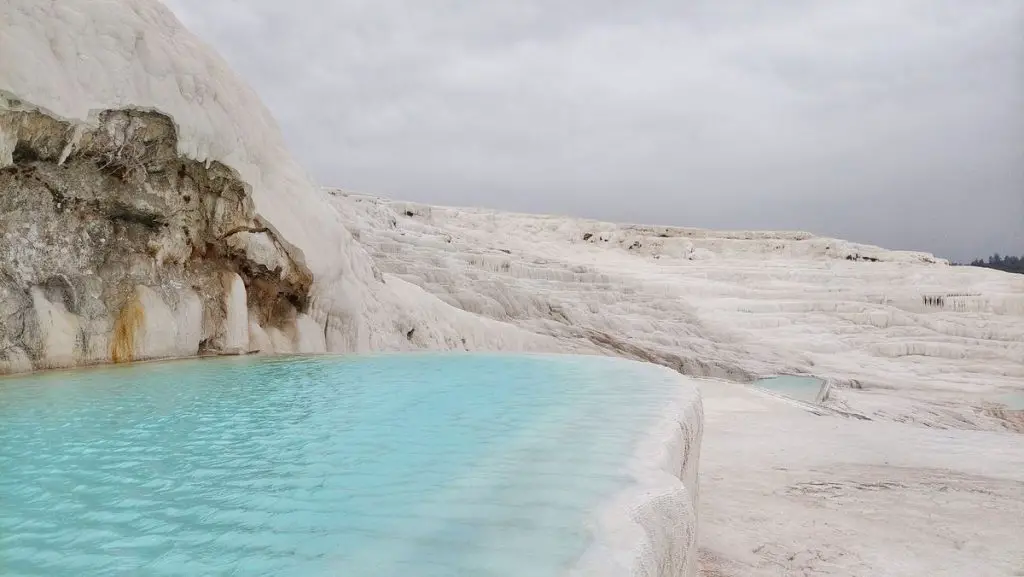 12. Antalya
Kaspars Misins | Make Adventure Happen
Antalya – most people know it because of its all-inclusive resorts. It's one of the top tourist destinations in Turkey after all with its own airport, Antalya airport. However, for me, it's so much more.
Best things to do in Antalya
It's a modern seaside city with well-preserved and beautiful historical sights, and there are a lot of interesting things to do near Antalya.
There are impressive Roman ruins just outside the city, there are waterfalls, and there are also mountains where you can go hiking (yes, you can go hiking in Antalya!). Use good hiking boots.
The city itself is great for walking and cycling, which is just another reason to love it.
See the city and its waterfalls in a city highlight tour by booking here.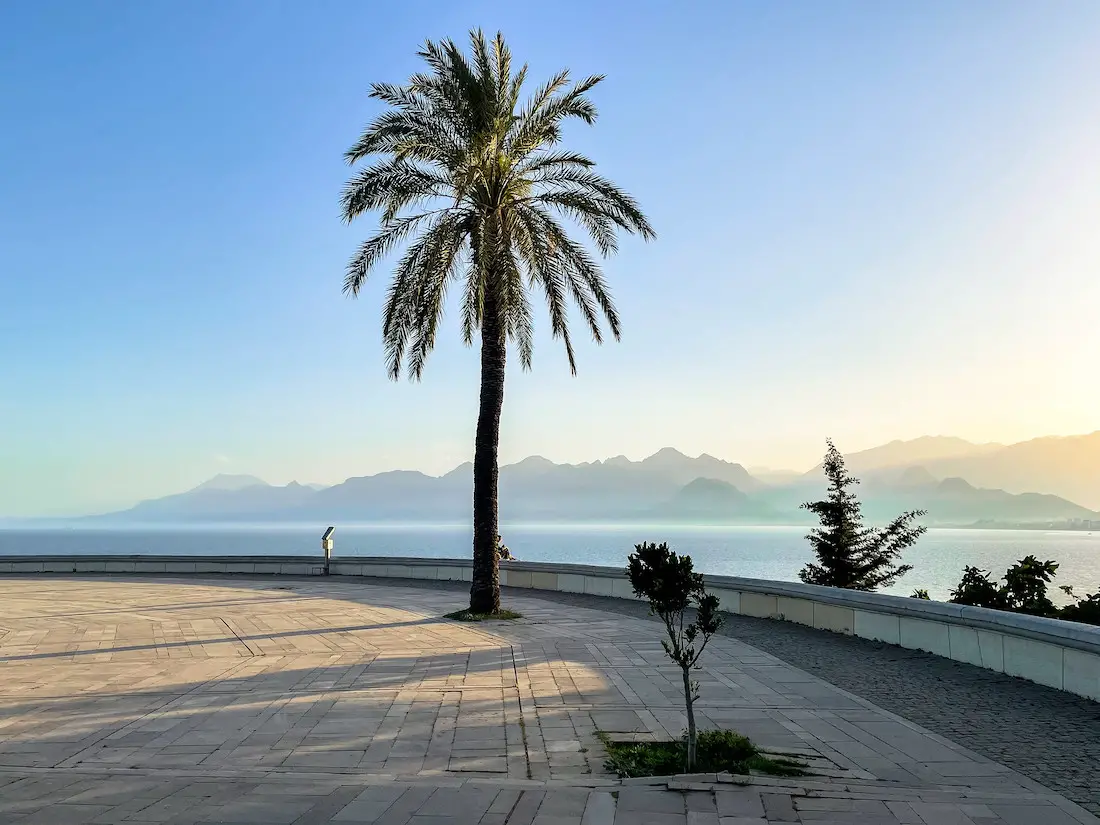 Best Accommodation in Antalya
Efsali Hotel Kaleici | Check your dates here

Bilem High Class Hotel | Check your dates here
For the best overall experience, stay on some quiet streets in the old town. There are hotels for all budgets. Then grab a takeaway lahmacun from one of the many cafes, head to the Karaalioglu Park, and take a better look at where you have arrived to.
If you are on a budget, here's one place to check out, a cheap and popular guest house in Antalya Old Town – Efsali Hotel Kaleiçi.
NOTE FROM ERIN – Do not recommend Hotel Club Sera. We found Bilem High Class Hotel, 3 times cheaper and 3 times better.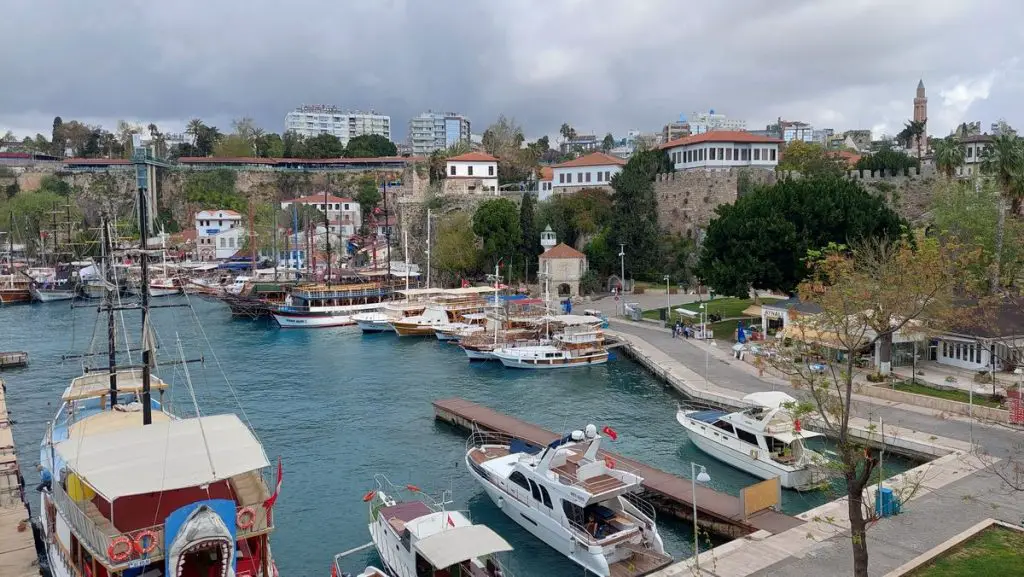 13. Cyprus
Skye Class | Skye Travels
If you're looking for a good Turkish experience outside the country, perhaps consider visiting the dependent Turkish territory of Northern Cyprus. Covering the north half of the island of Cyprus off the coast of Turkey, there are plenty of interesting and unique attractions.
Best things to do in Cyprus
Starting from Girne (or Kyrenia as the Greeks call it), you can visit Bellapais Monastery or St. Hilarion Castle. The ruins of Bellapais date back to the 12th century when the monastery was a sanctuary for the Knights Templar. Some famous wines started in Northern Cyprus and then were brought to France during the Crusades.
St.  Hilarion Castle was established nearly a full millennium ago. The ruins of the stronghold have a great view of the surrounding landscape. There are also some fascinating and gruesome stories connected to the castle (think Game of Thrones).
Consider visiting for more than just a day. There's a lot to see around Northern Cyprus.
Love spooky? Do a ghost tour in Northern Cyprus. Book here.
Best accommodation in Cyprus
Cyprus | Check your dates here
While I stayed at an Airbnb in Larnaca and just visited Northern Cyprus for a day trip, there are plenty of places to stay in the territory. You'll find prices significantly cheaper than in the country of Cyprus (the southern half of the island), and the food and culture are more Turkish than Greek.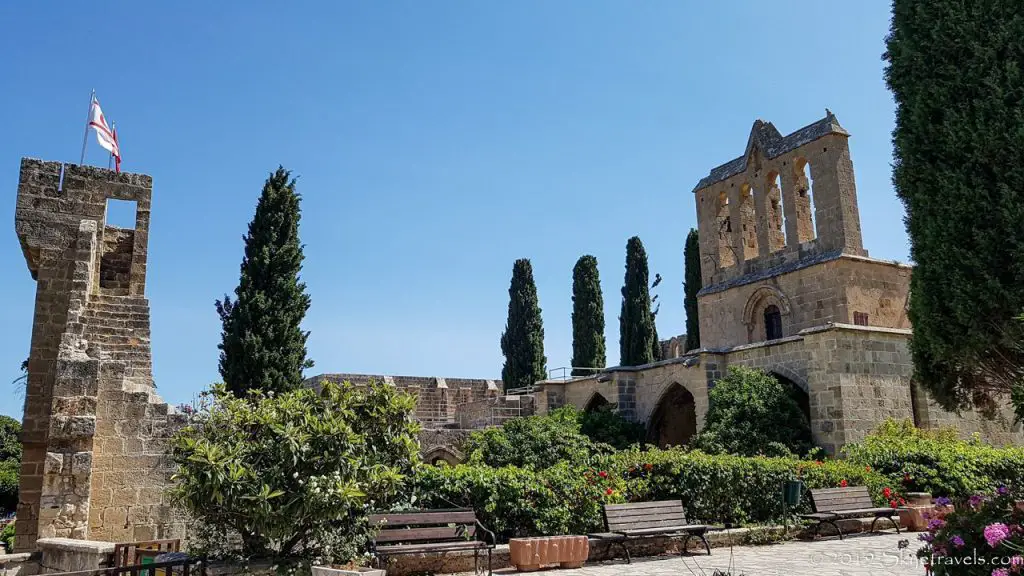 14. Ankara
Baia | Red Fedora Diary
Ankara, the capital, is one of the best Turkey destinations if you are looking for fewer crowds, history, architecture, and green spaces. The town boasts plenty of old sights left from the Roman, Byzantine, and Ottoman eras. 
Best things to do in Ankara
There are plenty of things to do in Ankara with galleries, museums, and architectural marvels. Start the day by exploring the historic neighborhood with typical Ottoman white houses. This path leads to Ankara Castle offering superb views of red-rooftop houses.
One must-visit place here is the mausoleum of Ataturk – Anitkabir. The area consists of a museum, a garden, and a burial area telling a detailed story of Turkey's ex-ruler many locals admire. If you are into history, the Museum of Anatolian Civilizations exhibits items about this part of the country. 
Best accommodation in Ankara
The Wings Hotels Neva Palas | Check your dates here
Ankara is quite big with well-connected public transport. Staying in the city center lets you be somewhat close to the sights, shopping malls, and plenty of restaurants. In particular, The Wings Hotels Neva Palas is an excellent choice.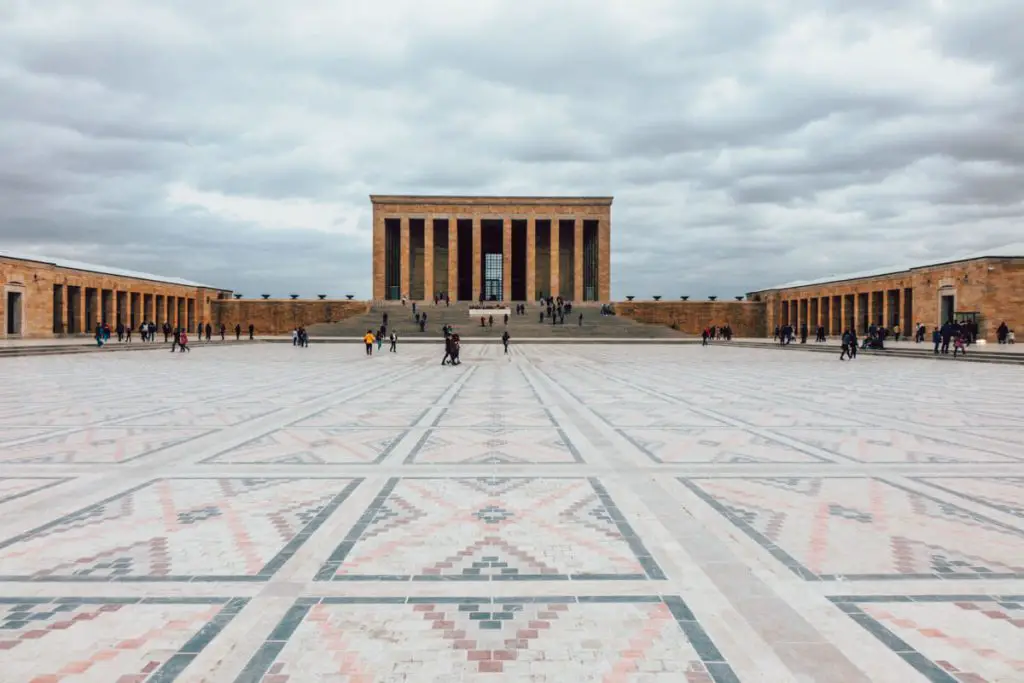 15. Princes Island
Sean Lau | LivingOutLau
The Princes' Island, Adalar in Turkish is an archipelago located off the coast of Istanbul and one of the most iconic landmarks in Turkey.  There are a total of nine islands, but only 4 are visited by tourists. they are Kınalıada, Burgazadası, Heybeliada, and Büyükada. Situated in the Sea of Marmara, these islands offer a serene escape from the chaos of Istanbul.
Best things to do on Princes Island
Visitors can enjoy nature at its finest, whether that is through swimming on the beaches or hiking around the island. One of the most unique features of Adalar is the ban on all fuel-driven vehicles. This means the main mode of transportation is a bicycle, electric vehicles, and of course walking. The lack of fuel-driven vehicles keeps the peaceful atmosphere and fresh air of the Adalar Islands. When we visited the Princes' Island, we visited Buyukada, the biggest of the islands. Immediately we noticed that the pace slowed down,  the streets were cleaner and everyone was more relaxed. We explored the quaint streets of Buyukada, which were dotted with elegant buildings and mansions that many would consider architectural masterpieces. 
Do a full day tour from Istanbul with lunch by booking here.
Best accommodation on Princes Island
Princes Island | Check your dates here
Because it is quite expensive to stay on the Princes' Island, we decided to head back to Istanbul at night instead of staying a night. But a day trip is more than enough to detox from the craziness of Istanbul.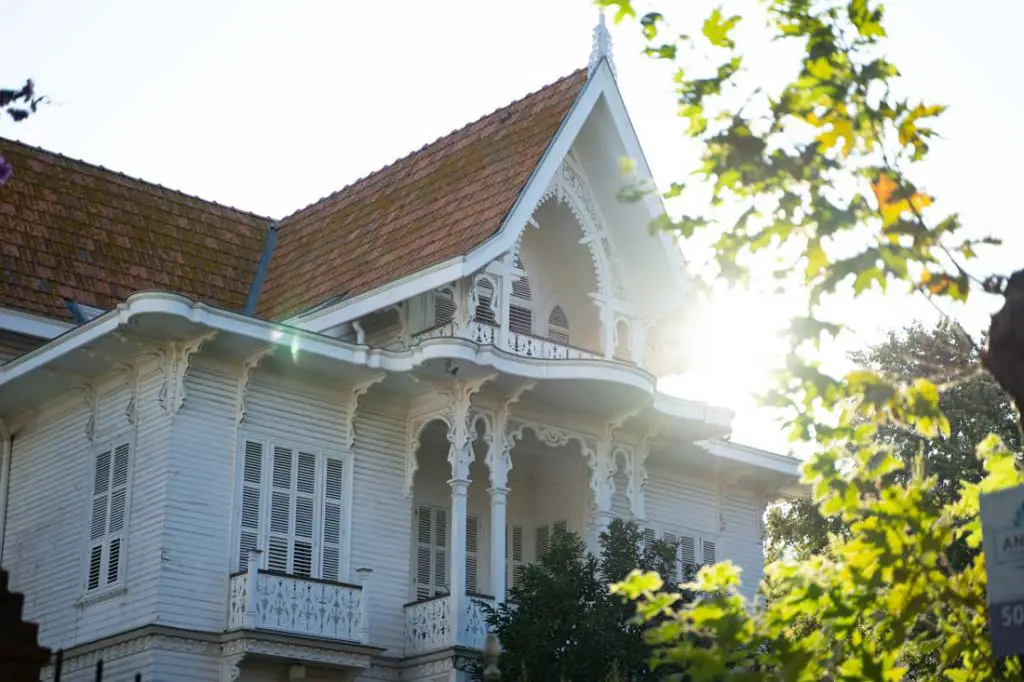 16. Alcati
Florence Shih | Yoga Wine & Travel
Alaçati, though well known among the Turkish travel community as being a chic seaside escape, is often left off of many Turkey itineraries in favor of more well-known destinations along the Aegean coast.
Alaçati has a Greek past dating back to the 17th century, so it is no surprise that its cobblestone streets are still lined with traditional Greek stone houses and even windmills reminiscent of those from the Cyclades.
We loved wandering along quiet side streets and checking out the charming coffee shops and cocktail bars, as well as driving to the coast for dips in the sea.
Oenophiles should also spend a day at one of the local wineries for an afternoon of tastings, and history buffs can explore the old castle in nearby Çeşme.
Best Accommodation in Alcati
GAIA Alacati | Check your dates here
Alaçati is full of stunning design-focused boutique hotels, and I highly recommend checking out GAIA Alacati set in a stone building; not only are the rooms effortlessly sophisticated and cozy, it also features an enclosed internal courtyard where you can get your fix of mouthwatering food and drinks.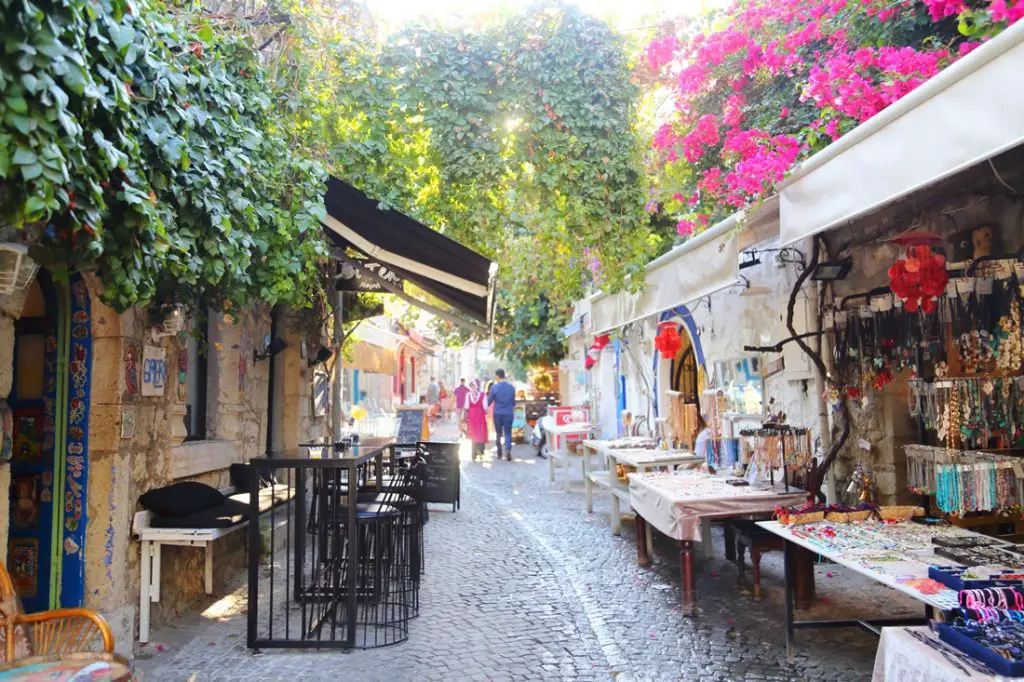 17. Konya
Jane and Duncan | To Travel Too
Konya, a pilgrimage city, 261 km south of Ankara, is an interesting destination to visit in Turkey. If you are traveling from Antalya to Cappadocia, it is worth stopping here for a few days.
Konya is mostly a dry town. Although you will find a restaurant that will serve alcohol, you just need to ask around.
During religious ceremonies such as Ramadan, most restaurants will close during the day, and only a few open in the evening. Consider packing a travel scarf to make visiting religious sites easier. This one has hidden pockets!
Best things to do in Konya
Konya is known for the 'whirling dervishes' a form of meditation dance ceremony created by Jalaluddin Rumi, a mystic and poet, who lived in Konya in the 13th century. Dancers fast before they start the whirling movements in their unique white swirling skirts and unusual hats. Bookings need to be made ahead of time.
When visiting Konya you should allow a couple of hours to visit the Mevlana Museum and the beautiful gardens. The Museum houses the tomb of Rumi.
By clicking here you can do a Konya city tour with lunch, yum!
Best Accommodation in Konya
Mevlevi Hotel | Check your dates here
If you are looking for a reasonably priced hotel check out the Mevlevi Hotel which is centrally located and is family-run.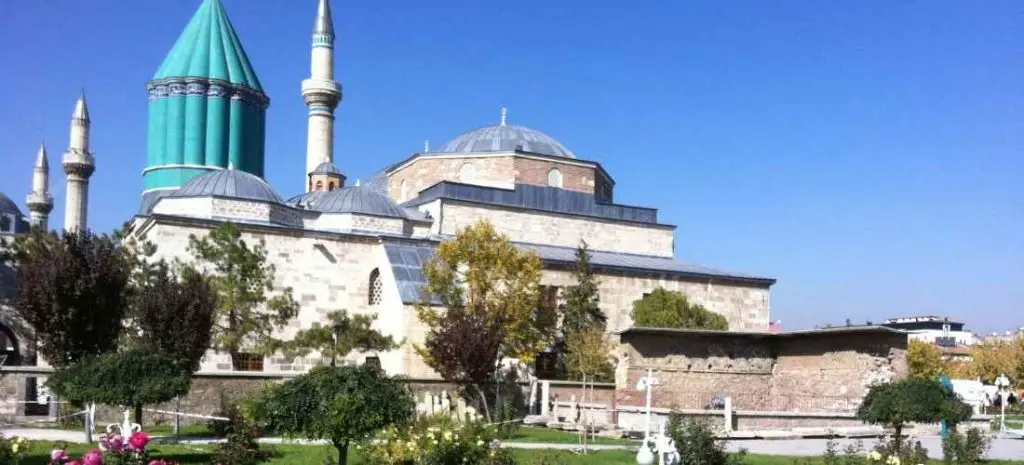 18. Kars
I cycled across Turkey, entering at the Georgian border and finishing in Istanbul. While there were numerous exciting and memorable destinations on our route, a place that I'm so thankful we didn't pass by was the ghost town of Ani.
Ani, on the Armenian border, was once a walled city and home to over 100,000 people. It was abandoned and now its ruins (many of them churches) sit quietly in the rocky landscape.
We were staying in East Turkey, nearby Kars, and took a 40-minute taxi ride to the ruins. We were the only people there besides what looked like a local family.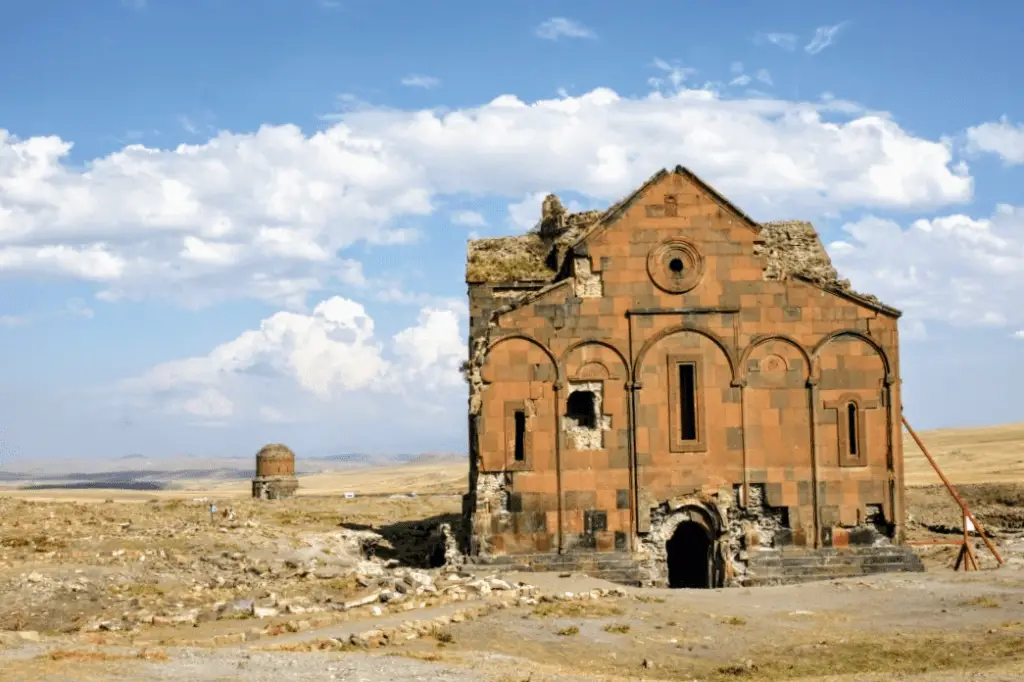 Best things to do in Kars
We spent time wandering around, entering the churches, and gaping at the incredible frescoes. We loved walking through buildings without ceilings and having the area to ourselves. We couldn't believe it wasn't full of visitors.
After about 1.5 hours, we met up with our friendly taxi driver for the bumpy ride back to our hotel in Kars.
to eat in Kars
What to eat in Kars: Be sure to sample the area's kaşar cheese, especially the aged kaşar and the fresh kaşar.
If you're there in the summer and it's hot, try a can of Turkish soda Uludağ Gazoz – it's lemon-flavored and so refreshing in the heat!
Best accommodation in Kars
Hotel Katerina Sarayi | Check your dates here
Hotel Katerina Sarayi is an elegant, river-front hotel with an outdoor seating area.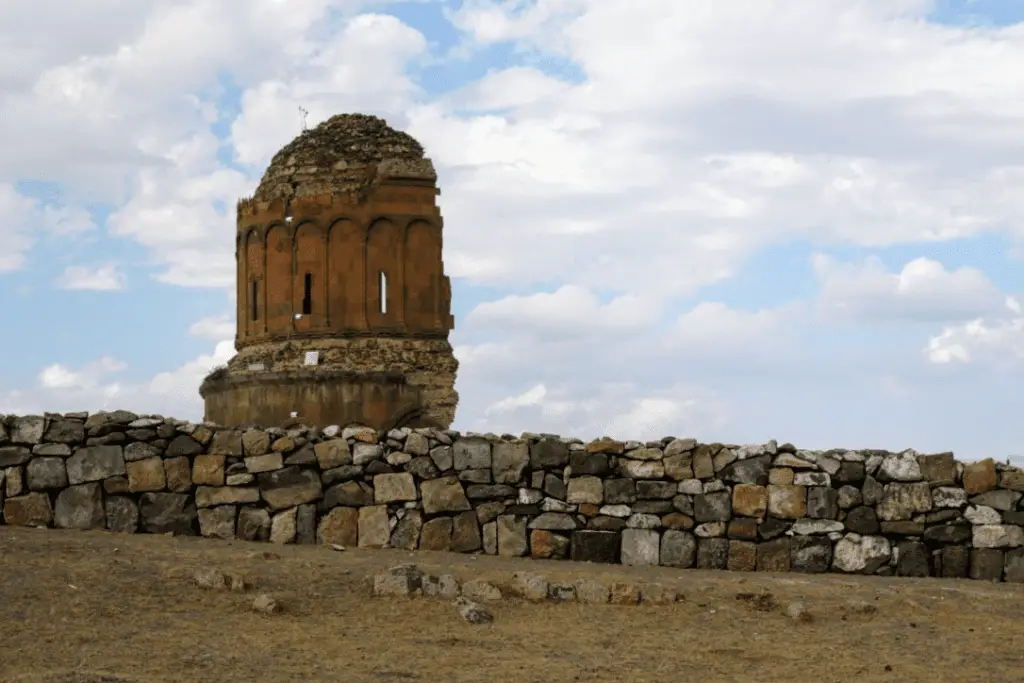 19. Edirne
Marya Sutimi | The BeauTraveler
Once the capital city of the Ottoman Empire, Edirne may not be as popular as other cities that served as the capital city for the most significant Muslim empire of all time. Compared to Istanbul and Bursa, Edirne is now considered one of the off-the-beaten-path destinations for travelers coming to Turkey.
Best things to do in Edirne
Edirne is the home of Selimiye Mosque, one of the historical sites in Turkey classified as a part of the UNESCO World Heritage Sites in the country. The city used to have a significant Jewish population before World War 2.
It is also known for the grand synagogue, which was once the third-largest synagogue in Europe.
Sultan Bayezid II Health Museum remains the only museum in Turkey that contains health-related information far back from ancient times. Currently a part of Trakya University, the latter also makes Edirne popular for its educational institution.
As the city is popular for students, the benefit is that you can find a lot of budget-friendly cafes and restaurants throughout the city!
Did you know you can take a day trip to Edirne from Istanbul? Check prices here.
Best accommodation in Edirne
Cavit Duvan Prestige Hotel | Check your dates here
For accommodation, I would recommend Cavit Duvan Prestige Hotel in Edirne. Situated in the city center, the hotel is only walking distance from Erasta Mall, the biggest shopping center in Edirne. If you're looking for a fancy dinner option in the city, the hotel's restaurant also offers a rooftop view around Edirne with so many signature food and beverages to offer!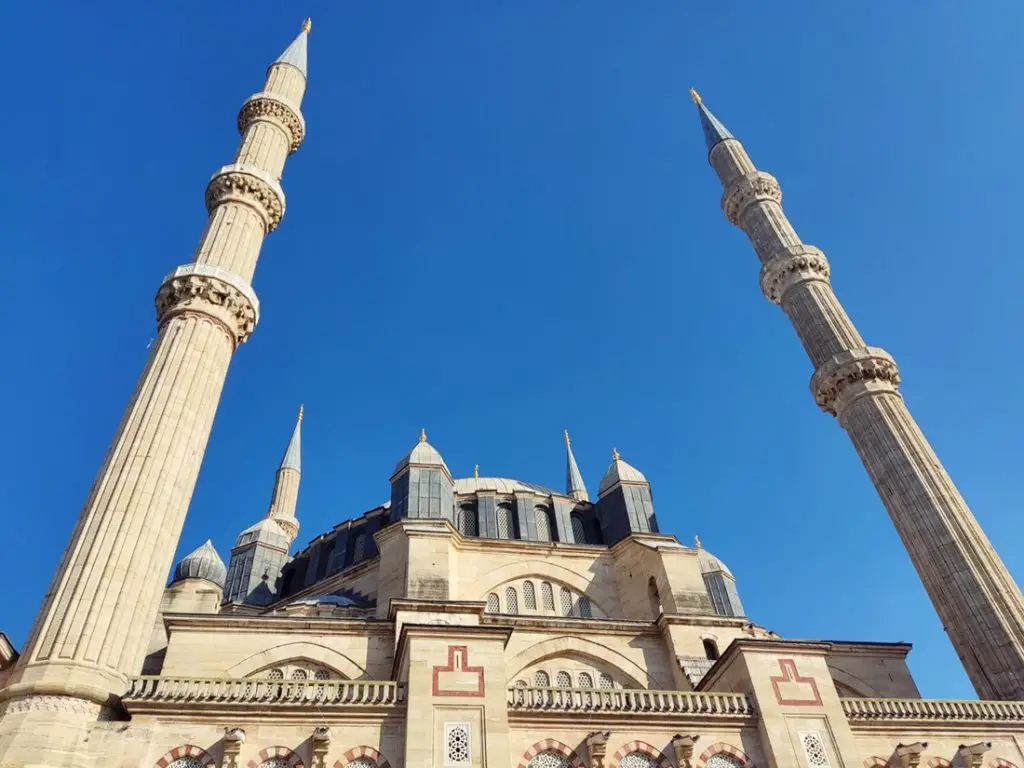 20. Mount Nemrut
Roxanne De Bruyn | Faraway Worlds
Mount Nemrut is one of those places that doesn't look quite real. The mountain is situated in south-eastern Turkey and is known for the ancient ruins at its summit, which turn red either with the sunrise or the sunset.
Best things to do in Mount Nemrut
The statues are huge, originally 8-9 meters in height, the heads enormous by themselves, strewn at the feet of the standing figures.
Believed to be the tomb of King Antiochus I, the site was constructed in 62 BCE and is well worth visiting for the sheer scope of the ruins and the panoramic views from the site. 
Visit at either sunrise or sunset to catch the statues at their best. Use good hiking boots.
If you're visiting for sunrise, consider a tour as you'll have to drive through the dark, otherwise, the mountain is easy to explore independently.
Try a 2 night tour to Mount Nemrut from Cappadocia. See prices here.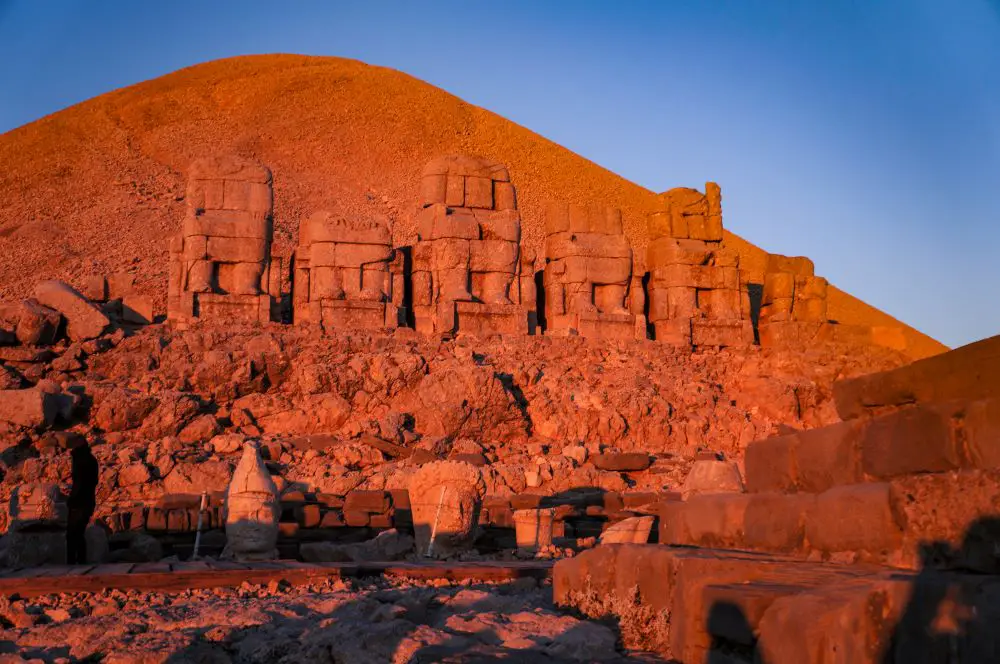 Best accommodation in Mount Nemrut
Kahta | Check your dates here
Accommodation in the Nemrut Dagi National Park is scarce, so stay at Taş Saray Bardakçi Hotel in nearby Kahta instead.
21. Avanos
Michelle Moyer | Moyer Memoirs Empty Nest Travel Adventures
Avanos is a region in central Turkey that is known for its pottery.
Best things to do in Avanos
A stop at the Avanos pottery village is a must for any Turkey itinerary. While there, you can attend an Avanos Pottery Workshop to explain how pottery is handmade from the clay that is found on the nearby river banks. I loved being able to watch the master potter create a tea kettle on the pottery wheel in 5 quick minutes!
to eat in Avanos
We ate at Uranos, a beautiful cave restaurant near Avanos, that served a 3-course meal that featured pottery kebap, an Anatolian specialty. The meal was cooked in a sealed clay pot that was brought out to the table. The pot was broken in an elaborate spectacle to serve the meat, vegetables, and potatoes to everyone at our dinner table.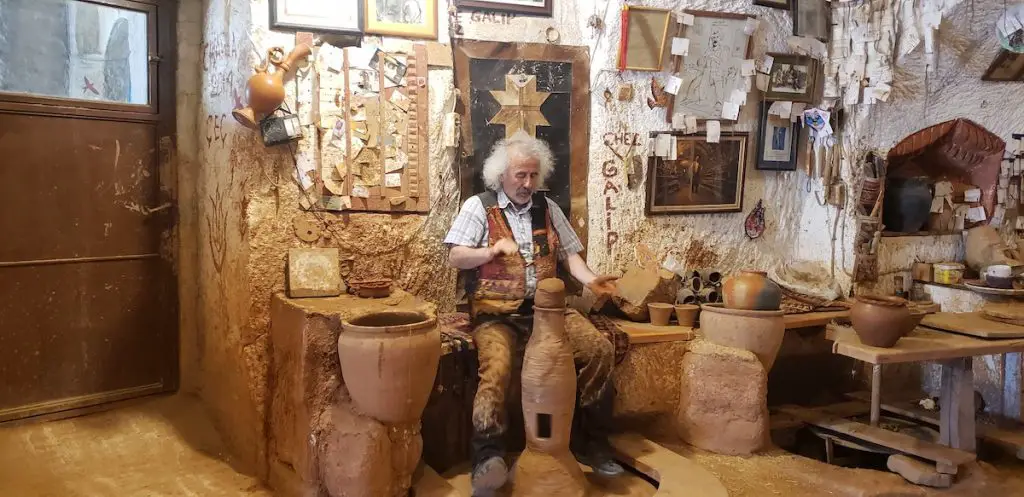 Best accommodation in Avanos
Exedra Cave Hotel | Check your dates here
We stayed at Exedra Cave Hotel, an amazing cave hotel in Cappadocia with all the ambiance of the region. There are many sites to see in and around Cappadocia to add to your itinerary including many other cultural activities like the pottery workshop and it is just a quick drive to the cute little Avanos pottery town from there.
LOOK HOW EASY IT IS TO PIN THIS!
FOMO - do you have it?  Well there is no need to Fear On Missing Out here at Explore With Erin. Sign up to receive updates directly to your in box. I won't spam you, but I do promise a whole lot of awesomeness. What are you waiting for? Join Me!