I've covered the traditional Turkish breakfast several times. In my Turkish foods post and my Istanbul food tour. But if you have a Sunday morning in Istanbul you really can't go past Turkish brunch at Ciragan Palace Istanbul. And it deserves its own post.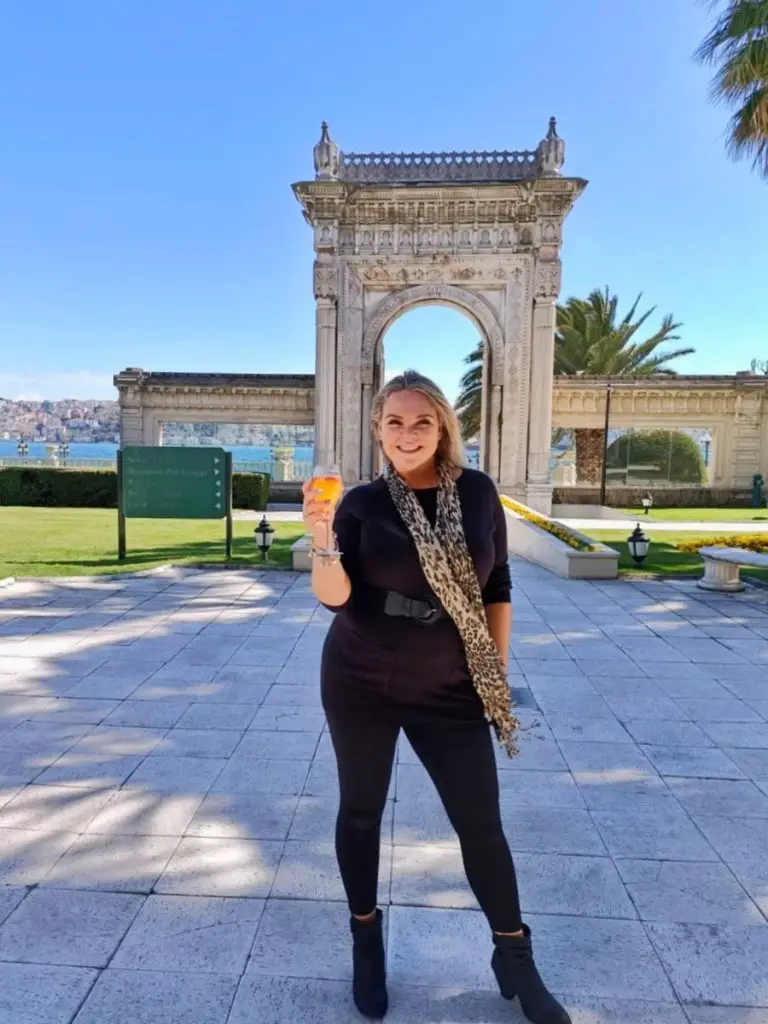 How did I end up at ?
Funny story. I got an invite to try a Turkish buffet breakfast at Çırağan Palace Kempinski Istanbul, but my partner and I were pressed for time with only 24 hours in Istanbul.
So I text Ahmet quickly and asked, "We got a brunch invite in Istanbul, shall I decline?"
"Yeah, we don't have time for brunch, say no. Where is it?"
"Oh, just some castle."
"Castle? What? Send me the name."
I couldn't pronounce the name so I cut and paste the name and sent it to him, Çırağan Palace Kempinski.
"Are you joking? That's a 19th-century Ottoman imperial palace on the Bosphorus! Say yes!"
So after an 11-hour Turkish airlines flight, Ahmet and I stepped out of Istanbul airport, changed our clothes, and headed straight to the famous Turkish brunch at Laledan in this old, amazing palace on Bosphorus Istanbul.
And it was everything and more.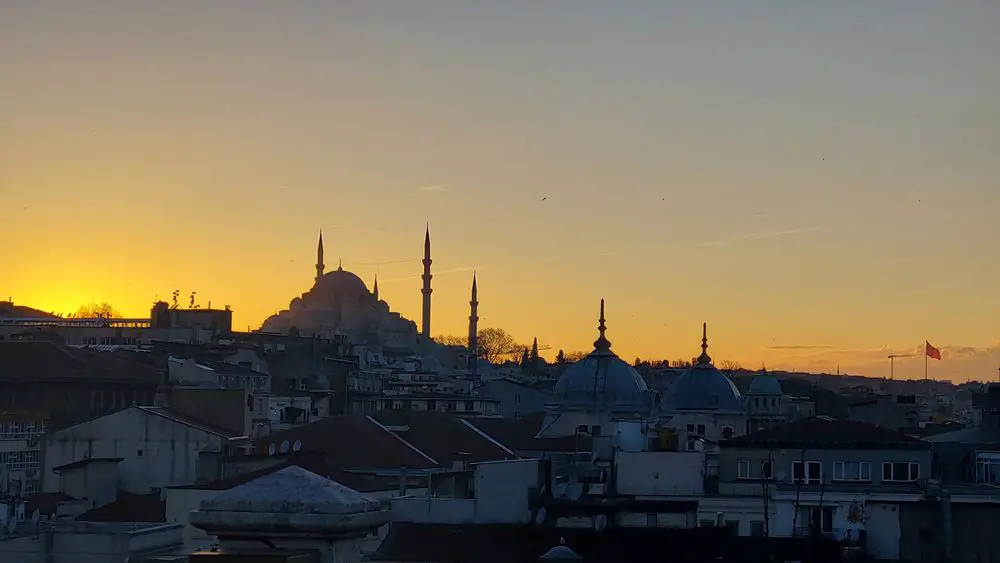 What is ?
The Çırağan Palace is a former genuine Ottoman palace and is now a five-star Istanbul hotel in the Kempinski Hotel chain. It was built during the Ottoman empire between 1863 and 1867 and is located on the European shore of the Bosporus.
Ciragan Palace has 310 guest accommodation rooms including 31 suites. You'll also find the Ciragan Palace Kempinski spa, an infinity pool, which is the only hotel in Istanbul that is accessible by car, yacht, and helicopter.
What are the dining options at Çırağan ?
Istanbul has some pretty impressive places to eat Ottoman cuisine, and you can catch another fine meal I had at the Four Seasons Hotel Istanbul.
However, Ciragan Palace is Istanbul's luxury, top-end dining scene. It has four restaurants, plus plenty of bars and pop-up venues.
Looking out past the pool onto the Bosphorus, The Gazebo Lounge offers a casual yet elegant atmosphere. It features a delicious a la carte breakfast menu as well as indulgent pastries, cakes, and homemade chocolates.
Take a walk through the 17th-century gate in the gardens of the Ciragan Palace Kempinski and find yourself in the Laledan Restaurant for delicious buffet breakfast service. Where the famous Sunday brunch is held.
& Lounge
Located on the first floor of the luxury hotel, diners can experience Tugra's grand dining room with historic Istanbul from Europe over the Bosphorus to Asia.
Bosphorus Grill
Locals meet at the al fresco Bosphorus Grill for seafood and meat barbecues with views across the water to the Bosphorus Bridge and Maiden's Tower.
A luxury venue in the midst of lush green gardens… Located in lush green gardens, our chic bar Le Fumoir is a great place to relax, leave the day behind and taste exquisite, flavorful cocktail creations and a premium selection of the finest liquors.
How much is brunch at ?
CNN reported a night at The Sultan Suite at Ciragan Kempinski was billed at US$35,419.68 making it number 14 among the World's 15 most expensive hotel suites.
As you can guess brunch is not cheap, but with a favorable exchange rate and off-season planning, Turkish brunch prices at Ciragan Palace Istanbul were 690 TL per person during our visit. That was roughly AUD $69.
Check the website for current pricing, because summer prices can more than double.
Children between 5 and 10 are 50% off. You can also get a discount if you book and pay before 4 pm Saturday. Reservations are required.
What time is brunch at ?
There are many places to eat in the Palace, but we headed to Laledan's famous Sunday brunch held on Sundays between 12:30 and 4:30pm.
We got there at 2pm and I have to advise DON'T! You may not think you can utilise 4 hours in a restaurant, but you will. This is one brunch you don't want to conquer in 2 hours. Go the whole 4.
What is Laledan ?
Laledan Restaurant on Sundays at Çırağan Palace Kempinski Istanbul offers the best Turkish breakfast buffet you will find in all of Turkey. With its unique Bosphorus view, surrounded by palm trees, Çırağan Brunch boasts a rich and healthy variety of breakfast classics.
Including a salad buffet, live carving stations, Teppanyaki, hundreds of cheeses, a bakery section, a pasta hub, dessert room, wine, cocktails, prosecco, and much more. They also cater to gluten-free and lactose-free guests.
What was the highlight of Turkish brunch?
The chef's pasta was some of the best I've had. The mimosa station had me visiting quite a few times. I couldn't choose between all the cheeses. The food was so fresh. I've never had a cucumber snap that crisply!
But the highlight. The true highlight…
Is there really a royal dessert room?
After eating my fill of quality, delicious savory food I was walking around taking photos when I spotted 2 large doors wide open into an off room. My jaw literally dropped.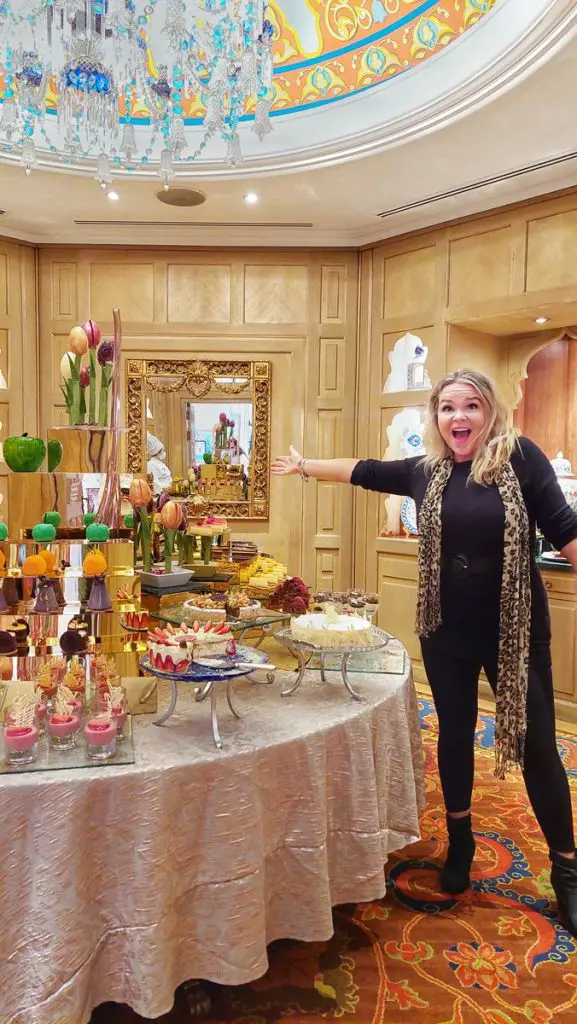 It was a whole room of dessert. What I'd imagine a royal dessert room would look like in any palace. All waiting for my sweet tooth.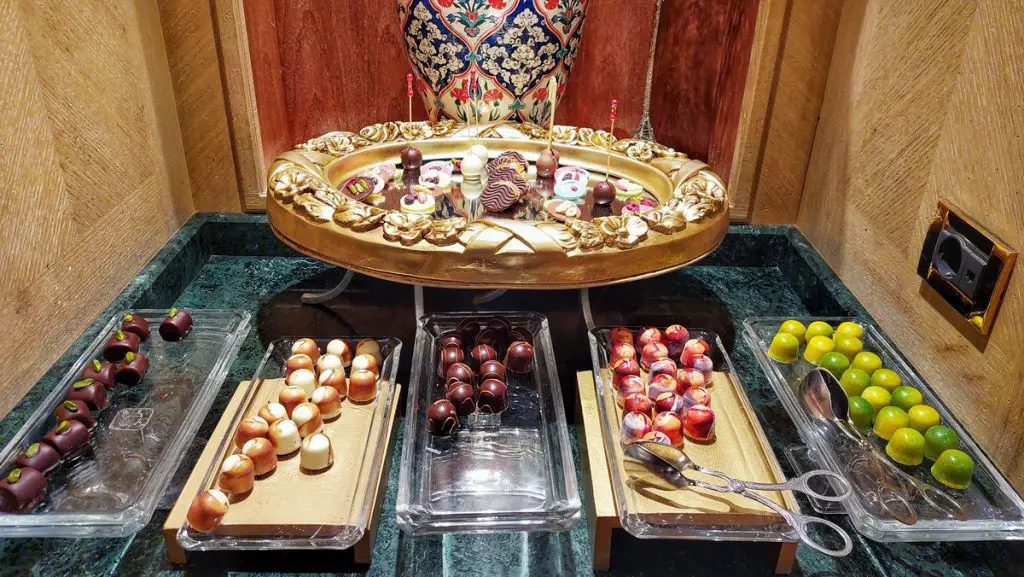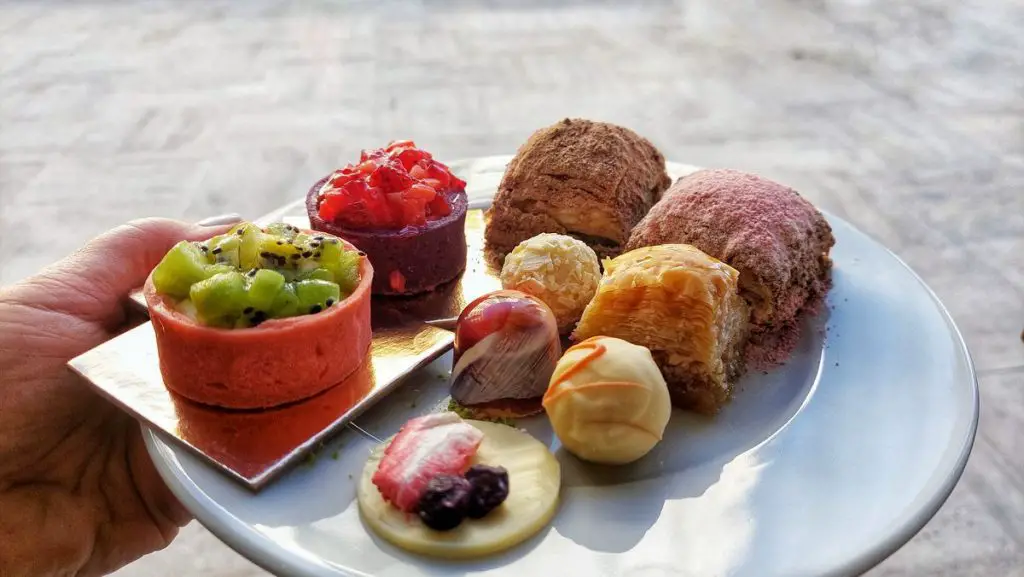 Baklava, chocolate, fruit, cheesecakes, cakes, tarts, mousses, jellies, Turkish delight, I can't even tell you. All so fresh and mouth-watering. Watch my YouTube video for a better idea.
What didn't you like about brunch at ?
I wish someone had explained all the different sections to us. As newbies, there was so much choice and the buffet covered multiple areas and rooms that I didn't even know about some areas.
Also, we are probably very spoilt in Australia, but the coffee was no good and when I ordered a Chai latte, they bought me a very pretty latte, but not Chai.

What's your best tips for eating brunch?
Use the full 4 hours.
Come hungry.
Wear stretchy pants.
Start with dessert.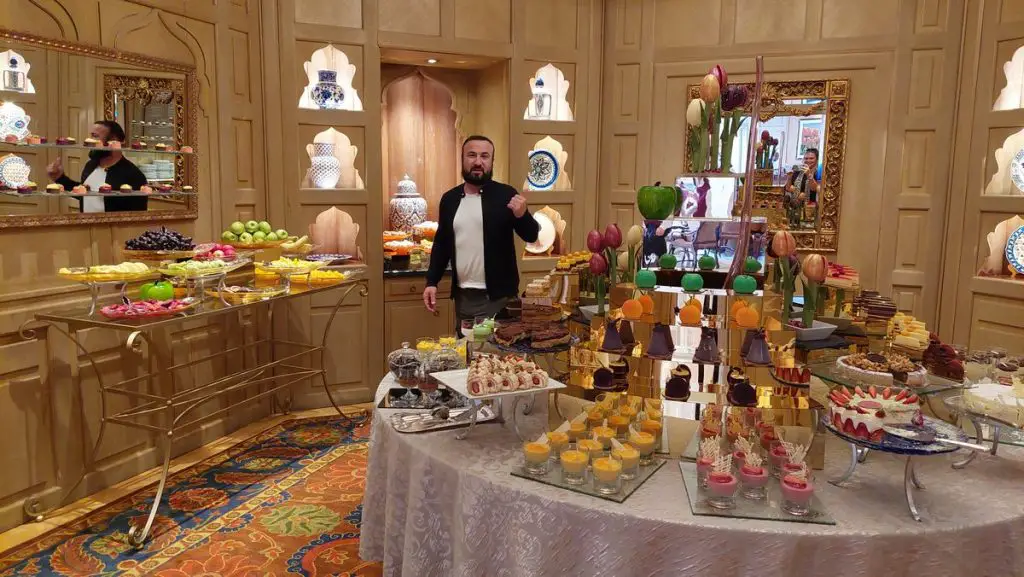 5 Reasons to Eat Turkish Brunch at Ciragan Palace Istanbul
In summary, if you haven't guessed, the 5 reasons to eat at Ciragan Palace are:
It's a palace! What more can I say? On Instagram, to your friends you can say, "Why yes I ate at a palace while in Istanbul." Make sure you perfect the ultimate snobbery.
It's a buffet! You can eat as much as you want, across four hours.
It's luxurious, top quality food! This is no ordinary buffet. The food is fresh, ready to made often, and the best quality you'll find in Istanbul.
They have a dessert room! A whole room full of dessert. Do we really need a number 5?
Location! The views of the Bosphorus are impressive enough, but Ciragan Palace Kempinski is located in Besiktas, a neighbourhood in Istanbul, that is the entertainment district and by the sea.
If you ever get the chance to eat in the dessert room of a palace. Do it. Do it here. Do it now. You'll leave feeling just like an Ottoman Sultan.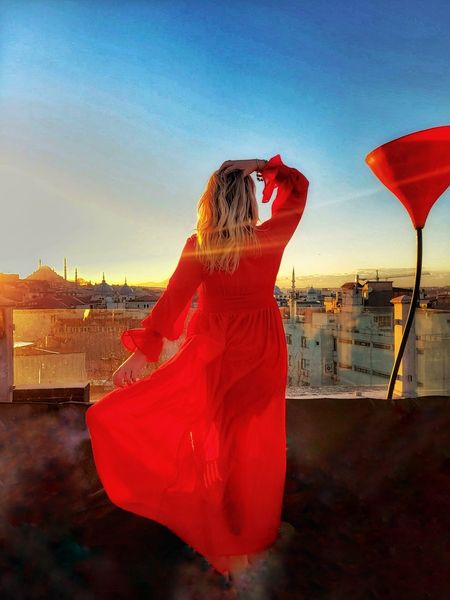 Where to stay in Istanbul?
If you want to stay in a boutique hotel, Sokullu Pasa Hotel is a great location. Only 800 meters away from the ancient Sultanahmet Square in Old City Sultanahmet district. Check the price of this hotel.
Eresin Hotels Sultanahmet is your choice if you're looking for a unique hotel museum. It contains archeological pieces that date back many centuries. They also have great family rooms. Check the price of this luxury hotel.
What else can I do in ?
I have a great list of things to do in Istanbul for you to make up your perfect Istanbul itinerary. Things in old Istanbul like the Hagia Sophia, a Bosphorus cruise, Topkapi Palace, the Blue Mosque, and more. The old city is waiting for you.
Istanbul is one of the 21 best places to visit in Turkey.
Also, consider getting out of Istanbul, there is so much more to Turkey. Read about our 7-day Turkey road trip itinerary here.
Or go hot air ballooning in Cappadocia with kids here.
If you love food so much then consider an Istanbul food tour or a walking tour of Istanbul.
Did you know you can't have day sex during Ramdan?
LOOK HOW EASY IT IS TO PIN THIS!
FOMO - do you have it?  Well there is no need to Fear On Missing Out here at Explore With Erin. Sign up to receive updates directly to your in box. I won't spam you, but I do promise a whole lot of awesomeness. What are you waiting for? Join Me!