While two different neighborhoods with very different histories, the names "Fener" and "Balat" have now become almost interchangeable.
In lovely Fener, sidewalk cafes and European-Turkish bistros share the streets with old wooden houses and small, stately churches. Its rich history lies in its former Greek origins. While Balat was historically the center of the Jewish community in Istanbul. Both appear on the list of UNESCO heritage sites and in my list of best places to visit in Turkey.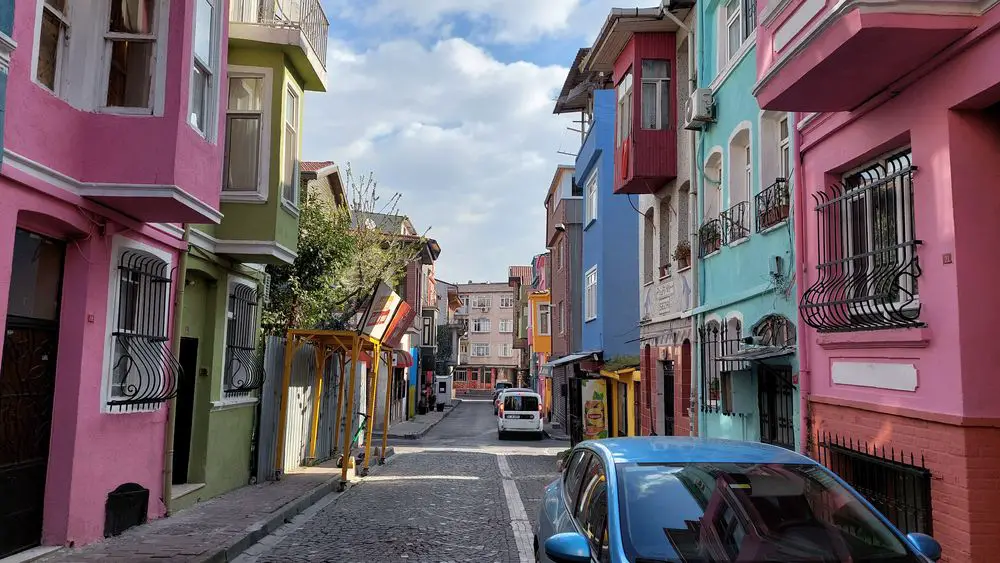 Where in is Balat?
Balat Istanbul is located on the European side of Istanbul, in the old city on the western bank of the Golden Horn. The Golden Horn is a major urban waterway and the primary inlet of the Bosphorus in Istanbul, Turkey.
How do I get from Balat to Taksim?
There is no direct connection from Taksim to the Balat district. However, you can take the Metro and tram. We simply took a taxi, it's approximately 3km.
How do you get to Balat from Sultanahmet?
The cheapest way to get from Sultanahmet to Balat is by tram which takes 22 min. What is the fastest way to get from Sultanahmet to Balat? But the quickest way to your Balat tour is a 6-minute taxi.
How far is Balat from ?
The distance between Fener Balat and Sultan Ahmed Mosque is 4 km.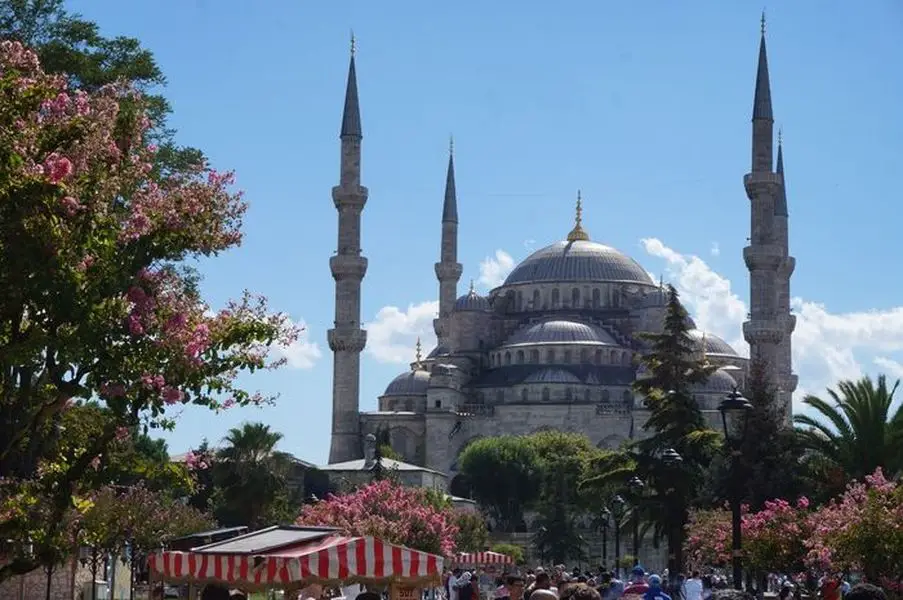 Is safe?
It's a fairly liberal city. People stay out late and there's a decent Istanbul nightlife scene going on here. It's fun and people are friendly. But like most cities in the world, be aware of your surroundings and don't go flashing cash or phones around the place. As always we recommend travel insurance whenever you travel. Especially during these crazy times. I travel with SafetyWing. Check how affordable it is here.
Are there any Covid restrictions in Turkey?
All incoming passengers over the age of 6 must complete a "Traveler Entry Form" at least four days before they arrive in Turkey. The purpose of the form is to contact individuals who have been in contact with someone who later tested positive for COVID-19.
There is no quarantine for fully vaxxed arrivals. While we were in Turkey we were required to wear masks indoors, but this rule has been scrapped as of 26 April 2022, except for hospitals and public transportation.
As always make sure you do your research before heading overseas.
Do They Speak English In Istanbul?
I have never found it difficult to communicate with anyone in Turkiye. English is commonly used.
You can scrub up on your English by using UK assignment geek before going abroad. You'll find English quite helpful in Turkiye. But don't forget to learn basic Turkish words too. 'Hello', 'thank you', 'please', and 'no' are the best words to learn.
Is Balat worth visiting?
You will adore the Balat neighborhood and it is worth visiting. In my opinion, Fener & Balat are the most colorful parts of Istanbul.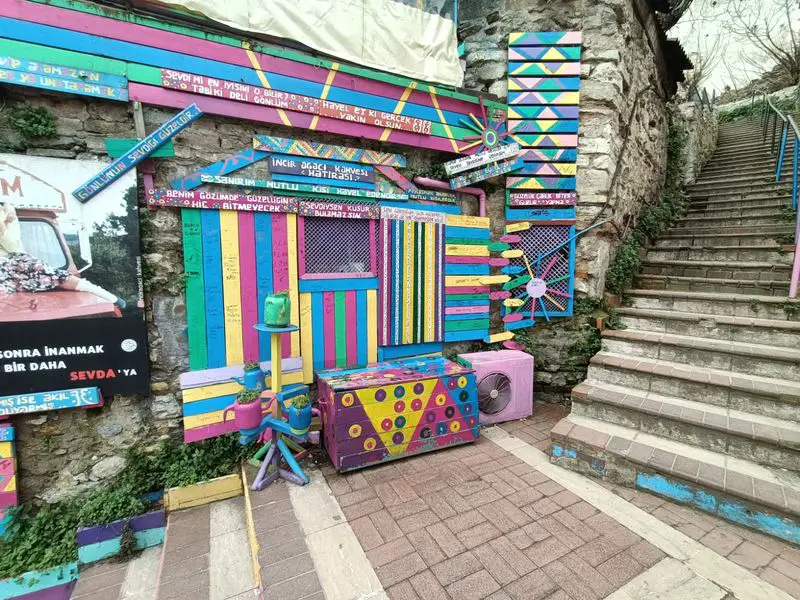 How do you get to the Balat ?
Use a local guide, like Eda from Istanbulite for this Turkey tour. She led us right there at an optimum time to avoid the crowds and movie sets. You can contact Eda via email at [email protected] or +90537346020. Try her on Whatsapp!

Where is Umbrella Street in ?
Hoca Tahsin Street is located in the neighborhood of Karakoy in Istanbul. But we found a little courtyard filmed with umbrellas and fewer people for perfect pictures. Take your own Rainbow umbrella for perfect pics.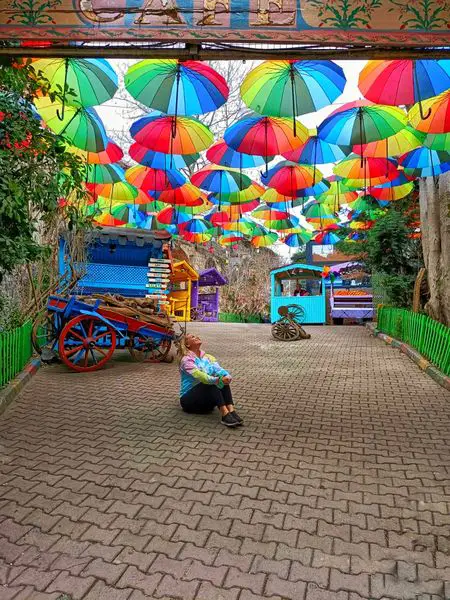 How can I see Fener & Balat as a local?
If you're looking for something a little bit different than the normal things to do in Istanbul consider this Istanbul tour which visits two of the most stunning neighborhoods in Istanbul. But don't do it like a tourist, do it with a local guide. Eda is an Istanbul local who provides personalized tours through her company Istanbulite.
As I had been to Istanbul before I wanted to see a different area of this beautiful city and I was convinced by Eda from Istanbulite to take a guided tour of Fener & Balat.
The best part about using Eda is she can customize a tour to fit into your day. We had one day in Istanbul and wanted to see Fener & Balat, as well as eat all the food so she combined two of her most popular tours for us to be able to do in one day.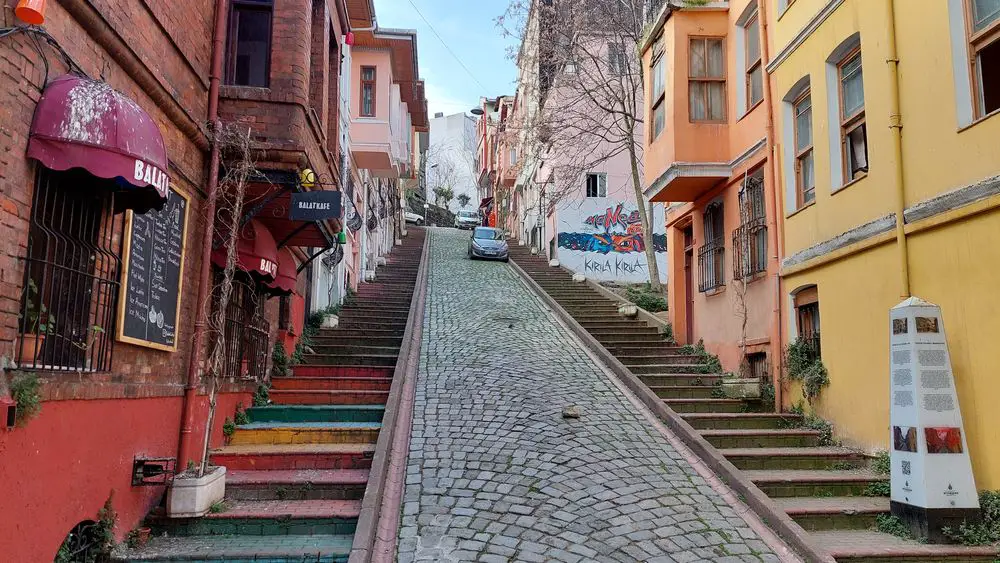 What can I expect from a walking of Fener & Balat?
Fener & Balat are two historical neighborhoods that have not been on the local or tourist radar for decades. The historical neighborhoods have housed the Greek and Jewish communities of Constantinople for centuries. Fener still houses the Greek Orthodox Patriarchate along with historical houses with 2-3 stories, art galleries and workshops that are slowly popping up, and small cafes that are following the lead of the artists.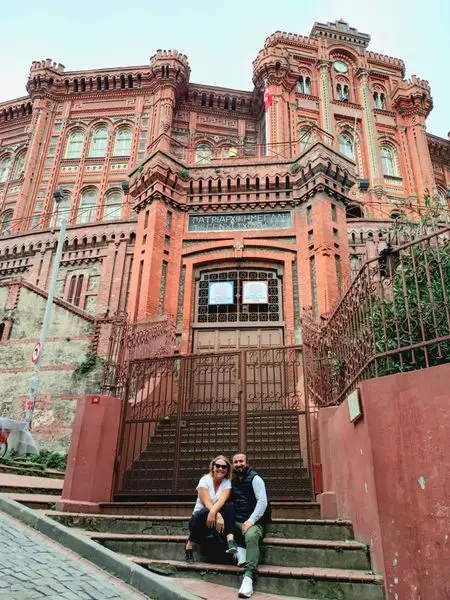 It's the hippest part of Istanbul, even though it still contains impressive historical attractions. You could visit places like the small Chora church, filled with an amazing collection of mosaics from the 14th century depicting the life of Jesus & Mary. Although Chora Church, much like the Hagia Sophia, closed its doors to visitors in 2020 waiting to be converted into a mosque again. Since then, there is a renovation going on inside the building. However, it is not still sure when the Kariye Mosque will be opened again.
But never fear there is so much more to see. Places like – Hagia Blaherna Church, Bulgarian Church, Greek Orthodox Patriarchy, Red School, Church of the Virgin Mary of The Mongols, and the Balat Marketplace.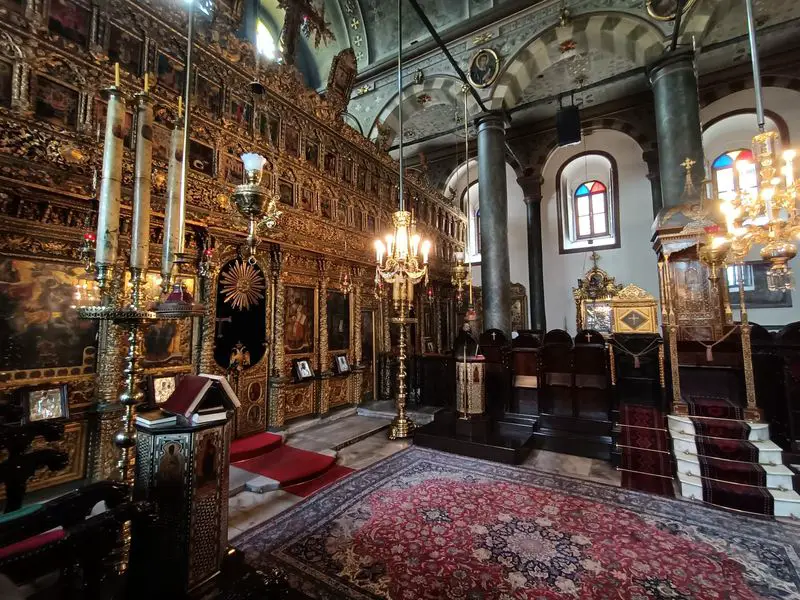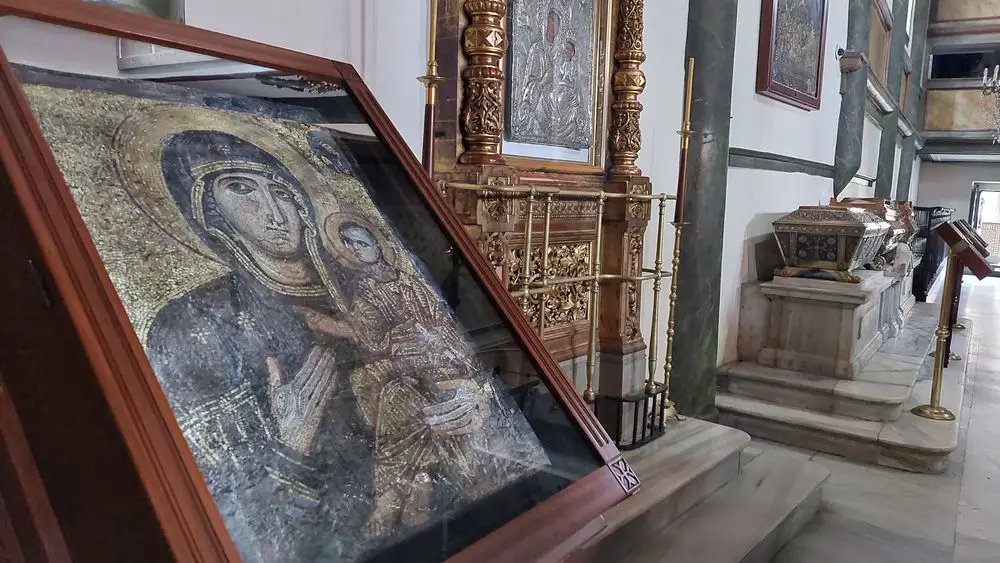 I loved all the churches on this Istanbul tour since the previous day we spent looking at mosques. The Greek Orthodox Christian churches each had something so significant to each of them from Mary's dress to a sliver of Jesus' cross to underground holy water sources.
What fitness level do I need for an walking ?
It was an easy walk, suitable for most fitness levels, however, there are many hills in Istanbul so do prepare for a lot of ups and downs at your own pace. Wear good travel shoes, I always chose my fav pair of Skechers.
What to do after the walking ?
Our customized tours with Istanbulite made it easy to fit what we wanted from Istanbul into one day. Our Fener & Balat walking tour started at 9 am and went for 3 hours. From all that walking we worked up quite the appetite and went on to do a 3-hour Istanbul food tour straight after.
We ended our Istanbul walking tour of Fener & Balat at a cute café for Turkish coffee before taking a taxi to Taksim to start eating. You can read all about our Istanbul food tour here.
Where to stay in Istanbul?
Chose to stay in a boutique hotel. Sokullu Pasa Hotel is hard to get to by car but by far the best location for feet. Only 800 meters away from the ancient Sultanahmet Square in Old City Sultanahmet district. The hotel was built in 1700 and the rooms are decorated in an Ottoman Empire style. The breakfast is delicious too. Check the price of this hotel.
The Eresin Hotels Sultanahmet is built on a rich historical site that contains ancient ruins and integrated to become the first hotel museum in the world. It contains archeological pieces that date back many centuries and these create a unique ambiance unlike anywhere else. They also have great family rooms. Check the price of this luxury hotel.
What else can I do in ?
I have a great list of things to do in Istanbul for you to make up for your perfect Istanbul itinerary. Things in old Istanbul like the Hagia Sophia, a Golden Horn Bosphorus cruise, eating brunch at a palace, the Blue Mosque, Grand Bazaar, and more. The old city and the Ottoman Empire are waiting for you.
Also, consider getting out of Istanbul, there is so much more to Turkey. Read about our 7-day Turkey road trip itinerary here.
Or go hot air ballooning in Cappadocia with kids here on a Cappadocia tour.
LOOK HOW EASY IT IS TO PIN THIS!
FOMO - do you have it?  Well there is no need to Fear On Missing Out here at Explore With Erin. Sign up to receive updates directly to your in box. I won't spam you, but I do promise a whole lot of awesomeness. What are you waiting for? Join Me!