When we originally started planning our trip to Turkey the main idea was to go and go as soon as possible, despite Ramadan or flight costs or weather.
After 2.5 years of being locked in Australia, our borders were finally opening so we were set to travel. We made plans to fly with Turkish Airlines in April before my partner told me that it was Ramadan. We were headed to Turkey for 3 weeks in April and the entire time it would be Ramadan! Oh no.
Can you ?
My mother asked me, "Is it OK to visit Turkey during Ramadan?"
Then I asked my Turkish man, "Can you travel to Turkey during Ramadan?"
And he responded, "of course, it's no different."
What is ?
Ramadan is the holy month. The ninth month of the Muslim year, during which strict fasting is observed from dawn to sunset.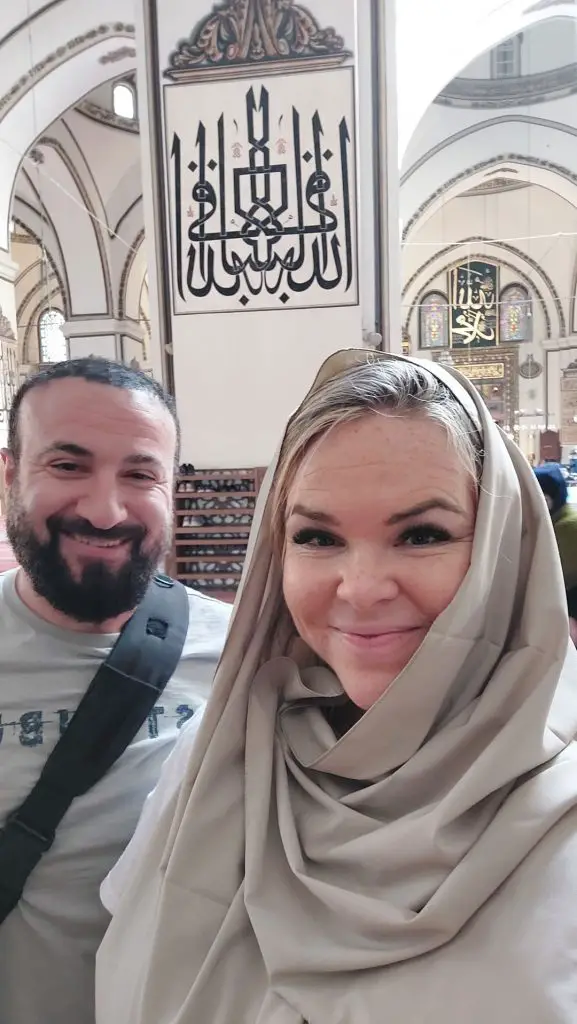 What are the rules of ?
The most commonly accepted rule is that you must not eat or drink or have sex between sunrise and sunset. Even water is not to be taken during the fast. During this fasting period, they are instead encouraged to devote themselves to their faith and come closer to Allah, or God.
When do Muslims break their fast?
Preceding the fourth prayer of the day is the breaking of the fast. While we were in Turkey this meal known as the Iftar meal happened after sunset, around 7:30 pm.
How do they know it's time to eat?
In the old days when everyone lived in the central cities, there was a thing known as the Iftar Canon.
Madfa al iftar translated as 'cannon for breaking the fast', is an ancient tradition that started in Egypt and spread around the Middle East and surrounding countries. Every day minutes before the Maghreb adhan, a cannon would fire a single shot to notify people of the time of Iftar in Ramadan, when Muslims get to break their all-day fasting at sunset. This practice started before the invention of clocks or the internet.
One night we were seated at an old restaurant by the castle walls in Bursa. I unwittingly started eating when my partner asked me to wait. Wait for what? The sun had set let's eat! Then the loud BOOM resonated around the walls and through the valley. I had no idea what it was and jumped out of my seat. Everyone laughed and started digging into their meal. Iftar canon. Only heard if you are in the city center.
These days, of course, a schedule is printed on the internet.
Do I have to eat after ?
No. All restaurants are open. However, I do highly recommend eating the Iftar meal amongst the celebrating Muslims. It was the best time to eat as the Turkish people created a fun and hospitable atmosphere. 
We even did an Istanbul food tour in the middle of the day.
What do they eat at Iftar?
The Ramadan feast at the end of the day is a huge deal and big meals are often shared between multiple households. I'm quite glad I got to witness this Turkish culture. I sure ate well while in Turkey during Ramadan. I have a great list here of the Turkish foods we ate that will make your mouth water.
Wait, can you not have sex during ?
During Ramadan, Muslims must abstain from sexual activity between sunrise and sunset. There is no rule for a bedtime snuggle.
Who doesn't practice ?
You are exempt from fasting if you are:
Pregnant or breastfeeding
Menstruating
Diabetic
Very ill
Doing Long-distance travel
As a Christian I do not practice the Ramadan tradition, however, my Muslim partner was thankful to fall in the last category of travel considering we arrived on the day Ramadan started via a long flight from Australia. He did, however, chose to abstain from alcohol during the month out of respect for Ramadan.
Can you drink alcohol in during ?
During Ramadan, many Muslim drinkers abstain from consuming wine, beer, or spirits of their own free will for the month. My partner did this. It is not a specified rule, but rather a self-imposed limitation.
But can tourists drink alcohol in Turkey? Definitely. There are no limits on alcohol during Ramadan. 18 and over is the legal drinking age and most places continue to sell alcohol during the month.
Can you drink in Istanbul during Ramadan? Yes. My recommendation is to hit a Rooftop Bar for that experience. 
Is it OK to visit during ?
Turkey, while a Muslim country, is one of the most liberal Islamic countries in the world. They don't have laws regarding the strict observance of Ramadan like the United Arab Emirates and many people choose not to observe the festival at all. We found that while some smaller cities had a stricter code, we did not even notice Ramadan in most places, especially the tourist areas.
So is it okay to visit Istanbul during ?
As I mentioned above you will find that in most tourist areas the holy month did not make much of a difference. As a non-Muslim, you are not expected to fast, and all the restaurants and bars are open for business as usual.
Tourist attractions were also open as usual. You can read an expat guide to living in Turkey and see that many people live and enjoy Turkey without celebrating Ramadan.
Check out the 10 things we did in Istanbul including the Blue Mosque, Hagia Sophia, and all the best places. Or find the best places to visit in Turkey here.
Perhaps we found more people at prayer during our visit, but you could still enter a mosque or take a Turkey tour during Ramazan Bayrami.
What happens in Ramadan in Turkey? I was so nervous to travel to Turkey during Ramadan, but the moment we landed in Istanbul I could not even tell. In truth, I found the majority of Turkish people did not observe the fasting either. It seemed to be a very generational thing, that is not as popular in the younger generation as it was in the older generation.
Many of my partner's grandparents and aunties were fasting, however at shopping centers and restaurants people were eating, drinking, and proceeding as normal.
So are things closed in Istanbul during Ramadan? No.
Was there anywhere that was an issue?
It was very hard to tell if Ramadan was the issue or if it was simply because we had also arrived during the low season. However, many of the beautiful mountain cafes on the major highway were not yet open.
In all cities we visited every restaurant, hotel, and tourist attraction was open.
What do your wear in Turkey during Ramadan?
Turkey is so liberal I found no restrictions on what I wore. Mosques provide appropriate clothing for your visit, however other then religious sites the dress code was quite similar to what I wear here in Australia. I wore shorts, singlet tops, and even a bikini. I have seen more covered women in Malaysia than Turkey.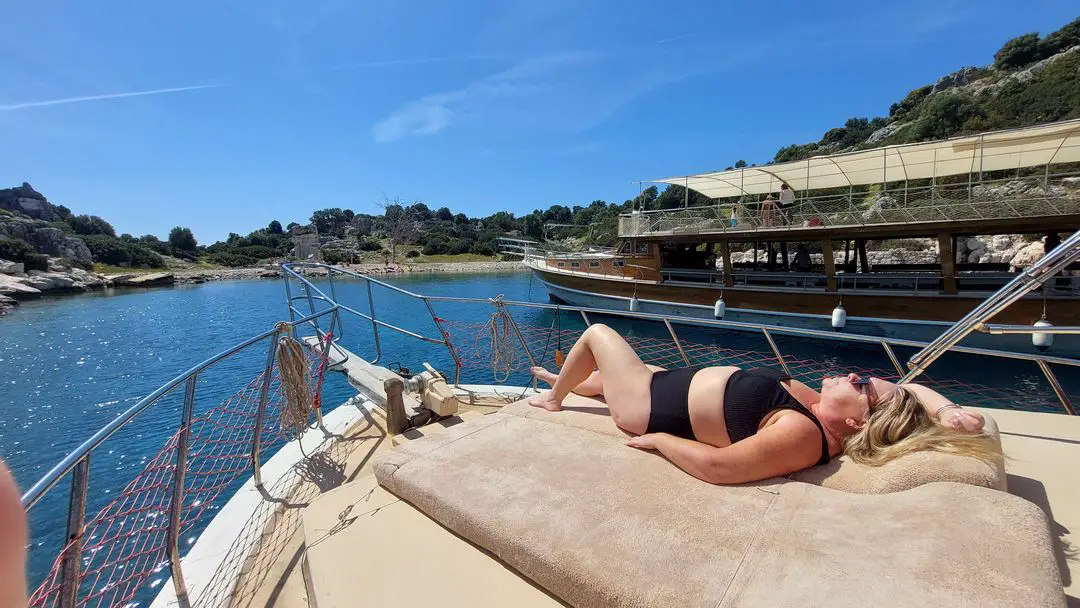 Are you allowed to during ?
In the Quran, Allah says that you are exempt from fasting while traveling because He does not wish to make it difficult for you. So yes, you may travel during Ramadan. Consider hot air ballooning in Cappadocia.
Are shops closed in during ?
During Ramadan in Turkiye, all shops are open for business as usual. The only exception may occur on the last day of Ramadan when businesses may close in the afternoon in preparation for the three-day holiday known in Turkey as Ramazan Bayramı, (or Seker Bayram / şeker bayramı) which begins at sunset. The Ramadan feast (Eid celebrations).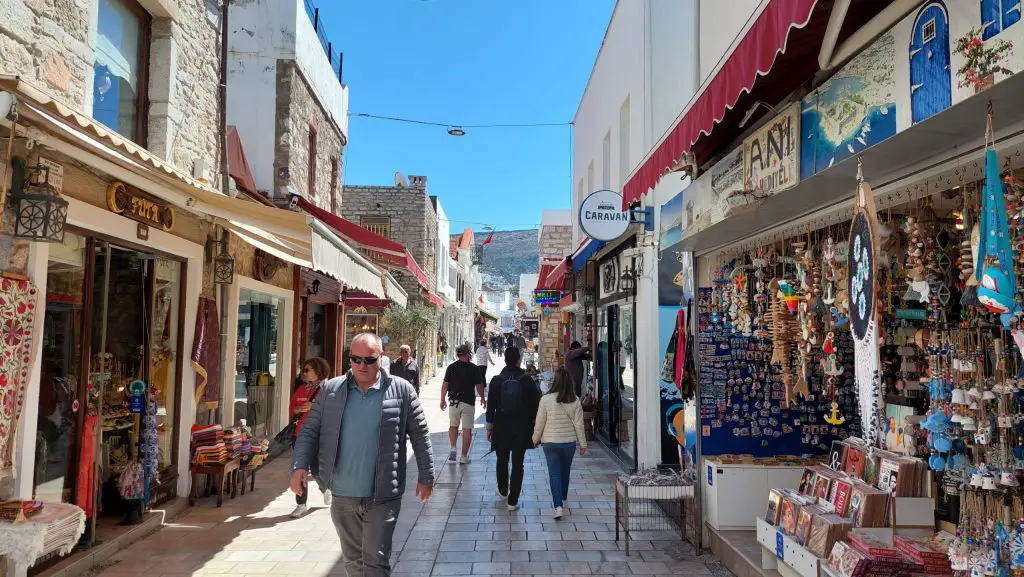 Would I recommend traveling to during ?
The holy month honestly made no difference to our itinerary or agenda. Visiting relatives during the day often meant we were not served tea or snacks, but most visits ended up occurring after sunset since the Turkish culture oozes hospitality.
Instead of wondering if Ramadan would be a problem consider more the out of season months in Turkiye are slower and if the weather is to your liking for travel during Ramadan.
Go and enjoy. You'll find traveling in Turkey is no issue during the religious month of Ramadan. In fact it may even be more fun with all those wonderful Turkish Iftar dinners. 
LOOK HOW EASY IT IS TO PIN THIS!
FOMO - do you have it?  Well there is no need to Fear On Missing Out here at Explore With Erin. Sign up to receive updates directly to your in box. I won't spam you, but I do promise a whole lot of awesomeness. What are you waiting for? Join Me!