What is that magical city in Turkey? Cappadocia.
It's been more than 10 years since I was last in Cappadocia. My first trip was with two small children. This trip was with a group of women desperate for adventure, and romance, and to explore all the hidden treasures of Cappadocia.
After taking my family, and leading a group of girls around, there are a few travel tips I learned about Cappadocia that you should know before you go.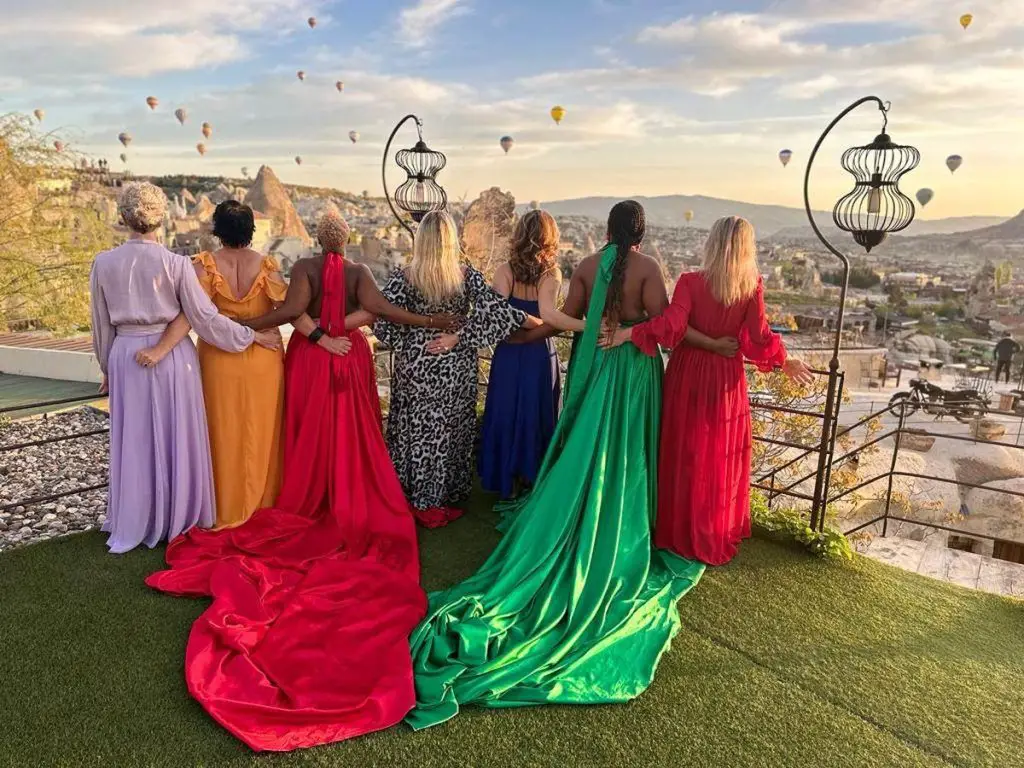 Planning a trip to Cappadocia?

Make sure you book your tours, places to stay, and airport transfers ahead of time to ensure availability!

Our recommended airport transfers in Cappadocia:

1. We used Penna Travel for our group of 8. But you can check prices here for:

Our recommended tours in Cappadocia:

1. Hot Air Balloon Flight In Cappadocia At Sunrise (We flew with Royal Balloons and highly recommend it!)

5. Quick Cappadocia (The best for an overview in a short period – we used Penna Travel)

Our recommended places to stay in Cappadocia:

1. Kayakapi Premium Caves (Ultimate luxury)

2. Taskonaklar (Affordable privacy)

3. Travellers Cave Hotel (Affordable, in town)
Are you thinking about visiting one of Turkey's most memorable spots? Want to know how to make the best of your trip? Keep reading to discover 22 things you need to know before visiting Cappadocia. The first-timer's ultimate Cappadocia travel guide.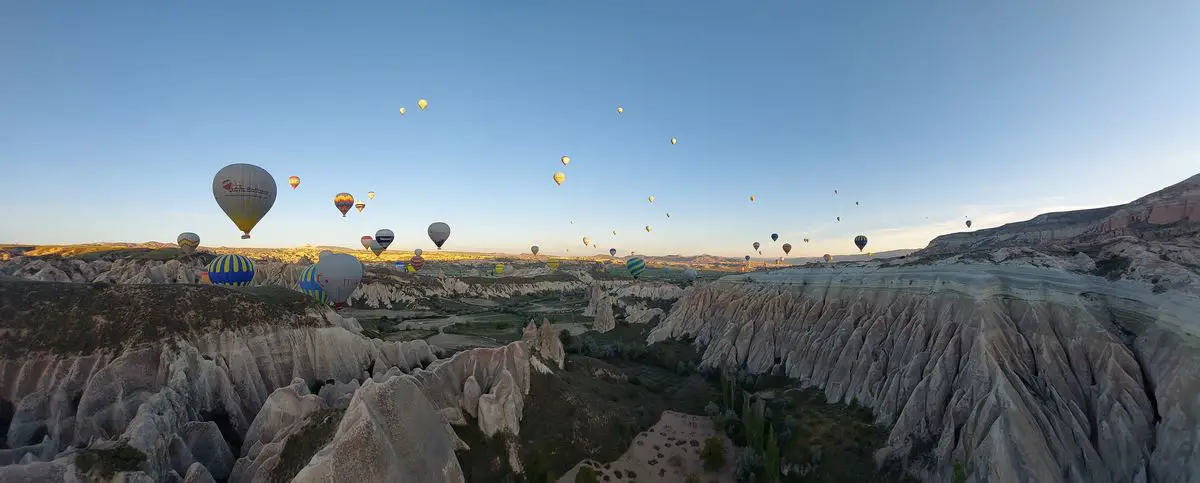 22 Things You Need To Know Before Visiting Cappadocia
1. Cappadocia is not a city in Turkiye
Kapadokya (Turkish spelling) is not somewhere you can fly to. Cappadocia is a historic region in central Anatolia and use to be an independent empire.
While most people have a desire to visit Cappadocia, what they are referring is to a stay at Cappadocia's regional tourism hub, Goreme.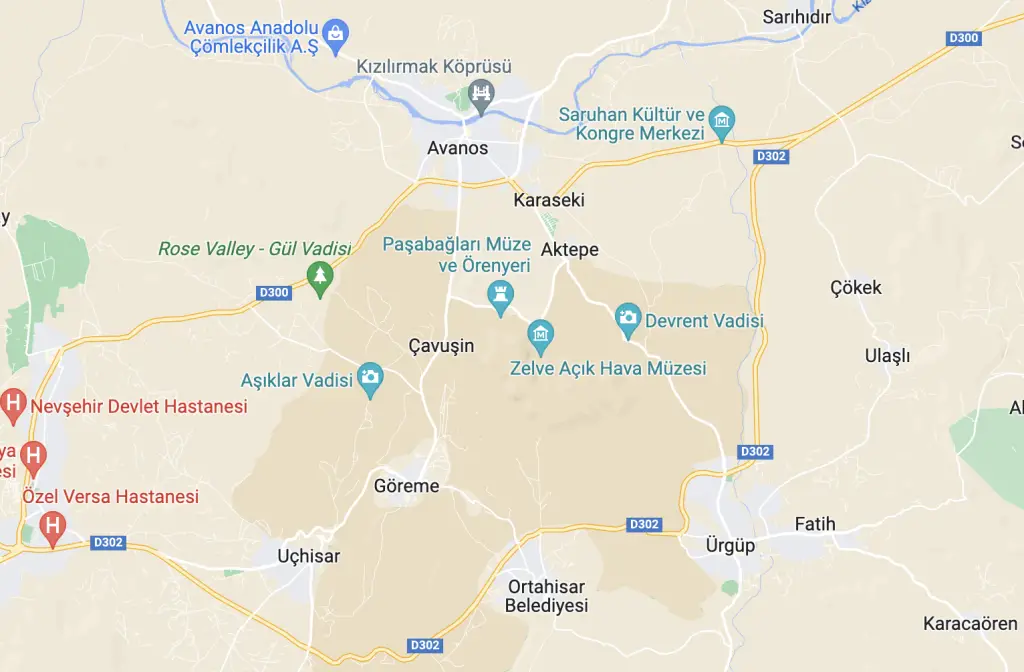 2. You Must visit Cappadocia
Should You Visit Cappadocia? 
Yes! There is no doubt in my mind that you should visit Cappadocia. It is one of the most unusual and beautiful parts of Turkiye.
What is unusual about Cappadocia?
Cappadocia is famous for its unique rock formations and amazing hot air ballooning opportunities, the otherworldly landscapes of Cappadocia are one of Turkey's most popular natural wonders.
Now a designated World Heritage Site, the rock sites of Kapadokya and Göreme National Park are described by Unesco as "one of the world's most striking and largest cave-dwelling complexes."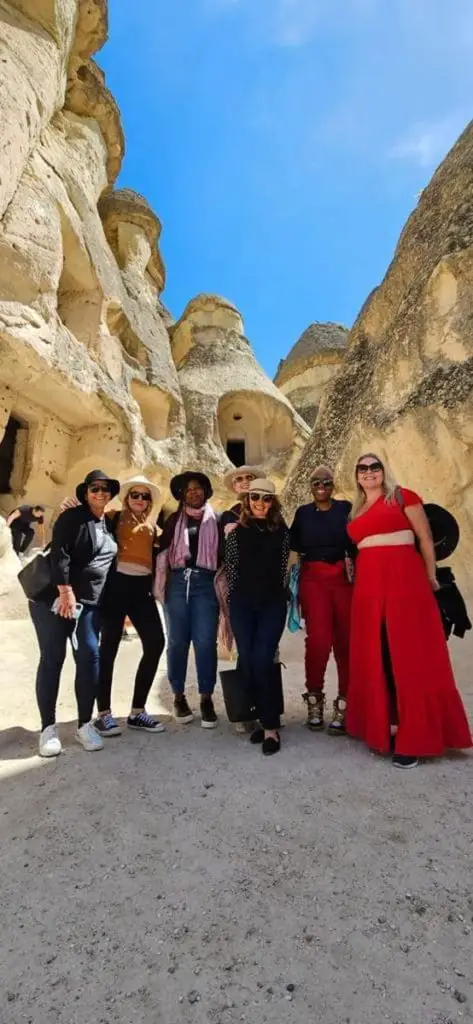 Which is better Antalya or Cappadocia?
When deciding where to visit on a visit to Turkey, many people pick Antalya for its beaches and all-inclusive hotels. Big mistake in my opinion. Cappadcia's out-of-this-world landscape makes it something you don't want to miss.
On top of that Cappadocia can be visited all year round, while hotels in Antalya only operate really from late April to early October. And even we noticed most resorts weren't open in April in Antalya.
3. Cappadocia is nowhere near the rest of your Turkey trip
Many people visit Istanbul in Turkiye or the Turkish Rivera. Many love the coastal Izmir or the Roman ruins of Ephesus, but Cappadocia is not near any of that.
Cappadocia is in the center of Turkey.
What is the closest big city to Cappadocia?
Kayseri is an hour's drive east of Cappadocia, and the region's largest city, with its busiest airport.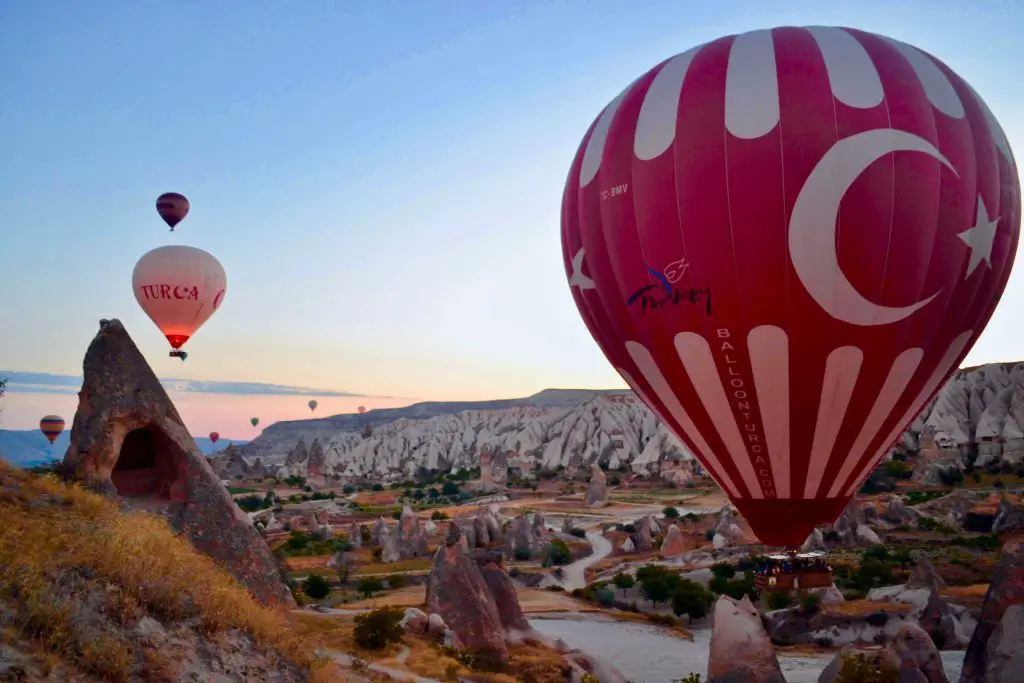 4. There is more than one way to get to Cappadocia
How Do I Get to Cappadocia? 
Drive, take the bus, ride the train, or fly in a plane. There are many ways to get to Cappadocia.
How long is the train ride from Istanbul to Cappadocia?
The trip from Istanbul to the Cappadocia area is approximately 735 kilometers long and will take you about 13 hours to travel.
How long is the drive from Istanbul to Cappadocia?
You could drive from Istanbul to Cappadocia in just over 8 hours.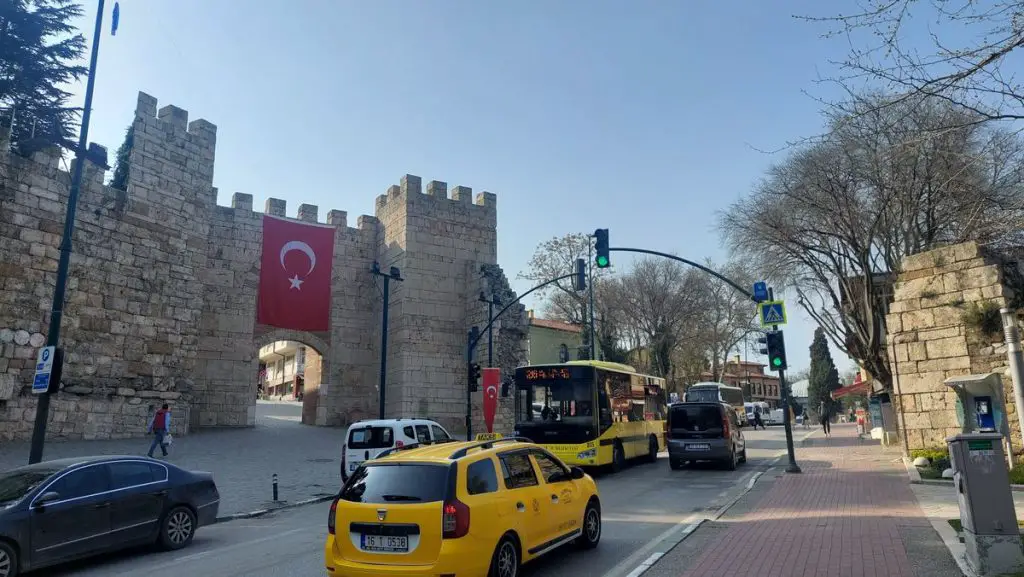 What is the closest airport to Cappadocia?
My preference is to fly to Cappadocia. From Istanbul to Nevşehir is a direct 1 hour and 30 minutes. Nevşehir is closer to Goreme, however, there is an alternative airport at Kayseri. It's a little further away but is a larger airport so you can find flights to more destinations in Turkey.
We flew from Istanbul to Nevşehir and then found a direct flight from Kayseri to Antalya.
What airport do you fly into for Cappadocia?
Kayseri Erkilet Airport (ASR) or Nevşehir (NAV).
5. You Can Not Do Cappadocia In A Day Trip
This is not a day trip destination. Other than the fact that it is so far from most other destinations. The majority of activities in Cappadocia are all based around sunrise, so if you are flying in and out on the day, you will miss some of the best things to do in Cappadocia.
If you want to try, click here to see how!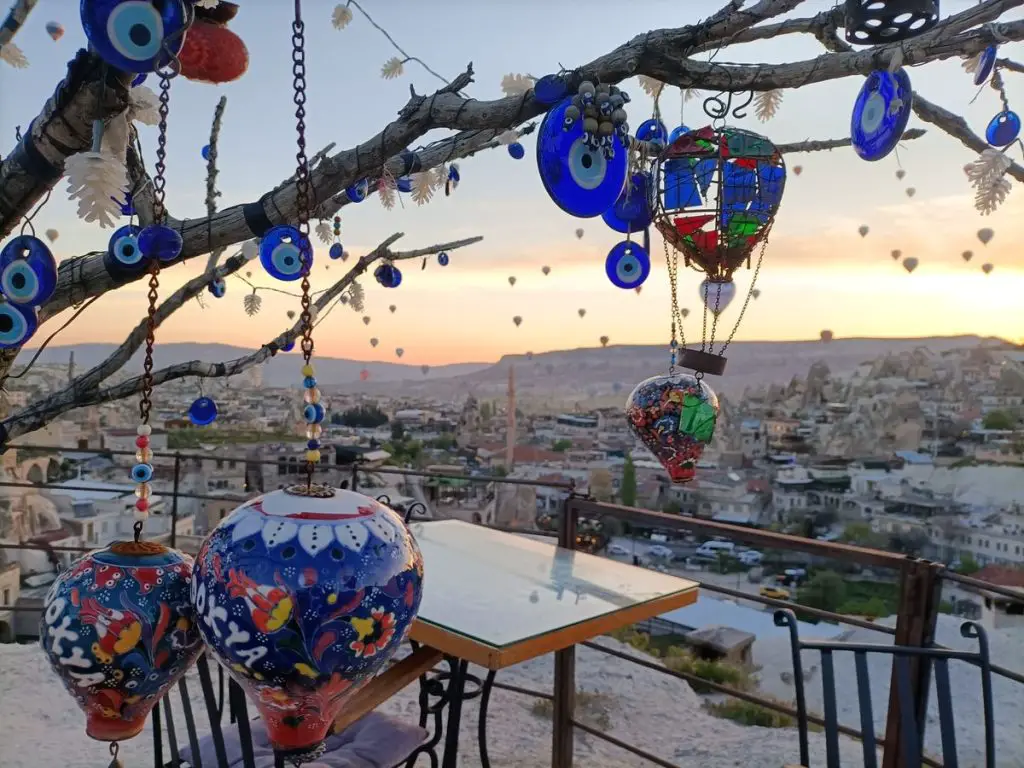 6. Spend At Least 3 Days In Cappadocia
I have the perfect 3-day Cappadocia itinerary ready for you right here. And given the question how much time should I spend in Cappadocia? How many days do we need in Cappadocia? 3 days is my answer.
Are 3 days in Cappadocia enough?
3 days in Cappadocia is the perfect amount of time. It gives you 2 mornings to take a hot air balloon ride and/or witness the balloons rising from the ground. It gives you time to see the big sites, do some hiking, explore underground cities, and enjoy the food.
Are 5 days in Cappadocia too much?
In my opinion, 5 days are too much. However, there is so much more to Cappadocia than the hot air balloons and you could spend much longer.
Are 2 nights in Cappadocia enough?
At a bare minimum, you need at least 2 nights in Cappadocia and one day. This will enable you to witness the hot air balloon rising, ride one, and enjoy a tour around the region.
Get a price on Istanbul to Cappadocia 2-night tour here.
7. Cappadocia Can Be Hotter & Colder Than You Think
Which month is best in Cappadocia?
The best time to visit Cappadocia is late Spring and early Autumn. The months of April, May, early June, late September, and October. The weather is cooler and there are fewer tourists than in the summer months.
The weather is much better in June, July, and August, however high season is more expensive and incredibly busy.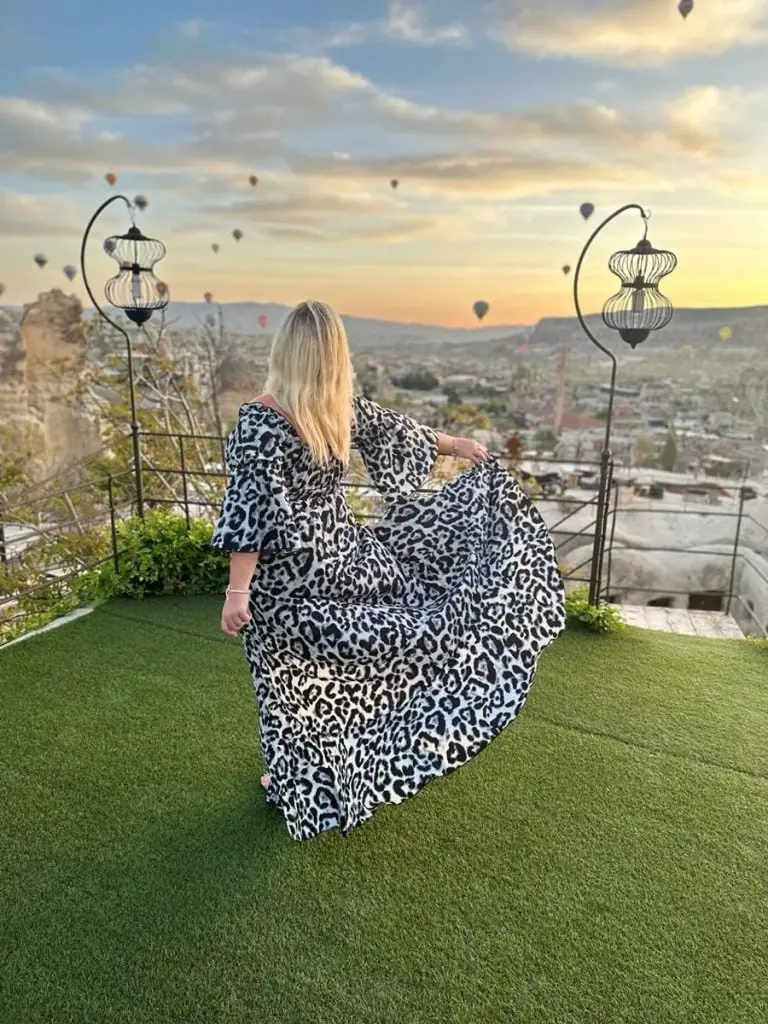 Which month does it snow in Cappadocia?
The winter lasts from November through March. The snow can fall as early as November but generally will not stick until late December. From there it can continue intermittently through April but will be rare after March 1.
Bring a lightweight, warm jacket!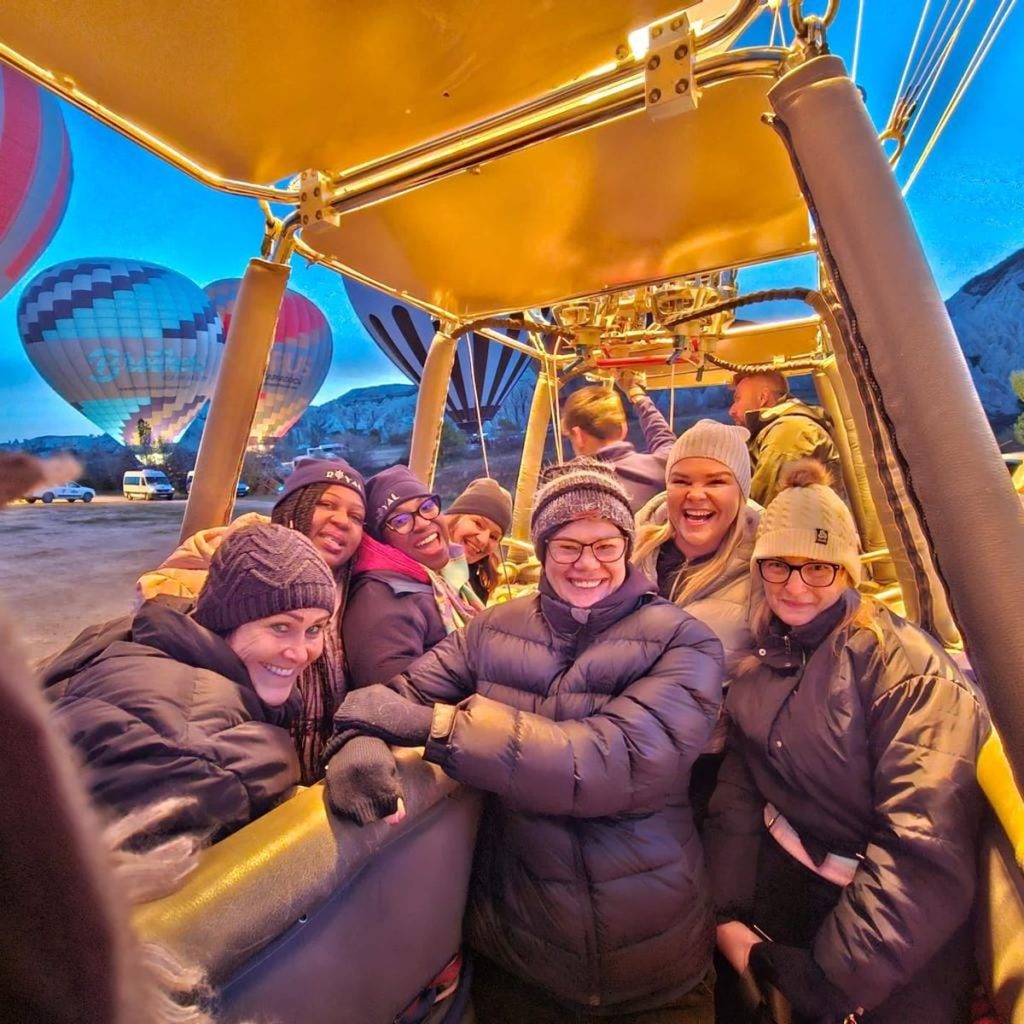 8. Cappadocia Can Get Busy
According to statistics issued by the Turkish Statistical Institute (TUIK) on September 22, Cappadocia has hosted a record-breaking 2.5 million tourists in the first eight months in the year of 2022. So recommend visiting in Spring or Autumn.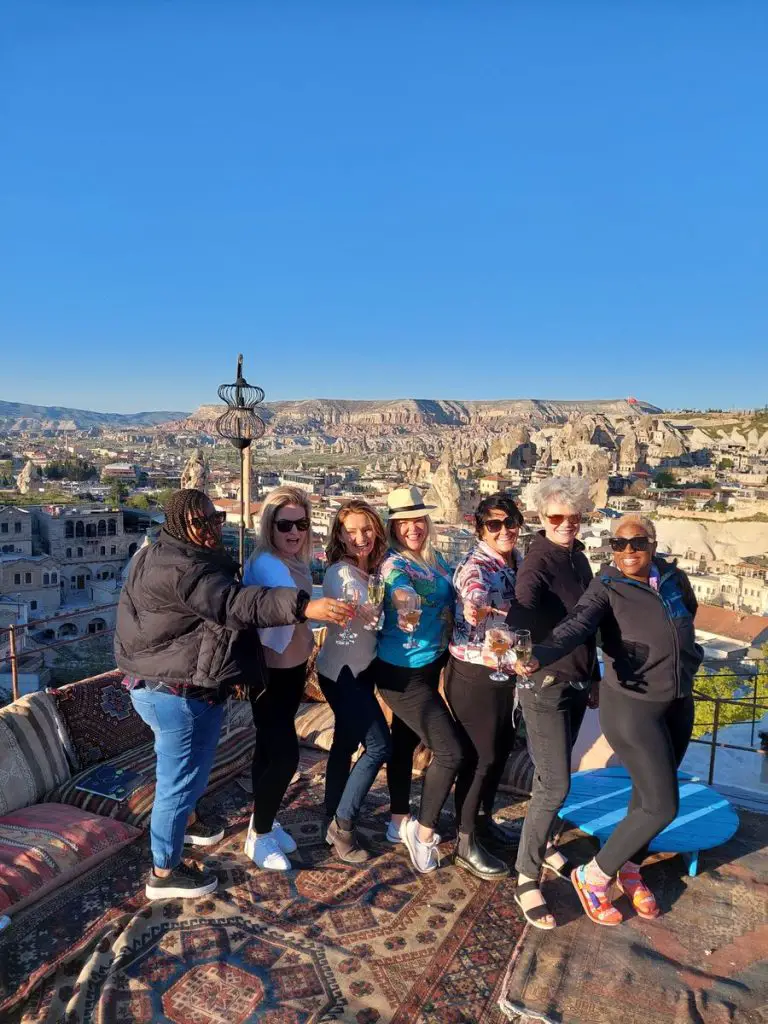 9. When it's busy you can't eat
If you have a place you want to eat, book it beforehand. Cappadocia thrives on dinner reservations. We were lucky enough to visit at the beginning of May and walked into a small kebab place for dinner one evening. The other night we ate at our hotel. Our lunch reservations were booked through our tour. And breakfast, of course, was included without a hotel stay.
10. There Are 4 Cities to Stay In Cappadocia
Which place is better to stay in Cappadocia?
Göreme, Uçhisar, Urgup and Orthaisar are the best towns to stay in Cappadocia. However, Göreme is the preferred option for most travelers as it has excellent value-for-money hotel options and it is close to many attractions in the region.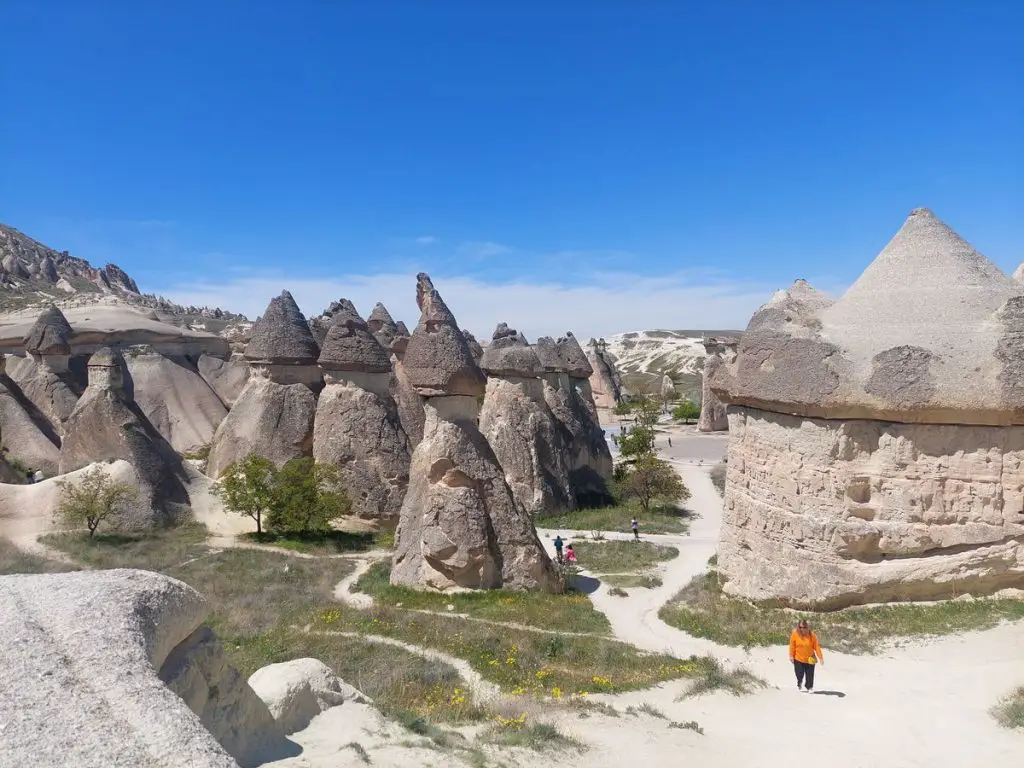 What is the most beautiful city in Cappadocia?
Göreme. Goreme is situated at the center of the valleys, on the contrary, Avanos and Urgup. Goreme is undoubtedly the star attraction and point of interest of any visit to Cappadocia.
Goreme is the liveliest area of Cappadocia with restaurants, bars, and shops. But it's also the area closest to the fairy chimneys in Göreme National Park, which is why you are visiting this unique region!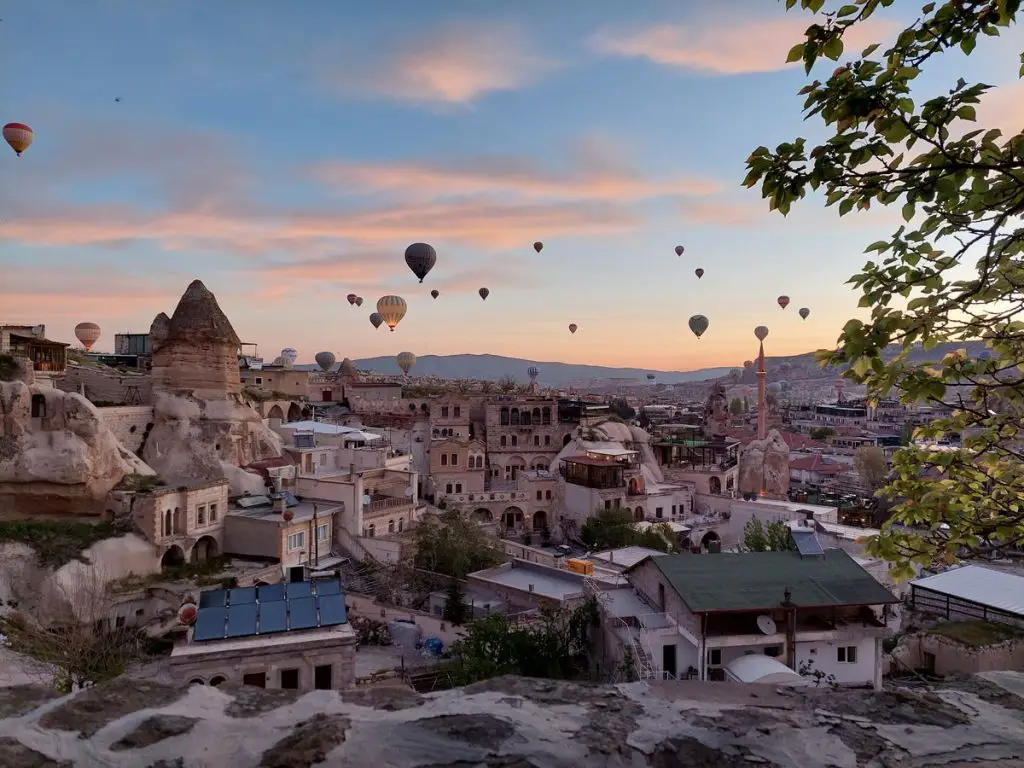 11. You must stay in a cave hotel in Cappadocia
You read that right. The are only a few destinations in the world that offer stays in cave hotels. Mexico, Spain, Tunisia, Egypt, and some places in the US. But the majority of these unique accommodations can be found in Turkey.
Cappadocia has a range of luxury cave lodges, Sultan cave suites, and Ottoman cave houses that figuring out where to stay can be rather daunting.
I have personally stayed in 3 different Cappadocia cave hotels and here are my thoughts: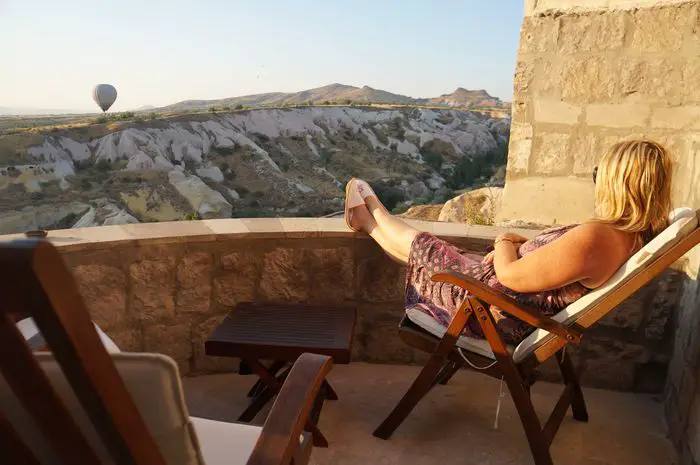 Travellers Cave Hotel
This is your Cappadocia hotel if you love to be in the thick of it.
A more budget-friendly built into the cliffside on top of Goreme Hill. If you get a room at the bottom, it's a breakfast trek, but you'll never regret the views.
There are multiple terraces to sit on, an outdoor hot tub, plenty of Instagram-worthy spots, and a delicious buffet breakfast. It's in an excellent location to walk into Goreme town for food, drinks, and nightlife.
Kayakapi Premium Caves
This is your Cappadocia hotel if you want luxury and romance.
This is one of the most beautiful and unique Urgup hotels. In 2018 it was named the best luxury hotel in Turkey and anyone and everyone has stayed here from celebrities to royalty to me.
From its terrace, you can enjoy a beautiful view of the Goreme National Park. All the rooms have underfloor heating and I highly recommend it as a honeymoon destination or for something extra special.
Taskolanker
This is your Cappadocia hotel if you want privacy and affordable luxury.
This property we stayed in Uchisar is also ranked as one of the finest boutique cave hotels in Cappadocia and consists of meticulously restored ancient houses. If you love peace this is your spot, and you can sit on the balcony and catch a glimpse of the balloons as they rise.
12. A Hot Air Balloon Ride in Cappadocia Is Worth It
Yes, it was expensive. Yes, it's high. But yes, it's worth doing once in your lifetime. I've done it twice and would do it again!
Is the Cappadocia balloon ride worth it?
Seeing the unique scenery of Cappadocia from the vantage point of a hot air balloon is an unforgettable experience.
13. Hot Air Ballooning in Cappadocia is Expensive
Yes, it's worth the price tag, but it is some price tag.
What is the average price of a balloon ride in Cappadocia?
On average, a standard 1-hour Cappadocia balloon ride costs around €300 per person during the high season. Low season, you will find them up to 100 euros cheaper.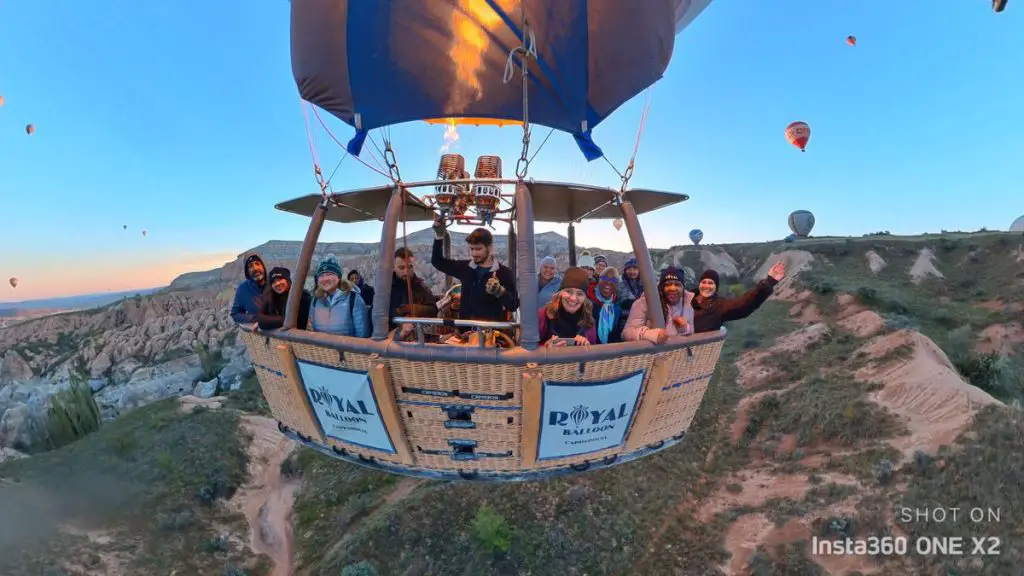 For our flight in May we paid, which is a month before high season, and we paid €250 per person for a ROYAL QUEEN FLIGHT (60 Minutes – max. 20 passengers) with Royal Balloon. I highly recommend Royal Balloon having flown safely with them several times. Check the price here.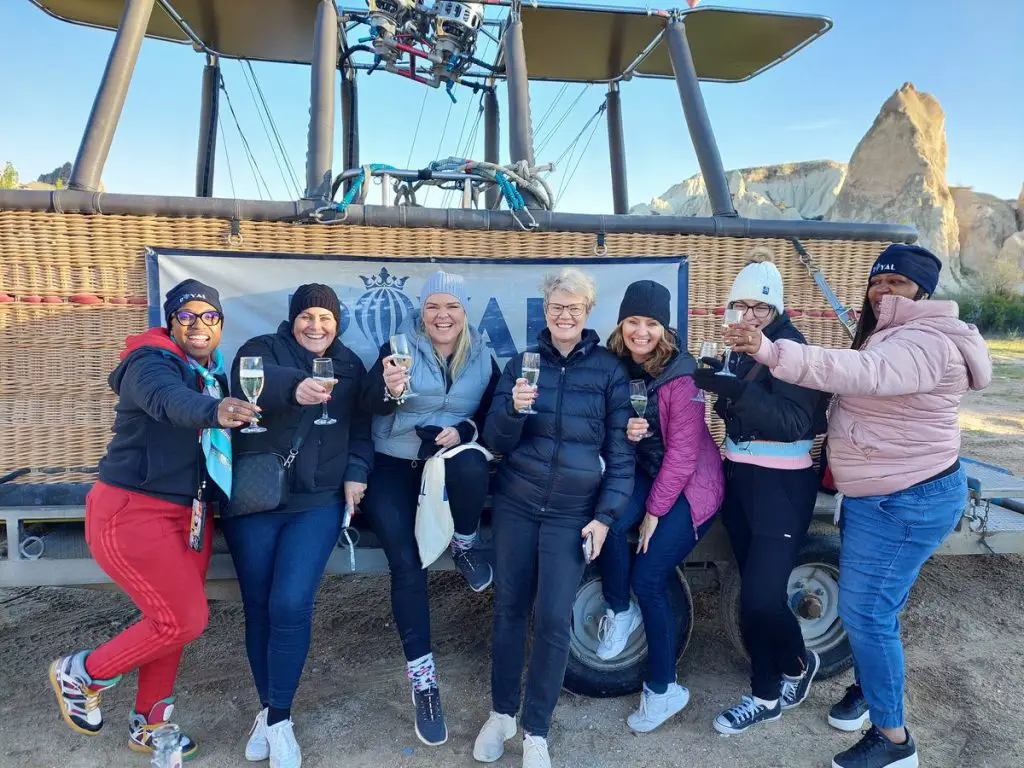 14. Book In Advance To Hot Air Balloon in Cappadocia
You can find flights on the day sometimes, but this is one adventure you don't want to lead to chance. Book in advance.
15. Sometimes Balloons Don't Fly in Cappadocia
While hot air balloons in Cappadocia fly all year round there are some days the flights will be canceled, because of adverse wind conditions. It's just not safe. For this reason, having a spare morning is a great way to ensure you can still fly the next day, hopefully. Most cancellations happen between December and April.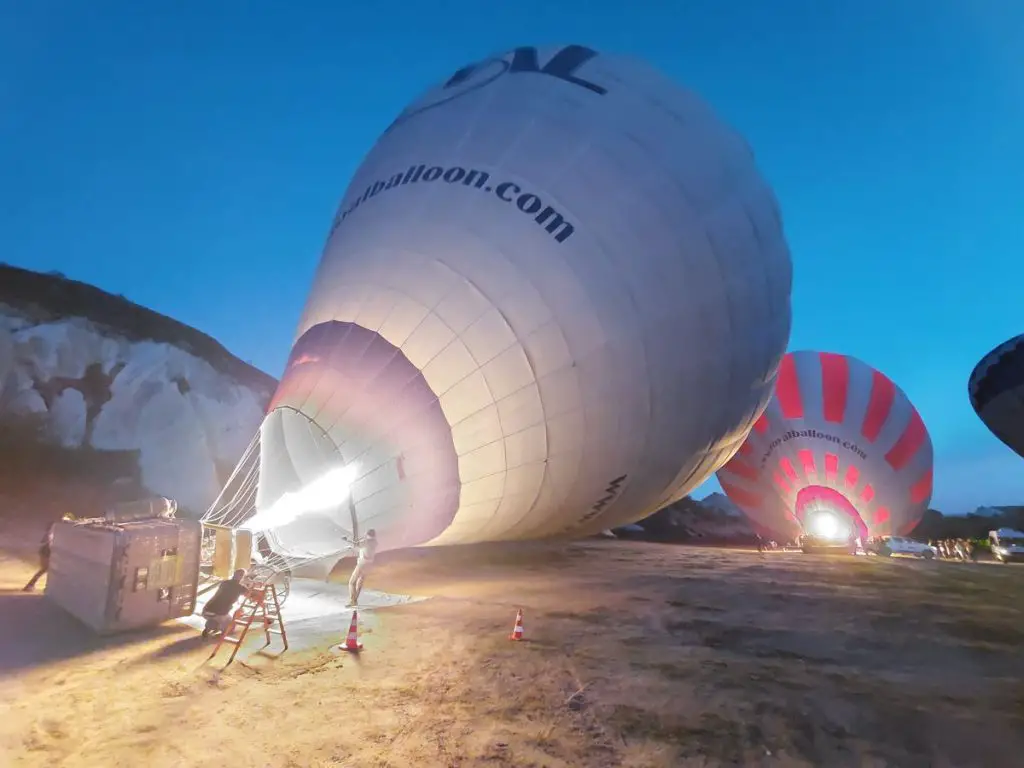 Do balloons fly every day in Cappadocia?
Hot air balloons fly every day, all year round, in Cappadocia. The wind conditions for flying in Cappadocia are the best for sunrise, so all the balloons will take off early in the morning before or shortly after sunrise.
We started our hot air balloon flight in May with a 4:15 am pickup and a 5 am departure time.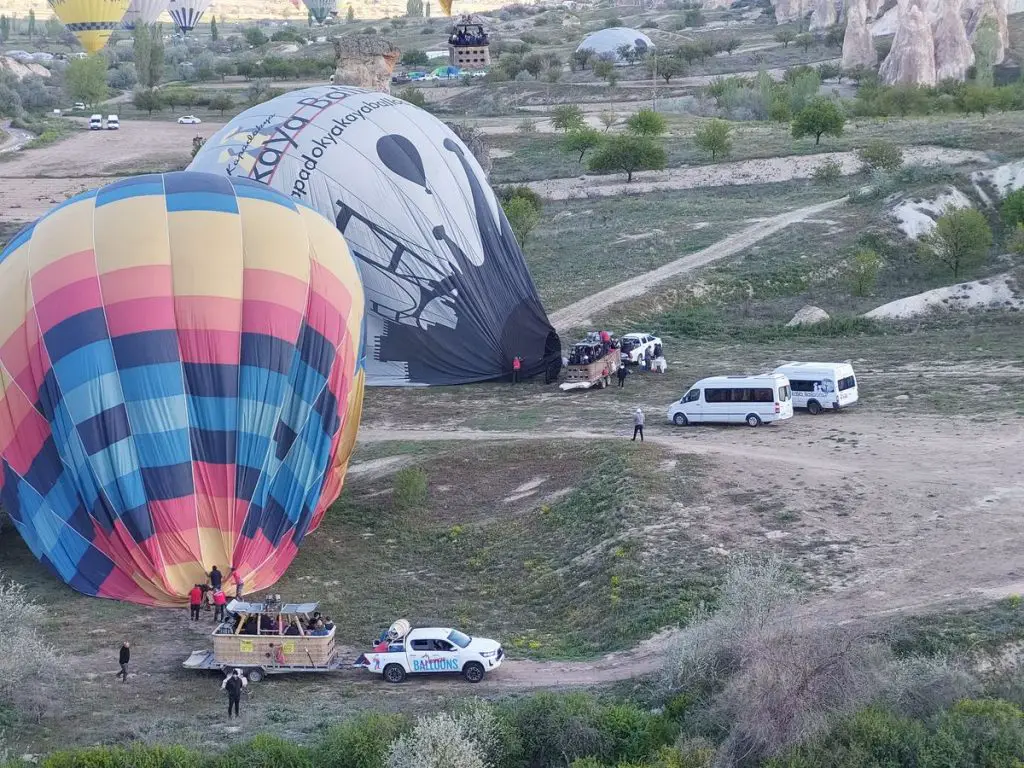 16. If you don't have the money for a Cappadocia hot air balloon
It's ok. It's a rather large expense, or maybe you're just terrified of heights and want to keep your feet on the ground. Instead, choose to wake up early and just watch. There are many viewing places around Cappadocia, but if you're lucky enough your hotel will be just perfect. If you are staying in a fairy chimney even better!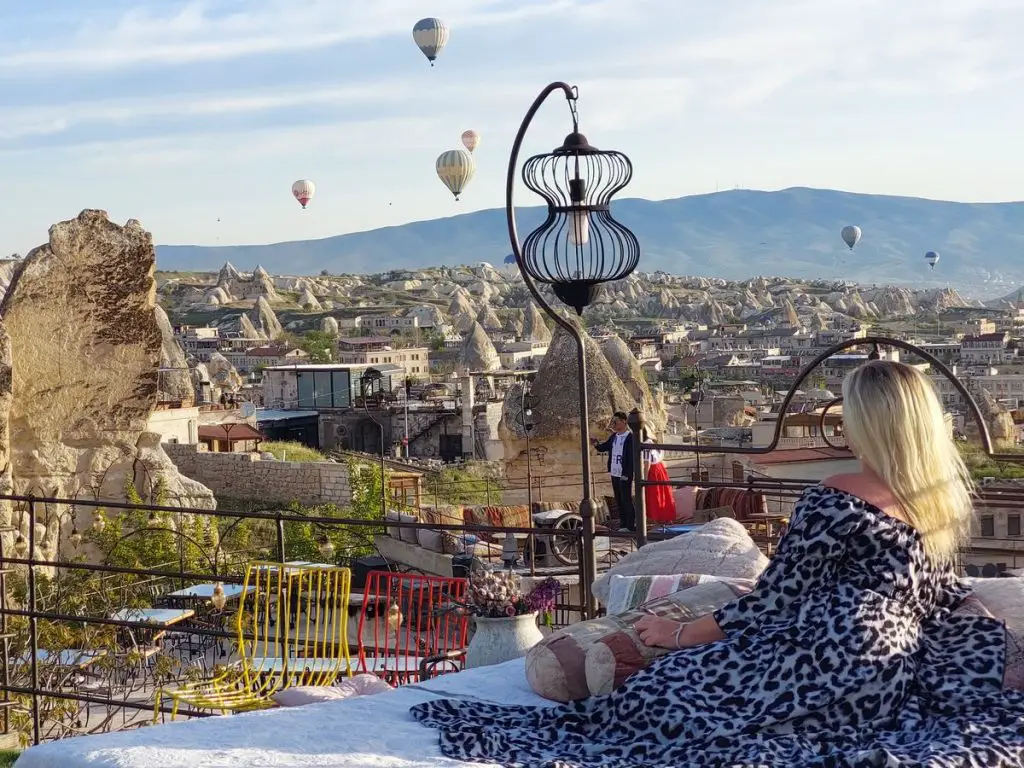 What is a Fairy Chimney?
Nature built them, but humans made them their own.
The chimneys are a result of a geologic process that began millions of years ago when volcanic eruptions rained ash across what would eventually become Turkey. That ash hardened into tuff, a porous rock covered by a layer of basalt.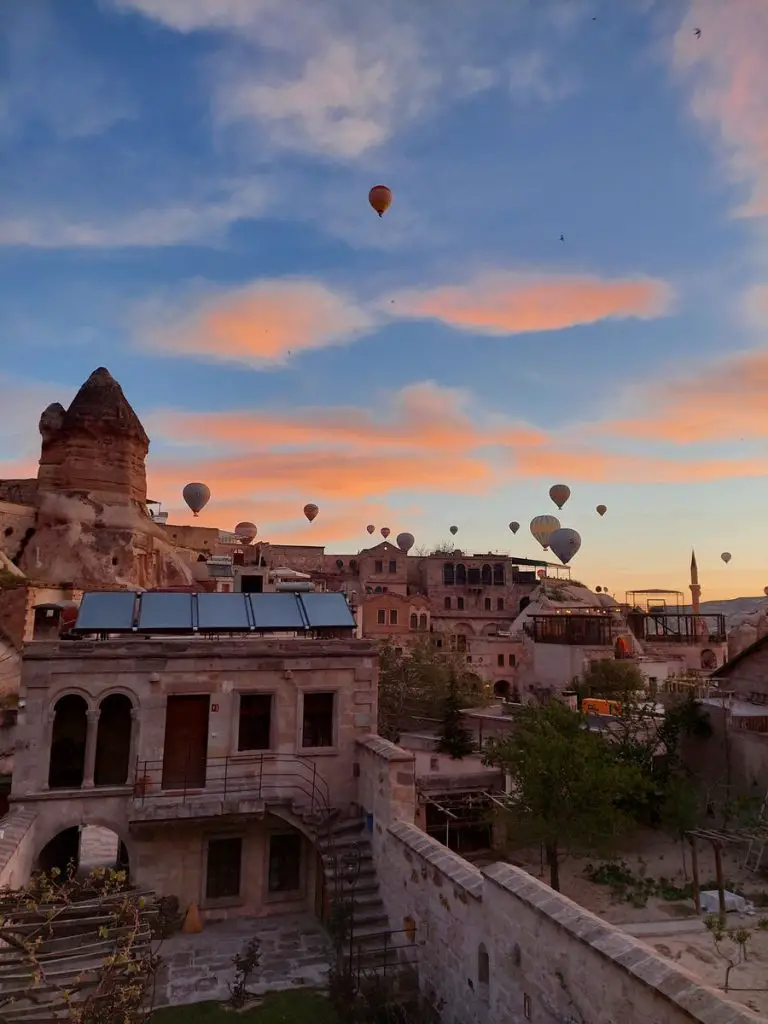 Then erosion. As millennia passed, the softer tuff wore down, giving way to pillars that stand as tall as 130 feet. The harder basalt erodes more slowly, forming a protective, mushroom-shaped cap over each one. Just like that, a fairy chimney is born.
And then humans. That's when these cave dwellings really became a fairy tale.
During the Roman period, persecuted Christians fled in droves to Göreme. There, they learned that the soft tuff could easily be excavated and built homes and churches in the chimneys. They expanded ancient caves into underground cities, which means you have a lot to explore underground, as much as above ground.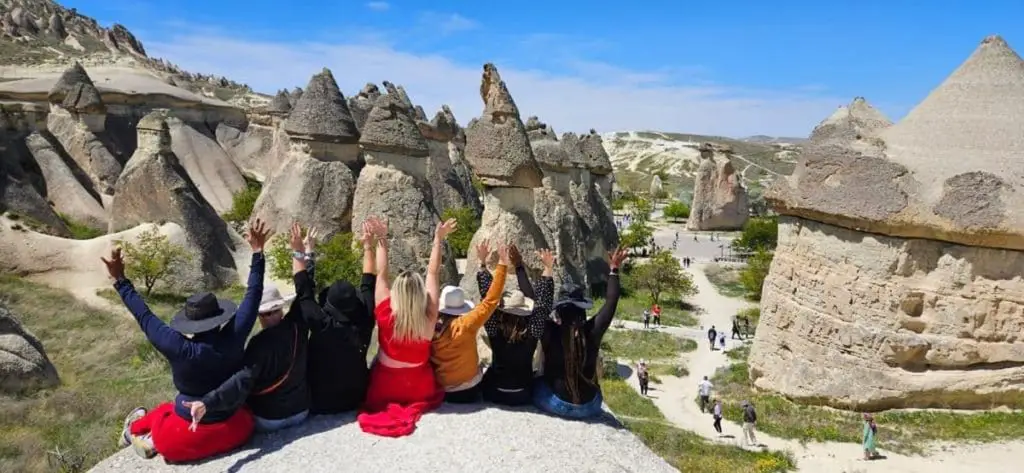 17. You don't have to bring your own dress
If you've decided on a Cappadocia photo shoot with all those beautiful dresses. You can buy them online. Here are a few on Amazon. However, be aware photoshoot flying dresses are heavy and bulky, which is going to take up valuable suitcase space.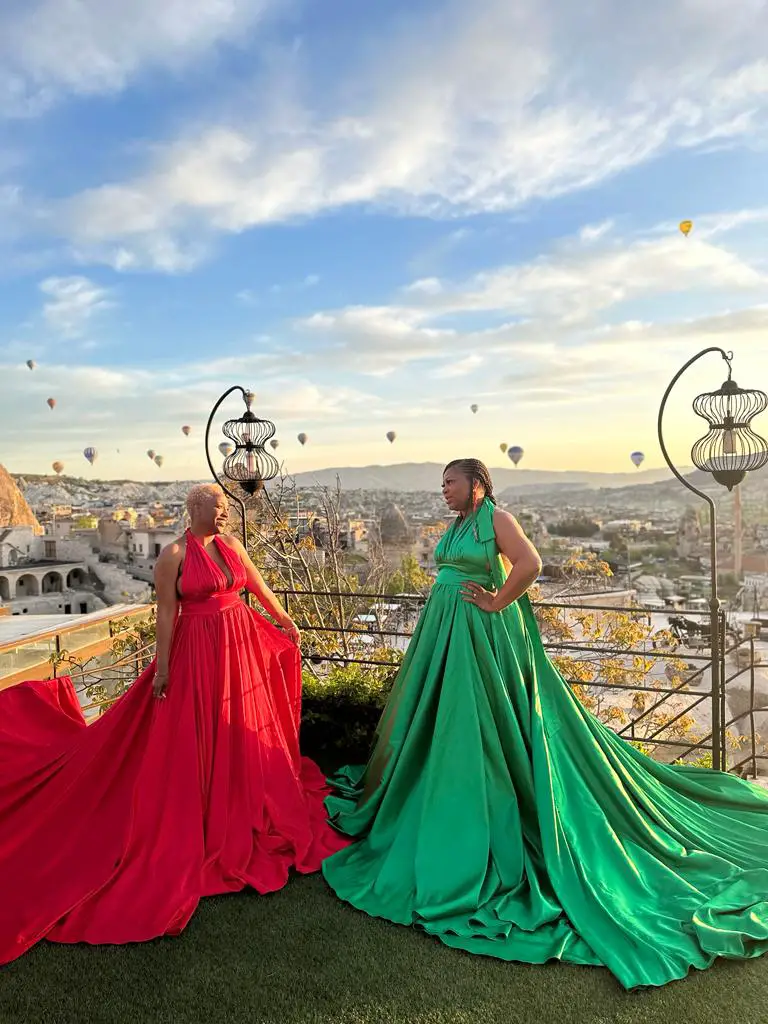 Instead, opt to hire one in Cappadocia. Our hotel had them for 50 euros. Most places have them for 70 euros.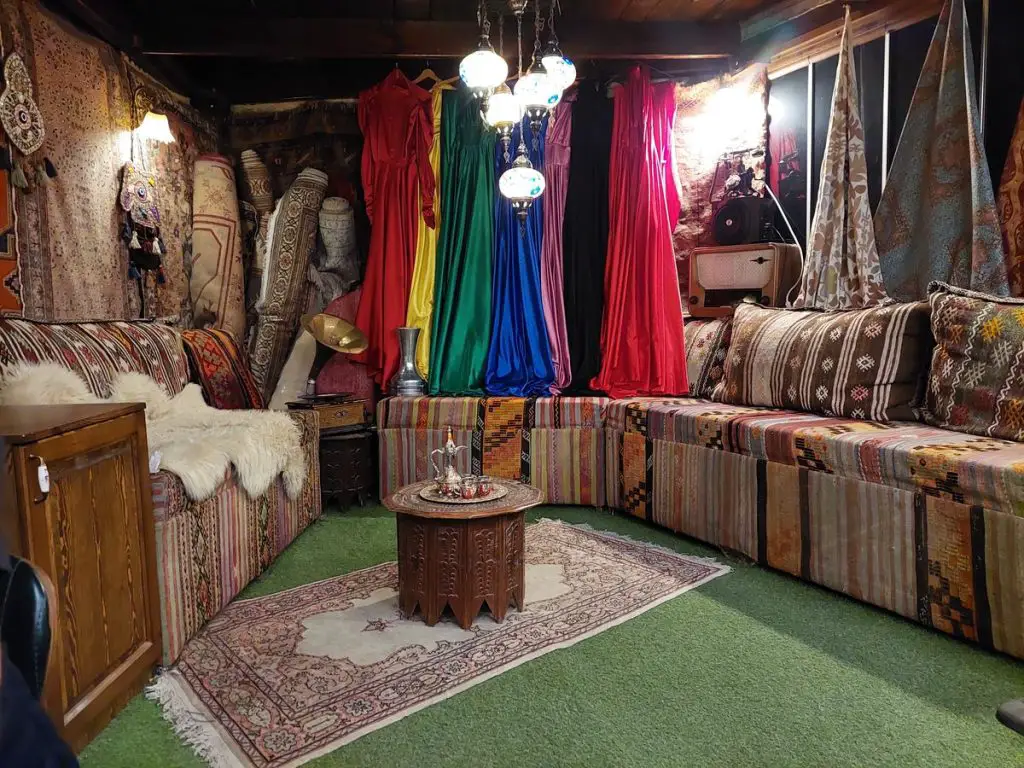 18. Cappadocia is expensive
Is Cappadocia cheaper than Istanbul?
In terms of costs, Cappadocia is more expensive than Istanbul simply because the hotels are pricey. But there are ways to manage your expenses to enjoy this beautiful part of Turkiye. You'll also find Turkish food and drink more expensive, as it is a major tourist destination with not many locals.
Do I need cash in Cappadocia?
You can use your Credit and debit (bank) cards in Cappadocia. We used ours in most places. Payment is made in Turkish lira.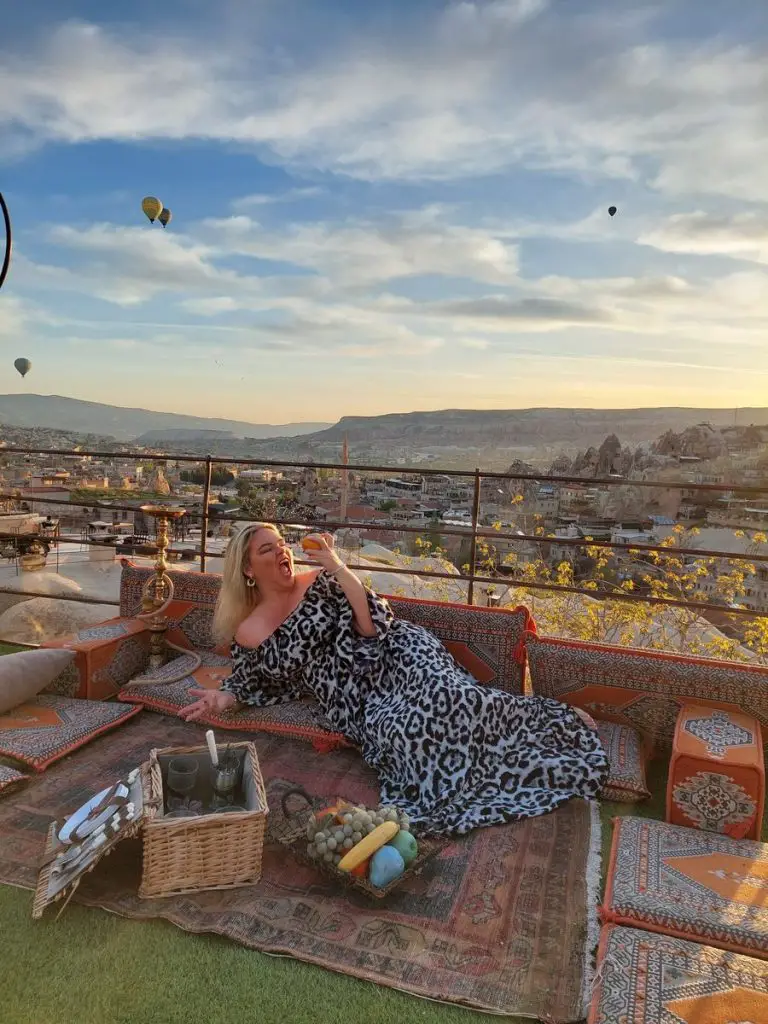 19. There is so more to do in Cappadocia on top of hot air ballooning
Don't just limit yourself to a balloon experience while in Cappadocia. If you plan a 2-night trip, a tour optimizes your time to fit all the major sites. I highly recommend Penna Travel's Quick Cappadocia Tour. They had outstanding service, a great lunch stop, and were flexible in getting us through the things we wanted to see at the right times to avoid the crowds.
There is a lot to choose from so check out our recommended itinerary to make the most of it.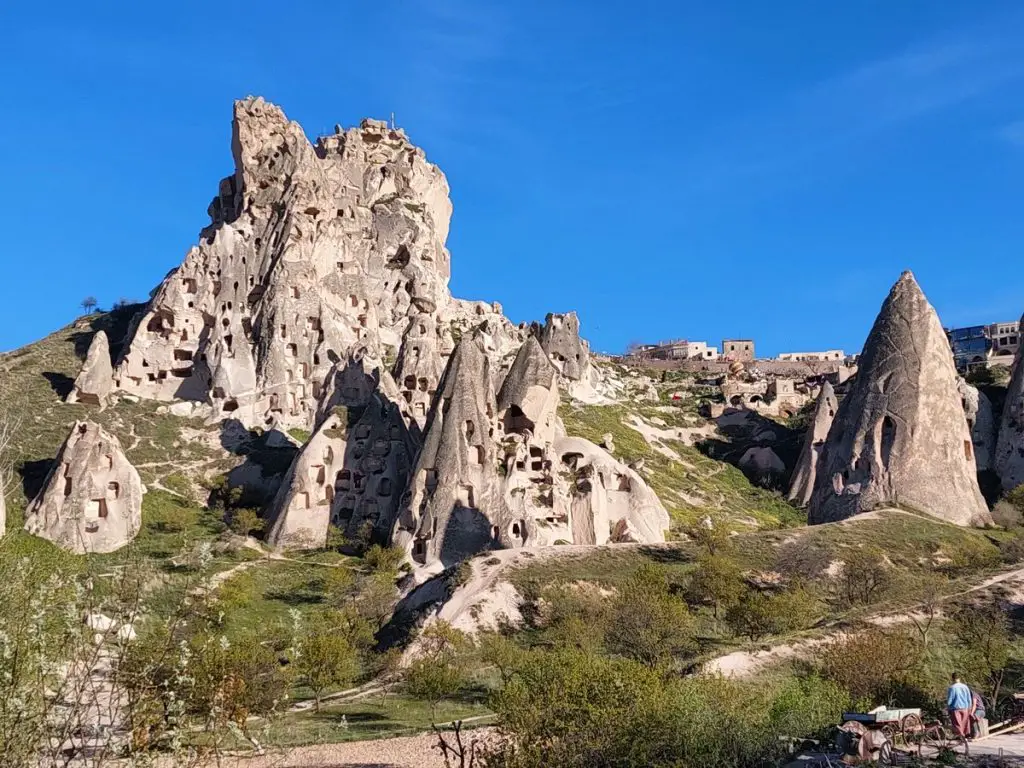 What are some things to do on a Cappadocia trip?
Open-Air Museums
Horseback Ride
Sunset ATV Tour
Hike Love Valley & Lovers Hill
Hunt for Turkish Rugs
Watch the Sunrise/Sunset From a Viewpoint
Check out Rose Valley, Red Valley, Pigeon Valley, Devrent Valley, Pasabag Valley, Ilhara Valley, Sword Valley, and all the Valleys.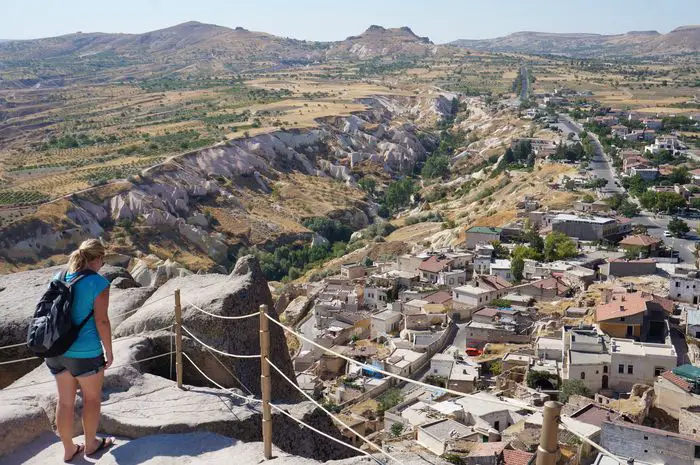 20. The most popular two tours are the Red & Green Tour
Most agencies will offer you two tours to do in Cappadocia. I have done both, but highly recommend using Penna Travel Agency's guided tour if you want to mix and match.
On the green tour, also known as the South Cappadocia tour, you will visit:
Esentepe Viewpoint (Pigeon Valley Viewpoint)
Derinkuyu Underground City
Ihlara Valley
Belisirma Village (next to Melendiz River)
Selime Monastery
Onyx Jewelry Factory (Mostly for souvenirs and shopping)
On the red tour, also known as the North Cappadocia tour, you will visit:
Uchisar Castle
Goreme Open Air Museum
Cavusin
Avanos Town (Pottery Workshops)
Pasabag Monks Valley
Devrent Imagination Valley
Most tours include lunch and entrance fees. I recommend you tip your guide.
As far as value for money, generally, the green tour is a better buy since most of these attractions are far from Goreme, the red tour can be mostly done on foot if staying in Goreme. If you have 2 full days then I recommend doing both.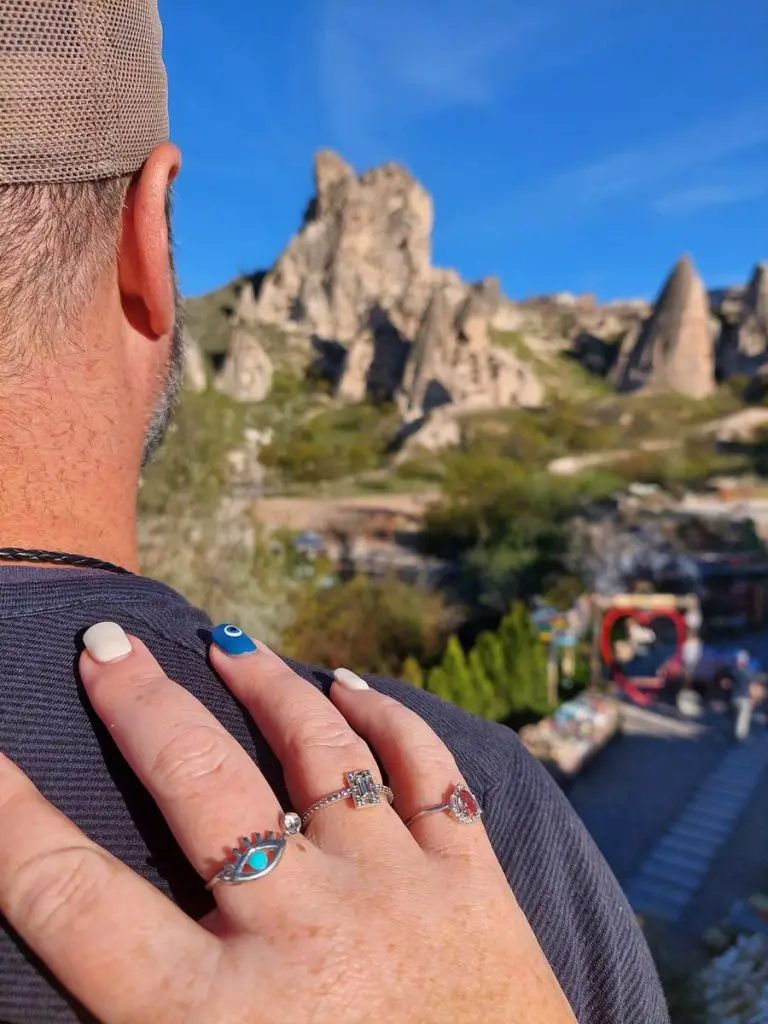 21. You can do a Hot air balloon tour & a Cappadocia Region Tour In One Day
Yes, you can fit in the hot air balloon ride and a Cappaodica tour on the same day. Cappadocia hot air balloon ride generally goes from 4 am to 8 am. Most day tours start at 9 am and finish around 6 pm.
22. Start Your Day Early In Cappadocia
Early risers are where it's at in Cappadocia. From sunrise hot air balloon rides to watching them, to Instagram-worthy photo shoots. Sleep away the rest of your holiday after Cappadocia, because this is one trip where 4/5 am wakeups are a must!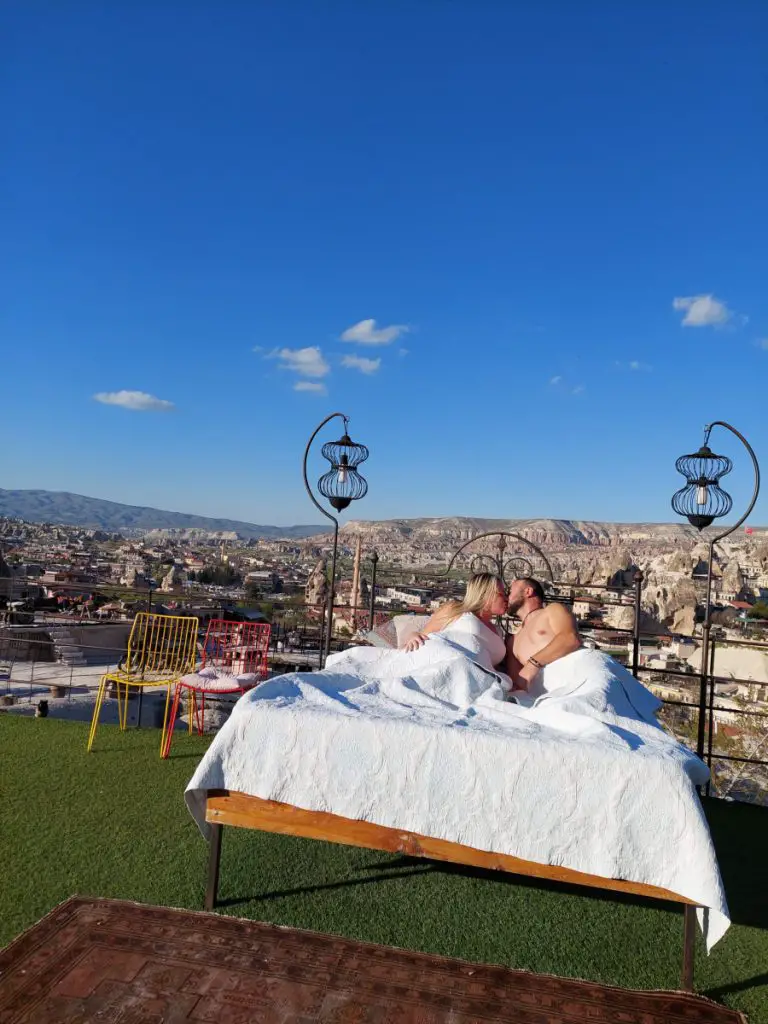 Cappadocia is a mesmerizing destination that captivates visitors with its unique landscape, rich history, and vibrant culture. As you plan your trip to this enchanting region, keep in mind these 22 essential things to enhance your experience.
This place is a true wonder of nature, blending natural beauty with centuries of human ingenuity, and it promises to leave an indelible mark on your heart and soul. So, pack your bags, embark on this incredible adventure, and let Cappadocia weave its magic around you.
LOOK HOW EASY IT IS TO PIN THIS!
FOMO - do you have it?  Well there is no need to Fear On Missing Out here at Explore With Erin. Sign up to receive updates directly to your in box. I won't spam you, but I do promise a whole lot of awesomeness. What are you waiting for? Join Me!