Greek food rapidly moved to a family favourite in our family, and very close to my undeniable adoration of Mexican. What was it exactly that made us fall in love? Well massive apologies in advance, but this is going to make your mouth water.
There are many foods in Greece that have strange names that I found hard to pronounce, but considering they were so delicious I made a point to remember them just for you. On your next visit to Greece, keep this list handy or at the very least reach for a cookbook and get cooking during #covid19.
Καλή όρεξη! (Kalí óreksi!)
1. Gyro
In Israel, they have shawarma, in Turkey, they have kebab, and in Greece, they have Gyros, Souvlaki and Kebab. Isn't that all the same? I had to ask my guide to explain the difference.
A Gyro is when the meat is roasted vertically turning on the spit. Slices of it are then placed in a pita with typical accessories – sauce (tzatziki), tomatoes, onions, lettuce and often french fries/chips. They are cheap and so yummy! But very messy for kids, try the alternative. This is otherwise known as shawarma in the Middle East, tacos al pastor in Mexico, and all originally evolved from the doner kebab in Turkey.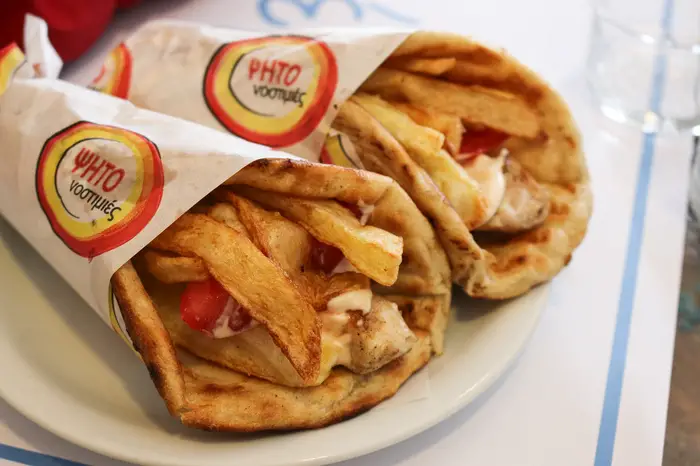 2. Souvlaki
On the other hand, souvlaki means skewer and is often termed shish kebab. It is prepared in the form of meat cubes and served on a skewer. These are great for the kids (and adults too). Sometimes these can be served in a similar style to a gyro, wrapped in pita bread with sauce and garnish. Other times just the meat on a stick.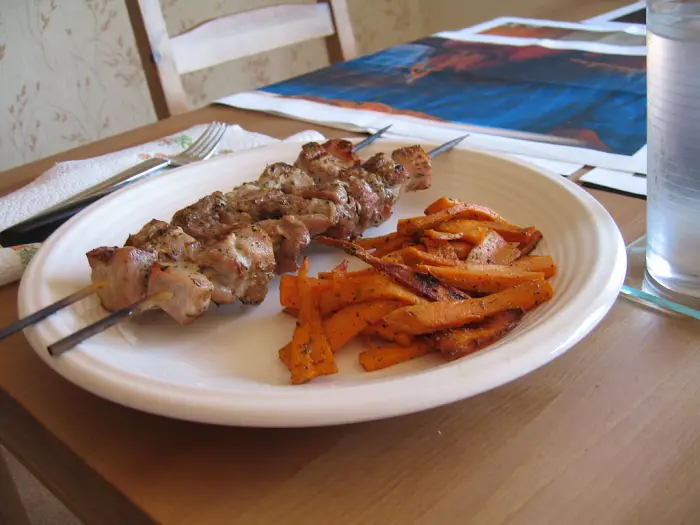 3. Kebab
In Greece, the term kebab refers specifically to a more oriental dish. Sausage-shaped patties of minced meat (traditionally a mix of lamb and beef) are flavoured with garlic, cumin and other Middle Eastern spices. The kebab is wrapped in pita bread or served on a plate. Almost like a kofte. It's usually elongated. These are great for the kids. A good kebab will pack a lot more flavour than you might expect.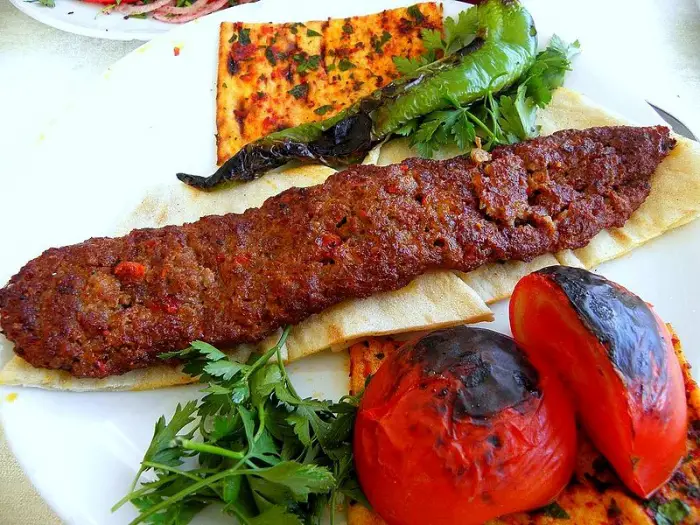 4. Saganaki
Deep-fried cheese. Need I say more? Ok, I will. Don't miss it.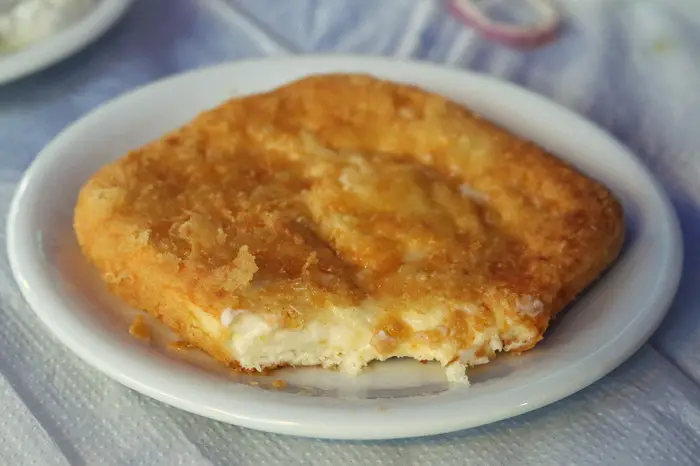 5. Tirokroketes/Sfougata
Golden melt-in-your-mouth fried cheese balls. As above there's not much more to say. There is a slight difference in that Sfougata is made with local cheese, while Tirokroketes usually has mixed cheese.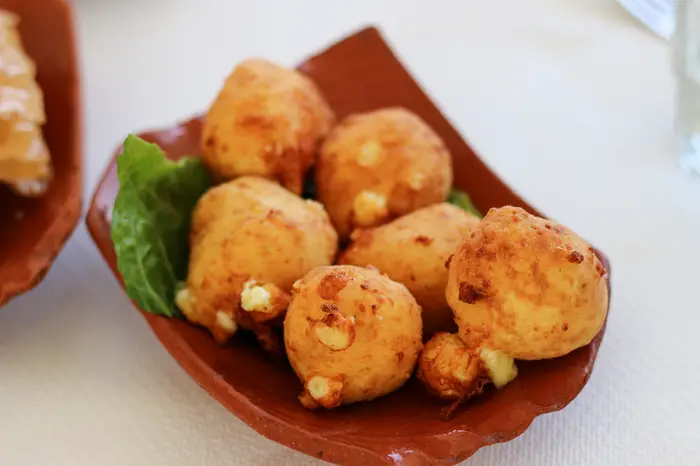 6. Revithokeftedes
Similar to a Middle Eastern falafel, this is a fried chickpea ball packed with a spice blend unique to Greece.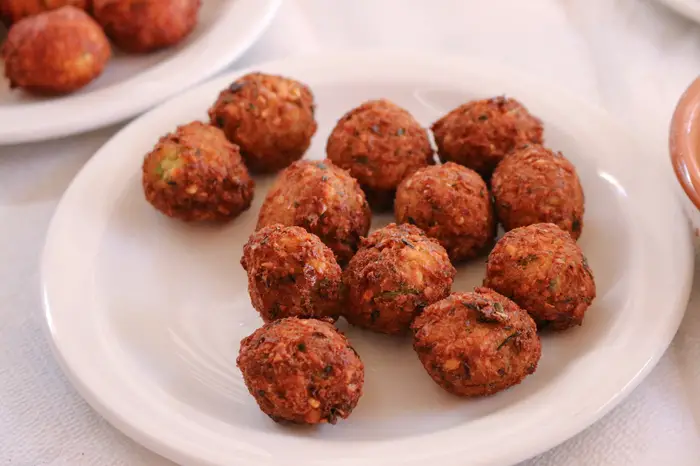 7. Feta Me Meli
And you thought cheese couldn't get any better! Feta wrapped in filo pastry oven-baked and then drizzled with honey. The delicate balance between the salty feta and sweet honey makes for an unforgettable party in your mouth. A dessert or an entrée, who knows?
8. Moussaka
Best described as a pasta-free lasagne. Sautéed eggplant, minced meat, tomato, onion, garlic, potato, béchamel sauce and grilled cheese, layered and usually covered with cheese. I've had the pleasure of making this and eating it and eating it is a highlight.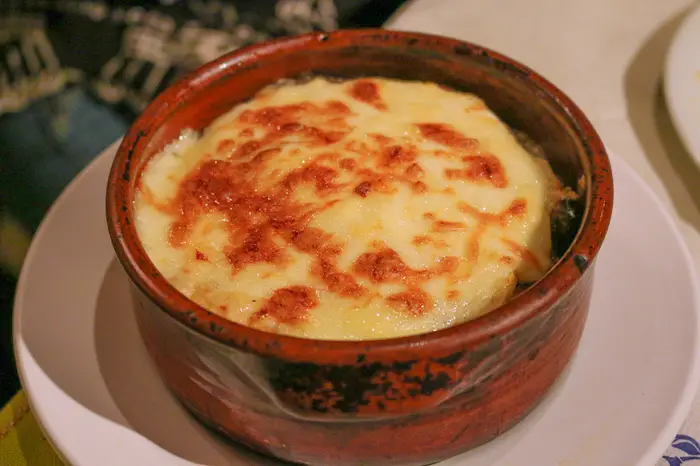 9. Tiropites
Triangle pastries made up of filo pastry and filled with a delicious mixture of Greek cheese. So simple, yet so delicious. You may even find a similar thing in the freezer of your supermarket.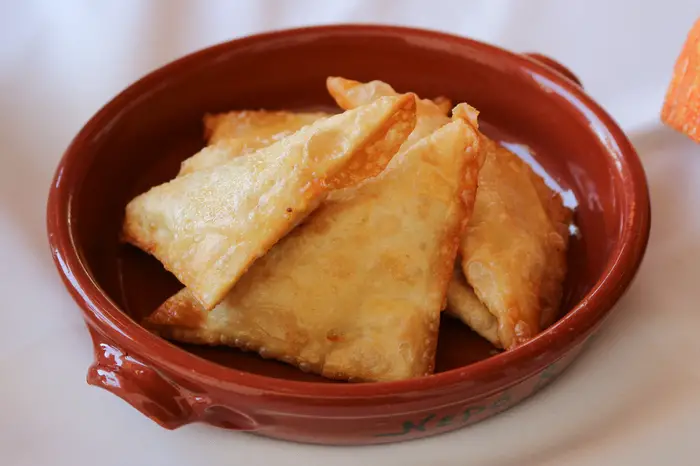 10. Tzatziki
This has been my favourite dip since I can remember and the Greek do it so well with their awesome Greek yoghurt. Basically it is yoghurt and cucumber seasoned with garlic. Goes great with meat, vegetables, pita, or just by itself with a spoon. Also known as Cacik in Turkey. Make your own using this authentic Greek recipe.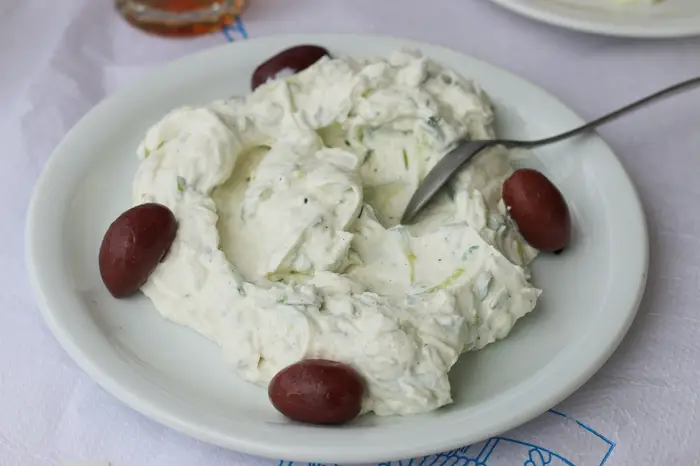 11. Greek Salad
Famous all over the world, but the Greeks still do it better. Crunchy cucumber, juicy ripe tomato, olives, red onion and a giant slab of feta on top. Dressed with olive oil, vinegar and lemon juice. It's a staple with every meal. And one I still make at home.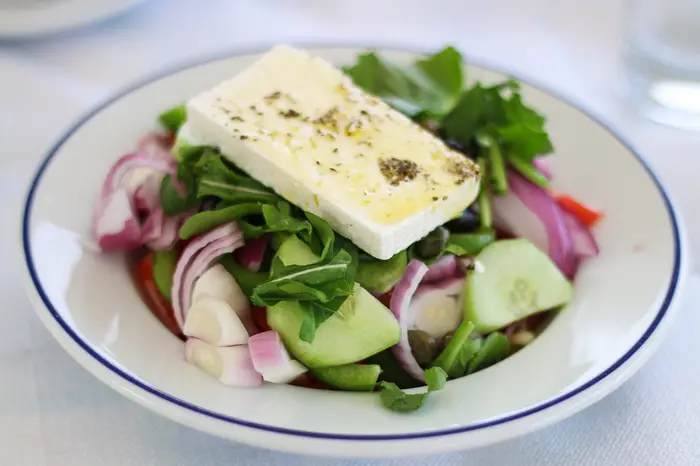 12. Olives & Olive Oil
Greeks have been cultivating olives for millennia. Local olives accompany most Greek meals and most dishes are drizzled with olive oil. Nearly every restaurant on the Greek islands makes their own oil from their own olives. And I am a fan!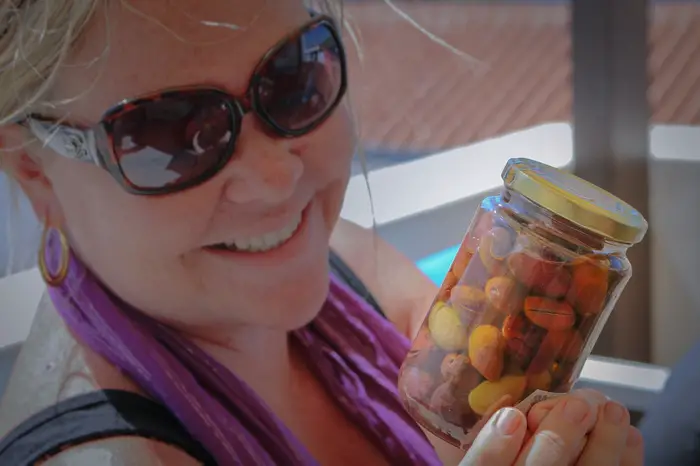 13. Dolmathakia
You saw these on the menu in Israel and Turkey – stuffed grape leaves. In Greece, there are usually stuffed with rice, pine nuts and fresh herbs. I like them warm. But they can be served cold.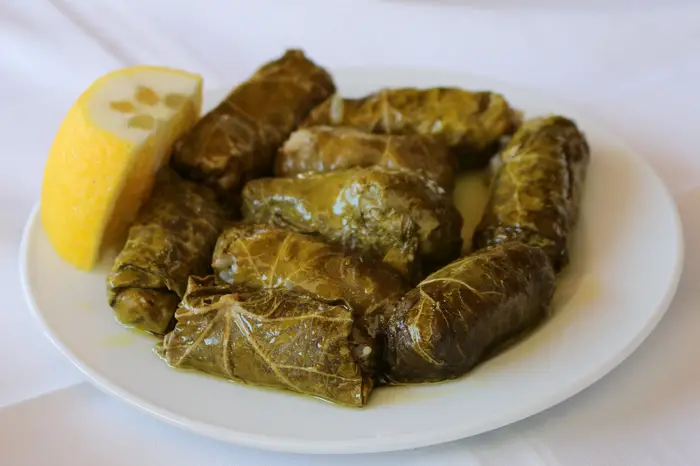 14. Taramosalata
This is often referred to as a salad but is in fact a dip. One that, if I had known beforehand what it was, I wouldn't have tried. But I absolutely loved it. Eat it without asking what it is because it's actually a creamy blend of pink or white fish roe (fish eggs). If you don't like things that taste fishy, then fear not – this tastes so good, you'll be licking the plate.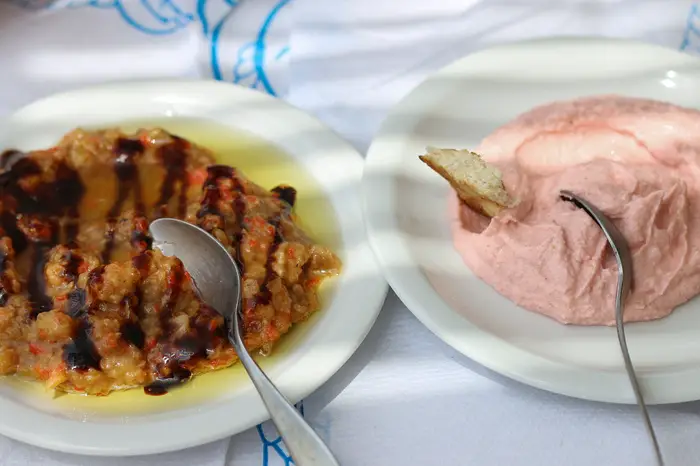 16. Spanakopita
We were offered these all over Greece. Filo pastry pies stuffed with spinach and feta cheese. Available in a variety of different shapes and sizes. A Greek favourite. And again something you might find to a lesser quality in the frozen section of your supermarket.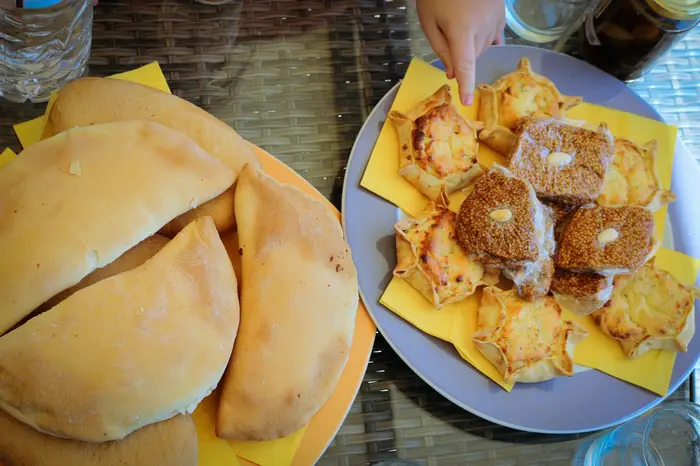 17. Loukoumades
Since trying these I dream about them. Daily. Sweet tooth? Try these Greek fried donut balls soaked in honey or syrup and sprinkled with cinnamon. Drool. Greek desserts are the best!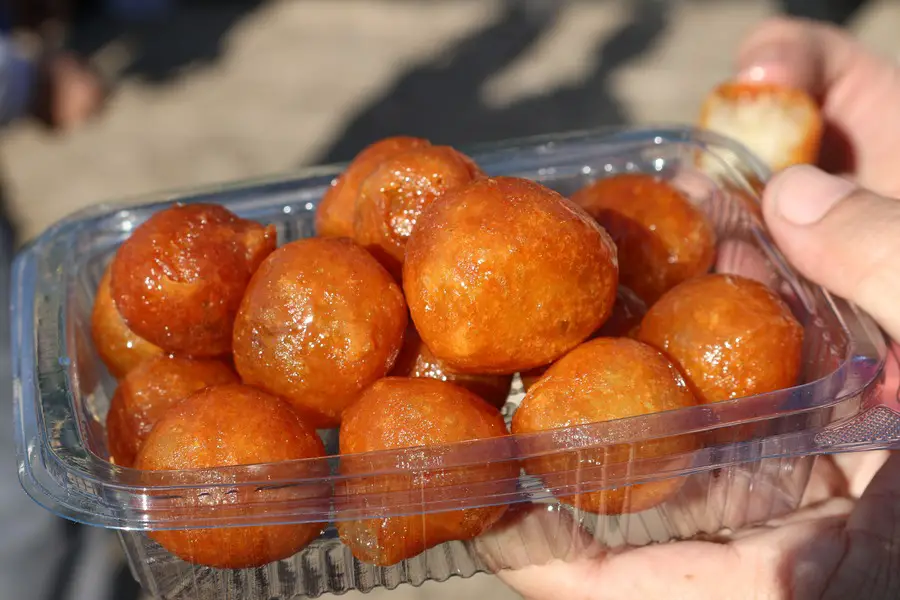 18. Vanilla Submarine
The name describes this perfectly. It's a spoonful of vanilla fondant submerged in a glass of water. You lick it like a lollipop and then drink the sweetened water that's leftover. Way too much sweetness for me, but Mia had no trouble polishing hers off.
Tip: Not many folks in Greece have heard of this. I found the Vanilla Submarine in Chora on the island of Sifnos.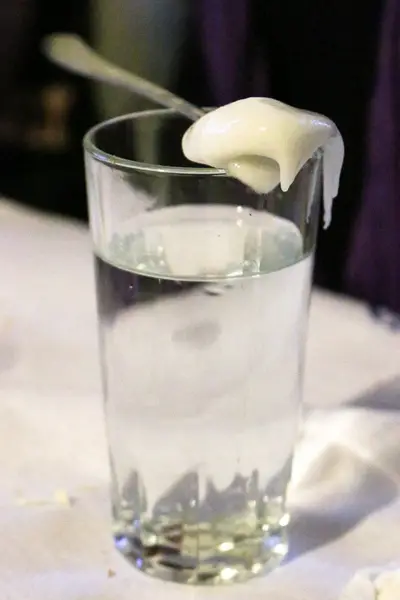 19. Glyka Tou Koutaliou (spoon sweets)
Traditionally Greek restaurants often give these sweet spoons as a complimentary dessert. We often got Greek yoghurt (or crème Fraiche) with fruit preserves. The strangest one I tasted was a carrot marmalade, which actually ended up being the sweetest and most delicious of them all.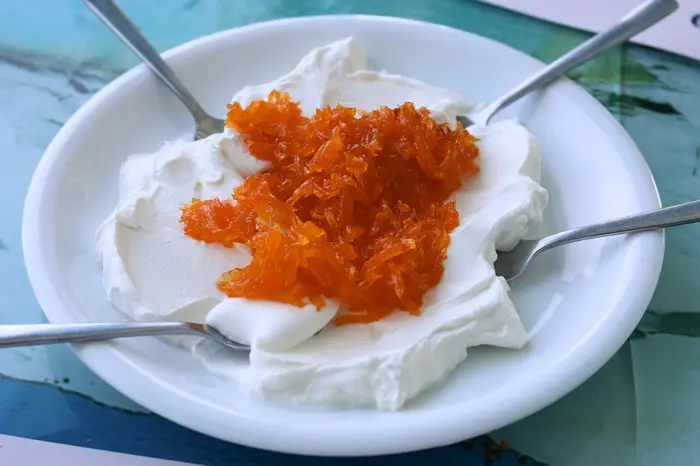 20. Halvasi
Butter cake of semolina, raisins, almonds, served with alone or with vanilla ice cream and pomegranate syrup.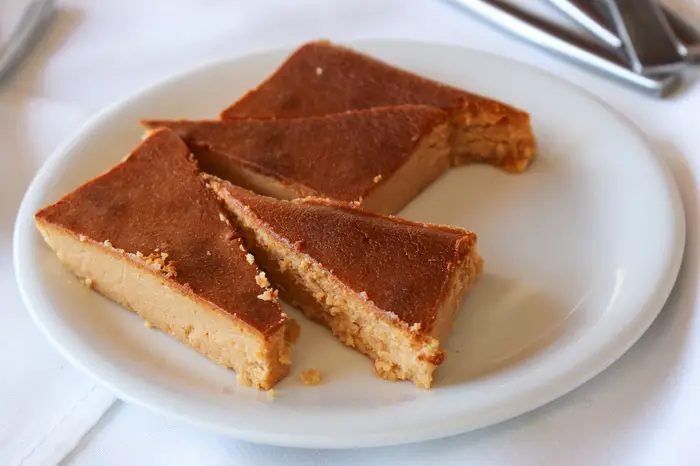 Bonus: Pies of Kythnos
My favorite island had a taste all their own. A delicious shortbread type pastry filled with cheese and honey that almost tastes like a cheesecake combined with a quiche. My description is really not doing it justice. Look, all you need to know it's the best thing since sliced bread. A must-try that is unique to Kythnos.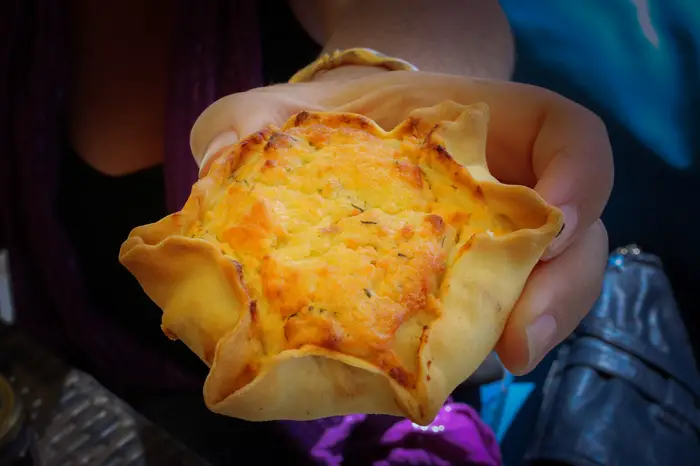 Ok, if your keyboard hasn't stopped working from all your drool then you're in a better place than me. Can you see why I love Greek food now?
LOOK HOW EASY IT IS TO PIN THIS!
FOMO - do you have it?  Well there is no need to Fear On Missing Out here at Explore With Erin. Sign up to receive updates directly to your in box. I won't spam you, but I do promise a whole lot of awesomeness. What are you waiting for? Join Me!