It was almost as if no further life existed in the early morning light. I could barely make out the nearby hot air balloons. It was as if we were the only hot air ballooning in Turkey at all.
As our hot air balloon soared above Cappadocia Turkey, all I could hear was the gentle breeze softly whispering past me and the occasional whoosh of the flame filling the hot air balloon with hot air to rise higher and higher. My children softly giggled as I enveloped them in a warm hug high above the ground.
We weren't in the dark for long. Soon the warm sun breached the nearby plateau casting a warm, encompassing glow over the insanely picturesque love valley below.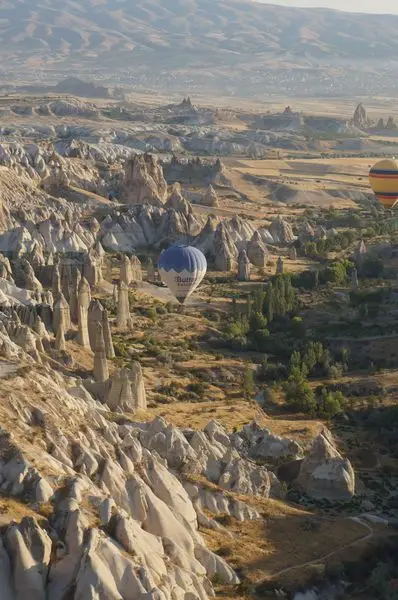 Where is Cappadocia?
Is Cappadocia in Istanbul? No. As small as Turkey is, it's not that small. Turkiye, as it is now called, occupies a unique geographical position lying partly in Asia and partly in Europe. It is among the larger countries in the region in terms of territory and population, and its land area is greater than that of any European state.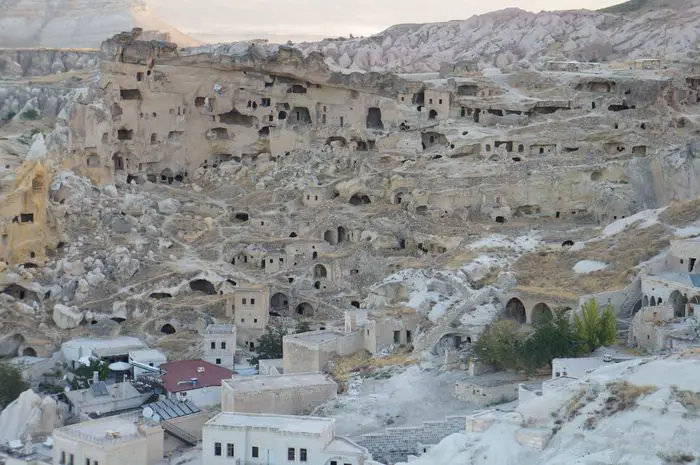 If you're looking for things to do in Istanbul, click here. Or check out 21 of the best places to visit in Turkey. Of course, Cappadocia is one of them.
Top-5 popular tours in Cappadocia
Can I drive to Cappadocia?
The distance between Istanbul and Cappadocia is 756km, which is roughly an 8-hour drive. If you've done my 10 things to do in Istanbul and are ready to hire a car, then go for it.
Can I fly from Istanbul to Cappadocia?
There are many flights to Cappadocia daily, including with budget airlines. The flight to get on your Cappadocia hot air balloon is less than 1.5 hours.
You can find the cheapest flight options from your city in this search form below:
How far is Cappadocia from Istanbul by train?
There is a railroad connecting Istanbul, the megacity, and Cappadocia, the underground city. It is about 549 miles and takes around 11 hours.
Is safe?
A Cappadocia hot air balloon ride is quite low-risk. In the last 8 years, there have only been 5 hot air balloon crashes. The 10 years before that there were no fatal accidents.
As always we recommend travel insurance whenever you travel. Especially during these crazy times. I travel with SafetyWing. Check how affordable it is here.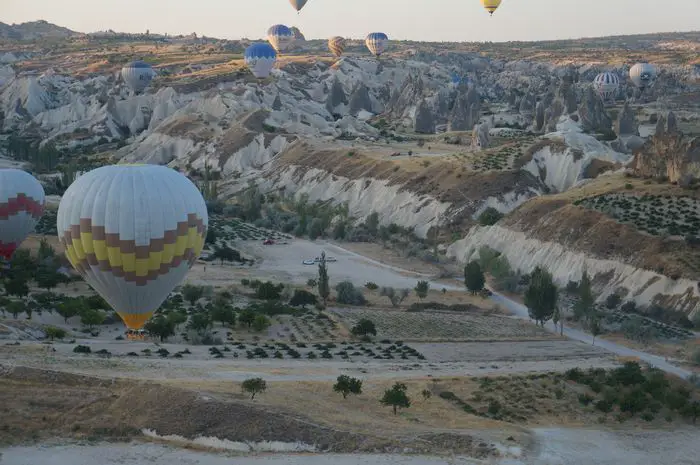 What is the best month to visit Cappadocia?
The best time to go to Cappadocia is from the end of April to the beginning of October. The weather is warmer and there is little rain. Beware there can still be snow in April and wind can cancel many a balloon ride.
Why do they fly balloons in Cappadocia?
There is barely any wildlife in Cappadocia so hot air balloons can descend low to the ground. Seeing love valley from up high and right in the midst of it is a special combination.
How much is a in Cappadocia?
The price to ride a hot air balloon changes during the year and ranges between $140 and $250 (€125 – €220) per person. Is Cappadocia hot air balloon worth it? Keep reading for my own experience, you'll find the answer easily enough.
Our "Queen" package with Royal Balloons was €175pp and tickets can be booked via their website.
Check prices competitive pricing here.
How many days should I spend in Cappadocia?
You can read about our 2-day whirlwind adventure here, but if you have more time, make it! Cappadocia is so much more than a balloon ride. Hot air ballooning in Cappadocia, Turkey with kids is number one activity to do while in Cappadocia, but you're going to want to take the kids to see the fairy chimneys and ancient castles of this underground city. 
What time do balloons go up in Cappadocia?
Our day started before the crack of dawn. It was 4:30 am. As a night owl is way too early for me. But I peeled my eyes open, got the kids ready, and was out the door in time for our balloon ride.
As we exited our room the Muslim call to prayer echoed through the valley. It was an eerie sound in the darkening hills that I recorded and shared with everyone on Instagram. 
How does the day start?
Along with a handful of other guests from the Kayakapi Premium Caves, we jumped on board the minibus and drove down the winding hillside, past a fairy chimney, and into Goreme. At the Royal Balloon headquarters, we were treated to an early morning breakfast and rendezvous with other Cappadocia balloon riders. Any food is always a delight to kids, but Turkish food in particular.
We were still all waking up and my small son was mid-way through a case of a nasty stomach virus that required frequent and urgent toilet breaks. I crossed all my fingers and toes that there would be no needed toilet breaks 300 meters above the ground in a small hot air balloon basket. Don't worry! It all went according to plan and everyone was fine.
Hot air balloon flyers were grouped based on the chosen ballooning package and assigned a minibus for the ride to our balloon ride.
While I had previously been on a balloon ride in Australia, my kids had never. But I was as in for a surprise as they were. This time was quite different. On arrival, the hot air balloon was already prepped and ready to go with several staff members filling the balloon with hot air and securing it ready for launch.
We had just enough time to snap some beautiful photos of the surrounding area, spotted with brightly colored hot air balloons taking off before we were ushered onboard for our balloon ride.
How many are in Cappadocia?
There are around 200 registered balloons in the area, with up to 140 taking off each morning during the peak season. Our morning was relatively quieter with only around 70 balloons sharing the clear, azure sky with us.
You'll see multiple hot air balloons from Butterfly Balloon, Voyager Balloon, Turkiye Balloons, and Kapadokya Balloons. You'll find most priced the same, but we made our choice for Royal Balloon based on its high safety rating.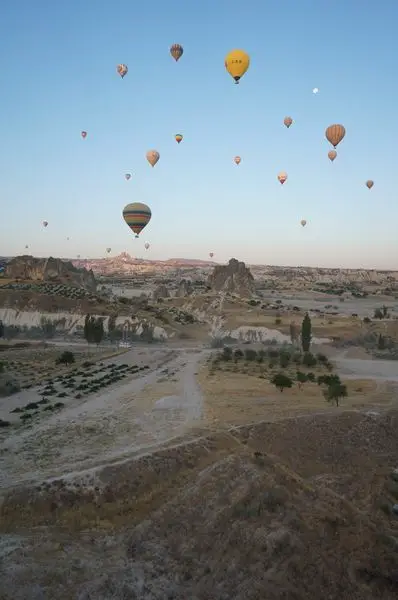 What do you see on

a

?
I'd strongly suggest that even 200 hot air balloons would still make the rugged landscape and crystal skies a truly spectacular panorama.
The photos we took were nothing short of breathtaking and you just can't help but take one after the other.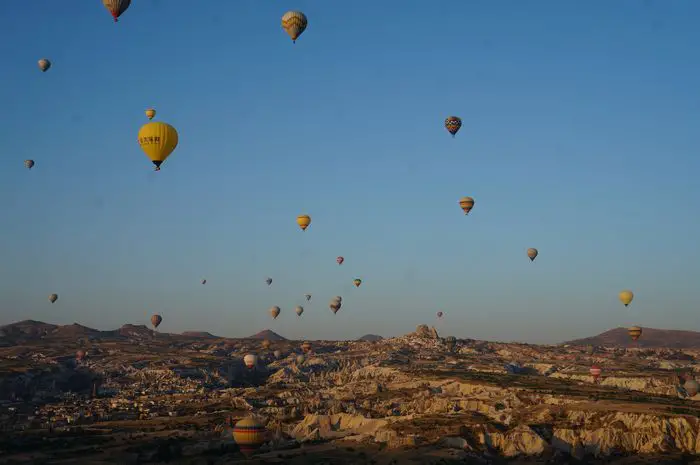 Can children take

a

in Cappadocia?
Hot air ballooning in Cappadocia, Turkey with kids is doable depending on your kids ages. Children under 7 are generally discouraged from participating in a Cappadocia hot air balloon ride due to safety risks. They were also discouraged as the hot air balloon basket is quite high, meaning little ones won't be able to see anything.
If your kids are younger than 7 I would recommend finding a local babysitter and making the flight a romantic excursion.
But as a family traveler, I was okay hot air ballooning in Cappadocia, Turkey with kids and they loved it. There are small foot-holes in the bottom of the basket, which if anyone could have photographed they would have seen little faces peeking through.
My 3-year-old son spent most of his time strapped into my baby carrier before he progressed to sitting on the floor. He enjoyed the ride overall but wasn't too keen on the loud sound made by the burner from time to time. My 4-year-old daughter was enthralled with the natural beauty surrounding her, taking in all the sights. She's tall for her age and just managed to peek over the edge of the basket.
What do you see on a ?
The countryside around Cappadocia has been carved out of volcanic rock over centuries by wind and melting snow to reveal amazing colors, textures, and shapes unique to the region.
The well-known "Love Valley" features vertical rock protrusions, which could be likened to a particular part of the male anatomy. In my opinion, it would be better off labeled "Penis Plaza". I had a good chuckle when an older lady on our balloon flight asked, "Why is this region called Love Valley?" How exactly could we explain that gently?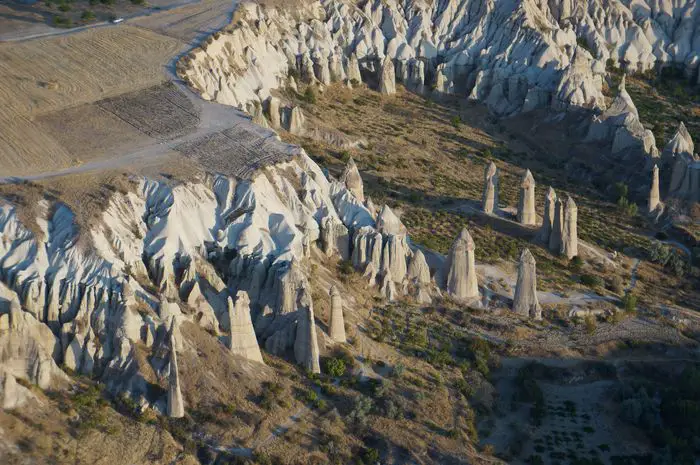 How do you land ?
Our balloon flight pilot, Nigel was looking for a spot to land and announced that we would be landing on the back of a pick-up truck. I thought he was joking at first, but realized he was serious. How would this work?
I recalled my Australian balloon ride, which ended in a very rough landing with the basket tipping over while we gripped onto internal handles with white knuckles.
This time, there was a rope lowered down to a staff member waiting below and the hot air balloons were guided gently onto the back of a pick-up truck (Aussies call them "utes") with amazing grace and finesse. I was beyond impressed!
I shouldn't have been surprised since, during our research of the hot air balloons in the area, Royal Balloons consistently came out on top in both the blogging world and other resources.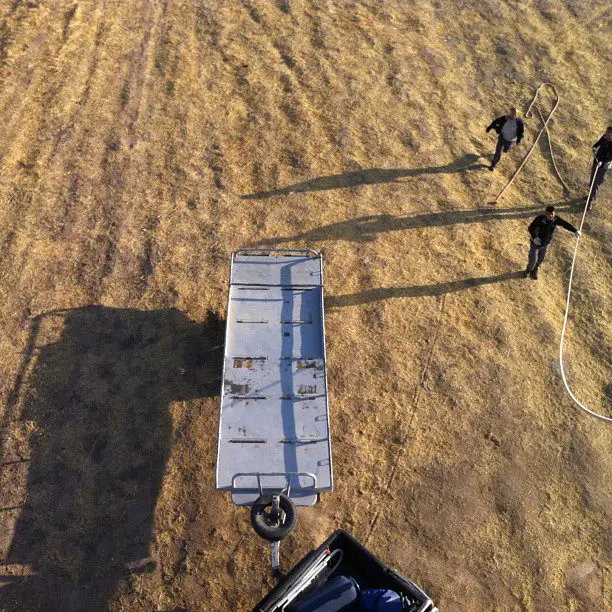 What happens to when it finishes?
After the flight finished and the riders disembarked, my daughter was very excited to help the staff to flatten out the balloon by jumping on it. She declared it was her favorite part of the whole hot air balloon tour. So much for hot air ballooning in Cappadocia, Turkey with kids, she could have just stayed on the ground!
As the hot air balloon flight finished, Royal Balloons prepared a champagne and orange juice toast as part of a tradition associated with hot air ballooning.
We were each endowed with a gold medal to commemorate our adventure and after a few more photos we farewelled the flight team and made our way back to our cave hotel at Kayakapi Premium Caves via our allocated shuttle.
We had one hour to rest before our next adventure began – seeing Göreme National park from the ground on a Cappadocia tour.
Is in Cappadocia, Turkey worth it?
This hot air balloon flight would be in my top 5 experiences to do around the world, across the 78 countries I have done.
It's not the cheapest attraction when traveling on a tight budget, but it is money well spent. Nothing else quite compares. It's obvious why some folks only travel to Turkey just for this experience. Hot air ballooning in Cappadocia, Turkey with kids is an experience of a lifetime. One I'd do more than once!
TRAVEL TIPS
🏘️Book your accommodation
Booking.com will help you to book accommodation in advance and check availability
✈️Book your flight in advance
To find the cheapest flight options, you can use WayAway and find the most suitable option for you
🧾Get your tickets and tours
with Viator and GetYourGuide to get the most out of your journey
LOOK HOW EASY IT IS TO PIN THIS!
FOMO - do you have it?  Well there is no need to Fear On Missing Out here at Explore With Erin. Sign up to receive updates directly to your in box. I won't spam you, but I do promise a whole lot of awesomeness. What are you waiting for? Join Me!