I first fell for Turkish food on my visit to Turkey in 2014. But having dated a Turk for 3 years now I have fallen even harder. Nothing prepared me for the attachment I developed for Turkish food and I know if you give these dishes a chance – you'll never be the same again either.
When it comes to food, Turkey has a similar style to Israel or other Middle Eastern cultures, but as it sits at the crossroads of East and West, it also sports a unique blend of Asia and Europe. During our Istanbul food tour nothing was clearer. 
The best part about Turkish food? Bread. A lot of bread. The kind that you can't stop eating. Moorish, addictive, fluffy, pide.
For a head start, read about some of my favorite Israeli food or these delectable Greek dishes. And then lick your lips over this must-eat Turkish food on your next visit to beautiful Turkey, maybe with a small group? But if Turkey is not on you books just yet check out my recommendations in Melbourne, Victoria, Australia. The next best thing!
Afiyet Olsun, as they say in Turkey.
Turkish Breakfast / Kahvalti
If there is only one meal you have in Turkey, never miss breakfast. Because they don't and we are not talking about cereal devoured in a few seconds. Oh no. Turkish breakfast is a highlight of the day.
So many dishes all served at once. You'll get to indulge in cheese, bread (oh the bread!), jams (my favorite is the cherry, drool!), honey (usually with a dollop of cream or butter), olives, cucumber, tomato, eggs, sucuk (absolutely delicious dried spicy beef).
Some breakfasts also include several different pastries (like Borek) and all good breakfast comes with unlimited Turkish tea.
Where to eat in Melbourne: The best value Turkish breakfast is at One Stop Kebab & Café – 384 Barry Road, Coolaroo.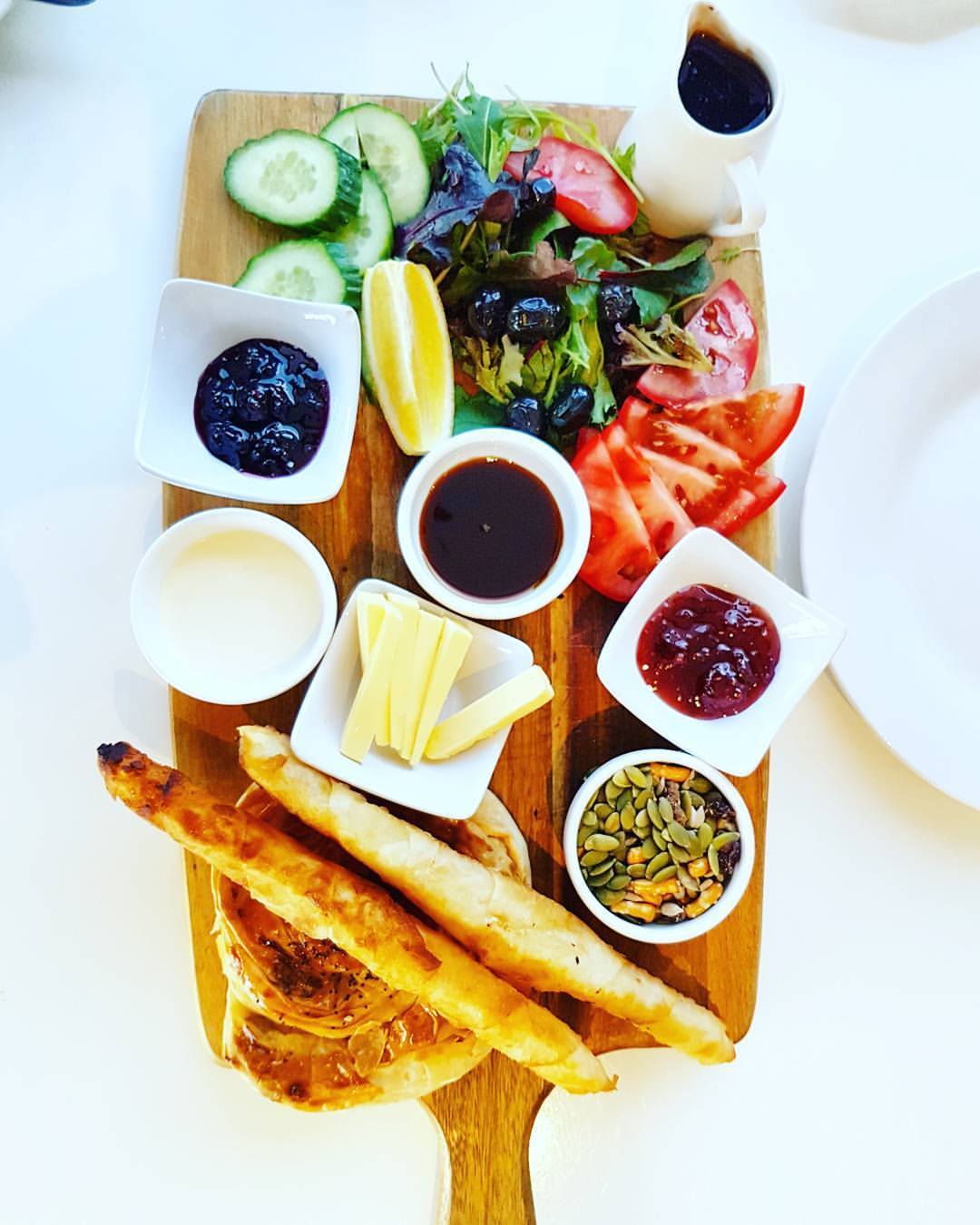 Menemen
A traditional Turkish dish made with eggs, onions, tomatoes, capsicum, and spices. It's usually cooked in a frypan which is served on the table with plenty of bread to dip in. To be honest I can't tell you where to eat it, because the best I've had was made by my man. Best way to wake up. Especially if he cooks up some sucuk with it.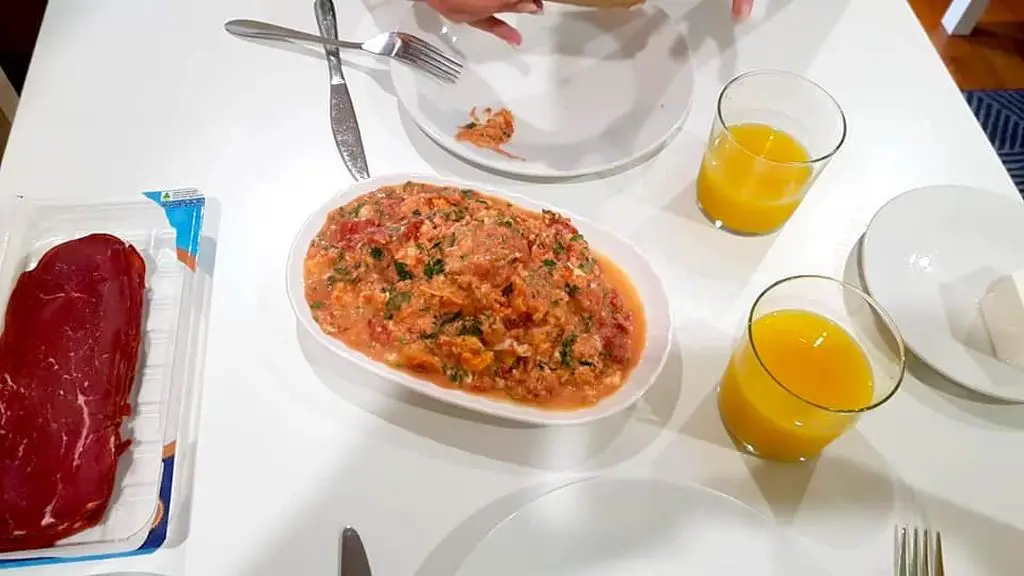 Soup
I guess it's the cold weather half the year, but the Turkish love their soup. Favorites I've tried are:
Kelle Paca Soup (Turkish for head soup) – is a soup of head meat (sheep, goat, or cow). I know how it sounds, but it uses a similar method of letting the meat fall off the bone.
Tarhana Soup – a traditional, spicy soup made from a fermented mixture of plain yogurt, flour, and vegetables. It's a staple.
Where to eat in Melbourne: I recommend getting your Turkish soup from MKS Kebab Dallas – 1 Phillip St, Dallas.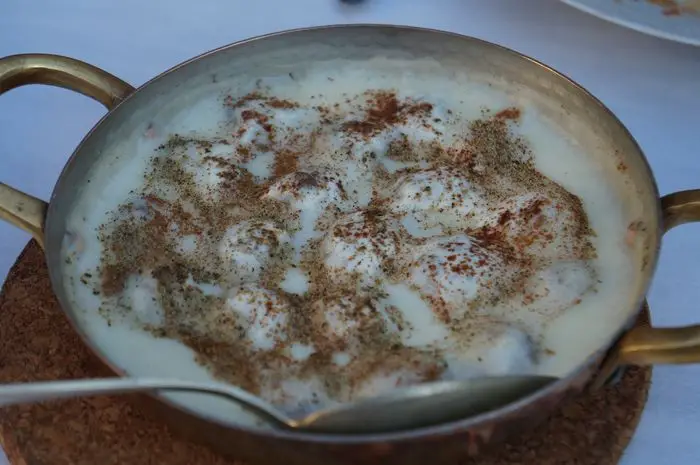 Simit
It's like a Turkish bagel. It's circular and covered in sesame seeds. It's so good just to eat by itself and you can find it pretty much everywhere. Think of it like a pretzel on the streets of New York, but better!
Where to eat in Melbourne: Not sold on the streets of Melbourne, but you can get delicious simit from Pascoe Vale Hot Bread – 74 Cumberland Road, Psacoe Vale.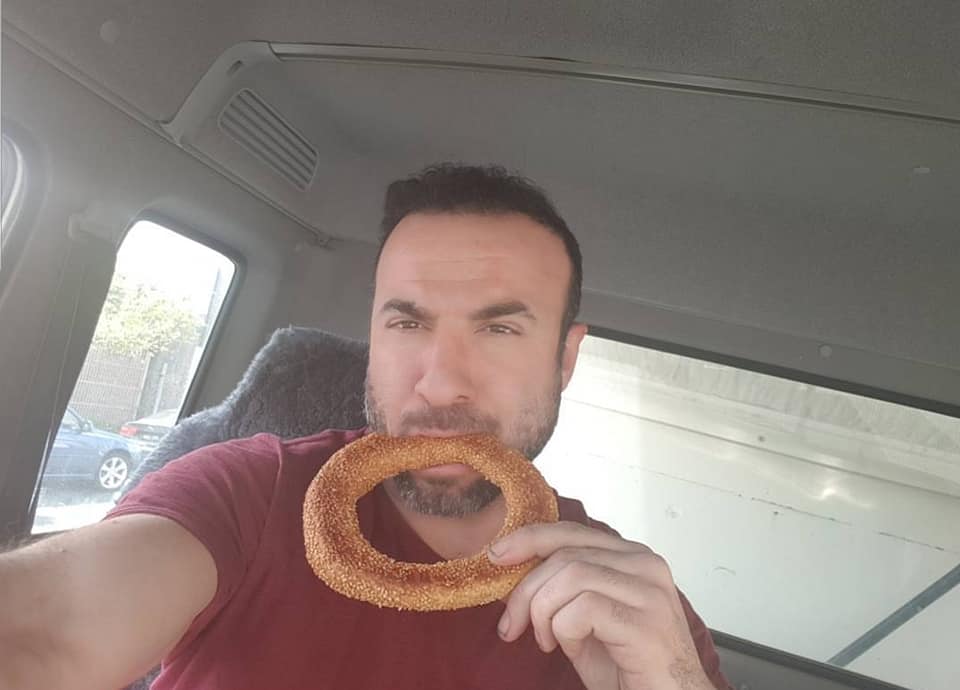 Imam Bayildi
This is eggplant stuffed with onion, garlic, and tomato. It's usually served at room temperature and a great start to a big Turkish dinner. Also a great vegetarian option for dinner!
Where to eat in Melbourne: Have your Melbourne Turkish dinner at Taksim Square – 561 Mt Alexander Rd, Moonee Ponds.
Yaprak Sarma
In Greek cuisine it's known as Dolma, so you've probably heard about this healthy snack. Grapevine leaves wrapped around minced meat or a vegetarian filling of rice. It can be served cold or hot.
Where to eat in Melbourne: Have your Turkish dolma at Taksim Square – 561 Mt Alexander Rd, Moonee Ponds.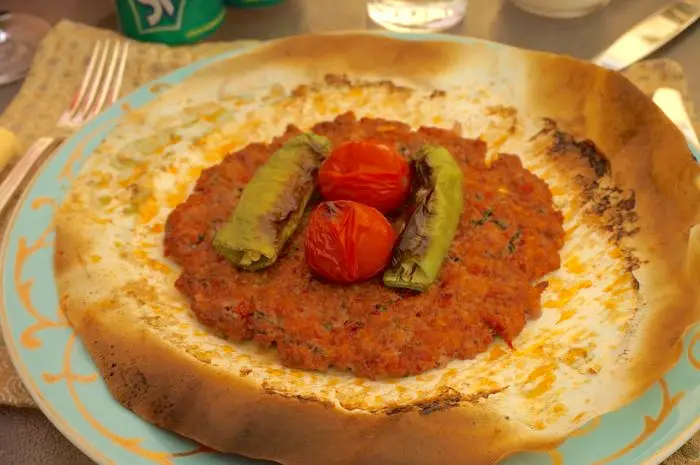 Pide
Known as a Turkish pizza is the very yummy Pide. You can have it plain or with meat and it does not cost an arm and a leg. A perfect lunchtime meal on the go. Or something simple enough for the kids.
Where to eat in Melbourne: I love Pide from St Moritz – 138 Ackland St, Melbourne.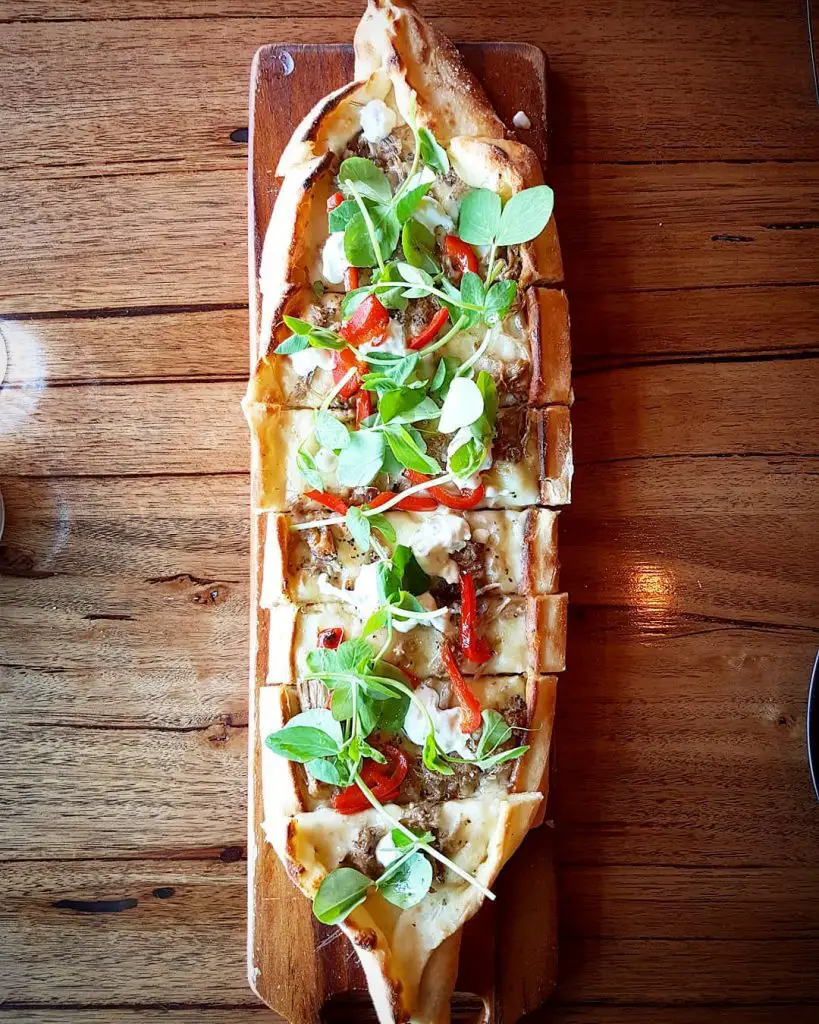 Gozleme
Part of this delight of this dish is actually watching the ladies make it. A gozleme is like a giant crepe on large flat iron but it had a consistency more like a very thin oversized pita bread. Ours was filled with cheese and was simply delicious. If you like the Mexican quesadilla, then this will tickle your tastebuds. Kids love Gozleme as much as they love pizza.
Where to eat in Melbourne: After a night out stop at Istanbul Kebab – 143 Smith St, Fitzroy.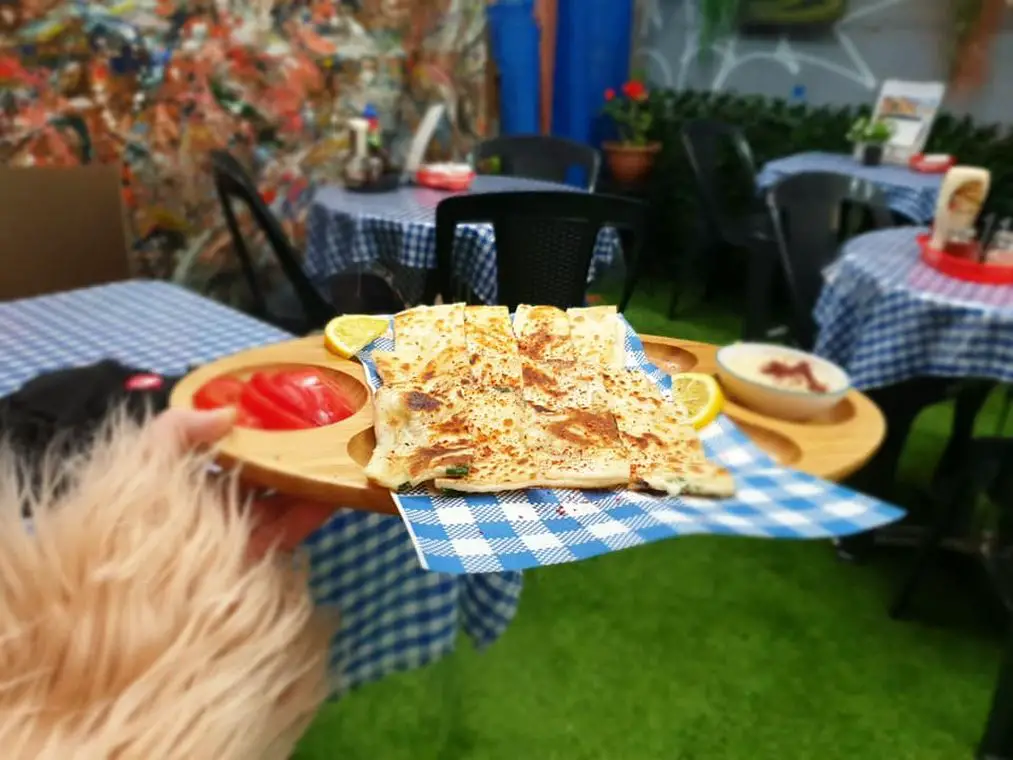 Börek
This is divine and I do love adding it my Turkish breakfast or lunch. It's usually a feta & spinach stuffed filo pastry. Cigarette borek is my favorite. It's shaped like a cylinder and easy to gobble down.
Where to eat in Melbourne: I love my Borek at Turkish Delight – 888 Mt Alexander Road, Essendon.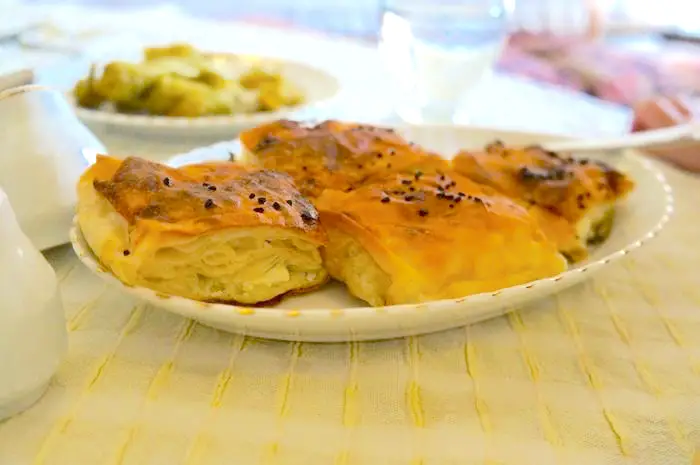 Lahmacun
Funnily enough, I had my first Lahmacun in Perth with my partner and my very words were, "Why have you never introduced this to me before?" Lahmacun is a round, thin piece of dough topped with minced meat, minced vegetables, and herbs including onions, tomatoes and parsley, and spices such as cayenne pepper, paprika, cumin, and cinnamon, then baked. Much like a thin crust pizza consistency, but definitely not in taste. I love it with a little bit of Cacik (yogurt & cucumber dip- like tzatziki).
Where to eat in Melbourne: Try your Turkish pizza at MKS Kebab Dallas – 1 Phillip St, Dallas.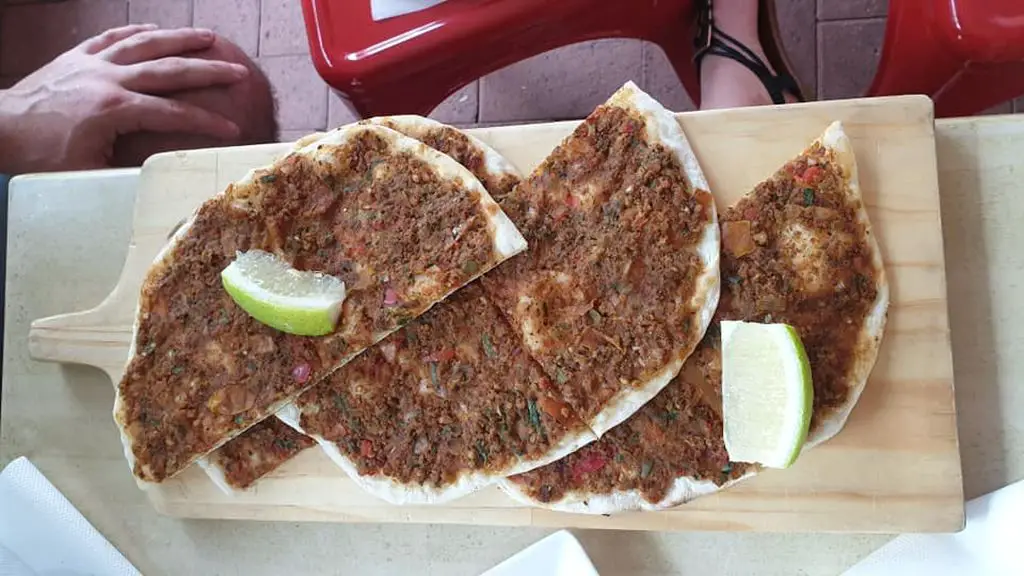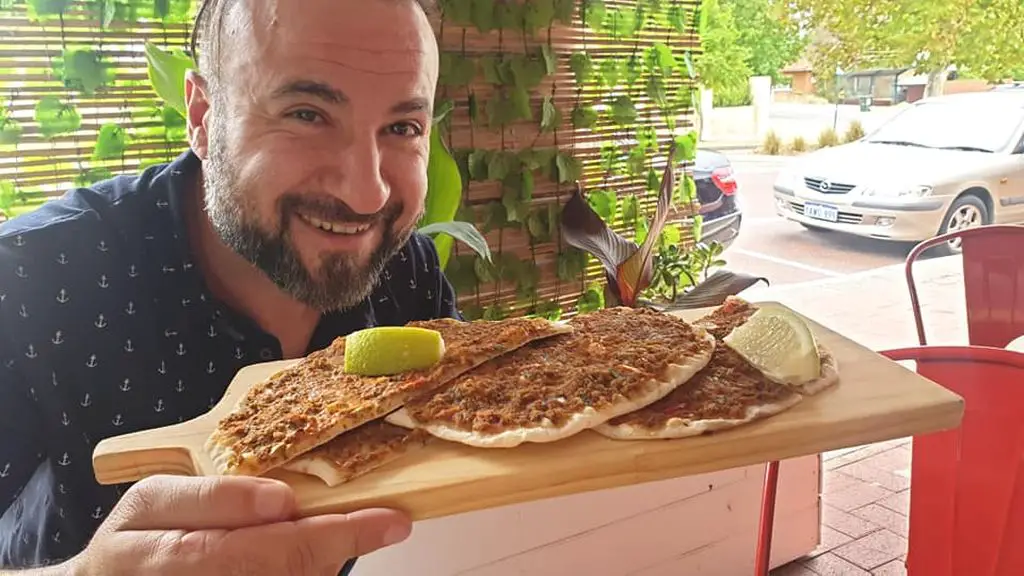 Kebabs
Having loved my local kebab store in Perth I was determined to try a Turkish kebab. How wrong I was. My Australian kebab was nothing compared to the Turkish kebab. In Turkey, it was $1.50, and a snack my daughter loved. So good.
But then I got to Melbourne and bae took me for kebabs on Sydney Road. This was hands down the best kebab I have had in my life. Don't be fooled by people pretending to sell "Turkish kebab". Turkish kebab is served between a big thick piece of Turkish bread, not in a wrap or pita. I actually prefer a deconstructed kebab- like a salad.
Where to eat in Melbourne: You can get the best Turkish kebab and drink for only $10 at Melbourne Kebab Station – 451 Sydney Rd, Coburg.
Bonus: Iskender Kebab – this special kebab version is one of the most well-known dishes of northwestern Turkey. It takes its name from its inventor, İskender Efendi, who lived in Bursa (bae's hometown) back in 1967. Iskender Kebab is the way of serving vertically roasted meat slices, known as Doner kebab, on a thin crust 'Pide' bread with tomato sauce, melted sheep butter, and yogurt. Of course, you can eat Iskender anywhere, but I recommend the birthplace at 'İskender Efendi Konağı EST. 1867' restaurant.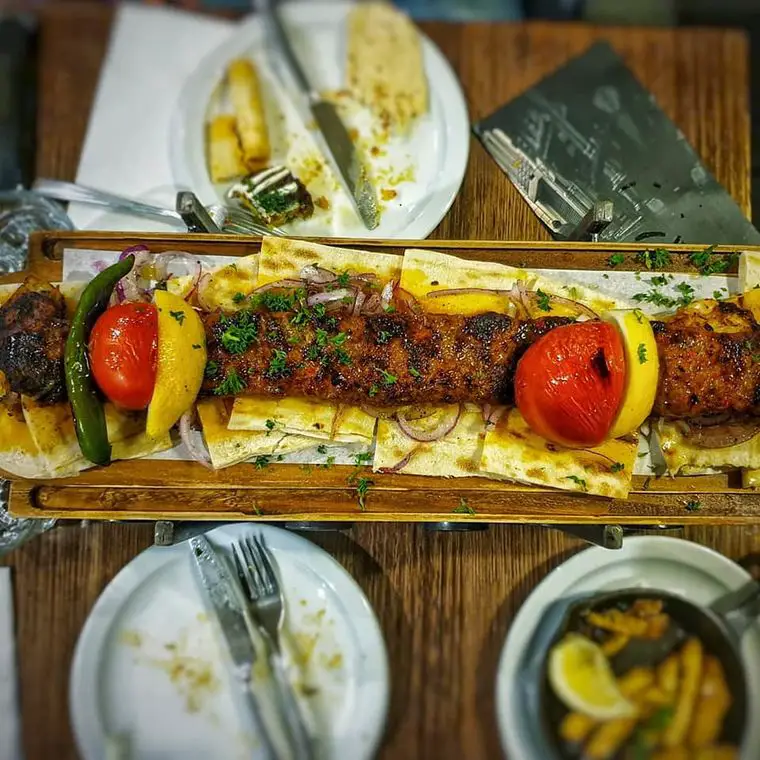 Balik Ekmek
This translates to "fish bread", which is exactly what it is – a fish sandwich. Most often it is a grilled mackerel fillet with onion, lettuce, tomato, and a spritz of lemon. Most people try it at the bridge in Istanbul, but I had my first in Melbourne with bae and his Turkish mate. Both who said it's exactly like the real thing. Not being a fish eater – I actually really enjoyed this.
Where to eat in Melbourne: Enjoy the best fish rolls at Halikarnas – 155 Bouverie St, Carlton.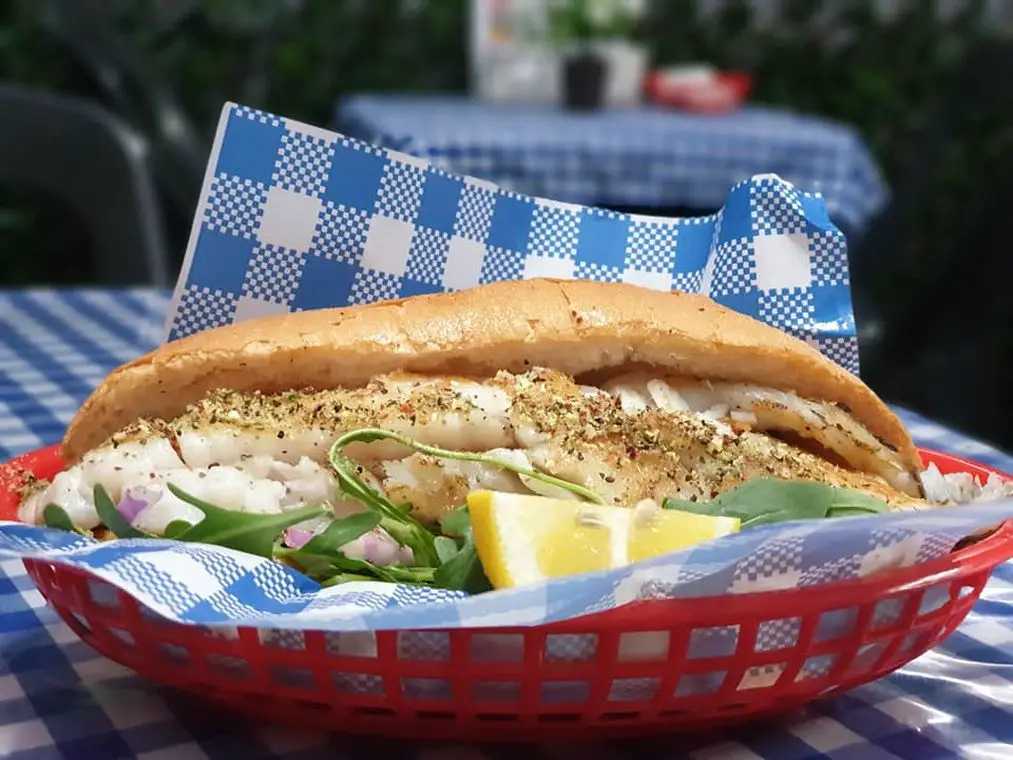 Köfte
You've probably tried something similar in multiple other cuisines, but the kofte is the Turkish version. It's a meat ball or patty made with minced meat (beef or lamb) onions, herbs, and spices.
Where to eat in Melbourne: Enjoy at Halikarnas – 155 Bouverie St, Carlton.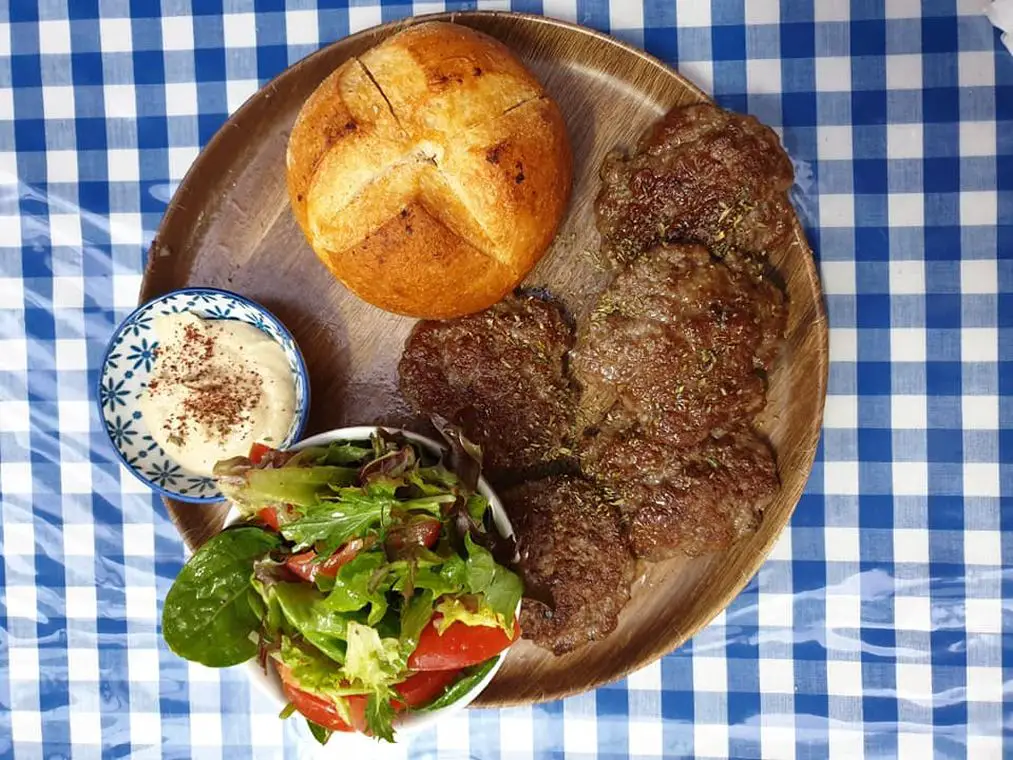 Sac Vac
Lamb is a popular meat served throughout Turkey, but none so tasty as served in the traditional Turkish meal Sac Vac. Usually served in a clay pot or on a piping hot stone, it has a centre small mound of rice surrounded by juicy stewed lamb and peppers. You must try! My favorite was served during our stay at Taskonaklar at a nearby restaurant called Mutton Rouge.
Where to eat in Melbourne: Head to Marmara Restaurant – 68 Chapel St, Windsor.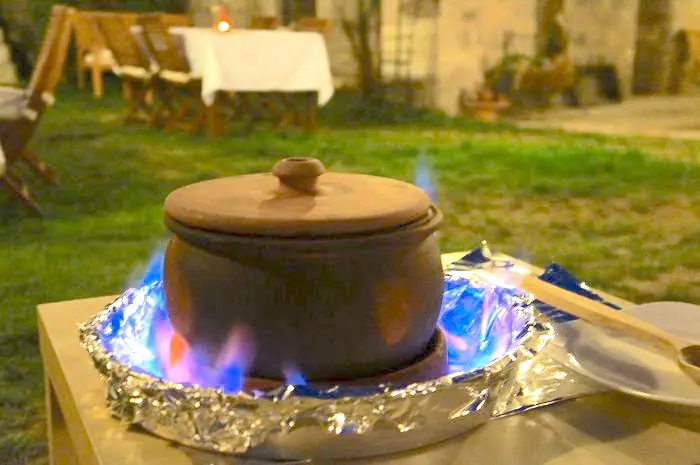 Dondurma (Ice cream)
I first saw this on the popular TV show, The Amazing Race, and knew the kids would love it. So, we went searching for the street cart. In Turkey ice cream comes with a show. The owner of the cart spent several moments tricking my kids with his twisted techniques and fast-handed comedy before finally handing over the ice cream. And it wasn't what I expected. It was almost like taffy. When you lick it, it pulls away in long, gelatinous strands. I was not so enthusiastic about the taste, but my kids devoured it.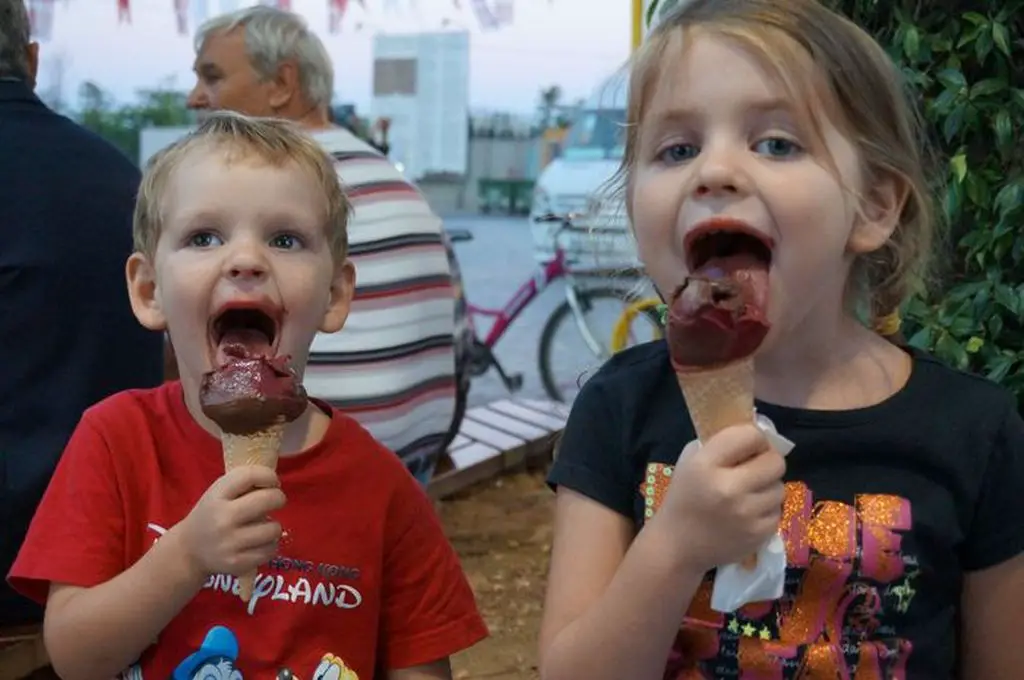 Baklava
Is it Greek? Is it Turkish? Both claim it as their own. But all I know is it's a dessert from the gods. Baklava is a rich, sweet pastry made with layers of filo dough packed with chopped nuts and held together with syrup or honey.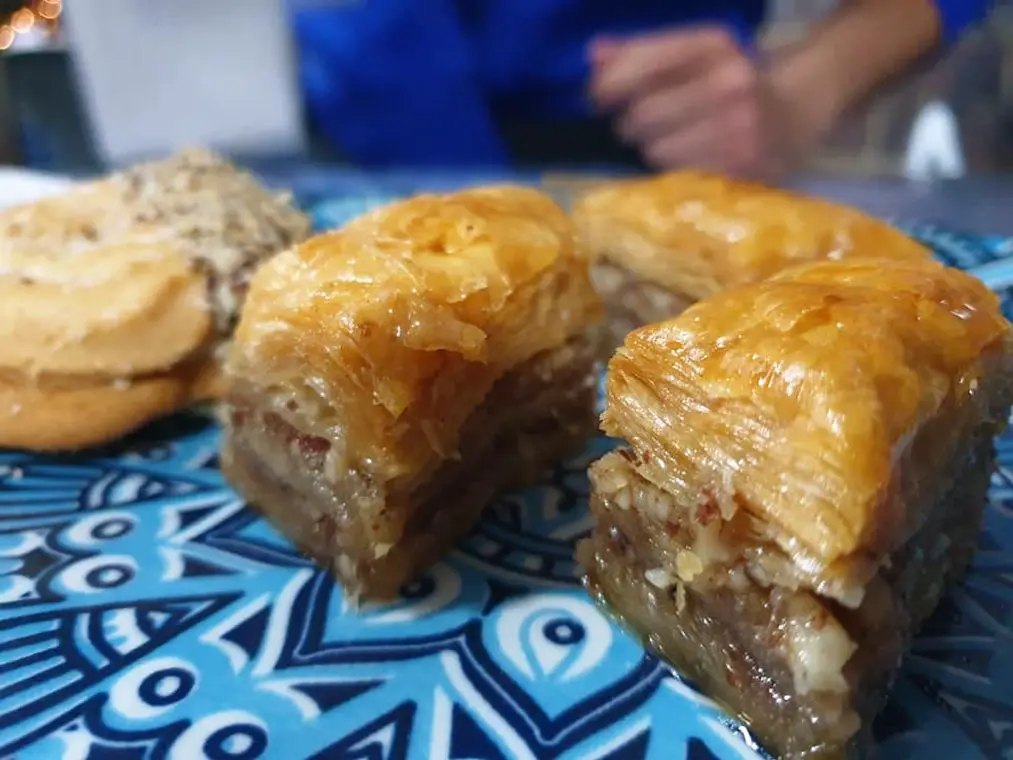 Tavuk Gogsu
I admit bae made me add this. I haven't been able to bring myself to try it yet! Tavuk göğsü is a Turkish milk pudding made with shredded chicken breast. It became one of the most famous delicacies served to the Ottoman sultans in the Topkapı Palace. It is still considered the signature dish of Turkey. Its consistency is like pudding or creme brulee.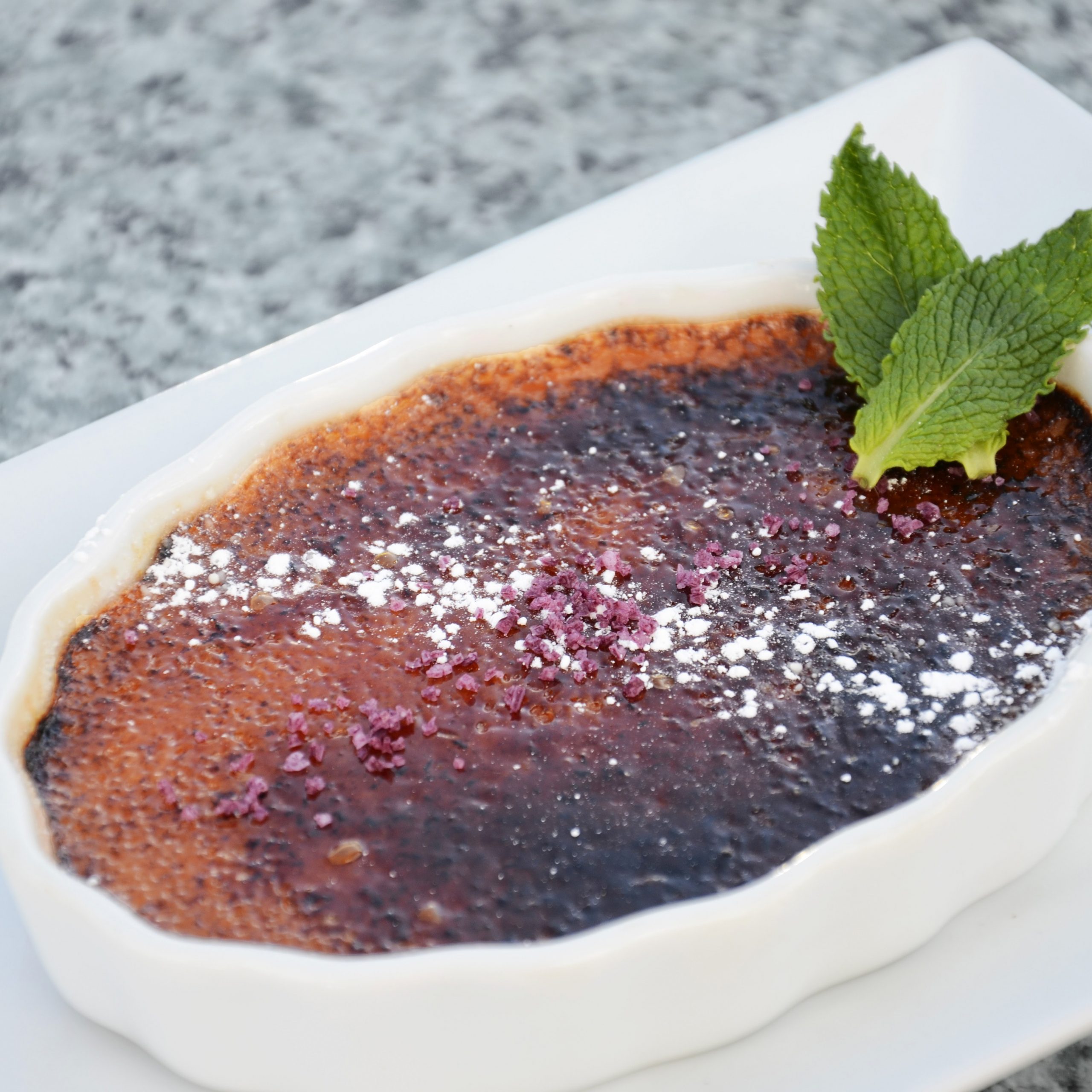 Kadayif (Kadaif/Kunefe)
You'll have to wrap your head around this dessert as well, as it's a crisp cheese-filled dessert made with shredded kadayıf dough soaked in sweet syrup and topped with clotted cream. You have to eat it soon as it comes out of the oven so the cheese is soft and stringy.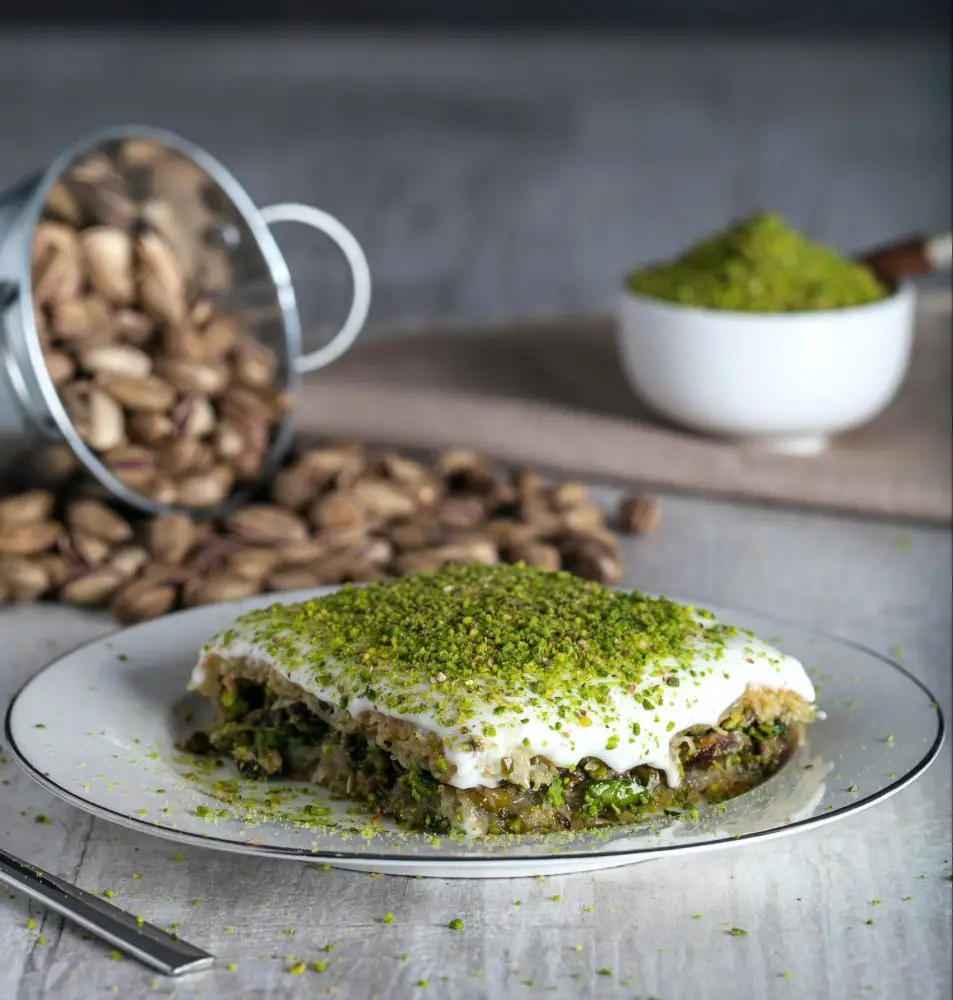 Turkish Delight
Of course, everyone wants to try Turkish delight in Turkey, but the kids were especially fond of the plain colored jelly-pieces that made up a delicious simple Turkish delight. I preferred the cranberry and nut delights.
Within the Grand Bazaar, many of the Turkish delight stores offer free taste testing (yes you end up buying after trying all that deliciousness), which the kids loved. We also had our fair share with the free Turkish Delight in our hotel room in Istanbul.
Ayran
Turks eat a lot of yogurt, almost exclusively as part of a savory meal (unlike much of the western world where yogurt is usually mixed with sugar and berries). My bae doesn't have much in his fridge, but he always has yogurt. So it was not surprising when I discovered the most popular non-alcoholic drink of Turkey is Ayran. A drink of yogurt with water and salt added. Not much of a yogurt fan, I can't stomach it, but he drinks it any chance he gets. It can be found at any good Turkish restaurant.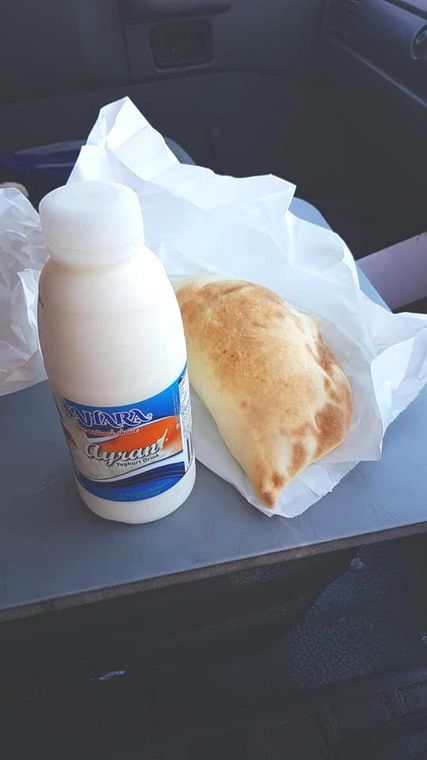 Turkey is a heaven for food lovers. But if you can't get there anytime soon, maybe Melbourne is a bit closer to home. And you'll not be disappointed. You're guaranteed to find some tasty treats you never tried before… and it will leave you wondering how you ever lived without them for this long.
Oh, and if you cannot pronounce the dishes, don't worry, that's part of the fun. I've been trying to learn Turkish for 3 years!
LOOK HOW EASY IT IS TO PIN THIS!
FOMO - do you have it?  Well there is no need to Fear On Missing Out here at Explore With Erin. Sign up to receive updates directly to your in box. I won't spam you, but I do promise a whole lot of awesomeness. What are you waiting for? Join Me!