Oh, Turkiye, how I love you. You have everything one needs for the ultimate vacation.
From busy Istanbul and its Ottoman period Hagia Sophia, Blue Mosque, and Topkapi Palace to the ancient UNESCO World Heritage Site in Ephesus. Let's not forget the mysterious Cappadocia with its Goreme Open Air Museum and hot air balloons over Love Valley or Pamukkale with its eerie white terraces and sparkling teal waters.
And then there is the Turkish Riviera. For all the beach lovers who still want a touch of history and luxury.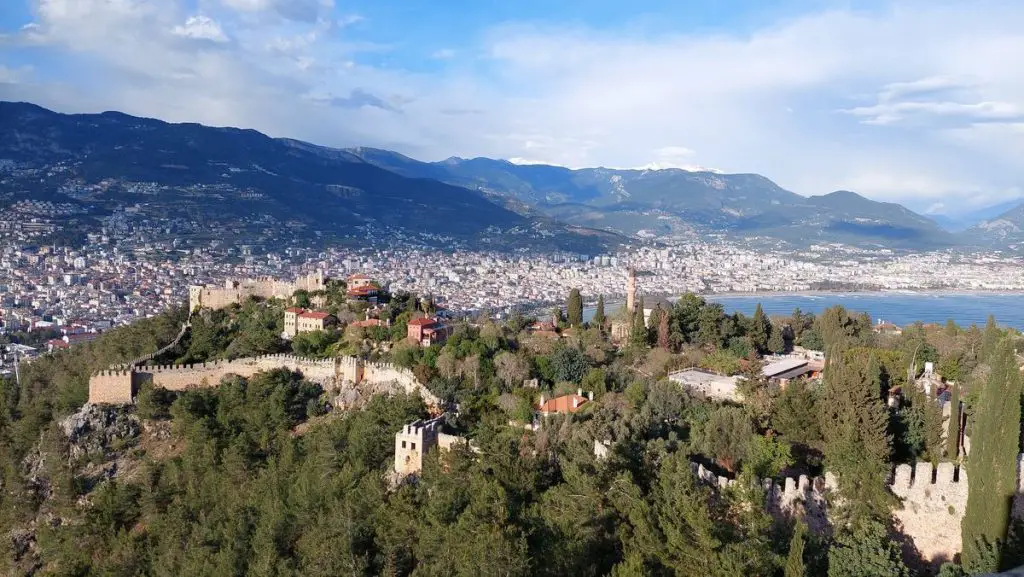 This South Coast Turkey itinerary is focused on the Turquoise Coast. Why? Because this is a trip you can do before peak season. Before the crowds and the hot weather.
This Turkish Riviera 7-day road trip itinerary is great while Winter and Summer are still fighting over the temperatures. As we traveled in early April it was the perfect road trip to follow the sun.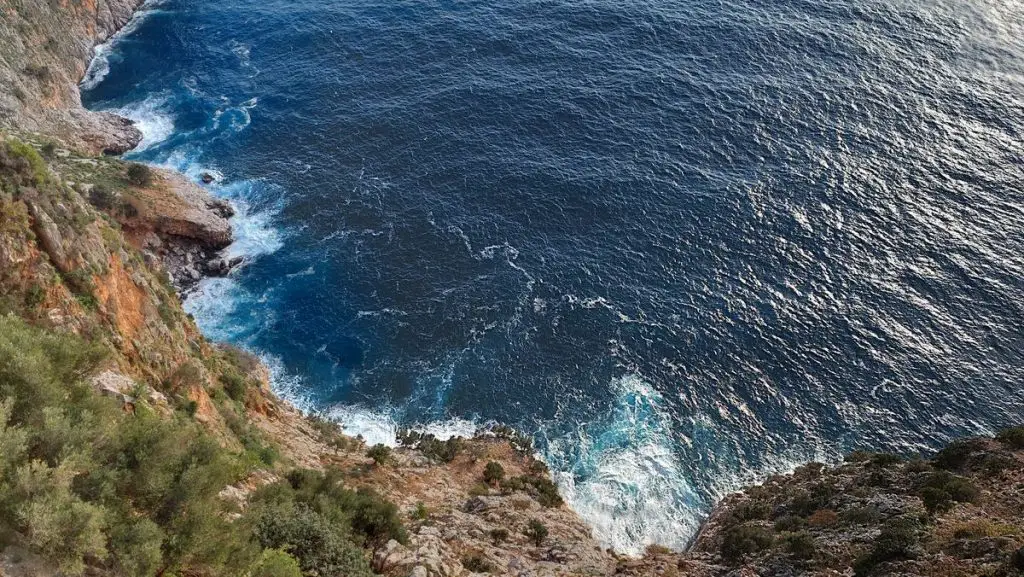 What is 's official name?
Turkey recently changed its name to Turkiye. You can find out why in a post I wrote recently by clicking this word -> Turkiye.
Is in the ?
Turkey is mainly in Asia, with a small part in Europe. Most consider it more of a Europe nation considering it's a big football sports country and participates in the Euro League.
What is considered the ?
The Turkish Riviera (Turkish: Türk Rivierası), also known as the Turquoise Coast, is an area of southwest Turkey encompassing the provinces of Antalya and Muğla.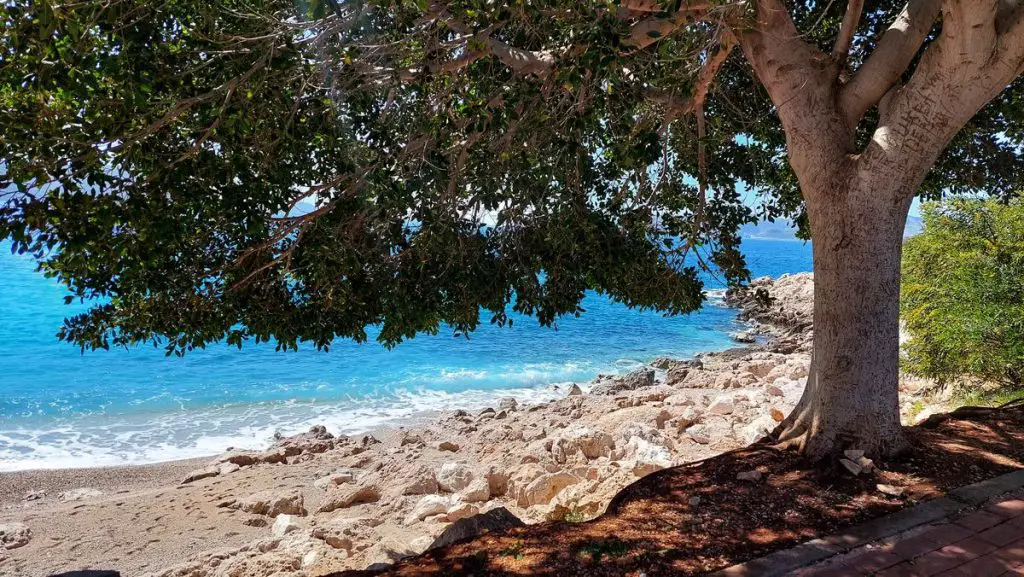 Is 7 days enough for a southern ?
In my opinion, 7 days is never enough for any trip, but it's always a good start. 
How can I spend 7 days in ?
To see the whole country you may be tempted to start in Istanbul, follow the Black Sea, head to eastern Turkey Cappadocia, then onto the south coast.
But I would suggest you need much more than 7 days for that Turkey itinerary. Instead, keep your focus either on North-East Turkey or South-West Turkey.
How many days in is enough?
I've spent 3 weeks at one stage, 5 days the next time, and it's still not enough. But 7 days is a good starting point. Two weeks is even better!
Is 1 week enough for

a

?
No. You can see here how many amazing places there are to visit in Turkey.
Are Turkish roads safe?
Turkish roads are very easy to drive. Highways have high speeds, but I never felt unsafe at all. Google maps works well and is accurate. We did get stuck behind herds of sheep twice, but that's nothing patience can't cure.
What are Turkey bathrooms like?
I found gas station bathrooms to be much more clean than Australia. Most had automatic doors, flushes, and taps. Some even had plastic on the seat that you can rotate through for a fresh seat.
Best Turkey road trip snacks?
You'll find plenty of gas stations in Turkey to stop to eat. Plus along the highways they have rustic traditional Turkish restaurants scattered with incredible views over the mountains.
We also loved bakery stops for a tahini pide or simit snack. Also you will find road side stalls. We picked up the freshest strawberries I ever tasted and a whole box full of delicious Turkish sweets that were as addictive as much as they were mouth watering.
What else should I pack for a road trip?
Other then snacks we had a back seat full of jackets and jumpers for inclement weather. We also road tripped with a travel towel, like this one from Amazon, for our multiple stops at the beach.
If you are travelling with kids can I also recommend some car games and a great table or seat organiser to minimise mess and increase creativity. Other road trips I've carried everything from a set of drawers to a cooler bag for cold drinks. Consider how you best like to travel and be prepared.
Is there plenty of parking on a Turkey road trip?
Parking is fairly easy. Although we did get towed one day. It was in Bursa at the local hospital while waiting for our PCR. We missed the red cross on a hidden sign.
Other then that you will find like most countries certain parking lots like those at Pamukkale are paid, while nearly everywhere else is free.
Apparently in Pamukkale we parked somewhere we shouldn't have… We are still scratching our head for where… But the fine was 200 TL, about 12 USD.
What will I find in this ?
Paragliding, all-inclusive resorts, boutique hotels, beaches, food, accommodation recommendations, timing. Anything you need to know for the ultimate South Coast Turkey road trip you'll find here. Keep scrolling!
Where do I start?
Most people will fly on a Turkish Airline to Istanbul airport and start there. You can find a list of my 10 things to do in Istanbul in 24 hours here. It will give you a quick Istanbul itinerary to cross off your list before starting your Turquoise Coast itinerary.
Visit Hagia Sophia (Hagia Sofia), the Blue Mosque, Topkapi Place, Grand Bazaar, and Galata Tower, or take an Istanbul walking tour to see everything quickly and efficiently.
Might I also suggest an Istanbul food tour or eating the famous brunch at Ciragan Palace to get your tastebuds ready for the sensation that is Turkish food?
What do I do after Istanbul?
We headed for a quick visit to see family in Bursa and a day trip to Pamukkale and Cumalikizik.
What is Cumalikizik?
I am going to dedicate a whole post to this gorgeous old town. While not part of this Turkey itinerary you must visit!
What is

Pamukkale

?
I haven't included much about Pamukkale in this Turkey itinerary either, as it's closer to the North, but if you have the time I highly recommend visiting this part of Western Turkey. One of the best places in Turkey.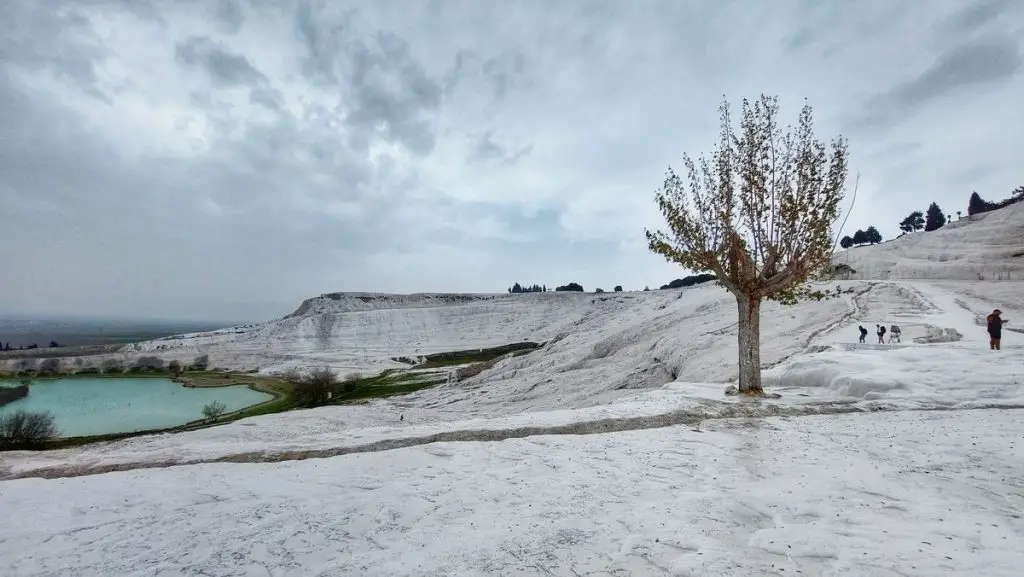 What is Bursa?
Bursa is the fourth-most populous city in Turkey and is one of the industrial centers of the country. You can do Bursa on a day trip from Istanbul to see all its historic Ottoman period mosques and monuments or let me know when you're there and I can hook you up with the in-laws! 😀
Bursa is where our 7-day to the started. 
Note: We did 8 days including travel time back to Bursa. If starting in the Turkish Riviera you won't need the extra travel days we did. 
Roughly 3,000 km (1,500 miles)
How do I get to the south coast of ?
To start your magical 7-day Turkey itinerary you're going to need a car. I suggest renting one here.
If you prefer to fly you can fly to airports in Dalyan, Antalya, and many more.
But in my experience, Turkeys Turquoise Coast is best done by road trip, because the Coastal roads are just stunning.
7-Day
Day 1
Bursa to Marmaris –

Pamukkale
591 km (367 miles) | 6-hour drive
We left at 10 am and arrived at 8 pm, because we decided to spend a fair bit of time at Pamukkale. I won't go into too much detail here, because your south coast Turkey road trip is likely to start in the South rather than in Bursa, but if you want to read more on Pamukkale you can do so here.
We had a walk around Marmaris that evening, ate dinner at a local Turkish diner nearby, and hit the sack pretty early because we were exhausted from a long day.
Accommodation: Motto Premium Hotel & Spa

Standard double room with breakfast | USD 65 | Check your dates here

Quite pricey for a Turkish hotel, but overall clean and tidy. The buffet was not available, and breakfast was not explained to us, we kind of had to guess.
Day 2
Marmaris – Gocek – Oludeniz – Kas
269 km (167 miles) | 4 1/2 hours
We didn't stick around long to discover Marmaris, because I got a great idea to go paragliding over one of the most spectacular spots in the world.
On the way to Oludeniz, we stopped briefly in Gocek, one of the most adorable towns and I wish we had more time there. But I had an appointment to get to.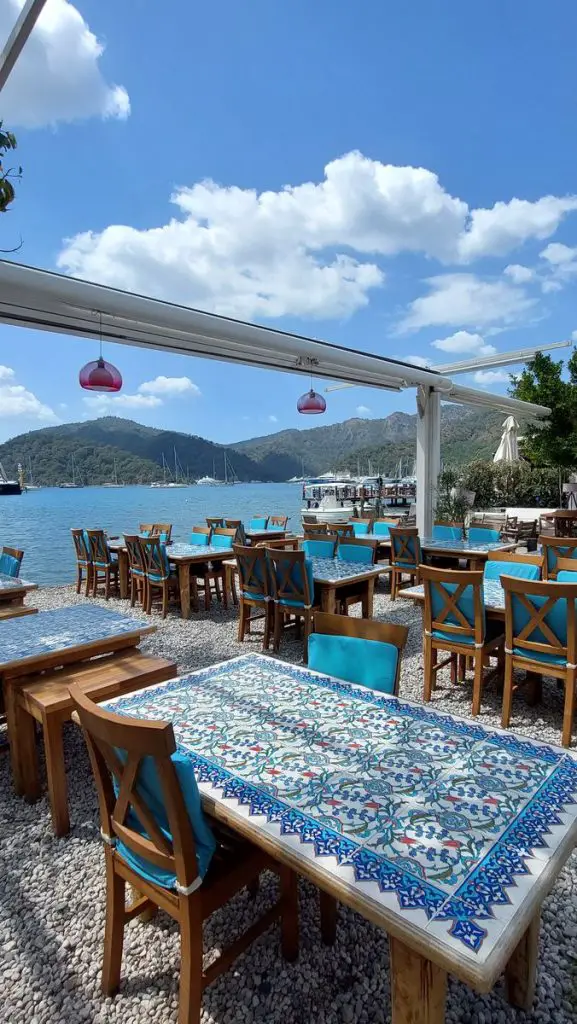 I booked a 1200-meter takeoff from Mount Babadag through Reaction Paragliding for 2,600TL (AUD 260). The jump off the mountain was not as nerve-racking as the drive up.
It was a little chilly soaring over the Blue Lagoon, but I got so caught up in that view I barely noticed. Stunning. The watercolor, the wind rushing through my hair, the feeling of soaring and dipping and cruising as high as a bird.
Highly recommend.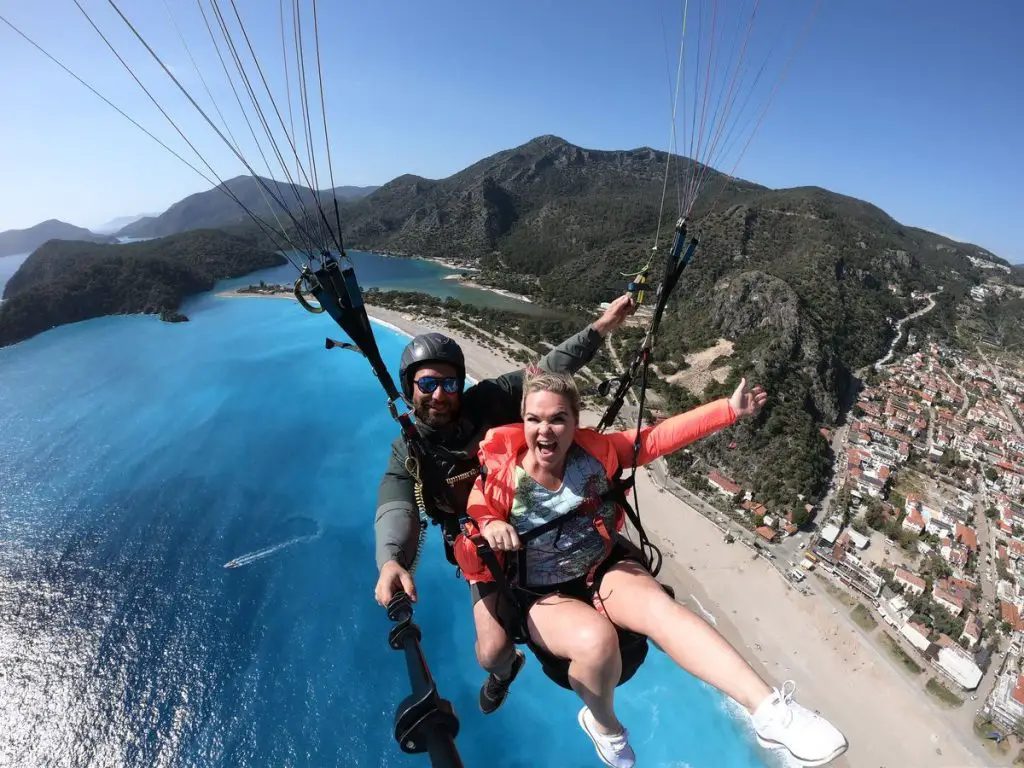 Upon landing, we had a brief look around Oludeniz before continuing onto Kas.
Kas turned out to be my favorite old town in our Turkey itinerary. We wandered through the small cobbled streets that night enjoying the seaside vibe and eating the most delish Turkish food at Tzatziki Meyhane. Quirky and great pide.
We finished the night with burnt ice cream at Nur Patisserie.
Accommodation: Dusler Evim

Double room with sea views & breakfast | USD 50 | Check your dates here

My favorite hotel from our stay. Incredible views. Great value and exceptional rooftop breakfast.
Day 3
Kas – Kekova – Kas
68 km (42 miles) | 1 1/2 hours
The day started with the most epic breakfast from our boutique hotel in Kas before we headed to Demre to catch our private Turkish boat tour of Kekova.
Originally we looked at getting a boat with many other people, the benefit is it's so much cheaper, but ultimately we decided against it because a private boat gave us the option of choosing where we wanted to go when we wanted to go and without fighting with others over the best sun lounge on the deck.
The private boat was 1750TL (USD 101) including lunch, a BBQ our Captain prepared while on the boat with sides made by his wife.
We got to visit the ancient ruins of the underground Lycian city. Swim, sunbake, and eat the day away. It was perfect.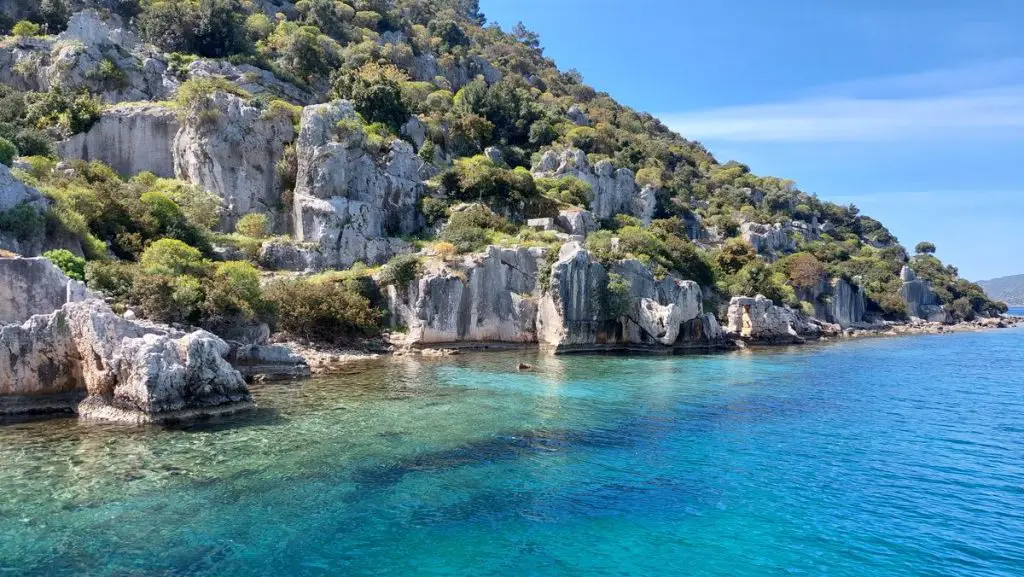 After our day on the catamaran, we decided to head back to Kas because we had fallen in love with so much.
We wandered the cobbled streets again, this time enjoying manti at Kasik Manti Ev Yemekleri.
Accommodation: Medusa Hotel

Deluxe double room with sea view & buffet breakfast | USD 62 | Check your dates here

Great location in the city. Spectacular views. Good buffet. Unfortunately, the beach was closed.
Day 4
Kas – Myra – Demre – Antalya
189 km (117 miles) | 3 hours
The coastal drive here is stunning. And you must stop at Kaputaş Beach. Beautiful beach.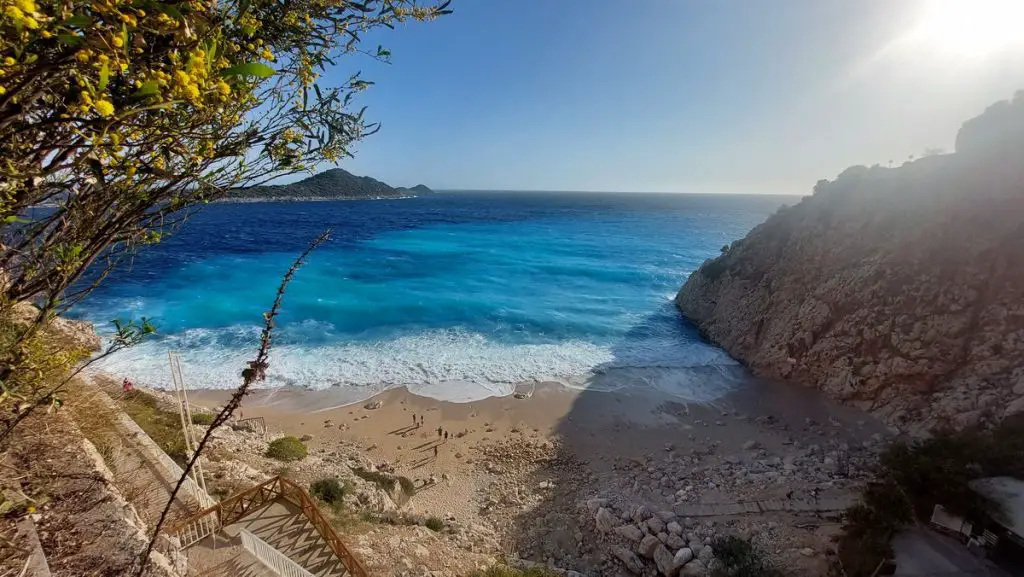 We also made a pit stop in Demre to visit the ancient city of Myra and St Nicholas Church, home of Santa Claus.
Also, my favorite meal was eaten here at Kofteci Necati and cost us a total of USD 11! You must eat here.
Myra was a complete surprise with its large amphitheater which used to sit 13,000 and the necropolis Lycian rock tombs. Ruins are completely my thing and I loved this stop, despite the beating sun.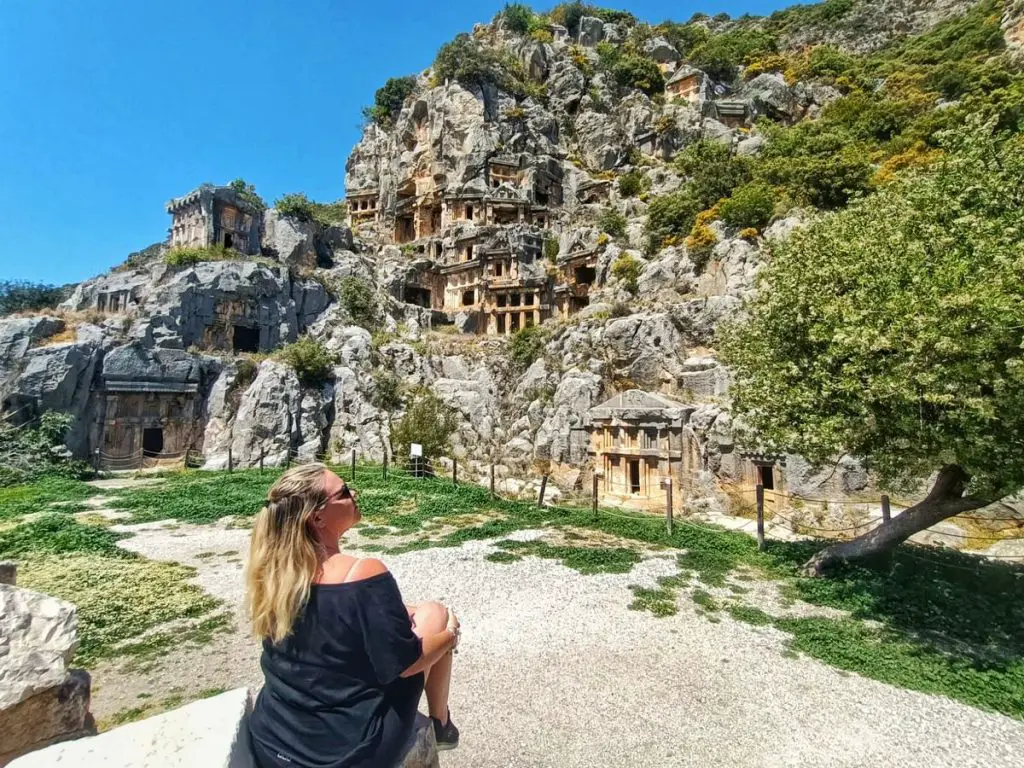 In Demre you will also find St Nicholas Church, home to Saint Nick himself. This ancient East Roman basilica church is said to hold the body of Santa Claus. Please don't tell the kids.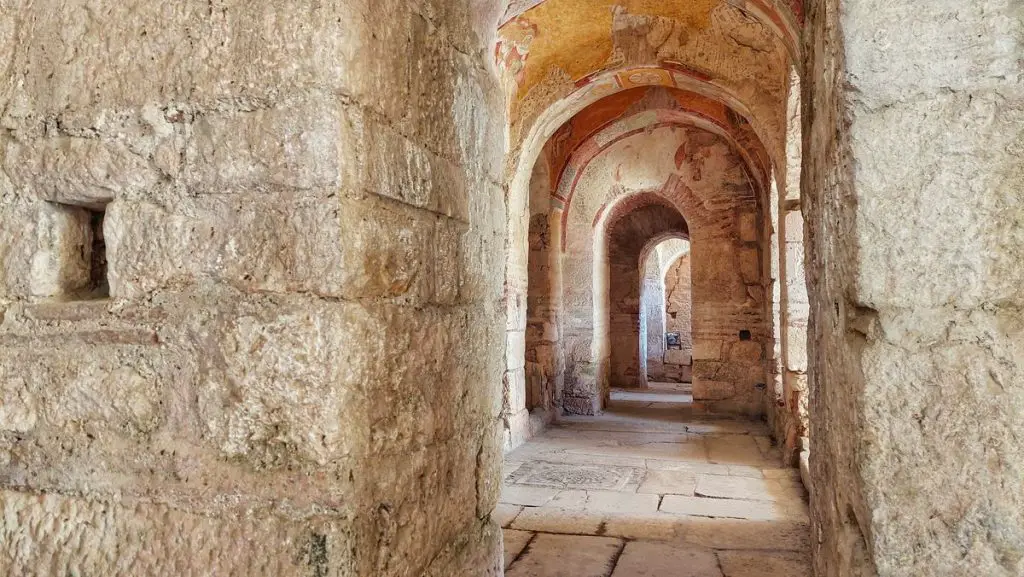 After our visit to Demre and Myra, we continued onto Antalya. And our first hotel disaster. It was a late arrival and an even later departure before we finally made home to the city.
Accommodation: Club Hotel Sera CANCELLED

All-inclusive hotel. Changed our booked room. 3 out of 15 restaurants shut. Buffet food is old and lukewarm. Airconditioner had not been turned on for the summer, despite 28C in rooms. We decided to leave at 9 pm and found a smaller hotel.

Accommodation: Bilem High Class Hotel

Standard sea view double room with breakfast | USD 49 | Check your dates here

So much better than the all-inclusive. Clean, quiet, aircon worked. Sea views. The only problem was the french fries included with breakfast. We also were not asked what we would like for breakfast, just given a plate of pre-made food.
Day 5
Antalya – Alanya
133 km (83 miles) | 2 hours
We weren't keen to spend much time in Antalya after last night's disaster hotel experience so we did a quick wander around the port and the city walls before heading to Alanya.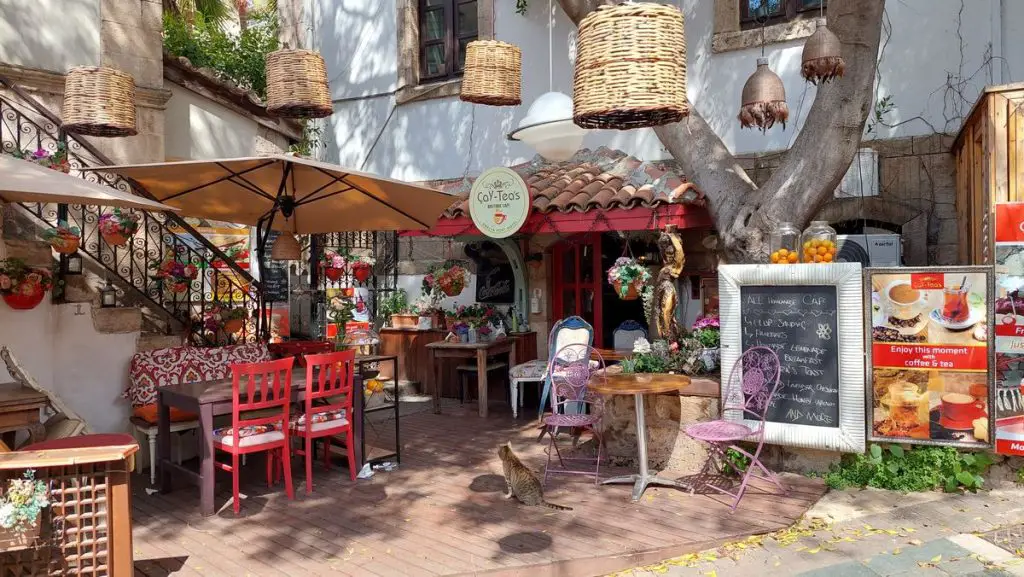 On the way to Alanya, we did a stop at Karain Cave on Turkey's Mediterranean coast. Imagine if you will that this cave has been inhabited for more than 25,000 years. The Egyptian pyramids are only 5,000 years old.
It's a fairly hard climb up the mountain via stairs, but one with plenty of stops.. The cave is self-discovery, and listen out for bats!
In Alanya, we visited an ancient castle at sunset with the best views of all of Alanya before we spent the rest of the evening relaxing and enjoying a proper all-inclusive resort.
Alanya is the best castle I visited while in Turkey. Absolutely stunning.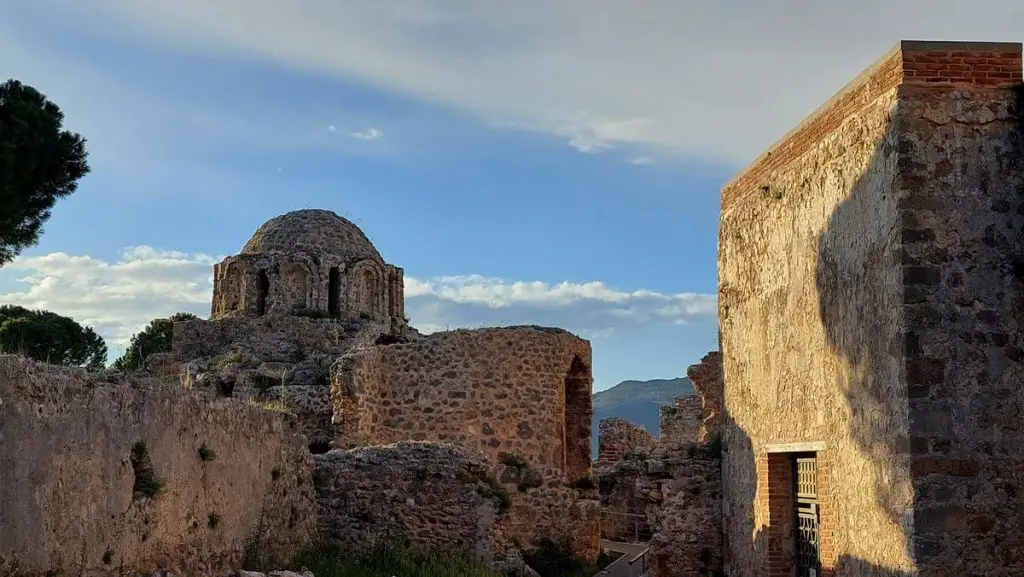 The castle was built in 1221. There are 83 towers, 140 and nearly 400 cisterns. It was built on the remains of ancient fortifications, from the Byzantine and Roman periods and rises 250 meters above the sea.
Accommodation: Haydarpasha Palace

All-inclusive king room | USD 105 | Check your dates here

Fantastic. Plenty of choices for places to eat. Water slides for kids. Indoor heated pool. Lots of activities. You will need a car to get into Alanya, but it's walking distance to the beach and some small local stores. 

 
Day 6
Alanya – Dalyan
384 km (239 miles) | 6 hours
From here we thought we would head to Cappadocia, but discovering the temperatures were under -2C we decided to stay in the Turkish Riviera and head back towards Bodrum.
Dalyan was a huge surprise for us. The old town is small enough to cover on foot and it has the sweetest vibes.
The real surprise was the delightful view from our hotel of the Lycian tombs. The impressive ancient Lycian tombs are a major tourist highlight on the banks of the Dalyan River.
The temple tombs or King tombs are the remnants of the Kaunos necropolis that once had over 170 rock-cut graves. The tombs mostly date back to mid 4th century BC.
We ate dinner over looking the tombs and again soaked in the sight for breakfast the next day. I couldn't stop staring. I wouldn't mind being buried there.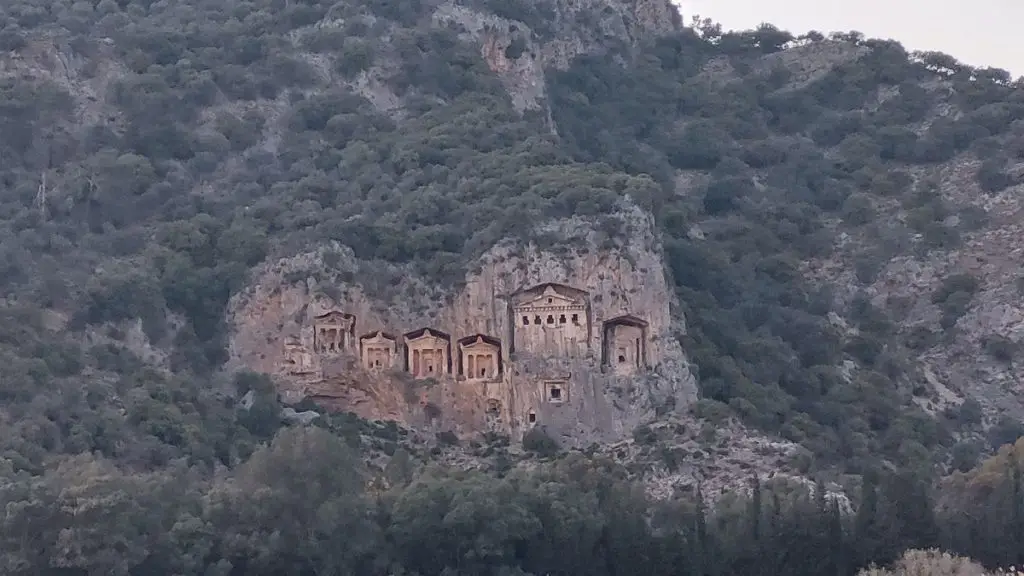 Accommodation: Dalyan Yagmur Otel

Standard double room with Turkish breakfast | USD 42 | Check your dates here

A basic room, but an incredible location. Breakfast served on the decking over the ancient ruins was spectacular. Owner is very nice. We could walk into the town center. Loved it so much we paid for Ahmet's parent to holiday there after Turkish Ramadan. 
Day 7
Dalyan – Bodrum
197 km (122 miles) | 3
After our delicious Turkish breakfast on the shores of the Dalyan River, we drove straight to the car ferry to cut across the river instead of driving around. It was a only 2 USD.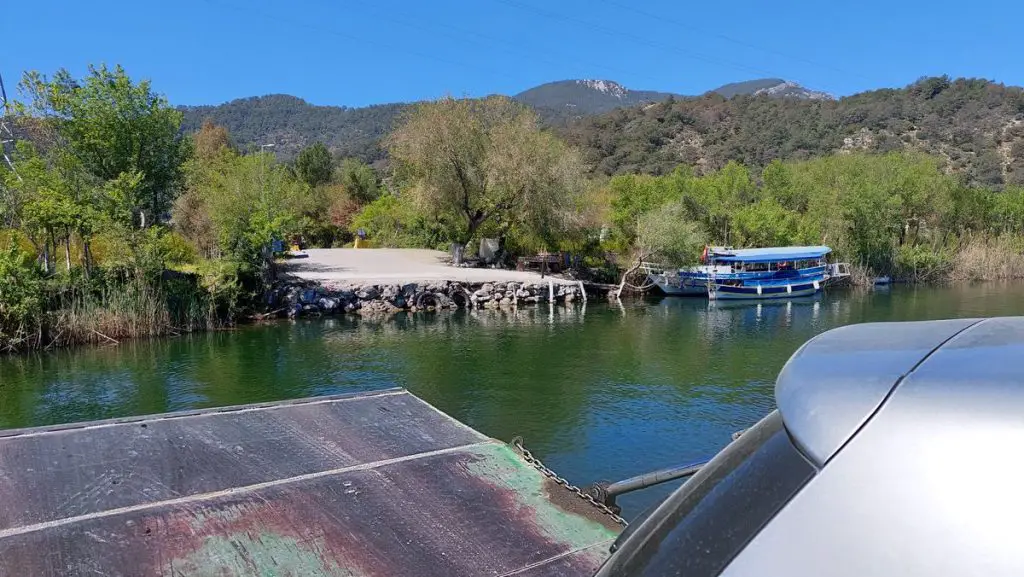 On the other side, we headed straight to one of the main attractions of this region of southwest Turkey. The Thermal Springs and natural Mud Baths of Sultaniye Spa.
Here I covered myself in warm mud, let it dry in the cool April weather, and then washed it off as fast as I could under cold showers. Rejuvenating.
After the mud baths, we continued onto Bodrum. We spent the evening walking the streets of this bigger version of Kas, shopping, and finding a small local Turkish restaurant for dinner.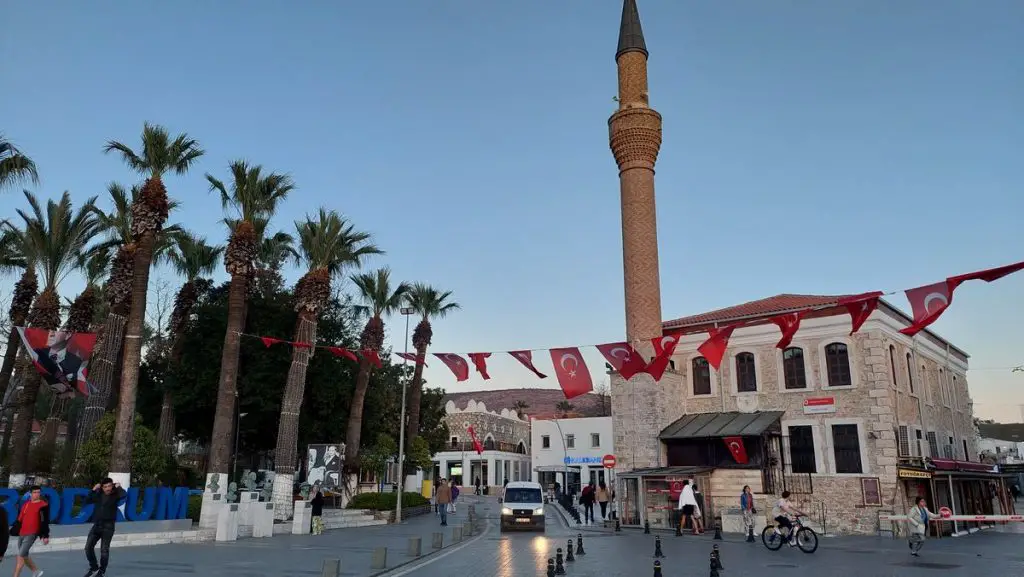 We also enjoyed a cocktail on the water while watching the sunset behind Bodrum Castle. Celebrating the last night of our Turkey trip.
Accommodation: Ena Boutique Hotel

Standard double with buffet breakfast | USD 65 | | Check your dates here

Gorgeous hotel in a great location. Able to walk to central Bodrum. Spectacular buffet breakfast on the rooftop.

 
Day 8
Bodrum – Bursa
564 km (350 miles) | 6 hours
The final day. You could do this day also on Day 7, but I cheated and took an extra travel day.
Today we had a huge drive back to Bursa. But before we headed off we decided to visit two of the major attractions in Bodrum, Bodrum Castle, and Halicarnassus, one of the 7 wonders of the ancient world!
If I had to choose one castle it would be Alanya, I enjoyed that so much more. But Bodrum is still covered in fascinating history. This castle was built in 1402. It's a 5th century citadel built by Christian knights and houses the Museum of Underwater Archaeology.
What impressed me though was our visit to Halicarnassus. The Mausoleum built there is regarded as one of the Seven Wonders of the Ancient World and is so impressive that the word 'mausoleum' is now used for many monumental tombs.
All that's left is ruins, but it's still a pretty special feeling standing in history that old.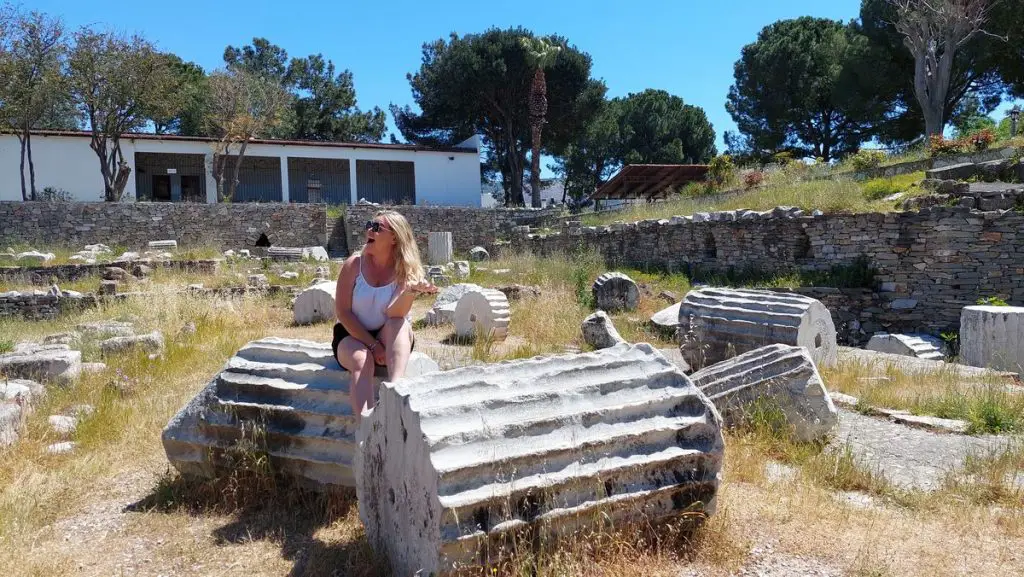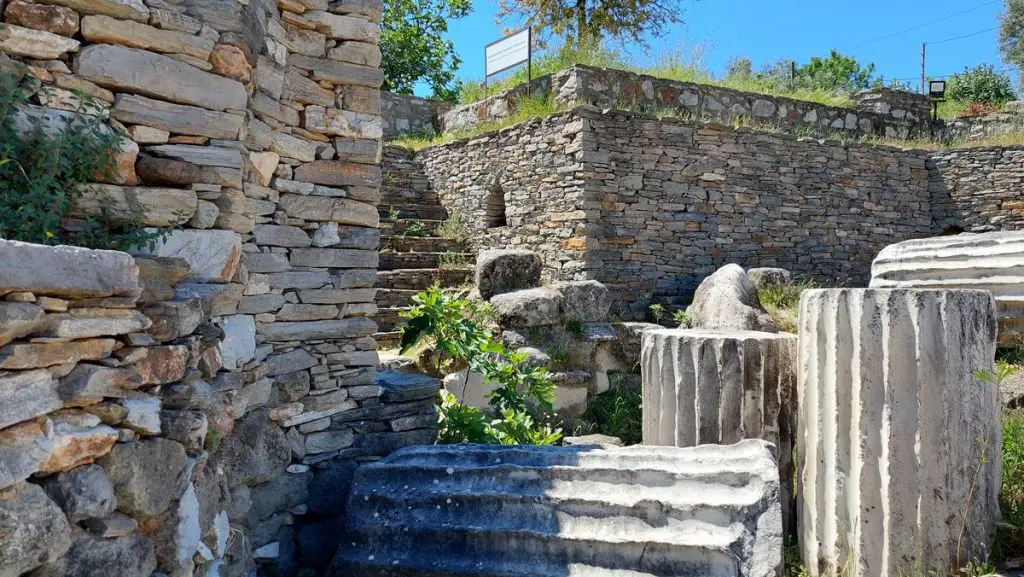 After Bodrum, we hit the road. Our Turkish road trip over and our south coast Turkey itinerary complete.
Explore With Erin Wrap Up
I can't wait to head back to the Turkish Riviera and see even more. If I had to pick Kas and Dalyan are my favorite. I am already plotting how I can get back and see even more, because like I said at the beginning a 7 day Turkey itinerary is never enough.
Do you have suggestions on spots I may have missed? Let me know in the comments below.
LOOK HOW EASY IT IS TO PIN THIS!
FOMO - do you have it?  Well there is no need to Fear On Missing Out here at Explore With Erin. Sign up to receive updates directly to your in box. I won't spam you, but I do promise a whole lot of awesomeness. What are you waiting for? Join Me!