Cappadocia is an explorer's dream with its Fairy Chimneys, hot air balloons, underground cities, and so much more. Some people make the terrible mistake of thinking it's a day trip location. It's not.
It's been more than 10 years since I was last in Cappadocia. My first trip was with two small children. This Turkey tour was with a group of women desperate for adventure, and romance, and to explore all the hidden treasures of Cappadocia.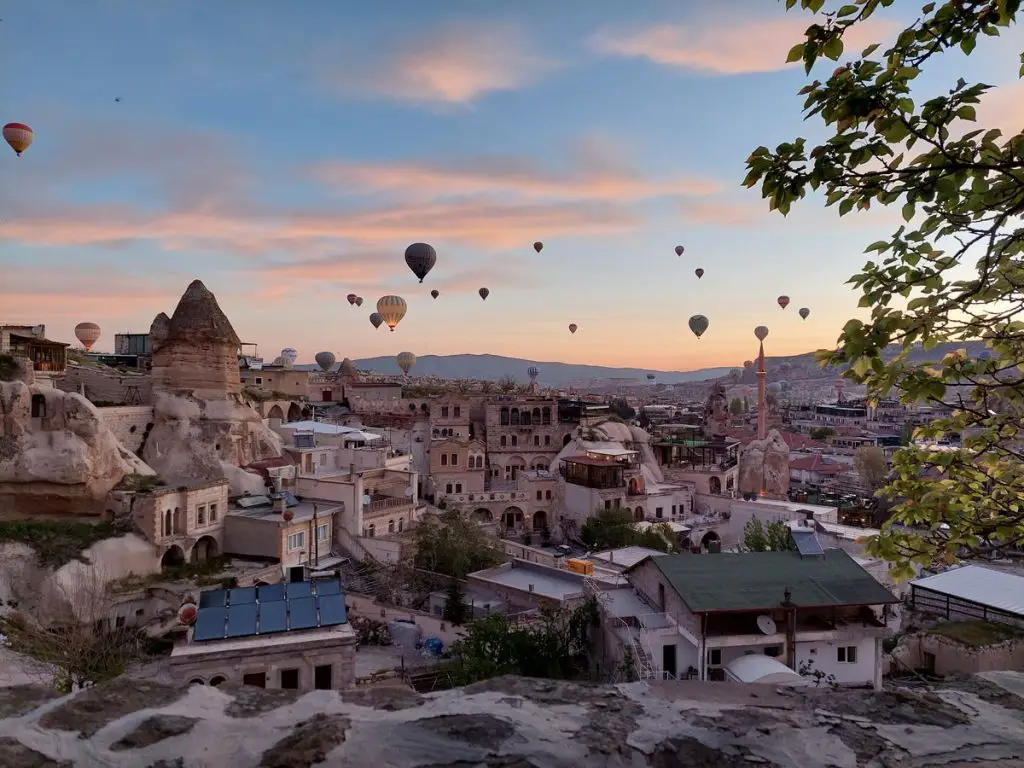 Planning a trip to Cappadocia?

Make sure you book your tours, places to stay, and airport transfers ahead of time to ensure availability!

Our recommended airport transfers in Cappadocia:

1. We used Penna Travel for our group of 8. But you can check prices here for:

Our recommended tours in Cappadocia:

1. Hot Air Balloon Flight In Cappadocia At Sunrise (We flew with Royal Balloons and highly recommend it!)

5. Quick Cappadocia (The best for an overview in a short period – we used Penna Travel)

Our recommended places to stay in Cappadocia:

1. Kayakapi Premium Caves (Ultimate luxury)

2. Taskonaklar (Affordable privacy)

3. Travellers Cave Hotel (Affordable, in town)
Before you head to Cappadocia, make sure you read 22 Things You Need To Know Before Visiting Cappadocia!
3-Day Cappadocia Itinerary
Day One
Organise: Transfers
If you're flying from Istanbul airport you'll probably arrive sometime in the afternoon or early evening.
Settle into your hotel, and take some sunset pictures before heading out to dinner.
Some of our girls stayed at the hotel. There was a gorgeous restaurant on site with the most incredible views over Goreme, so it was a good call.
I preferred to go explore so my partner and I took a walk around Goreme town. We spotted plenty of expensive places to eat and plenty of smaller inexpensive takeaway stores.
We decided to head underground into Baskent Doner Kofteci. You order your food outside at the almost takeaway-looking window, then head inside the warm cave restaurant complete with rugs, and a fireplace.
The food was simple but delicious. We then headed back to the Travellers Cave rooftop for drinks, tea, and early bed because Cappadocia is early morning.
Day Two
Early Morning
Today starts with an early morning. It was still dark when we left our warm beds and waited for our transfer from the hot air balloon companies. Most will pick you up roughly around 4 in the morning and transfer you to head office.
We chose Royal Balloons and enjoyed a delicious light buffet from 430 am to 5 am while everyone got checked in and sorted into groups.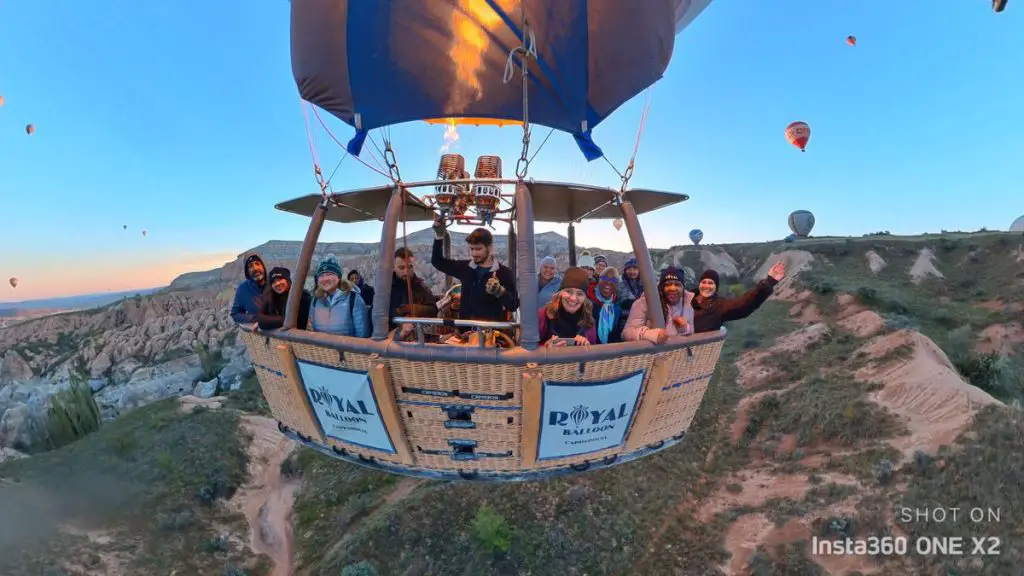 Around 5 am we headed out to our hot air balloon ride, where we stood in mostly darkness with the occasional warm bursts of fire filling the balloon and area with light. Once aboard, the expert team got us swiftly off the ground and into the air.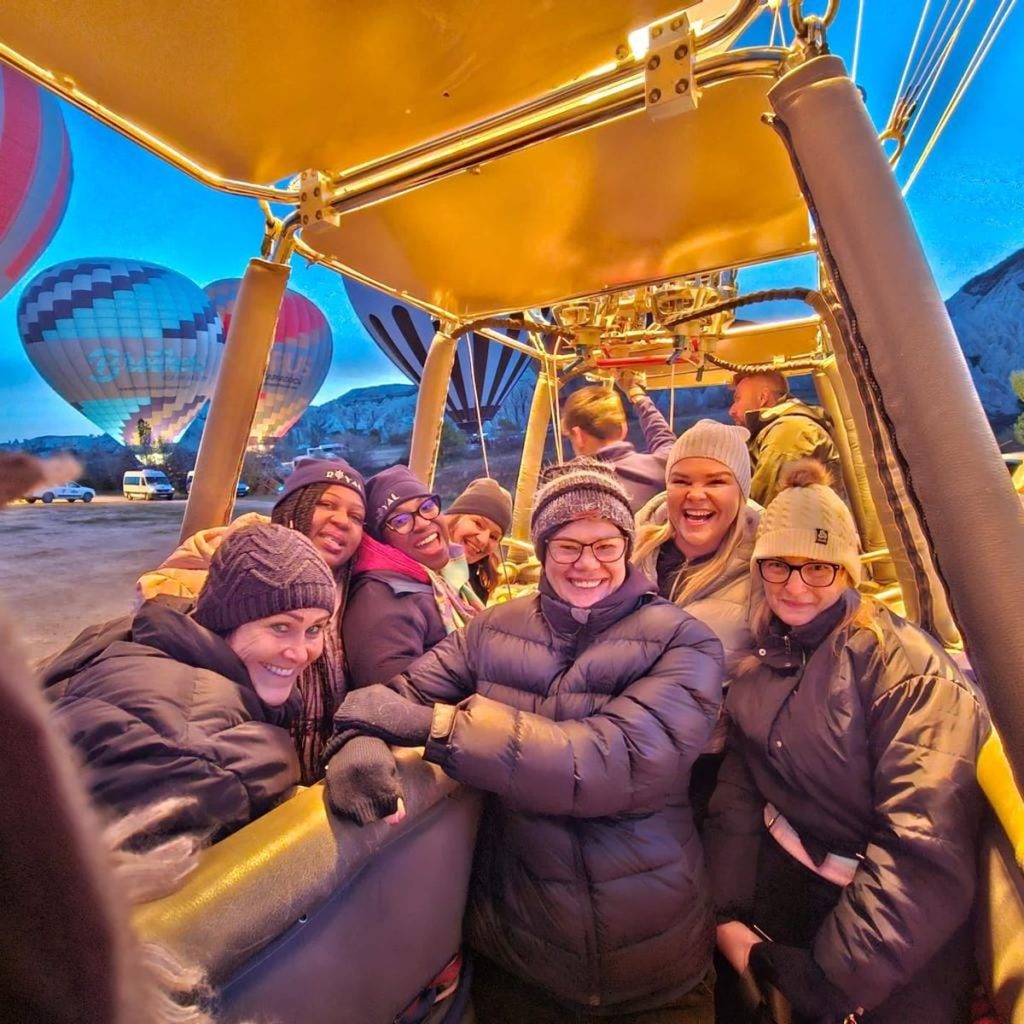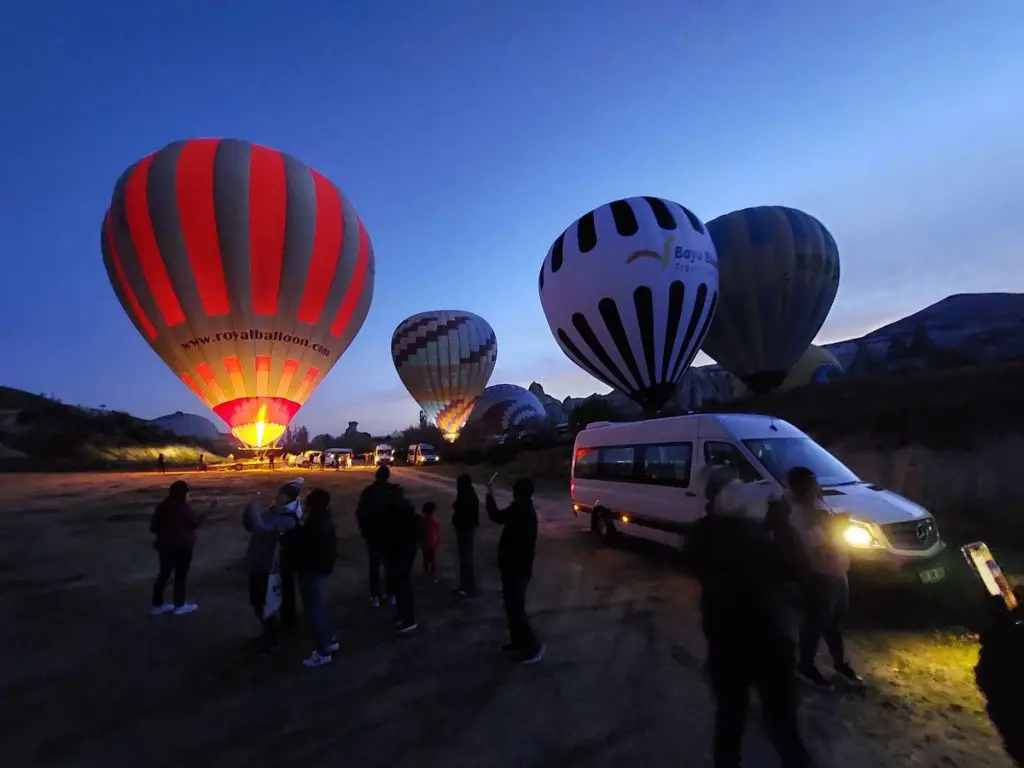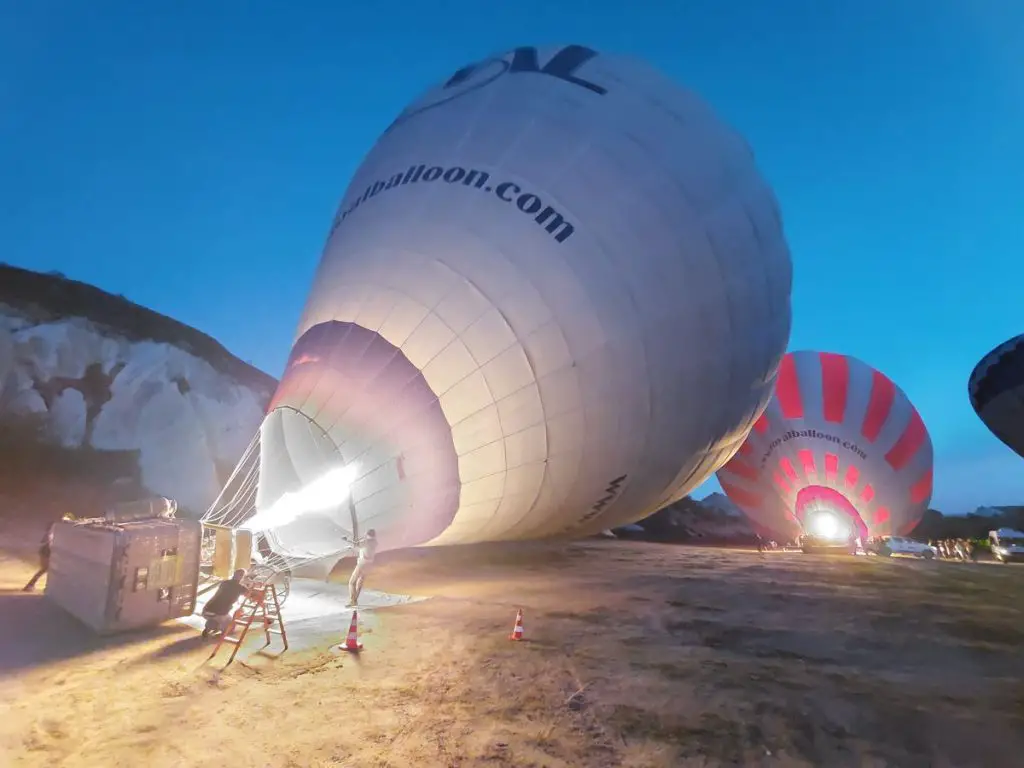 The sun rose quickly and the view is incredible. The landscape looks like it was formed in another world and is viewed in every direction. Above and below other hot air balloons float gently in the wind.
It's not as cold as you imagine, since the heat from the flame warms you in short bursts. You catch your breath occasionally praying for safety more from other balloons than anything else around.
Finally, our ride was over and we soon saw a small truck below with a trailer making its way to us for us to land expertly on the back of.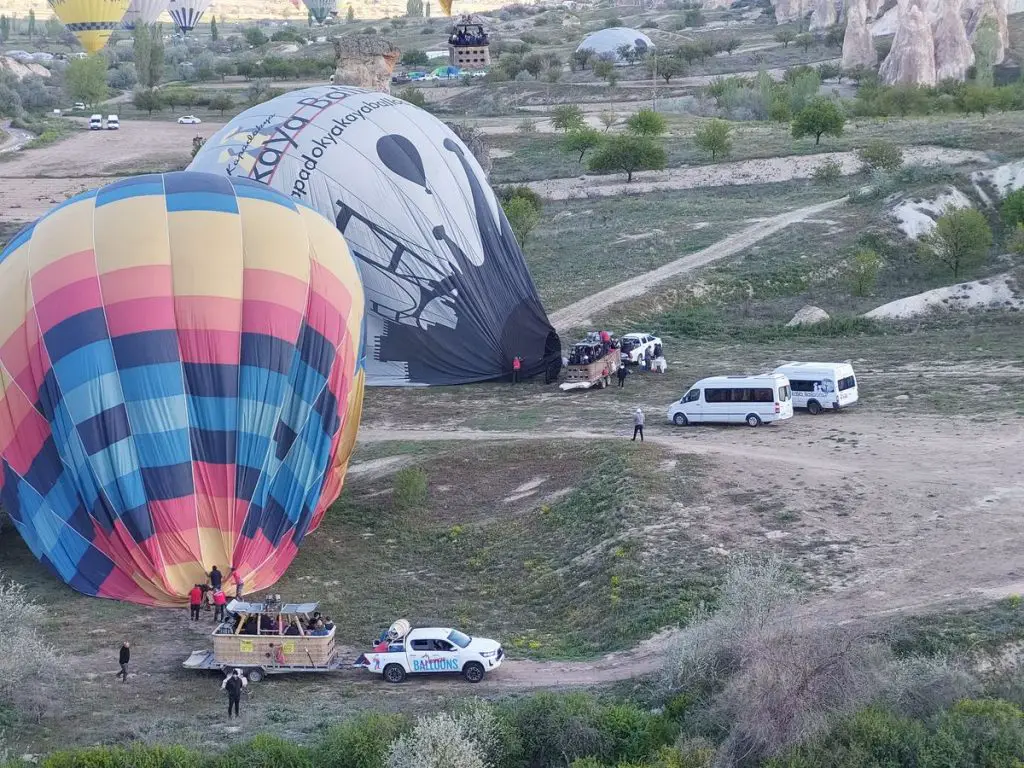 Once out of the Cappadocia hot air balloon we all gathered for champagne and were prized with a medal before returning to our hotel by about 730 / 8 am.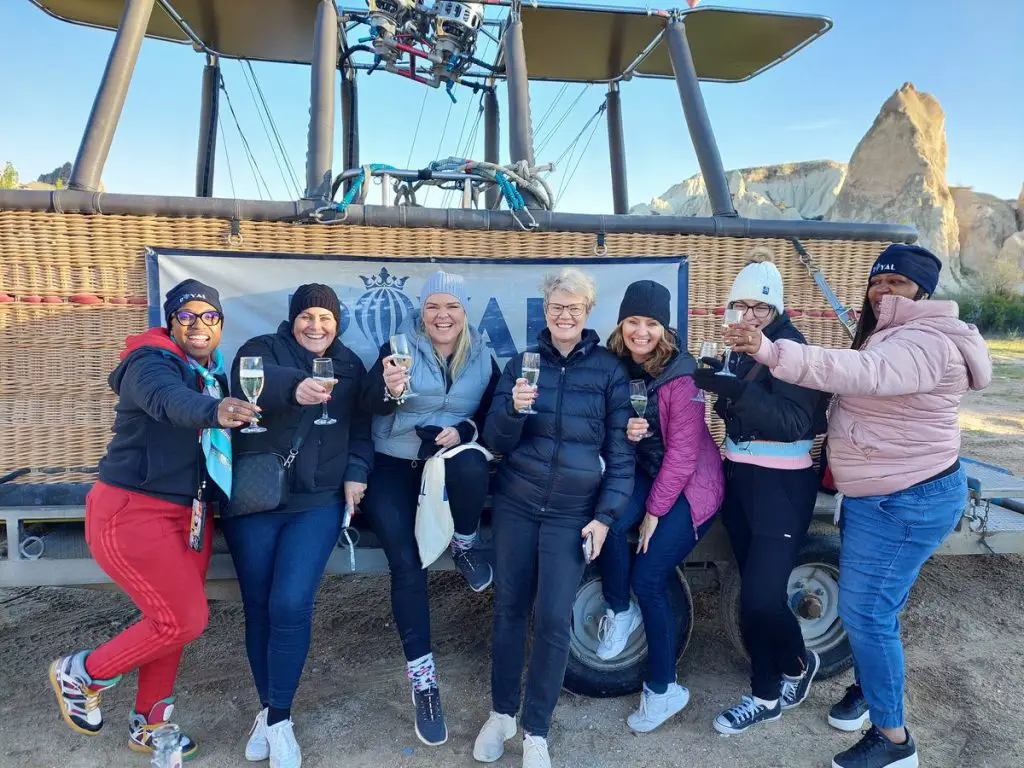 Day
For our group, we had a quick nap before indulging in another late breakfast at our hotel. Around 10:30 am we organized another pickup this time from the expert team at Penna Travel where I had organized the Quick Cappadocia Tour (check availability here).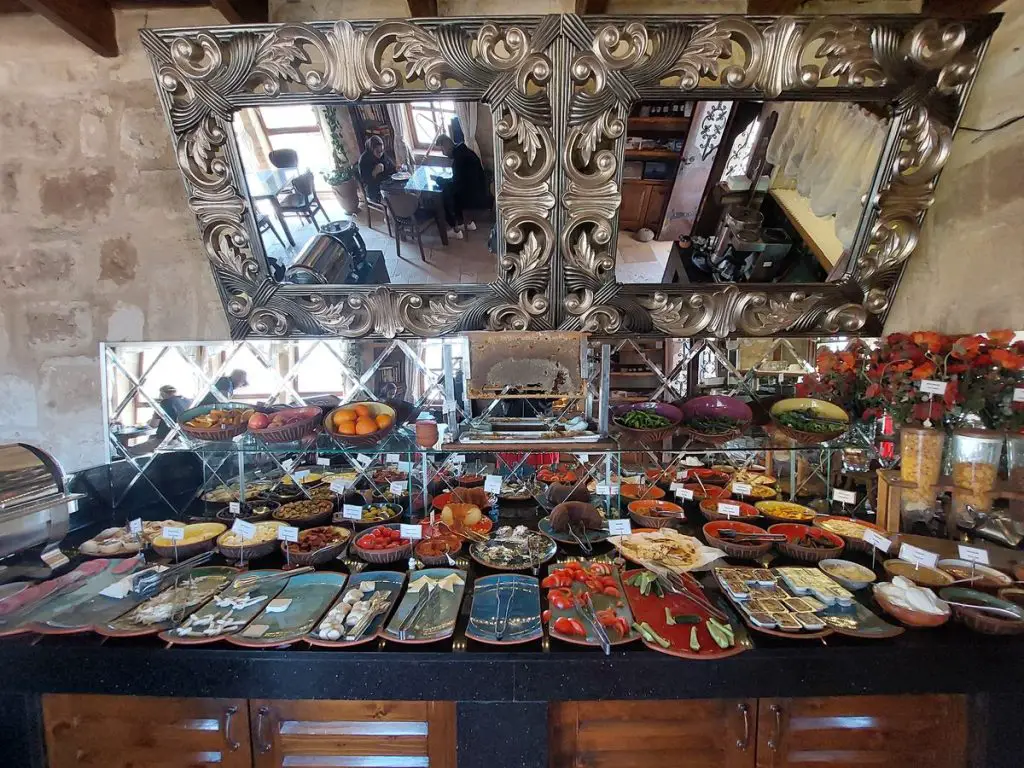 Our van collected us with a knowledgeable guide ready for a day of sightseeing. She was full of information and kept us informed every step of the way.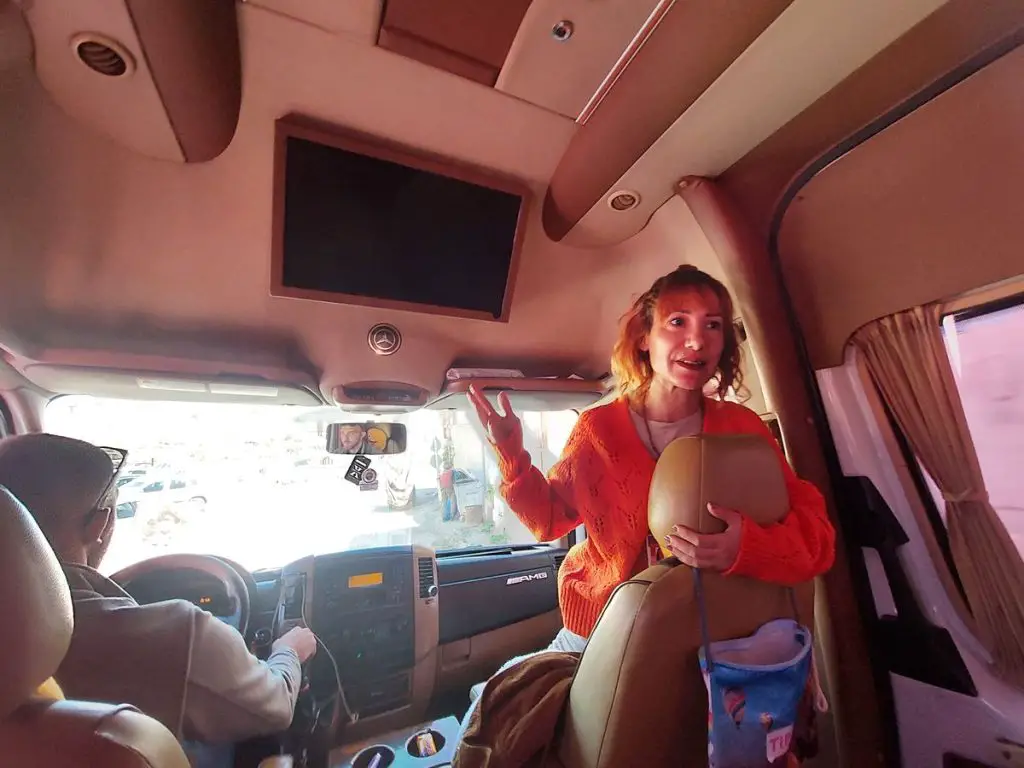 Our red tour highlights included stops at:
Pasabag Monks Valley
Pasabag Valley, also known as "Monks Valley" is one of Cappadocia's most popular fairy chimneys.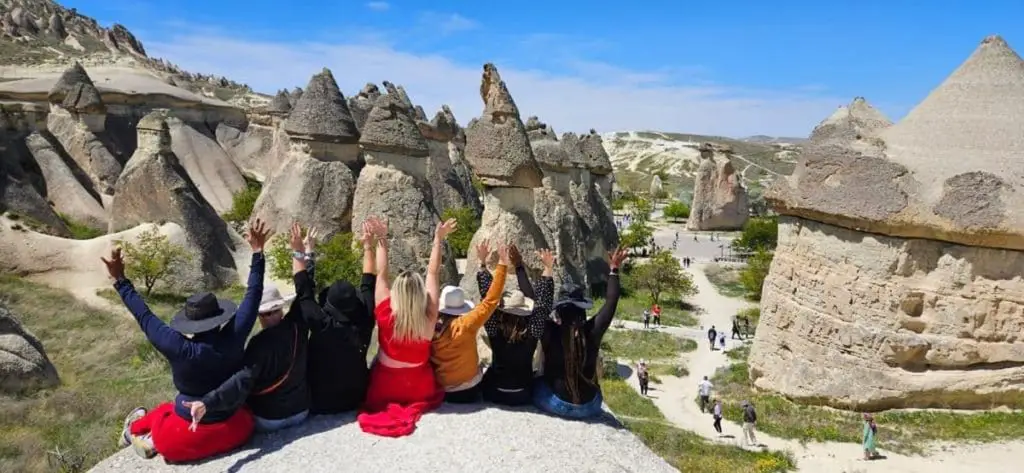 Pasabag Monks Valley is located in the Goreme National Park and the Rock Sites of Cappadocia, which is a UNESCO World Heritage Site. It's known for its unusual rock formations, referred to as "fairy chimneys", which are the result of volcanic eruptions and erosion over time.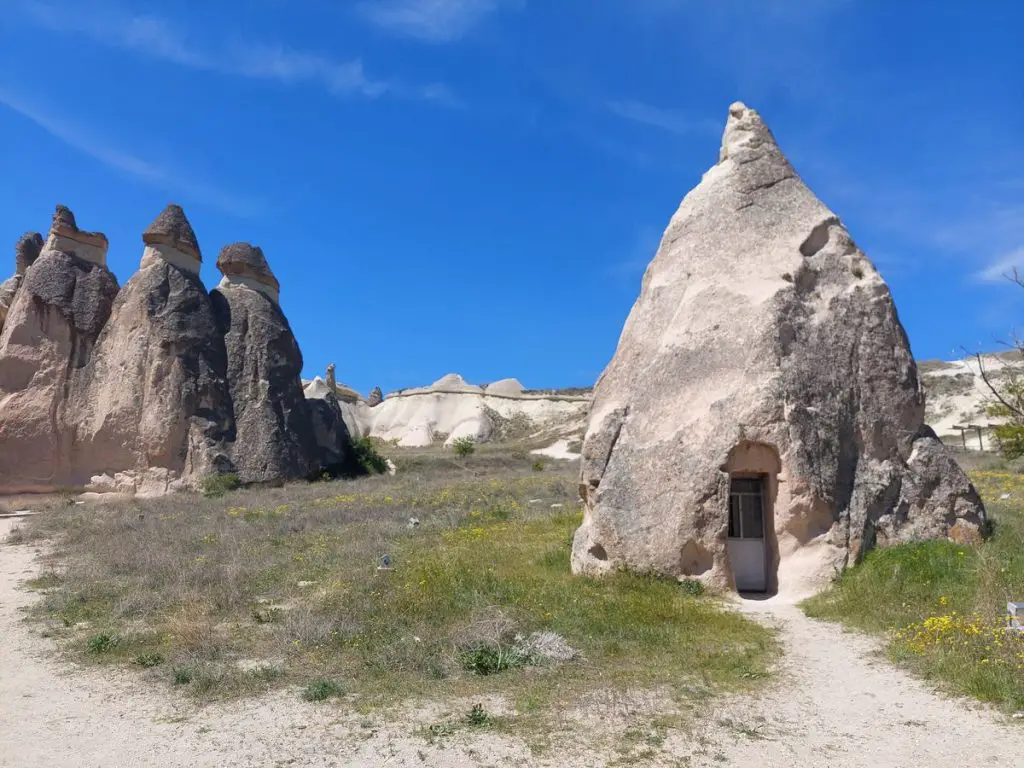 You can spend your time hiking along the trails and exploring the rock formations. This also happens to be the most photographed spot in Cappadocia.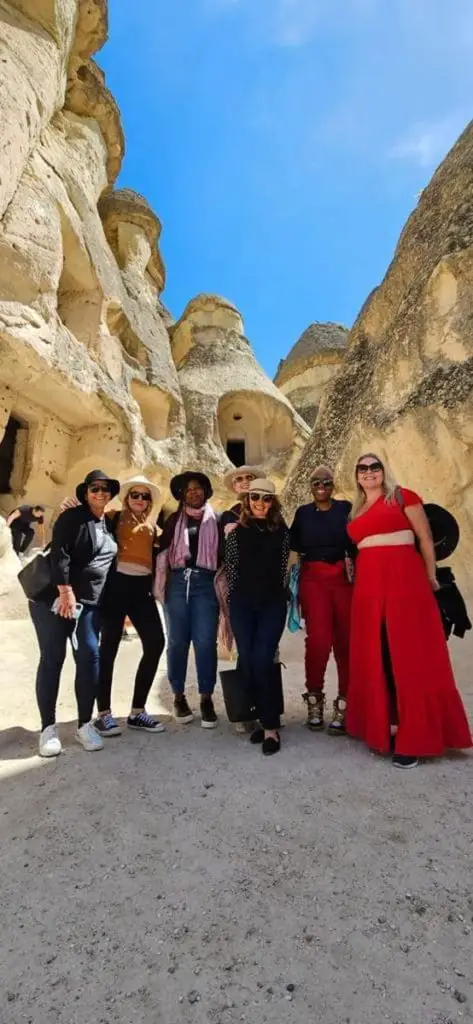 Like most things in Tukriye, you can find a mini market with expensive tourist gifts being pushed by pushy salesmen, but as long as you escape that gauntlet you'll find a great adventure beyond.
Avanos
Avanos is a town located 18 km (11 mi) north of Nevşehir, and is home to the longest river in Turkey, the Kızılırmak (Red River).
Avanos' most important industry is pottery production and our visit to Avanos was to try our hand at pottery making, as well as witness some of the best in Cappadocia. Pottery here dates back a long time and is usually made from the red clay of the Kızılırmak.
We visited one of the more famous pottery shops, watched an old potter create a masterpiece, and had a go ourselves. Before shopping through rooms of pottery costing anywhere from $5 to $5,000,000.
Derinkuyu Underground City
Derinkuyuis an ancient multi-level underground city of the Median Empire. It extends approximately 85 meters (280 ft) under the ground and is large enough to have sheltered as many as 20,000 people together with their livestock and food stores.
It is the largest excavated underground city in Turkey and is one of several underground complexes found throughout Cappadocia.
If you are claustrophobic you may struggle with the confined space and mini passages. I do consider myself slightly but didn't find the cave too difficult, except a tunnel or two.
Uchisar Panorama
The highest point in Cappadocia, and the perfect spot to view the magnificence of the region.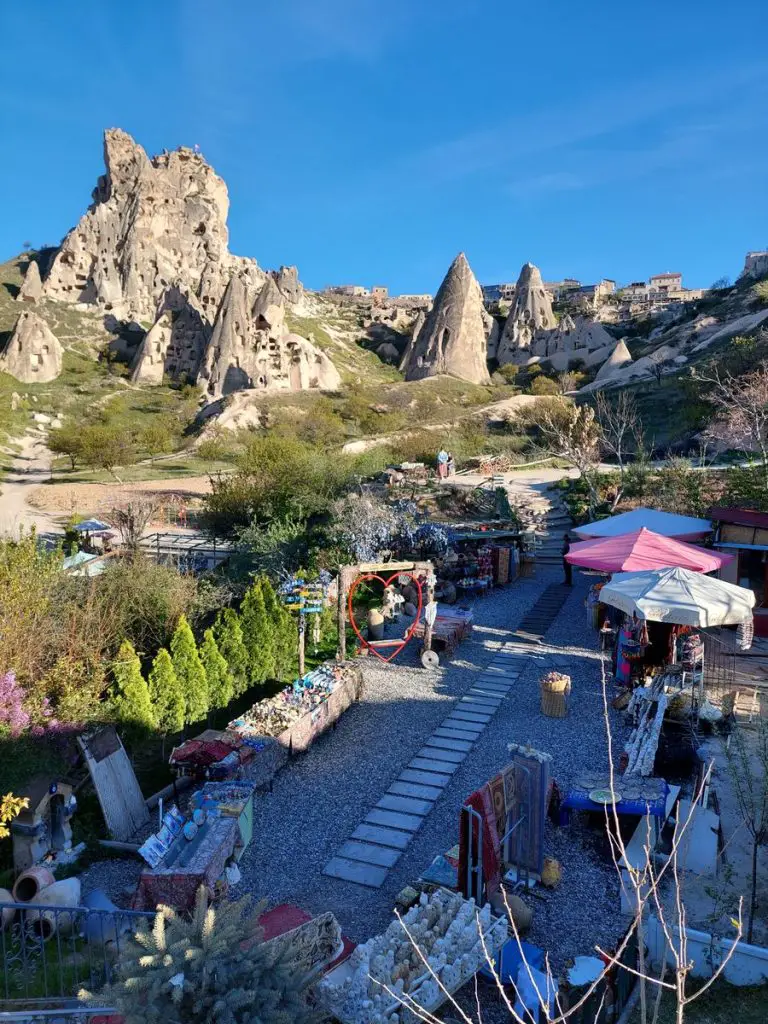 You'll also have a great view of Uchisar Castle from here.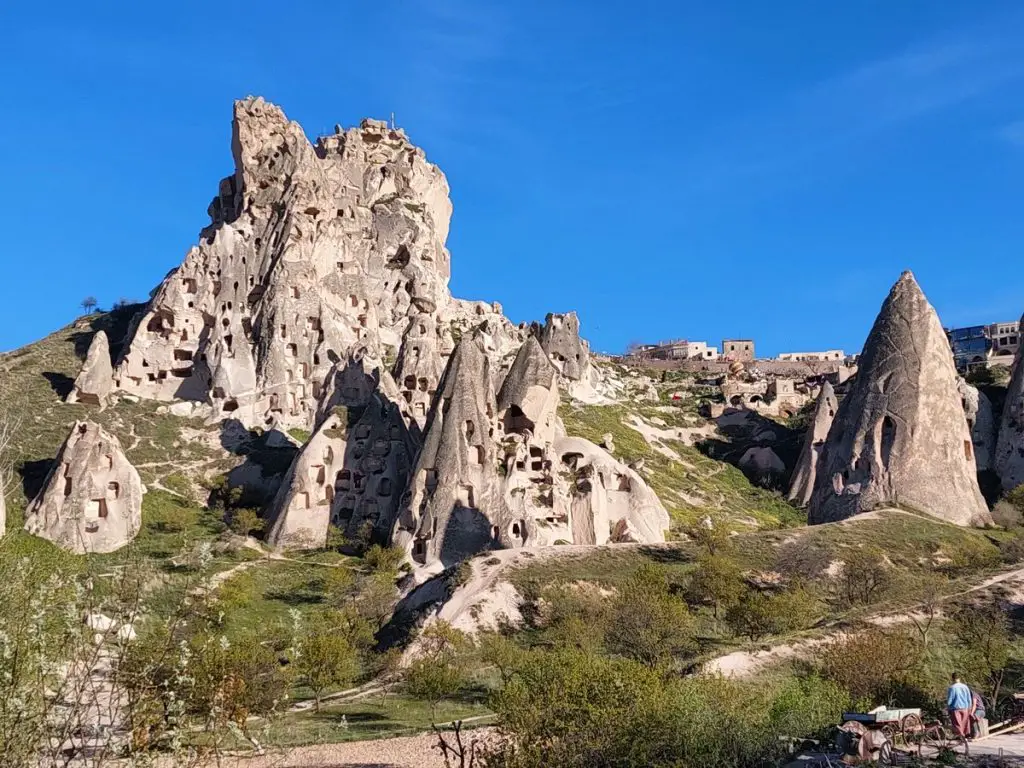 Onyx Jewelry Factory
We visited a Zultinate store for a bit of shopping too. You do not have to buy from these places, nor do you have to stop. Simply tell your guide. My tip is that these are often overpriced, compared to the silver stores in Bodrum or Kas.
But owning Zultinte is pretty special. I own two gems. Zultanite is only mined in Turkey's remote Anatolian Mountains, 4,000 feet above sea level.
Zultanite is a single-mine gemstone and an extraordinarily rare Turkish treasure. This gem changes colors under all kinds of light. I've seen mine exhibit khaki greens, sage greens, salmon pinks, violet champagnes, and vivid gingers. Its gorgeous kiwi greens with yellow flashes are strongest under daylight, while artificial lighting brings out the rich tones of champagne, pink, and raspberry.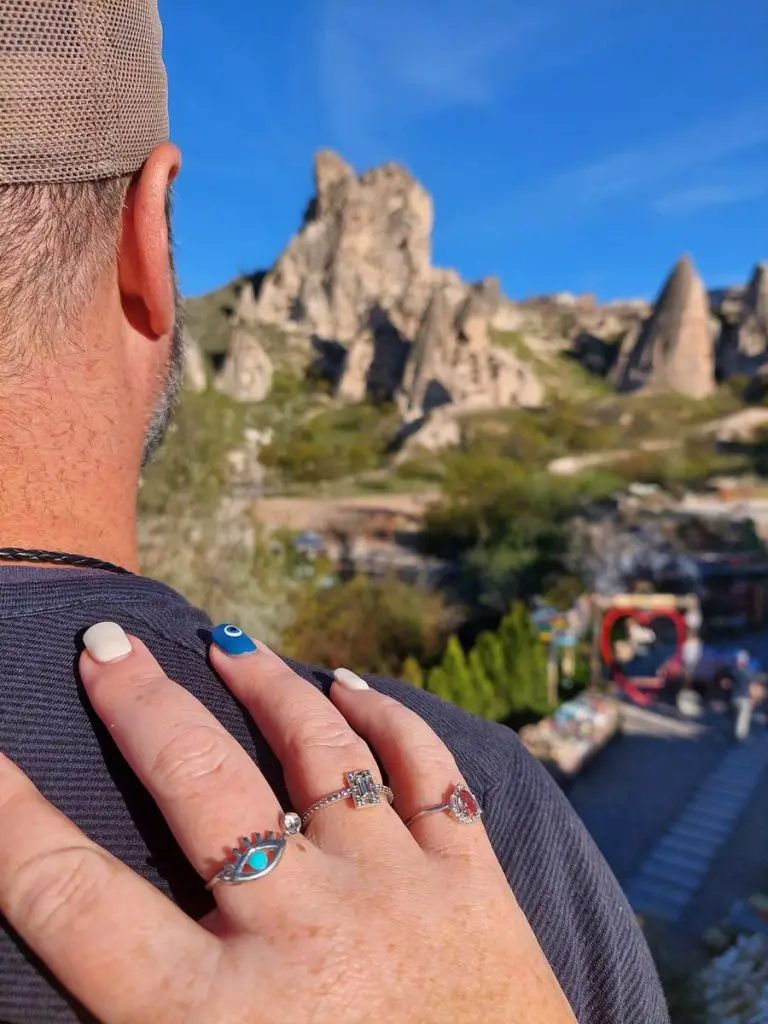 And lunch at Keyfi Ala Restaurant
Eating in a cave should be on anyone's list and this is a delicious experience you should try.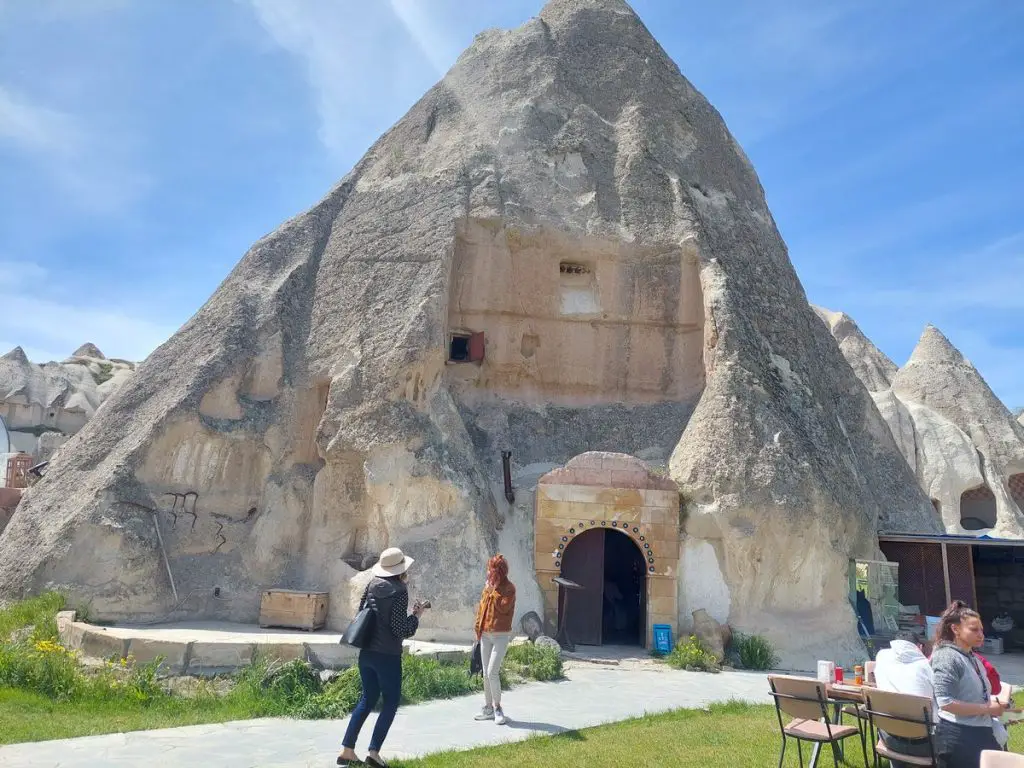 There was plenty of good food, good service, and the atmosphere is the epitome of Cappadocia.
We were also supposed to visit Goreme Open Air Museum and Cavusin Village, but ran out of time! Too much shopping. 🙂
I couldn't fault Penna Travel, and would highly recommend booking your private tour with them for your next visit.
Evening
Most of our group was tired from the early morning and long day so we stayed at the hotel and had dinner.
Some headed out for shisha. Some went looking for a hamam. I, myself, and I could not wait to sleep. Because tomorrow is another early morning.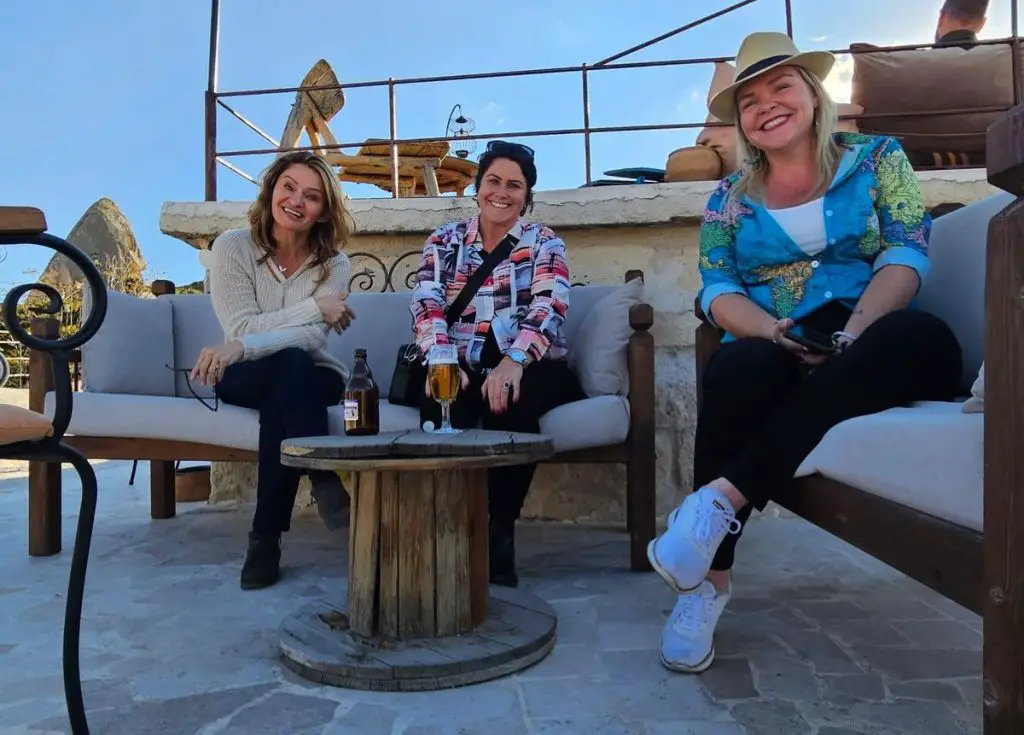 Day Three
Early Morning
Our morning was another early rise for a photoshoot. We decided to do it at our hotel because it was high up with incredible views.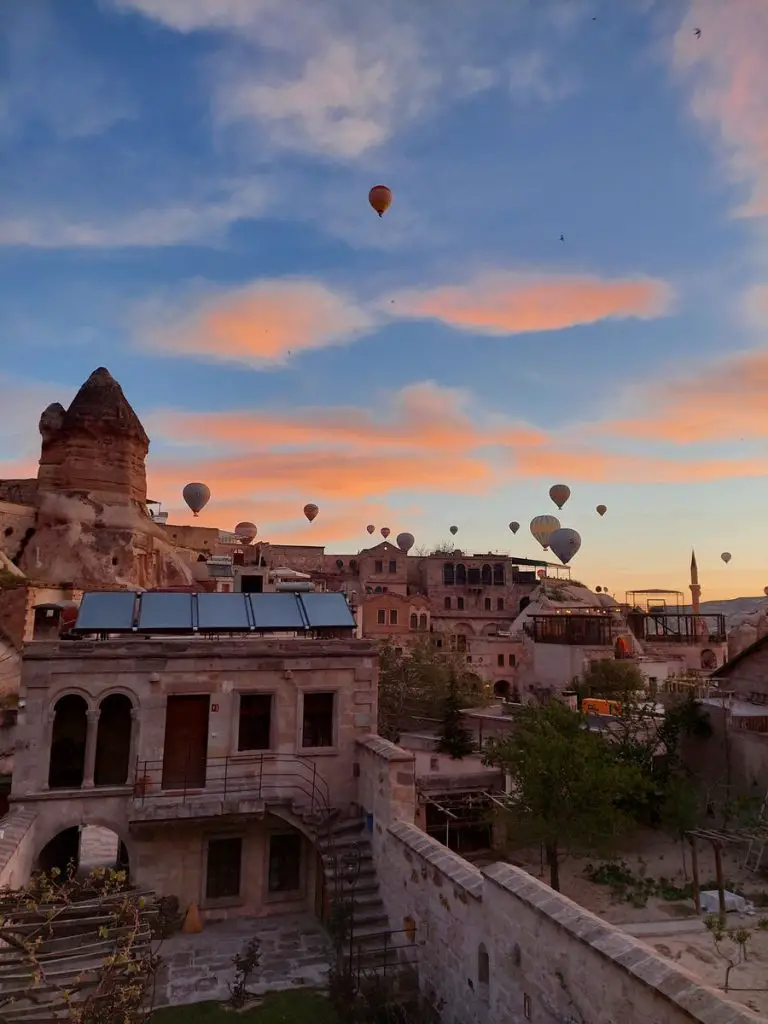 By 5:30 am all the balloons were filling the air, making the shoot absolutely decadent.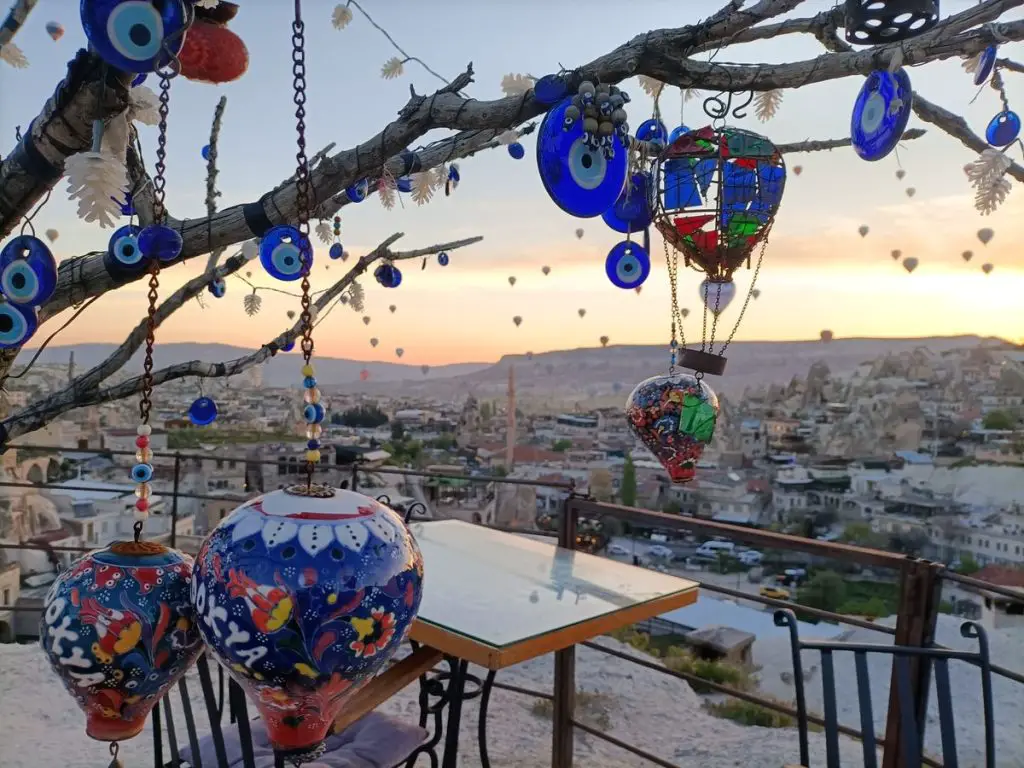 You can hire dresses while in Cappadocia, or bring your own. You can buy them online. Here are a few on Amazon.
By 7 am the balloons are mostly gone and the sun is bright in the sky. It was a quick breakfast for us before we jumped in our transfer to Kayseri, ending our 3 days Cappadocia tour.
If you have a later flight in the day consider booking the Green Tour with Penna Travel.
On the green tour, also known as the South Cappadocia tour, you can visit other Cappadocia places like:
Eentepe Viewpoint (Pigeon Valley Viewpoint)
Devrent Imagination Valley
Ihlara Valley
Belisirma Village (next to Melendiz River)
Selime Monastery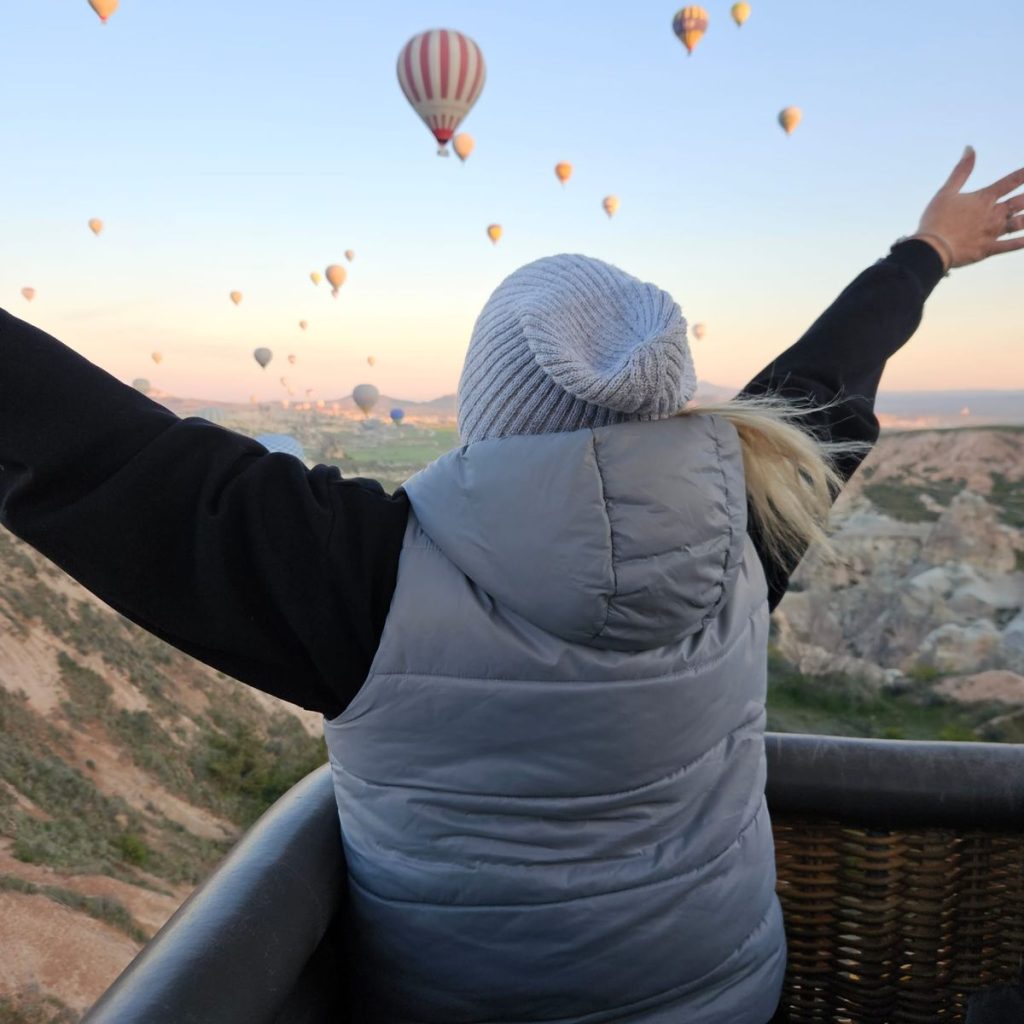 What are some things to do on a Cappadocia trip?
Open-Air Museums – Goreme Open Air Museum & Zelve Open Air Museum
Horseback Ride
Sunset ATV Tour
Hike Love Valley & Lovers Hill
Hunt for Turkish Rugs
Watch the Sunrise/Sunset From a Viewpoint – recommend Goreme Panorama or Sunset Point.
Visit Kaymakli Underground City
Turkish night with whirlers and belly dancers
Check out Rose Valley, Red Valley, Pigeon Valley, Devrent Valley, Pasabag Valley, Ilhara Valley, Sword Valley, and all the Valleys.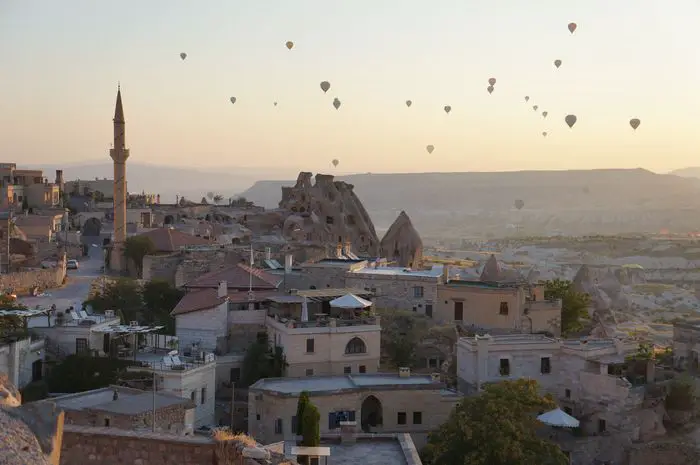 Are 3 days in Cappadocia enough?
3 days in Cappadocia is the perfect amount of time. It gives you 2 mornings to take a hot air balloon ride and/or witness the balloons rising from the ground. It gives you time to see the big sites, do some hiking, explore underground cities, and enjoy the food.
Get a price on Istanbul to Cappadocia 2-night tour here.
What is Cappadocia?
The Cappadocia region was formed 60 million years ago by erosion of soft layers of lava and ash from Mount Erciyes (Argeus), Mount Hasan, and Mount Güllü composed of wind and rain over millions of years.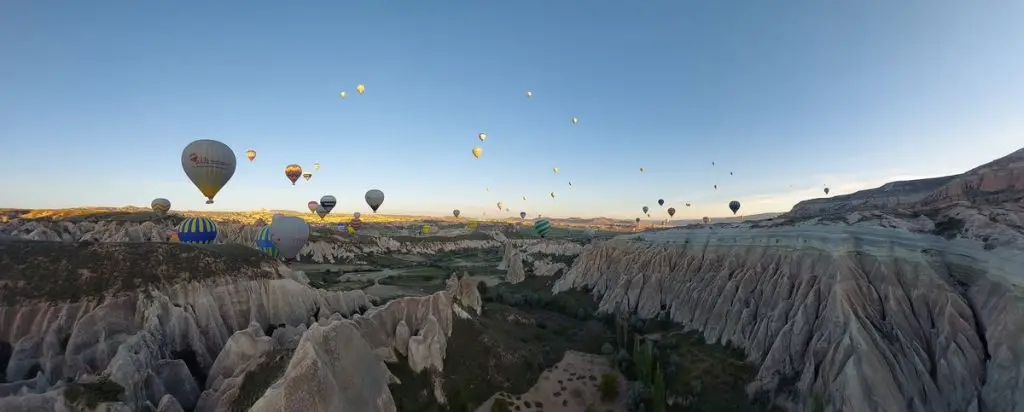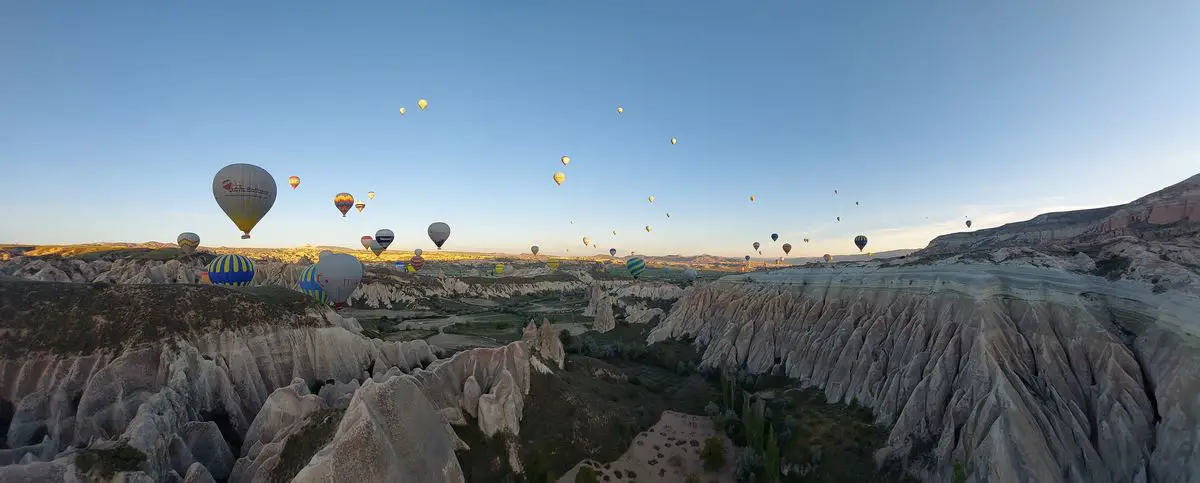 Why are there so many caves in Cappadocia?
The Cappadocia underground cities were built by early Christians during the Byzantine era who were persecuted for their faith. The city's inhabitants used the network of caves to protect themselves from Muslim Arabs during the Arab-Byzantine Wars between 780 and 1180.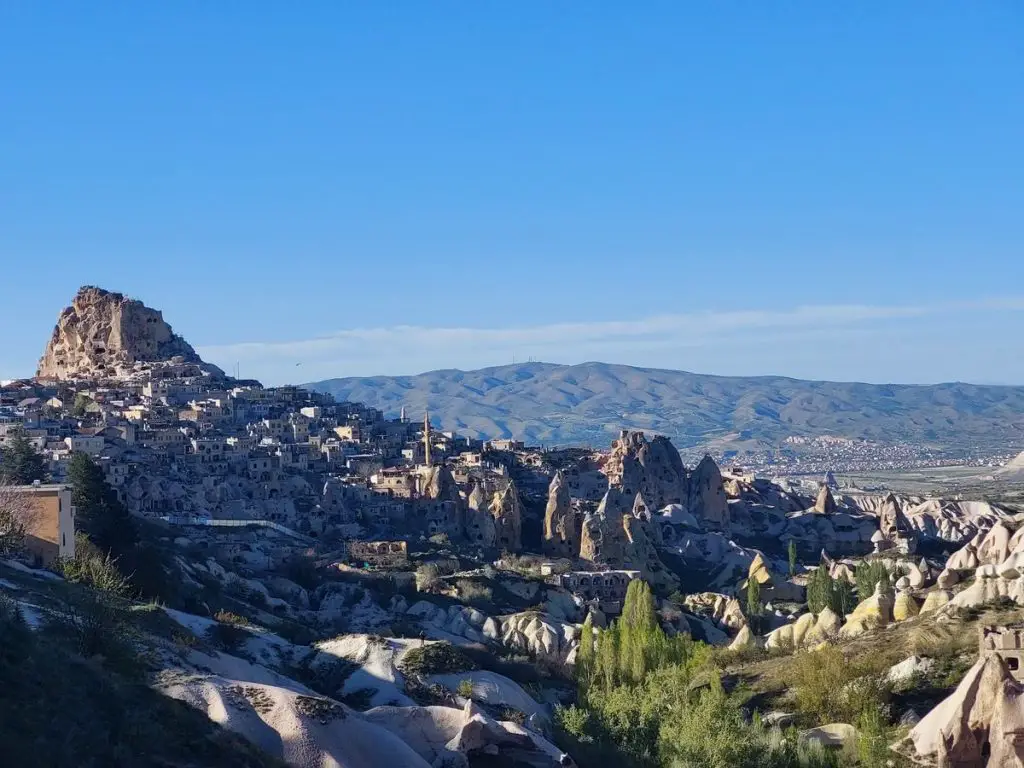 Should You Visit Cappadocia? 
Yes! There is no doubt in my mind that you should visit Cappadocia. It is one of the most unusual and beautiful parts of Turkiye.
What is the closest airport to Cappadocia?
From Istanbul to Nevşehir is a direct 1 hour and 30 minutes. Nevşehir is closer to Goreme, however, there is an alternative airport at Kayseri. We flew from Istanbul to Nevşehir and then found a direct flight from Kayseri to Antalya.

Which month is best in Cappadocia?
The best time for visiting Cappadocia is late Spring and early Autumn. The months of April, May, early June, late September, and October. The weather is cooler and there are fewer tourists than in the summer months.
Is the Cappadocia balloon ride worth it?
Seeing the unique scenery of Cappadocia from the vantage point of a hot air balloon is an unforgettable experience.
Hot Air Balloon Flight In Cappadocia At Sunrise (We flew with Royal Balloons and highly recommend it!)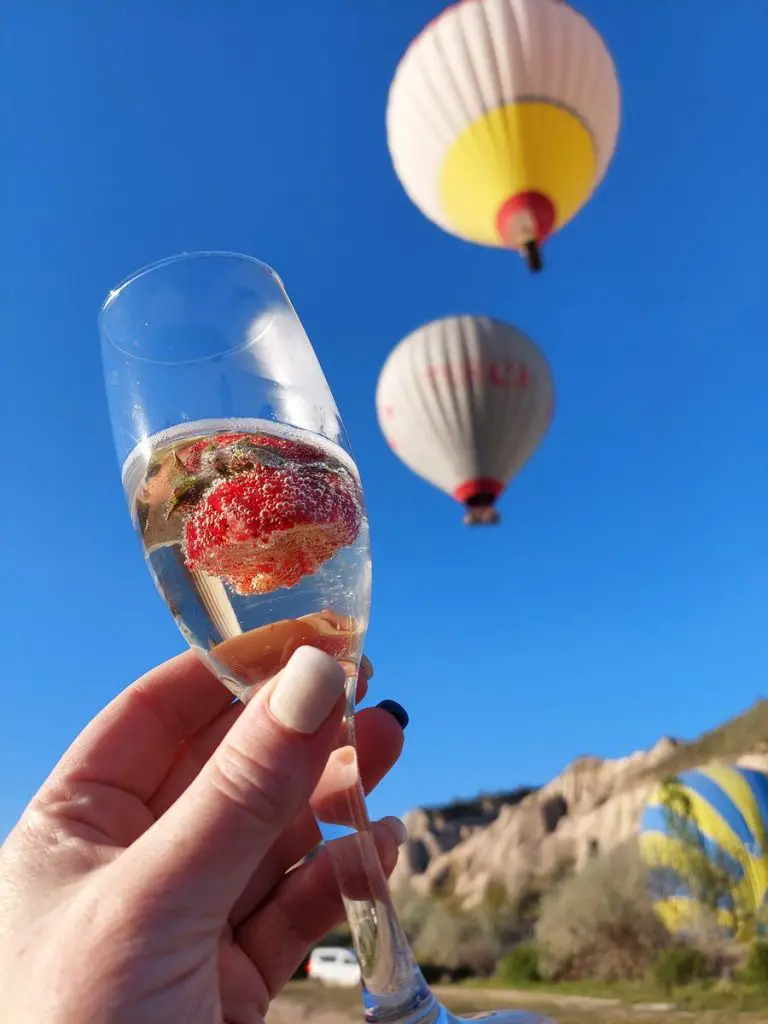 Which place is better to stay in Cappadocia?
Göreme, Uçhisar, Urgup and Orthaisar are the best towns to stay in Cappadocia. However, Göreme is the preferred option for most travelers as it has excellent value-for-money hotel options and is close to many regional attractions.
Our recommended places to stay in Cappadocia:
1. Kayakapi Premium Caves (Ultimate luxury)
2. Taskonaklar (Affordable privacy)
3. Travellers Cave Hotel (Affordable, in town)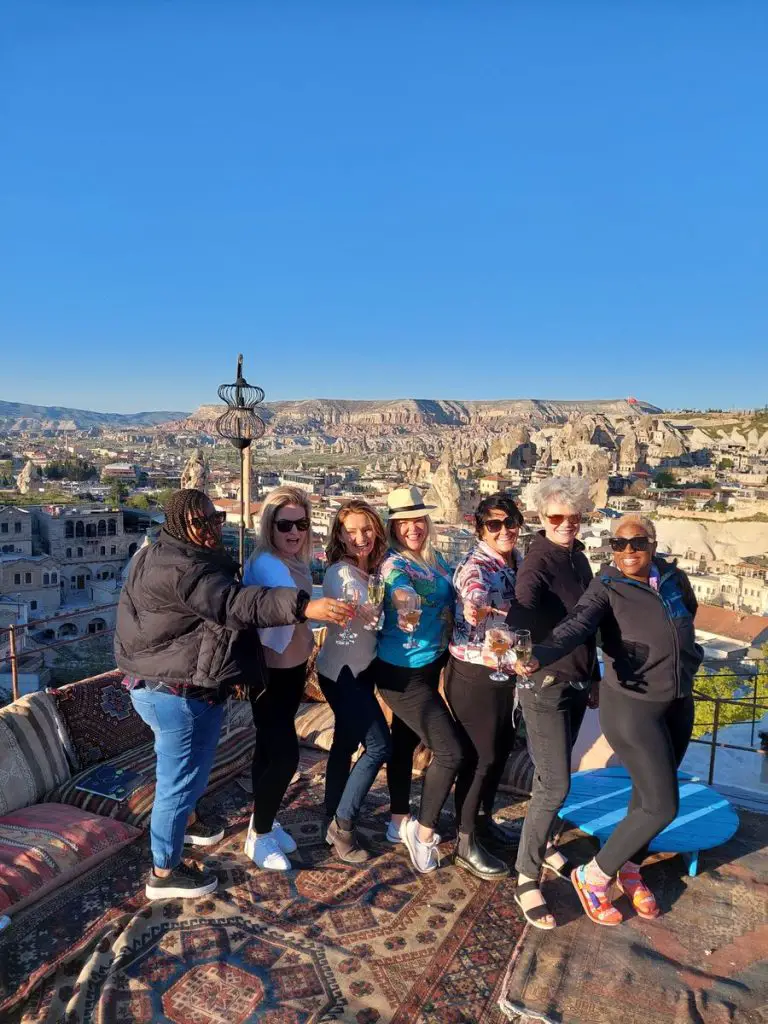 A three-day itinerary in Cappadocia offers an unforgettable journey through a captivating landscape filled with natural wonders, ancient history, and cultural richness. From the breathtaking hot air balloon rides over the fairy chimneys at sunrise to exploring the hidden underground cities and hiking through the mesmerizing valleys, every moment in Cappadocia is filled with awe and wonder.
Whether you're a history enthusiast, an adventure seeker, or simply in search of a magical escape, Cappadocia promises to leave an indelible mark on your heart and mind.
And this three-day itinerary provides just a glimpse of the incredible treasures that await in this extraordinary destination.
LOOK HOW EASY IT IS TO PIN THIS!
FOMO - do you have it?  Well there is no need to Fear On Missing Out here at Explore With Erin. Sign up to receive updates directly to your in box. I won't spam you, but I do promise a whole lot of awesomeness. What are you waiting for? Join Me!