We didn't have long in this ancient city. Our Turkish Airlines plane landed at 6 am and we had to be on a ferry at 3 pm the next day. 31 hours, of course, we slept for quite a few of those away, considering our 11-hour flight and early morning arrival.
But if you have a layover or 24 hours in Istanbul Turkey, and need a quick way to eat all the things and do all the things then this list of top 10 things to do in Istanbul is for you.
Istanbul was at some stage the capital of three empires and countless cultures, a bridge between east and west, at least two millennia old, and yet is thrillingly hip! Forget anything you heard before now and unlock one of the most exciting metropolises in the world with my top 10 things to do in Istanbul in 24 hours.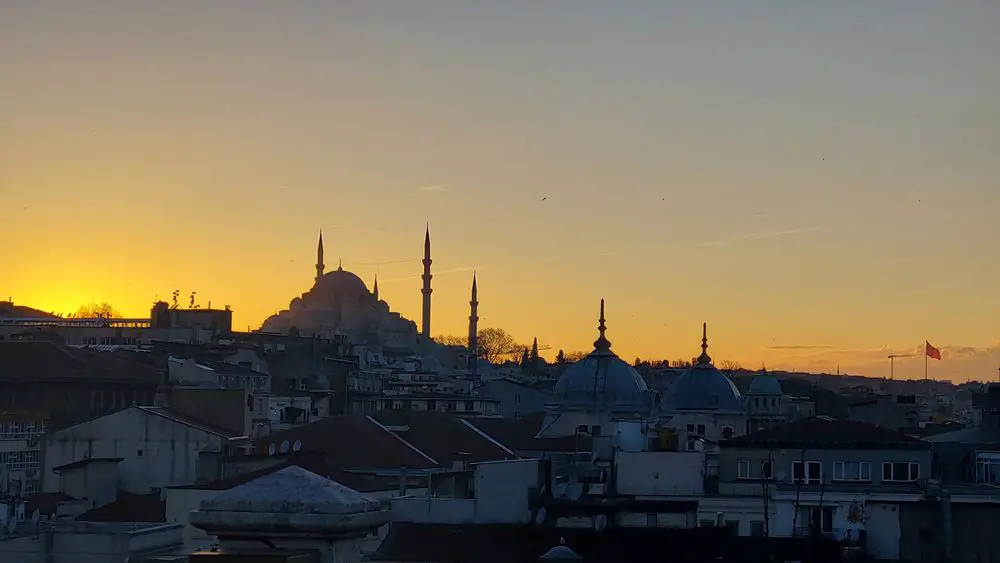 But first. A few answers.
How can I spend 24 hours in ?
How can I spend a perfect day in Istanbul? Read below for the top 10 things to do in Istanbul in 24 hours. These places will help you formulate your perfect Istanbul itinerary.
What should I not miss in ?
The best places to head are all 10. But if you are less inclined to travel at a fast pace then do 1 to 6.
Is one day enough for ?
Never. This is my second visit and while you can see a nice chunk of history and beauty 1 day will never be enough.
Is expensive for tourists?
Accommodation can be the biggest expense, but there are still some good value ones hidden around. Currently, the Turkish lira is 1 to $1AUD so we found Istanbul great value for money.
Is food expensive in Turkey?
Depends where you are eating. If you are eating at #5 then yes, it will be pricey. If you eat like #4 then you will find it inexpensive. Consider taking a Istanbul food tour.
What money is best to use in Turkey?
Turkiye uses Turkish Lira.
What food is known for?
Check out my post on Turkish food and the best places to eat them in Melbourne here. Or read about our food tour at #4.
Is safe at night?
It's a fairly liberal city. People stay out late and there's a decent Istanbul nightlife scene going on here. It's fun and people are friendly. But like most cities in the world, be aware of your surroundings and don't go flashing cash or phones around the place. As always we recommend travel insurance whenever you travel. Especially during these crazy times. I travel with SafetyWing. Check how affordable it is here.
Are there any Covid restrictions in Istanbul?
There is no quarantine for fully vaxxed arrivals or testing requirements on entry.
While we were in Turkey we were required to wear masks indoors, but this rule has been scrapped as of 26 April 2022, except for hospitals and public transportation.
As always make sure you do your research before heading overseas.
Do they speak English in ?
While my partner speaks Turkish I found most people in the city communicated in English.
Do I need to cover my hair in ?
Istanbul is a very liberal city. We went during the middle of Ramadan and it was still lively and bustling. Religious sites like mosques may require you to cover your hair, but overall there are no religious dress codes in Istanbul. Consider carrying a Travel scarf.
The Hagia Sophia was Turkey's most visited tourist attraction in 2015 and 2019, before Turkey reconverted it into a mosque, much to the dismay of many.
Originally built in 537 by Roman emperor Justinian I as a Christian cathedral, the Hagia Sophia was the largest Christina church until the fall of Constantinople in 1453, when it was converted to a mosque. From 1935 to 2020 it was a museum. In 2020, it was reconverted into a mosque.
Despite being a mosque all visitors are still allowed to enter Hagia Sophia. Some of the Christian wall art is covered, but you can still witness the embodiment of Byzantine Empire architecture.
Visitors need to remove their shoes before stepping onto the mosque's carpets. And women need to cover their hair. Headscarves are available at the Hagia Sophia Mosque entrance without a fee or bring your own. Photography is allowed.
Take a Hagia Sophia & Blue mosque tour here.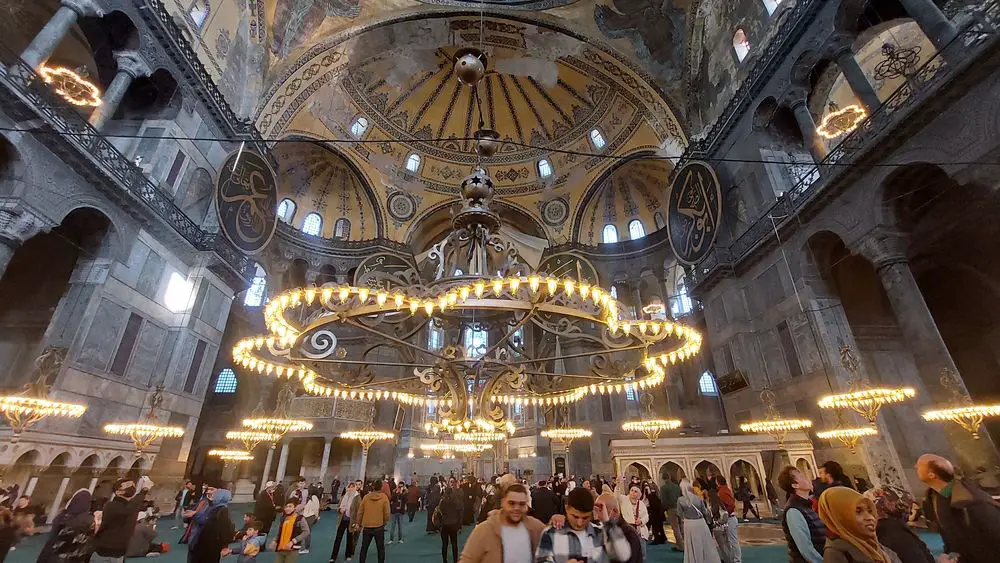 Sultan Ahmed Mosque or Sultanahmet Cammi (so named since it sits in Sultanahmet Square) is another popular tourist attraction in Istanbul, that mainly goes by the name The Blue Mosque. It's called this because of its blue tiles surrounding the interior walls, and at night, the mosque is bathed in blue as lights frame the mosque's five main domes, six minarets, and eight secondary domes.
This Ottman-era Mosque was built between 1609 and 1616, during the rule of Ahmed I. Like most mosques it also comprises the tomb of its founder, a madrasa, and a hospice. It is a UNESCO World Heritage Site too.
It's easy to do the Blue Mosque at the same time as Hagia Sophia, as they sit opposite each other. However it does close down for a small 90-minute period five times a day at prayer, so please be aware of your visiting time.
Like the Sophia you will need to remove your shoes at the entrance and women are required to cover their hair. Scarves are available at the entrance for free. Entrance to the mosque is also free. When I was walking in I was also asked to cover my legs. I was wearing leggings, so I am not sure if it's because they were tight or my ankles were showing.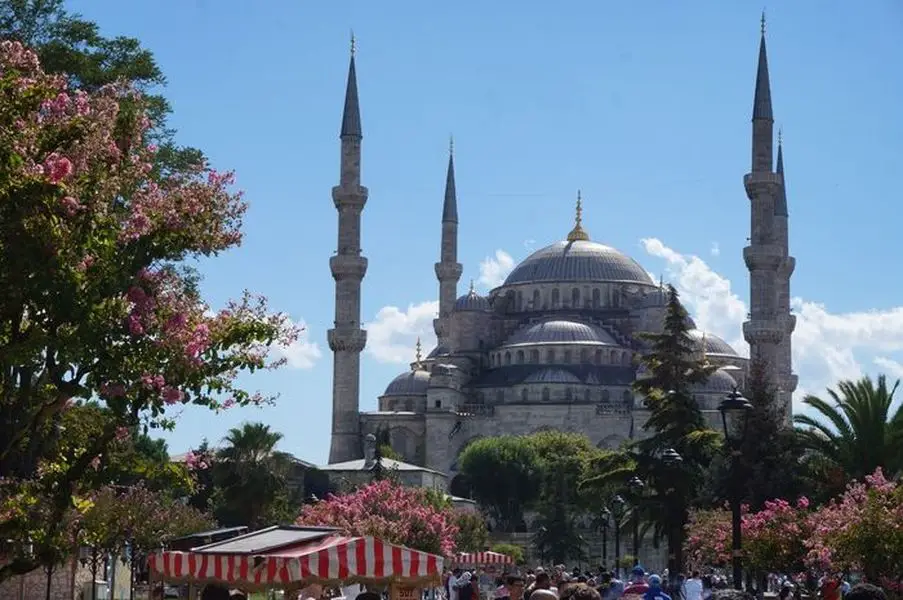 3. Fener & Balat tour
As I had been to Istanbul before I wanted to see a different area of this beautiful city and I was convinced by Eda from Istanbulite to take an Istanbul walking tour of Fener Balat. The most colorful part of Istanbul in my opinion.
Fener & Balat are two historical neighborhoods that have not been on the local or tourist radar for decades. The historical neighborhoods have housed the Greek and Jewish community of Constantinople for centuries. Fener still houses the Greek Orthodox Patriarchy along with historical houses with 2-3 stories, art galleries and workshops that are slowly popping up, and small cafes that are following the lead of the artists.
You can read more on Chora Church and all the other things we saw in Fener & Balat here. Wear good travel shoes, I always chose my fav pair of Skechers.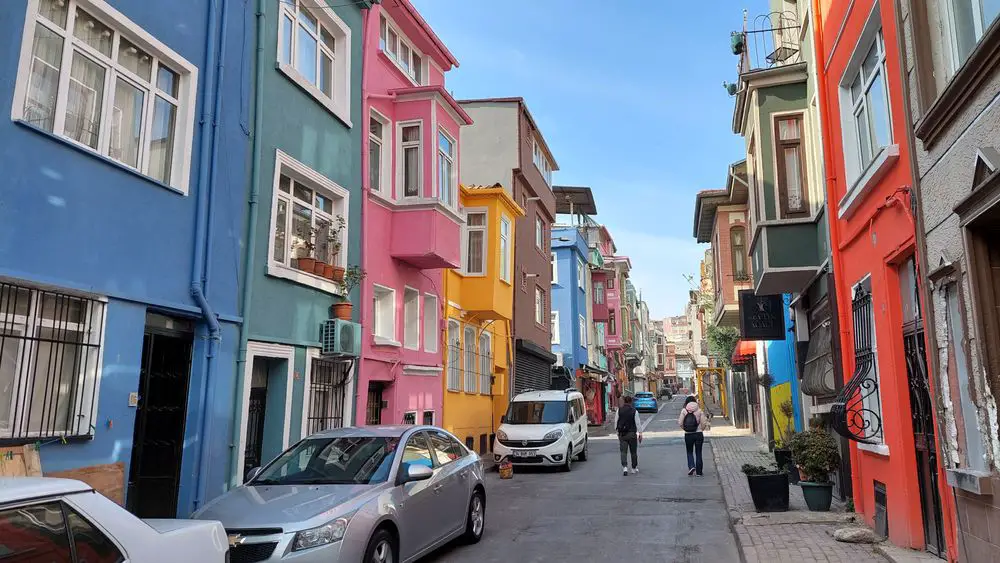 4. Food tour
Y'all know I am a huge foodie at heart. I have a great article on my favorite Turkish food and where to find it in Melbourne (Perth is coming!), but I wanted to eat Turkish food in the heart of Turkey. So Eda told me she could make that happen.
Straight after our morning touring Fener & Balat we spent 3 hours eating our way around Istanbul, starting in Fener & Balat with Turkish Coffee before heading to Taksim. I wrote up the full Istanbul food tour here.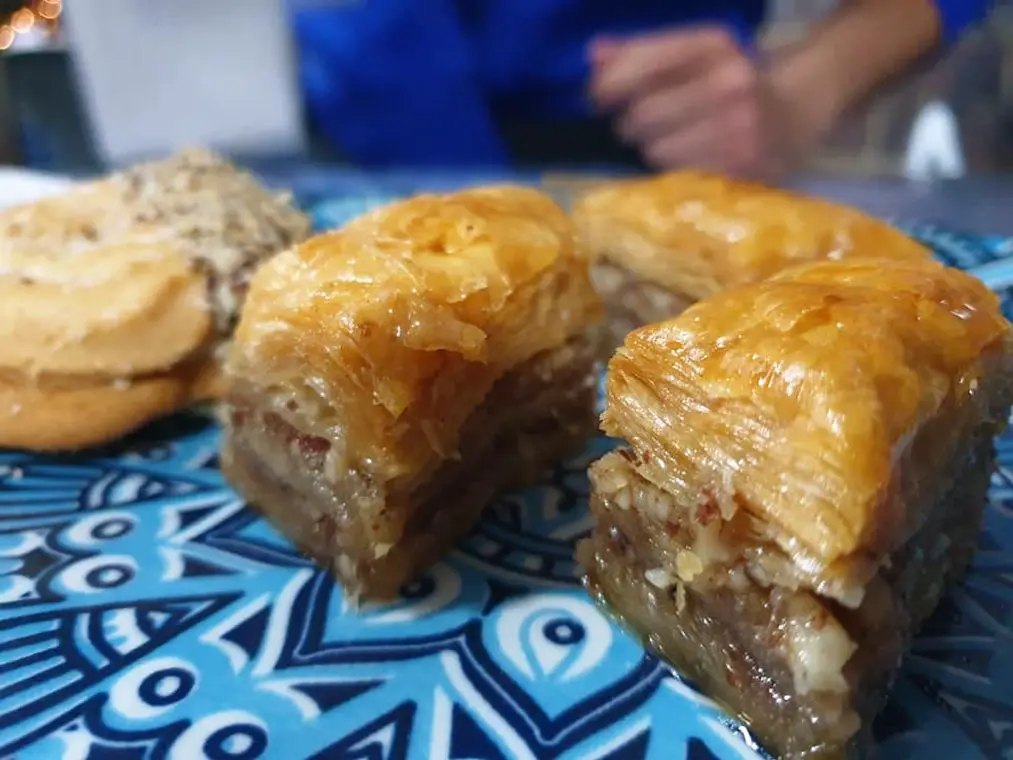 5. Brunch at the Palace
Speaking of food. The Çırağan Palace is a former Ottoman palace and is now a five-star hotel in the Kempinski Hotels chain. It was built between 1863 and 1867 on the European shore of the Bosporus.
There are many places to eat in the Palace, but we headed to Ladeldan's famous Sunday brunch straight from Istanbul airport the day we arrived. Brunch is only held on Sundays between 12:30 and 4:30 pm.
Laledan Restaurant offers a rich and healthy variety of breakfast classics, the most delicious cheeses, live carving stations, Teppanyaki Ice Cream, chocolate rooms, wines, cocktails, prosecco, and much more.
If you're interested in reading more about eating in a place, check out my 5 Reasons to Eat at Ciragan Palace.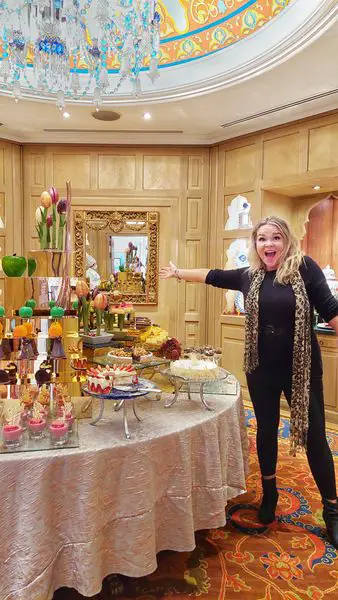 I mean who doesn't love markets. And this market is the one market to rule them all. Known as Kapalıçarşı in Turkish, it is the largest covered market in the entire world. It has over 4,000 shops among 61 covered streets on 30,700 square meters of land.
The Grand Bazaar is located inside the walled city of Istanbul, in the district of Fatih, near Topkapi Palace. It is considered the first shopping mall in the world, dating back to the 15th Century Ottoman period.
You will find everything and anything at the Grand Bazaar – jewelry, silk, ceramics, copperware, leather, food, souvenirs, antique handicrafts, etc. But you don't just buy stuff at this market, you also get to spend time and mingle with the local traders. The shopkeepers here love their Turkish tea and they love to share it.
It is a sight to behold. I stood amid the hustle and bustle and just watched the people swarm around me, beside me, past me. The shop keepers yelled out to draw attention to their wares, the occasional mad scooter dashing between the pedestrians, the Turkish Delight slowly softening in the hot sun, the bizarre lanterns flashing light from every corner of the market.
I only brought one thing to this market, Turkish delight, but I still spent many hours wandering its streets and gawking at all the businesses. Even if all you do is window shop, I highly recommend a visit. Plus, don't forget to stop in next door at the Spice Bazaar.
Check prices of the Grand Bazaar tour.
7. Rooftop Bar
I had a vision of images I wanted from the rooftops of Istanbul but it was early April and the weather was cold. As I walked the streets searching several were closed due to wind, but one had a function. Ahmet wanted to give up, but I said just one more, just one more. Istanbul is such a walkable city that just one more was quite easy in a block radius with 6 or so rooftops.
Finally, we found an open one. No one was out there, but it didn't stop me. Out I went, freezing in my dress for the shots I wanted. We ordered a drink and soon others were joining us on the rooftop. Was it cold? It sure was. But it was also exactly what I imagined with the views and the red dress.
Check prices for a Rooftop Bar tour here.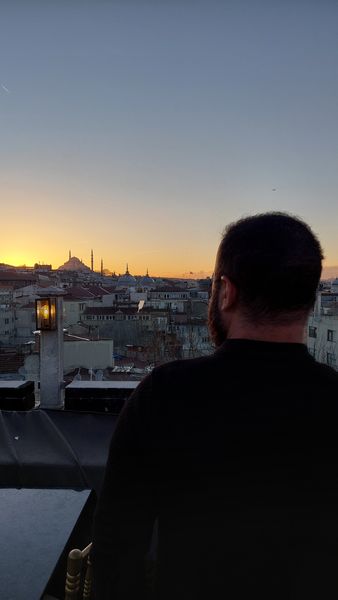 8. Walk the streets
Just walk. When you walk you'll find things you didn't even know existed. I tried hot chestnuts for the first time in my life. I tripped on cobbled strips. I received Turkish kisses under soft moonlight. Just walk.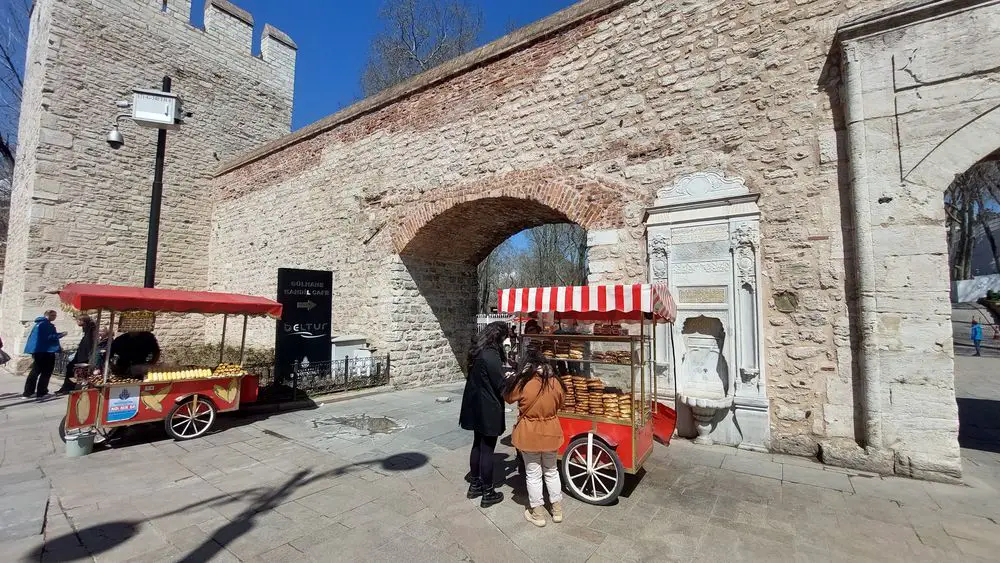 9. Stay in an ancient boutique hotel
I've stayed in several hotels in Istanbul and each offers something special. The Eresin Crown Hotel was a luxurious hotel steeped in history and great for families. You can read more about luxury hotel Istanbul here.
This time in Istanbul we chose to stay in a boutique hotel. Sokullu Pasa Hotel is hard to get to by car but by far the best location for feet. Only 800 meters away from the ancient Sultanahmet Square in Old City Sultanahmet district. All 24 rooms also overlook the sea. The hotel was built in 1700 and the rooms are decorated in an Ottoman Empire style. We enjoyed our stay just and not just for the location. The breakfast is delicious too.
Check the price of this hotel.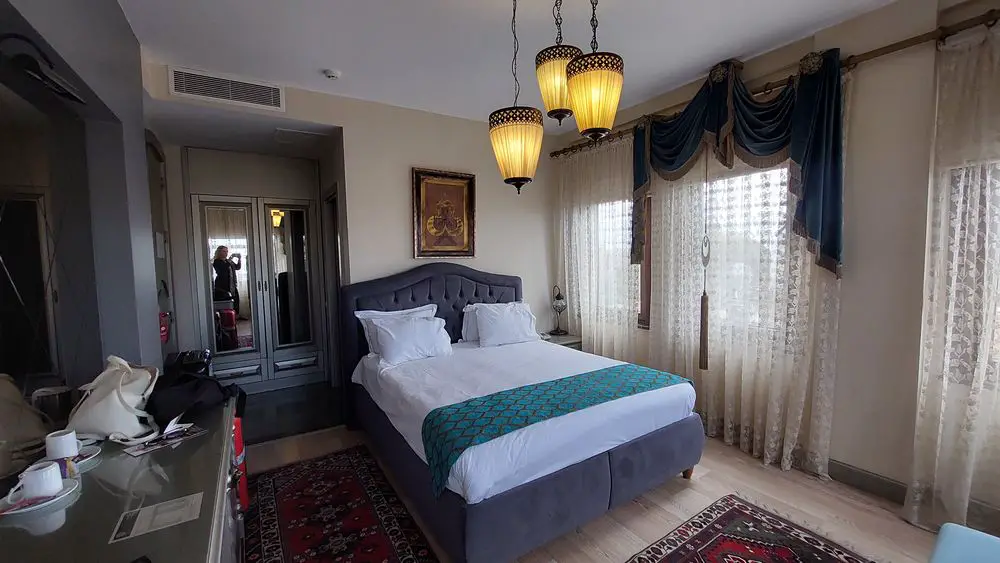 10. Have dinner on the Bosphorus
The Bosphorus Strait or Istanbul Strait is a body of water that forms part of the boundary between Europe and Asia, although both sides are the same country (Turkey). While I originally wanted to sail the Bosphorus, the weather just wasn't cooperating.
So instead, one night the kids and I headed down to the bridge overlooking the Bosphorus and enjoyed a walk past the many restaurant vendors begging for patronage before stopping to eat at one.
The specials are, of course, mostly fish, but we managed to find a non-seafood dish for our family.
It's a busy spot at night with a lot of ferries coming and going. We were told the official public vessels are the best and as it happens the cheapest, but just check the times before you go. Consider sea sickness tablets if you get queazy like my partner. 
Check Bosphorus boat cruise prices here.
If you've got more time in Istanbul then you're going to want to add on Topkapi Palace, Galata Tower, Galata Bridge, Basilica Cistern, Taksim Square and spend more time enjoying Istanbul nightlife. Plus, you're going to want to go try a Turkish bath as I did in Bursa.
Countless eloquent Istanbul guidebooks have been written about all the top things to do in Istanbul. But if you only have 24 hours in Istanbul and want to pack in some uniquely Turkish experiences that you won't see anywhere else, then these 10 are the perfect place to start.
Whatever you choose to do, one thing is for sure. This city will leave you wanting more. And that's the truth. I keep coming back.
After you've checked out Istanbul, check our 7 Day Turkey Roadtrip itinerary. Or the21 best places to visit in Turkey.
Or head over to the one destination in Turkey no one should ever miss – Hot air ballooning in Cappadocia.
Want to do an Istanbul food tour then click here.
Check out our Fener Balat Locals Guide.
Did you know you can travel to Turkey during Ramadan?
LOOK HOW EASY IT IS TO PIN THIS!
FOMO - do you have it?  Well there is no need to Fear On Missing Out here at Explore With Erin. Sign up to receive updates directly to your in box. I won't spam you, but I do promise a whole lot of awesomeness. What are you waiting for? Join Me!