This was not my first visit to Kuala Lumpur (KL). And with less than 12 hours for my Kuala Lumpur layover, I knew it wasn't going to be wasting it at KLIA2. Hell no, I was going to go exploring. Because that's what I do best!
When my partner and I decided to visit Vietnam for 2 weeks our flight options from Melbourne were a stopover in Singapore or a stopover in Kuala Lumpur. Ultimately we let the price do the deciding and ended up on an Air Asia X flight with an overnight in KL on the way to Vietnam and similar on the way back.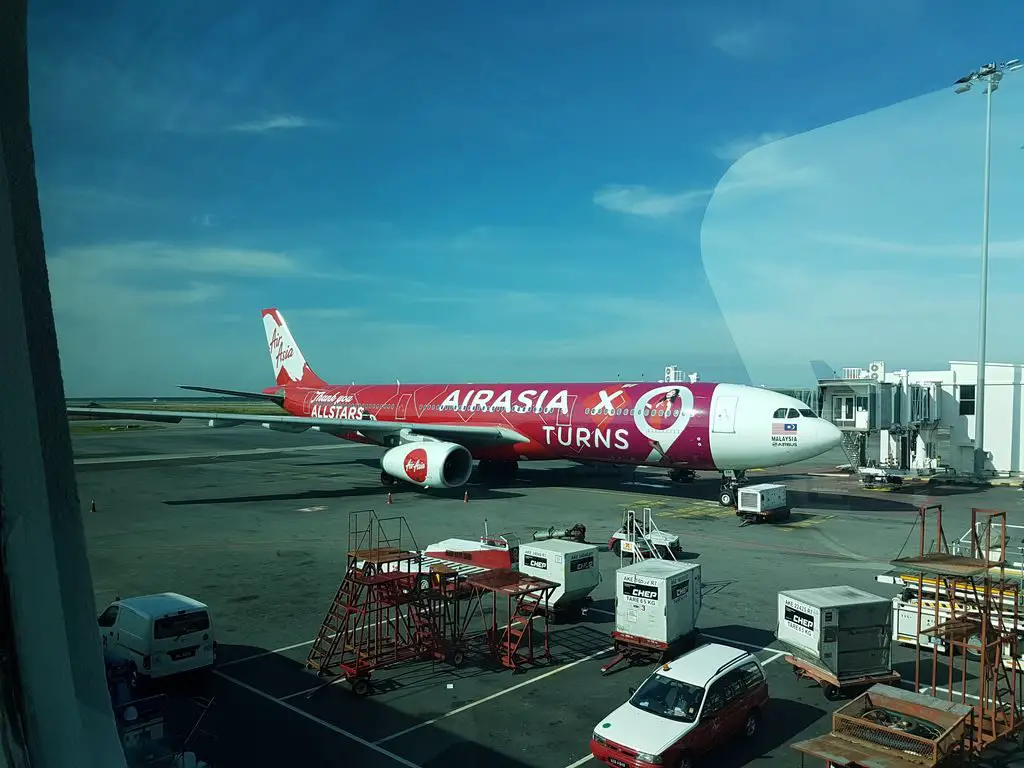 On the way to Vietnam, we got a luxurious 4 pm arrival into KL, but a horrid 6 am departure time the next day. On the way back we didn't arrive until 8 pm, but thankfully we didn't have to leave until 10 am the next morning. So we had around 12 hours, excluding all the time we would need to spend getting in and out of the airport.
The Kuala Lumpur International Airport is approximately 45 minutes south of KL city centre so I knew we would have to make the most of the few hours we had to enjoy the city and get some zzzz's. Out came my phone notes and I wrote down my favourite things to do in KL to introduce my partner to the best parts in just a few hours. Figured, you could use my handy list. Because if you ever fly Air Asia, 99.9% chance you end up flying into Kuala Lumpur.
So without further ado here is 5 ways to spend a Kuala Lumpur layover.
Stay In luxury
I'm not as young as I use to be and half the reason I chose a layover in Kuala Lumpur is to avoid a midnight flight and actually sleep so that I could hit the ground running in Vietnam. I wanted somewhere close to the city to avoid any more travel time, somewhere close to food and somewhere with amazing views would be a bonus.
Check, check, check.
Ambassador Row Hotel Suites by Lanson Place
Our first night we spent at Ambassador Row Hotel Suites by Lanson Place. Right in the heart of the diplomatic corner, only ten minutes from the Petronas Twin Towers.
The staff was super friendly when we arrived and even organised breakfast boxes to go the next morning since we had to head to the airport so early.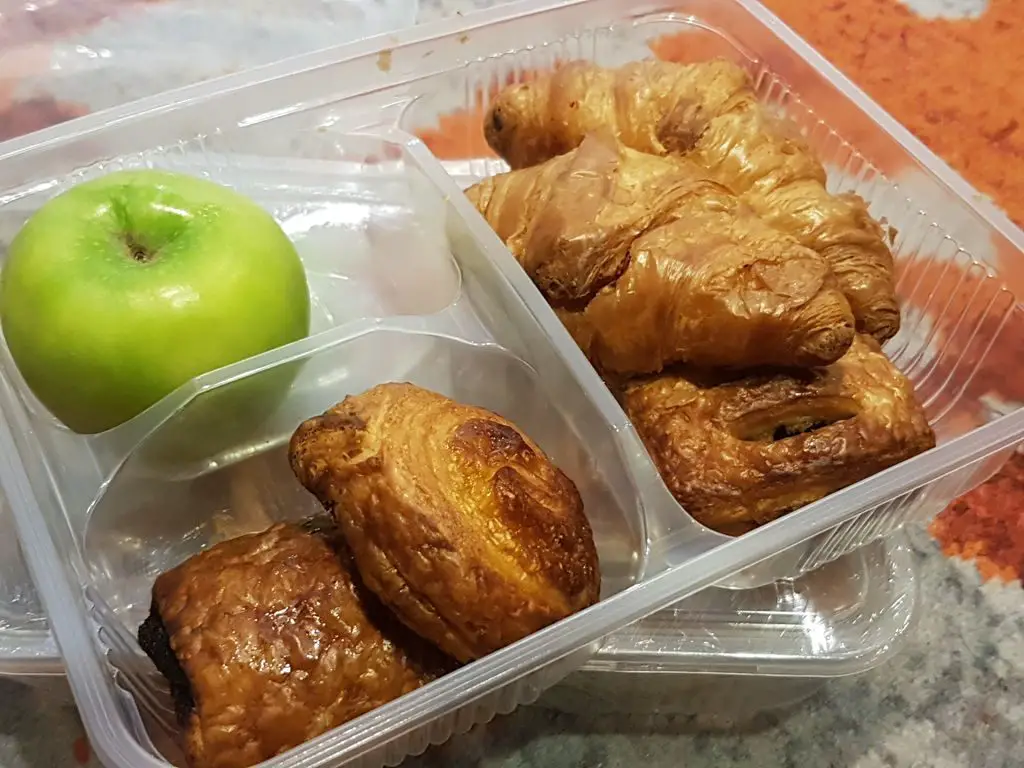 Not wanting to waste time we grabbed a very short cab ride to the Petronas Towers to watch the water and light show, wander the enormous KLCC park grounds and snap some pretty impressive shots of the sparkling Twin Towers.
The room was a one-bedroom apartment with kitchen, living and separate bedroom and some pretty impressive views of the city. There was also a private lounge serving drinks and snacks throughout the day.
Check prices for Ambassador Row Hotel Suites by Lanson Place here.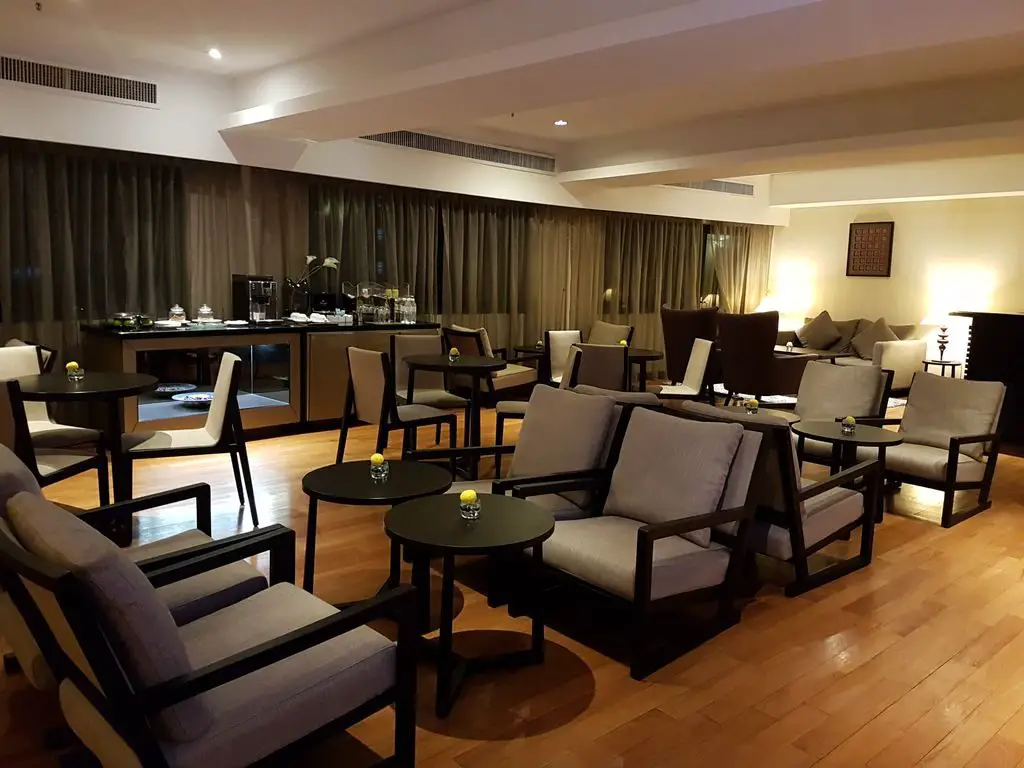 Lanson Place Bukit Ceylon Serviced Residences
On our second night in Kuala Lumpur, we were invited to try the sister hotel, Lanson Place Bukit Ceylon Serviced Residences, smack bang in the heart of the Golden Triangle. This building oozed luxury and elegance and class.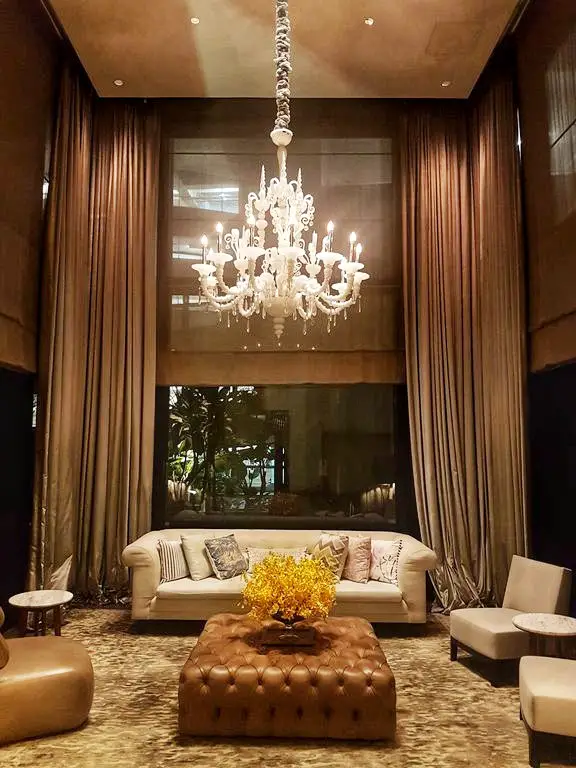 We stayed in a three-bedroom apartment, which was bigger than my townhouse back in Melbourne and had views to die for.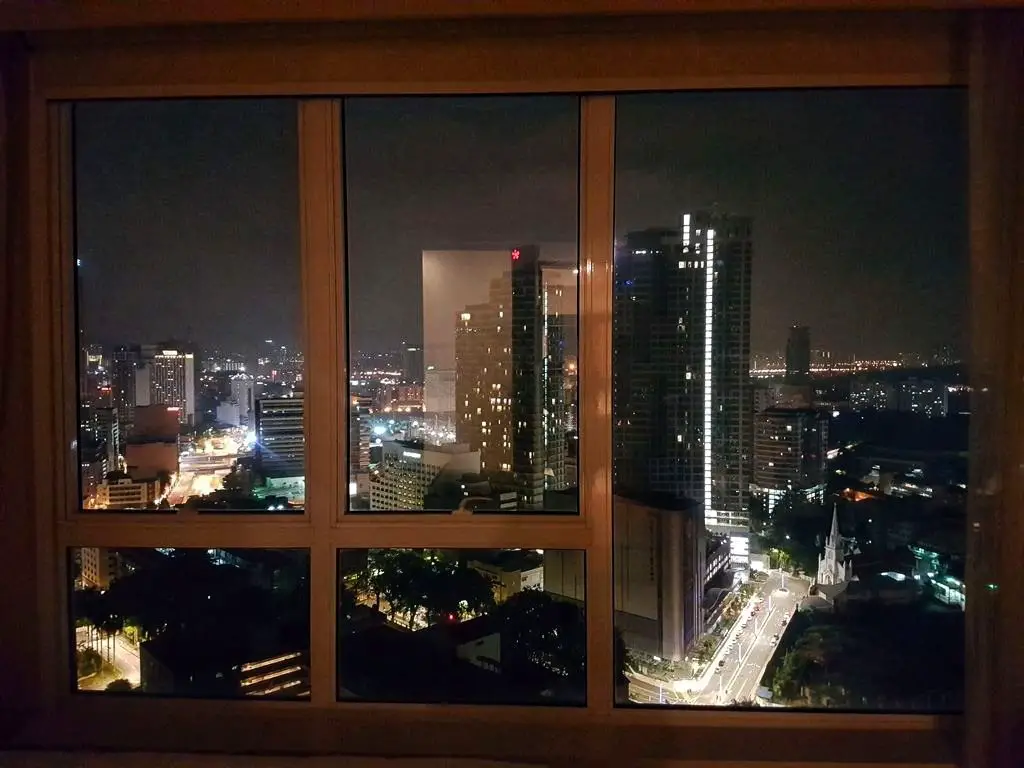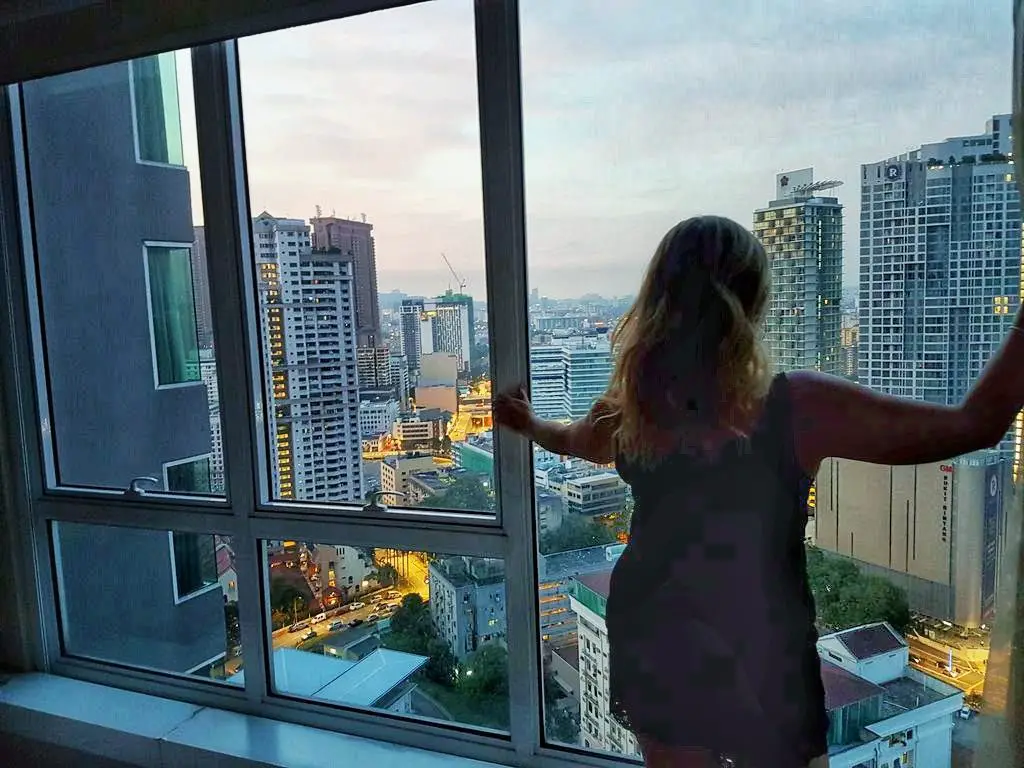 I'm moving in. With Mum, with Dad, with the kids. Space is premium in a city, but that didn't stop Lanson Place.
Walk out the door and a short walk you find yourself on a busy street surrounded by restaurants and nightclubs. And the famous Jalan Alor food night market.
Wi-Fi worked great and did I mention they have a gym, kid's playground, and an Olympic-sized swimming pool?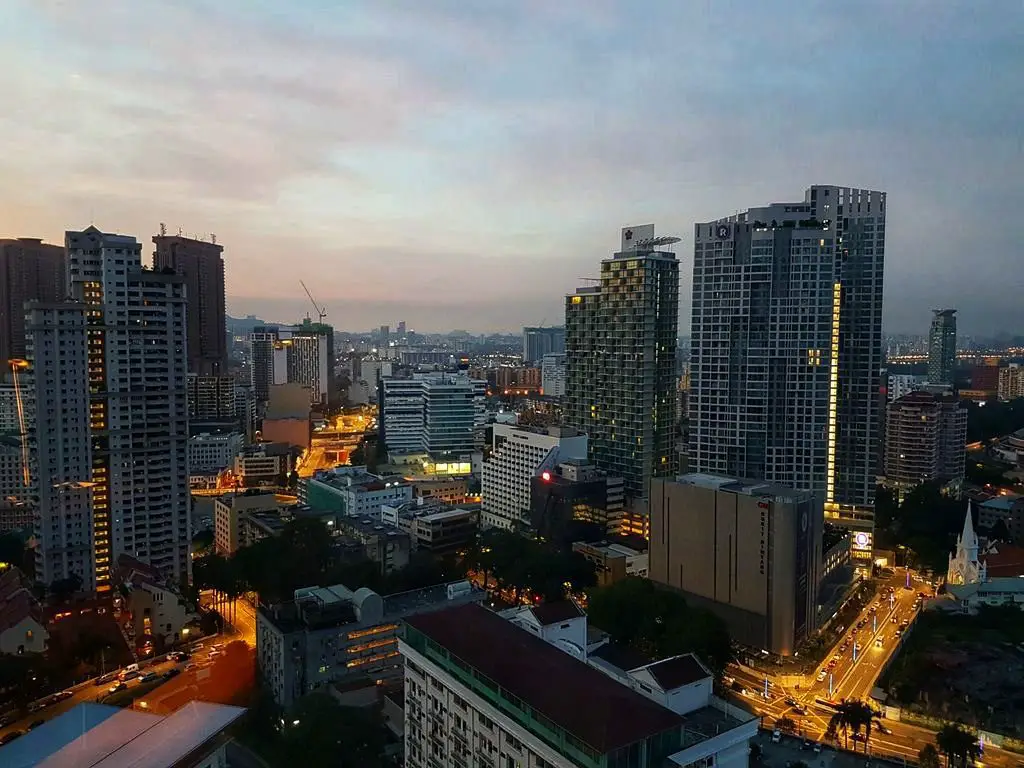 All of this was just divine, but nothing will ever beat having breakfast on the 48th floor in the club lounge, overlooking the entire city. I could see all the way to the mountains. And with another early departure ahead of us, it was our absolute delight to watch the sunrise from our cosy cube in the sky. Wow.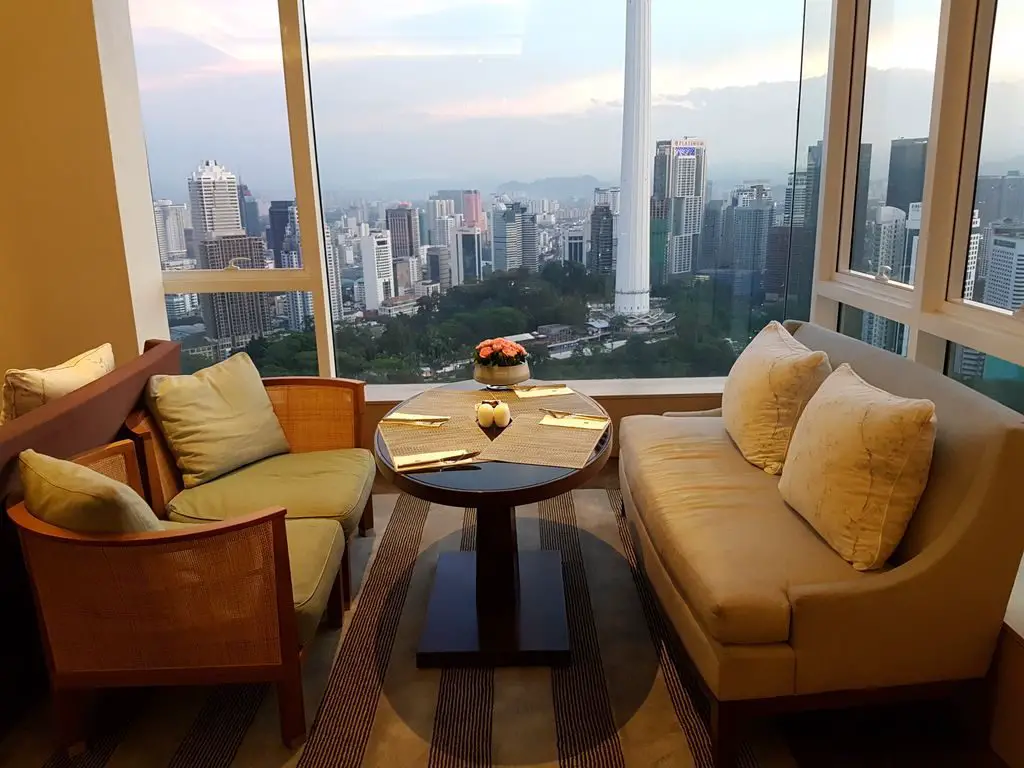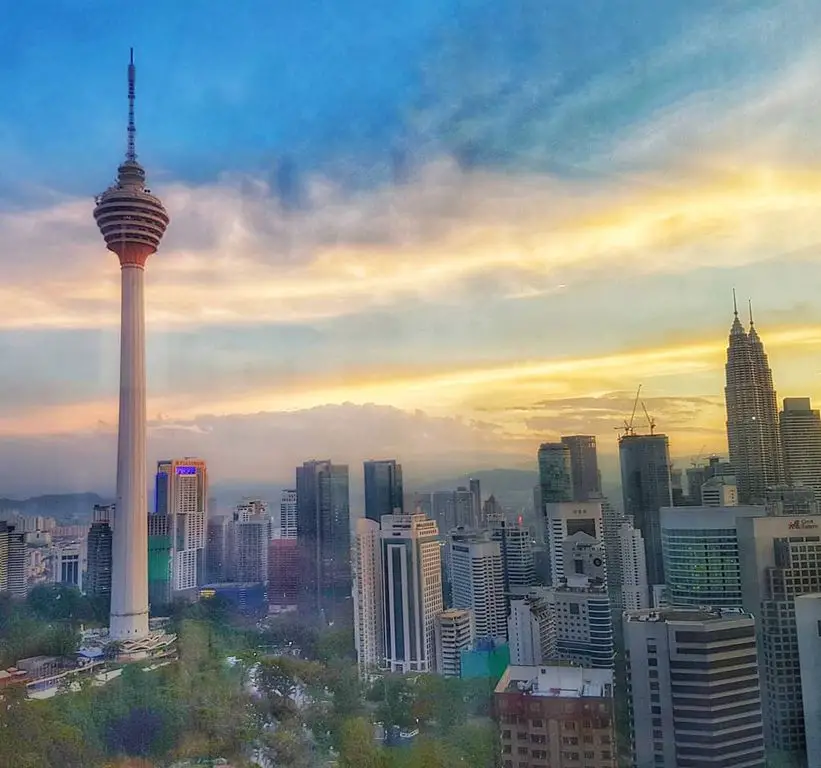 Check prices for Lanson Place Bukit Ceylon Serviced Residences here.
Don't stay at an airport hotel. Not when you can stay here.
Visit The Petronas towers
On the way to Vietnam, we spent our first night in KL strolling through KLCC Park, a 50-acre garden set at the foot of the Petronas Towers. It's not many who have a Kuala Lumpur layover and miss the famous, sparkling Petronas Twin Towers.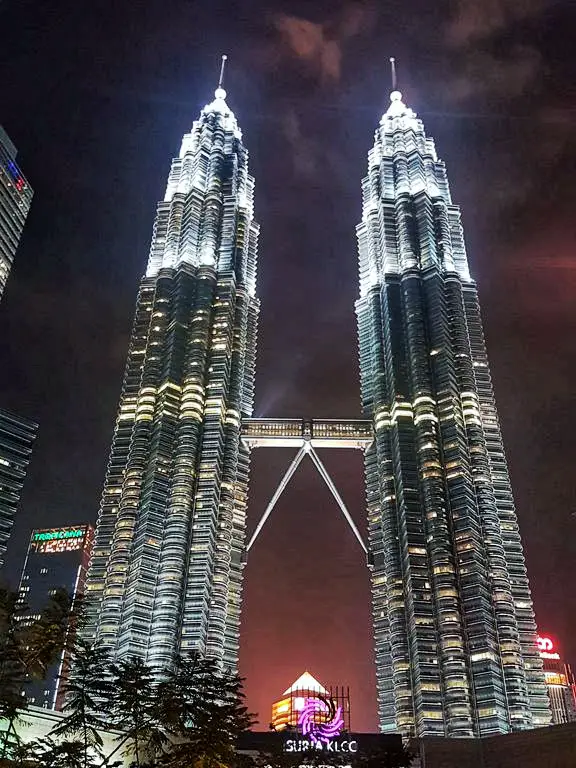 The evening light and sound water show is a must and don't forget all those amazing shots of the Twin Towers. I recommend heading over to the bridge in the park for great snaps.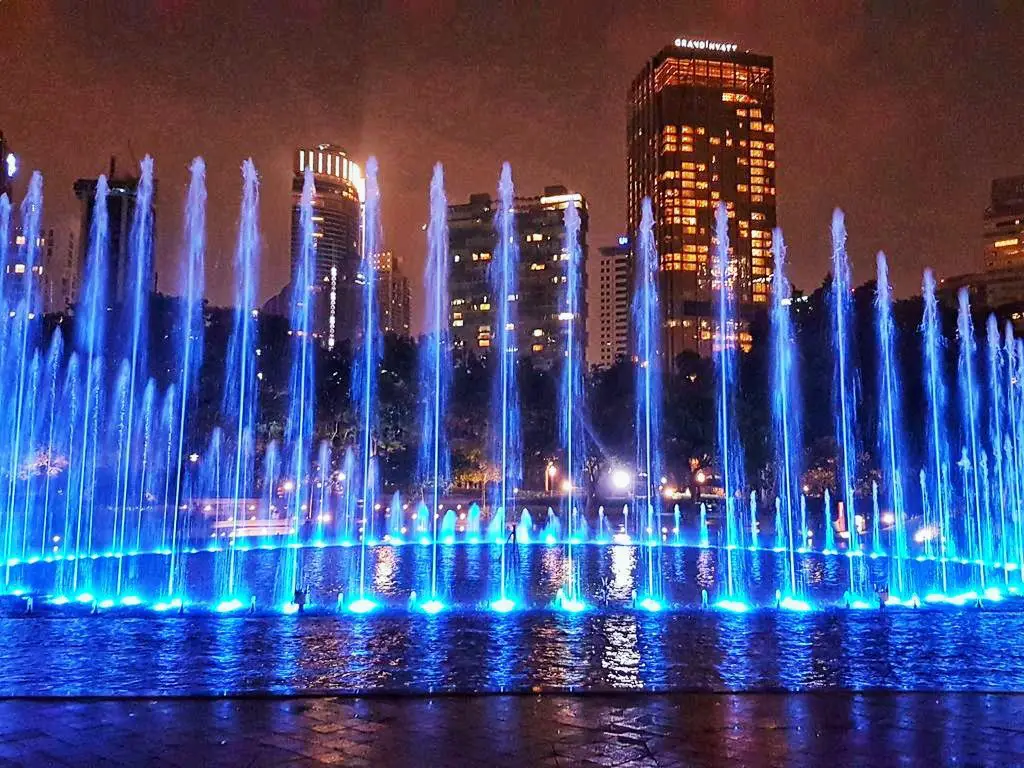 If you really want to try something different then head up 170m to the Skybridge and Observation Deck, which connects the two towers. It's open Tuesday to Sunday, 9 am to 9 pm, and tickets cost $28 (MYR85) for adults. Book online, because the tour desk at the Towers usually has a long line and sells out early.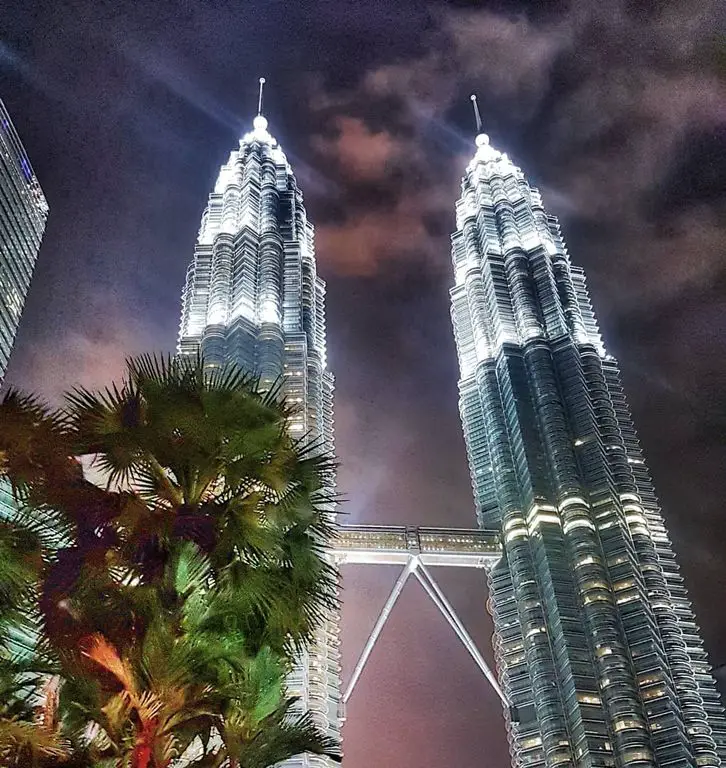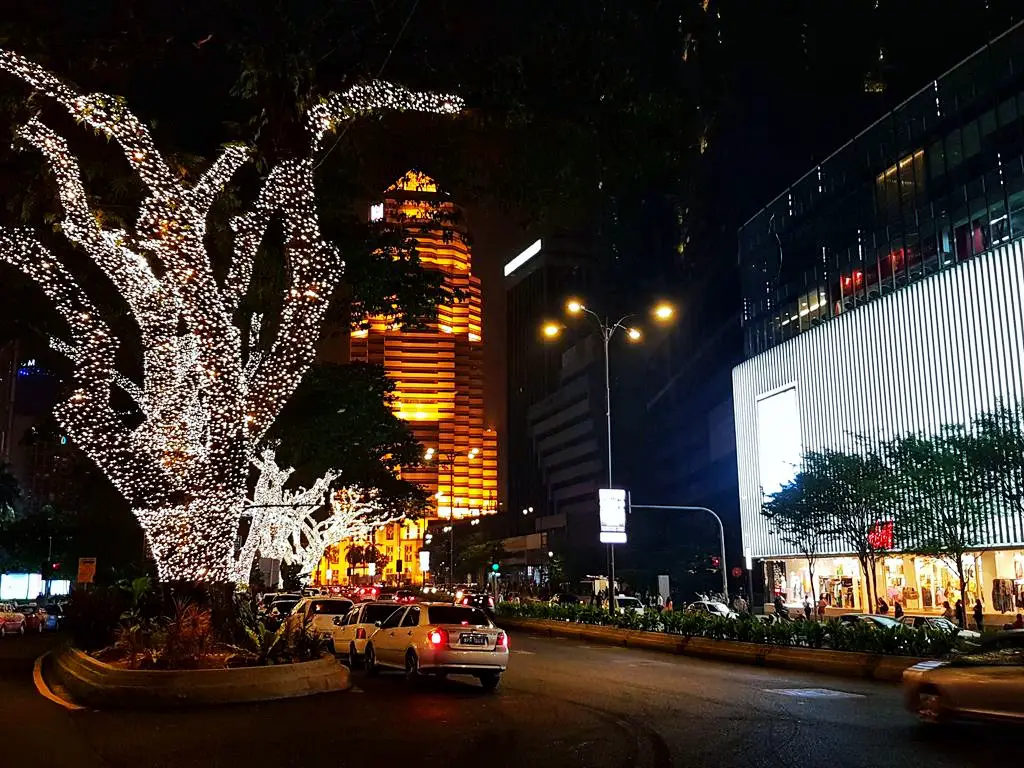 Also while here at the base of the Towers, you will find Suria KLCC, a large shopping mall with more than 300 shops. In addition to retail therapy if you have kids you can enjoy an art gallery, an underwater aquarium, cinemas, bowling or the science center.
Eat Some Local Food
I have been lucky enough to live in Malaysia on two separate occasions. I have also been delighted to attend a food tour to learn more about the deliciousness that is Malaysian food. So while in Kuala Lumpur let me encourage you to eat.
Kuala Lumpur is rich in food culture and teeming with flavour. If you arrive in the evening like we did then head to lively Jalan Alor street for a major dose of Malaysian food culture.
Slurp on asam laksa, a spicy noodle soup that's one of Malaysia's most iconic dishes. Eat your weight in chicken satay sticks or garlic bok choy.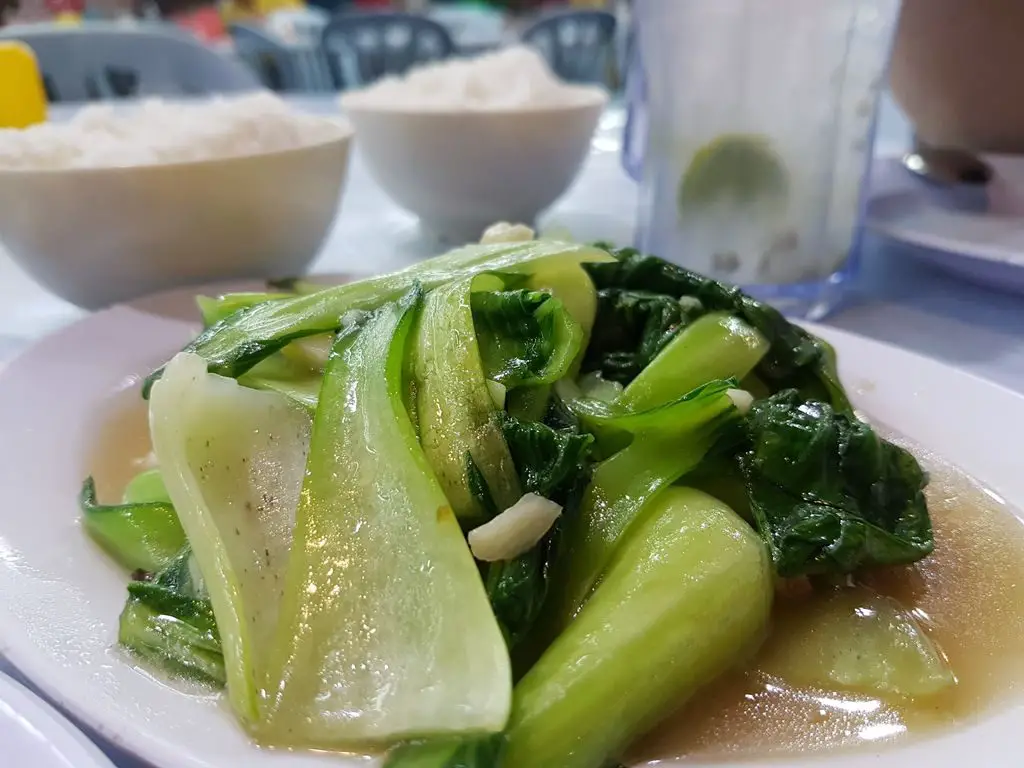 And, for dessert, snag a few goreng pisang (banana fritters) from a street vendor. Or find a restaurant serving Roti Tissue, the bigger the better!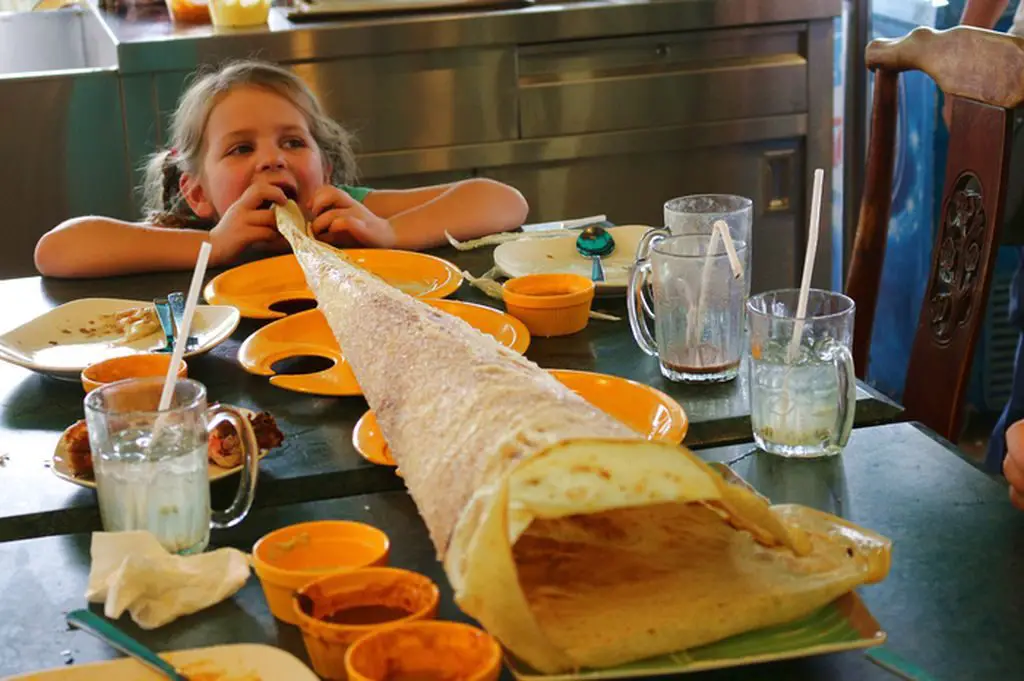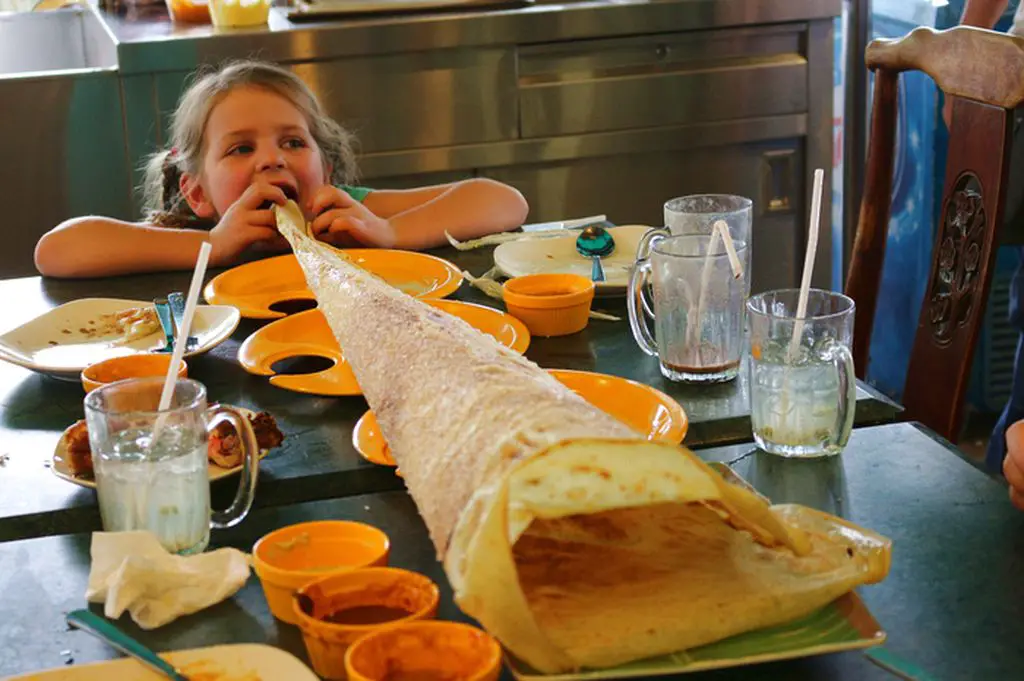 Don't forget characteristic Malaysian dishes like Roti Canai, a simple, Indian-inspired flatbread made of flour, butter, and water. Best dipped in a curry sauce. Going for usually $0.40 to $1.50 (RM1.20 – RM4.50) per serving.
Also try Nasi Lemak, A coconut rice with sides. Expect to find it serves with rich sambal and rendang sauces, peanuts, cucumber and fried anchovies. This one will set you back about $0.65 and $3.20 for a serve (RM2.00 to RM10.00).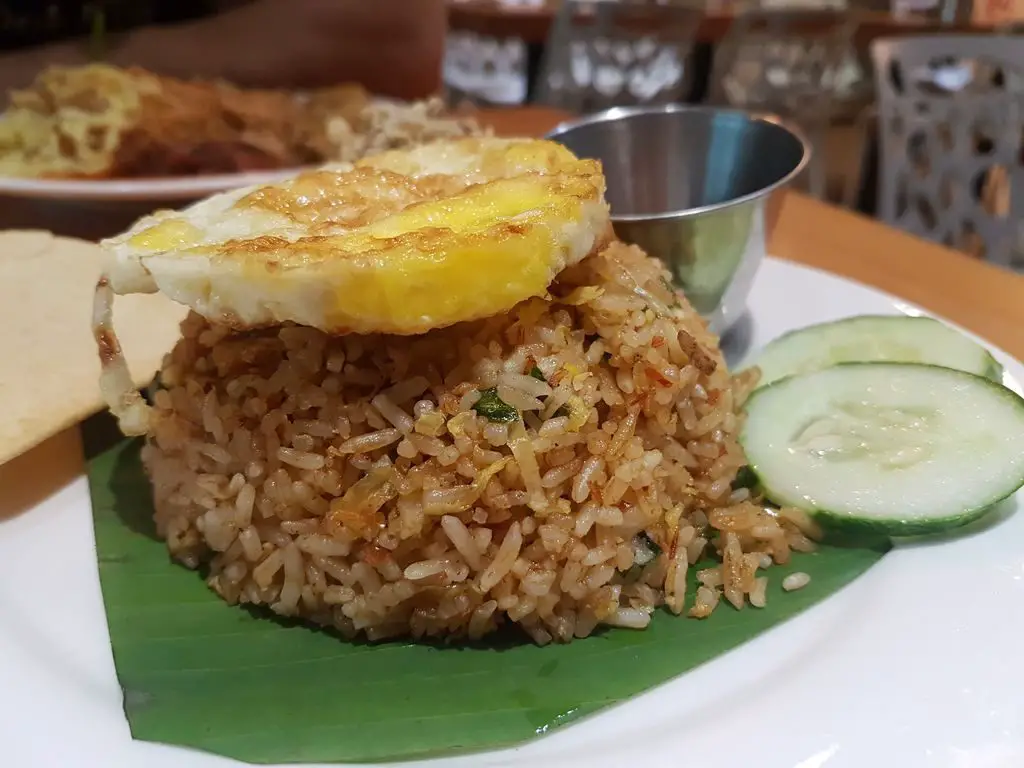 Explore The Batu Caves
Looking to get out of the city on your Kuala Lumpur layover and see something amazing? About 15-minute train ride between 6 am and 9 pm you can visit the Batu Caves.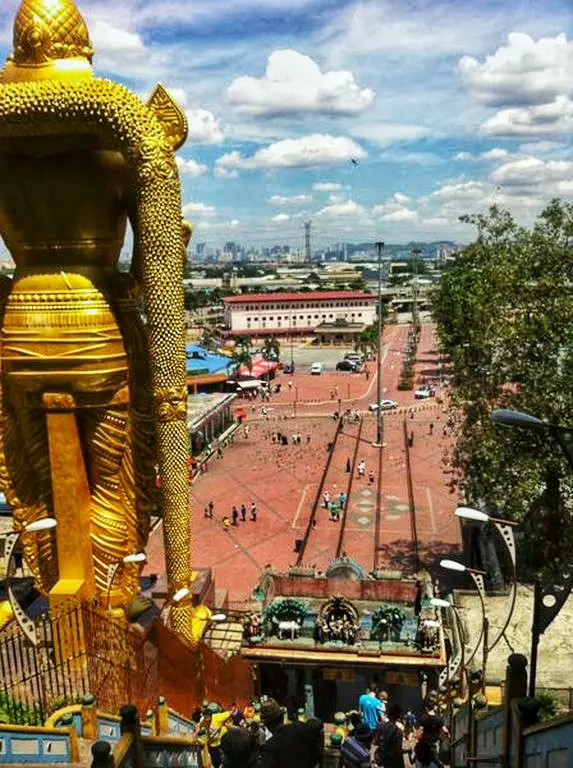 When you get there, you'll find it hard not to miss the 42m-high, gold statue of Murugan, a Hindu deity. After you try every angle to get a photo of its enormous stature, climb the 272 steps up the limestone hill and into the caves. The caves are free, so be wary of scammers trying to sell you fake tickets.
Oh, and look out for the monkeys – they are addicted to human food and can be quite downright nasty about it. Hold out your hands to show you have no food and walk away.
Stay At The Airport
If you have less than 5 hours to spend in Kuala Lumpur, then perhaps you won't have time to head into the city.
But never fear because if you flew into KLIA2, the home of Air Asia, the 350,000 square feet across four levels will keep you busy. That's shopping heaven. And if you are so over shopping and just need to sleep, never fear. The first capsule transit hotel in Asia, Capsule by Container Hotel, is located at Gateway@klia2.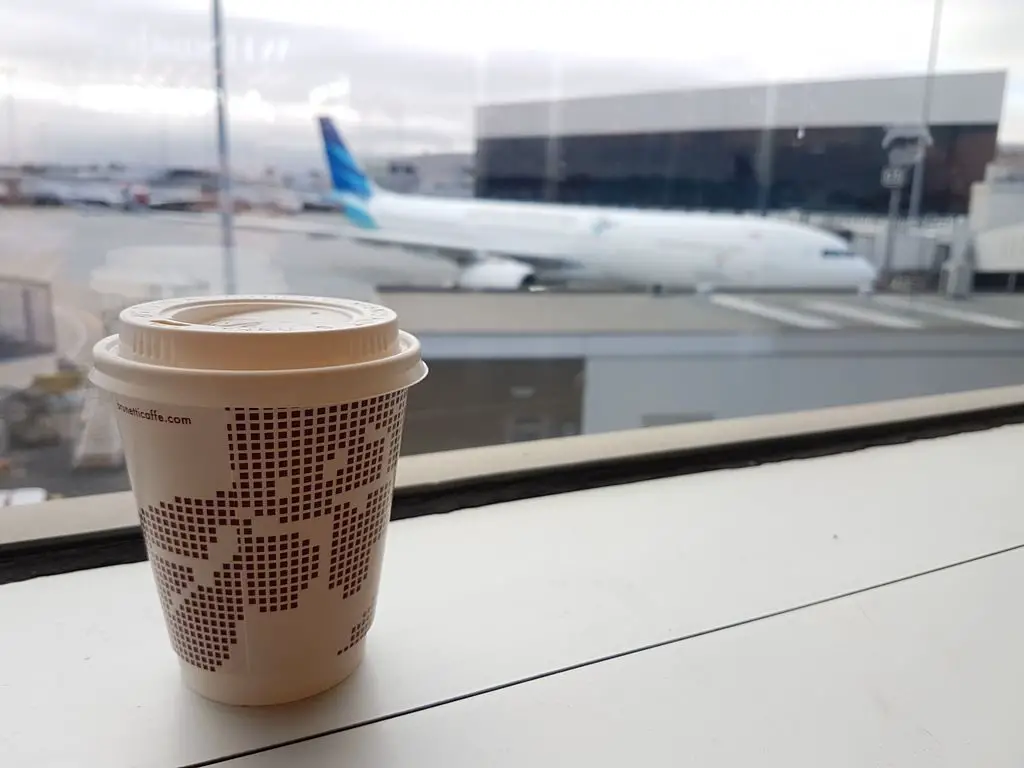 Not sleepy, don't need retail therapy then try The Plaza Premium Lounge which offers executive business facilities, food and beverages, Internet access, movies, massage chairs, oxygen therapy and more. I always love a lounge at an airport, somewhere to park yourself and watch the hour's tick over and charge all your devices! Try one of these, my favourite charging device.
If you are spending your layover at the Kuala Lumpur International Airport then do not fear, the facilities are just as good, if not better. KLIA is the largest and busiest airport in Malaysia, handling 58,554,627 passengers in 2017 alone. It is the world's 23rd-busiest airport by total passenger traffic. Which means you'll never be bored. Especially if you head to the Reflexology and Massage Centre located by gates C1-C5.
The kids won't be jaded either because at Level 5 of the Main Terminal building you'll find games, slides, and activities to keep them busy.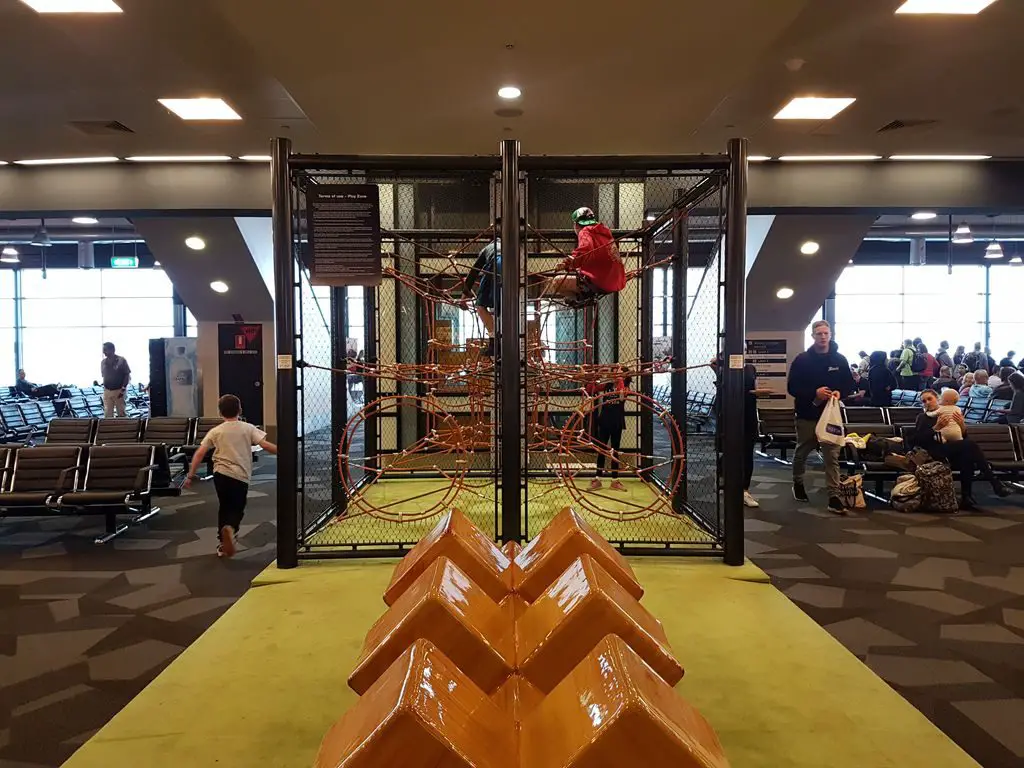 KLIA also has a transit hotel located at the Satellite Building, next to Gate C5, which offers 6-hour blocks for room reservations, as well as a gym and sauna. Another great way to spend your Kuala Lumpur layover.
Explore With Erin Wrap Up
Malaysia is a beautiful country so let me encourage you. If you have the time, get out and explore during your Kuala Lumpur layover. Don't wish away the time in an airport. Enjoy all this beautiful, clean, safe, metropolitan city has to offer. Or at the very least stay in a luxury hotel and get some proper food and sleep.
But I must warn you before you go. Try and avoid my arch nemesis. The squat toilet. Malaysia's favourite way to toilet seems to be in a soaking wet bathroom with a hole in the ground that will eat your sunglasses if perched on your head or tucked into your shirt. Don't say I didn't warn you.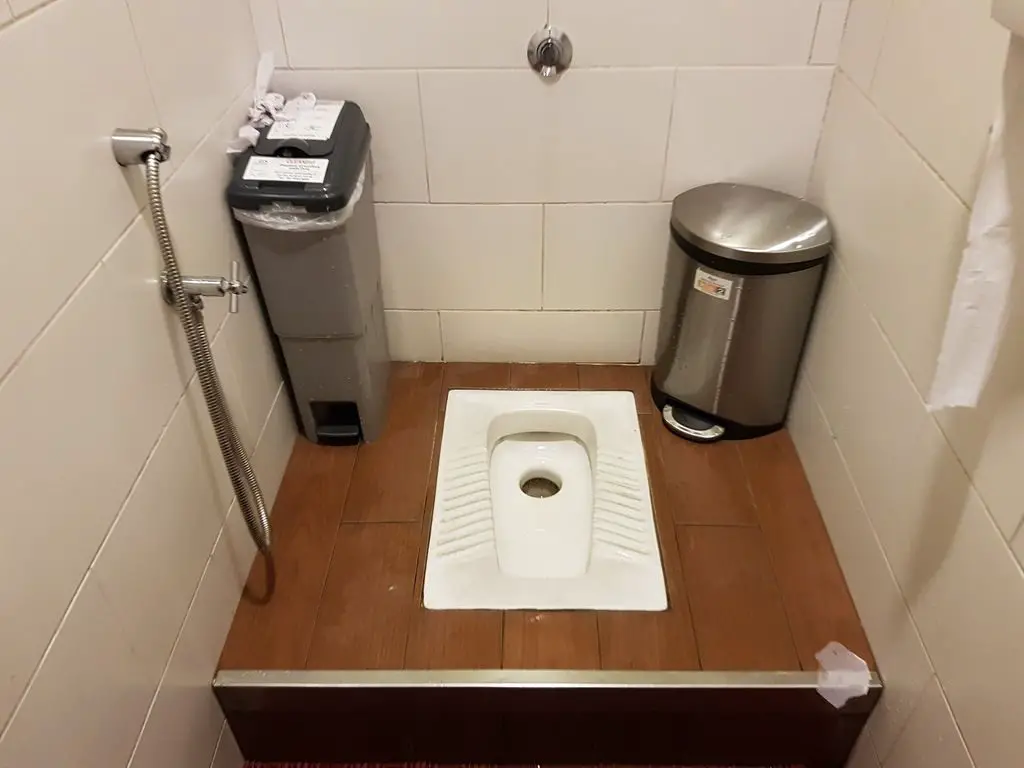 What do you do during your KL layover? I'd love to know in the comments below.
LOOK HOW EASY IT IS TO PIN THIS!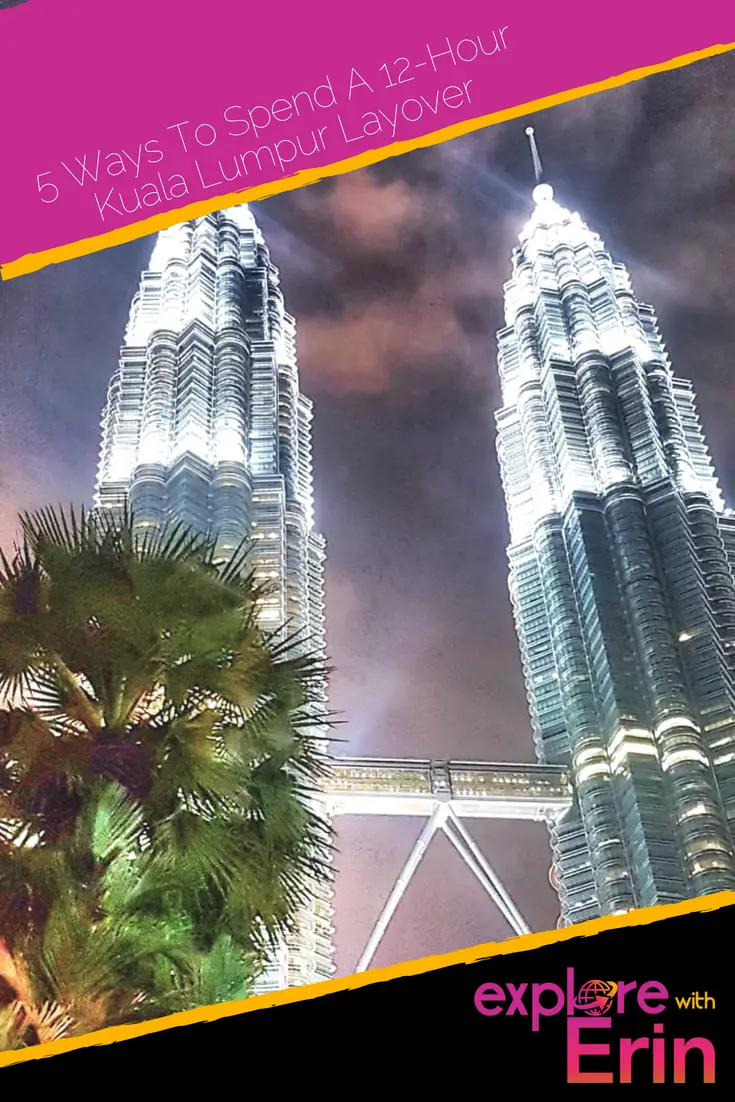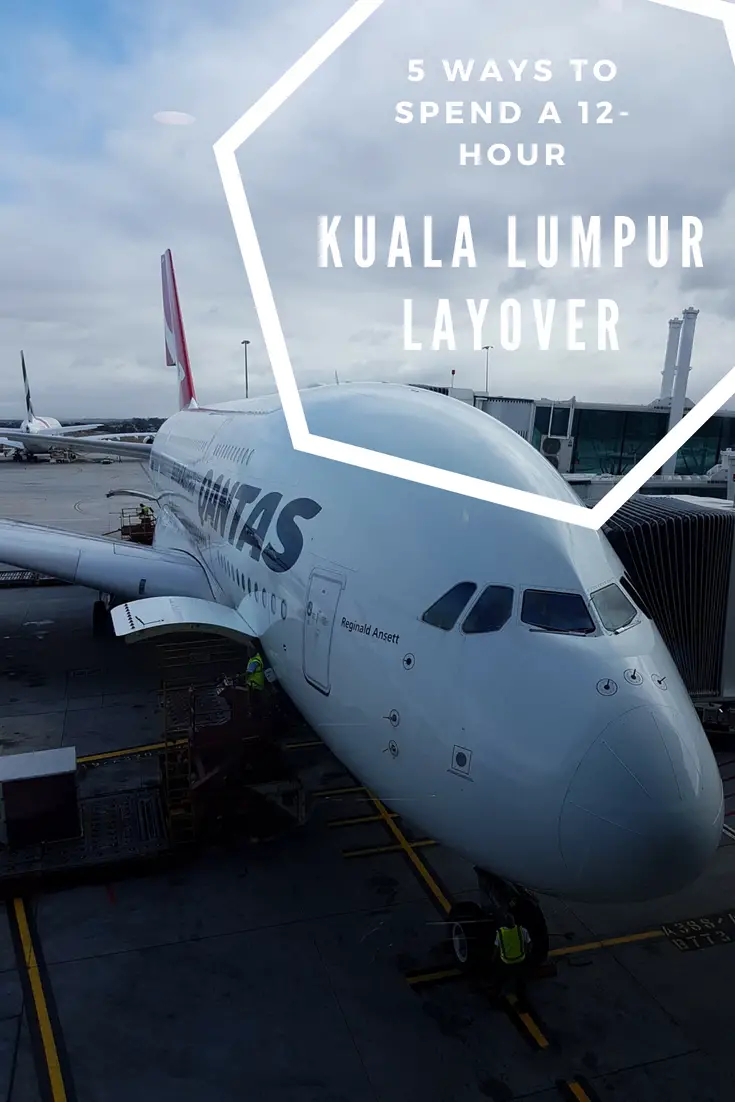 Accommodation
Travelocity has over 1,787 properties along the Great Ocean Road including hotels, apartments, and hostels. You get free cancellation on most rooms and the best price guaranteed.
Tour
Want to take an organised tour of the Great Ocean Road? Then I recommend these ones through Viator.
Rental Car
We love RentalCars.com because they have the best car rental prices – Guaranteed.
Flights
Skyscanner is a comparison website that searches millions of flights. The best part of Skyscanner is it is simply a flight aggregator so in the end, you book directly through the airline.
FOMO - do you have it?  Well there is no need to Fear On Missing Out here at Explore With Erin. Sign up to receive updates directly to your in box. I won't spam you, but I do promise a whole lot of awesomeness. What are you waiting for? Join Me!