For my 14th trip to Bali, I really wanted to focus on the kids. I know my idea of Bali is daily massage, a couple of yoga classes and sitting by the pool with a cocktail. But what did they want?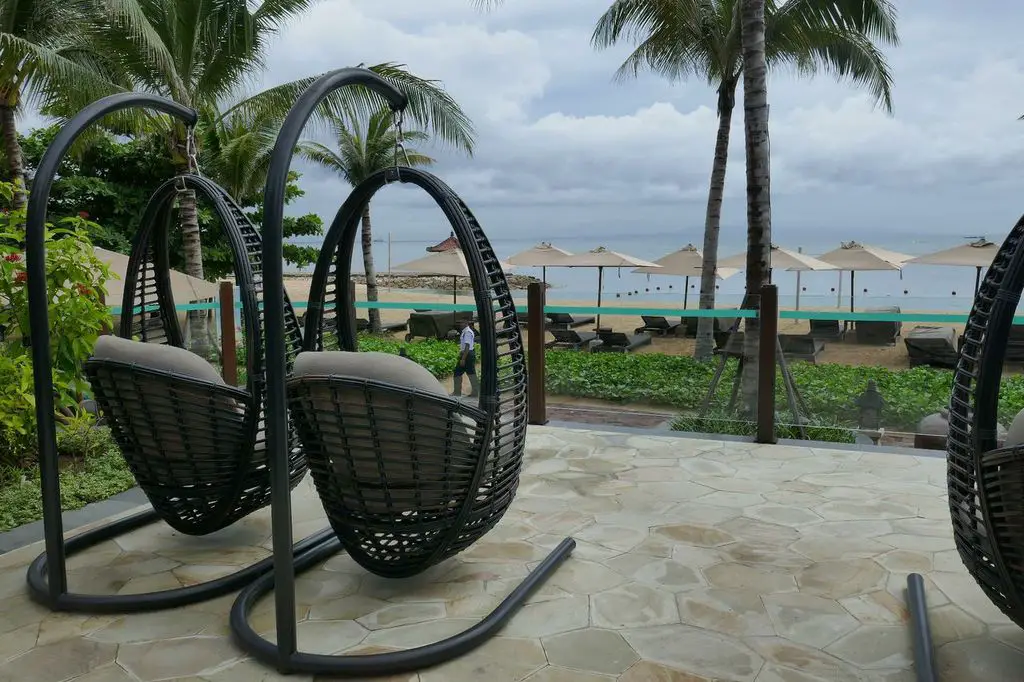 The kids and I were heading from Los Angeles to Perth and I knew we needed a stop in between. We were about to face the onslaught of family Christmas and friend play dates back home so before we jumped in I thought let's stop in Bali. Here we could adjust to the time zone and take a moment to catch our breath for what was about to be one very big life change. To help with that my sister also jumped a flight and met us.
It was with great pleasure that I accepted the Holiday Inn's invitation to check out their family-friendly hotel in Bali Benoa, only 15 minutes from the airport, 5 minutes from Nusa Dua and sitting right on the beach.
Sure, I may have accepted the offer to stay, but it was my kids driving the reasoning and here are their top 5 reasons why they absolutely, positively loved their stay.
Real kids rooms
Who doesn't get excited about kids rooms? I know I do. And the rooms at the Holiday Inn have had lots of thought put into them. We stayed in the Tanjung Family Adventure Suite which has 81 sqm of space! We had a living room with dining table and 2 separate rooms. The kid's room was colourful and complete with a few treats like a PS4. Each room has its own bathroom. The kids loved that they weren't in a boring white room with white quilt covers. In fact, it felt more like a home for them than a hotel.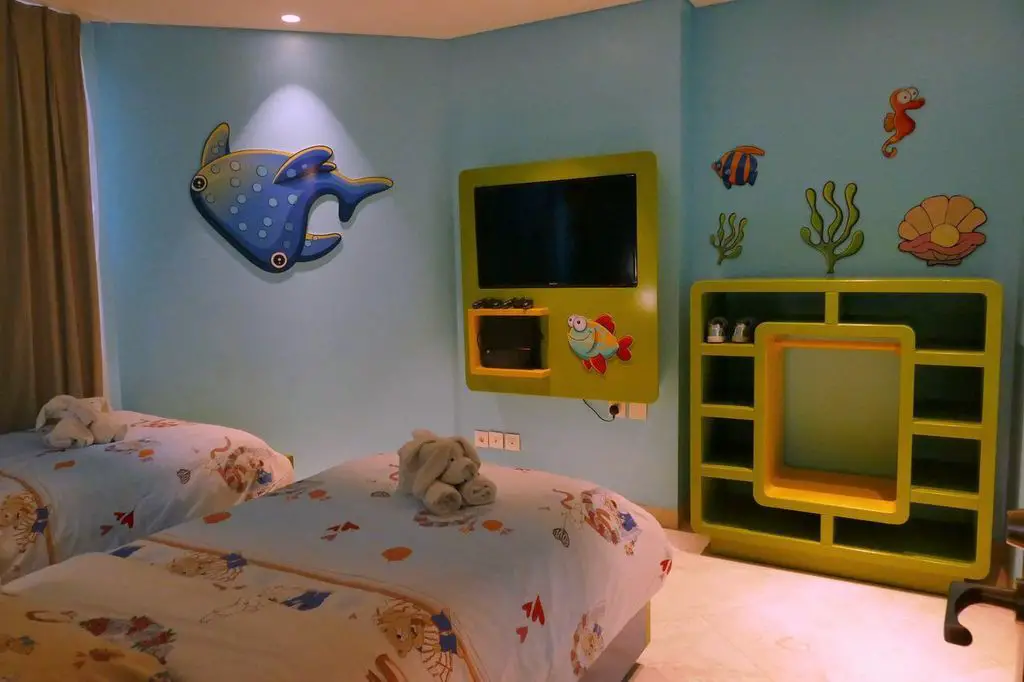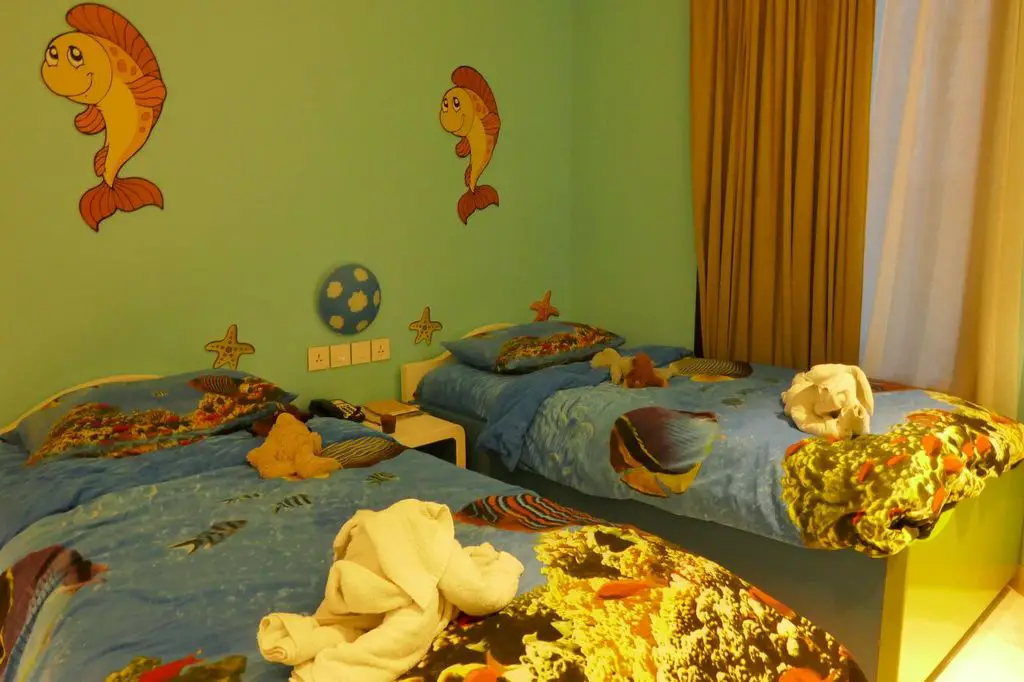 Kids toiletries
Kids bathroom with bath
My big bed
I was just impressed with my towel animal every day!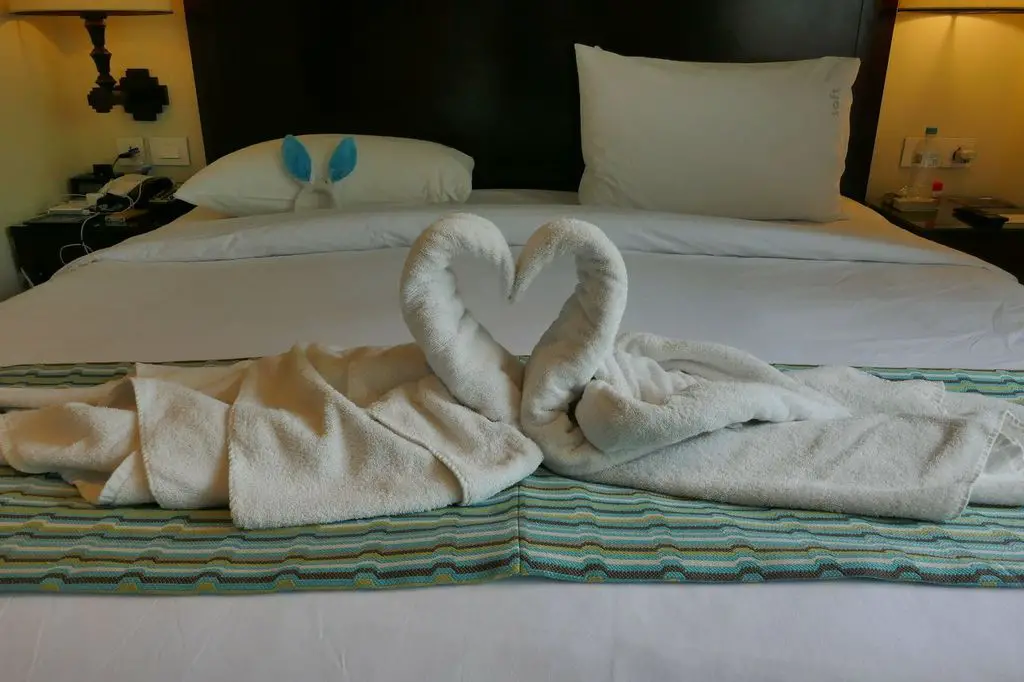 A kids club they didn't want to leave
Not a day went past where my kids weren't asking to be in Kids Club. The kids club is from 4 to 12 and an adult-free zone… Bummer! 🙂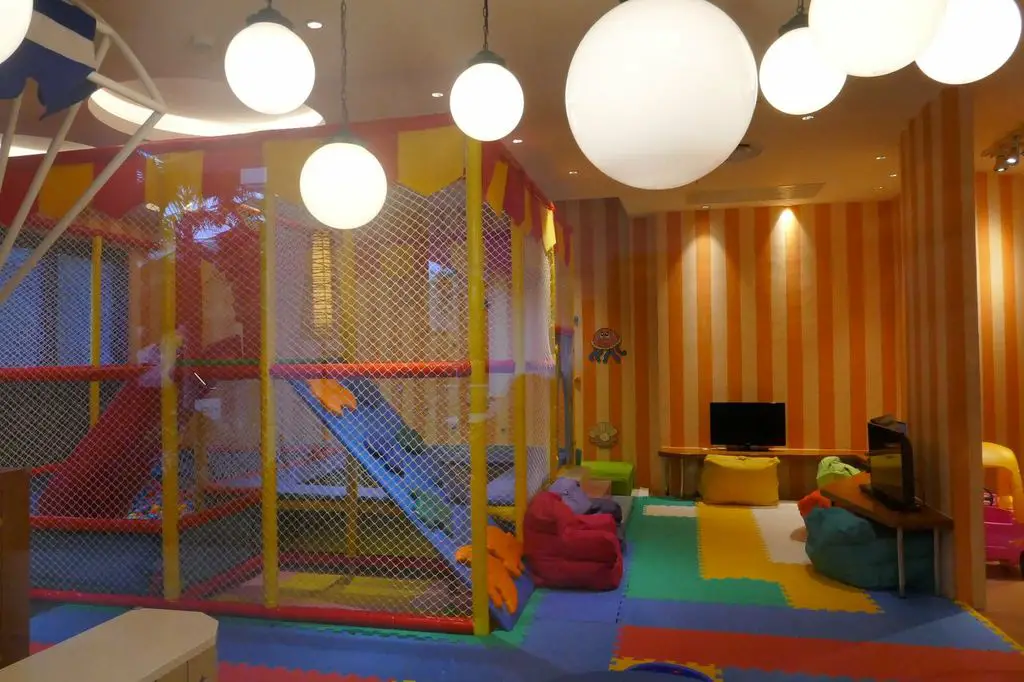 They had so much fun playing video games, in the playground or just taking part in the activities. Activities included making their own cocktail in kids cooking class.
Or the opportunity to dress in Balinese cultural outfits.


More than a pool
All kids love a pool, but this one was extra special. While us adults were sipping cocktails at the swim-up pool bar the kids were sliding down the waterslide, splashing in the fountains or just standing under the super-size water-tipping bucket.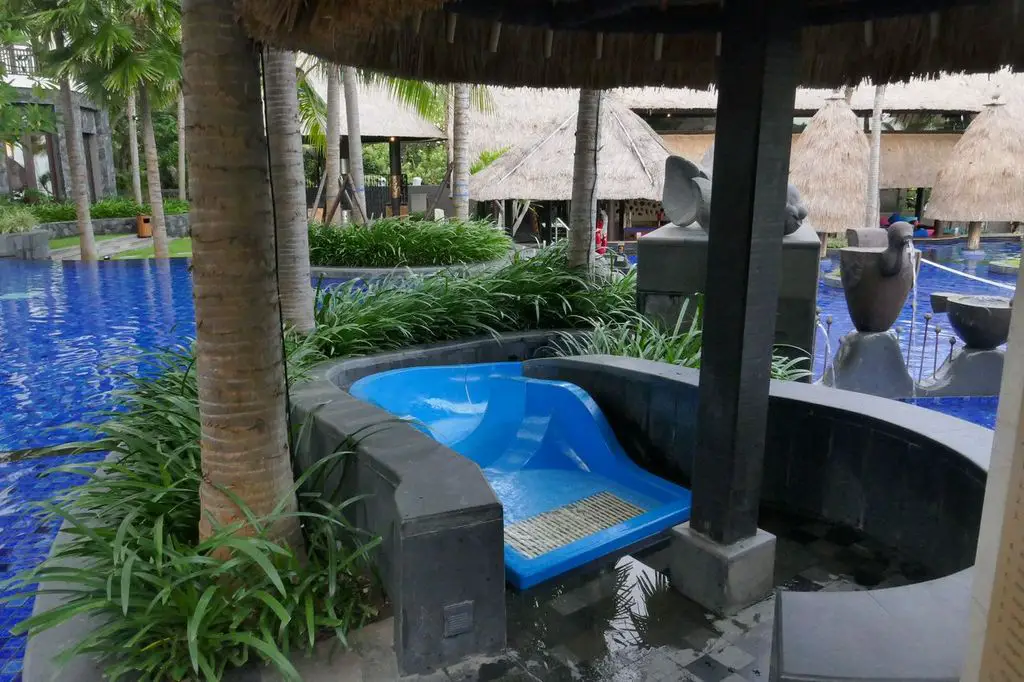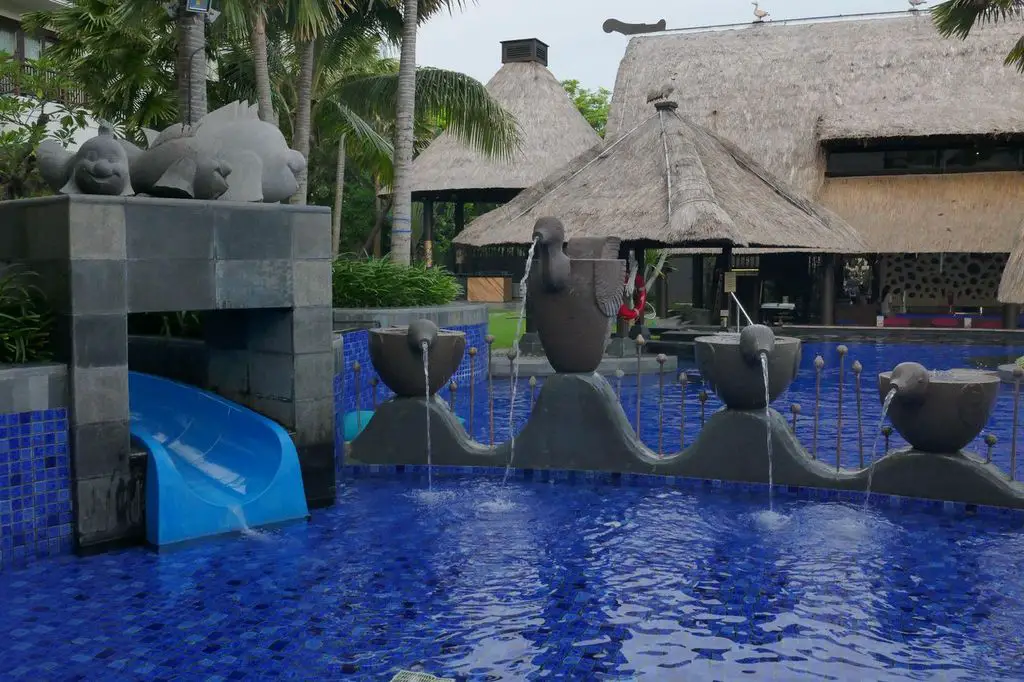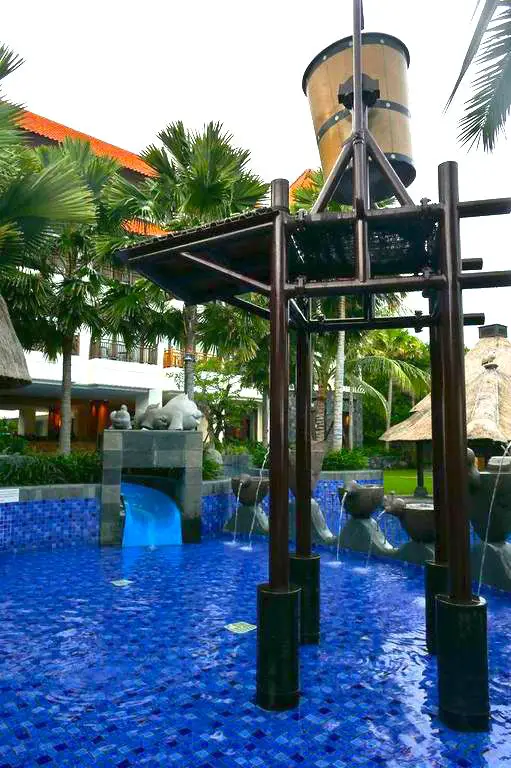 And when they had enough of all that, they could eat corn on the cob on a floating mattress or enjoy a round of any number of pool activities. My kids got heated in a competition of volleyball.
Sandcastles, kites, and dinner
Get my kids near a beach and they will be entertained for hours. The waterfront position of the Holiday Inn is a big bonus, plus they have a number of beach activities running as well. Kids can learn to fly a kite or build a sandcastle. maybe take on the staff in a soccer game. Of course, you'll find me on the sun loungers just enjoying the view and the sound of their laughter. Mind you, I did pine away for one of those romantic beach dinners they set up, wow.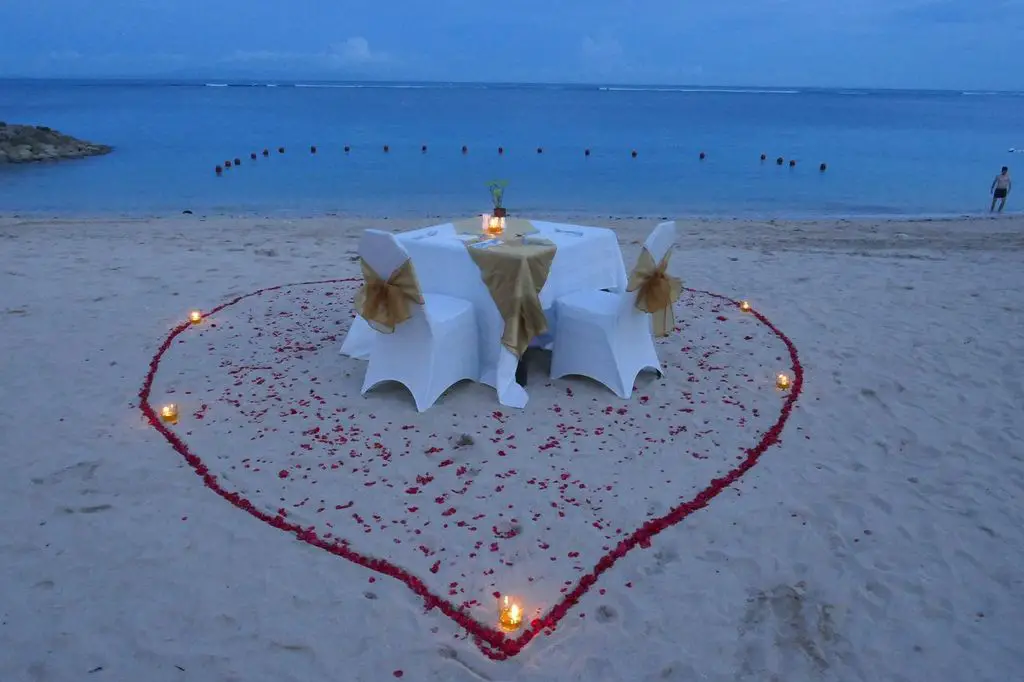 And so many other things to do
You might think by now that your holiday will be jam-packed just by the first 4 options, but the Holiday Inn just keeps on giving.
One morning we all took part in family yoga. One of my 101 things to do in Bali with kids. The views were incredible and my kids just so flexible!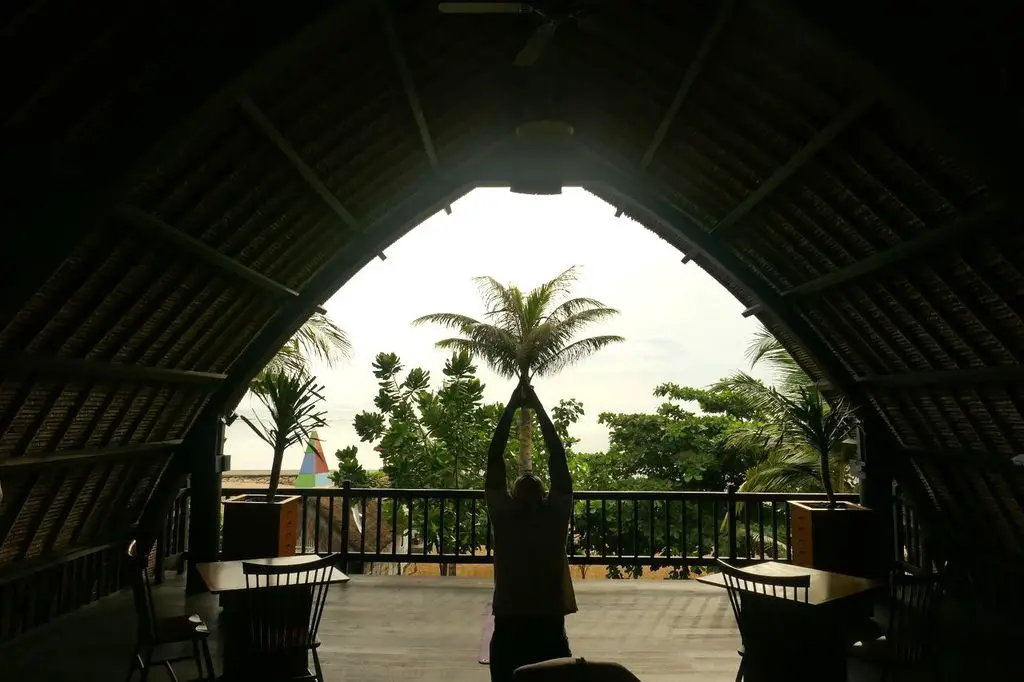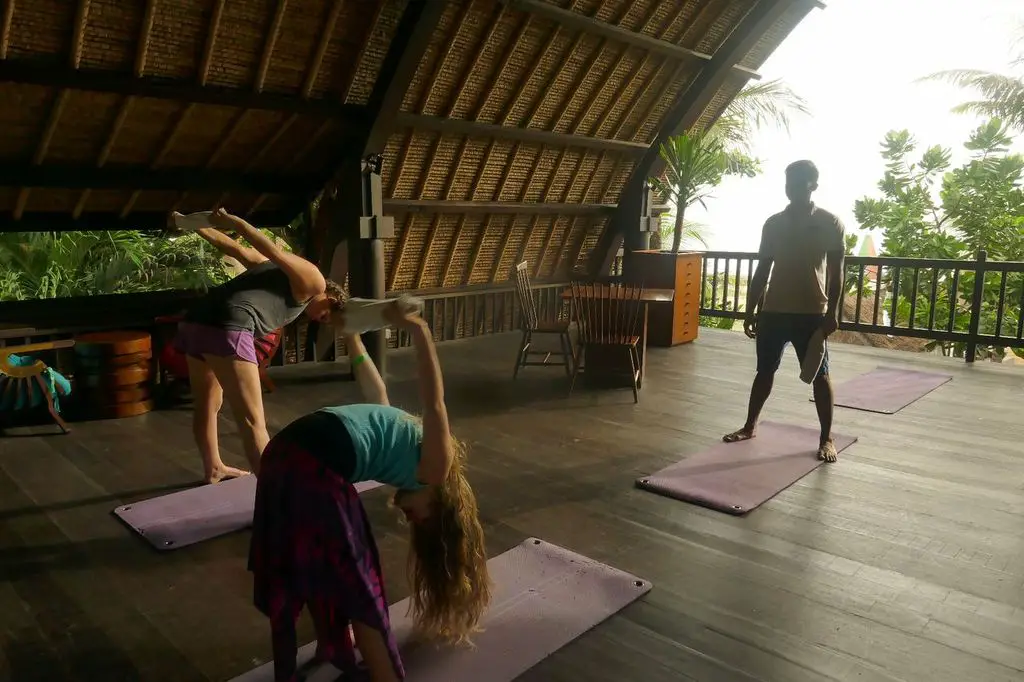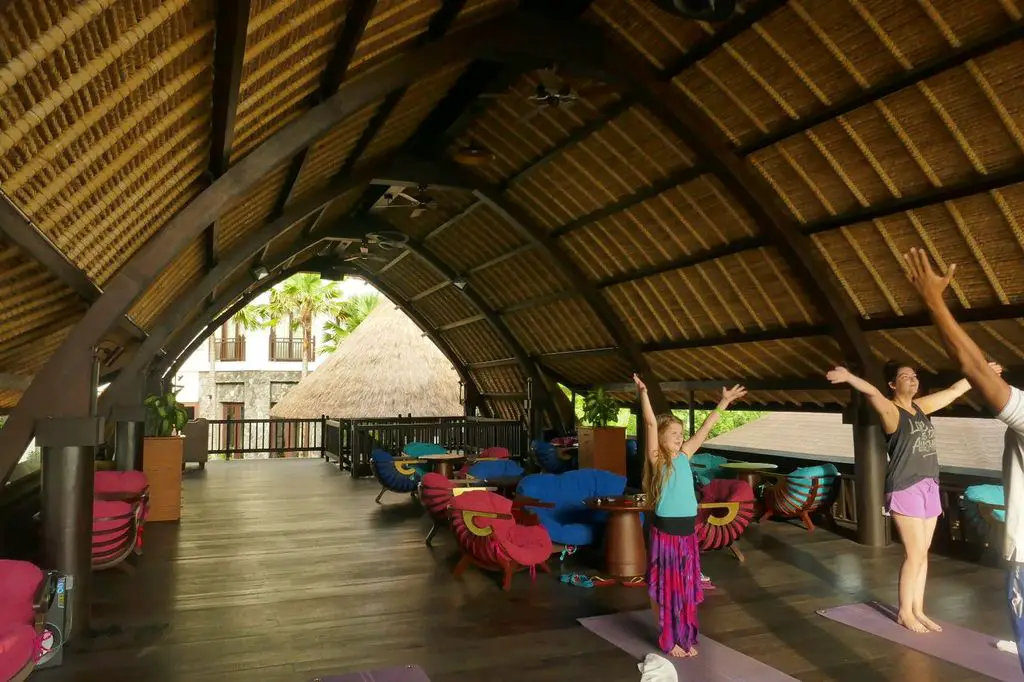 The fruit carving lesson was entertaining and my 7-year-old daughter loved the creativity she could employ in mastering the technique.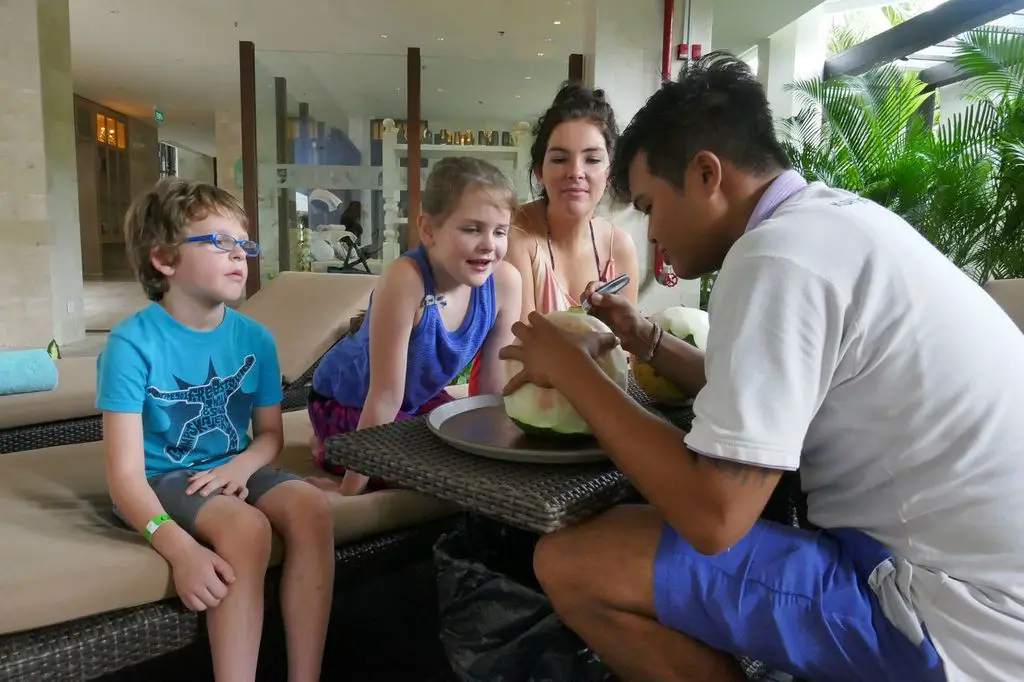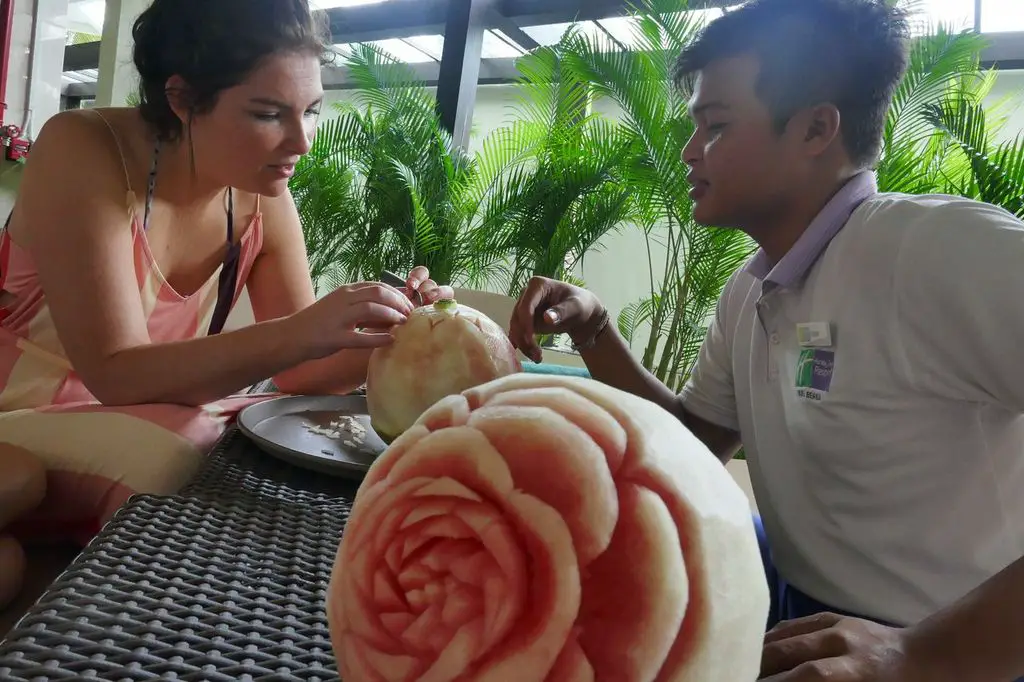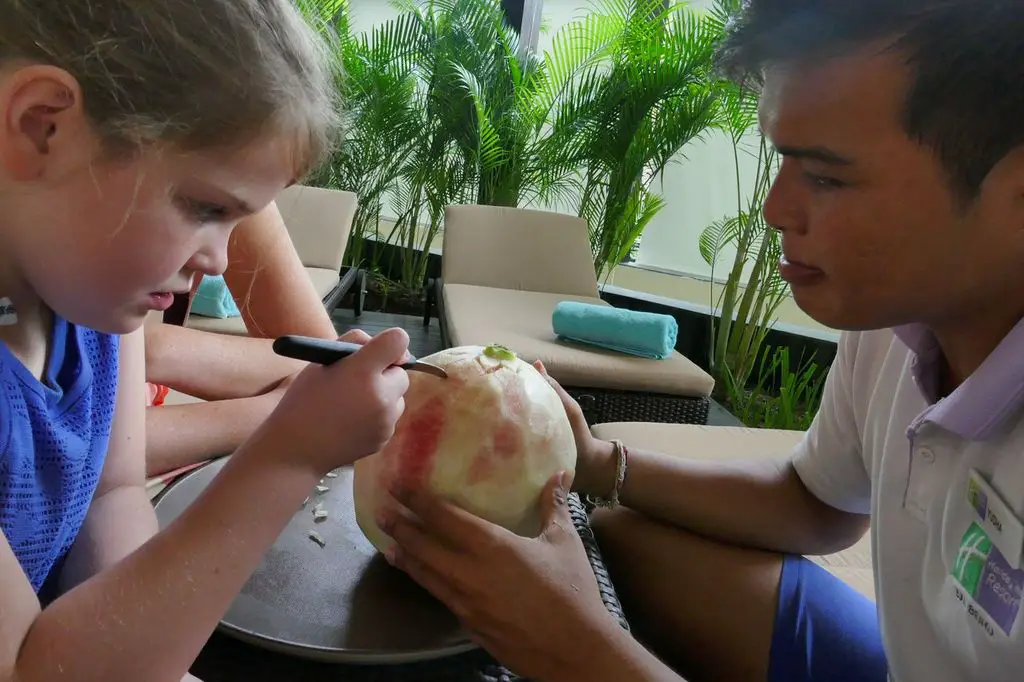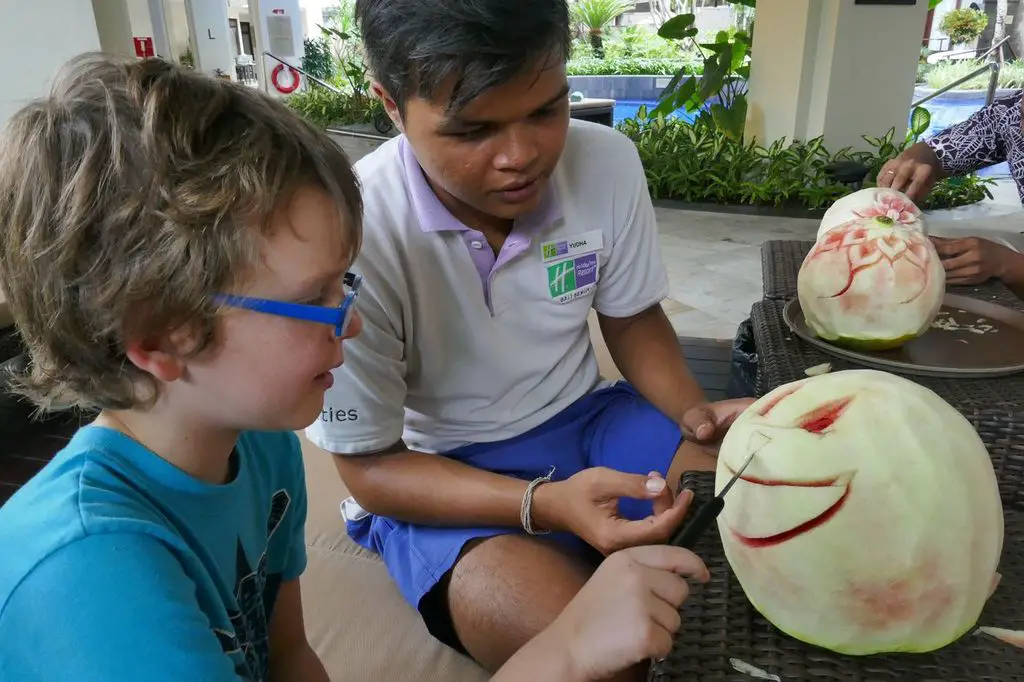 Or they had choice to head to the Games Zone for a round of pool or darts. My kids love nothing more than an air hockey battle or a Mario Kart race on the Nintendo Wii.
And while I promised this was all about the kids I have to say the activities didn't stop with them. While they were busy in the Kids Club I took on a cooking class.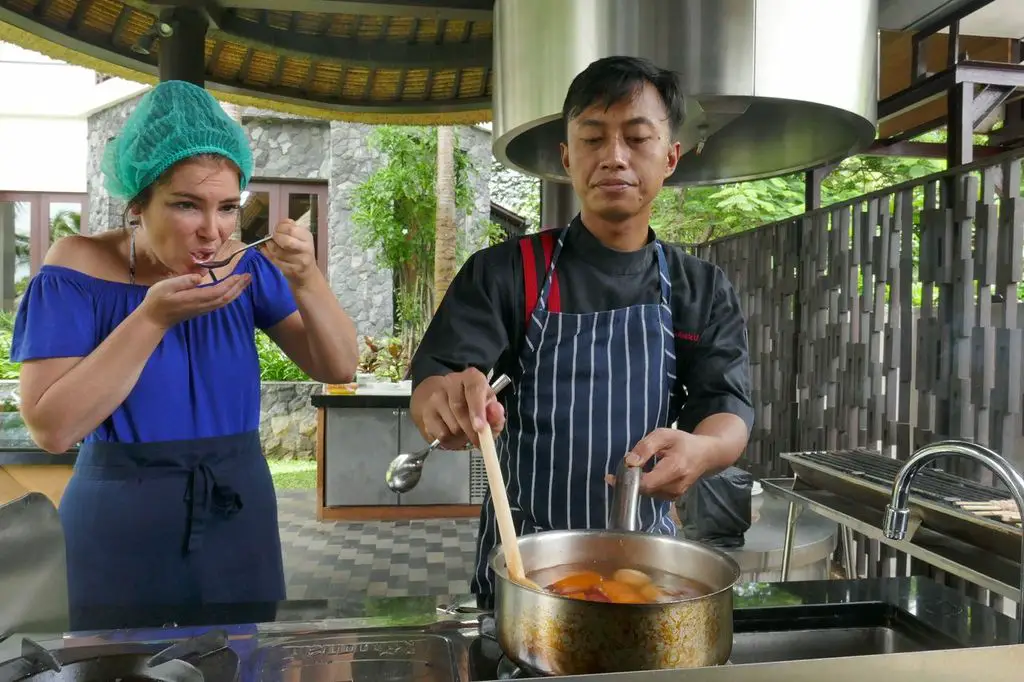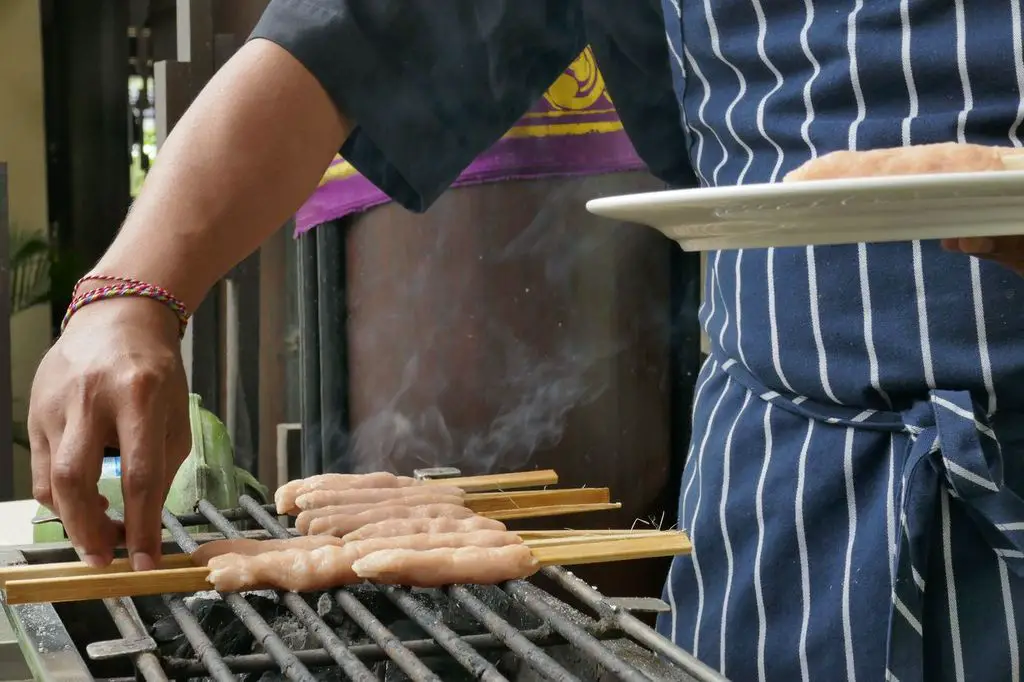 A cocktail class.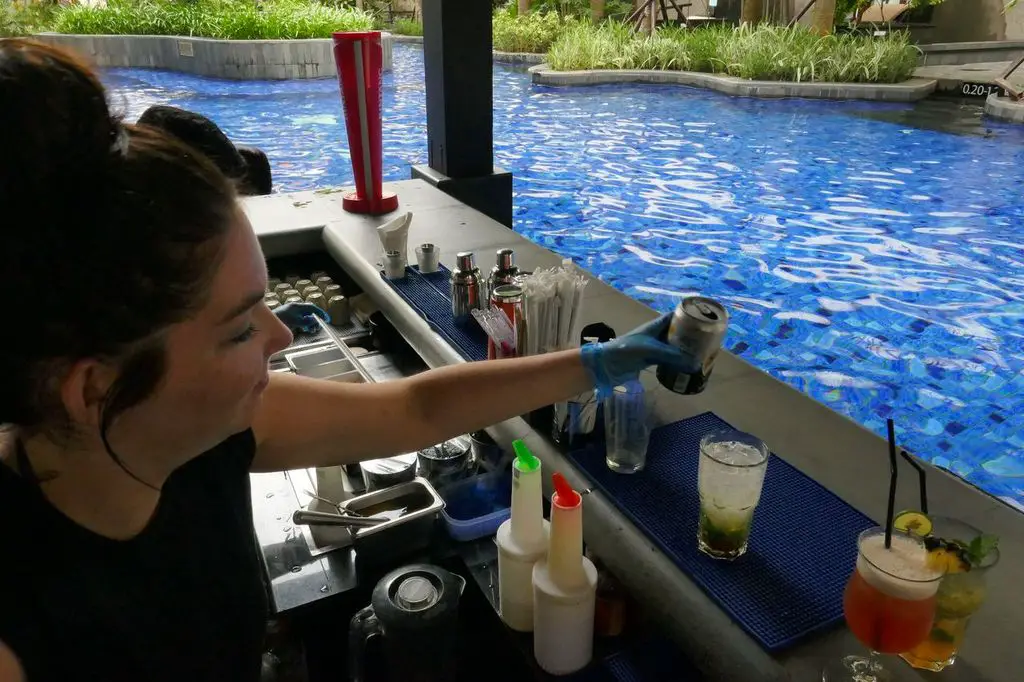 And, of course, indulged in the onsite massage facilities.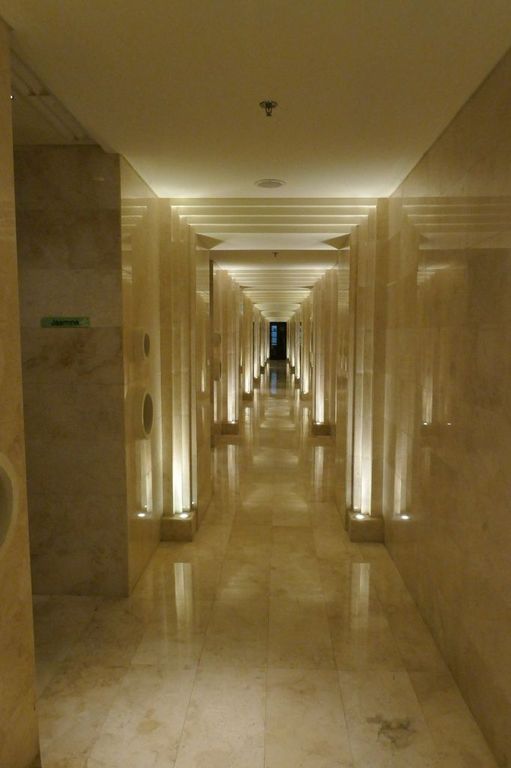 Explore With Erin Wrap Up
The efforts Holiday Inn Bali Benoa have gone through to make sure their youngest guests are happy is outstanding. I couldn't find fault. Much like the Balinese culture and their entire attitude towards children the Holiday Inn has carried it into the hotel grounds. I didn't think I'd ever get my kids to leave and now a year later they are still asking when we can go back… As long as Aunty Jane is there as well.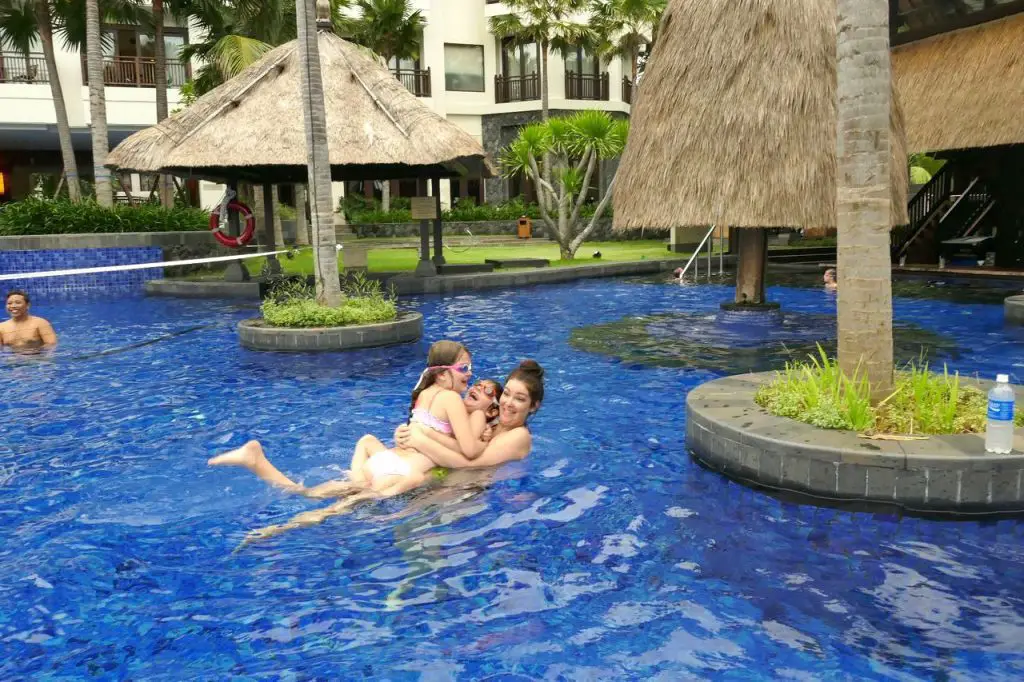 Look how easy it is to pin this!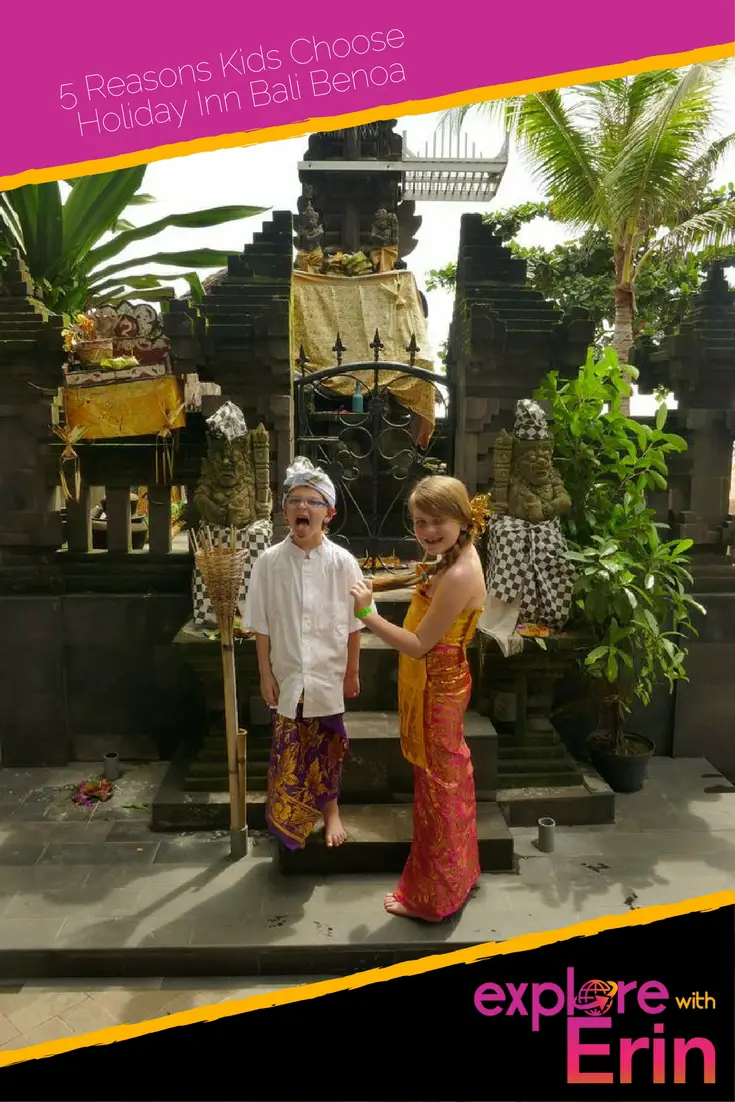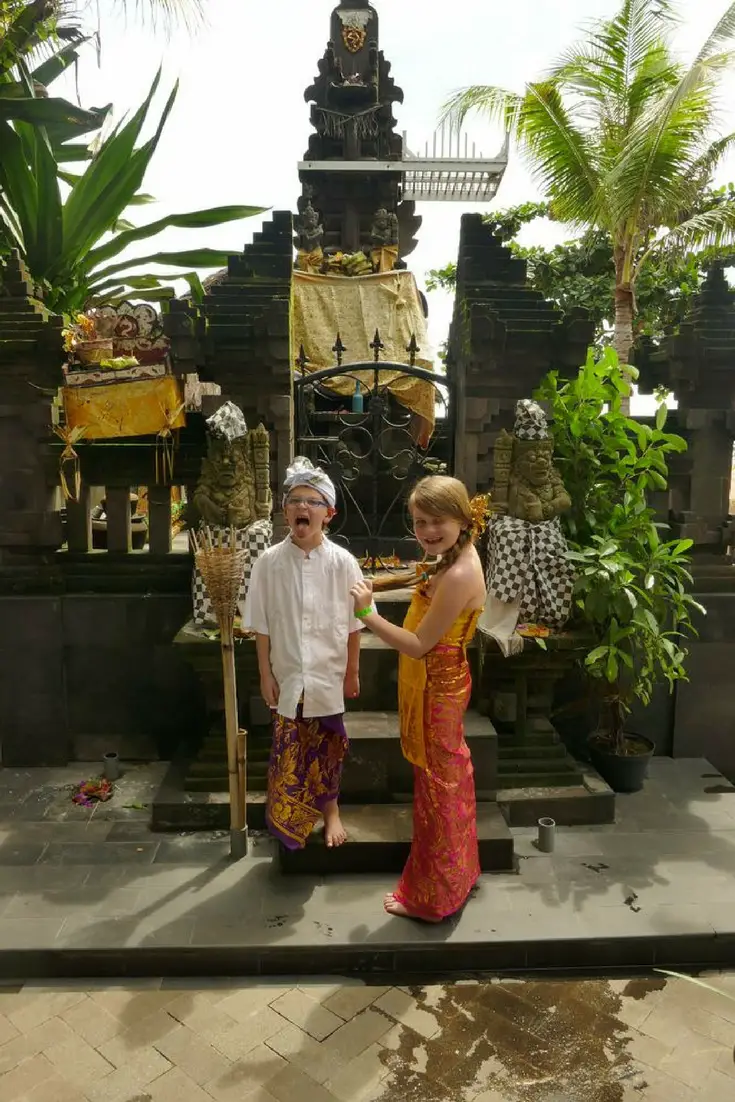 FOMO - do you have it?  Well there is no need to Fear On Missing Out here at Explore With Erin. Sign up to receive updates directly to your in box. I won't spam you, but I do promise a whole lot of awesomeness. What are you waiting for? Join Me!