Welcome to the vibrant and captivating city of Istanbul, where East seamlessly meets West, and centuries of history converge with modern marvels.
Nestled at the crossroads of Europe and Asia, this enchanting metropolis offers a wealth of experiences that will leave you awe-inspired. From architectural wonders that stand as testaments to its rich heritage to bustling bazaars teeming with exotic treasures, Istanbul beckons travelers with its unique blend of cultures, flavors, and captivating sights.
If you have a layover or 24 hours in Istanbul Turkey, and need an Istanbul itinerary that has you eat all the things and do all the things then check out these top 10 things to do in Istanbul in 24 hours.
Embark on a journey with me as I unveil the must-do experiences in Istanbul, revealing the city's hidden gems and inviting you to immerse yourself in its timeless allure.
Hosgeldeniz to our Istanbul travel guide.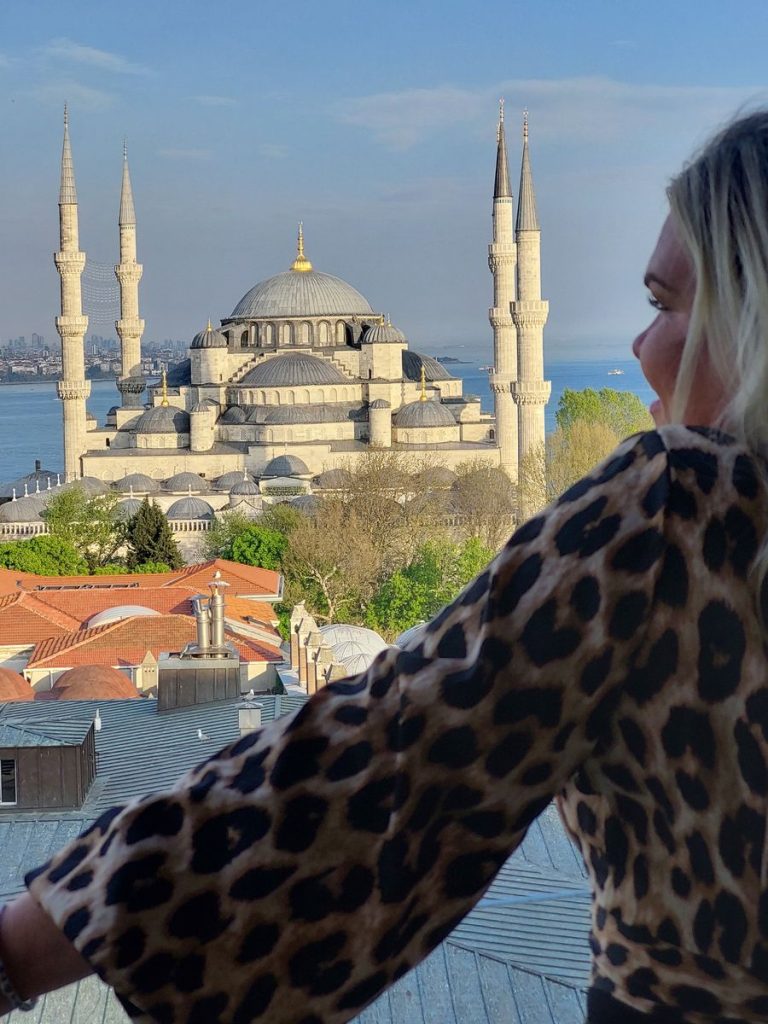 1. Eat Your Heart Out On An Istanbul Food Tour
I've taken food tours and I've led food tours through Istanbul and it's a great location to try the best Istanbul food and cuisine. It's also a great way to do an Istanbul city tour at the same time.
My personal recommendations for Turkish cuisine in Istanbul are:
Corba (Soup) at Erol Lokantası
Pide at Hocapasa Pidecisi
Baklava & Turkish Delight at Hafiz Mustafa 1864 – don't forget a Turkish coffee or salep
2. Visit The Best Istanbul Attraction, The Hagia Sophia
Get tickets for a Blue Mosque & Hagia Sophia small group tour
Once Turkey's most popular tourist destination in 2015 and 2019, the Hagia Sophia holds a significant place in history.
Originally constructed in 537 by Roman emperor Justinian I as a Christian cathedral, it stood as the largest Christian church until Constantinople fell in 1453, leading to its conversion into a mosque.
From 1935 to 2020, it served as a museum but has since been reconverted into a mosque, sparking mixed reactions. Despite its new status, visitors are still welcome to explore its captivating interiors, although certain Christian wall art is now concealed.
Delve into the mesmerizing Byzantine Empire architecture as you navigate its halls, but don't forget to observe the mosque's customs—remember to remove your shoes, and women are kindly requested to cover their hair.
3. Gaze Upon The Blue Mosque
Get tickets for a Blue Mosque & Hagia Sophia small group tour
Situated in Istanbul's Sultanahmet Square, the Sultan Ahmed Mosque, more commonly known as the Blue Mosque, stands as another cherished Istanbul attraction drawing countless visitors. Its renowned nickname originates from the magnificent blue tiles adorning the interior walls, which create a mesmerizing atmosphere.
As dusk falls, the mosque transforms into a breathtaking spectacle, as lights illuminate its five main domes, six minarets, and eight secondary domes, casting a serene blue glow.
Constructed between 1609 and 1616 during the reign of Ahmed I, this Ottoman-era masterpiece not only serves as a place of worship but also houses the tomb of its founder, a madrasa, and a hospice. Recognized as a UNESCO World Heritage Site, the Blue Mosque stands proudly as a testament to Istanbul's rich heritage.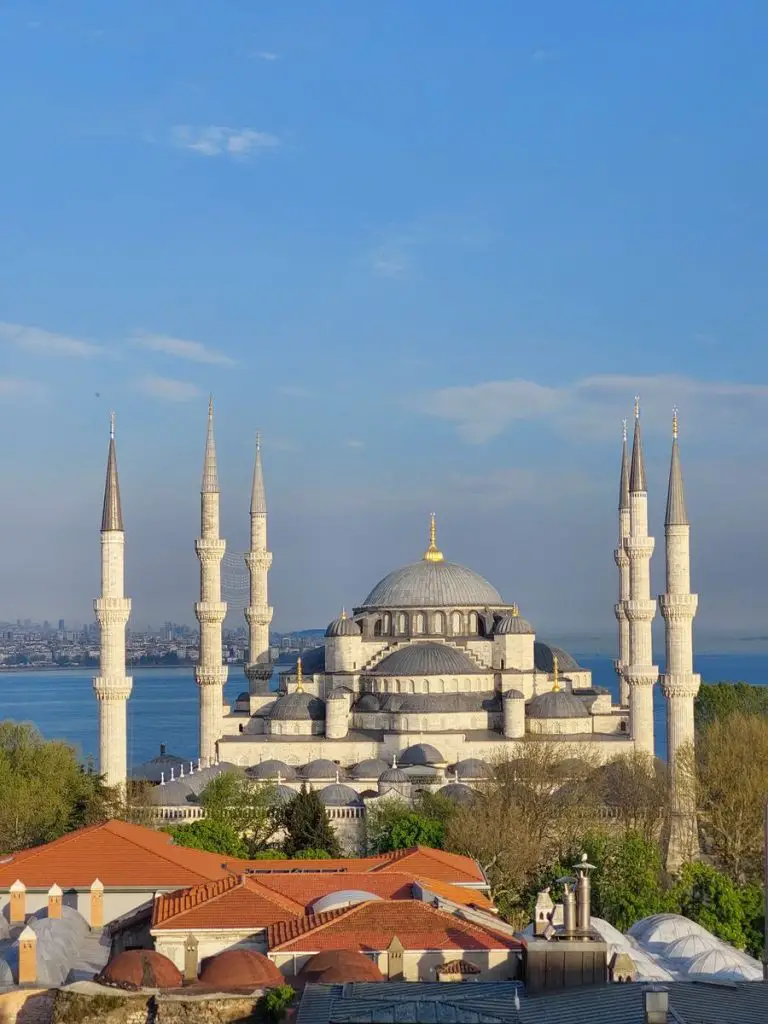 Conveniently located across from the Hagia Sophia, visitors often explore both attractions in one visit. However, do note that the Blue Mosque temporarily closes for approximately 90 minutes during prayer times, so plan your visit accordingly.
As with the Hagia Sophia, it is customary to remove your shoes upon entering, and women are kindly requested to cover their hair. Complimentary scarves are available at the entrance, ensuring everyone can experience the mosque's splendor. Additionally, it is advised to dress modestly, covering your legs as well.
Immerse yourself in the harmonious blend of art and spirituality that awaits within the walls of the Blue Mosque.
4. Enjoy Entertainment On A Bosphorus Dinner Cruise
Incredibly touristy but must be done, if only to witness the many beautiful and quirky styles of dance in Turkiye and Istanbul nightlife.
On the opening night of our 2023 Tempting Turkiye Girls Trip, we booked through Acetes Travel for all the girls to do an all-inclusive Bosphorus dinner cruise, including alcohol and dancing. Great opening night, right?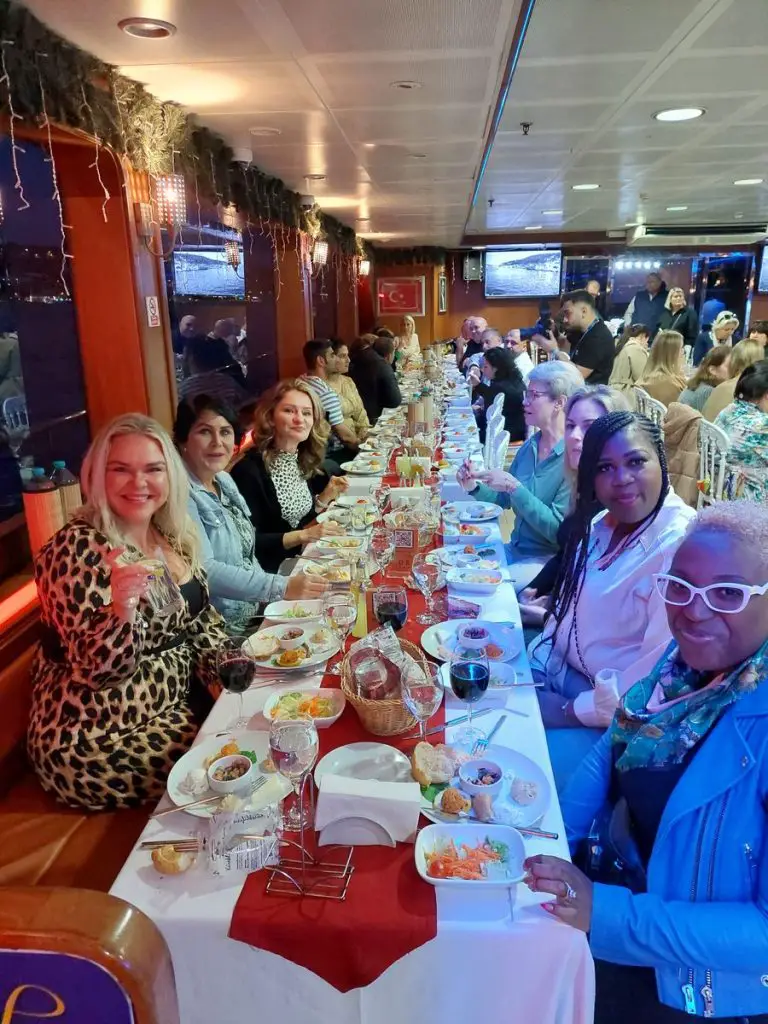 The girls loved it. It came with a three-course Turkish meal, unlimited alcoholic and non-alcoholic drinks, and entertainment.
We got to see the famous Mevlevis, also known as the "whirling dervishes" spin and spin until even I was dizzy. There were group dancers, a belly dancer, and some giant heads dancing as well. How we laughed.
We ended the night dancing the night away and I couldn't believe 3 hours had passed. A great night for friends and family in Istanbul.
5. Climb Galata Tower
The Galata Tower is an old Genoese tower that was built as a watchtower at the highest point of the (lost) Walls of Galata. Istanbul's historical sites like this usually turn into a museum and the Galata tour is no different. But this tower also offers grand views over all of Istanbul.
For the best photo head down one of the cobbled streets.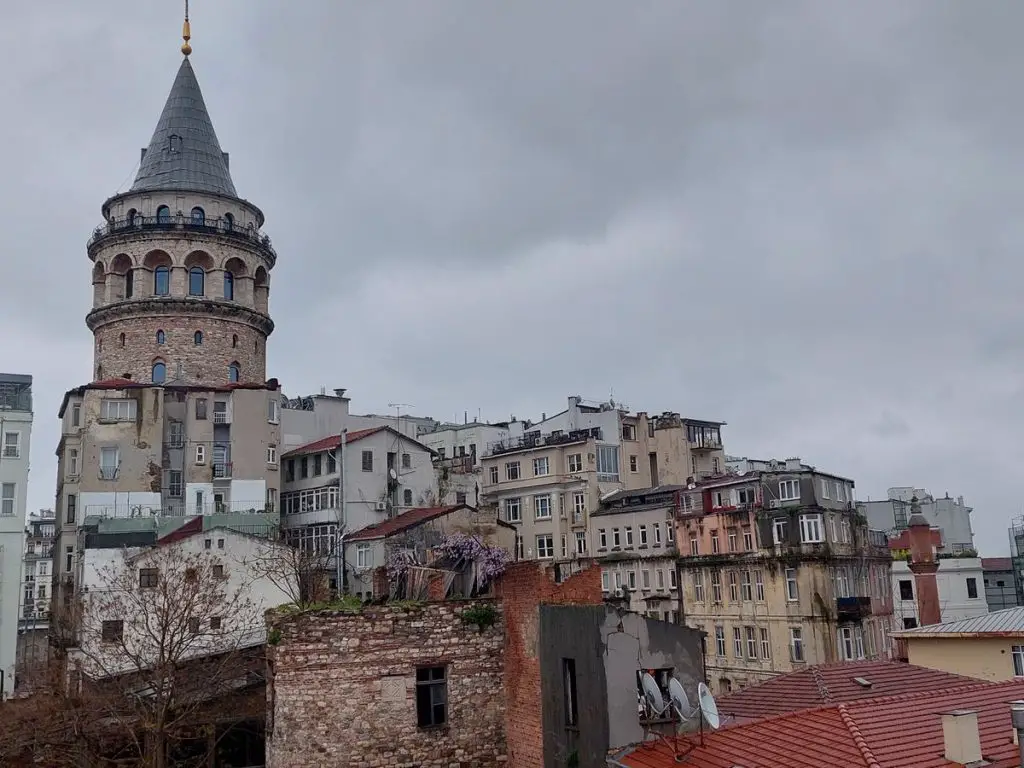 6. Take A Fener & Balat Tour
Seeking a fresh perspective on Istanbul during my return visit, I was enticed by Eda from Istanbulite to embark on a captivating walking tour of Fener Balat, an area I believe to be the city's most vibrant and colorful.
Once home to the Greek and Jewish communities of Constantinople, these neighborhoods exude a captivating charm.
Remember to don a pair of comfortable travel shoes, like my trusted Skechers, to wander through the captivating streets of Fener Balat. Make sure you check out Chora Church.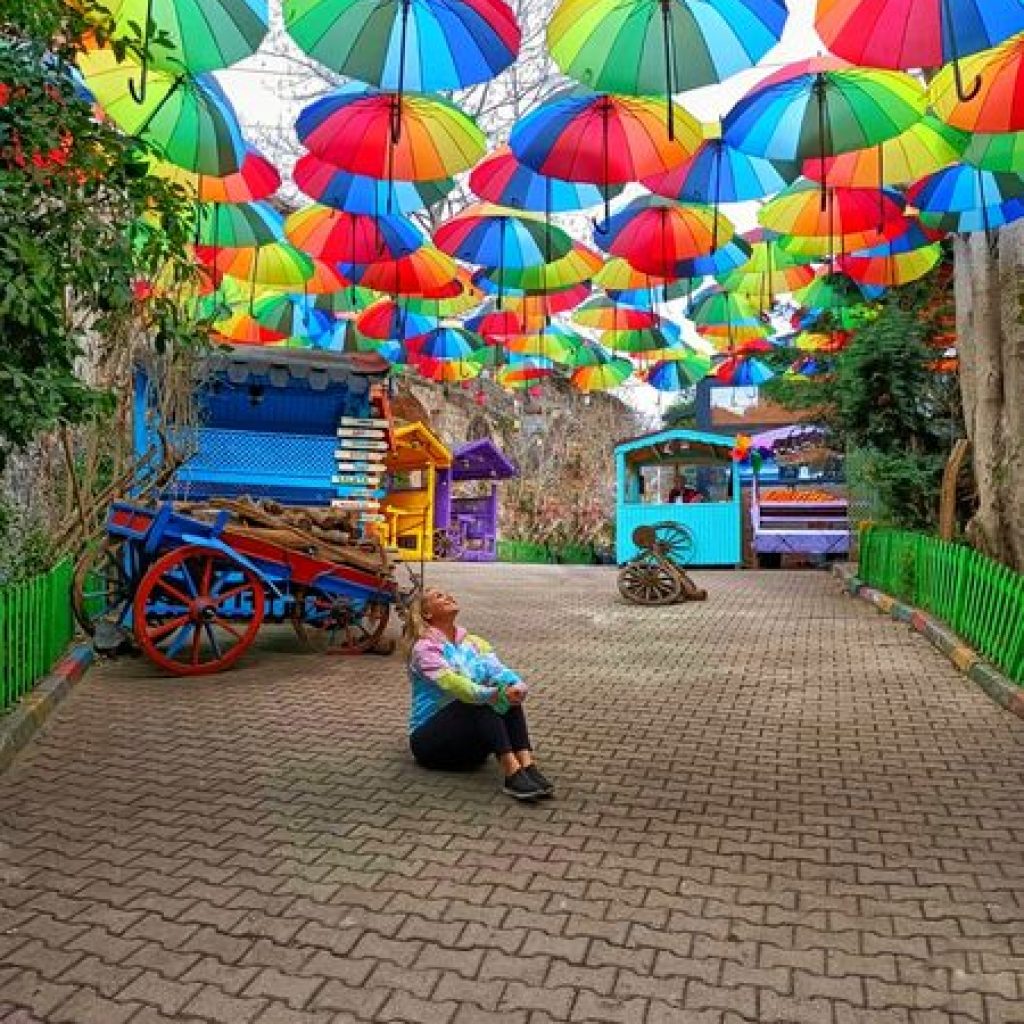 7. Indulge in The Culinary Delight of Çırağan Palace's
When it comes to satisfying your taste buds, Çırağan Palace stands out as a former Ottoman palace that has been transformed into a luxurious five-star hotel under the prestigious Kempinski Hotels chain.
Nestled along the European shoreline of the Bosphorus, this architectural gem was meticulously constructed between 1863 and 1867.
We visited the famous Palace Brunch. Whether you're a connoisseur of fine flavors or seeking a healthy variety, this brunch will surely satisfy your cravings and leave you in awe. Read our full review here.
8. Immerse Yourself in the Marvels of the Grand Bazaar: The World's Oldest Shopping Mall
For those who have a fondness for markets, there is one that reigns supreme above all others. Known as Kapalıçarşı in Turkish, the Grand Bazaar holds the prestigious title of being the largest covered market in the entire world. Spanning an impressive 30,700 square meters, it boasts over 4,000 shops intricately woven through 61 covered streets.
Nestled within the walls of Istanbul's historic district of Fatih, near the renowned Topkapi Palace, the Grand Bazaar dates back to the 15th Century Ottoman period and is revered as the world's first shopping mall.
As you step into its vibrant atmosphere, a world of treasures unravels before your eyes. From dazzling jewelry to exquisite silk, from intricate ceramics to gleaming copperware, and from fine leather goods to tantalizing food and souvenirs, the Grand Bazaar offers an endless array of goods to explore.
But this market is more than just a place to shop; it is a cultural experience that invites you to connect with local traders. Engage in conversations as you savor a cup of traditional Turkish tea, a favorite amongst the shopkeepers.
Immerse yourself in the mesmerizing sights and sounds of the Grand Bazaar. Stand amidst the vibrant hustle and bustle, and observe the crowd swirling around you, while shopkeepers passionately call out to showcase their offerings. Witness the occasional scooter weaving through the pedestrians, the Turkish Delight glistening in the sun, and the radiant lanterns casting a magical glow from every corner.
While I ventured into the market with only Turkish delight in hand, I found myself captivated for hours, wandering through its streets and marveling at the diverse businesses. Whether you choose to make purchases or simply indulge in window shopping, a visit to the Grand Bazaar is the best of Istanbul shopping.
9. Shop at the delicious Spice Bazaar
Don't forget to explore the neighboring Spice Bazaar, where aromatic spices and fragrant herbs await your senses.
Also known as the Egyptian Bazaar, I enjoyed this shopping experience a lot more than the smoke-filled, crowded Grand Bazaar.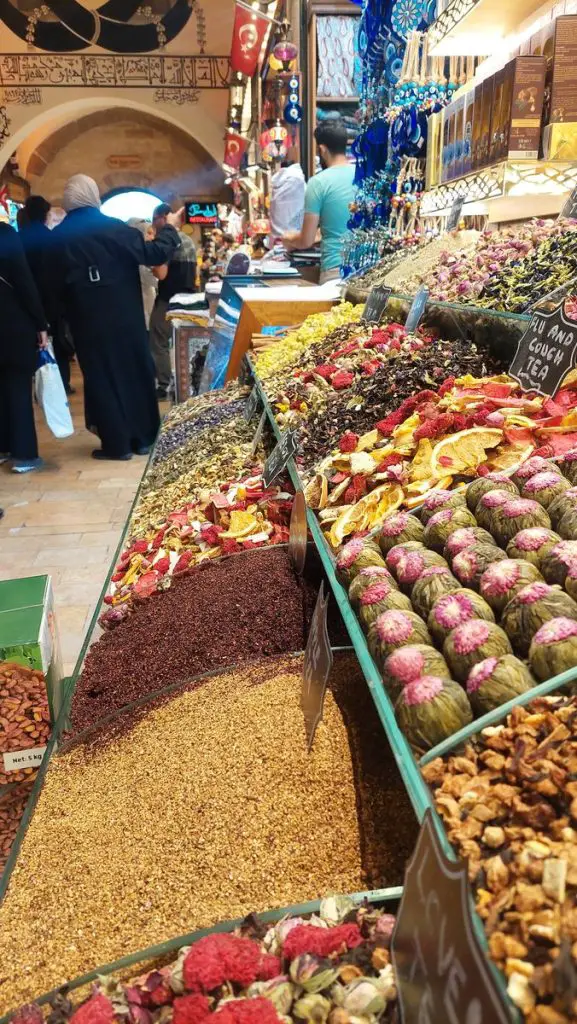 Spice Bazaar has a total of 85 shops selling spices, Turkish delights, and other sweets, jewelry, souvenirs, and dried fruits and nuts.
Tip: If you are after Turkish Delight don't forget in Istanbul you'll pay roughly 650TL per kilo. Down South in Bodrum, the price was 320TL per kilo.
10. Go Down To The Bascilica Cistern
The Basilica Cistern is the largest of several hundred ancient cisterns that lie beneath Istanbul, built in the 6th century, and one of Istanbul's landmarks.
It's an easy walk from the Hagia Sophia, only about 150 meters (490 ft). However the queue is often very large, so highly recommend booking a tour guide to get you to the group entrance. I found mine on Get Your Guide.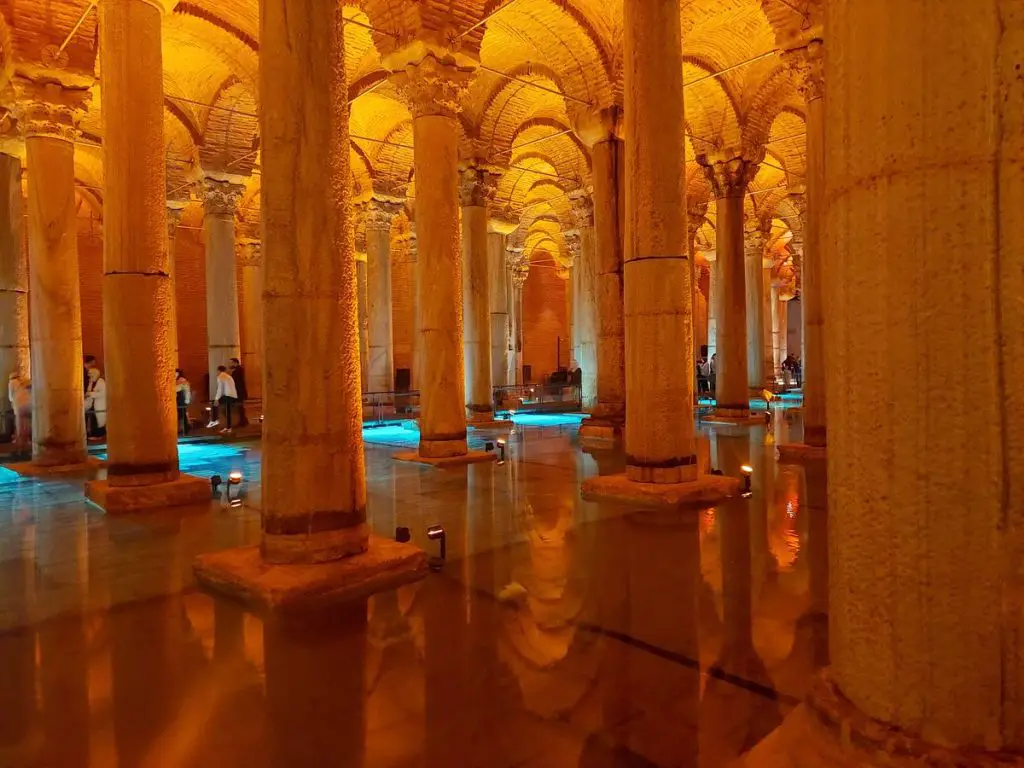 The cistern is filled with a little water, which makes the glimmering lights look quite magical inside. Recently they have also started adding modern art, as well. Keep your eye out for the upside-down Medusa head.
Check the price of the Bascilia Istanbul & Hagia Sophia Istanbul tour.
11. Try To Run Around The HippoDrome
Also known as Sultanahmet Square this square was a circus that was the sporting and social center of Constantinople, the capital of the Byzantine Empire.
Take a look around the Hippodrome for some historic pieces like the Egyptian obelisk, or grab some simit or hot chestnuts.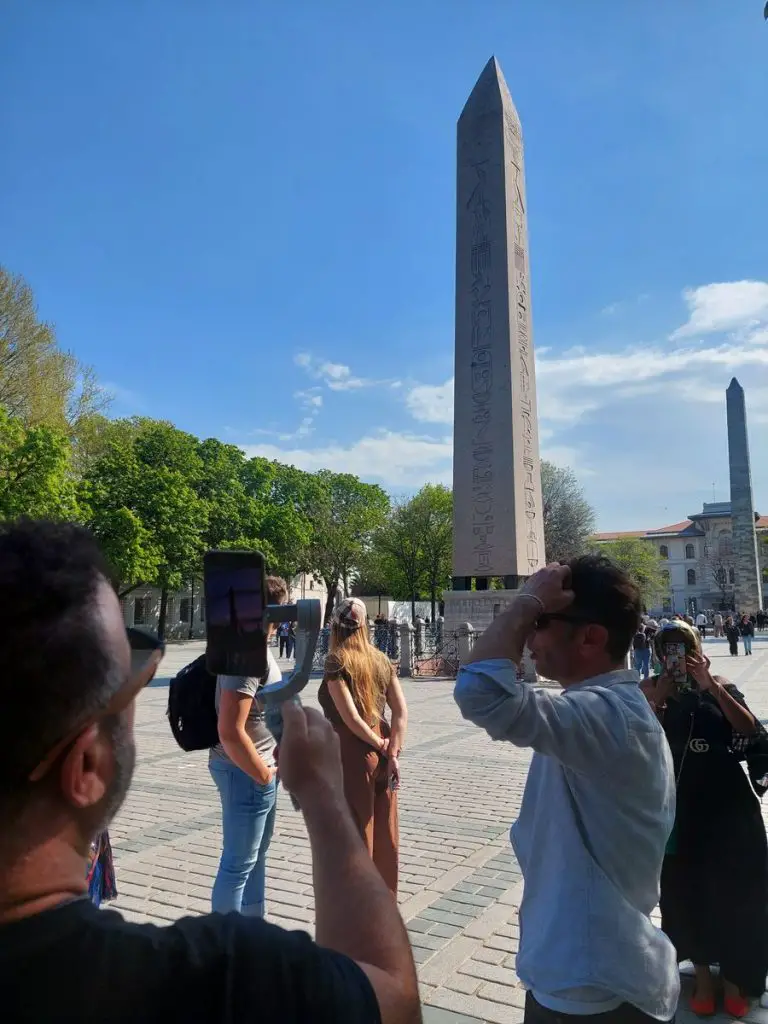 12. Chase Rooftop Visions in Istanbul
As the early days of April embraced Istanbul, my mind was filled with a vision of capturing breathtaking images from the city's rooftops. However, the weather had a different plan in mind—it was cold, and several rooftop locations were closed due to strong winds. Ahmet, grew disheartened, ready to abandon our pursuit. But I persisted, urging him, "Just one more, let's try just one more."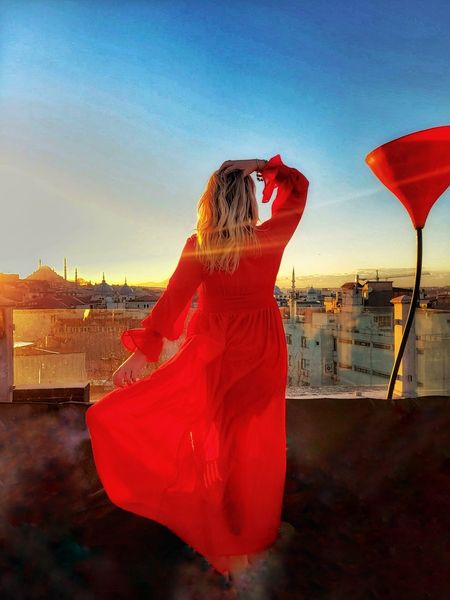 Istanbul, renowned for its walkability, presented us with a delightful opportunity. Within a mere block radius, we stumbled upon six rooftops, each holding the promise of panoramic views. Determination fueled our steps as we continued our search, despite the chilly air nipping at our skin.
And then, a stroke of luck—there it was, an open rooftop beckoning to us. Though no one else dared venture out into the cold, I couldn't resist. Braving the freezing temperatures, I stepped onto the rooftop, adorned in my dress, ready to capture the shots I had envisioned. Ahmet and I ordered drinks, finding solace in the warmth they provided. Gradually, others joined us on the rooftop, drawn by the allure of the views and the vibrant energy that filled the air.
Yes, it was undeniably cold. But at that moment, surrounded by the cityscape I had dreamt of, it was also precisely what I had imagined. The views unfolded before me, the contrast of the red dress against the backdrop creating a captivating visual tapestry.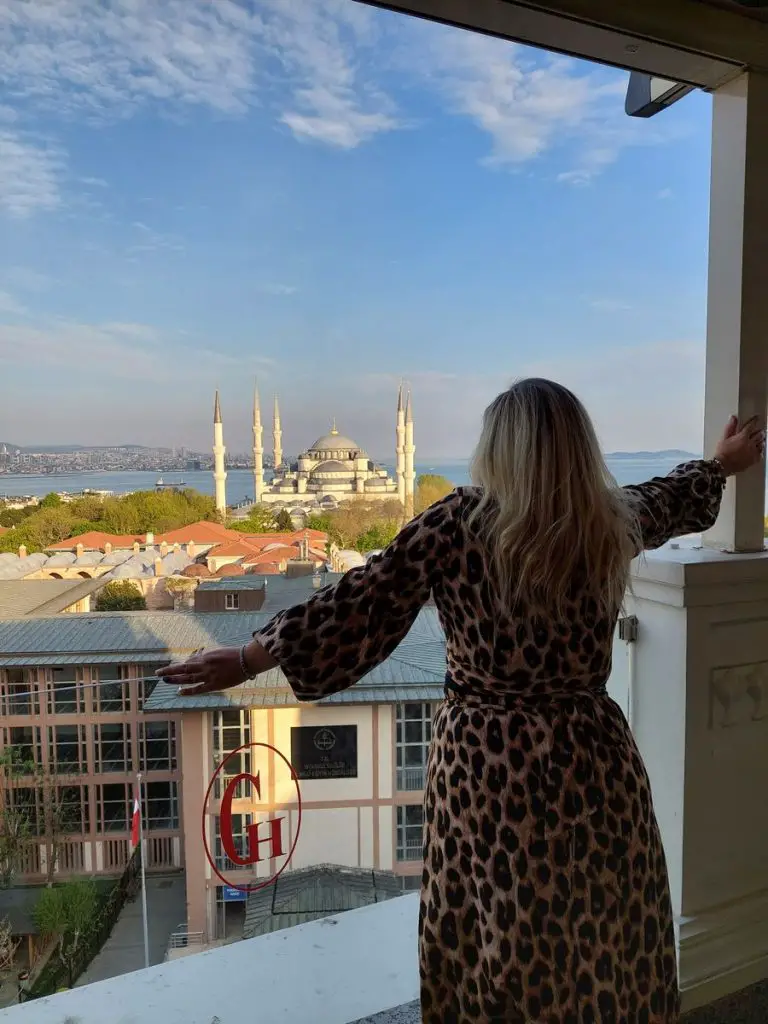 Sometimes, the pursuit of a vision requires braving the elements, embracing the chill, and venturing beyond comfort. As I stood there, freezing yet exhilarated, I knew that this experience would forever hold a special place in my memories—a testament to the beauty that can be found when one dares to chase their dreams.
Check several Rooftop Bar tours below.
13. Walk The Streets
Just walk. When you walk you'll find things to do in Istanbul you didn't even know existed. I tried hot chestnuts for the first time in my life sightseeing in Istanbul this way. I tripped on cobbled strips. I received Turkish kisses under soft moonlight. Just walk.
14. Stay In An Ancient Boutique Hotel
I've stayed in several hotels in Istanbul and each offers something special. The Eresin Crown Hotel was a luxurious hotel steeped in history and great for families. You can read more about luxury hotels in Istanbul here.
Check the price of this hotel here.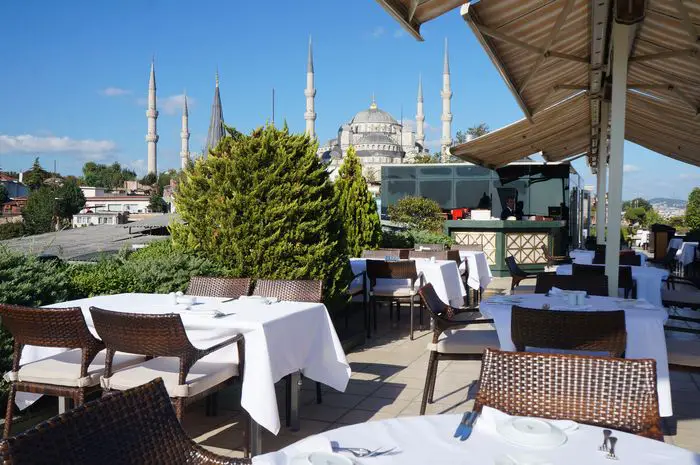 This time in Istanbul we chose to stay in a boutique hotel. Sokullu Pasa Hotel is hard to get to by car but by far the best location for feet. Only 800 meters away from the ancient Sultanahmet Square in Old City Sultanahmet district. All 24 rooms also overlook the sea. The hotel was built in 1700 and the rooms are decorated in an Ottoman Empire style. We enjoyed our stay just and not just for the location. The breakfast is delicious too.
Check the price of this hotel.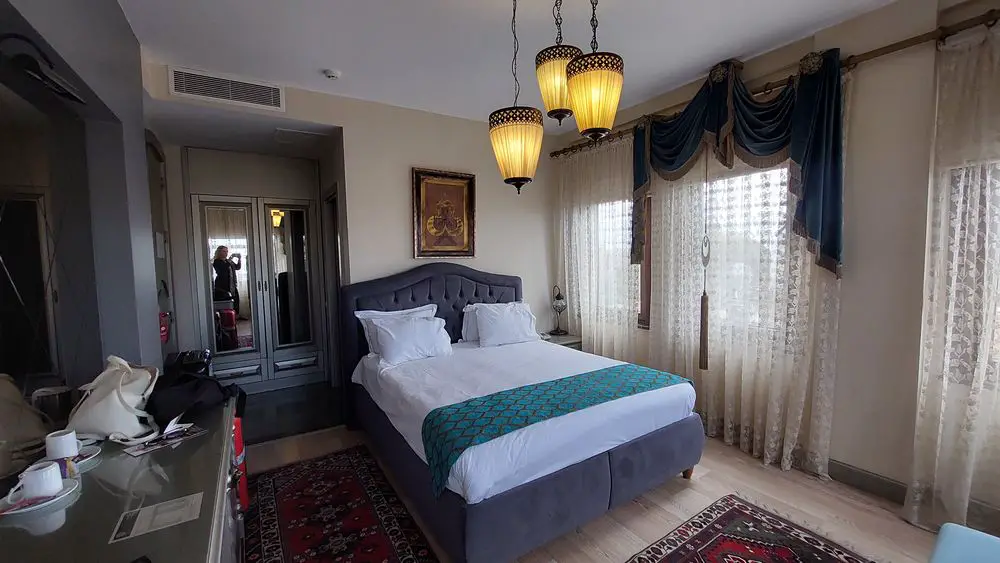 The Paris Garden Hotel was a great location and very budgeted for when we visited with the family. We got two rooms.
Check the price of this hotel.
Another Istanbul landmark would be a stay at the Deluxe Golden Horn, seconds from Sultanahmet and styled in an old Ottoman style.
Check the price of this hotel.
15. Explore the Bosphorus
The Bosphorus Strait, an enchanting body of water that serves as the boundary between Europe and Asia, finds itself nestled within the same country—Turkey.
One evening, my children and I strolled along the Galata Bridge that spanned the Bosphorus, reveling in the captivating views and the lively atmosphere. Numerous restaurant vendors vied for our attention, their enticing aromas filling the air. Eventually, we settled upon one of these establishments to satiate our hunger.
While the menu primarily showcased delectable seafood options, we managed to find a non-seafood dish that suited our family's preferences. As we savored our meal, we marveled at the bustling Istanbul sightseeing scene surrounding us.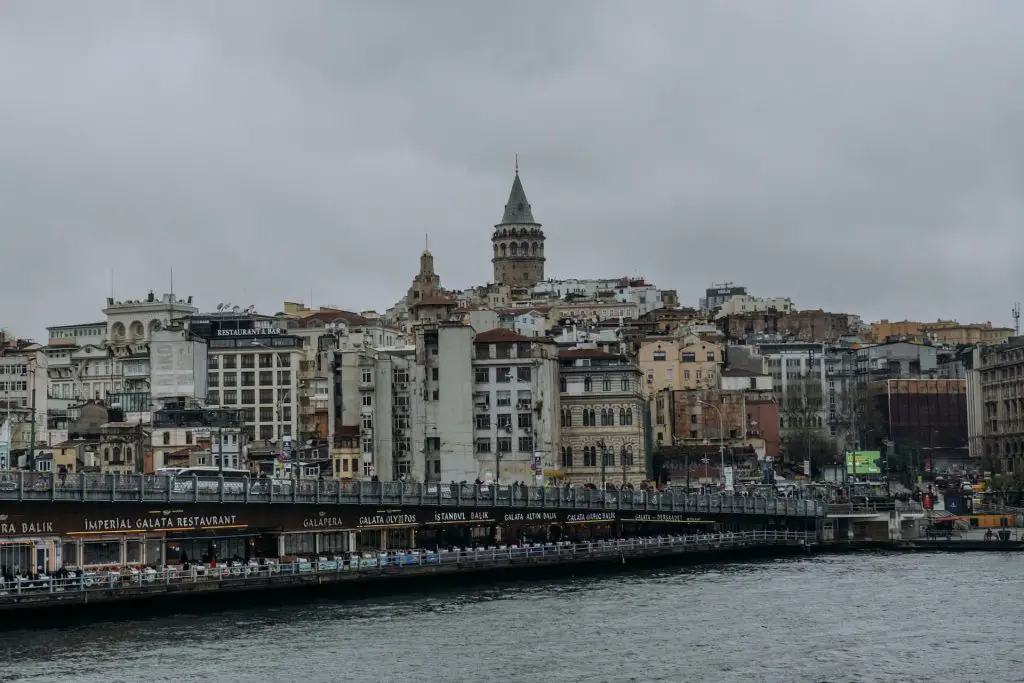 The night sky witnessed a constant ebb and flow of ferries, coming and going upon the Bosphorus waters. Locals shared with us that the official public vessels not only offered the best experience but also proved to be the most economical option. However, it is advisable to check the ferry schedules beforehand to ensure a seamless adventure. For those prone to seasickness, considering sea sickness tablets may provide relief, as they did for my partner.
While our original sailing plans were thwarted, the alternative experience along the bridge overlooking the Bosphorus opened our eyes to a vibrant and dynamic side of Istanbul. Sometimes, unexpected twists lead us to uncover hidden gems and create memories that resonate far beyond our initial intentions.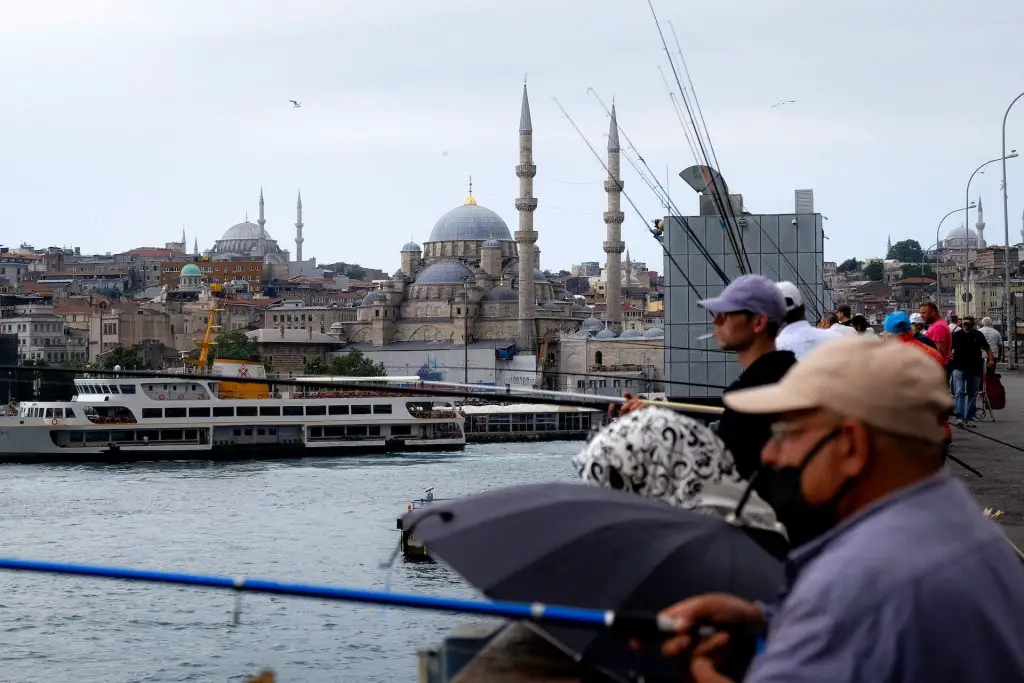 16. Be Fooled By The Dondurma Guys
Dondurma is ice cream in Turkish and the Turkiye do ice cream very differently. Not only is the ice cream different, but the men selling the ice cream will put on a whole show.
Two qualities distinguish Turkish ice cream: hard texture and resistance to melting, brought about by the inclusion of the thickening agent's salep, a flour made from the root of the early purple orchid, and mastic, a resin that imparts chewiness. It's tough and sticky, and could even be eaten with a knife and fork.
The show consist of many drops and false handing over of ice cream that had not only my kids giggling, but the grown-ass woman I brought for our trip in 2023. You'll have to try it to believe it.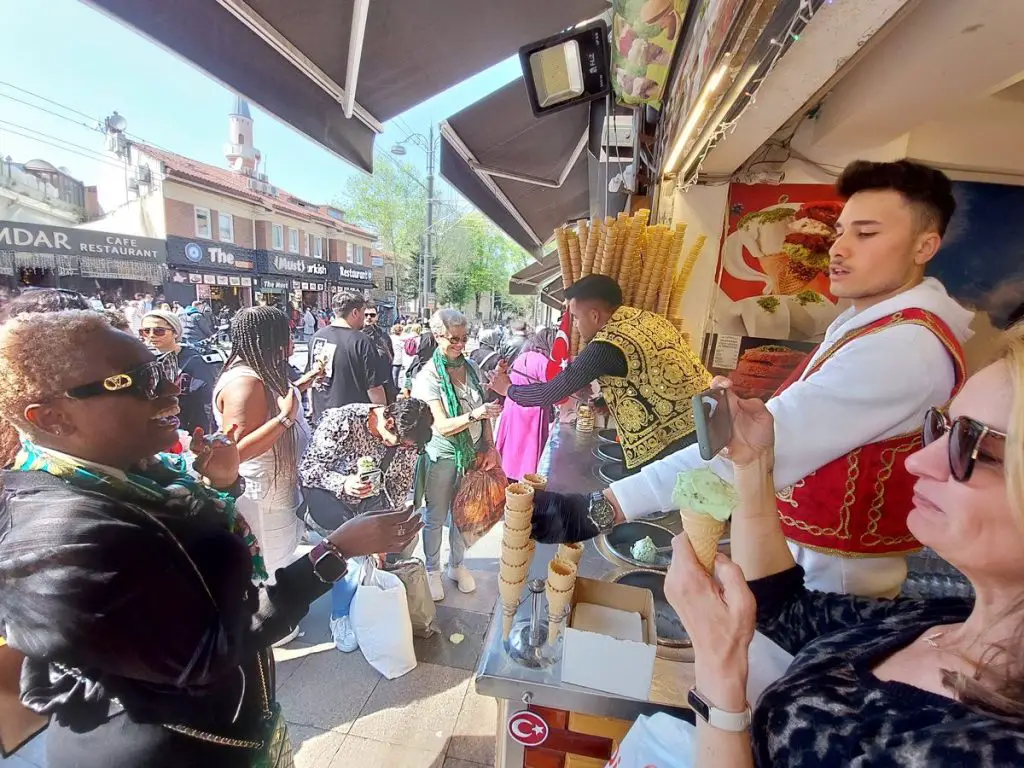 17. Shop Istanbul Nightlife at Istiklal Street in Taksim
The street is the busiest in the city, comparable to Fifth Avenue in NYC or Oxford Street in London. The long stretch has shops with every product imaginable, cafes and restaurants, live music, bars, cinemas, and much more.
Istiklal Street extends from Taksim Square to the Karakoy area, and one of the oldest trams in the city breaks through it and goes back for about a hundred years. The total length of Istiklal Street is about 1,5 km.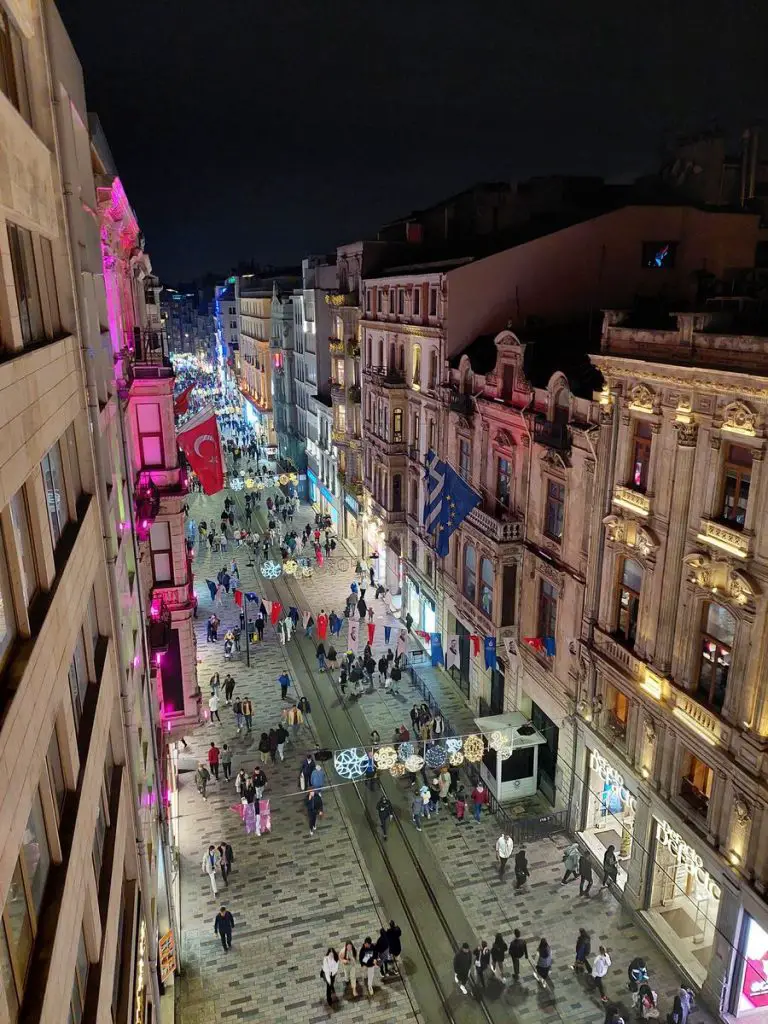 18. Take Your Time Through Topkapi Palace
You can get lost in Topkapi Palace. Built in 1459 the palace remained important right into the 17th century. After the 17th century, Topkapı gradually lost its importance. The sultans of that period preferred to spend more time in their new palaces along the Bosphorus.
In 1856 Sultan Abdulmejid I decided to move the court to the newly built Dolmabahçe Palace. And after the end of the Ottoman Empire in 1923, the government transformed Topkapı into a museum.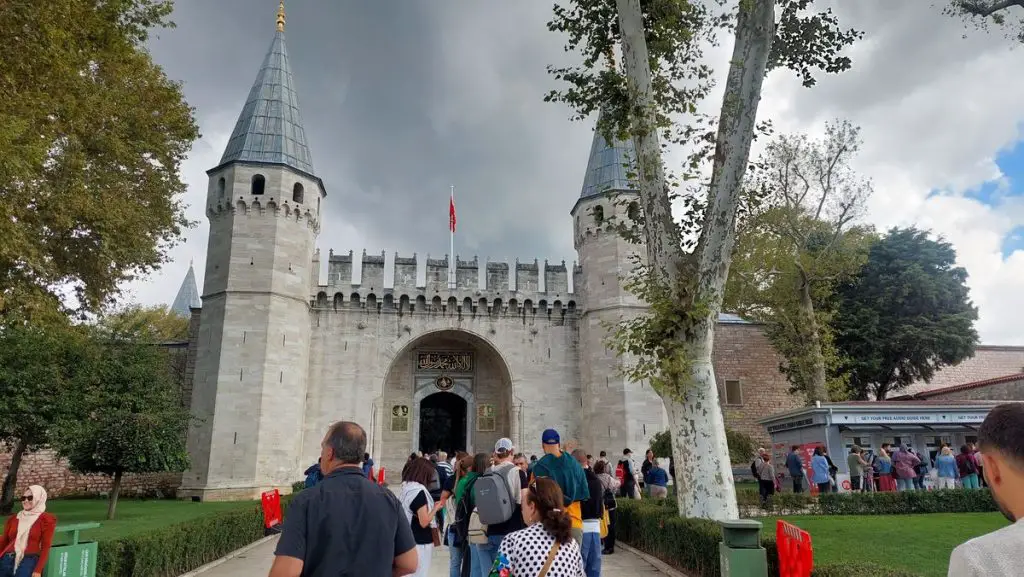 The palace complex consists of four main courtyards and many smaller buildings. Female members of the Sultan's family lived in the harem, which can also be explored for an extra price.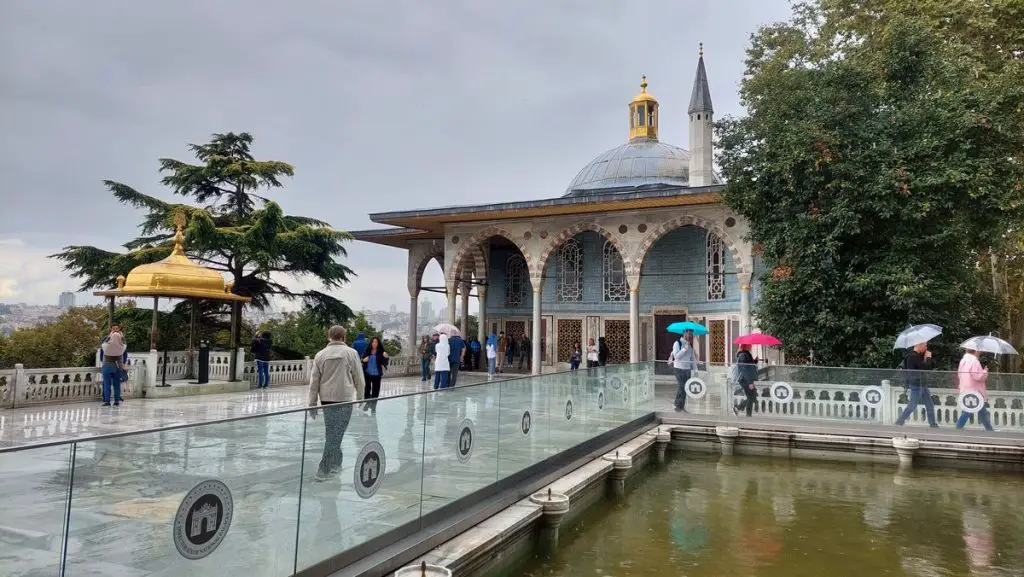 The day we visited it was wet and rainy so moving between the buildings was not much fun, but inside those great big halls, imagining sultans of old was magnificent.
19. Get Superclean in a Turkish Hammam
I've never felt as clean as I did after a Turkish bath. Spend some time in the hot spring water pool, before being placed on a stone rock and foamed up and scrubbed until you squeak.
There are some 237 Istanbul hammams; about 60 are still used today. Probably the most famous is Aya Sofya Hurrem Sultan Hamam.
It was in use and operational until 1910. For a while, it was shut until renovations had it reopen in 2011.
14,000 square feet of Marmara marble and 160 gold-coated bath bowls means it's a very opulent Istanbul experience.
20. Take the kids to the Istanbul Aquarium
If you're visiting Istnabul with kids, or you just love aquariums then Istnabul Aquarium is for you.
It is an official member of the World Association of Zoos and Aquariums. Each tank has architectural characteristics that focus on each area's cultural, geographical, and historical aspects. The six thematic areas focus on the different types of fish species.
The site is 5 km from Atatürk International Airport and holds a leading position among worldwide aquariums thanks to its volume, variety of fish species, and activities on travel routes.
Also, check out the Istanbul toy museum too!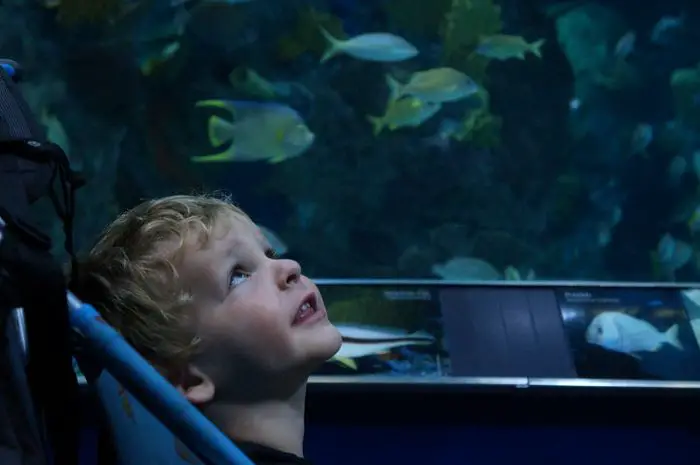 Where should you be based in Istanbul?
I've stayed near Istanbul airport, near the Mall of Istanbul, at Galata Tower, and in Sultanahmet.
My favorite location to stay in would have to be Sultanahmet.
Is one day enough for Istanbul?
Never. This is my second visit and while you can see a nice chunk of history and beauty 1 day will never be enough.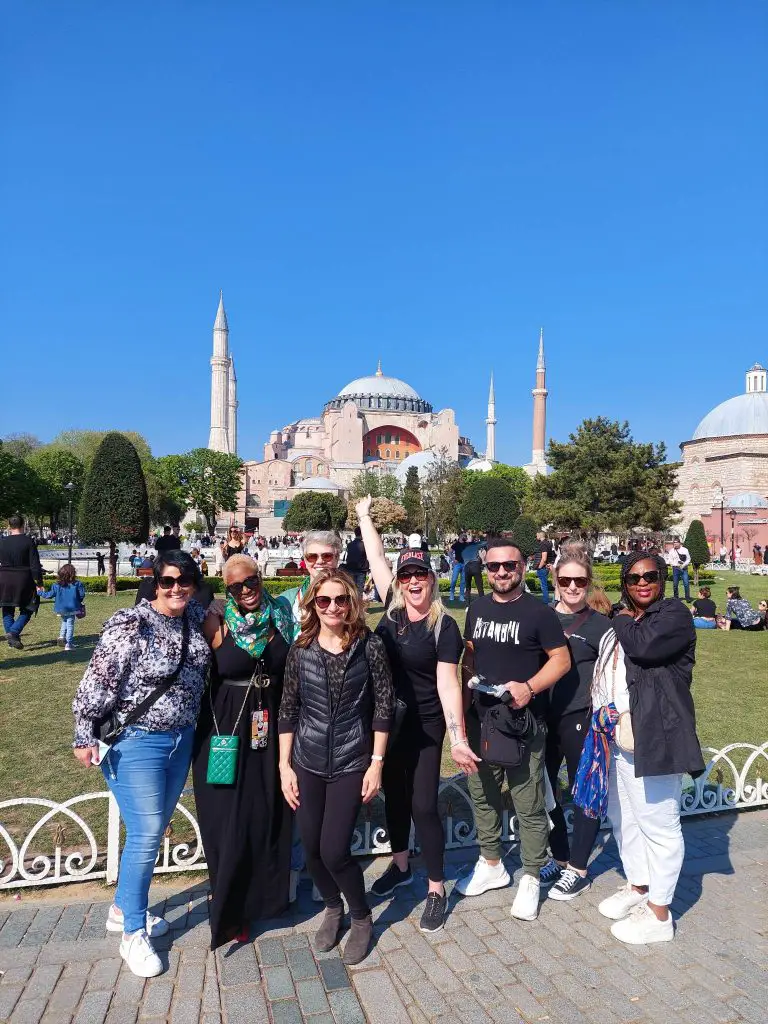 What money is best to use in Turkey?
Turkiye uses Turkish Lira.
Is Istanbul expensive for tourists?
Accommodation can be the biggest expense, but there are still some good value ones hidden around. Currently, the Turkish lira is 1 to $1AUD so we found Istanbul great value for money.
I'd avoid the Istanbul tourist pass, I've heard it's impossible to get value from it unless you stay awake for 48 hours straight. Not to be confused with the Museum Pass, which we love.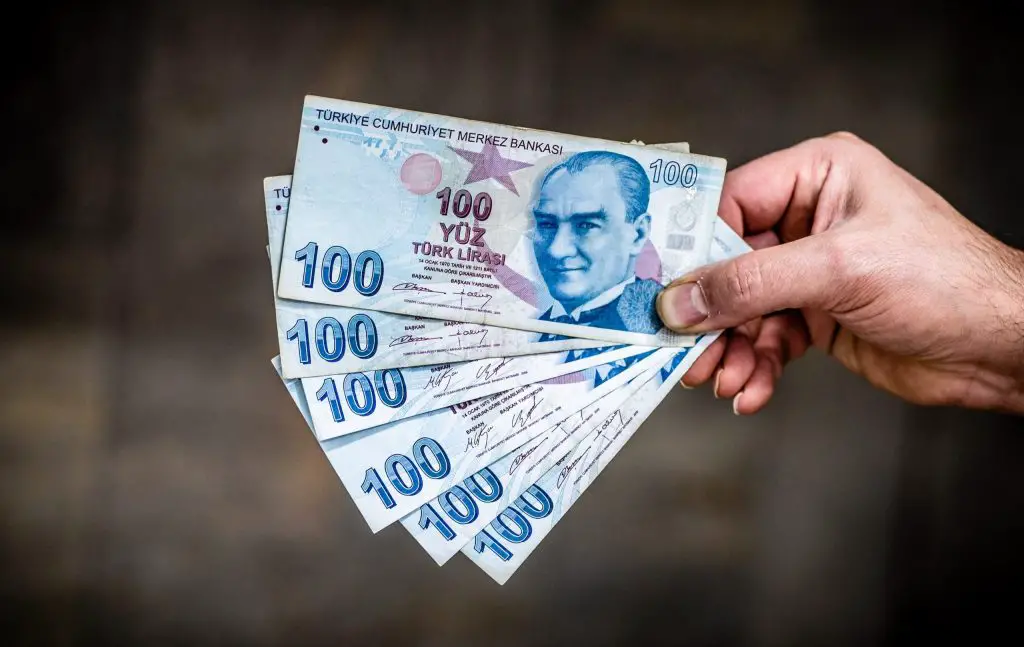 Is food expensive in Turkey?
Depends on where you are eating. If you are eating at #5 then yes, it will be pricey. If you eat like #4 then you will find it inexpensive. Consider taking an Istanbul food tour.
What food is Istanbul known for?
Check out my post on Turkish food and the best places to eat them in Melbourne here. Or read about our food tour at #1.
Is Istanbul safe at night?
It's a fairly liberal city. People stay out late and there's a decent Istanbul nightlife scene going on here. It's fun and people are friendly.
But like most cities in the world, be aware of your surroundings and don't go flashing cash or phones around the place.
As always we recommend travel insurance whenever you travel. Especially during these crazy times. I travel with SafetyWing. Check how affordable it is here.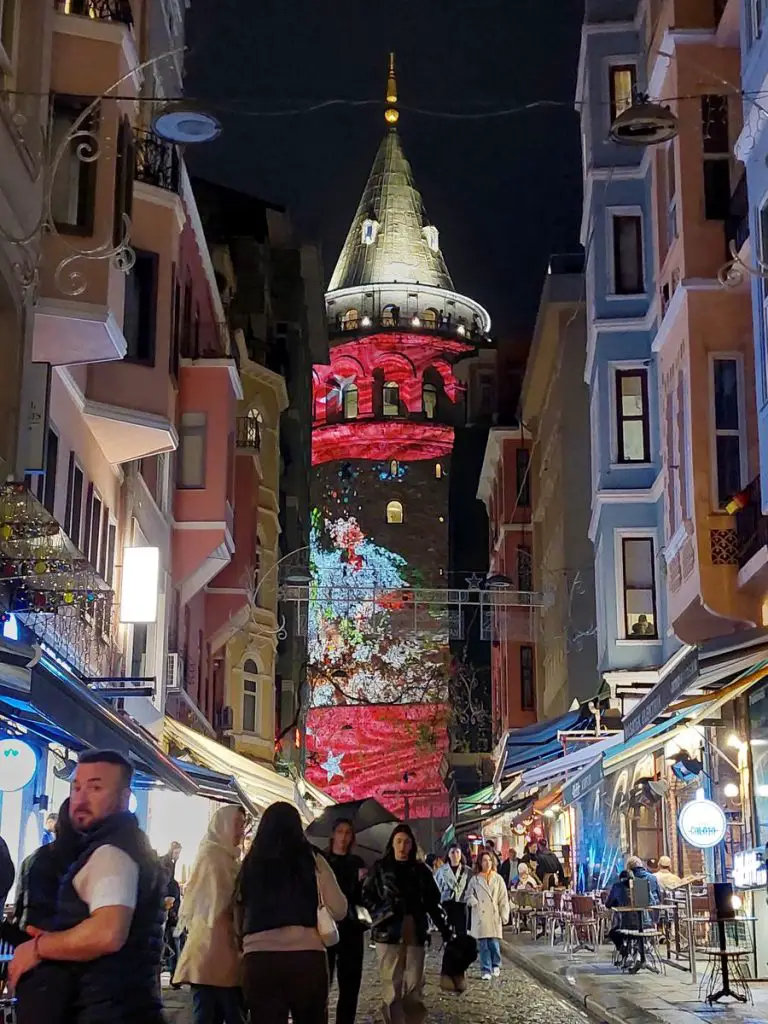 There is no quarantine for fully vaxxed arrivals or testing requirements on entry.
While we were in Turkey we were required to wear masks indoors, but this rule has been scrapped as of 26 April 2022, except for hospitals and public transportation.
As always make sure you do your research before heading overseas.
Do I need to cover my hair in Istanbul?
Istanbul is a very liberal city. We went during the middle of Ramadan and it was still lively and bustling.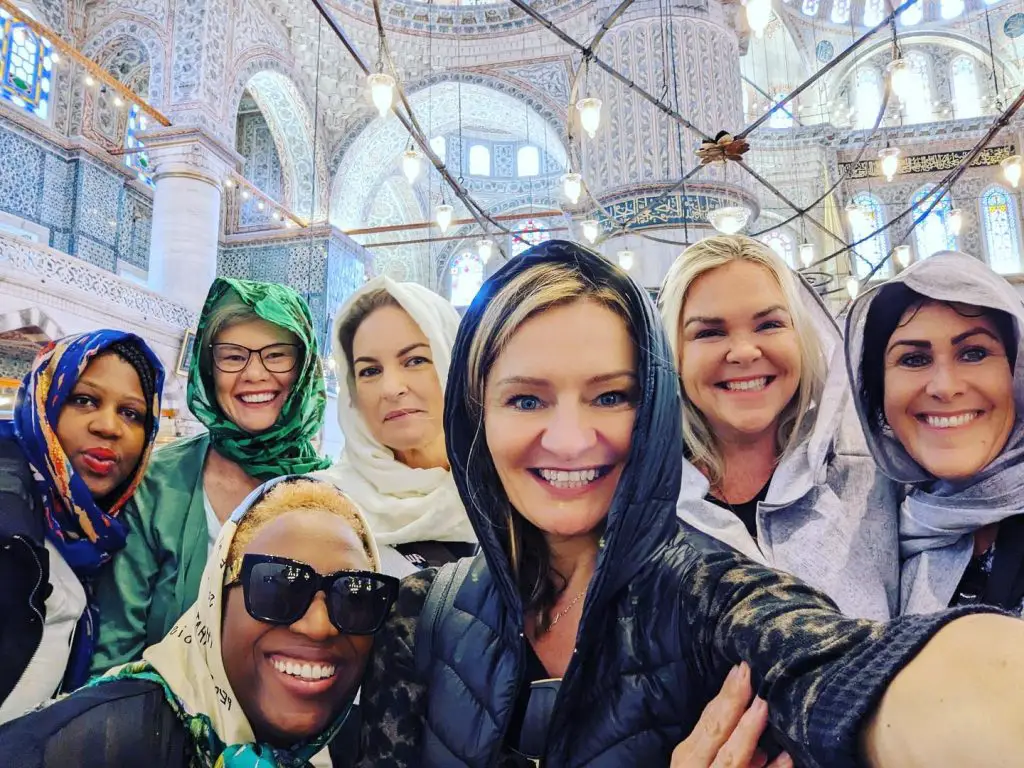 Religious sites like mosques may require you to cover your hair, but overall there are no religious dress codes in Istanbul. Consider carrying a Travel scarf.
Do they speak English in Istanbul?
While my partner speaks Turkish I found most people in the city communicated in English.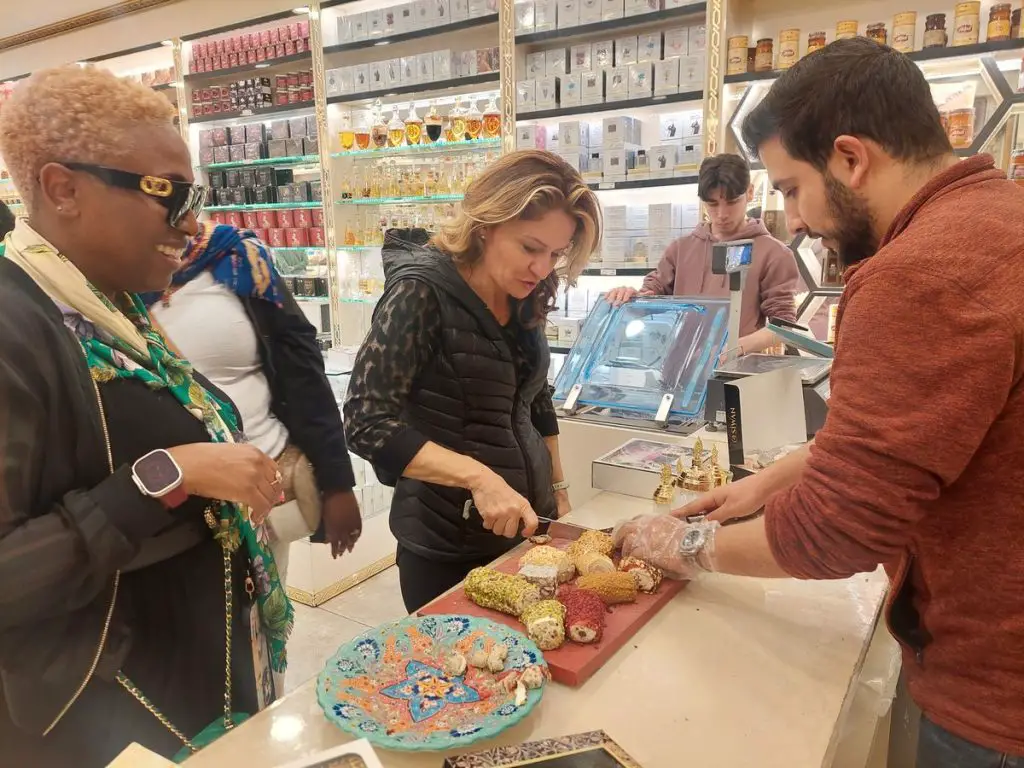 Explore With Erin Wrap Up
Whatever you choose to do, one thing is for sure. This city will leave you wanting more. And that's the truth. I keep coming back.
After you've checked out Istanbul, check out our 7-Day Turkey Roadtrip itinerary. Or the 21 best places to visit in Turkey.
Or head over to the one destination in Turkey no one should ever miss – Hot air ballooning in Cappadocia.
Want to do an Istanbul food tour then click here.
Check out our Fener Balat Locals Guide.
Did you know you can travel to Turkey during Ramadan?
Do you have suggestions on spots I may have missed? Let me know in the comments below.
LOOK HOW EASY IT IS TO PIN THIS!
FOMO - do you have it?  Well there is no need to Fear On Missing Out here at Explore With Erin. Sign up to receive updates directly to your in box. I won't spam you, but I do promise a whole lot of awesomeness. What are you waiting for? Join Me!