UPDATE: SOLD OUT
It's been 40 years of travel across 78 countries that made me realize how much I love Turkey (Turkiye). And I want you to love it too.
I've heard so many women say they'd love to visit but is it safe?
I've had many read my blog posts and wish they could do a similar trip.
I've heard from those of you who wish they had the time to organize a dream itinerary like mine.
I've heard you all. And I've done it. After ten years in the travel blogging industry, I've finally decided to jump in head first and organize a trip for all of us in Turkiye.
One big GIRLS TRIP where you are safe, where you eat the most authentic delicious food you'll ever try in your life, where you see the most incredible ancient sites, meet the friendliest Turkish people, and witness some of the most picturesque scenery in the world.
It's the perfect mix of structured sightseeing, fun activities, free time, and too much food.
That's right you've made it to Erin's inaugural Turkey trip.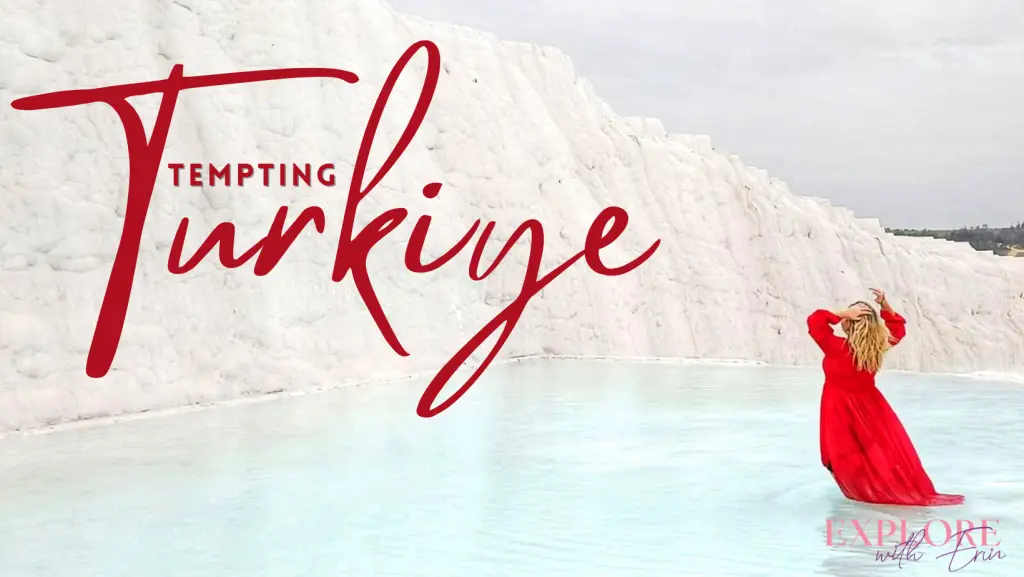 Tempting Turkiye
Women Only | 9 nights 10 days
30 April – 9 May 2023
Only USD$2,990
Discover the temptations of Turkiye with this epic once-in-a-lifetime adventure. Designed with female travelers in mind. For the single mums, the wives who need a break, or the solo female traveler who just wants a girl posse.
If you've always wanted to explore Turkiye, but have been nervous about visiting don't be. Turkiye is a progressive historically significant country that is begging for you to discover.
This once-in-a-lifetime travel experience will provide you the chance to join Erin on an exclusive girls' trip to Turkey, her favorite destination.
In Turkiye, you'll tick off bucket-list experiences daily. From shopping at the oldest shopping mall in the world (Grand Bazaar) to sleeping in a cave (Cappadocia). You will not only be immersed in Ottoman history, but immersed in the food, culture, language, and scenery.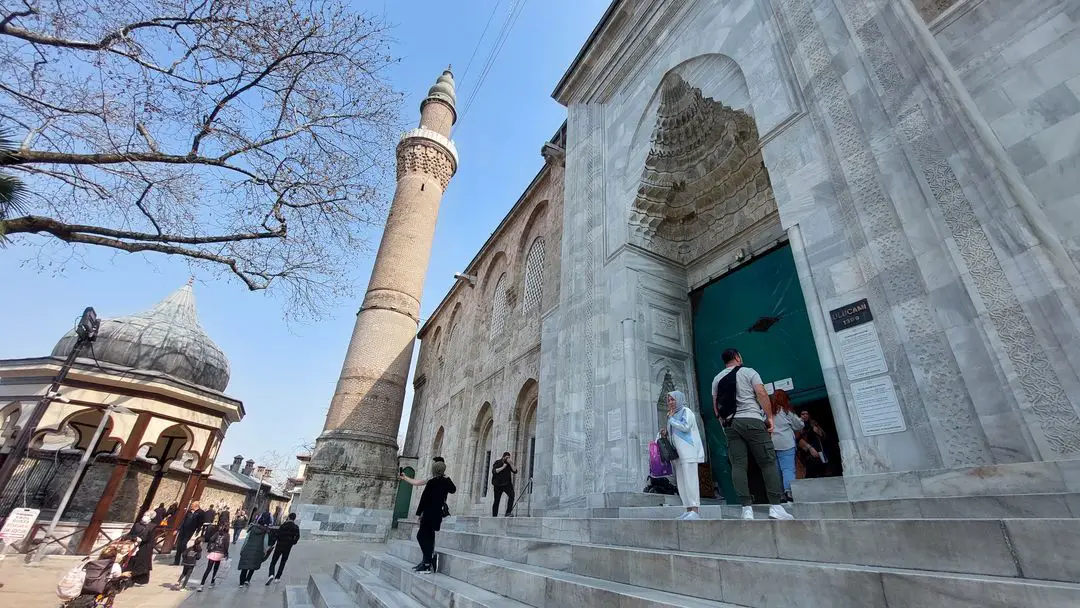 Where Will We Go?
We will start our Tempting Turkish Expedition (Turkey trip) in Istanbul.
After 2 nights in Istanbul, we will spend 2 nights in Cappadocia in a cave hotel.
From Cappadocia, we will head to Antalya, and spend 2 nights in Kas, and 1 night in Dalyan.
Finally, our trip will end with 2 nights in Bodrum and a flight back to where it all started in Istanbul.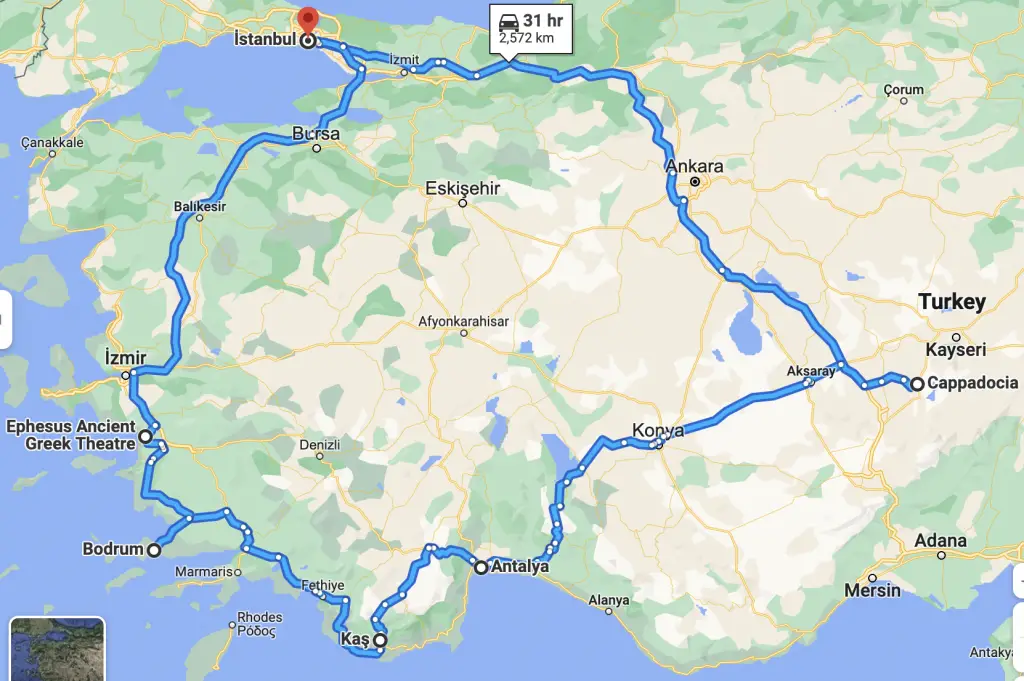 What's Included?
All accommodation (shared room, 2 travelers per room. Single rooms available for an additional fee of USD 800)
Blue Mosque visit
Hagia Sophia visit
Grand Bazaar visit
Istanbul food tour
Cappadocia tour
Bodrum Castle
Ancient city of Myra
Ancient city of Ephesus
Kekova boat tour
King Tombs boat tour
Mud Baths
Welcome bag
Some meals
English-speaking leader- guaranteed understanding
Turkish-speaking leader – guaranteed culture
Included Meals:
10x Breakfast
3x Lunch
1x Dinner
Transport:
Air-conditioned vehicles throughout
Three domestic flights from Istanbul to Cappadocia, Cappadocia to Antalya, and Bodrum to Istanbul.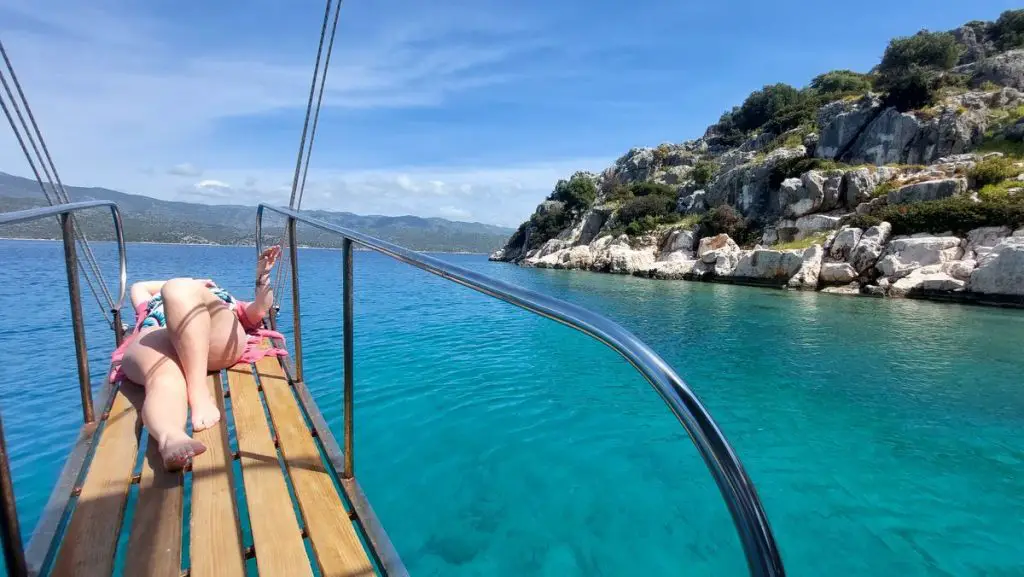 What's Not Included
International flights
Luggage, seat, or food purchases on domestic flights
Any visas required
Services not mentioned in the itinerary
Late check-out at hotels
Meals and drinks not mentioned in the itinerary
Alcoholic beverages
Tips for leaders, guides, and driver
Expenditure of personal nature
Personal travel insurance
Optional activities

Tempting Turkiye 9-Night Itinerary
Day 1: Arrival Day!
30th April '23
Welcome to Istanbul! I'm so excited for you to experience the energy in this incredible city.
As everyone arrives on this day, you'll have free time to visit the city.
In the evening, we will all come together for our welcome Turkish cuisine dinner in a rooftop restaurant overlooking the ancient Old City.
Included Activities:

Dinner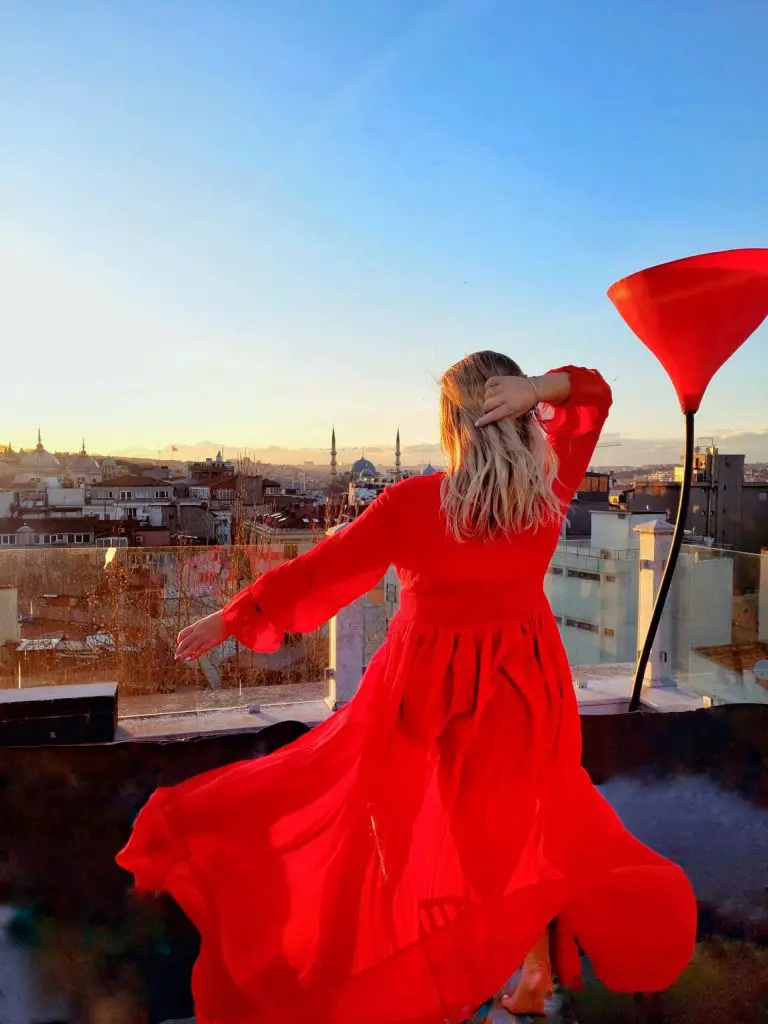 Day 2: Istanbul Highlights
1st May '23
It's time to get this expedition started. And we will do that with a full day in Istanbul city.
After breakfast, we will head straight to some of the world's most iconic sights – the Hagia Sophia & the Blue Mosque.
The Hagia Sophia was originally built in 537 and was for some time the largest Christian church in the world. In 2020, it was reconverted into a mosque. Despite being a mosque all visitors are still allowed to enter. Women will need to cover their hair, and their shoes need to be removed.
Sultanahmet Camii or The Blue Mosque is named because of its blue tiles surrounding the interior walls. This Ottman-era Mosque was built between 1609 and 1616 and is a UNESCO World Heritage Site. Like the Sophia you will need to remove your shoes at the entrance and women are required to cover their hair and legs. Scarves are available at the entrance for free.
After seeing these two beautiful sites I'm sure you'll work up an appetite and so we will head through Istanbul in search of the very best Turkish food on a Turkey food tour. You'll try piping hot Turkish pizza called Lamauchan, sweet sticky baklava, fluffy delicious pide, world-renowned Turkish Delight, and more!
After our food tour, it's off to the Grand Bazaar and Spice Bazaar for a free afternoon and evening of shopping and dining… if you're still hungry.
Included Activities:

Entry to Hagia Sophia

Entry to Blue Mosque

Food Tour
Day 3: Cappadocia
2nd May '23
Today we will be heading to Istanbul airport for our domestic flight to Cappadocia.
On arrival in Cappadocia, you will have the afternoon and evening free to plan your activities or discover the surrounding area.
At the end of the day, you'll sleep peacefully in a luxury cave hotel.
Included Activities:

Domestic flight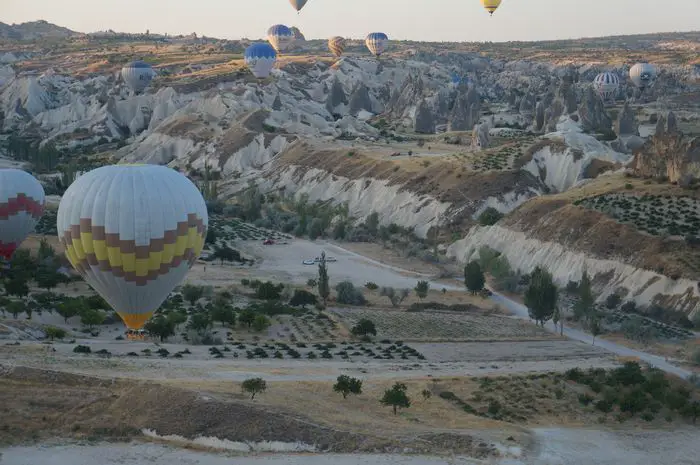 Day 4: Cappadocia
3rd May '23
If you're a morning person you will have the opportunity to do an optional Cappadocia hot air balloon tour at sunrise over Love Valley. If you don't enjoy being high in the sky then make sure you wake early enough to witness this spectacular sight.
After breakfast, we will set off for a full-day tour of the best parts of Cappadocia. Cappadocia, a semi-arid region in central Turkey, is known for its distinctive "fairy chimneys," tall, cone-shaped rock formations clustered in Göreme.
We will get to see Goreme Open Air Museum, Kaymakli Underground City, Uchisar Castle Panorama, Pasabag Fairy Chimneys, and lots more.
That evening you'll have free time to either catch up on sleep in your cozy cave hotel or head out to explore on your own.
Included Activities:

Cappadocia full-day tour

Lunch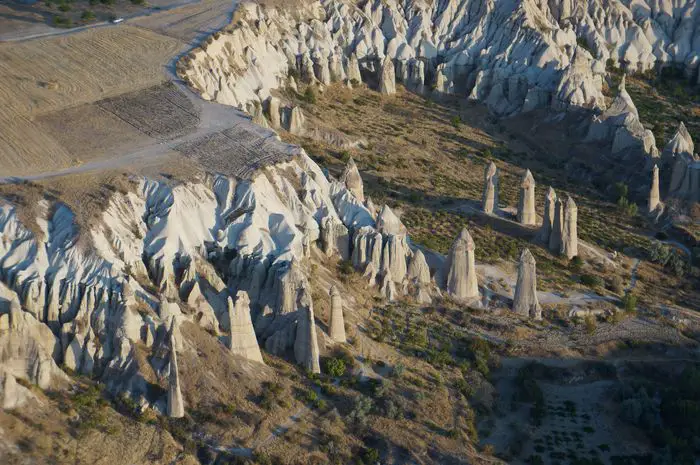 Day 5: Antalya to Kas
4th May 23
Today you can watch the balloons rise again before heading to the airport for our domestic flight to Antalya.
On arriving in Antalya, you will have one hour free to wander the harbor and grab something to eat before we will jump in our air-conditioned transport for our first road trip to Kas, approximately a 3-hour journey.
Kaş is a seaside town on the Mediterranean coast in southwestern Turkey. The town center has whitewashed houses, cobbled streets, and buildings covered in bougainvillea that will make you fall in love instantly.
Take the evening to wander around and enjoy Kas at your leisure or with new friends. Don't forget to try some Turkish cuisine like Menemen or Burnt Ice cream.
Included Activities:

Domestic flight

Transport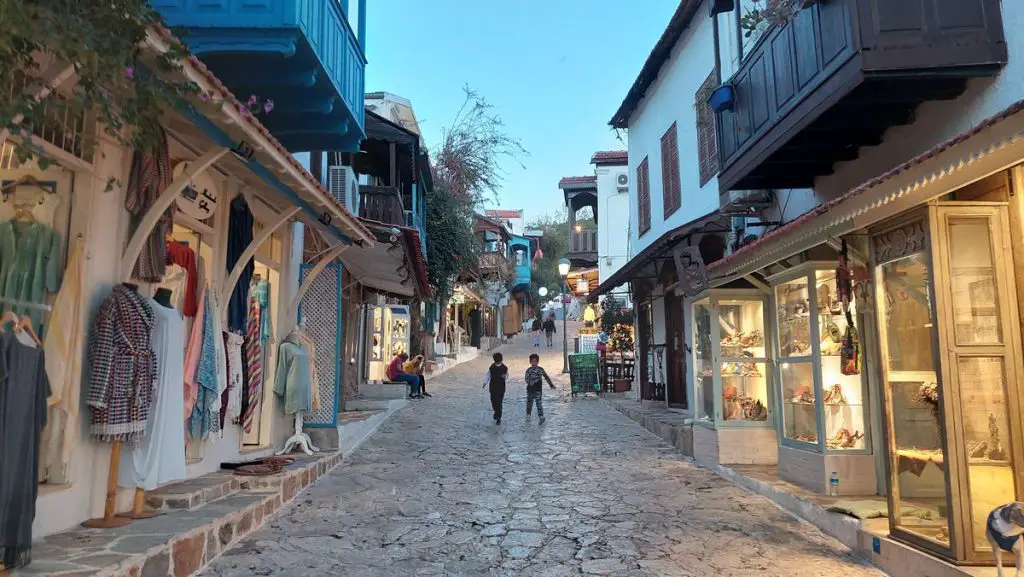 Day 6: Kekova, Myra, Demre
5th May 23
Today is going to be action-packed.
We will start our day visiting the most interesting ancient ruins, the Lycian tombs in Turkey, Myra.
Along with its unique rock graves carved into the cliffs above, Myra is well-known for its acropolis and Roman-style theatre. A visit to Myra is a truly wondrous step back into history. The exact origins of Myra's existence remain unknown, although parts of its ruins are thought to date back to as far as the 5th century B.C. That was around 2,500 years ago!
Did you know in the 4th century, a priest named Nicholas was appointed as the Greek bishop of Myra? Due to his generous and caring nature, he was well-regarded by the Lycian people. Following his death, he was named a patron saint and is the real man behind the legend of Santa Claus. A church was built in his name, which can be found a short distance away from Myra's ruins, which will be our next stop.
After our morning discovering ancient sites above the water we will discover those below the water on a boat tour of Kekova. Kekova is home to a sunken Lycian city! You'll get to spend the afternoon on board the boat, observing, swimming, sunbaking, and eating a traditional Turkish lunch.
After the boat tour, we will make our way back along the Mediterranean Sea to Kas where you can spend your evening exploring more of Kas in your own free time.
Included Activities:

Entry to Myra

Entry to St Nicholas Church

Kekova boat trip

Lunch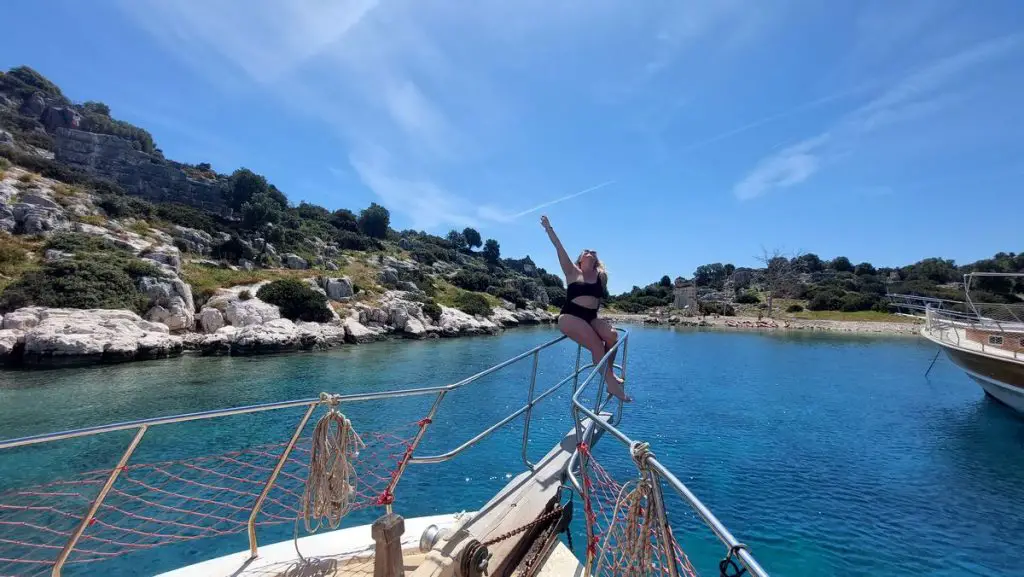 Day 7: Kas to Dalyan
6th May 23
Today we will take a beautiful drive along the turquoise coast (Turkish Riviera) from Kas to Dalyan (approximately 3 hours).
On the way, we will stop in the beautiful coastal city of Oludeniz, where you will have free time to shop, eat or sunbathe or perhaps take an optional paragliding activity.
Dalyan is a town on the Dalyan River, just inland from Turkey's southwest coast. Across the river from town is the ancient ruined city of Kaunos, with Lycian rock tombs and the remains of a theater. Once we arrive in Dalyan you'll have free time to wander the easily walkable town and enjoy a dinner overlooking the ancient King Tombs.
Included Activities:

Transport
Day 8: Dalyan to Bodrum
7th May 23
After an incredible Turkish breakfast on the river overlooking the Tombs, we will hop on a boat and get a closer look.
Make sure you wear a swimsuit and bring an accessible change of clothes because it's then onto the Thermal Springs and natural Mud Baths of Sultaniye Spa.
The mud baths are touted to have medicinal benefits for your skin due to the nutrient-rich nature of the mud. Cake it on, let it dry, then rinse off before we spend the afternoon in our air-conditioned vehicle heading to Bodrum (approximately 3 hours).
In Bodrum feel free to enjoy your bed or head out and see the nightlife!
Included Activities:

Boat tour of Ancient Tombs

Entry to mud baths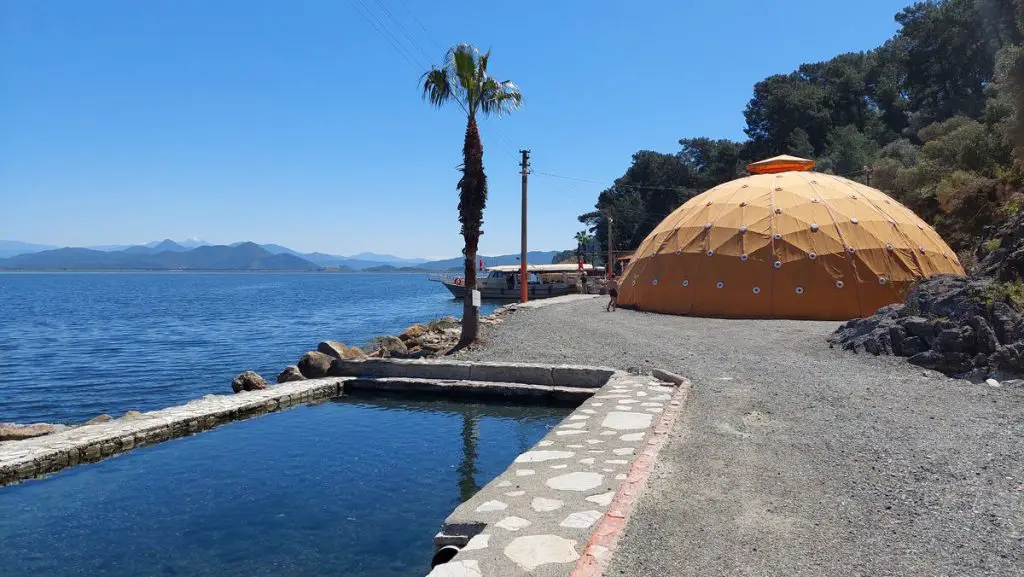 Day 9: Ephesus
8th May 23
It's an early morning for us as we start our full-day tour of the ancient world of Ephesus. Ephesus is an ancient city in Turkey's Central Aegean region, near modern-day Selçuk. Paved streets wind past squares, baths, and monumental ruins. The Temple of Hadrian was built before 138 A.D.
Come back in the evening and enjoy the evening with free time drinking cocktails on the beach or shopping throughout Bodrum.
Included Activities:

Ephesus tour

Lunch
Day 10: Departure Day
9th May 23
All good things must come to an end.
We will take a quick tour of Bodrum Castle before heading to the airport for our return flight to Istanbul.
Upon arrival in Istanbul, our trip has officially finished and it will be time to say goodbye to new friends and end the expedition of a lifetime.
Included Activities:

Bodrum Castle

Domestic flight to Istanbul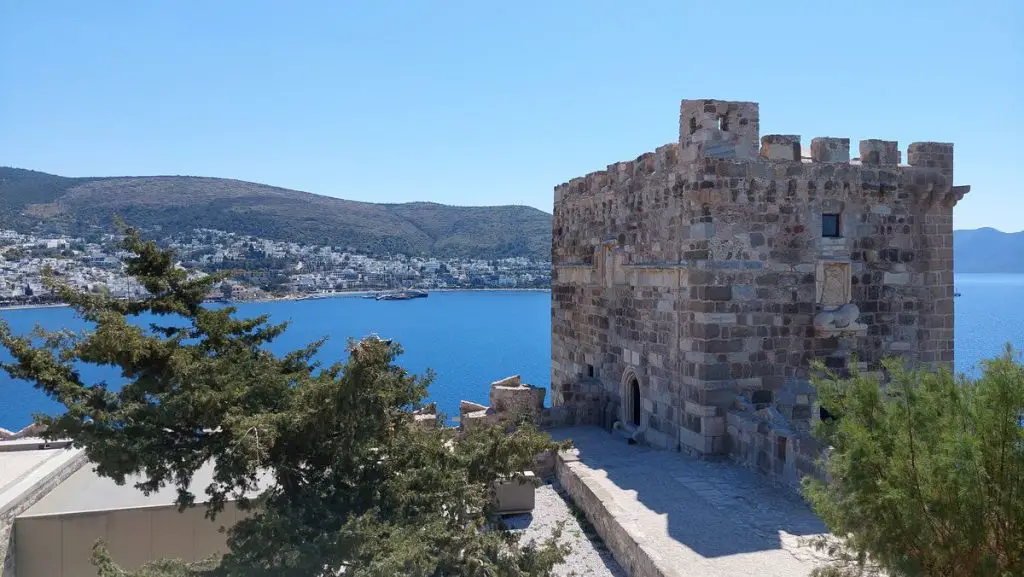 FAQ
How do I book?
Fill in our application form to make sure there is still room on the trip. Once you do we will send you an acceptance email with details on how to make your deposit!
Is This Expedition For Women Only?
Yes, we are only accepting women on this trip, but please let us know if you're interested in a couple or family trip and we will open that next. Solo female travel is so fun when we all Turkey solo together!
Is There An Age Limit?
Our girl travelers must be at least 18+ by the time of departure to join Explore With Erin's Expedition. Children 14 and over are welcome if accompanied by a parent/guardian.
What Should I Pack?
Pack light. With 3 domestic flights waiting for bags won't be ideal, so if you can, aim for a carry-on.
Check the weather before arriving and please make sure you have the right temperature clothing. We recommend a jacket for the evenings. Temperatures average around 24°C (75°F) during the day. Nighttime temperatures can drop to 13°C (55°F). Make sure you bring a bathing suit.
Turkey is a progressive country and you will not be expected to wear any type of clothing except during our mosque visits in Istanbul where you will need to cover your shoulders, legs, and hair.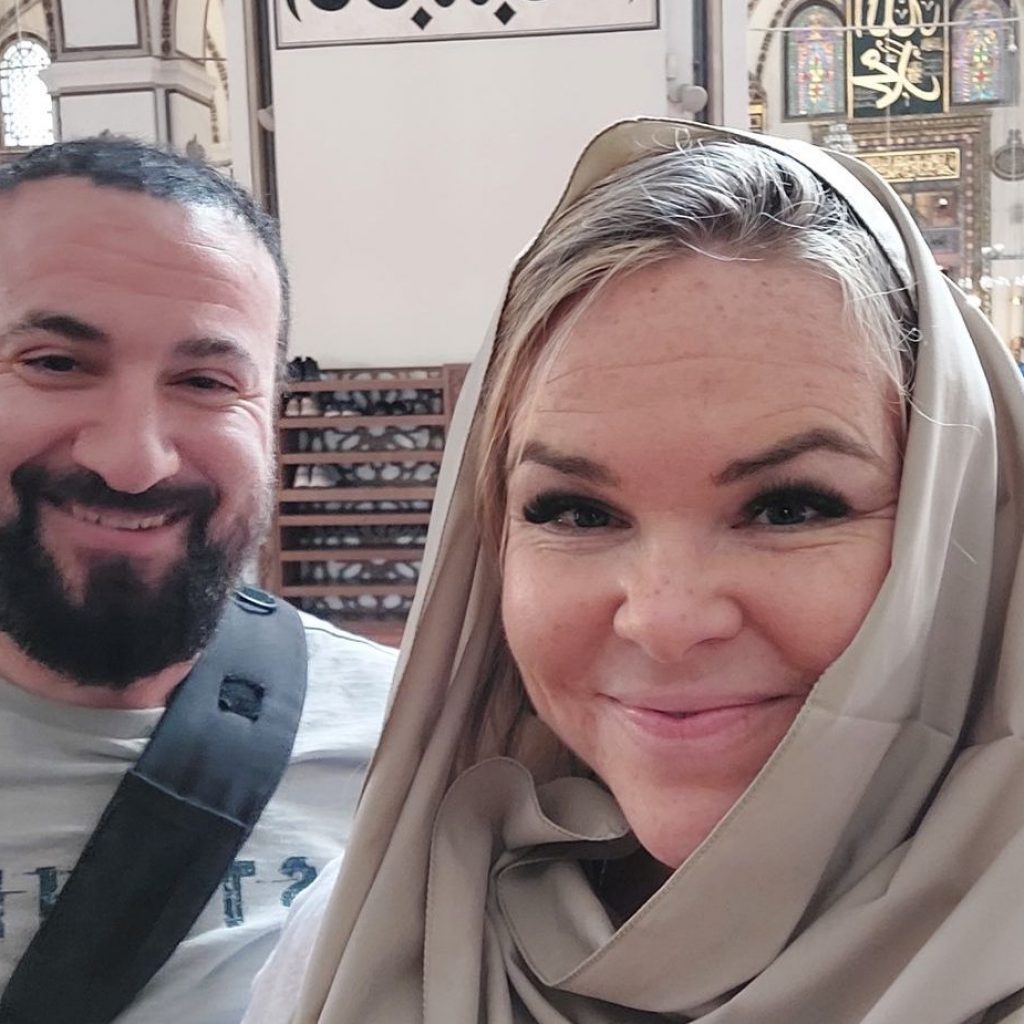 Are There Covid Restrictions?
Currently, Turkiye does not have any covid restrictions, but we recommend you check closer to the departure date in case of any changes. Check using Turkish Airlines. 
What Is The Cancellation Policy?
Cancellation policy: A USD$500 deposit is required on booking and is non-refundable. Any additional payments made are refundable up til 31st December 2023.
Final Payments: Final payments are due no later than 31st December 2023. No refunds or cancellations are allowed past 31st December 2023. If the final payment is not paid by 31st December 2023, Explore With Erin Expeditions retains the right to remove you from the trip. The deposit will not be refundable.
No-shows will be treated as cancellations and will incur a 100% cancellation fee.
We reserve the right to cancel the trip and if done so a full refund will be given.
Why Can't I Get A Full Refund?
We understand that plans change, but the moment we decide to run a trip, costs are already incurred. Once you hit "book now", we are paying deposits to hold your spot with our vendors + paying our team to manage bookings and make sure you have an incredible once-in-a-lifetime experience.
How Do I Pay?
The deposit is USD$500. The remainder of the trip will then be set up on automatic payments charged once per month until the trip is paid in full.
Will The Itinerary Change?
Although we will do our best to keep the itinerary as you see here, travel does require flexibility. Schedules and itineraries are subject to changes, but even if something has to be changed or adjusted, we promise you'll have a great time at the best places!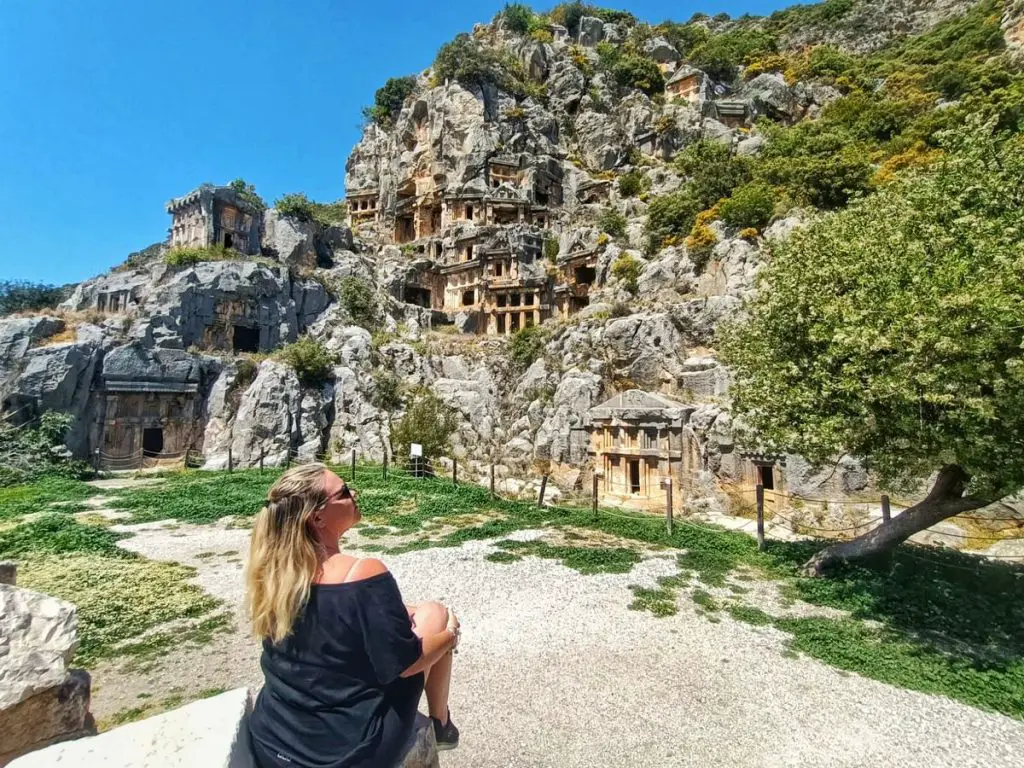 When Do I Arrive & Depart? 
The trip commences Sunday 30th April evening for dinner around 6:30/7 pm. And finishes Tuesday 9th May evening (time depending on our flight).
The best flights will have you arriving before 4 pm on Sunday 30th April and leaving after 8 pm on Tuesday 9th May. If you arrive before this date or stay after, please remember to organize your accommodation.
Do I Need A Visa?
Most countries require a visa to visit Turkiye. You can do so online at the official website.
For the USA a Visa is USD 50. For Australians, the visa is USD 60 or around AUD 92. The evisa does not need to be printed, but please fill in the form and purchase your visa at least 2 weeks before the trip. Use the date you arrive. It is valid for a total period of 180 days. Your stay cannot exceed 90 days.
Do I Need Travel Insurance?
Yes, you must have travel insurance to join us on this trip. We use SafetyWing – https://www.safetywing.com/a/24736358. But please feel free to get your own quotes.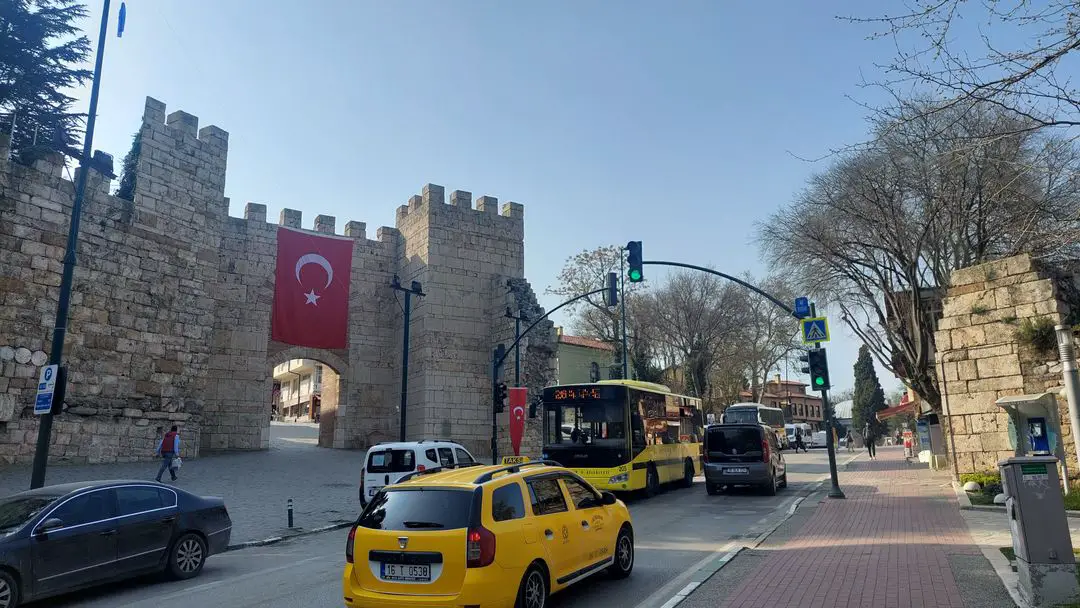 About Explore With Erin Expeditions
Designed with female travelers in mind. From the single mums, the wives who need a break, or the solo women who need a team. This once-in-a-lifetime travel experience will provide you the chance to join Erin on an exclusive trip to her favorite destination.
Explore With Erin Expeditions will offer up all the elements of a perfect travel experience: cultural immersion, connecting with locals, great food, adventure, elevated experiences, picture-perfect backdrops, and like-minded travelers!
This is NOT a guided tour. This is a group of friends traveling together in Turkey safely. You will require your own travel insurance and we recommend SafetyWing.
These thoughtfully curated small group trips are created with you in mind! The ease of a group trip will help you absorb the most from your destination and travel experience while making the trip hassle-free and easier than doing it on your own!
All destinations, activities, hotels, and experiences are carefully chosen by Erin- who has decades of travel experience and has visited each place before. Erin has a Turkish partner who has double-checked authenticity and cultural immersion, and that only the best Turkish is eaten!
Erin has been helping travelers with her expert tips and destination guides since 2012. She has been featured in Forbes, Business Insider, Yahoo Traveler, Lonely Planet, and more! She has been a Speaker at the New York Times Travel Show, ProBlogger, Dear Alyne Retreats, and Women In Travel Summit.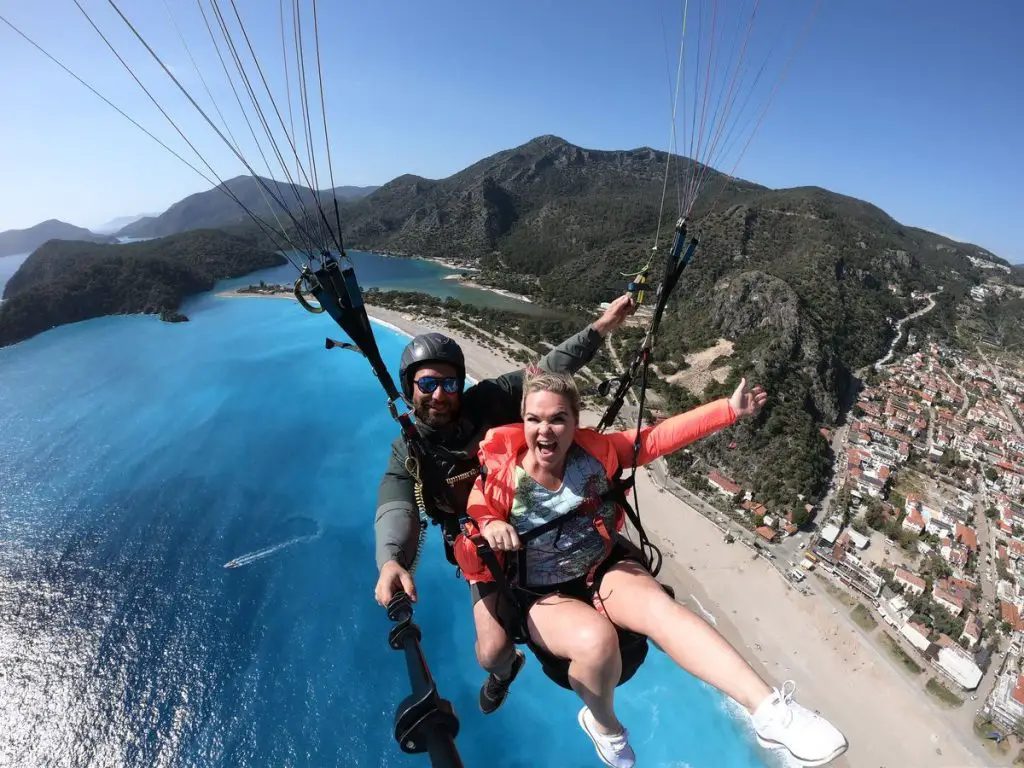 There are LIMITED SPOTS!
So what are you waiting for? 
COME WITH ME | BOOK YOUR SPOT NOW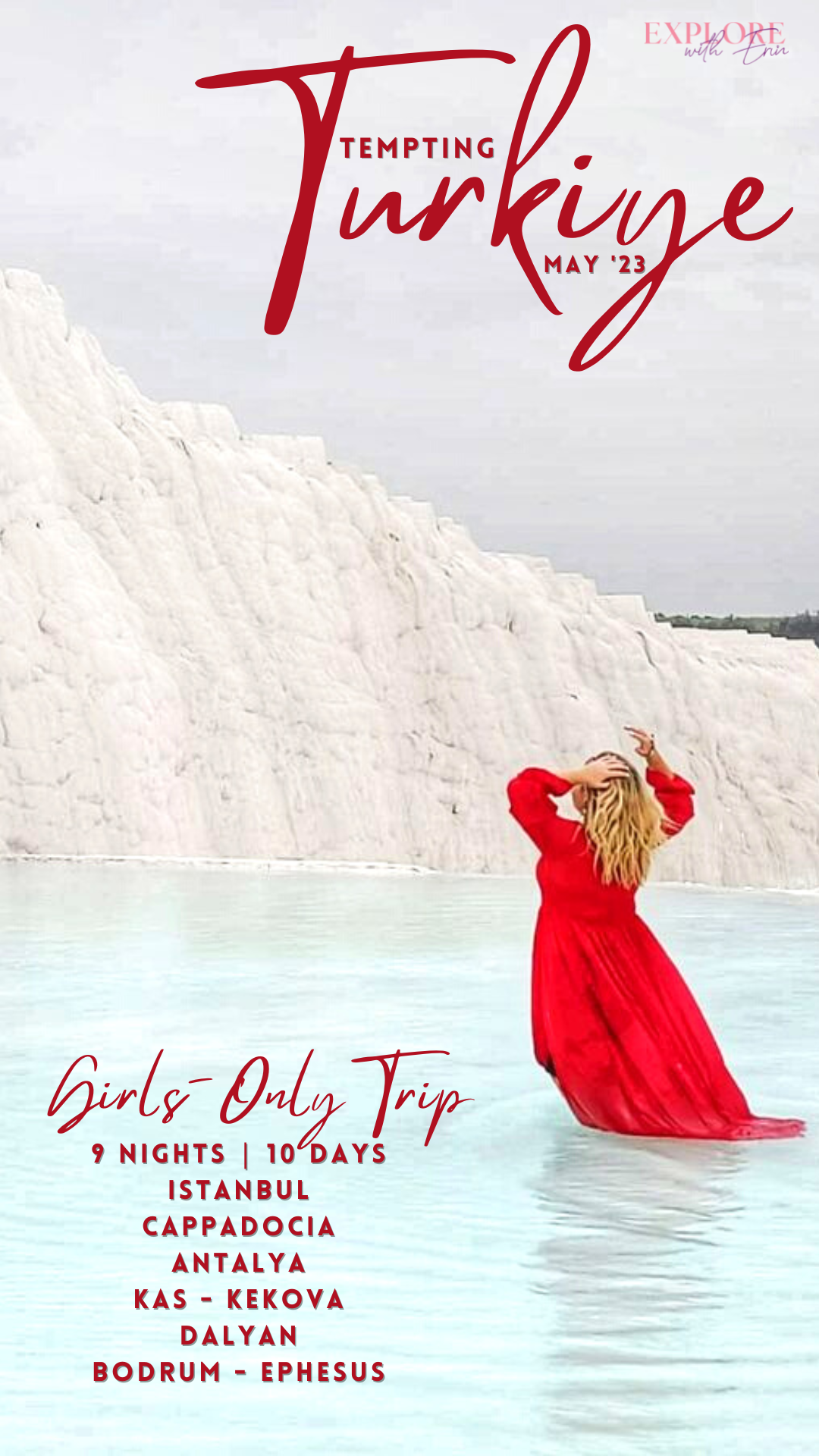 FOMO - do you have it?  Well there is no need to Fear On Missing Out here at Explore With Erin. Sign up to receive updates directly to your in box. I won't spam you, but I do promise a whole lot of awesomeness. What are you waiting for? Join Me!