I've written plenty of packing blogs, from women's clothing to pack to what families should pack. But what are the benefits of check-in baggage versus carry-on?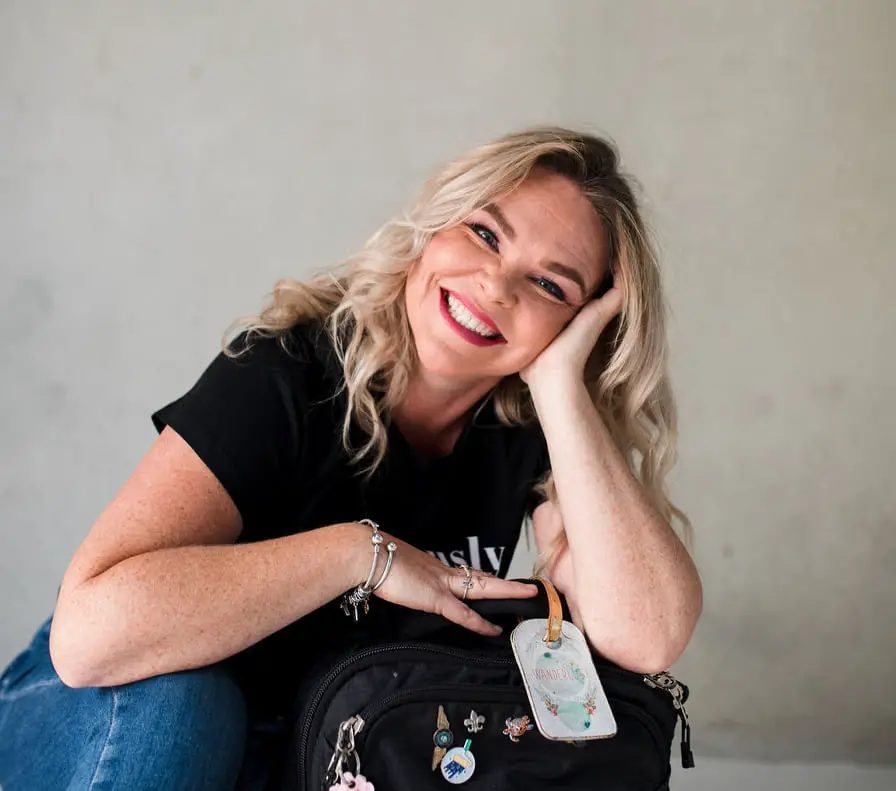 Baggage History – 2012
When we left Australia in 2012 we had 3 large suitcases and 3 small suitcases, plus a backpack.
Throughout 2012 we fluctuated from 1 to 3 large suitcases the entire time. We ended up returning to Perth in 2014 with 3 large suitcases, 3 small suitcases, a pram, a car seat, and a backpack.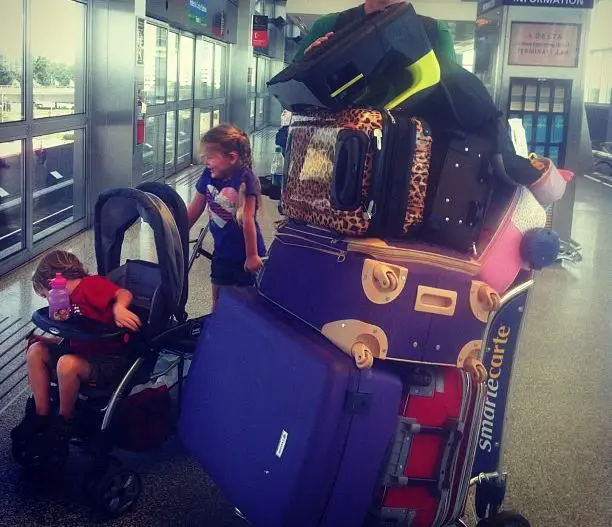 Baggage History – 2014
When we resumed our travel in 2014 we were about to set off again for an indefinite amount of time. and we really wanted everything to fit in one large suitcase.
As we started using our packing cubes we soon realized everything was not going to fit. Well, it was going to fit, just not into our 20kg bag limit. After I asked my Facebook fans for advice about taking another large suitcase or a carry-on, we realized there were so many different pros and cons.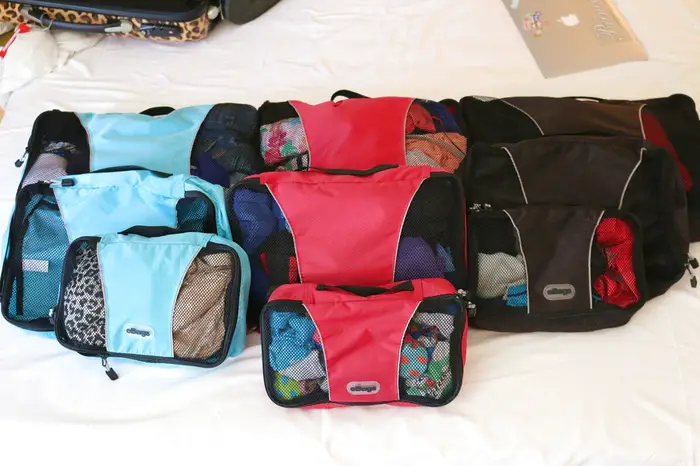 Pack Check-In or Carry-On?
We ended up with a last-minute addition of another carry-on. Why another carry-on, surely with children checked-in luggage is easier? True! But here was our reasoning:
Check-In Luggage

Carry-On Luggage

Pros

Cons

Pros

Cons

Don't have to worry about during flight or while carrying tired children off cramped airplane confines.
 Has a weight limit.
Don't need to check in, so can easily use online check-in services.
Smaller space means more bags. What could fit into one large bag, now needs 2 smaller bags. Less free hands.
Can be checked through to next destination during transit.
Sometimes can not be checked through, so have to wait for it during transit and re-check.
Do not have to wait after the flight lands for luggage, can just leave the airport.
Hard to carry sleeping children as well as bags when exiting a flight.
Can carry more things in one bag.
Have to wait at the carousel after the flight, which sometimes can be a long wait.
Everything you own is with you at all times, no losing bags.
Sometimes overhead compartment space becomes a death match with your seated neighbor.
Can take things you wouldn't be able to on the plane, like larger liquid bottles including shampoo, wine, etc.
Can be lost, damaged, thrown around.
Most airlines do not charge for carry-on luggage so spare expense.
Can't take certain things in your carry-on, like a larger toothpaste, shampoos, or a bottle of wine.
Can cost more. Discount airlines have no free luggage allowance and so you pay per bag and weight.
Many airlines do not weigh carry on so you can carry the heavy stuff in them.
Overweight bags can occur a very high fee.
Bigger bags are harder to get in taxis or carry around on trains and buses.
Check-in can become a longer process when checking in bags.
As you can see the cons of a larger bag far outweighed the pros or cons of the carry-on luggage.
So during 2014, we ended up nomadic traveling with 1 large check-in bag, and 3 carry-ons, plus one backpack.
Fast forward to the end of nomadic travel.
Wherever possible I still only pack a carry-on. Whether it's 4 days or 3 weeks, I generally find I need the same amount of things. And I don't ever wasn't to be waiting at an airport for a bag when there are things to see and do.
Of course, domestic versus international changes this as well. In Australia, we have no limits on liquids or aerosols so we travel quite easily. When you have limits on international liquids it's a little harder to stick to the carry-on baggage rules.
Baggage Recently – 2021
Recently, I took a 5-day trip to Adelaide with a carry-on. On any typical trip here is what you might find in my girl carry-on.
Depending on the season, my clothing can change from swimsuits and dresses for women to jumpers and tracksuits. Adelaide temps ran about 20C for this November 2021 trip. I also read once on Travel Fashion Girl clothing should be limited to 15 items which I pack into 3 packing cubes in my favorite PacSafe carry-on:
Clothes –3 shirts, 1 dress, 2 pairs of shorts, 1 pair of jeans, 1 leggings, 1 jumper, 1 cardigan, 1 jacket, 1 swimsuit, 1 sarong. And I'm under, woohoo!
Underwear cube – 2 bras, 5 undies, 3 socks, lingerie/PJs.
Shoes – heels, thongs, sneakers.
Makeup bag – dry shampoo, hotel shampoo, conditioner, shower gel, comb, razor, foundation, highlighter, mascara, eyeliner, eyeshadow palette, lipstick, lip gloss, moisturizer, ear bugs, makeup remover.
Electronics – laptop, phone, the charger does phone and laptop, HDMI Cable, Firestick. Sometimes I bring a hair curler.
Food – Snacks and drinks for the flight.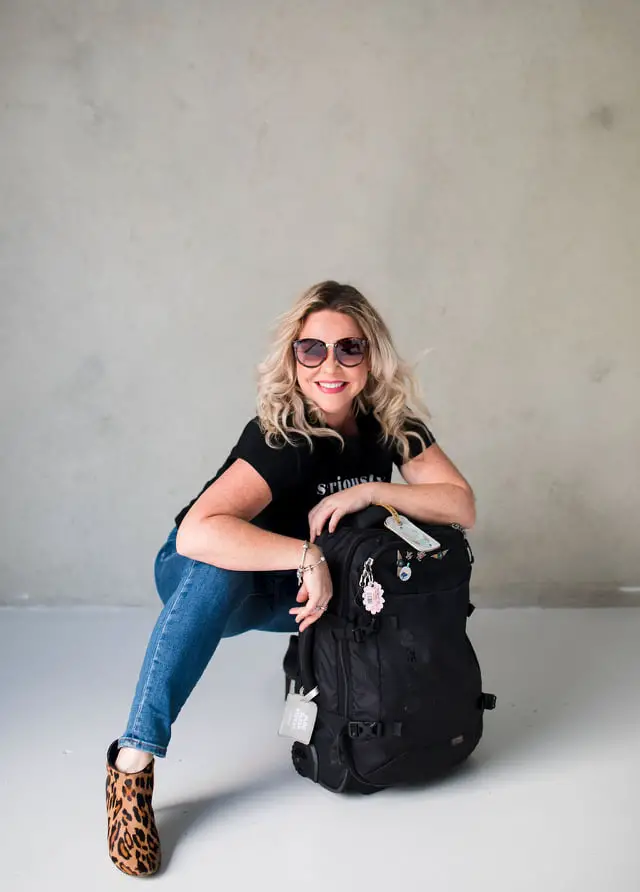 Leave enough space for new purchases. This means I can fit my jumpers in the bag on the way there, but generally not on the way back.
I've had bags go missing, bags get damaged, bags delayed, so I will always choose to carry on over check-in.
How about you, what do you normally travel with?
LOOK HOW EASY IT IS TO PIN THIS!
FOMO - do you have it?  Well there is no need to Fear On Missing Out here at Explore With Erin. Sign up to receive updates directly to your in box. I won't spam you, but I do promise a whole lot of awesomeness. What are you waiting for? Join Me!