Bali is my second home. I have been 18 times and lived there several times. I have visited more than 30 hotels across the island and stayed in almost that number of Bali villas. I've got posts on where to eat in Bali, what to eat in Bali, and even on 101 things to do in Bali. And with the reopening of Bali announced if you are thinking of heading to Bali soon you might want to take a look at my list of favorite hotels to spend your quarantine in.
Can I travel to Bali during Covid?
Today Bali announced it was reopening to foreign arrivals on February 4th, including Australians. And while many people have been finding unique ways to get into Bali, it's now official.
But don't get too excited yet. There are still some rules that may have you putting off that long-awaited trip.  Although it won't stop some of the die-hard fans… like me.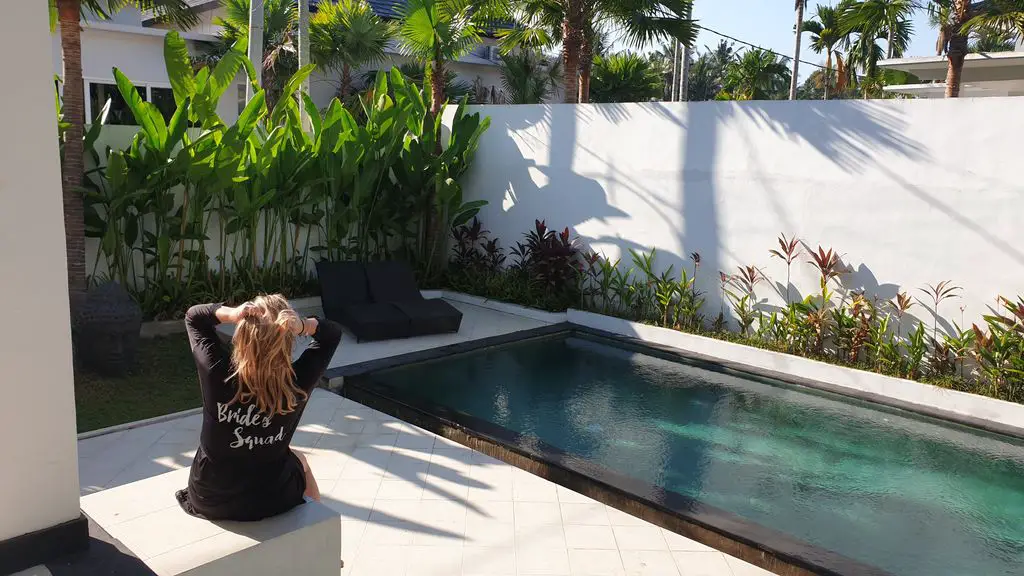 Should I get insurance for my trip?
I never travel without travel insurance and I always recommend you to do the same. SafetyWing is a great choice when heading to Bali and has an option for Covid! Check your quote here. The Nomad Insurance plan provides coverage for COVID-19, the same as any other illness. As long as it was not contracted before your coverage start date and does not fall within any other policy exclusion or limitation.
The maximum coverage for Covid-19 is the same as the policy maximum, which would be US $250 000 for ages 64 and below or US $100 000 for ages 65-69. Testing for COVID-19 (PCR test) will only be covered if medically necessary and ordered by a physician.
What do I need to do before I travel to Bali?
In summary here is what travel to Bali is going to look like before you start your vacation, as per the Smart Traveller website or the Indonesian official website.
You must apply for a tourist B211A visa in advance of traveling to Indonesia. Contact your nearest Indonesian Embassy or Consulate for information on visas.
To enter Indonesia, you must show evidence of full or partial COVID-19 vaccination completed at least 14 days before travel. Vaccination requirements apply to children 12 and up.
You must also show evidence of a negative COVID-19 (PCR) test result taken no more than 48 hours before travel.
You'll also need to undergo a further COVID-19 (PCR) test on arrival and during quarantine.
You must quarantine in a hotel in your city of arrival for 5 days if you are fully vaccinated, or for 7 days if you are partially vaccinated.
Local authorities and travel providers may require you to use Indonesia's COVID-19 Peduli Lindungi app.
Does Bali require quarantine?
Unfortunately, there is still a requirement for quarantine hotels in Bali Indonesia.
How long is hotel quarantine in Indonesia?
Hotel quarantine in Bali is now 5 days. Bali's quarantine period has been all over the place previously from 10 days, 7 days, 4 days, and now for the vaccinated it is 5 days (4 nights). Those with only one shot will need to quarantine for 7 days. I can find no reputable source about unvaccinated, but multiple news stories suggest no entry.
How is the quarantine handled?
According to Bali.com 1st February 2022 hotel quarantine in Bali looks like this:
After you arrive at the airport, you will go through the immigration area where you need to show your e-Visa. Then you will be guided through the airport to show your negative PCR test, vaccination proof, and medical insurance. You will also need to provide your booking confirmation for the Bali quarantine hotel you are staying at.
You will also need to download the PeduliLindungi App.
Before you exit the airport you will get an arrival PCR test done (paid by the hotel) and wait for the results, which could take 1-2 hours.
Once you leave the airport you will be guided to your driver who will take you directly to the hotel without any stops. When you reach the hotel you will be guided to check-in. Many hotels will have different protocols, but you can expect most of them to have these strict rules:
Stay in your room for the entire quarantine period, you won't be able to use the pool or spa yet.
Second PCR test day before check-out. You will then get the result and clearance document on the day of your check out. Of course, if it's negative you are free to go. If it's positive expect more quarantine. Please check your local government site for assistance, in Australia we use SmartTraveller.
No guests in the room, not even housekeeping.
Usually, you are expected to eat hotel food, but some may allow outside orders. Your hotel package should include three meals a day.
Important to note: As Indonesia is a predominantly Muslim country, staying in one room with an un-legally married couple could be denied. Please check with your hotel before booking.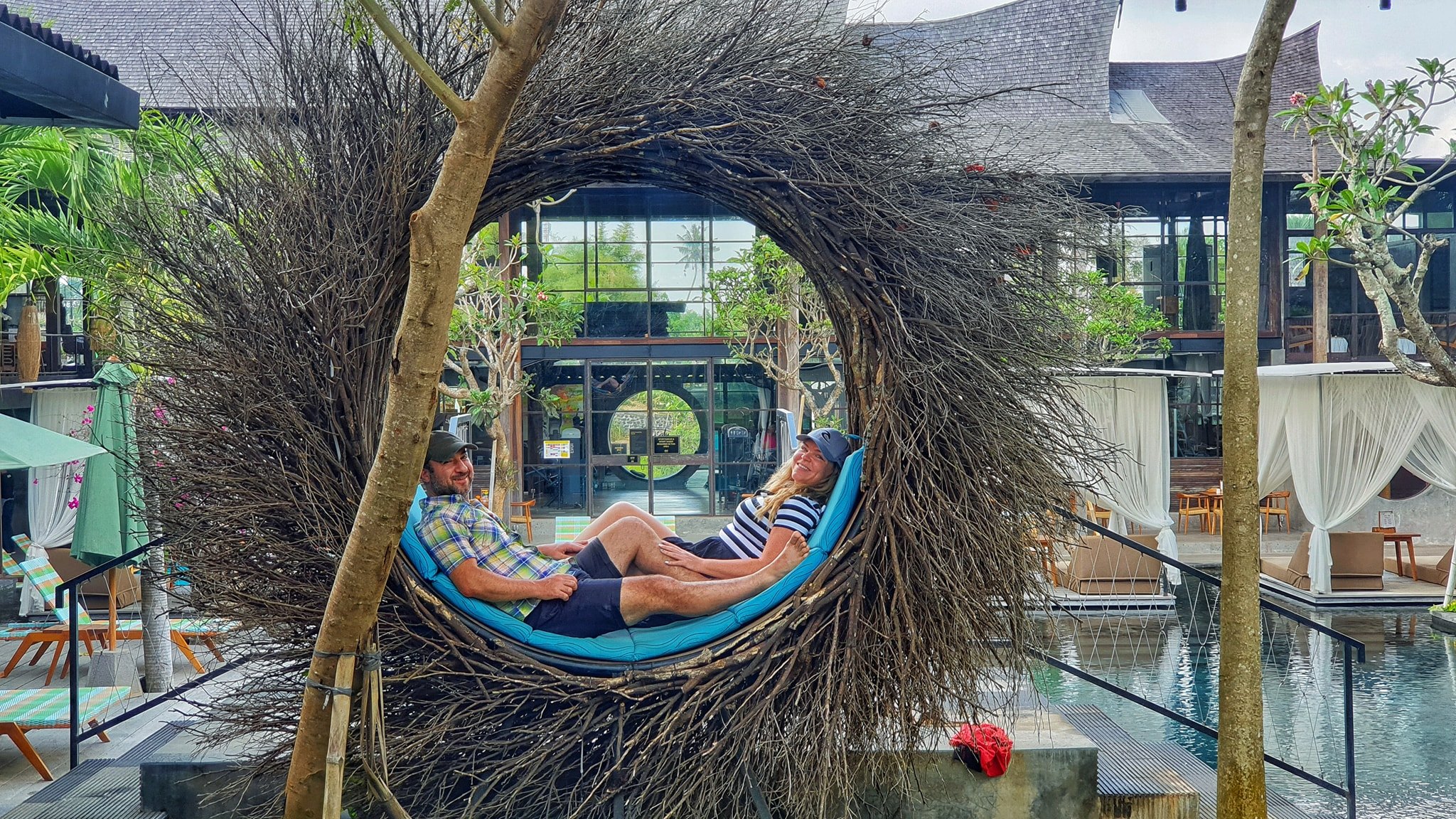 What hotels are used for quarantine in Bali?
You can find a complete list of quarantine hotels in Bali here. There are more than 50 quarantine hotels in Bali, Indonesia, but I'm here to share my top 5 that I have personally stayed at. I didn't stay for hotel quarantine, but I do personally recommend them. 
Many of the hotels are now referring to quarantine in Bali as a warm-up vacation. Sounds much better the hotel isolation, right?
Top 5
quarantine hotels in Bali (also known as warm-up vacation)
Viceroy Bali Luxury Resort
I have visited the Viceroy for lunch several times and had big dreams of staying here. So do me a favor and tell me what it's like during your 5-day hotel quarantine. Located in the lush jungles of Ubud, the Viceroy wants you to use this quarantine period as a time to relax and rejuvenate in one of the best hotels in the World. Their Quarantine option currently for 4 nights is for a 150 sqm 1 bedroom Deluxe Terrace Pool Villa for 2 people at AUD$1,010 or 4 people in the 320sqm 2 bedroom Vice Fregal Pool Villa at AUD$1,717.
The best part about the Viceroy is it is the only pool villa quarantine in Ubud. It also includes all meals (breakfast, lunch, and dinner), an Italian espresso coffee machine, unlimited laundry, wifi, access to books, movies and fitness equipment, transportation, medical insurance, and your 2 PCR tests. You can also book in for virtual yoga, pilates, and meditation sessions. I'm convinced! What a great warm-up vacation in Bali.
Bali Dynasty Resort
This used to be a standard favorite for us when we had children. Epic kids club, fun water park, pool bar. Not that you can use any of those for the first 5 days, but you get the drift. It's also got a great location in Kuta/Tuban. They currently have a Quarantine package for 5 days/4 nights with prices starting at AUD$850. The room has wifi, tv, and an outside balcony. It also includes airport pickup, AUD$34 food and beverage credit per person per day, 2 PCR tests, mandatory insurance, 5 pieces of laundry per day.
And for another popular family resort in Kuta read here.
Mövenpick Resort & Spa Jimbaran Bali
Ok to be honest, I haven't stayed here, but I have stayed at the Movenpick in Dubai and this hotel is all luxury and class. They have pool view rooms, balcony rooms, ad family rooms. I haven't located a particular quarantine package, but it's a good pick if you are hoping for a quarantine hotel in Jimbaran, Bali.
Sheraton Kuta Bali

 
I love this hotel. The kids and I had so much fun staying here. Granted you won't enjoy the location for the first 5 days, or the epic Sunday brunch, but the rooms are comfortable and you should feel at home for your quarantine stay. Their Repatriation package is for 6 nights accommodation at AUD$1260++. It also includes daily breakfast, lunch, and dinner, 5 pieces of laundry per day, 2 PCR tests and medical monitoring, medical insurance, airport transfer, wifi. Valid for one person.
Novotel Bali Nusa Dua Hotel & Residences
My best friend got married at this hotel and it is everything and more. Perfect location in Nusa Dua, large rooms that will make a 5-day hotel quarantine in Bali be life a breeze. The Novotel quarantine package includes breakfast and lunch per day, 3 pieces of laundry per day, and airport pickup. Prices are based on 2 adults, you'll need to enquire for extra adults or kids at the hotel. A deluxe room for 5 nights is AUD$940, a one-bedroom apartment is $1,087, and a two-bedroom is $2,028. Good idea to get the whole family together for a 5-day hotel quarantine in Bali. Mandatory PCR tests, health monitoring, and insurance from the government are not included.
BONUS HOTEL: Grand Hyatt
I'm giving a special mention to Grand Hyatt in Nusa Dua, because although I haven't stayed they actually have a quarantine wing for your warm-up vacation in Bali! That's right you can have access to the pool, beach, fitness centre, morning yoga, all in a seperate wing of the resort for quarantining guests. It's more like a warm up vacation, that you quite possibly won't want to leave after 4 nights.
Please check all the latest information on the Smart Traveller website or VisaHQ as circumstances change so fast!
LOOK HOW EASY IT IS TO PIN THIS!
FOMO - do you have it?  Well there is no need to Fear On Missing Out here at Explore With Erin. Sign up to receive updates directly to your in box. I won't spam you, but I do promise a whole lot of awesomeness. What are you waiting for? Join Me!