Oh, how I love Christmas! I love family and friends, being stuffed with food, and presents. Who doesn't love presents? But sometimes Christmas can be overwhelming. Sometimes there is just so much to do and so much to plan that somewhere along the way Christmas loses a little bit of its magic.
One year I decided Mummy wanted a break and so the kids and I jumped on board a cruise and spent a Christmas day in the middle of the ocean in the South Pacific somewhere. I found the magic eating Christmas food not cooked by me, sitting in a hot tub, while the kids splashed each other and left dishes for someone else to clean.
After that, I kind of got hooked on magical Christmas destinations. And here they are. My favorite magical Christmas destinations, as well as some choices from the world's most travel-savvy bloggers.
Rovaniemi, Finland
You have to read all about the Ultimate Family Christmas to believe it. With 67 countries under her belt, my 10-year-old daughter still claims Rovaniemi as her most magical Christmas destination. After all its home to the real Santa.
One hour flight north of Helsinki is Rovaniemi, where you can stay in the Santa Claus Hotel and visit any number of themed attractions like Santa's Holiday Village or Santa's Park.
But better yet, get up close with elves in the enchanted Finish forest or ride a husky sled through the dense trees or feed the adorable reindeer. For a more grown-up adventure, jump on a snowmobile to chase the Northern Lights.
You'll not be disappointed with a visit to Rovaniemi, it's like walking into a Christmas snow globe. Everything breathes Christmas and you can't help but feel jolly. Just like the big red man himself.
The place to stay: Santa's Hotel Santa Claus. Walking distance to most attractions and restaurants. And certainly, the best name for a Christmas stay away from home.
Favorite thing to do: Husky sledding through the Finish Forest.
London, United Kingdom
Sarah from Live Dream Discover
As a child growing up in England there was nothing more magical than a trip to London at Christmas. Fast forward many years and it's no less magical as an adult, especially if you have your own kids (or nieces in my case). London turns into a wonderland of twinkling lights, Christmas carolers, festive markets, elaborate store windows, and outdoor skating rinks.
Markets like Covent Garden and Borough Market dress up for the occasion and the smell of fresh-baked mince pies, roasting chestnuts and mulled wine fill the air. The big main streets like Regent, Oxford and Carnaby have spectacular light displays with a different theme every year and famous department stores like Hamleys set up the most magical and amazing window displays. Then there are the outdoor skating rinks at Somerset House and Hampton Court Palace, to name just two, where you skate in an icy Christmas kingdom and drink hot chocolate.
There are literally dozens more exciting festivities going on around this vibrant city but a fairly new addition has become a big hit with families. Winter Wonderland at Hyde Park takes over 350 acres of the parkland and fills it with a Christmas Market, a Magical Ice Kingdom, Santa Land, over 100 rides and attractions and the UK's largest outdoor skating rink.
London is an expensive city so finding reasonably priced accommodations is a challenge. However, the awesome underground and public transit systems make it easy to get around. Save some money by staying a bit further out of the city and pick a place close to an underground station.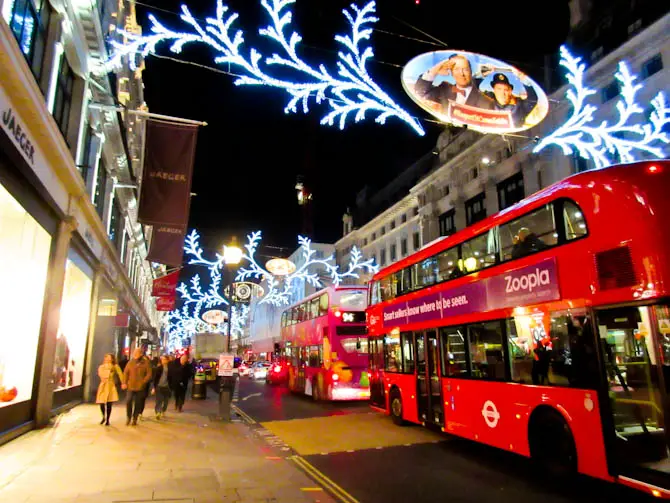 NOTE:
My first London Christmas was in 2000. I had just turned 20. I had never seen snow and London was absolutely magical in winter. Giant department stores filled with decorations. Streets lined with lights. Harrod's big teddies sporting Santa hats. It was a Christmas I'd never forget.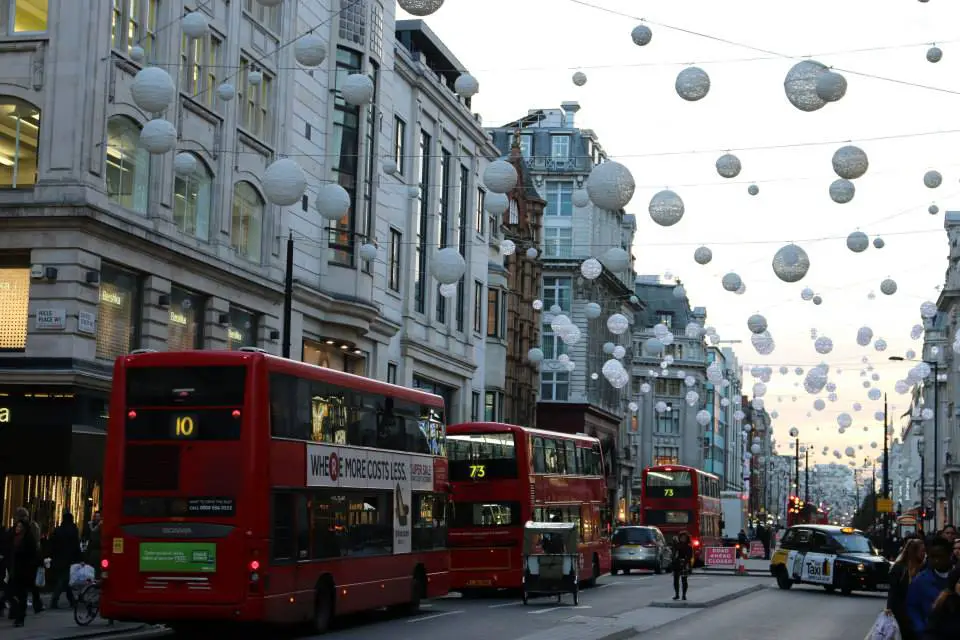 The place to stay: The Athenaeum. I have never forgotten about this hotel. They ruined me with their magnificent 5-star service. From the friendly hello of the helpful doorman to the wait staff in the restaurant, everything was flawless. For outstanding service, pure luxury and social media savvy-ness, The Athenaeum delivers.
Favorite thing to do: Natural History Museum. All the museums in London are free. This makes a fantastic day out and even adults will love viewing the dinosaurs, life-size blue whale or other exhibits.
Tallinn, Estonia
Bron from Smithsholidayroad 
Tallinn, Estonia is the perfect blend of old and new and absolutely picturesque when covered in a blanket of white snow at Christmas. Tallinn is easily reached via ferry from Helsinki and the Christmas brunch on board is the perfect way to start your Christmas celebrations. The old square in Tallinn is magical in Winter with Christmas markets selling handmade goods. Sweet treats and copious amounts of Glugi to keep warm. Kids will love the little train to explore the town, the brightly lit merry go round and the ice skating rink under the fairy lights. Make sure you climb up the historic towers of the walled old town to get a spectacular view of the town.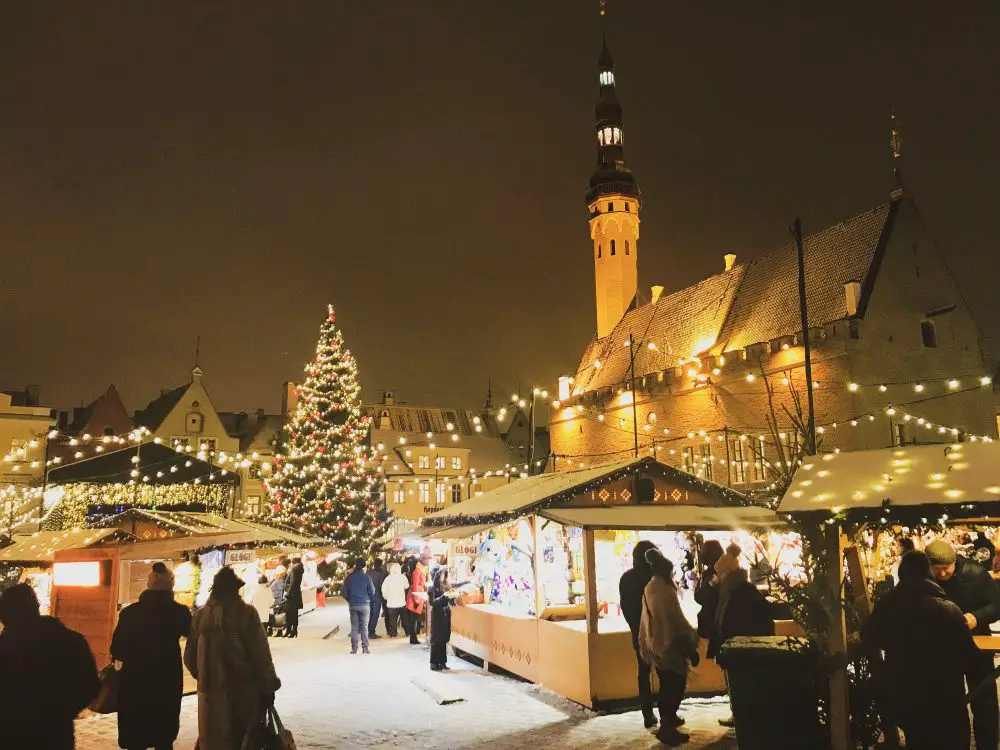 The place to stay: Stay in the old Town. We stayed in an airbnb.
Favorite thing to do: Listen to the local kids sing Christmas carols in the town Square as the snowfalls.
Rothenburg, Germany
Carolyn from Holidays to Europe
The fairytale German village of Rothenburg ob der Tauber is the perfect Christmas destination for the whole family.  With snow dusting the rooftops of the town's colorful gingerbread-style houses, Rothenburg is like a winter wonderland at Christmastime.
Your first stop should be the Kathe Wohlfahrt Christmas Village, a real feast for the eyes.  Home to an endless range of Christmas ornaments and gift ideas, it's practically impossible to leave without making a purchase. If a visit here doesn't put you in the festive mood, nothing will!
Next door, you'll find the German Christmas Museum where you can learn more about the history of Christmas in Germany and admire the displays of music boxes, nutcrackers, and nativity scenes as well as the many different versions of Santa Claus.
Then, head to Rothenburg's Market Place, home to one of Germany's most popular Christmas markets where you can shop for handmade crafts, Christmas decorations, and local produce and indulge in mulled wine, roasted chestnuts, and gingerbread cookies.
Santa Claus hands out nuts and sweets to children every evening, whilst carol singers and brass bands bring further Christmas cheer.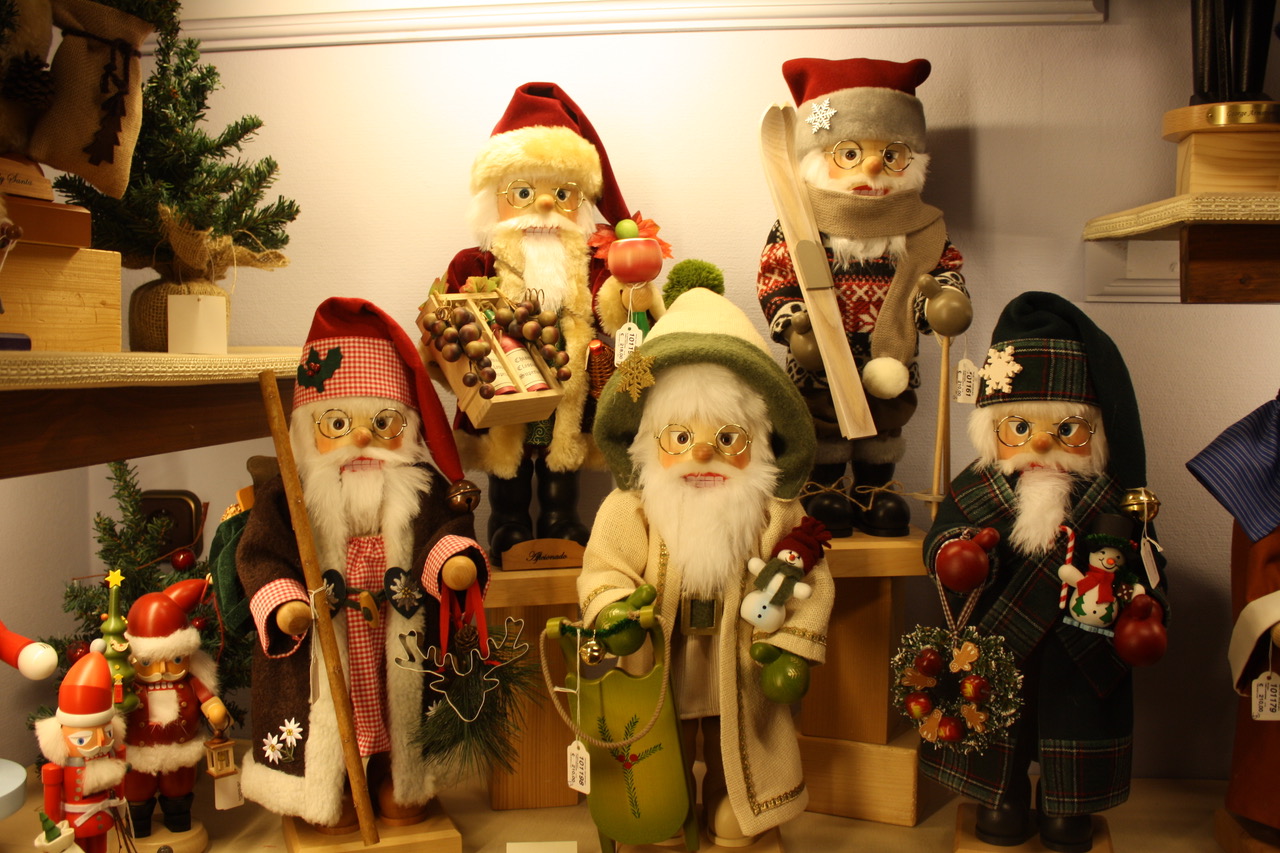 The place to stay: Landhaus Apartments at Bettenfeld, just 10 minutes drive from Rothenburg are perfect for families.
Favorite thing to do: Visit the Kathe Wohlfahrt Christmas Village
Montreux, Switzerland
Joshua from Australian Dad
If there is one place that is the absolute best to visit at Christmas time with kids, it's Montreux in Switzerland.
Located on the shores of Lake Geneva, this town isn't just pretty but has a whole festival devoted to Christmas in the lead up to the big day. There is not just a big Christmas market but also many other events, like experiencing a medieval Christmas at UNESCO listed Chateau de Chillon Castle, seeing light displays, watching Santa fly over Lake Geneva in his sleigh a few times a night or visiting the big red man himself up on top of Rochers de Naye. Here, you will find his workshop as well as a high probability of lots of snow.
I have never experienced the magic of Christmas like I have walking with our kids by Lake Geneva in the Christmas market, sipping a hot wine while Santa flies overhead and snow softly falls. You need to go here at least once!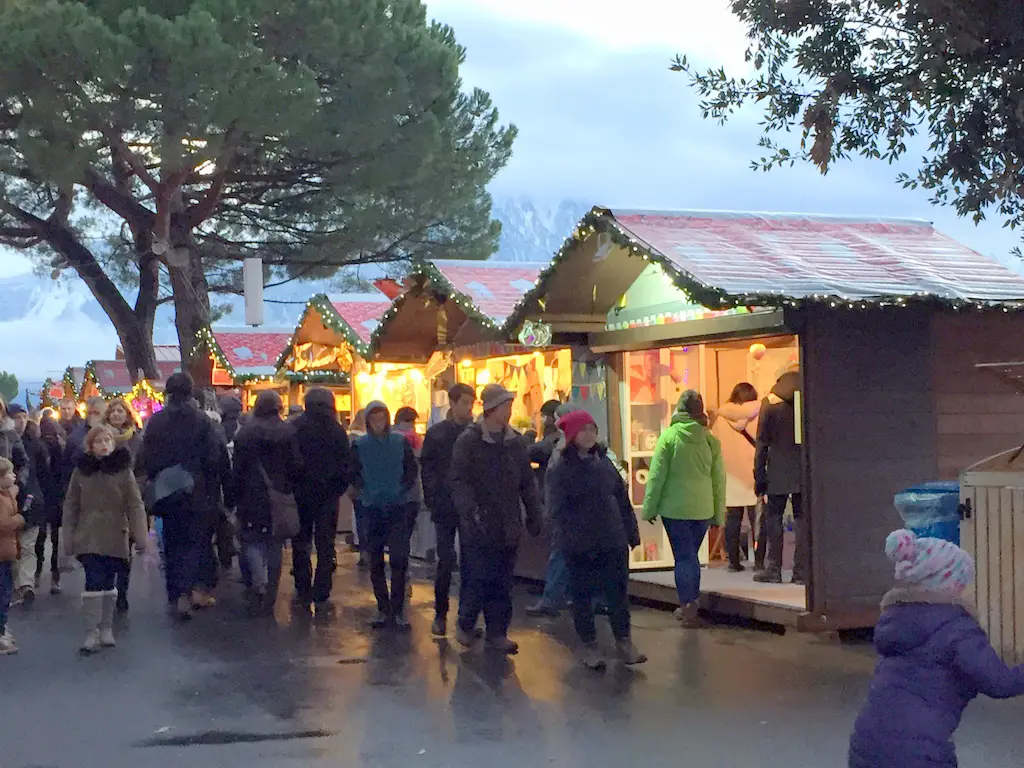 The place to stay: Hotel Bristol and Spa
Favorite thing to do: Visit the Christmas Markets
Paris, France
Elisa from World in Paris
Paris at Christmas time is a great place to visit with family. There are many Christmas markets and the Christmas illuminations and decorations are amazing. Also, the main department stores in the city have imaginative Christmas window displays featuring fantastical animated scenes with sparkling lights, festive holiday music.
During the winter holidays, there are also many activities for the children. Our favorites are the Festival du Merveilleux at Musée des Arts Forains, the Lights Festival at Jardin des Plantes or an afternoon of fun in one of the many ice skating rinks spread around the city.
For those who want to see more than the French capital, we recommend day trips to Versailles Palace or the fairytale Châteaux de Vaux-le-Vicomte, even more, incredible with the Christmas decorations.
During Christmas in Paris, we recommend staying in the central districts of Paris so you can walk everywhere and enjoy the city's festive atmosphere. Les Patios du Marais offers elegant-style apartments and studios and a floral patio plus they are located in the quintessential area of Le Marais in Paris 4
The place to stay: Les Patios du Marais, Paris 4
Favorite thing to do: The Lights Festival at Jardin des Plantes
Bethlehem, Palestinian Territories
Can you imagine anything better than celebrating Christmas in Bethlehem? The reported birthplace of baby Jesus? Bethlehem is a Palestinian town, a few minutes south of Jerusalem that each year holds a major festival in Manger Square. Live performances, historic locations, food, decorations.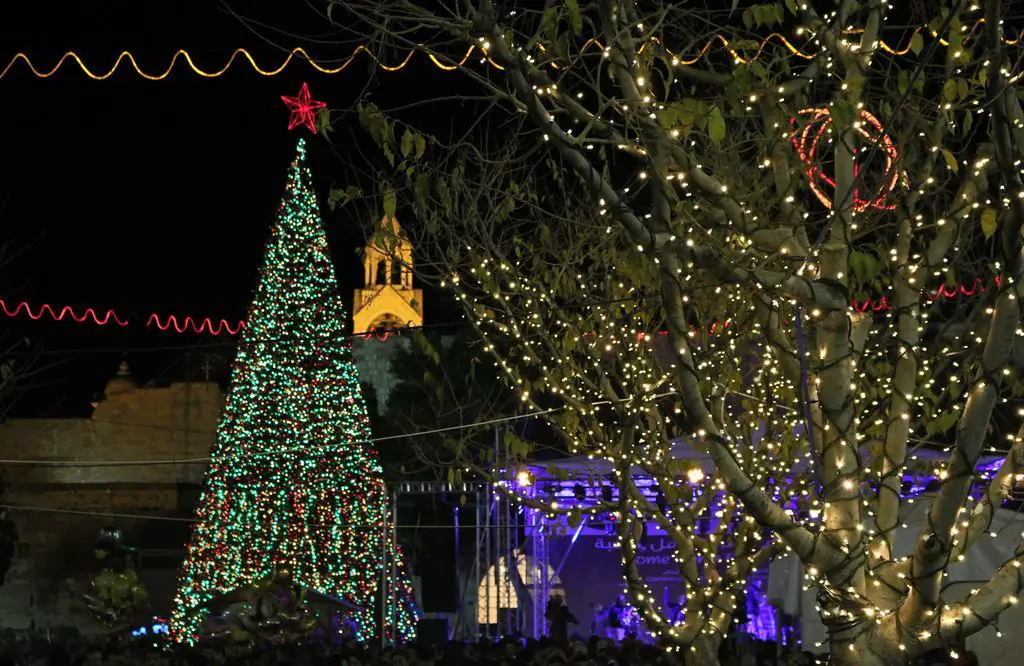 The place to stay: Abraham Hostels in Jerusalem. So much more than a hostel, it's a community.
Favorite thing to do: Milk Grotto. Legend has it that a while breastfeeding Jesus a drop of Mary's breast milk fell to the floor and turned the black stone cave to white.
Abu Dhabi, United Arab Emirates
Keri from Our Globtrotters
What do you mean they celebrate Christmas in Abu Dhabi? Isn't it a Muslim country?  You can be sure there's not a hotel or shopping mall that hasn't fully embraced the festive season in the UAE capital. Whilst temperatures barely drop below 25c in December – perfect still for the beach – you'll get your yuletide cheer at tree lighting ceremonies, festive markets, winter wonderlands (machine-made snow and all) and carol services.
Don't be surprised if kids in their best kaduras are lining up side by side with ex-pat kids to have their photos taken on Santa's lap and dream of gifts under their decorated tree.  Santa can come in many shapes, colors and sizes – there's no one-size-fits all-white jolly guy here! We've seen him arrive on a speedboat, by Formula 1 racing car, and on a camel, of course!
Although no formal public holiday is given for Christmas Day, it does coincide with school holidays and is one of the biggest days of the year for the hospitality industry with giant Sunday roast style banquets held at hotels across the city. With the large ex-pat community, you will also find Sinterklaas makes an appearance in early December, and Orthodox Christmas churches will be packed to the brim on 7 January.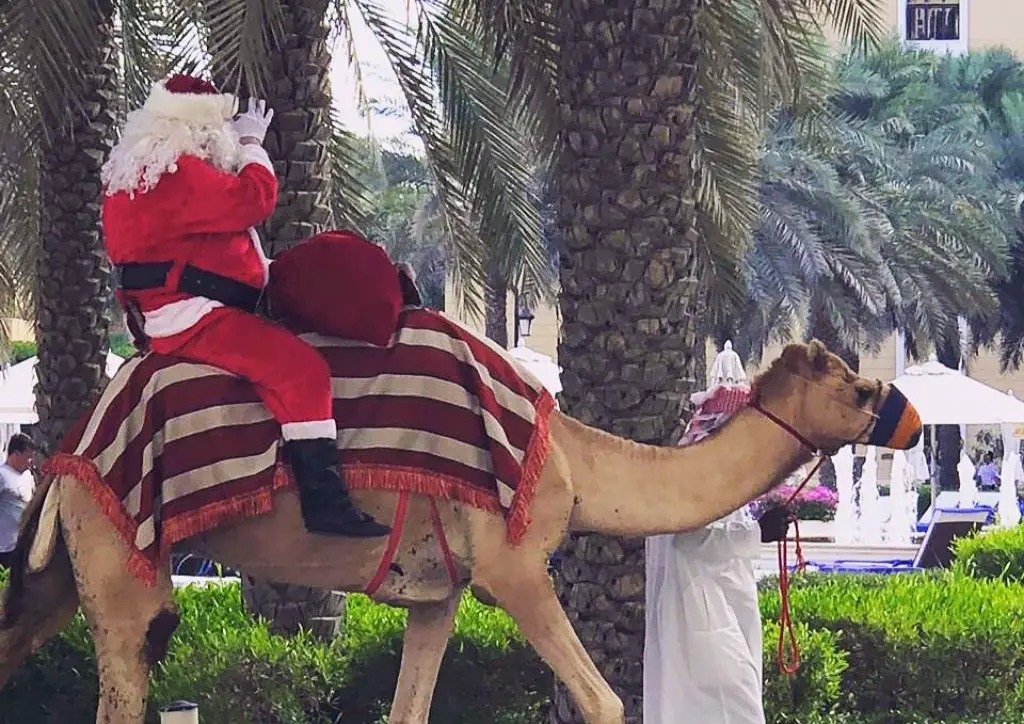 The place to Stay: We love St Regis on Saadiyat Island, the perfect beach setting but with traditional Christmas touches throughout and memorable Christmas Day Brunch
Favorite things to do:  One of the most unique and enchanting experiences are joining in with "Carols in the Desert" run by St Andrew's church.
New York, United States of America
James from Travel Collecting
New York, always amazing, is truly magical in the holiday season.  From the iconic oversized real tree at Rockefeller Center to Santaland at Macy's, amazing window displays, the over-the-top gaudy decorations in Dyker Heights and the iconic Radio City Music Hall Christmas Spectacular, there is so much to do for the holidays that your whole family will want to come back every year.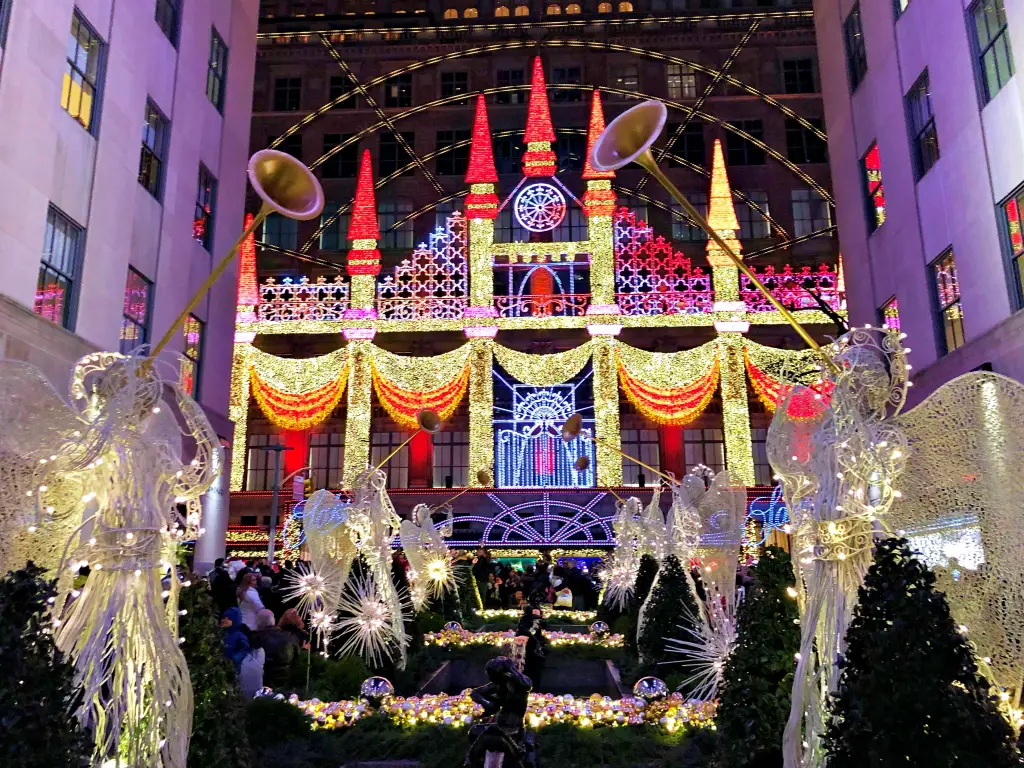 The place to stay: Try the Paramount Hotel Times Square, a boutique hotel right in the middle of the action.
Favorite thing to do: There are so many things to do in New York at Christmas, that is hard to choose one top thing, but perhaps my favorite thing that I do every year (I live in NYC) is a walking tour of the department store windows.  After a visit to Santaland (perfect for the younger members of your family), start at Macy's on Herald Square.  Stop off at Bryant Park for the holiday market and ice skating.  Then pose for a photo in front of the lions of the New York Public Library, decorated with wreaths for the holidays, before heading up Fifth Avenue.  Saks is lit up with an elaborate light show that plays every ten minutes; Rockefeller Center has the crystal-star-topped tree, an avenue of angels and more ice-skating; and Bergdorf's windows are always a feast for the visual senses.  Finish off with Barneys and Bloomingdale's, and in about four hours, you have seen the best of the best.  Don't miss popping into the Lindt chocolate store for a free sample!
NOTE:
I've celebrated Christmas twice in New York and I would go again!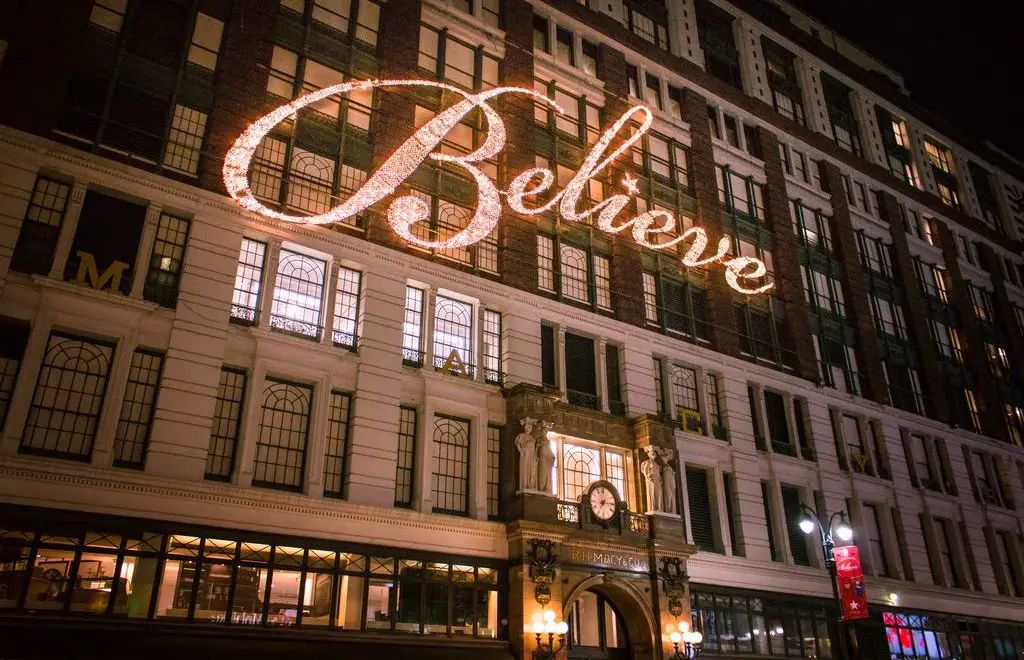 The place to stay: I recommend staying at Homewood Suites by Hilton New York Midtown Manhattan Times Square-South. Big enough for the whole family and walking distance to Times Square.
Favorite thing to do: The Ride. By far the best fun I had in New York when it's snowing and cold outside. Ride around in a sideways bus and watch street performers interact, dance and sing as you see the best sights of New York.
Hawaii, United State of America
Sierra from Free to Travel Mama
If you are looking for a warm, tropical location for Christmas, the Hawaiian islands are one of the best destinations for a festive beach vacation. The islands are filled with opportunities for waterfall chasing, snorkeling, easy hiking with kids, cultural events, and botanical gardens to visit all year long. Snorkeling at Hanauma Bay on the South shore offers aquarium-like snorkeling even in the winter when the North shore beaches are better for watching surf competitions.
Visiting Hawaii for Christmas offers a special treat, as December is the beginning of peak whale watching season. Oahu also offers several Christmas events like Santa arriving on the beach via canoe, the Lighted Boat Parade, Hawaiian Christmas Market, and Christmas light displays throughout Honolulu.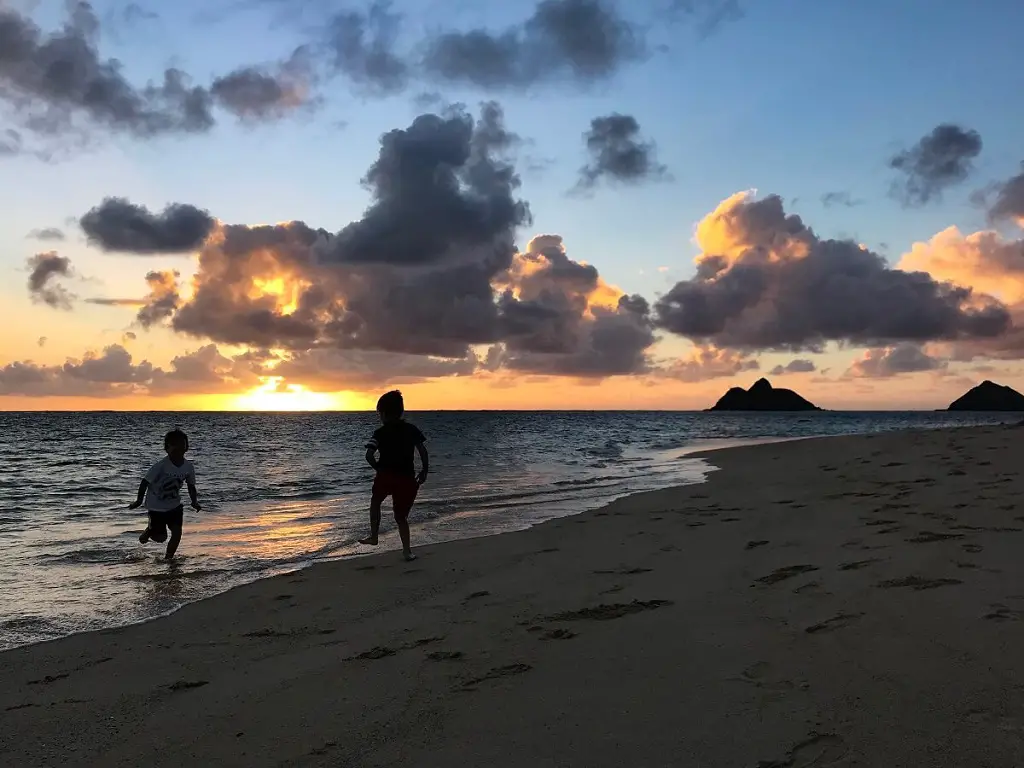 The place to stay: The Moana Surfrider is a great choice for a family-friendly place to stay. The lovely hotel is decorated festively and offers a Christmas meal, Christmas Tea, and Breakfast with Santa. Don't miss the Waikiki Christmas Store on the left side of the building for a special ornament as a souvenir from your amazing Christmas in Hawaii!
Favorite thing to do: Watching the sunrise on the perfect white sand that is Lanikai Beach is the best way to start your day in paradise. Continue up the windward coast to spend a day in the valleys of the mountains at gorgeous Kualoa Ranch.
Vancouver, Canada
Tara from Pint Size Pilot Family Adventures
With snow-dusted mountains as your backdrop, it's easy to get into the Christmas spirit in Vancouver, Canada. This west coast city offers simply dozens of festive events throughout December – providing fun for the whole family. Ice skate along to classic Christmas tunes at the Aurora Winter Festival or capture that perfect holiday pic under the interactive light displays at Glow Gardens (new for 2019). The city is also ideally located for those wishing to participate in winter sports. Vancouver has four ski resorts within a 90-minute drive, where visitors can enjoy downhill skiing, snowboarding, nordic skiing, snowshoeing, and tubing.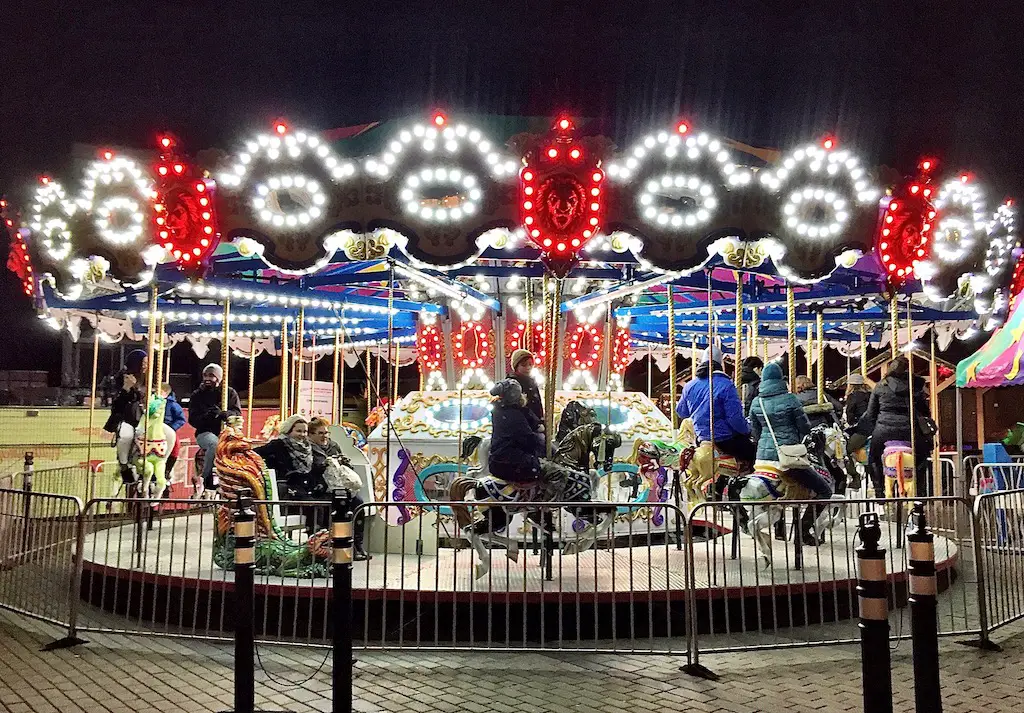 The place to stay: While it is a lovely hotel at any time of the year, the centrally-located Fairmont Hotel Vancouver does an absolutely beautiful job with their Christmas decorations and special events throughout the holiday season.
Favorite thing to do: If you want the quintessential Vancouver Christmas experience, a visit to the Vancouver Christmas Market is a must. Fun for the whole family, this authentic German market has dozens of yummy food stalls, a beautiful Christmas carousel, live music, a thoughtfully-curated selection of handcrafted gifts, gingerbread cookie decorating for the kids, and so much more. It is the perfect way to get into the holiday spirit in Vancouver.
Whistler, Canada
Tara from Pint Size Pilot Family Adventures
If you are looking to experience a classic winter wonderland at Christmas, look no further than Whistler, British Columbia. One of the easiest ways to visit Whistler is via bus. A bus to Whistler from Vancouver is approximately 3 hours, and the scenery is priceless.
Consistently ranked as one of the top winter destinations in North America, this ski resort and mountain town offers almost every winter activity that you imagine (from bobsledding to backcountry skiing). Throw in some special holiday experiences such as skiing with Santa, ice skating under the stars at Olympic Plaza, or taking a snowy sleigh ride to a rustic cabin – and you've got a pretty amazing winter getaway!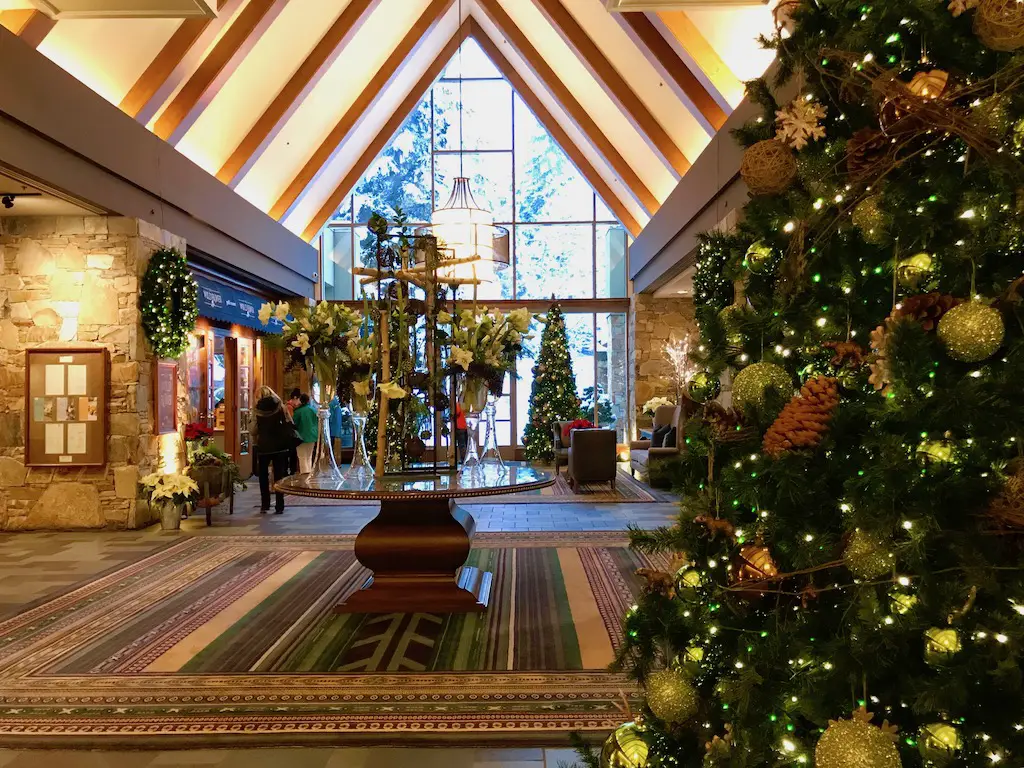 The place to stay: Those fortunate enough to stay at the Fairmont Chateau Whistler will likely experience an abundance of holiday cheer while in Whistler. The giant stone fireplaces, beautiful light displays, and live music all add to the festive atmosphere – making it a worthy stop (even if you haven't booked a stay).
Favorite thing to Do: Sometimes you don't have to go far to find that Christmas spirit. Simply one of the most magical things to do in Whistler at Christmas (and the most budget-friendly) is to do the Village Stroll. With a hot chocolate in hand, take a walk after dark to enjoy the beautiful lights and decorations that adorn the trees and buildings throughout this charming mountain town. Kids love it too – joining the locals in sliding down some of the giant snow piles dotted around the village (and often staying up just a little too late because it is so much fun).
Sydney, Australia
Christine from Adventure, baby!
Sydney is a magical Christmas destination. Thanks to our stunning summer weather, Christmas can be spent at the beach enjoying the sun and surf, with a casual barbeque lunch. The city still gets into the traditional spirit of Christmas, however, with a series of caroling events, Christmas-themed shop windows, giant Christmas trees, and Santa meet-and-greets. The shops are decorated for the season, as are many people's houses! Don't miss the famous QVB Swarovski Christmas tree. Sydney's tallest Christmas tree can be found inside the iconic Queen Victoria Building, standing 24 meters tall and covered in over 82,000 sparkling Swarovski crystals. Many of the large hotels put on special Christmas Day banquets or themed high teas, making this the merriest summer Christmas you'll ever have.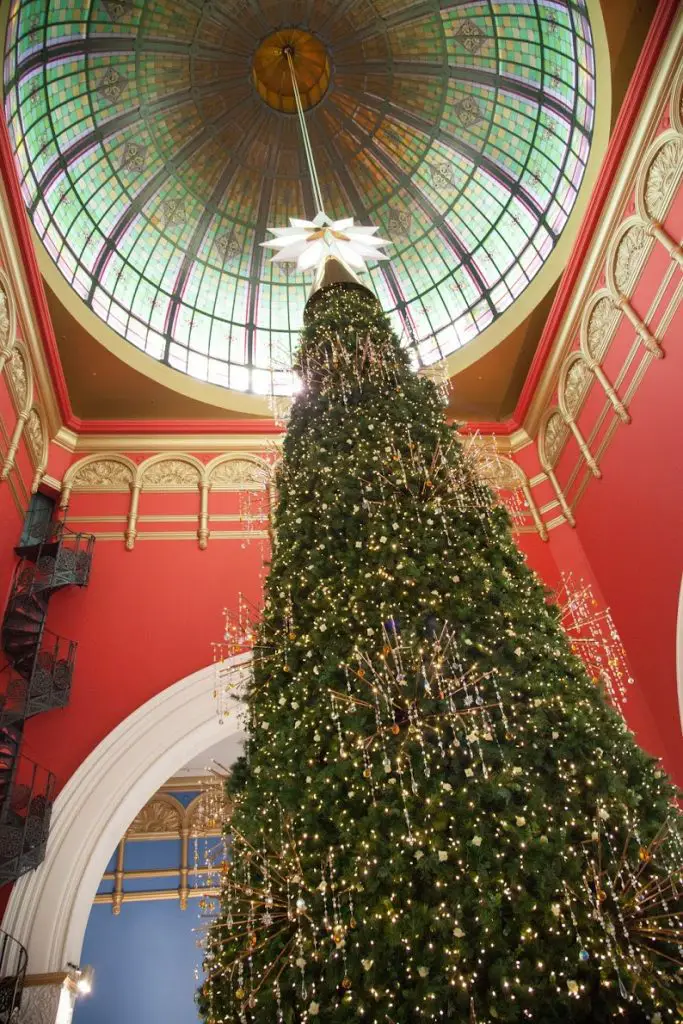 The place to stay: The Langham or Shangri-La Hotel, Sydney.
Favorite things to do: Hit up the many beaches or enjoy brunch at a cafe.
Queenstown, New Zealand
Bailey from Destinationless Travel
Although a great destination all year round for families, Queenstown in New Zealand is especially wonderful during the Christmas holiday season. The warm weather makes spending time outside perfect! Hiking, biking riding, white water rafting, riding on a jet boat, or simply just relaxing at the beach are just some of the amazing things to do in Queenstown in the summer and over the Christmas holidays.  You can also expect Christmas Markets, shows, and fireworks for New Years!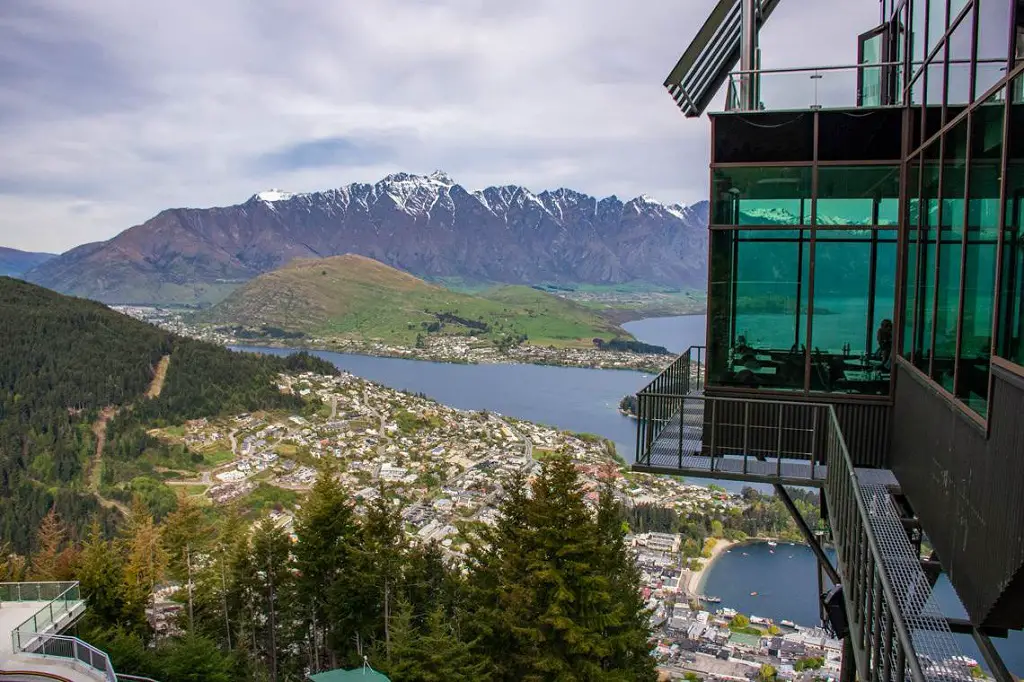 The place to stay: Of course, this is a busy time of year for Queenstown with visitors coming to explore this beautiful town from all over the world, so you need to be sure to book accommodation in advance. A great place for families to stay is at the Novotel Queenstown Lakeside. It has a central location and amazing views of the lake and mountains!
Favorite thing to do: Head up the gondola to the Skyline building at Bob's Peak! Here, you get amazing views of Queenstown and lake, plus there are lots to do like riding the Luge, hiking, ziplining or paragliding. They also have a special Christmas celebration annually on Christmas Day. Tickets include the gondola ride, two luge rides, a special (huge) Christmas buffet, as well as a visit from Santa!
Tokyo, Japan
Emily from Kids and Compass
For Christmas with a twist, I'd recommend heading to Tokyo for an adventure the family won't forget!
While the Japanese don't officially celebrate Christmas, that doesn't stop everyone from getting festive.  You'll find Christmas decorations, snowmen, and even Santa everywhere, and you'll also hear plenty of Christmas music (which is unfortunate if you were hoping to escape it).  There's even a German Christmas Market at Roppongi. So there's no need to worry about missing out on the Christmas spirit!
While you're in Tokyo in December you shouldn't miss out on seeing some of the capital's wonderful winter illuminations.  There are plenty to choose from.  Some are simply tree-lined streets adorned with lights, while others are choreographed in time with the music.
If you're traveling with kids, then try out Tokyo Disney Land or Tokyo Disney Sea at Christmas for a special treat.  Elsewhere in Tokyo, tons of fun can be had at TeamLab Borderless, an amazing interactive digital art display; the notorious Robot Restaurant; or the Harajuku Monster Cafe.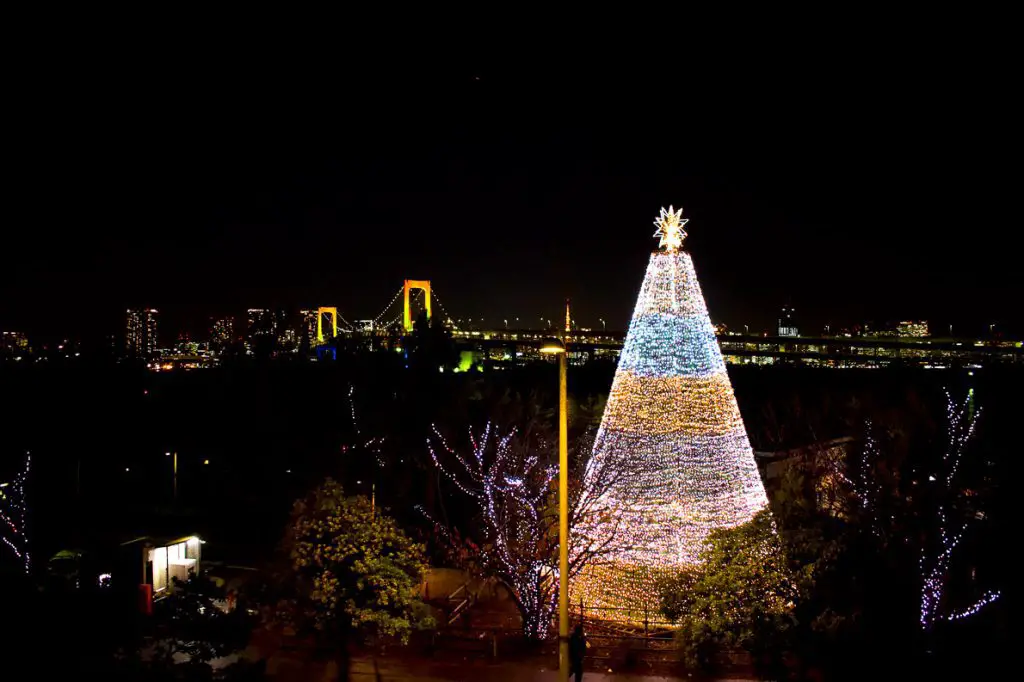 The place to stay: Share Hotels Lyuru (budget hostel where we stayed)
Favorite thing to do: TeamLab Borderless at Mori Digital Art Museum, Odaiba
Rio de Janeiro, Brazil
Candy from Boogie the Pug
Not every Christmas is a Winter wonderland. Head to Rio de Janeiro, Brazil for Christmas in the tropics! It's summer in December, and the weather will be nice and hot. You'll be able to enjoy fun activities like hiking, swimming, and spending lots of time outdoors. Rio is home to the largest metropolitan rainforest in the world and some of the best beaches. During the holidays, they put up a large, colorful Christmas tree in the middle of the Rodrigo de Freitas Lagoon (known as Lagoa). There's also plenty of outdoor markets to do some last-minute Christmas shopping. It'll be a fun, tropical holiday, and you'll still get a white Christmas – with white sand instead of snow.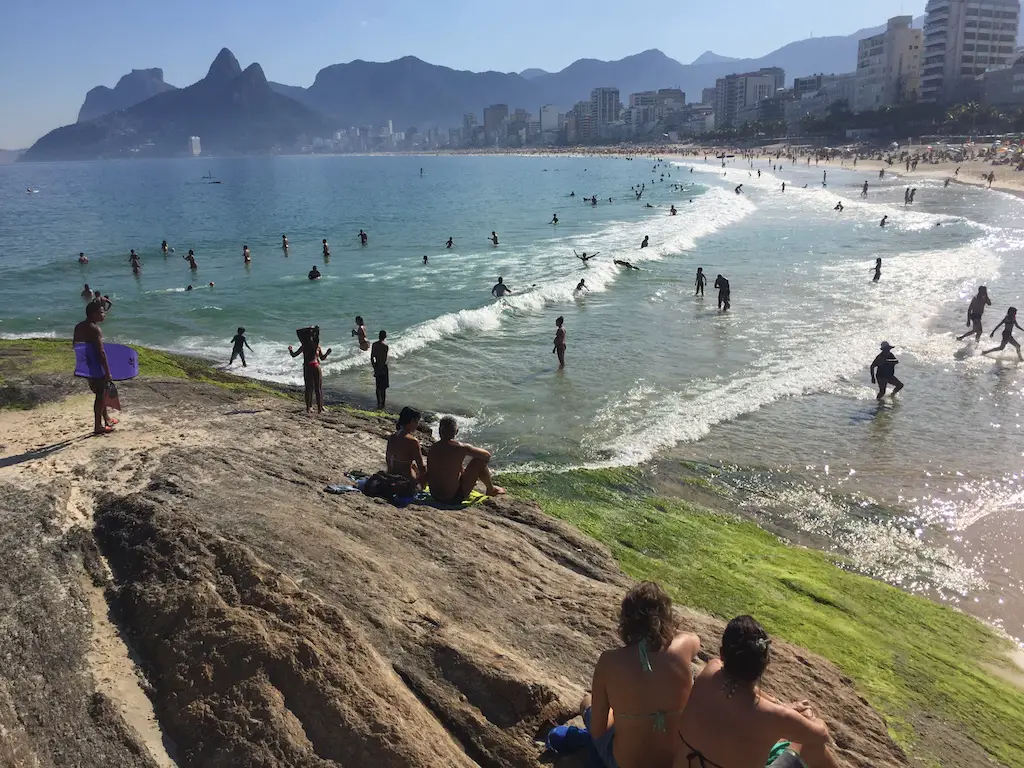 The place to stay: There are many hotels to choose from that. If you have the budget, check out the Janeiro hotel in Leblon. It's right on the beach, and they have a fantastic pool.
Favorite thing to do: Go to the beach! Rio's beaches come alive in summer, buzzing with activity. Try to stand up paddle or surfing, drink a fresh coconut or mate limão, or layout on the sand and people watch.
LOOK HOW EASY IT IS TO PIN THIS!
FOMO - do you have it?  Well there is no need to Fear On Missing Out here at Explore With Erin. Sign up to receive updates directly to your in box. I won't spam you, but I do promise a whole lot of awesomeness. What are you waiting for? Join Me!