Atlanta. Home of movies, Coca-Cola, Whale Sharks, and CNN. It was on our road trip agenda as a simple pass-through, but with car troubles, our stay was extended and I am so glad.
What was Atlanta originally called?
Atlanta was originally named Marthasville in honor of the governor's daughter. Founded in 1837 it was also named Terminus as it was the end of the Western & Atlantic railroad line. The name was then changed to Atlanta, the feminine of Atlantic, as in the railroad.
Where to stay in Atlanta?
Really your two best options in Atlanta are Midtown or Downtown. Midtown is great for nightlife, arts, and cuisine. While Downtown has plenty of history and architecture, as well as being close to all the tourist attractions.
With the help of Hotels.com here are our 5 favourite things to do in Atlanta, plus a bonus daytrip for you.
Sugar High At Coca Cola Company
By far the highlight of our things to do in Atlanta with kids was visiting the World of Coca Cola – a museum showcasing the history of The Coca-Cola Company.
The kids and I were invited to try the VIP tour, complete with a guide to show us around. I'd recommend going the VIP route if you are not so much into reading the signage, and engage more with a vocal teacher. Perfect with kids. Our guide, Ann, had been working at Coca Cola Atlanta for over 16 years. She had a plenty of stories to share, as well as a wealth of knowledge.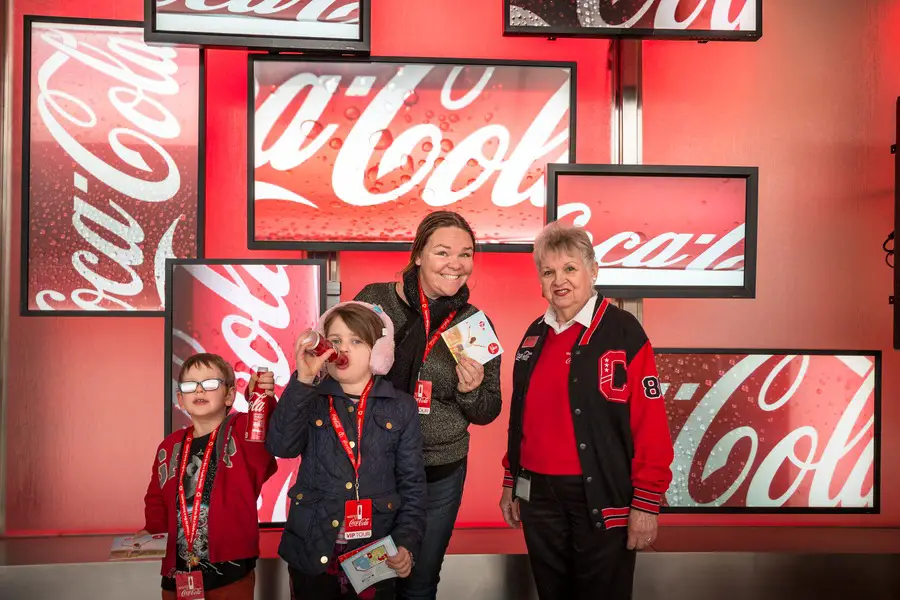 If you would rather wander through slowly or spend more time at a particular exhibit with the kids, going ahead with the regular self-guided tour.
Security was tight, but once we got through to the lobby we were straight into feeling at home with a bottle of coke.
As you go through the museum there is so much to look at and do. Watch old coke TV ads, see the very first print ads, read the story behind the drink, admire coke-inspired art, see how the drink is bottled and packaged, 4D movies, and so much more. Even phone charges to keep your phone going with all that picture and video footage you're going to take.
I loved the old memorabilia and my marketing degree really buzzed witnessing all the right moves Coke made from its first moment of creation in 1886. Did you know over 1.9 billion drinks are served worldwide every day now? And you can get coke merchandise anywhere, love a good coke shirt!
My favorite thing at Coca-Cola Atlanta was the on-site vault which is said to house the secret formula. The myth goes that only 2 people know the formula and each only knows half. Truth or not, it's a great marketing scarcity technique.
You heard my favorite, but what about the kids? After all, we were here doing things in Atalanta with kids. So most of their time was spent in the Tasting Room. A room where you can sample 64 different products offered by Coke worldwide. I was taken by the Kiwi Fanta from Thailand, while Mia fell in love with a strange South African drink. I was surprised there was no Lift from Australia.
On top of the Tasting Room, adjacent was freestyle self-service Coke machines, delivering 100 carbonated and non-carbonated beverages produced by the company. The kids mixed and matched flavours like they were making magic potions for a witch or two.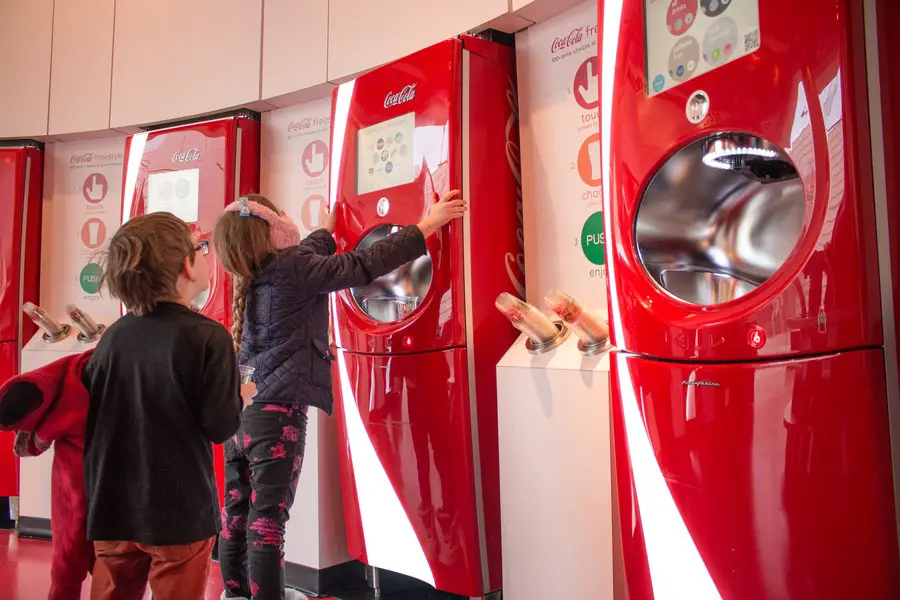 If by now you have not had your fill of coke, don't dismay you are handed another bottle of coke on the way out. Not hard to see why my 5-year declared, "this is my favorite museum in the whole wide world."
Skip the que and get discounted tickets online.
Ride The Longest Freestanding Escalator Inside CNN
Whatever your preference for news the real highlight of things to do in Atlanta with kids is the start of the tour on the world's longest freestanding escalator – 196 feet long (60 meters) and 8 stories high.
After the kids got over that fun, our guide proceeded to show us around the CNN Center, stopping to watch live news broadcasts and peeking over the shoulders of the 250-something journalists hard at work behind the scenes collecting and producing the news that gets broadcasted to over 200 countries.
We were accompanied by a security guard the entire way, which was slightly intimidating, but at least it kept the kids in line real good.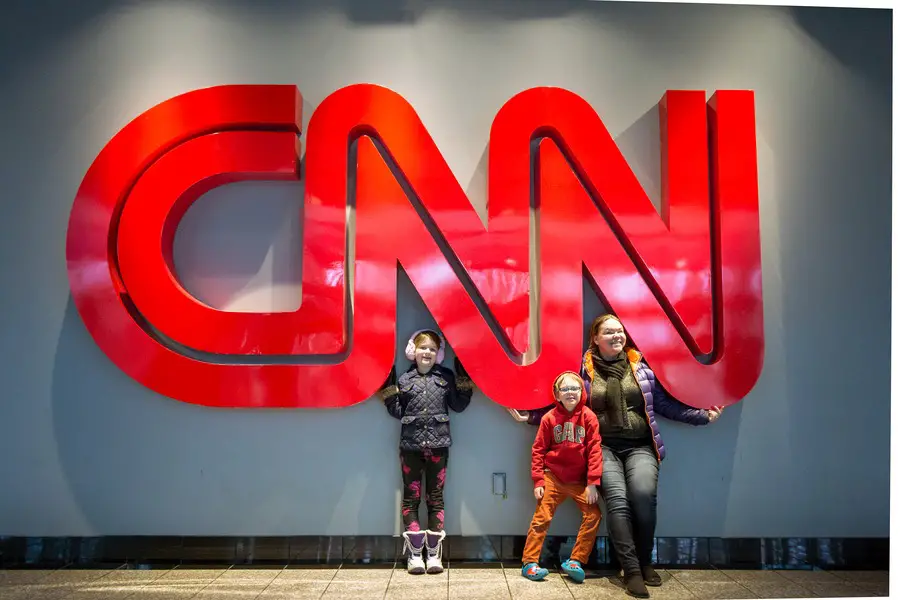 Watch A Whale Shark In The Georgia Aquarium
Did you know The Georgia Aquarium is the largest aquarium in the Western Hemisphere? In fact, when it opened it was the largest in the world, right up until 2012.
The aquarium entrance is designed as an impressive circular hub with 5 unique galleries extending in all directions. Plan to spend at least 3-5 hours at the aquarium; there is a lot to see.
Ocean Voyager – this galley contains 6.3 million gallons of water and several thousand fish. It holds the record as the largest indoor aquatic habitat in the world! And of course, you can tell it's that big because it also is home to a mammoth Whale Shark, which you could watch from one of the world's largest viewing windows. A bit different from the time we swam with Whale Sharks in Mexico.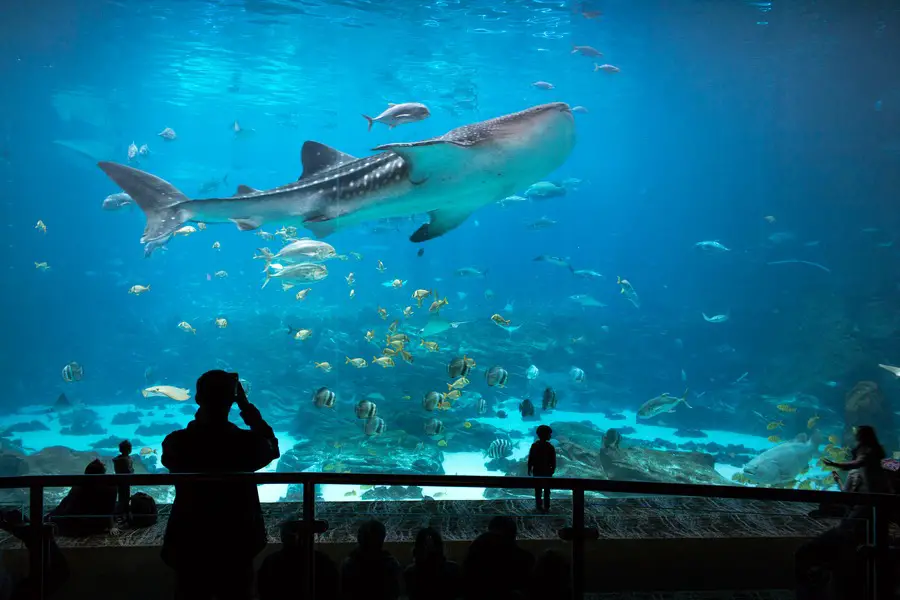 Dolphin Tales – perhaps a controversial gallery since it houses an indoor dolphin stadium, like SeaWorld, complete with a soak zone. Depending on where you stand on the topic of dolphins in captivity you may or may not want to see this informative and educational show involving dolphins and their trainers.
River Scout – this gallery reflects regional environments. You can watch North American fish from beneath an overhead river, including piranhas.
Tropical Diver – this gallery is dedicate to Indo-Pacific fish like Nemo, and lots of jellyfish. You can also watch a 4D movie here.
Cold Water Quest – here you will find animals from the world's polar regions, like beautiful white beluga whales and African penguins.
Parking: onsite parking is US$10, however, there are several parking lots along Luckie St NW across the road with $5 all-day parking.
Skip the que and get your discounted tickets here.
Let The Kids Play Outdoors At Centennial Olympic Park
Located in the heart of all these attractions is this public park covering 22 acres, where the Summer Olympic Games was held in 1996.
Inside the park, the kids are going to love the playground, but don't forget to check out the iconic Fountain of Rings, where synchronized water and music program makes for great splashing fun.
or take a selfie at The Spectacular. You can also check out the digitally interactive mural at the Visitors Center or grab a picture in front of the Olympic Rings sculpture. 
There is always an event happening too, so check the calendar before you go.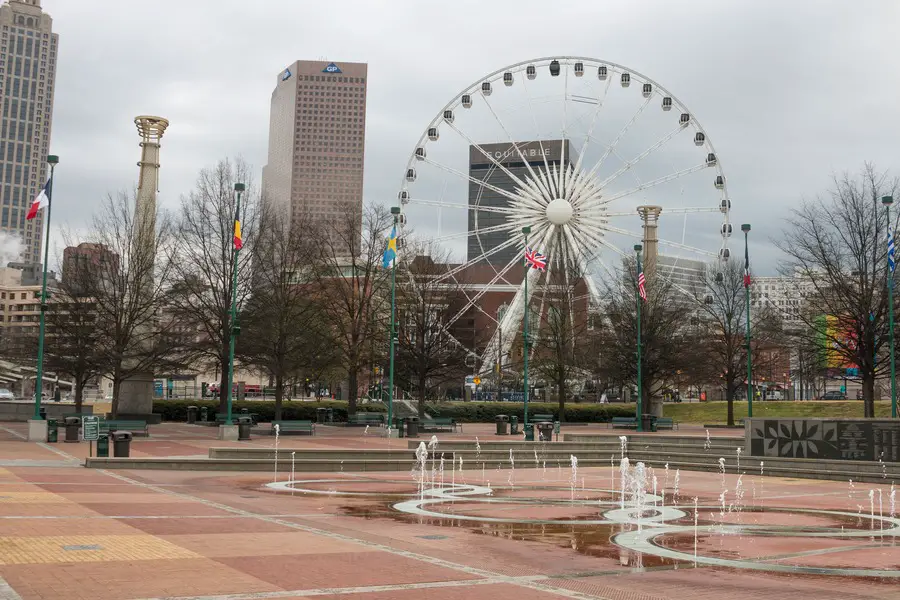 Let The Kids Play Indoors At Children's Museum of Atlanta
If all that outside play hasn't worn the kids out with things to do in Atlanta then opposite Centennial Olympic Park is a delightful children's museum perfect for kids 2-10 years old.
Renovated in 2015 this museum has a number of unique features not found in other children's museums. My kids had a blast in every exhibit, from the Waffle House kitchen/restaurant (where they served food), to the Science Bar (where they made real slime). Other favourites were the climbing frame, air-blast rocket launcher and several interactive shows throughout the day.
For myself I found entertainment in the unique topographic augmented reality kinetic sand pit. It featured coloured lights projected onto the sand which changed in real-time depending on how the sand was built up into mountains or scooped out to make rivers and oceans.
P.S. don't forget to listen to the stairs as you climb them, it's like creating music on a giant piano.
You are free to bring your own food on site, or just ask for a hand stamp as you leave and return later. However, there are vending machines offering reasonably priced healthy snack options.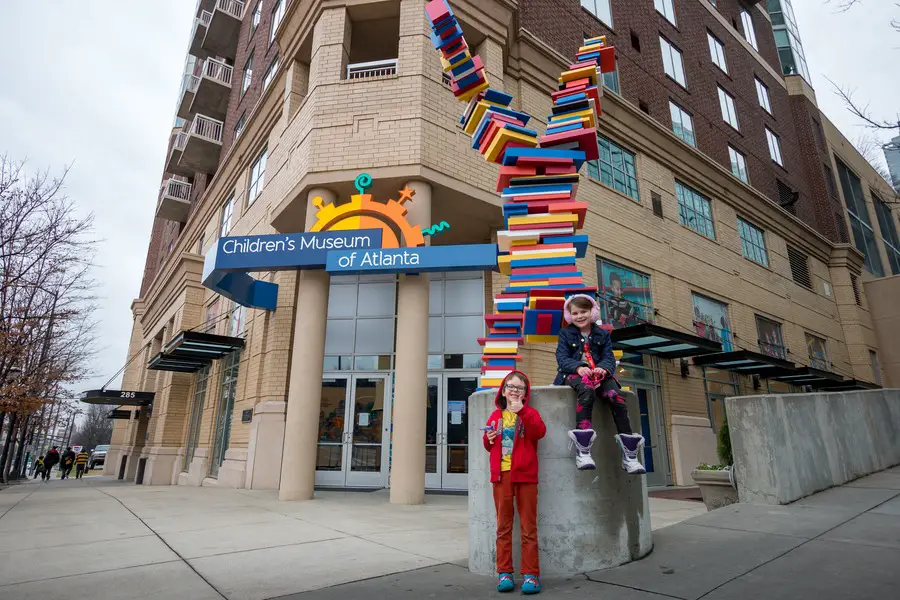 Chattanooga Day Trip To Ruby Falls
118 miles (190 km) northwest of Atlanta is Chattanooga, which is the perfect day trip to see Ruby Falls.
Compared to caves managed by the National Parks Service, this private cave is unexpectedly overcommercialized and tame. But it still provides a fun stop for things to do in Atlanta with kids.
Navigating the paved paths was easy and there were no strict rules about touching the walls. This of course meant that the cave had lost some of its raw appeal and wildness. But, on the other handmade it great for kids and more mature visitors.
The moment you finally see one of the world's largest underground waterfalls is complete with a choreographed "ta-da" music and colored light sequence. And as much as I found that over the top and completely artificial, the waterfall was spectacular nevertheless. Oh, but free Wi-Fi in the cave, was a plus.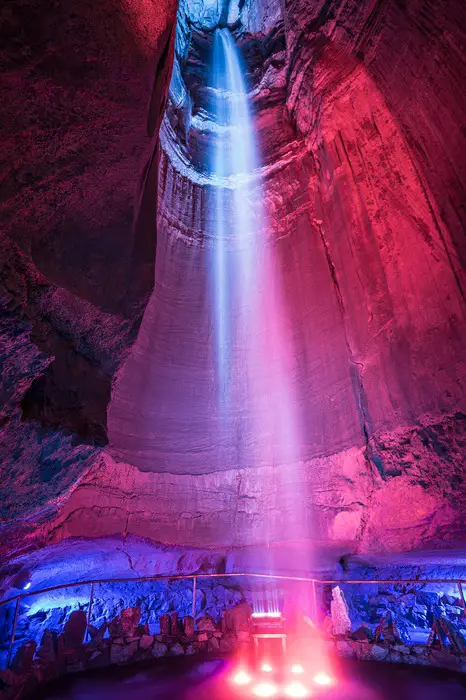 EWE Wrap Up
What we loved about things to do in Atlanta with kids is that all the attractions are within easy walking distance of each other. And you can save a few dollars on 3 of the above attractions with my favorite discount booklet, City PASS (which even includes access to the Fernbank Museum of Natural History and Atlanta Zoo, that we didn't have time to visit).
This is just the tip of the iceberg for beautiful Atlanta, however I am confident this is a great place to start when you're looking for things to do in Atlanta with kids.
LOOK HOW EASY IT IS TO PIN THIS!
FOMO - do you have it?  Well there is no need to Fear On Missing Out here at Explore With Erin. Sign up to receive updates directly to your in box. I won't spam you, but I do promise a whole lot of awesomeness. What are you waiting for? Join Me!