After 5 trips to New York City, I've come to love the Big Apple.
I almost consider a local. I could sniff out a $1 pepperoni pizza and wear a yankee hat like a pro. But I must admit I still get surprised every time I go. There is always more to do in the city that never sleeps.
Concrete jungle? I don't think so. You are going to find a vibrant and fun loving city that can keep you and the kids amused for weeks, months, or even years!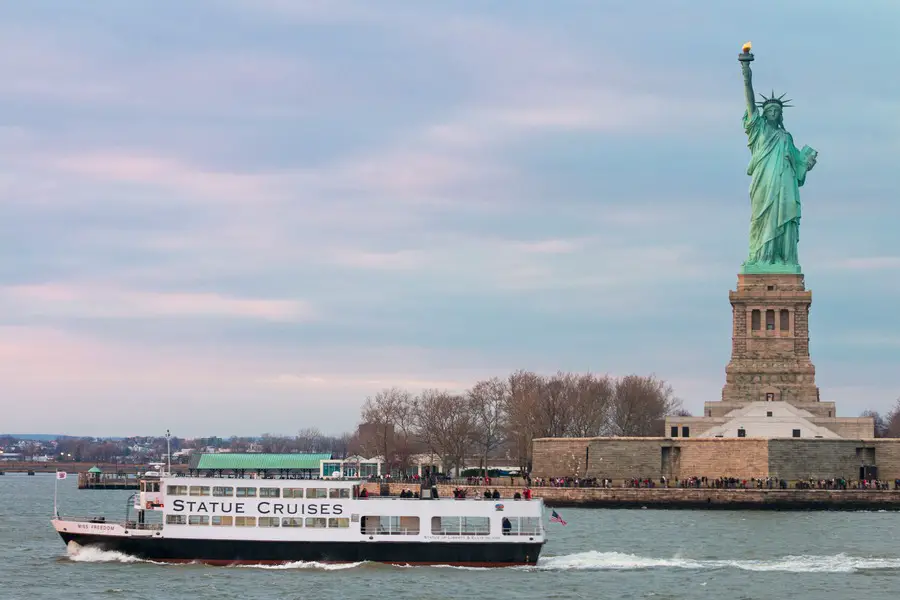 Where To Stay
If this is your first time in New York City, there are several neighbourhoods you can consider a stay in. New York itself is huge and includes five different boroughs named Manhattan, Brooklyn, Queens, the Bronx and Staten Island. The majority of attractions listed below are in Manhattan, so in collaboration with Hotels.com here's 4 recommended areas in Manhattan.
Upper West and East Side
If you're looking for family hotels near Central Park, New York Upper West and East Sides is where you will want to be. It's here you'll find the American Museum of Natural History, Children's Museum of Manhattan and Metropolitan Museum of Art.
Midtown West and Times Square
Of course everyone imagines Time Square when thinking of NYC. That's where you'll find Broadway and the majority of our list below. Midtown and Times Square is very convenient for first-time visitors, however, hotels are expensive and usually sold out so book in advance.
Midtown East
To the east of Times Square is Midtown East. Here you will find the Rockefeller Center, St Patrick's Cathedral, the famous Empire State Building, Grand Central Station and Radio City Music Hall.
Greenwich Village
South you will find the very hip and cool Greenwich Village. A beautiful neighbourhood with tree-lined streets and brownstone homes. It is most well known for being the home of the Friends Apartment building.
Top 10 Things To Do In New York With Kids
Now you have a place to stay what are you going to do with your time. Well, make a plan because without further ado here are my top things to do in New York with kids.
1. Play At Central Park
Central Park is the perfect playground for children of all ages. You can't ever be bored across the 843 acres of green space. In summer you'll be flying kites, racing boats in the bonds or chasing balls across the grass. In winter you can ice-skate, have snowball fights, eat toffee apples (or as the Yanks call them, candied apples) or take a cozy ride on the Central Park Horse carriages. It's here you will also find Central Park Zoo.
2. Wander Through The Natural History Museum
Loved 'Night At The Museum', then this is where you'll wander. The museum is huge, so plan your day well since we find one day wasn't enough. My kid's favourite exhibits were the giant dinosaur bones, the life-size Blue Whale and, of course everyone's favourite, the Easter Island head.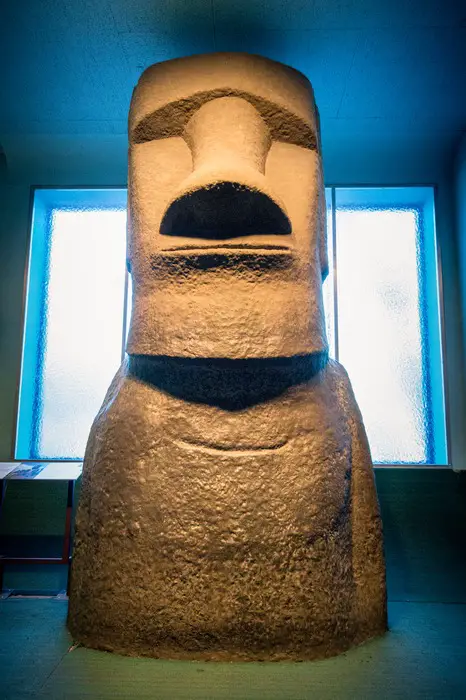 3. Take An Interactive Bus Tour
Number one on the list and I've done it twice, is the best tour you will do in New York. My family and I had the time of our life on The Ride, which is a fusion of entertainment, theatre, and sightseeing. You get to ride a multi-million dollar bus, with seats facing out large, tinted windows, around New York. Along with checking out some of the best sites The Ride also offers an interactive street performers experience that you don't know is happening until it's happening.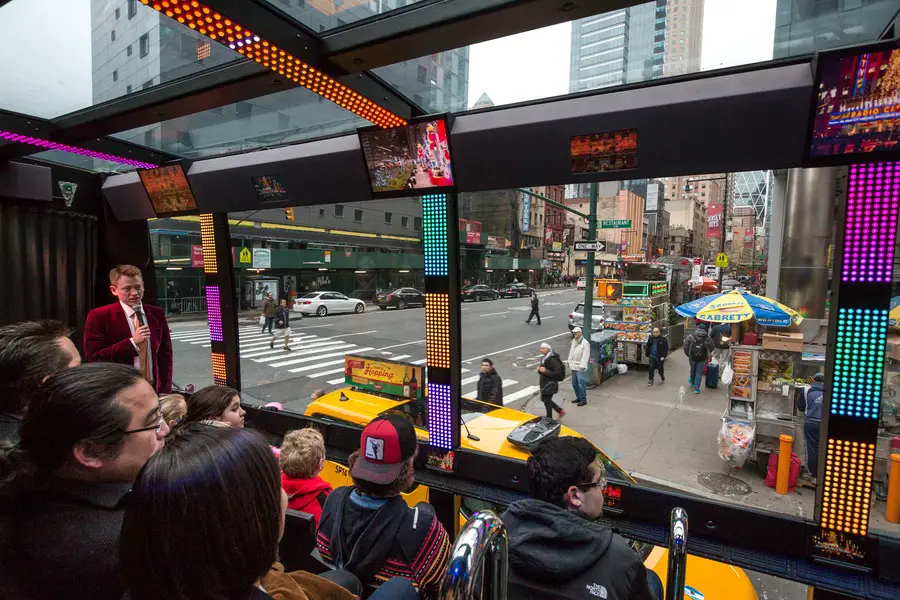 4. Visit Your Favourite TV Locations
New York is the backdrop to many a popular TV shows and you can find a Location Tour for almost all of them. While I was in New York I did my favorite, the Gossip Girl tour, in my favorite Chuck Bass shirt.
This particular tour is quite long so not going to suit younger kids, but if you have older kids who are in love with any of your favourite tv shows organise a Netflix binge, before hitting NYC for a fun day out.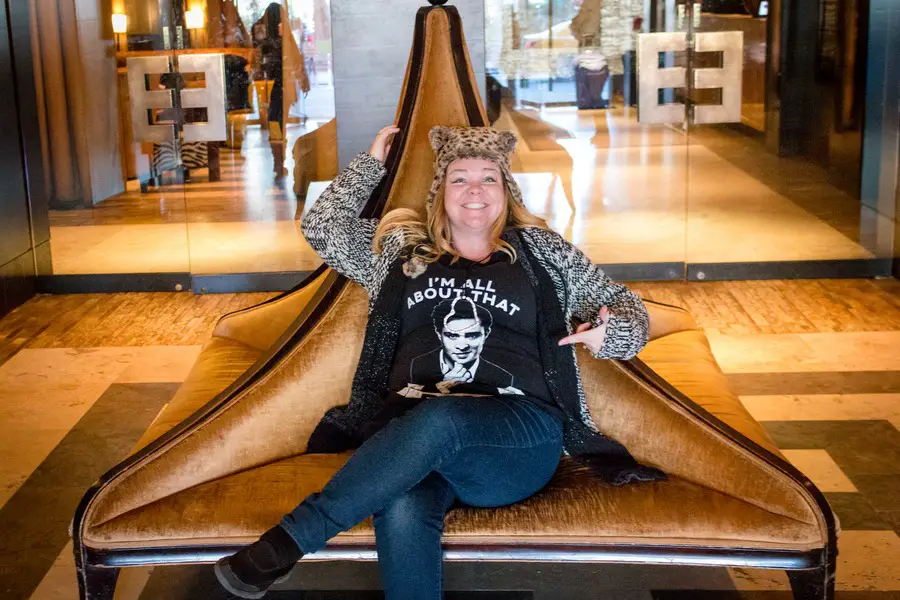 5. Eat All The Candy
Chocolate lovers can head to the multi-level M&M's World in Times Square full of movies and toys and every colour under the sun. Or nearby you can also checkout the Hershey Store, not my favorite chocolate, but I hear Americans love it.
Did you know that Ralph Lauren's daughter always dreamed of being a kid in a candy store? So she made her own. There is 3 floors of candy heaven at Dylan's Candybar and this is sure to be a family favorite.
6. And Don't Forget The Cheap Pizza
I'd always heard that New York is expensive. But there are ways to save money if you know-how. One of the more famous ways is a lunch stop at a 2 Bros for $1 slices of piping hot cheese pizza. And these pizza slices are bigger than your head. Practically added to the free things to do in New York with kids.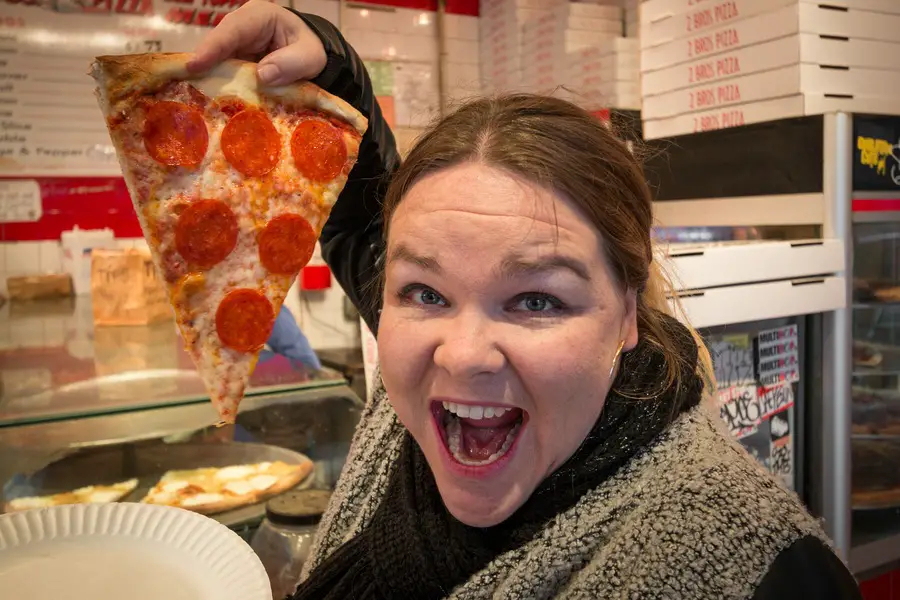 7. Gaze Over The Edge Of The Empire State Building
Once it stood as the tallest building in the world, and though it has fallen to the 29th spot, it's still a sight that knocks the socks off of you. Head to the 102nd floor to show the kids a bird's eye view of New York. Plus, for 50 cents they'll spend precious quiet moments using binoculars to stalk random, passers-by.
8. Get High At The Top Of The Rock
If you are looking for something less crowded than the Empire State Building then try the Top Of The Rock with its unrivaled views of the Empire State Building and Downtown. The kids liked this skyscraper better as there were smaller queues and ample seating to sit and enjoy the view. Plus, if you come for New York Christmas you can take a spin on the ice skating rink or place a wish under the famous super-sized Christmas tree.
9. Catch A Basketball Game at Madison Square Gardens
It's all about the atmosphere when you grab a hot dog and sit down to watch a baseball game. Such a loved sport that by the end of the night no matter what team is winning you'll be on your feet yelling and screaming for one of them.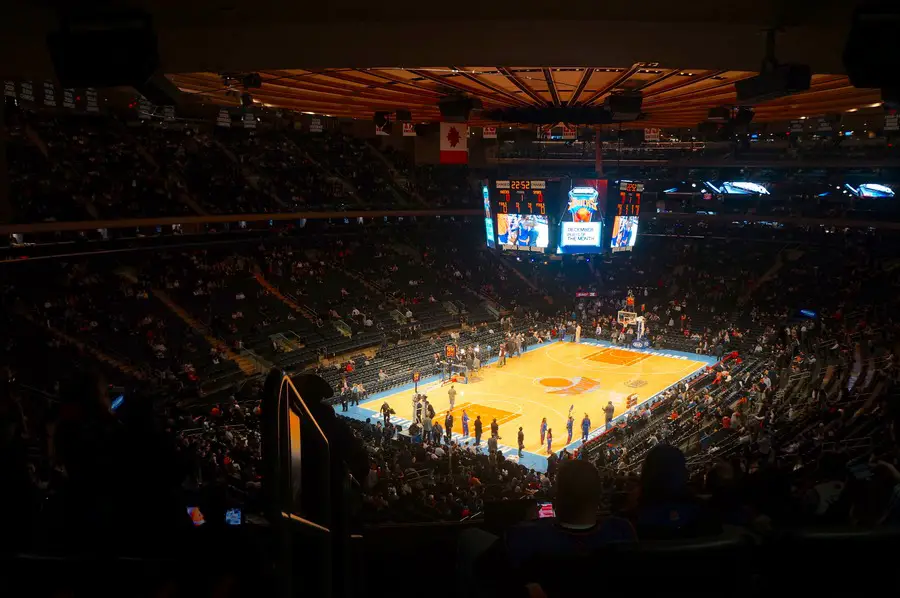 10. Pose With The Statue Of Liberty
My kids have wanted to see the Statue of Liberty for a very long time. And here's a bonus tip. You can see it for FREE! The Staten Island Ferry passes Liberty Island, waits 10 minutes and then returns so you can see twice. If you actually want a photo under her skirts then you can purchase a ticket to Liberty Island.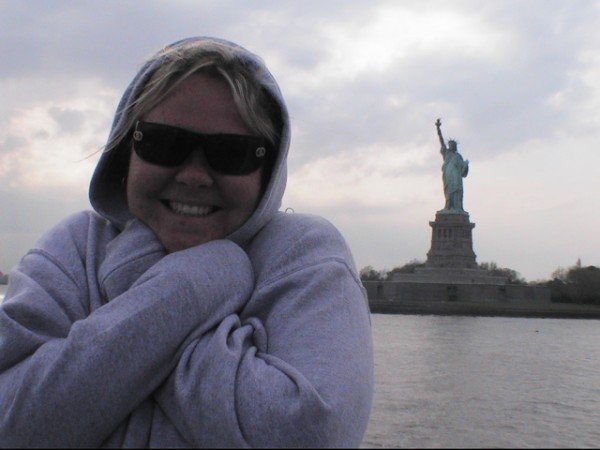 And now 3 insider tips for visiting New York with kids:
1. Avoid strollers
I love my stroller. It can carry shopping, as well as tired little feet. And while you may feel comfortable knowing your kids are safe and tucked away from the bustling streets of New York, there are definite cons. Like getting that stroller through the crowds, going up and down subway stairs, parking it in your tiny hotel room. Weigh it up, and gather your strength for that push.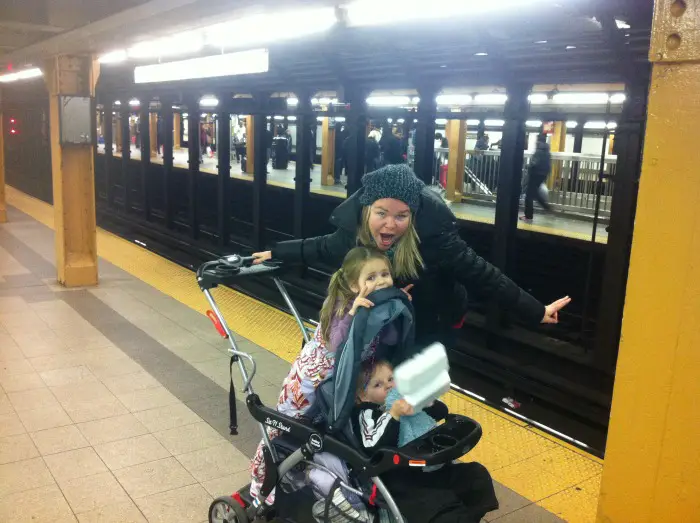 2. Get a CityPASS
If you are visiting more than 3 of the attractions on the pass you will save money. We used it to gain entry into a lot of the above attractions – perfect for your whirlwind vacation in New York.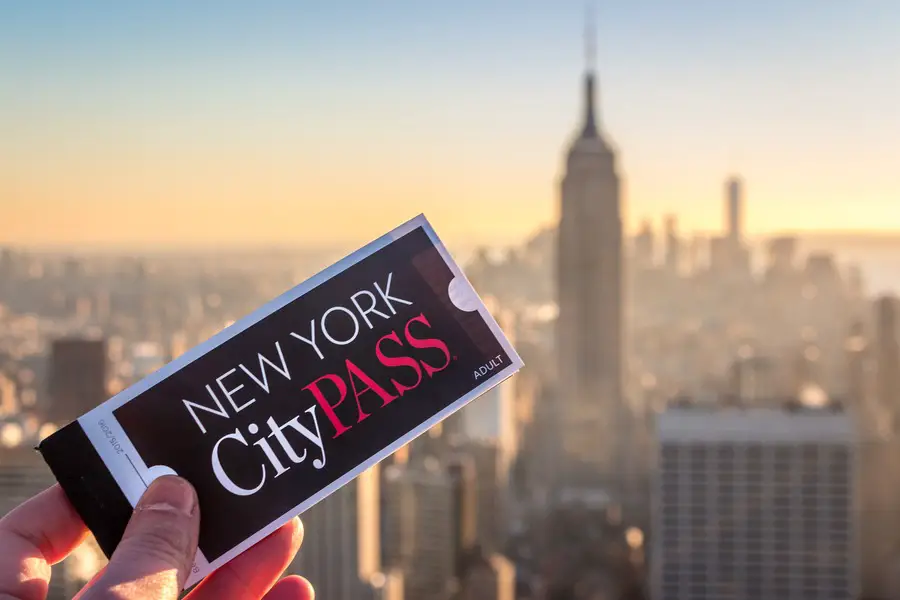 3. Avoid eating in Times Square
Most of the restaurants in Time Square serve a lot of tourists and they are not expecting repeat business, so the majority have bad service and average quality food. We preferred a short walk out of Times Square to Hell's Kitchen. Here is a list of great eateries in New York.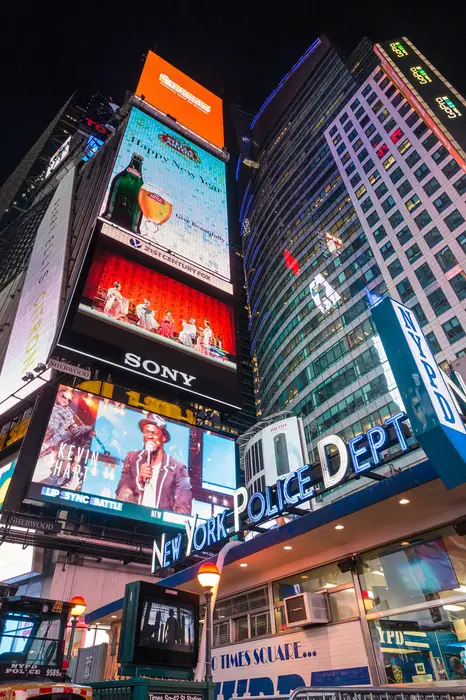 LOOK HOW EASY IT IS TO PIN THIS!
COVID TRAVEL TIP
2021 hasn't been the easiest year to travel in and safety is at the top of everyone's list. If you are comfortable with traveling, please travel responsibly and within the rules of each destination you visit, being aware that those rules change frequently and may be different from your home country.
If you are traveling in 2021, can I recommend:
Wear a face mask in countries that require you to do so. 
Bring hand sanitizer and wash your hands on a regular basis.
Check official websites before your trip for the latest updates on policies, closures, and status of local businesses.
Book a hotel with free cancellation in case you need to change your plans at the last minute.
FOMO - do you have it?  Well there is no need to Fear On Missing Out here at Explore With Erin. Sign up to receive updates directly to your in box. I won't spam you, but I do promise a whole lot of awesomeness. What are you waiting for? Join Me!