While there's so much to love about The Big Easy as an adult, my kids got excited by their very own taste of New Orleans magic. It is such a fun destination for all ages. Don't be scared away by tales of vampires, voodoo, beads, and boobs. That is not the real New Orleans. There is so much more. And it's all completely family-friendly. Really.
Bringing my kids to The Big Easy meant I skipped the activities most people associate with a vaycay in this city. But I did have the chance to discover a side of New Orleans that was not only G-rated, but that our whole family genuinely loved.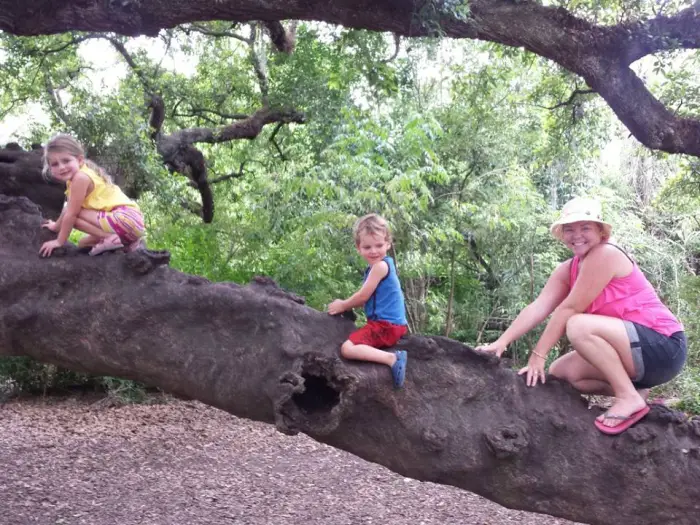 New Orleans is in a league of its own and there's so much to do. So where do you start? Usually, it all starts with the location, since accommodation can usually be one of the biggest travel expenses. Staying outside or on the outskirts of the French Quarter can help cut hotel costs. To stay even further afield choose any location where the iconic streetcars visit for a convenient ride into town.
Now you know where to stay what will you do with the kids? In partnership with Hotels.com here are our 20 things to do in New Orleans with kids.
1. Audubon Butterfly Garden and Insectarium
Eating insects, 4D movies, arcade bee-catching games, and an indoor walk-through butterfly garden. 
Once inside, the route to follow is pretty easy as the path follows a large "U" shape and is lined with a huge array of colorful, bright, informative displays.
My daughter was not interested in the opportunity to touch live bugs, but the interactive exhibits stole her heart. These displays were brimming with educational value, but Mia and Caius thought it was just plain fun and didn't even realize they were learning.
Near the halfway point was a gentleman offering visitors a taste of fried bugs. Seasoned worms with sea salt and garlic had Caius coming back for seconds, even though Mia gave it a wide girth.
The bug-themed animated 4D movie was a nice break, but their favorite exhibit, the "love bug" was a ride-on VW-style car with an LCD screen instead of a windshield. Mia also enjoyed the arcade-style game that involved catching "bees" (colored Ping-Pong balls) in a net.
The final section of the Insectarium featured an indoor walk-through butterfly garden that was incredibly beautiful. We had been in a larger one in Penang, but this was a perfect size for young kids.
Check ticket prices here or get more than 25 attractions on one $110 pass.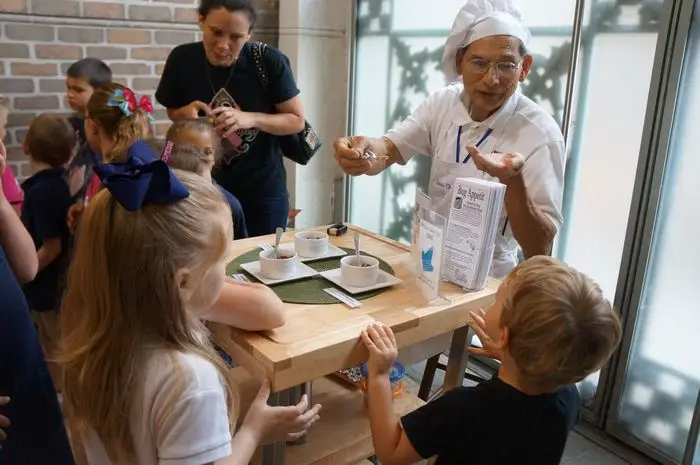 2. Audubon Aquarium of the Americas
The ground floor featured a short walk-through where you could see fish, stingrays, and sharks swimming gracefully above and beside you. The variety of sea life in the many displays was impressive, and the signage was easy to follow.
The 2nd floor featured even more sea life as well as an exhibit dedicated to the Louisiana swamplands. My daughter was convinced that all the otters in the otter exhibit were seals before climbing a fiberglass statue in the frog exhibit.
Check ticket prices here or get more than 25 attractions on one $110 pass.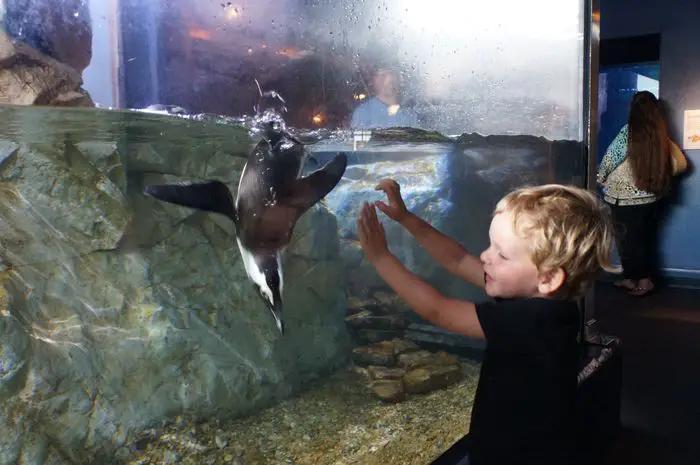 3. Audubon Zoo
We were highly anticipating the Audubon Zoo in New Orleans as we had heard it was one of the top 5 zoos in the country. And our expectations were more than met. The zoo was beautifully laid out and there was a wide range of animals. Being very flat it was easy to push a stroller around the grounds. They also hire out double strollers.
The snowcone station near Monkey Hill was Mia's favorite "exhibit" but us parents loved it too since it gave the kids a chance to splash around in the small water feature and cool off. Interestingly, Monkey Hill (only around 20 feet tall) is the highest point in all of New Orleans. It was created so that children of the area would know what a "hill" was. So funny!
The grounds were well-maintained and all the exhibits featured clear signage which made it easy to explain to the kids what they were looking at. They have a giant tree you can climb, which was super fun for everyone.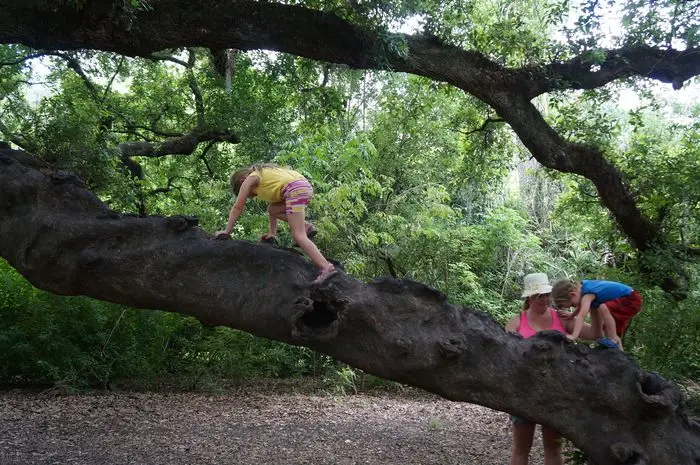 Towards the end of the day, we made our way to the "Cool Zone" which the kids had been really looking forward to. It was a small water playground designed for children ages 2 to 12. When we got there, we found there was a separate entry fee. This was never mentioned at the main ticket booth, nor was there an option to purchase a full-park ticket when we arrived. This was disappointing especially since parents also had to pay to sit and watch their kids.
So, make sure to bring some extra cash to pay for the "Cool Zone" or just skip it and check out the free water feature near Monkey Hill.
Check ticket prices here or get more than 25 attractions on one $110 pass.
4. Steamboat Natchez
While mainly a great afternoon for the adults, my kids had fun trying on sailor hats, dancing on the dance floor, and generally running around on deck. If you get lunch as well, you'll get a chance to sample some of the local dishes the region is well-known for.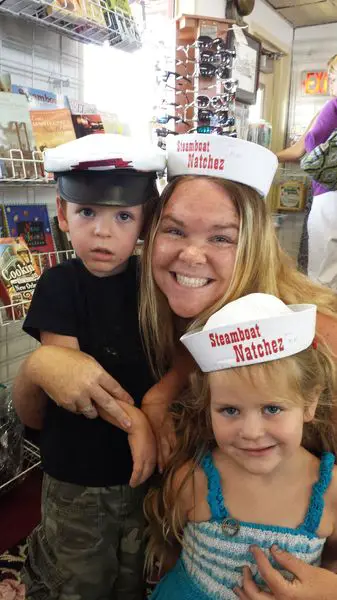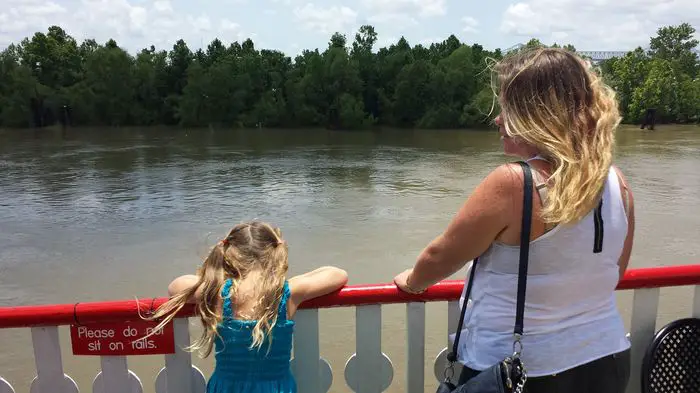 5. Festivals
New Orleans is known for its festivals and almost every weekend something is happening. It may be full of jazz and music, but that doesn't mean kids can't be involved. We happened upon the Bayou Boogaloo. The entrance was free and the kids had a blast climbing inflatable walls, sliding down the other side, playing musical instruments, and watching rubber ducky races.
Entry was free.
6. Stanley Park
Located in City Park is a mammoth playground that the kids loved. Just near is a cute café selling beignets and drinks.
The entrance is free.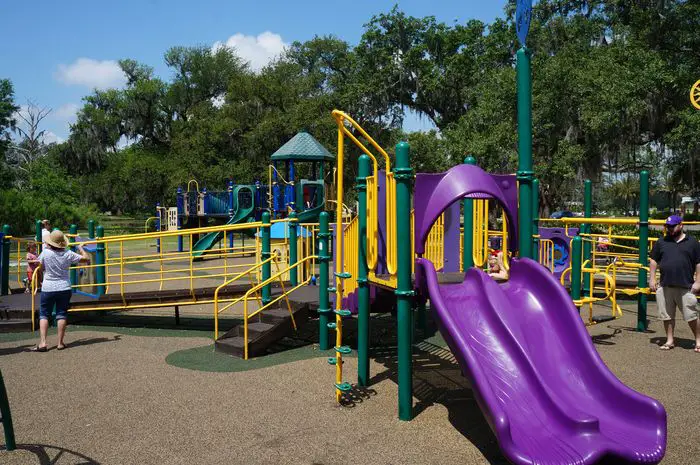 7. Storyland & Amusement Park
Also, within City Park is Storyland. The park is a little dated, but that didn't bother the kids. They had fun running from fairy-tale to fairy tale to be in The Three Little Pigs House or slide down the dragon's flame. 
Next door is an amusement park with small rides for kids. We let the kids have one ride each. My son chose the carousel and my daughter was turned away from several scarier rides for being too small before she decided on the spinning teacups. After that, my son had charmed his way onto one more ride for free and Mia joined him. They loved the amusement park better than Storyland.
8. WWII Museum
This place is home to a spacious repository filled with real planes hanging on the ceiling. The kids loved riding the lift to walk the high elevated walkways around the planes. Better yet, they have the most amazing ice cream store on the ground floor within the building. 
9. Cemeteries
Sounds morbid, doesn't it? But really you can have the best hide-and-seek games in these giant above-ground cemeteries, and take in the incredible, opulent tombs at the same time. Keep an eye on the kids at all times though. 
Entrance is free or take a Cemetary tour!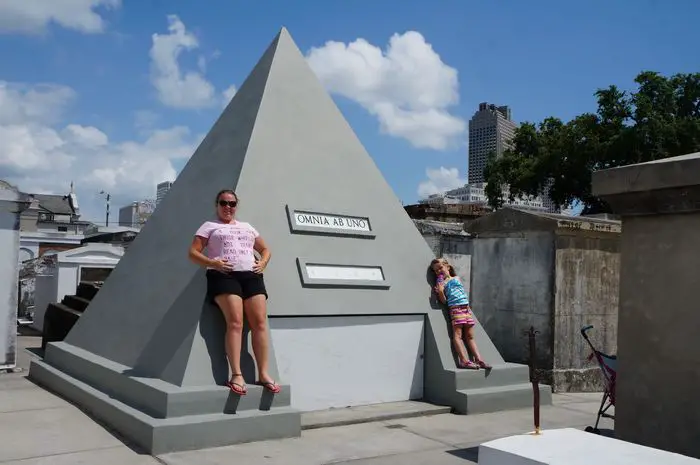 10. Louisiana Children's Museum
A little outdated compared to some of the other ones we visited in America, but still hours of extreme fun, especially the bubble room and interactive grocery store.
Downstairs they had a laser height measure, which was great to update all my records on the kid's growth since we hadn't done that since we left Australia in April 2012.
11. Southern Food and Beverage Museum
Read about my favorite New Orleans restaurants here, but if you want to introduce your kids to Southern food then the Southern Food and Beverage Museum is a good starting point.
Our kids received a booklet to guide them through a fun scavenger hunt as we wandered the museum. 16 "New South" states are represented and we learned about their cultural heritage and local foods, from BBQ to game meats to drinks.
Also, within the museum is The Museum of the American Cocktail, where adults can find out everything to do with the fascinating art of mixology.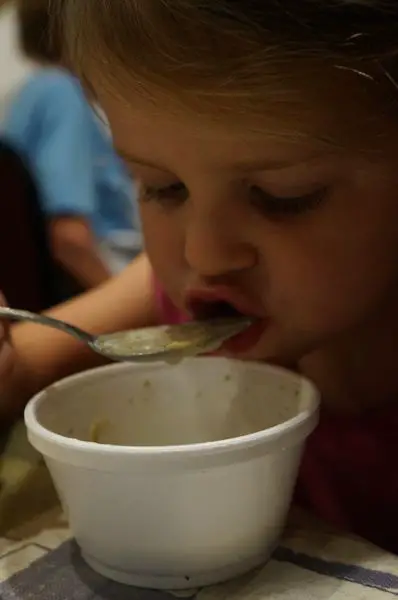 12. Brennan
After all that educational fun, make sure the kids get a sweet treat at Brennan's. The unmissable birthplace of the banana foster, plus it's quite the show with the dessert prepared table-side with flaring flames.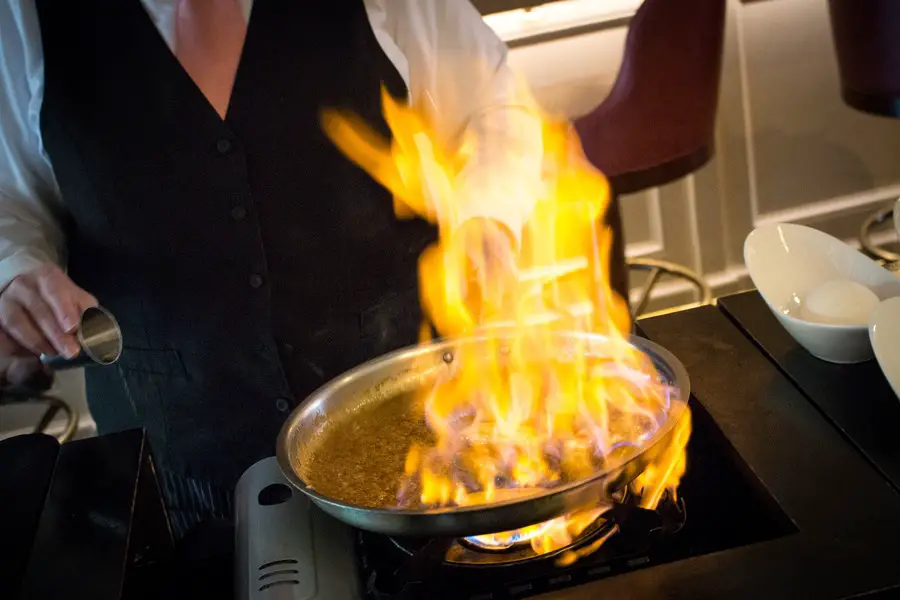 13. Café Du Monde
And if that's not enough food fun, the kids are going to love the warm, soft donut-type beignets of New Orleans. Not only are they delicious, they come covered in so much icing powder that a game of blow it in your face is not only allowed but encouraged! So much so that if it's your first time at Café Du Monde, the tradition allows you to blow the sugar and make a wish, it may just come true.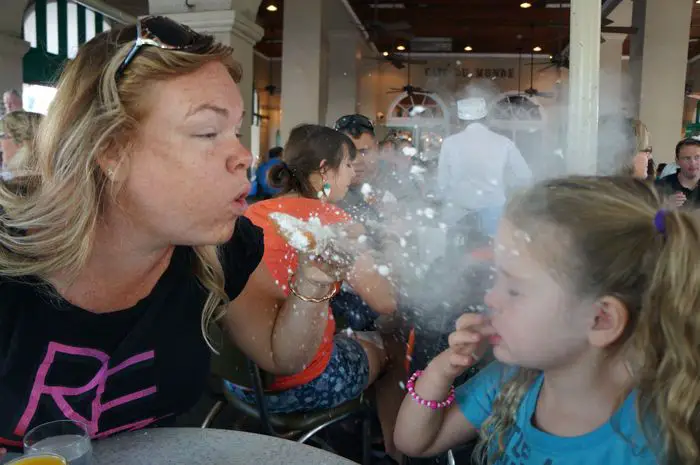 14. Mardi Gras World
You might not be able to introduce the kids to Bourbon Street's nightlife and Mardi Gras after dark, but the next best thing is a visit to Mardi Gras World – the world's largest float design and construction facility. Our kids dressed up in Mardi Gras costumes tried the famous King Cake and watched a movie about the curious history of Mardi Gras.
This was followed up with a guided walking tour through the factory to witness a behind-the-scenes peek into the production and artistry that goes into each magical parade float.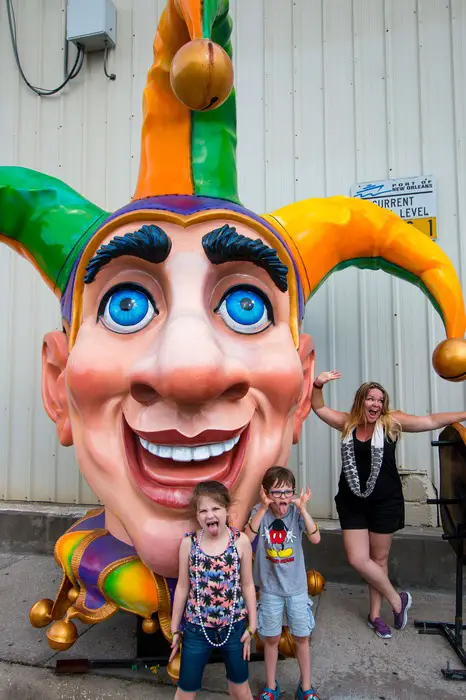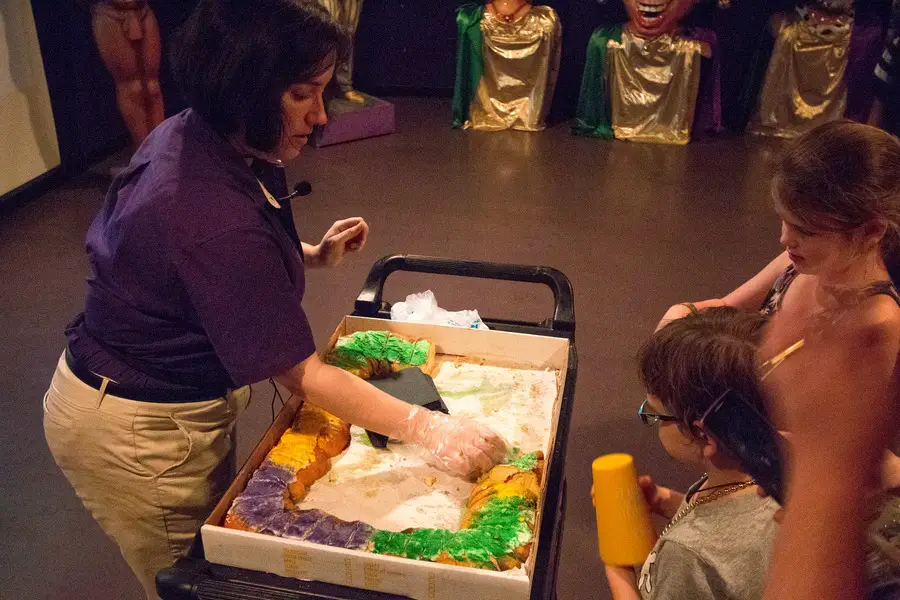 15. French Quarter Kids Tour
Our favorite way for the kids to get a taste of what makes New Orleans tick was the French Quarter Kids Tour.
We met with our fabulous guide on the shores of the mighty Mississippi and she proceeded to pull out a treasure map. Instant attention. A small group of curious kids helped to find several highlights around the French Quarter in the search for hidden treasure. Along the way, she provided the youngsters with a generous dose of history, period costumes, and a mix of gross, weird, and educational facts.
Don't worry after all that learning, in the end, they found the treasure and everyone got to keep a nifty gold deplume. My kids loved it.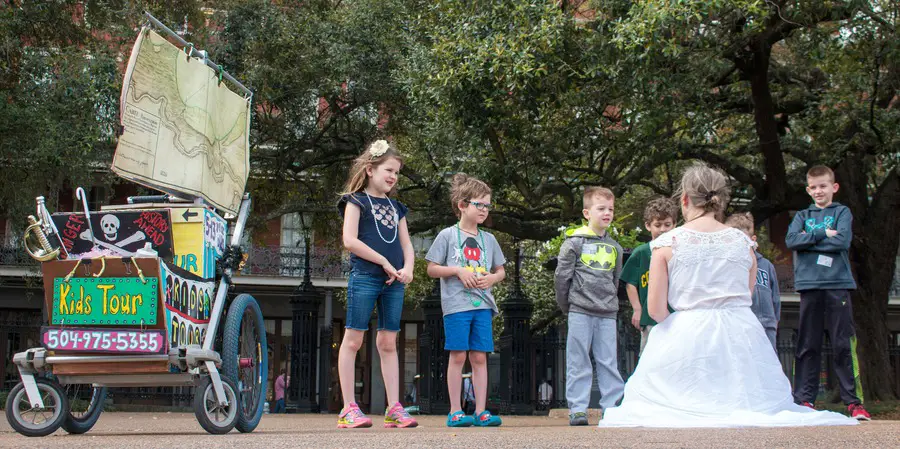 16. Street Art
While you're in the French Quarter, take your time in one of the dozens of art galleries. Lining the beautifully landscaped Jackson Square are numerous local artists showing off their paintings, sketches, prints, photos, and more. Even if you or your kids are not art experts, just take a stroll by and admire the variety and color.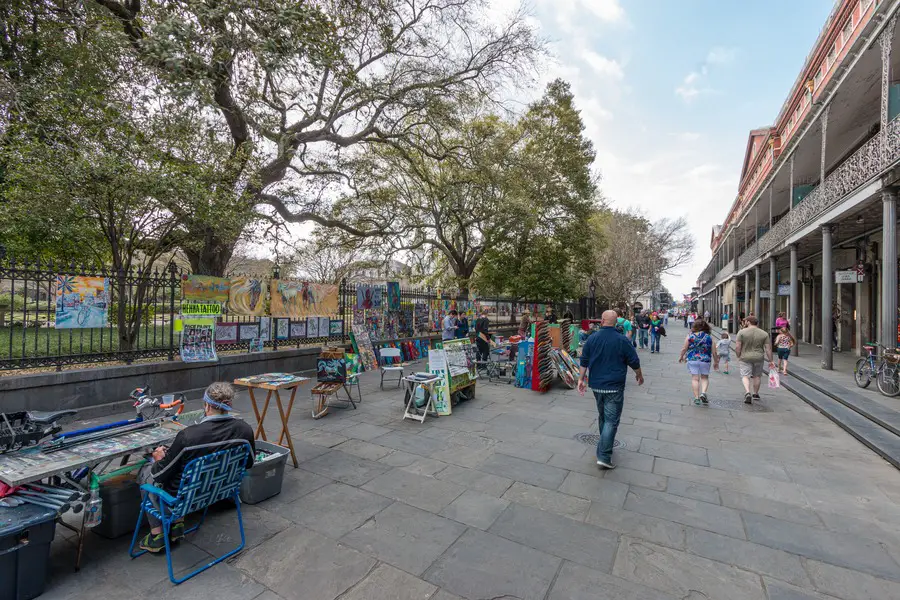 17. Honey Island Swamp Tour
We took the Honey Island Swamp tour with Cajun Encounters. While there are a large number of tourists on these trips each day, we were separated into several smaller boats and each guide took a different route which provided a more intimate and secluded atmosphere.
There were plenty of alligators to spot, birds to identify, and quite surprisingly an up-close encounter with marshmallow-eating, swimming pigs. Yep, swimming pigs.
Check Cajun Encounters tour prices here or Bayous & Swamp tours here.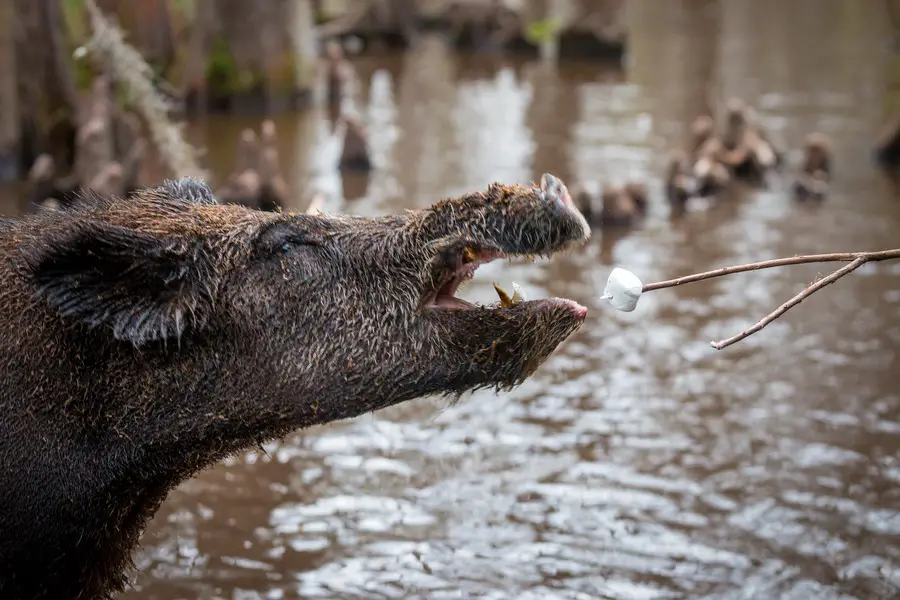 18. Oak Alley Plantation
About an hour west of New Orleans teleport the kids back to a bygone era at Oak Alley Plantation. Here mighty oak trees were planted almost 300 years ago. It wasn't until more than a century later that the current plantation home was built. The identity of who planted the trees in perfect rows is a mystery and bewildering to contemplate they would never see the full glory but did it anyway.
Take a tour of the plantation house with a period-dressed guide to initiate the kids into Louisiana's history of slavery and see what daily life on a plantation was like.
19. Le Pavillion Hotel
Of course, a vacation always starts with the perfect hotel. And Le Pavillon Hotel is the perfect introduction to the glamourous history of New Orleans.
Located in the heart of the city, this hotel was first opened in 1907 and is listed on the National Register of Historic Places, complete with exquisite antiques and works of art.
From the moment you step in you can't help but be amazed by the decadence of the hotel, from its Czechoslovakian crystal chandeliers to its tuxedoed doorman. It holds secrets such as an underground passage stretching about a block that was created during the Prohibition Era for discreet exits by politicians and celebrities. And in case they don't tell you, the rooftop pool and hot tub offer the best city views! Which of course was the kid's favorite. That and the complimentary peanut butter and jelly sandwiches every night served in the lobby at 10 pm.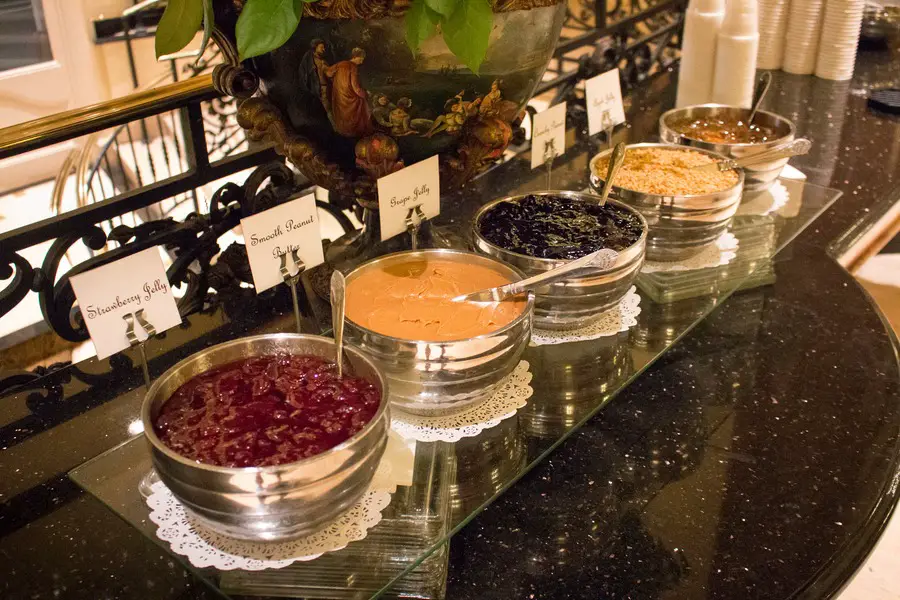 20. Hop On Hop Off
The big red buses are here in New Orleans. We started our tour at St Louis Cemetery, the oldest cemetery in New Orleans. And made way down Canal Street, past Harrah's Casino, the Superdome, WWII Museum, Garden District, Magazine Street, St Charles, Mardi Gras World, Arts District, Jackson Square, and the French Market.
The bus does a complete 2-hour circuit and comes every ½ hour.
I love to hop on hop-offs, they give you so much advantage when traveling with little kids to see everything, hear the history, and learn something, and then if something really catches your eye to get off and check it out. Plus, if the kids are tired they can nap while you continue to see the sights.
---
LOOK HOW EASY IT IS TO PIN THIS!
FOMO - do you have it?  Well there is no need to Fear On Missing Out here at Explore With Erin. Sign up to receive updates directly to your in box. I won't spam you, but I do promise a whole lot of awesomeness. What are you waiting for? Join Me!