I expected live music, country songs, honky-tonks, and bars. I expected to lose my bra in a saloon, only to find a pair of cowboy boots on the side of the street. I expected a city playground for adults.
Nashville didn't disappoint, in fact, it surprised me. Nashville was more than saloons and country music, it was full of toe-tapping things to do with kids.
So, in partnership with Hotels.com, here are 20 things to do in Nashville with kids that my own 2 voted your children should do to.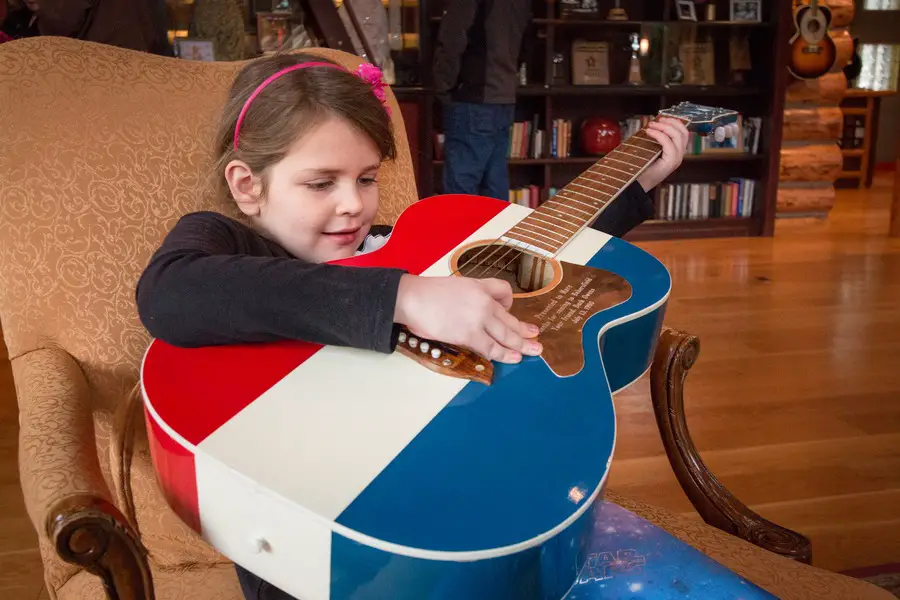 Play At The Adventure Science Center
My kids cannot get enough of science centers and Nashville was no different. One part indoor playground and one part art/science center, this is 44,000 square feet of educational play space with nearly 175 hands-on exhibits. The daily science demonstrations were a big hit and Nashville's Adventure Science Center has been recognized by The Tennessean's 2014 Readers Choice Awards as the "Best place to take kids".
Sing At The Country Music Hall of Fame and Museum
I've never been a Country Music fan, but my kids absolutely loved the Country Music Hall of Fame. Their favorite part was recording and mixing their own tunes in the interactive singing booth inside Taylor Swift's touring bus. For me, I loved exploring all the famous country singer costumes, their awards and the impressive display of guitars. You'll need a good couple of hours for this museum.
Tour Nashville On The Music City Trolley Hop On Hop Off
One of my favorite ways to explore is on a hop-on-hop-off tour. Seeing the sites in any city can get tiring for little feet so riding a bus allows adults to get a great overview, while the kids enjoy the open top with way fewer complaints then if they were on foot. A whole loop takes 60-75 minutes and covers all Nashville's main attractions.
Swim At Your Resort
After seeing all the sites kids just want to have fun and Hotels.com has a plethora of resorts to choose from. You can stay in a Nashville hotel with a rooftop pool. The kids and I stayed at the Wyndham, outside the busyness of downtown Nashville and close to great shopping at Opry Mills.
The resort held daily events that ranged from live performances to free ice cream. The lobby always had freshly popped popcorn for free and our one-bedroom suite had a fully equipped kitchen and plenty of space.
What does that mean? Well, some days the kids and I just spent time sitting by the heated pool, eating popcorn, watching movies and enjoying a home-cooked meal.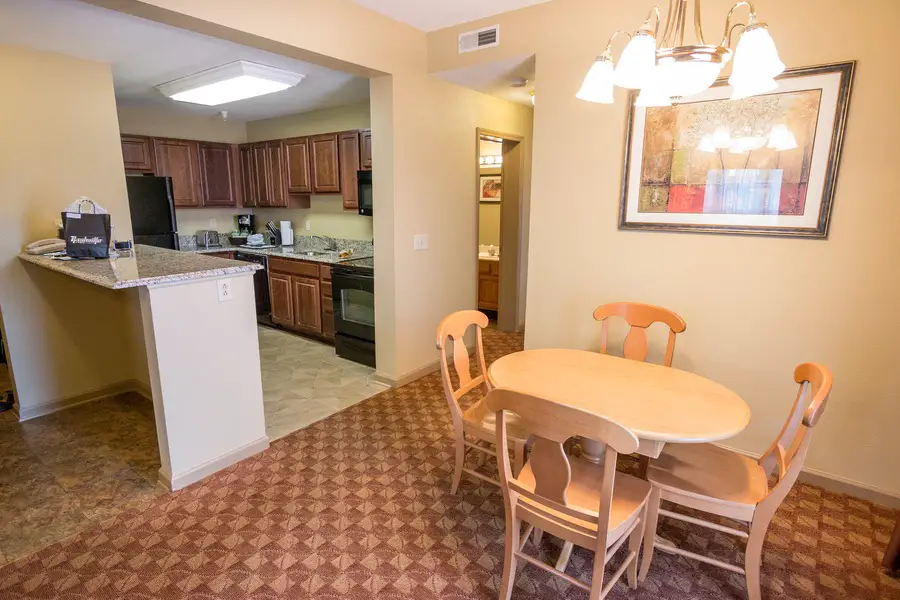 Walk The Line At The Johnny Cash Museum
Who doesn't love some good old Johnny Cash music? This small, but well-appointed museum eloquently captures the life of the late Johnny Cash, my favorite country music star. You can discover all sorts of memorabilia from instruments to photos to outfits. And while my kids were not impressed at first, it wasn't long before they found the iPads and headphones to listen to Johnny's music. And they didn't mind the mini cinema to watch documentaries and clips from Johnny's film career. I suggest setting aside 1 or 2 hours.
Get Creative At The Frist Center For The Visual Arts
I am not into art, but the same cannot be said for my daughter. She is addicted, a creative genius and when we heard that the Frist Centre is more than just looking at art… it's creating, well there was no stopping her. The Frist Centre is an art museum, housed in a historic US Post Office from the 1930s. The winner for us was the Martin ArtQuest room. Multiple stations are set up so kids can explore art through drawing, painting, sculpting, printing, movie making, block building and more. Your kids will probably want to spend a minimum of 3 hours at this one.
Eat Your Way Through Nashville
Nashville is foodie heaven. And seeing as fried chicken is a kid's favorite, you're going to want to eat your way through this city. Food post coming soon! Or consider a walking food tour.
High on Sugar At Rocket Fizz Candy Store
You won't have any problem finding a candy or ice cream stores in Nashville, but we spent time in this one admiring old school candy and hundreds of different sodas.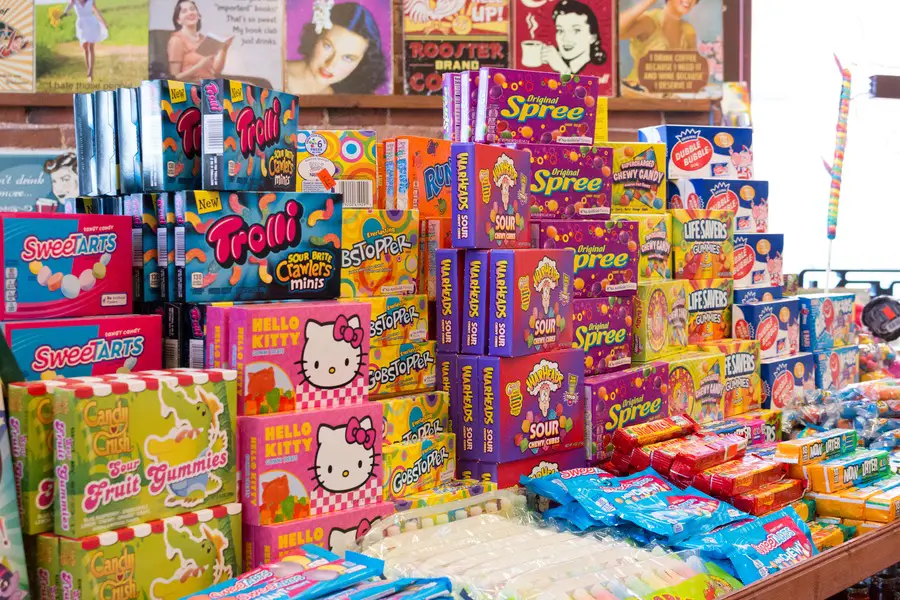 Eat Your Way Through Goo Goo Cluster
The Goo Goo Cluster is America's first combination candy – a chocolate, nutty, marshmallow caramel candy bar and their flagship store is located across the road from the Johnny Cash Museum. You can taste free samples and watch the premium gooey goodness being hand-made.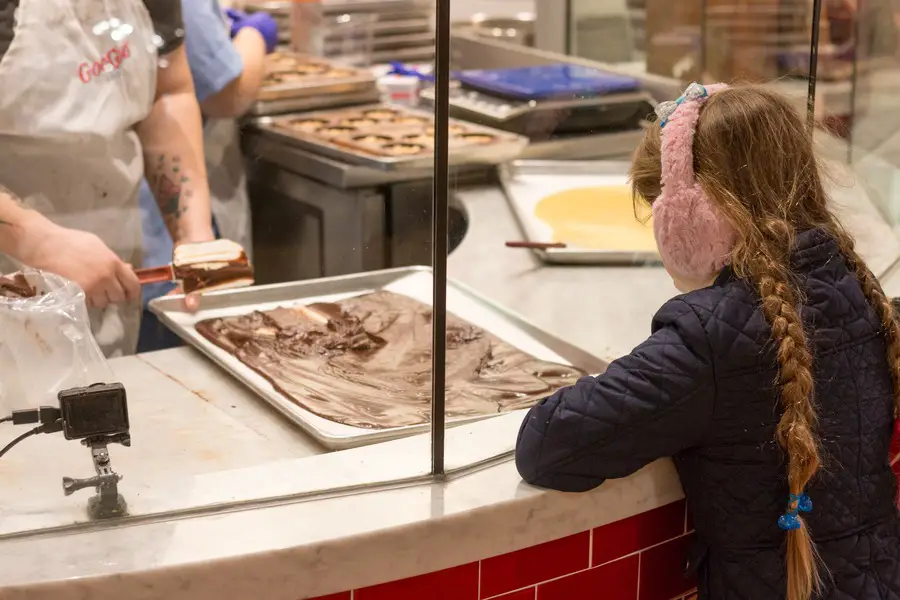 History At Belle Meade Plantation
A period-dressed guide shared fascinating stories of this slave plantation from the 1800s. Fascinating, educational, and lots of wide-open spaces to let the kids run off all the sugar.
Watch A Play At Nashville Children's Theatre
The Nashville Children's Theatre (NCT) was established in 1931 making it the oldest professional children's theatre company in America. It's a beautiful, modern theatre that every year produces four or more professional shows. We got to watch Cinderella. Skilled actors delivered a charming and comical story. My kids loved it.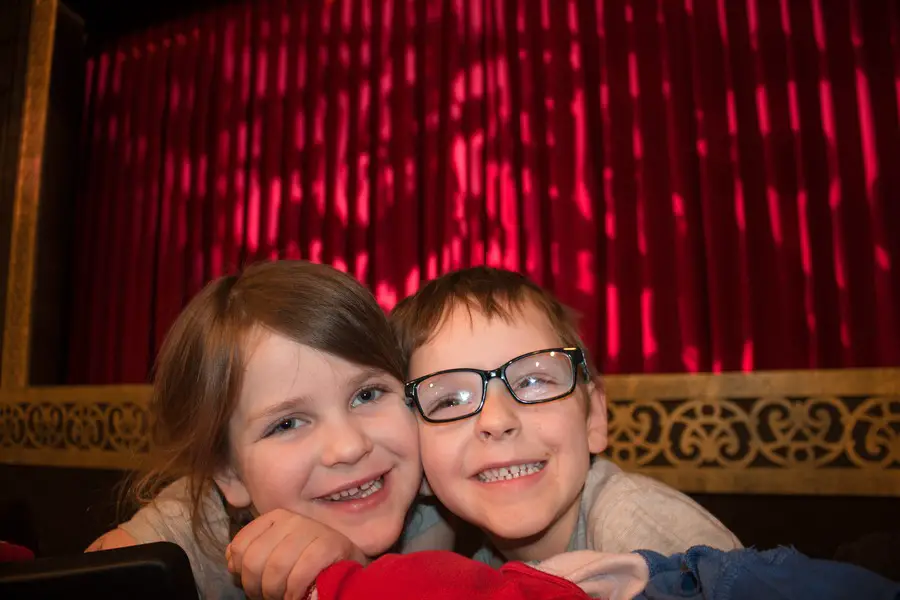 The Parthenon
Possibly the weirdest thing you will find in the country music capital of the world is a full-size replica of The Parthenon (minus the marble). And inside my kids gobsmacked at a giant 42-foot gold-plated image of Athena – the world's biggest indoor sculpture.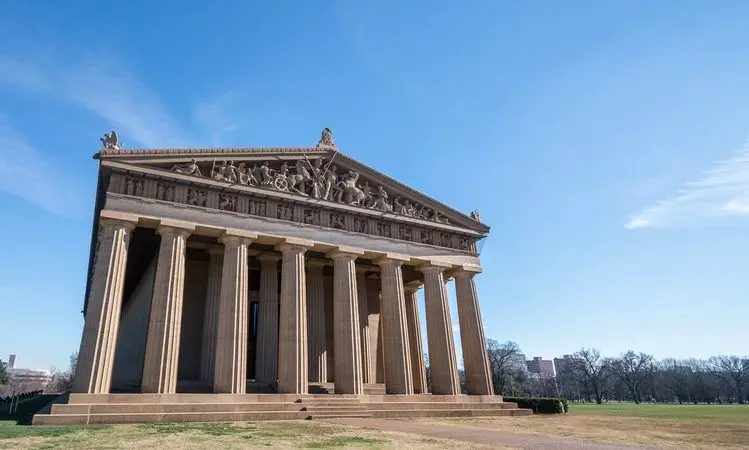 Touch Everything At Fontanel Mansion
At 27,000 square feet, this is the largest log home in the world. It was a present to country music and TV star Barbara Mandrell by her husband. It's no longer used as a family home, but instead as a tourist attraction and venue for special events. So why do kids love it? It's a "touchable" attraction! The kids were allowed to play the wall-mounted guitars and touch many of the items in the house, which made it a standout tour for them.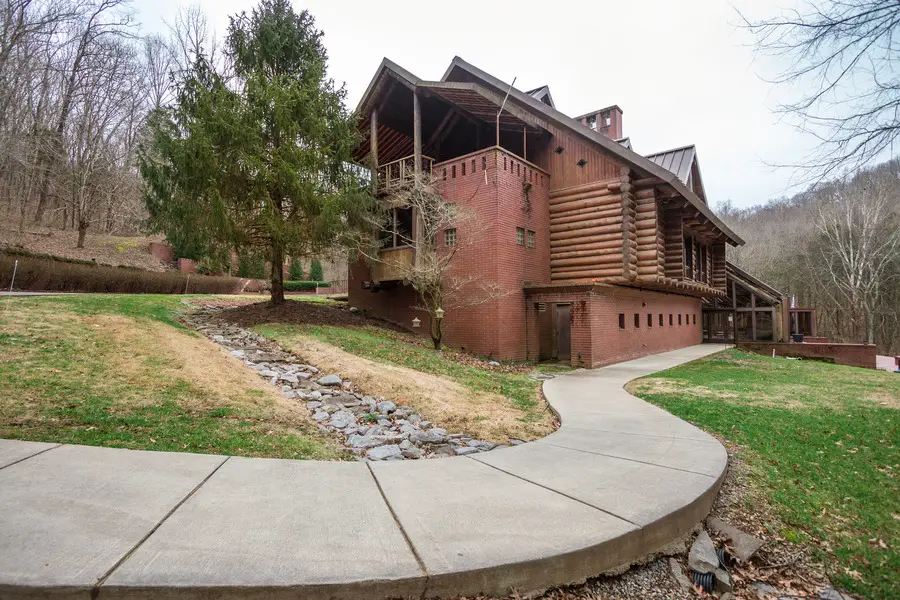 Wander Cheekwood Botanical Garden & Museum of Art
This 55-acre estate is set on the western edge of Nashville. At Cheekwood the kids can run for miles and see anything from ferns to dogwood to the Japanese maple. Plus, a 30,000-square-foot Georgian style mansion that has been transformed into an art museum.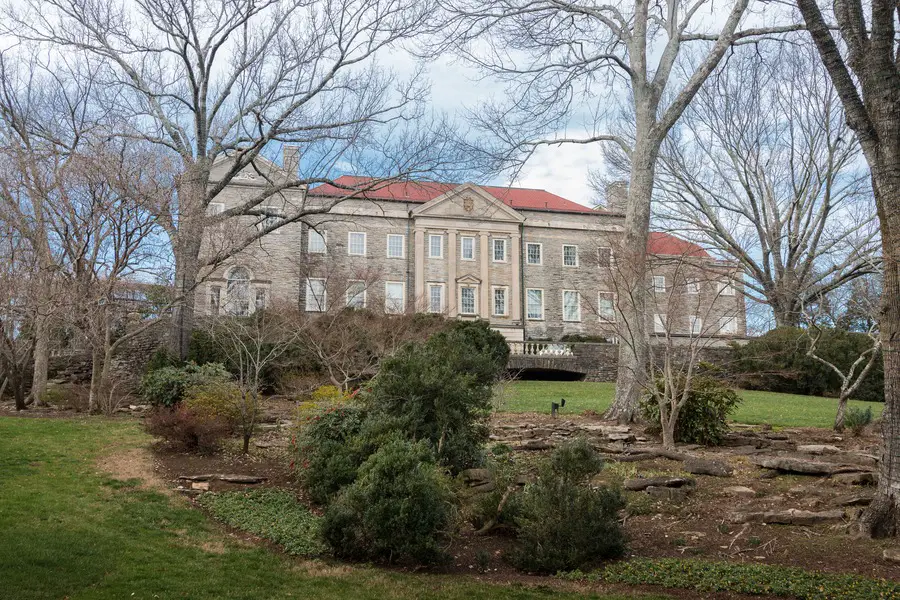 Visit Or Stay At Gaylord Opryland Hotel
Even if you are not staying here, it's worth visiting. It's pure opulence. Head past the lobby to the main atrium and prepare to be dumbfounded by the lavish waterfall and gardens.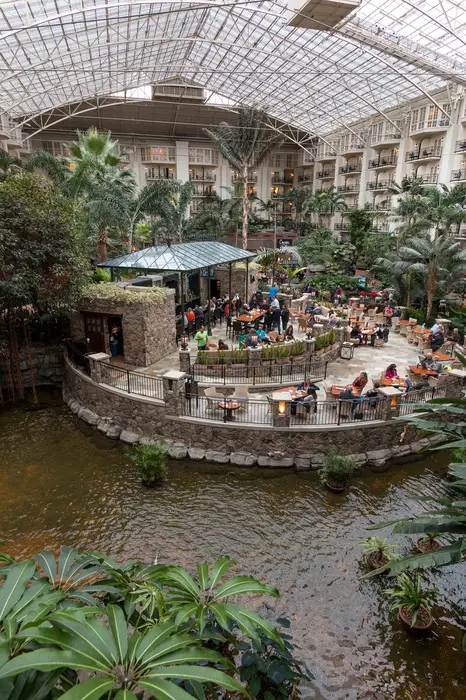 Be Part of ABC's Nashville TV Show
The hit TV series is a personal favorite of mine. Throw in a visit to Taylor Swifts Nashville home and my daughter and I was in tour heaven.
Watch The Film At Ryman Auditorium
The Ryman was originally a church, but now is home to some pretty stellar live performances. While my kids found the auditorium slightly boring, the historical video captured their attention with special projections on the walls and 3D effects.
Burn Energy At Centennial Park
Next to The Parthenon is a 132-acre park, home to a playground, old train, and miles of open grassy space, perfect for little ones to burn off museum energy.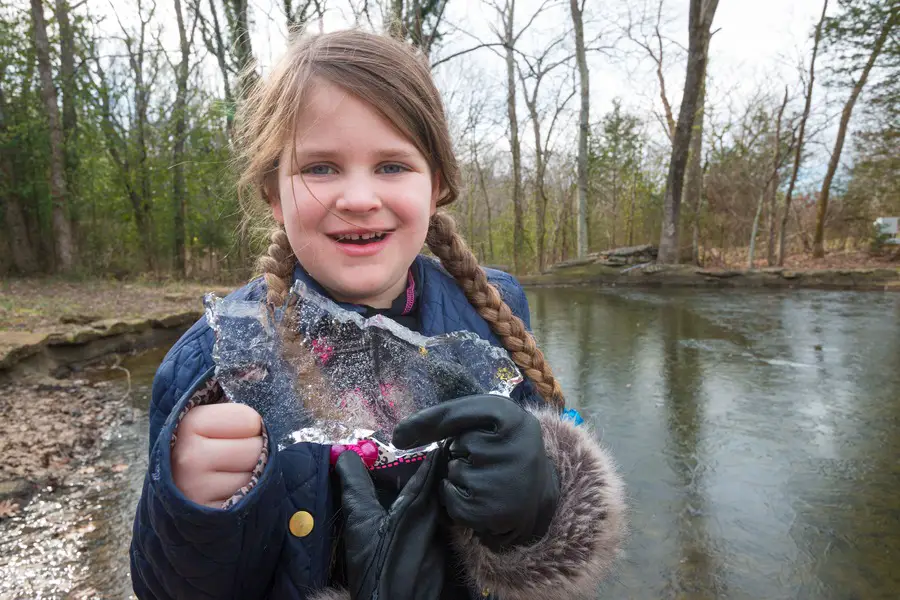 Dance On The Coyote Ugly Bar
A wild and fun night at Coyote Ugly doesn't sound like something you'd take kids to, but during the day this quiet bar does allow entrance to kids. It took some convincing but I did manage to convince at least my daughter to get up on the most famous and longest bar in Nashville.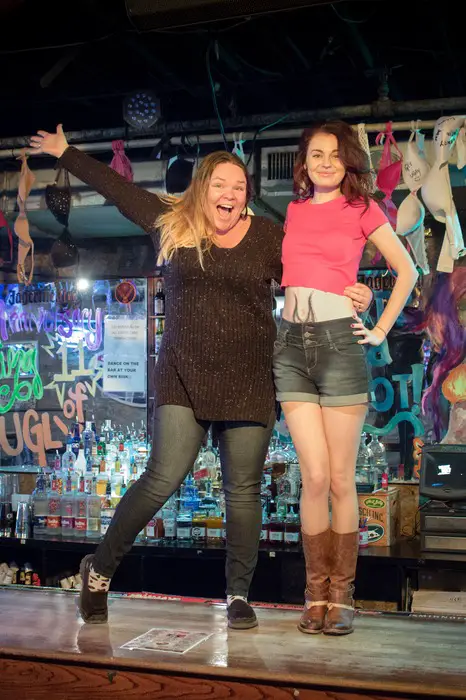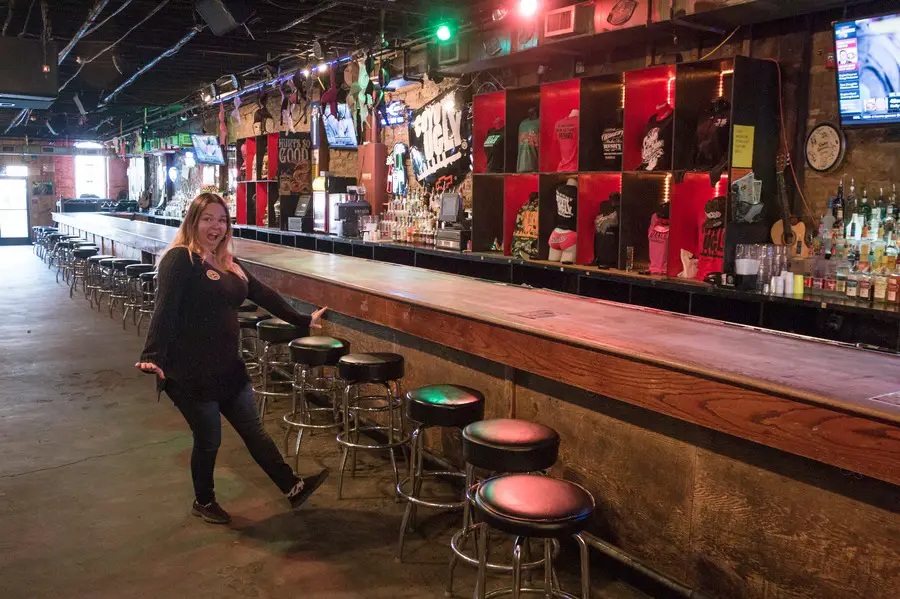 Shop Your Heart Out At Opry Mills
Right beside the Grand Ole Opry is the Opry Mills Shopping Mall, complete with aquarium and cinema. Somewhere to go when the weather is bad and you are tired of seeing Nashville.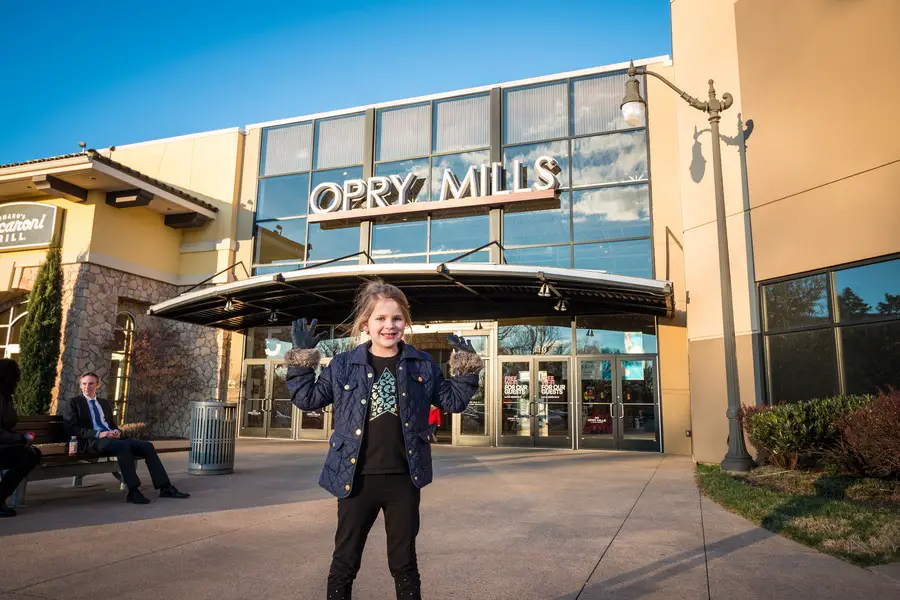 Explore With Erin Wrap Up
7 days in Nashville and I felt we could have spent so much more. No wonder Lonely Planet christened Nashville as one of the 10 "Best In Travel" cities around the world. There's certainly plenty of things to do in Nashville with kids and it's high time you went and discovered it. I can't wait to return and sing again in the Music City.
LOOK HOW EASY IT IS TO PIN THIS!
FOMO - do you have it?  Well there is no need to Fear On Missing Out here at Explore With Erin. Sign up to receive updates directly to your in box. I won't spam you, but I do promise a whole lot of awesomeness. What are you waiting for? Join Me!