There is plenty to keep the kids occupied at America's largest mall.
The kids and I were making our way around the US on a massive 2-year road trip. On the way from Idaho to New York the weather was not fabulous, so we decided what better stop than the Mall of America.
Now we've done Dubai Mall, and we've done West Edmonton Mall, but the Mall of America? Wow.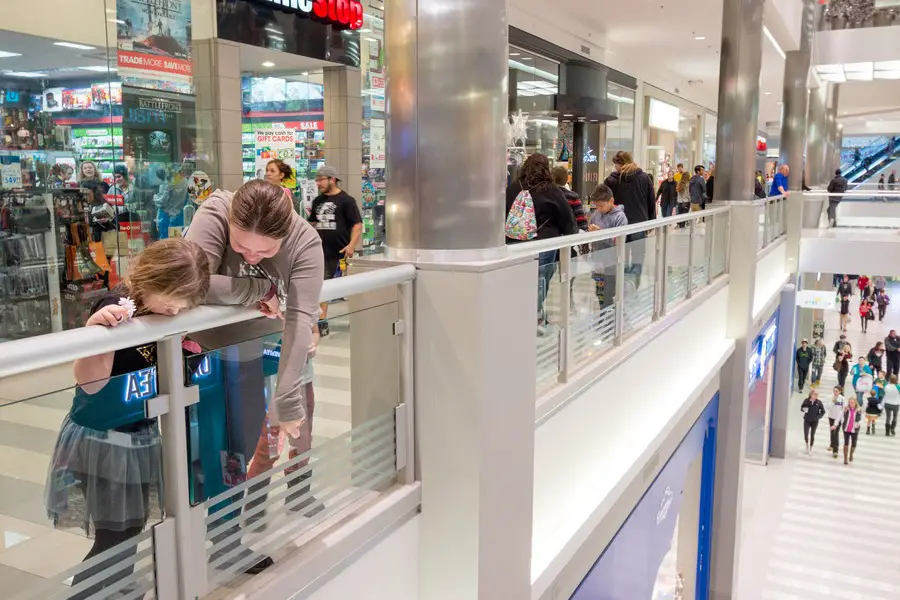 What Do I Need To Know About Mall of America With Kids?
You can find our Quick Guide To Mall of America with Kids here.
Where is the Mall of America?
Mall of America (MOA) is a large shopping mall located in Bloomington, Minnesota, United States. About 10 miles from downtown Minneapolis.
Where Do I Stay At Mall of America?
Highly recommend either:
Radisson Hotel Bloomington By Mall of America (now Great Wolf Lodge) – check discounted prices here.
Radisson Blu Mall of America – check discounted prices here.
What Can I eat At Mall of America with Kids?
You'll want to see all my favorite restaurants to eat at Mall of America with kids here in this article.
The best thing was Dick's Last Resort, I had no idea what this place was until it was too late.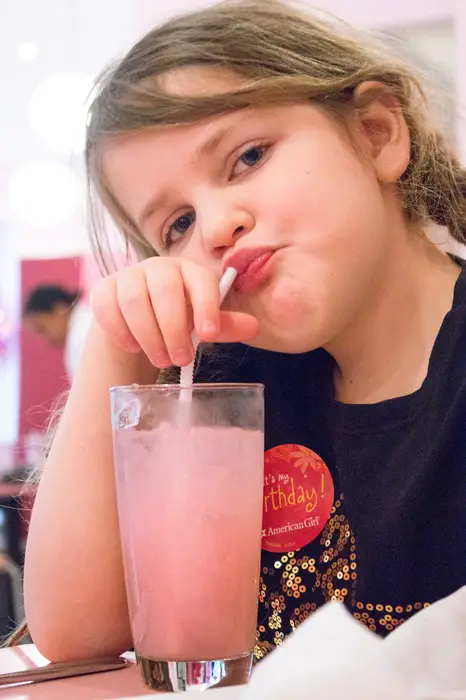 How Big Is Mall of America?
Mall of America is the largest retail shopping mall in the United States with more than 2,779,242 million feet of retail space (not including the amusement park), over 520 stores, 50 restaurants, and Nickelodeon Universe®, the nation's largest Nickelodeon® theme park.
The Mall of America is one of the most visited malls in the United States. The mall attracts more than 40 million visitors, making it a more popular attraction than Magic Kingdom and Walt Disney World.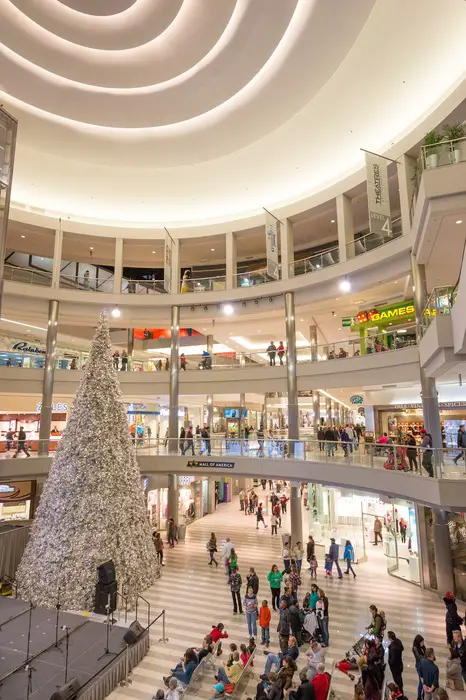 20 things to do in Mall of America with kids
Now you know where to stay, and how big it is, so let's take a look at our favorite things to do in the Mall of America with kids based on my 3-day stay.
I would have loved to have included American Girl, but sadly it is no longer part of the mall.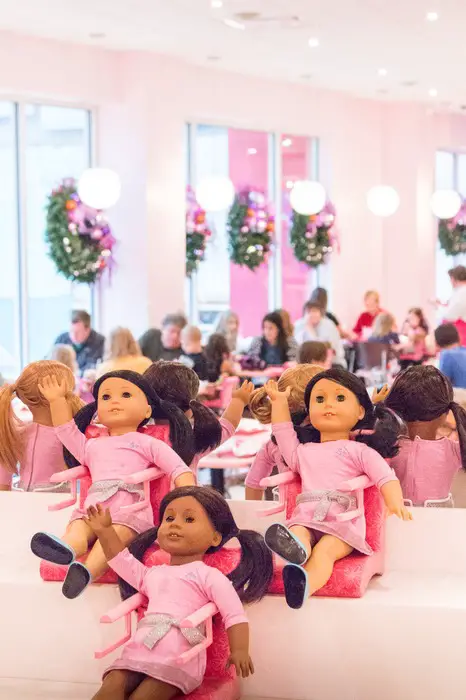 1. Take A Thrill Ride At Nickelodeon Universe
Besides Forever 21 this would have to be the best part of the Mall of America. Seven acres of rides and entertainment right in the middle of the mall. And not just tame kiddy merry-go-rounds, but heart-wrenching, breathtaking thrill rides that older kids, like me, love.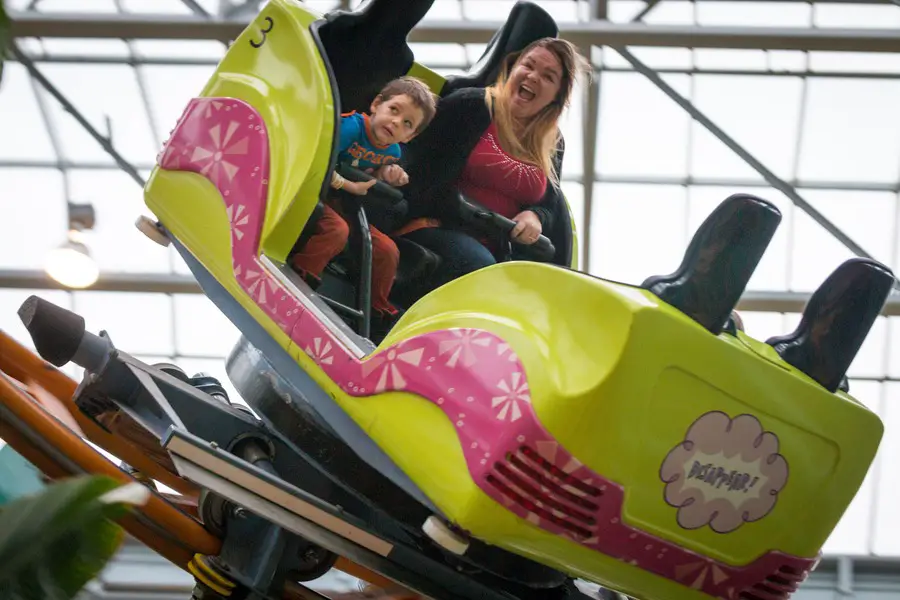 Nick Universe is the nation's first indoor Nickelodeon theme park, and home to seven acres of unique attractions, entertainment + dining options. You can even meet the Nickelodeon characters, which was my kid's highlight! Ahem.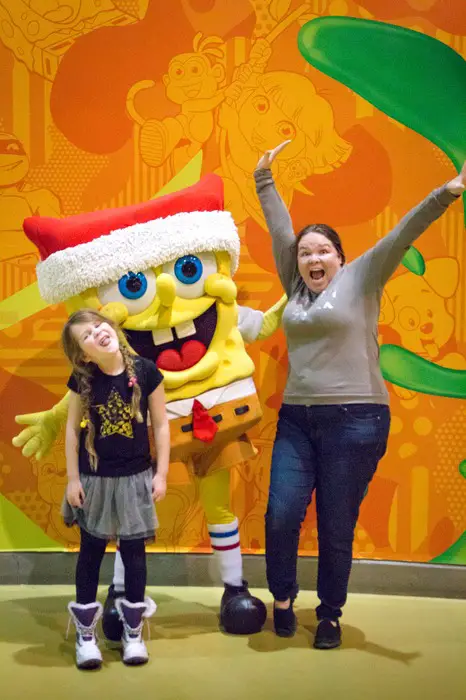 There are more than 27 rides and attractions, but what really makes it stand out is even though it's indoors, it feels like it's outdoors. There are over 30,000 live plants and 400 live trees stretching almost 35 feet tall within Nickelodeon Universe.
Some favorite rides for us:
The Fairly Odd Coaster was a favorite with all its twists and turn and spins.
Mia would not stop riding the Rock Bottom Plunge SpongeBob Squarepants roller coaster. I went on once and that was enough. That roller coaster is so scary! It takes you up a vertical incline with your legs dangling above your head, and then drops you on an inverted vertical drop. And that's just the start! Freaky!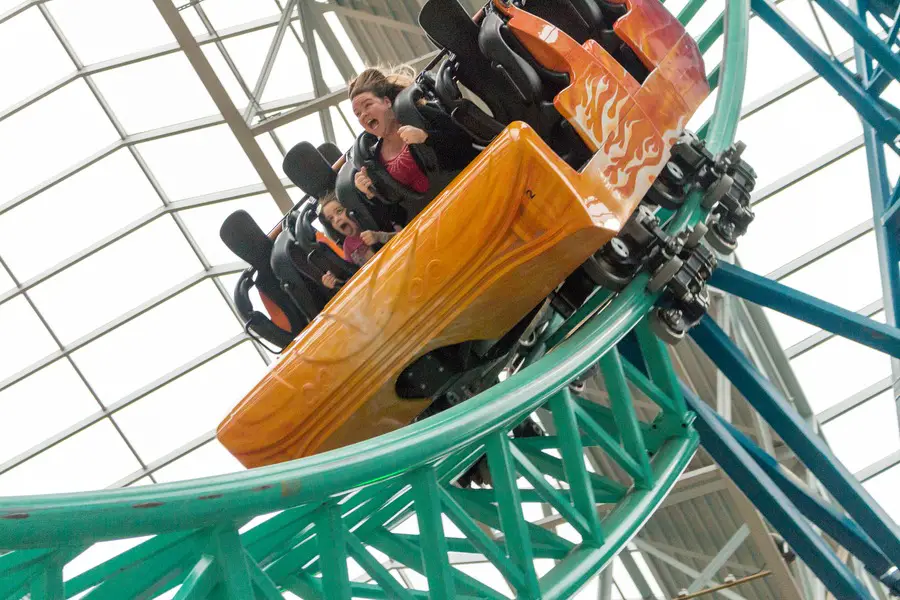 The Anchor Drop is a spiral slide that takes you from the roof down to the ground. But be careful! I hit my knee on the way down like the old person I am, but my kids did it over and over again.
My younger son also had plenty of junior rides to pick from.
2. Touch The Rays At SEA LIFE Minnesota Aquarium
We have been to several SEA LIFE aquariums around the world and this is one of their best, especially considering it's inside a mall.
And it happens to be Minnesota's biggest aquarium.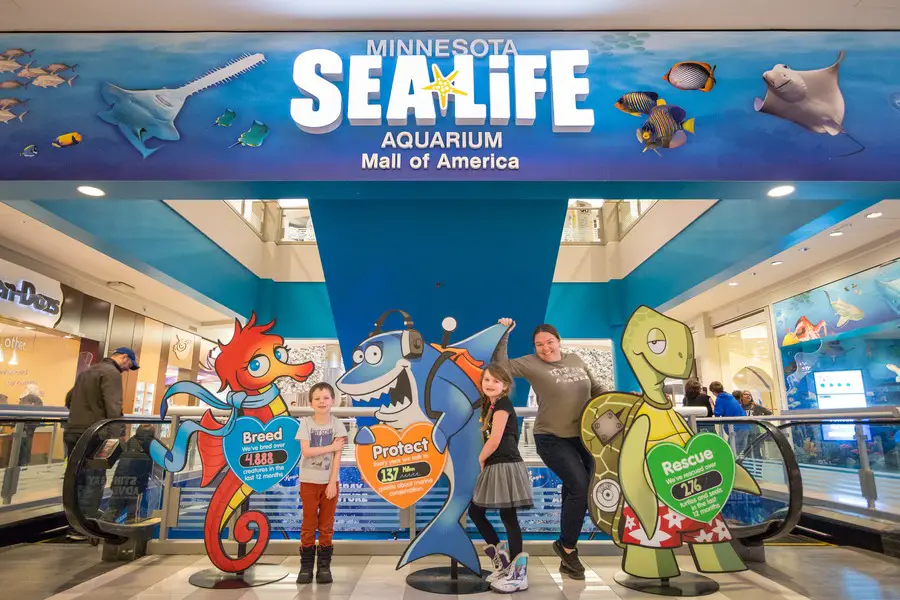 Explore 1.3 million gallons of aquarium and be in awe as you underwater inside a 300-foot-long ocean tunnel.
In the rainforest, you'll find crocodiles and tarantula, but don't miss the giant sharks and 14-foot-long sawfish in Shark Cove. We also stuck around mesmerized by the soaring stingrays in Ray Lagoon.
3. Play At The LEGO Store
Over 170,000 pieces of Lego have been lost in the LEGO play area! Imagine stepping on those!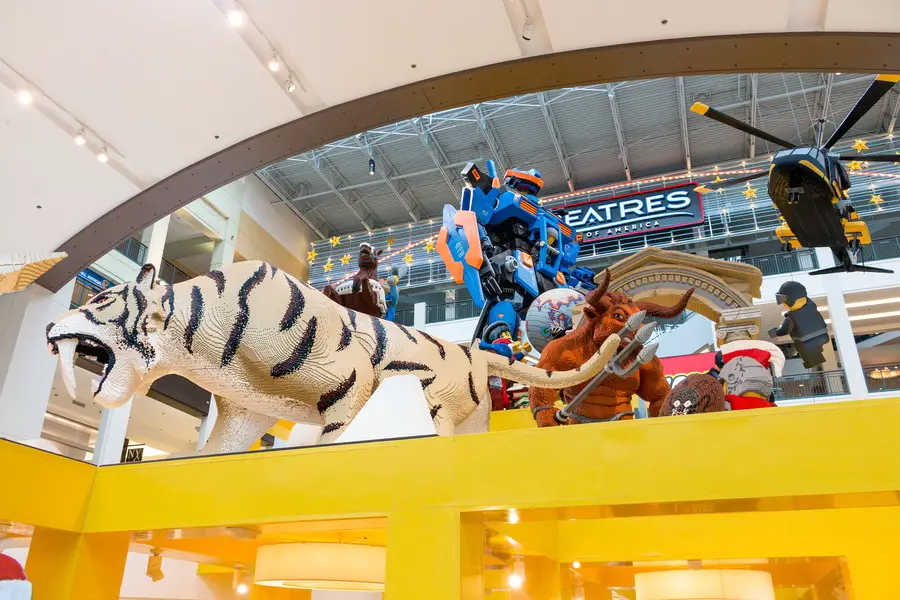 This awesome Lego store is such a great place to spend half an hour. Plenty of LEGO displays are available to admire behind glass, but they don't match the eight larger-than-life models. So make sure you look up when you are inside the store for a jaw-dropping LEGO robot towering over 34 feet tall.

You don't have to just look at this store, there is plenty of hands-on moments with LEGO characters to create, and LEGO bricks to play with. I only wanted to stay for half an hour, but my kids refused to leave. I finally managed to bribe them out of there with the promise of many more fun things to come.
4. Catch A Fun & Entertaining Event
Over 400 events are held at the Mall of America every year. You can find a stage with acts and talent, as well as multiple things going on around the mall.
While we were there Nintendo had set up gaming stations, which were the only thing that got my children out of the LEGO store and, of course, was the place they wanted to regularly return to.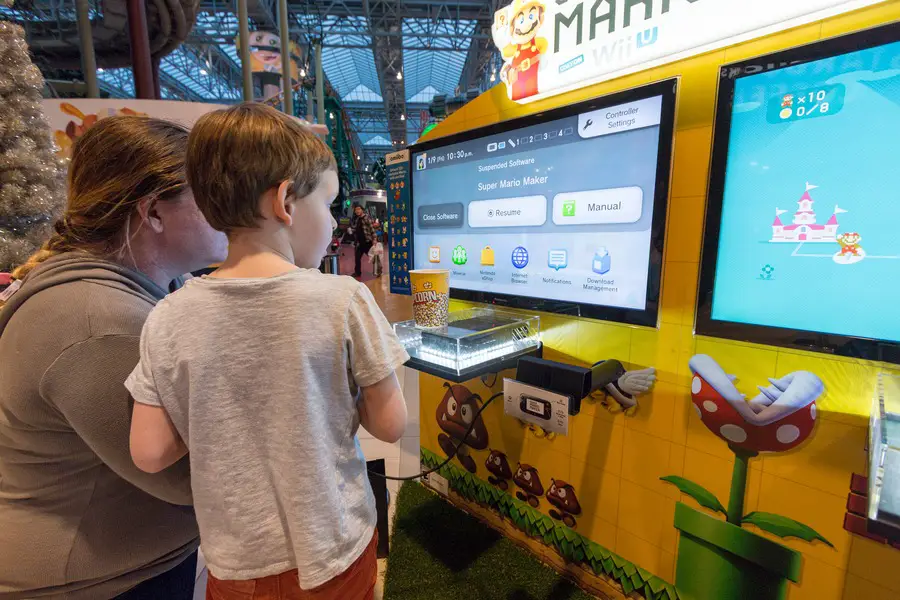 They were also wrapped by the special character appearances, of whom Mario who was very happy to pose for photos.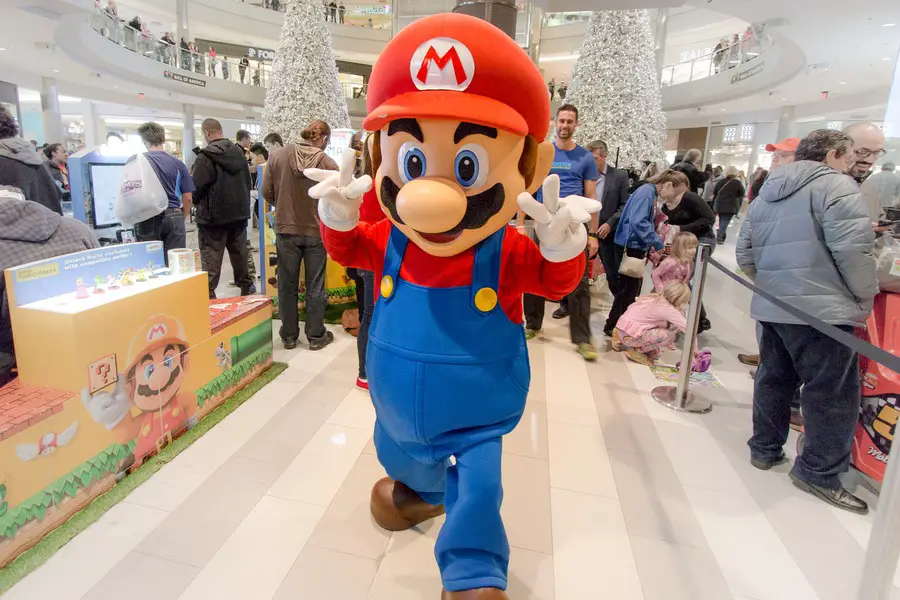 5. Play A Round Of Mini Golf
What child doesn't love mini-golf? Especially when it's in a huge mall with panoramic views over Nickelodeon Universe?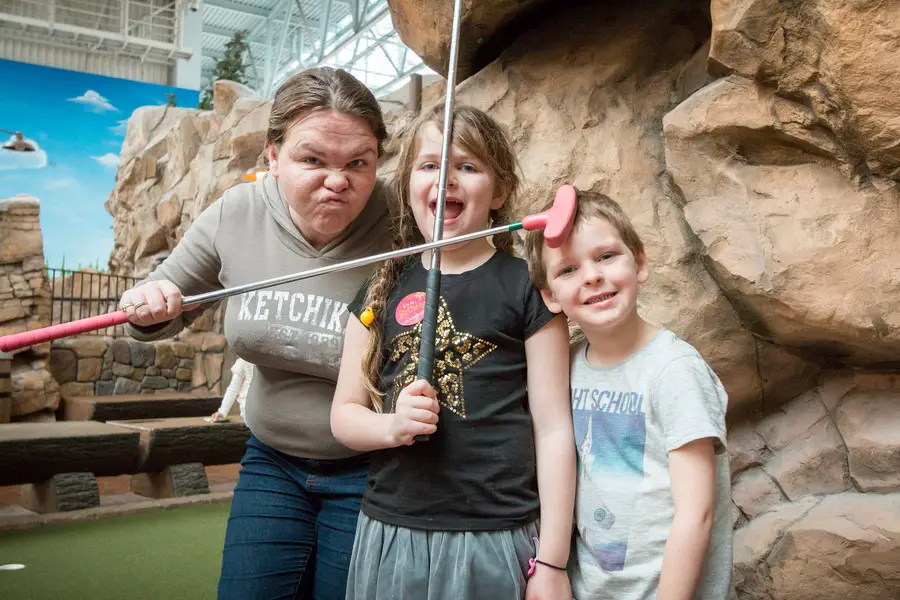 There are two 18-hole mini golf courses at Mall of America.
Moose Mountain Adventure Golf is themed after the old-time Wild West combined with mountains. The waiting time can be slightly longer on the weekends, so try to choose a weekday to get a dose of mini-golf action.
And the Rock of Ages Blacklight Minigolf features a progressive music theme starting from the 1950s onward.
6. Soar high at Flyover America
Having done this in Florida, I was also excited to see it at the Mall of America. This awesome 4D flight simulator experience is a must-do as you jump in a roller coaster-type chair and hang over a giant IMAX screen.
It's an immersive experience that simulates a hang-gliding flight over awe-inspiring scenes and landscapes throughout the U.S.A.
Not only is the scenery breathtaking and almost like real life, but the simulator mimics the sights, sounds, and sensations of the landscape as well so you might even catch the smell of pine trees, or catch the mist from Niagara Falls.
7. Get Lost In The Amazing Mirror Maze
I was on my way past the Amazing Mirror Maze when the kids stopped and begged to go inside. Having no expectations and quite uninspiring I took them in.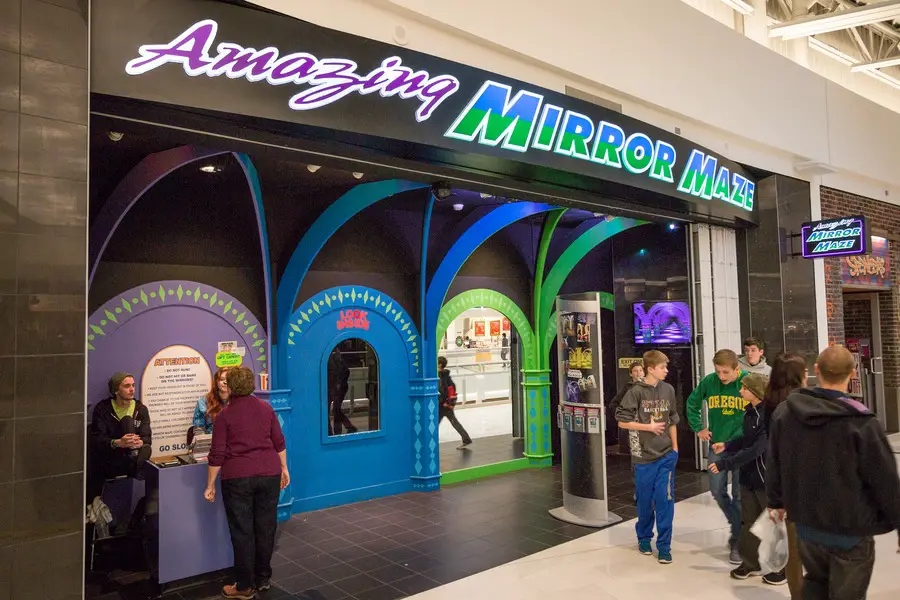 What a deceiving frontage! Inside were 2,500 square feet of endless hallways, infinite reflections, twists, and turns. It's one of the largest mirror mazes in the world and I highly recommend including it in your visit.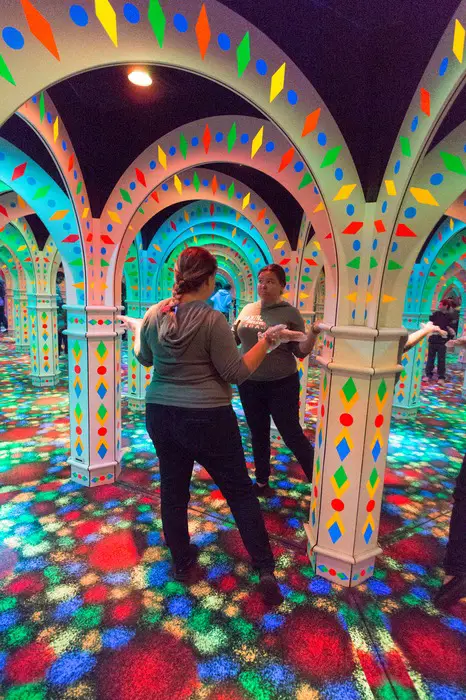 8. Escape from The Escape Game
We've done several Escape Games in our time, so if you haven't done it!
You and up to 8 people have 60 minutes to figure out how to get out using clues and props located in the room.
The 5 themes to choose from at the Mall of America Escape Room are Mission: Mars, Gold Rush, The Heist, Prison Break, and Special Ops.
9. So Many Restaurants To Eat At In Mall of America with kids
With over 50 restaurants at the MOA you are never far away from food, so eat your heart out! Our favorites can be found on our food post including dinner at a not-so-nice, but a delicious restaurant.
10. Get A Strike At The SkyDeck
On the top floor of the Mall of America, you will find SkyDeck Sports Grille & Lanes. A great place for a bite to eat or try your hand at a game of 10-pin bowling.
After the bowling I let my kids go wild in the arcade to earn tickets that they redeemed for bouncy balls.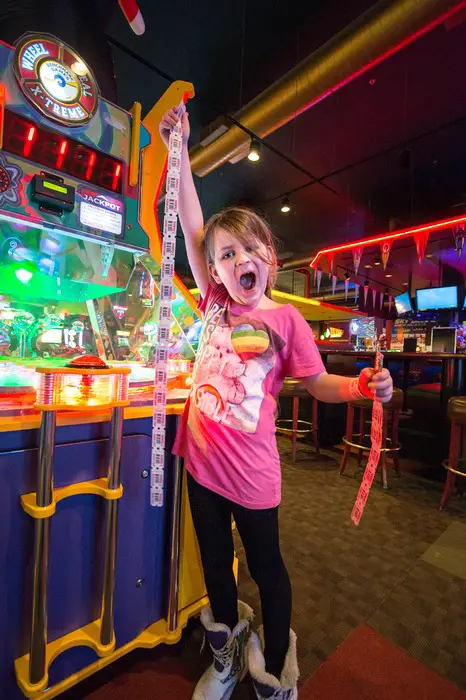 A fun place to hang out with friends or just let your kids burn off some excess energy.
11. Experience 5D Extreme Attraction by Matrix Technology
One of the newest Mall of America attractions (so new that I haven't even tried it yet!
There are two 5D extreme entertainment attractions to experience: "Shark Attack" where customers will meet eye-to-eye with prehistoric reptiles when standing on a motion platform and "Mystery Mine" where 1G force combined with an adventurous ride in a mine car will deliver an amazing and memorable adrenaline rush.
I don't need it if I'm too terrified to try, or too excited to not book tickets tomorrow.
12. Get Creative at Crayola Experience
We went to one in Florida, and it's so exciting this is part of Mall of America.
My kids love this place, it gets creative juices flowing and has less sensory overload than you'll find at most theme parks. Read my full review of the Crayola Experience here.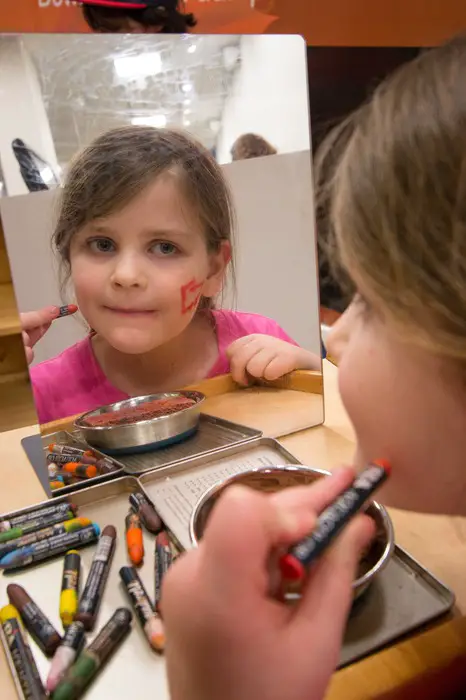 13. Attack Your Mates at Tactical Urban Combat
Tactical Urban Combat is a new Mall of America located on the 3rd floor of the Mall of America. It includes a state-of-the-art laser tag arena and a gigantic Nerf battlefield that holds up to 30 players.
You can book either a 30-minute session with the public or book a whole hour for a private group.
14. Charge Your Phone at Paw Patrol Adventure Bay
Paw Patrol Adventure Bay is the most recent addition to the toddler-friendly attractions at Mall of America and is a giant indoor play space.
You'll find it in the heart of the Nickelodeon Universe. Kids can climb and play among their favorite Paw Patrol vehicles as well as score a view from the Paw Patrol lookout tower.
Um hello, there are built-in charging stations at the seating benches, so parents can recharge tired legs and their phones, while kids continue to go like the energizer bunnies they are.
Make sure your kids have the perfect jacket for this visit.
15. Purchase a Teddy Bear at Build-a-Bear Workshop
What mall would be complete without a Build-A-Bear Workshop?
Kids can 'build' their bear, bunny, dog, or other stuffed animal by stuffing it, then accessorizing it. You can even record your message to your new furry friend.

16. Get Really High At Dutchman's Deck
Dutchman's Deck is an attention-grabbing Mall of America attraction that your kids will want to try at first glance!
This gigantic lime green and purple adventure course towers 59 feet above Nickelodeon Universe. It includes a multi-tiered Sky Trail ropes course, zipline, and Anchor Tower spiral slide.
The Ghostly Gangplank is the tallest Sky Trail® ropes course in the world, challenging kids to climb 56' above Nickelodeon Universe. My kids loved it.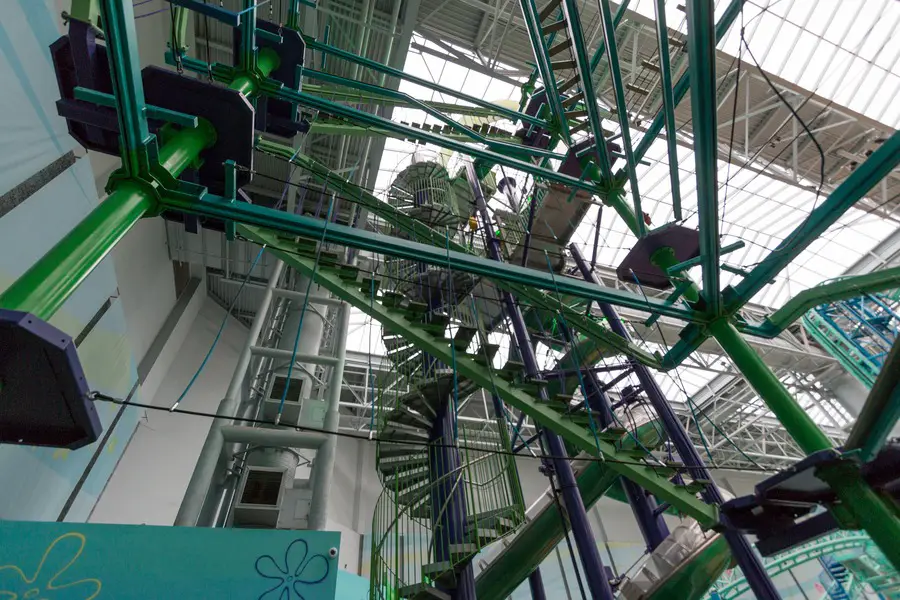 17. Soar Indoors At The Barnacle Blast
This is part of Dutchman's Deck below and I had to do it. It's the longest indoor zip line in North America and has you soaring 55 feet above the park. What a rush!
18. Eat Your Way Around M&M World
With a central location inside the east market area of Mall of America, M&M World is more than 24,000 sq. ft. of Midwest culture.
Personalize your M&Ms, shop the exclusive merchandise, and check out the iconic Wall of Chocolate and the larger-than-life character moments.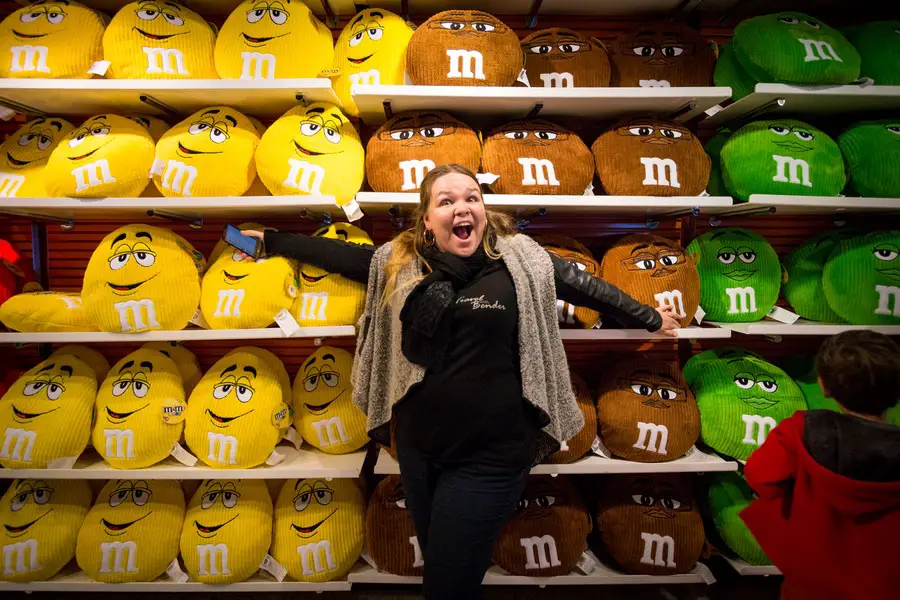 19. Breath In The Universe of Light
This nine-minute lights, music, and smoke effects show will transform the air space into a Technicolor dream.
Expect the show to mix the surprising characteristics of MOA, combined with the fun, playful nature of Nickelodeon Universe.
20. Slide Around All Day At Water Park Of America
Technically this isn't in the mall, but close enough (half a mile) to be considered for your visit.
Water Park Of America is the largest indoor water park in the US covering 70,000 square feet including a slide tower nearly ten stories tall.
The slide tower sprouts 6 slides, our favorite being the Eagles Nest family raft ride. It's the tallest slide starting on the 10th level.
The kids also managed to take a turn on the wave rider and hone their surfing skills. But by far their favorite feature was the kid's splash park and its easy, quick slides.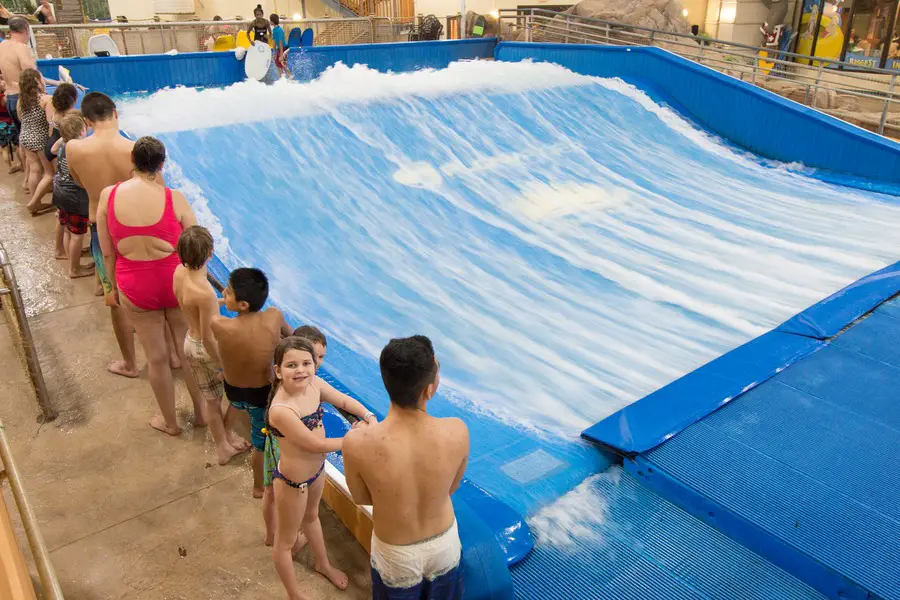 I finished the day soaking in the hot tubs and enjoying the delightful 85°F (29°C) temperature while outside Minnesota was blanketed in snow.
Look how easy it is to pin this!
mall of America with kids – things to do at mall of america with kids – fun things to do with kids mall of america – things to do mall of america kids – kid friendly activities mall of america – mall of america for kids – family activities mall of america
FOMO - do you have it?  Well there is no need to Fear On Missing Out here at Explore With Erin. Sign up to receive updates directly to your in box. I won't spam you, but I do promise a whole lot of awesomeness. What are you waiting for? Join Me!