What a story I have for you! When placed on Google Maps it seemed like a San Diego to Las Vegas drive was something the kids and I could do in one day. San Diego to Las Vegas drive time was 6 hours. So hey, why not visit Joshua Tree National Park.
Not.

How long is the drive from San Diego to Las Vegas?
Our San Diego to Las Vegas drive took at least 10 hours. I wish we had just spent the night at Joshua Tree, California, but we didn't. We pushed through. 
In partnership with Hotels.com here is our tale.
The Night Before
It had been over 7 months since I had seen my Australian friends, Dave & Vanessa and they were in Vegas! They were long- time friends of mine and when I heard they were in Las Vegas I just knew I had to hightail it there to catch up. At the time I had no intention for a Las Vegas road trip, but decided there was no better time than Vegas with friends.
Not one to usually be spontaneous I had been working on it. I mean at the beginning of my nomadic journey I had planned 6 months upfront and now here I was contemplating a 6-hour drive to visit friends in Vegas? Tomorrow!
We decided if I got to Vegas early, then the next day we could all head on a Grand Canyon road trip in my 7 seater car rental . So the plans changed that night. Tomorrow I would leave for Vegas, and just chuck in a quick stop at the Joshua Tree . 6 hours didn't sound too bad.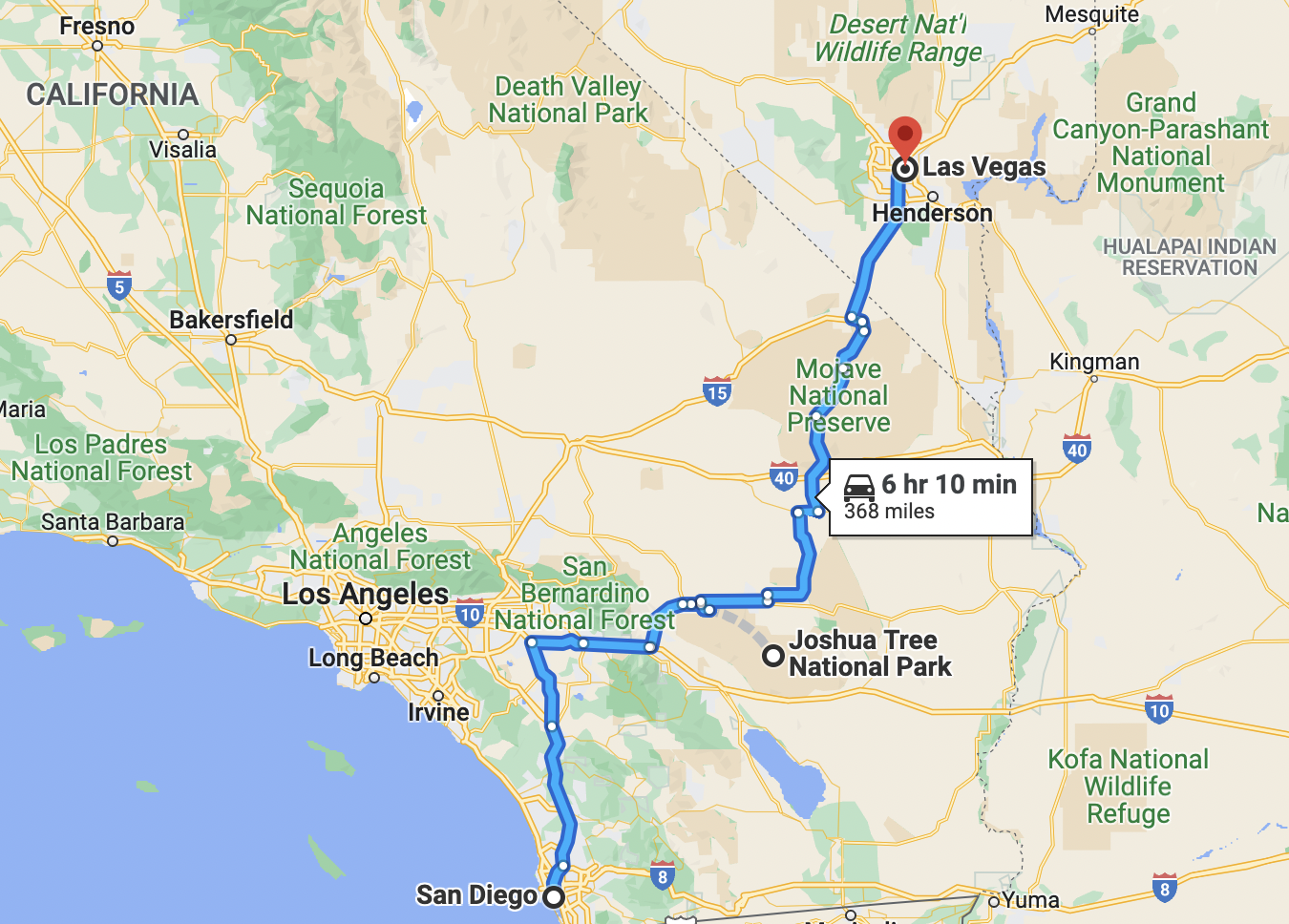 Car Troubles
It felt like I had just got started flying down the highway when all of a sudden the car lost acceleration. The car kept rolling forward, but the speed was coming down very slowly and the accelerator was doing nothing. Scary!
I pulled over to the side of the road and tried to restart the car. It didn't fix anything. The accelerator would get to maybe 20km, but nothing above that, and now some weird helicopter-type light had turned on the dashboard.
I rang the car rental for help. The hard part was I had no idea where I was and they had no idea where anything was located near us. They asked me to get off the Highway so I drove super slo-mo onto a side street and pulled into an isolated parking lot.
It took nearly an hour to figure out where I was if they could get a tow-truck here, and what we would do after that. During the frantic phone calls I had to remain a mom so I took the kids to the toilet, we all ate some food, had a drink, and then feeling anxious I tried restarting the car.
Supermom. Magically, the acceleration was back! Another phone call to the car rental to change the tow truck plans. Instead, they asked me to drive to the nearest town for a service vehicle swap if needed.
It didn't take too long for me to get to that town. The service guy was very fast. It took all of 90 seconds before the car was fine and the problem with the electronic "histories" was fixed. With a promise it won't happen again I start back on my San Diego to Las Vegas drive , having lost 2 hours of my driving day.
San Diego to Palm Springs
It didn't take me long to get to Palm Springs, however, since my car trouble delay there was no time to enjoy. It became nothing more than a toilet stop in my mad dash to make up some time . We made it out of Palm Springs to Joshua Tree in record timing, excited to finally visit the closest national park to me.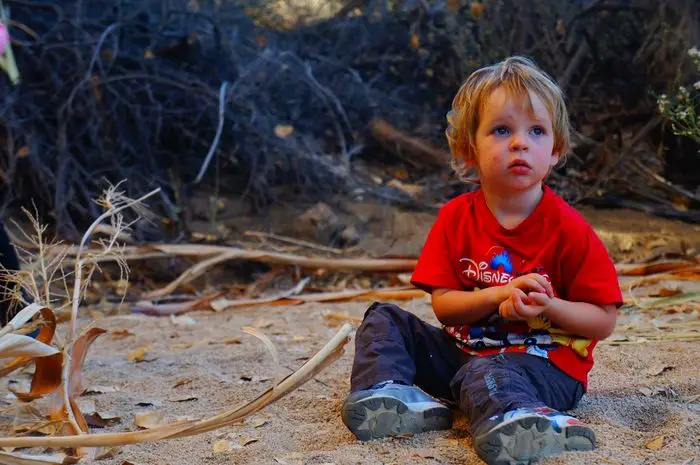 How far is Joshua Tree to San Diego?
How far from San Diego to Joshua Tree is it in miles? 145. Driving to Joshua Tree takes about 3 hours under normal driving conditions with reasonable traffic. It took us much longer. And we thought Joshua Tree to Las Vegas was going to be the longest part of our trip. 

Where is Joshua Tree National Park?
Joshua Tree National Park is in Twentynine Palms, California. It's 40 miles east of Palm Springs, 140 miles east of Los Angeles, 175 miles northeast of San Diego, and 215 miles southwest of Las Vegas . So it's closer doing a LA to Vegas drive.
What is so special about Joshua Tree National Park?
Having read plenty of Dr. Suess, the kids and I knew we had to visit the strange Dr. Seuss-like trees with their furry and palm-like crazy looks. The trees reach to the heavens like a man praying, thus the Mormons named them after Joshua in the Bible.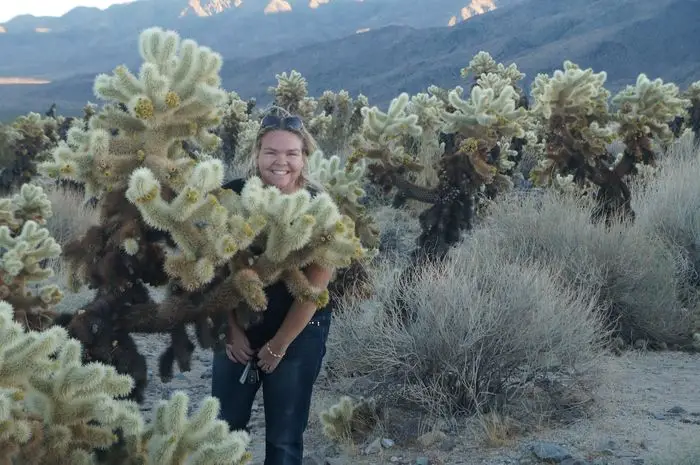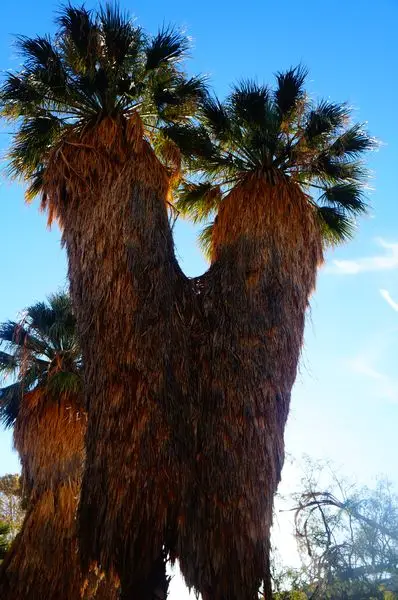 How much is Joshua Tree?
We enter Joshua Tree National Park at about 3 pm, paying a simple $15 entry fee.
This low an entrance fee is great, beacause you won't be thinking of vacation loans to get in. But if you are looking to cover the whole trip, you might find a vacation loan a great place to start. 
How long do you need at Joshua Tree National Park ?
Joshua Tree is humongous, and I quickly realize there is no way we will cover the majority of the park . So we check out the famous 'Oasis' and then head straight out. It takes just over an hour to drive through the park – I had no idea it was so big! We stopped a few times for photos with the bizarre trees or to climb gigantic boulders.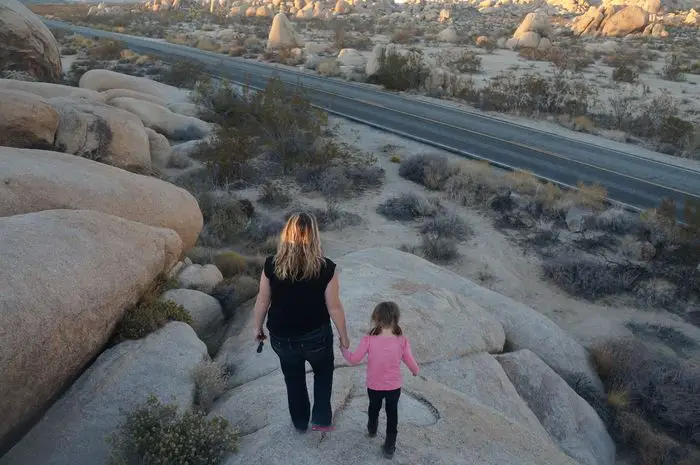 We had to skip the bigger concentrations of interesting things to see and just head straight out of the park as the orange sunlight slowly crept further and further back from the land. It was mesmerizing to watch the shadows deepen and tiptoe over the vast expanse as the sun slowly sunk behind the boulders and mountains in the distance.
How far is it from Joshua Tree to Las Vegas?
From the warm glow of Joshua Tree to the blinding lights of Vegas, Joshua Tree is 215 miles southwest of Las Vegas . Four hours of no street lights and no cars.
The majority of my Joshua Tree National Park to Las Vegas drive happened in pitch-black darkness until the eerie glow of Vegas neon lights lit up the horizon. I felt almost blinded as I drove into the bright lights of Vegas, having been accustomed to the long road of darkness. Sad I didn't see any more of Joshua Tree at least the drive into Las Vegas was electrifyingly beautiful.
San Diego to Las Vegas drive how long? Not 6 hours for me. I didn't even look for accommodation I simply chose the same place my friends were at since I had finally arrived at 8:30 pm. 10 hours after I left San Diego. 
As I was checking in at the Monte Carlo my friends arrived back at the hotel. So we hit up Denny's to plan the next day's epic Grand Canyon day trip. Sometimes I feel like I'm a sucker for punishment.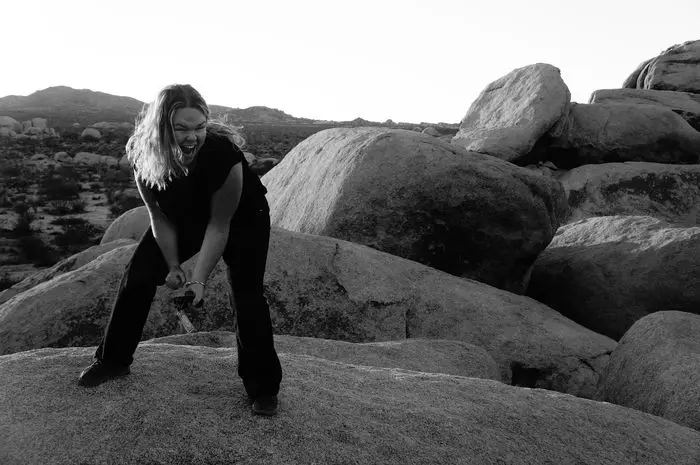 How far is it Las Vegas to San Diego?
The distance is the same either way. But you might find plenty more places to stop when driving Las Vegas to Joshua Tree, especially if you're driving in the day. Not the evening like me.
What's happening to Joshua Tree during Covid?
2020 and 2021 haven't been the easiest years to travel in and safety is at the top of everyone's list. If you are comfortable with traveling, please travel responsibly and within the rules of each destination you visit, being aware that those rules change frequently and may be different from your home country.
If you are traveling in 2020/2021, can I recommend:
Wear a face mask in countries that require you to do so. 
Bring hand sanitizer and wash your hands on a regular basis.
Check official websites before your trip for the latest updates on policies, closures, and status of local businesses.
Book a hotel with free cancellation in case you need to change your plans at the last minute.
Choose travel insurance that covers you for COVID.
Getaway somewhere remote like Joshua Tree National Park to enjoy the ultimate in social distancing.
Is the park open?
Entrance stations and roads are open. 
Can you spend the night in Joshua Tree?
Campgrounds are open. Visitors are encouraged to reserve a campsite before arriving at the park . 
LOOK HOW EASY IT IS TO PIN THIS
LOOK HOW EASY IT IS TO PIN THIS!
FOMO - do you have it?  Well there is no need to Fear On Missing Out here at Explore With Erin. Sign up to receive updates directly to your in box. I won't spam you, but I do promise a whole lot of awesomeness. What are you waiting for? Join Me!