One of my most favorite places in the US, the Pacific Northwest offers some of the most beautiful landscapes anywhere in the world. So naturally, the best way to see it up close is on a well-planned road trip that only Explore With Erin can devise. I've tracked it all down for you. My route from San Francisco to Seattle and back in 14 days in partnership with Jucy. Enjoy!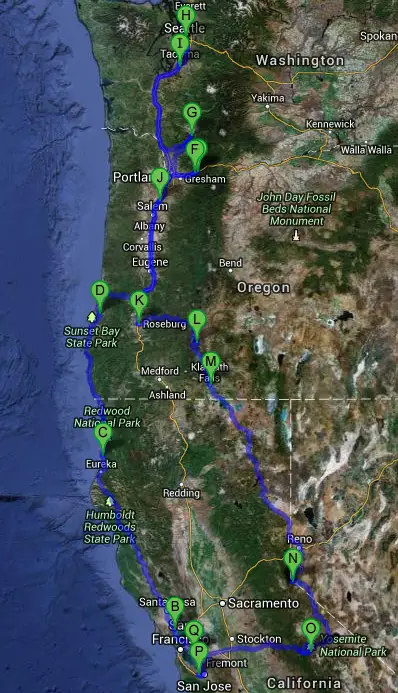 Day 1
San Francisco to Novato, CA
Novato RV Park – Free (check hotel prices in Novato)
10 – 11pm = 1 hour | 29 miles
We started our Great American Road Trip much later than planned so I didn't go far. After picking up my Jucy Campervan I did some sightseeing around San Francisco before heading over the Golden Gate Bridge and setting up home in the first RV park I found.
At 10 pm the office was closed with a sign offering available spots. There were none. Not trusting myself to drive a second longer I parked in the parking lot and set up home.
I loved the Jucy Campervan. It was surprisingly easy to set up and the kids and I fell asleep quickly. You can read more about "Lucy" in my campervan post.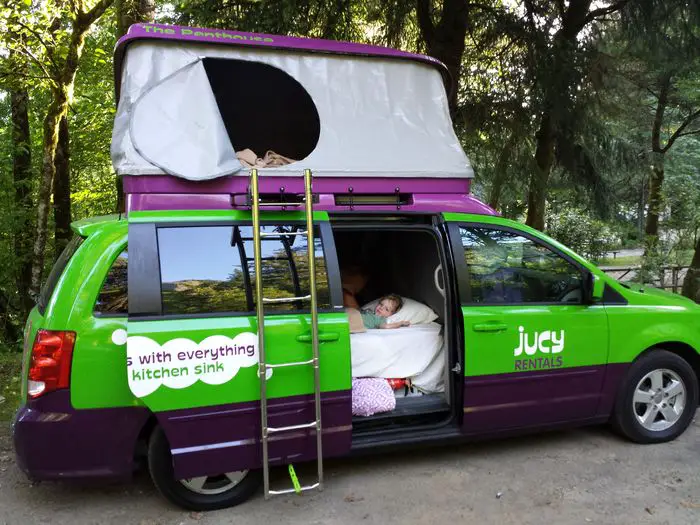 Day 2
Novato to Trinidad, CA
Azalea Gardens – $45 (check hotel prices in Trinidad)
7:30am – 4pm = 8.5 hours | 265 miles | $70 fuel
Unfortunately, people were attempting to leave early this morning, so we did too. The office never opened so I simply left, having not used any facilities, but the toilet.
I spent the entire day driving today, with plenty of stops for the kids. Most of the day we drove through California's Redwood forests, an incredible site with its giant trees and warm colors. 
My first stop was the Drive-Thru Tree. $5 entry per car. Lucy couldn't make it through the tree, so we just posed for some great pictures outside by the 2400-year-old tree.
After we continued onto the Avenue of Giants and decided to take the detour from Route 101 along the scenic alternative.
The Redwoods stretched above us, strong and tall, providing us with shade and beautiful greenery. I wonder how many stories they could tell that happened on the forest floor below.
Eureka was our lunch stop before I continued on to Trinidad. My original plan was a free stay in a casino parking lot, however, Lucy isn't a full campervan and without toilets or power, I didn't think I could do it. 
Further down Patrick Point Road, I found plenty of RV parks to choose from and wanting some wifi for work, and a domestic PowerPoint, I pulled into Azaela Gardens.
For $45 I got to park opposite a playground, bathrooms, and laundry. Behind my lot was a wood deck with the most amazing views of the pond and surrounding forest.
I spent the afternoon watching the kids play on the playground with our neighbor's children (from Switzerland) and setting up camp. Our gas bottle ran out in the middle of cooking dinner so I felt so blessed that our new friends offered their RV stove.
After our camp soup, I popped the kids in the penthouse up top and continued to work on the lower level.
It was unfortunate that night was cold and wet. By 6:30 am one of the mattresses was wet from an invisible leak. When I spoke to Jucy they were amazingly helpful. They gave me several options including buying a tent and being reimbursed. While I was at Walmart looking at tents, I decided a tarp would work better.
Thankfully that was the only wet night I had and I didn't need the tarp. Jucy bent over backward to try and solve the problem and I knew I wouldn't hesitate to hire from them again. 
Day 3
Trinidad, CA to Coos Bay, OR
Mills Casino North Bend (check hotel prices in Coos Bay)
11:30am – 5pm = 5.5 hours | 196 miles
The day started late as the rain continued so the kids and I ate cereal on the table and chairs converted from the bed. While the kids watched some DVDs in the camper's DVD player, I finalized some work.
I drove down the Oregon Coast without many stops today watching the waves crash against the mounds of rock that jutted out into the ocean like a foreign invading army.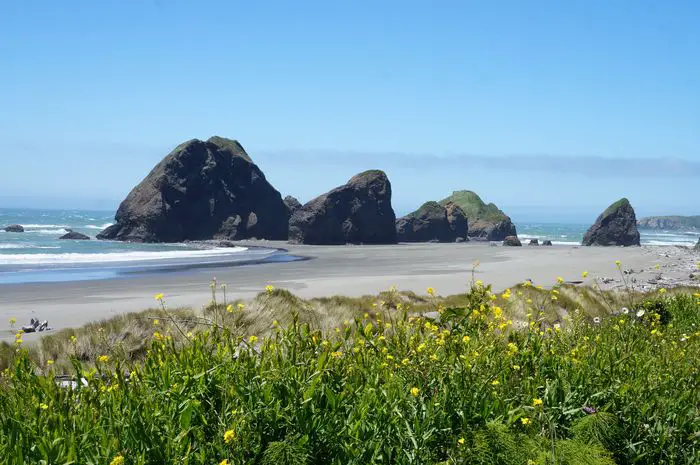 The one-stop I did make was in a small, non-descript town at The Crazy Norwegian's Fish & Chips. I'm glad I did, it was delicious.
After lunch, we continued to drive until we passed Coos Bay and hit North Bend. Concerned about the previous night's rain, and on advice from Travel Astoria-Warrenton, I decided to spend the night at the Mills Casino. 
Mills Casino is a casino hotel located on a river with magnificent views. We were offered a room with 2 queen beds on the 7th floor overlooking the striking views.
The room was a great size with a huge bathroom and yes, a wonderful showerhead. The beds were super comfy and warm. Everyone was tired, so I ordered room service. The kids polished off a whole pizza while I kept it simple with a chicken salad. After a shower it was bedtime.
Day 4
Coos Bay to Portland, OR
Ainsworth State Park – $20 (check hotel prices in Portland)
12pm – 9:30pm = 9.5 hours | 221 miles | $71 fuel
We all awoke lazy and happy in the Mills Casino. I had grand plans to take the kids to the pool, but after phone calls with my parents, the day was a-wasting. So with a free valet and a bottle of Moscato from the sweet staff at Mills Casino, we headed to our SpinReel adventure.
SpinReel is set in the Oregon Dunes and offers ATVs, dune buggies, and other crazy vehicles for exploring the nearby dunes.
I don't recall ever seeing dunes since leaving Perth and was pretty excited to be bouncing over them in a 4-seater buggy. After a brief safety video, signing disclaimers, and an explanation of the charges for rolling or damaging the cars, we were equipped in helmets and given free rein of our vehicles.
The craziness was these big, giant, sandy dunes with no ocean in sight. And I was driving up crazy heights and plummeting down even crazier ones.
It was 3 pm by the time we emptied the sand dunes from our sneakers and jumped back in the car, a very late start, but a happy one. Mia didn't stop laughing the entire time we drove around.
Over the next 6 hours, I made several stops at supermarkets, Walmart, toilets, restaurants, and more, but I never found a gas can for my stove. So it was late when I pulled into Ainsworth State Park. I backed the van into a lovely spot surrounded by bush and mountains, set up home, and put the kids to bed.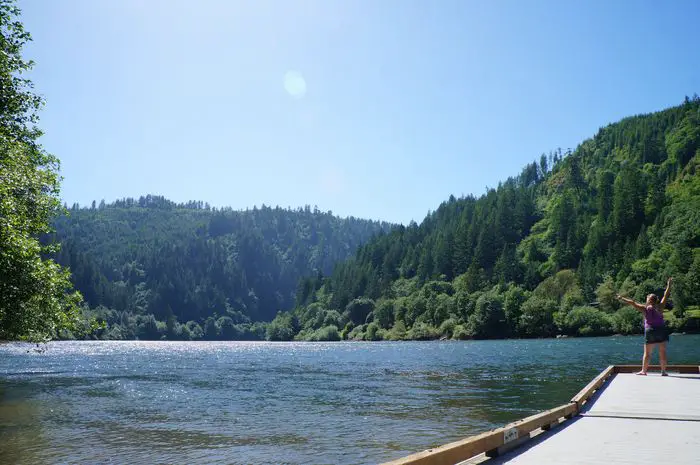 I did some writing before lights out and was very surprised when the morning arrived, feeling like I had just closed my eyes.
Day 5
Portland, OR to Seattle, WA
Trailers RV Park – $34 (better stay in a hotel in Seattle)
9am – 6pm = 8 hours | 300 miles
I could not believe my eyes when I woke the views were phenomenal. We had a quick breakfast, packed up the house, and decided the first stop would be Multnomah Falls.
Multnomah was beautiful and much larger than expected. Actually, it's much taller than Niagra Falls, but clearly not as wide. Mia, Caius, and I climbed to the viewing bridge, but it was cold and wet so we headed back down.
After the falls I decided to drive to Mount St Helens to view the devastating volcano that hit Washington in May 1980. The drive was much further than expected but was definitely worth it.
The volcano is snow-capped and beautiful. At this time of year, in early June, there was even snow on the edge of the road as you drive to Johnston Observatory. The viewing from here was $8 per adult, under 15 free. This includes access to ranger talks, two informative movies, and the trails around about, plus an awesome little scientific-y museum all about volcanoes.
Once again the views were just incredible, especially the surroundings where we could witness the effects of that blast 30-odd years ago. I actually learned a fair bit during the one movie we watched and we enjoyed teaching the kids all about volcanoes.
After a bite to eat we were back on the road at 3:30 pm. Originally I had planned to stay in St Helens overnight, but since the kids fell asleep I decided with all that peace I could push through to Seattle. This would give me a day in the city instead of traveling. And I realized a travel-free day sounded perfect after so many miles.
I got to the RV park around 6 pm and was not impressed. Compared to the beautiful, scenic places I had stayed previously, the gravel grounds and lack of nature were not at all how I pictured camping. But they had electricity, a pool, and a playground so the kids made use of that while I organized laundry. Dinner, movies, bed.
That's 1,028 miles (1,654 km) in 5 days from San Francisco to Seattle. 
Day 6
Seattle to Tacoma, WA
Days Inn – $59 coupon from hotel brochure (check hotel prices in Tacoma)
6pm – 7:30pm = 1.5 hours | 300 miles
Today we spent the majority of the day in Seattle, visiting the EMP Museum and Ride the Ducks of Seattle tour. There wasn't anything else I wanted to see so decided not to stay an extra night on the gravelly camper site. 
After dinner at Pike Place Markets around 6 pm, I made my way out of Seattle. Stopping at Big 5 Sporting Goods for those hard to find 8-ounce gas canisters. It took me 5 stores before I finally called Jucy to find out where to buy them. You can buy them from them direct. Highly recommended.
As it was a late start I located a Days Inn and within minutes the kids were in bed while I enjoyed the WiFi and a shower.
Day 7
Tacoma, WA to Woodburn, OR
Woodburn RV Park – $44  (check hotel prices in Woodburn)
11am – 4pm = 5 hours | 300 miles
Once I hit the road I noticed a tire that I had already pumped previously was again flat, so we pulled off into a tiny town to have it fixed. 
As it was lunchtime we were recommended the Cars Diner while the tire was replaced. This restaurant was themed with car paraphernalia. The service was not great, but the food was delicious and the serving size was huge, well my taco salad was bigger than my head! I had it for lunch and dinner.
After the tire was fixed I was ahead of schedule so decided to pull in at an award-winning campsite Pheasant Ridge. They only had one spot left and it had no WiFi or power points so she recommended Woodburn RV Park. It wasn't too much further and was a wonderful park. They had WiFi and domestic power points at the site. Plus, a pool and a communal kitchen with a microwave that made dinner much easier to cook.
I spent the afternoon in the pool with the kids before dinner, work and bed.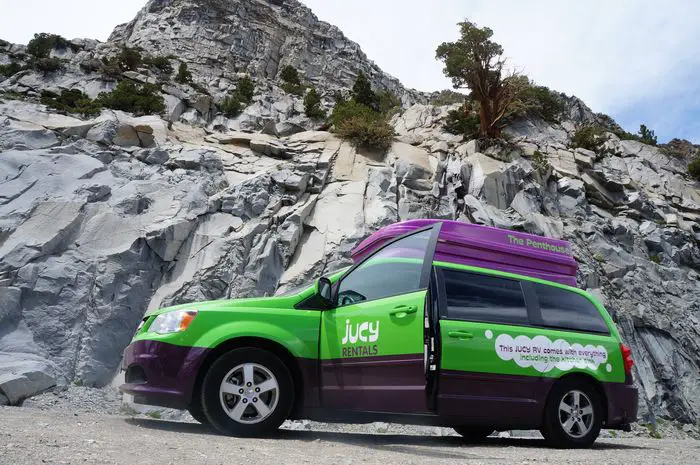 Day 8
Woodburn to Roseburg, OR
Holiday Inn Express (read the reviews here)
11:45am – 5pm = 5 hours | 300 miles | $75 fuel
I was finally finding my camping grove so we spent the morning swimming in the pool and enjoying the WiFi before taking off for Roseburg, driving all day with only one stop at recommended Roger's Rock 'n Diner.
It was a highlight. The burgers were lovely and the sweet potato fries were super yummy. All servings were massive and we were totally glad we shared their mammoth burger.
Soon after we arrived at the Holiday Inn Express. The staff were so lovely and directed us to our room. I believe every room here has a balcony view and what a view. Rolling hills and a river, a lone tube floating slowly down it.
The room was normal hotel size with 2 queen beds and a large bathroom. We never got around to using the pool and the hot tub, but we could see them from our room and both looked very welcoming. The location was fabulous just outside of downtown. The beds were so soft and I loved that they had firm and soft pillows on each bed.
The Roseburg Visitors Bureau had informed us of movies in the park that night so we were quite excited to be part of the local Oregon community that Friday night. First, we headed for Thai food at Bangkok West, and then found our way to Stewart Park.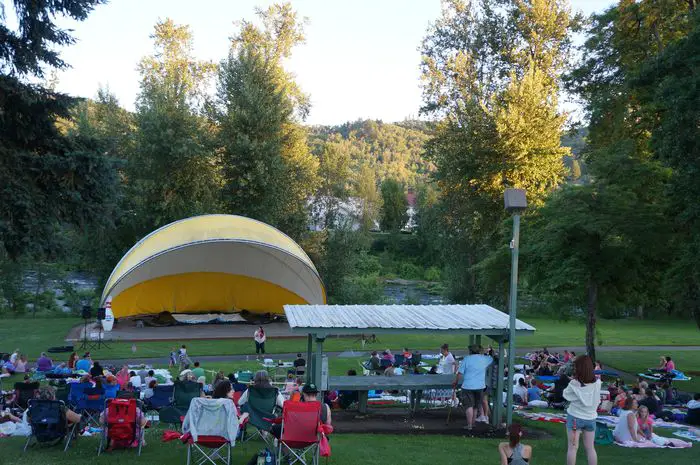 This sweet local park had a big playground and at the bottom of a hill was a river. Right in front of the river was a half-dome tent set up. They had live music and people were getting comfy on their blankets and chairs.
A local church was selling $1 popcorn, $1 sodas, and lollies. We grabbed some and settled down just after 9 pm to wait for the 9:30 pm start of Hotel Transylvania. Late for my kids, but couldn't be helped with the late setting of the sun. The kids didn't last long, but I stayed for the entire movie.  Being part of that community and crowd watching and relaxing under the stars was almost like being back home. I felt nostalgic.
Day 9
Roseburg to Lava Beds National Monument, OR
Indian Wells Campsite – $10
11am – 8pm = 9 hours | 300 miles
Quite frankly, this was one of my most favorite days of our trip. It was also one of the best drives of my entire life. A little bit of risk makes life that much more exciting and the drive to Crater Lake is exhilarating. The danger element makes it all that more interesting. One blink too many and your driving down a slippery slope never to return.
Sheer cliff drops, wet roads from melting snow that are piled several feet high on each side, and then a turn off with a swarm of people. We pulled our car into a small parking lot and headed to the top of a hill. The kids were sidetracked playing in the snow. It was so much more fun on this warm summer day than the wet cold stuff in New York we experienced over Christmas.
After a few thrown snowballs we finally got to the top to discover Crater Lake. My favorite part of the US. Wow. 
Entry to Crater Lake cost us $10 and was valid for 7 days. I wish I had had time to camp and stay longer, I could have looked at it all day.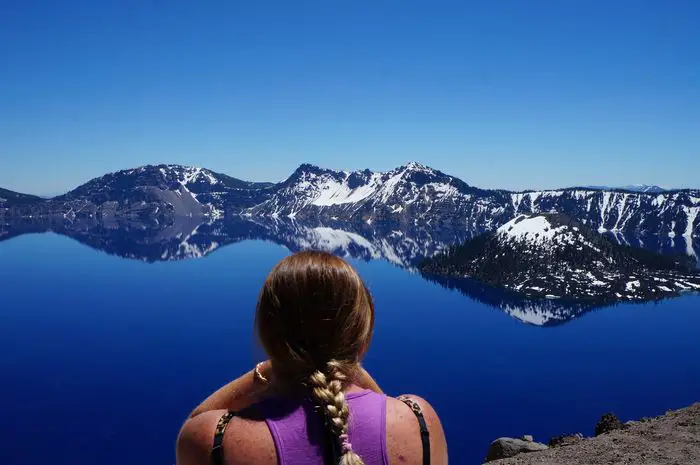 As it was we decided to speed things along and drove right through to the Lava Beds National Monument. This also cost me $10 entry and was a complete contrast to Crater Lake. Dry, barren, minimal trees, and lots of volcanic rock and open space.
It took a while to drive through to the campsite and then I spent a relaxing evening making dinner and stargazing. This site was unpowered. We were off the grid – literally. Thankfully the toilet block had sensor lights, but other than that the whole place was electricity-free, WiFi-free, electronics-free (dead laptop battery). But with nothing around, no power, no people, the sky was truly amazing. Thousands of tiny stars lighting the heavens like a giant welcoming firework parade.
My daughter woke briefly in the night for the toilet and I had to make her look at the sky, she was amazed. It took me a while to get to sleep with that display going on.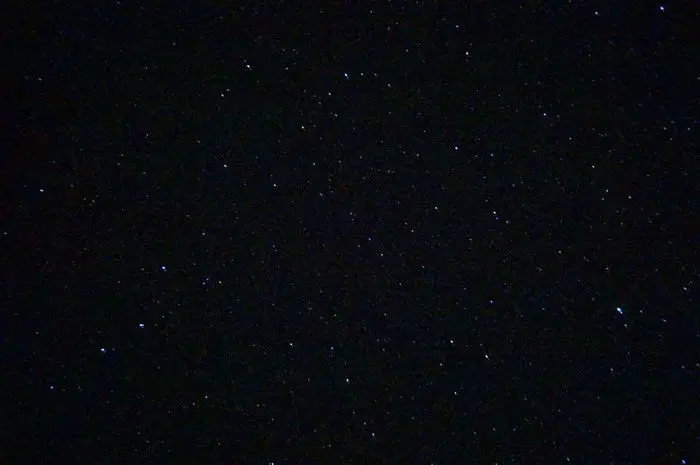 Seattle to Lava Beds National Monument, via I-5 = 528 miles (850 km)
Day 10
Lava Beds National Monument to Lake Tahoe, CA
Stayed with friends from FamilyTrek (where you can stay in Lake Tahoe)
9:20am – 5:30pm = 8 hours |300 miles | $73 fuel
We left our campground fairly early as we wanted to see some of the Lava Beds before our drive to Tahoe. After some discussion with our camping neighbors, we decided to visit Skull Cave. This cave has an ice floor and sounded fun.
This is not a tourist trap with pre-recorded headsets. This is the real deal. A few warning signs and then you are on your own. Unprepared the kids and I attempted to go as far as we could before the phone's LED "torch" became inadequate for such complete darkness.
The waves of cool air coming out of the cave was daunting enough, then you walk down into a yawning stone mouth. Perhaps if I had flashlights I could have investigated further, however, both kids were getting scared and there was no option to go further. I never got to see that ice floor, but I sure felt it.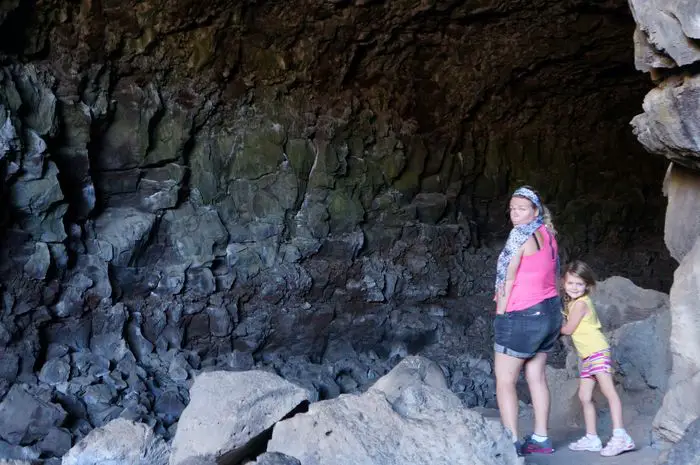 As we escaped the cave into the burning heat I could almost wish we were back in the cool, black depths.
After that, we had a quick drive around before making a beeline for the exit. We had a long journey today and it was pedal to the metal.
I stopped for fuel and Mexican food in Susanville and then drove through all three states, Oregon, Nevada, and California. I enjoyed the drive through the infamous Reno and the kids had a quick play at the McDonald's playground in Carson City.
A large traffic accident set us back half an hour, but we finally pulled into an unfamiliar driveway about 5:30 pm. I had been following Family Trek's blog for over a year and was pretty excited to actually meet them.
They had kids similar in age and everyone hit it off. Beautiful Monica made us dinner and we ended up talking late into the night. Since it was so late, they invited us to spend the night.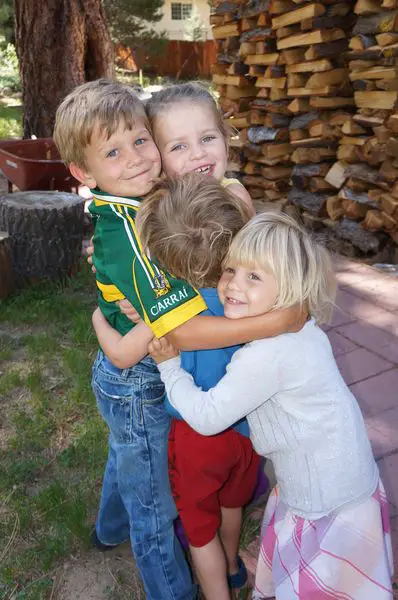 Day 11
Lake Tahoe
Family Trek – $ bottle of wine (where can you stay in Lake Tahoe)
300 miles
We spent the day at Lake Tahoe with Family Trek. The area is completely gorgeous and I am keen to return for a few weeks or months next time. We visited the Stream Profile, which is a small hike through a beautiful forest to a small hut housing a glass wall for children to look in and see the fish of the stream.
After a beautiful hike through this section, we headed to Fallen Leaf Lake for lunch. It was cold and wet, but the views were still phenomenal. The kids had a blast walking along the jetty.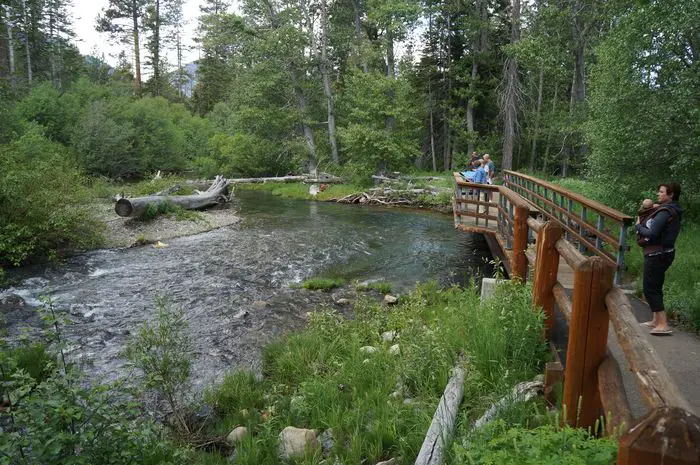 Then we drove to the Emerald Bay Lookout. You can find more in my latest Lake Tahoe article.
We didn't stick around long, the air was cold and it started to rain. So we headed back to Family Trek's gorgeous log cabin and cooked up some S'Mores, caught up on some work, and enjoyed the company of like-minded friends. Have you had S'Mores before? It was our first time and they were so sweet, I couldn't eat one, but the kids had so much fun making them.
The kids rode bikes, had a dance party, and just generally enjoyed being outdoors. And it was nice to let them get dirty and have fun.
Day 12
Lake Tahoe to Yosemite, CA
Upper Pines – $20 (check hotel prices in Yosemite)
10:30am – 2pm = 3.5 hours | 300 miles | $73 fuel
We spent the morning catching up on washing, talking, and playing. But before I was ready we had to say goodbye to our new friends. 
Yosemite time! And it didn't take long to reach, but it did take long to get through it. We arrived at Tioga Pass and paid the $20 entry falling instantly for the park.
We drove for another hour through the park before we decided to pull over for lunch. We picked a winner at Swinging Beach. I cooked up all our leftovers in our Jucy Lucy kitchen, and then the kids de-robed and hit the water. It was cold, but that didn't stop them.
Read my dedicated Yosemite post, because I can't keep it to a few lines here.
After our beach visit, we checked into our camp spot in Upper Pines and headed to Curry Village for dinner. At Yosemite Falls Lodge the kids did a program where they learned about wildlife and did some coloring in. 
Back at our campsite Mia had made friends with our neighbors (again!) so we joined them around their campfire cooking marshmallows and seeing who could make the biggest and best without losing them to the flames.
Finally, we put the kids to bed and, after making sure every scrap and crumb was out of the car and in the bear box, I also fell fast asleep.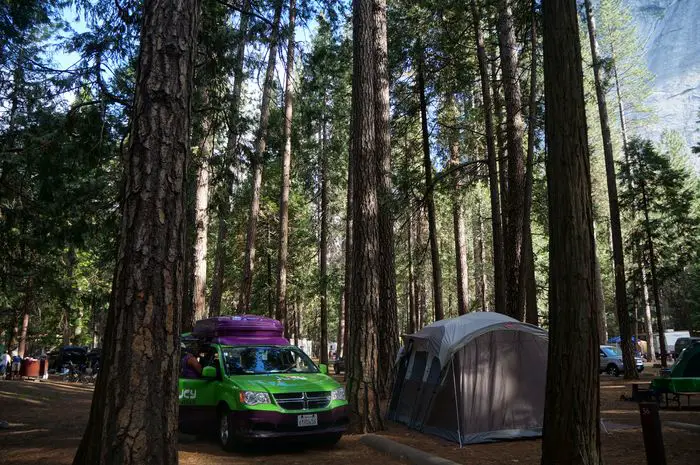 Day 13
Yosemite
Upper Pines – $20 (check hotel prices in Yosemite)
It was a beautiful day and already warm when we hired bicycles and rode to Happy Isles to visit the nature hut of animals and rocks and stuff.
After that visit, the kids and I hiked to Lower Yosemite Falls, which was even more glorious up close. 
When the hike was over we took a shuttle around the park just to get our bearings and figure out what else there was to see.
In the afternoon we relaxed around in Lucy before successfully winning the campground lottery at 3 pm securing our spot for a second night.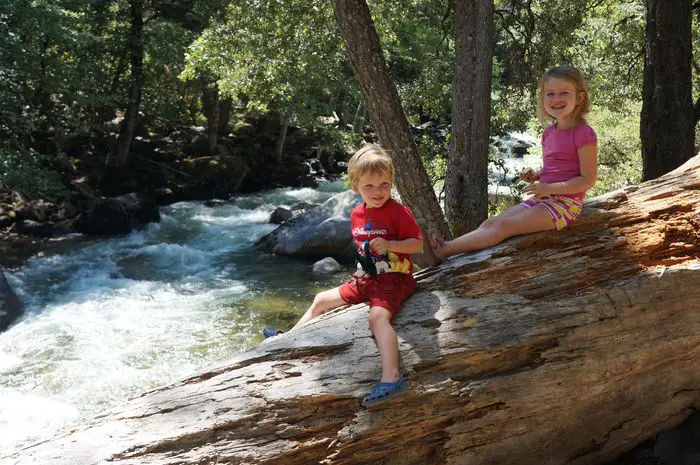 Day 14
Yosemite to San Francisco, CA
Travelodge – $101 (read the reviews here)
8am – 3pm = 7 hours | 300 miles | $57 fuel
We were up early today, packing up our car for the last time. Breakfast was eaten and everything packed ahead of schedule so we departed Yosemite at 8 am, taking just over an hour to get out of the National Park.
I didn't want to finish the road trip without visiting the tech city, Silicon Valley, so I made my way south to visit some of the more well-known headquarters in that area.
First up the Apple company store at 1 Infinity Loop, then Google HQ. Bright, colorful, and bicycles everywhere. There was even a soccer game going on in a nearby field. Our final stop was Facebook HQ.  Not much to see here, but a big 'like' signboard.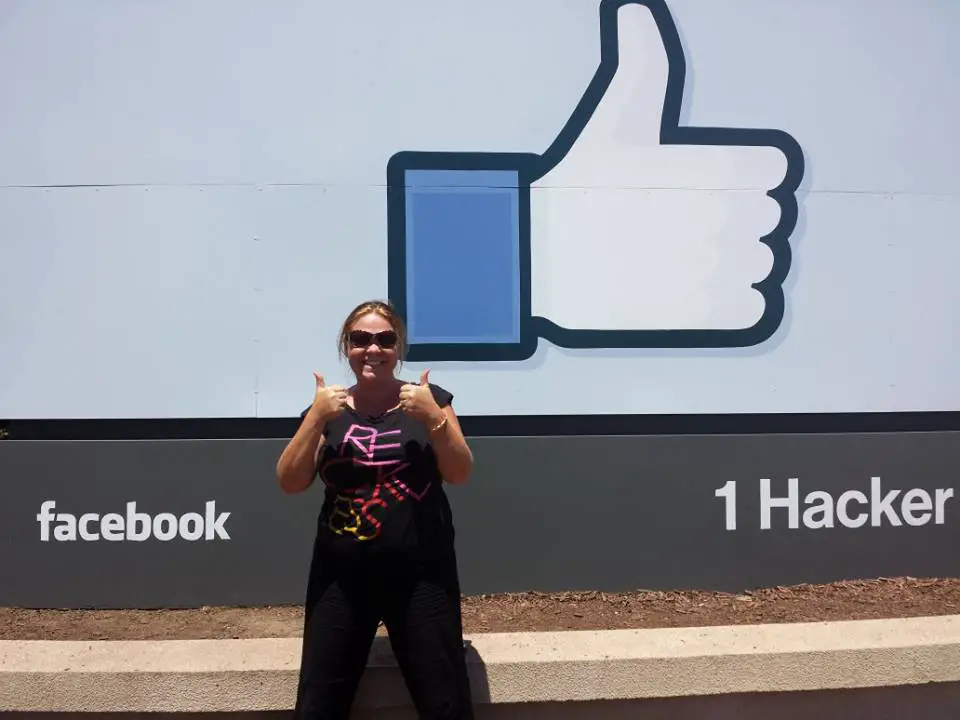 At 2:15 pm I zoomed out of Silicon Valley making a beeline back to San Francisco's East Bay to return Lucy, the Jucy campervan. I stopped for fuel and food before returning it right at 3 pm.
Checkout was quick and easy. The staff took a glance over the car, confirmed our deposit return, and called a taxi for us.
What an epic road trip. Saying goodbye to Lucy was kind of sad, our mobile home was a super fun way to see the Pacific Northwest.
The taxi drove us to the Travelodge by the airport. The male staff member was rude and difficult, but eventually, we made it into our clean room.
The kids enjoyed a long bath while I reorganized all the bags. When I drained the bathwater it had 50 shades of dirt. We finished our long day with dinner at Ihop (not recommended) and all hit the sack at a reasonable time for our early flight the next morning.
Lava Beds National Monument to San Francisco = 2,049 miles (3,297kms)
Explore With Erin's Wrap Up
What an adventure! 14 days, 2049 miles, and $419 in gas. We spent 3 nights in hotels, 2 nights in a friend's house, and 8 nights in Lucy, our Jucy campervan.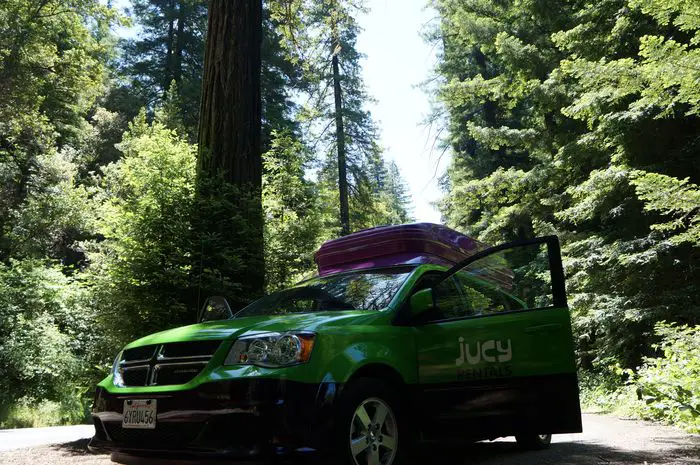 I love road trips so much and the Pacific Northwest is a beautiful location to travel. There is so much to see on the way up and on the way down. Of course in Australia, we have the Great Ocean Road, which is a magnificent coastal drive so the Oregon coastal road didn't excite me as much, but the parks. Oh, they are so beautiful. Crater Lake, Lake Tahoe, Yosemite – they were special and I would highly recommend that drive to anyone.
Eating was easy with the Jucy kitchen, and several supermarket stops. There was no need to worry about food going off as the Jucy campervan's fridge was big enough to hold 2 liters of milk and all our other dips, cheeses, and vegetables.
My first concern was how difficult it might be finding RV parks, however, the journey was full of them. It was considered high season so I did face moments of little choice or full parks, but there are so many you are bound to find something.
Of course, food stops and gas stops are plentiful, and just like the East side of the US, there was no fear of going hungry or the kids wetting their pants. Mind you I still had my fair share of pee stops in the most unusual places.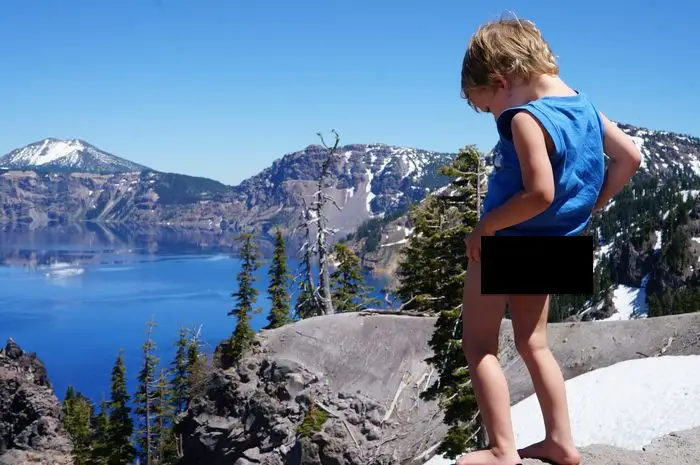 There are multiple places I long to return to and stay longer. Road tripping reminds me of cruising. You get a great overview and discover where you want to return and where you are going to skip next time.
Campervanning is also a freedom in itself and was also an added excitement to the adventure. Setting up our home, spending time outdoors. I can count on one hand the times I have been camping in my life and this was only the kid's second time, the first was 40°C weather in Australia several years ago not ending well. This time we had a great time camping, the weather was practically perfect and camping in the States is such a great atmosphere with Yankees. We found everyone to be generous, welcoming, and hospitable.
Did you enjoy my 14 Day Pacific Northwest Road Trip? I hope it's useful for you and you get to discover the amazing natural beauty that this region of the US holds.
You will find the journey reserves some breathtaking moments that will leave you longing for more. I know it did for me.
LOOK HOW EASY IT IS TO PIN THIS!
FOMO - do you have it?  Well there is no need to Fear On Missing Out here at Explore With Erin. Sign up to receive updates directly to your in box. I won't spam you, but I do promise a whole lot of awesomeness. What are you waiting for? Join Me!