How could I trust any online booking system after my experience in
Turkey
? To be honest, I had issues trusting online booking portals until I found Headout. Is Headout legit? It sure is! But first, let me tell you the story that helped me find Headout in the first place.
Prelude to my Headout Review
I could barely contain my excitement. I giggled in the taxi's back seat, causing my partner to ask me once again what was happening.
We pulled up to the closed gate of the Nef Stadium. A 50,000+ seater football stadium in the heart of Istanbul, Turkey. Why was the gate closed? Were we early?
"SURPRISE! I booked Galatasaray tickets for you." I beamed.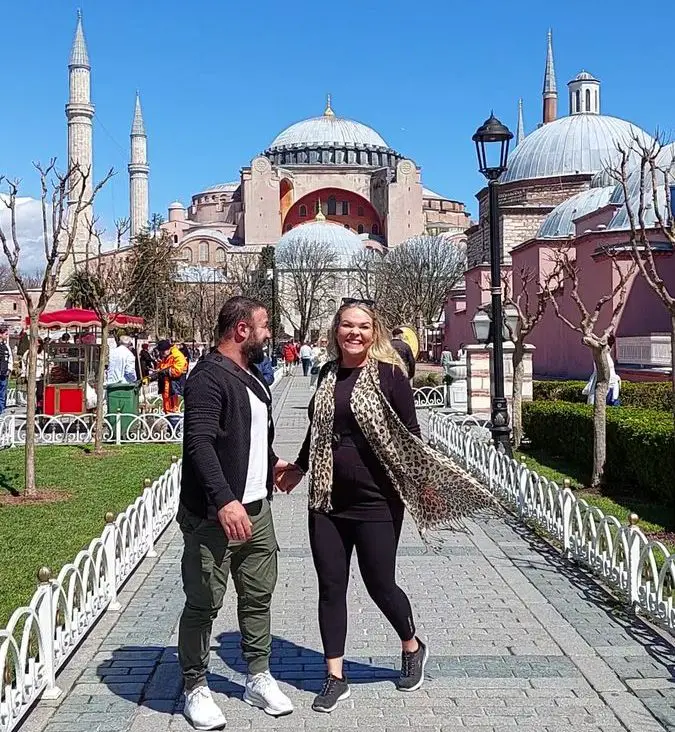 My partner's favorite football (soccer) team, Galatasaray, had a game the day we arrived in Turkey so fighting the jet lag, I dragged us here to the Football Stadium.
I booked the tickets online at Viagogo, nervously, but trusting the online booking platform Google brought up. Big mistake. 
My partner got out of the taxi and approached the security guards at the gate. They laughed at him and he came back to the taxi.
"What did they say?" I asked.
"The game was yesterday. There is no game today."
My jaw dropped. The tickets clearly had today's date. Online clearly said today's game.
My partner checked the official Galatasary site and sure enough, the game was the previous day. I had been sold a fake ticket. I was devastated.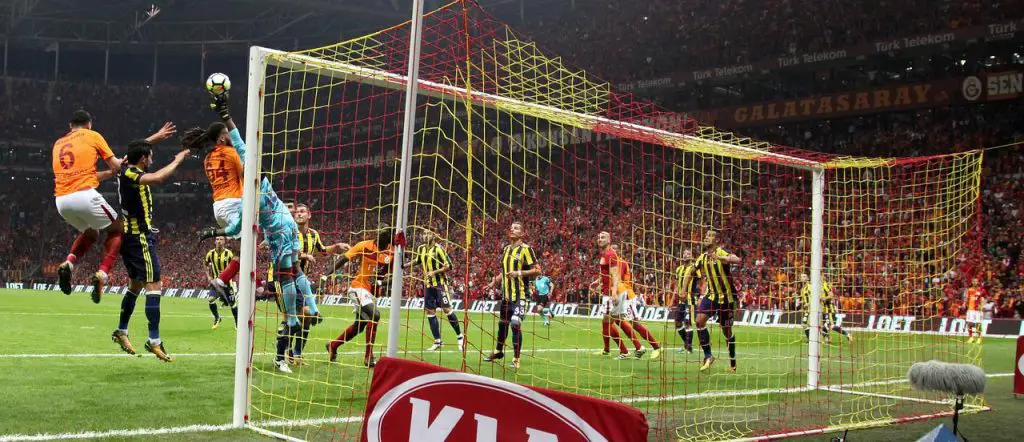 After 5 phone calls and 10 emails, we ended up doing a credit card reversal. Viagogo never returned the money, never provided customer service, never replied to emails, or called back. The dodgiest of the dodge.
It wasn't just the monetary value, it was all the epicness of my giant surprise ruined. By one day. And one bad booking experience.
How would I ever trust another booking company again? How would I ever head out again?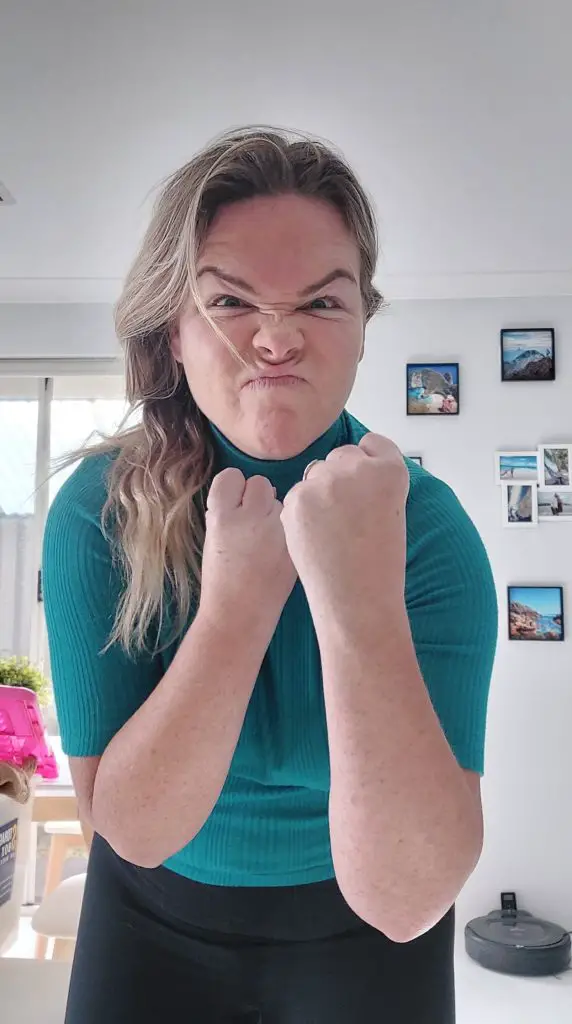 ?
Headout is a tour aggregator with competitive prices and destinations worldwide. They offer tickets, spas, queue jumps, dinners, walking tours, private tours, airport transfers, you name it, they'll have it (mostly!)
Headout is an on-demand mobile marketplace that helps travelers discover & book the most incredible tours, activities, events & local experiences in town at exclusive discounted prices.
The first thing I noticed when I started using Headout is there were real people behind it. Go to their About Us page and you are introduced to the three individuals that founded the site. Real people!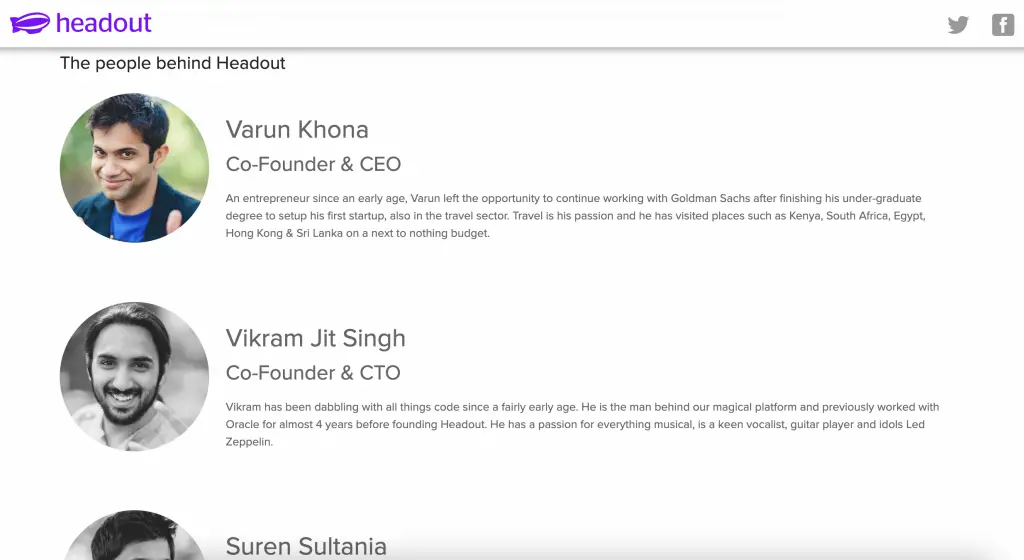 The second thing I noticed is the access to real people. Customer service, yes! There is a live chat, email address, social media contacts, and 4 phone numbers around the world to be in touch with someone straight away.

Is Headout legit?
Yes! The Headout app and Headout website are legit. You can book with confidence knowing that they have helped more than 5 Million people arrange their travel bookings.

How does Headout work?
You can use Headout easily on both your phone and your desktop. On the phone is great for the on-the-go, while I prefer to book all my tours before a trip so the desktop works best for me.
Here's how it worked for me on a recent trip to Melbourne, Australia.
The first step is choosing your destination – Melbourne.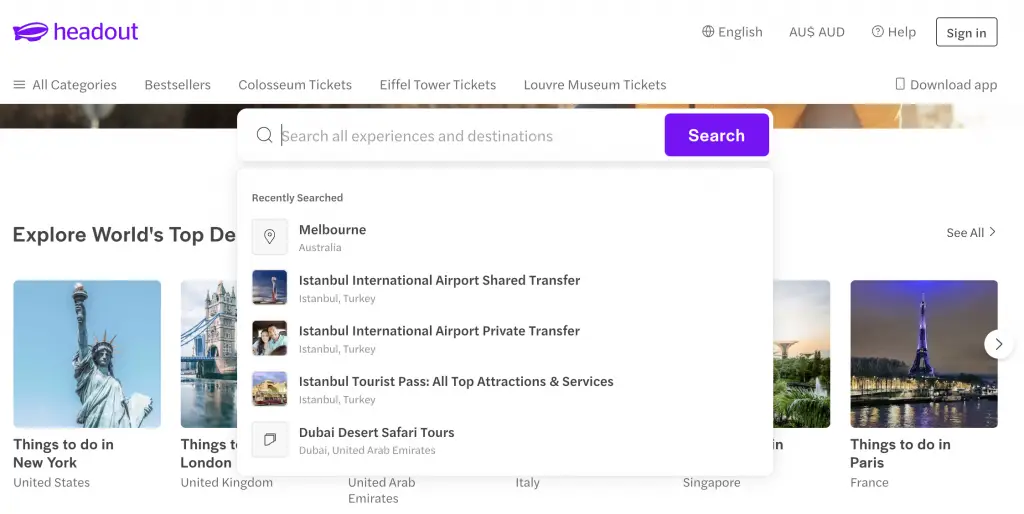 Once you get to your destination page, there is a list of Top Experiences in Melbourne, Top Things to do in Melbourne, and Top Landmarks in Melbourne. The list goes on to separate categories like Zoos, Wellness, Cruises, Adventure, etc.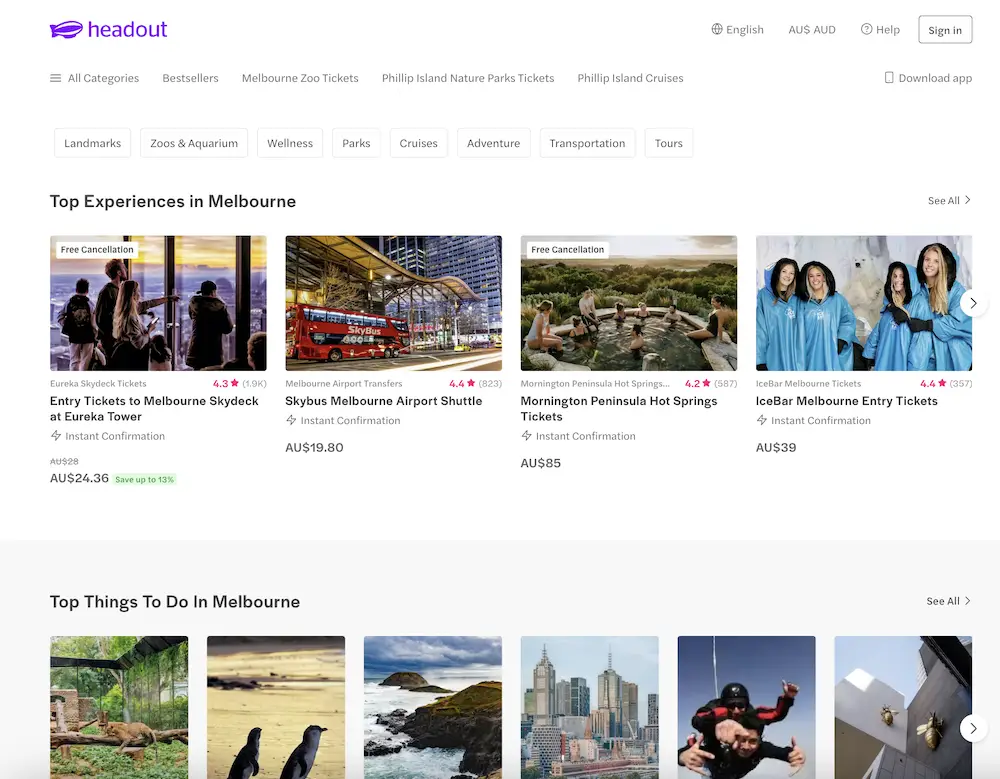 I headed straight to the Top Experiences in Melbourne and clicked See All. I wanted something epic that I'd never done before.
It's like my Top Things To Do in Melbourne blog post. All the good things were there, including one I had never done.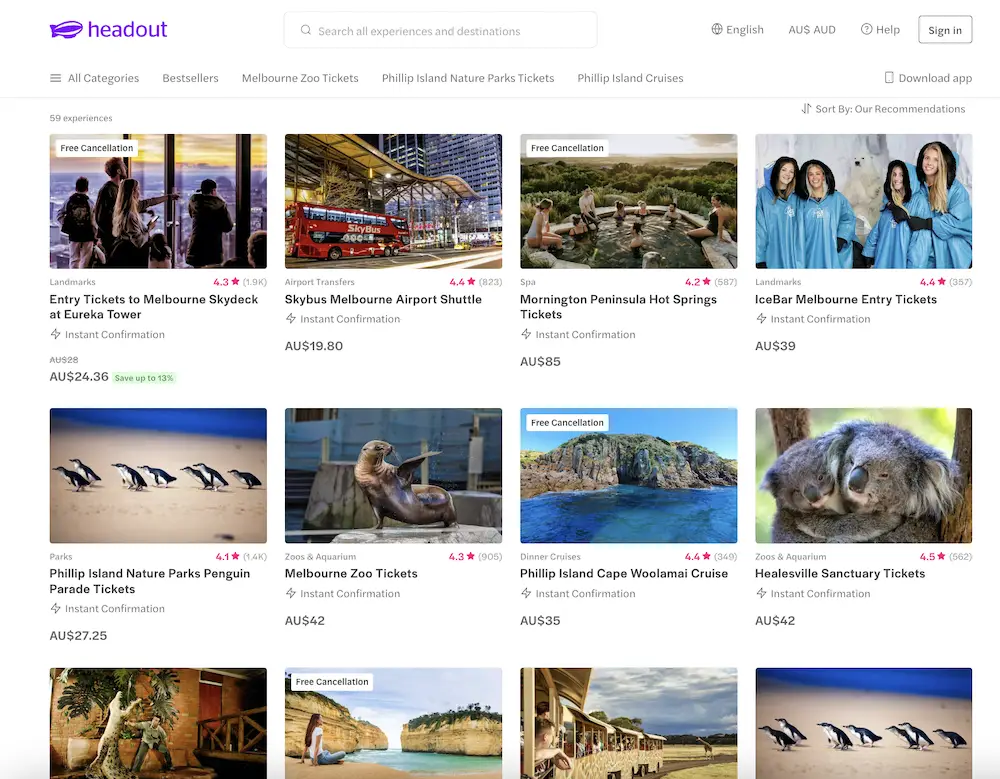 Instead of clicking on the Mornington Hot Springs attraction, I decided to search for all the different experiences to make a better-educated decision.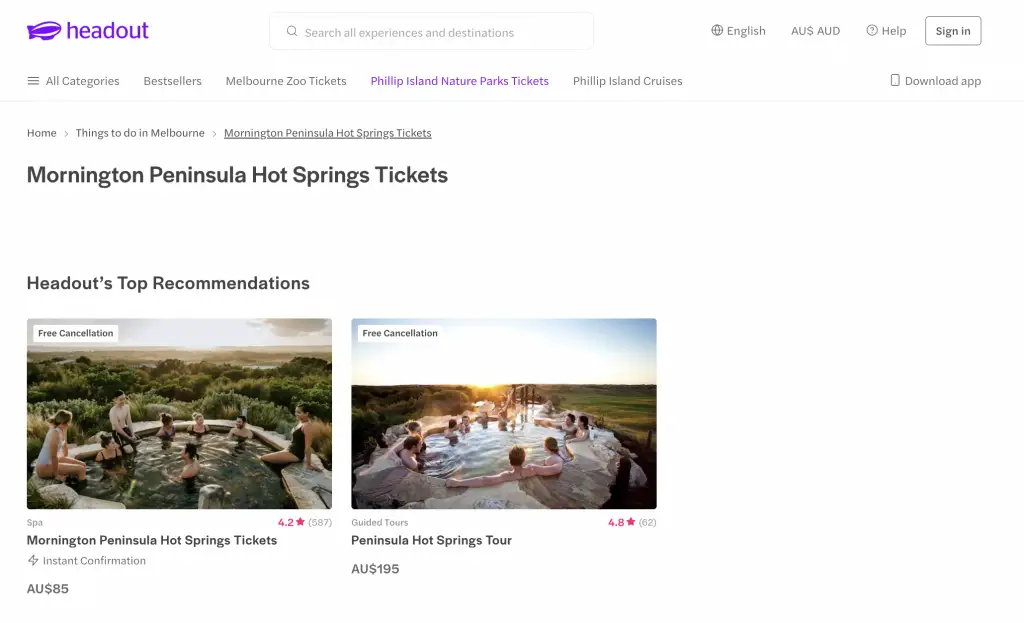 You can see straight away how many people have reviewed the tour, the tour rating, and some of the inclusions.
When you click the travel experience you want you can see the inclusions, exclusions, options, cancellation policy, and everything you need to know before choosing the tour. After I read through everything thoroughly I selected an availability date.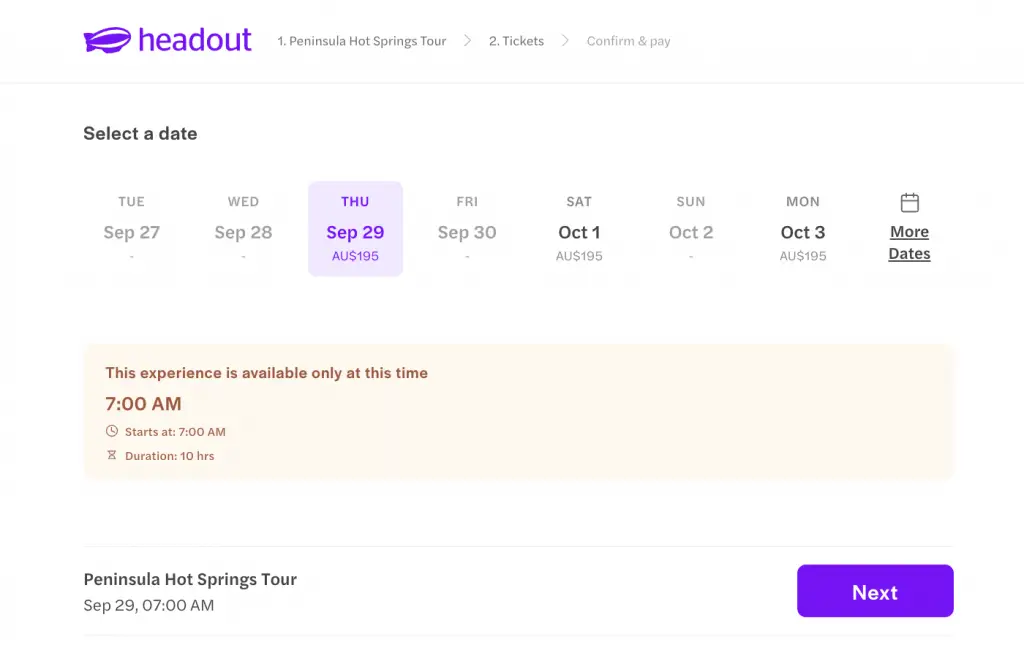 After that, it's pretty easy to follow the directions. You are told the tour time, and on the next screen, you add all your details and payment.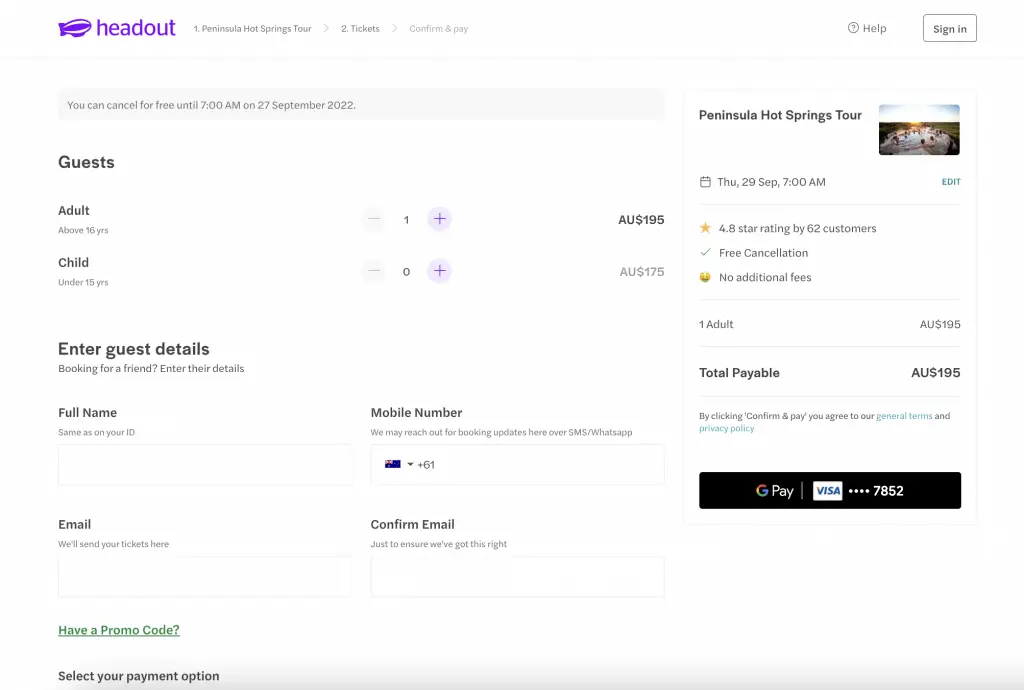 When we arrived at the entrance to Melbourne Hot Springs the person at the front desk already had our details on the system.
I showed her my ticket on the phone app anyway because I had it readily available and she let us straight in.
Book this day trip here!

Read about our 5 must-do experiences at the Mornington Peninsula Hot Springs, Melbourne.
Why use Headout for your online booking?
My number one reason for you is because I used it. And I've used multiple platforms. Headout is a legit booking platform delivering what it says it will.

But don't just trust me. The platform is used by over 100,000 people every month and has over 15 million customers already.

Headout promises low prices and to beat any comparative . Their Best Price Guarantee protects you if you find a lower price for the same . Just send them the website link and a screenshot of the ( or ) you found online for a lower price and they will refund the difference.
On Headout you'll find more than 10,000 experiences across more than 60 cities around the world. Places I've checked – Australia, Turkiye, Malaysia, Dubai, , , , and more!
They have 5,000+ verified reviews with a 90% excellent score. I need to add mine! You can read the reviews and even see people's private images of the .
And lastly, as I mentioned above you can contact them. Their is top-notch with 24/7 live chat. You can also email, call or use social media to get in contact.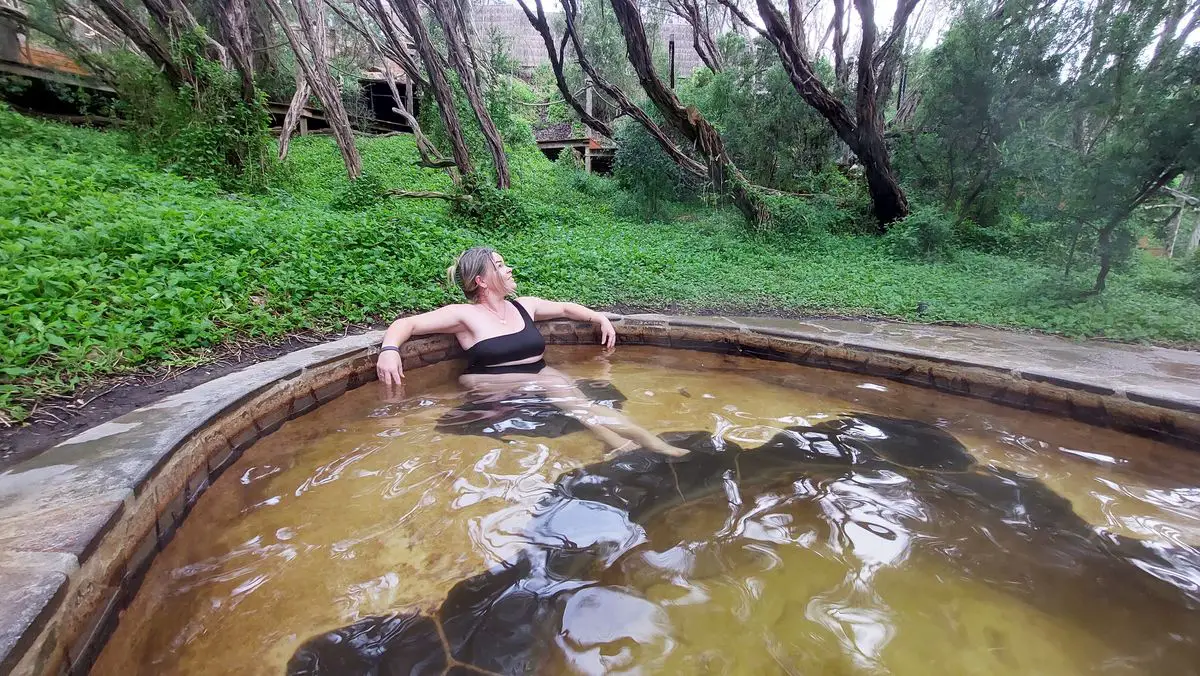 Top tips for using Headout
Once you've booked, download the app to easily access the meet-up information on the day.

I recommend booking 'Skip the Line' tickets to make the most of your day.

Check the inclusions before you book so you know what you're entitled to, and what you're not.

Double-check the cancellation policy also so you are aware of all the terms and conditions, including COVID-related problems.

Read the reviews for insider tips and to know what to expect from your .
If you're not quite ready to , sign up for an account and click 'save' on the tours and experiences that interest you. These will then be stored for you to access later when you're ready to commit. They also get stored on your app if you need to look at them while traveling.

You can use your Gmail account to sign in so you don't have to remember usernames and passwords. Love this feature!

Sign up for the cashback account to get money back on what you spend.

Most Headout have a cashback offer. You can spot if an provides Cashback above the price of the .  It will have a cashback icon under the name. Your cashback is available to use on your next Headout (not cash).

Make use of the Gift and give a loved one an they'll remember next time it's their birthday.
Did you leave your bookings too late? Don't worry! Headout offer .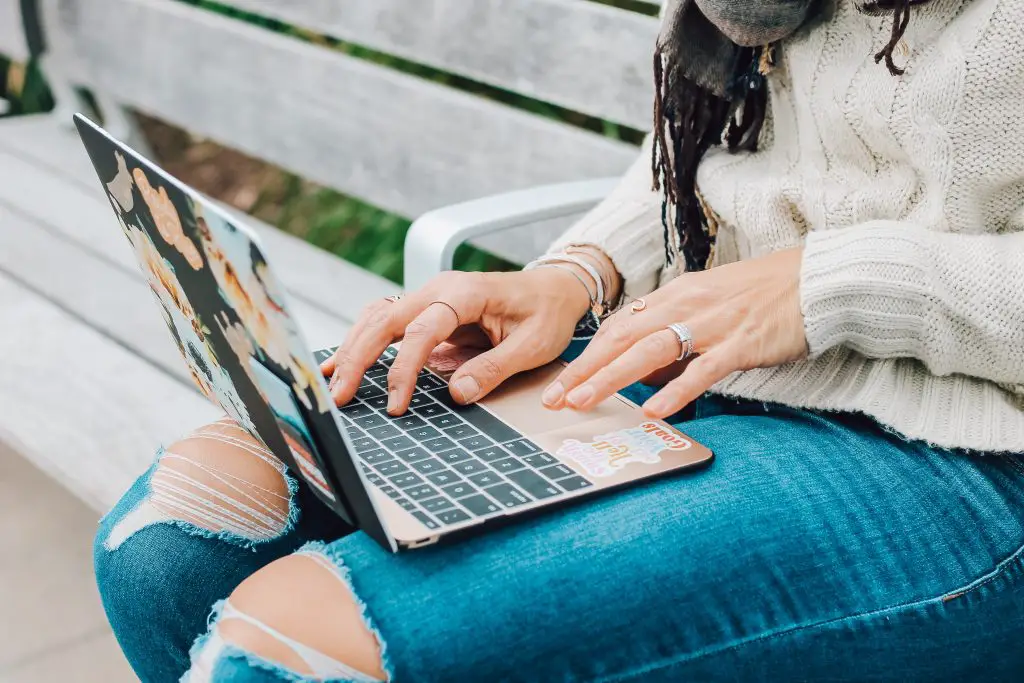 How's that for a ?
I am so glad I no longer need to worry about where and when to book tourist attractions. With their lowest price guarantee and their cashback offer, I know where I'll always go for the fun stuff. Bring on all the amazing places!
Don't forget travel insurance when you travel. We use SafetyWing!
LOOK HOW EASY IT IS TO PIN THIS!
FOMO - do you have it?  Well there is no need to Fear On Missing Out here at Explore With Erin. Sign up to receive updates directly to your in box. I won't spam you, but I do promise a whole lot of awesomeness. What are you waiting for? Join Me!