I didn't even know places like this existed!
"Is this a cult?" My partner whispered.
"Do not sign anything! They may never let us out." I teased back.
I was giddy, excited, and a little lost walking the green path to the Melbourne hot springs reception.
There was a cafe with numerous guests in white bath rubs sipping tea and murmuring gently to each other.
The lady at the desk was overly zealous as she welcomed us to the Mornington Peninsula Hot Springs and directed us through a frosted glass sliding door to change rooms.
I considered retreating. I'd seen one too many movies of people willingly admitting themselves to an institution of people in white robes that never leave again.
Instead, I embraced my decision to visit the Mornington Peninsula and walked through the frosted doors into, what can only be described as the most relaxing, zen gardens I've ever seen in my life.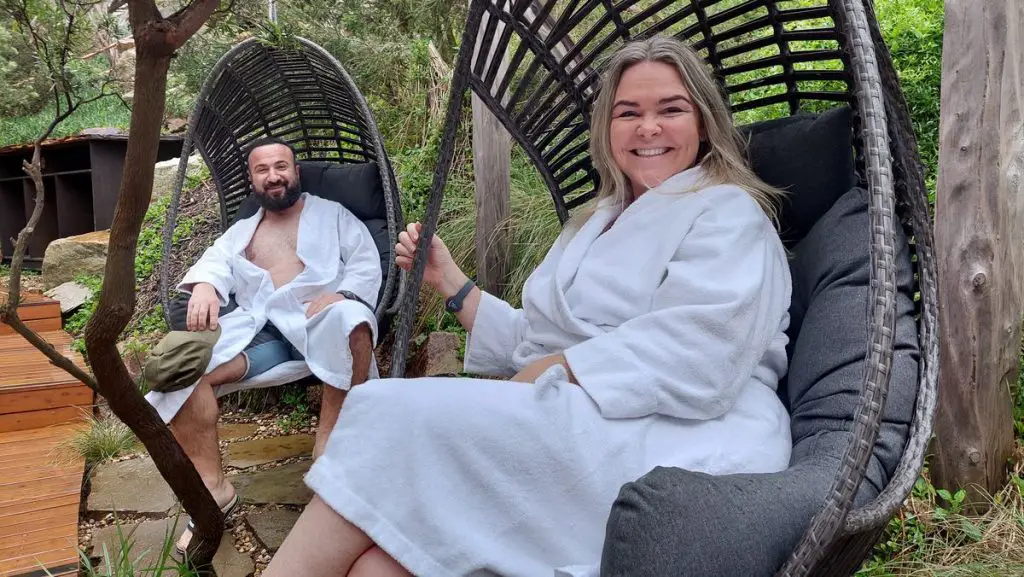 What is the ?
The Peninsula Hot Springs is a natural geothermal mineral hot spring and day spa centre. It has over 70 globally inspired bathing and wellness experiences, nestled harmoniously in the natural landscape.
Where are the ?
The day spa destination is located less than 90 minutes from Melbourne. About 85 km southeast of Melbourne's CDB is located within the Shire of Mornington Peninsula near the mountainous and small locality of Arthurs Seat.
How much does it cost to go to Melbourne?
Prices for natural thermal mineral waters start at $35 for 60 minutes (1 hour) of bathing in the family bathing area.
From there the prices go up depending on your tour choice whether you want to access the adults-only pools, all day bathing, all night, use the spa dreaming center, spa treatments, or private baths.

What package did you get?
I organized this on a Friday for my partner's birthday. I found the Headout packages offered great Mornington Peninsula hot springs discount.
Ww received the Spa Dreaming Centre Bathing, Wellness & Picnic Hamper (Body Clay) package for $340 for two.
It included all-day bathing across all 70 hot pools, a picnic hamper, and a clay ritual.
I do not believe the Clay Ritual treatment was worth the price and think you'll have more value with the Revitalise Bathing & Picnic Hamper Package for $210.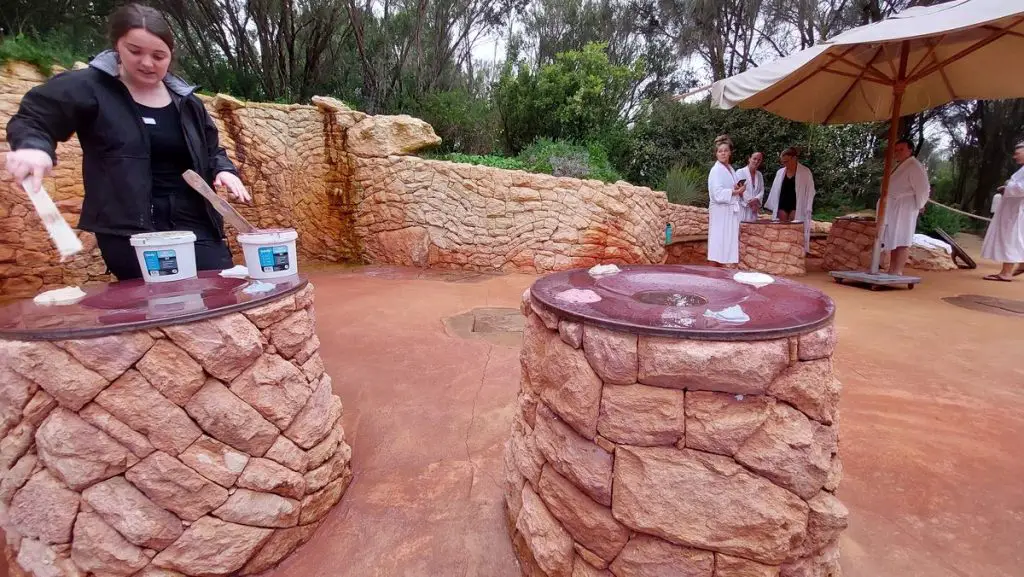 How long do you spend at ?
The recommended time is 4 hours.
But I guess it depends on how much you enjoy sitting in a pool.
We arrived around 1 pm and left just after 5 pm. There is so much to do and I could have stayed longer, however, my partner had enough of looking like a wrinkly prune.
How many pools does have?
Over 50 thermal mineral pools are available.
70 activities to experience in an idyllic setting. From a cold plunge pool to the cave pool, the hilltop pool, Turkish steam bath, sauna, foot reflexology, and more.

How hot is the at ?
The water temperature in individual pools ranges from a warm 32 degrees to a hot 43 degrees.
How are heated?
Hot springs are heated by geothermal heat – heat from the Earth's interior. In volcanic areas, water may come into contact with very hot rock heated by magma.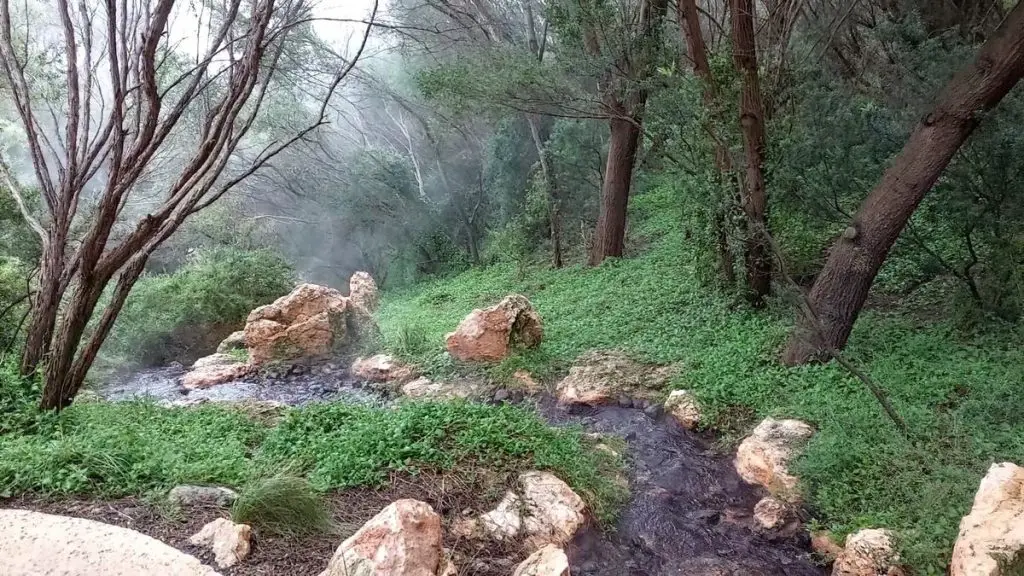 What do you wear to the Mornington Peninsula Hot Springs Spa?
We dressed warmly to enter the Melbourne hot springs but quickly changed into our swimsuits. We wore our thongs/flip-flops all around the coastal oasis.
We were given a white bathrobe and a clean white towel at reception. You can refresh these in the adults-only place at any time.
We did so 3 times, once after getting drenched in a downpour during our Clay Ritual and once more as someone stole our robes while we were soaking in a tub.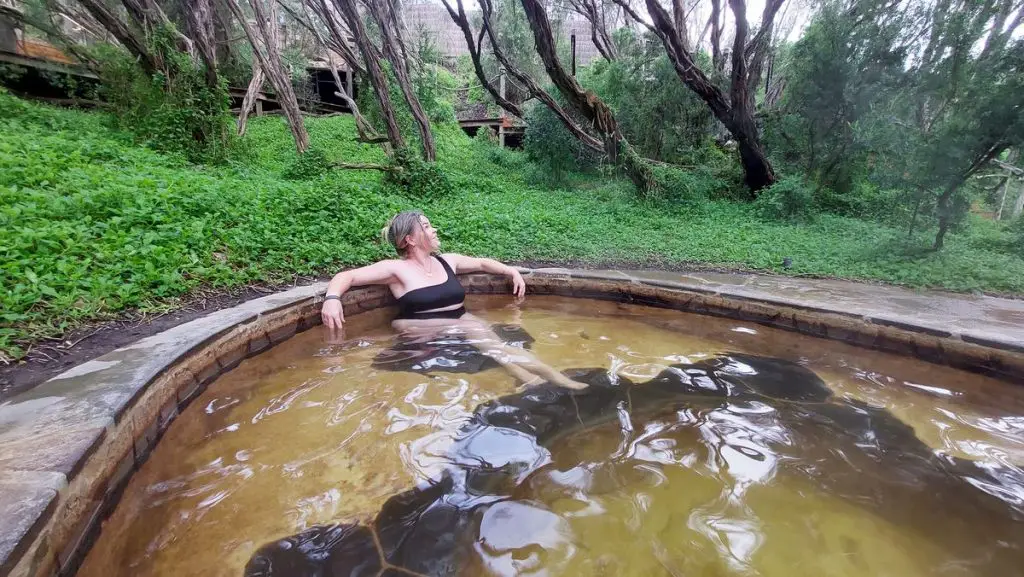 When is the best to visit Melbourne?
Any time! But we loved the weather being slightly cooler in the winter for those hot pools.
Are in Melbourne hygienic?
The pools are drained every night and monitored all day by staff. Visit their website for more facts.
Can I Stay at the ?
There is a wide range of accommodation places available in Mornington.
Check out Mornington Peninsula hot springs accommodation glamping tents or view a full list of accommodation options here.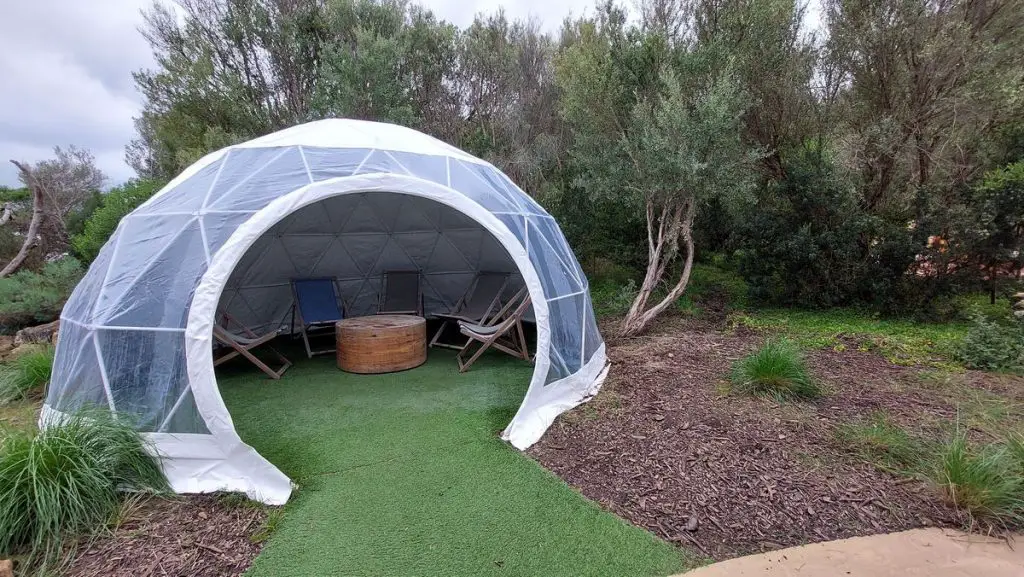 5 Must-Do Experiences at Melbourne
Now we have all the facts out of the way let's see what you are going to do on your visit to the Melbourne Hot Springs.
1. Bathe
What everyone comes to do at the Mornington Peninsula hot springs.
As mentioned above there are over 50 pools to choose from. Most are in the family area, but there are plenty to choose from in the adults-only area.
My favorites were the first one near the change rooms, it was the only one undercover and I didn't want my hair wet from the rain.
I also loved the ones you have to climb to. There was one in a huge aged barrel, which had spectacular views.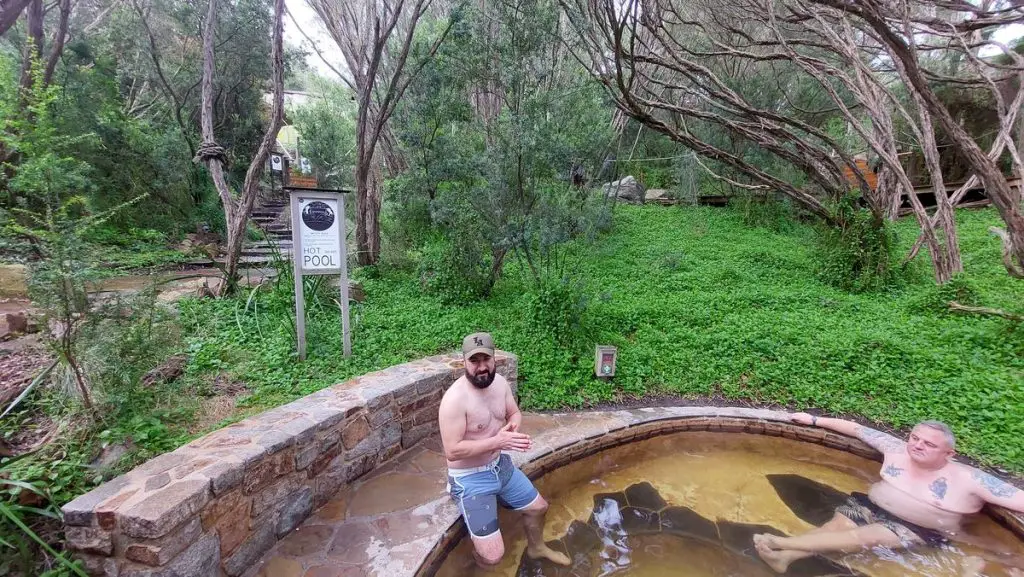 The very hot pool at 42C seemed like a great idea until we got in. We couldn't stay in it long no matter how cold the day was.
I loved the series of staggered pools in the amphitheater area. It seemed like a great spot to sit back, soak and watch a concert or event. I'll have to make it back one day.
You can just move from pool to pool as you fancy. Make some friends, and move on. It's a relaxing, slow day designed to just help you breathe a little better and slow your rhythm just that little bit softer.
2. Eat
You can bring your food, however, our Headout package included a lunch Picnic Hamper.
We picked it up from reception and were given directions to a beautiful camping area with picnic tables and tents.
We headed to the large Moroccan Tent to enjoy our lunch out of the rain. It came complete with cushions, tables, and heaters.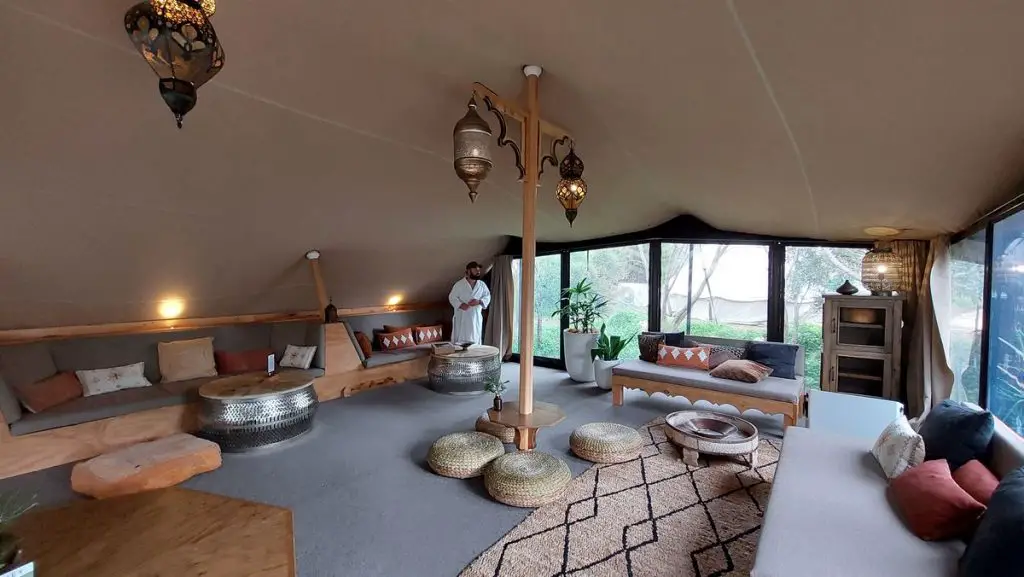 Our picnic hampers contained a substantial amount of vegetarian food. My favorite was the cheese, and actually, the apples were divine. Plus those protein balls! Can I get the recipe?
You can also eat at several different cafes. We stayed at the restaurant near the adults-only reception and enjoyed fresh juice smoothies.

3.
There are so many things to do at the Hot Springs. As I mentioned our package came with the Clay Ritual. It was raining so it wasn't as enjoyable as it could have been. We skipped the actual mediation, rushed through getting the cold clay onto our skin, and attempted to dry in a crowded tent with multiple others.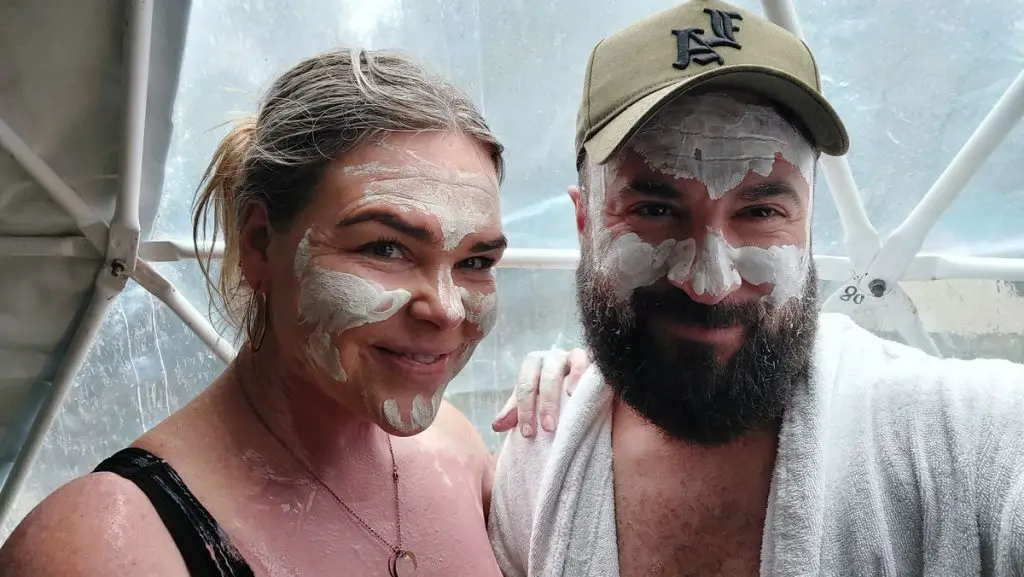 It never really dried and we were desperate to be warm so raced to the showers to cleanse. Maybe a better thing to do on a nice day.
You can find pools like the Foot Reflexology pool. It's a series of rock textures you walk over. Not sure about relaxation but hopefully it helped my feet!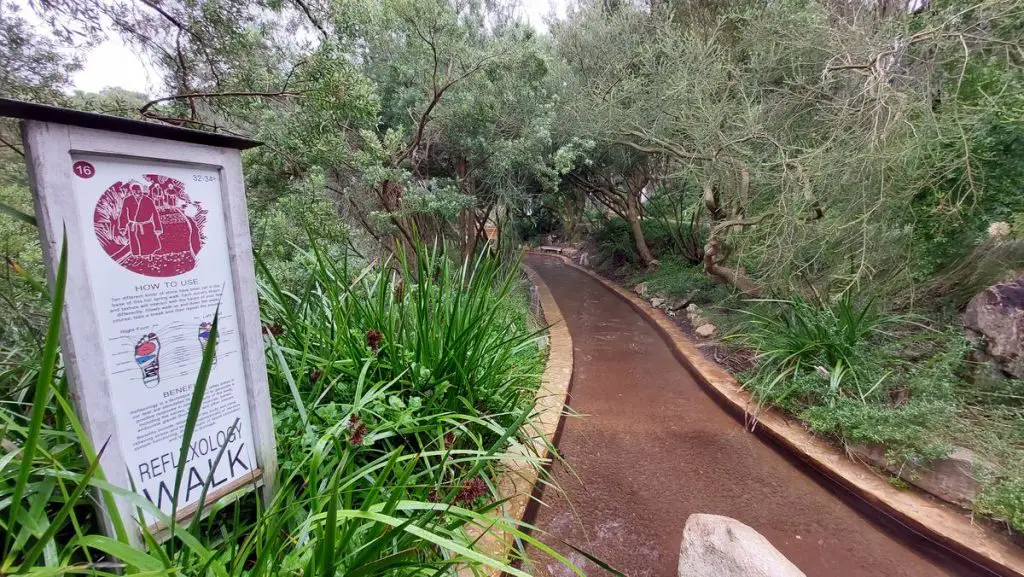 You'll also find a Turkish Hamam, which I didn't do since my real Hamam experience in Bursa. And there are several saunas to dry off before you leave.
4. Lounge
From the Morrocan tent to the multiple other tents, there is so much space to just sit and enjoy the sounds of birds tweeting, water trickling, and soft laughter.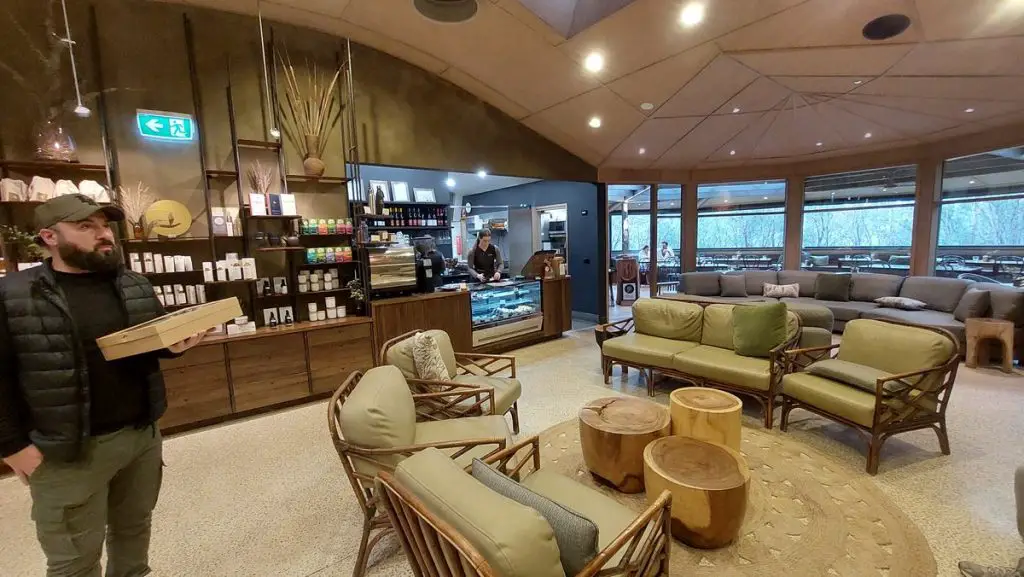 I especially loved these lounge chairs overlooking the lake.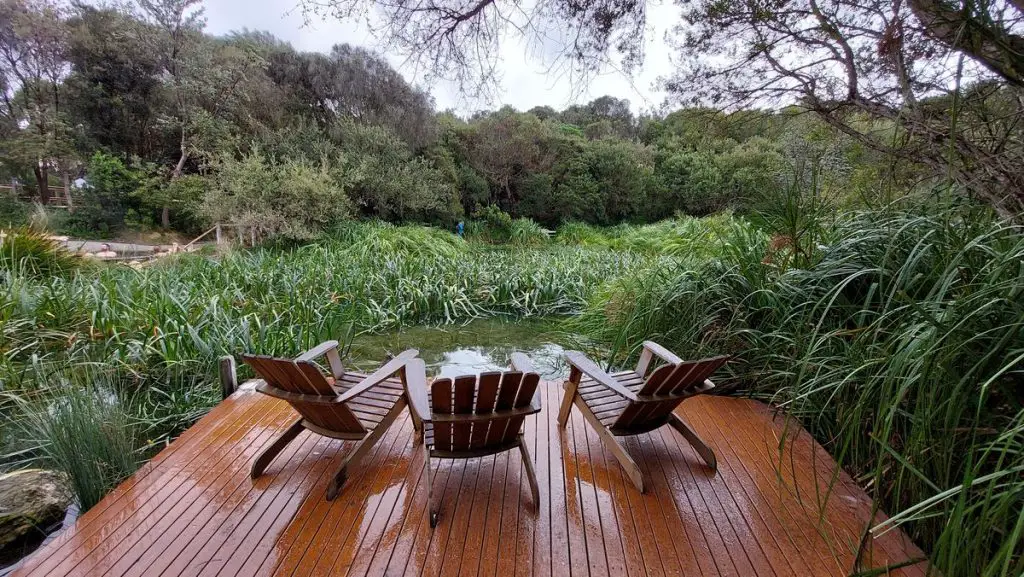 5. Wander
Everything here is designed for relaxation. So don't sprint from one pool to the other. Just wander.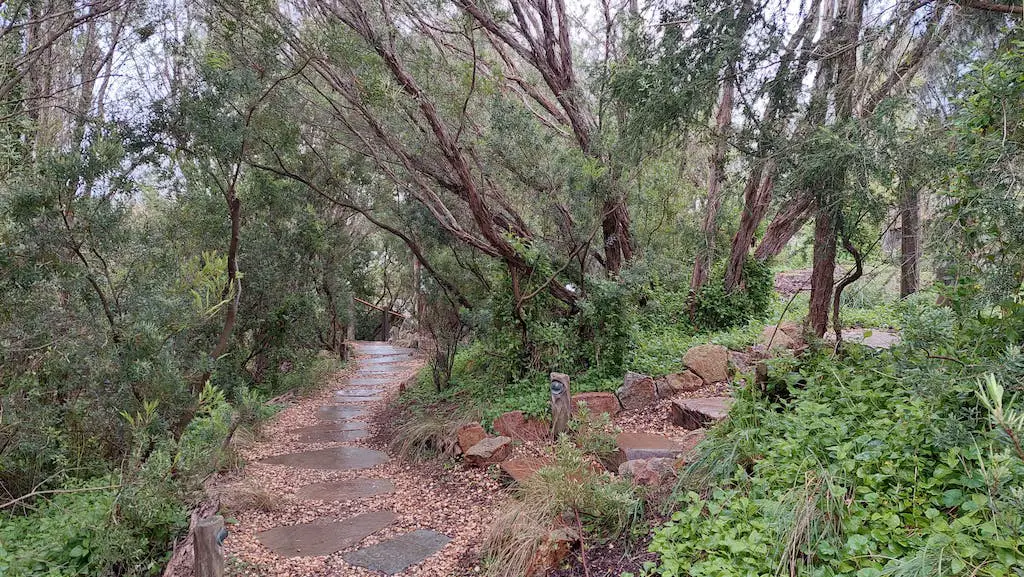 Walk around, enjoy the scenery, wander, touch the leaves, feel the breeze, be one with nature, connect with your lover and bond with your friends.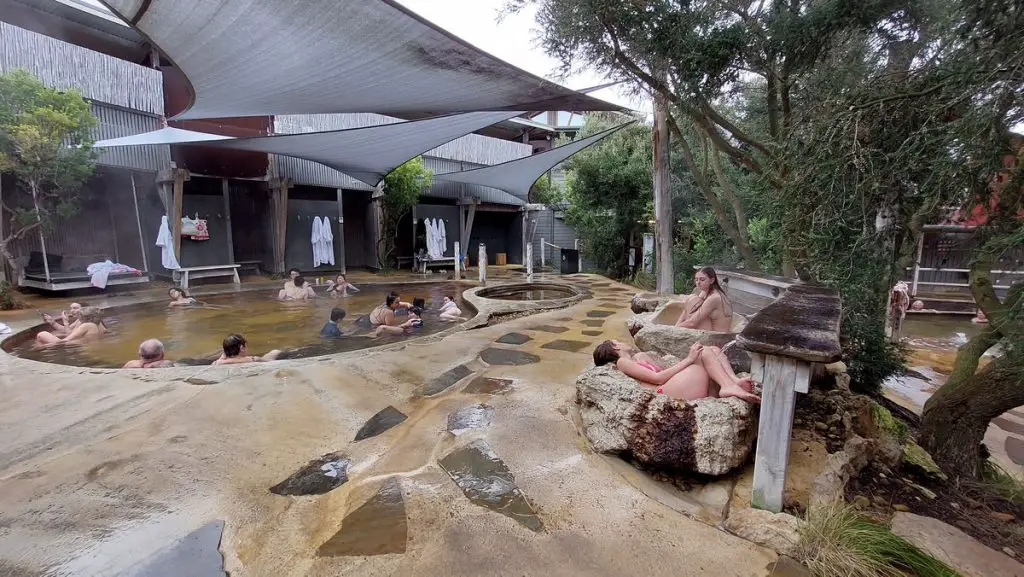 Words and pictures cannot express how beautiful these Melbourne Hot Springs are. It's like walking through a spa retreat in Bali, but it's right here in Australia.
And the best news is they let us go. We weren't committed for life, though maybe I wouldn't have minded.
LOOK HOW EASY IT IS TO PIN THIS!
FOMO - do you have it?  Well there is no need to Fear On Missing Out here at Explore With Erin. Sign up to receive updates directly to your in box. I won't spam you, but I do promise a whole lot of awesomeness. What are you waiting for? Join Me!