There's no doubt about it, Disney World is a mission.
It takes time, it takes money, and sometimes it even steals your sanity.
When you imagine the perfect fairytale Disney day, I see myself skipping over the steps of the castle, and singing Disney songs. What I get is a crazy 25,000 steps on my FitBit, heatstroke, dehydration, and a whole lot of patience practice. And that's just one park, forget about doing any more than that would be the definition of insanity.
So when Visit Florida asked me to visit 3 Disney Parks in one day I thought they were insane. But always up for a little insanity, I pulled on my runners, made sure my FitBit was charged, and pulled up my big girl panties. Let's do this!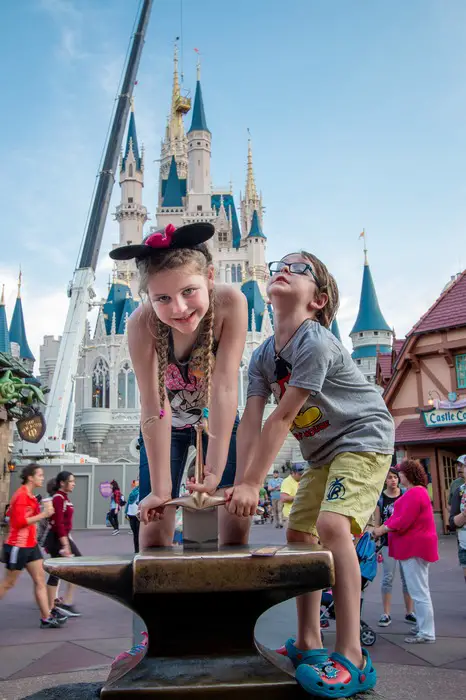 Does Disney World have VIP Passes?
I was greeted in front of a sparkling clean white unmarked can by bright, bubbly, vivacious Emily. She wore a red plaid skirt with matching suspenders and a crisp, white blouse with ginormous gold buttons. What really stood out was her long, luscious red hair, like The Little Mermaid stepped outside of the movie and into real life. Our very own Disney princess turned out to be our very own Disney World tour guide.
How Much Is A VIP Tour At Disney World?
Can you pay to skip lines at Disney World? Well, Emily shared almost conspiracy-like that 'YES' you can. We were about to take the almost-secret Disney World Premium VIP Tour. And how much does a VIP Disney tour cost? The Disney World VIP tour cost runs anywhere from $450 – $700 per hour, with a minimum of 7 hours.
If I had been drinking coffee it would have been sprayed on the back of her head. What?! Who pays that for a Disney World private tour?
Turns out plenty. It's the type of people who don't want to spend months planning, parents who don't want to stand with crying kids for hours in long queues under the hot sun, CEO's who have executive jobs to get back to, folks who have more important things to do, people who have done Disney before and just want to re-live their favorite rides… Or people who just want to see 3 Disney Parks in one day… like our group.

This Disney World VIP pass can take a group of up to 10 people. So if you throw a couple of families into the mix, it might even be considered an excellent value.
Once booked, your Disney World tour guide takes care of everything. Just let them know your favorite rides, restaurants, and parks and they will orchestrate the entire day to make sure everything fits in, in the most sensible amount of time.
What does that mean? Ultimate ease. You'll spend less time waiting and more time soaking up Disney's spectacular magic. The way Walt actually intended.
So what did I think of my Disney VIP tour guide? Well, keep reading as I spill the secret in my Disney World VIP tour review.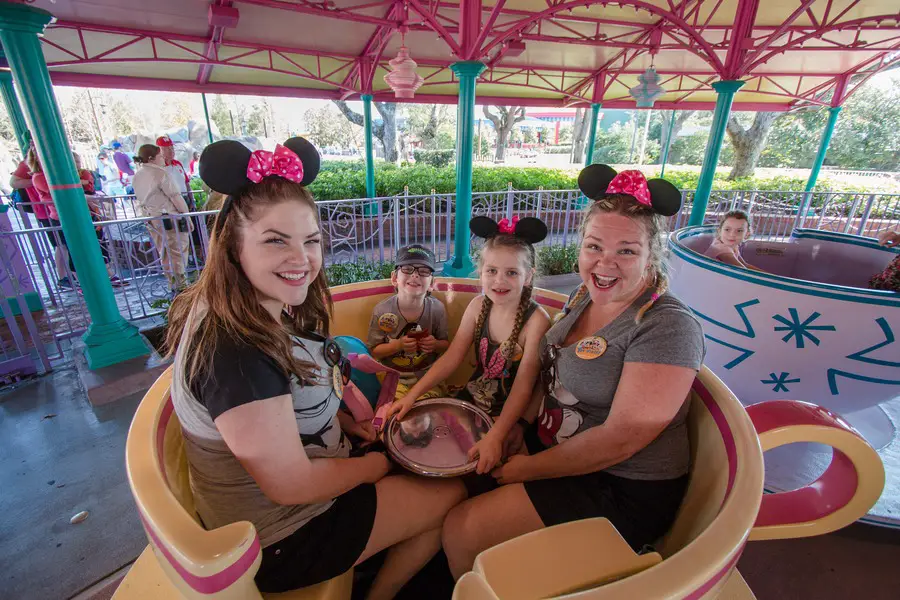 Perks To The Disney VIP Pass
Want a ride to the door? 
Our Disney tour guide picked us up and escorted us right to our chosen Disney park, and then using employee-only backroads, to the front door of the actual ride. Often we would leave our van parked behind the scenes and walk through a non-descript door that opened up where we wanted to be. Outside the Tower of Terror, besides California Soarin' or next to the Animal Safari. No long walks, no dehydration, and no heatstroke. Perfect air-conditioned comfort!

Want a FastPass+ expedited entry to rides?
No more waiting. On our Disney VIP tour, we simply walked straight to the FastPass+ queue. And bonus you can ride as many times as you like. Regular Disney visitors can obtain a maximum of 3 FastPass+ tickets per day, but not with your Disney tour guide. Ride as often as you like.
But don't confuse your FastPass+ as a front-of-line pass, but it is just as good. Especially when it comes to meeting Disney characters. Those lines can be intense, but we managed to hug Chewbacca pretty quickly.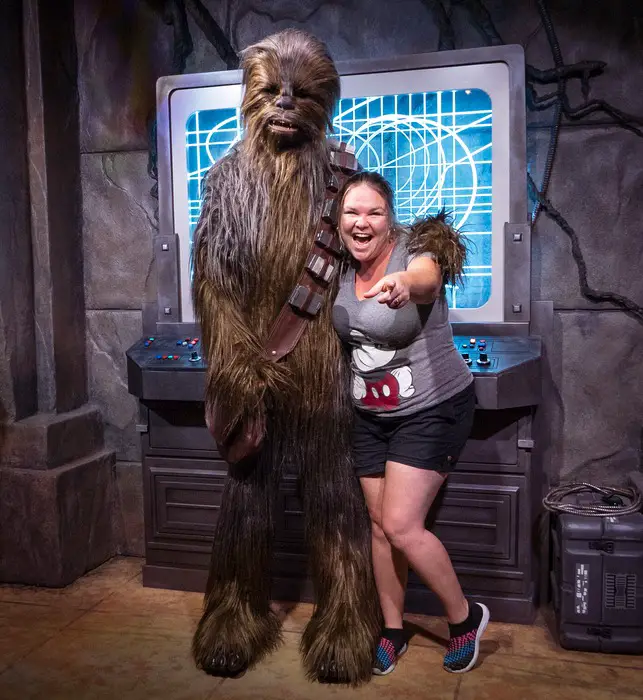 And because the Disney VIP tours are allowed to go as many times as they like, we enjoyed rides like Mount Everest at Animal Kingdom four times. Screaming every single time.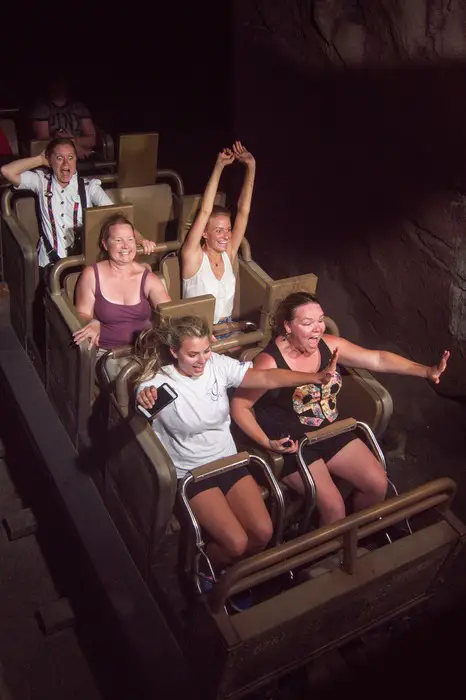 Speaking as a tourist who has been to a Disney park and not taken a single ride because of the ridiculous wait times and hordes of kids, this Disney VIP tour cost is worth every penny.
Want the best seats?
We didn't need to race to any shows with our VIP tour guide Disney World, there was always a seat ready for us. We watched "The Jungle Book: Alive with Magic" nighttime show at Animal Kingdom in fabulous saved VIP seats. And by the way that show was awesome, highly recommend it. Stop by the Tree of Life afterward – it's simply stunning.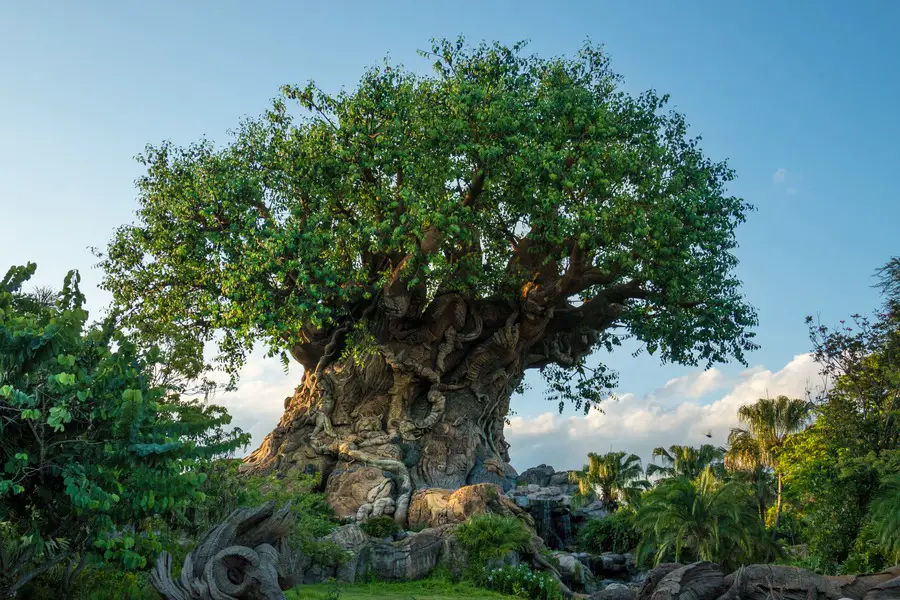 Want to know Disney secrets?
The guides have extensive training about all of the theme parks, as well as Disney's history. You'll be amazed at the information they are privy to. Our VIP guide was full of knowledge. Knowledge of working at Disney, knowledge of celebrities who visit, knowledge of rides and restaurants. She never seemed to run out of answers to our endless list of questions. If you ever wanted to know about the inner workings of Disney, this is a real plus.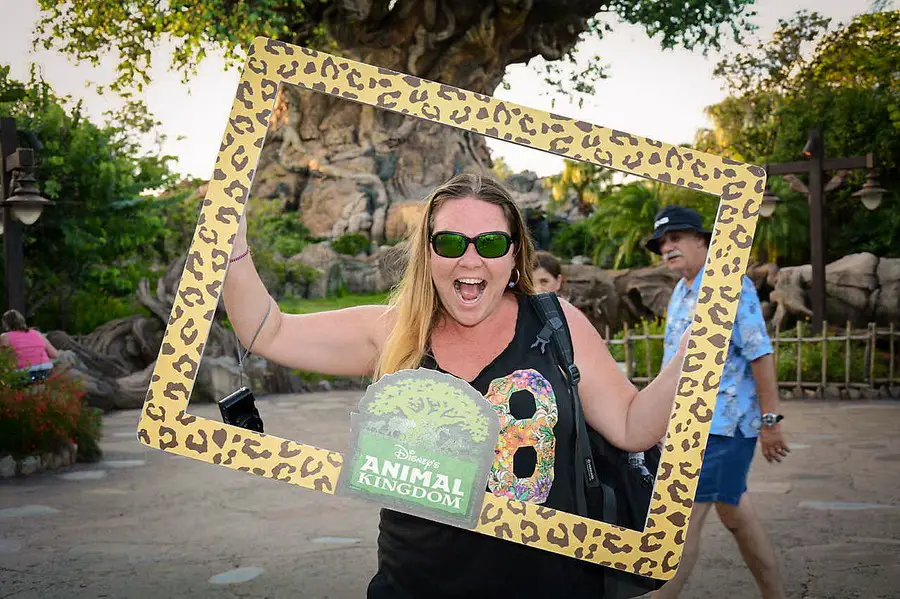 Want to do three parks in one day?
Doing one park is hard enough, but on Disney VIP tickets we had plenty of time to do three parks, plus enjoy a delicious, laid-back meal at one of Disney's fine dining restaurants. More about that further down.
Getting between the Magic Kingdom and Animal Kingdom can normally take up to 45 minutes by shuttle, let alone walking through the parks. This door-to-door Animal Kingdom VIP tour really means you can maximize your time in the park. And take your time eating.
Want to ride the newest and longest rides?
One of my favorite perks was that Emily knew exactly what was happening at Disney that was worth showing off. The brand new Frozen ride had been added to Epcot the day before we arrived. The California Soarin' had just changed to "Soarin Around the World". No research necessary. She had us heading to brand new attractions and, of course, old favorites as well.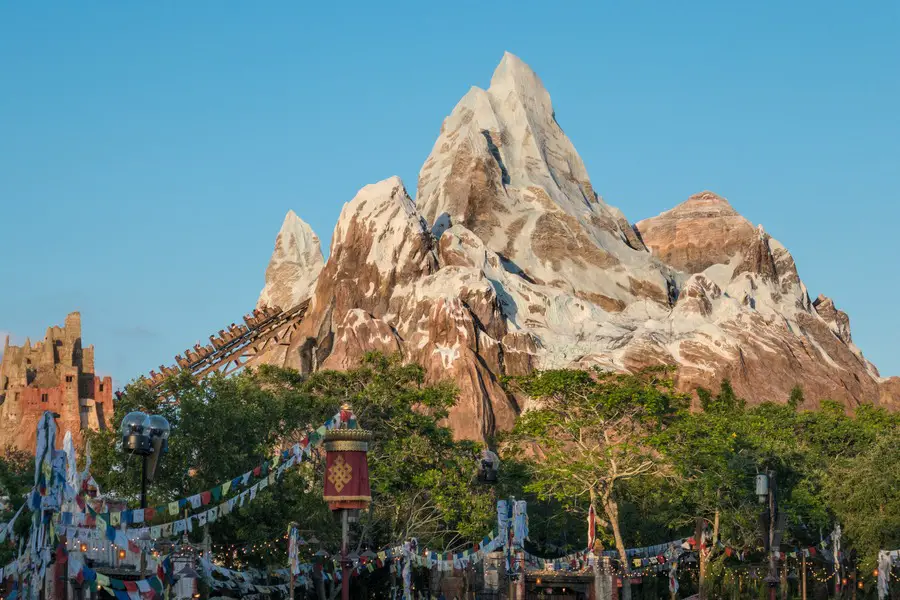 Want booked meal times?
Of course, your Disney guide can book you a great meal. We had lunch at the aptly named Nomad Lounge in Animal Kingdom. The food was impeccable and I loved the travel theme. The bar had hundreds of travel stories pinned to its walls. But the best part? We had so much time to sit and enjoy it, because we knew afterward we could jump in our air-conditioned van to any ride and hop in the FastPass+ lane.
Want to feel like a VIP rockstar?
Oh, and did I mention there is the ultimate rock-star feeling that goes with these Disney World VIP tickets? It's pretty special. You might want to keep a big pair of dark sunglasses handy to hide from all the wistful stares or curious bystanders trying to work out who you are. Total glam life!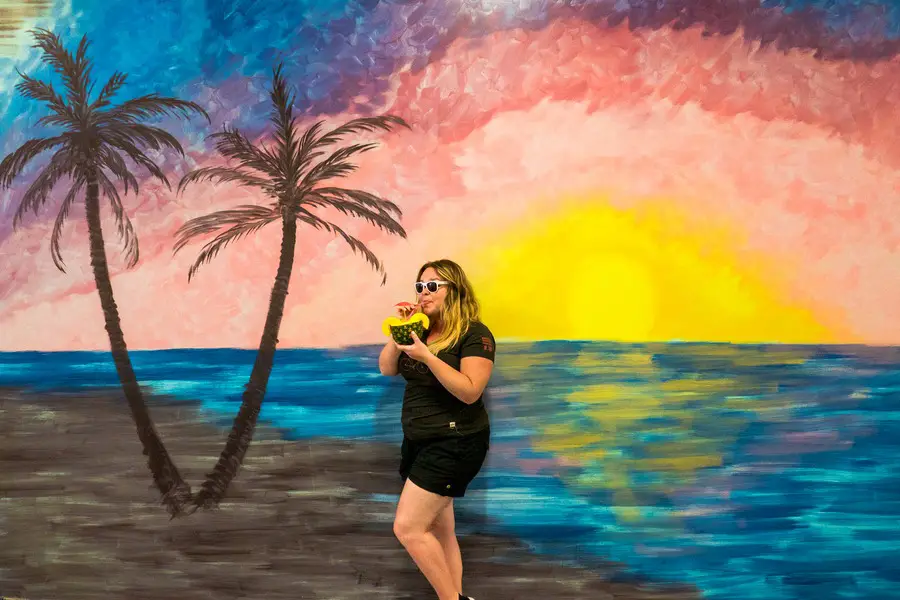 The Non-Perks Of Disney Private Tours
It's Expensive
Ok, so it's expensive. No doubt about it. The Disney World VIP tour price can cost you up to $8,000 USD.  But I know what goes into planning a trip to a Disney park and I know how much time is spent in queues. So yes, your wallet is going to feel a very fine pinch. But the Disney VIP tour guide cost is also a once-in-a-lifetime opportunity.
Loss of Pizzazz
You might feel like you lose some of the pizzazz of Disney since you won't walk through the front doors with the music and all the fanfare. But the good news is, you can book that in with your VIP tour Disney World guide and then skip the rest of the walking.
Is The Disney VIP Tour Worth It?
Probably the most important non-perk is knowing that after you've done a VIP tour… you are not sure how you will ever be able to do Disney again without it. How you will ever stand in a queue, walk thousands of FitBit steps and spend an hour waiting for a show or parade to begin? After all, don't they know who I am?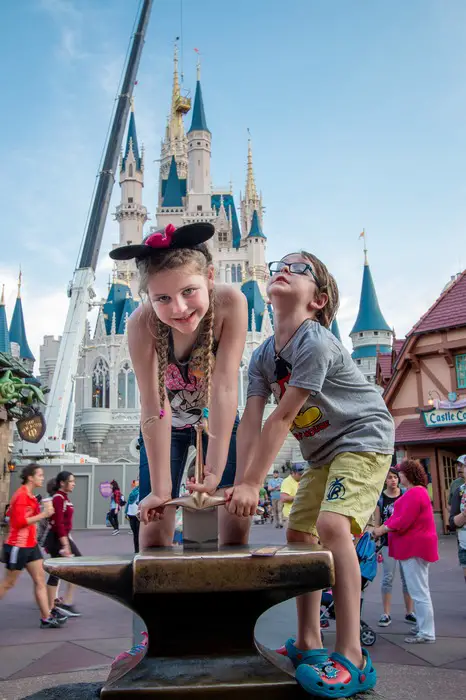 The real secret to this secret tour
What makes the Disney VIP pass cost within reach of regular holidaymakers like you and me is this simple economic principle – when you add up the cost of premium accommodation and food for a 5-day stay in Orlando for Disney World, it's not cheap.
The Disney tour guide cost will save you money because you can squeeze a 5-day vacation into just 1 (or 2) days. If you're paying upwards of $400 per hotel room per night, and require 2 hotel rooms for a large family (or extended family), shaving 3+ days off will reduce your vacation expenses by $2400. Adding meals and your total saving will probably exceed $3000. So what seems like an extremely expensive and indulgent tour will, in fact, put you in front financially… plus (and this is a big plus) you'll be much more relaxed and enjoy the whole experience as a family all the more. Bam!
Check how much Disney World tickets are here! And these are the cheap ones.
Use our Universal Studios guide while you're in town. Or check out this Orlando CityPASS review as an alternative for several tickets throughout Orlando.
So what do you think of my Disney VIP tour review? Would you like to do Disney like the rich and famous? I would love to hear your opinion in the comments below.
LOOK HOW EASY IT IS TO PIN THIS!
FOMO - do you have it?  Well there is no need to Fear On Missing Out here at Explore With Erin. Sign up to receive updates directly to your in box. I won't spam you, but I do promise a whole lot of awesomeness. What are you waiting for? Join Me!