Who hasn't heard about Christmas in Prague? Christmas markets, Christmas food, Christmas weather. And while I really wanted to spend my Christmas in the Czech Republic the stars did not align at the right time.
So instead of missing it completely the kids and I decided to celebrate a month early. And it was just as wonderful and magical as I knew it would be. Cobblestone streets not only make this a picturesque city but add a musical backdrop to the town from the clip-clop of horses and the clickety-clack of suitcases rolling down the streets.
Unfortunately, the sizeable amount of tourists does push up the prices in Prague, but there is a good reason why all the tourists come. Why we came to this ageless and stunning city.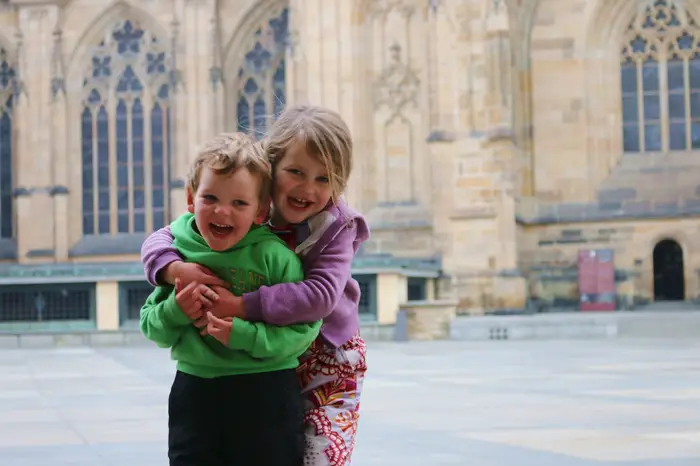 Where To Stay For Christmas in Prague
I decided to enjoy our Christmas in Prague I really wanted to have a home for a week and I managed to find a central apartment, down a quiet cobblestoned street. It was located in the prime position of the Old City, minutes walk from the Palladium Shopping Mall and a sizeable Lidl supermarket, numerous restaurants, and mini-markets, plus it was also an easy walk to the train station.
Located on the second floor up a tiny elevator it took a few trips to get the bags up, but inside was lovely and spacious. 2 bedrooms, 1 bathroom, lounge, kitchen, and a washing machine – woohoo! The house was heated and, with the chilly weather outside, it become our very cozy abode.
The kids and I found a small Christmas tree and decorated it. My daughter loves making paper chains and got to decorating the rest of the house for our Christmas in Prague. Here's a list of Christmas gifts we love while we are traveling.
The Landlord was so friendly and helpful, with handy tips on how to get around town, places to eat, and fun activities for the kids. He also helped us organize private transport to and from the airport for €25 each way.
Check accommodation prices here.
Christmas in Prague Markets
Sadly we were one week too early for the Prague Christmas markets. They usually commence the last week in November and are open daily including Christmas Eve, Christmas Day & New Year's Day.
The markets are known to consist of beautifully decorated wooden huts selling Christmas items, puppets, costumes, traditional handcrafts, and much more.
While the stalls are aimed at every tourist and their family, even if you don't buy anything, meandering through those quaint streets with the elaborate decorations and bright Christmas lights is said to be complete magic.
The main Prague Christmas markets are located at the Old Town Square and Wenceslas Square with smaller Prague Christmas markets at Namesti Republiky and Namesti Miru.
Christmas in Prague Lights
Throughout the city, lights were coming up left, right, and center. The mall was beautifully decorated, as were the streets and churches. I'm a sucker for a good light display and Prague does not disappoint.

Christmas in Prague Temperature
Christmas back home is a boiling 40c. So Christmas in Prague's weather was very new to us. For our arrival in November, it got as low as 1°C and not much higher than 5°C. Snow was coming. I believe during December it is roughly the same temperature, but with snow. So rug up and stay warm.
Christmas in Prague Food
Winter is a great time to eat in Prague because they are experts in thick, chunky soups and delicious, steamy stews.  While we missed the Christmas Markets the food stalls were open and doing business.
My first taste of Prague was outside the Palladium. It wasn't cheap, but it was delicious. Outside on the street where vendors set up in small wooden huts selling hot food. The smell was intoxicating and I could have walked there blindfolded following my nose. While I wanted to get the kids indoors to heat, we ended up eating the deliciousness out there on the street. There are tall standing tables you can use, which we did to try all the food from several different vendors.
There is a spit roast and sausages, served with rye bread and mustard. There are desserts of pancakes and stalls selling warm mulled wine. Strangers huddled around tables laughing and talking. The atmosphere is warm and inviting.
I got to try "bowl food". There was a selection to choose from, but the most famous is the Czech Halusky. A filling mix of tiny dumplings mixed with fried bacon. You can get alternatives with cabbage and sausages. You pay per 100 grams so be careful you understand what you are eating. I ended up buying enough to feed a family of 4. The plain dish was a bit bland, but the one with the spicy sausages was delectable.
After our dumpling dinner, I then set my sights on the stall selling Trdelnik. A warm, hot dessert or snack. It's kinda like a ring of donuts made with sweet bread covered in sugar, cinnamon, and crushed almonds. It is formed by wrapping the dough around a revolving cylinder and cooking it. It's so delicious but eat it quickly as it cools down rapidly.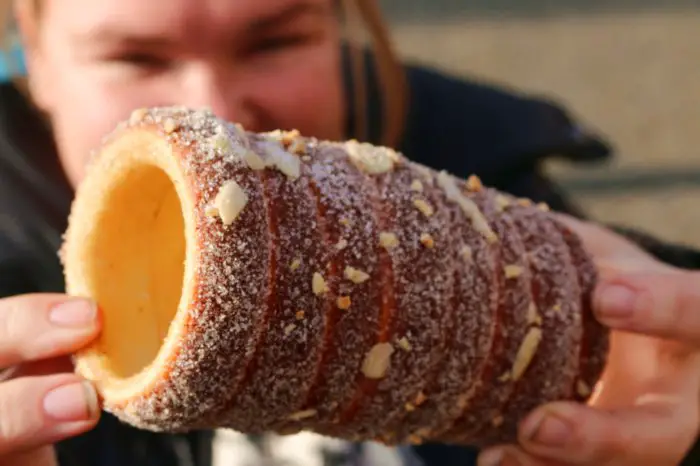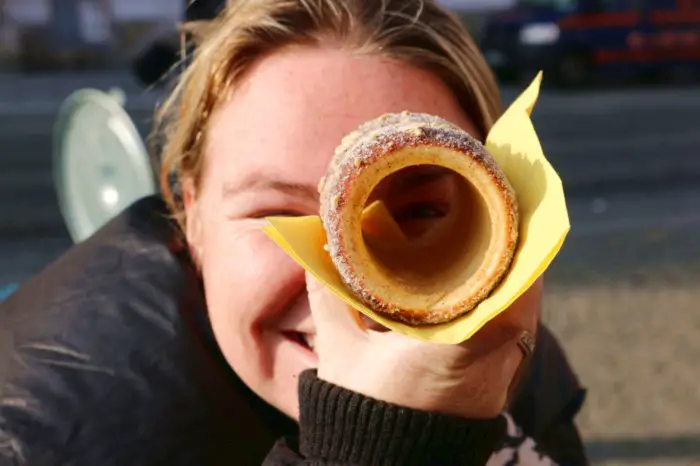 Book your Prague medieval dinner here!
EWE Wrap Up
Despite our early approach to Christmas in Prague I really felt like it was one of the most festive seasons we have shared. And while I still enjoy Australian hot Christmas, I'll always want a Prague Trdelnik.
Read about our favorite Christmas in Lapland, Finland. Or 7 Christmas destinations taking Christmas to the next level.
LOOK HOW EASY IT IS TO PIN THIS!
FOMO - do you have it?  Well there is no need to Fear On Missing Out here at Explore With Erin. Sign up to receive updates directly to your in box. I won't spam you, but I do promise a whole lot of awesomeness. What are you waiting for? Join Me!