I've been visiting Bali for more than 20 years. My first trip was in 1999 as an 18-year-old with my family. I moved to Bali in 2012 with my two children. My last and 20th visit was in April 2023 with my now teenagers.
Family travel in Bali is completely different from solo or couple travel. Even blended family travel in Bali was more challenging than solo parent travel.
And it all boils down to the type of family accommodation in Bali. In Bali, you have your typical choices of hotels, hostels, resorts, and villas. But for this article, I'm going to center it on the two I would use for Bali family accommodation.
Bali Villa vs Bali Hotel.
Which part of Bali is best for families?
How long is a piece of string? This depends on your family's interests and ages. Check out our Best Locations To Stay In Bali. 
Kuta – is great for teens and entertainment from Waterbom Bali to Frankensteins Laboratory or Legian Beach. The best Bali family accommodation choices are Bali Dynasty Resort or Bali Beach Garden.
Kuta is also where the Ngurah Rai International Airport is.
Tip: Book your Kuta accommodation here at a discounted price.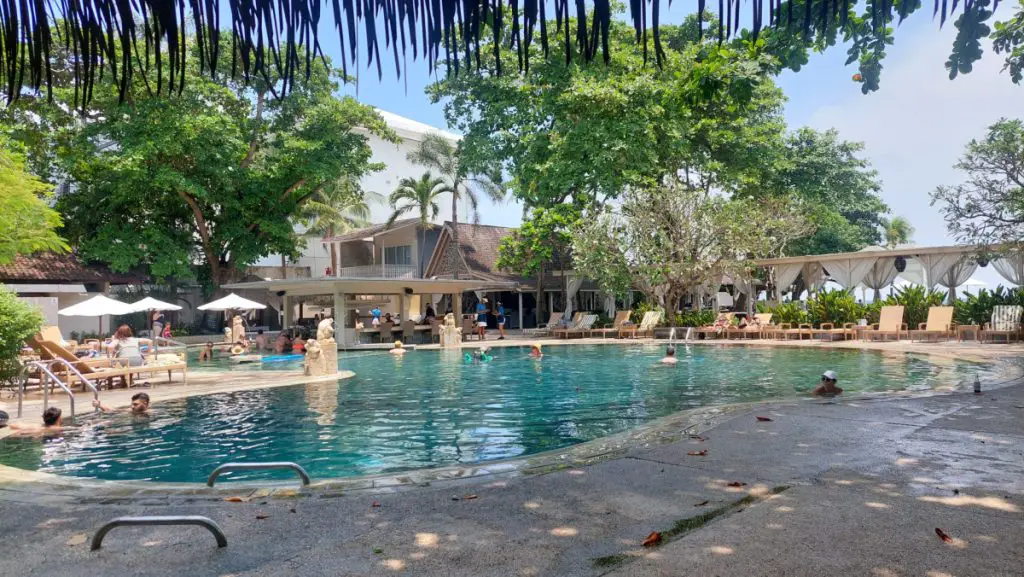 Sanur Beach – is great for a relaxed place with little ones.
Nusa Dua – is the perfect location for luxury accommodation: all-inclusive beach resorts with a fun kids club. Family-friendly resort choices include Grand Mirage Resort or Holiday Inn Resort.
Ubud – is perfect for the more relaxed, jungle life with plenty of shopping.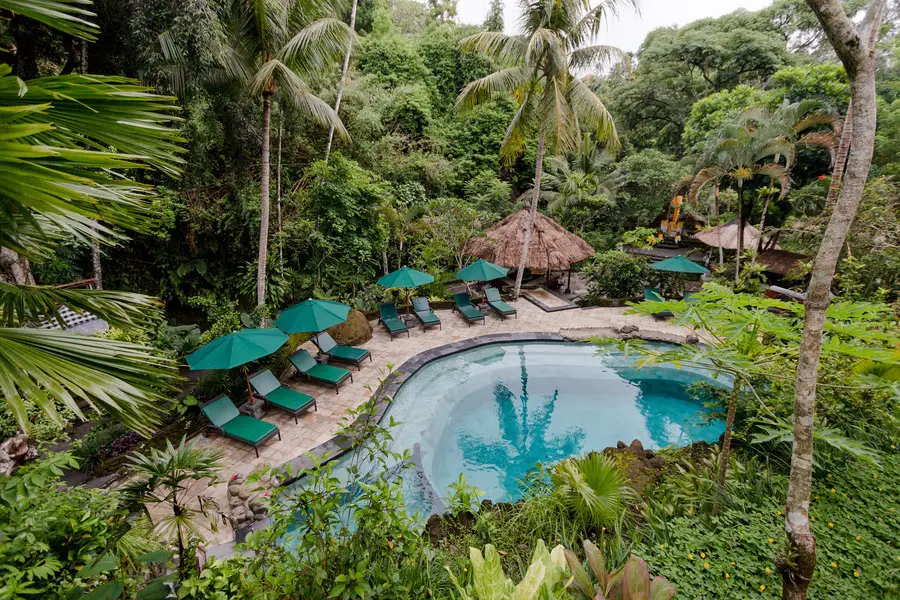 Jimbaran Bay – is a smaller part of Bali, located between Kuta and Nusa Dua. Home to the Intercontinental Bali Resort, which is a great Bali family accommodation choice.
Is Bali good for family holidays?
Bali is a wonderful family holiday. I've been taking my own kids since they were 5 months old.
Tip: Read my 101 Things to Do with Kids in Bali.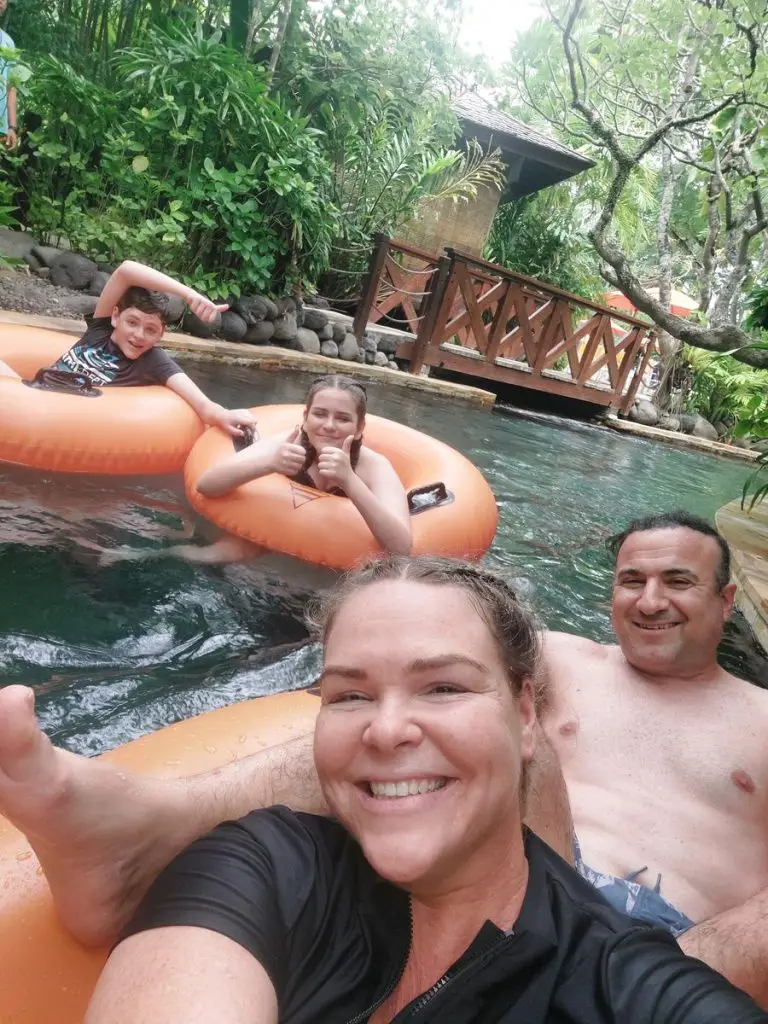 Is Seminyak good for families?
Seminyak Beach is a more classy part of Bali with plenty of beach clubs and clubs. It isn't a spot I would choose for a Bali family holiday.
What are the best websites for family accommodation in Bali?
It can be confusing, but my top picks would be Agoda and Booking. After I check both of those I then go directly to the hotel. Sometimes the hotel can beat it, more often than not it doesn't these days.
The best place to find a private villa is Villa Finder. We have used this site numerous times, and they hand-select their villas and we always find a winner!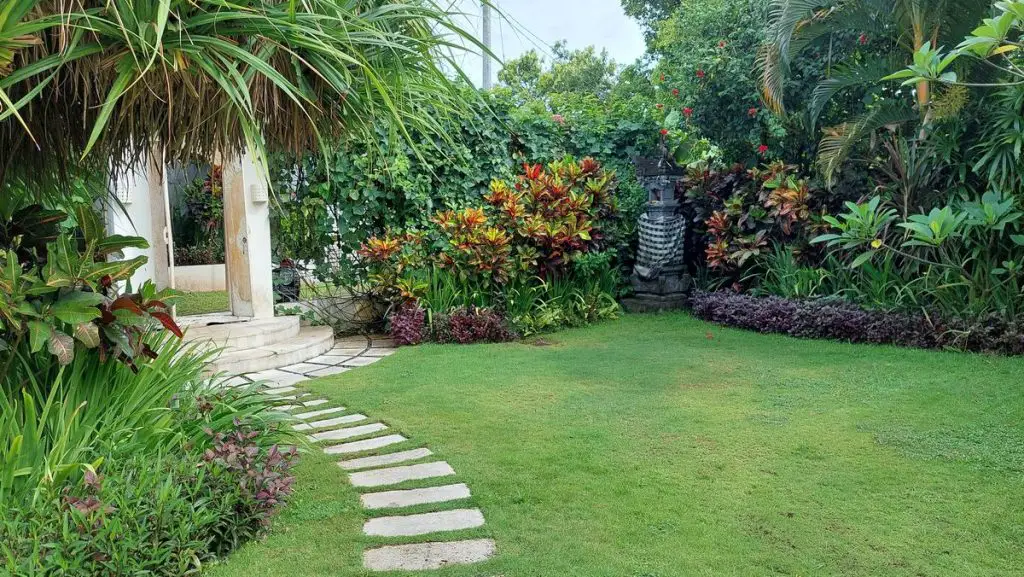 Resorts vs Villas how do I choose?
Bali Villa or Bali Hotel? You can choose by knowing what each is, and what the purpose of your vacation is.
Defining Bali accommodation:
Hotel – an establishment providing accommodation, meals, and other services for travelers and tourists.
Resort – a larger hotel usually with more inclusions and activities from a kids club to multiple onsite restaurants.
Villa – a large and luxurious house on its own grounds, generally not shared.
Hostel – an establishment that provides inexpensive food and lodging for students, workers, or travelers. Generally shared accommodation.
Guesthouse – a private house offering accommodation to paying guests, generally shared.
Which suits your needs better?
Which part of Bali is best to stay in?
The best locations to stay in Bali can be read here.
Is it better to stay in a hotel or villa in Bali?
My teenagers vote for Bali Villa for Bali family accommodation. See their thoughts on our YouTube video below.
Is villa and hotel the same?
No. A hotel usually has many rooms with shared facilities. A villa is a private house for private use. Villas in Bali often come with a housekeeper/cook and security guards. Some even come with a nanny.
Back in 2014, we rented a villa for a month for USD 2000. It came with a full-time nanny, cook, cleaner, and security guard.
What is the most expensive part of Bali?
Nusa Dua. The hotels are more luxurious, there are fewer locals, and everything is at least 1/3 higher than the rest of Bali.
Tip: Check the prices for Nusa Dua accommodation here.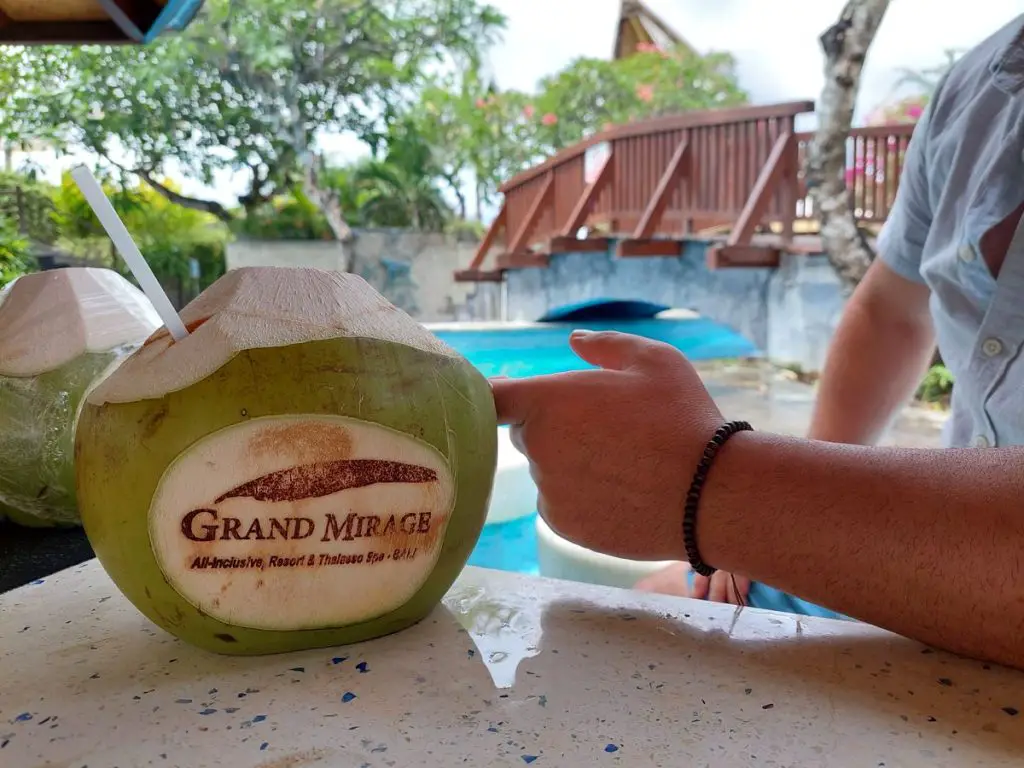 Where Did We Stay For Our Bali Family Accommodation?
On our recent trip, we stayed in a hotel in Kuta and Ubud, a resort in Southern Bali Nusa Dua, and a villa in Canggu. So I've got a great overview of Bali family accommodation.
How Is Canggu?
Canggu is a coastal village and popular tourist destination located in the south of Bali, Indonesia. Over the years, it has transformed from a quiet fishing village to a bustling hub for surfers, digital nomads, and wellness enthusiasts.
This was my first time in Canggu and probably my last. While our family villa was a slice of peaceful heaven, it was located in a chaotic, crazy town that I didn't fall for at all.
Tip: Find Canggu hotel accommodation here.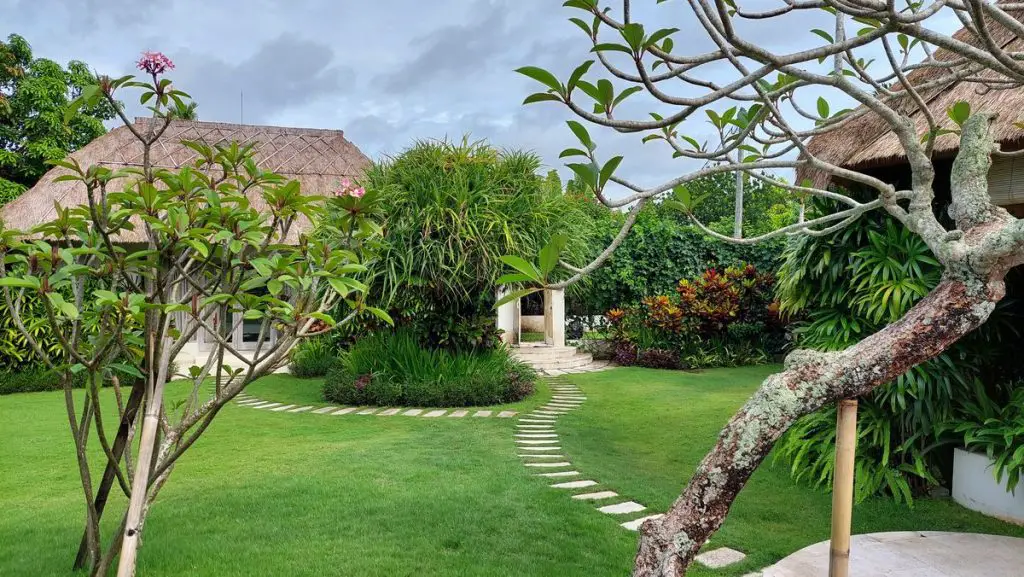 What About Your Bali Family Villa in Canggu?
Through Villa Finder, we stayed at Villa Kami and it was divine. You'd never know the chaotic traffic outside.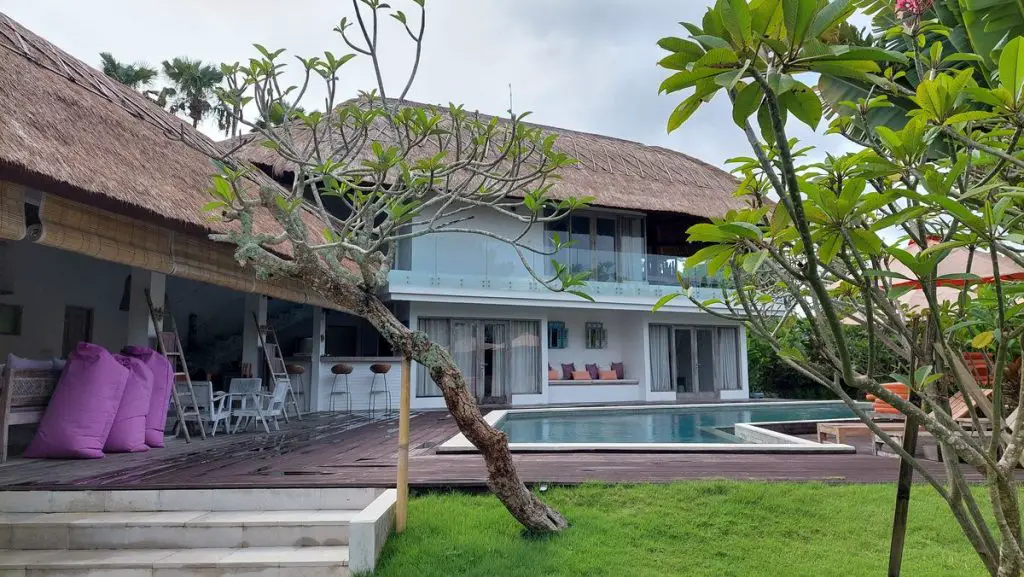 The 2-story luxury villa had 3 air-conditioned bathrooms and the master with an inside bathroom. The bottom 2 bedrooms with open-air bathrooms. The dining, kitchen, and living area was open air too.
There was also a small bungalow on the property that could easily sleep another 6 people.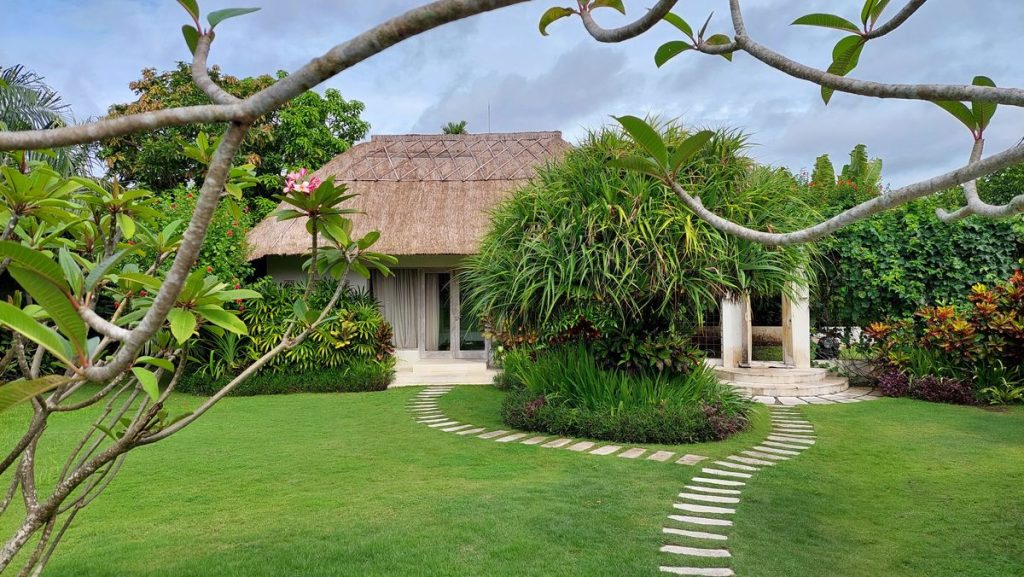 The outdoor swimming pool had relaxing bean bags and private pool lounges. Not to mention an outdoor shower.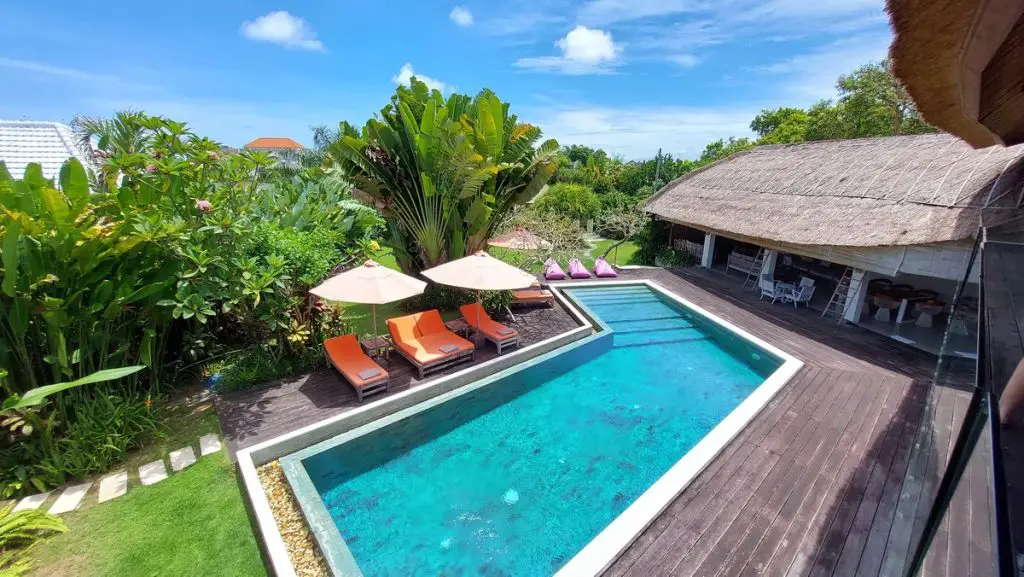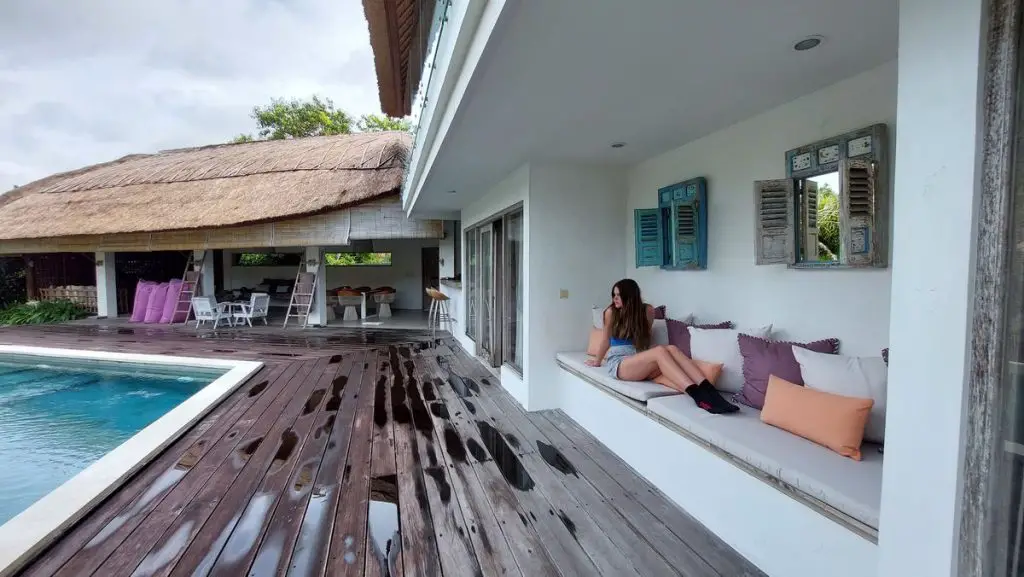 Kadek, our housekeeper, was a dream. She prepared breakfast each morning and cleaned the premises. Our security guard attended the property from 10 pm to 7 am every evening so we felt safe while sleeping.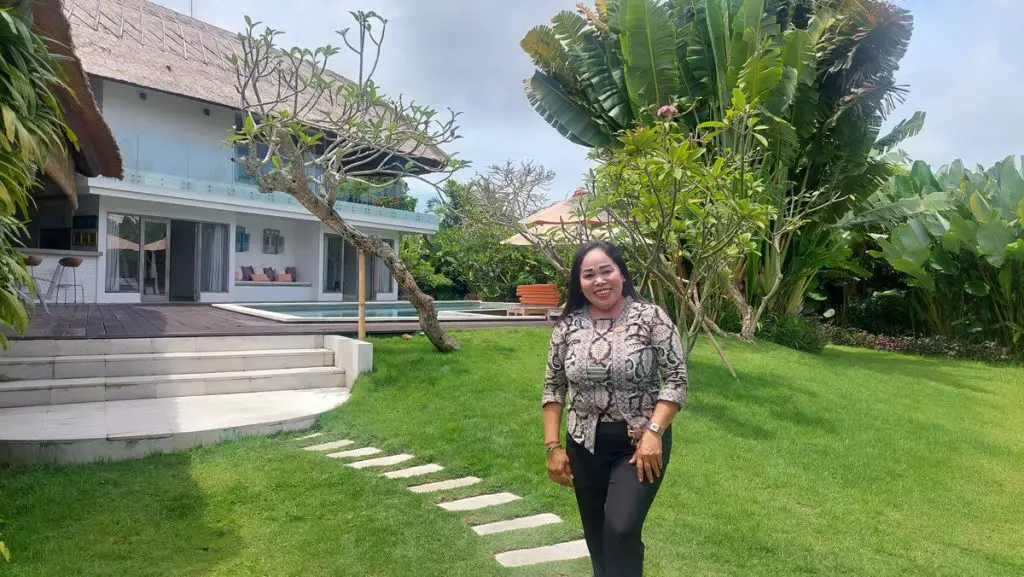 What are the Pros of Staying In A Villa?
Space
You have so much space. Kids get their rooms. You're not all cramped in a small hotel room. There's even a living room to relax in, with couches instead of beds.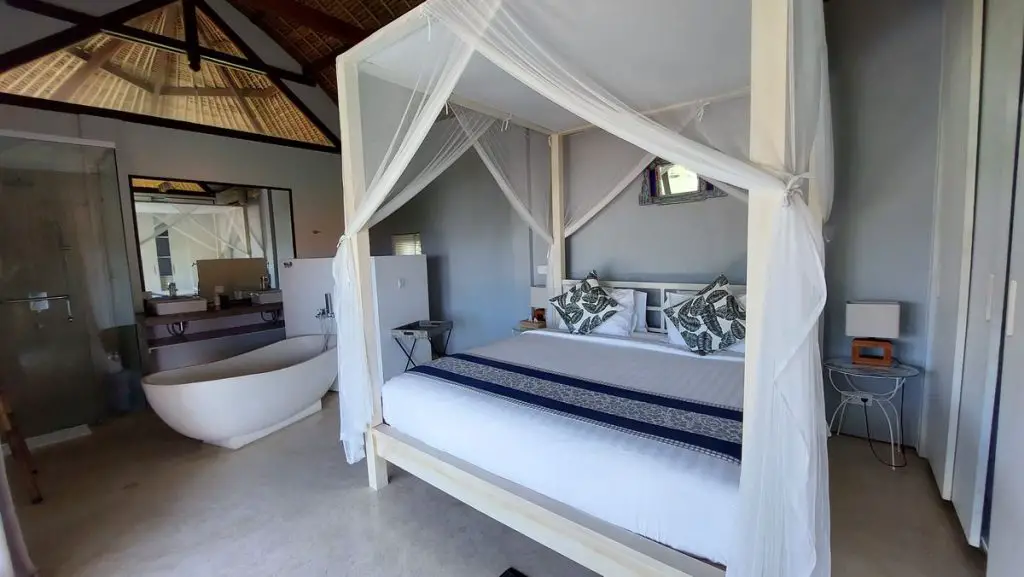 Privacy
No more fighting over lounge chairs in the morning by the private swimming pool. These lounge chairs are yours.
Also, parents and teens obtain valuable privacy so everyone gets space on their vacation to do their own down time.. or have a fun time.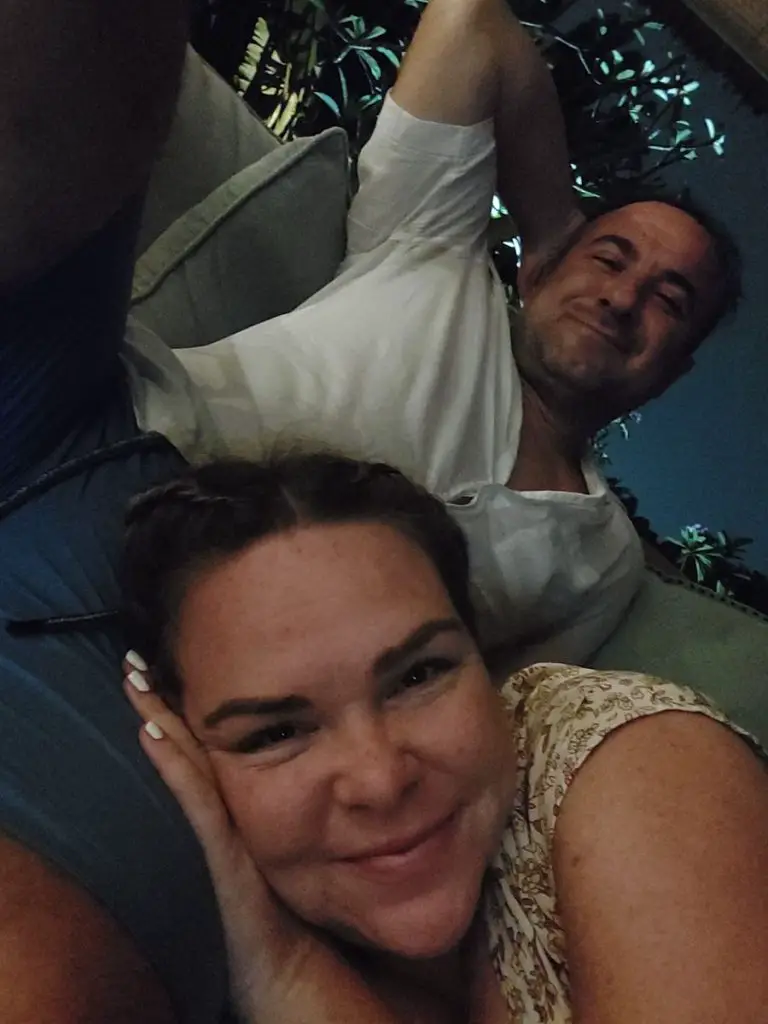 Personalization
With Villa Finder, you get a concierge who ensures the villa is set up for you. From your breakfast recommendations to in-house massages to airport transfers. Everything is all about you the guest and not the multitudes. Banana pancakes for breakfast but they are not on the menu? No worries.
Service
Bali villas usually come with staff who offer a personal service that can't be matched to hotels that cater to a large number of guests. You are their primary concern and as such service often exceeds that of a hotel
Self Contained
You don't need to go to a restaurant to eat, you have a dining table. You don't need to go to a beach club you have your pool and lounges. You don't need to visit a cinema or sports bar, you have your TV. You don't need to visit a public spa for a private massage.
Tip: Massages can cost $10 at a spa, in-house was $18.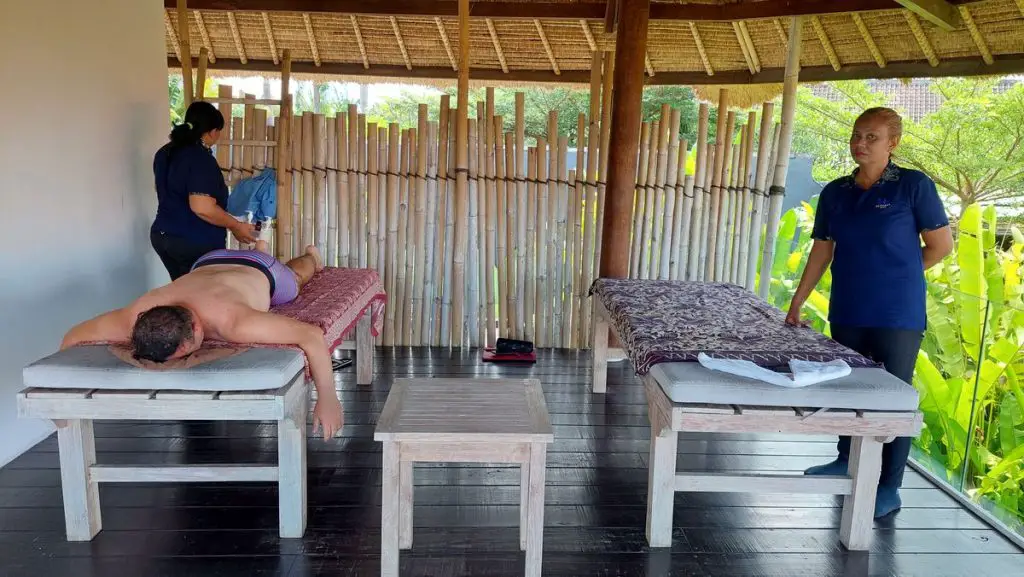 Amenities
Cots, high chairs, and pool fences can be provided by a Bali family villa. Any amenity based on what stage of life your kids are in can be easy to find, especially with the Villa Finder concierge.
Budget
While a villa may seem more pricey than a hotel if you have a large group or a blended family like ours the cost works out much more effectively. Some accommodations in Bali required us to get 3 rooms for 5 people, a villa solved that and seemed much safer than 3 separate rooms.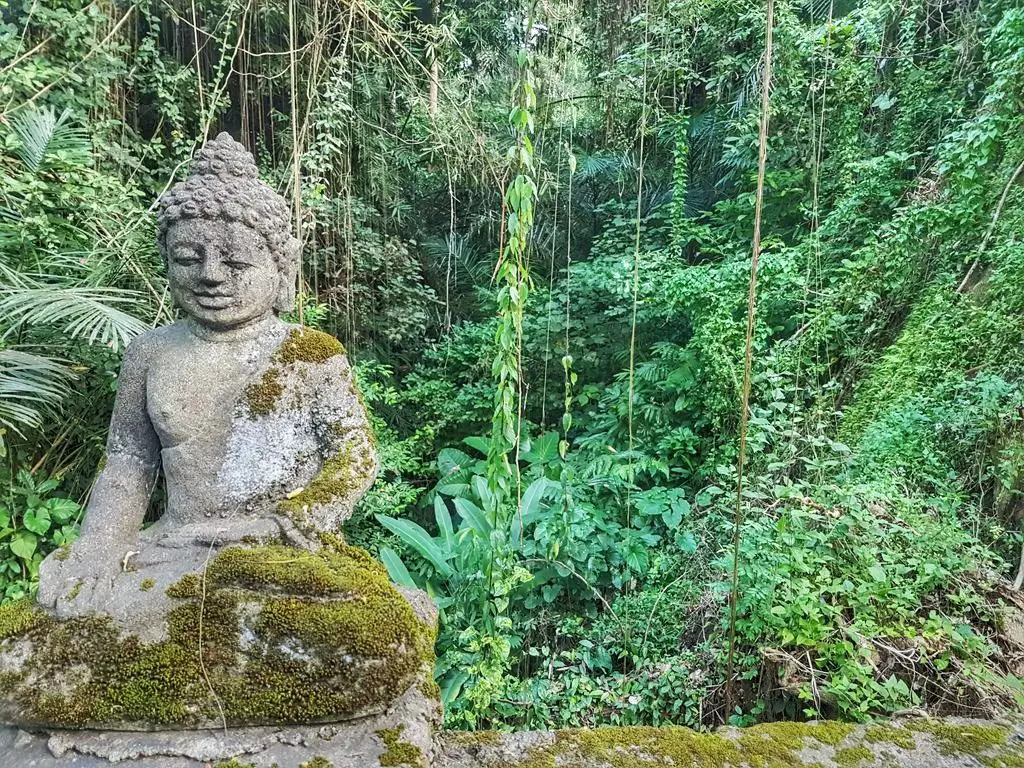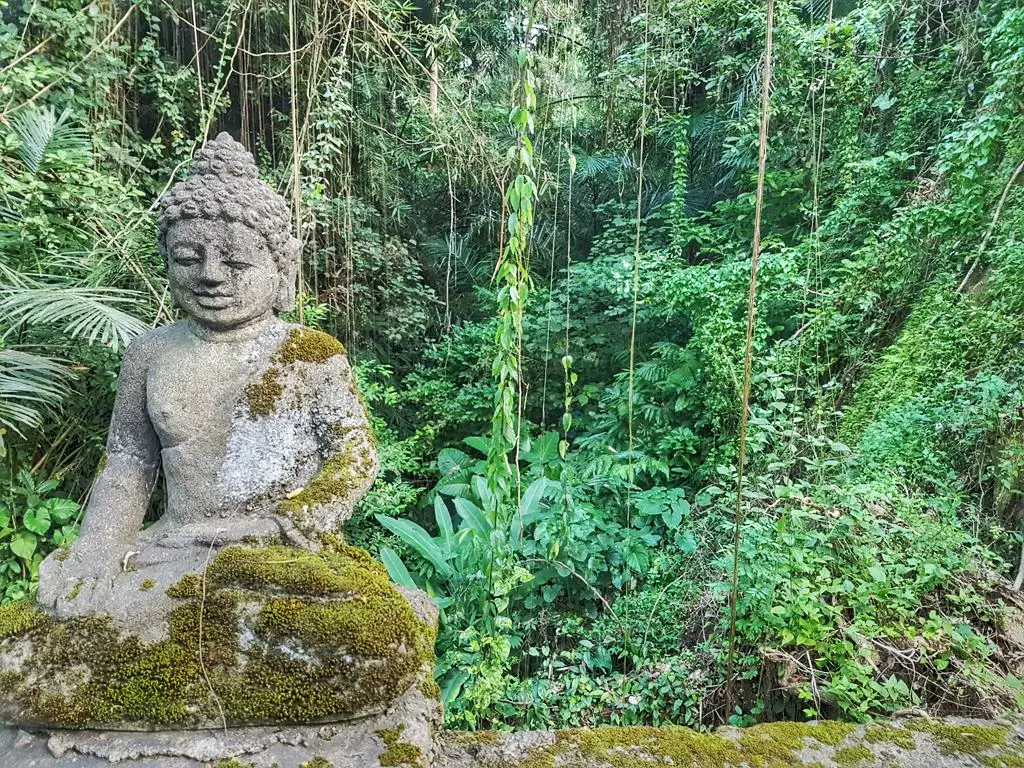 What are the Cons of Staying In A Villa?
Isolation
Most Bali Villas are located on the outskirts of town, which means finding transport to town or organizing food delivery, as there is not much within walking distance. While isolation can be a pro in terms of privacy, it can also be a hassle for larger families who need supplies.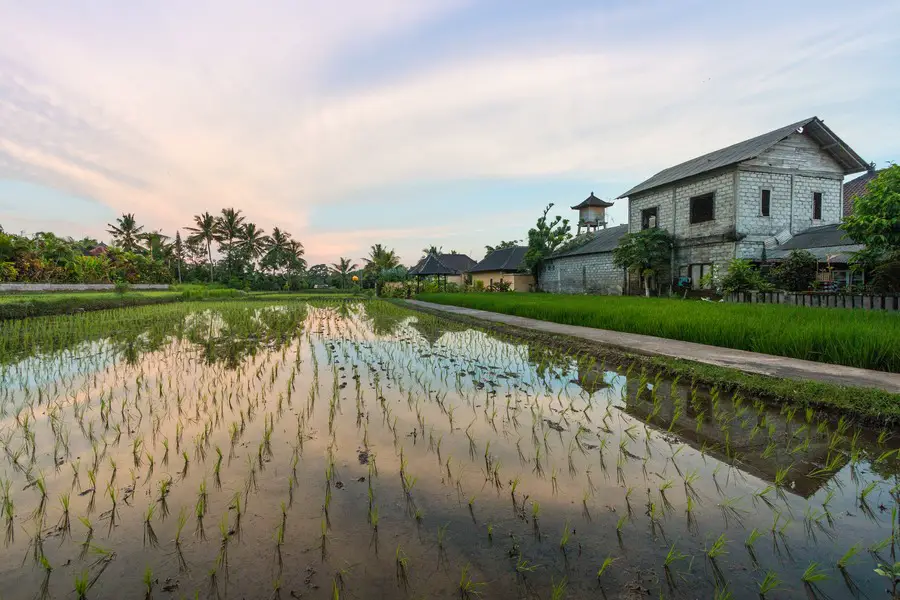 Check Out
Villa doesn't have many opportunities to keep your bags for a late checkout like a hotel. They need to be ready for the next guest, or the staff leaves when you do, so villas often work only during normal check-in and check-out hours.
No On Sight Restaurants
Depending on your situation this can sometimes be a con, but in this day and age where GoJek and Grab can provide easy delivery or your Concerige can organize an in-house HotelcChoicehef, I'm loathed to even include this as a con.
In conclusion, villas in Bali offer a unique and personalized experience that hotels simply cannot match. From the privacy and exclusivity of having your own space, to the flexibility of having a private chef, villa rentals in Bali provide a level of comfort and luxury that is hard to find in hotels.
Moreover, villas are often located in peaceful and secluded areas, surrounded by a lush tropical garden, providing a serene environment for relaxation and rejuvenation.
While hotels may offer some advantages, such as the convenience of on-site restaurants and bars, the unique experience and unparalleled privacy offered by villas make them the ultimate choice for a truly luxurious and unforgettable holiday in Bali.
When it comes to our blended family the vote was unanimous. Everybody enjoyed the villa stay the best, and heading back we'd likely choose it all over again.
LOOK HOW EASY IT IS TO PIN THIS!
FOMO - do you have it?  Well there is no need to Fear On Missing Out here at Explore With Erin. Sign up to receive updates directly to your in box. I won't spam you, but I do promise a whole lot of awesomeness. What are you waiting for? Join Me!