If you live in Western Australia I'm sure you've heard, and most likely visited the Margaret River Region, also referred to as "Down South", or "Margs" by locals.
I can't even tell you the number of times I've been "Down South". Especially during the pandemic when I got trapped in WA for 2 years. So many times I made an Ultimate Guide to Down South for you and also realized I've done more than 50 things while there.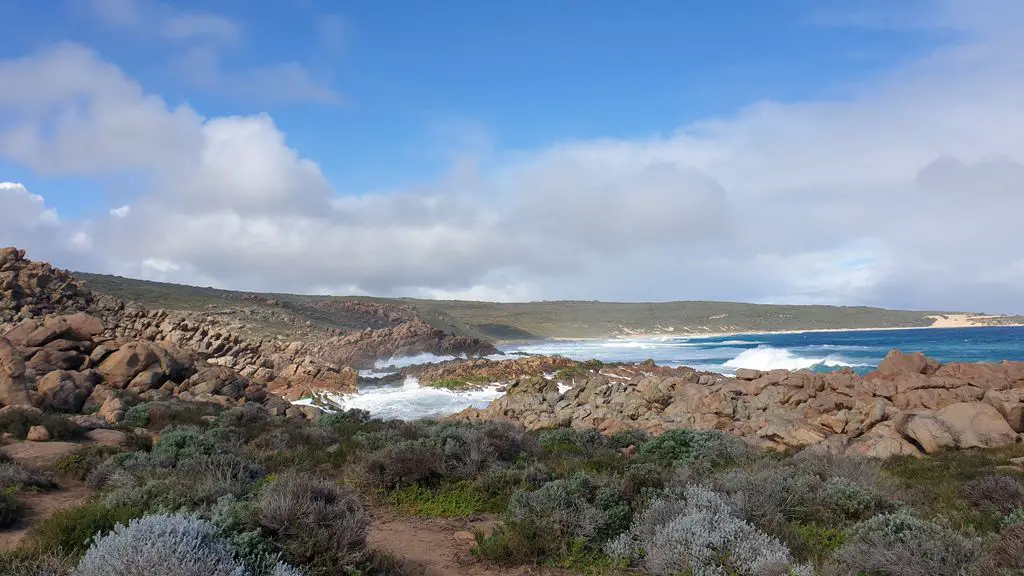 Is worth visiting?
Most visitors will head Down South during their visit to Western Australia. It's about 250km from the capital city, Perth. From its luxurious wineries to its delightful dairy farms, award-winning bakeries, drool-worthy chocolate, and jaw-dropping scenery. Margaret River is a road trip worth doing.
What is special about ?
What is Margaret River known for? Well, I have 55 best things to do in Margaret River below and you'll find Margaret River offers world-class wine alongside an unspoiled coastline. On top of the coastline, it also has rivers, caves, and forests making it one of the most unique destinations on Earth.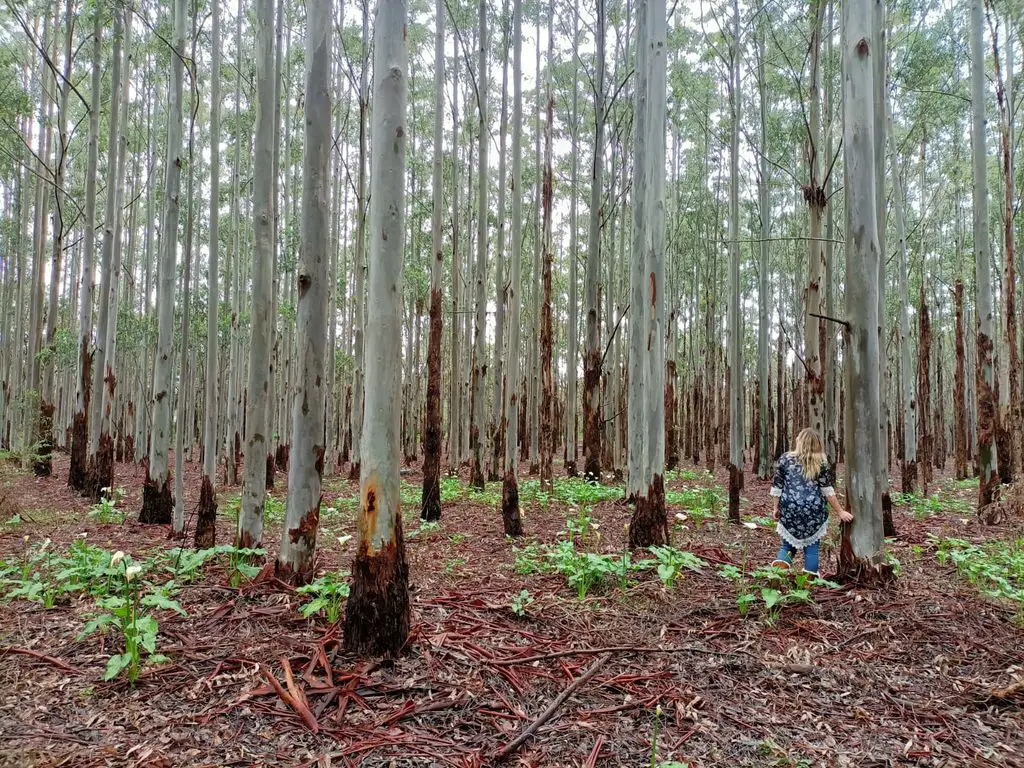 How do you explore ?
Most people drive to and around Margaret River because distances are far in the great vast land of Australia?
However, there are several tours you might consider if you don't feel like driving:

Margaret River wine, cheese, and chocolate tour.

Margaret River wine adventure.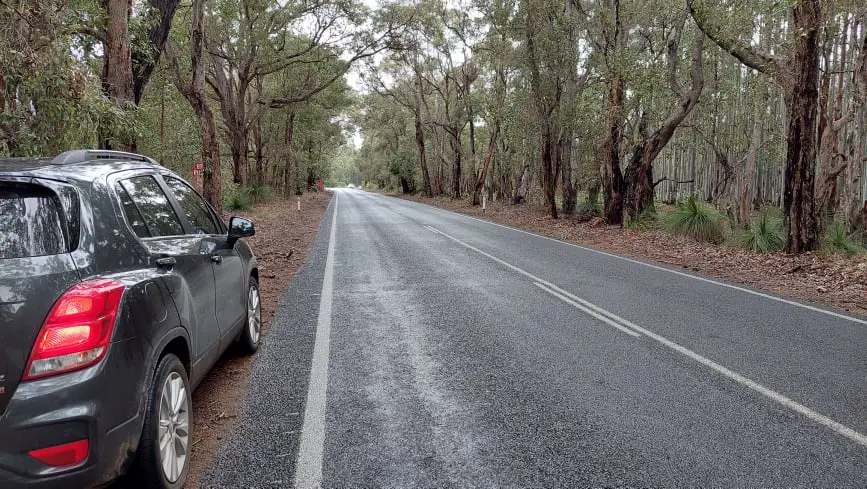 How many days do you need in ?
My recommendation would be a minimum of 2 nights, but a week will give you a much better amount of time to complete this list of 55 best things to do in Margaret River
How many wineries are in ?
More than 25 percent of Australia's premium wine comes from Margaret River. It is one of the nation's largest wine regions with more than 200 vineyards.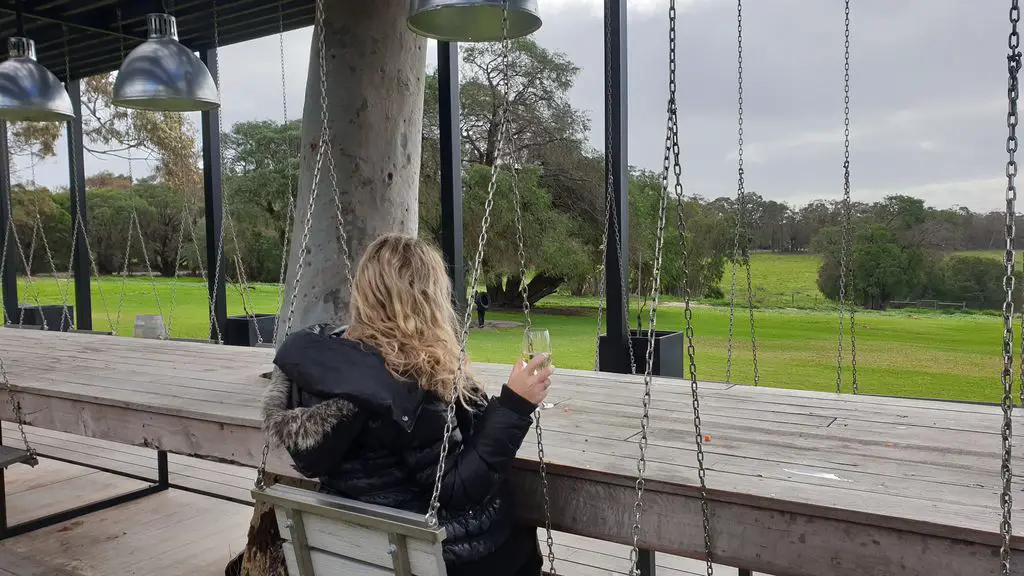 What to do when it's raining in ?
You'll find several activities below that are perfect for rainy days. 
Where to stay in Margaret River?
You'll find plenty of websites offering accommodation Down South like Wotif, Dunsborough Holiday Homes, Stayz, Airbnb, and Cape Executive.
2 of my family favorites are:
Ramada Resort by Wyndham Dunsborough
This resort is smack bang on Caves Road with multiple other resorts and campsites. You can get a 2-bedroom, 1 bathroom with living and kitchen. There is a pool, hot tub, tennis courts, basketball courts, free bicycle use, and free kayak use. Check the best prices here.
Big4 Taunton Farm Holiday Park Margaret River
Close to the Chocolate Factory and Dairy Farm this property is set on a big plot of land with a jumping pillow and farm animals to feed. There is no pool. Chalets consist of 2 bedrooms, 1 bathroom, kitchen, and living area. Check the best prices here.
Are you looking for something super lux?
Cape Lodge
This private country house hotel is a culinary retreat in the heart of Margaret River Wine Country. It's pricey, but oh so worth it. Check the best prices here.
Best
I've divided this list into sections so you can skip to the one you are most interested in. It starts with the best things to do at your accommodation in Margaret River, before my favorite places to eat Down South, then we have the natural attractions of the South West, followed by the best activities to do around the Margaret River region.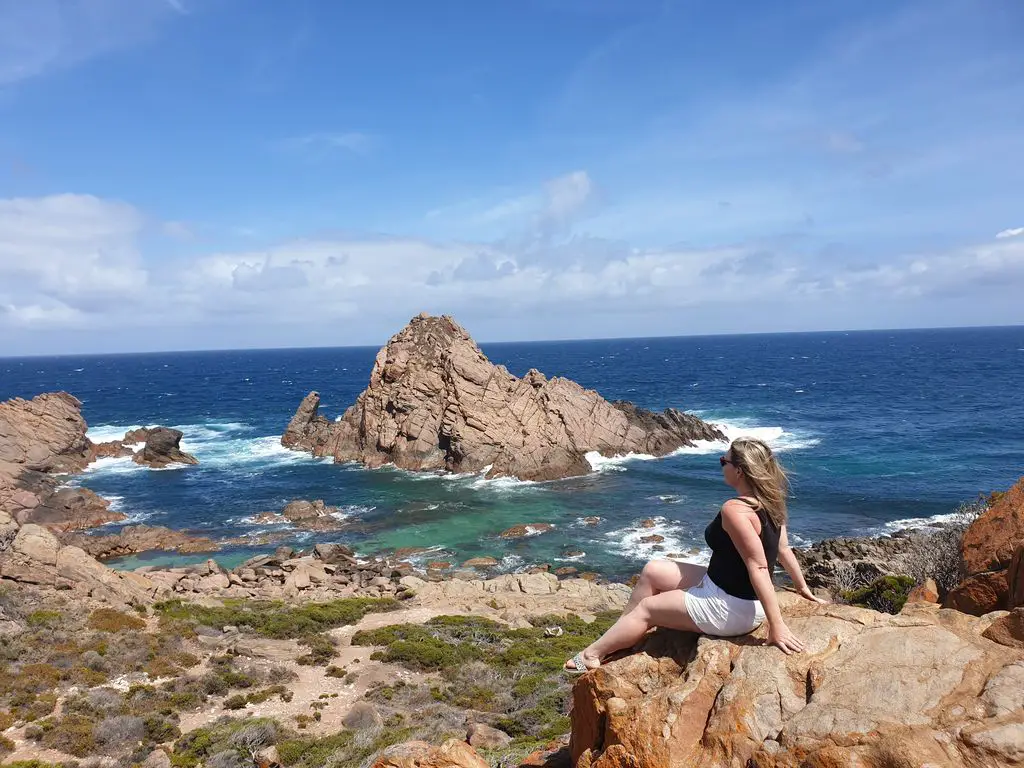 What To Do At
This of course will be depending on where you stay, but here are 9 things we love doing in Margaret River accommodation.
1.    Camp
Many campsites are scattered about to give you a real earthy connection with the South West. I've done it once and it's an experience that you should do at one stage in your life.
2.    Swim at the pool/soak in the spa
We love staying at Wyndham Resorts in Dunsborough. Mainly so the kids can spend the hot summer days swimming. Most hotels will also have a spa for the adults to sit back in with a lovely plastic cup of wine.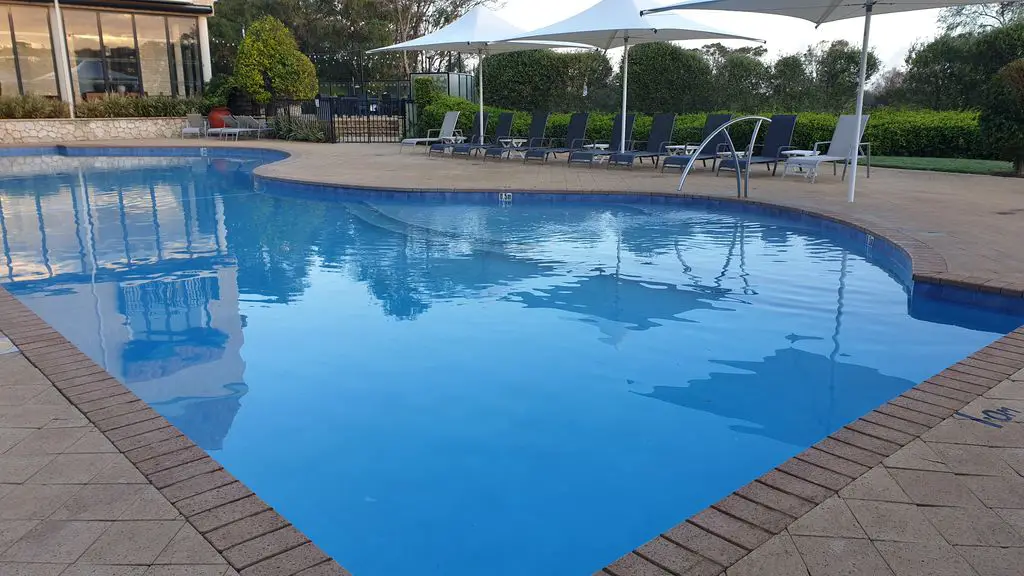 3.    Kayaking
The Wyndham has free kayaks you can take into the river.
4.    Cycling
We love to make use of the free bikes at Wyndham. Last time we did a family ride from the hotel to central Dunsborough for a bakery lunch and back. Lots of ocean views and some neat playgrounds to stop at.
5.    Sports
The Wyndham also has basketball and tennis courts to keep the kids off their electronics.
6.    Movie night
When you travel with kids movie nights are always a must on vacation. Bring your own Amazon firestick to play your streaming services, or pick a fun hotel that holds movie nights.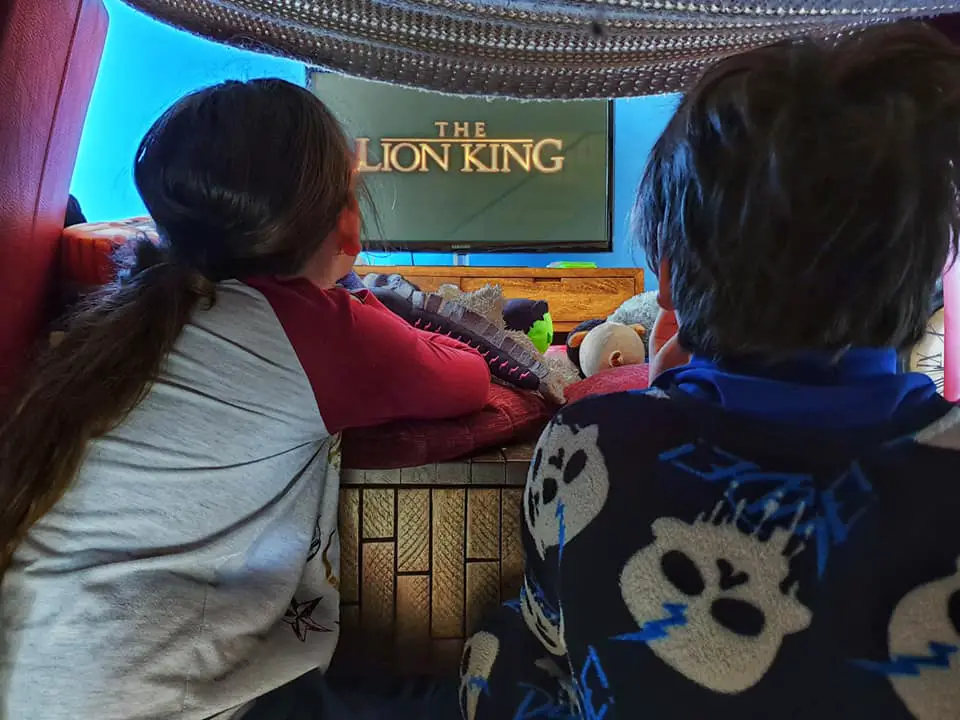 7.    Play
Loved our stay at the Big 4 because it included a giant jumping cushion the kids couldn't stay off of.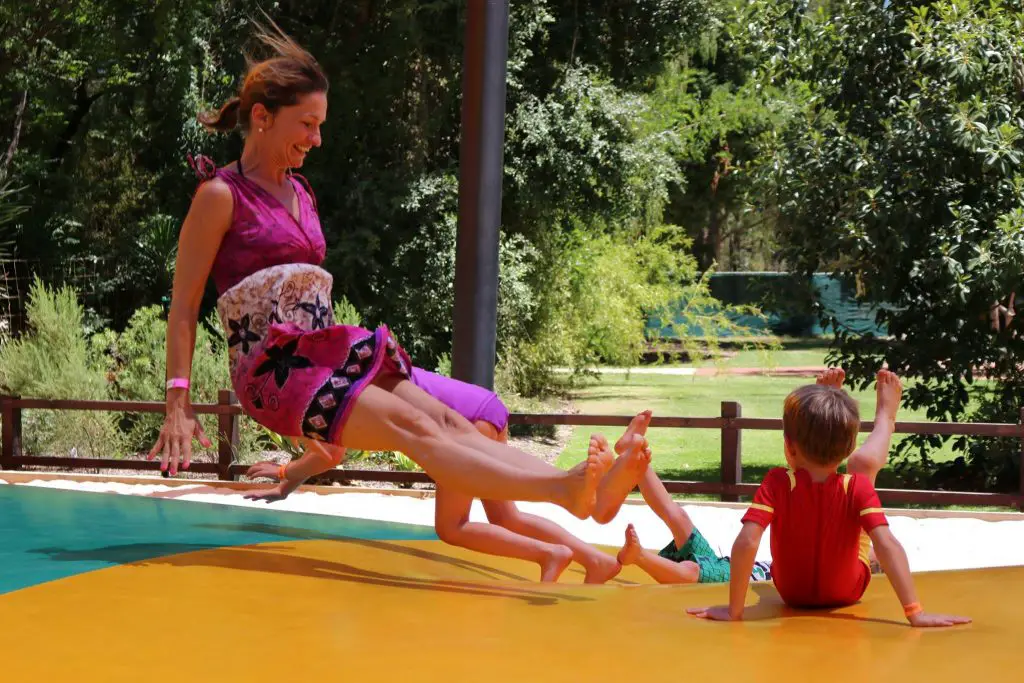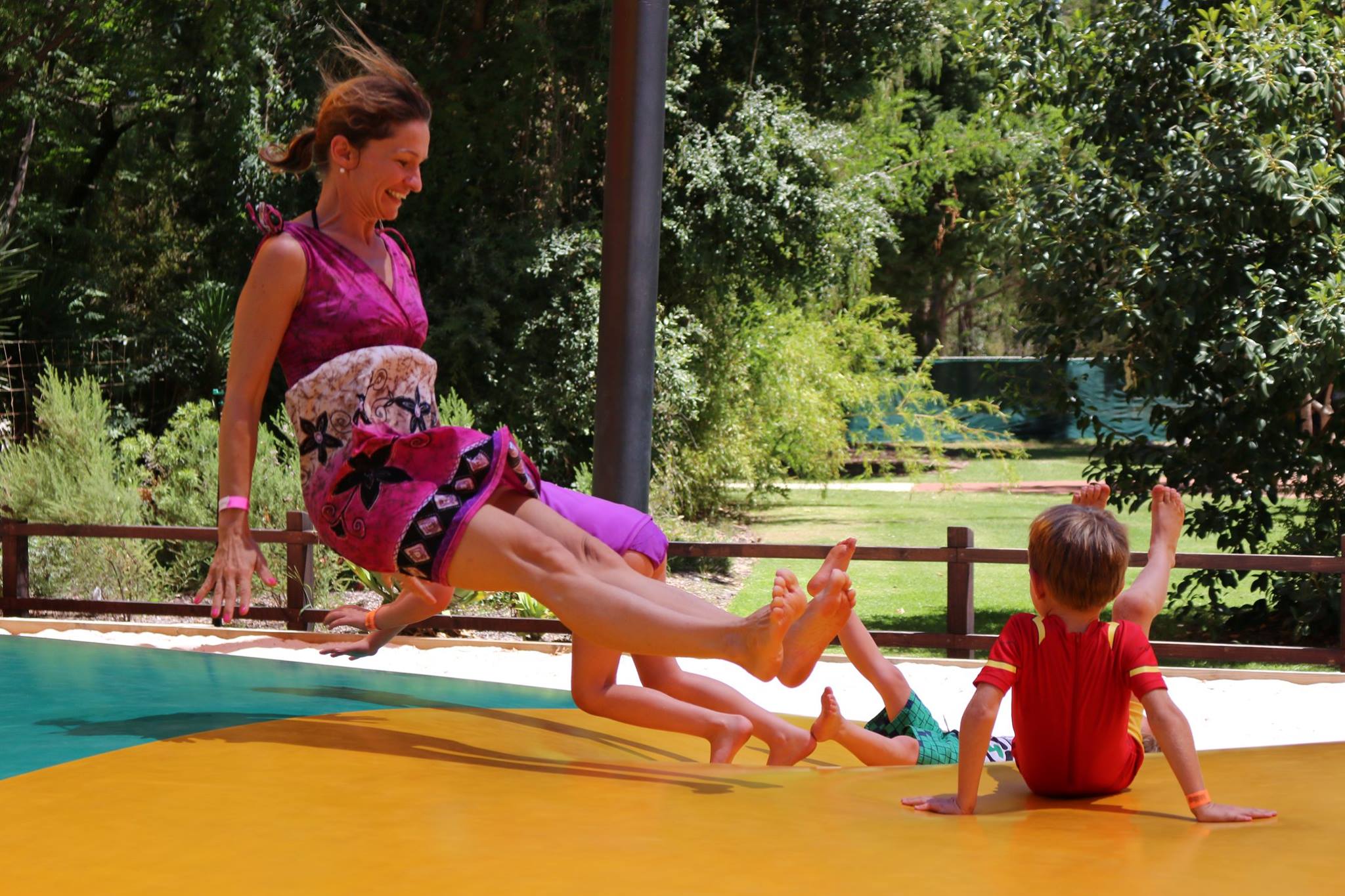 8.    Warm yourself by a fire
Whether it's a hotel fire pit where you're roasting marshmallows and making new friends with your fancy roasting sticks. Or an Airbnb fireplace you can warm your tootsies in front of with a glass of sparkling wine.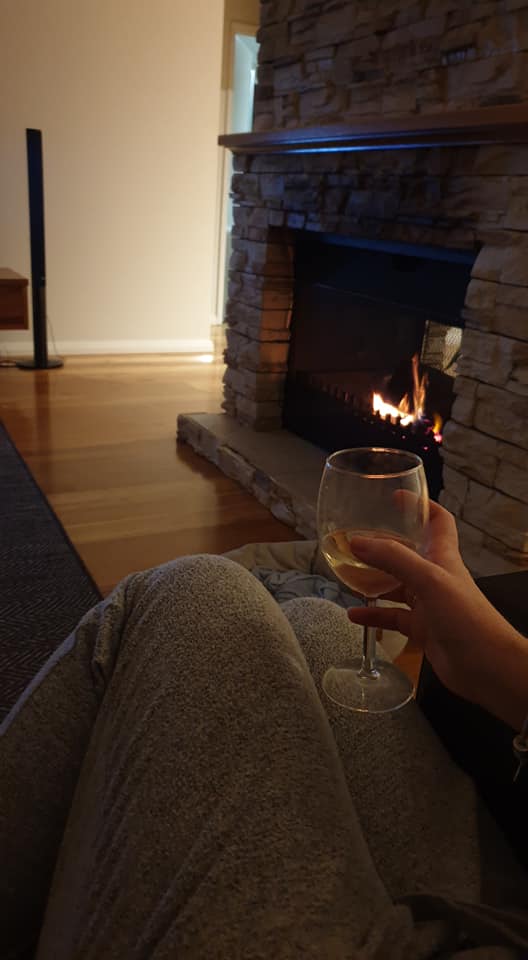 9.    Happy Hour
Who doesn't love a good happy hour? While you'll find plenty of places in the South West offering drink specials, we love making use of the hotels, because the kids can still be busy not interrupting a quiet evening wine.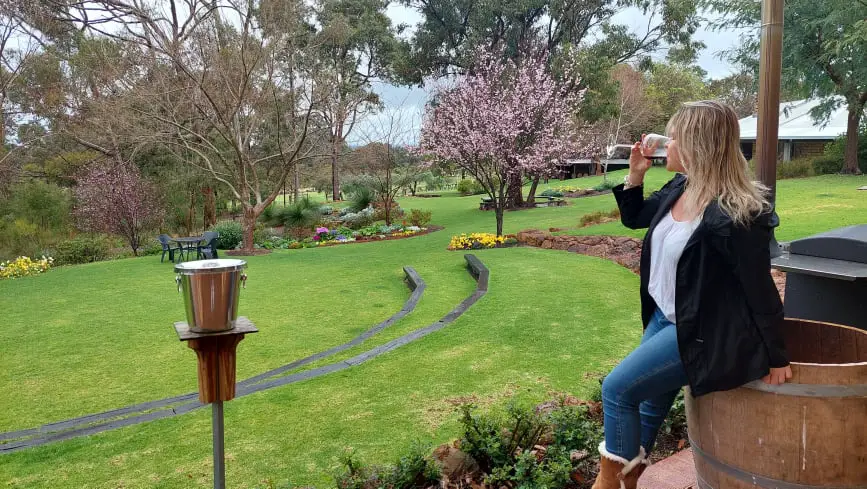 Food Fun In
The Margaret River wine region is not known for its cheap eats since it is filled with wineries serving fine wine and even finer quality food. But here is a few places where you can eat for free, on a budget, and in the lap of luxury. 
For more articles on Australian foods, you have to eat, click here. You may even want to know if you can eat any cute Australian animals or these deadly Australian animals?
10.
The Margaret River Chocolate Factory has been giving away free milk, and white and dark chocolate chips since 1999. You can also watch how chocolate is made, eat a yummy lunch and watch the kids play. There are plenty of opportunities to shop all things yummy and I dare you to walk out with empty hands. 
Also head next door to try the company's liqueurs, and vinegar.
Side note: you'll also find the Margaret River Chocolate Company in the Swan Valley.
11. Cheese factories
Along Bussell Highway are a few great places to try cheese and, of course, to add to your collection of gourmet products you've ended up buying from all the free tastings. Look out for The Margaret River Dairy Company, Margaret River Cheese Factory, and Yallingup Cheese.
12. Simmo's Ice Creamery
An ice cream factory selling premium quality ice cream situated in large private parkland. They offer mini-golf, playgrounds, picnic tables, and an ice cream eating emu (if you get too close). 
13. Vasse Virgin
One of my favorite places to visit, this scenic vineyard opens around 10 am. The gift shop is also a soap factory and home to the sweetest smelling bath products.
In the back, you'll find a free food tasting, that includes a Ginger & Coriander dressing that I keep purchasing on every visit. You'll find plenty of balsamic vinegar, olives, cheeses, chutneys, olive oils, and more. While it's free to sample the goodies I always walk away with a lighter wallet. 
14. Gabriel Chocolate
Yes, more chocolate, because there can never be too much. Western Australia's first bean to bar Chocolate Maker. Gabriel Chocolate imports the world's finest quality raw cacao beans to craft award-winning fine chocolate at our Yallingup factory. This chocolate is next-level quality and even though there is free tasting, you won't walk out without buying a block.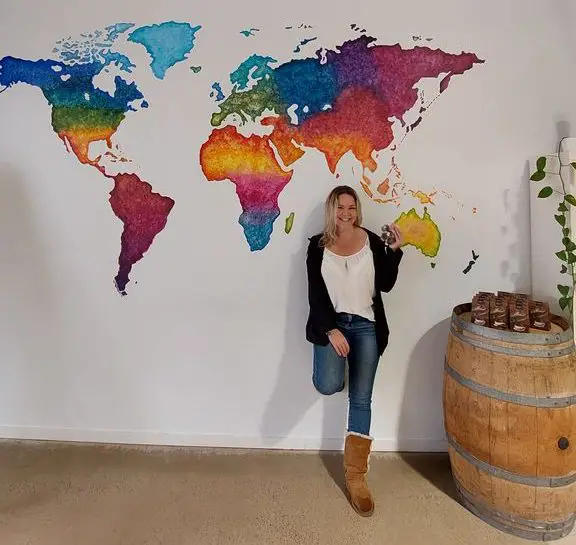 15. Yallingyup Wood Fire Bread
Devour a hot loaf of sourdough fresh from the oven at the famous Yallingup Wood Fired Bread.
16. Candy Cow
This fun store can be found in Cowarup, home to multiple cow statues. Candy Cow sells honeycomb, fudge, and lollies. P.s. Can you believe this is my daughter 13 years ago at 6 weeks old?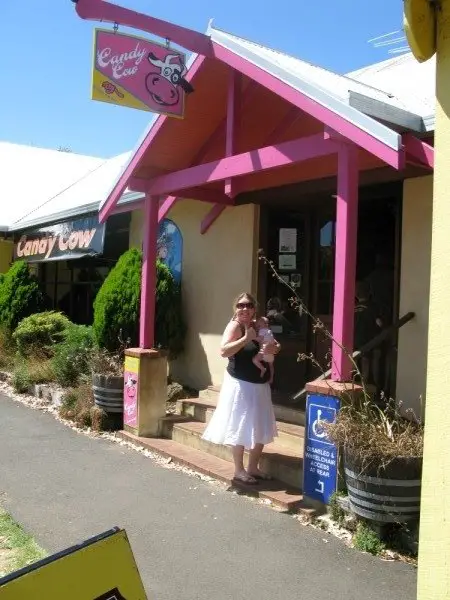 17. Clancys Fish Pub
The location is divine with the most luscious bush surrounding it, a large lawn area for kids to race around on, and a giant Connect 4 and Chess game to keep them busy. Fish and chips will set you back at about AUD$25 for one meal, but the views are outstanding.
18. The Beer Farm Margaret River
This place is a great place for a beer, but also the kids. They have a permanent wet slide on the hill, which can be seen from the restaurant. The kids will have so much fun, you'll end up staying all day.
19. Tas' Bakery
In the central part of Dunsborough, you will find the famous Dunsborough Bakery, which in my opinion has been resting on its fame for one too many decades. The better place to try is Tas' Bakery. Stop in for a meat pie, sausage roll, vanilla slice, custard donut, or Australia's national cake the lamington. You can sit right outside on the shady grass soaking up the warm sun – enjoying life's simple pleasures.
20. Albies, Busselton
The local pub. You'll find an all-you-can-eat salad bar with any main meal purchase. The meals are always delicious and the salad bar helps to dissipate any guilty feelings after gorging on cheese, wine, ice cream, and chocolate. The outdoor seating area was ideal for the kids to be loud and boisterous.
21. Take Away
There is plenty of takeaway in the South West Margaret River region. More keep popping up, with Mcdonald's even readily available now. Notable ones in Dunsborough are Big Pig Pizza and Squid Lips for those times you are determined to stay indoors after a day of touring.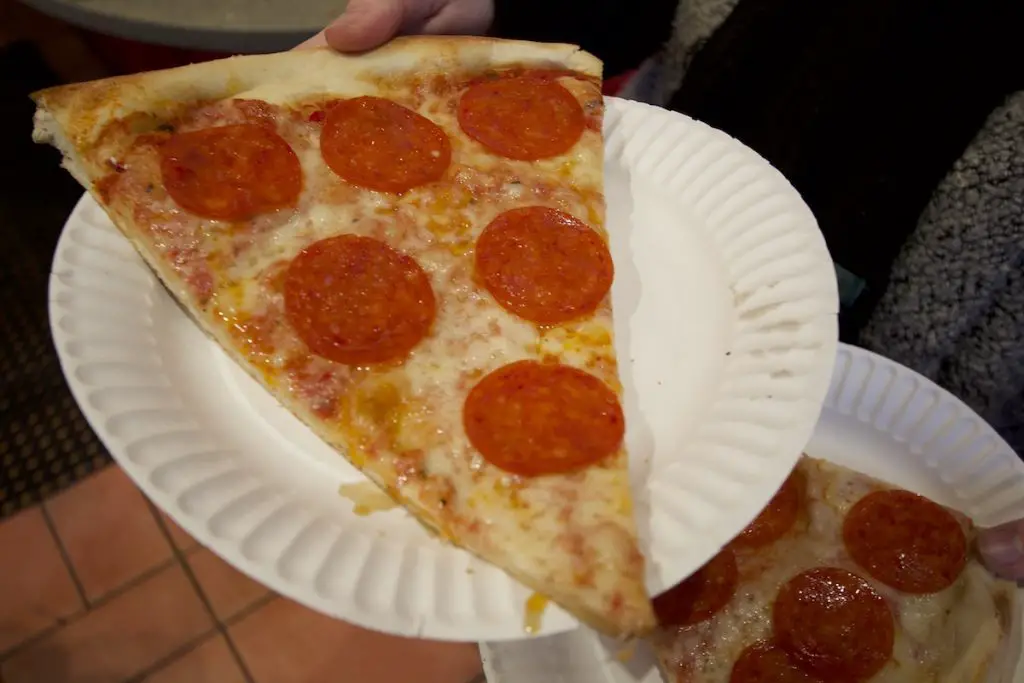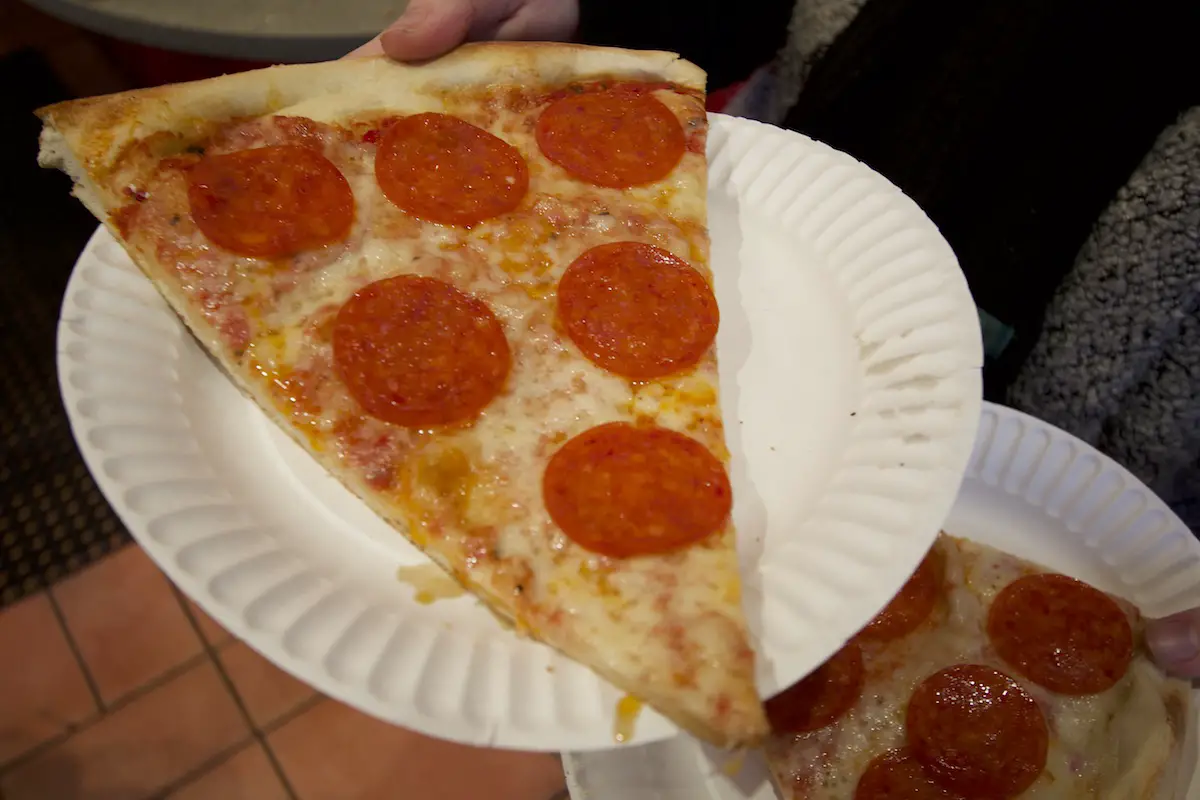 22. Cowaramup Brewery
Many of the vineyards have restaurants attached to them. On one trip, we were recommended to check out the Cowaramup Brewery which featured a scenic country vista along with a kid's playground and sand pit. The food was delicious and I heard the beer is good too.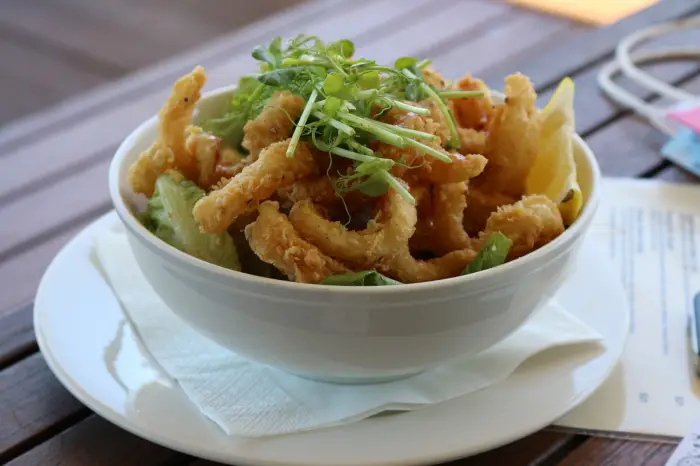 23. Wise Vineyard Restaurant
Overlooking rolling vineyards and the Indian Ocean Wise Vineyard prices are extravagant to match the views. But the kids were treated with coloring books and the food is top-notch, just incredible.
When you're looking to celebrate a special occasion or just treat yourself, this is the place to go.
24. Nannup Lavender Farm
Located centrally in the beautiful southwest, Nannup Lavender Farm grows and produces lavender products on the farm. Visit the tea room for their popular Devonshire Tea with a lavender scone, jam, and cream.
25. The Colony Concept
Learn all about how honey is made and try some of the finest honey in Australia. 100% raw, unfiltered, and unpasteurized honey from the pristine environment of the South West.
Since 2001 they have been growing this small family business to over 350 hives located from Nannup to Metricup in Western Australia's spectacular South West. Try world-famous honey from bees that enjoy Karri, Redgum, and Jarrah trees. Jarrah is my favorite.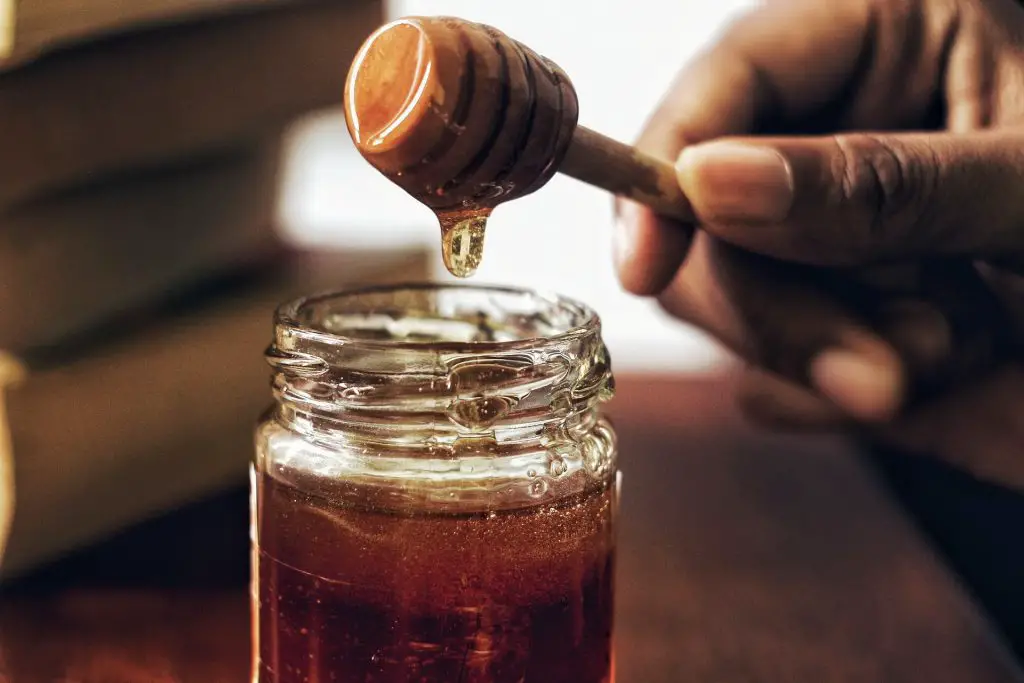 Fun in
Vineyards are in abundance and wineries are everywhere. Most will offer free tastings from their cellar door (mini shop attached to the vineyard), with the odd one occasionally charging for the pleasure.
The majority of wineries have great facilities for children. You don't need an organized tour or booking in advance, just drive from vineyard to vineyard at a leisurely pace and enjoy. Four of my favorites –
26. Happs
Free wine tasting, as much and as many as you like. Happs is a family-owned business that believes that wine should be accessible and enjoyed by everyone for generations to come.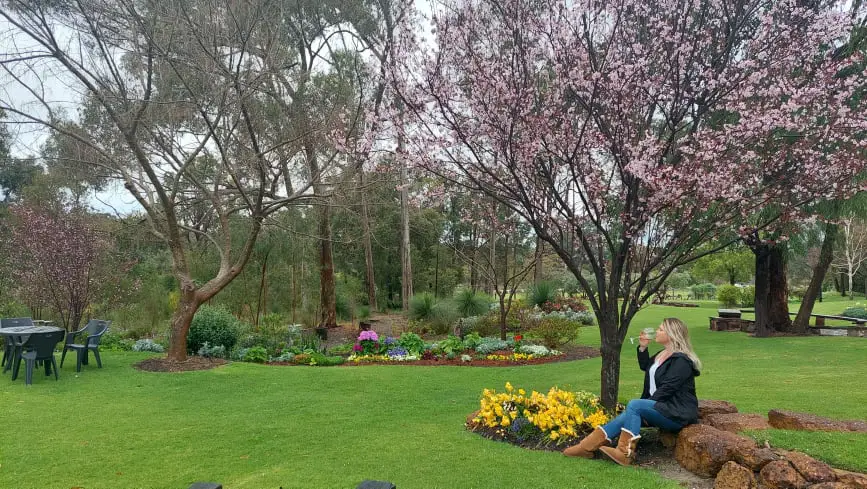 This is the only winery to have a self-serve outdoor cellar door experience, where you can taste more than 40 different wines from chardonnay to grenache.
The outdoor cellar is perfect with a large lawn area for the kids or dogs, and stunning gardens. I never miss a visit here.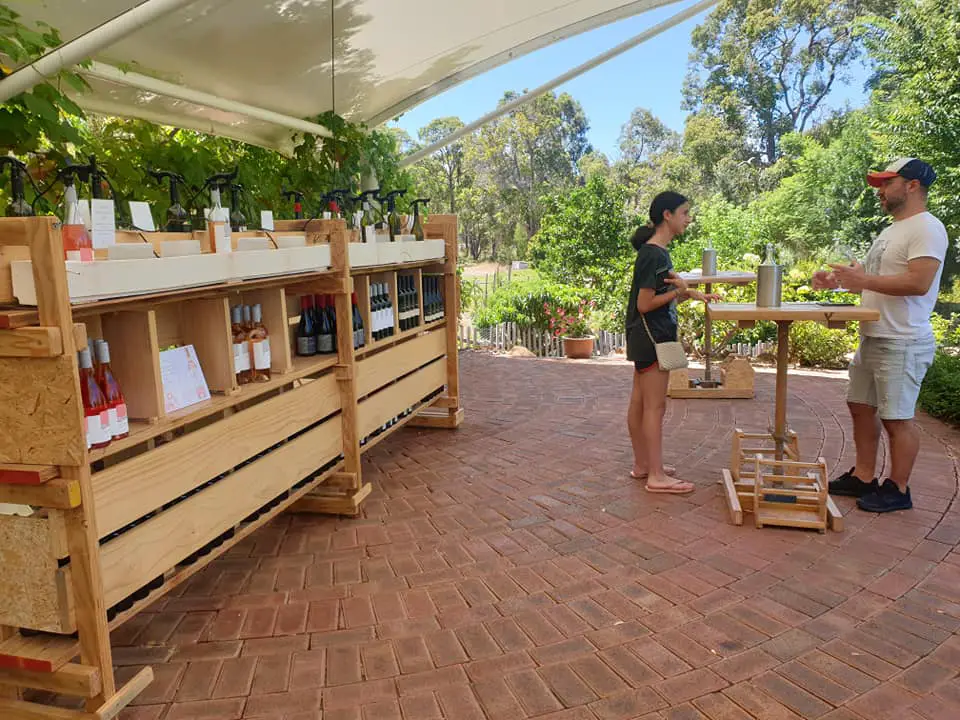 27. The Grove
Always a fun visit. On entry to the Grove, you may be put off by the crocodiles and drop bears, but they are all in good fun. I love the cocktail package, which includes 3 different liqueurs that are made into 3 mini cocktails. So delicious and I always have time for a visit here too.
28. Swings & Roundabouts
Located on the iconic Caves Road. The kid's playground and tire swing are one of the reasons we have been visiting Swings and Roundabouts, the other is the swings for the adults overlooking incredible scenery. It's pricey, but the baked brie is beyond mouth-watering.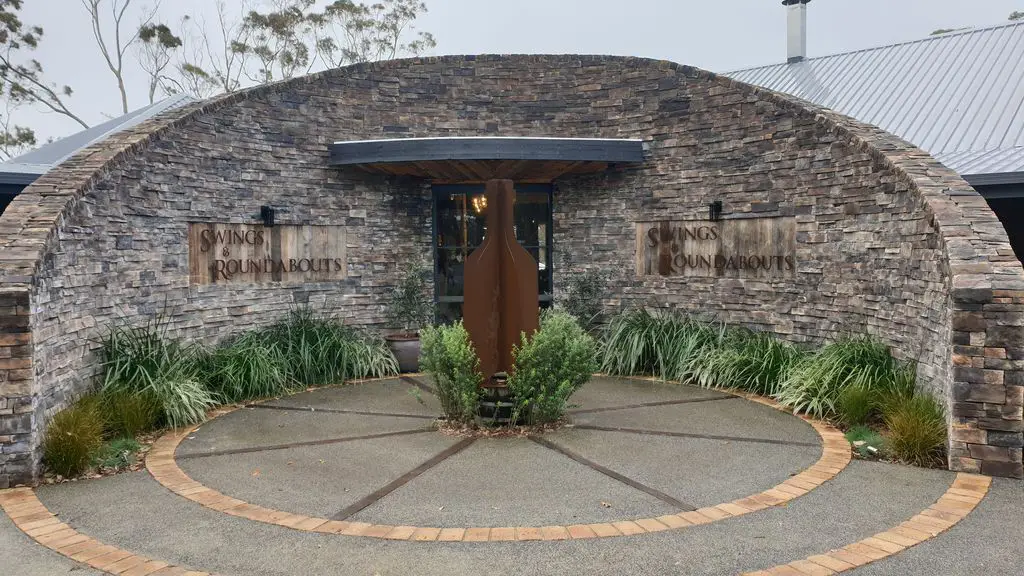 29. Evans & Tate
I mean they have a jumping castle. Our kids begged to top here.
Nature T
The iconic Caves Road is a must, but my favorite natural attractions can be found mostly along the coastline from Hamelin Bay past Prevelly Beach to Yallingup Beach.
30. Injidup Spa
Originally hard to find, now one of my must-visit places every time winter or summer. Try the address 310 Wyadup Rd, Yallingup for your Google maps, and once you've parked the car look at the ocean and head left, over the rocks, on nature's path.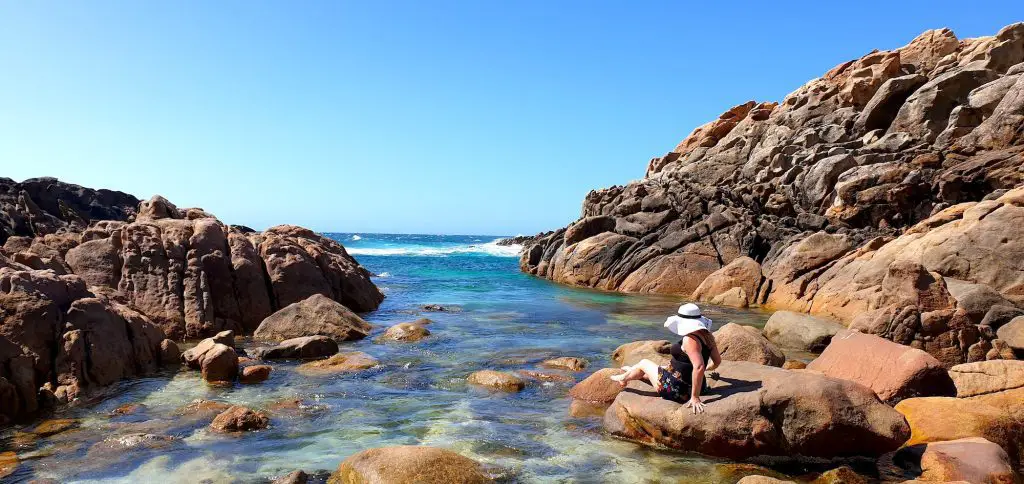 In the end, you'll find a natural rock pool with a wave of water splashing in over a cliff from the ocean. It can be intense or less dramatic depending on the tides. A great place to swim, look at the ocean, and sunbake.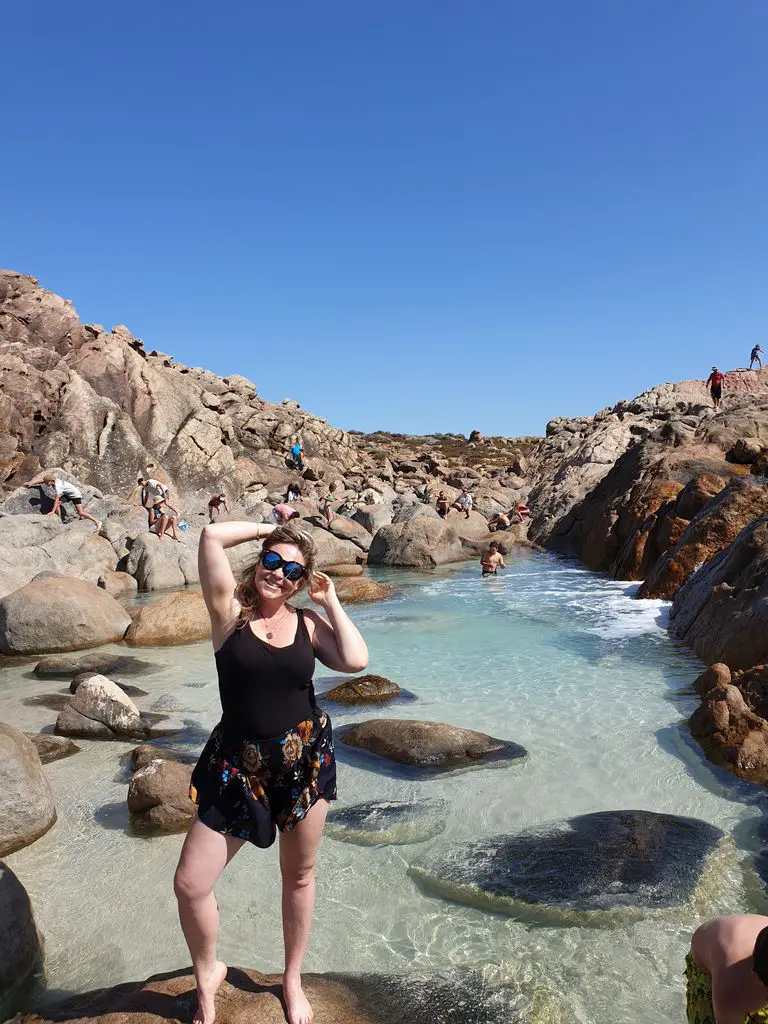 31. Sugarloaf Rock
Sugarloaf Rock is a gigantic granite rock that emerges from the Indian Ocean close to the mainland. The rock is situated within a designated nature reserve in the Leeuwin Naturaliste National Park just off Cape Naturaliste near Dunsborough. It's best viewed from a simple walk to the lookout.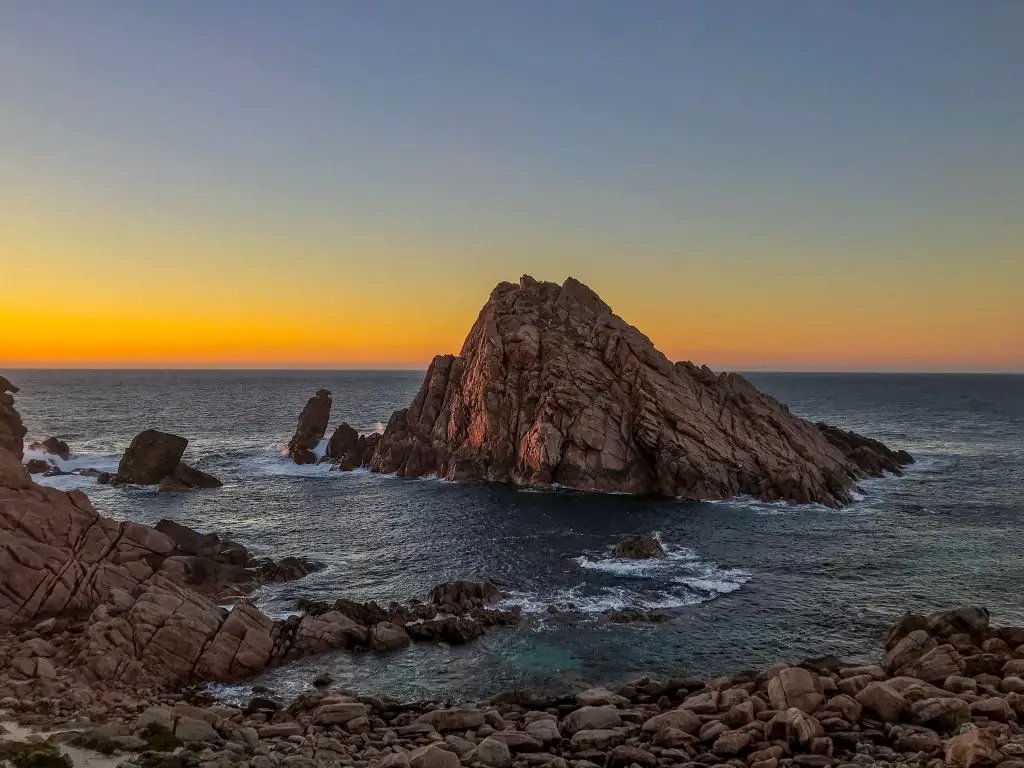 32. Visit a Bay
Meelup Bay, Eagle Bay, Bunker Bay, Hamelin Bay, Geographe Bay. So many beautiful beaches perfect for swimming. These are some of my favorites, but you'll find so many.
Check out this Bunker Bay winery tour.
Hamelin Bay is a bay and a locality on the southwest coast of Western Australia between Cape Leeuwin and Cape Naturaliste. Famous for its abundance of sting rays.
Book your Cape Leeuwin Lighthouse Tour here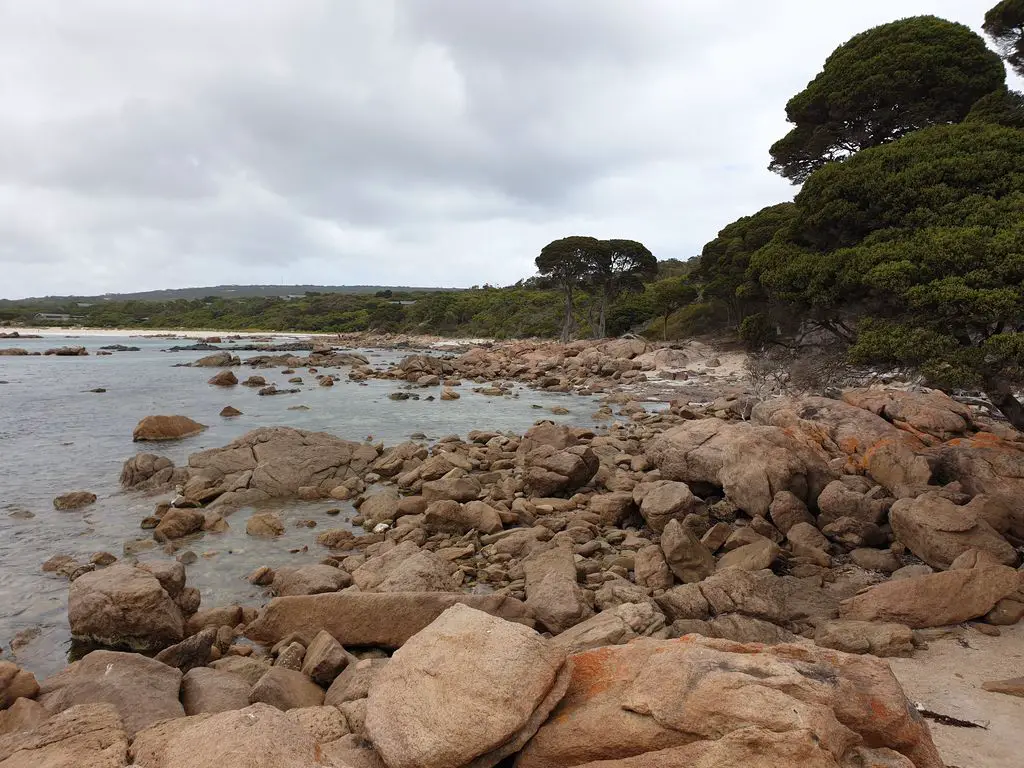 33. Canal Rocks
Thousands of years of the Indian Ocean crashing against this section of coastline has chiseled a narrow channel between the granite rocks. A narrow timber walkway allows for easy access and great views of the rushing ocean beneath. The official address is in Busselton.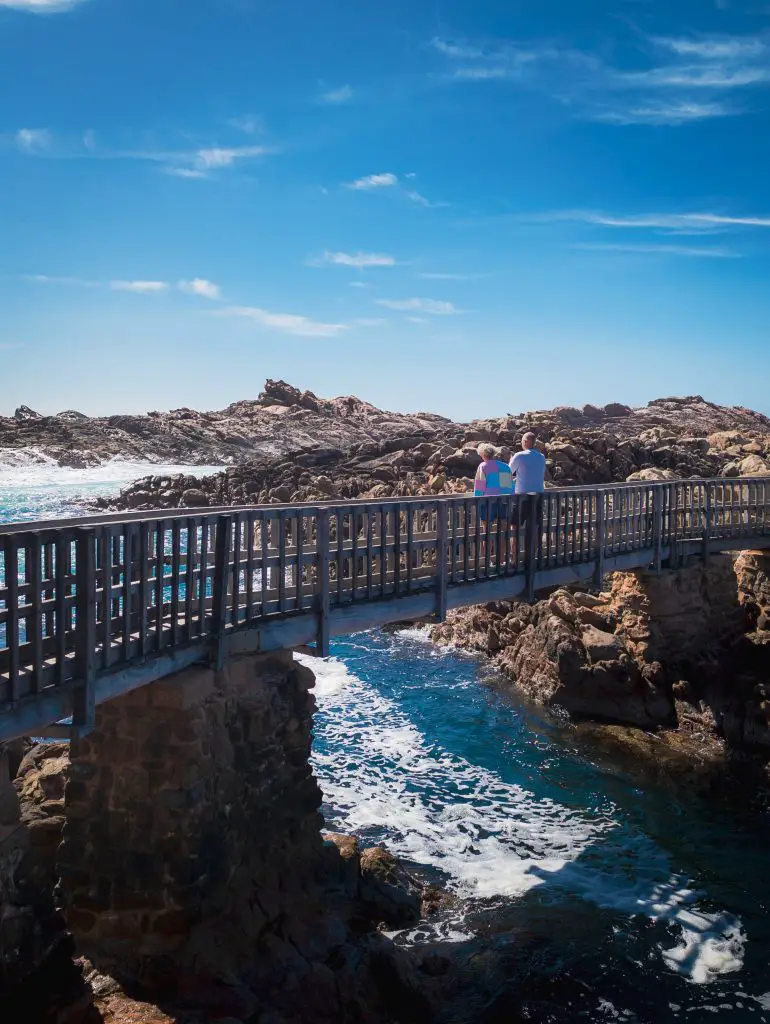 34.
You are spoilt for choice in the caves available within the Margaret River region. The most popular are Mammoth Cave, Lake Cave, Ngilgi Cave, and Jewel Cave. Mammoth Cave is especially popular, being just 15 minutes drive from Margaret River. It's here you can see a 50,000-year-old jawbone of a prehistoric oversize wombat-like creature called a Zygomaturus!
Check pricing for Ngilgi Cave here.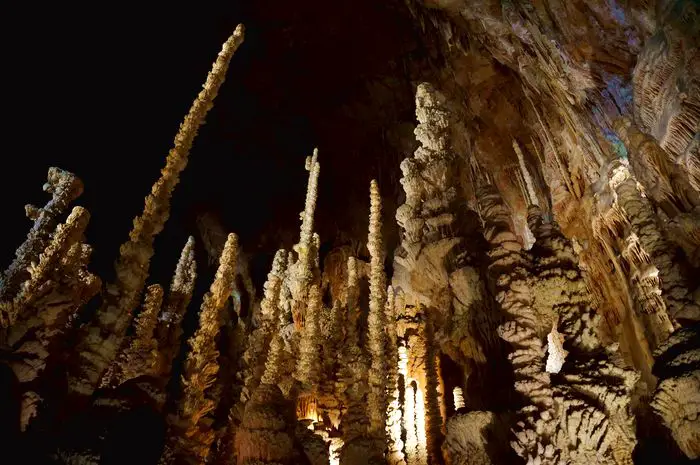 35. Lighthouses
Two of the most iconic lighthouses of the region are Cape Naturaliste and Cape Leeuwin.
The 120-year-old Cape Naturaliste Lighthouse is set in thick coastal heath on a headland with a beautiful coastal loop walk.
The Cape Leeuwin Lighthouse is located on the most south-westerly tip of Australia, and at 39 meters tall lays claim to the title of tallest lighthouse on the mainland. The views are spectacular.
36. Hike part of Cape to Cape
The iconic Cape to Cape Track is 130 kilometers of rugged, pristine coastline trail showcasing everything that makes the South West so special from Cape Naturaliste to Cape Leeuwin.
It will take you around a week to complete it, walking about 20 to 25 km per day. Or you can just hike smaller parts of it.
Fun Activities To Do In
37.
Busselton is worth a visit when staying in Dunsborough. The famous jetty was initially built in 1853 and now features 4 iconic blue buildings at the entrance. You can pay a small fee to walk to the end or catch a tram ride.
In the end, you can explore the underwater observatory 8 meters below the surface of the water. This is one of only six underwater observatories in the world and you'll find over 300 different marine species to observe.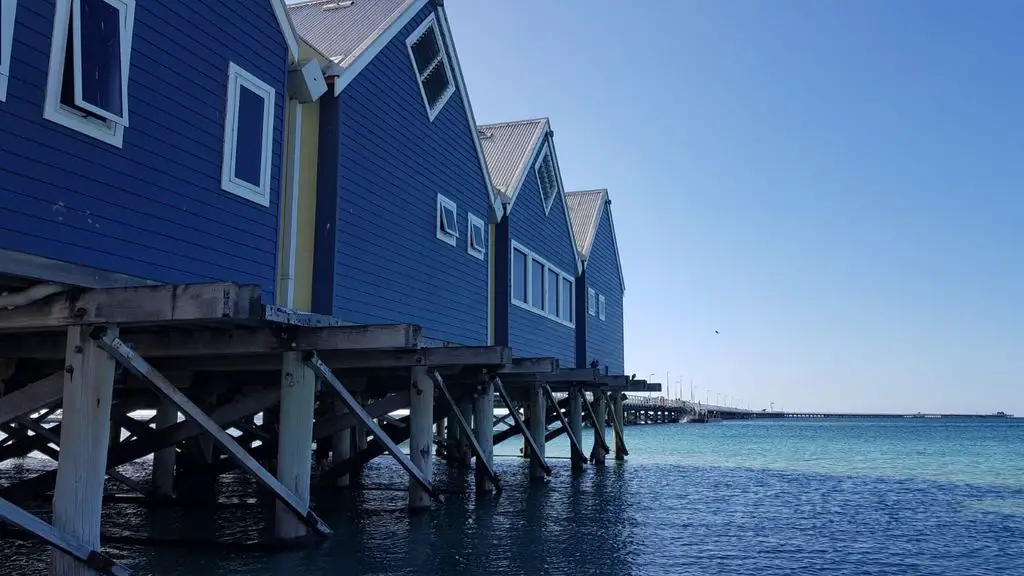 38. Cinemas
Busselton is also home to a small theatre house in case you're looking for something to do at night.
39. Bunbury Dolphin Discovery Centre
Dolphin Discovery Centre is a non-profit organization that carries out essential conservation, eco-tourism, education, and research projects. Organize a boat tour or a swim with the dolphins, and check out the interpretive center.
40. Whale Watching Tour
The Margaret River Region plays host to an estimated 35,000 whales migrating from the Antarctic between June and December every year. Witness these astounding animals from the shore, at the top of a lighthouse, or on a whale-watching tour.
Check the whale watching tour prices here.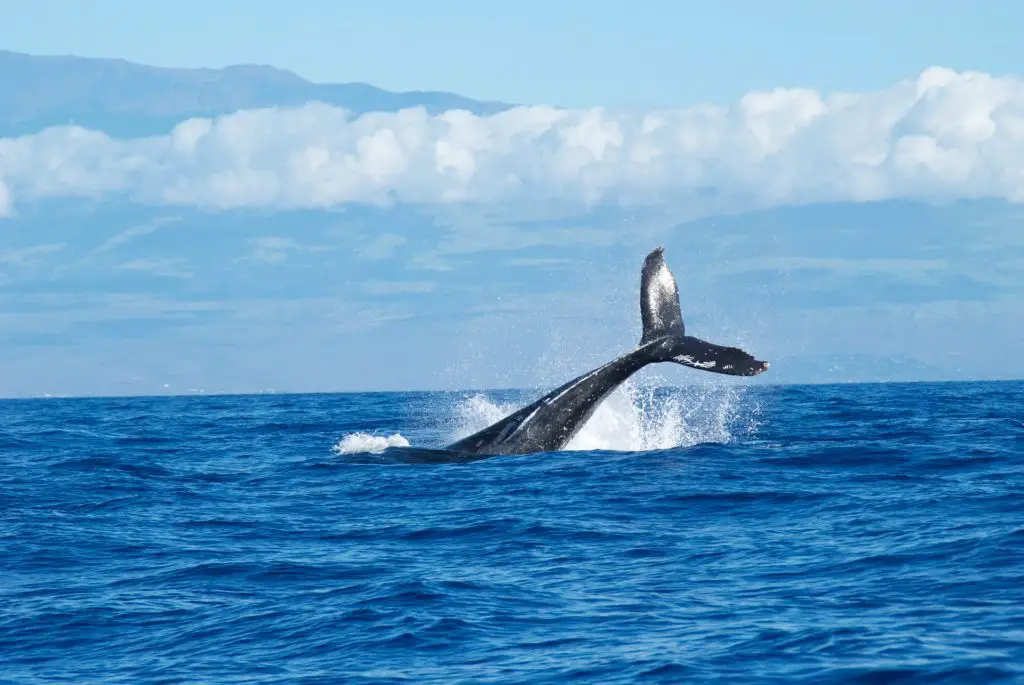 41. Aboriginal Cultural Tour
Learn about Australia's indigenous people with either the Ngalang Wongi Aboriginal Cultural Tour in Bunbury or Koomal Dreaming in the Margaret River region.
42. SUP hire
Try your hand at Stand Up Paddleboarding through the turquoise waters of Meelup Beach or off the river mouth in Prevelly.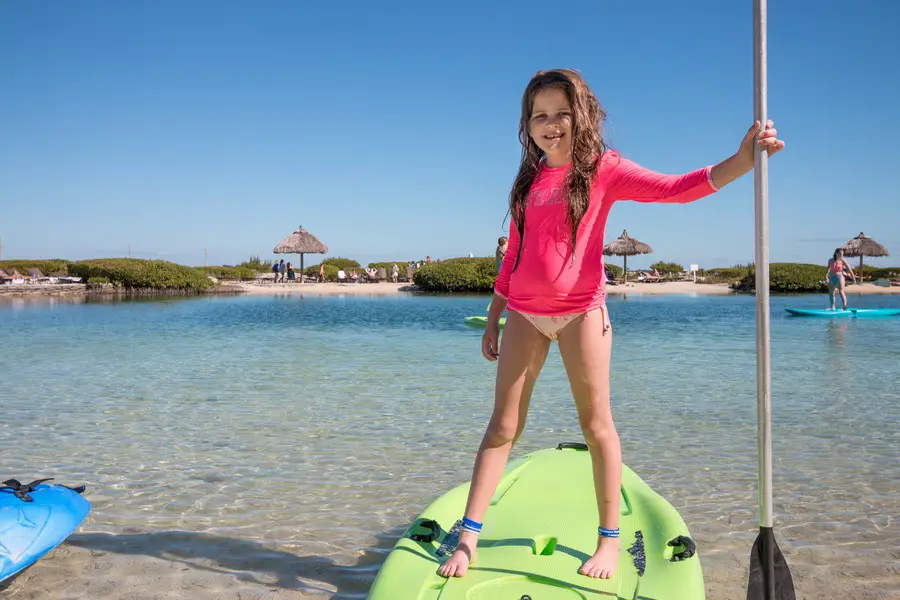 43. Outdoor movies
In the summer you can enjoy movies under the stars at Cape Mentelle and Caves House in Yallingup.
44. Forest Adventures
Hang about in the treetops and conquer your fear of heights. The kids will love this one.
45. Take a helicopter ride
For a different view of WA's South West take a helicopter tour.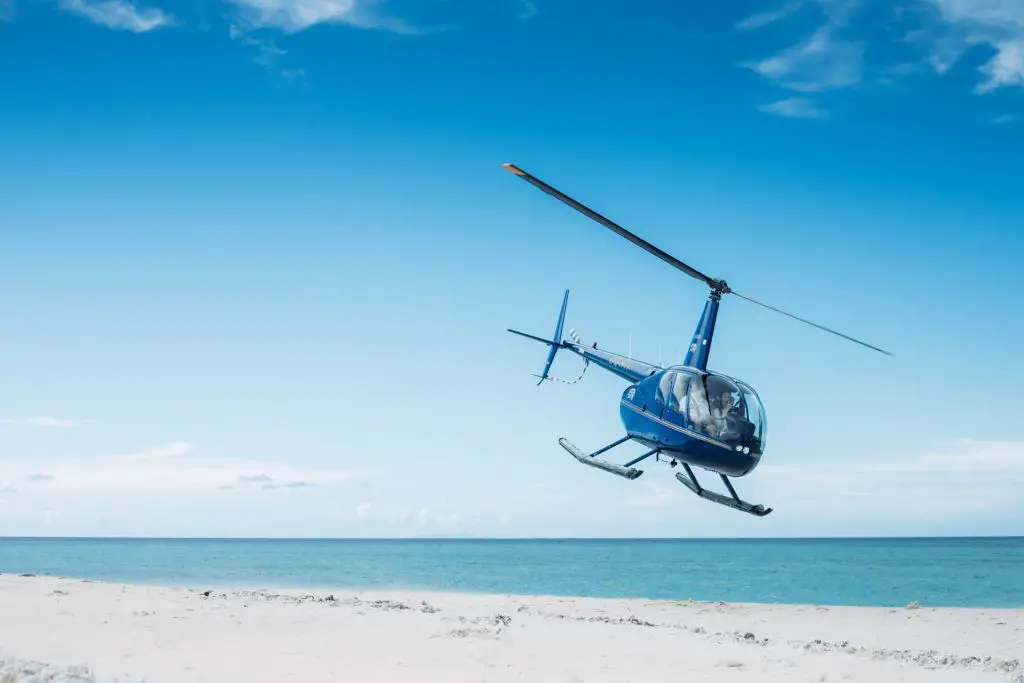 46. Visit an art gallery
I'm not a big art fan, but I always make it a point to visit Christian Fletcher's photography studio in Dunsborough. "Christian's pictures are not souvenirs, but images that help us to 'see' and to understand the landscape as art. Light literally exudes from Christian's pictures like few others, and this luminescent enlightenment startles us with its clarity and perception"   -Les Walkling, professional photographer 
 47. A'Mazen
Let the kids (and kidults) loose in a half-hectare hedge maze and see who makes it out first. A half-hectare Giant Hedge Maze, 18 Hole Mini Golf and five hectares of stunning Gardens.
48. Wow Illusions
One of our kid's favorite spots and a more recent addition to our Margaret River must-visits. Stumbled on it, as we love visiting the Cereal factory here. Best described as a collection of weird and puzzling eccentricity. Tickets are only $40 for 2 adults and 2 kid families.
49. Next Level Monkey Business
Next door to Clanceys the whole family will love this zipline and climb park.
50. Country Life Farm
One for the smaller kids and the animal loves. The Country Life Farm is home to a menagerie of furry friends: rabbits, guinea pigs, goats, sheep, llama, alpacas, donkeys, ponies, Clydesdales, and even the odd cow. There's also a bouncy castle, merry-go-round, boat ride, and giant slide.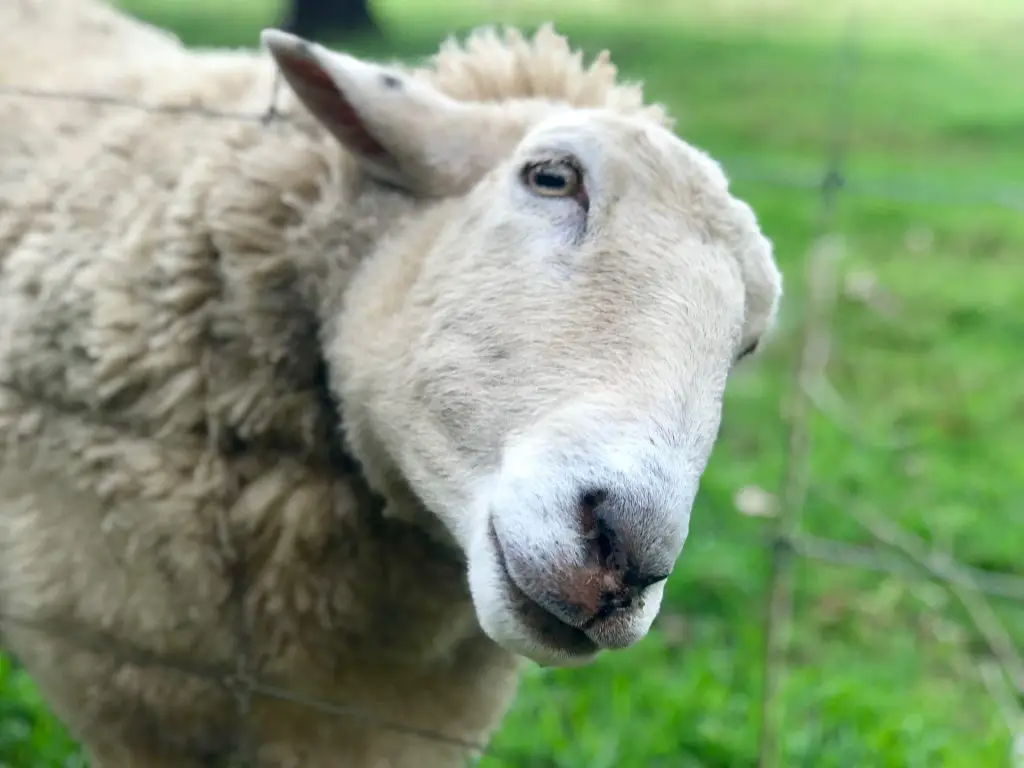 51. Xcape at the Cape Fun Park
A fun park with a whole range of activities from a water park to trampolines, rock climbing, laser tag and so much more. Get a day pass and spend a whole day discovering this all-day fun.
52. Yallingup Maze
Yallingup Maze is the only timber maze in the Margaret River region. You'll find outdoor mazes, nature play areas, a bouncy castle, an indoor puzzle café where you can play with puzzles for free all day, and more.
53. Go fishing
You won't run out of places to fish in the South West.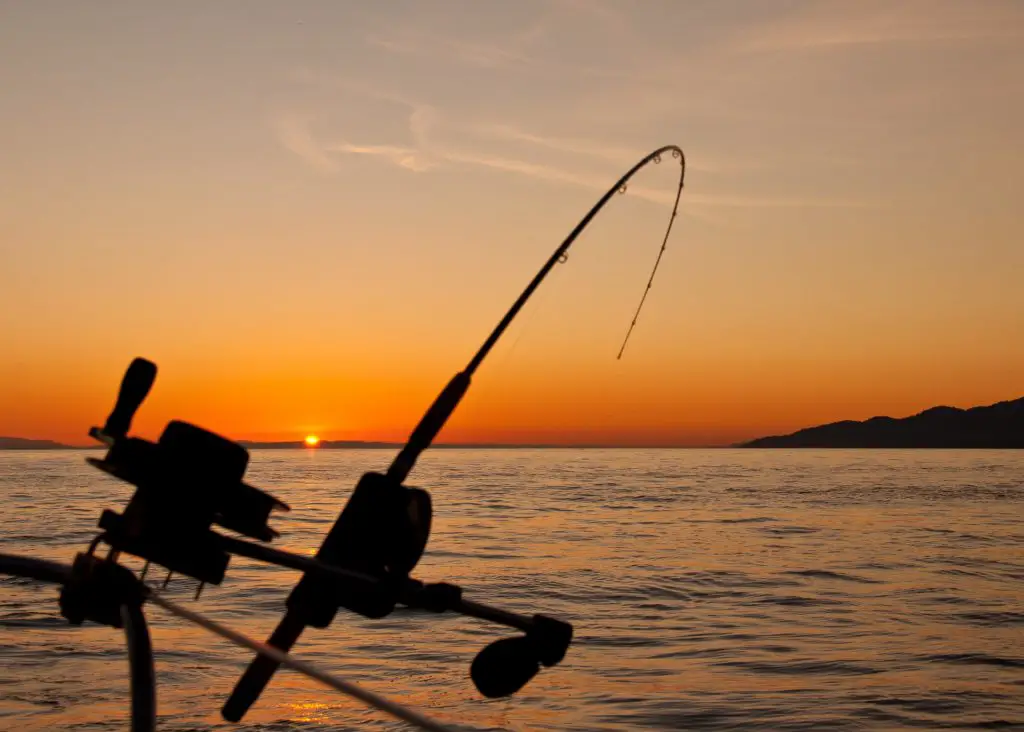 54. MAS Swan Wreck Dive
The HMAS Swan DE 50 was purposely sunk in 1997 for a sunken dive wreck. This river class destroyer escort is 113m long, 12.5m wide, and 22.5m tall with the upper deck at about 15 meters below the surface.
You need a permit to dive the HMAS Swan and the best time to dive is from mid-September to mid-May.
55. Surf
Over 135 km of coastline and 75 breaks to choose from make Margaret River one of Australia's favorite surfing spots. There's a wave for everyone, from gentle shore breaks for beginners to perfect barrels.
Each year in autumn, the world's best surfers descend upon Surfers Point in the Margaret River Region to compete in the Margaret River Pro as part of the World Surfing League (WSL) Championship Tour. 
If you are new to surfing, your best bet is to sign up for a surfing lesson. If you are far more experienced then check the surfing beach guide here.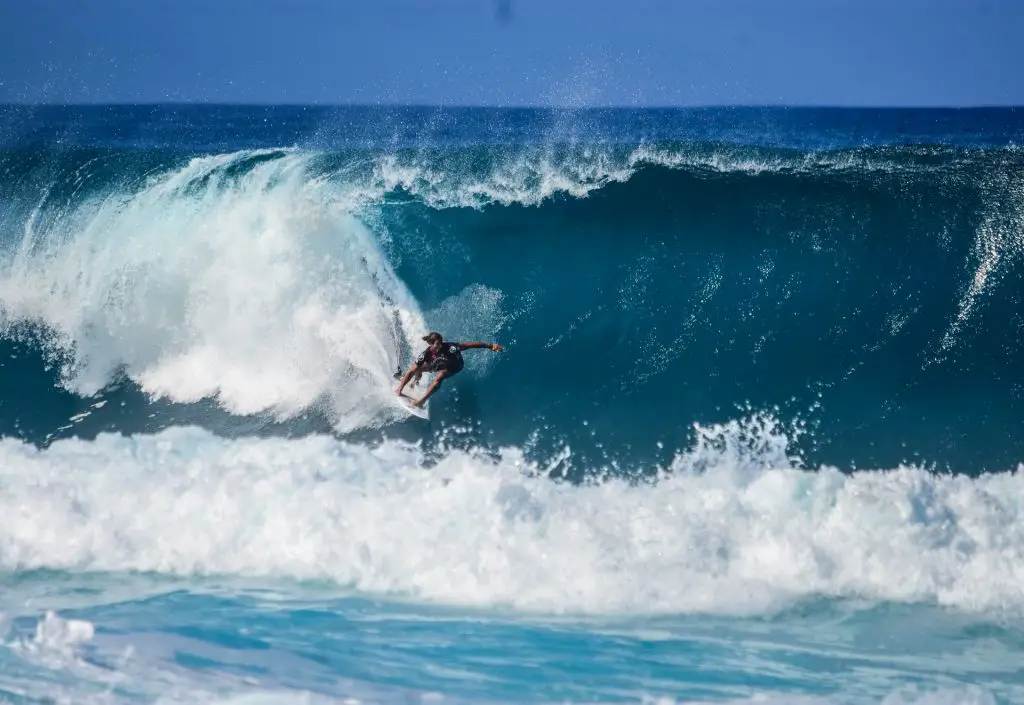 Don't tell me there's nothing to do Down South. This guide should keep you going to keep you going for days, if not weeks.
It is not a cheap holiday. Not like the 10 free things to do in Perth. You could probably fly to Bali for the same price as your fuel. But it does hold a special place in my heart. 
I look forward to seeing you in the beautiful South West soon.
LOOK HOW EASY IT IS TO PIN THIS!
FOMO - do you have it?  Well there is no need to Fear On Missing Out here at Explore With Erin. Sign up to receive updates directly to your in box. I won't spam you, but I do promise a whole lot of awesomeness. What are you waiting for? Join Me!