We all know why you came to Orlando, Florida. It was Disney. And then you ended up at LEGOLAND and Universal Studios. And all of a sudden you are just tired of theme parks. You need a little downtime.
But the kids don't.
They want to keep going.
Time to hit the Crayola Factory in Orlando!
Let the kids learn and encourage their creative juices while Mom gets much-needed time off her feet.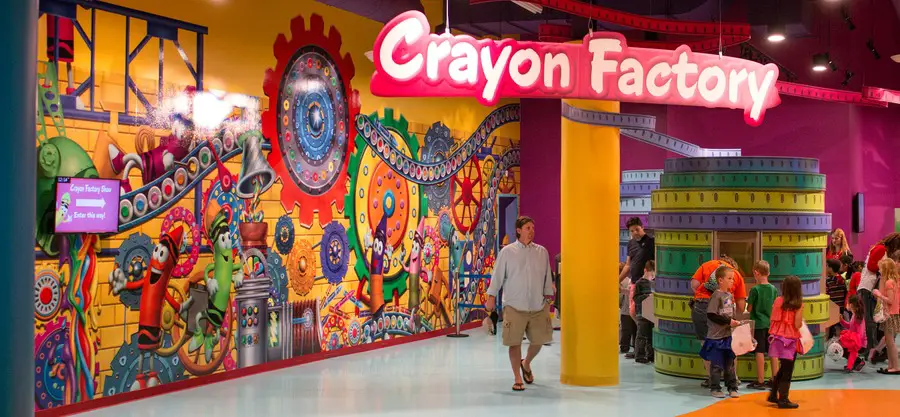 What Is Orlando Crayola Experience?
When I say Crayola I'm sure you clicked. Crayons. But this is not a crayon factory. Well, it kind of is, but it is so much more.
Crayola Experience Orlando is an interactive, hands-on creative outlet made of colour and fun. We are talking over 25 attractions across 70,000 square feet.
After all the in-depth planning we went through for Mom's Survival Guide to Universal Studios, and the VIP trip to Disney World, it was a relief to just turn up somewhere and have fun. No need to check complex park schedules, long checklists, or cross fingers for agreeable weather – it is all indoors. Crayola Experience Orlando hours are 10 am to 8 pm and it is open every day.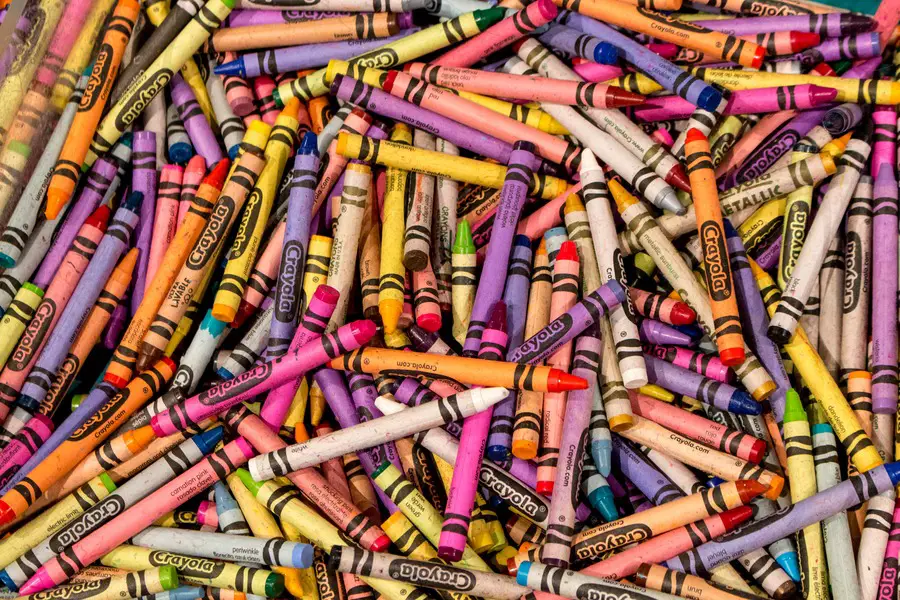 Where is Crayola Experience Located?
Located next to Florida Mall. Crayola Experience Orlando Florida is on S. Orange Blossom Trail, Orlando, FL. Please note crayola atlanta ga does not exist. 
How Long Do You Spend At Crayola Experience?
It's not a theme park, so don't worry about early mornings and late nights. 3-4 hours is plenty of time to cover Crayola Experience Orlando Fl. 
How Much Is The Crayola Experience in Orlando?
Check Crayola Experience Orlando discount tickets here. 
You might also like to check Crayola Experience Orlando Groupon before you go for a Crayola Experience Orlando coupon.
At the time of print general admission for 3+ Crayola Experience Orlando tickets are $24.99 at the door, or $21.99 online.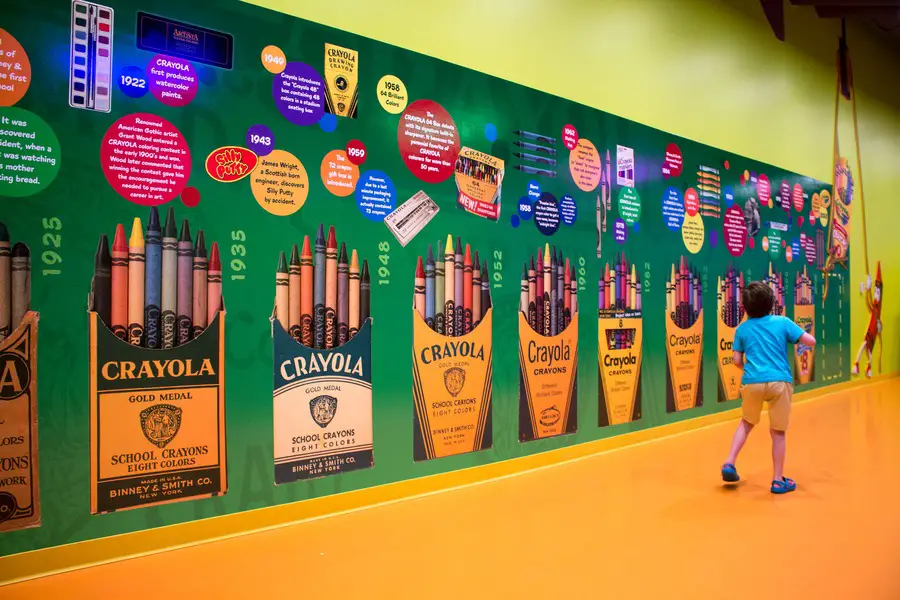 Crayola Experience Orlando Grand Entrance
When I told the kids the Crayola Experience Orlando had asked us to come to check them out, my creative, artistic genius daughter was over the moon. She even drew me a Crayola crayon-shaped family leading up the day. The countdown was on.
And as we pulled into the carpark, Crayola Experience didn't fail to inspire the kids with its enormous bright colourful crayons adorning the entrance.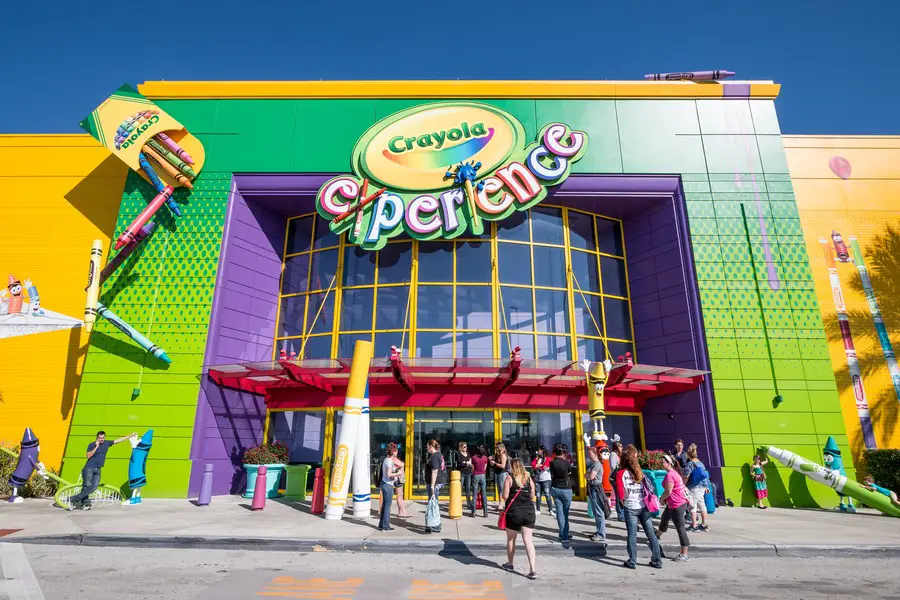 In the entry foyer 3 digital crayons on a projector screen were fast asleep… until my kids stepped on their tiny feet markers. After that the crayons came to life, imitating any pose the kids could do.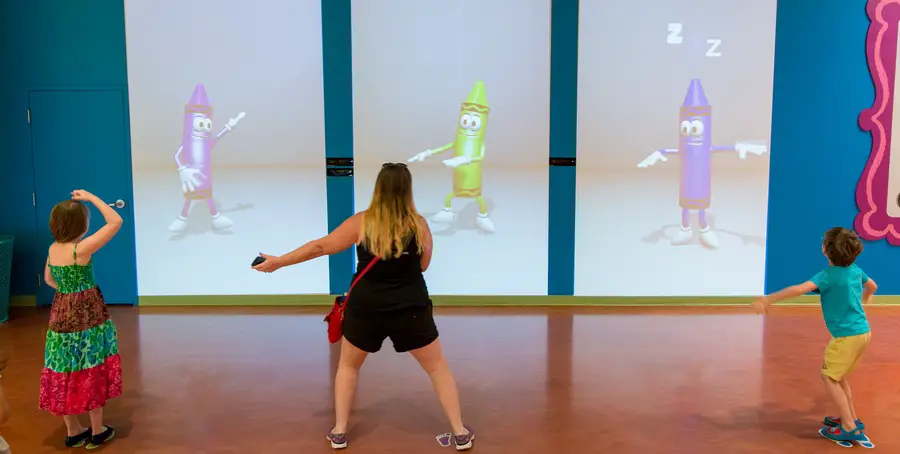 How To Spend Your Crayola Tokens?
It took me a fair while, but I eventually managed to convince my kids that there was more to see and do inside the actual Crayola Store and so we all headed upstairs. With your Crayola Orlando tickets you are given tokens. These tokens are used around the complex for different attractions.
You can make your own personalized crayon or even "buy" a marker or a pack of crayons.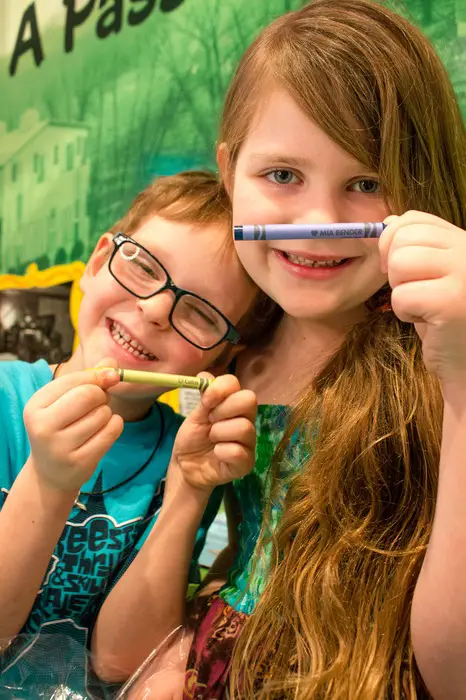 It would have been nice for the staff to explain the tokens, however it didn't take us long to figure it out. Although the kids did use their tokens rather generously, not realising there was so many things to spend them on. In the end they missed the creative table which required moulding clay that can only be purchased with a token. 
You are able to purchase extra tokens if you run out. 
What Is There To Do At Crayola Orlando?
I had no idea there were so many things you could do with a crayon. Your kids will definitely not be bored at the Crayola Experience Orlando. 
Kids can color, of course.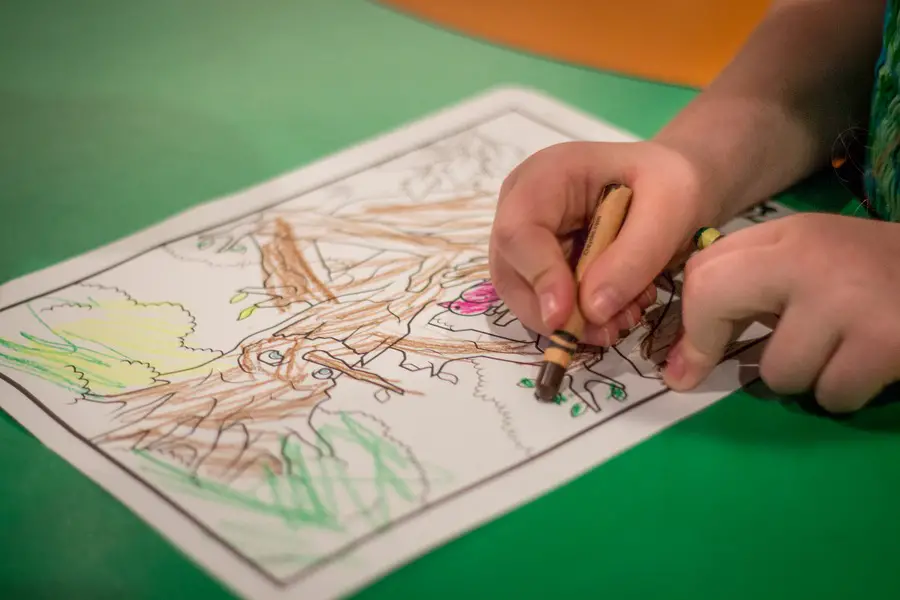 They can star in their own coloring pages.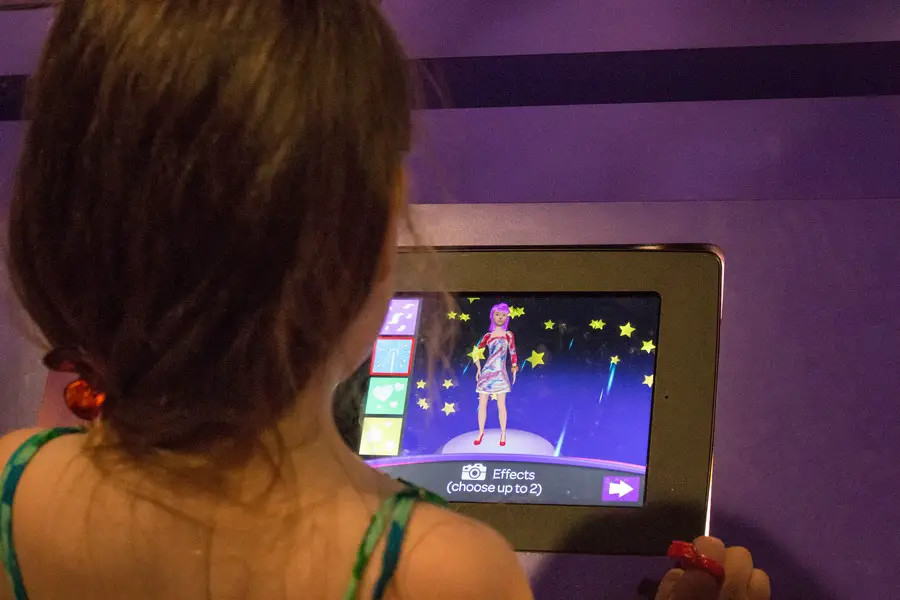 They can watch their artistic designs on a big screen.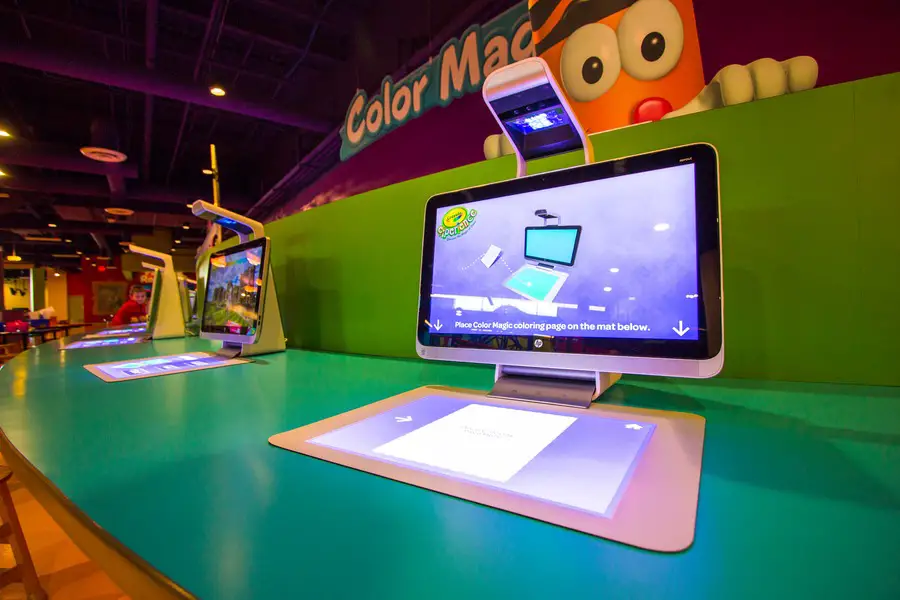 My kids favorite by far was melting crayons to create rings and sharks.
And also the melting crayons to make a spinning, creative piece of art.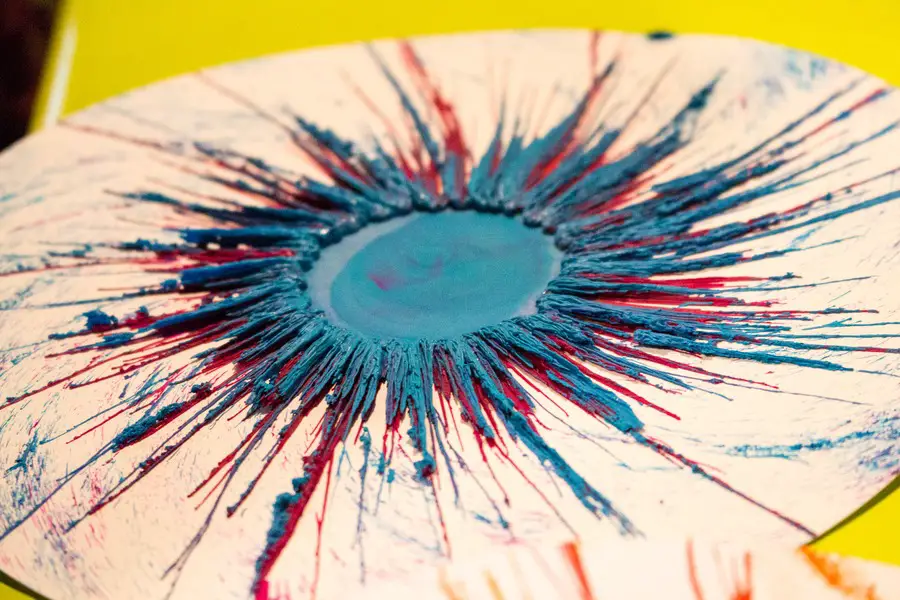 My favorite was a photo booth where you can print yourself in crayon. We made some hilarious family portraits!
There's an indoor playground for lots of physical fun, and a fascinating live show explaining the process of how Crayola's crayons are made.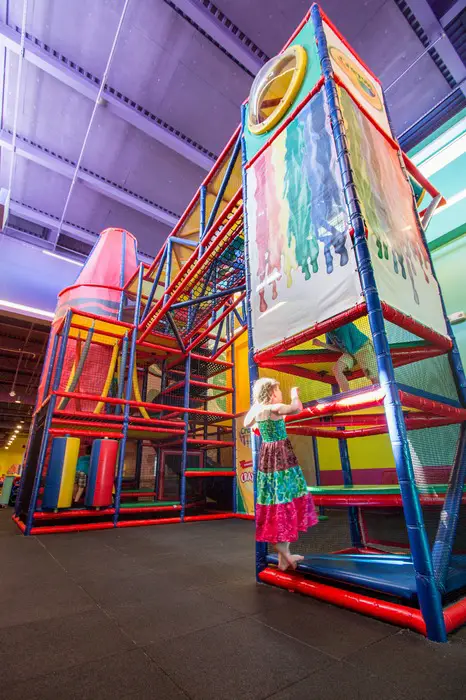 What Can You Eat At Crayola?
There is no full restaurant, but you can find a small snack canteen that sells pizza, salad and sandwiches. We got an exit stamp and found lunch at the food court in the attached shopping mall.
Then I took the kids back for more Crayola Experience Orlando fun. My kids couldn't get enough.
Is The Crayola Experience Worth It?
There are plenty of Crayola Experience Orlando reviews out there, but mine? Worth it without a doubt. Even my pencil-phobic 5-year-old son adored the Crayola Experience.  It was not only a creative fun day, but a valuable educational experience.
Best of all, it's not too big. You can take a seat in a central spot and easily watch the kids run around. It's the perfect way to spend a day after all the theme park madness.
And what did my kids say?
"Best day ever!"
Now that's something after all those expensive theme parks.
Other Names For Crayola Orlando FL
To avoid confusion, please note that Crayola in Orlando is known by many other names, but all refer to the same Crayola.
Crayola World Orlando Fl / Crayola World Orlando, Crayola Factory Orlando, Crayola Museum Orlando, Crayola Store Orlando, Crayola Place Orlando, Crayola Land Orlando, Crayola Park Orlando.
LOOK HOW EASY IT IS TO PIN THIS!
FOMO - do you have it?  Well there is no need to Fear On Missing Out here at Explore With Erin. Sign up to receive updates directly to your in box. I won't spam you, but I do promise a whole lot of awesomeness. What are you waiting for? Join Me!