You read about my New Year's Eve New York bucket list, so what could top that? Well, the second largest New Year's Eve celebration in the world takes place in Sydney, Australia and Travelocity & Viator sent me there to cover it.
When my husband decided to leave our family in December 2016, I had the option to stay in my room and cry or do what I do best. Travel the world and write about it.
I am sure you know which one I picked. My kids went to stay with their grandparents and my little sister and I went to Sydney for a fabulous New Years Eve party.
The only problem was with Travel With Bender stolen I had no blog to write about it back in 2017, except for a small article I did for Travelocity. So it may be overdue, but here I am reliving my bucket list for New Year's Eve and my top 3 ways to celebrate New Year's Eve in Sydney, Australia.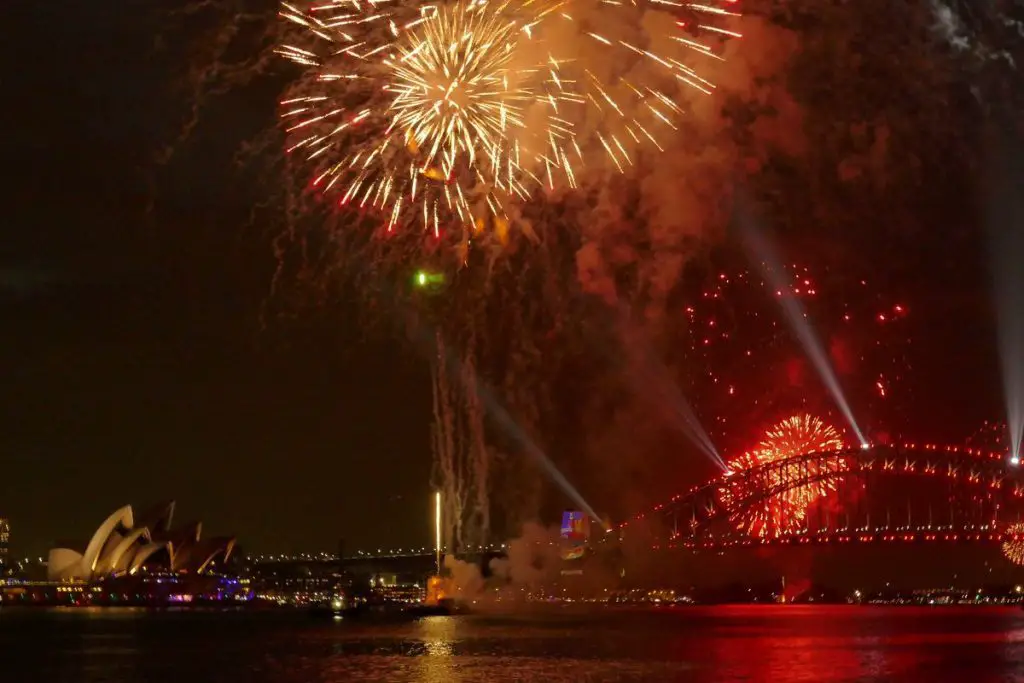 Where Is Sydney?
Sydney is Australia's largest city and is best known for its picturesque harbor, the iconic Sydney Harbour Bridge, and the Sydney Opera House with its distinctive sail-like design.
It is located on the East Coast of Australia in the state of New South Wales. It is the most popular city to visit, next to Melbourne, Victoria.
A small side note, I was born in Sydney in 1980 and lived there until 1993. And we do not eat Platypus, but we do eat kangaroo.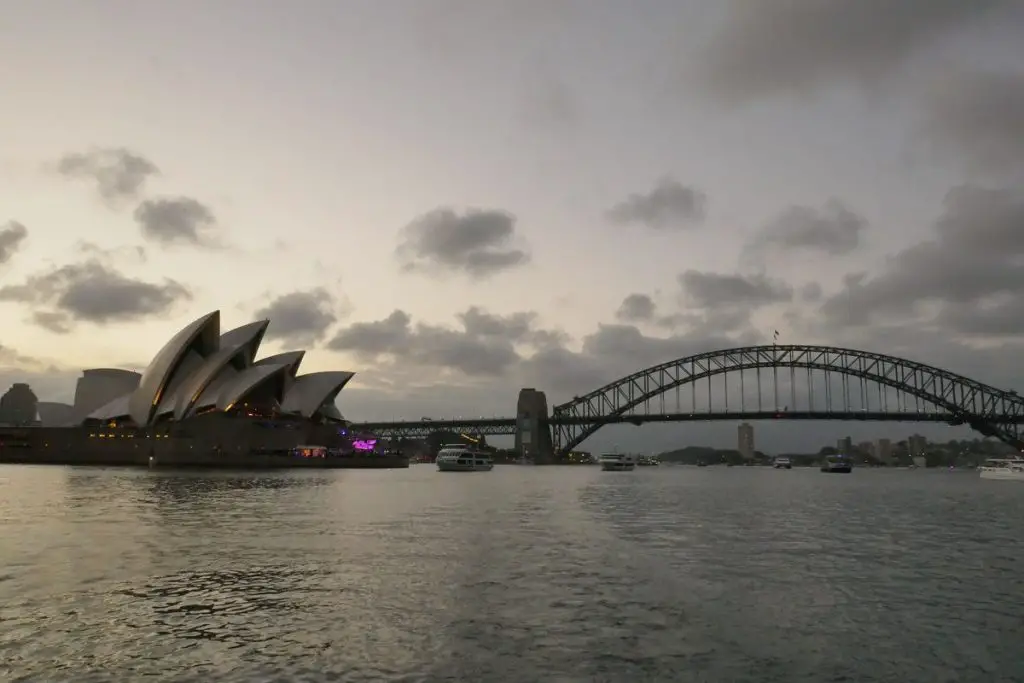 Why Celebrate New Years' Eve In Sydney?
Sydney is home to the second-largest New Year's Eve celebration in the world with over 1 billion viewers tuning in to watch the festivities and more than 1 million revelers filling every vantage point around the harbor and on the water.
Sydney New Year's Eve is an annual New Year's Eve fireworks event that consists of two fireworks shows. "Family Fireworks" is held at 9:00 p.m. AEST, and the main "Midnight Fireworks" is held at midnight. The world's largest fireworks display typically involved 6 barges along a 3 1/2-mile expanse of water, and the use of 30,000 pyrotechnic effects, for a lengthy 12 minutes.
Sydney also happens to be the first place in the world to ring in the new year.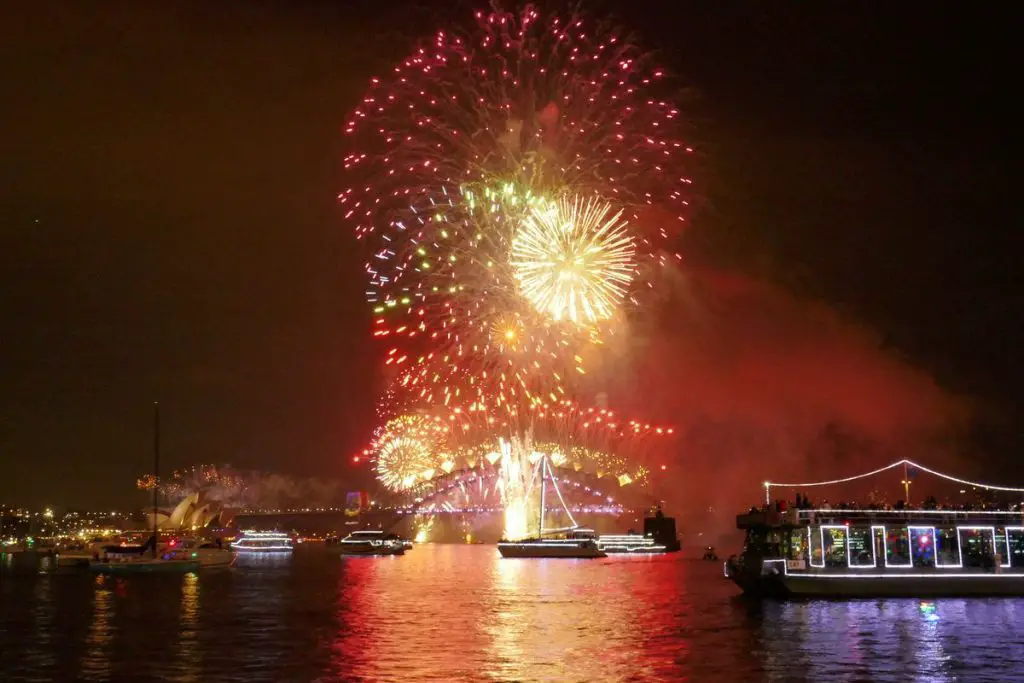 What Does Sydney Australia Do On New Year's Eve?
As one of the largest celebrations in the world, Sydney holds a spectacular fireworks display in its harbor by the famous Sydney Harbour Bridge and the Sydney Opera House.
Side note, despite American spelling it is not Sydney Harbor Bridge.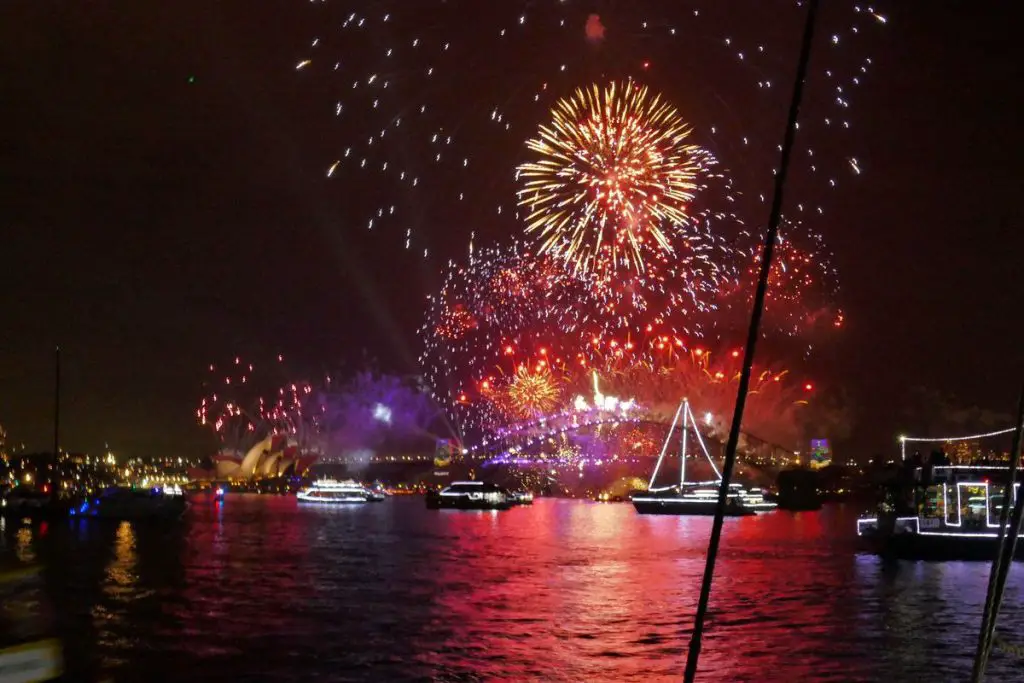 Where Can I Celebrate New Years Eve In Sydney?
The best place to celebrate New Year's Eve in Sydney is a Sydney Harbour Eve Cruise, which is how I celebrated.
Other top options would be:
Dinner at the Sydney Opera House Opera Gala
Firework views from the Royal Botanical Garden
Dinner, fireworks, and animals at Taronga Zoo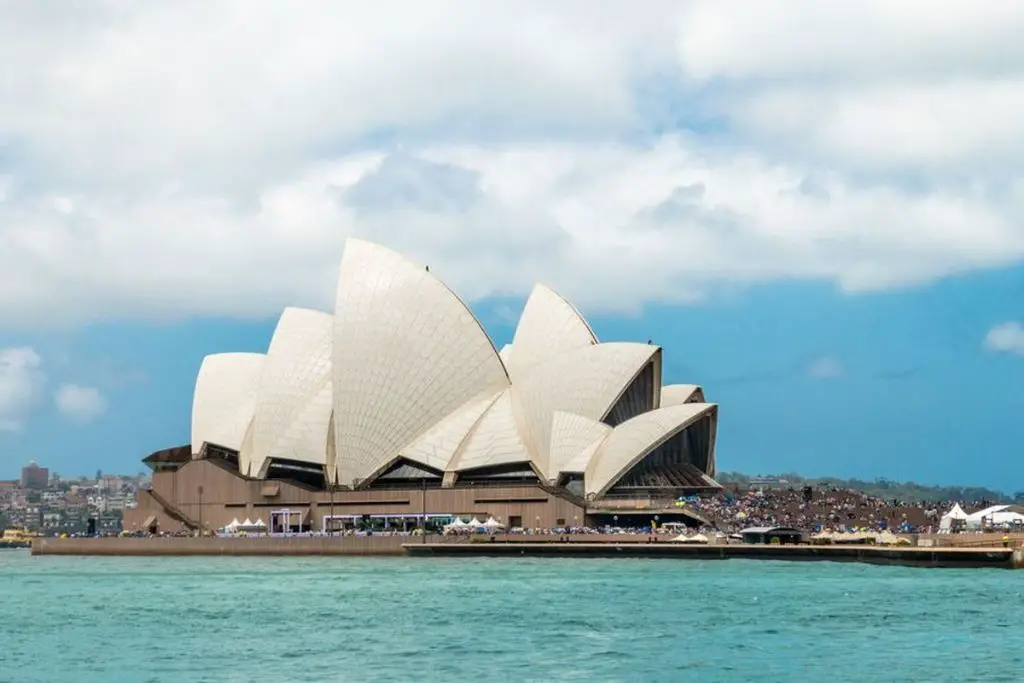 From the comfort of your hotel window. We recommend checking out:
Holiday Inn Old Sydney – Check prices for your dates here
Rendezvous Hotel Sydney The Rocks – Check prices for your dates here
Pullman Quay Grand Harbour – Check prices for your dates here
Four Seasons Sydney – Check prices for your dates here
Shangri-La Sydney – Check prices for your dates here
Sydney Harbour YHA – Read our review here and check prices for your dates here.
Is There Free Spots To Celebrate New Year's Eve In Sydney?
Hoping to keep your budget then check out these spots for the best free view of the famous Sydney New Years' Eve fireworks.
Mrs Macquaries Point seats 13,000 and is open 10 am to 12:30 am. You'll get to see the front of the Harbour Bridge and the Sydney Opera House in the background.
Birchgrove Park seats 5,000 and is open from 8 am to 12:30 am. Views of the Western side of the Sydney Harbour Bridge.
Dawes Point Park has room for 38,000 and opens at 12:30 pm, closing at 8:30 pm. Get there early as it's located under the Sydney Harbour Bridge.
Yarranabbe Park seats 10,000 and is open from midday to midnight. It's a large open foreshore location with clear views of the city and the Sydney Harbour Bridge.
Also check out Bradfield Park, Bondi Beach, Watsons Bay, and Millers Point.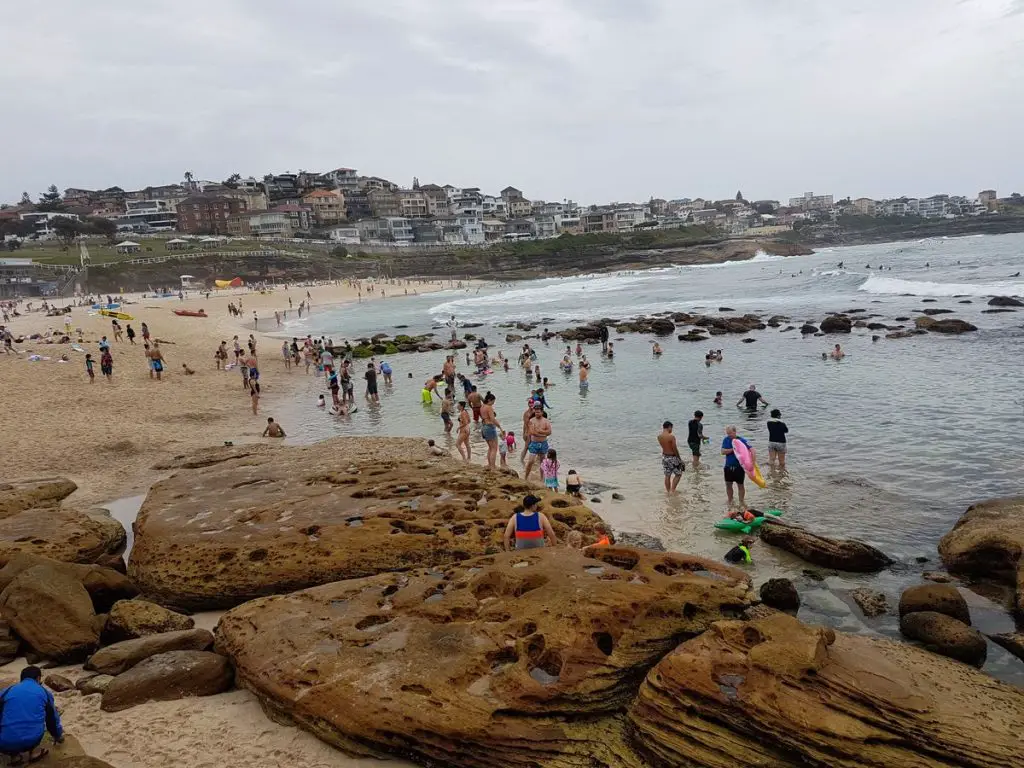 Where Should I Go For New Years' Eve In NSW?
For the perfect Sydney, New Year's Eve don't forget to also check out Nielsen Park, Sydney Harbour National Park, and Manly Beach.
If celebrating Australia's party of the year in Sydney Harbour is on your travel wish list, here are my top 3 ways to celebrate New Years Eve in Sydney Australia.
Top 3 ways to celebrate New Years Eve in Sydney Australia
1. Find a great place to stay
Getting in and out of Syndey can be a nightmare so I knew I had no choice but to find a place to stay close to Sydney Harbour.
I booked Mantra 2 on Bond Street and found it to be a short 10-minute walk to all the action in Darling Harbour. The suite included a kitchen, perfect for late-night snacks after a big night out.
But the highlight was the roof-top pool with amazing city views.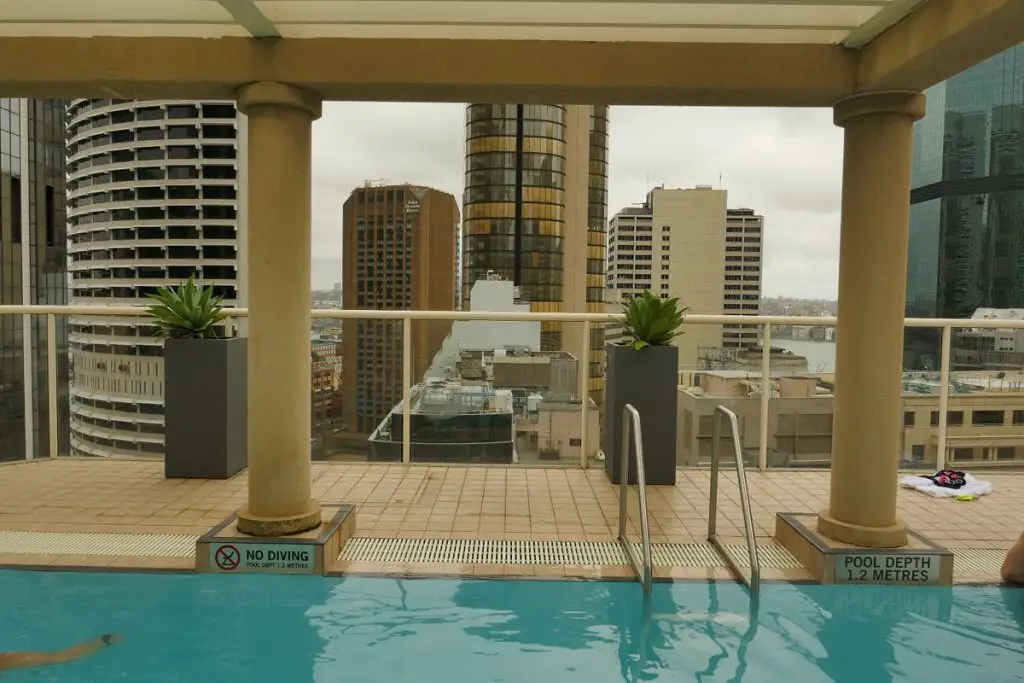 We could have stayed here to watch the display, but I had a better idea.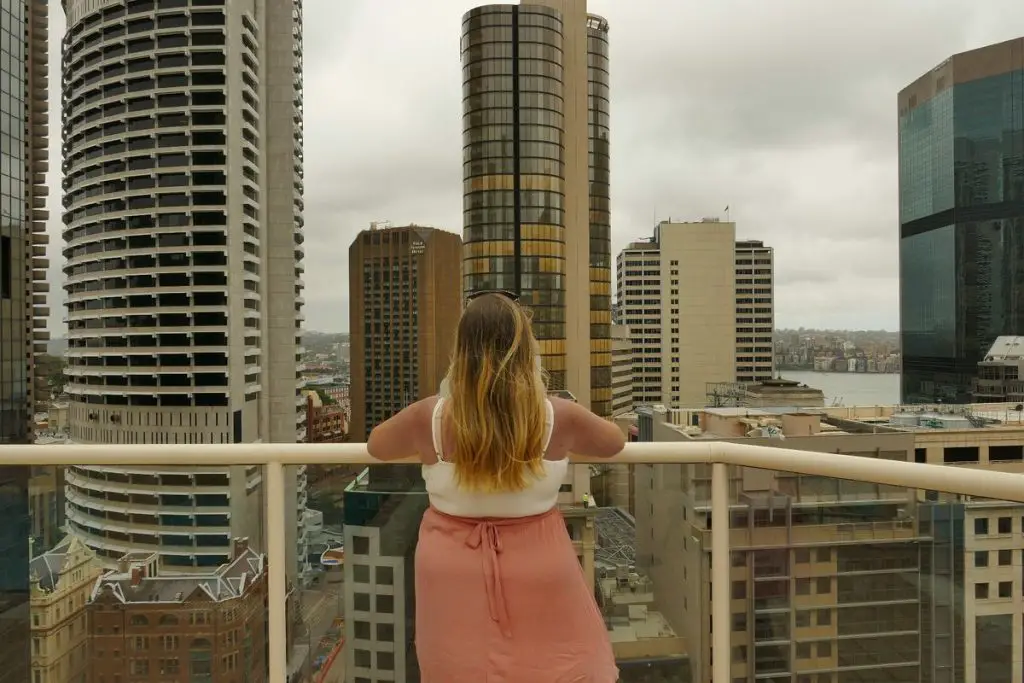 2. Find the perfect spot to watch
As I mentioned there are plenty of free spots to watch the Fireworks, but for a truly epic experience, I booked a fireworks cruise on the harbor to avoid those large crowds and to enjoy uninterrupted panoramic views.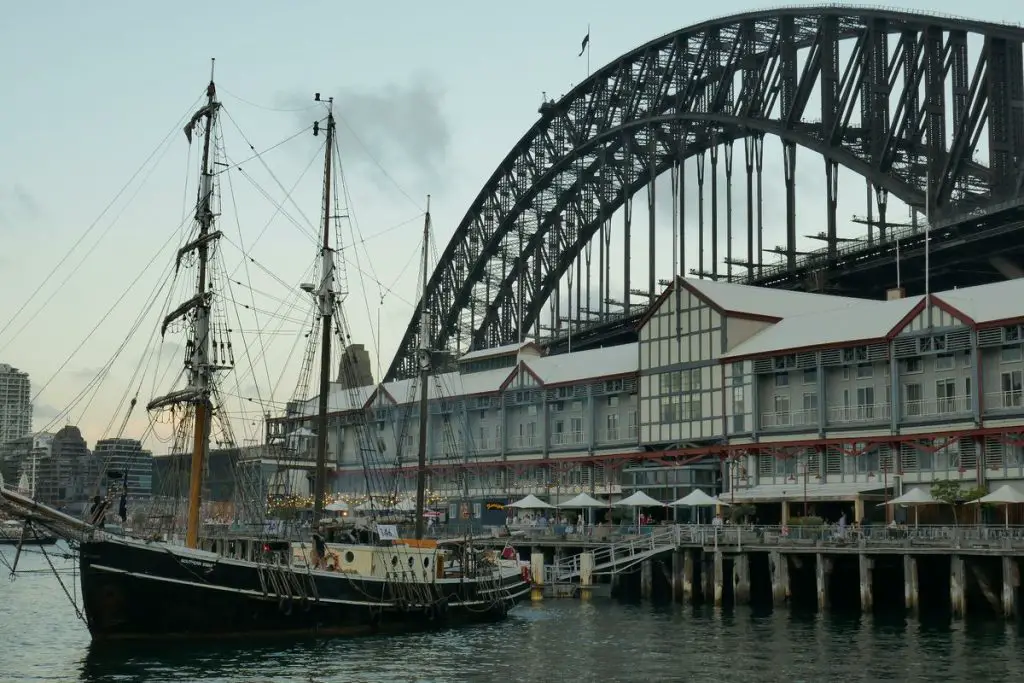 The Sydney fireworks display is focused over the Sydney Harbour Bridge, but may also shoot up from several other locations like the Opera House and barges floating in the harbor (it changes every year).
The year I watched In 2016 there were over 30,000 pyrotechnic effects that lit up the sky for 12 fabulous minutes. And after 2 years of Covid restrictions, Sydney has lined up the biggest and best New Years Eve fireworks display yet, costing a cool $6 million.
Fireworks will be launching from the sails of the Opera House and 184 positions along the Harbour Bridge, more than ever before.
City rooftops will be used as firing platforms for the first time in a decade, which will include the Crown, Quay Quarter, Grosvenor Place, and the Overseas Passenger Terminal.
If you plan on taking a dinner cruise book your ticket early. Check out pricing on this Cruise with DJ or this harbour boat cruise.
Most ferries depart Pier One Sydney Harbour around 6 to 7 pm and return around 1 am. The time flies though with most playing live music, having a dance floor, and of course a fair amount of food and drinks.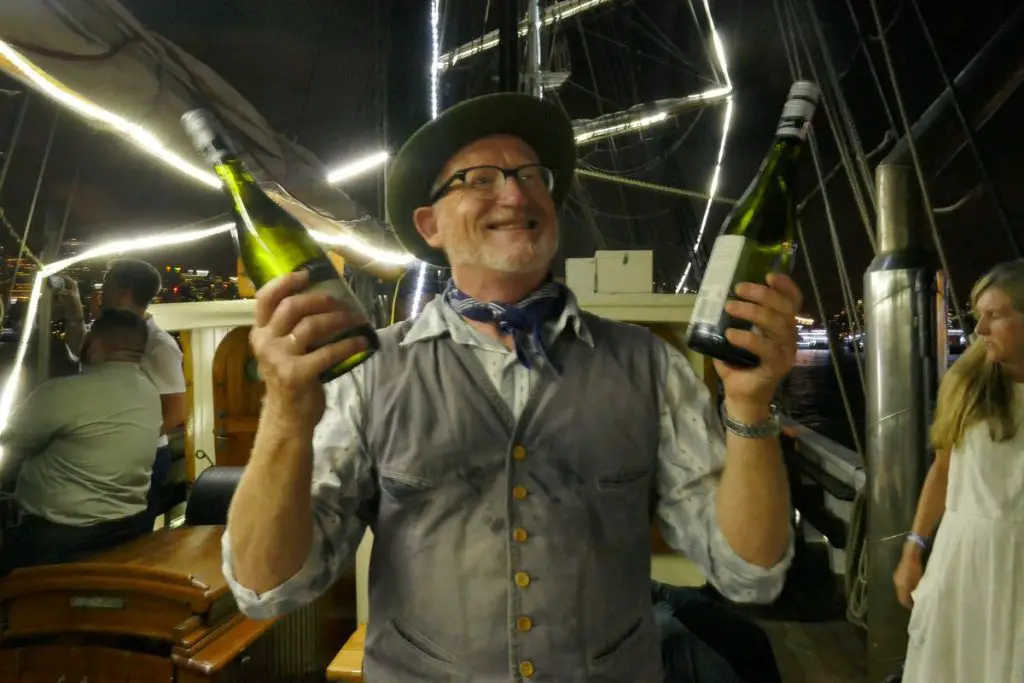 Look how close you are to the action!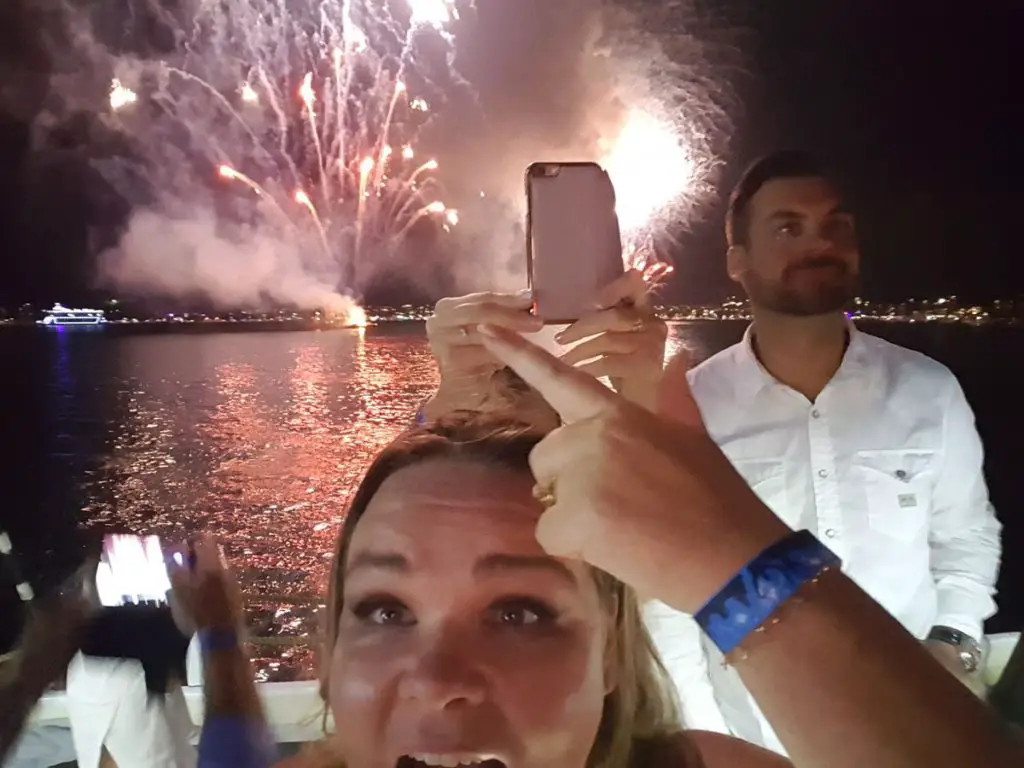 3. Find a way to keep the party going
After arriving home early in the morning on New Year's Day you may be tempted to sleep the day away, but to truly enter the new year with a bang you're going to want to get out of bed and head back to Sydney Harbour Bridge, also fondly known as "The Coathanger" because of its arch-based design.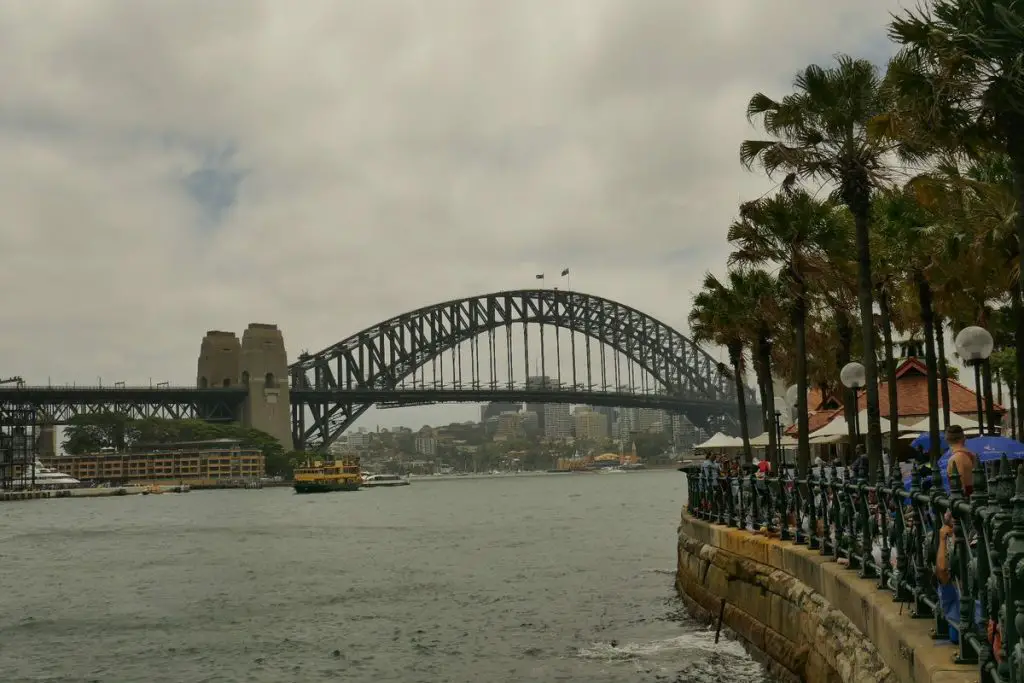 You won't be watching it light up this time, but heading up and over on the famous Bridgeclimb.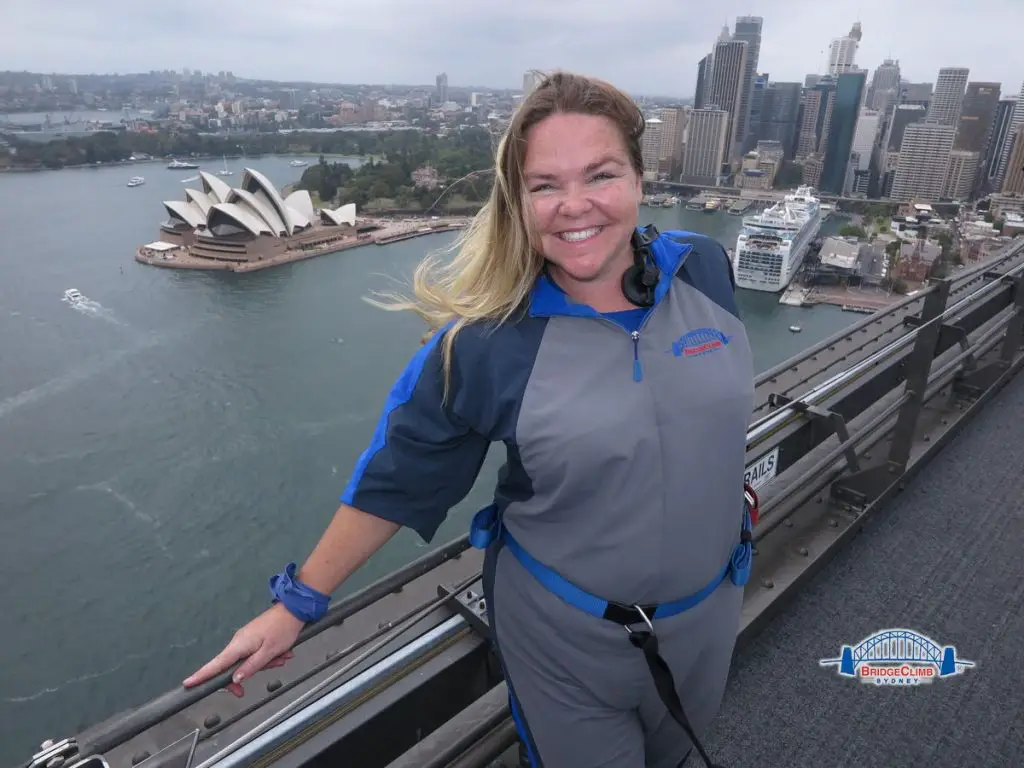 The Sydney Harbour Bridge opened in 1932 and is an engineering marvel, built to last hundreds of years and way ahead of its time. It's the 6th longest spanning-arch bridge and the tallest steel arch bridge in the world.
For the Bridgeclimb you'll be safely harnessed and led on a guided tour up, up, up to the windy summit of 134 m (440 feet) above sea level. At the top, the most glorious views await, and if you're not puffed out by the climb, the 360-degree view will take your breath away.
The absolute best way to start the New Year.
Alternatively, if you're not fond of heights, take a free walk across the bridge pedestrian path for your own New Year's Day accomplishment and beautiful harbor views.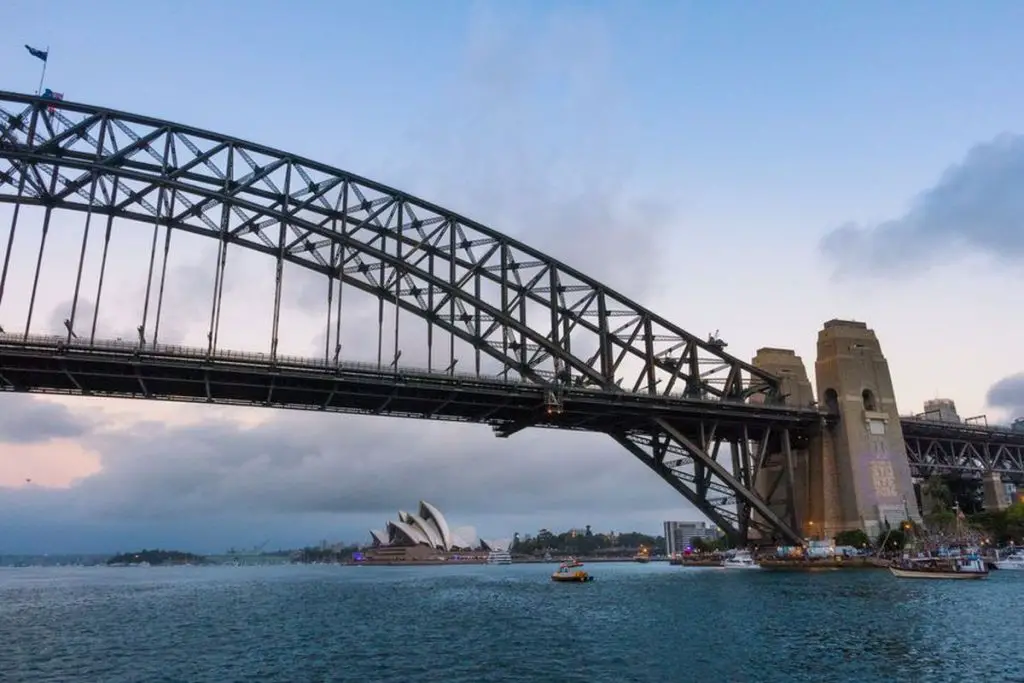 Tips For Celebrating New Years Eve In Sydney
An incredible New Year's Eve requires a generous dose of planning as hotels and activities can fill up over 6 months in advance. So get cracking!
If you're planning to fly into Sydney for New Years, tickets on Tuesdays and Wednesdays are known to be the least expensive.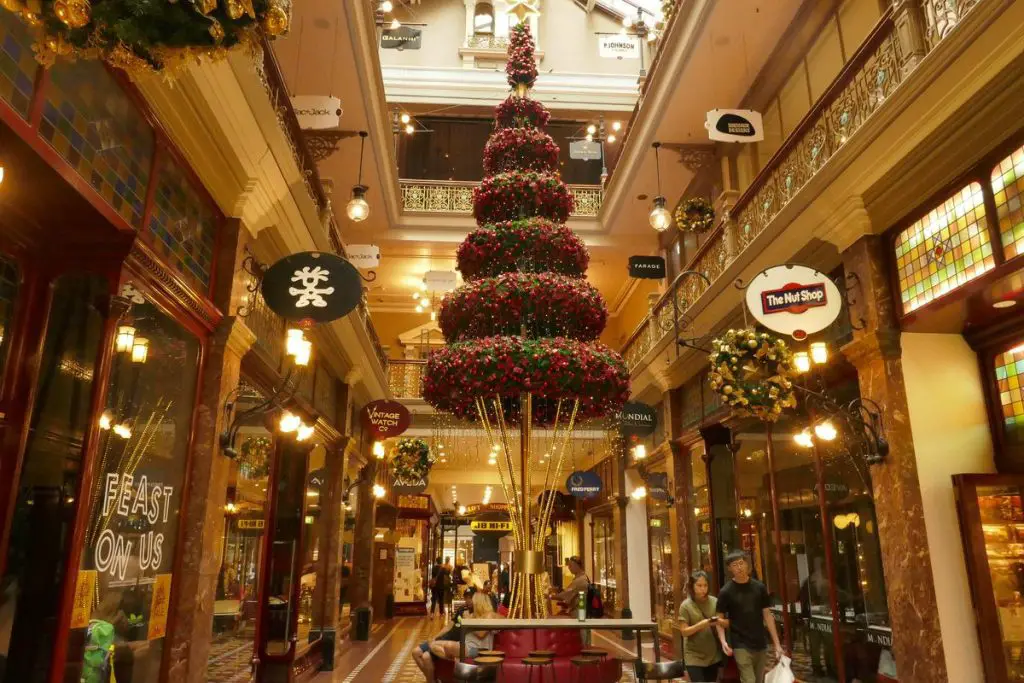 Avoid renting a car as the city is bustling with traffic. Ubers will be high in demand and more expensive too. Where possible get a hotel near the city to walk.
On 31st December, the Harbour Bridge will be closed in both directions from 11:00 PM until 1.30 AM. If your travel plans involve using the Bridge, plan your schedule around these times.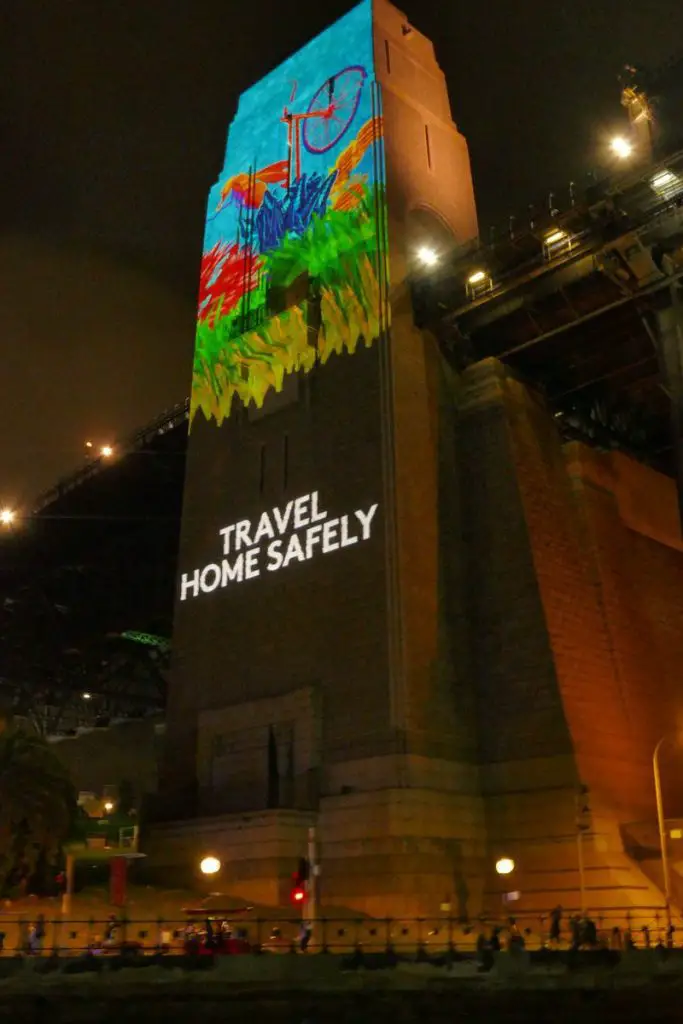 Normal ferries stop running on New Year's Eve at Circular Quay from 8:00 PM to 12:45 AM. Of course, you can book yourself a dinner cruise to get that prime water viewpoint.
There is not much shade within Sydney so make sure you check the weather and bring appropriate covering for rain or sun.
There are a lot of extra buses running within the city, but make sure your Opal Card is topped up and ready to roll.
There are a few spots that allow you to bring your own alcohol, but many are alcohol-free. Check the maps and don't get caught drinking in a designated alcohol-free area, cops are out in force
LOOK HOW EASY IT IS TO PIN THIS!
Accommodation
Booking.com has over 3621 properties in Sydney including hotels, apartments, and hostels. You get free cancellation on most rooms and the best price guaranteed. Check the rates here.
Tour
Want to take an organized tour around Sydney?
Rental Car
We love RentalCars.com because they have the best car rental prices – Guaranteed. 
Insurance
Don't ever travel without travel insurance. We don't.
FOMO - do you have it?  Well there is no need to Fear On Missing Out here at Explore With Erin. Sign up to receive updates directly to your in box. I won't spam you, but I do promise a whole lot of awesomeness. What are you waiting for? Join Me!