You know I love food, so it's with great excitement I have been writing all my "Top Things To Eat In…" posts and bringing them out when people need it most. Trapped in their home country with nothing but a restaurant providing us with a shot of culture. #covid19
My last post on Turkish Food created quite a buzz and in likewise passion I know you will be just as impressed by the similar food of Israel. However, the Israeli staples can often be confusing for a new timer. So instead of focusing on where to eat, I thought a "what to eat" might be more helpful.
I do love trying new food, but I also love knowing what it is before I put it in my mouth. Nothing worse than that awkward silence as you look at an unidentifiable plate not knowing what to do with it.
Thankfully you don't have to rely purely on my own Israeli food experience. My kid's Jewish grandmother, Ronit, is Israeli born and bred and lives in Haifa as a Humanitarian Aid Worker. With her guiding our steps I can guarantee you a genuine Israeli food experience below.
Be'te-Avon בתיאבון.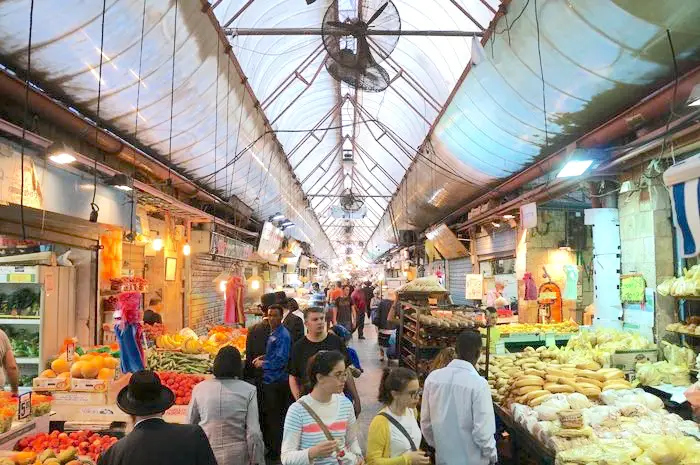 Pita Bread
Not the flat, dull kind found in your local supermarket. Oh no, Israel pita is soft, small, fluffy, light pieces of white perfection for dipping in your hummus. As this pita has no preservatives it can go moldy fairly quickly, so if you do take it home make sure you eat it the same day. If you do end up eating it the next day, freshen it up by giving it a quick zap in the microwave for 10 seconds.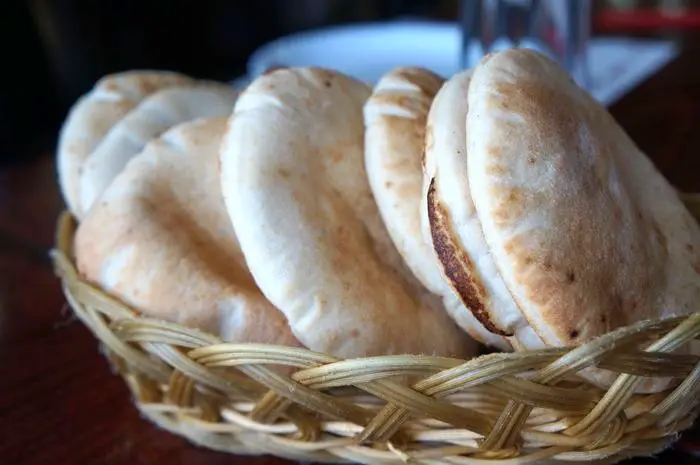 Hummus
I thought I hated hummus from the supermarket in Australia, then I had hummus in Israel. It was so different and so heavenly. Hummus is a Middle Eastern dip made from cooked, mashed chickpeas blended with tahini (see below), olive oil, lemon juice, salt, and garlic. The best way to eat it is by dipping in your pita bread or put it in the pita along with other fillings. Kids love it because they can use their hands! My favorite variety is topped with roasted pine nuts or meat, yum! They say the best hummus in the world can be found in Akko.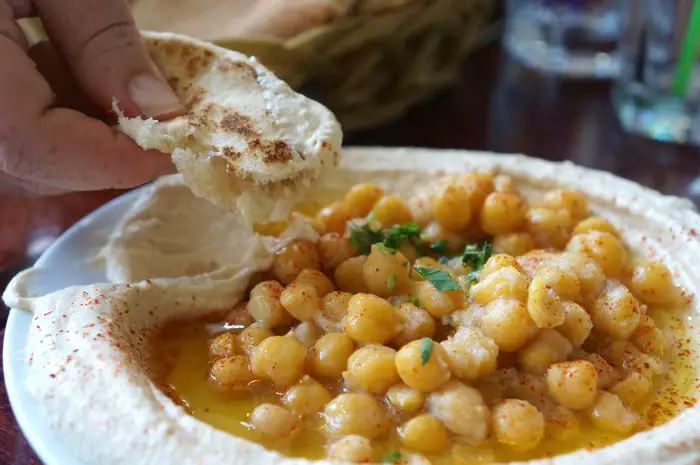 Labane
This is plain yogurt which has been strained in a cloth or paper bag or filter to remove the whey, giving a consistency between that of yogurt and cheese, while preserving yogurt's distinctive sour taste. It is a popular breakfast spread for pita. Like hummus, you can dip or spread it. We had it at most hotels/hostels for breakfast – it's delicious!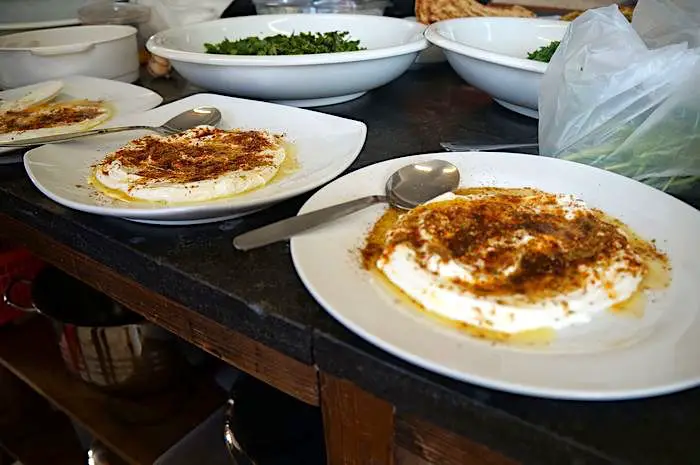 Tahini
This makes up some of the hummus, so what is it? Tahini is a paste made from ground hulled sesame seeds. To be honest, I am not a fan, it tastes like weird peanut butter. But definitely worth trying. And I did enjoy making it while I was in Nazareth. It's often used as a dressing on meats or a dip for pita bread.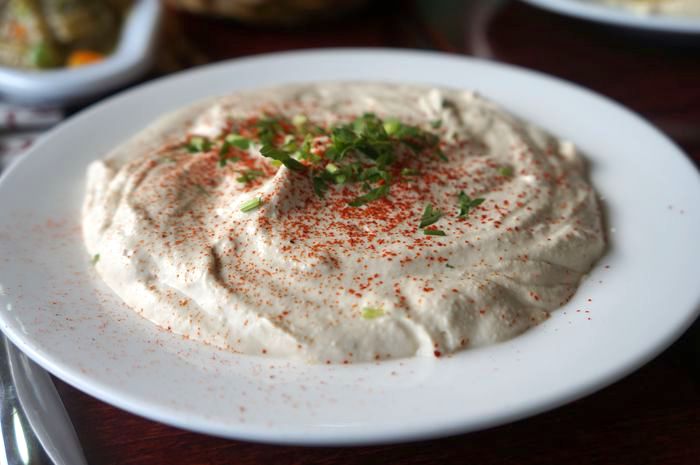 Baba Ghanoush
Never a fan of eggplant, I fell for this version. And it awakened a desire to eat more eggplant! Baba Ghanoush is a dip made from mashed baked eggplant, mixed with olive oil and various seasonings. For the uninitiated it looks a little like hummus, but with a slightly darker color and smoother texture.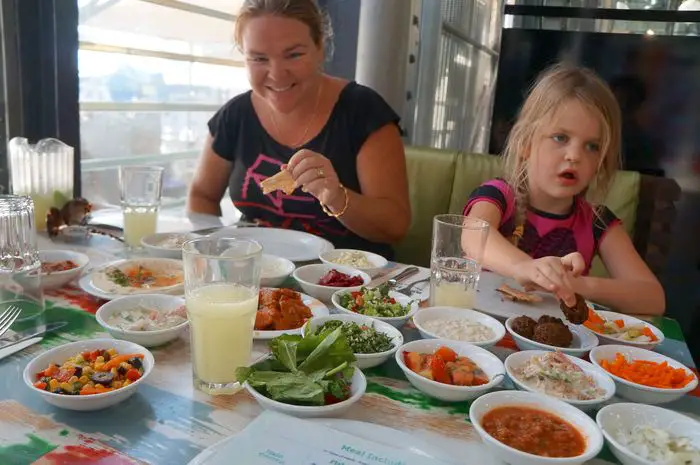 Kebab/Shashlik
Like most places in the region in Israel, kebabs or shashlik are skewers of meat, served in most restaurants. My favorite was the chicken skewer. Especially when served with roasted vegetables or hummus and pita.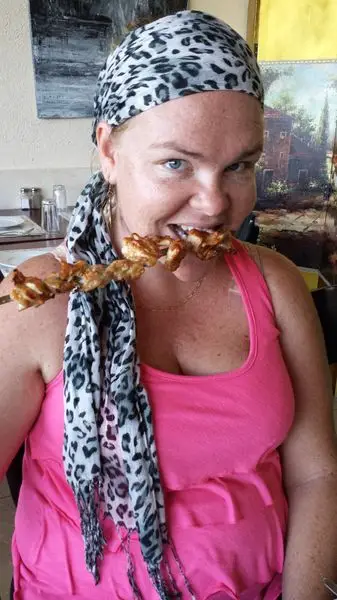 Shawarma
Much like a kebab you have back home. For shawarma the meat is roasted on a vertical spit all day. When it comes time to eat, it is shaved off, cooked quickly, and placed in a pita or baguette with your choice of hummus, tahini, and salad. This is the fast food of Israel usually priced around 20NIS ($6AUD), and similar to Turkey's doner kebab or a Greek gyro.
Falafel
I'm sure you've had it in a kebab, but not like in Israel. This deep-fried ball or patty is made from ground chickpeas, fava beans, or both. Falafel is a traditional Arab food and it is so good served in a Shawarma or by itself from this guy in the center of Jerusalem. Ms. 4 year loved them, only Mr. 3 wasn't a fan.
Dolma
Very similar to Turkish Yaprak Sarmag this is Grapevine leaves stuffed with a combination of meat and rice, or sometimes even lentils. These are a Druze favorite and take many hours and delicate hands to make. I am not too much of a fan, but if you love sushi this might be your cup of tea.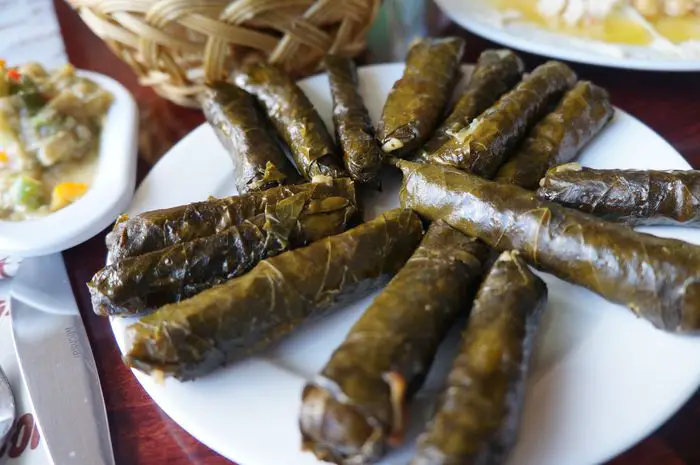 Mujaddara
Tasty cooked lentils together with various grains, generally rice, and garnished with sautéed onions. It looks like brown rice but tastes better and very filling. I love it in a salad as well.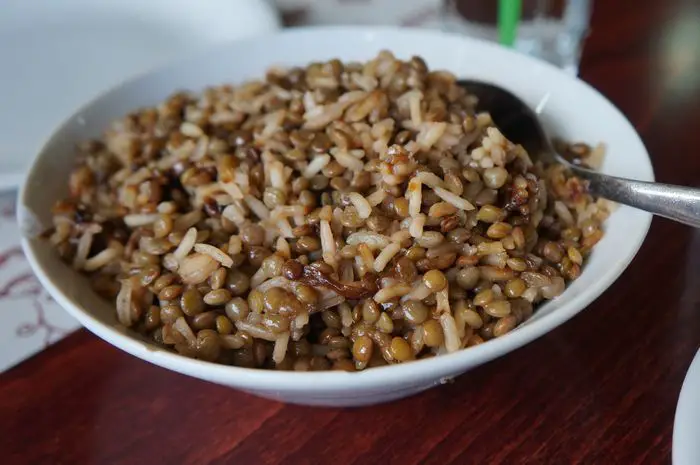 Salad
Many of the restaurants offer you some variation of a simple salad as a staple. At breakfast, lunch, and dinner. It took me a while to get my head around a salad for breakfast. The most popular salads are pickled red or white cabbage, pickles, sweet corn, cherry tomatoes, etc.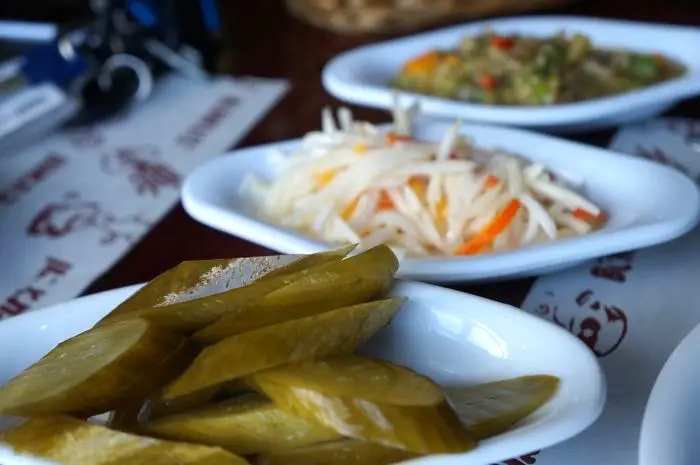 A traditional meal at a restaurant usually consists of a plate of hummus with small plates for each salad, along with warm pita bread. Each diner on the table will typically have a small individual plate and can scoop small portions of each dish to mix-and-match their favorites. Remember it's ok to use your hands.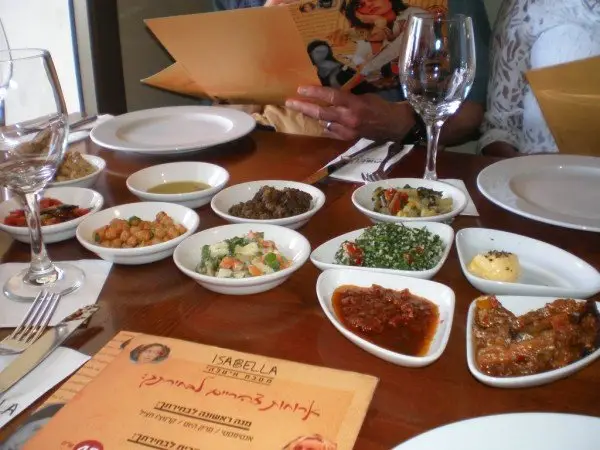 Possibly the most famous salad is the Arabic salad, which is diced tomato, cucumber, and onion. Often mixed with parsley and combined with freshly squeezed lemon juice and olive oil. Unlike many Western salads, Arabic salad actually contains no lettuce, however, some restaurants will add that for tourists. All the vegetables, except the onion, are left unpeeled, and the salad needs to be served and eaten straight away.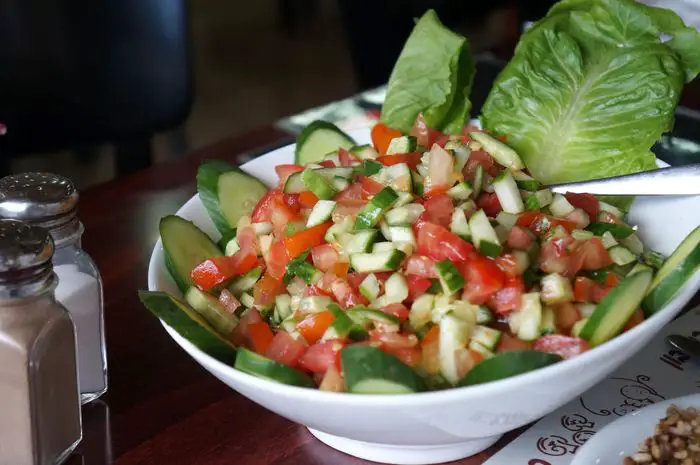 Tabbouleh
Tabbouleh is also a salad that is popular all over the world. It's traditionally made of bulgur, tomatoes, cucumbers, finely chopped parsley, mint, onion, and garlic and seasoned with olive oil, lemon juice, and salt. I am really not a fan of this parsley overload, but it's supposed to be good for you.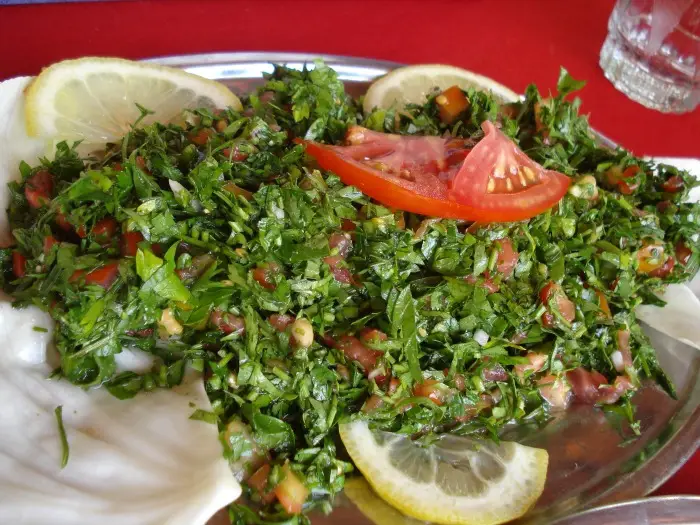 Olives
I never ate olives until about 30. Now I can't get enough of them. In Israel, olives come in all shapes and sizes and are often found in salads or by themselves as accompaniments with most meals. The most common varieties are Kalamata or black olives. These babies are my favorite part of Israel.
Halva
Halva means sweet. In Israel, it refers to a crumbly dessert usually made from tahini (sesame paste) or other nut butter, such as sunflower seeds. The primary ingredients are nuts, butter, and sugar. To me, it tastes like sweet tahini and I wasn't a fan, although the chocolate versions were better.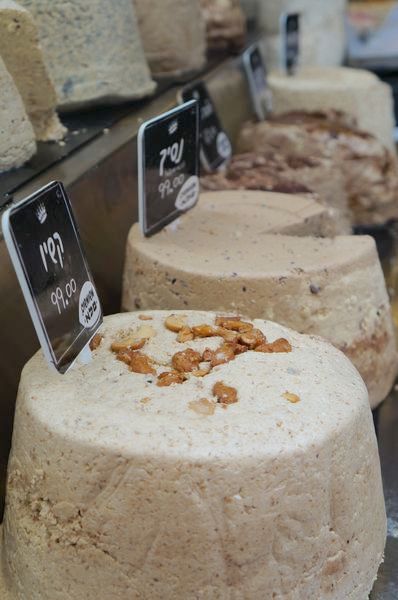 Baklava
This rich, sweet pastry is made of layers of filo pastry filled with chopped nuts and sweetened with syrup or honey. This has to be my favorite food by far in the Middle East. You can now find baklava in most parts of the world, so don't wait till your trip to Israel for this one.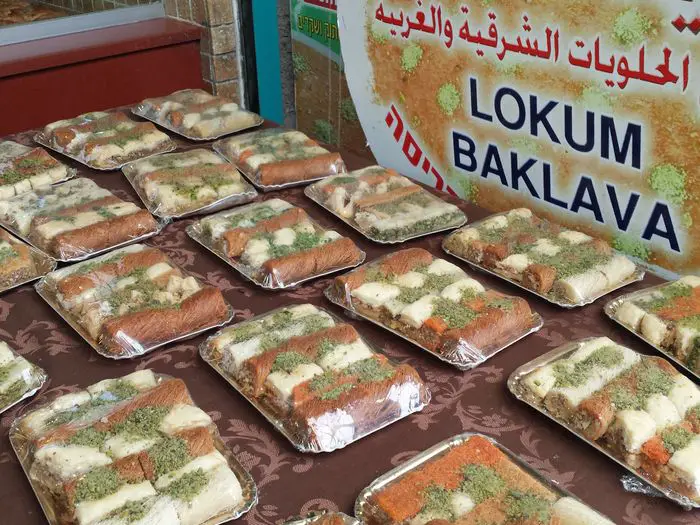 Israel has so many delicacies and these are just a handful of my favorites. We ate most of these delicious foods at local restaurants in Daliyat El Carmel where we spent several weeks. I highly recommend you go see Samir at his father's restaurant, Abu Antar.
If you've never tried any of these dishes before then do it. You may be surprised by how hooked you become. And if you need a foodie guide, send me a message, Ronit would be happy to meet you on your trip to the Holyland.
LOOK HOW EASY IT IS TO PIN THIS!
FOMO - do you have it?  Well there is no need to Fear On Missing Out here at Explore With Erin. Sign up to receive updates directly to your in box. I won't spam you, but I do promise a whole lot of awesomeness. What are you waiting for? Join Me!