After 11 days in Bali at hotels, guest houses, and villas we were ready to stop making decisions and just enjoy pure relaxation.
So when the Grand Mirage Resort invited us to stay for two nights at their all-inclusive Nusa Dua Family Resort we asked the teens. And the teenagers said yes.
Pools, all-you-can-eat food and drink, games rooms, beach, and more. As you can imagine we found plenty of reasons why teenagers would choose the Grand Mirage Resort for a Nusa Dua Family Resort holiday.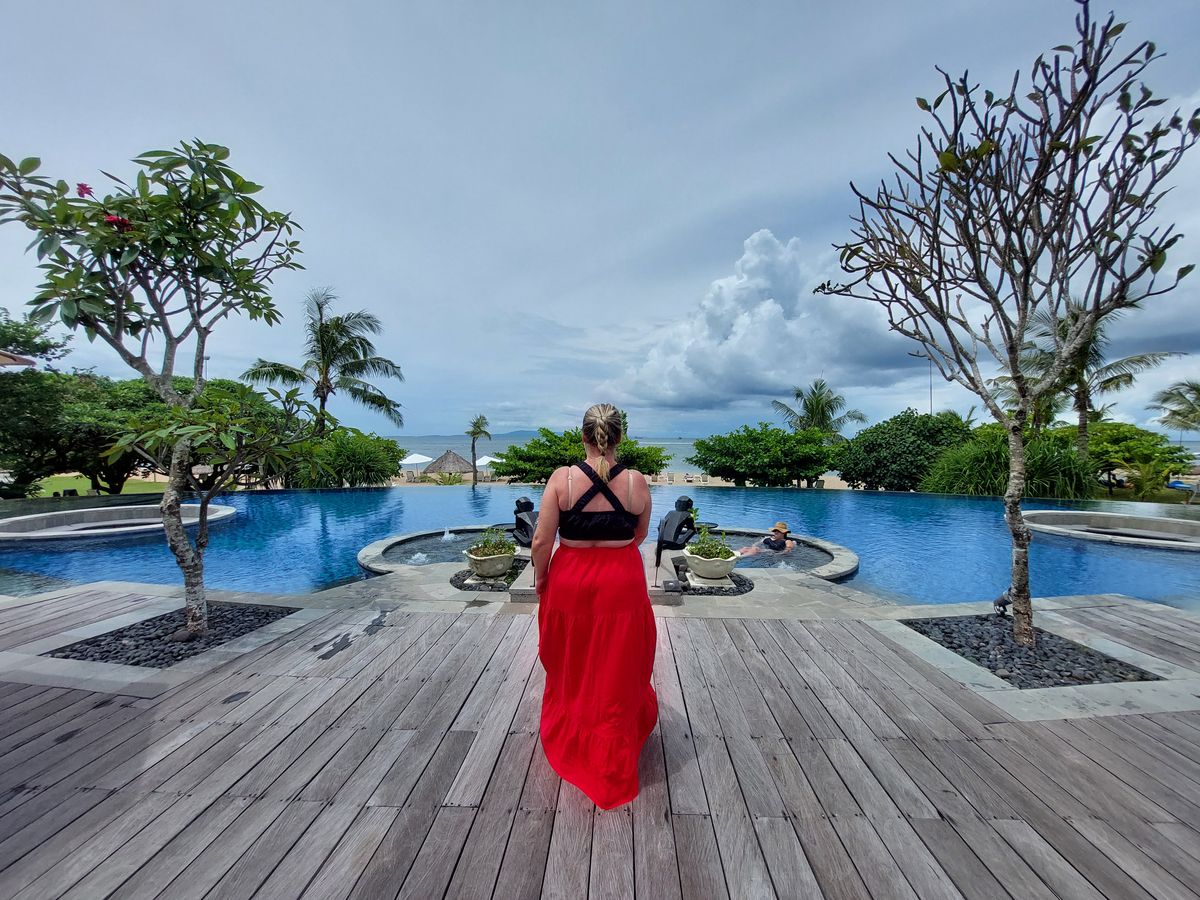 Where is Nusa Dua?
Nusa Dua is in South Bali, about 11km from the airport.
Is Nusa Dua kid friendly?
Nusa Dua is jam-packed with family-friendly resorts situated on clean beaches. It's the ideal escape for little ones and big ones!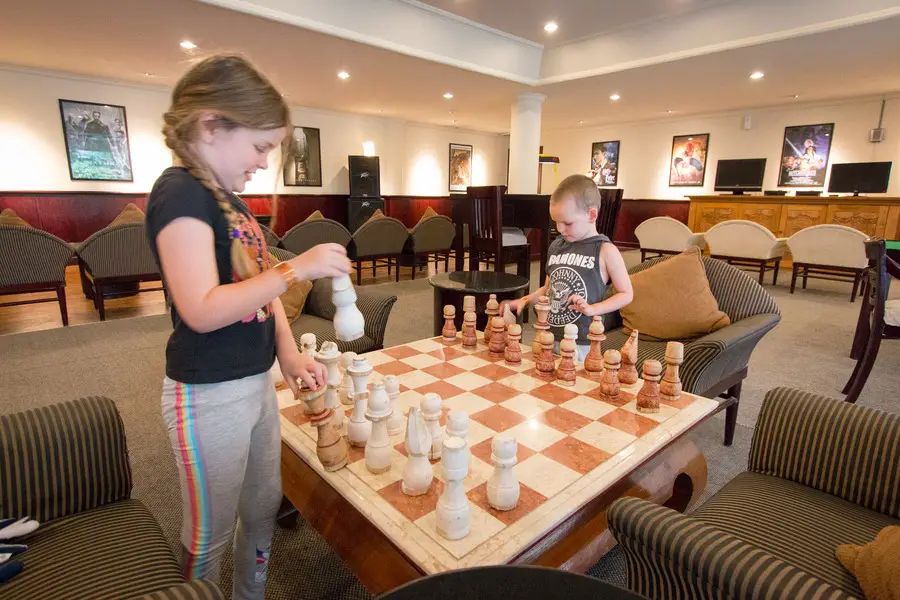 Is it worth it to stay in Nusa Dua?
Depending on what type of vacation you are looking for. Nusa Dua is the perfect luxury hotel, a complete relaxation hotel experience.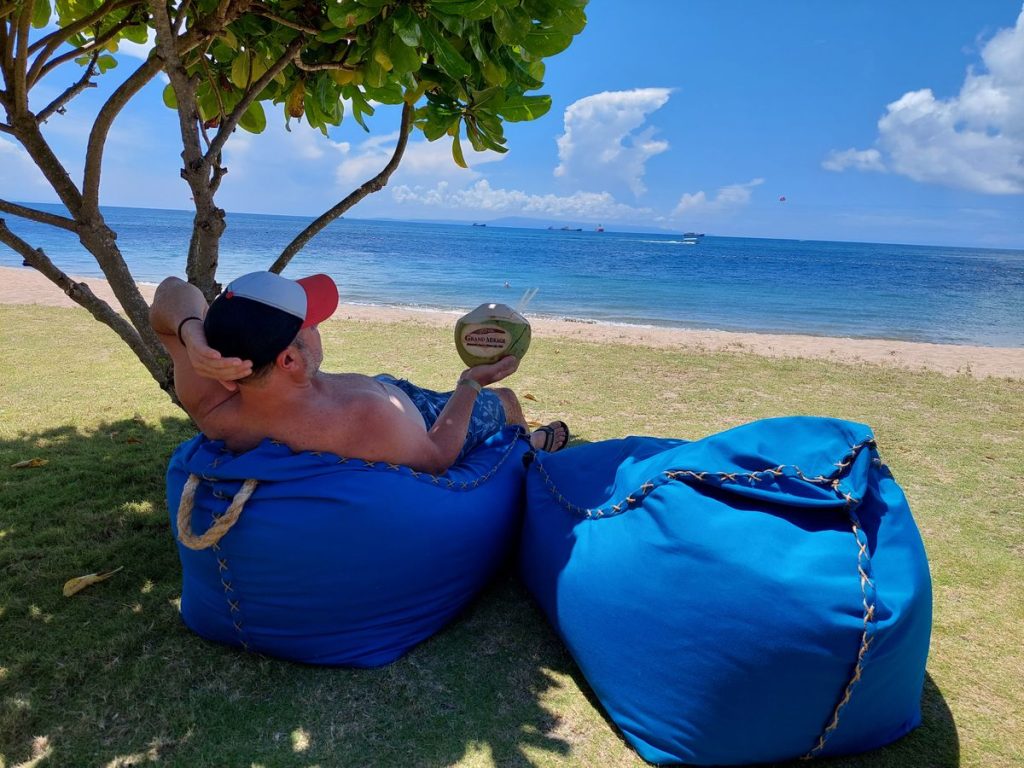 Why is Nusa Dua so expensive?
Nusa Dua is the most expensive part of Bali due to the upmarket resorts and five-star hotels that dominate the area. We found Nusa Dua prices to be on average 25% higher than the rest of Bali, sometimes even 50%.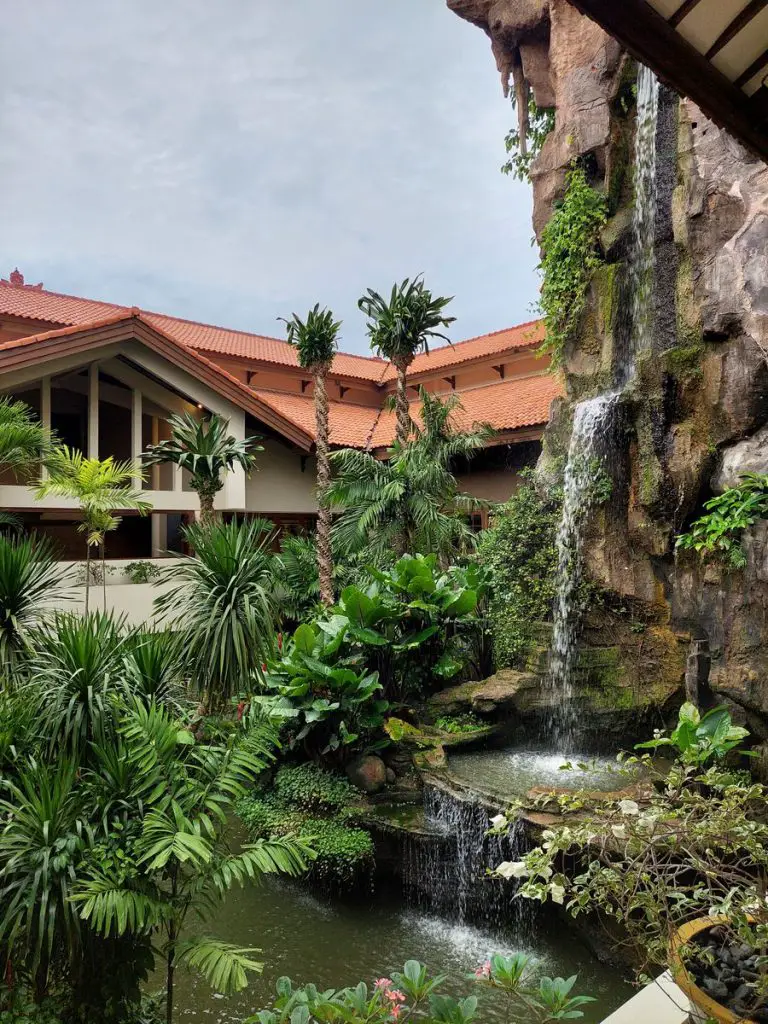 Which part of Bali is best for families?
Check out my best locations to stay in Bali to find out which location is best for your Bali family holiday. But add Nusa Dua to that list, as well as Sanur, Kuta, and Ubud.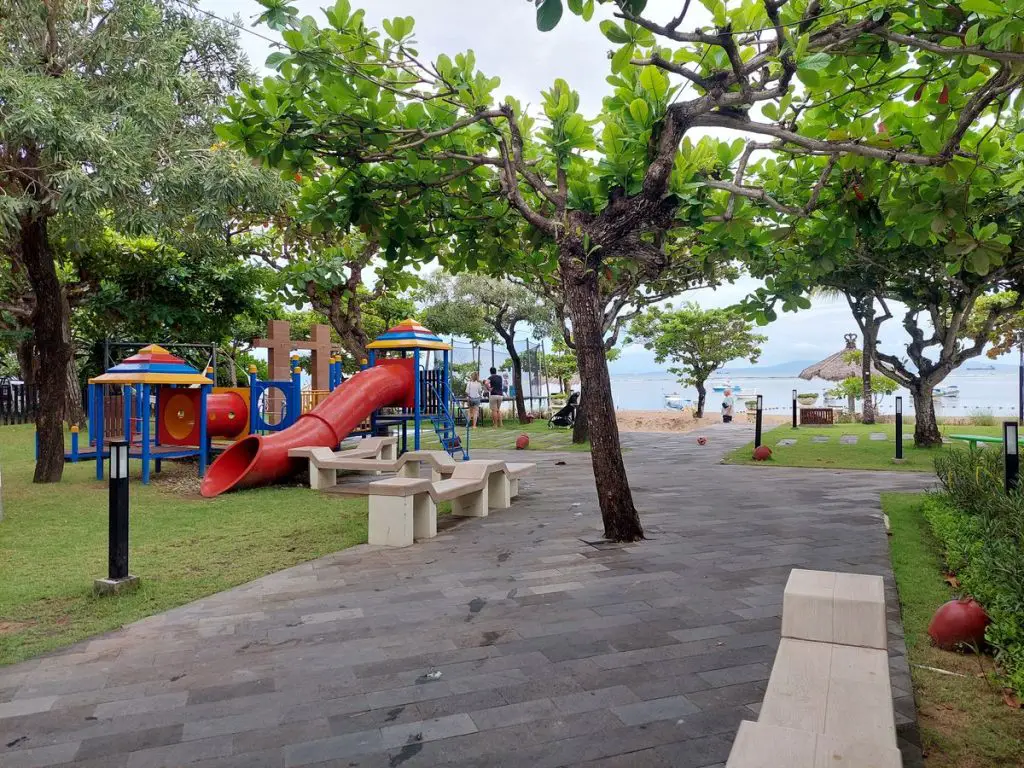 Where to stay in Nusa Dua?
We have stayed in several hotels in Nusa Dua, you can check your hotel preferences below.
People often choose Marriott Vacation Club Pulse, Westin Resort Nusa Dua, St Regis Bali Resort, Club Med Bali, Novotel Bali Nusa Dua, Holiday Inn Resort, or Grand Hyatt Bali.
We prefer Grand Mirage Resort on the Nusa Dua Peninsula.
What can I do in Nusa Dua?
Check out these fun activities to do while you are staying in Nusa Dua. Also, a day trip to Waterbom Bali is not too far!
Where is the Grand Mirage Resort located?
Located on the southern coast of Bali, in the Tanjung Benoa – Nusa Dua resort area, the Grand Mirage Resort, and Thalasso Bali Spa is a 5-star resort with awe-inspiring Indian Ocean views.
Grand Mirage Resort is roughly 25 minutes from Ngurah Rai International Airport and is surrounded by a variety of shopping outlets, convenience stores, and merchandise shops, all within walking distance.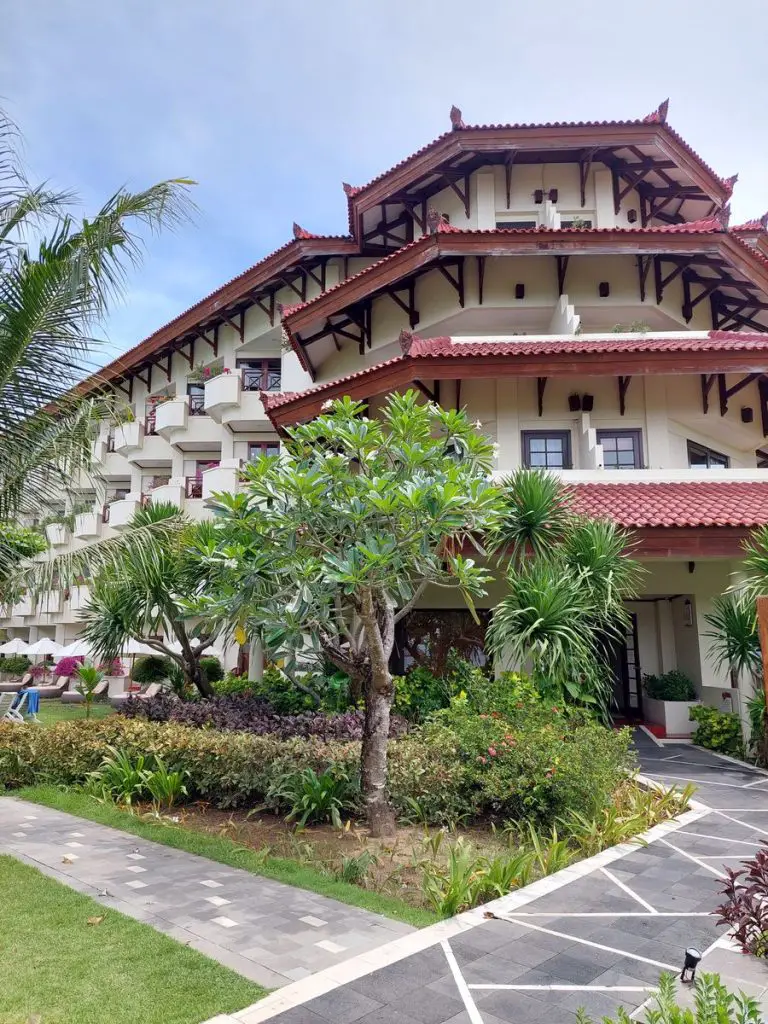 What room did you get at the Grand Mirage Resort?
With grown kids, we are avoiding family rooms like the plague. When the kids were small we adored 1 or 2-bedroom suites, but now that they are older an interconnecting suite suits us much better.
So during our stay at the Grand Mirage Resort, we opted for two Ocean View Premium Rooms. Check out my walk-through video below.
Did your teenagers like the Grand Mirage Resort?
My first visit to the Grand Mirage Resort was about ten years ago when my kids were 3 and 4 years old. Now 10 years later I have a 13 and 14-year-old who still love the Grand Mirage resort and here are the 13 best things our teens love about this Nusa Dua Family Resort.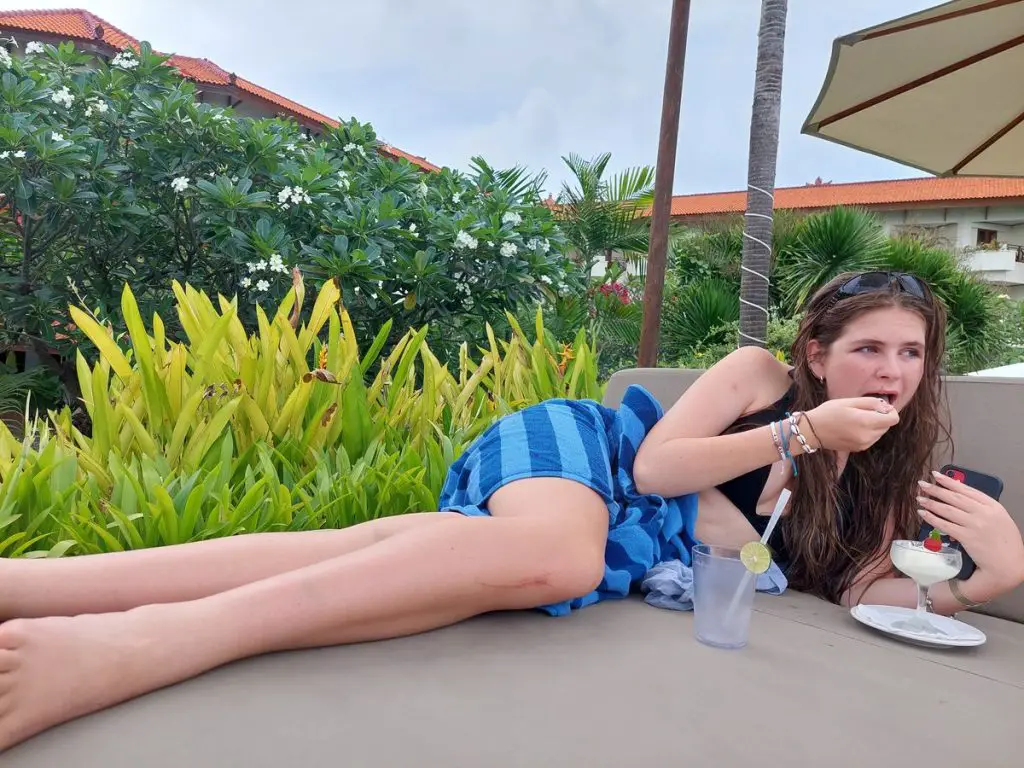 13 Reasons Teens Choose This Nusa Dua Family Resort
1. Unlimited Food
With the all-inclusive package at the Grand Mirage, we never had to worry about food during our stay. Which with teenagers' bottomless stomachs is invaluable.
While some hotels may offer a limited and repetitive buffet, the Grand Mirage provided multiple restaurants to choose from, as well as 24-hour room service, a swim-up pool bar, and a panorama lounge.
During our two-night stay, we didn't have the chance to try all of the restaurants, however, we did have the pleasure of dining at a few. And while overall I would say the food is not the highlight of this hotel, my teen's never-ending demand for food was more than satisfied.

Jukung Grill Restaurant
This gorgeous beachside restaurant was our favorite. With seats on the beach (literally) it meant the teenagers could continue tanning or swimming until the food was ready, leaving us to relax in peace.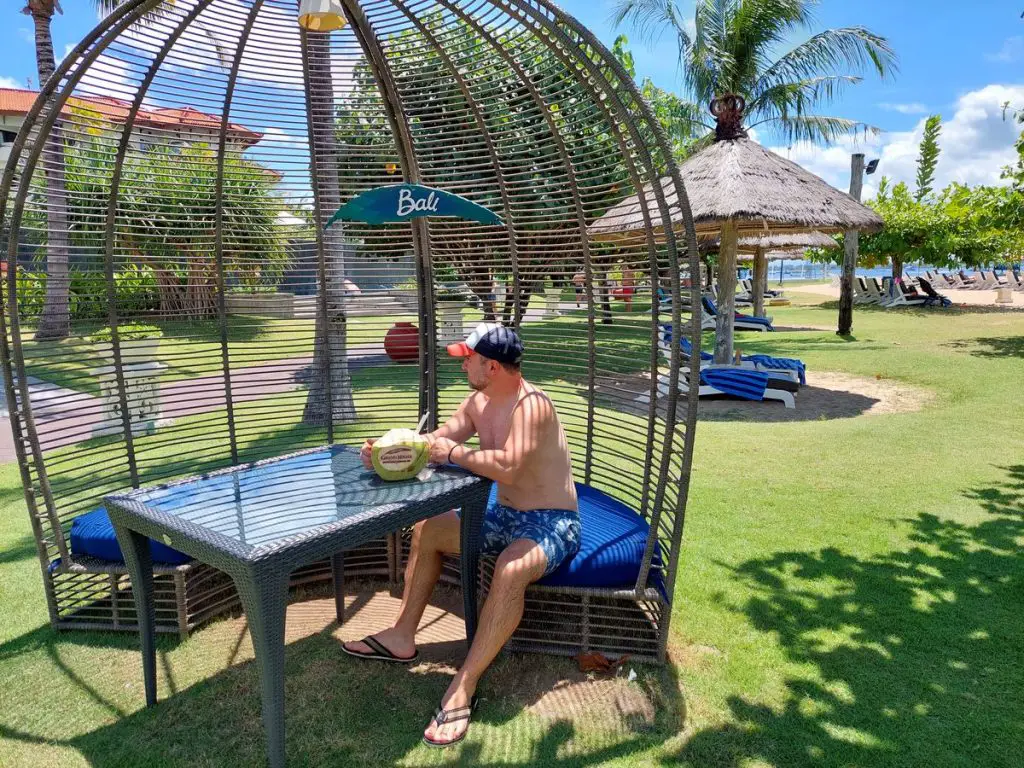 Only a parent knows how invaluable it is to have children distracted from a considerable wait, instead of hearing "I'm hungry, where's the food bro?" every 2 minutes.
And the food did take a long time. After Covid staff are still an issue within Bali. We found by the second day if we ordered at 11:30 am when we were thinking about lunch, it all arrived by 12:30 pm when we were ready for lunch.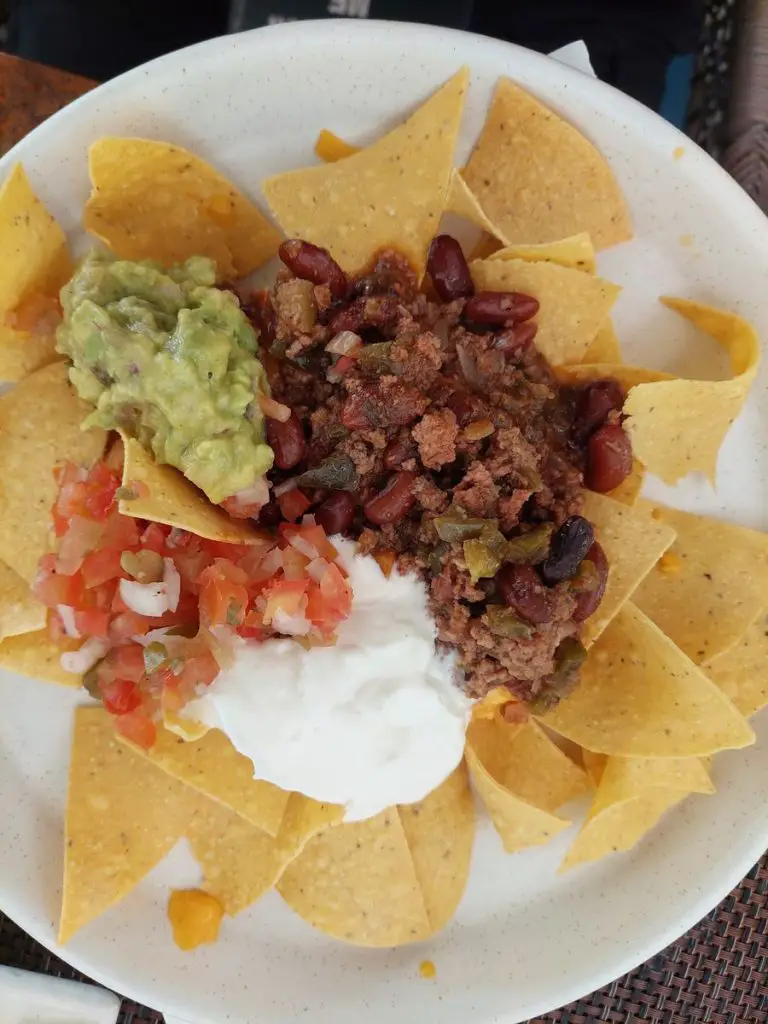 Room Service
I don't know a teen doesn't love room service, and every night these guys ordered our favorite dessert, Pisang Goreng straight to their beds.
Grand Café Restaurant
This open-air restaurant is located near the swimming pool and is open 24 hours a day. 24 hours!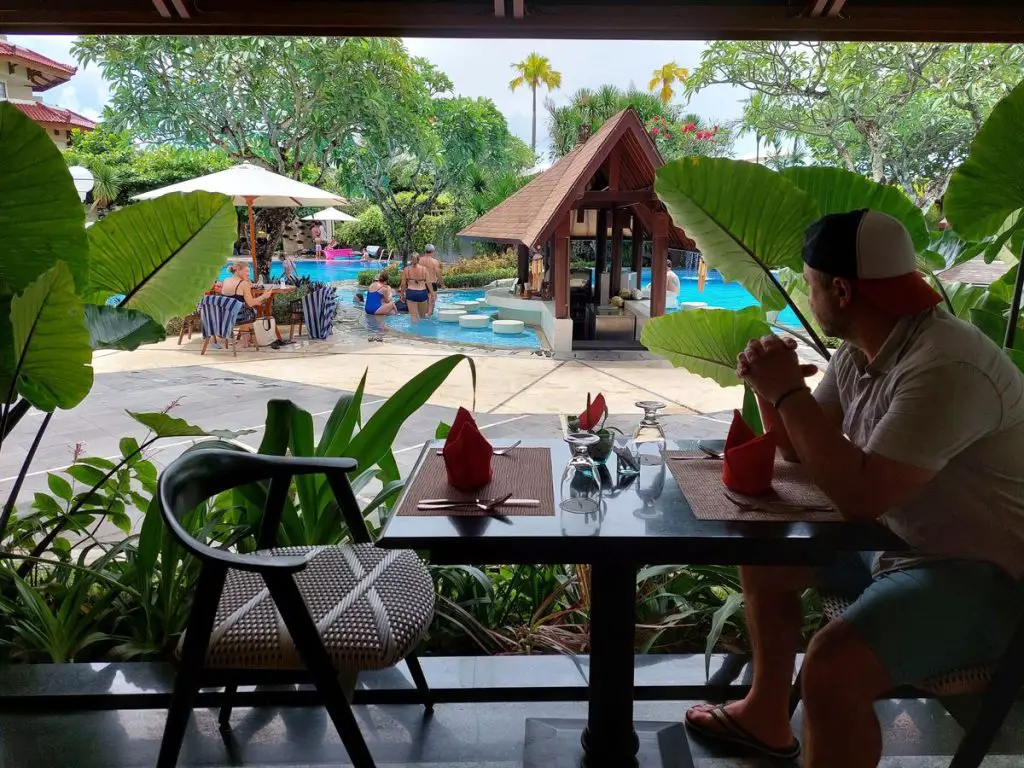 Breakfast is a buffet with a huge display including Chinese food, Indian, and Japanese.
During lunch and dinner, you could order ala carte.
Ibu Kitchen (next door at Family Paradise)
Creative Indonesian recipes featuring the freshest local produce. We were led to believe it was a buffet, but because Bali is still recovering from the pandemic we were offered ala carte.
Skip the bread though, I couldn't even bite it let alone break it. But the satay was on point!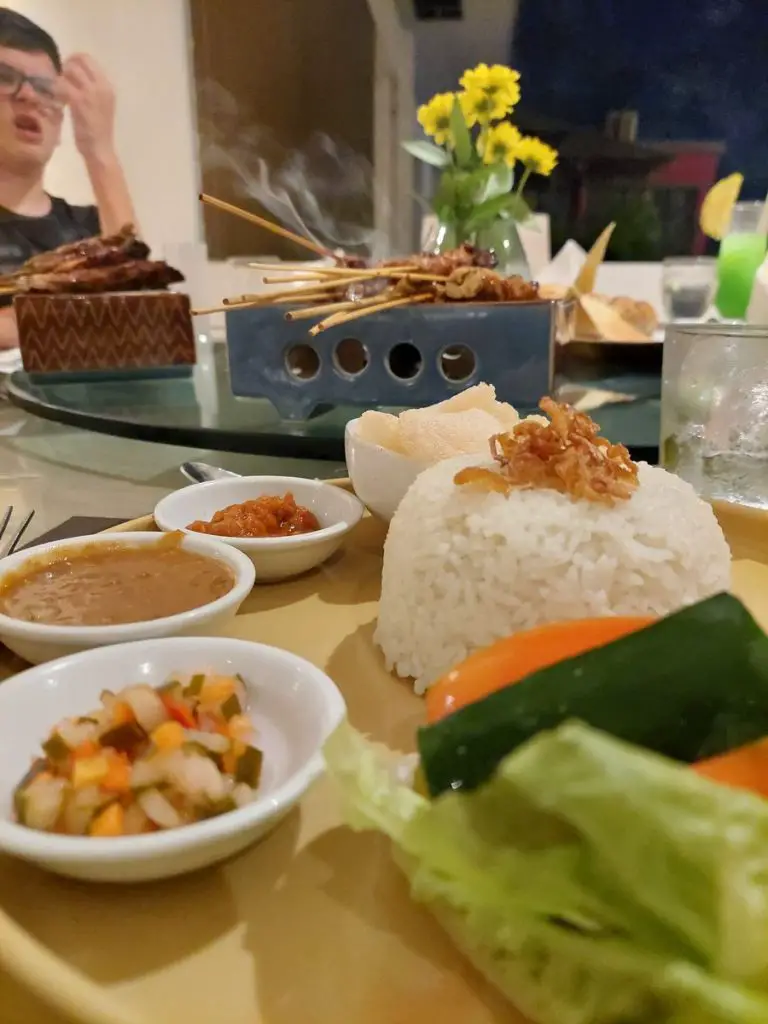 Bumbu Delhi Indian Restaurant
The staff here didn't know what the dishes were on the menu, so we picked a few things that came out as a complete surprise. But other than that the butter chicken was a winner.
The passionate Indian Chef and breathtaking Ocean View invite those who are craving to experience the Indian cuisine world. Bumbu Delhi offers halal food, as well as vegetarian dishes.
Poolside Service
Probably where we ate the most! It's easy to see why.
Including this feast as our final meal.
5. Sunbaking on the Nusa Dua Beach
Like most teenage girls, my two enjoyed just lying on the beach for that free holiday tan to go home and show all their friends.
Grand Mirage Resort has its own beautiful beach space with sun lounges, bean bags, umbrellas, you name it.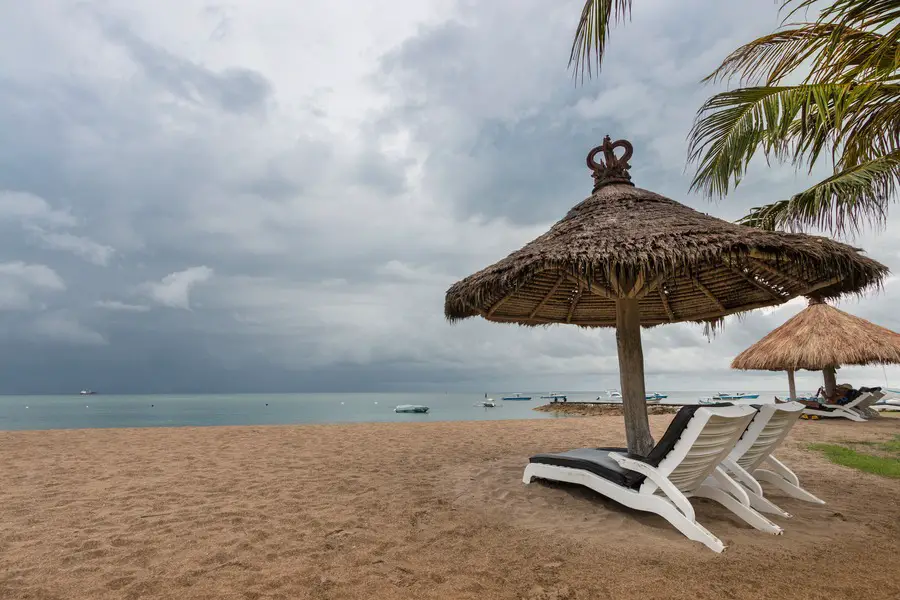 What is the safest beach for kids in Bali?
Nusa Dua Beaches are also known as the safest beaches in Bali, thanks to the clear water and minimal waves.
You'll also find plenty of guys selling motorized water sports from jet skis to banana boats to glass-bottom boat rides to Turtle Island.
The resort also offers motorized sports for the same price, if you bargain them down. The upside of booking via the hotel rep is that you can charge it to the room, so no need to fuss around with cash.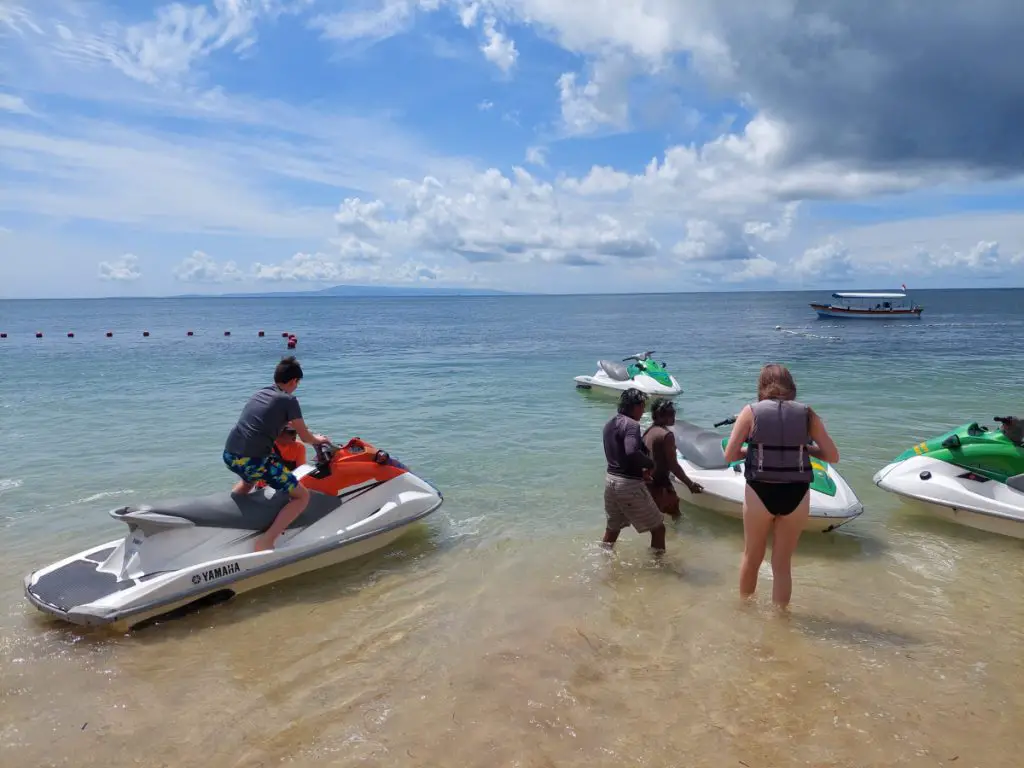 6. Extra Activities
There's only so much pool my teenagers can take so when it comes to alternative entertainment Grand Mirage Resort has a lot on offer.
For little kids – Kids Club
The kids club ran every day from 10 am to 5 pm. When my kids were small they would spend mornings there before joining us for lunch and a swim in the pool. They loved it. They created all sorts of cute crafts and I can't count how many times I heard them ask, "Can we go to kids club?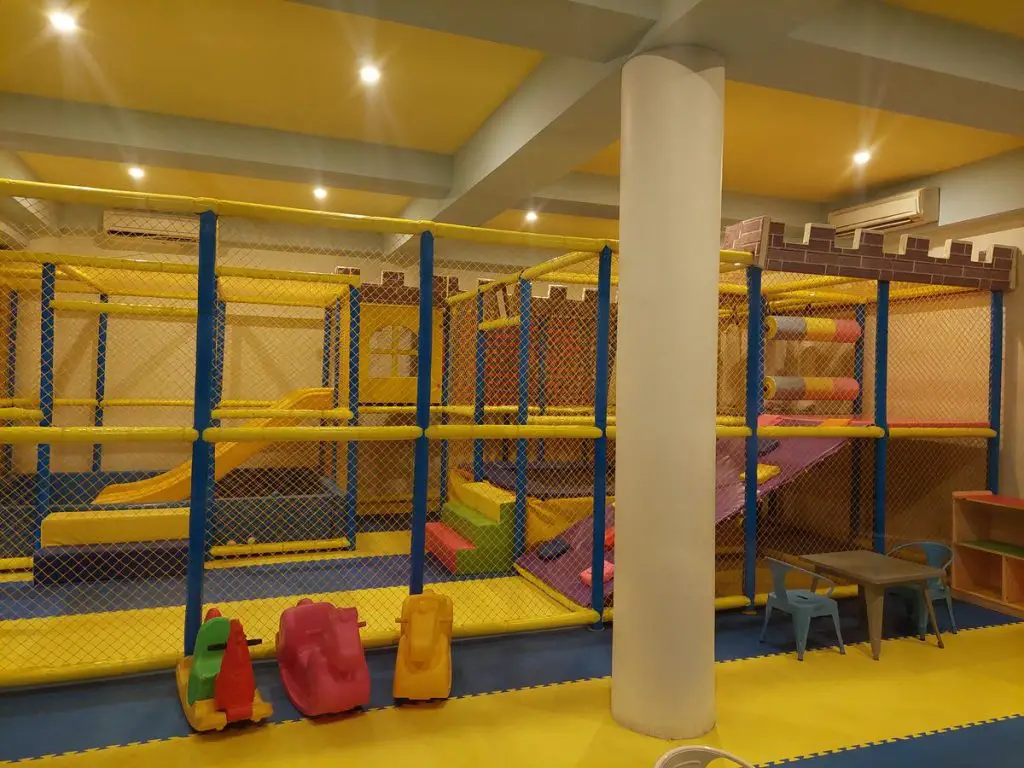 On top of that, there was a playground on-site and a large outdoor chess game, which the kids visited frequently. All were very close to 2 restaurants so they could play while we waited for food.
For big kids – Cool's Lounge
This time around my kids were more drawn to the Cool's Lounge. This well-equipped facility is free for all resort guests and includes pool tables, air hockey, table tennis, and giant chess.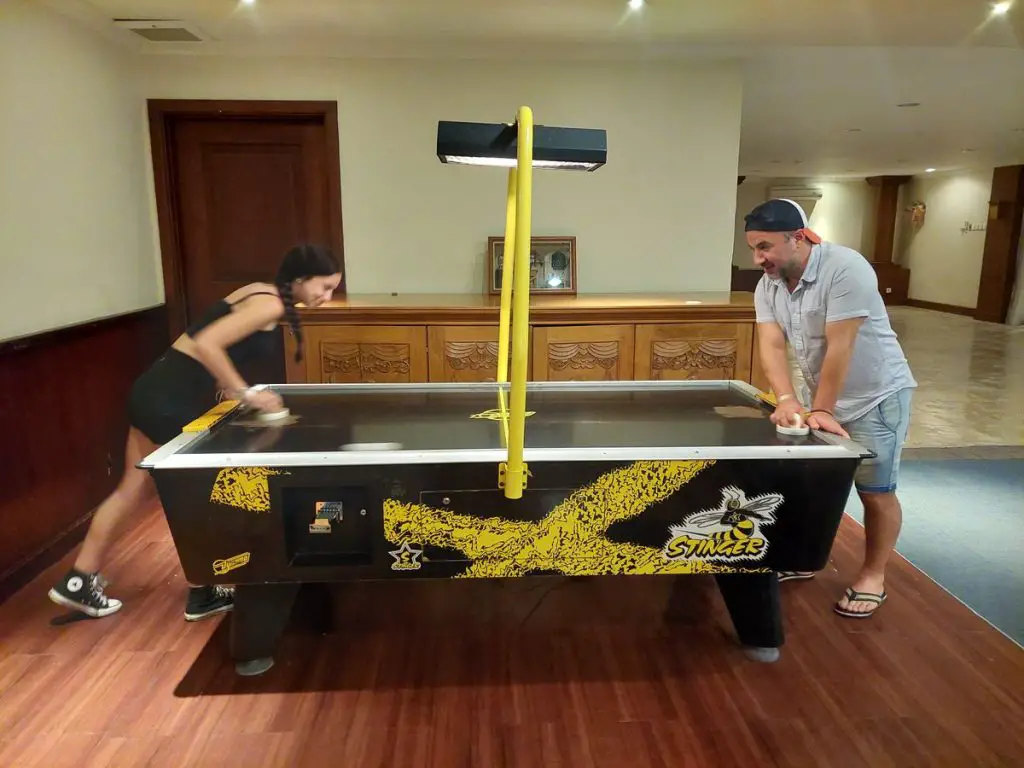 Next door you can even find a private karaoke room available.
My partner and son spent 2 days challenging each other at Table Tennis, while my daughter was more likely to be captured winning a game of chess against her brother.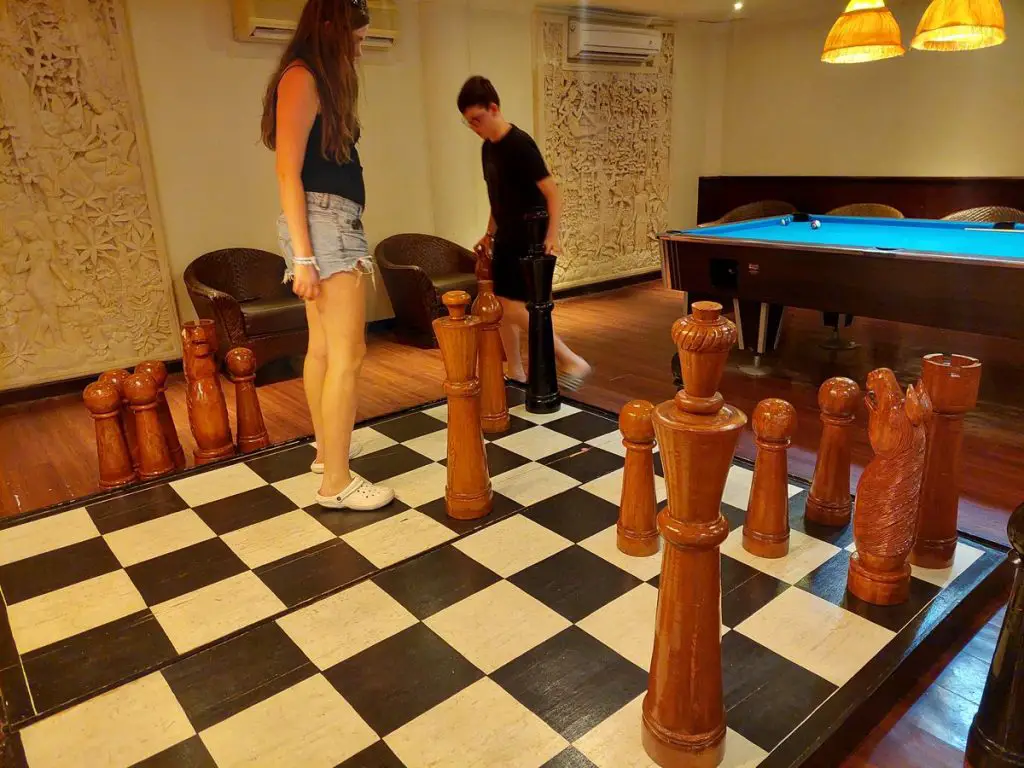 Family Paradise also has a similar room, which you can use if Grand Mirage is busy.
And don't forget the water slides. A big one in the back pool, and a water park at the front. We love that Family Paradise is accesible to all Grand Mirage guests.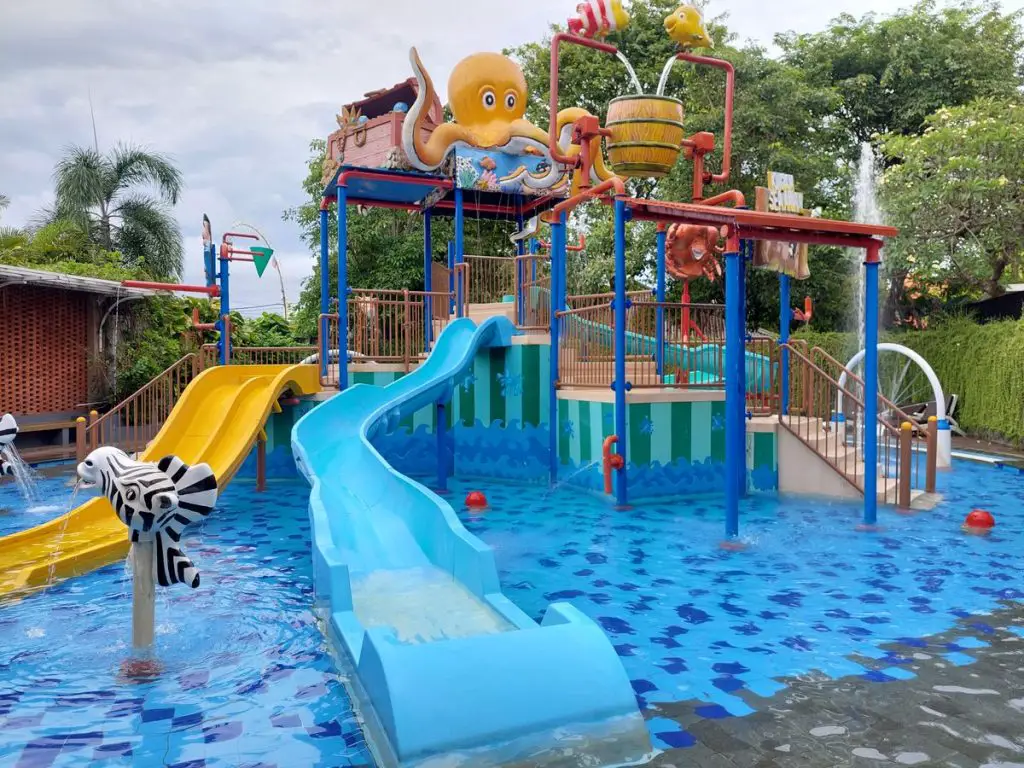 For little and big kids – Kids E-Lounge
A new addition at the Family Paradise is this E-Lounge full of Xbox, Playstation, and Nintendo Games. We also manage a dance-off one evening, as seen in the above video.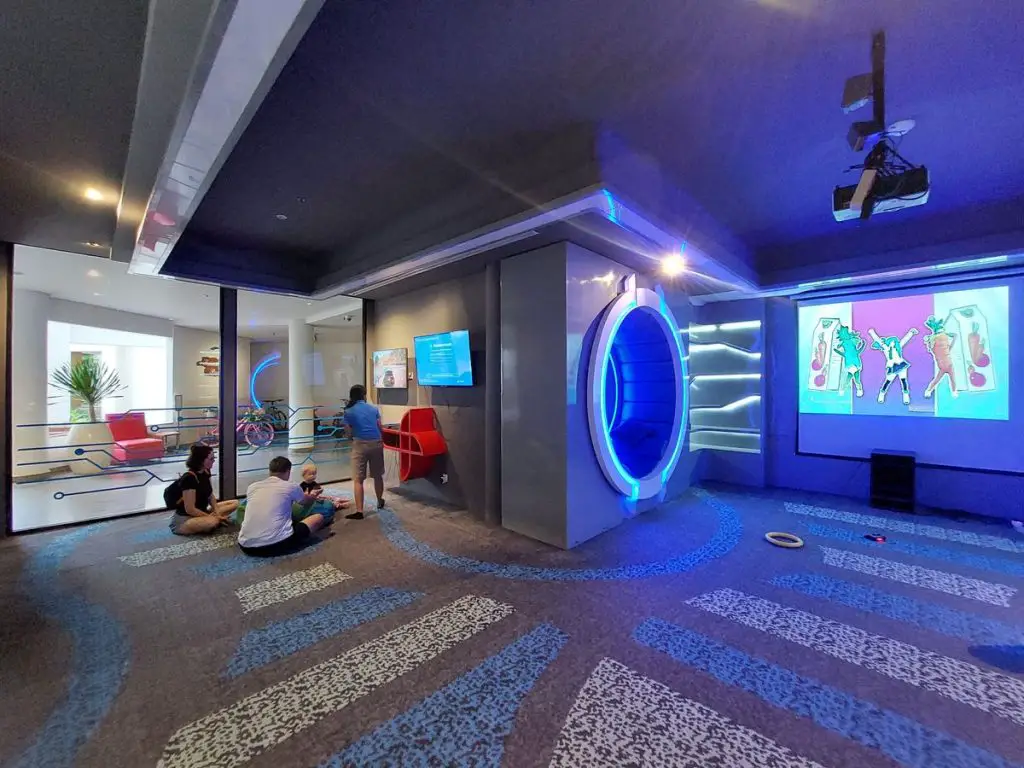 7. Adventure Sports
If your idea of a holiday involves sweat and adventure, you will never be bored at this hotel. We tried two of the many adventure activities available:
Ocean Kayaking
Non-motorized water sports are included for free in the hotel stay and so we tried our hands at ocean kayaking.
We joined a small group on the crystal clear ocean along with a Balinese guide. Once he established we were Australians and self-sufficient in the water, he pretty much left us to it and paddled on to babysit those in the group that couldn't paddle (or swim).
Seawalker
What a phenomenal activity! The Grand Mirage offers this experience at an extra cost, and we enjoyed it so much that I wrote a whole post about it.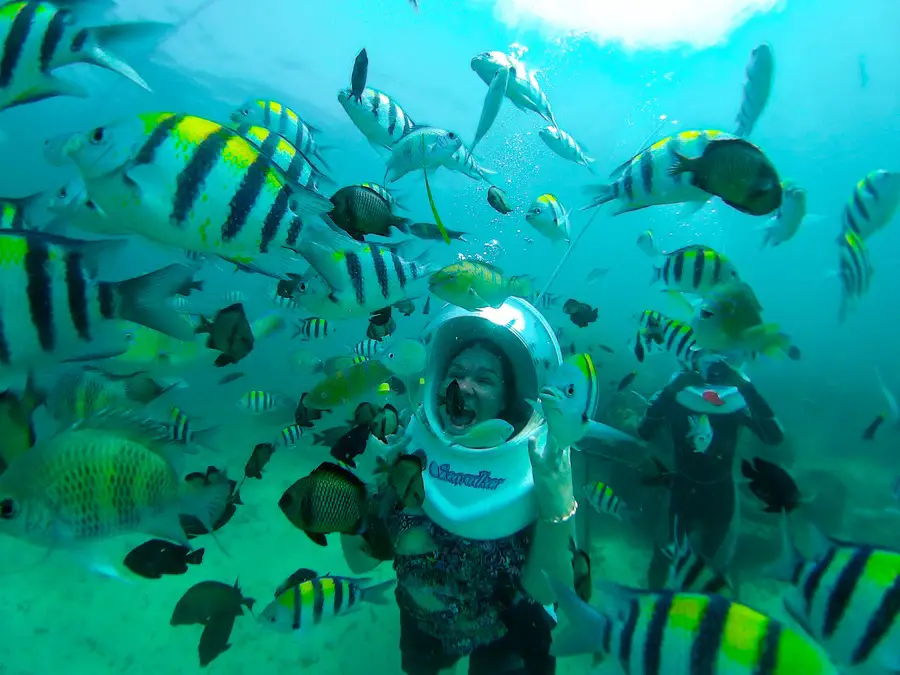 Pop on an astronaut-styled helmet and walk the bottom of the ocean checking out the sand, coral, and sea life up close. A magical experience.
And for someone who hates water and didn't even enter the Great Barrier Reef on our visit, managing to get my partner to the bottom of the ocean was a miracle. Great to overcome those fears.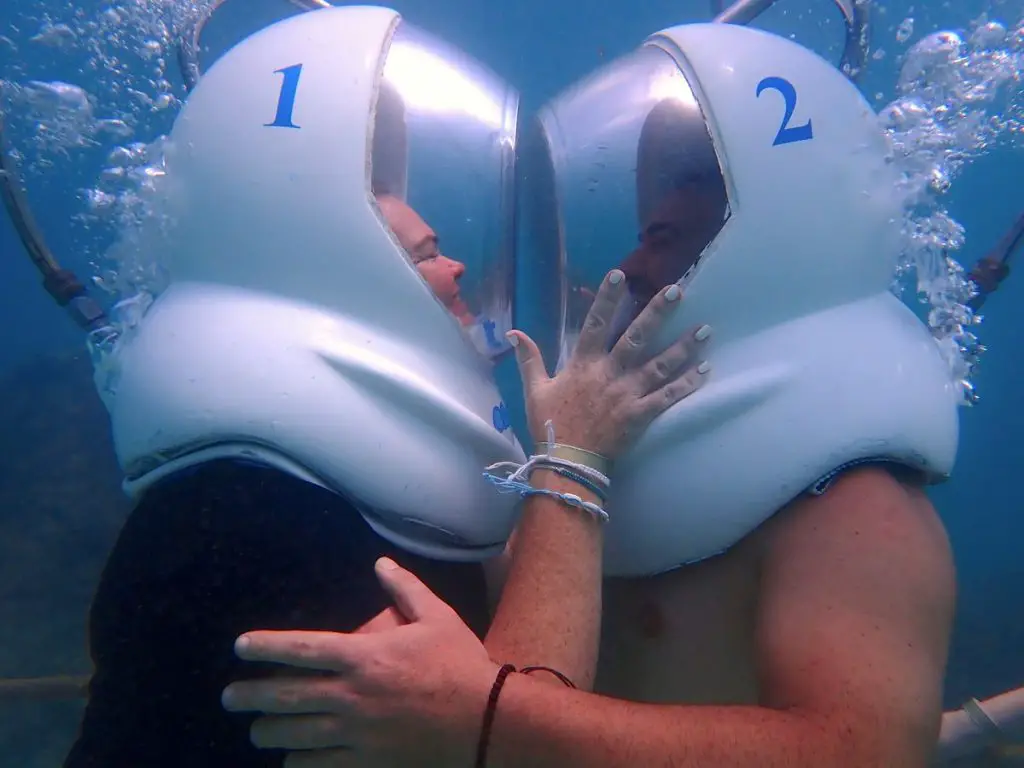 8. Even Teens Love A Spa
Onsite at the Grand Mirage is the Thalasso Spa. This heavenly spa is filled with a wide range of beauty and relaxation treatments and is available to hotel guests as well as walk-in visitors.
If hotel pricing is not your thing, walk out the front door and find any manner of spa and massage joints. We girls even managed a morning pedicure. With I nails now ready for my first ever Turkiye Girls Trip.
9. Retail Therapy
What teenage girl doesn't love a shop, you could find a whole range of shops outside on the street, along the beach walking to the back of the hotel, or via the free shuttle headed to Bali Collection.
My daughter and I loved wandering along the beach looking at all the different stalls. We found a few vendors along the beach walk to Family Paradise and stopped to pick up some clothing items. A $5 Bintang Shirt for one of Mia's mates, a beautiful crocheted shirt for her, and a typical Balinese tie-dye dress for me.
The vendors were friendly and non-harassing (compared to tourist-centric areas like Kuta), so they turned out to be more convenient than a nuisance.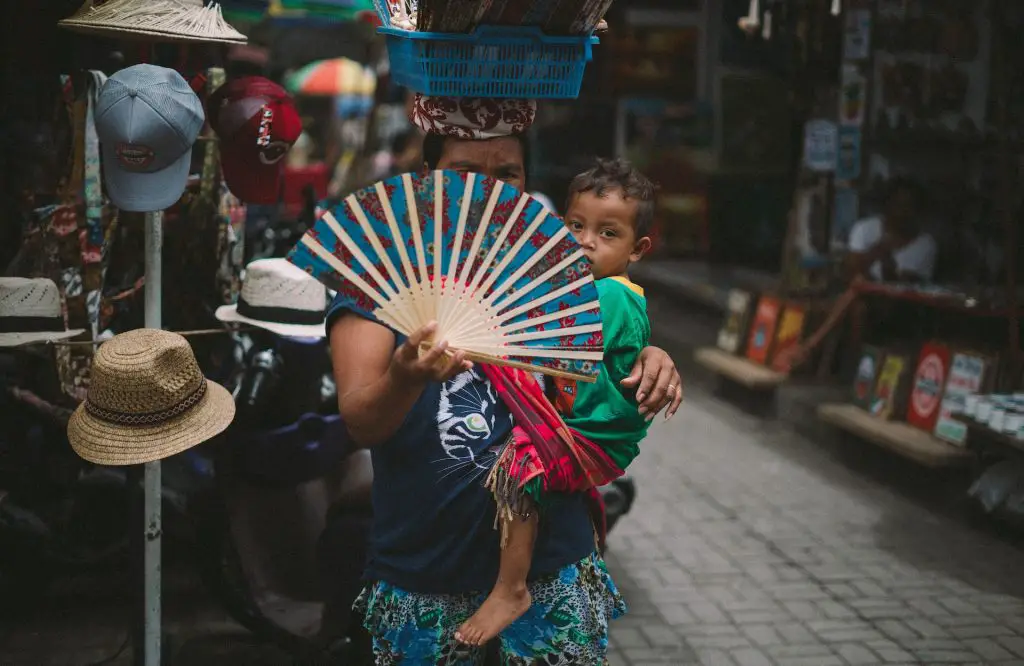 10. Evening Entertainment
Gone are the days of 7 pm bedtime. And hello to the days of "What's next?" Thank God for these alternatives to creating our evening entertainment.
Devdan
Next door to the Bali Collection shopping district in Nusa Dua is a large modern air-conditioned theatre. We had front-row seats for a cultural show about the Indonesian Archipelago, unlike anything else in Bali.
The show can be described as Cirque Du Soleil meets Balinese Dancing meets Broadway. And it begins when two children, exploring Bali, find a treasure chest of various items representing the major Indonesian islands. The show features fire, water, ribbon dancers, acrobatics, monkeys, and more – all very entertaining.
Balinese Dance
The Grand Mirage Resort regularly holds a buffet dinner outside by the beach that includes traditional dancing. Our show was indoors at the Grand Café Restaurant.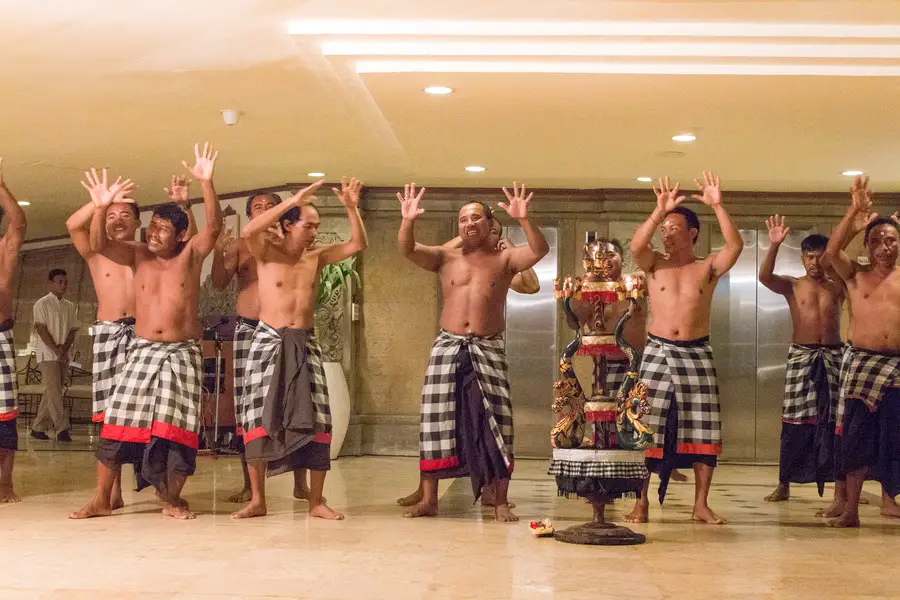 This traditional Balinese dance is known as the Kecak Dance. It's all music and movement.
11. Service
The Balinese are known for their exceptional service and hospitality, particularly towards children, and the Grand Mirage Resort took this to the next level.
Every staff member we encountered, from housekeeping to maintenance, greeted us with a friendly smile as we explored the resort. The staff's welcoming demeanor truly made us feel at home.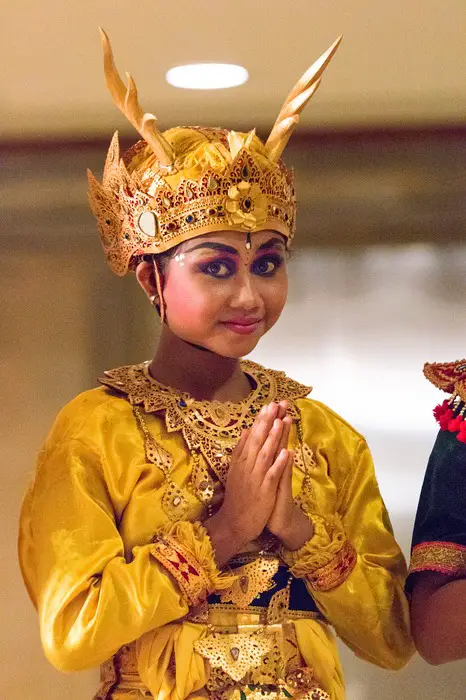 12. Internet Availability
At every hotel we visited in Bali, our teenager's first words were "What's the wifi password?"
During our stay at the Grand Mirage, we had good Wi-Fi. It was fast by Bali standards, but more importantly, it worked all the time. And all around the hotel.
Perfect for the professional travel blogger.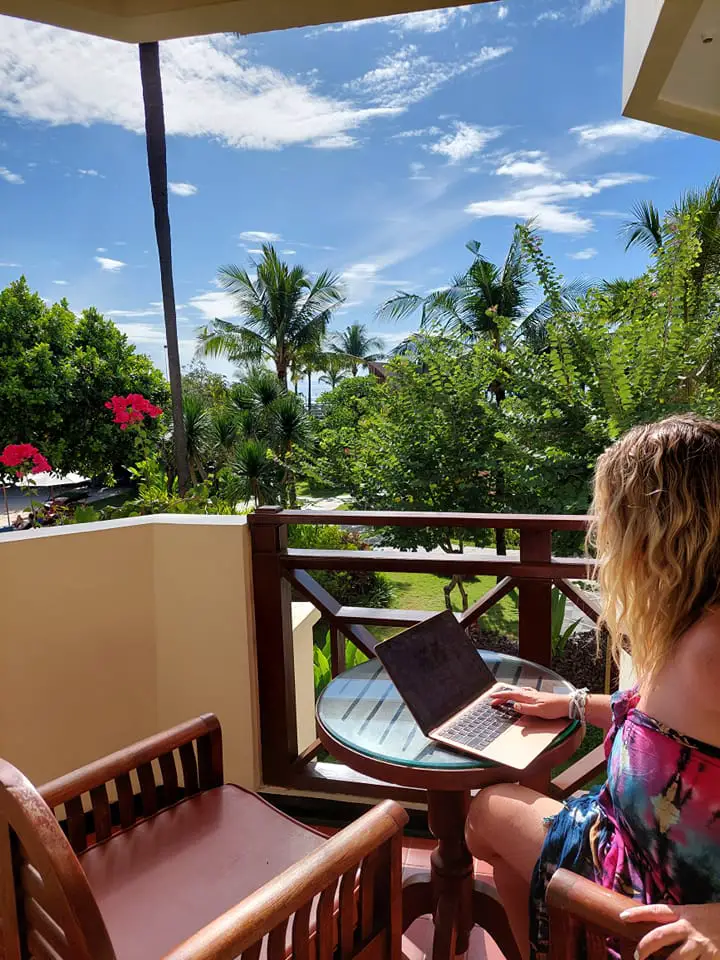 13. Perfect Location
The Grand Mirage is located along the very popular peninsula, Tanjung Benoa, in Nusa Dua. On one side are perfect white sand and a clear blue ocean.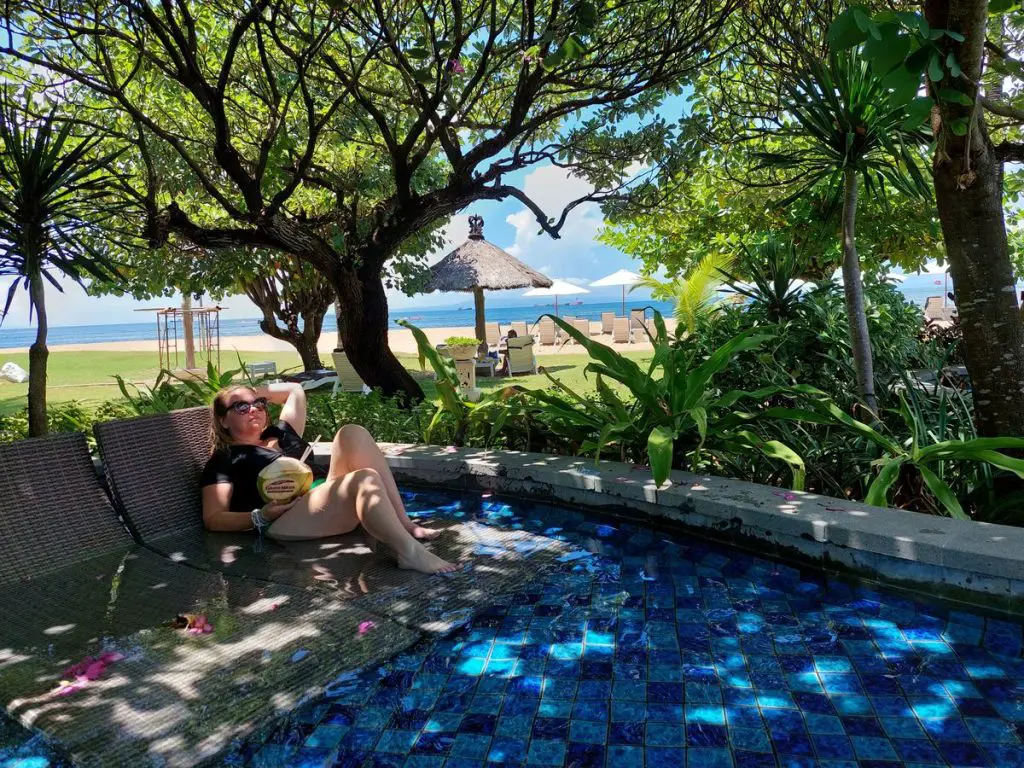 The other side (where the lobby sits) is a busy road with markets, restaurants, supermarkets, laundry services, spas, etc.
Also not far is Bali Collection, for a shopping trip.
13-Year-Old's Favourite Part
The table tennis room was my favorite part. I wish we could have played longer.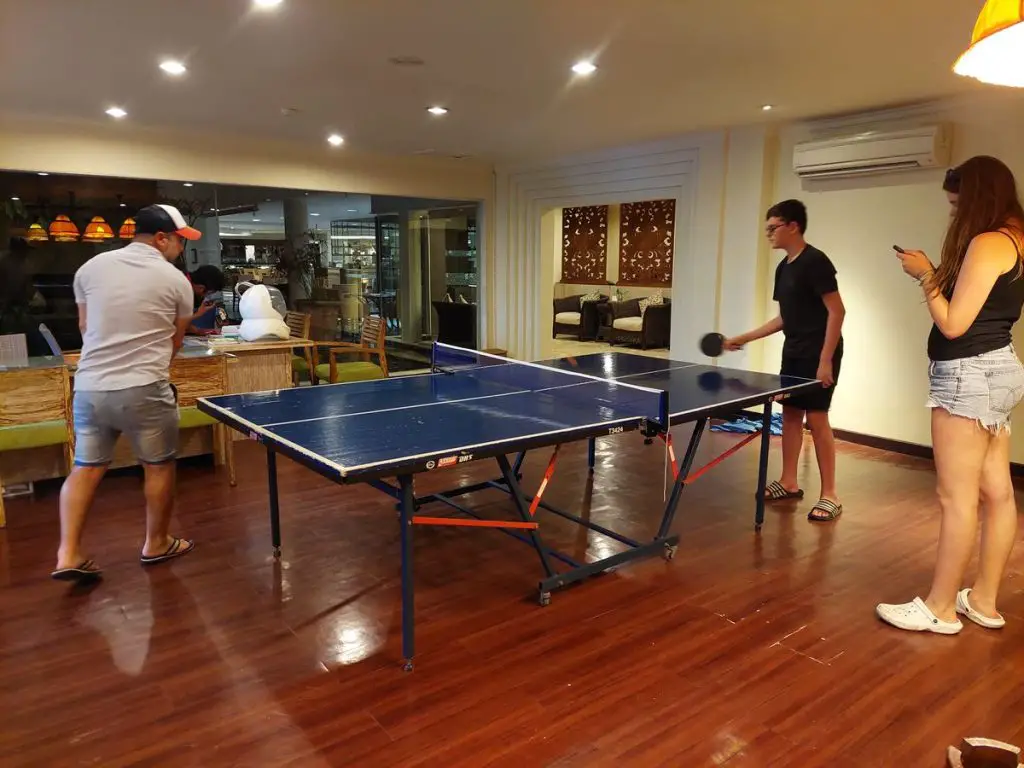 14-Year-Old's Favourite Part
I loved sitting in the lounge seats that were in the pool and ordering anything I wanted from the menu.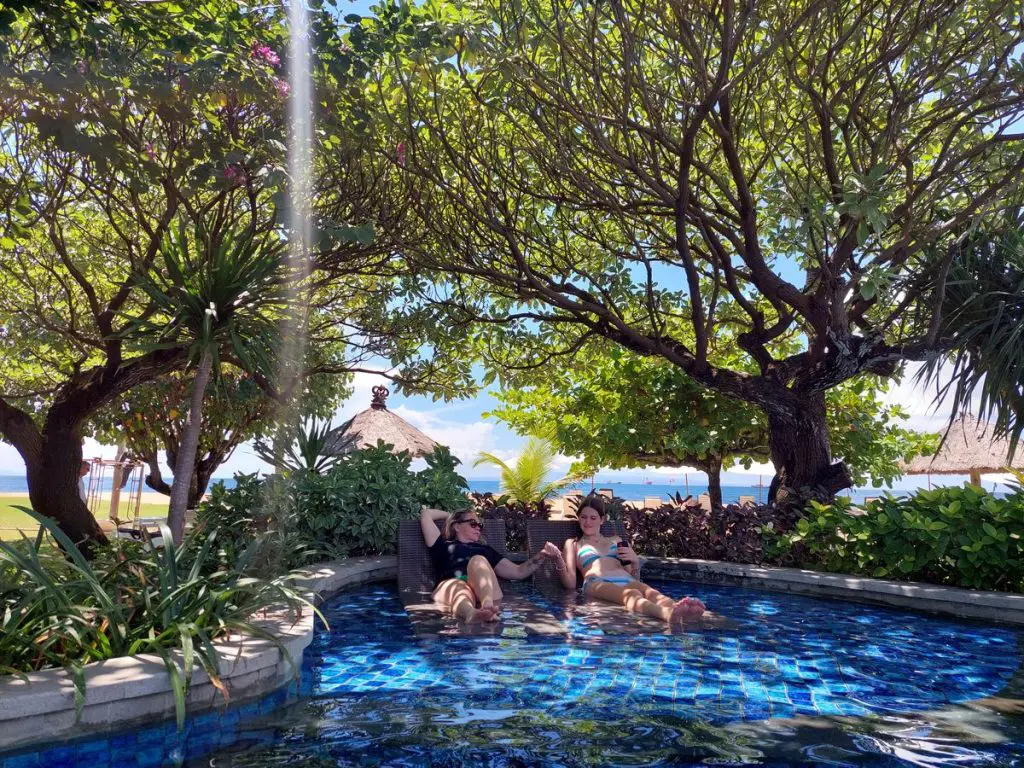 If you're looking for a family-friendly destination that offers a perfect blend of relaxation, adventure, and culture, then the Grand Mirage Resort Nusa Dua Bali is the ideal choice.
This stunning beachfront resort is located in the heart of Nusa Dua, Bali's most exclusive resort area, and offers a wide range of amenities and activities that will keep both kids and adults entertained.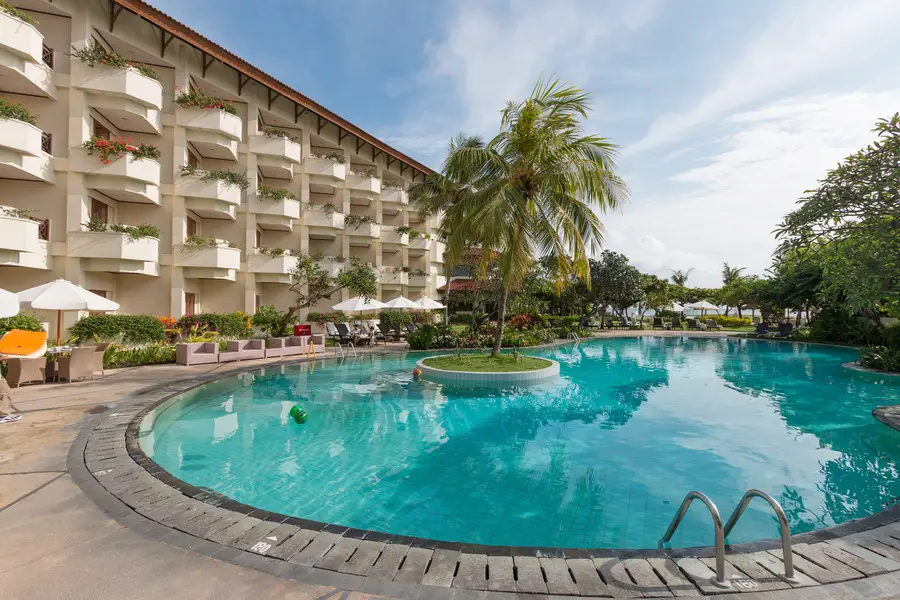 From the resort's supervised children's activities, including a kids' club, playground, and splash park, to its private beach, spacious and beautifully appointed rooms and suites, and top-notch dining options, the Grand Mirage Resort Nusa Dua Bali is the ultimate destination for a family vacation in Bali.
With its prime location and endless opportunities for fun and adventure, this resort promises an unforgettable experience for the whole family.
LOOK HOW EASY IT IS TO PIN THIS!
FOMO - do you have it?  Well there is no need to Fear On Missing Out here at Explore With Erin. Sign up to receive updates directly to your in box. I won't spam you, but I do promise a whole lot of awesomeness. What are you waiting for? Join Me!