Even teenagers love Holiday Inn Resort Bali Nusa Dua. Back in 2016, I took my young kids to the Holiday Inn Resort Bali Benoa. I wrote a post about the 5 reasons kids would choose that hotel.
7 years later they invited us back. This time with 15, 14, and 13-year-old. I can't believe I have teenagers. And I can't believe the newly named Holiday Inn Resort Bali Nusa Dua still made for a perfect Nusa Dua family resort vacation.
Now teens aren't like kids. They're not impressed with kids' clubs, playgrounds, or kids' rooms. Teenagers are impressed by very little. But the Holiday Inn Resort Bali Nusa Dua managed to impress them in 10 different ways.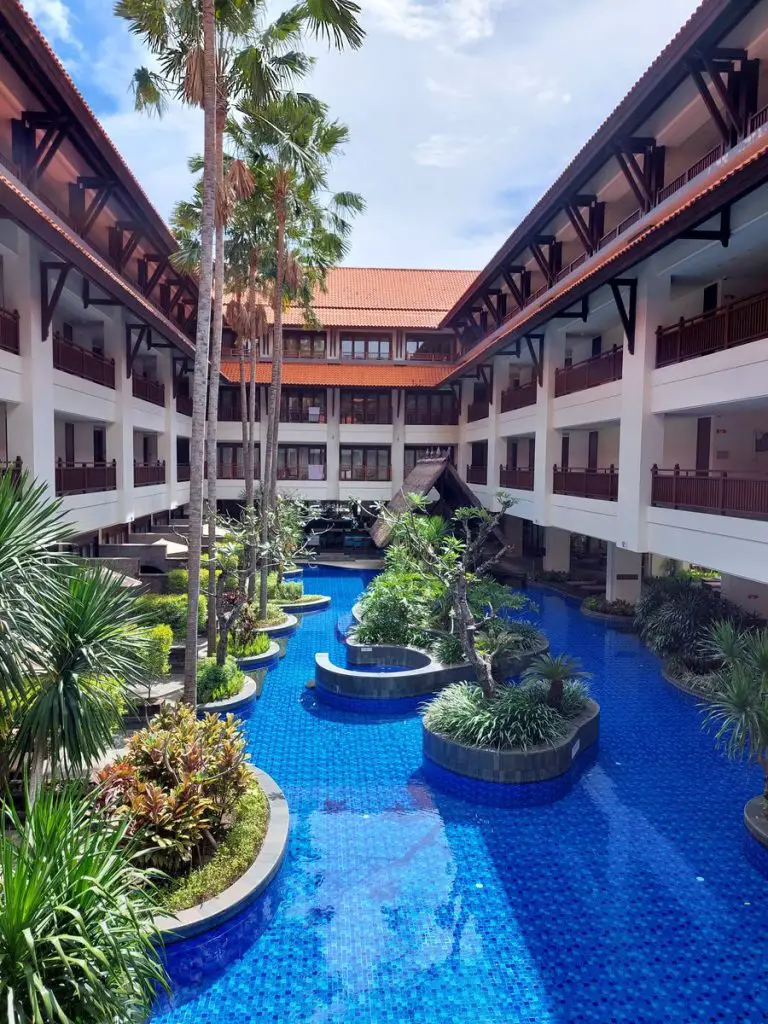 Where is Holiday Inn Resort Bali Nusa Dua?
Holiday Inn Resort Bali Benoa is located on the southern coast of Bali, in Tanjung Benoa. It sits on Nusa Dua Beach overlooking the Indian Ocean.
Holiday Inn Resort is roughly 25 minutes from Ngurah Rai International Airport and is surrounded by a variety of shopping outlets, convenience stores, and merchandise shops, all within walking distance.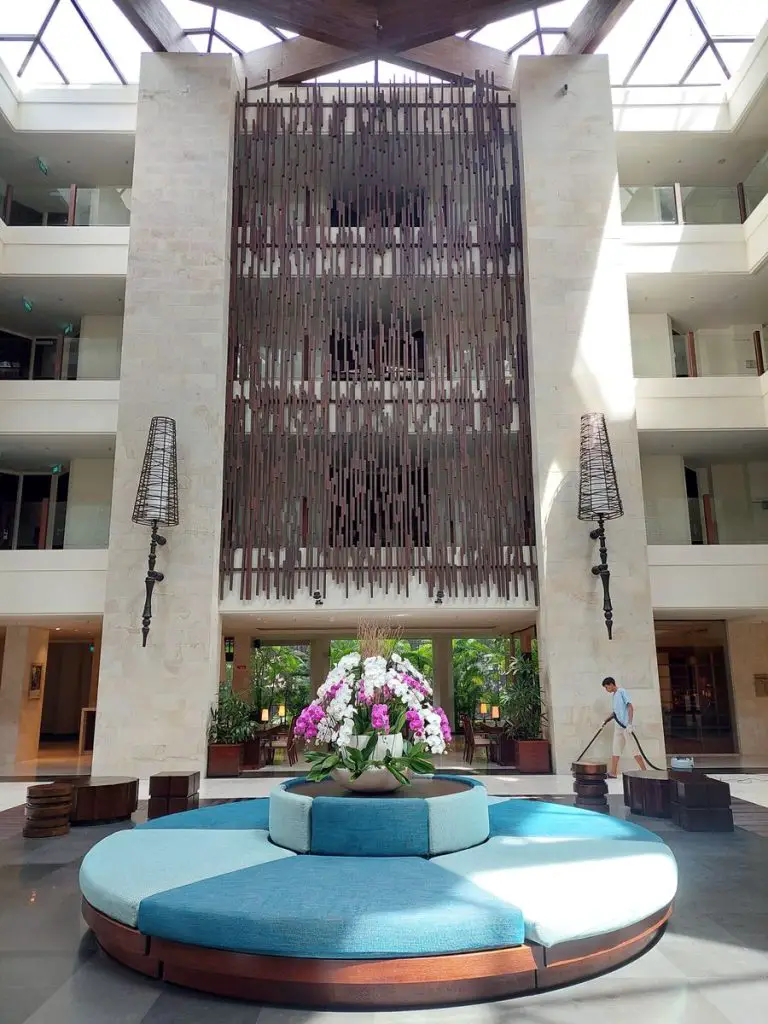 What Room Did You Get At Holiday Inn Resort Bali?
With grown kids, we weren't interested in the fun 2 family adventure suite we had the last time we visited. With the kids much older we prefer separate guest accommodation.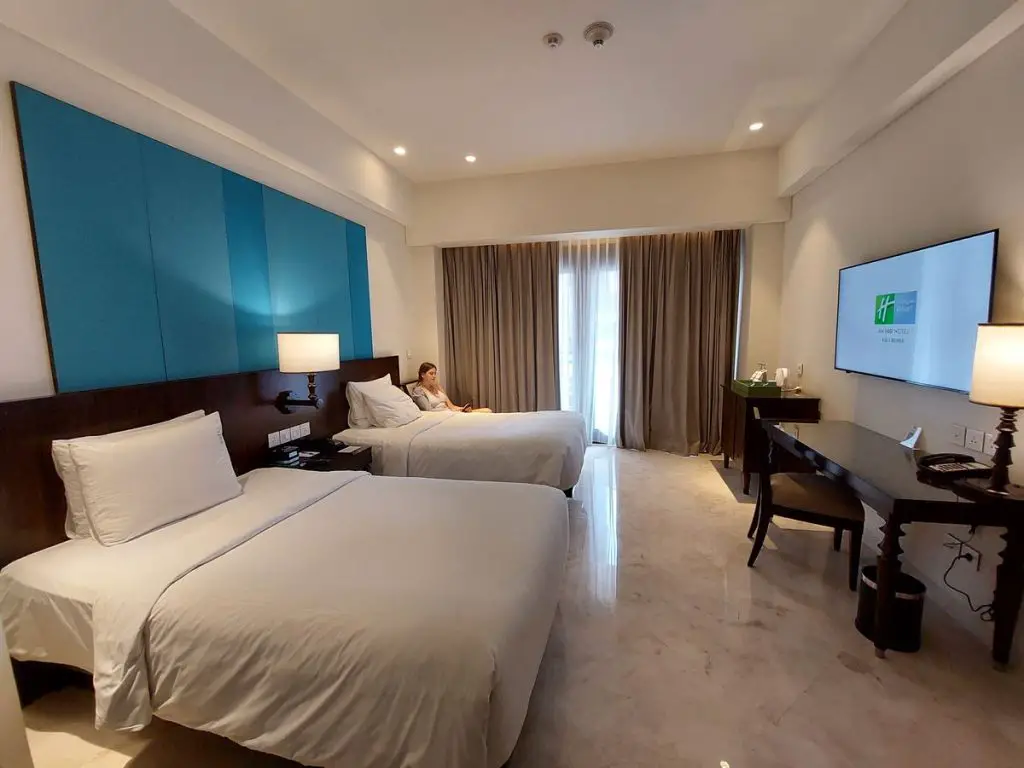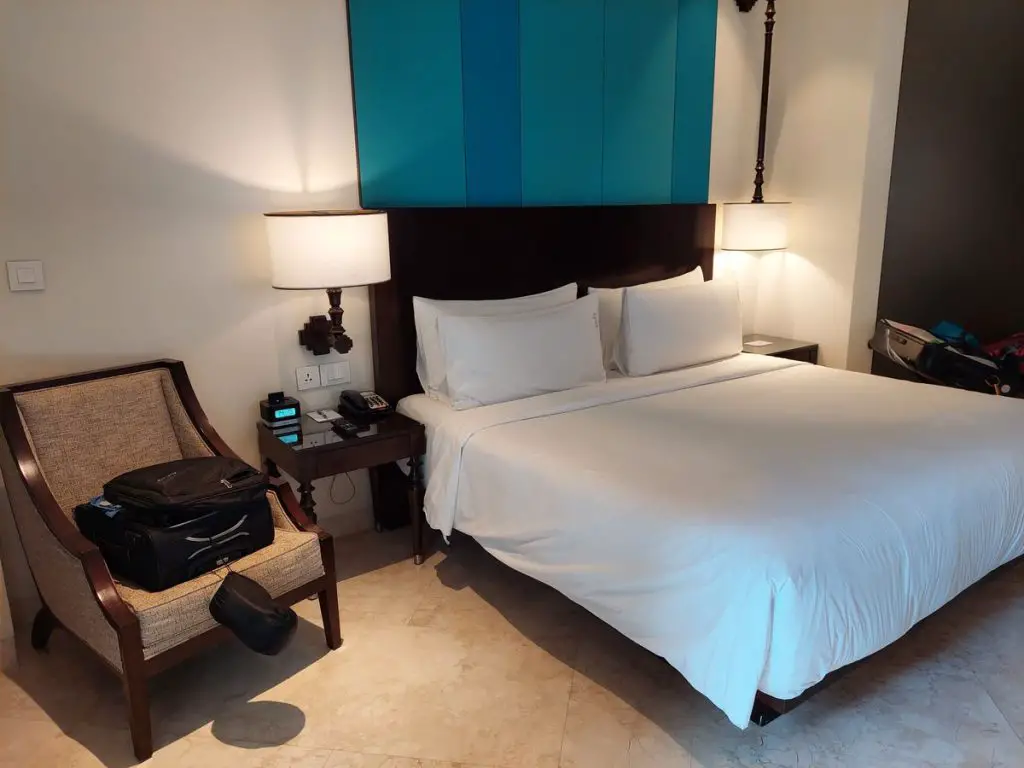 So during our stay at the Holiday Inn Resort, we opted for two Pool View Rooms, interconnected.
Check out my walk-through video below.
10 Reasons Your Teens Will Love Holiday Inn Resort Bali Nusa Dua
1. Instagram-worthy spots
The resort boasts stunning photo-worthy spots. On the balcony overlooking the outdoor pool at the front of the resort, in the infinity pool located at the back of the resort, on the egg chairs located at the beach, or in the lush gardens.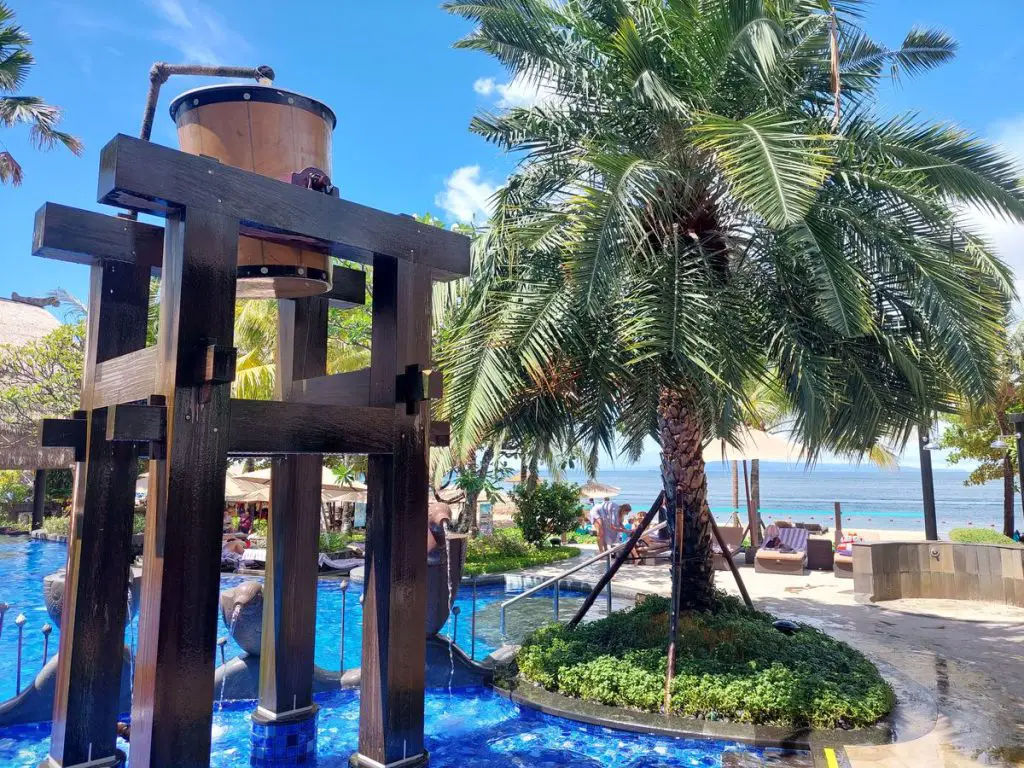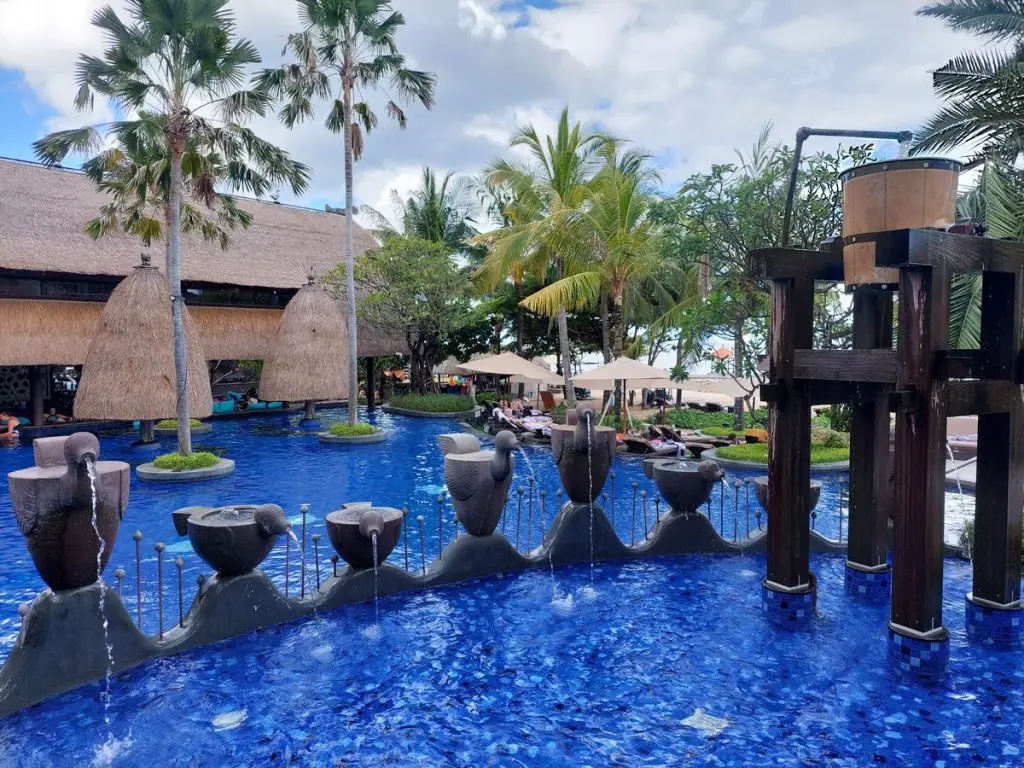 Anybody who knows teenagers knows they are going to love sourcing each location to plaster on their social media.
Heck, does that make me a teenager?

2. Adventure sports
At Holiday Inn Resort they are always tempting teenagers away from their rooms and devices. You have the option for surfing lessons, water sports, and bike tours.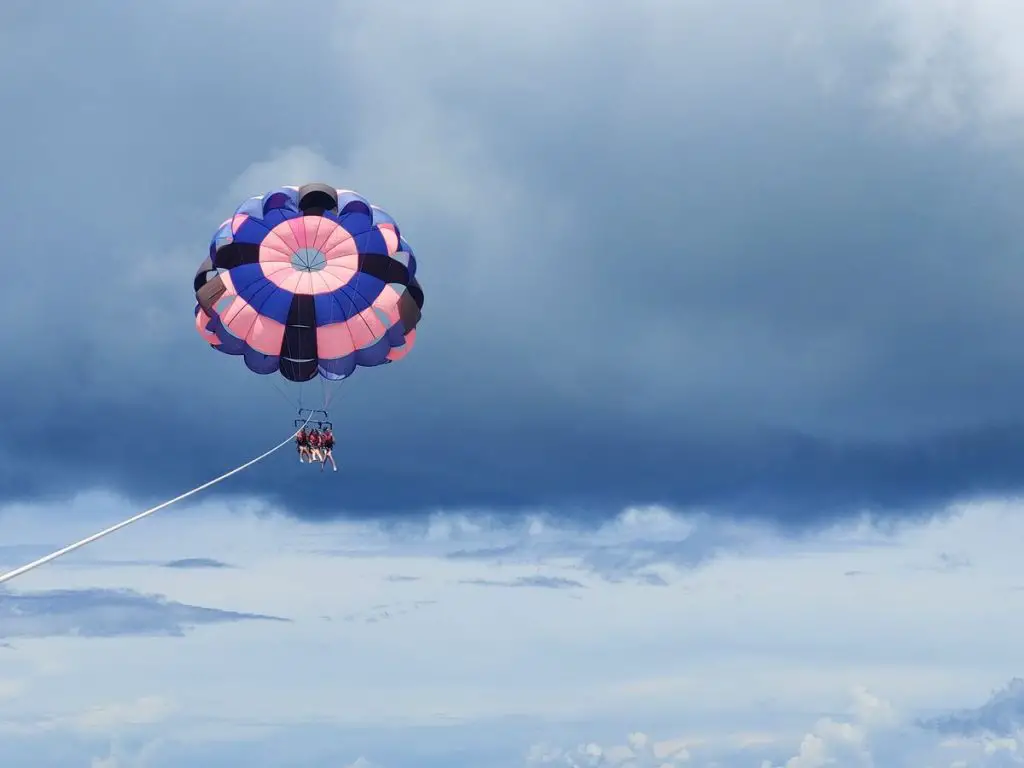 Out front, they even have a range of motorized water sports to try out. These are not affiliated with the hotel and can be exhaustingly pricey (around $70 United States Dollars per person), but our kids voted it as the best part of their holiday. They also were unable to take a credit card.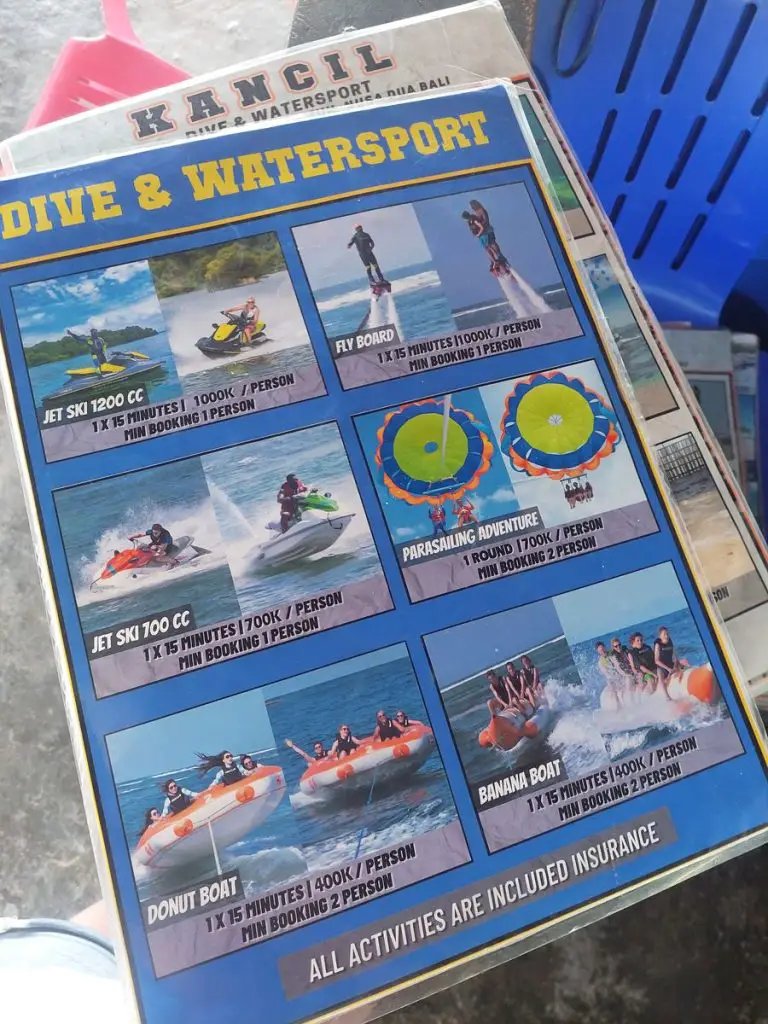 3. Entertainment options
We hadn't watched TV in two weeks during our Bali family vacation, but we did at Holiday Inn Resort, they have large TV's in the room with plenty of movie channels, which made for movie night every night.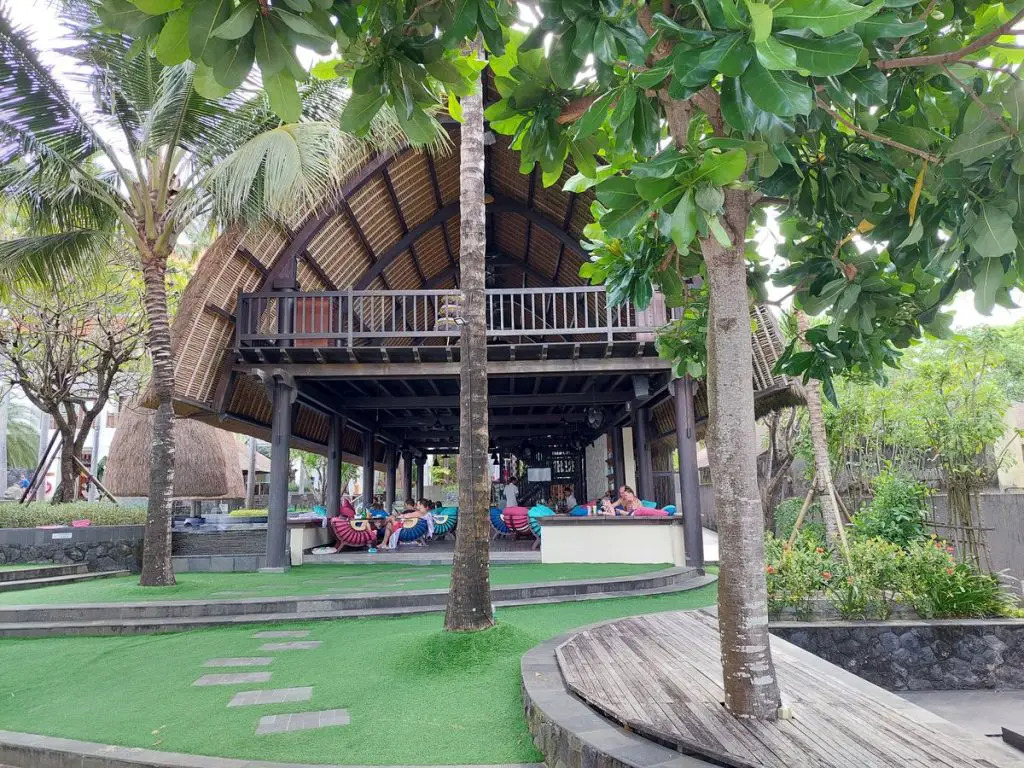 But if your teenagers are more the going out type then Holiday Inn Resort Bali Benoa has plenty to keep them entertained from outdoor movie nights, live music, foam parties, waterslides, and Nudi beach club parties. Plus, the table tennis table kept my son entertained for hours!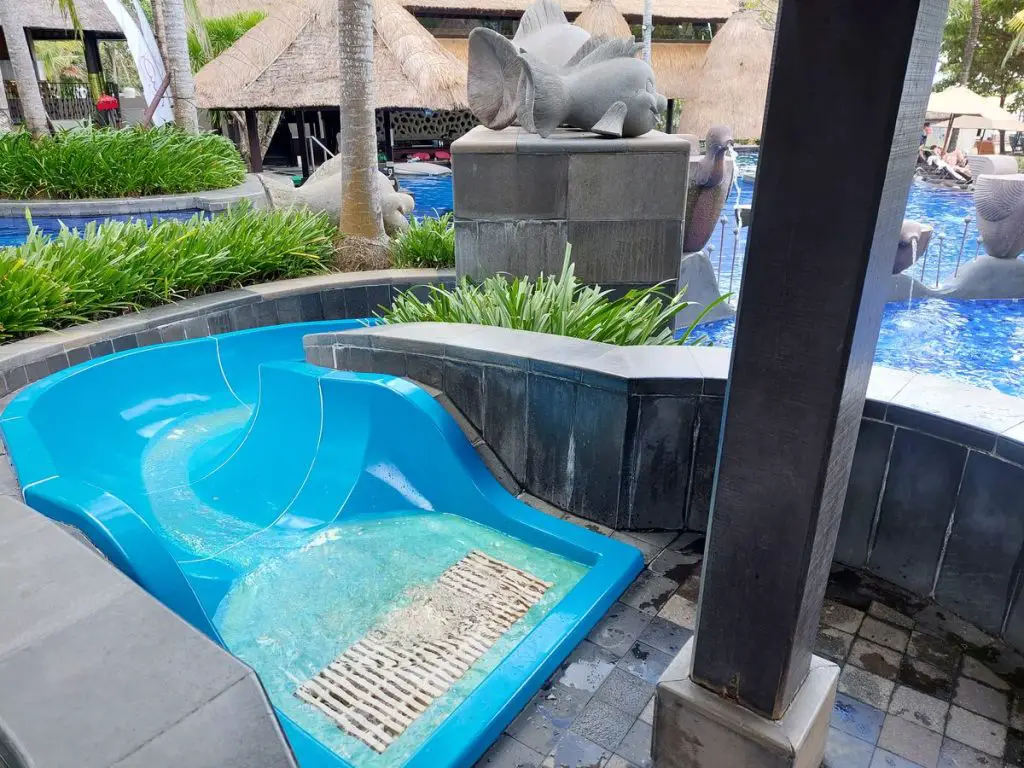 4. Social atmosphere
The resort has a friendly and lively atmosphere, with plenty of opportunities to meet and socialize with other teenagers from around the world.
Whether it's at breakfast, where we chatted to some fellow Western Australians, or in the swimming pool while trying to steal one of the floating beanbags, guests will find plenty of other families holidaying at the Holiday Inn with kids most likely the same age.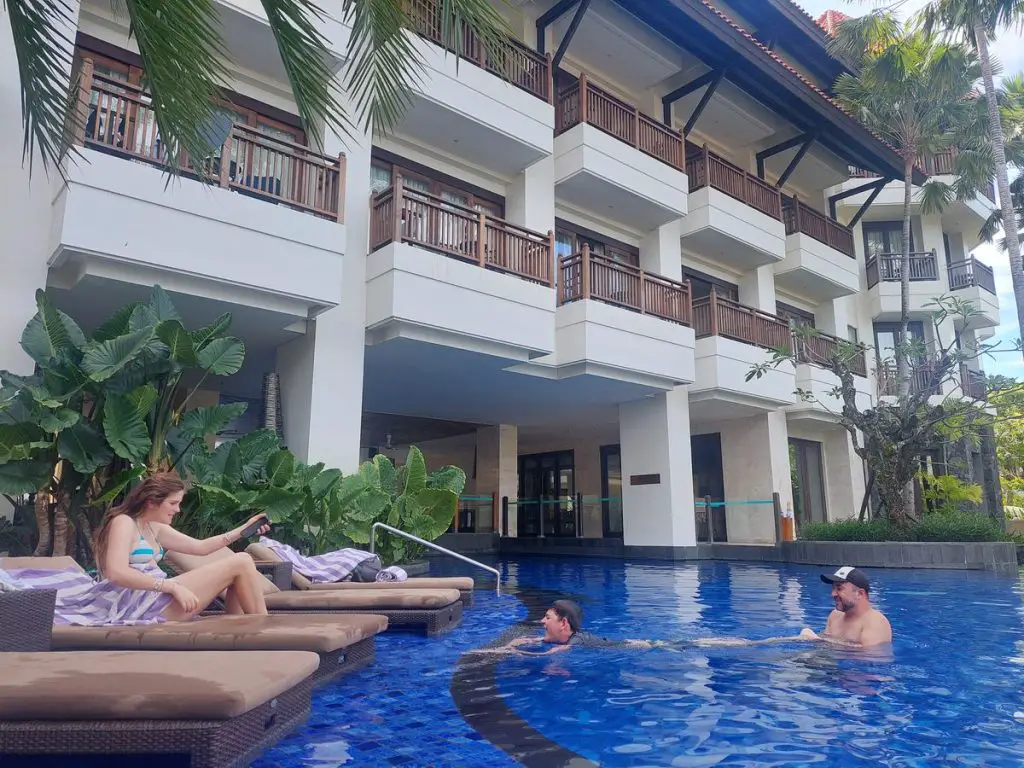 5. Location
Nusa Dua is fairly safe and we had no problems with the teens crossing the road to visit the local Circle K mini mart for mountains of snacks. Or wandering the beach front looking at market stalls and searching for bracelets
It was also convenient for restaurant and spa visits. Teenagers can get pretty hangry and a long walk can become tedious with a hungry teen, but we didn't have any problems with ours. Please do check out Mandala Bar & Grill, it was delicious.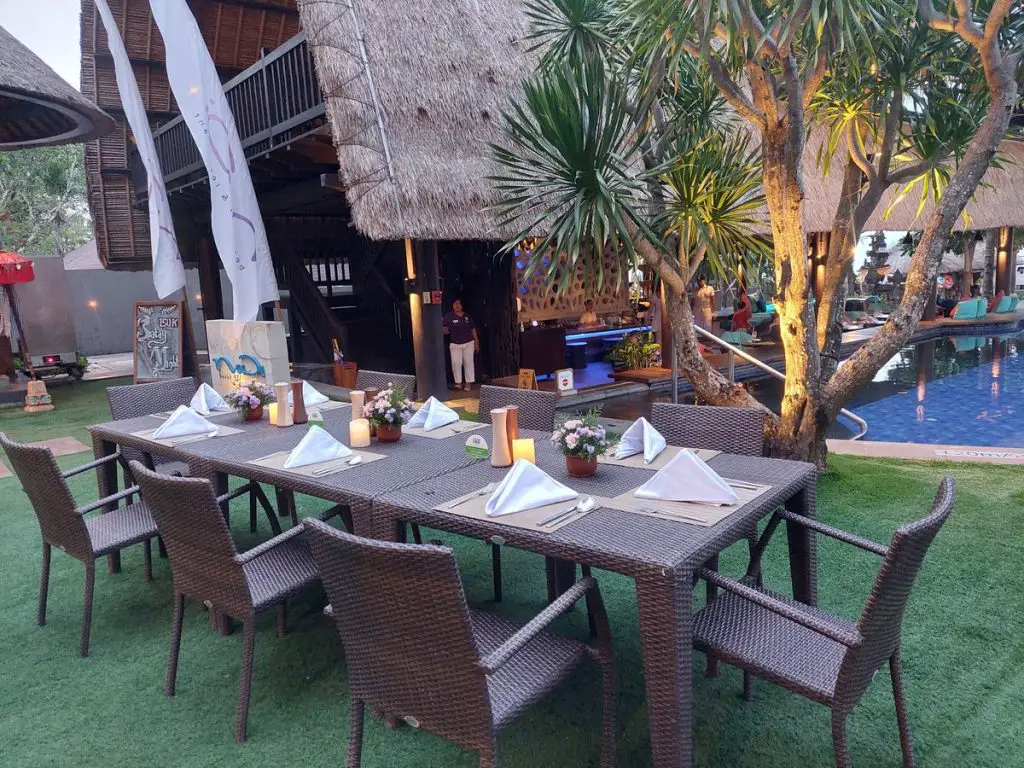 6. Food
Out of all the hotels I stayed in Bali, hands down Holiday Inn Resort had the best food I've ever had in a resort. The breakfast buffet had plenty of choices.
The food was fresh, sourdough made in-house, and not that crappy white bread you find in most Bali hotels.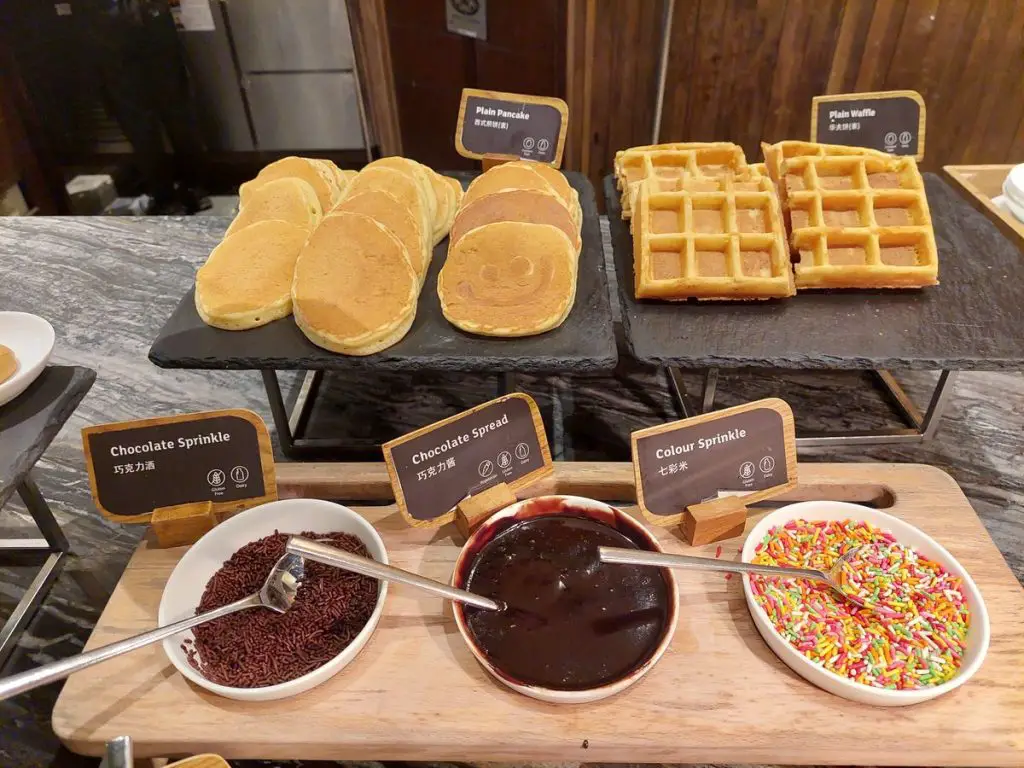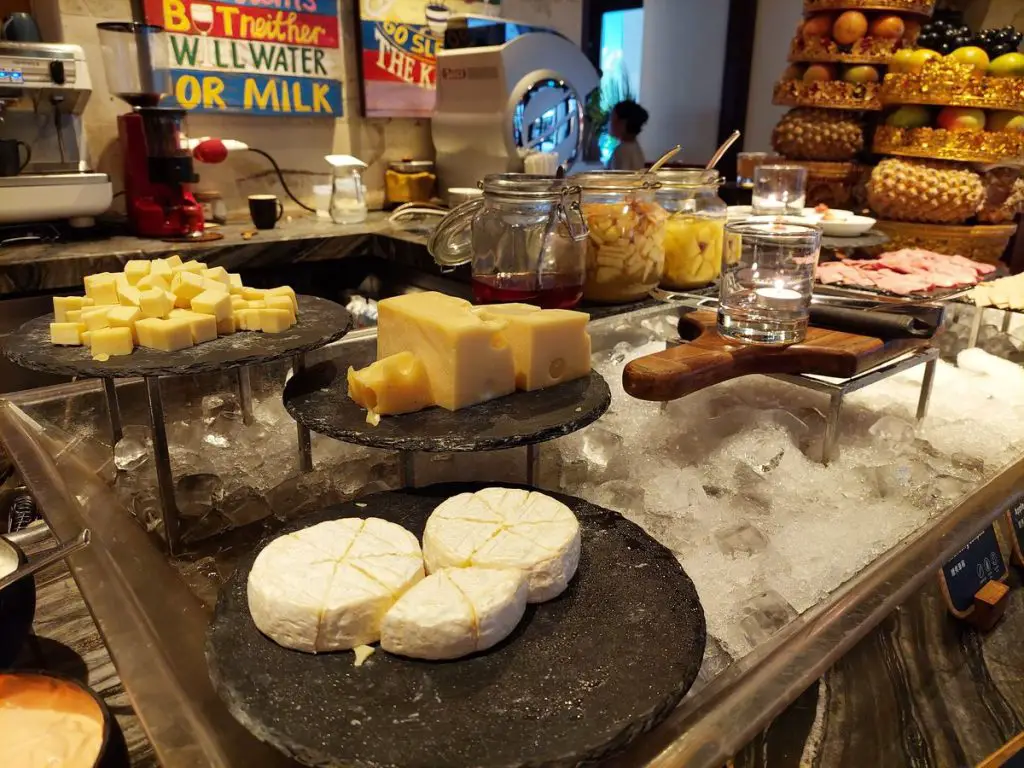 And the eggs and coffee were made to order. My partner said it was the first decent coffee latte he had in Bali.
Oh, and did I mention Satay night? My daughter was on a mission to have satay at least once a day during our trip, and Holiday Inn helped with her numbers. And while my partner found the portion sizes quite small, the quality was impeccable.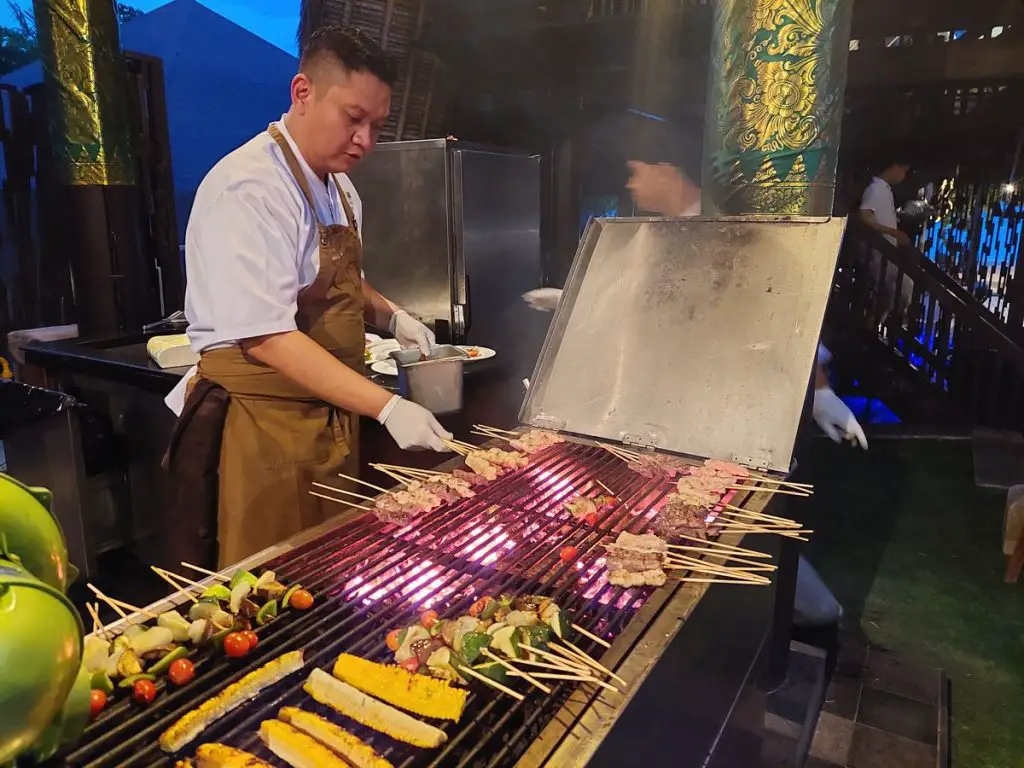 Drinks could be purchased throughout the day from the Nudi Beach bar with the best time of day being a happy hour.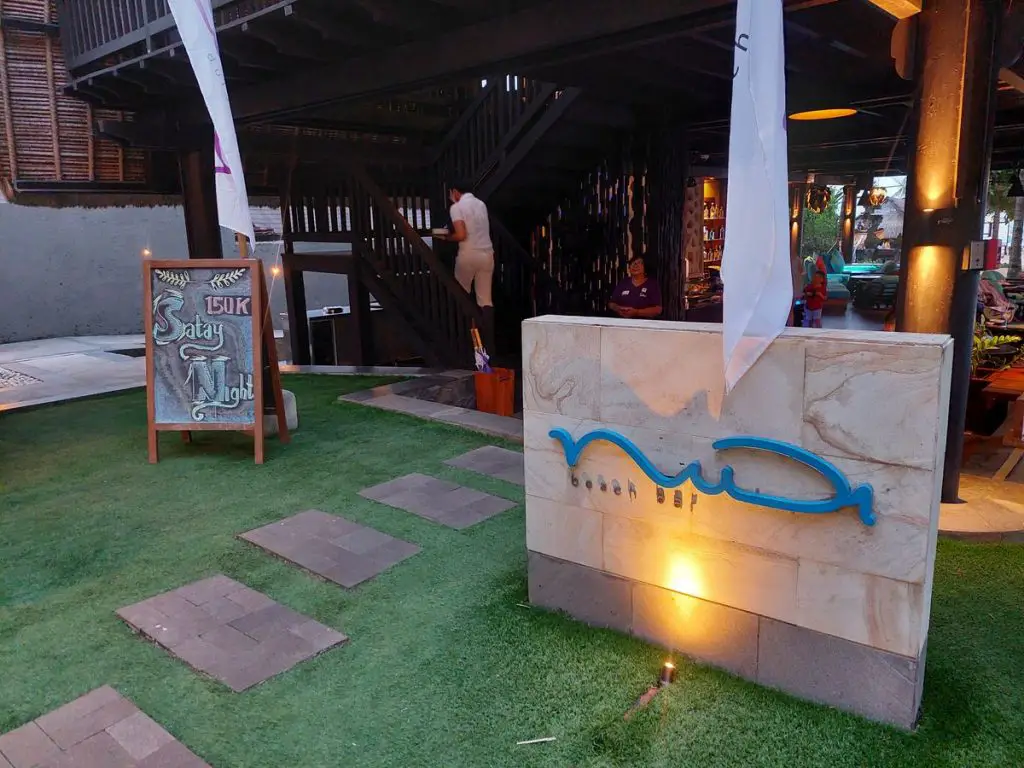 7. Shopping
There's a free shuttle to Bali Collection Nusa Dua. What teenagers don't like to shop?
We also visited the cinema at Bali Galeria, which was only a 20-minute Grab ride. And more shopping.
You'll also find some local market stalls directly on the beach at the back of the resort, or a little market street not far down the road in Nusa Dua.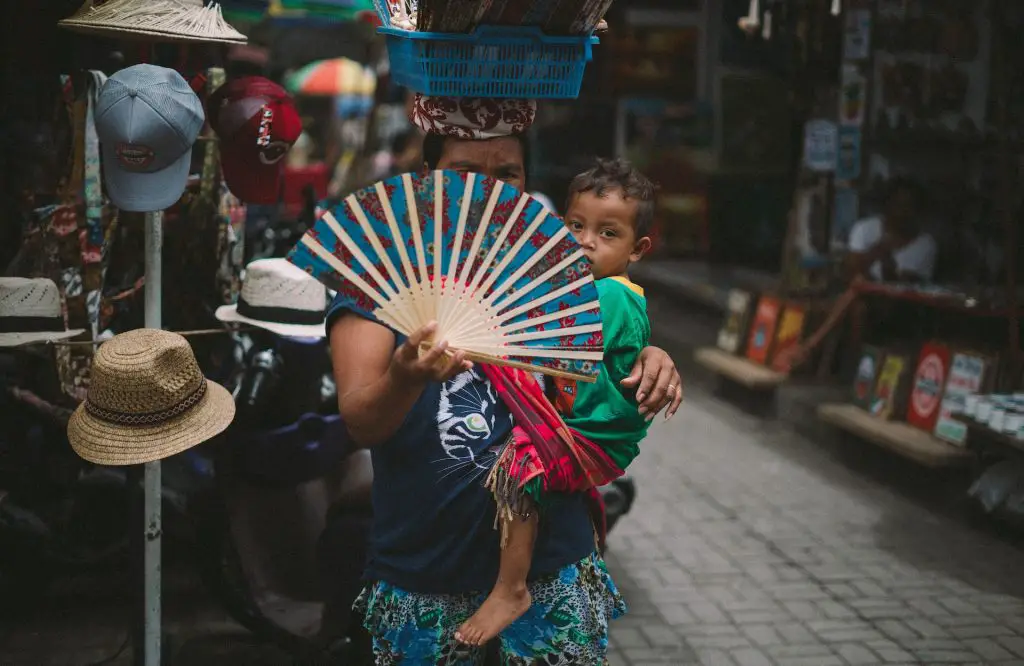 8. Free Wifi
At every hotel we visited in Bali, our teenager's first words were "What's the wifi password?"
During our stay at the Holiday Inn, we had good Wi-Fi. It was fast, and it worked all the time at any part of the hotel.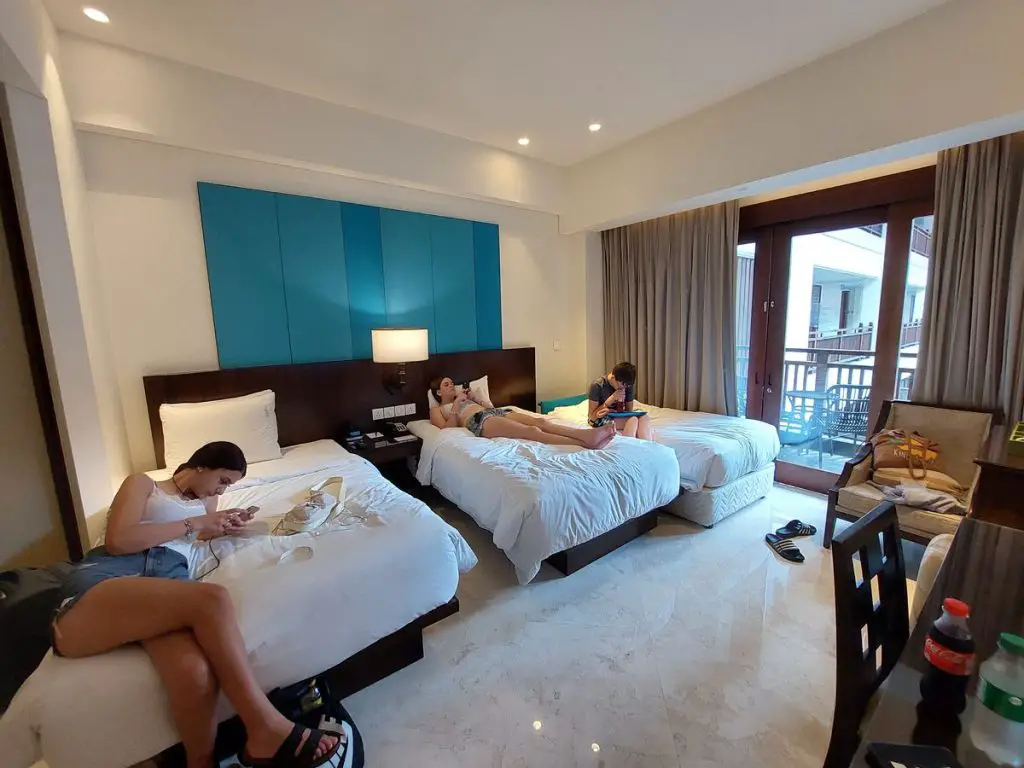 9. Service
The Balinese are known for their exceptional service and hospitality, and the Holiday Inn Resort took this to the next level.
Every staff member we encountered, from housekeeping to maintenance, greeted us with a friendly smile. Honestly, one morning I commented to the breakfast lady, "Why is everyone so happy here?"
This made my teens relaxed, and not too intimidated to ask the staff for anything they needed.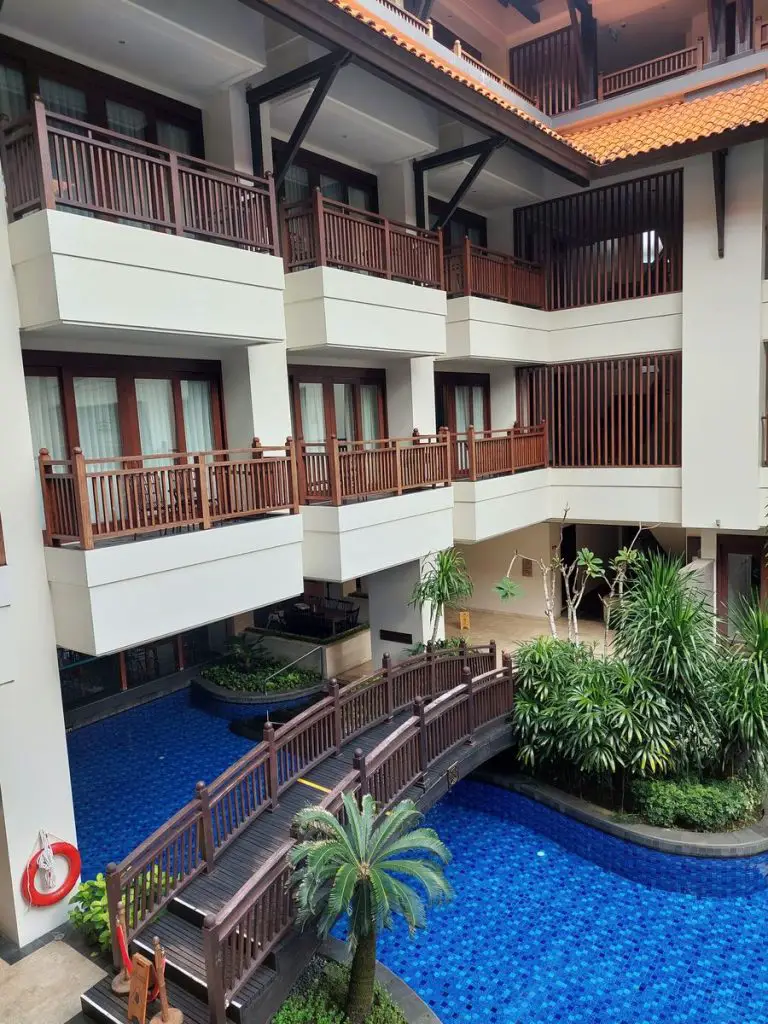 10. Beach Life
The Holiday Inn Resort Bali Benoa is located on Nusa Dua Beach. Like most teenage girls, my two enjoyed just lying on the beach for that free holiday tan to go home and show all their friends.
Plus a selfie or two.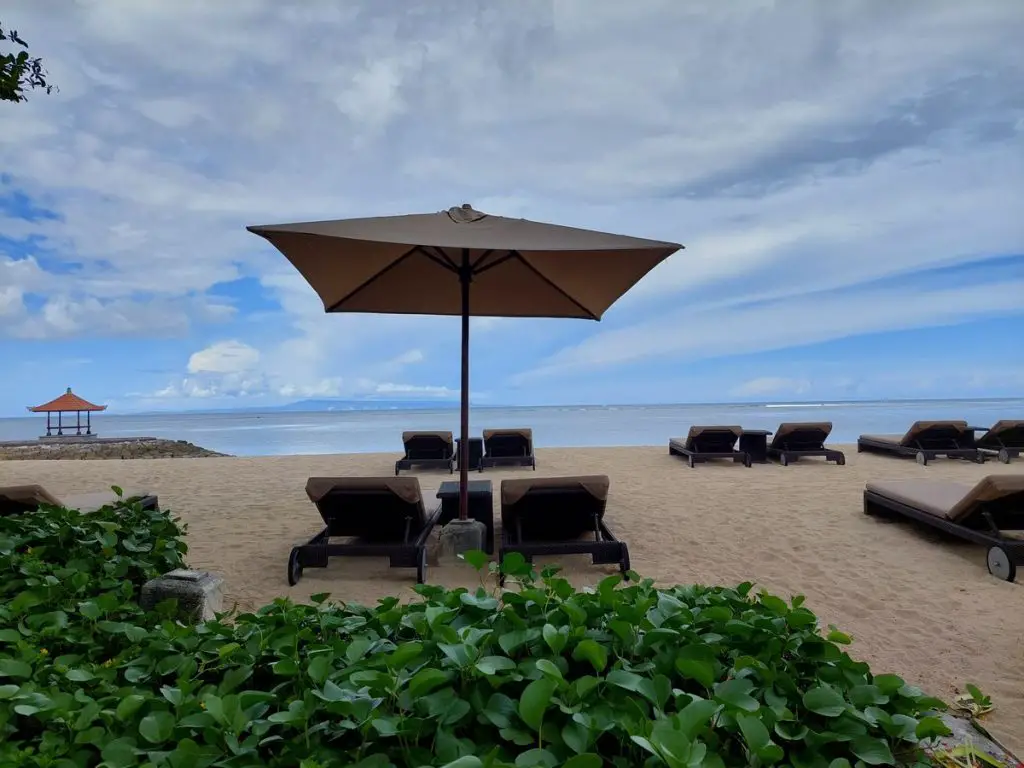 Where is Nusa Dua?
Nusa Dua is in South Bali, about 11km from the Ngurah Rai airport.
Is Nusa Dua kid friendly?
Nusa Dua is jam-packed with family-friendly resorts sand is the ideal escape for little ones and big ones!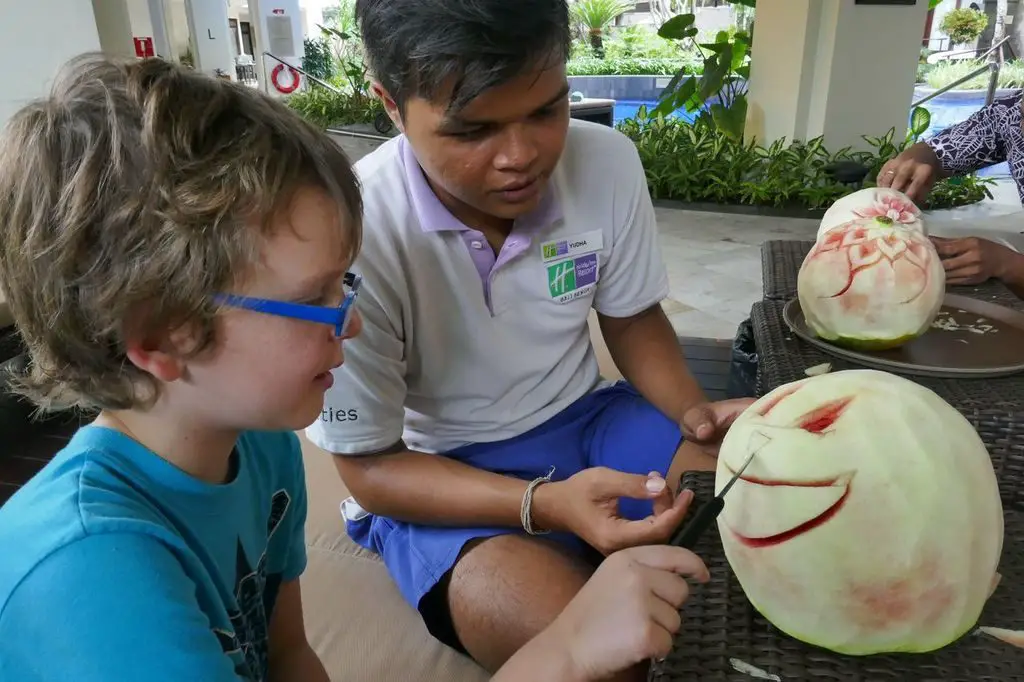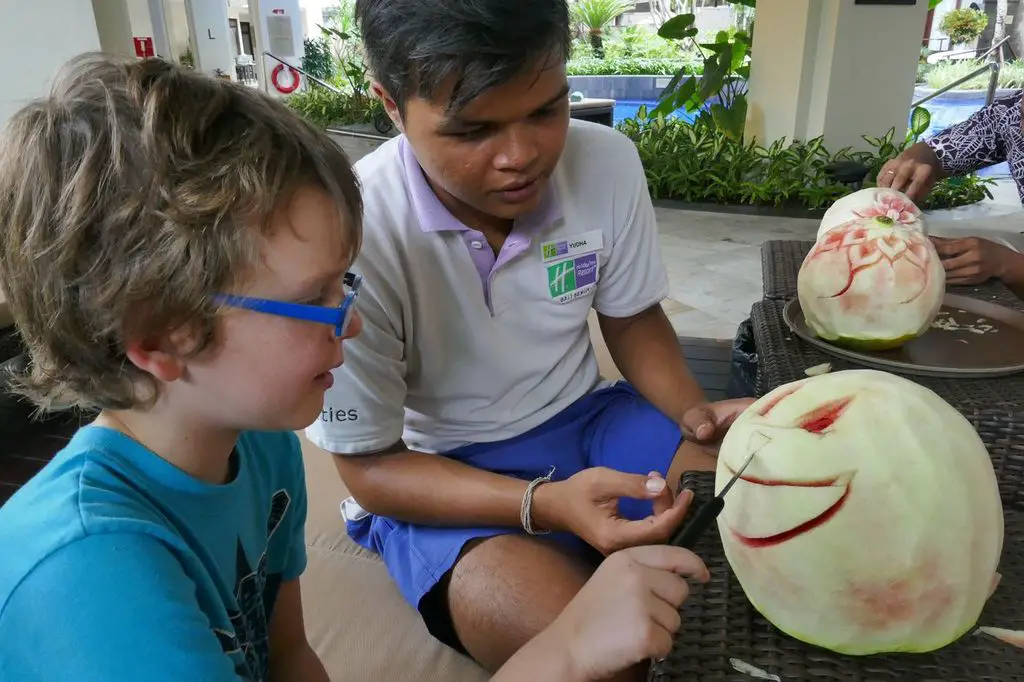 Is it worth it to stay in Nusa Dua?
Nusa Dua is the perfect luxury hotel escape. If you are looking for the freedom just to relax and be taken care of Nusa Dua is worth a stay.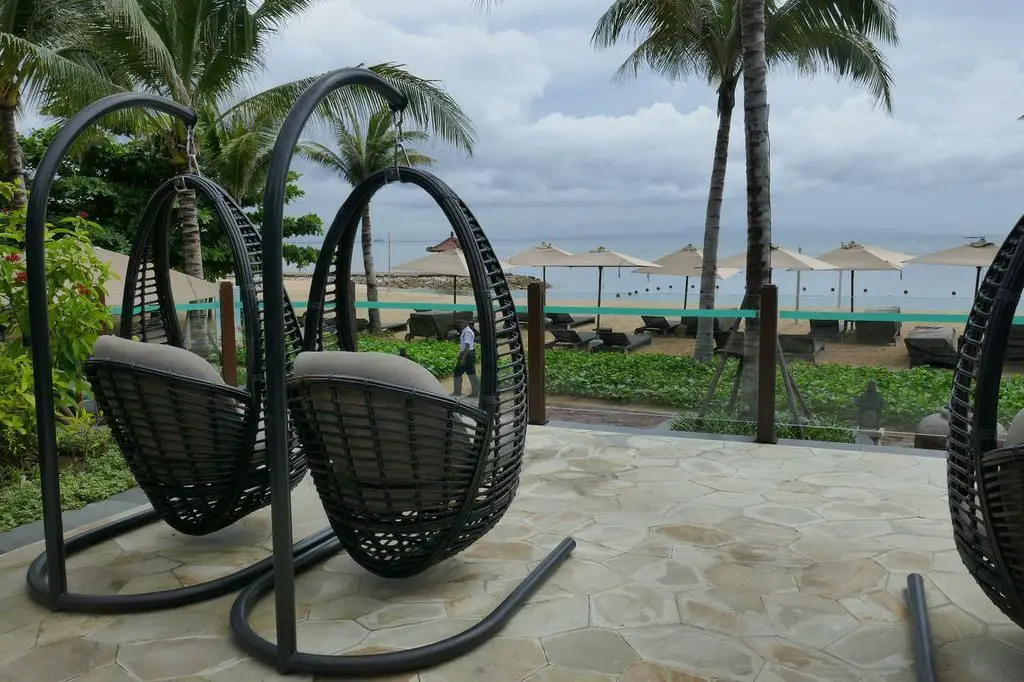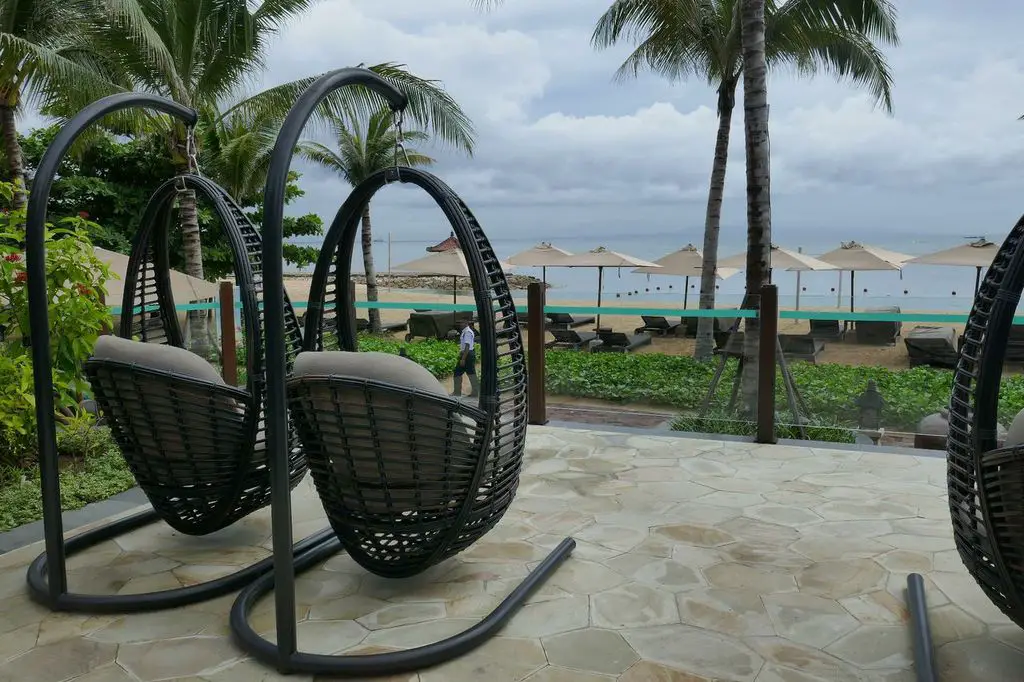 Why is Nusa Dua so expensive?
Nusa Dua is the most expensive part of Bali due to the upmarket resorts that dominate the area. We found Nusa Dua prices to be on average 25% higher than the rest of Bali.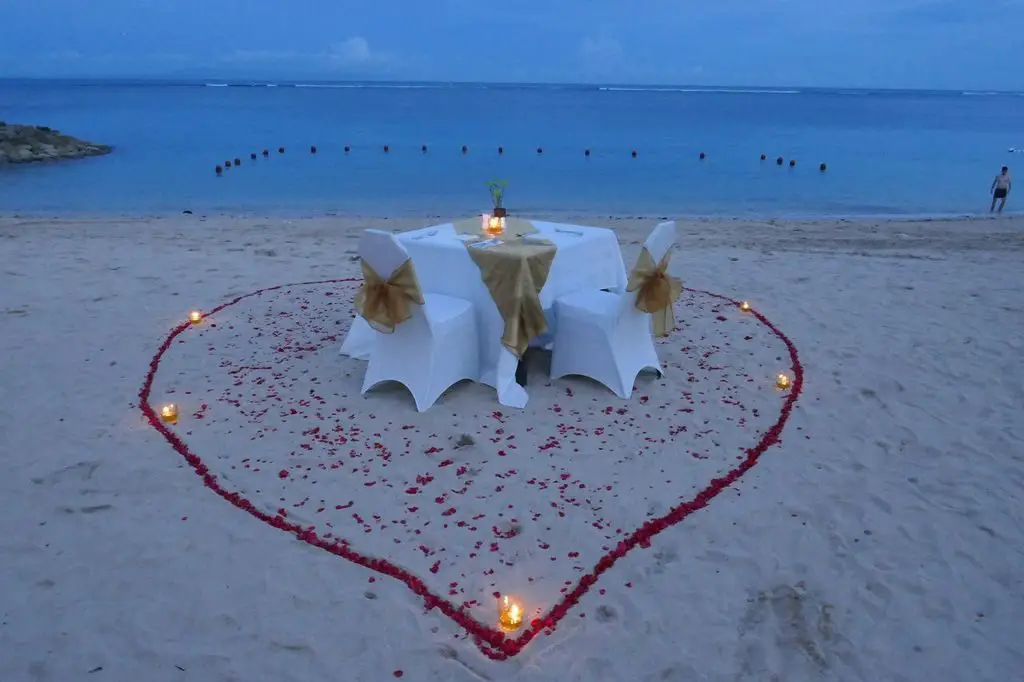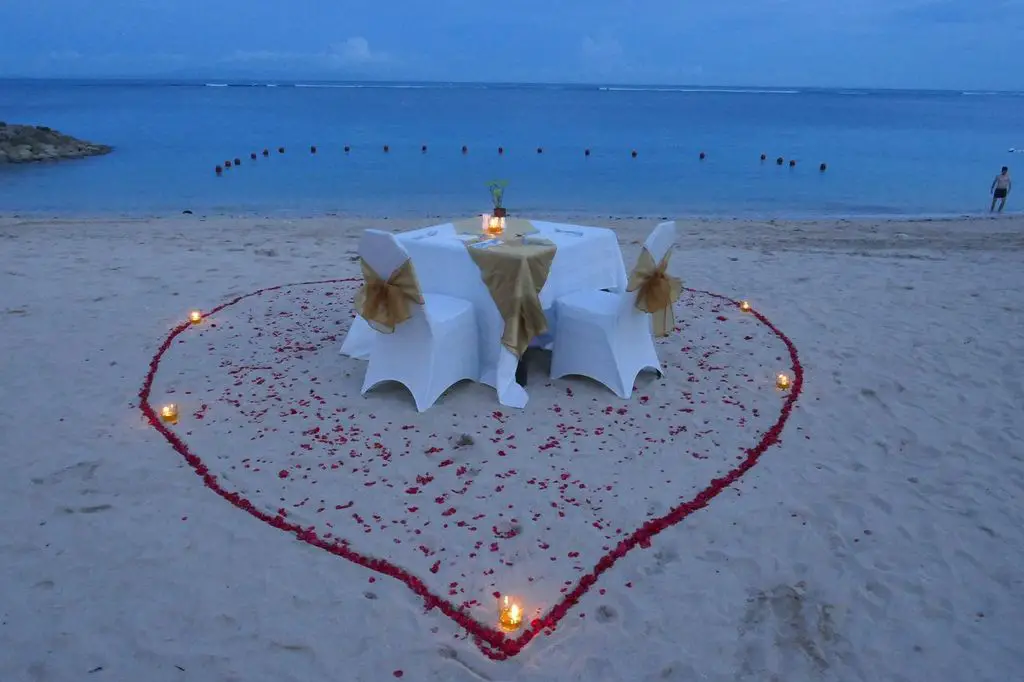 Which part of Bali is best for families?
Check out my best locations to stay in Bali to find out which location is best for your Bali family holiday.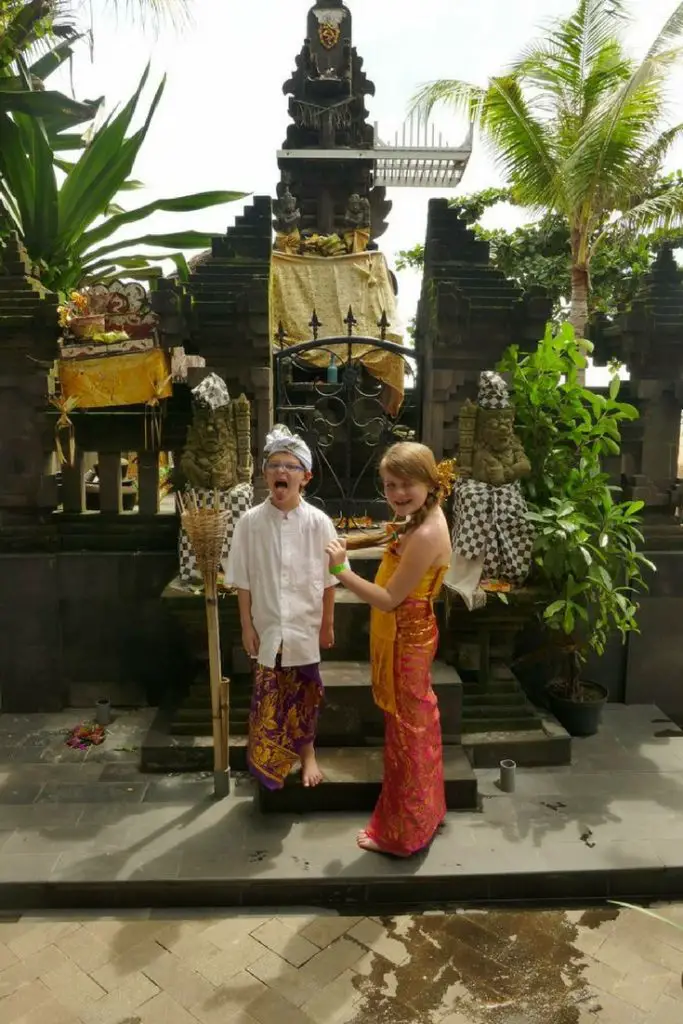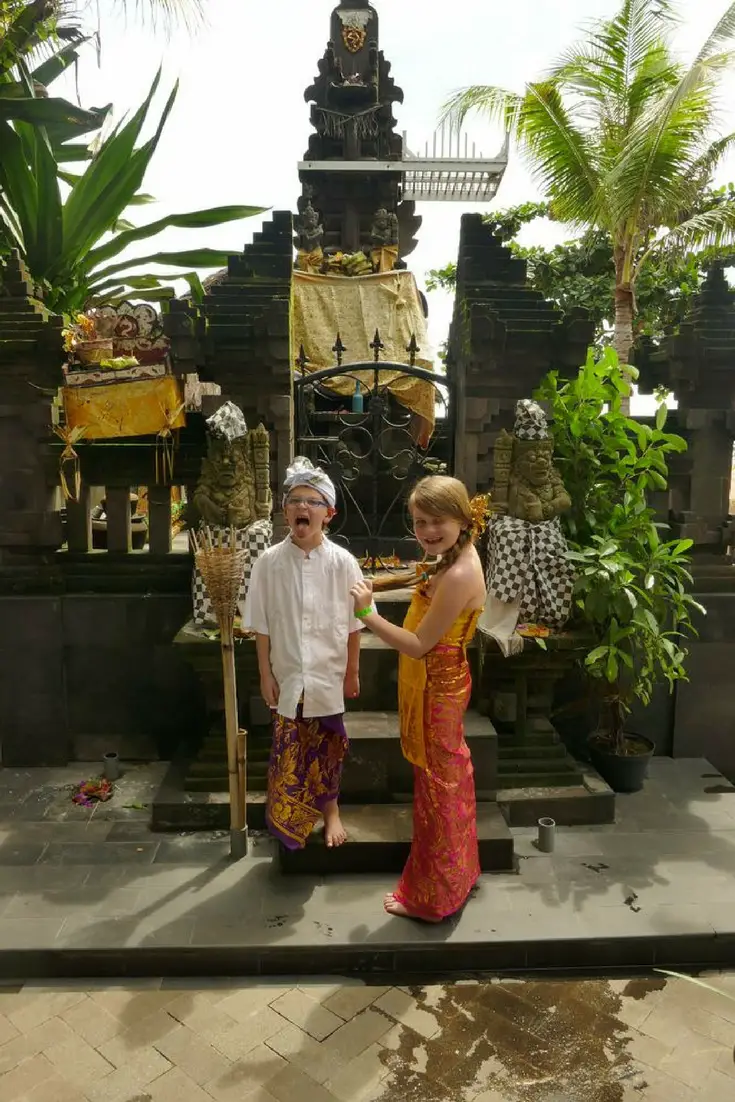 Where to stay in Nusa Dua?
We have stayed in several hotels in Nusa Dua, you can check your hotel preferences below.
People often choose Marriott Vacation Club Pulse, Westin Resort Nusa Dua, St Regis Bali Resort, Club Med Bali, Novotel Bali Nusa Dua, Grand Hyatt Bali, or Grand Mirage Resort.
We obviously enjoyed the Holiday Inn Bali Nusa Dua on the Nusa Dua Peninsula. At Holiday Inn kids stay and eat for free!*
What can I do in Nusa Dua?
Check out these fun activities to do while you are staying in Nusa Dua. Also, a day trip to Waterbom Bali is not too far!
LOOK HOW EASY IT IS TO PIN THIS!
FOMO - do you have it?  Well there is no need to Fear On Missing Out here at Explore With Erin. Sign up to receive updates directly to your in box. I won't spam you, but I do promise a whole lot of awesomeness. What are you waiting for? Join Me!