Do you remember all those American movies? New Years Eve New York. Times Square was the only place in the world to celebrate New Year's Eve and I promised myself I'd be there. One day.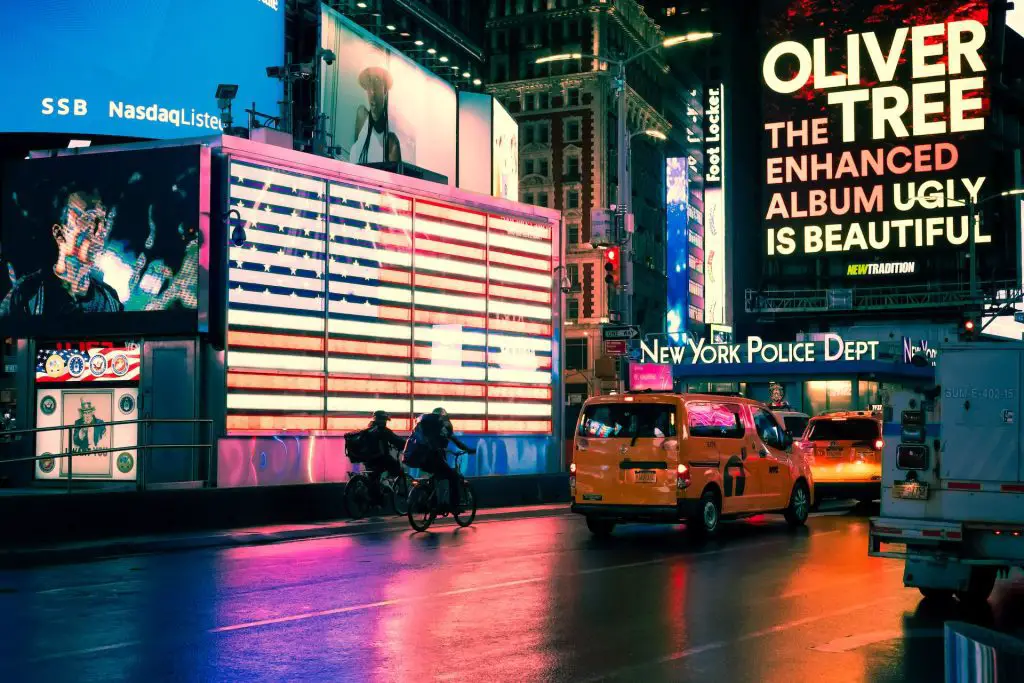 That day had come. As I stood on a rooftop in Times Square celebrating New Year's Eve in New York City at AMC Empire Theatre I closed my eyes and breathed.
There were hundreds of people on the rooftop using the open bar, but nowhere near as many that were swarming 42nd street below. New York City is excited, sparkling, downright electric.
And I'm here right in the middle of it. Jacket covering my sequin dress, steam puffing out of my mouth, but the biggest grin plastered on my face.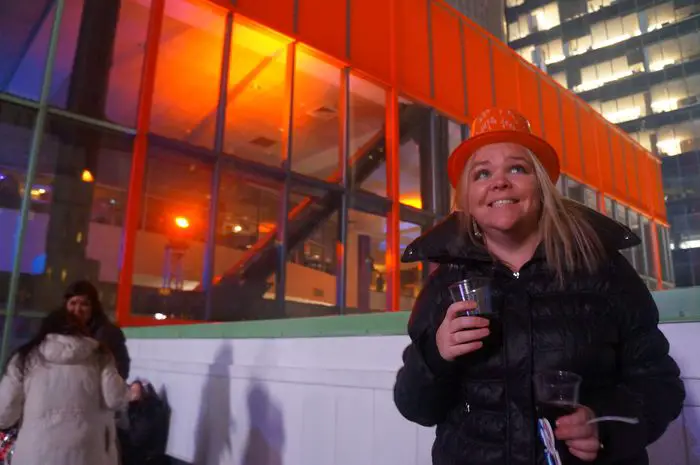 Bucket List Dream New Years Eve New York
I am not sure when the dream started. Maybe it was when I was much younger, or maybe it wasn't until New Year's Eve the movie hit the cinema. But I knew long before I arrived in the USA that I wanted a). A White Christmas and b). To see the ball drop in Times Square on New Year's Eve.
When my good friends, Dave & Vanessa from Australia told me they were going to be in New York I was adamant we had to celebrate a Times Square New Year together at the ultimate New Year's Eve Party in New York City.
So Vanessa and I got to scheming operation NYC New Year's Eve to figure out the best way to see the Ball Drop at Times Square, New York.
Click below to see the best activities to do in New York City this New Year's Eve! 
New Year's Eve At AMC Theatre
We had no interest in standing in the crowds on the ground in minus-degree weather, not moving, not being able to pee, and losing your spot if you do.
We also didn't think spending $1000+ tickets to watch the ball drop from New York City buildings was the best use of funds. So what to do?
Eventually, we decided on a VIP Top of the World ticket at the AMC Empire 25 building on 42nd Street for $125 each. It didn't come with a Times Square ball drop view, but it did come with an option to go down to the street level to view the new years eve ball drop when the time came.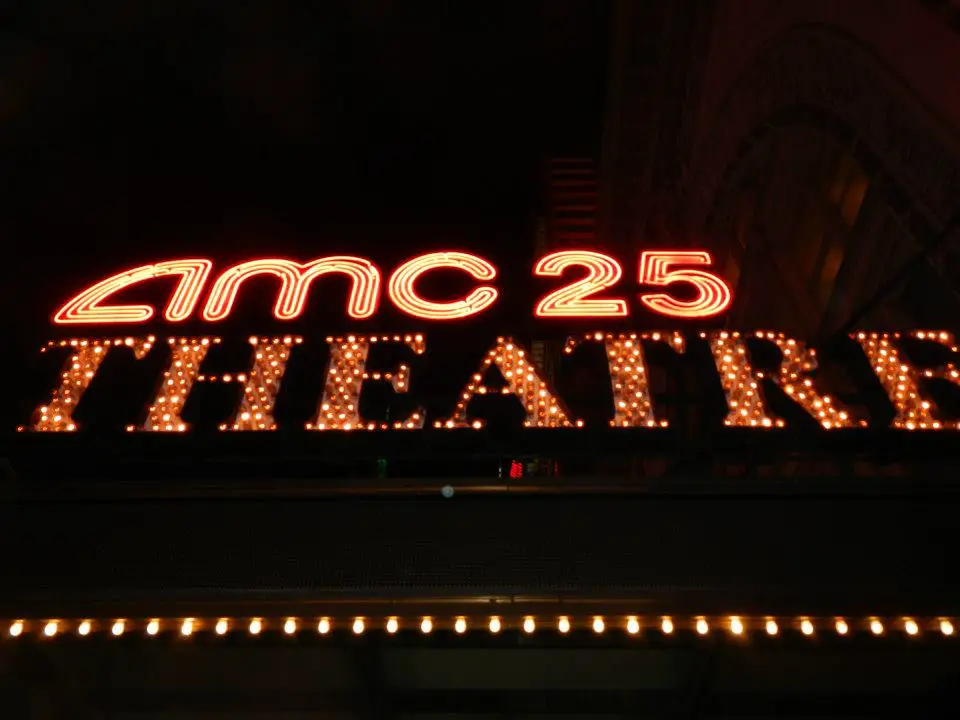 What To Wear In New York On New Year's Eve
After the tickets next on my list for the perfect New Year's Eve in New York City was the dress. I spent a good amount of time in the shops looking for the perfect dress. In the end, it wasn't really necessary since it spent most of the time hidden under my new, puffy Guess jacket (yay for discount stores).
Anyway, I did find a black glittery sequin new years eve party dress. But it was freezing in New York. So under the dress, I had a t-shirt, and under my leggings, I wore thick stockings. These layers kept me warm through the minus temperatures that night in New York.
Arriving in New York City
I was so grateful for my family in New York City. They had a wonderful housekeeper who offered to look after my children, while I went to leave my dream New Year's Eve in Times Square New York.
December 31st arrived. I left the house in Great Neck at about 4 pm and headed into the city, on a surprisingly quiet train ride.
Penn Station was not so quiet. The crowds were milling and the excitement was brewing. Cops were out in force and so were the opportunistic wares being sold like 2013 glasses, hats, and other fun New Year's items.
Get your 2023 new year glasses here! Or 2023 headbands! Or a whole New Year's Eve party set!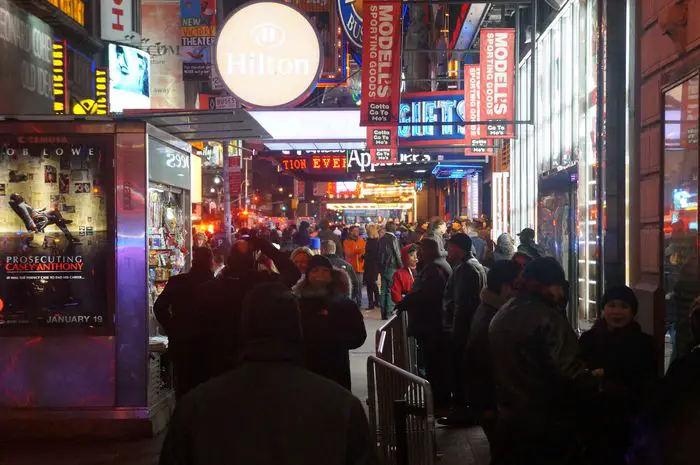 The Impossible Crowds Of New York City On New Year's Eve
My friends got lost on the Subway so I went for a quick bite to eat before meeting up with them at a very late 7 pm.
When we started our walk down 7th Avenue to AMC Times Square the crowds were not thick, but as soon as 42nd street came in sight the crowd was overwhelming and not budging.
We tried threats, pushing, and sweet talk, but we could not get through. That's how many people cram their way into Times Square on New Year's Eve in New York. Finally, we inched over to a New York City cop who advised us to try 8th Avenue.
He said luckily we weren't trying to get to the New York Marriott Marquis or Central Park. And to stay away from fifth avenue and 42nd street.
He was right. 8th Avenue was not as busy and we got much closer to the AMC Theatre than 7th Avenue, but still, a crowd stood between the barrier, and our party.
After much pushing and shoving, someone in the crowd told us about a line against the wall. It was a long line, but it inched along until finally, we stood at the front.
We had no idea what the line was for, simply hoping it would get us to where we needed to within Times Square, which was all fenced off, and when we arrived at the front we were informed that most people in the crowd were there for AMC. It happened to be the only place police were allowing people to get through for the party.
We were given a very strict security check before the New York City police finally allowed us onto the street where our New Year's Eve party that we paid for was.
Happy New Year! The excitement was growing, as the anxiety was finally over. We were no longer standing with every New Yorker in the city, we had arrived at our venue. Suddenly the money felt well spent already.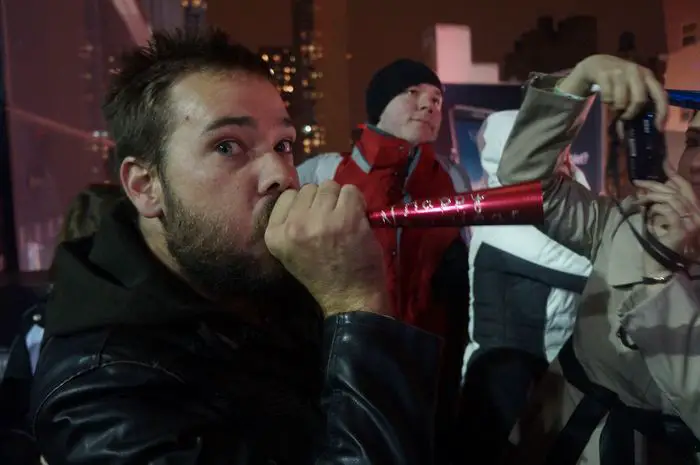 New Years Eve AMC Theatre 42nd Street
AMC Empire 25 is a large cinema complex. There are 6 floors of cinemas. Our new year's ticket allowed us to access every floor including the top. And movies were showing! You could walk in and out of all 25 cinemas all night watching movies.
If you didn't feel like watching a movie then there were several dance floors, a buffet, an open bar, popcorn, cookies, and brownies. And did I mention the open bar?
Our ticket allowed us onto the balcony before 10 pm, but after 10 pm only those that paid $1800 were allowed there. But I can be pretty resourceful when I want to be and I wanted the ultimate New Years Eve Celebration.
I spoke to several other Australians at the venue and found out that the 4th level 'balcony also had a viewing of the new years eve ball and was included in our ticket.
We started our Times Square evening by skipping all the floors and heading straight to the top 6th floor, the platinum terrace, for photos with the ball and our beautiful covered-up dresses.
New Year's Eve Countdown
The rest of the night was spent eating, drinking, and dancing. We even fit in Golden Globe award winner, Django Unchained, in a movie theater for an hour before midnight fireworks and another hour about 1 am finishing it.
But let me backtrack to New York City at midnight. At twenty to twelve we raced down to floor 4 and out onto the balcony for a rearview of the Times Square dropping ball. Not the best view, but certainly the best value in New York.
It wasn't long before it seemed nearly half the building was joining us and the inebriated crowd got loud and wild. An atmosphere of excitement.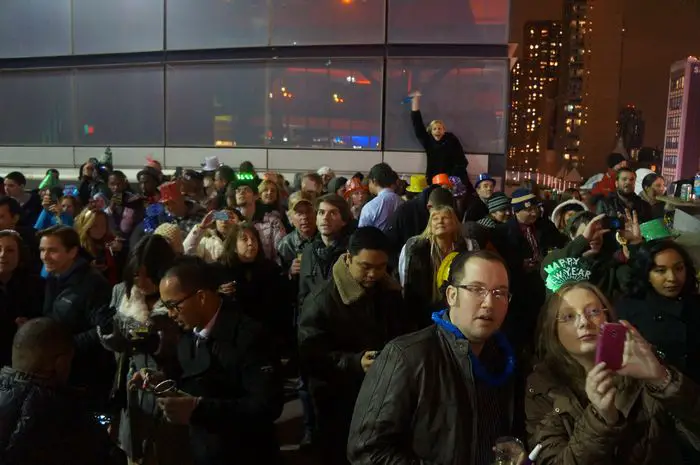 The TV on the inside showed us what was happening down on the ground where Taylor Swift was singing and Ryan Seacrest started the countdown.
I couldn't believe my eyes as I watched the live view of the ball come down, raising my voice to shout the numbers down to 1 waving goodbye to 2012 and hello to 2013.
Everybody was hugging and kissing. Strangers and friends alike. My champagne toast sloshing over the side. Phones came out and there were photos with whoever was around you.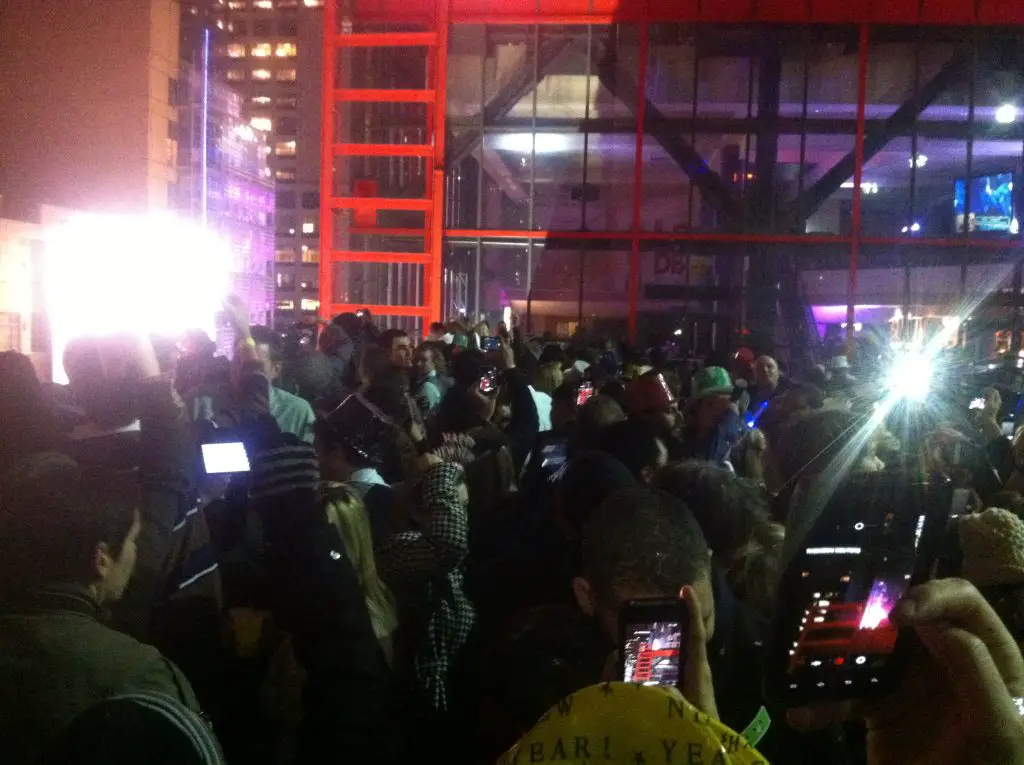 After the fireworks, we headed back inside to dance the night away, and before I knew it it was 3 am and I decided to start the long journey home to see my children in this new year 2013.
I gave my Australian friends a warm United States new years hug and my deep gratitude for ticking off my bucket list new years eve in New York City with me.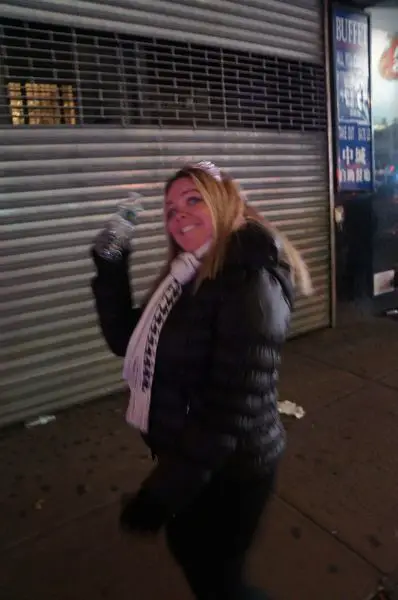 The walk through the streets was still buzzing with New Yorkers everywhere. And so much trash! There was already staff working on clearing it and cops and barricades were everywhere keeping the party in tight check.
32 & First Time Drunk
We had to wait a fair amount of time for the next train and so sat in a diner at the station. I realized as we sat there and the room spun around that I had overindulged in the unlimited vodka and orange. At 32 years old I have never been drunk enough in my life to be sick, but as I lay my head down on the table I gasped, "Pass me the hat!"
I was taking that fun, sparkly hat home to my kids, but soon it went in the bin. Vomit. I was mortified and I apologized to the older couple next to us. The kind lady said, "that's okay, dear. Did you have a good night?"
"I did until now," I said.
Falling Asleep On The Train Home
Finally, I boarded my train, and still feeling unwell and very sleepy my partner told me to lie down and that he will wake me when we get to our stop. I was woken quite sometime later by my partner telling me he had fallen asleep and we had missed our stop. A very cold and dreary start to 2013.
We got off at the next station at 4 am on New Year's day waiting in the freezing cold for the 4:20 am train back to our stop. And like most mums I eagerly hopped into my bed at 5 am, only to be awoken by two giddy kids an hour later.
But not even these events could destroy my New Years' Eve celebration in New York City. Not the alcohol poisoning, not the missed stop, not the early-rising kids.
Even now as I get ready to celebrate 2023 – ten years later, having done New Year's Eve in many places around the world, including Sydney Harbour, I still dream of that world-famous ball drop at AMC 42nd Street.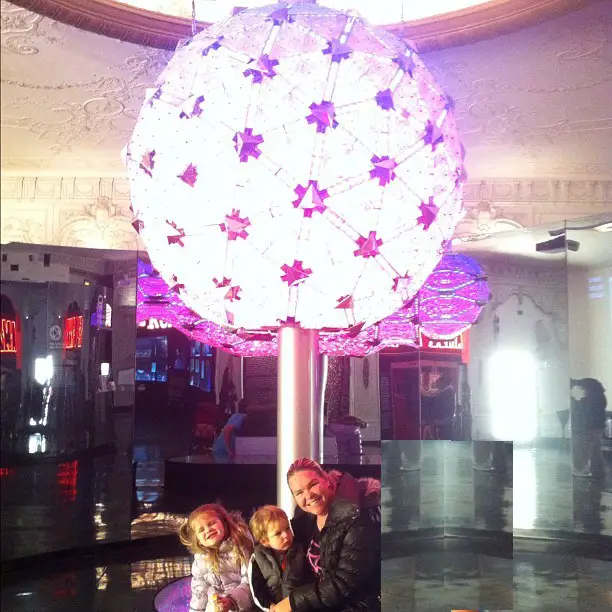 I never thought I'd celebrate midnight in New York City and to have ticked that bucket list item off even with small kids is no mean feat.
Years later I did New Year's Eve in New York again at Gothic Town Hall. It was a great night, but not the same as the very first one. I will never forget that New Year's Eve on Top of the World at AMC. And some 10 years later with the cheapest ticket at $799, I guess I'll never experience it again either!
Maybe a horse and carriage ride through Central Park would be a great new bucket list item. Or a hot air balloon ride in Cappadocia?
LOOK HOW EASY IT IS TO PIN THIS!
Accommodation
Booking.com has over 1381 properties in New York City including hotels, apartments, and hostels. You get free cancellation on most rooms and the best price guaranteed. Check the rates here.
Tour
Want to take an organized tour around Times Square?
Rental Car
We love RentalCars.com because they have the best car rental prices – Guaranteed. 
Insurance
Don't ever travel without travel insurance. We don't.
FOMO - do you have it?  Well there is no need to Fear On Missing Out here at Explore With Erin. Sign up to receive updates directly to your in box. I won't spam you, but I do promise a whole lot of awesomeness. What are you waiting for? Join Me!